Guzman Y Gomez Taqueria (With Pictures!)
Sydney's lack of decent Mexican food has been well-documented. After another okay (but not excellent) dinner at Baja Cantina in Glebe Friday night, I was about ready to throw in the towel. Imagine our surprise then when we happened upon the Grand Opening of Guzman Y Gomez Taqueria in Newtown yesterday! We stopped for a minute to talk to one of the founders, a genuine Noo Yawker named Steven. He told us with pride how he'd actually brought one of the best chefs in Mexico to cook here in Sydney, and how many of the staff (which included some lovely ladies) were Mexican as well. We were loaded down with worms though, so we made a mental note to come back another time.
We lasted about 24 hours. We walked over to Newtown today and debated over whether a "taqueria" would survive on King Street. On the plus side, cheap and cheerful ethnic takeaways seem to do well there. On the negative, they're in the Cursed location on the corner between Newtown Thai and T2 (where Pasta Shot and a dozen other concepts have bit the dust over the past few years). The fitout and branding looked pretty slick to me, which might work or might not. The Snook thought it might look too "American," but I countered that Gloria Jeans and Crumpler seem to be doing pretty well there these days. So with trepidation, we arrived to see what all the fuss was about. And DUDE, there was a LINE out the door!The odd thing is, there were literally about ten people running around the tiny kitchen. I think working out the inefficiencies in the food production is going to be their first major task. We probably waited fifteen minutes or more just to give our order – a lot of Aussies needed to be handheld through the menu items, and Steven was also trying to stall the line to keep pace with the kitchen – and then it probably took another five or so to get our food. Their main menu items are Tacos (11 different varieties), Burritos (9 varieties), Quesadillas (7 varieties), and sides. (And there are three different salsas as well.) So while it looked simple, it really wasn't. There are way too many choices. That's my first critique. It might speed up the kitchen assembly line if the options are simplified.
Anyway, we told Steven to give us half a dozen tacos in whichever salsa combinations were best. He also upsold us on a cup of chili. The place was too packed to stay though, so we took the whole lot home to unpack. Here's what we got: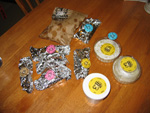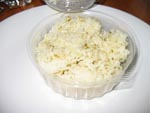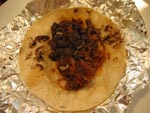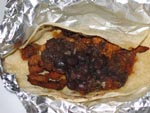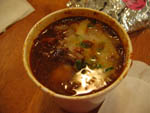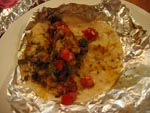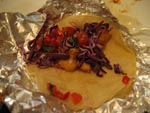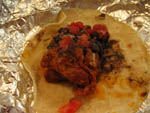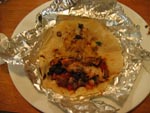 Disappointingly, everything was a bit cold by the time we got it home. Nevertheless, we persevered. The highlights of the taco selection were the Pork Adobado and Prawns in Yellow Mole. Overall, though, I wasn't really impressed. Nothing even seemed very spicy, even though I knew he'd used the hot tomatillo salsa on at least a few of them. We were left wondering if they'd gone light on the spiciness out of concern for the Aussie palate or something. I could taste the dry rubs and everything seemed very nice, but the flavour could've been ramped up about tenfold. The only taco I didn't care for at all was the "Baja" Style Fish. It just seemed really dry and weird. It might've been better with, like, a tablespoon of salsa, I guess. The rice had some greenish spice on it – the menu says it's "sofrito" – but I didn't quite get if we were supposed to eat it straight or spoon it on the tacos or what. The tacos all just seemed a bit interchangeable and bland. (Could the kitchen staff have forgotten the salsa altogether? There's not a lot in these pictures. Next time I'll ask for extra.)
The chilli – which may well be this recipe here – was good though. I'm used to Tex-Mex chilli, so this sweeter and smokier version was nicely different. (Still not very hot though.) The meat was tender and shreddy, while the cheese and onions were a nice touch. The absolute best menu item of all though? The tortilla chips. They call them "Totopos," and they're friggin' FANTASTIC. They made me realise how crappy the grocery store Doritos-type chips I've had here have been. Crisp and salty with just the right amount of grease… Heaven. So even if I can't bring myself to pay $3.50 per taco again, I can definitely see myself stopping in for chips and salsa. They were that good.