Thursday, January 31, 2002
| | |
| --- | --- |
| | [15] |
It's the old "Nine Things About Me That Are True, and One That Isn't" meme. Members of my immediate family are not allowed to play. Everybody ready?
I got a tattoo for my twentieth birthday.
I have had blue hair.
I can do a cartwheel.
I have never broken a bone in my body.
Despite being my high school valedictorian, I actually failed a class my senior year.
I am one quarter Korean.
I can juggle.
I have been skydiving.
I saw "Star Wars Episode 1: The Phantom Menace" eight times in the theater.
I have made a quilt from scratch.
Okay, which one isn't true? Let the guessing begin! Answers will be posted in a day or so.


Uncle Willie swept the Bloggies. Did you hear that? That's right! My site got ripped on by the Blogger of the Year! How do you like them apples?

(Does anybody else hear that whooshing sound? Oh yeah, it's just the waves of Wheaton backlash starting to break on the shore...)

| | |
| --- | --- |
| | [2] |
Huh. That whole "groom killed by big-boobed stripper" story was a hoax.

| | |
| --- | --- |
| | [2] |
Micheal Jackson wants a global children's holiday. As Kim once said, I can't believe his publicists allow his name to be mentioned time and time again with children. Are they all completely brain dead?


Last bit of Survivor News for the day... Whaddaya know? There's a Yahoo Group. They've done all the research for me!

| | |
| --- | --- |
| | [2] |
More Survivor News: After doing some sniffing about, I finally managed to get confirmation on where the competition will take place: Whaler's Way, near Port Lincoln in South Australia. It's not as harsh as the Kimberley, we think, but it's close to the Nullarbor, which could be trouble.


Australian Survivor News:
I have to say, I've been tremendously disappointed with Channel Nine's hype for the show so far. There is absolutely no information available on their website. We don't know who the host is, who the contestants are, or where it's going to be played. (Based on the first commercial, the Snook guesses the Kimberley, which is a deserty place on the northwest edge of the continent.) They've just recently started showing two new commercials that introduce some of the contestants, but you don't get to see much. How am I supposed to conduct my Survivor Contest if we don't know who to vote for in the first episode? (Incidentally, I'm still accepting players if anybody's interested.)


Thanks to Bill, I now know that Puff the Magic Dragon lived in Hawaii, specifically near the town called "Hanalei". (Yeah, I sung it, but I never knew where it was.)


What the hell? A satellite is expected to crash to Earth sometime today and pieces could fall anywhere between Orlando, Florida and Brisbane, Australia. Not that we're in any danger or anything, but why the heck isn't more notice given for these things? (Link courtesy of Fredo.)

| | |
| --- | --- |
| | [9] |
New webcam image is up. That's Snook giving me some smoochies. We were yet again defeated at the Nag's Head trivia tonight. I came through on Judy Garland's real name (Frances Gumm), but I totally tanked on the group that sang "Walkin' on Sunshine". (Ten points for whoever knows that without cheating.) In better news, I lost another pound!

Wednesday, January 30, 2002

The Snook and I finally saw Jay and Silent Bob Strike Back last night. (It just opened here last week.) I left the film thinking, "That was the dumbest thing I've ever seen." But you know, that's not even really a criticism, since they acknowledge it all throughout the movie. It's supposed to be stupid. If you haven't seen it yet, I can't give you a whole-hearted recommendation unless A) you've seen all of Kevin Smith's other movies, B) you enjoyed all of Kevin Smith's other movies, and C) you don't get easily offended by really, really crude humor. That said, the scene with James Van Der Beek was, for me, worth the price of admission. "You wouldn't last one day on the Creek!"


Reason 513 I'm Glad I'm Not Still in Britain: 120mph wind storms

| | |
| --- | --- |
| | [5] |
Reason 512 I'm Glad I'm Not Still in Britain: winter vomiting

"We are not talking about feeling a bit dicky and chucking up in the toilet bowl. I am told that people can vomit straight out for about a yard."

| | |
| --- | --- |
| | [6] |
Check it out! I have a webcam! That's me wavin' at you over there. I know it's a bit crappy, but I haven't played around with it very much yet so hopefully they'll get better. And once we get ADSL - which should happen soon - they'll be updated on a regular basis! Those of you hoping I'll embrace the camgirl lifestyle shouldn't hold their breath, though. I've promised the Snook that w-g will remain PG-rated, no matter what you buy me off my Amazon wishlist. :)

(Note: I know the image is a bit bloated, but I can't fix that til I get a better jpeg compressor. Just turn off the images if you find the site takes too long to load.)

Tuesday, January 29, 2002

Strange things are afoot at the Circle K. Stay tuned for details...

Monday, January 28, 2002
| | |
| --- | --- |
| | [36] |
How many of the most highly rated theme park rides have you ridden? I've been on ten out of the twenty! (It helps that a lot are at Cedar Point.)

| | |
| --- | --- |
| | [4] |
RunningBlog: Three-month gym membership: $150
Cute blue water bottle: $3
New sports bras: $30
Stepping out of the gym into the bright blue sunshine after having finished my workout, ran two miles, and lost half a kilogram, and thinking, "I am so proud of myself": priceless

Nearly getting hit by a car because I'm so entranced by the idea of running home and blogging this right away: pretty damn embarrassing


Huh. I knew that I was lucky to have lived through two palindromic years (1991 and 2002), but who knew that next month we'd actually see a 12-digit palindromic date? That's right, at 8:02 p.m. on the 20th of February, it will be 200220022002. (Assuming you use a 24-hour clock and the European method of writing the day/month, of course.)

| | |
| --- | --- |
| | [4] |
Remember in Microserfs when the main characters talk about the United States running out of phone numbers? All area codes used to have a 1 or 0 in the middle, but with the proliferation of mobiles, faxes, and ISPs, they're going to have to bring in new ones. Which kinda sucks, because you won't be able to work out how important your area is anymore. (With the old system, lower numbers were preferable to high numbers, since they took less time to go around a rotary dial.) Anyway, the point in talking about all this is that Northern Indiana, where I grew up and went to college, is splitting into three area codes. Everyone has six months to start using 574 instead of 219. Just a heads up, yo.

Sunday, January 27, 2002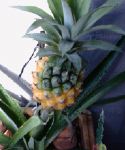 Advice needed.
I know some of you have green thumbs. See our little pineapple over there? Mama Snookums bought it for us for Christmas. Unfortunately on the way down to Sydney he was jostled and his little neck (i.e. the part holding up the fruit) broke. We've got him tied upright now, but I fear the worst. He's slowly turning yellow, which Snookums believes is a sign that he's dead and ripening. What do you think? If he is, how do we go about growing another one? Do we just cut him off and another will grow? Or do we have to dig up the whole plant and then re-plant the top from the fruit?

R.I.P., wee pineapple.

| | |
| --- | --- |
| | [2] |
What the...? Mighty Big TV has changed names. It's now known as Television Without Pity. Rumor has it that this site probably had something to do with it. Man, I liked the old one way better.


Man, I'm the link stealer today! Everybody's got such good stuff. And I'm still hungover so I can't be bothered to be creative myself. :)


Hee! Evil computer thieves thwarted by Applescript. Score one for the good guys. (Link courtesy of Wibbly WebLog.)

| | |
| --- | --- |
| | [1] |
The inevitable Wil Wheaton backlash has begun. Damn, and I didn't even start it! (Link courtesy of John.)


Ouch, my aching head. Our Australia Day barbecue was a smashing success. Many snags were eaten, and much beer was imbibed. It appears that we weren't the only ones boozing it up last night, though. The whole bloody country's in the North Atlantic! (Link courtesy of Ron. Man, everybody's got good links today!)


Apparently MGM are putting the kibosh on Goldmember. Snookums wonders, though, doesn't that fall under parody-protection laws? If Weird Al can turn "Gangsta Paradise" into "Amish Paradise", shouldn't Mike Myers be able to rip on Goldfinger? (Link courtesy of anon.)

Saturday, January 26, 2002

Some of you kids might be interested to know that Blogger Pro has been launched. Hmmm... Maybe I should finally release my homebrew blogging system? It's not like I don't have the time to work on it.

| | |
| --- | --- |
| | [5] |
Rant of the Day: Reclaim the Rainbow. Yes, these idiots are actually pissed off that gays use the rainbow as a symbol. "The rainbow is one of God's trademarks. The Gay-BI-Lesbians are transgressing on His trademark rights." How ridiculous is that? You can't have a monopoly on a natural phenomenon. And hello? Tons of people other than gays appropriate the rainbow. I'm pretty sure I drew one one my notebook every single day in the third grade. And what about the Lisa Frank company? Are they using the rainbow for un-Godly, commercial purposes too? This is just an excuse for some uptight people to spread around their homophobia. It pisses me off. (Link courtesy of Fredo.)

| | |
| --- | --- |
| | [6] |
New poll is up. It's inspired by my site's recent rash of hits from Google searchers looking for nude pictures of certain blond identical multimedia-magnate twins. Whatever you do, don't mention their names! Oh wait, I already ruined that.

Friday, January 25, 2002

Friday Five:

1. What cologne or perfume do you wear? I don't wear it very often, but when I do, it's either tommy girl or Essence of Moonflower from The Body Shop.

2. What cologne or perfume do you like best on the opposite sex? Oh God. Aspen for Men. Without a doubt. I also like Lynx, which the Snook often wears.

3. What one smell can you not stomach? Raw fish. Seriously, the smell of it makes me sick.

4. What smell do you like that others might consider weird? I love the smell of a musty, cool, slightly damp basement. No idea why.

5. How do you plan to spend your weekend? Well, Saturday is Australia Day, which commemorates the founding of the country (rather like our Independence Day). The Snook and I are celebrating by throwing a traditional Aussie barbie. We've got lots of snags (sausages) and chook (chicken) ready for our guests. Sunday is the last day of my friend Kel's visit, so we'll try to make it memorable for her. We had hoped to go to the beach, but it doesn't look like the weather is going to cooperate. Now we're thinking... casino! I'll let you know how it goes.


Hooray! Bill got nominated for a Bloggie! If it can't be me - Hello? Best Australian weblog, anyone? - then I can't think of anyone else I'd rather see listed among the Ernie's and Uncle Willie's of the world. Seriously, go vote for our Mermaniac, okay? :)

Thursday, January 24, 2002
| | |
| --- | --- |
| | [3] |
If you're not a regular visitor to Moire's site, you should be. I'm the hugest fan of her "Lamentably Horrible Fanfic Link O' The Day." My favorites so far have been "Luke Duke - The Baby Years", "Blues Clues - The NC17 Version", and "My Dream of Being a Beautician, by Severus Snape". What?! Oh, I don't actually read them. Moire's summary and comments are more than enough for me, thank you. Hilllllarious.

| | |
| --- | --- |
| | [12] |
What assholes.
You will not believe the day I've had. Actually 90% of it was great. Kel, Snookums, and I took the ferry out to Taronga Zoo and had a blast. Then we headed back to the Nag's Head pub to meet the guys and try to defend our trivia championship. We lost (the music round was impossible this week), but nevertheless that was still fun. So then at 11:00 p.m., the three of us (plus Rodd's friend Major) headed home. We were all waiting for taxis on Paramatta Road when it started raining. We headed for the nearest bus shelter. I was sitting there happy and contented when suddenly something hit me in the chest like a brick and everyone else yelled. I felt something cold and wet. Some assholes from a passing car had egged us. Yes, they threw eggs at us. Major and I had caught the brunt of it. Can you believe that? I have a bruise forming on my chest as we speak. I had to ride home stinking of egg. I'm so pissed off I can barely speak.

You guys know that I generally try to think the best of people. But this jerk actually went out of his way to ruin somebody else's night. How can a rational human being be so anti-social and mean? I honestly wish I could find him and punch him, not so much for the mess or the injury but for simply being such a worthless excuse of a person. Oh, and nice way to illustrate the charms of your city, mate.

Wednesday, January 23, 2002

Dude, check out the poll results. I'm trying to decide whether to be insulted that my core audience seems to be all chunkers. But you know what? I love you guys anyway, just the way you are. :)


English amnesiac may be porn star. Oh wow, that's hilarious. I was following this story when it broke in London last year. This guy with an English accent showed up in Canada claiming to have amnesia and later tried to get a Canadian passport to travel to Britain. Turns out that he may actually be a gay French porn star. Hee! Apparently when he first arrived at the hospital in Toronto, "nurses noted ... that he was in great shape, had a nice tan, and his hands were immaculately manicured." How they could miss those clues, I have no idea. :)

| | |
| --- | --- |
| | [1] |
Spurred on by your inspirational comments, I've decided that weight loss isn't the best gauge for my fitness goals. I want to be healthier all around, not just lighter. To that end, I bought some pretty cool new software for my PDA called BalanceLog. So far it seems great. It allows me to keep track of all the food I eat and the exercise I perform, and it allows me to set fitness goals and track them. I'm already learning stuff about myself. Today, for instance, I was surprised to see that while my diet was low in fat, it was actually pretty high in sodium. Gotta work on that. See? I'm feeling healthier already.

| | |
| --- | --- |
| | [1] |
Hey, my friend Kingsley has finally launched his long-awaited weblog. By my count, that now makes five of us former (and current) Netdeciders blogging it on the web. If you have a website, does anybody at your company know about it? Would you want them to?

| | |
| --- | --- |
| | [8] |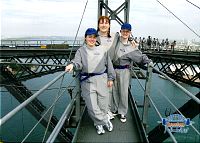 We did it! Kel, Carrot, and I reached the peak of the Sydney Harbour Bridge about five o'clock this afternoon. It was an amazing experience. Go check out my pictures. And don't even think of laughing at our jumpsuits...

Tuesday, January 22, 2002

Very limited Internet time this week, as my friend Kelly is visiting and I'm showing her the sights of Sydney. On her very first day, the beeatch managed to win $50 on one of the pub slot machines! Wish us luck on the bridge tomorrow...

Sunday, January 20, 2002
| | |
| --- | --- |
| | [1] |
New Poll: How active (or unactive) are you? Yeah, I'm trying to find some kindred spirits here.

| | |
| --- | --- |
| | [5] |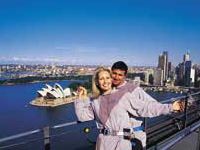 It's official. This coming Tuesday afternoon, I will be climbing the Sydney Harbour Bridge with my friends Kel and Carrot. It'll take us three hours. We may get tired. We may get dazzled by the heights. But at the end of it, we'll get a certificate and a photo... which you can bet I'll scan in for you, folks.

Oh, and before you suggest it, no liquid courage is allowed. They give us a Breathalyzer beforehand. :)

| | |
| --- | --- |
| | [8] |
The novelty of the gym has officially worn off. Saturday I had to force myself to go. I didn't want to do it. And I wanted to do it even less once I saw that my weight - which I had hoped would show some sign of decreasing - remained exactly the same. I know that some of you workout all the time. How do you stay motivated when it feels like you're just spinning your wheels? Or am I just totally overreacting, because it's only been a week and I'm already expecting some kind of results? If that's the case, how long does it take to start seeing some real changes? I need something to cling to fast, folks.

Saturday, January 19, 2002

Oh God. "At least 58 asylum seekers have sewn their lips together during a hunger strike at the Woomera detention centre." How badly do things have to be for you to sew your lips together to make a point?


Friday Five:
Check it out! Heather's got a new dedicated URL. Anyhoo, on to business...

1. What do you have your browser start page set to? My Yahoo! Although more and more I find myself checking my e-mail and then jumping straight to w-g, before eventually going back to read my news. Maybe I should change that.

2. What are your favorite news sites? Like I said, I generally read through My Yahoo!, which I have set up to show news at home, in London, and in Sydney. I also flick through Salon, The BBC, and The Sydney Morning Herald. I also read the Notre Dame Observer to keep up with everything back at school.

3. Favorite search engine? Google, without a doubt.

4. When did you first get online? My parents got a new computer sometime back in the early 90's and it came with a free Compuserve trial. Unbeknownst to them, I set up the account and started surfing the Net. There wasn't much to see, so I stopped using it and forgot about it. Those were the days of high monthly fees, though, and Mom eventually found out. We had a hell of time cancelling it too, mostly because I'd forgotten the password I created. Ouch. My first real full-on Internet access came in college, where I actually spent HOURS (on the weekend, no less) in the computer lab working on my website and chatting. Eventually our dorms were wired and I had a T1 connection within arm's reach in my room. It was fantastic. It's all been downhill from there. :)

5. How do you plan to spend your weekend? Today (Saturday) I've got to do my workout at the gym, and then the Snook and I are heading out to the Nag's to spend our $100 bar tab (from Wednesday's trivia win). Tomorrow we're going to dinner at his sister's house to meet the other half of the extended family. Then Sunday night, I'm hoping to drag the Snook out to the "Dive-In Movie" at the pool in Victoria Park. They're showing the three Wallace and Gromit movies!

| | |
| --- | --- |
| | [1] |
How many beer bottles can you match to the labels? I've obviously been living outside the U.S. for too long, as I only managed to score a miserable five.

Friday, January 18, 2002
| | |
| --- | --- |
| | [2] |
Sorry for the lack of postage today. We're having dinner with half of the Snook's extended family, so I'm Audi...

Updated: That wasn't so bad. Scary Italian Grandma turned out not to be so scary. I'm glad I didn't try to face her with bright red hair though. (I'm told she can be withering with the personal remarks.) Luckily my new responsible 'do seemed to pass the test.

| | |
| --- | --- |
| | [3] |
Mission accomplished! It took four and a half hours - and four separate dyeing operations - to take me from bright red to sensible brown. (Well, it's actually a sort of reddish-blondish-brown, but it looks good.) First we had the bleach bath, which took out some of the red. Then a lightening operation, which left me with peroxide blond hair with reddish streaks. Then a light brown color, which turned it into a lovely dark strawberry blonde. And then another darker brown, which evened everything out. So see? I worked in all of your suggestions! (Minus the black, you knuckleheads.) :)

Thursday, January 17, 2002
| | |
| --- | --- |
| | [4] |
Hair dyeing appointment for 9:00 a.m. tomorrow. Still undecided as to color. Am thinking of simply going back to normal color as a way of avoiding the decision. Will let you know how it goes... (Why am I writing like this is a telegram?)

| | |
| --- | --- |
| | [5] |
On the news tonight, they ran a feature on a vegetarian restaurant in Melbourne called "Lentil as Anything". The kicker is, there are no prices at this place. It's a "Buddhist" restaurant. You pay whatever you feel like, based on how much happiness the meal gave you. I'm totally and completely serious. The owner says he's not out for profit; he just wants to pay the bills. Staff don't get paid a salary, but instead they share whatever profit is left over. Snookums feels this is a little unfair, as it relies on people being embarrassed into paying more than they might otherwise (by the fear of paying less than they should). Personally, I think the world needs more of this kind of optimism. The owner basically trusts that most people will play fair. While a little cynical voice in my head says it will probably fail (it's eight months old so far), I kind of hope it at least stays afloat. It's so wacky and I like having wackiness in the world.

| | |
| --- | --- |
| | [2] |
Ugh. America's suckiest band are currently touring Australia. Can't you keep that crap over there?


My brother has crashed out of the Australian Open with a sprained ankle. Sorry, Antny. I mean, Andy.

| | |
| --- | --- |
| | [1] |
Moire added comments to her site! Kickass.


Proposal: Would any of you be interested in playing an Australian Survivor Pick 'Em game? The show starts on February 13. As far as I can tell, there aren't any existing web games set up for it. I was thinking that it wouldn't be too difficult to build it into web-goddess, though. We would follow the Yahoo! rules where each person gets 100 points to wager each episode on who gets voted out. You don't even have to be Australian to play along, as I'll be recapping each episode anyway. So who's up for it? Anyone?


John found an interesting article about the differences between Steve Jobs and Bill Gates. Personally, I think these were best personified in the 1999 film Pirates of Silicon Valley. I mean, what more do you need to know than Noah Wyle = Jobs and Anthony Michael Hall = Gates? Brilliant casting, if you ask me.

Wednesday, January 16, 2002
| | |
| --- | --- |
| | [4] |
Victory!
Tonight the lads and I pulled off a miraculous upset in the Nag's Head Pub trivia contest and earned a $100 bar tab to spend this weekend. My own contributions were few but important: First, what song begins with the words, "You should've seen by the look in my eyes, babe?" And second, "Which show spun off 'Mork and Mindy'?" The first (my father would be proud to know) I figured out after about five minutes of singing in my head. I narrowed down that it was REO Speedwagon, and eventually I hit on "Keep on Lovin' You". The second was, of course, "Happy Days". I pulled a boner, though, and changed my answer to "Which show spun off 'Green Acres'?" I first thought "Petticoat Junction", but then was persuaded to switch to "Beverly Hillbillies". I was right the first time. With Snook cleaning up on the "Identify the Queen song" round, we won handily anyway. Hooray!

(Am I right in thinking that "Petticoat Junction" was a spin-off of "Beverly Hillbillies", and that in turn spun off "Green Acres?" My dad is probably the only one who'd know this. He'd kick ass at Australian pub trivia.)

| | |
| --- | --- |
| | [2] |
This is my blog, and I find it extremely childish to delete someone's comments just because they're A) winning an argument and B) making me look like a big whiny-ass baby. Grrrr. Just had to get that off my chest.

| | |
| --- | --- |
| | [9] |
The verdict on the eyebrow-waxing: not too bad. She didn't even give me time to get worried. Just slapped on some wax, pressed some paper on it, and RIIIIIIP! My brows have never been so sleek and smooth. That was seven bucks well spent.


As expected, Sydney's sports reporters are all but committing suicide over Lleyton Hewitt's shock first round loss yesterday at the Open.
He was that battery bunny gone flat. Superman with kryptonite in his racquet handle. Popeye all out of spinach. Lleyton Hewitt was not himself. The great Australian hope was run around, worn down and, after three hours and 33 minutes, conquered.
Yeah, they take sports pretty seriously here. (I kinda agree with Lleyton about that dodgy trainer break at 5-4 in the tie breaker, though.)


Yeah, it's another Bush vs. the Pretzel story, but go look at the picture. Some prankster at Madame Tussaud's in London ingeniously placed a large pretzel in Shrub's wax mannequin's hand. Ha!


Girls, scientists suggest that if you want to match the boys drink-for-drink, stick to beer. It's all about the enzymes. Dude, Notre Dame chicks figured that out years ago. (The first bit, not the part about the enzymes.)


As a soon-to-be Aussie (and given the whipping NZ gave us in the cricket last week), I feel entitled to pass on a little Lord of the Rings-style Kiwi bashing. (For the Americans, the odd spellings are making fun of the Kiwi accent.)

| | |
| --- | --- |
| | [5] |
New Poll: It seems like every female weblogger asks this at some point, but what the hell. What color should I dye my hair? You can see the whole spectrum in the image at the top of the site. It's currently red, but faded. I'm not sure whether I should change it. On one hand, bright red hair might make it a little more difficult to get a job (once I finally start looking). But on the other, I live in the punky part of town, and how much longer will I be able to get away with this in my life? Maybe I should keep it a little longer. So look through those pics and tell me what you think.

On a related note, I've got a new experience scheduled for today: I'm having my eyebrows waxed. No, I don't have a unibrow or anything. But I'm tired of tweezing them to keep them pretty, so I'm gonna pay some woman to shape them for me. Full report to follow...

"My name is Pussy Galore."
The Snook and I have been slowly going through his Christmas present from me, the complete James Bond DVD collection. (He's seen them all; I haven't seen any.) Last night was Goldfinger (ba-baaaaaaa-ba!). This was my favorite so far. I looooved Pussy Galore. How the hell could Honor Blackman keep a straight face when Connery called her "Pussy" in that Scottish accent? I cried with laughter when I saw the name of her piloting business (hence my new strapline). I also liked Oddjob, Goldfinger's supposedly Korean butler with the lethal hat. Come on, the guy took a gold brick in the chest and didn't even flinch! The whole movie was just a triumph of camp style and action over realism and political-correctness. I highly recommend it.

Tuesday, January 15, 2002
| | |
| --- | --- |
| | [5] |
Where in pi is your name? "Kris" comes up at the 3,293,858,216th character. "Snook" is found at the 3,678,202,232th. I win! (Link courtesy of new discovery John at Wibbly Weblog, which I'm trying out in my links list.)

| | |
| --- | --- |
| | [2] |
You might have already noticed, but it blows my mind that I can now read all my favorite catalogs at Google. Ahhh, to remember the days when J. Crew inundated Notre Dame with about five catalogs per student...


Also seen on the Channel Seven News tonight: "Pretzel vs the President". That's the title of their continuing saga of our accident-prone Prez. Jeez.


Suspicious envelopes were mailed to thirty Sydney McDonald's restaurants today. Some of them even supposedly contained a white powder. And with that, anthrax hysteria jumps the Pacific! All 710 Aussie McDonald's have been ordered not to open their mail for the time being. Luckily the Snook and I live in Newtown, which is so violently bohemian that the only chain restaurant with the temerity to move in was forced out of business years ago. So we're all good.

| | |
| --- | --- |
| | [2] |
Heh.

"You have the right to remain silent--"
"Snoochie boochies!"

| | |
| --- | --- |
| | [2] |
Still on the Blogger Code theme... Somebody's written a Blogger Decoder. Paste in a person's code, and it tells you what it means. Very handy.

| | |
| --- | --- |
| | [9] |
RunningBlog: Moire joined a gym. And since she doesn't have comments, I'll respond to her here: Kickass! Don't fret, it'll all be cool. I was scared before my training session last week, but trust me, it'll be worth it.

| | |
| --- | --- |
| | [4] |
Remember the Blogger Code? Someone is accusing Ron of stealing it, despite the fact that the two versions have nothing in common but the idea of a "code", which can be traced back here anyway. Don't get me wrong; I'm all about integrity on the web (especially as regards stealing images). But God, we can be a petty bunch sometimes, squabbling over popularity.

Monday, January 14, 2002
| | |
| --- | --- |
| | [2] |
From the TV Guide:
11.45 Movie: The Eel. Paroled after eight years in prison for killing his wife, a man and his closest companion, an eel, embark on a new life as a barber in a small town. (Japan).
I swear, Australian TV is the weirdest. (Although perhaps I should extend that to the Japanese as well, since they evidently produced the thing.)

| | |
| --- | --- |
| | [3] |
It's silly quiz time! According to this...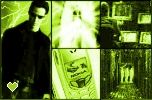 I will marry NEO (played by Keanu Reeves) from The Matrix, live in a big metal ship trying to escape from a world controlled by computers, and spend my days travelling through phone lines, hacking into the Matrix, and dodging bullets in slow motion.

What's YOUR M * A * S * H future? (Link courtesy of anon.)

| | |
| --- | --- |
| | [5] |
So I'm sittin' here watchin' the Australian Open and once again I'm struck by how much Andy Roddick looks like my brother Anthony. Check this out:


| | |
| --- | --- |
| My brother | Andy Roddick |
| | |

I couldn't find a good picture of Roddick smiling (and I didn't have one of my brother not), but I think you can still see the resemblance. For those of us that know him, it's even more startling.

Sunday, January 13, 2002
| | |
| --- | --- |
| | [4] |
Gaaaaahhhh. Baby with a tail. I repeat, baby with a tail. Hindu god or not, if that were my kid I'd be talking with a plastic surgeon as we speak.

| | |
| --- | --- |
| | [8] |
The Apple iPod is selling like hotcakes. Snookums and I went to the Sydney store recently to try to get one, but they were all gone. (The guy confessed that his company had only received five for all of Australia.) But shhhhh! I have a cunning plan to get one. More info to come. Mum's the word...


Bill has posted a yummy-looking recipe in the hopes of starting a new meme. I'd play along, but y'all know how I am with the cooking. Maybe I'll post a cookie recipe once my cookbooks get here. (Most of our stuff is still en route from England.)


Friday Five:

1. What was your first job? As soon as I turned 14, I went down to the local grocery store (there was only one) and turned in an application. (You had to be 14 to work part-time in Indiana then.) Within a week I was working at the Wolcottville IGA, mostly just as a cashier. We were in such a dinky town that we didn't even have scanners or accept credit cards. I ended up working there for three years. I started out making $4.25 an hour, and I was at $4.50 when I left. This job also qualifies as the worst job of my life.

2. How old were you when you had your first kiss? First real one? Sixteen. (I was a late bloomer.) As the kissee is now a psychopathic drug-addict bisexual, that's all I'm going to say about that.

3. What was your first car? What happened to it? It was a maroon 1986 Pontiac Grand Am. My parents and grandmother chipped in to buy it for me not long after I turned 16. I drove it all through high school, and it managed to survive a cracked engine head, alternator trouble, flat tires, and constant overheating. Eventually it was so run-down that we sold it to some Mexican migrant farm workers. (Seriously.)

4. What was your first concert? When I was 16 I saw Bryan Adams in Cologne, Germany when I was there for a summer study program. Forget David Hasselhoff; Bryan Adams is big in Germany. It actually wasn't a bad show. It was a little weird, though, to look around a soccer stadium filled with 45,000 screaming people and realize that I was the tallest female in sight.

5. How do you plan to spend your weekend? Saturday was designated for Survivor, of course. Afterwards we headed out to see Samson and Sharky at the Nag's Head pub (hence my drunken ramblings below). Sunday is gym day, as I head off to work through my new weight-lifting program for the first time on my own. Other than that, just vegging, most likely.

| | |
| --- | --- |
| | [2] |
Ethan won. Damn. I called that totally wrong. But at least I successfully avoided the spoiler for 24 hours. We actually watched the final episode with Rodd's friend Kenya, so nicknamed because he is from Kenya. He kept telling us about the wildlife and saying it made him homesick. So that was interesting. I was happy Lex didn't win. (He'd just spend it all on crack and tattoos anyway.) Brandon and Kelly are the bitchiest two people I've ever seen in my life. I'm never going to watch The Graduate in the same way again. And after the episode we went out for many many beers, which explains the rambling nature of this post. Must sleep now. Gym in the morning!

Friday, January 11, 2002
| | |
| --- | --- |
| | [6] |
RunningBlog: I'm still officially avoiding the big news, but Snookums informs me that web-goddess remains spoiler-free. I just got back from my first session with my new personal trainer and I had to spread the news. It was awesome! His name is Alex and he's the friendliest, buffest gay man I've ever met. He devised a program for me that's primarily based around weight lifting, and I'm supposed to do it twice a week. We went through all the exercises today and I'm excited to do it on my own (though I'm gonna be sore tomorrow!). I also do 20 minutes cardiovascular, and I might take in a class every now and then. I'm gonna be fit, baby! And Alex is hopefully going to provide the motivation and accountability I need. I have to see him again in 6-8 weeks for a progress report, so I can't slack off, which is good.

And dude, let me just say how much I love my new gym. It's rundown, it's above a grocery store, but it's full of hot men. Hot gay men. Hot gay Australian men. It's the best. Today there was a row of about ten of us on the treadmills, all plodding along, when the opening strains of Kylie's "Spinning Around" were heard. In unison, every person reached for the speed control to bump themselves up to a jog. It was soooo fun.


Yeah, yeah. It's on. The final episode won't be shown here til tomorrow, so I'm going to try to be strong. I'm gonna go offline for the next 24 hours and see if I can remain unspoiled. So no calling me up and ruining it, okay?!

Sidenote: I was pretty surprised to see that they're showing the American version here. I guess all the Aussies got hooked when they did the Outback version. They've been advertising a new "All-Australian" Survivor that's gonna start in a few weeks, though. I'm stoked for it. Do you realize that means I will have seen three different international versions of the show? That must be some kind of record. (Okay, so the Snook has too, but he's not into it like I am.)

| | |
| --- | --- |
| | [8] |
The most beautiful man in alterna-rock is marrying the most annoying female in alterna-rock. I give this union about three months.


Meg wants to know: What do you see around your computer? I see a cluttered desk upon which rests a scanner, a printer, a digital camera, an empty cereal bowl (actually a large cappucino mug; I didn't feel like washing a bowl), a book called "Latin for All Occasions", an empty bakery wrapper from the gingerbread man Snookums bought me the other day, a half-full wineglass left over from last night, my gym class schedule, and a couple wadded up Kleenex. To my right are the shelves of our "office area": CD rack, blank CD-R's, phone, inkjet paper, calculator, pens, tools, etc. To my left I can see out the glass doors to our balcony, which overlooks a small patch of green grass and purple flowers in front of the office building next door. I can see King Street with all its cafes and shops at the end of the block, and people strolling past enjoying the warm sunshine and blue sky. Behind me, my Snookums lies on the couch reading his book.

What do you see?

(Perhaps you should go tell Meg or blog it on your own site. I don't want her to think I'm hijacking her discussion.)


Ananova reports that the 'N Sync scene in Star Wars: Episode 2 has been scrapped, supposedly due to fan outcry. Yeah, right. Fan outcry has never changed Lucas's mind before, and I doubt it would now. I'm suddenly suspicious about this whole story again. Has anyone actually taken the time to look on the official site? As far as I can tell, there are no official confirmations that 'N Sync were going to be involved at all, much less that they're suddenly now not involved. Methinks that this whole thing has just been one big rumor, and we're all so ready to accept Lucas as "defiler of the Universe" that we bought it hook, line, and sinker. (Ananova link courtesy of anon.)


Done your good deed for the day yet? If not, click on this link. It goes to the comic strip Sheldon, which is drawn by Dave Kellett, another ND alumnus. United Media is considering picking up Sheldon for syndication and will base the decision on how many hits the site gets. Dave used to draw a comic for the campus newspaper called Four Food Groups of the Apocalypse. It was one of my favorite comics of all time. Go give him a couple hits, will ya? (Thanks to Brigita for bringing this to my attention.)

Thursday, January 10, 2002
| | |
| --- | --- |
| | [3] |
That's it. I can't believe it finally happened. I have achieved every blogger's dream: somebody wants to see me naked. (That actually turned up in my search requests; check it out for yourself.) Apologies to my would-be stalkers though. I am not a camgirl. There are no nekkid pictures of me on the site. There are, however, more than a few revealing pictures of my boyfriend, so hopefully that will suffice. Perv.

| | |
| --- | --- |
| | [4] |
Nigella does bite.
Despite the New York Times's breathy adoration, I still do not like Nigella Lawson. First of all, she's a female Jamie Oliver. Men just find her less annoying because she's good-looking and she's posh. The fact remains that she's famous more for her personality than for her recipes. She also obviously has an oral fixation, which drives me up the wall. In every picture she's got a carrot stick or something between her lips. (Snookums and I feel this is a big key to her appeal with male audiences.) Lastly, I found her book "How to be a Domestic Goddess" sexist and annoying. I like to bake, but I don't consider myself more feminine or goddess-like because of it. I don't think wafting around my house in a cloud of vanilla and ginger is the apex of womanhood. And I don't think flicking your hair that much in a kitchen can be very sanitary, do you?

| | |
| --- | --- |
| | [1] |
While researching my hay fever online, I came across the website of the American Academy of Allergy, Asthma & Immunology. Of course, judging by the URL, I though it was a site devoted to this guy.


The Snook and I saw Monsters Inc. today. It was even better than I expected. I was worried that the little girl would annoy me, but instead the story of Sully and Boo completely won me over. Of course, the best part of the moviegoing experience was seeing our Aussie friend Scott in a Showtime commercial before the feature. He's the pale redhead in the middle of this picture. In the advert you see three black and white photos of him ("By day he's a clerk...") and then suddenly he morphs into Russell Crowe ("... but tonight he will conquer an empire!"). We laughed and laughed. Congrats, mate.

| | |
| --- | --- |
| | [7] |
Ron started a meme! He's created the blogger code and even a handy cgi that generates it for you. Here's mine:
B5 d++ t++ k s f+ i o x- e+ l+ c--
My Geek Code is already available on the about page.

| | |
| --- | --- |
| | [3] |
I don't get the "pleated pants" thing. Did I miss something? For the record, I'm anti-pleated pants.

| | |
| --- | --- |
| | [12] |
RunningBlog: I am the New Year's Resolution Girl! I joined the gym today and made an appointment to see a personal trainer tomorrow afternoon. I am going to get fit, fit, fit. But no yoga. I learned that lesson already.

Wednesday, January 9, 2002

Apparently Kirsty MacColl's last album is going to be released soon. I'm not such a big fan, but Snookums's mom is. That article has some good information about her influence on modern music (and musicians).

| | |
| --- | --- |
| | [3] |
I hate spammers. That's why I loved this detailed war of words with one of them. Great reading, if you've got a few minutes.

| | |
| --- | --- |
| | [4] |
I can't stop giggling. President Bush referred to Pakistanis as "Pakis". Oh my. My American readers probably don't realize that this is a majorly offensive term elsewhere in the world. And he didn't even apologize! Who's advising this guy, anyway?

| | |
| --- | --- |
| | [3] |
Now they're saying that the suicide "Osama supporter" kid may have developed mental problems from his acne medication. Obviously we're not quite done grasping at straws.
The Food and Drug Administration says 147 people taking Accutane, which affects the body's central nervous system, either committed suicide or were hospitalized for suicide attempts from 1982 to May 2000.
That statistic covers eighteen years. I'm sure during any eighteen year span you could come up with 150 people who committed suicide while taking Pepto Bismol. Or drinking Mountain Dew. Or being on their period. This doesn't seem like a very meaningful line of research to me. (And God, how embarrassing. Not only did he suffer the indignity of being called a terrorist, but now everyone in the world knows the poor kid had to take special medicine for his pimples.)

| | |
| --- | --- |
| | [5] |
I didn't know Dave Thomas (founder of Wendy's) died! Wow. Even the Snook knew who he was. I remember reading somewhere once that he only started doing his commercials to help the company rebound after a "tainted meat" scare back in the 80's. The article doesn't mention that. It does say, however:
In 1956, he was working at a barbecue restaurant in Fort Wayne, Ind., when Col. Harland Sanders of KFC fame stopped in on a promotional tour...
Who knew that such a historic fast food moment took place right near where I grew up?

Tuesday, January 8, 2002
| | |
| --- | --- |
| | [3] |
This is amazing. Check out some of the most momentous Usenet posts ever.


I never really noticed before that Bill's comment phrase is "Sing out, Louise". When I looked at it today though, I suddenly realized where it comes from: Gypsy! The Bette Midler version was just on TV here the other day. The only thing more amazing than Midler's constant hamming was how much Cynthia Gibb looked like Natalie Wood. And I knew I'd seen Herbie before... He was in Animal House!


I added a bit of new functionality to web-goddess that allows me to change the tagline (that bit up at the top of your browser window) via my admin tool. The current tagline is from Max, and I was much flattered. :)

| | |
| --- | --- |
| | [8] |
The new iMacs made the cover of Time Magazine? Wow. I'm not sure what I think of them though. They look like they're from the future. But did you check out the specs on 'em? Pretty sweet! I also like the new 14-inch iBooks. (I knew I shoulda waited before buying mine!) The Snook is even considering making a move to the world of Mac. You will all be assimilated, I tell you.


New Poll: Hey, you, gimme a thumbs up or thumbs down on the new design so I know whether or not to change it. Thanks.

| | |
| --- | --- |
| | [2] |
Interesting discovery: After midnight in Australia, they show the American NBC Today Show live on telly. Neat. Happy birthday, Katie Couric!

(Why am I up so late? Because of my new hobby: counted cross stitch! Seriously. I needed something to occupy me - since I can't get a job yet - and I used to enjoy doing them as a kid. I've got two, a sorceror and a sorceress. Pretty cool. I've just started the sorceress and I'm obsessed with it. I'll probably be done with both in two days and then bored again.)

Monday, January 7, 2002
| | |
| --- | --- |
| | [4] |
Andrew O'Hehir provided me with my favorite top ten movies of 2001 list. The funniest part:
3. "Mulholland Drive" Yeah, I mean, I guess so. This one I definitely need to see again. Part of me suspects it's just lesbian porn plus pretentious pseudo-symbolist claptrap (not that there's anything wrong with that, exactly).
His comments about Mariah Carey and "The Fast and the Furious" are pretty good too. For me, that balances out his inclusion of "Ghost World", which I thought sucked.


A few of us are having a nice discussion on film over at Michele's site.


Hallelujah! It's raining in Sydney. It's been over two weeks without rain. Hopefully this will help with the bush fires.

| | |
| --- | --- |
| | [17] |
Oh please. A suicidal fifteen-year-old had "sympathy" for Bin Laden? First off, who cares? It's not like he was working for him, so why report it? All you're going to do is increase the pressure already on loner high school kids. And since when did sympathy become a bad thing? I can have sympathy for someone without agreeing with them. Part of me also wonders exactly what you have to do or say to be considered "sympathetic to the enemy". What if I don't spit whenever I say his name? If I don't fly an American flag on my car, does that make me un-sympathetic to the cause? If a depressed and suicidal teenager mentions a terrorist, does that automatically make him one as well? Just thinking here.

Sunday, January 6, 2002

Some people really loved Castaway. Other people really, really hated it. I still haven't seen it.

| | |
| --- | --- |
| | [11] |
I just noticed the other day that all the cool kids have been changing their site designs. And since mine's been the same, you know, forever, I decided I'd jump on the bandwagon. Here's what I came up with. Whaddaya think?
Yeah, those are all me up at the top. It's a bit big, but it's also just about the only graphic on the page (other than the little post icons), so I figured I'd go for it. I like it, anyway.
I got rid of the serif text, but I still couldn't resist going for the retro "default link colors" look. How 1994 of me.
Just as Bill did, I considered doing a fancy-schmancy CSS layout and then scrapped it. TABLES RULE! You technophiliacs can bite me.
As per our discussion way back in August, I moved the sidebar to the right. Thoughts?
Since the "changing-fruit-flavors" concept isn't here anymore, I got rid of the old preferences page. Of course, that also kills the "set how many days you want to see" functionality. Was anyone using that? If enough of you bitch, I'll bring it back.
All the pages should be done, so flip through and tell me if you find any glaring mistakes. I've only got a Mac here at home, so let me know if it looks honky-tonk (as my sis would say) on a PC. Thanks!

Saturday, January 5, 2002

*sob* Australia just won the cricket, as expected, and Steve Waugh, the captain, got to make a speech afterwards. He said that they'd had a good couple of weeks, but the real heroes were all the firemen up in the bush saving lives and homes. Then he announced that the team was donating their entire winnings from the series - $51,000 - to the bush fire Relief Fund. Then as everybody was applauding, the head of the Australian cricket association said that they'd be matching the donation too. It's like an Oprah moment.


When I was at the shipping company this afternoon, the little old guy at the counter asked me if I was Canadian. I was pretty amused. I related this to Snookums at lunch, and I was just about to point out to him my theory of how my years abroad must have softened and changed my harsh Midwestern accent, when he interrupted me with: "He was just being polite. Canadians get really pissed off if you assume they're American." OH.

| | |
| --- | --- |
| | [7] |
Friday Five:
I've been thinking about joining this meme (you answer five new questions every Friday), but I didn't manage to get around to it til today. And since it's still officially Friday in the U.S., I'm gonna go for it.

1. You've just won a complete collection of movies starring one actor - what actor would you pick? I'd like to say someone highbrow like Bette Davis or Peter O'Toole, but in reality, I'd probably pick Ewan McGregor or John Cusack. They're always in good stuff. (Actually I think my sister HAS all the Cusacks already.)

2. What was the last movie you saw in a theater? The Man Who Wasn't There. See my comments here.

3. What was the last video or DVD that you bought? I bought Snookums the complete James Bond DVD collection for Christmas. Of course, the shipping company screwed up and we didn't get it til today, but he was still happy.

4. What movie could you watch over and over again and not get sick of? Probably Pride and Prejudice. I notice something new in it every time I see it. And I watch it every time I get sick or sad. It cheers me up.

5. How do you plan to spend your weekend? Today the Snook and I went to pick up his vids from the shipping company, and then we took a walk through Erskineville and had lunch in a cafe. Tonight we're headed to the Nags Head Pub with the Snook's friends to see Samson and Sharkey, an awesome duo that play cover songs. No plans for tomorrow yet, but I'm thinking "BEACH". Sounds nice, doesn't it?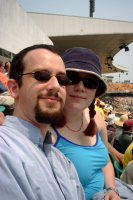 Yesterday I attended my first professional cricket game at the Sydney Cricket Ground where I saw Day 3 of the Australia versus South Africa Test. If you're interested in seeing some pictures and maybe learning a little bit about this great game, head on over to my Photos section.

Oh, and please don't knock the pasty white computer people. The Snook and I are trying very hard to shake off the effects of two years in England, but it ain't easy. :)


They're making a sequel to The Bridges of Madison County. That's so ridiculous. Did you see the movie of the original book? I was forced to watch it against my will, but by the end I was sobbing like I've never sobbed before. Clint Eastwood is a god. The whole point is that these two people had four days together and then had to stay apart for the rest of their lives. How can you even make a sequel to that? It would destroy the whole point of the first damn book!

Friday, January 4, 2002

Two pictures for your amusement: the funniest picture of Snookums EVER, and our lovely New Year's party.

| | |
| --- | --- |
| | [2] |
Oh no! The Clintons' dog Buddy was hit by a car and killed. I bet Socks put a hit on him or something.

| | |
| --- | --- |
| | [3] |
'N Sync cameo in Star Wars: Ep. 2 confirmed. Excuse me, I'm going to go burn my Queen Amidala costume.

| | |
| --- | --- |
| | [11] |
Congratulations to my Dad, who just got engaged! Way to go, Pops!


HAPPY BLOG BIRTHDAY TO ME!
Yes, web-goddess is one year old today! Isn't she a lovely baby? Actually I haven't changed the design at all; that must be some kind of record.

Thursday, January 3, 2002
| | |
| --- | --- |
| | [1] |
New Poll!
Kris: "Hey, Snookums, I need a new poll for web-goddess. What's a good question?"
Snook: "What's your favorite salad?"
Kris: "HAHAHAHAHA"

Yeah, so it just struck me as funny at the time.


If you're interested, I've got a list of all the mp3s that the Snook and I have. Just in case you wanna, you know, trade mix CD's or something. (Yeah, I'm revelling in my new computer's burning abilities.) :)


Remember when I mentioned the Mexican Train Station dominoes game the other day? Well, I made my own train station and thought maybe some of you might like to use it for your own game. You can grab it here. Just cut out the circle and then cut notches for the train lines. Have fun!


Apple has me drooling again. I just really, really hope that it's NOT iTunes for Windoze. I mean, 98% of the software in the world only runs on PC's, so why the hell should Apple users have to share the one cool thing they have that no one else has?

| | |
| --- | --- |
| | [3] |
It's a bright, beautiful, sunny, non-humid day. So why am I not at the beach? I'm waiting for the friggin' dishwasher repairman to arrive. *sigh*

Wednesday, January 2, 2002
| | |
| --- | --- |
| | [1] |
Random philosophical question of the day: Say a genie offered you the chance to just fast-forward, like, forty years of your life. You'd remember everything just as if you lived it, and your body would age just as if you lived it, and you'd have all the material possessions you would've had as well. The only difference is that you wouldn't actually have to go through all that. You could just skip it. You'd have lovely memories (and photographs and T-shirts and whatever) to remember the happy bits, and you'd also have distance from all the bad stuff that will inevitably happen. Would you?

(Snookums and I thought this one up while drinking wine out on our balcony. I think I might go for it, while he would prefer to simply know that he'd be happy at seventy and to then go through life thinking that he had that to look forward to.)


I had the medical examination for my visa application today. They have to make sure that I don't have any expensive diseases that I'm trying to make the Australian Health Service pay for. I had to have an HIV test, and a chest X-ray, and all sorts of other stuff. Luckily I had just managed to shake the rest of the hangover, so I think I passed. Oh, and if there are any sort of quotas based on country of origin, I'm golden. I was the only non-Asian person there, and there were a LOT of people waiting.

Tuesday, January 1, 2002

Notre Dame might actually hire a black coach. Huh. They've really been loosening up in the last few years. We had a female Irish Guard member, and a black leprechaun, so it's not like this is a total surprise. I'm just annoyed that Jessie Jackson will probably feel like he had something to do with it, when in reality the guy is just the best person for the job.

| | |
| --- | --- |
| | [1] |
Happy New Year! Ow, my head.
I hate wine. Wine hates me. But other than a nasty-ass hangover, I seem to have made it to 2002 in one piece. Our dinner was great; Snookums outdid himself with steaks and onion rings and yummy chocolate mousse for dessert. When we hit midnight, I spent an hour trying to call all my relatives in the States but the lines were mostly jammed. Hey! Y'all still haven't reached midnight yet, have you? It won't be for a couple more hours. So don't let my suffering be in vain; let me be an example of the dangers of excessive New Year's imbibing. It's all about moderation, kids.

archives
You can search through the archives by post keyword using the form on the left, or you can browse by month using the links at the bottom.
"Moblog" refers to posts and images posted directly from my mobile phone.

"PW Blog" refers to posts recovered from my very first weblog, which dealt with news related to my college dorm.