Friday, January 31, 2003
| | |
| --- | --- |
| | [2] |
Holy crap. Check out my Recent Searches page. I'm the #2 Google result for sightings of the Virgin Mary at Coogee and apparently the faithful are flocking here. Sorry, folks, I haven't seen it personally. It's only a short bus ride away though... Perhaps your dutiful blogger will have to do some investigative reporting with her digital camera this weekend. :)


Confession: I deleted a couple comments that randoms left today. It's not that I'm against new people commenting; in fact, I welcome it. (Seriously, you lurkers! Join in!) But folks have to understand that this isn't Usenet. I like the fact that the usual crew here all respect each other and use readable English. So don't even bother posting gibberish that reads like an SMS. I'm against the censoring of ideas, but I have no qualms about deleting atrocious grammar.

Thursday, January 30, 2003
| | |
| --- | --- |
| | [2] |
In the category of "More Good News... Not", apparently you can get deep vein thrombosis from sitting at a computer for too long. See, I thought the thing about the airplanes was that the pressure had something to do with it. But now they're saying you can get it just from sitting on your ass at sea level? Great. Oh, and they've even coined a new term for it: "e-thrombosis". *rolling eyes*


Today it was forty-four degrees Celsius outside in Macquarie Park, where I work. That's one hundred and eleven degrees Fahrenheit. It's stinkin' hot.


Draco is Eminem, and evidently Dobby is Vladimir Putin. Random.

Wednesday, January 29, 2003
| | |
| --- | --- |
| | [9] |
From my friend Major: "Check this out. People are seeing the Virgin Mary in a frickin' fence post at Coogee. People are making pilgrimages to see a white fence and are saying its a message from God that women shouldn't go topless on the beach. Get these morons out of the gene pool. Out I Say!!!" I really have to agree.

Tuesday, January 28, 2003
| | |
| --- | --- |
| | [4] |
Me: (picking up phone) Hello?
Telemarketer; Is this Mrs. Snook?
Me: BWAH HA HA HA HA!

I never did find out what he was selling.

| | |
| --- | --- |
| | [4] |
Everybody's linkin' to this collection of videos of The Price is Right winning moments. I like the first one where the guy wins $20K playing Plinko. That game rocked.

Monday, January 27, 2003
| | |
| --- | --- |
| | [8] |
Wow. Roger Ebert saw Bob Dylan's new movie and ripped it to shreds.
"Masked and Anonymous" is one of the oddest movies I have ever seen. Obviously everyone involved in it was besotted, if not mesmerized, by Dylan. All of those big stars must have agreed to their cameos ... It's a little sad to see them acting their hearts away in scenes where Dylan sits there like a toad, impassive, unmoving, oracular, waiting for the closeup in which he utters yet another oblique epigram.
He called Bob Dylan a toad! I love Ebert.


Dave Barry has a weblog. I'd like to place a bet right now that he'll sweep the Bloggies next year.

| | |
| --- | --- |
| | [17] |
Thoughts About the Non-Football Parts of the Super Bowl:
Who the hell picked Celine Dion to sing "God Bless America"? Doesn't everybody in the world know she's Canadian? When she sang "God bless America, my home sweet home," I rolled my eyes and yelled at the TV: "It's not your home! You live in Montreal with your 90-year-old husband and your crazy frozen sperm baby!"
That said, the Dixie Chicks were a great choice for the anthem. I really liked the arrangement they used. Simple and beautiful.
As usual, we international folks didn't get to see the commercials. That sucks. What'd I miss? Anything good?
Our commentators were Dick Stockton and Troy Aikman. I never liked Aikman as a player but he was a pretty good commentator. He went out of his way to explain some of the weirder rules ("illegal use of hands"?) to the international viewers. He sounds an awful lot like John McEnroe, though (who I've been hearing for two weeks at the Australian Open). I thought Aikman had a stronger "southern" accent?
Is there some rule that otherwise attractive singers have to dress like psycho slutty circus freaks when they perform at half time? (Remember when Britney had the sock on her arm that one year?) Someone should point out to Shania Twain that middle-class Midwestern America (i.e. 90% of her audience) will only approve of so much bondage-wear.
Oh, and why did Shania open with that "Man, I Feel Like a Woman" song? Wasn't that a hit, like, five years ago? I correctly predicted that No Doubt would continue the theme and sing "I'm Just a Girl", which was even older.
Gwen Stefani is a super freak who so doesn't deserve Gavin Rossdale. She also looks a lot like Brittney Murphy, I just realized. That's not good either.
Before Sting even came out, I predicted to the Snook that, adhering to the theme of singing progressively older songs, he'd bust out a Police tune. I was not wrong. I forgave him, though, because he looked pretty damn good.
What happened to Shania at the end there? Sting and Gwen were singing together and I kept expecting her to run in with the next verse. Is Shania such a diva that she won't do the group-sing thing? Weak.
The Australian commentators were really going out of their way to try to make this spectacle relevant to the home crowd. At one point, the head guy announced an "Australian connection": Shania Twain's husband, Mutt Lang, apparently produced a lot of "really good ACDC records". I swear I heard the entire viewing audience reply, "You're really reaching, dude."
Wow, there were a lot of players who'd come over from the European league. Did they mention that on the US broadcast? There were, like, 12 per team. I was wondering if that's an unusually high number, or whether they just don't mention it as much to the US because no one cares there.
Was that Bon Jovi playing there at the end? Bleh. How about next year they book somebody that the kids actually, you know, listen to these days? Yeah, I criticized U2 for whoring themselves out to all the sports finals last year, but I'd take them over this crap any day.
Man, that all sounds pretty negative. I really did enjoy the game itself. I always like seeing an underdog win. It was also great to see my man Jerry Rice have a couple nice catches. I think it's just hard without the commercials to distract you from how silly and stupid the whole thing is. So tell me, which ones are everybody going to be talking about this year? Were there any dotcoms? Any Britney-sightings? Enquiring minds need to know.

| | |
| --- | --- |
| | [1] |
Happy Australia Day! Well, I'm a day late actually. It was yesterday. Australia Day is the Aussie equivalent of our 4th of July. We went over to our friend Steve's for a barbecue. Much homebrew was imbibed. We also continued last year's tradition of playing "Cups", which is an ND drinking game I taught them. It was a fun day. (And a hot one! It was, like, a hundred degrees.) Now I'm just enjoying having this Monday off. Ooh! And the Superbowl will be on soon! I don't even know who's playing.

Saturday, January 25, 2003
| | |
| --- | --- |
| | [1] |
I was surfing through old Glitter discussions yesterday when I found this picture of a little girl in a homemade "Fluffy the Three-Headed Dog" costume. How cool is that? I'm regretting the fact that I never put a lot of effort into my own costumes as a kid. I was a "punk rocker" for, like, five years running.


Friday Five:

1. What is one thing you don't like about your body?
Jeez, only one? Let's spin the Big Wheel O' Kris's Body Issues and see what turns up today! Today's issue is... weight! Yeah, I'm still a little more, uh, voluptuous than I need to be. I'm workin' on it.

2. What are two things you love about your body?
I'm tall. Sorry to all the short folks, but I really like towering over you. I don't think I could take being short. Oh, and I have a cute nose. A cute little Korean nose. I like that too.

3. What are three things you want to change about your home?
Well, we're renters, so it's not really ours. But if it were, I'd build an extension on the second floor over the kitchen. I'd put in a master bathroom there and then switch the office and bedroom upstairs. Then I'd take the tub out of the little bathroom downstairs and move our laundry in there, just getting rid of the shed in the back. I've got it all planned out.

4. What are four books you want to read this year?
Hmm. You know, I don't really have a list. I just go to the library and pick up whatever looks interesting. I've got to reread the four Harry Potters before the fifth one comes out though, so I guess those count.

5. What are five promises you have kept to yourself?
Ugh. These are hard! Well, I've had my gym membership for a year now and I've actually used it. I haven't eaten ramen noodles since college. I went to London after graduation and stuck it out even though I was scared and homesick. I'm making a sincere attempt to learn to like seafood. Oh, and in 2000 I said I wouldn't move back to the US til Bush was out of office. So far so good on that one...

| | |
| --- | --- |
| | [4] |
The State Department is telling US citizens living abroad to be ready to leave quickly. Whatever. I feel way safer here. In fact, I keep telling people I know in the US to move out. Everyone should get to experience gun control and public health care at some point.

Thursday, January 23, 2003
| | |
| --- | --- |
| | [3] |
Attention Sydneysiders! The Snook and I have two tickets to Big Day Out this Saturday that we're trying to get rid of. Anybody interested?

Update: Less than eight hours later, the tickets have been sold! Viva la eBay! I mean, I like the Foo Fighters and all, but there's no way I'm going to stand in 100-degree heat for eight hours to see them.

| | |
| --- | --- |
| | [3] |
The Bloggie Nominations have been posted. Really, what's the point? It's pretty much all the same names as last year (with the notable exception of Uncle Willie - I wonder if that was deliberate?). Much like Penny on Survivor, I decided to base my vote on who was nicest to me. Since Bill is the only nominee who comments on my site semi-regularly, he's the only one that gets my vote. Yep, I'm that petulant. Go Bill! (No, seriously, go vote for Bill.)

| | |
| --- | --- |
| | [3] |
Never, ever wear your big backpack into a crowded bead store with lots of jars of beads stacked in tiny aisles. I'm just sayin'.

Tonight (Wednesday, actually) the Snook and I went to the Opera House to see Voices of Light: The Passion of Joan of Arc. It was fantastic. The film is a 1928 French masterpiece about Joan's trial and execution. Composer Richard Einhorn wrote a full score (symphony and choral) that was performed live as the film ran. I can't even begin to describe how amazing this film was. I had to keep reminding myself that it was from the 1920's. The plot is really simple and straightforward, and there aren't a lot of dialogue cards. Mostly you see faces - Joan, her judges, the priests, the people. But mostly just her. I can't imagine what the actress went through to give that performance. If you ever get the chance to see it, I really, really recommend it. (Ebert loved it too and mentions a lot of interesting stuff I didn't know about it.)


It's 12:30 am here and Andy Roddick's tennis match is still going on. I don't know if I can watch much more of it. It's just too tense. Plus he looks so much like my brother that I find myself getting emotionally over-invested. It's weird.

Half an hour later: Holy crap. Hooray for Roddick! Obviously he was just waiting for me to blog the match before he won it. How tense was that? Not even the Snook's sudden discovery that his vat of beer leaked five liters in the cupboard under the stairs could tear me away.

Tuesday, January 21, 2003
| | |
| --- | --- |
| | [10] |
Sorry for the lack of posts. I haven't had much surf-time in the last few days. Tonight my friend Sharon and I went to see Bowling for Columbine. The experience reminded me of seeing Wag the Dog when I was in London. It's just weird to sit in a theater and listen to people from another country laugh at the United States. It's like when somebody else mocks your family. You know them, you know their faults, but it still smarts to hear it from someone else. That's how I felt. When Charlton Heston postulated that America's violent tendencies were due to our "greater mixing of ethnicities" there was an audible gasp and chuckle throughout the audience. Australia has racial tension, but they're still light-years ahead of us in terms of multiculturalism.

Anyway, yeah, I thought it was good but felt that Moore went on for too long. He should've stuck to the personal level instead of trying to relate it to our government. It felt like he was reaching. I just don't think the Columbine killers were much influenced (whether consciously or not) by the war in Kosovo. And how about Charlton Heston and Dick Clark? How could you go on camera and then behave like that, knowing everyone in the world's going to see it? Sure, the Kmart thing was a PR stunt, but at least they reached the right conclusion in the end. I couldn't believe Dick Clark just slammed the door and drove off. I am hereby boycotting his "New Year's Rockin' Eve".

Oh, and for, like, the fifth time, I was forced to admit that Marilyn Manson is really smart and articulate and cool. Too bad I can't stand his music.

Monday, January 20, 2003
| | |
| --- | --- |
| | [3] |
For this weekend's knitting project, I whipped up this 60's Triangle Scarf for myself. I think I look quite the hippie in it. It was pretty easy and I managed to finish it in just a day. (Well, two days if you count my first unsuccessful attempt. I misread the pattern and my scarf ended up only half as long as intended.) It's my first project that involved "decreasing", which means it's the first thing I've knitted that wasn't basically a square. If you give it a try, I'd advise playing around with different needles to achieve the stated gauge, since they ones they list are totally wrong. (I ended up using 6.5 mm.) I think I'll try the button version next.




Sunday, January 19, 2003
| | |
| --- | --- |
| | [11] |
An important relationship milestone has been reached. The Snook and I are now using the same tube of toothpaste.

Saturday, January 18, 2003

The first time Ma Snook visited our new place, she said, "Oh, you're near the bead store!" Evidently the premiere bead store in, like, all of Australia is located just a few blocks down Enmore Road. So for those of you keeping track, I'm within walking distance of a wool shop, a ribbon shop, a button shop ("What do Nicole Kidman in Moulin Rouge, Ewan MacGregor in Star Wars, and Bananas in Pyjamas have in common? They all wear buttons from All Buttons Great And Small!!"), and a bead shop. It's crafty heaven.

Anyway, today I finally dragged the Snook down to this allegedly amazing bead store. And let me tell you, it did not disappoint! I only wanted some chunky wooden beads for my funky knitted hat, but I ended up walking round and round in amazement at all the shiny pretty things. I know I've just been going insane with all the crafting lately, but I really am going to have to take a jewelry-making class there. It's just too good an opportunity to pass up.

Friday, January 17, 2003
| | |
| --- | --- |
| | [5] |
Discussion time. Okay, so Australia are currently playing the Sri Lankans in a series of one-day cricket matches. Earlier this week one of the Aussie players was reprimanded for yelling a racial slur after he got out. I was curious to know what he said, since none of the media dared to repeat it. Finally today I found an article that revealed the mystery phrase: "black c***". (The censored bit - for those of you too slow to play along - is everyone's favorite crude slang term for female genitalia.)

So here's what I don't get: cricketers use that term - the "c" word - all the time. You can't hear it, but you can clearly see them mouthing it at one another. (Shane Warne is a particularly bad offender.) Why does the addition of "black" make it racist? Is it now racist just to call somebody black? (Yes, I agree that it was definitely being used in a negative sense in this case. I just find it odd because there are so many worse things he could've said.) Also, why isn't anybody labeling it as sexist? Just because he directed it at another man?

It's just funny to think that this entire brouhaha erupted over one guy calling another guy a color and a part of a woman's anatomy. Such silliness.

| | |
| --- | --- |
| | [2] |
It's not April 1 yet, is it? According to the Herald, a French yacht taking place in the Jules Verne round-the-world sailing competition was attacked by a giant squid. I fully expect them to run a story tomorrow on cannon-propelled rocket to the moon.

| | |
| --- | --- |
| | [5] |
Waaaaait just a minute. Willow is marrying Wesley? That's just too weird. (Link courtesy of Kim.)

| | |
| --- | --- |
| | [3] |
Part of my job right now is to generate crafty content for this new "creative printer lifestyle" site we're building. I've been having a lot of fun with origami. These boxes are a great way to recycle greeting cards and they're perfect for putting jewelry and little trinkets in. I've also made some cute origami bunnies and frogs. It's a fun time-waster.

| | |
| --- | --- |
| | [1] |
Friday Five:

1. Where do you currently work?
I work in the "e-business" department of the Australian arm of an international computer printer company. Our office is in Macquarie Park, which is way across Sydney from where I live. I've got the commute down to an hour though, which isn't bad.

2. How many other jobs have you had and where?
Before this I spent two years working for an Internet company in London, England. Before that I was webmaster for this company back in the U.S. There are some other random little jobs on my resumé, like the summer internship I had at our county newspaper and the three years I slaved as a supermarket cashier in high school.

3. What do you like best about your job?
That they pay me. Seriously. After a year of just contracting and stuff, it's nice to have a steady paycheck again. (I got my first one yesterday!)

4. What do you like least about your job?
It's gotta be their draconian Internet policy. It's killing me. (Shhh! I'm working on a way to be able to post here via e-mail.)

5. What is your dream job?
What, other than get paid for blogging? I'm not sure exactly, but it would definitely involve being famous. I keep telling the Snook that I'm destined to be on television. My friend Andrew had a premonition in college that I was going to have my own talk show one day, and that I'd also drive a white Jeep. That sounds pretty good to me. :)

Thursday, January 16, 2003
| | |
| --- | --- |
| | [13] |
Holy crap. Not only have they finally released the publication date (June 21) for Harry Potter and the Order of the Phoenix, they've also revealed that this book is a third longer than Goblet of Fire! I'm going to need a bigger bookshelf.

Wednesday, January 15, 2003
| | |
| --- | --- |
| | [4] |
Buck Creek Barbecue Sauce. Hee! (Some explanation: Buck Creek is the "name" of this crazy property near my aunt's house in Indiana. The people on it, like, lived in a teepee and had an Indian canoe out front, except they weren't Native Americans. And they had lots of signs with Bible sayings on them. For some reason the whole concept just annoyed my sister every time she drove by. It became a bit of a family joke.)

Monday, January 13, 2003

The second installment ("The Subtle Knife") of the His Dark Materials radio show has been posted. I listened to it at work today and I liked it a lot better than the first one. My only complaint was that the guy that plays Stanislaus Grumman (aka John Parry) sounds a lot like Terence Stamp, so for a while I thought they were doing some weird double-casting thing and I kept trying to figure out what the point was. (It would definitely make the end of the next book even weirder, if you know what I mean.) But it's not him; it's just a guy that at times sounds a lot like him. Anyhoo, it's pretty good. I can't wait for the next one. Bring on the gay angels, I say!

| | |
| --- | --- |
| | [15] |
Funky Hat: Last week I figured it was time to try something new with the knitting, so I settled on this funky (yet easy) hat. It's easy because you don't do any increasing or decreasing; you just basically knit a tube with a circular needle and then close off the top (like a square). Then that bit kinda flops over. It's also got twisted rib brim and little braids that hang off the back corners. (I'm going to put beads on mine as soon as I can get to the bead shop this weekend.) Since I've still got tons of Gryffindor yarn left over (hint hint - anybody want a scarf?), I decided to do it in Gryffindor stripes. Pretty cute, huh? The only flaw was that I grossly overestimated the diameter of my own head, so it's not a very snug fit. But at least I know now, right?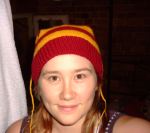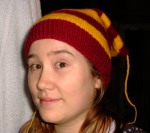 And before you say anything, Sis, yes, I know I need to pluck my eyebrows. I've just been too busy with the craftiness. :)


New poll: Yeah, I'm still bitter.


abulia: abnormal lack of ability to act or to make decisions

Once again the Merriam-Webster Word of the Day provides an eerily accurate analysis of my current mental state.

| | |
| --- | --- |
| | [5] |
              _                          _     _               
             | |                        | |   | |              
__      _____| |__ ______ __ _  ___   __| | __| | ___  ___ ___ 
\ \ /\ / / _ \ '_ \______/ _` |/ _ \ / _` |/ _` |/ _ \/ __/ __|
 \ V  V /  __/ |_) |    | (_| | (_) | (_| | (_| |  __/\__ \__ \
  \_/\_/ \___|_.__/      \__, |\___/ \__,_|\__,_|\___||___/___/
                          __/ |                                
                         |___/


Pretty sweet, huh? Get your own here. (Link courtesy of the Snook.)

Sunday, January 12, 2003
| | |
| --- | --- |
| | [2] |
Tonight's accomplishment: all three pieces of sushi in my bento box, along with a mouthful of baby octopus courtesy of the Snook. It was good. I think that it's helped that I've been at least partially drunk during each of these gastronomic experiments.

Saturday, January 11, 2003
| | |
| --- | --- |
| | [8] |
Pat Rafter has formally retired from professional tennis. (Yeah, I thought he retired last year too, but apparently he was just taking time off to think about it.) My sister will be sad. The photo gallery accompanying that story should cheer her up though. She once spent, like, a whole summer Photoshopping herself into photos with him. Seriously. (Hey Sis, he lives in Sydney! Just one more reason to visit...)


Our Lovely Bones discussion just never ends. Some of you might want to revisit it to answer points that random visitors have brought up.


Friday Five:

1. Where are you right now?
Sitting in front of my computer in our upstairs office.

2. What time is it?
9:15 am. I just got up. Luckily the office is only a quick stumble across the hall from the bedroom.

3. What are you wearing?
Comfy brown corduroys that - thanks to the diet - are now way too big for me to wear in public, and an old Notre Dame T-shirt. Oh, and my glasses. Boy, I sound attractive, don't I?

4. Any people or animals around you? Describe them.
As you might guess, the Snook is sitting nearby at his own desk. He's about to head out to the brew store to pick up some supplies for his next recipe. My house is going to stink again this weekend.

5. What are your plans for the weekend?
Pretty mundane stuff. I need to clean the house before Rodd's parents visit this afternoon. I also need to do some laundry since I haven't in ages. I've got two scarves to finish up and send, and a sock monkey to create. I've also sworn to go to the gym, since I haven't in a month. Isn't that terrible? Luckily my weight hasn't moved, so at least I'm not any worse off.

Thursday, January 9, 2003
| | |
| --- | --- |
| | [2] |
Oh. My. God. The Snook is going to laugh himself silly over this Jar-Jaromir thing. Hee! (Link courtesy of Max.)


In Australia, even the birds can kill you. Cripes.


I listened to all of Northern Lights from the His Dark Materials radio show at work today. (Did I mention how non-mentally taxing my work is right now?) To be honest, I don't think it's that great of an adaptation. I would've preferred more of a straight "books on tape" type of thing. It felt dumbed down. For instance, the narrator actually introduces himself as a "recording angel" at the beginning. What's the point of that? The author is assuming I'm too dumb to accept an anonymous third-person narrator. Also, he spells out everything. The first five minutes are like, "Hi, I'm an angel and I'm in Oxford, which is one of many Oxfords in millions of parallel universes. In this universe, everybody's souls are animals outside their bodies." Again, no respect for the audience's intelligence. Everybody who reads the story figures that stuff out eventually, and it's a lot more fun to come to those realizations on your own. Like, at least twice people say, "Oh, Lyra's going to save the world. She's going to betray somebody, but she can't know that she's going to do it." I'm like, why don't you just ruin the ending while you're at it! Jeez. I also felt like it didn't really build up enough scariness or suspense. When I first read the book, I had nightmares about Mrs. Coulter and that damn monkey. But it feels like she's barely even in the recording. There wasn't a lot of menace there.

That said, there were some good things. I liked the little bits of music they used for scene changes and when Lyra read the alethiometer. The voice casting was very good, especially the armored bears. I'm interested to hear what they do with Will in the next installment...

Wednesday, January 8, 2003
| | |
| --- | --- |
| | [9] |
Everything I Need to Know in Life I Learned From Flo on The Amazing Race:
When things get tough, pretend to throw in the towel. Your teammates will then have to beg you to continue, which puts you in a position of power. It also means you can absolve yourself of any responsibility towards the final outcome.
Being tired is a totally valid excuse for being a bitch.
Never, ever carry your own backpack.
Being young means you can outrun everybody else in a footrace, except when you can't, but that's only because you're so tired and put upon.
A great way to relieve stress is to throw a helmet. Trust me, you'll feel better for it.
When faced with an obstacle or challenge, always make the man do it.
Never stay in a hotel that charges less than 25 euros a night.
There's always time for flirting, even when your partner is totally supporting your ass. Of course, that's his job!
Guys can't resist a crying girl, so do it a lot. You'll get your way.
No matter how bitchy and whiny and terrible you are, a small "Sorry" will always clear the slate.
As the Snook put it tonight, "The awful paradox is that no one deserves the money less than Flo or more than Zac. Whatever. (If she had any class at all she would've given her share to him.) Did you catch the fact that in the closing shot, she was the only person sitting up on her partner's shoulders? He was still carrying her ass. What a perfect summation of their twisted relationship. She makes me embarrassed to be a girl. Meanwhile Teri and Ian won my grudging respect, and Ken and Gerard nearly made me cry. I'm glad they had such a good experience together. And that's all I gots to say about that.


"Spying on Snookums with GPS." That's what the story's called! How funny. We don't have a car, so he doesn't have to worry.

| | |
| --- | --- |
| | [10] |
As Max pointed out, BBC Radio is dramatizing Philip Pullman's His Dark Materials trilogy. The first part is already online. (Note: it's a sucky streaming Real Audio file though. Drop me a line if you're interested in having an mp3 version instead. I love the Snook.)

| | |
| --- | --- |
| | [1] |
Apple leaps into the browser wars with a new offering called Safari. So far it's very beta, but it hasn't crashed anything and it sure looks purty. There are also new versions of iCal and iSync, and even a new X Windowing System just for OSX. I am one happy Mac girl.

Tuesday, January 7, 2003
| | |
| --- | --- |
| | [4] |
I told you we were going to the cricket on Saturday, right? Well, we did. It was Day 3 of the fifth test of the Ashes Series. (Yank translation: It was the third day of the fifth match in the biannual five-match series between Australia and England that's been going on since 1882.) Australia had already secured the series 4-0 and were looking to sweep for only the second time ever. The only seats we could get were on the Hill... which meant we were going to be sitting amongst the Barmy Army. (Yank translation: We had to sit amongst 15000 crazy rabid British cricket hooligans.) The day started off badly; we had to wait half an hour just to get into the stadium because Security was going through every backpack and cooler. (And when you're attending a seven hour sporting event, you always bring a backpack and a cooler.) I was still in line when Steve Waugh (my favorite player) got out. Bloody hell. By the time I settled into my seat, I was ready for a day of misery. Instead it was pretty fun. The Barmy Army were great. (One of them came up with a great cheer: "We've got three dollars, to the pound!" sung to the tune of "He's got the whole world in his hands." There's no comeback to that one.) The only problem was the heavy police and security presence. Every half hour they'd just swoop down on someone and kick them out. It kinda put a damper on things. I'd also like to report that I knitted during the first three hours of the match! (The Snook and Steve were mortally embarrassed.) But at least Moire will have the satisfaction of knowing her Slytherin scarf was knitted at a traditional English sporting event!

Oh! The cricket also introduced me to a new concept: beer wenches. You know how they've got vendors that bring cans of Old Milwaukee to you in the stands at American baseball games? Yeah, they don't do that here. You've got to get up and go to the beer stand. This gets to be quite a pain after a while. So some enterprising group came up with the idea of "beer wenches". Basically, you get a bunch of guys together who pay for two scantily clad hoochies to do nothing but buy their beer throughout the match. I wouldn't have believed it if I hadn't seen it. Two skanky blondes in ripped T-shirts and Daisy Dukes traipsing back and forth, carrying four beers each at a time to the inebriated Aussies in front of us. (I heard a fellow spectator mention that the girls had to earn at least $300 each.) About an hour before the match ended, the cops decided that the easiest way to quiet the masses was to cut off their beer supply. Hence, the beer wenches got kicked out. You should've heard the uproar. You'd have thought they'd set fire to the flag. :)

Anyway, here are a couple photos from the day. In the first you can see the large group of yellow-shirted Aussies in front of us. (They were the ones with the beer wenches.) They were sorta the anti-Barmy Army. They had some good cheers at the beginning, but they faded as Australia started sucking. They also had an Elvis impersonator, who kicked ass. Next you can see two patriotic Aussies holding up their version of the nation's flag. (The real version has the Union Jack on it. This version had it removed with the federation star blown up in its place. In retaliation the Barmy Army sang, "Get your shit stars off our flag!", to which the Aussies replied, "You've got Scotland on your flag!". Again, no comeback is possible.) Next is an extremely blurry shot of Steve, Snookums, and me, as taken by the idiot in the row in front of us. Lastly is another shot of the crowd that shows the police presence as they swoop down on some unsuspecting fan. Bastards.







 
I keep meaning to post my extended "rules of cricket as explained by baseball analogies" essay to the site and forgetting. I should do that.


The Snook and I are recording the finale of The Amazing Race right now. I don't wanna watch it, because I know I'll get sucked in and won't get any sleep before work tomorrow. Therefore please do not mention the results until, like, Wednesday in America (that would be at least midnight tomorrow for you Aussies). It's probably pointless, though, because I have a very, very evil premonition that Flo and Zach might pull it out in the end... (Feel free to discuss the penultimate episode though. I was literally yelling at the screen for him to slap her. What a whiner! Did she realize how awful she'd look on screen? Did she just not care? How can people be like that?)

| | |
| --- | --- |
| | [11] |
Holy shit. (Believe me, the language is totally justified.) The Snook and I went to dinner tonight to our new favorite Newtown place, "Asakusa". It's Japanese. The first time we had tempura and chicken and gyoza. Tonight, though, I was feeling adventurous. Not only did I eat an entire tempura prawn (that's a big shrimp, to you Yanks), I also had "futomaki", which is also known as "california roll" (seaweed wrapped around rice, prawn, egg, cucumber, and avocado). But even that isn't the Highlight of the Week. My "bento box" came with gyoza, kara age chicken, and three pieces of actual sushi. Yeah, vinegared rice with pieces of raw salmon on top. It didn't smell fishy, so I decided to give it a go. As per the Snook's instructions, I put a tiny amount of wasabi on top and drizzled it with soy sauce. Then... a bite. It was good! In fact, I didn't taste the fish at all. I was pretty surprised. The way some of y'all rave about sushi, I expected it to be a magical experience. Instead it was just... okay. I don't get the fuss. The wasabi though... WAAAASAAAABI! Love it. I ended up eating the whole thing! Even the Snook was surprised. So this is pretty amazing, right? My family should be crapping themselves, at any rate. I have been pretty much phobic about any and all fish/seafood my entire life. And tonight I ate it RAW!

Monday, January 6, 2003
| | |
| --- | --- |
| | [6] |
The problem with being out of work for so long is that I got in the habit of thinking of my days as "mine". Now I resent working 9-5 because it sucks up all my time. How do I get back to the place where I simply accept that my job is my life (at least, during the day)?

Sunday, January 5, 2003
| | |
| --- | --- |
| | [4] |
My mom's box of Christmas presents finally arrived, containing (among other things) my long-awaited DVD box set of My So-Called Life. The Snook had never seen it, so we sat down the other night to watch the pilot. It was... uncomfortable. On so many levels. I remembered it being more funny and less angst-y. Where was the funniness? (I'll cut 'em some slack; it was the pilot.) Also, Jared Leto is so not as attractive as I'd remembered. He's just a jerk and I feel embarrassed for both Angela and myself for liking him. Further embarrassment was provided by the clothes. Why did I ever wear grunge? Why didn't any of us realize that flannel baby doll dresses are never a good idea? Don't get me wrong; it's still a great show (as evidenced by the fact that I compulsively watched the next five episodes in one sitting today). But somehow it's also embarrassing, you know? It reminds me that I used to be a totally different person, and that person can still make me cringe.

Saturday, January 4, 2003
| | |
| --- | --- |
| | [5] |
Should Gollum get an Oscar? If he does, I'd like to officially place the first bet that he'll use the words "my precious" in his acceptance speech.

| | |
| --- | --- |
| | [11] |
Happy blog birthday to me! web-goddess by the numbers...

Years online: two
Continents blogged: four (Europe, North America, Asia, Australia)
Site designs: just two
Posts: 2416
Posts with "bad" words: 192 (but most of those were just "damn")
Comments: 5383
Most commented posts: Attack of the Clones recap, lurker call-out, Goonies DVD review
Unique commenters: 262
Most frequent commenters: I think we covered this already...
Most famous commenter: Wil Wheaton (but he flamed me, which I recount with pride)
Polls: 44
Poll votes: 2410
Hits per day: round about 5000 now
Most popular "nude" search requests: Nigella Lawson, Andy Roddick, and the Olsen twins
Number of times I've mentioned those people, respectively: 4, 3, 2
Number of times I've mentioned "the Snook": 426

Friday, January 3, 2003

The Sydney Morning Herald is running an interesting story about research on lab-grown meat. The first sentence is what caught my eye: "It's possibly the vegetarian's dream, and the meat-eater's worst nightmare: flesh grown in a Petri dish for human consumption." You know, as a carnivore I don't think I'd have any problem with this. I don't eat meat because I like killing animals; I eat it because I like the taste and texture. If I could get that without hurting anything, so much the better. (Truth be told, unless we're going out I find myself getting more and more bored with food. It's this new impatience I have with maintenance. It just annoys me that in 2003 we still have to spend over a third of each day sleeping and eating and washing and evacuating wastes. Shouldn't science have fixed that already? Screw the lab-grown fillet mignon; I'll have mine as a pellet, thank you very much.)

| | |
| --- | --- |
| | [1] |
Nominations are now open for the Bloggies. Oh, that's interesting. They have a category for best Australian weblog! And best weblog cam! Isn't that interesting?


Friday Five:

1. Do you wear any jewelry? What kind?
Earrings (3): small silver hoops. Rings (2): chunky silver flower ring on my left hand, ND class ring on my right. Watch: silver Swatch on my left wrist. I've also got an assortment of random beaded necklaces and stuff that I break out on special occasions.

2. How often do you wear it?
The only ones I wear 24/7 are the earrings, because I can't be bothered to take them out. That's why I like these; they go with everything and I don't have to give it any thought. I wear my rings when I remember, except for random times (like now) when for some reason my class ring gives me a rash. I used to wear my watch all the time, but I got out of the habit when I got the iBook last year (the wrist rest area made it awkward).

3. Do you have any piercings? If so, where?
Three in the ears: one in each lobe and one in the right's top cartilage. (Me: "What's this part of the ear called?" The Snook: "The top bit?" Exactly.) I've also had my navel pierced twice, neither of which worked out. Take heed, future piercers! For my navel is now all wonky. Don't say I didn't warn you.

4. Do you have any tattoos? If so, where?
Yup. I got it a few days before my 20th birthday. It was my last act of self-destructive teenage rebellion. It's the Korean word for "rite of passage" and it's on my lower back on the right side. My jeans usually cover it up. It's just black ink, though lately I've been toying with the idea of somehow adding some color. There's a tattoo parlour around the block from our house with some great designs in the window.

5. What are your plans for the weekend?
Saturday the Snook, Steve, and I will be at the Sydney Cricket Ground all day watching the Aussies take on the Poms. After that we're supposed to head over to Kenya's for "Poker Night". (As I suck at poker, however, I've instead volunteered to sit out and play "Beer Bitch" all night.) Sunday will be our last day of vacation, so I'll probably just watch the cricket and finish up Moire's scarf.


I fear change. Nevertheless, today my blog routine brought me Fredo's new site, Matt's new design, Meg's color change, and yet another site redesign from Nicci. Well done, everyone!

Thursday, January 2, 2003

Sorry, fanboys. Eowyn got married yesterday.

| | |
| --- | --- |
| | [6] |
Ebert has posted his list of the top films of 2002. I still haven't seen Minority Report. Is it as good as he says?

| | |
| --- | --- |
| | [2] |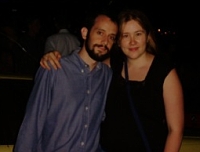 Happy New Year!
Yeah, so I'm a day late. Given that I was actually only conscious for, like, eight hours yesterday, I'm just writing that day off. Anyhoo, my New Year's Eve pictures are now online! We spent most of the night at a party in north Sydney, but we all walked down to the Harbour to see the fireworks. Here's the Snook and I before the big show...

Wednesday, January 1, 2003

New Year's Eve was great. I've got pictures I'll post tomorrow. Hope everyone's heads feel better than mine does!

archives
You can search through the archives by post keyword using the form on the left, or you can browse by month using the links at the bottom.
"Moblog" refers to posts and images posted directly from my mobile phone.

"PW Blog" refers to posts recovered from my very first weblog, which dealt with news related to my college dorm.