Saturday, January 31, 2004
| | |
| --- | --- |
| | [4] |
Fly, fly, social butterfly!
The Snook and I have been uncharacteristically busy this weekend. Friday night we met up with Kristen and Mark on the Australian leg of their round-the-world tour at my favorite restaurant. A good time was had by all. That accounts for the first picture below. (Please disregard my crazy hair though. We were on Darling Harbour and it was being whipped in front of my eyes. It's not normally that messy.) Saturday we headed into the suburbs for the wedding of my coworker Martin and his fiancee Mimi. They're Korean-Australian Catholics and we were among maybe a dozen non-Koreans at the ceremony (out of about 300). The whole mass was conducted in Korean. We didn't understand a word. The food at the reception was fantastic though and I loved the traditional Korean dress Mimi changed into afterwards. (She promised to hook me up with one if/when I ever get married!) Thus the second two pictures, which show the happy couple along with the Snook and me. Afterwards we headed home for more socializing and recuperating before yet another engagement tomorrow...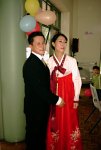 Sidenote for my sister, who cares about such things: Yeah, that's a new dress. I just got it a couple days ago marked down from $90 to $40. It's sorta silky see-through black with a shiny lining underneath, and the top is V-neck with a few sequins. It reaches about to my knees and then has an asymmetrical ruffly hem. (I know; I normally hate diagonal hems. But this one looked good on me, I swear!) The problem was the skinny spaghetti straps, and the fact that the dress had sort of a high, squarish racer back. I realized right away that I couldn't wear a normal bra with it, so I went into the city yesterday for a strapless. I was actually surprised how comfy the strapless was (considering the weight of my boobage). It held up really well. It was only at the end of the reception, when I went to the bathroom and adjusted myself, that I realized how tightly it was digging into my ribs. But otherwise it worked well and made the dress look a lot better. Unfortunately it was cut a bit lower than stuff I normally wear, so I was constantly nervous and I made Rodd be on Bra Guard to make sure nothing showed. And yeah, before you mention it, I really need to get my hair dyed... Those roots are pretty shocking.
Wow. I literally gasped when I read that Mary-Ellis Bunim had died. She was one of the creators of The Real World and thus could be credited with starting the whole reality tv genre.

Friday, January 30, 2004

Yeah, baby! I'm #150 on Blogdex with a bullet. I think that's my highest ever. Come on; throw a little more linky-love my way, folks! :)

Later: Bah. I've dropped off already.

| | |
| --- | --- |
| | [1] |
Note to self: Download this new OSX Usenet client when you get home.

| | |
| --- | --- |
| | [3] |
You've read the slash; now see the pictures! I can't stop giggling. Somebody has photoshopped pictures of Lord of the Rings characters kissing. Mmm, Aragorn and Legolas. I can't wait to get home and set that as my desktop. :)

| | |
| --- | --- |
| | [1] |
The Sydney Morning Herald today provided a small glossary of Aussie slang. Of those, I've really only ever heard "like a shag on a rock", "flat out like a lizard drinking", and "put the hard word on" before.


The Snook is going to love the Nit-Pickers Guide to The Lord of the Rings. It details every significant change from the books to the movies.


I'm feeling the Apple love again since they launched their Logic Board Repair Program. Of course, my faulty iBook doesn't fall within the accepted range (and I don't think it's a logic board issue anyway), but it makes me happy to see Steve and Co. doing the Right Thing here. I'm also enjoying watching all the Apple-haters backpedal in the ensuing Slashdot thread. Please pass the Kool-Aid!

| | |
| --- | --- |
| | [4] |
Which Western feminist icon are you?

My result: You are Gloria Steinem. You are the McDonalds(tm) of liberal feminism, though you used to expouse some pretty radical ideas, you ended up working the system. Because it's easier? Maybe. But thanks for the only mainstream feminist magazine and for heading one of the most significant feminist lobbys in the history of the US. We wouldn't be where we are without NOW and Ms., as much as some of us are loathe to admit it.

I guess that's all right, though I wish it was a little less negative. I think I only got her because I identified as "married."

| | |
| --- | --- |
| | [1] |
My co-worker Martin is getting married tomorrow. As soon as I entered the office this morning, he called me over and asked desperately, "Do you know any websites with instructions for folding napkins into fancy shapes?" Yes, he asked me this twenty-four hours before the ceremony. So I did some quick Googling and turned up this page of instructions. They're actually pretty neat! He said he's trying to decide between the cardinal's hat and the rose. All I know is, if I walk into that reception hall tomorrow and see 300 napkin cardinal hats, I am going to lose it.

Thursday, January 29, 2004
| | |
| --- | --- |
| | [8] |
World traveler, my ass. According to this site, I've only visited 5% of the world countries. (That's 13, to be exact.) Most of 'em were in Europe, and quite a few were mere airport stopovers. See, I told you I'm not really that interesting.


I discovered a useful site today called geekgirls.com. It's got a lot of "plain-English" computor tutorials. I particularly liked: Passwords Made Easy and Database Design from Scratch. I'm still going through the rest of the site...


Wow, a pickled dragon! That reminds me of the dragon "fossils" I saw for sale in Birmingham a few years back.

| | |
| --- | --- |
| | [5] |
The smugness of the County Spelling Bee Champion.
Ha! The next time I get into an argument with someone who calls me a "Spelling Nazi", I'm going to point them to this NYT article. Summary: Dumb eBay sellers list items with misspelled titles. Smart buyers find the items, buy them cheap, relist them with correct spellings, and sell for a tidy profit. I repeat, HA!

Wednesday, January 28, 2004
| | |
| --- | --- |
| | [18] |
Holy crap! Our cherry tomatoes are finally coming ripe and we've got too many of them. I just picked about fifty and there are plenty more still green. I'm thinking of making some homemade salsa. Anybody got a good recipe? Actually, do you have any other ideas for what to do with them? Suggestions welcome, as otherwise we'll be eating nothing but salad for the rest of the summer!

| | |
| --- | --- |
| | [13] |
It's that time again! The Oscar nominees have been announced and the web-goddess Oscar Contest 2004 starts today. First prize is, of course, a sock monkey. (If you already have one of my sock monkeys, a doggie will instead be offered.) Current predictions can be seen here. Only one entry per person and you can't make changes, so only enter once you're really sure! But then again, entry date is the ultimate tiebreaker so you don't want to put it off too long. Good luck!

Special thanks to my friend Mardi of soulcreative who designed the awesome logo for me. She's a designer. You should hire her.

Tuesday, January 27, 2004
| | |
| --- | --- |
| | [2] |
How to make soap from bacon fat. (PDF) Seriously. Just flip to page 18. I am strangely intrigued by this idea.

| | |
| --- | --- |
| | [1] |
There's a nasty new Windows virus making the rounds and one of you may have it. I've been getting flooded with bounced e-mails that have spoofed my address as the sender. So if you get anything suspicious from me, don't click on it! (I don't have the virus; I have a Mac.) If you're on Windows, you should probably check out that link and make sure you haven't been infected. I'm guessing one of you has, as it would've picked up my domain from your address book or cache.

| | |
| --- | --- |
| | [1] |
Everybody's linking to the Charlie Brown "Hey Ya" video but by the time I went to download it the original file was gone. Fortunately I found a mirror. It's a big download but it's sooo worth it.

| | |
| --- | --- |
| | [2] |
Oh my God... Jem and the Holograms is being released on DVD! Sadly, I would purchase this in a heartbeat. I watched way too many episodes of that as a kid. (Thanks to Bill for the heads-up.)

| | |
| --- | --- |
| | [4] |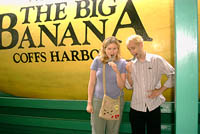 My photos from Camp Creative are up! You can see some of the stuff other folks did in the different classes. There are also pictures from our trip to Dorrigo and my much-anticipated visit to the Big Banana. And yes, that's the Snook and I eating chocolate-coated frozen bananas on sticks. They look obscene but they sure taste yummy!

Sunday, January 25, 2004
| | |
| --- | --- |
| | [2] |
We're back! There's nothing like a week away to make you appreciate being in your own house with your own things. Our tomatoes have finally started turning red so we're going to start eating them tomorrow. I made a cursory attempt at catching up on my surfing and it was like total information overload. People have new designs and side projects and Dean lost in Iowa and Bennifer are through and another Mars rover landed... and I just can't get a grasp on it at the moment. I've got lots of photographs to upload but I just don't have the energy. All I want to do right now is crawl into bed. I'll get busy with all that other stuff tomorrow. (Thank God we have a holiday.) It's good to be home.

And did I mention how awesome Dorrigo was yesterday? Here's the Snook and I standing behind Crystal Showers Waterfall in the rainforest. It was amazing.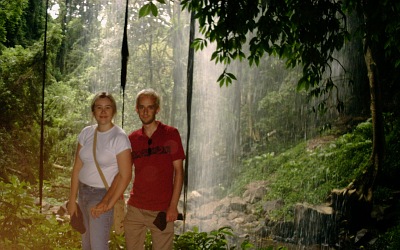 Saturday, January 24, 2004

It's our last day in the country so we're heading up to Dorrigo, which is apparently this area up on a plateau in the mountains with lots of temperate rainforests and waterfalls. I've never seen a real waterfall! Should be fun...

Thursday, January 22, 2004
| | |
| --- | --- |
| | [5] |
Camp Creative is finished. To tell you the truth, I was feeling pretty burnt out by the fifth day. We were supposed to be doing these "wiber" (wire + fiber) necklaces that basically consisted of wool wrapped around with wire to make a big round dorky ring. I declined. Instead I started experimenting with peyote stitching my tiny beads and ended up making three small pretty rings. They look good! Another item for my eventual craft stall. After lunch we had a big Student Exhibition where everybody put their stuff out for perusal. Ma Snook was even persuaded to put out the two groovy dolls she made. I took several pictures that I'll post next weekend when I get home. So now we're just relaxing for a couple more days. We'll be back in Sydney in time for a big Australia Day piss-up on Monday.

Tuesday, January 20, 2004
| | |
| --- | --- |
| | [8] |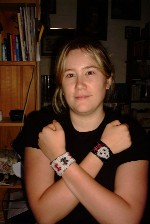 Day Four: Today we moved on to wire work. Our teacher handed out these silver "slave cuff" frames that we were supposed to decorate by stringing chunks of crystals and beads across them. My classmates happily began plonking down money for freshwater pearls and ugly metal spacers while my spirit revolted. After three days of making ugly tat, I decided a line must be drawn. I was actually going to make something that I liked. I decided that it would be fun to use a lot of my pretty small beads to make a pattern, the more anarchic the better. So I quickly sketched a little skull design with a pretty pink bow that I'd seen once on Amy's site. I spent the next two hours translating it into beadwork. It didn't take long for the other folks to figure out what I was up to. The younger girls especially loved it. It looked sooo much better than the purple/silvery/amethyst crap most of them had churned out. I even got a compliment from the teacher! Afterwards I did another one with butterflies on it to use up some more beads. I'll probably sell that one at the markets, but I'm definitely keeping the skull. It was my most inspired accomplishment in four days at Camp "Creative".

Monday, January 19, 2004
| | |
| --- | --- |
| | [5] |
Day Three: I finished my flower brooch along with two rather pretty bracelets (in my humble opinion). I've gained a reputation for being the class speed demon. Personally, I think a lot of those women would get more done if they'd stop whining about how much they suck and just get on with it. I never realized before how annoying it is to have twenty self-deprecating women all together in one room. No one wants to admit to being good at anything. My back is killing me from sitting hunched over my beads though. Luckily the rain came through last night so the humidity broke and the world is livable once more.

Sunday, January 18, 2004

Day Two: I finished my first project today: an "amulet bag". No, I didn't pick that out. We all had to do it. I actually went out of my way to try to make it into something I might actually wear. (I don't know yet if I succeeded.) The original pattern version had some heinous sea-anemone-lookin' "branched fringe" on the bottom that I declined in favor of a more simple graduated fringe. I got a lot of compliments on it though and I was the first one in the class to finish. In the afternoon we started on a hideous three-dimensional peyote stitch brooch in the shape of a flower. I'm doing mine in deep sparkly green beeds with a silver accent. I figure there's no way of rescuing this one, so I might as well make it as gaudy as possible. (Note to self: Don't bother making any more Georgia O'Keefe jokes tomorrow. Nobody here gets them.)

While Ma Snook and I slaved over our crafts in Bellingen, Snookums and his Dad headed out on the Nambucca River in the tinny. (That's an aluminum boat for you Yanks.) They were fishing for bass but didn't get much luck. Snookums managed to catch a bream though which they brought home, gutted, and ate for lunch. How very manly of them, don't you think? Here's the Snook and I modelling the fruits of our stereotyped labors: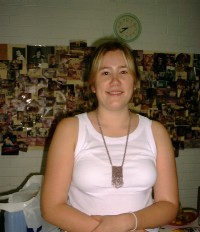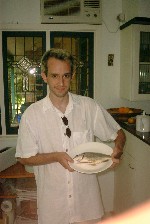 Saturday, January 17, 2004

Day 1: I learned to do the peyote stitch and practiced my spiral cord technique (which I learned months ago). I also made some of the ugliest old lady jewelry you've ever seen. It's stinkin' hot up here but thankfully my class is in one of the few air-conditioned classrooms. It's been fun so far though. There are hippies everywhere.

Friday, January 16, 2004
| | |
| --- | --- |
| | [4] |
Posting may be a bit sporadic for the next week as the Snook and I are heading off today to his parents' house in Eungai. And tomorrow... Camp Creative starts!

Thursday, January 15, 2004
| | |
| --- | --- |
| | [7] |
Man, Robert Redford has really gone downhill. I had to do a double-take to make sure that the photo accompanying this Sundance article was him and not Anne Robinson (host of The Weakest Link). *shudder*


Great. I'm fairly certain I've got grade two calf strains in both legs.


The Sydney Morning Herald offers an intriguing analysis of possible Oscar nominations. They seem to think that Sean Astin will be nominated (but isn't deserving), and that Johnny Depp won't be nominated (but should).

Wednesday, January 14, 2004
| | |
| --- | --- |
| | [1] |
Who will scratch the preciousss??
Actually there was one amusing thing that happened tonight. As I was paying for my magazine at the newsagent I was surprised to hear the guy behind me in line ask for "three Lord of the Rings." I whipped my ahead around in time to see the clerk hand over six dollars worth of Return of the King instant scratch-off lottery tickets emblazoned with Viggo's head on top. I'm still laughing about it.

| | |
| --- | --- |
| | [1] |
The Mathematics of Misery
1 - set of keys forgotten by me at home this morning
1 - mobile phone forgotten by the Snook at home this morning
10 - therefore useless phone calls placed by me to the Snook
2 - number of hours it took him to realize I hadn't signed on to IM from home
25 - dollars spent on magazines and food at the shopping center to keep me busy
5 - daggy garments tried on at Kmart
2 - blinding calf and foot cramps in the middle of the Kmart bra section (brought on by last night's crappy Pump class)
3.5 - number of hours it took Snook to finally reach home and let me in

Add it all together and it equals a NIGHT of SUCK. I'm goin' to bed.

| | |
| --- | --- |
| | [2] |
AskMetafilter tackles the important questions like... What is the origin of the slang term beeyotch? The responses are fairly enlightening. I'm pretty sure I picked it back in London in '98 (courtesy of Hoey and Hipp, for those that know them). That thread also contains the following joke which made me snort with laughter:

Q. What does Snoop Dogg wash his clothes with?
A. Bleee-yatch.

| | |
| --- | --- |
| | [1] |
I'm ranting about "low-carb diets" over at Glitter again...

| | |
| --- | --- |
| | [3] |
Roger Ebert doesn't think Andy Serkis should necessarily be nominated for an acting Oscar for his work on Return of the King. Hmm. I disagree. I can see what he means about all the extra work the technical guys did, but I think you could still nominate him on the basis of the vocal performance. As Ebert's letter writer mentions, wasn't there a lot of talk about Robin Williams being nominated for Aladdin a few years back? I think Serkis easily eclipsed that performance.

And by the way, I hope you all used your Christmas break to catch up on the Oscar contenders... because the Web-Goddess Second Annual Oscar Contest is coming soon!

Tuesday, January 13, 2004
| | |
| --- | --- |
| | [7] |
A Pump class by any other name...
Ow. It's been a while since I had a good gym rant, right? I'm in some serious pain here, people. I meant to go to Pump class last night (with the instructor that I like) but by the time I got there it was full. "No problem," I thought. "I'll just run tonight and tomorrow I'll try out a new guy." Bad idea. First, a little background for you non-gym-rats:

Body Pump is a class where a bunch of people do synchronized weight lifting to music. It's pretty low-impact and it targets all the major muscle groups, so it's a good workout for me. The thing is, it's like franchised. The company that invented it makes gyms pay a license fee to use the name. My new gym must have had a falling out with them, because we don't have "Pump" class anymore... We have "Flex" class. It's the exact same workout though and that's all that matters. I mean, the whole point of having this standardized routine is that you pretty much know the workout you're going to get before you go, right?

Wrong. This guy tonight apparently decided to do a little innovating. My suspicions were raised when he had us each get some extra equipment ("Two extra bars??"), but everyone else in the class was either an old lady or a scrawny Asian, so I figured I'd be able to keep up. Right off the bat, he had us doing aerobics to warm up. Aerobics! I don't have a good track record with that. Plus it was like eighty degrees in that gym. I was sweating like crazy. (It reminds me of that yoga crazy people do in a heated room.) As for the actual lifting, he went too fast and combined groups together and pushed me beyond where I could go. He had us doing weird things like using the extra bars as ski poles for doing calf raises. He made me do pushups on the floor without my towel and I got carpet burn on my knees. (Yeah, I do girly pushups. But at least I can do more now than I could six months ago!) Halfway through it I was literally trying to come up with a good enough excuse to leave. It was like yoga all over again. Every time I looked around I could see that everybody else was doing fine, while I just couldn't get into it. I had no energy and I was flailing, and every time he'd exhort us to go a little deeper or hold something longer I could tell he was directing it right at ME. And he went so fast! I was trying so hard to keep up that I knew my form was suffering. Now I'm feeling it. My legs hurt and my neck feels seriously screwed up on one side. I've probably slipped a disc or something. Stupid man. I should raise a complaint or something... *grumble grumble*

Monday, January 12, 2004
| | |
| --- | --- |
| | [4] |
Sydney is suffering a sniper crisis at the moment... from somebody with a BB gun.

| | |
| --- | --- |
| | [2] |
I was excited to see this review (with accompanying photo gallery) for the stage production of Philip Pullman's His Dark Materials books at the Royal National in London. It sounds interesting, to say the least. I can't believe they cut the character of Mary Malone! Granted, you could trim a lot of her story out with the weird motorcycle-animals, but she fulfills a pretty crucial role in Lyra's temptation. In terms of casting, wow, Will is pretty darn cute! I think Timothy Dalton would make a great Lord Asriel (though Terence Stamp, who did the voice on the BBC radio production, would be better). The daemons look pretty cool. But, my, Mrs. Coulter looks old! I thought of her as much younger and prettier. Isn't that part of her charm and attraction? (Link courtesy of Max.)

| | |
| --- | --- |
| | [4] |
The cousin of Australia's Cardinal Pell has written an impassioned open letter asking him to recognize her individual rights as a lesbian. She and her partner are both former Catholic nuns who devoted over twenty years each to the church, including working in the slums of Chile during Pinochet's regime. (More information in accompanying article.) She points out that the Vatican isn't interested in the service they perform, the Christian principles they live by, or the loving relationship that they have. All they care about is how they have sex. How screwed up is that?

Related: I'm reminded of a scandal at ND a few years back in which a much beloved priest (Father David Garrick, for those that know him) "came out" in The Observer. He was, of course, celibate, but he identified as gay and sympathized with homosexual student activists on campus. His letter meant a lot to some of my gay friends. Unfortunately - despite the Church's stance that it's all right to be gay as long as you don't act on it - he was soon bumped from the schedule for performing Mass and was basically silenced. The last I heard he'd left the Church and was scraping by as a doorman for The Tonight Show in LA. Just thinking about it makes me angry and sad.

Sunday, January 11, 2004

Knitted Elvis Wig Pattern. And some people still think knitting isn't cool...

Saturday, January 10, 2004
| | |
| --- | --- |
| | [6] |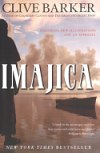 Periodically the Snook and I - in an effort to better ourselves - take turns recommending books to each other that the recommendee is obligated to read. Most recently he handed me his old paperback copy of Clive Barker's Imajica. I was less than enthusiastic about the prospect (as he was well aware). I had a dorky boyfriend in high school who read nothing but Barker and Piers Anthony and it pretty much soured those authors for me for life. The only Barker I've ever been able to get through before was The Thief of Always (which I enjoyed, to be honest). Anyway, I dived into Imajica trusting that the Snook wouldn't steer me wrong only to pull up short at the first sentence:
"It was the pivotal teaching of Pluthero Quexos, the most celebrated dramatist of the Second Dominion, that in any fiction, no matter how ambitious its scope or profound its themes, there was only ever room for three players."
My sister would've immediately sneered, "I don't read books with people named Pluthero in them," and kicked him in the bum. But I persevered... [more...]

| | |
| --- | --- |
| | [2] |
Saturday morning links to leisurely click through over coffee...

Not Fooling Anybody - a photographic chronicle of bad restaurant and storefront conversions, mostly in the Great Lakes region (via Ernie)

Pathetic Geek Stories - online comic illustrating real-life pathetic geek stories (via Matt)

Friday, January 9, 2004
| | |
| --- | --- |
| | [1] |
Marginalia and Other Crimes - a display of "damaged and defiled" books from the Cambridge University Library. While I admit to writing and dog-earing the pages of my own books, I'd never dream of doing it to someone else's. I like books. (Link via MetaFilter.)

| | |
| --- | --- |
| | [1] |
Daring Fireball makes a convincing argument that the iPod minis are going to sell like hotcakes:
"Everyone wants to focus on the $50 price difference between the iPod mini and the 15 GB iPod. I agree that the $50 price difference between the mini and 15 GB iPods is negligible. That's exactly the point. Take it a step further and imagine if Apple cut another $50 off the price and sold the 15 GB iPod for the same $249 as the mini. I say, even then, there would still be people who would choose the mini. For roughly the same price, you get to choose between a significantly smaller footprint and 11 extra GB. If hard disk capacity were the only factor that mattered, we'd all be using brick-sized players from Creative Labs."
I totally agree and I'd even go so far as to suggest he forgot another selling point for the Mini - the colors. It sounds silly and sexist, but a lot of females would rank the pretty pastel case as a more important feature than a huge hard-drive. For proof I offer this Glitter thread. I've gotta believe that Apple absolutely knew what they were doing with this one.

| | |
| --- | --- |
| | [8] |
I know I'm about six months late to the party on this one (as usual), but I am loving this "Hey Ya" song by Outkast. I've had it on heavy iPod rotation all week.

Wednesday, January 7, 2004
| | |
| --- | --- |
| | [4] |
Today I had my first Vanilla Diet Coke since discovering the joys of plain Diet Coke plus Absolut Vanilia and I have to say... it sucked. After the first mouthful I checked the expiration date just to make sure it wasn't off. The vanilla flavour was just wrong. It's not as sweet as the vodka version and the taste is more synthetic. I can't believe I never noticed before. I'm now fairly confident in pronouncing that adding vanilla vodka to plain Coke is infinitely preferable to adding plain vodka to vanilla Coke. The contrast is just staggering. Vanilla Diet Coke is dead to me now.

| | |
| --- | --- |
| | [9] |
Apple did it. iPod Mini is here. I'm not sure about that pricing though... Who the heck are these things aimed at?

Tuesday, January 6, 2004
| | |
| --- | --- |
| | [2] |
Barbie and Ken as Aragorn and Arwen from Return of the King. Oh. My. God. (Link courtesy of Lucy.)


Did you know that black cats are more likely to cause allergies than white cats? I sure didn't.


Another good article from The Age on fan fiction. I knew that "slash" referred to character pairings like "P/D" (Pacey/Dawson, of course) but I didn't realize it came from the original über-couple "K/S" (Kirk/Spock). I also like the bit about how fanfic infuriates Anne Rice. Heh.


Fascinating article on albinism over at The Age. I didn't know half that stuff before. I'm confused about the reference to the albino character in Attack of the Clones though... Who in the heck are they talking about? The Kaminoans?

Update: I looked through Biana Knowlton's website (the girl featured in the article above) and there's no mention of Star Wars in there. I'm still mystified.

| | |
| --- | --- |
| | [2] |
Hmmm... I just noticed that Craigslist has Sydney listed but not linked. I hope that means there's a site for us coming soon!


I was a crafty scavenger last week. I stepped outside our front door to discover a pile of little wooden veneer samples in the gutter. There were probably a hundred of them lying there. I think they're for cabinet and countertop samples, because they range from faux wood to crazy fake marble. Of course, I did what any self-respecting crafty girl would do... I gathered up the lot and posted about it on Glitter! The Glitterati have had some good ideas for what to do with them. Can any of you think of anything good? I had another brainstorm today and realized I could make them into custom dog tags for my little sock doggies!

Monday, January 5, 2004
| | |
| --- | --- |
| | [1] |
YCDTOTV.com - Dedicated to one of the best kids' shows of all time, You Can't Do That on Television. Apparently you can even download episodes (though I haven't been able to check that at work).

| | |
| --- | --- |
| | [9] |
An iPod Experiment
A couple people have asked me recently whether I've had any trouble with my iPod battery. In short, nope. My iPod is one of the original 5GB ones and was purchased in a California Apple story in January 2002. I wouldn't say I've been a heavy user over the past two years, but I'm fairly certain I'm in the fat part of the "normal usage" bell curve. I listen to it on-and-off at work and on my commute, and a full charge generally lasts me two days (but runs out on the third). I tend to leave it set on "song shuffle" and fast-forward through songs when necessary. I don't do anything special to prolong the battery and in fact I do things you're not supposed to (i.e. leave it plugged into the computer for extended periods of time, let it run down completely). I've even dropped it a couple times.

So what's my actual play time from a full charge? I have no idea. I'd guess probably around eight hours but it's hard to tell. Therefore today I'm running an experiment to ascertain this once and for all. I started it up at 8:00 this morning and it's been running ever since. I've got it set to play random songs but I haven't been using the fast-forwarding at all. No backlight or sounds or anything like that. The first of the four "power bars" disappeared at the three hour mark. I'm now up to five and a half hours and the remaining three bars are still visible. (For the record, I don't think they're necessarily a very accurate guage of battery life, but it'd be nice to have proof.) More updates as the day progresses...

Sunday, January 4, 2004
| | |
| --- | --- |
| | [5] |
How to Make Modeling Clay out of Dryer Lint. That's the coolest, grossest, gosh darn craftiest idea I've heard in a long time!

| | |
| --- | --- |
| | [9] |
Happy Bloggiversary to Me!
The milestones just creep up on you, don't they? Today is web-goddess's third birthday. There are now earlier posts in the archive from my first attempts at a blog, but the inaugural w-g post was made on January 4, 2001. As I did last year, I've compiled some statistics for 2003

Number of posts: 868
Number of comments: 3279
Most commented posts: Sydney Peace Rally, Celebrity Identification Quiz, Mensa "24 H in a D" Quiz, Advice on Getting a Cat, Apple Discussion
Unique commenters: 287 (of course, a lot of those are people like Ferret who never use the same name twice, so the real number's probably like 200)
Frequent commenters: see here
Number of posts mentioning "Snook": 212 (that's nearly 25%!)
Number of posts mentioning "Apple": 27
Number of polls: 15
Number of poll votes: 484
Most popular polls: What did you do on your 21st birthday?, Can you lick your own elbow?
Site designs: two (I'm averaging just one per year!)
Sock animals created: 10
Harry Potter Scarves knitted: 6 (that's nearly forty feet of knitting!)
Hits Per Day: Ranged from 3000-6500 throughout the year (though it's already over 9600 for January thanks to the Sock Monkey tutorial)

| | |
| --- | --- |
| | [3] |
Congratulations to Tracey (who organizes all those cool photo projects) as she's getting married today! I seem to remember her saying it was being held in the Sydney Royal Botanical Gardens. Judging by the sun streaming in my window, she's going to be have some beautiful weather.

Saturday, January 3, 2004
| | |
| --- | --- |
| | [4] |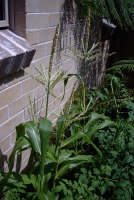 Our Garden
Since my Dad couldn't believe that I have actual sweetcorn growing my Australian garden, I took some pictures this weekend as proof. Things are really going nuts out there. The corn tasselled about two weeks ago and we've just noticed the first two baby ears of corn starting. We lost our first crop of green onions (due to an extremely hot day) but the second batch are coming along nicely. We hit the gardening store this past week to stock up on seedlings, pots, and soil. We also finally bought ourselves a hose but we try not to use it too much. Snookums even got this stinky fertilizer made from seaweed to spray on everything! Our thumbs aren't green but they're getting there.

| | |
| --- | --- |
| | [1] |
It's the best thing since punk kittens rockin' out the White Stripes... Viking Kittens that Want to Take you to a Gay Bar. I giggled and giggled. (Link courtesy of Brigita.)

| | |
| --- | --- |
| | [3] |
You know what's even more annoying than people who directly embed your images in their webpages? People who directly embed big honkin' sound files from your site. Case in point. (Be sure to have your sound turned on to hear my revenge.)

Friday, January 2, 2004

In addition to Kurt's victory, hobbits around the world have another reason to cheer: Several of them have taken Roger Ebert to task for his comments about Return of the King. Hmmm, Uncle Rog looks a bit like a hobbit himself...

| | |
| --- | --- |
| | [11] |
World Idol Results
Hooray for Kurt! I was predicting his victory all week based on the buzz from the 'Net. Too bad for Guy, but he really didn't choose the best song to show off. I don't think he'll mind losing very much though (as opposed to Kelly and Will, who both looked a little shell-shocked to see some of their scores). I was happy to see how well Peter did but a little surpisred that Ryan didn't score more highly. I guess protest folk songs don't play too well outside the western hemisphere. Read on for more commentary from myself and the Snook. [more...]

| | |
| --- | --- |
| | [3] |
My sock animal repertoire has grown... It's my first sock doggie! Snookums has named him "Snuggles".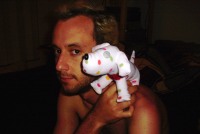 Happy frickin' New Year. The Snook and I went to the pool today and I thought I did a good job of protecting myself from the sun. We were out there for two hours and I had sunscreen, a shirt, a hat, the works. Afterwards I was sitting on the couch at home and I suddenly noticed that the back of my thighs felt uncomfortably hot. A mirror soon revealed the horrible truth... My bum is bright red! It's sunburnt from my bikini to my knees. It hurts so badly I can barely sit. And this is my last two days of vacation! I had a lot of sitting-on-my-bum planned! Awwww... I'm going to have melanomas on my ass.

Later: Thank God for ibuprofen. Seriously.


2003: A Dave Odyssey. I've always liked Dave Barry...

archives
You can search through the archives by post keyword using the form on the left, or you can browse by month using the links at the bottom.
"Moblog" refers to posts and images posted directly from my mobile phone.

"PW Blog" refers to posts recovered from my very first weblog, which dealt with news related to my college dorm.