Monday, January 31, 2005
| | |
| --- | --- |
| | [3] |
Moblog: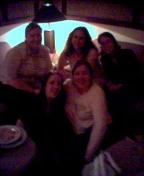 S'n'B!
Stitch and Bitch at Hart's Pub in the Rocks. Made several new internet knitting friends!

Sunday, January 30, 2005
| | |
| --- | --- |
| | [6] |
At this very minute, everybody in Australia is sitting down to watch Lleyton Hewitt take on Marat Safin for the Australian Open Championship. The Aussies haven't had a local winner in, like, decades, so it's a pretty big deal. I haven't watched much of the Open this year but I was glued to the screen during Hewitt's semifinal with Andy Roddick. I was cheering for Hewitt (because I'm an expat snob, of course, and you all know how I hate America*) but it got seriously painful when Roddick started losing. He really does look so much like my brother; it was like watching Antny get his butt kicked. Anyway, the Final's about to start and I'm a little torn. Yeah, I want the local underdog to win, but let's be honest girls: Lleyton is a minger. (His new muscles are nice, but it's just not enough.) And Safin is damn hot. I just hope it's a close one...

Oh, and Roddick's American Express commercials seriously cracked me up, especially the new version with his sad little empty seat. Very clever!



* Sarcasm.



Saturday, January 29, 2005
| | |
| --- | --- |
| | [4] |
Cousin Jenny sent me a great quiz: Which O.C. Character Are You? I came up in an exact tie between Anna and Julie Cooper. I can see that. The Snook's was even funnier: He's a cross between Caleb and Seth! Yeah, I can see that too. (And hey, how nice that we scored each other's counterparts!)

| | |
| --- | --- |
| | [1] |
Crap. Commenter Sara just mentioned that Soctopi are available for sale online here. I thought mine was a total original! At least it doesn't look anything like mine. In fact, I can't even tell if it has eight legs...

Friday, January 28, 2005
| | |
| --- | --- |
| | [6] |
Font T-Shirts. Seriously nerdy, but man, I'd love a "Chicago" shirt. (A few minutes ago I pulled the latest Notre Dame Alumni Magazine out of the mailbox and thoroughly mentally embarrassed myself by thinking: "Huh. They changed to Trebuchet MS for the address block." I'm a font nerd.) (Link courtesy of Awful Cufflinks.)

| | |
| --- | --- |
| | [6] |
Kevin alerted me to the fact that the Star Wars Episode III title crawl has been revealed. Hmm, I'm decidedly not intrigued. I'm committed to seeing it, though. I've invested enough time into this series that I can't imagine not seeing how it ends. (Jeff, however, is wavering.) Are you still planning to see it?

| | |
| --- | --- |
| | [2] |
Bam-chicka-bam-bam!
So, the Apple service guy just stopped by the house... and while some of you may think that sounds like the opening to a really good porn film, I regret to say that reality failed to live up to your expectations. The only think he picked up was my iMac for repairs. Honest!

| | |
| --- | --- |
| | [8] |
I kissed a Dell dude.
My friend Liz just IMed me to say that one of our college buddies, Rob Sudduth, is starring in a new Dell commercial! She says, "Theres a guy in bed with his wife and he calls Dell to see if they're there 24/7 like they say... and ROB answers the phone and is a Dell guy... and the other guy says "Thanksgiving? and Rob says yes, Christmas? yes sir etc..." Okay, I don't really get the last part, but how cool is that? Rob starred in a notoriously cheesy play with me junior year called Lie, Cheat, and Genuflect in which I played his love interest and got to smooch him on stage. And now he's moved on to Dell commercials... I think that probably vaults him to the top of the Famous People I Have Kissed List! (Number one used to be Dickie Barrett, lead singer of the Mighty Mighty Bosstones whom I pecked after a show in London.) Anyhoo, I've been trying to find the commercial online but Dell doesn't seem to archive their advertising anywhere. If anybody manages to catch it on a TiVo or a computer, please let me know!

Thursday, January 27, 2005
| | |
| --- | --- |
| | [1] |
50 Best Movie Deaths. I gotta say, I've always thought that Obi-Wan's death was pretty weak. The fight was slow and there really wasn't much build up, and the "death blow" was pretty crappy. It just went right through him without any sense of force. Darth Maul's was much, much better.

| | |
| --- | --- |
| | [7] |
Heather has written a wonderful and timely entry on weblog hate mail and how horrible people can be when they're not talking to your face. Timely, since I got my own wonderful personal attack this morning: "there are plenty of misguded [sic] expats living abroad who no [sic] SO much more because of their current foreign surroundings... if you can't tell your [sic] being an "expat snob" ... read your post on when you returned to South Bend for the wedding." I was confused at first because I couldn't remember any rampant snobbery on my part when I got home. I had to go back through the archives and the only thing I could find was this incident with the dumb teenage couple on the plane. So, just to clarify, I wasn't being an expat snob in that post, I was being an intellectual snob. My mockery had nothing to do with the girl's nationality and everything to do with her NOT KNOWING WHERE ONE OF THE CONTINENTS WAS. It's not like that is some random bit of trivia, now is it? And I felt my slam on the local school system was entirely justified, given that I'M A PRODUCT OF IT. Oh, and we call out bad writing around these parts too. I guess that makes us grammar and spelling snobs.

And you know what prompted that little diatribe? My praising Australia's contribution to tsunami relief. I didn't even mention the US in that post (and explained to a few folks in the comments that I didn't intend it as a slam). Yet somehow, just because I live overseas, every time I say something good about another country it has to be interpreted as a criticism of the US. Come on, back me up folks. That's ridiculous, right?


Dear Internets: Please note that the missing tsunami boy has been reunited with his family, so please quit forwarding me his picture! Thanks. Love, Kris

Wednesday, January 26, 2005
Moblog:

Australia Day Barbie
Major and Deb at Steve's Australia Day barbecue... We've imbibed much wine and eaten slabs of meat. Perfect arvo.

| | |
| --- | --- |
| | [1] |
Mmm, giant lamington. How awesome would that be? Unfortunately when I read the headline I immediately imagined a lamington the size of a house. The reality - "half the size of a family car" - is a lot less impressive.

| | |
| --- | --- |
| | [3] |
Soctopus Attacks Oscar, Film at 11
As you probably read elsewhere, the 2005 Oscar nominations were announced this morning and you all know what that means... The Third Annual web-goddess Oscar Contest has offically launched! This year the first prize is a one-of-a-kind, never-before-seen sock creation: the Soctopus! (Thanks to Christopher for suggesting the concept.) Second and third prizes are the ever-popular mini sock monkeys. Remember, do your research and take as much time as you need before you enter because you can't go back and change your entry later! But don't wait too late, because ties can be broken based on who put in their guess first... Good luck everyone!

Oh, and if you want to see more pictures of Soctopus in action, here are some shots of him attacking the Snook. (Matt used them to create the awesome promo image for the contest this year.) In terms of his construction, he's a slight cheat since I actually used two pairs of socks. The skinny black tie was a joke reference to the modern tuxedos worn by guys like Brad Pitt, and the hat just seemed like the perfect accessory. Matt thinks it makes him look like a "ska-topus." I can see that.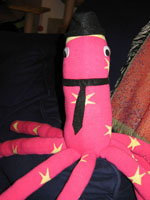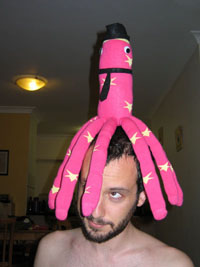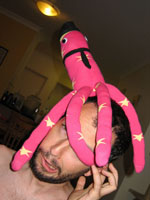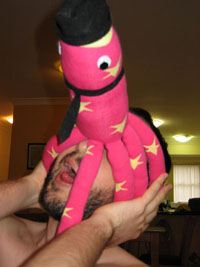 Tuesday, January 25, 2005

The brains at Google have had a brilliant idea: identify user-submitted links on a blog via a special tag and then don't follow them. This means that the assholes who make comment spam posts will have less incentive, since Google won't index the links and thus increase the PageRank of their crappy phentermine scam pages. I'm going to have a go at implementing it here.

Monday, January 24, 2005
| | |
| --- | --- |
| | [5] |
It's stuntcasting to the extreme, but I am still so excited to see Rob and Ambah compete in the next Amazing Race. I'm gonna go out on a limb and predict that they end up way more on the Freddy-Kendra side of the niceness spectrum. (The spectrum, of course, that has Kris and Jon on the other side. Love them!) (Link courtesy of Kim.)

| | |
| --- | --- |
| | [13] |
Curse of the Korean Pot Belly

Me: *yawn*
Crochet Lady: Tired?
Me: Yeah, exhausted. I went to bed at 9:30 last night and I still feel like I could fall back asleep! Probably just my allergies, combined with this depressing rainy weather...
Crochet Lady: And the bub. *smile*
Me: Wha--? Bub?
Crochet Lady: You know... *gestures towards my stomach*
Me: BUB!? That's not a baby! It's just my, my, my, you know, POOCH! I'm not PREGNANT! I'm just FAT! Good grief, I need to start wearing my apron again with the sign that says "NOT A BABY." Just because a person has a predisposition to carry their extra weight in front doesn't mean you can automatically assume that they're WITH CHILD. Sheesh! That's it; I'm going back on my diet today. No more carbs. That means I can't do my DEEP-FRIED MACARONI EXPERIMENT, which I guess is fine because people might have thought I was some BIG HORMONAL PREGNANT WOMAN suffering CRAZY FOOD CRAVINGS, and GOD KNOWS I wouldn't want THAT..."
Crochet Lady: *slinks out the door*

Saturday, January 22, 2005
| | |
| --- | --- |
| | [1] |
Only about seventy-two hours to go... until the 2005 Oscar nominations are announced and thus the Third Annual Web-Goddess Oscar Contest launches. Can you feel the excitement? Just wait til you see what the prize is...


Snookums helped me write a little script today that automatically uploads information from our TiFaux* to my website. It's down there in the right column under "recording." Currently it's set to list the shows that we recorded on the previous day. I just thought it was sort of neat.

* TiVo isn't available in Australia, so we've got a homemade "personal video recorder" system that consists of a Linux PC running MythTV. It doesn't have all the fancy TiVo predictive features, but it does a pretty good job of including all the shows we want to watch.

Friday, January 21, 2005
| | |
| --- | --- |
| | [2] |
Guest-starring on next week's episode of The O.C.: giant extra-terrestrial squid! *shudder*

| | |
| --- | --- |
| | [6] |
Yay, the newlyweds are back! On a related note, the Snook and I are still planning our own Aussie wedding reception for friends and family here, but the James Squire Brewhouse are pissing us off. After initially telling us that we could hold it in their biergarten, now they're trying to stick us into one of the smaller rooms out the back...


My computer may not be dead after all! Here's a tip to any fellow AppleCare users: Make sure that you dial the secret number option in the manual when you call phone support. Otherwise you end up being directed to some clueless Indian guy in Bangalore gamely reading a script in an attempt to diagnose a computer he probably isn't even using. I tried the super secret number on my second call today and got transferred directly to a knowledgeable local Apple techie who cut through the BS and told me directly what he thought the problem was. (Me: "Snookums, I may have to leave you. I'm in love with my AppleCare representative.") Just some advice!

Wednesday, January 19, 2005
| | |
| --- | --- |
| | [9] |
Oh my god. Deep-fried macaroni and cheese sounds like The. Best. Ooh, now I'm envisioning a whole dinner party of all deep-fried foods. You could have the mac-and-cheese as appetizer, turkey and waffle fries as the main, and Oreos and Mexican fried ice cream as dessert! And then die. (Link courtesy of my fellow white-trash diet devotee Max.)



Yes, I recognize the irony of posting about eating deep-fried junk food five minutes after urging everyone to follow the Rules for Grown-Ups.



| | |
| --- | --- |
| | [10] |
Playtime's over, kiddies. Sars lays down the law for everyone over the age of 25. Very good advice... Learn it, know it, live it.

Tuesday, January 18, 2005
| | |
| --- | --- |
| | [8] |
Okay, I've been cracking myself up for the last half hour reading Go Fug Yourself, a hilariously bitchy look at celebrity fashion faux pas. And I'm going to have nightmares about Daniel Day-Lewis. (Link courtesy of fellow style maven John.)

| | |
| --- | --- |
| | [2] |
The Snook and I did some tag-team experimental cooking last night with this recipe from Epicurious: Roasted Butternut Squash, Rosemary, and Garlic Lasagne. We used Japanese Pumpkin instead of the squash (since we had an abundance of it, which was the whole reason we picked the recipe in the first place), doubled the amount of garlic, and crumbled some crispy bacon between the layers so it wasn't completely vegetarian. Snookums got to show off his "roux" skillz and then made a wonderfully successful rosemary bechamel sauce. Our only mistake was using the full-size roasting pan when we should've gone with something smaller (since we reduced the ingredients all by 25%). As a result there wasn't quite enough sauce/cream to cover the last layer, so the top bits of lasagne were a bit crispier than intended. Still, it was an extremely yummy, sweet, and moreish dish to have on a chilly summer's night...

| | |
| --- | --- |
| | [3] |
Do you see my happy dance? I fixed my computer! Just did an Archive & Reinstall of the OS and everything came good. I then re-downloaded all the updates and patches and applied them all. (I used the combined update to take my system from 10.3.5 to 10.3.7.) Everything works great. The video problems are fixed as well as my Firewire issues with the iPod. I guess my original 10.3.7 was just a bad update!

| | |
| --- | --- |
| | [3] |
You know what's rude? The woman sitting next to me on the bus home tonight was eating sushi. She was eating sushi on the bus! And I know you pescaphiles (I just made that word up!) will argue that good sushi doesn't have any smell, and you're right. She wasn't eating good sushi. She was eating nast, $2.00-take-away sushi and it stank. On such a muggy and oppressively gray day, it was all I could do not to barf from the smell. I actually got up and changed seats (which is, like, the height of confrontation for me). Ick.

Sunday, January 16, 2005
| | |
| --- | --- |
| | [3] |
What a rip-off. After much finagling and secret-method-employing and American-accomplice-utilizing, I managed to secure an iTunes Music Store account only to discover that the aforementioned thirteen free songs... are from a crappy sampler album that you can't actually change. Bah, humbug.

Oh, and my computer's officially not okay. The video started messing up again and "resetting the NVRAM" (as the support guy online showed me the other night) isn't doing anything. Snookums thinks it's a hardware problem. Looks like I'll be doing a full reinstall and calling AppleCare tomorrow!

| | |
| --- | --- |
| | [2] |
Equestrian Web-Goddess!
Oh yeah, we did it... The Snook and I tried something new today: horseback riding! We had a coupon for 50% off a park ride at Moore Park Stables so I decided to put my long-standing equinophobia aside for the afternoon. First we had to sign the inevitable indemnity waivers (basically saying that if a horse were to kick me in the head, Snookums would be screwed), and then pick out some nasty boots and smelly helmets so we looked the part. Snookums was given a gray mare by the name of "Christmas," while I got an white gelding called "Tamiko." (And when I say old, I mean old. Older than me. My horse was thirty-five.) Our guide was a cheerful teenage girl named "Pip" who displayed some pretty awesome patience in the face of my relentless stupid questions. Once we were all mounted up, we headed out and crossed Lang Road on our way into the park. Pip and Snookums kept up a decent pace, but Tamiko seemed to prefer plodding along a few meters behind. I didn't mind. Man, riding a horse isn't easy on the bum! I'm going to need some "gluteal treatment" tomorrow. We spent a nice, leisurely hour going 'round the park, admiring the Sydney skyline, taking in some amateur cricket, and waving at all the families hanging out. Eventually we made it back to the stable and I effected a particularly non-graceful dismount. Tamiko even consented to posing for a picture with me. Isn't he cute?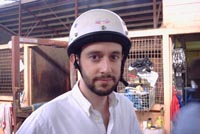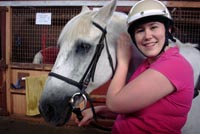 Friday, January 14, 2005
| | |
| --- | --- |
| | [12] |
Breakfast Around the World. For the record, I've never seen a single Australian person ever eat toast with tinned spaghetti on top. The Snook assures me, however, that bogans do this. It boggles the mind.

| | |
| --- | --- |
| | [8] |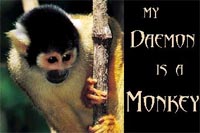 What Animal Would Your Daemon Settle As?
I haven't done a silly quiz in a long time. Here's my result:

My MONKEY DAEMON represents a nature that is admired, detail-oriented, and full of curiosity. Some people might call me self-absorbed. I like to plan ahead, and hone my various talents to perfection.

I'm not sure that describes me perfectly, but hey, monkeys are cute and funny! A monkey daemon would rock, as long as it wasn't a scary evil monkey like Mrs. Coulter's. (Link courtesy of Marci, who is a hare.)

If you have no idea what I'm talking about, "daemons" are from Phillip Pullman's His Dark Materials books. Even if you haven't read them, you'll learn about them when the movie comes out in a couple years.


Hey, I made an appearance in Nora's Personal Internet History! She recounts the night sophomore year in college when I got puke-drunk for the first time ever and tried to teach her HTML. Good times.


I was just exceedingly happy to learn that the upcoming RENT movie will star nearly all the original Broadway cast. *sigh* Then when it comes out on DVD I'll be able to watch Adam Pascal 24/7 from the comfort of my own home...

| | |
| --- | --- |
| | [1] |
How cool. Karen Allen, of Raiders of the Lost Ark fame, is teaching a knitting course in Massachusetts next month! I think the class name - "The Yoga of Knitting" - is pretty cheesy, but it sounds like a pretty fun workshop. (Link courtesy of Brigita, who should totally go and tell us all about it afterwards.)


Good grief. It's going to be 90 degrees out today. The Snook's gotta work... So dare I brave a trip to the beach on my own?

Thursday, January 13, 2005
| | |
| --- | --- |
| | [10] |
Damn. I was all happy this morning because AppleCentre Broadway was able to verify that my two-month-old iPod's hard disk had indeed died, and they gave me a shiny brand new replacement. (Brand new! I was expecting a refurb.) So I just plugged it in to set it up and iTunes started accessing the Music Store. A splash screen informed me that, as a new iPod owner, I got 13 free songs! (That offer definitely wasn't there two months ago.) The only catch? You have to have an account... and there's no Australian music store. I've got no cards with a US address. My British cards now have Aussie addresses. I got nothin'. So I got a tantalizing offer of 13 free songs, only to have it jerked out from under me. That sucks!

Update: I must've been seriously tempting the gods there, claiming that my inability to download some free shit constituted serious suckage. Because guess what? The last two hours have seriously sucked. [more...]

Wednesday, January 12, 2005
| | |
| --- | --- |
| | [4] |
Sad Confession: I would totally drive this car. My Dad actually had to talk me out of stenciling flowers on my beater in high school. This is why I don't have a nice car (or any car, for that matter).


Whoa. My story about Angora Man has been linked on a "fluffy" forum! The commenters actually seem pretty nice about it. I guess that explains where this last comment came from!

| | |
| --- | --- |
| | [5] |
You learn something new every day. Horses can't vomit. That's slightly reassuring, given that the Snook and I are planning on riding some this weekend...

| | |
| --- | --- |
| | [5] |
HUGE news from the Macworld Expo this morning: iWork '05, iLife '05, Mac mini, and iPod shuffle. Wow, looks like the rumors were all spot on! (All except the one that said the Australian iTunes Music Store would be opening. I'm bummed.) But sheesh, a $500 Mac! Snookums has already been ruminating on whether we should get one to replace our living room media PC.

Monday, January 10, 2005
| | |
| --- | --- |
| | [2] |
Just stumbled across the weblog of John August, the guy who wrote the screenplay for Tim Burton's upcoming version of Charlie and the Chocolate Factory. He's got a nice picture of the cast gawking at Augustus in the pipe...

| | |
| --- | --- |
| | [14] |
According to the ABC, Australia has now donated more money per capita to tsunami relief than any other nation in the world. That's really cool. I like living somewhere where, for the most part, people give a crap about what happens to other people.

Sunday, January 9, 2005
| | |
| --- | --- |
| | [21] |
New Poll: How much sleep do you get (on average) each night? I was inspired by this Ask MetaFilter thread about getting to bed on time. The Snook and I always plan to hit the sack at 10:30, but in reality that's only when we begin our bedtime ritual. (First comes a bit of Internet, then taking vitamins, then putting away whatever laundry's on the bed, then cleaning our teeth, blah blah blah...) And then inevitably I have insomnia anyway, which is only alleviated by the Snook reading me some Winnie-the-Pooh. (I'm not kidding. He does the voices really well. I should make an MP3 sometime.) So I probably really only get to sleep by midnight, which means I average about seven hours a night during the week. Invariably I sleep way later on the weekend, though the Snook seems to keep his regular hours. (I assume this means I need more than seven hours, but it's sufficient for him.) So what do you guys get? Any other tips to help me establish a better bedtime ritual?

| | |
| --- | --- |
| | [8] |
The Dreaded Ass Massage
I was feeling some shoulder tension on Friday so while I was over at Broadway running errands I thought to myself, "Self, you deserve a massage!" So I headed up to "Massage Link" on Level 1 and asked for the "Neck and Shoulder" massage. (I'm telling you exactly what I said so that any Sydneysiders who want to repeat the experience can get it just right.) A little Asian women led me over to a table where I lay down and she got to work. Everything was great, and I was doing my usual massage thing of drooling and wondering if my eyes were going to pop out and thinking, "Man, I should do this every week." After about ten minutes, I could tell she was about to wrap it up and I was desperate, desperate to keep the massage going, so when she asked, "You want back too?" I said, "Yes, please, yes!" Two seconds later I remembered the weirdness I had blocked out from my only previous visit: She had massaged my bum! But it was too late to turn back. She continued down my back - and I suddenly feel compelled to note that I was still wearing all my clothes and our cubicle, while shielded, was still basically open to the shopping centre - until she got to the waistband of my shorts. Without a pause, she dug her elbows into my bum. (Well, I think that's what she did. I couldn't see.) Is that completely weird. Has anyone else ever received an ass massage as part of the standard "back" package? I was trying to be all rational about it, like "It's probably medically proven that a lot of back problems result from tension in the bum" and "I guess I did give it a workout with all the strenuous sitting today." Reasoning aside, it's not the impropriety that bothers me so much as the fact that my bottom is extremely ticklish, and it's all I can do to keep myself from bucking and throwing myself onto the floor in a hysterical tickle-evasion maneuver. I was literally gritting my teeth and trying not to squirm. In the process, of course, I tensed up every muscle in my neck, shoulders, and back... thus negating the entire point of the massage.

Anybody else want to go over there and see if you get the same treatment? I mean, I have a nice bum and all, but I can't believe that I'd get the special ass treatment when the ripped hair salon guy next to me didn't.

Saturday, January 8, 2005

Heehee. Ani Difranco's label store sells Righteous Baby t-shirts. The next person to pop out a kid is getting one of those!

| | |
| --- | --- |
| | [1] |
Satellite Before/After Pictures of the tsunami-stricken areas. Damn. For those of you in Australia, you can donate to the relief fund at any ANZ branch (and probably every other bank as well). We kicked in $50 yesterday.

Friday, January 7, 2005
| | |
| --- | --- |
| | [3] |
I just had a hell of a time leaving a comment over on Amy's LJ site. First it timed out and gave me an error, and then upon resubmission I had to type in a captcha (twice!) to prove I wasn't a spam bot. Anybody else experience LiveJournal difficulties? I wonder if it has anything to do with yesterday's announcement...


Turn Your Back on Bush. Wow, if I were in the States I'd definitely try to be a part of that.

Thursday, January 6, 2005
| | |
| --- | --- |
| | [10] |
Holy crap... Six Apart, makers of Movable Type blogging software, have just purchased LiveJournal. We will all be assimilated.

Wednesday, January 5, 2005
| | |
| --- | --- |
| | [3] |
Moblog: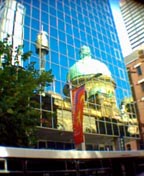 So hot today. Saw this reflection of the Queen Victoria Building and Centrepoint Tower from York Street today waiting for the bus home...
Tuesday, January 4, 2005
| | |
| --- | --- |
| | [15] |
Happy blog-birthday to me!
Yes, folks, it's that time again. I have now officially been running w-g for four whole years. Nuts, huh? (The archives go back a bit farther since they incorporate my very first blog, which didn't live here.) As I did the previous two years, I've compiled some statistics to commemorate the occasion:
Total posts: 874 (up 6 from last year)
Total comments: 3323 (up 44 from last year)
Comments-to-post ratio: 3.8
Posts mentioning the Snook in some way or another: 199 (22.7% - Good grief!)
Comments made by the Snook: 0 (He likes it that way. He's an enigma wrapped in a mystery.)
Top fifteen commenters this year: 1. Me (790); 2. Amy (255); 3. WeeB (121); 4. Tricia (109); 5. Moire (99); 6. Jenny (97); 7. Aim (74); 8. Eileen (74); 9. Claire (72); 10. Brigita (71); 11. Robert (70); 12. Max (61); 13. Miss Helen (60); 14. Niffler (54); 15. Lindsey (52)
Most commented posts: Election Aftermath, Simpsons Valentine (yes, still), Wedding Announcement, Dude, Where's my Fetus?, Just Married
Most popular day for posting: Wednesday
Most popular day for commenting: Wednesday
New continents blogged: none!
Jobs held: two!
Weddings attended: four (Martin & Mimi, Major & Steph, Amy & Dan, Me & Snookums)
New additions to the family: one (our cat)
Pictures posted of my cat: 13 (I think that's pretty darn good, considering!)
It's funny to see the patterns emerging over the years. Women have made a strong resurgence on the top-commenters list, but WeeBen is now higher than ever (thanks to the fact that he started using a consistent username). I'm also noticing that my fellow bloggers are mostly dropping down the list, which I totally understand given my own commenting on other sites has dropped significantly. (Usually I'll just respond with a link here instead.) And It's weird how the number of posts and comments is almost exactly the same as last year. I guess that means I'm blogging at full capacity, huh?

Thanks to everyone who contributed with a comment or an e-mail last year! (And hey, you lurkers, at least say "hi" once in a while, okay?) I was especially touched by all your messages of congratulations about getting married. It was a little bit sad not being able to have all of our family and friends together in one place, and you guys really helped alleviate that. Onwards and upwards...

Monday, January 3, 2005
| | |
| --- | --- |
| | [4] |
Note to self: Investigate using this Smarter Image Hotlinking Prevention method. I've been having trouble (yet again) with message board dweebs stealing my images. This time it's "Merry Christmas from the Hoff." I'm having fun with them, though...

| | |
| --- | --- |
| | [8] |
50 Things to Eat Before You Die - I've had nearly everything on the list with the exception of some of the fish/seafood. I'm still working on that. Read on to see my whole list. (Link courtesy of Kristen, who is much more adventurous than me.) [more...]

| | |
| --- | --- |
| | [7] |
"High IQ cuts women's marriage prospects." Oh, good grief. I can tell I'm supposed to be shocked and outraged at this, but I'm really not. I don't even really see it being a problem. I imagine that most of the guys intimidated by smart women aren't worth our time anyway. I think it's worth it to spend the extra time finding somebody intellectually compatible. (I've done the dating-a-dumb-guy thing, and the fun wears off pretty darn quick.)


Poodoo. My iPod just froze while updating. Attempts to reboot and restore proved unsuccessful. Kinda sucks, but I guess I had such good luck with my first one (three years old and still running!) that I figure I was due for some bad karma. On the plus side, I'm pretty impressed with Apple Australia's online service request system. I was able to print out an Australia Post label and apparently when I take in the iPod, they even furnish me with all the packing materials free of charge. I just hope there isn't a rush of post-Christmas service jobs that'll slow my turnaround time...

Sunday, January 2, 2005
| | |
| --- | --- |
| | [2] |
Moblog: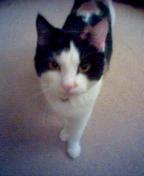 Dr Amy Jones
What better way to test my new moblogging ability than with the ol' standby: a picture of our cat! More details on my setup in a minute...

Later: Okay, so all the cool kids nowadays are using Flickr to upload photos to their sites. I like to be contrary, though, so I asked the Snook how difficult it would be to roll this ourselves. Within a few hours, he had it up and running. Basically, I take a photo with my Sony Ericsson T610 and MMS it to a special e-mail address. I'll let the Snook explain how he worked the server-side mojo: "I wrote a PHP script using the Mail_Mime component from the Pear Repository which scans a message for text and image attachments, saves and resizes the image, and inserts a post into the database. I use qmail to feed incoming messages to the script." So that's it! This image and the short bit of accompanying text went straight from my phone to w-g. (This extra bit was added by hand afterwards.) Now I'm envisioning all sorts of fun uses for this in the future. Maybe Crazy Jesus Lady would let me put her on the site...?

Even later: I just realized I should probably translate for the non-nerds in the audience. By "moblog," I mean "mobile web logging," which is a completely stupid and made-up way of saying that I take pictures with my cell phone and send them to my website. Just in case you were confused.
Congratulations to Andrew and Kathleen, who are getting married today!

| | |
| --- | --- |
| | [3] |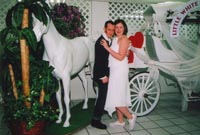 Wedding photos are now online!
At long last, I've managed to upload all the pictures from our trip back to the States in November. I even scanned in the official wedding shots from our big day in Vegas! You can also see us play in the snow, eat various deep-fried novelty items, and tour San Francisco in the freezing cold. Fun, huh?

archives
You can search through the archives by post keyword using the form on the left, or you can browse by month using the links at the bottom.
"Moblog" refers to posts and images posted directly from my mobile phone.

"PW Blog" refers to posts recovered from my very first weblog, which dealt with news related to my college dorm.