Wednesday, January 31, 2007
| | |
| --- | --- |
| | [5] |
Phwoar! That's some pretty naked Daniel Radcliffe! I hope there's a shirtless stable scene in the last HP book... (Link courtesy of Andrew, who is decidedly not an Old Perv.)

| | |
| --- | --- |
| | [4] |
Hey, Australians: Don't forget that Heroes starts tonight! It's a must-see. (That is, if you haven't already been, uh, watching it on the Internet.)

| | |
| --- | --- |
| | [3] |
RunningBlog: It appears that perhaps psorr was prescient. Despite not running for the past few days, I've just suffered a blinding pain in my left quad when reaching down for a book. I'm off to the physio in ten minutes. STUPID STUPID STUPID.

Later: Turns out I have a small tear in this sucker. It's not bad. I'm supposed to ice it for a few days and take it easy. I can walk, but not fast. The hardest thing is fighting the urge to stretch it. (I'm not supposed to.) It's like poking a sore tooth. I just want to make sure it still hurts. Again, STUPID.

Tuesday, January 30, 2007
| | |
| --- | --- |
| | [2] |
If I only had a brain bag...


Caffeinated doughnuts?! We just might have to move back to America.

| | |
| --- | --- |
| | [2] |
Why do zombies like to eat brains? The deadpan seriousness of some of those answers cracks me up. "My guess is that they hunger for what they've lost: consciousness and the soul." "Brains are rich in cholesterol, which is essential for maintaining cell membrane pliability, which is a particular problem at the low body temperatures typical of zombies in non-tropical climates." "They eat them for the tannic acid, to keep their undead hides tough and leathery." Still laughing...

| | |
| --- | --- |
| | [5] |
Calling all Dylan fans! (And by that, I mean Kevin and Eileen.) Last night I was crooning along to Lily, Rosemary and the Jack of Hearts* when the Snook confessed that he didn't particulary like the song "because the plot confused him." Funnily enough, I remember feeling the same way back when Eileen introduced it to me in college a dozen years ago. I don't feel that way anymore; it's like I've filled in all the missing details in my head. So I told him my interpretation, which basically sounds like a made-for-TV Western. I know that Dylan's never officially outlined the plot. What do you guys think it's about?



* I was actually listening to the Joan Baez version. I prefer it. Eek!




Oh. My. God. Someone is selling every NES game ever made. I know I can't afford them. I know I don't have the space for them. Heck, I know we've already probably got most of them as ROMs on disk. I don't care. I WANTS.

Monday, January 29, 2007
| | |
| --- | --- |
| | [3] |
Since all the cool kids are doing it, here's me and the Snook as M&M's.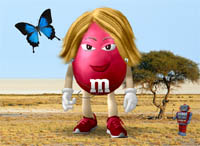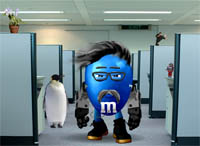 Make your own.

Ooh, Bookmarking for Later: How to Darn Socks. That looks extremely useful. (Link courtesy of Julie.)

| | |
| --- | --- |
| | [1] |
Darn it! If you tried to comment this morning, you would've noticed that my validation script was busted. It's fixed now. That's what I get for flying into a rage over comment spammers before breakfast and trying to modify code before I've had caffeine. (Thanks to Bex for letting me know.)

Sunday, January 28, 2007

Weekend Update: What a beeeeyootiful long, sunny weekend. Friday was an Australia Day barbecue over at Major and Steph's. (Yes, we had lamb.) I had my first go at backyard cricket, but unfortunately I think I'm a bit of a chucker. That bowling motion is just really hard to get if you've never done it before. Saturday I went to the Domain to see Turandot and do some knitting with her, her, and him (amongst many others). Today was about sleeping in and catching up on some crafting. I finished the aforementioned Rogue and completed another sock monkey. (The Oscar Contest should be good to go later this week.) I also got to video chat with Staci and Nat and see their lovely daughters. (And what nice carpeting!) Now I'm off to bed. I only wish - like Snookums - I had an extra day off!

| | |
| --- | --- |
| | [7] |
RunningBlog: Hoey's challenge is killing me! But as we agreed over IM today, it's doing a really good job of motivating us to run. The lead keeps switching between me, him, and another person, and every time I see that I'm in third I have to head out there again. I've done over twelve miles in four days! (That's nearly 20km.) My hamstrings are actually holding up really well; it's the rest of me that's falling apart. My left quad is sore and my lower back is tied up in knots. I think I may have to switch it up to walking for a few days if I'm doing to survive the month.

Oh - and since someone has asked, for running music I usually listen to Podrunner. This guy does a weekly podcast of dance music that's all set to a specific "beats per minute." It's great at keeping me in a rhythm without the distraction of iTunes occasionally throwing up a Disney song. (My other preferred workout music is, of course, Max's mixes.)

| | |
| --- | --- |
| | [1] |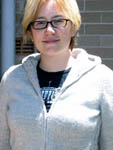 Rogue - Really and Truly Finished
I know I said that Rogue was finished last May, but the sad truth is that it has taken me EIGHT MONTHS to work up the courage to put a zipper in her. What can I say? I had the Zipper Fear. But no more! She's all done. The backstitching is a little wonky on one side (my handsewing was a bit rusty) and it probably zips a little higher than I'd like, but on the plus side I did a really good job of hiding the teeth when it's zipped. I'm calling it a win. (For my fellow zipper virgins, this site was particularly useful - especially the tip about basting the edges together first.) Now I just need to steek the Cabled Jacket of Doom and put the zipper in her...

Saturday, January 27, 2007
| | |
| --- | --- |
| | [2] |
Moblog: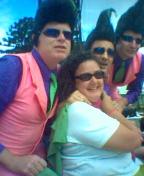 Lara and her boys!
It's getting crazy here, and it's still 3 hours til the opera starts! I'm not getting much knitting done... :-)

Thursday, January 25, 2007
| | |
| --- | --- |
| | [4] |
Knitting and Opera
We are ON like Donkey Kong, folks! Looks like the R+L and Courthouse folks are planning to get there around "lunchtime." I'll probably wander down around 3-4ish. Who's in?

| | |
| --- | --- |
| | [4] |
Someone has been "collecting" the horrible upholstery patterns from the world's public transport. Huh. Snookums always comments on the carpet at casinos. He thinks they make it lurid to hide the vomit stains.

Wednesday, January 24, 2007
| | |
| --- | --- |
| | [5] |
RunningBlog: I was surfing MeFi last week when I saw this post suggesting a Nike+ challenge for MetaFilter users. "Intriguing!" I thought. "A running contest against pasty white geekboys? I might actually have a chance!" So I signed up. Then today I got an IM from the originator... and it turns out to be my old college friend Hoey! I'm not sure whether knowing one of the participants makes me more or less bloodthirsty. *shrug* Anyhoo, tonight I headed out for a 5K run around Vic Park. I managed the whole thing without stopping - quite the accomplishment here lately - and my hamstrings seem to be holding up well. (I've been applying anti-inflammatory gel before and after I run, and I've even started going to yoga again in an attempt to get in more stretching.) And the coolest thing is - thanks to the time zone difference, I'm the only one who's had a chance to run yet so I'm in first place! I'll try to enjoy it while it lasts...

| | |
| --- | --- |
| | [2] |
It's a MacBook Pro. The Snook has been assimilated. (And for the curious, apparently it handles World of Warcraft really well. "Fantastic framerate," or some such. But officially, it's a Useful Work Thing.)

| | |
| --- | --- |
| | [5] |
Ming Tsai's Cucumber Kimchee
I caught an episode of Simply Ming recently that featured this interesting-sounding kimchee. The ingredients were all pretty easy to come by - except for the Korean chili powder - so I made a batch on Monday night. It "fermented" in the fridge for 24 hours and then I tried it. Not bad! It doesn't taste much like kimchee though. I'd classify it more as a chunky pickle relish. It's very sweet and I think I could've used more of the plain chili flakes (that I used as a substitute for the "kucho karo"). I think it'd be fantastic on a burger. Here's what it looked like: [more...]


My Mom has finished another quilt, and it's amazingly gorgeous. If you ever want a patchwork quilt, you should totally commission her.

| | |
| --- | --- |
| | [1] |
So it's really expensive to live in Australia... but hey, at least you'll live a long time!


How to Knit a Treehouse (PDF), by the author of my favorite sock knitting book, Cat Bordhi. Okay, so it's not so much a tree house as a hammock, but it's still a neat idea.


Holy crap! Check out this recreation of the Luke's destruction of the Death Star done only with human hands. It's surprisingly effective!

| | |
| --- | --- |
| | [4] |
Oscar Contest 2007 Coming Soon
Okay, so the Oscar nominations are out... and that's usually when my annual Oscar Contest begins. Unfortunately this year I'm running a little behind with the sock monkey creation, so we're not going to launch for a little while yet. But you all wanted more time to think about your predictions anyway, right? Plus this will help limit the number of randoms who enter. Not that I don't want new people to play along, but I always wish that one of my regular readers/commenters would win. So go to the movies and start thinking!

Tuesday, January 23, 2007
| | |
| --- | --- |
| | [5] |
Me: So the Internets evidently think we're slobs.
Snook: Huh? Oh, you mean those random comments?
Me: Yeah.
Snook: What the hell was that about? It looks good! Some people have frickin' OCD.
Me: Seriously. I was thinking it looked pretty tidy, myself.
Snook: Most of the time we have empty wine bottles all over the place!
Me: Remember that time we had a bottle of maple syrup on the coffee table for, like, a month?
Both of us: Mmm.... pancakes.


Burning a candle at both ends. That is surprisingly hypnotic. Very cool. (Link courtesy of John.)


Poetwii: poems about/inspired by the Nintendo Wii. No, I'm not making this up. This one's my favorite. [more...]

| | |
| --- | --- |
| | [4] |
Ladies and gentlemen... The Knit Picks Options needles are now available for pre-order! And we're selling them for $30 less than the recommended retail price! (And that's the supplier's RRP, which is less than our usual markup anyway.) The kit is slightly different from the American version; we get one fewer pair of needles but also more extras. I talked the supplier into giving me a couple of trial pairs a few months ago, and I've been really impressed with them. They feel just as slick and speedy as Addis but the points are even pointier, which I like. My only complaint is that I've had a few problems with the tips unscrewing. (Granted, sometimes I forgot to tighten them with the little key.) Anyway, I'll be ordering some. And remember, needles don't count for stashbusting...


Hmmm. Albert's been telling me about this 8 second interval training method that supposedly burns tons of fat. I wonder...


Huh. The Snook just alerted me to the fact that Google will be aerial-photographing Sydney this Friday for Australia Day. They suggest that we all go out and hold up signs or spell out things with our bodies. Unfortunately for us, see that little chunk missing from the corner of the square? That's Chippendale. Mongrels!


Hey, my friend Raelee was on the radio yesterday!

Monday, January 22, 2007
| | |
| --- | --- |
| | [1] |
Okay, I just got a mental image of our own gadgetgirl frantically high-stepping it in a DDR showdown with a library patron. HA!

| | |
| --- | --- |
| | [7] |
Opera (and Knitting?) in the Domain
This coming Saturday is Opera in the Domain, I was thinking of going down in the afternoon and staking out a prime spot... and maybe doing a bit of public knitting at the same time. Anybody want to join me? We can have a picnic! Picnic and Puccini...

| | |
| --- | --- |
| | [26] |
How Expensive Decisions Get Made
The Snook's been griping about our five-year-old television for ages now, and he keeps suggesting that we go buy a new one. Me, I'm not picky. Why spend all that money? So I've been putting him off. Of course, this past weekend was stinkin' hot and the only thing I felt like doing was sitting in our dark cave of a flat and watching the tennis. By the time Andy Roddick was heading into the fourth set, I was finally motivated. "Put your pants on," I hollered into the office. "We're gettin' a new TV."

Two hours (and a hefty chunk of change) later, the delivery man was carrying this beauty into the house... [more...]

| | |
| --- | --- |
| | [1] |
According to the BBC, dog owners lead healthier lives than cat owners. I was all set to be indignant about that til I remembered that we deliberately got a cat so that it'd be lazy like us. Oh, and my blood pressure rises ten points every time she pees on the bathroom floor. Definitely not healthy.


Behold, the Harry Potter Dark Mark Bag! Man, that is evil lookin'! I love it. (Thanks to customer Janice for sending the link.)

Saturday, January 20, 2007

Yahoo says that playing Wii makes you lose weight. Excellent. Now I just have to work out how many Weight Watchers points you earn per hour...

| | |
| --- | --- |
| | [1] |
Do yourself a favor and go download this Best of Bootie 2006 album RIGHT NOW. I saw it linked over on Max's site this morning and ended up listening to it through my (loooong) run today. It's awesome!

| | |
| --- | --- |
| | [5] |
What American accent do you have? I apparently have a "Midland" accent, which "is just another way of saying 'you don't have an accent.'" And yes, even after more than five years in this country, I still say "marry," "Mary," and "merry" all sound the SAME.


Movie Minutiae: Tombstone. That one's for the Snook, who's sporting a very Johnny Ringo-esque 'tache right now...

Friday, January 19, 2007
| | |
| --- | --- |
| | [8] |
BAH. The US says carrying knitting needles on the plane is fine. Australia begs to differ. Bastards!


This has been our week to entertain visiting bloggers in the shop! I just made the acquaintance of Kristin, aka The Neurotic Knitter. She's out there stocking up on Australian wool right now!

| | |
| --- | --- |
| | [1] |
Someone on AskMeFi wants to know: What causes old lady smell? Good to know. This answer nearly made me spit water out my nose...

| | |
| --- | --- |
| | [3] |
Travel Frustrations:
The good news is that we're finally - I think - settled on the itinerary for our trip home to the States in April. The bad news is that the Snook's company put their foot down in terms of his vacation time, which kinda puts the kibosh on the whole round-the-world thing. (Not to mention my long-anticipated meetup with Max!) But I'm trying to look on the bright side. We're going to be saving a bundle of money on the flights, not to mention the cost of visiting Europe. We won't have to pay a cat sitter for as long. And Albert thinks he can cover us on his corporate travel insurance, so that's a couple hundred bucks right there! I shouldn't be stressing so much, right?

Oh, but we're still doing the astronaut thing. DAMN RIGHT, SKIPPY! They sent us our confirmation letter today. We get to go on a VIP tour and see the launch pad! I'm so psyched.

Thursday, January 18, 2007
| | |
| --- | --- |
| | [2] |
What's Behind Niagara Falls. That's, like, urban spelunking to the max. I'd freak out.


Trust Snape. That is such an awesome T-shirt. (Link courtesy of not martha.)

Wednesday, January 17, 2007
| | |
| --- | --- |
| | [1] |
Knitting Pattern Alert!
Today I discovered that the little newsagent on King Street (between York and George) in the city is selling a two-pack of Jo Sharp's Contemporary Knitting 1 and 2 for $10. BOTH BOOKS FOR $10! (Uh, some shops sell them for a lot more.) I snapped it up. I think they may still have a few more, or you might find it at other newsagents as well. (They were prepackaged in cellophane.)

And no, this doesn't count for Knit from Your Stash '07. It's not wool!

Tuesday, January 16, 2007
| | |
| --- | --- |
| | [1] |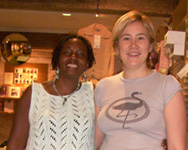 Knitblogger Meetup!
Well, kinda. Today at lunch I happened to meet the fabulous Sahara of SistahCraft (and Knitty City in New York). I then spent the next half hour completely ignoring all other customers in favour of chatting with Sahara and trading tales of Retail Hell. (Sounds like rich NY customers feel just as entitled as rich Sydney customers!) She told me about all the other knitting shops she's hit in Australia, and I picked her brains about her impressions of them and us. Then, of course, it was time for the Obligatory Blogger Meet-Up Photos. (It's like a law.) Soon she was off to buy a new suitcase - seriously, she bought that much wool - and I reluctantly headed back to my desk. It was nice to meet you, Sahara!



PS - She knit that awesome lace cotton dress she's wearing. And yay, we were shoe twins!



| | |
| --- | --- |
| | [5] |
Pan's Labyrinth
Last week I got my usual Kinokuniya monthly newsletter and noticed that they were having a contest to win free movie tickets. I wrote back immediately but didn't get a reply, so I figured I wasn't quick enough. Lo and behold, two days later they arrived in the mail! I won two free tickets to see a sneak preview of Pan's Labyrinth. Other than Kevin's review, I really didn't know much about it other than it was some sort of fantasy. I was expecting sort of a dark, "Alice in Wonderland" type adventure. Yowza. Instead it's more like 2/3 war story, 1/3 fantasy. And the war bits are really, really gruesome. I found myself hiding behind my hands more than once, and the "lip stitching" part had the whole audience audibly wincing. That said, both parts of the story were compelling and I wasn't bored at all. The actors are all fantastic, and the effects are convincingly creepy. I did find the ending a little depressing though... (Spoilers after the jump.) [more...]


Running from Camera. Ha! One of the more amusing photoblogs I've seen in a long time.


Leanne dragged me back to yoga last night for the first time in, like, a year. I'm sooooo sore. Bring on the coffee!

Monday, January 15, 2007
| | |
| --- | --- |
| | [1] |
Helms Deep recreated in candy. Sweeet. Except now my inner monologue is going to sound like Fez all day... (Link courtesy of John.)

Saturday, January 13, 2007
| | |
| --- | --- |
| | [5] |
BOOK IT! Oh man, I was waaaay into the Book It! program. (For non-Americans, it was a scheme to get kids reading by awarding them free Pizza Hut personal pan pizzas whenever they'd finished a certain number of books.) All of mine would've been redeemed at the Kendallville Pizza Hut. I can remember the big purple button I had, and the gold foil star stickers the waiter would add each time you came in. I might have to get one of those old-school T-shirts... (Link courtesy of miftik.)

Friday, January 12, 2007
| | |
| --- | --- |
| | [8] |
ASTRONAUT KRIS.
Earlier tonight I was checking out Orlando tourist attractions to figure out how far they are from my Grandma's house. (Couch surfing rules.) Idly I clicked on the Kennedy Space Center website, when I noticed their Astronaut Training Experience (ATX). OH. MY. GOD. It's SpaceCamp for GROWNUPS. I managed to convince Snookums that this will be the 30th Birthday Present of All-Time. Then I stayed up til 1am so I could call Florida and book in our tickets. WE'RE LOCKED IN BABY! April 12th, yours truly is gonna get strapped into the multi-axis trainer to do her best Lea Thompson while Snookums puts on his best Tate Donovan. "Jinx and Max, friends forever!"

| | |
| --- | --- |
| | [6] |
One-Way Car Rental
The Snook and I are finalizing plans for our trip to the States in a few months, and one of the last hurdles is arranging ground transportation. We were hoping to do a bit of a road trip to Florida and then fly on to London from there, but the price of one-way car rentals is RIDICULOUS. As a last resort, I've found several great deals (not one-way) in Indiana with unlimited mileage. That would require us driving all the way back though. Have any of you done anything similar? Anybody have any suggestions?



(What I'm hoping to hear: "Hey, Kris, my cousin's been looking for somebody to drive his car from Indiana to Florida!" What I'm expecting to hear: "You're screwed.")



| | |
| --- | --- |
| | [1] |
China is introducing sweet-and-sour pork flavoured postage stamps. That is awesome.

Thursday, January 11, 2007

Wow. The BBC is reporting that 100% of Irish Euro notes carry traces of cocaine on them. 100%! You've gotta imagine that other Western countries would have similar rates. (Except for Australia. We got plastic money. You can just wipe this stuff clean!)

Wednesday, January 10, 2007

Not for the faint-hearted: Ugly Cat. Yeesh. Didn't Rachel have one of those on Friends? (Link courtesy of Snookums.)

| | |
| --- | --- |
| | [4] |
HOLY CRAP - the iPhone is real! How did they get the rights to the name? This is the friggin' coolest thing I've ever seen. The keynote must have been unreal. My only disappointment is that I'm going to have to limp along with my current crap phone for at least another year til they bring them out here.


HA! MTV have officially confirmed the Real World news that I reported a month ago. They're being coy about the house location though. Whatever! It's in Darling Harbour. I might have to go on a reconnaissance mission this week.

Tuesday, January 9, 2007
| | |
| --- | --- |
| | [6] |
Look, I'm as imaginative as they come, but I don't see no face of Jesus on this wall. Anybody who does is smoking something. (Link courtesy of fellow skeptic gadgetgirl.)


Baby Yoda Sweater. Okay, that's cute! I'll have to figure out how to size it up a bit for Penn, who is apparently gargantuan for his age. (Link courtesy of crumpet.)

| | |
| --- | --- |
| | [4] |
Is anyone else in the mood for a Three Musketeers bar?
Good grief; I leave him home alone for one day, and he goes and does this. And the wax he got to put in it smells like coconut.


Anime-Style Portrait of the Simpsons Cast. That is both awesome and slightly disturbing. (Link courtesy of Daring Fireball.)

| | |
| --- | --- |
| | [1] |
Congratulations to REM on their Rock and Roll Hall of Fame nomination. I'm just hoping this means Bill will come out of retirement to play at the ceremony.

Monday, January 8, 2007
| | |
| --- | --- |
| | [3] |
Woohoo! This is something 99.9% of the world won't care about, but I spent the whole morning trying to work out how to add backorder delivery options to the shop website. After beating my head repeatedly against a brick wall, I finally found this forum post which spells it all out in detail. So now I'm just linking it in the hopes the Google ranking will go up and the next poor sod won't spend as much time looking for it as I did.

Sunday, January 7, 2007
| | |
| --- | --- |
| | [2] |
Cafe Giulia is still closed for the holidays, so the Snook and I decided to try Bar Mattino (which is right across the street, but somehow we've never visited). It was fantastic! Huge portions of food with a good-looking and extensive menu. I had poached eggs with bacon, rosti, and toast, while the Snook went with the French toast, bacon, and bananas. We'll be going back.

| | |
| --- | --- |
| | [3] |
Observations on The Legend of Zelda: Twilight Princess:
This game is FUN. I really like swinging the sword and killing the bad guys. The Snook is addicted to the whirlwind boomerage, which we just found tonight. There seems to be a good mix of stuff you have to puzzle out along with stuff you just have to attack.
This game is LOOOONG. According to Wikipedia, the first testers took 70 hours to get through the game. So far we've played five hours. We're less than 10% through. (And we're probably going even slower than the testers. I like to cut down the grass looking for coins.)
This game can be FRUSTRATING. The Snook and I are playing it tag-team style, which does have certain advantages. Often when one of us gets stuck and hands off, the other person seems to solve the puzzle/defeat the boss quickly. It's also a big relationship trial though. Tonight Snookums had an epic battle against a possessed baboon who was jumping from pillar to pillar and throwing boomerangs at him while giant Venus flytraps kept popping out of the ground, and I was going nuts watching while he ran 'round and 'round trying to bash the monkey's column without getting killed. (I know that sounds ridiculous, but at the time it was LIFE AND DEATH.) It's the eternal Amazing Race Roadblock conflict, with the partner on the sidelines trying to be supportive while also yelling a lot and thinking they could do better. We survived, but only barely. God knows what it'll be like when we're fifty hours into this thing...
(In other Wii news, I've nearly made it to Pro in tennis. I can only play every few days though, because it kills my shoulder.)

Carrie Cake. Now there's a Halloween Party centerpiece if I ever saw one! (Link courtesy of John.)

| | |
| --- | --- |
| | [3] |
The Prestige
Last weekend the Snook and I finally caught a showing of The Prestige. I'd seen glowing reviews from both Andrew and Kevin, but thankfully I managed to avoid the temptation to spoil myself. And yeah, it's definitely a film that you should see cold. We really enjoyed it! While we both figured out Angier's trick pretty quickly, I didn't work out Borden's at all. (The Snook claims he did.) Afterwards I went back to read the reviews, and I was intrigued by Kevin's reference to a "deliriously creepy" ending to the original book that was missing from the film. So I headed to Kinokuniya on Tuesday to pick up a copy. I was surprised at how different it was from the movie. Most of the big plot points are still there, but the structure and effect are completely different. I thought it gave a much better insight into the character of the two magicians, and I came away feeling much more ambivalent over who was the hero and who was the villain. (I think the movie suffers a little bit in this regard because of Hugh Jackman's star power; you can't help but think of him as the "main" character.) And the ending? SO FREAKING CREEPY. I read it last night at, like, 1 a.m. and then it took me ages to get to sleep. (Thanks for that, Kev!) I do have a few questions about that ending though. Needless to say, DON'T READ ANY FURTHER if you have any intention of reading the book. (Or seeing the movie, though it doesn't really have much to do with it.) [more...]

Saturday, January 6, 2007

First we had a female member of the Irish Guard... and then the first female Speaker of the House... and now there's going to be a female Beefeater. Neat! You know, I tried to break down a gender wall once. Back in college when I worked at Coachmen, I was all fired up to be the first woman forklift-driver (simply because the guy in charge said I couldn't). And then my Dad pointed out that I was making a hell of a lot more per hour sitting in front of a computer than I would be driving a forklift in a freezing warehouse. That's when I decided that breaking through glass floorboards isn't as fun as glass ceilings.

| | |
| --- | --- |
| | [4] |
Today the Snook and I finally watched Heroes and discovered what the fuss is all about. We're only at episode four though, so don't spoil it!

| | |
| --- | --- |
| | [7] |
Thanks to Max, the Snook and I are now debating the ethics of foie gras (as defended by Jeffrey Steingarten). We're definitely in the "eat it in small portions" camp. Hey, I've got friends who are vegans and pescavores, and I admire them all... but I'm an omnivore, and meat is so good. (The Snook prepared a chateaubriand this week that made me weak in the knees.) Of course, if Sakai-san ever sat a dish down in front of me with an inch-thick slap of foie gras on top, I'd be ALL OVER IT.


Kevin pointed me towards some great new images from The Golden Compass. Sam Elliot made me swoon with the most glorious 'tache ever. Nicole Kidman looks absolutely stunning as Mrs. Coulter. (I can't wait to see her dæmon.) I'm still disappointed that Terence Stamp isn't playing Lord Asriel, but Daniel Craig looks spiffing in his period getup. (He does, however, sport my least favorite facial hair ever: the beard that grows right up to the bottom lip, all the way across.) The newcomer playing Lyra looks great and gets to sport some adorable knitwear. I predict the knitters are going to be all over her her Gyptian hat (Dude, is that, like, fifty-ply?) and this strangely adorable bonnet.

Friday, January 5, 2007

Jaywalker Sock Pattern. Bookmarking because I think that might be a good one for my Vesper sock yarn...

| | |
| --- | --- |
| | [3] |
RunningBlog: Nike+ iPod Tracker
I was reading Podophile the other day when I discovered that someone's written a Wordpress widget to display your running Nike+ stats on your blog. The obvious problem is that I'm not running Wordpress. In the comments I discovered two possible alternatives: justdoing.it (a service that grabs your data for you) and this bit of PHP that emulates the Wordpress widget. I'm wary of giving my username and password to a service with so little identifying information, so justdoing.it is out. I turned to the code. It works by hitting the Nike site every hour and pulling down your data. Well, I don't run that much. So the Snook and I came up with the idea of setting up a cron job to run the script at midnight every night. It pulls down all my run information (as XML files) and then I can do whatever I like with it. So far, I've created a badge for my sidebar with my cumulative totals. Whaddaya think? This weekend I'll add in the details of my most recent run. Drop me an e-mail if you're interested in the code. And thanks to Ernie for getting me started!

Thursday, January 4, 2007
| | |
| --- | --- |
| | [2] |
A Melbourne cat has just been granted a credit card. Hmm. This will give Dr. Amy Jones ideas. I'll have to call the bank tomorrow and tell them to watch for any suspicously large purchases of tuna.

| | |
| --- | --- |
| | [4] |
The Snook just sent me a great food/diet link: What does 200 calories look like? He adds: "The take-home message is 'Less butter, more turkey.'"

| | |
| --- | --- |
| | [14] |
Happy blog-birthday to me!
As of today, I've been blogging as web-goddess for six years. SIX YEARS! It blows my mind. And just as I've done the past few years (2006, 2005, 2004, 2003), I've pulled together some statistics to celebrate and reflect...
Number of posts: 949 (An increase of 170 from last year!)
Number of comments: 2457 (Down 71 from last year)
Comments to post ratio: 2.59
Posts mentioning the Snook: 238 (An increase of 38, for a total of 25%. TWENTY-FIVE PERCENT. I need more friends.)
Most commented posts: Oscar Contest 2006, Rude Customer?, WW Before and After, Oscar Contest Results, Becoming an Australian Citizen
Top 10 commenters excluding myself: Amy (135), M-H (101), Eileen (79), Crumpet (67), Hank (64), Tricia (60), Max (51), Bex (50), Miss Helen (48), and jussi (41)
Most famous commenter: Bill Gaghan from The Amazing Race
Polls: just two, but one was rather contentious
Moblog posts: 30
Percentage of Year Spent in Stomach-Churning Pain: approximately 30% (culminating in an endoscopy to confirm my gastritis, and then a minor bout of depression as I healed)
Media appearances: User Friendly Link of the Day, article in MX (scan here), radio interview on 2GB, knitting on Sunrise (footage here), quoted in The Daily Southtown, knitting with Nuala on Channel 7 (again), WWKIP Day mention on the ABC site, blurb in SMH Fashion Police column, article and photo in Sun-Herald, interview on Radio 4BC, interview on Radio 2UE, interview on Radio National, interview on Nova 96.9 (And after all that, STILL NO CHAT SHOW?!)
Weight loss goals met: getting into a size 14, getting into the 70kg's, attaining a healthy BMI, reaching my WW goal weight, achieving Lifetime Membership
Races run: 4 (Mother's Day Classic 8K, City 2 Surf 14K, Daily Telegraph BridgeRun 9K, Bridge to Bridge 10K)
Nephews born: just the one!
Photos of my cat: two. (TWO? JUST TWO? I should have my blogging license revoked. Well, she does have her own Flickr account....)
Thanks to all of you who stop by, and especially to those of you who comment and e-mail. It's especially nice that so many of you have become friends in real life. May we all have an interesting 2007!

Wednesday, January 3, 2007
| | |
| --- | --- |
| | [20] |
Sock Monkey Ideas?
After last year's stroke of brilliance with the gay sock monkey cowboys, I'm having difficulty coming up with a concept for this year's Oscar contest prize. None of the movies seem as iconic or ripe for parody, you know? So I'm opening it up to you guys. Any suggestions? If I use your idea, I'll make an extra monkey and send it to you.

| | |
| --- | --- |
| | [1] |
Typographic Pinup Girls. They look "Not Safe for Work" from a distance, but up close it's all type, baby.

Tuesday, January 2, 2007

Lego Death Star. Sweeeet. (Link courtesy of the Snook.)

Monday, January 1, 2007
| | |
| --- | --- |
| | [2] |
Moblog: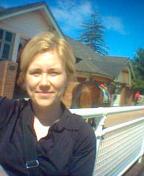 Feeling Rather Posh
Darlings! The Snook and I find ourselves at Royal Randwick today, having a flutter on the horsies. Any hot tips?

| | |
| --- | --- |
| | [3] |
Happy New Year!
The Snook and I celebrated with steak au poivre and a bottle of bubbly. At midnight I rang the fam and talked to my Mom for too long before we realized that Skype would be much cheaper. So Mom and I video-chatted, and then I rang and woke up Dad. Snookums is still working on the video-encoding of Sydney's fireworks. Me, I've been looking at last year's resolutions. And you know what? I didn't do too bad! I got to my healthy BMI level... though I'm probably above it now. But I'm not gonna beat myself up over it. I ran four races with the Snook, including the City 2 Surf. I read more books. In 2007 I'd like to:
Reach my goal weight of 75kg, just to prove I can
Run a half-marathon
Get my finances in order, so the Snook and I can face our thirties as grown-ups
Make a definite plan for buying a house
Not that these are my goals alone; I've just conferred with the Snook and he's onboard too. "That sounds like a lot to do." It's gonna be a big year.

archives
You can search through the archives by post keyword using the form on the left, or you can browse by month using the links at the bottom.
"Moblog" refers to posts and images posted directly from my mobile phone.

"PW Blog" refers to posts recovered from my very first weblog, which dealt with news related to my college dorm.