Thursday, January 31, 2008
| | |
| --- | --- |
| | [11] |
Homemade Samoas! Those look soooo good. And seeing as how we don't have Girl Scout Cookies over here, those are pretty much the only way I'm gonna get any. I may have to try this. (Link courtesy of not martha.)

Wednesday, January 30, 2008
| | |
| --- | --- |
| | [8] |
The King of Kong: A Fistful of Quarters
Okay, you* HAVE to go see The King of Kong. The Snook and I just got back from a special preview showing in Newtown. (I won some free tickets from Kinokuniya.) The movie is a documentary about a rivalry between world champion Donkey Kong players. I know, I know - supreme geekiness, right? And the movie doesn't stint on showing you just how nerdy some of these guys are. We all had some good laughs at the start. (My favorite was the guy who plays Centipede with his FEET.) But then somehow in the middle, we really started to care about Steve Wiebe breaking the odious Billy Mitchell's record. When he played the game at Fun Spot, people actually started applauding. And then to see the bitchiness with which it was taken away with him, and to see how his much his family and friends supported him and how much everybody wanted to see him succeed... It was just awesome. I even felt a bit teary at the end, and there was enthusiastic applause during the film's coda. (Be sure to sit through the credits, which are pretty funny.) It's like we all went in just expecting to laugh at the dorks - and ourselves - but instead it really did become much bigger than that. I'd recommend this film to just about anybody. It's that good.

Quote of the night, from the Snook: "When they start playing Nick Cave when you appear in the movie, you know you're the villain."

* Especially Amy and Hank, who will LOVE. IT.

| | |
| --- | --- |
| | [1] |
Someone on AskMetaFilter is looking for stories of kids with superpowers. Man, there are some GREAT suggestions in there. I totally remember reading The Girl with the Silver Eyes in grade school. (She was telekinetic, right? And she ended up that way because her parents did some kooky LSD experiment in college? Or am I getting it mixed up with Firestarter?)


Ask a Korean. He's Korean. He lives in America. He answers questions!

Monday, January 28, 2008
| | |
| --- | --- |
| | [13] |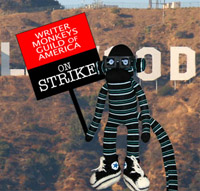 It's time to start the Sixth Annual web-goddess Oscar Contest, folks! Here's how it works: Just go the entry form and make your picks for the dozen award categories (and tie-breaker!). Whoever gets the most right wins a fabulous, one-of-a-kind sock monkey creation. After much deliberation, there really was only one choice this year: a Striking Writer Monkey. He's union and proud, dammit! (And he'll probably get the Oscar ceremony cancelled anyway.) He's also kind of a hipster, for some reason. He features hand-knitted Converse All-Stars (which also function as baby booties, if you have a baby) and chunky black glasses (made out of Fimo). He'll also come with his very own picket sign, as soon as I get some more ink for my printer. (If you want an idea of how big he is, check out this Flickr photo.) So go on, get enterin'! More pics after the jump. [more...]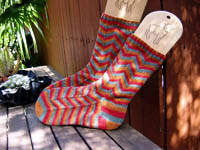 Toe-Up Jaywalkers
These are my fourth completed pair for the Southern Summer of Socks (previously: Whitby, Retro Rib, Widdershins). The original Jaywalker pattern took the knitting world by storm a few years back, so I'm a little late to the party. I'd previously made a start on these a few months back but frogged them when I realized they were never going to fit over my ankle. (The pattern is notorious for its lack of stretch.) I later decided to use the toe-up mod instead, so I could better judge the fit and length as I went along. The yarn is Vesper Sock Yarn in the "Tartan" colourway, which I thought would suit the zig-zagginess of the pattern nicely. I knitted them two-at-a-time on two 2.75mm circs, and I used Judy's Magic Cast-On to start the toe. (Note to self: Next time either use more than twenty stitches or space out your increases better to avoid toe pointiness.) The zig-zag pattern is actually really easy to do and takes two seconds to memorize, but it does make for some odd pooching where you switch from zig-zag to straight stockinette. The worst part of the construction was trying to figure out where to start the gusset increases; the pattern doesn't really tell you so I had to guess and I ended up reknitting it three times. The reverse turned heel is very nice though, and it seems to be a good fit. I'll give these an 8 out of 10! (Cross-posted to Ravelry and Southern Summer of Socks.)

| | |
| --- | --- |
| | [3] |
The New Yankee Workshop drinking game. I haven't seen that show in over ten years but this list is still funny to me. Man, I wish it was on here! The Snook has never had the exquisite joy of watching Norm Abrams make a Quaker rocking chair using $100,000 of laser-guided woodworking equipment... (Full credit to Patrick for the idea!)


An Angry Demonstration over this very website. (The little guy carrying the "Meat House" sign made me laugh.)

Sunday, January 27, 2008

Comic Book Urban Legends. Fun! There are LOTS of them.


I read this "Last Man on Earth" Metafilter thread before bed last night, and then had post-apocalyptic dreams for eight hours. Let that be a warning.

| | |
| --- | --- |
| | [4] |
I started a thread on Ravelry the other day about knitting-related comics, and people posted a few gems. I think this one is my favorite.


Remember the Meat House? I just got an email from one of the creators alerting me to their latest project: the Meat Ship. My favorite part are the little meat pirates firing little meat cannons.

Saturday, January 26, 2008
| | |
| --- | --- |
| | [3] |
How do you tell if you're a true Aussie? I totally agree with/understand all of those, with the notable exceptions of pronouncing Penrith as "Pen-riff" (Quoth the Snook: "Only bogans do that.") and the secret words shouted during Am I Ever Gonna See Your Face Again. And rest assured, the Snook has just enlightened me as to the latter.


Happy Australia Day! The Snook and I celebrated with Miss Fee and Matt by heading out to breakfast at Wharfy's at the Mosman Ferry Wharf. We'd heard that the LA Times voted it "Best Breakfast in the World," and Not Quite Nigella gave it two rave reviews. We were all looking forward to an experience. Well... it was pretty good. The Snook and I shared an excellent Eggs Benedict and a couple slices of French toast. The coffee was decent. Fiona and Matt seemed to enjoy their food too. Nothing hit me as orgasmic, but it was simple food done well in good-sized portions. For me, though, the sticking point is the price. While I'm sure $35 for breakfast for two is a good deal in Mosman, I thought it was a bit ridiculous. I can get a great breakfast over at Cafe Giulia for less, and I don't have to sit in the middle of a ferry wharf to enjoy it. So overall I'd say if you're in Mosman and you want to see what the fuss is all about, go for it. I'm not sure it merits a special trip from anywhere else though.

| | |
| --- | --- |
| | [1] |
This one's for my sister: Caring for a Baby 101. My favorite is the baby massage. Come on! That baby is loving it! (Link courtesy of krisalis.)

Friday, January 25, 2008
| | |
| --- | --- |
| | [4] |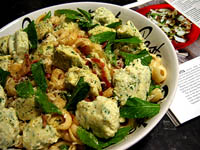 Ricotta Dumplings with Orecchiette, Peas and Prosciutto
Have I told you how much I love delicious. magazine? Ma Snook got me a gift subscription a few years ago and has kept it up ever since. Tonight I dipped into my now-extensive back catalog for this little experiment. It's from the February 2007 issue. ("Orecchiette" are small, curly bits of pasta that look like little ears. You could easily substitute shells.) I liked that it had a real simple component (the pasta and peas bit) and then a slightly-more-complicated-but-still-fun bit (the ricotta dumplings). I'll admit I was a little dubious about the dumplings. I mean, how can you BOIL CHEESE and not have it turn into nasty melted goo? But these worked perfectly. I think this is one of those super easy recipes you could make that would really impress a guest. Details to follow. [more...]


Market Tote. Cute!

| | |
| --- | --- |
| | [5] |
New Stuff
We got some much needed new stuff this week.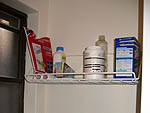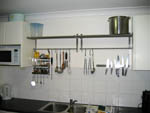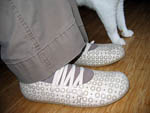 1. Laundry shelf. Our little laundry room lacked any storage space beyond the window sill, but the wall above the sink was empty. I picked up this shelf last week at Howard's Storage World. My friend Albert came over last weekend with his hammer drill (since our walls are all masonry) to help us hang it. I am ridiculously pleased with my little shelf. (In my Elizabeth Bennet voice: "Shelves in the laundry! Happy thought indeed.")

2. Kitchen shelf/bars. We approached the big empty space above the kitchen sink as both a challenge and an opportunity. The Snook has long desired to HANG THINGS in his kitchen. With that in mind, we picked up a bunch of Grundtal accessories from IKEA a few weeks ago. Albert helped the Snook hang them. We've got two shelves across the top, two bars across the middle, a hanging spice rack, a bunch of hooks, and a magnetic knife rack. Now we just need to decide what else we're going to put on it!

3. My new Campers. Most mornings I walk by the Camper shop in the QVB in the city, and every day for some weeks now I've looked at these shoes in the window. Last night Miss Fee turned up at the TC SnB with a Camper bag of her own. Their sale was still on, she said, and she was happy to accompany me there afterwards. My shoes were on sale for 50% off! I couldn't resist. They're very comfy.

Thursday, January 24, 2008
| | |
| --- | --- |
| | [1] |
Google on hiring spree. GAH.

| | |
| --- | --- |
| | [5] |
Yesterday they all mocked my animated gif. "Is that all it does? Can't you make it move any faster?" Today I had twenty new Internet orders. TWENTY. And they're all for the clearance stuff.

I am a marketing genius.

Wednesday, January 23, 2008
| | |
| --- | --- |
| | [2] |
Angry workout music. This could come in handy when I finish the Couch-to-5K podcasts...

| | |
| --- | --- |
| | [8] |
Thanks to Ma Snook, I now have a genuine vintage pinafore apron! I pulled it over my head tonight and immediately set to work making cookies. I AM SO RETRO CUTE IT HURTS. [more...]

| | |
| --- | --- |
| | [8] |
I have issues with small animals.
I was just updating some of my Ravelry projects when I heard a commotion behind me. I turned around to see what the cat was playing with. With a shock, I saw something dark scuttling along the edge of the carpet. I ran to the phone.

Me: AHHH! There's a CREATURE in here!
Snookums: (on the bus, by the sound of it) There's a what now?
Me: A skink! I think it's a SKINK! She's chasing it around and she's going to EAT IT! WHAT SHOULD I DO?
Him: Well, get her off it! Then pick it up--
Me: WHAT?!
Him: Okay, cover it with a jar and then use a piece of paper to take it outside.
Me: Okay.

So I got a jar and went back to the office... and the skink was gone. There sat the stupid cat, mewing and sniffing around the base of my office chair.

Me: What-- DID YOU LOSE IT? HOW COULD YOU LOSE IT? You're a cat, damn you! Where did it go?! DID YOU EAT IT?

I can't find any trace of it. Either she ate it... or it crawled into some part of my office chair for safety, and it's going to wait until I'm sitting here late one night surfing before it crawls out and gives me a heart attack.

| | |
| --- | --- |
| | [3] |
Whoa. In case you missed the link in the comments from M-H: Heath Ledger is dead. Man. His poor little girl! And I know it's morbid, but I wonder what this is going to do to the upcoming Batman movie...

| | |
| --- | --- |
| | [8] |
Well, this year's Oscar nominees have been announced... which means that my Sixth Annual Oscar Contest will start this weekend! As usual, the prize will be a fabulous, one-of-a-kind hand-crafted sock monkey. (Have I got a brilliant one for you this year...)

Tuesday, January 22, 2008
| | |
| --- | --- |
| | [1] |
Thing-a-Day. It's a challenge for the month of February to create some new thing every single day. "knit cook draw paint tape solder write install destroy invent document." I like that.


RunningBlog: Today was the start of my fifth week of training. I've now been running regularly (as in, 3 times a week) for more than a month now, and I think I've turned a corner.* Running makes me feel good. It made me feel good before, but only in the "I've done something I hate and now I'm all tired but at least I feel kinda virtuous" way. But this morning, after another 25 minute non-stop jog with hills, I actually felt MORE energized at the end of the run than I did at the beginning. I felt like I could've kept going. I was actually happy, you know, in my head. It was seriously weird.

I finished reading Jeff Galloway's Women's Guide to Running last night. Quite a lot of the book is devoted to pointing out WHY you should run, which was wasted on me (since I'm "already there," so to speak). I bought it for the practical information, and I found a few tips in there that I think are going to make an immediate impact. One of them is the recommendation that you have a cup of coffee about an hour before you run. THIS IS GENIUS. I feel so much more "peppy" and alert with a little caffeine. Another mindblowing idea for me is the admonition to take smaller steps. I'm tall, so my natural inclination is to take bigger strides when I try to speed up. This is a bad idea, and it often leads to injuries. (This is how I hurt my hamstring last year.) But by taking smaller, faster steps, I can speed up without overstriding and hurting myself! I've also stopped feeling guilty about not stretching religiously. Galloway says he thinks stretching tends to hurt more than it helps, so unless you've got a specific injury that requires it, you don't really need to do it. I like that.

Oh! And I recorded a new "personal best" in the mile on Saturday. I broke eleven minutes! I know that's not fast for most of you (and my teenage self would've laughed), but I felt really proud of that. I've been trying to run a ten-minute mile for more than five years now and I haven't reached it yet. This time, I really think I'm going to get there.



* This morning's euphoria may have been partially due to it being a much cooler and less humid run than I've had in the past month. I think it'll only get better as we head into Autumn...



Monday, January 21, 2008
| | |
| --- | --- |
| | [2] |
Oooh, the SMH site has a bit of a teaser article about the new flagship Apple Store opening in Sydney soon (about 50 meters from my shop!). I can't wait to see the glass front start to take shape...

| | |
| --- | --- |
| | [2] |
Pssst! There's a new section on the TC website today... but be quick! The Ravelers were already tipped off this afternoon by Bex so stocks are dwindling fast. (Somebody ordered forty-four balls of Feathers. FORTY-FOUR.)


Having a bad day? I was. Then I watched dolphins blowing bubble rings. That is amazing. I gasped when they started manipulating them around like lassos. So pretty.

| | |
| --- | --- |
| | [1] |
Would you swear on a first date? I say definitely NO. I can get pretty salty around my close friends, but I'd never swear in front of someone I just met. I think it's rude and low class. (However, if exceptional circumstances warranted a swear word, then I'd definitely let fly. Sometimes "Golly gee-whillickers!" just doesn't cut it.)

| | |
| --- | --- |
| | [4] |
Hmm. I was reading the SMH this morning at home over breakfast, and I came upon this article about two people who drowned in a storm drain yesterday. I remember being a little surprised that the title on the SMH home page was "Artists drown in drain," especially as the "artists" in question were spray painting graffiti in a drain. I half-expected the paper to call them vandals. Anyway, it's two hours later now and it looks like they've changed it to "Graffitists drown in drain." (Archived here for posterity.) I wonder if they had some complaints or something.


Oh, good grief. I was just reading this AskMeFi about South Bend when I nearly did a spit-take. You can apparently buy a entire three-bedroom house there and pay less than $700 a month for your mortgage. I mean, I knew it was cheaper back home... but that's just ridiculous. (I shouldn't even post this. Mom's gonna be all over it.)

Sunday, January 20, 2008
| | |
| --- | --- |
| | [5] |
RunningBlog: I've started a "Sydney Knitters Challenge" over on the Nike+ site. So far it's just me and Miss Fee, aiming to reach our 50km goal by April 1. (Pretty easy, I know, but we're starting light.) Let me know if you want to join us! You'll need an iPod nano and the Nike+iPod kit.


My friend Nick (aka "Kenya") and his wife Sal flew home to Kenya on New Year's Eve for a long visit. A few days later, the country's election unrest was all over the news. The Snook and I wondered whether Nick and Sal were safe, and whether we'd hear anything from them while they were over there. This morning Nick posted to his blog. You get a real sense of both his sadness and his anger at seeing what's happening in his home country. I hope they stay safe!

Saturday, January 19, 2008
| | |
| --- | --- |
| | [3] |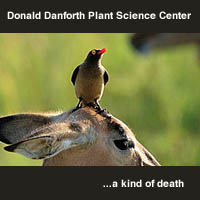 DDPSC Rocks
Check it out! It's my forthcoming emo band album. We're called the Donald Danford Plant Science Center and our first EP is "...a kind of death." We're very deep. Ten percent of the proceeds from each album sale will go to protect the red-beaked Random Bird and the gentle Random Deer. I expect you'll be hearing us on Triple J any minute now.

I found this fun meme over at Max's site. First, you use this Random Wikipedia link to generate your band name. Your album title is the last four words of the last quote on this page. And your album cover is the third photo from this Flickr link. Put 'em all together and there you go.

| | |
| --- | --- |
| | [6] |
RunningBlog: 25 minutes, non-stop. At race pace. With hills. In the pouring rain. KRISTY FOR THE WIN.


I has a sad. Awwwww! Cutest lolcat I've seen in a long time...

Friday, January 18, 2008
| | |
| --- | --- |
| | [2] |
Last night we were watching TV when we caught a commercial for The Bill. "Why the heck do the English call the police department 'the bill' anyway?" I wondered. Snookums didn't know, so he fired up Google. After several minutes, he found this Word Detective column (second entry from the bottom). Turns out it comes from a comic strip that ran during the First World War. It had a character named "Old Bill" who was a grumpy veteran with a big droopy mustache, and the strip was so popular that "Old Bill" became slang for any man with a walrus-like 'tache. They're not quite sure how it then came to be applied to policemen, but the speculation is that coppers are/were likely to sport such facial hair. Interesting, huh?


The Magic of Lace Blocking. Very pretty photos over on Claudine's site...

Thursday, January 17, 2008
| | |
| --- | --- |
| | [2] |
Hahahaha... This is the funniest, BEST article I've seen so far about the MacBook Air. Suck it, haters.

| | |
| --- | --- |
| | [4] |
Last night's culinary experiment was Jamie Oliver's Lemon Roast Chicken, as inspired by the gorgeous photo on this blog post. (I didn't get a chance to take a photo of mine before we tore it apart!) I splurged on a free-range, organic chicken from the butcher. In the morning before work, I gave it a rinse, patted it dry, and rubbed it with salt and pepper. (This wasn't easy. For some reason, whole raw chickens give me the heebie-jeebies. I'm fine with cut up chickens and with other joints of meat, but somehow picking up a whole chicken makes my skin crawl a little bit. I mean, once it's cooked it's a beautiful roast and I'm fine with that, but when it's raw I'm just acutely aware that it's a DEAD BIRD CARCASS, and I hate birds.) Anyway, I left it in the fridge all day to, I dunno, brine or something. When I got home, I fired up the oven and started cutting up potatoes. I boiled the potatoes, lemon, and garlic as directed, then shoved the (stabbed) lemon and garlic up the chicken's bum. Forty-five minutes of roasting later, I put in the potatoes and rosemary and tossed them around. I also put a bit more olive oil on top at this point, as the skin on top was looking a little dry. (I would've used bacon as in the recipe, but SOMEBODY ate it all.) Another forty-five minutes in the oven and it was done. It ended up being delicious! The meat was moist and I could taste the lemon and thyme in the breast meat. I think when I do it again I might add a little duck fat with the potatoes to make them extra crispy (as this chicken wasn't that fatty). But in terms of reward for effort, this is a pretty easy way to make a "proper" dinner that will impress just about anybody.

| | |
| --- | --- |
| | [1] |
Attention, Hoosiers: Just in case you missed the comment, somebody named "Goldar" has tipped me off about an episode of Happy's Place over on YouTube. It's from 1988. Is that the original Happy? In 1988 I would've been 11, so I doubt I was still watching it on a regular basis. He looks like the original guy to me, but the voice doesn't quite match my memory.

| | |
| --- | --- |
| | [3] |
If any of you sewing-types want a commission, I absolutely LOVE these vintage-type aprons, especially the ones with the big appliqué flower on the front. And since those are FORTY QUID each, I'd much rather pay somebody over here to make one for me! (Link courtesy of my new co-worker Susi.)

Wednesday, January 16, 2008
| | |
| --- | --- |
| | [5] |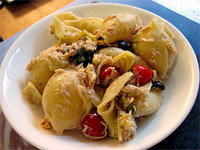 Italian Tuna and Pasta
Oh my, I made a beautiful dinner last night, if I do say so myself! The recipe is from epicurious: Artichokes, Capers, Olives, Lemon Zest, and Italian Tuna on Pasta Shells. (Yeah, it really needs a catchier name.) I followed the recipe pretty much exactly, other than adding a few grape tomatoes as well. It was sooo good. I had to restrain myself from eating it straight out of the bowl while the pasta was cooking. The shells were a little overly large, but it still worked. YUM.


Beware of Peculiar Cat. We definitely need one of those! (Photo taken by Other Andrew and pointed out to me by Bex.)

| | |
| --- | --- |
| | [8] |
"A scrapbooking career in shreds." Fascinating story, even though the stupid website won't let me read the end of it. More details are over on Jezebel, including the oh-so-delicious quote: "I, seriously, was like the Lindsay Lohan of scrapbooking." The knitting world hasn't had a really juicy scandal since that whole Sew Fast So Easy SnB debacle a few years back...

Tuesday, January 15, 2008

Note to self: Knit these Converse Baby Booties for my nephew Isaiah!

| | |
| --- | --- |
| | [3] |

I had a surprise visit at the shop today from my friend Eva, who brought me a present from her recent trip home to Tasmania: some Art Viva knitting needles! They're handmade from Tasmanian Oak. They're beautiful and pointy and long, and they've got lovely bright red polka-dotted balls on top (that remind me of the mushrooms in Super Mario Brothers). I can't wait to try them out. Thanks, Eva!

Sunday, January 13, 2008
| | |
| --- | --- |
| | [9] |
RunningBlog: Boy, I haven't done one of these in a long time, have I? After taking some time off during the whole "buying and moving house" thing, I'm back onto the running with a vengeance. As of today, it's officially 18 weeks til the Sydney Half Marathon, and I've just completed my third week of training. I'm basing my efforts on Hal Higdon's training plan. Since that's a 12-week program, I'm using these extra weeks at the beginning to build up my fitness and ease myself into the routine. (I'm very wary of my troublesome left hamstring.) So far I've been taking it easy, using the Couch to 5K podcasts to structure my runs and keep me from pushing too hard. I'm happy to report that it's working! Yesterday I did my longest run since the City 2 Surf: twenty minutes without a break. I know it doesn't sound like much, but it felt so great to be able to do it and not feel like I was injuring myself. I'm not even sore today! And I've got Max challenging me with the Nike+iPod, so the competitive angle is helping.

My only fear with regards to the actual race is the cutoff time. All runners have to make it through the first 11K in less than 70 minutes or you get diverted to the finish line on a shortcut and don't get an official time. My goal, therefore, is to make this cutoff time. That's totally doable, right? I'm just going to consider the 11K marker as my real finish line, and as long as I make the cutoff, I'll be happy even if I have to walk the entire second half of the race.

| | |
| --- | --- |
| | [1] |
Hooray! My sister has finally revealed that she's definitely having a girl. This will be my first niece after three boys! I've got so many cute baby outfits to knit...

| | |
| --- | --- |
| | [3] |
This one's for my sister: What I Did for Lloyd. It's about Lloyd Dobler. *sigh*

Friday, January 11, 2008
| | |
| --- | --- |
| | [12] |
Golden Compass Hat. Ahh, see, I was mentally trying to work out a pattern for this hat all through the movie Wednesday night. I'd arrived at pretty much the same idea this blogger uses, except I was debating the utility of adding a short row or two to create more of a point at the top.


My sister has revealed her new blog!

Thursday, January 10, 2008
| | |
| --- | --- |
| | [6] |
I think Miss Jane may have provided the inspiration for this year's Halloween centerpiece. Behold... the Meat House!

Wednesday, January 9, 2008

This is awesome. Somebody on AskMetaFilter asks about making pizza from scratch. Except they want to make it as from scratch as possible, like growing and grinding your own flour, making your own pepperoni, and foraging for your mushrooms. It's a fascinating thought experiment. I laughed when I got to: "The best mozzarella for pizza is buffalo mozzarella. Do you have room for a buffalo in the backyard?"

| | |
| --- | --- |
| | [5] |
I can't read Finnish, but I found this great blog in my referrers this morning. (She links to my sock monkey tutorial.) I love the colours that she uses in her stuff, and those kids' things are gorgeous. Also, if that is indeed a knitting needle roll with a hand-embroidered dragon on it... WANT.


I had occasion this morning to use the phrase "rack my brains" in an e-mail, and I realised I couldn't remember if it was "rack" or "wrack." Turns out it's "rack." And now you know!

Tuesday, January 8, 2008
| | |
| --- | --- |
| | [3] |
What Video Game System Should I Buy? A handy flowchart discovered by the Snook. As he points out, it looks like we made the right choice.


Knitting Journal pages for printing. Neat! (Link courtesy of Bex in a Ravelry post.)

Monday, January 7, 2008
| | |
| --- | --- |
| | [4] |
I really like the idea of the Love Mattress - snuggles are the BEST - but I can't see how it would work with a normal sheet.

| | |
| --- | --- |
| | [4] |
Sweet! Queen Elizabeth plays Wii! (Link courtesy of the Snook, who refers to her as "The Q wii n.")

| | |
| --- | --- |
| | [1] |
I had a lovely little old lady in the shop today who just DEPRESSED THE HECK out of me.

She came in at lunchtime and wanted to know where the Feathers was. I showed it to her, and then answered her questions about how many balls she'd need to make a couple scarves. As we walked back over to the counter, she happily told me that the scarves were a special request from her niece, who was going over to Italy soon. She thought it would be a nice idea to take some handknitted scarves to the Italians who were hosting her. "That IS a great idea!" I agreed. "But… why not use a merino, or one of the natural yarns that's actually from Australia? I'm sure her hosts would love to see what we produce!" She agreed with me, but added, "Oh, but that's so much more expensive." She was so nice - and so excited to be fulfilling her niece's request - that I couldn't really bring myself to argue with her. So I sold her her $30 worth of novelty acrylic and watched her head out the door. Sad.



I apologise in advance to the people of Italy, and I'd like to add that while Feathers scarves are indeed a fair representation of what Australians have been knitting in the past five years, they're in no way an example of the finest knitted garments this country can produce.




It's just less than 4 weeks til this year's Opera in the Domain event, so I thought I'd get the ball rolling on planning. Last year there were about a dozen Sydney knitters who got together beforehand to knit and enjoy the sunshine before the performance. I think this year, with advance notice, we can do even better!

Where: The Domain, Sydney
When: Saturday, February 2, 8pm

Let me know if you're interested in coming and I'll fill you in on the details closer to the date. Or if you're on Ravelry, just leave a comment on my post about it over there...

Sunday, January 6, 2008
| | |
| --- | --- |
| | [3] |
Food movies. Mmm, food. (Superficiality and hedonism being my only defense against the fear of one's own mortality.)

Saturday, January 5, 2008
| | |
| --- | --- |
| | [3] |
Oh Jesus. Longtime readers of this site will no doubt remember frequent commenter "brigita," a fellow blogger and ND graduate (not to mention Purple Weasel). She stopped blogging earlier this year when she had her first baby, the little girl I made this outfit for. Tonight I got excited when I saw B's blog pop back up in my RSS reader. I was hoping for a baby update. I got a bad shock. I just don't understand. Cancer isn't something that happens to us, to people our age, to people who take care of themselves and who just had babies and who DON'T DESERVE TO GO THROUGH THIS CRAP. I'm scared to think how I'd react if it were me. I think I'd have crawled into a dark place and never left. I... I don't know what else to say.


Sweet! I just got my Ravelry progress bars set up. They're down there on the right. I managed to get them working myself, but I needed the Snook to do the fancy CSS stuff to make 'em look pretty.

Friday, January 4, 2008
| | |
| --- | --- |
| | [1] |
Sweet! The Best of Bootie 2007 CD is available for download...

| | |
| --- | --- |
| | [6] |
Happy blog-birthday to me!
This website is now seven-years-old. Wow, that really crept up on me! I remembered late in December that the anniversary was coming up, but somehow it slipped my mind over the holidays. It wasn't until I saw M-H's blog birthday post this morning (Hey, we're twins!) that I realised the big day had arrived. So, just as I've done the past few years (2007, 2006, 2005, 2004, 2003), I've compiled some fun statistics to celebrate 2007...
Number of posts: 811 (A 15% decrease from last year's 949!)
Number of comments: 2454 (Interestingly, almost exactly the same as last year)
Comments to post ratio: 3.02
Posts mentioning the Snook: 167 (A big decrease from last year. I blame the seven-year-itch.)
Most commented posts: Deathly Hallows discussion, my 30th birthday, asking for book recommendations, the arrival of our new TV (where an anonymous dickhead said we needed a cleaner), that creepy spinny dancer thing, and - this is CRAZY - the Happy's Place discussion from SIX YEARS AGO
Top 10 commenters excluding myself: Bex (163), M-H (115), Amy (106), Jenny (89), SlythErin (78), missfee (69), eileen (65), miftik (54), crumpet (52), and jussi (38)
Most famous commenter: The Snook (that one was a LONG time coming!)
Number of polls: just two again
Moblog posts: only 16 (I'm hanging out for my iPhone)
Major server outages: one, caused by a DDOS attack that is still ongoing, necessitating a move to a new web host
Oscar Contest entries: 597; won by "Kent Bailey"
Nike+iPod total distance run: 494.5 km / 307 mi (I made it just past Weathertop)
Races run: City 2 Surf, Bridge Run
Finished knitting projects: more than thirty, including 11 pairs of socks and seven tea/coffee cosies!
Media appearances: two hours on the "Countdown to the Chaser" webcast, interview in Sun-Herald, interview on Sticks & String podcast, interview on ABC evening news
Celebrity encounters: Kim and Kelly Deal, Nicky Epstein, Iron Chefs Sakai and Chen
Best geek moments: Astronaut Training Experience at Kennedy Space Center, dressing up at the Mythbusters
Houses purchased: just the one :)
There are a few interesting trends there. Many of the top 10 commenters are new to the list, and most of them are bloggers themselves. Actually, most of them are people that I've met in real life. And while the majority are female, I still had several male commenters not far below them. Also, it seems that the longer I do this, the more the focus of the site seems to change and evolve. I don't have that many "ZOMG! LOOK AT THIS COOL INTERNET THINGY!" posts anymore. There's a lot more about my life, my family, and my interests. I spend more time on external sites (like Ravelry and Ask Metafilter). I can't wait to see what 2008 has in store...

Thursday, January 3, 2008

Okay, Reecie has one of the best New Year's Resolutions I've ever seen: "Continue being hot." LOVE IT! That one's totally going on my list.

Wednesday, January 2, 2008

1:1000
Amy just asked me about a vegetarian place in the city, so I was trying to find the name of a yum cha restaurant I'd heard good things about. I was searching through my Gmail chats when I found this exchange from a few months ago. I was debating with the Snook whether we should accept a yum cha lunch invitation from Eva or spend the morning looking for houses.
Me: we hve to decide one way or the other on yum cha or houses.
your vote?
I'm honestly ambivalent.
I mean, the chances of us finding something we end up getting are like 1:1000
And if we missed something good, we probably wouldn't even know we did
but we're supposed to rsvp tonight
Snookums: That sounds like a vote for yum cha.
Me: that's me being ambivalent
i could easily be swayed if you want to make the argument that looking at houses is the responsible thing to do
Snookums: Like I said, I wouldn't mind going to that auction, because that place is something I think we'd consider (one of the best fits so far, I think)
Me: okay, so houses then
Invitation declined.
The auction the Snook wanted to check out? That's the one where we ended up riding in an elevator with a helpful woman who told us about a house she wanted to sell... and four months later we're living in it. :)

Tuesday, January 1, 2008
| | |
| --- | --- |
| | [3] |
Nieces and Nephews
Last weekend I managed to finish off two small knitting projects that had been languishing. The first is a matinee jacket for my yet-to-born niece (assuming that she does, in fact, turn out to be a girl). The pattern is from Debbie Bliss's Baby Cashmerino book, and I substituted Sirdar Snuggly DK for the yarn (going up to a 4mm needle). I just need to get a bit of ribbon to go around the waist.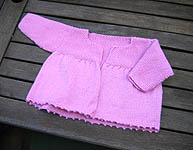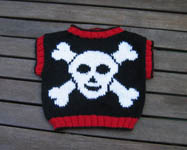 The second item is a vest for my three-week-old nephew Isaiah. I spoke to my brother on the phone the day of the birth, and I said I wanted to make something for the baby. "Do you think you guys will want to dress him traditionally?" I asked. "Or would it be okay if I did something more modern, like something with a skull on it?" "I think that would be pretty bad ass!" my brother said. Sweet. This vest is based on the "Pirate Jumper" in Zoe Mellor's Adorable Knits for Tiny Tots. I just used random 8ply wool from my stash. I think it's pretty appropriate, given that the baby's dad works at a Harley Davidson shop!

As always, more details are over at Ravelry. (I can't wait until the site's open and I can directly link to stuff there...)

| | |
| --- | --- |
| | [7] |
Happy New Year!
The Snook and I rang in 2008 at home with Miss Fee, her Sock Victim, and Albie. It was a fantastic meal, with lamb and rabbit and roast veg and salads. I made "lemon snow" from my CWA cookbook (basically, lemon jello mixed up with whipped egg whites) which made for a nice palate cleanser. We capped off the dinner with a stunning pavlova (Fee is on a tear with these lately) and champagne. Then we played Wario Ware until the fireworks came on. With the sliding doors open, we could hear the thunderous booms from the harbour as we watched the show on TV. It was a lot nicer than venturing out in that crowd!

And now we come to the dreaded Resolutions. I've just been looking over last year's list, and I think I came out about 50/50. My own personal goals took a bit of a backseat in favour of doing grown-up couple things (like taxes and mortgages). I think finding, buying, and moving into a house is a huge accomplishment for us though, and it's a very big tick-mark on our "Life: To Do" list. I just need to make sure this year that I don't use this stuff as an excuse to avoid my own personal challenges. So here's what I'd like to accomplish in 2008:
Start taking my running seriously. I want to run the Sydney Half-Marathon on May 18. (I'm already two weeks into my training!) I want to break 100 minutes for the City 2 Surf.
Learn to swim properly. I can swim in the sense that I can dog paddle and float and "not drown," but I've never learned to do a proper stroke in my life. I want to be able to swim for fitness, so I'm going to take some lessons.
Get a new job. Not that I don't love the shop, but I'm really feeling like it's time for a new challenge. I'd also like to contribute more to the mortgage fund.
Get my American tax situation fixed up. Now that the UK and Australia are dealt with, the deck is officially cleared and I just need to do it.
Be more organised. This is the year I'm going to Get Things Done, I swear. I've got a new planner and I'm rarin' to use it!
Clear out some of the knitting backlog. Once I finish my Easter Show entry, I'm going to commit to knitting from my stash for as long as possible.
What challenges await you this year?

archives
You can search through the archives by post keyword using the form on the left, or you can browse by month using the links at the bottom.
"Moblog" refers to posts and images posted directly from my mobile phone.

"PW Blog" refers to posts recovered from my very first weblog, which dealt with news related to my college dorm.