Saturday, January 31, 2009
Moblog: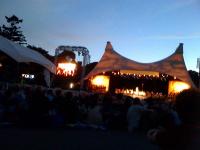 It has started.
Snookums arrived at the 8-hour mark with the needed provisions (beer and pants). We ended up with 14 people in total, despite a LOT of pikers!





| | |
| --- | --- |
| | [4] |
Moblog: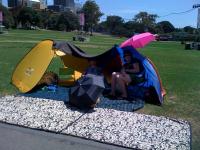 Knitting Camp at the Opera
Andrew, Tia and I have set up camp in the Domain! It's sweltering. We are cowering in the shade.





| | |
| --- | --- |
| | [1] |
It's time for Opera in the Domain again! I'm getting packed to head out and sit in a treeless park all day long with a bunch of knitters. Current temperature: about 80F, set to rise even further. I'm prepared.


Remember when I blogged about the Lilly Ledbetter Fair Pay Act? The bill has been passed and Obama has signed it. I just found video of Michelle Obama introducing Lilly at a reception after the signing. I just love it. Lilly sounds like my Grandma. I teared up a little bit.

Friday, January 30, 2009

Yikes. Uh, I don't work there.

| | |
| --- | --- |
| | [2] |
iPhone Rubik's Cube Solver. That is so NEAT! And I don't mean because it allows you to "cheat" on the puzzle. I'm just in awe of the computational wizardry involved in taking six pictures of colored squares, extrapolating a 3D shape from that, applying an algorithm to solve the thing, and feeding it back to the person in simple steps. SO TOMORROW!

Thursday, January 29, 2009
| | |
| --- | --- |
| | [2] |
Pride & Prejudice & Zombies. I think I might need to get that. It can't be any worse than Mr. Darcy Takes a Wife.


An application has finally been lodged for the redevelopment of St. Barnabas Church on Broadway (which burned down three years ago), and all anybody wants to know is whether the signs will be back. I certainly hope so!

| | |
| --- | --- |
| | [1] |
Neat! I managed to make a custom iPhone ringtone this morning, and now I feel pretty confident that I'm the only person in the world whose phone plays the bridge from "Flowers of Guatemala" when she gets a call.

Wednesday, January 28, 2009
| | |
| --- | --- |
| | [3] |
I'm in total agreement with Gruber here: Softwear by Microsoft is COOL. I would totally wear that "Albuquerque" shirt.

Tuesday, January 27, 2009
| | |
| --- | --- |
| | [2] |
The Batman and Joker sock monkeys have been posted to MeFi Projects.

Monday, January 26, 2009
| | |
| --- | --- |
| | [7] |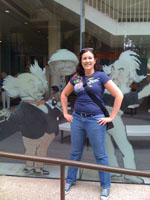 Happy Australia Day!
We went on a special expotition this morning to the State Library of New South Wales to see the "Magic Pudding" exhibit that's currently running. For those who haven't heard of it - and I certainly hadn't before I moved here - The Magic Pudding is an Australian children's book written in 1917 about a magical pudding (i.e. baked dessert) that you can eat and eat but it never gets smaller. Oh, and he walks and talks and prefers to be called "Albert." He's owned by a sailor, a penguin, and a koala, and the band of pudd'n owners are beset by pudd'n thieves at every turn. It's all food and fighting, which apparently the author (famous artist Norman Lindsay) thought were the things children most related to. (He's right.) Snookums read it to me over several nights, and I was laughing my head off the whole time. Anyway, the exhibit is of several large watercolours that Lindsay painted of the characters. There are also a few puppets that were created for a famous travelling show based on the book, and a video presentation about the puppets runs on repeat. I absolutely loved the paintings, and I bought a few postcards and a poster. (I have grand plans to knit the pudd'n someday.) We also checked out the other exhibit that's running: "Bondi Jitterbug". It's a collection of photos taken on Bondi Beach in the 30's and 40's. The neatest ones are of "beachobatics," super fit gymnasts and athletes doing acrobatic poses on the beach. Those of you who like stunning B&W photos of half-naked muscle men (*cough* Andrew!) would do well to get over there before it closes.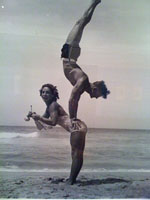 I love pictures you stick your head through. They had a special setup for this one, where you could hit a button to take a digital photo and email it to yourself. The other one is of a knitter(!) balancing a guy on her back on the beach.

| | |
| --- | --- |
| | [1] |
Attention Hoosiers: Happy the Hobo's WIFE left me a comment. How awesome is THAT?!

| | |
| --- | --- |
| | [15] |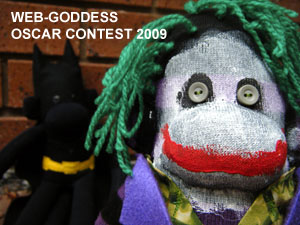 Oscar Contest 2009
The Seventh Annual Web-Goddess Oscar Contest is now open for entry! This year's winner will take home a one-of-a-kind pair of Batman and Joker sock monkeys. (I almost didn't do them because it seemed too obvious, but I also couldn't resist the opportunity to make my second Heath Ledger tribute monkey.) I have to say, the Joker monkey is without a doubt the most DISTURBING sock creation of all time. He features hand-hooked green hair, a green waistcoat, a purple duster, and a SUPER-CREEPY painted face. Batman features a utility belt, a bat crest on his chest, his bat mask/helmet, and a long black cape. You could act out your favorite scenes from the movie... or slash fiction! Up to you. More photos and details after the jump. Now go enter! [more...]

Sunday, January 25, 2009

Today: Internet, coffee, America's Next Top Model, sock monkeys, Guitar Hero, lunch, sock monkeys, shower, laundry, sock monkeys, dinner, tennis (DOKIC!), sock monkeys. Sensing a theme?

Saturday, January 24, 2009
| | |
| --- | --- |
| | [1] |
I just enabled emoji for my iPhone! Emoji are tiny icons that are commonly used in messaging on Japanese mobile phones. There are hundreds of them, with everything from smilies to animals to anthropomorphic poo. (Yes, seriously.)


The Freewheelin' Barack Obama, courtesy of (massive Dylan fan) Eileen. Nice.

| | |
| --- | --- |
| | [3] |
I saw on Jenny's Facebook that the new Best of Booty 2008 is out. W00t! I love these mash-ups.

Me: Awesome! Best of Booty is out! (whips out iPhone)
Snook: You're putting it on your To Do list? "Today: Procure booty."
Me: "Procure booty" sounds like it should be on a pirate's To Do list.
Snook: Well, it's always on my daily list...

| | |
| --- | --- |
| | [3] |
Dr. Amy just started grooming Petey's ears. My heart may explode from the kitty-cuteness.

Friday, January 23, 2009
| | |
| --- | --- |
| | [5] |
Okay, I've got a free Twitter client on my phone and I'm trying it out again. (I signed up a few years ago and never really got into it.) I'm only following three people right now. Any of you on there? I'm "web_goddess" if you want to add me.

Edited to add: Durrrr. I just realized that several of you are already following me - though I have no idea why! - so I just added you.


Ebert pens an ode to Steak 'n Shake. I love his blog posts.

Thursday, January 22, 2009
| | |
| --- | --- |
| | [1] |
Food lover temporary tattoos. Amy will be all over these.

| | |
| --- | --- |
| | [1] |
Attention Sydney noodlers! That article I linked the other day about the top 15 ramen restaurants in Sydney has received an important update! A couple of Japanese people were able to translate the article, and it's actually about the top 15 ramen DISHES in Sydney. GYF has added the additional text to the article. So now we have specific ramens to order when we go!

| | |
| --- | --- |
| | [1] |
Roger Rasheed can SUCK IT. Seriously. "If I'm a girl and I've broken into the world of tennis and I've made $500,000 for the year, wouldn't I just try and get into the most perfect nick I could to actually excel?" WHAT DOES BEING A GIRL HAVE TO DO WITH IT? Then again, this was the "commentator" salivating over a slow-mo shot of Venus Williams butt last year. What a sexist jerk.

| | |
| --- | --- |
| | [1] |
Greatest. Animated Gif. Ever. (Shared by Nora in Google Reader.)

| | |
| --- | --- |
| | [1] |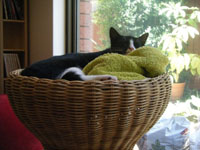 Petey Update: He's doing good, our little kitten. He and Amy still aren't good friends yet, more like co-workers who get along. The friendliest they get is when they wake up every morning at 5:30 and chase each other up and down the length of the house. Last night I startled Petey in the kitchen and he spilled his dish of kibble everywhere, and I swear Amy looked at me and actually rolled her eyes. He was a little weird on the weekend, hiding under the bed most of the day on Sunday. We think it was because we had people over Saturday night and that freaked him out a little bit. We had a hell of a time catching him to take him to the vet on Monday. (Picture two grown humans barricaded in a bedroom both crawling around under a bed trying to drag out a pissed-off cat.) We eventually got him there, and he got checked out and had his second kitten shot. The vet also turned him over and had a look at the family jewels. "My, he's got big testicles for his age!" she said. "That's probably why he's so mischievous." Uh-huh. He won't have 'em much longer! Anyway, I was prepared for him to have a bad reaction to the shot (as Miss Fee reported that his brothers did), but he was fine. He's adjusted to indoor life pretty well, and he hasn't tried to escape at all. And look! I put his favorite towel on the new IKEA cat bed and he actually feel asleep on it!

It's that time again...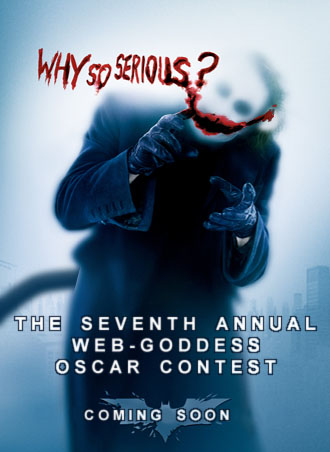 The nominees will be announced in about fourteen hours. The contest will start this weekend, once I put the finishing touches on the prizes. (Yes, I said "prizes" as in plural. You can no doubt guess where I'm going with this.)

| | |
| --- | --- |
| | [1] |
Attention Jenny! Someone has written a knitting pattern for Bella's mittens from that scene where she almost gets squished by the van and Edward saves her. (You really need to learn to knit.)

| | |
| --- | --- |
| | [2] |
I want to go to visit Tokyo someday. And when I'm there, I'm going to visit the Chubby Maid Cafe and give each of the waitresses a big ol' hug.
"I wish [girls] wouldn't take their chubbiness as a negative thing. There are tons of girls out there who are chubby and attractive, so they should regard them as role models."
Viva la chubby!

| | |
| --- | --- |
| | [1] |
The Big Picture: The Inauguration. Those photos are fantastic. I was proud yesterday, but like Rubbernun I felt like I sorta missed out on the whole "transcendent communal experience." Looking at those pictures though, it really hit me. My favorites were the ones of all the people in countries around the world watching as Obama took the oath. It reminds me of the exhibit at Kennedy Space Center that shows photos of people around the world gathering to watch the moon landing. That's what it feels like. (And geez, not to harp on the obvious or anything, but I don't remember millions of people around the world cheering at the last two American inaugurations.)

Wednesday, January 21, 2009

RunningBlog: Wednesday = Spuddsday
Today's boxing circuit session wasn't nearly as bad as the first. I forced myself to eat a granola bar an hour beforehand, which may have helped alleviate any dizziness. I even managed the squats-while-balancing trick! The only thing I really sucked at was the final abdominal workout. Spudds told me to check out the nutrition guidelines on his site (summary: fewer carbs, more protein, yada yada yada), and to consider coming in for a second session each week. Twice a week? Scary.

| | |
| --- | --- |
| | [2] |
Whoa! Snookums just discovered that there's going to be an Office Space 10th annivesary reunion next month in Austin.


Word Clouds: The Inaugural Address. That's kind of neat. I think FDR's is my favorite.


My absolute favorite response from the big Metafilter thread about the inauguration was Hugh2d2's response to Obama's speech:
Congratulations, Mr. President. You have my axe!
I'm going to start using "And my axe!" whenever anybody asks for help with something.


Cheney turns into Mr. Potter. Sooo right, and too funny.

Tuesday, January 20, 2009
| | |
| --- | --- |
| | [3] |
Only six more hours to go... Unfortunately I think the chances of yours truly getting up at 3:30am to watch - even for this historic event - are pretty slim. Obama's speech will have to wait til I'm having my breakfast.


Mr Darcy has his first attempt at Guitar Hero. Seriously. And he's just about as sucky as we were on our first go. "You have to hit it before you hit it, right?" Yep.


"The Game", an article about a real-life scavenger hunt inspired by the film Midnight Madness that went terribly wrong. I found a copy of the movie years ago, and I actually participated in a real-life version at Notre Dame my senior year. Of course, we were just running around in bowling alleys and stuff, not scuba diving or falling down mine shafts.


Andrew posted a couple nice photographs (I think that last one is me) from our group Guitar Hero session on Saturday night.

| | |
| --- | --- |
| | [7] |
Grab Your Fork lists Sydney's Top 15 Ramen Restaurants, as ranked by a Japanese restaurants. Of that list, I've only been to #5, Ichi Ban Boshi. Must get on that.

Update: Correction! Helen had mistranslated the article. It's actually Sydney's top 15 ramen DISHES. The text about each dish has been added to the article.

Monday, January 19, 2009
| | |
| --- | --- |
| | [2] |
For those following along at home, Na Craga is off the needles! Well, the front and back anyway. I still have to knit two sleeves and sew it all together. *sigh*

| | |
| --- | --- |
| | [1] |
Hooray! I finally got my number ported over to Optus so I can use my iPhone to actually, you know, make phone calls. About time! (Allphones Broadway suuuuck. The Snook got fed up with waiting and called Optus himself today, only to be told that they still had our incorrect account number. The Allphones guy had promised me he called in the correct one last Friday. Snookums gave them the right number, and an hour later I had service.) Anyway, it's the same phone number so you can reach me there!

| | |
| --- | --- |
| | [2] |
Bus Frustrations: Last month when I went to my job interview, I boarded a 461 bus at Broadway heading into the city. I figured I'd have to walk the several blocks from Town Hall where it terminates over to William Street. Instead the bus driver informed me that the 461 now turned up Park Street to the Domain, meaning it stopped right by the new place! This was great news. I verified on the fancy new printed bus stop sign that the 461, 480, and 483 all used the new route. On my first official workday two weeks ago, I happily flagged down a 461 only to notice "Town Hall" still listed as its destination. Hm. It terminated there and I had to walk. The next day was the same. I went to the website to see what the heck had happened, only to find this cryptic notice that the new route has been suspended "indefinitely." Last week I finally got mad enough to send them a complaint.
"Can you please advise WHY the 461, 480, and 483 buses no longer travel on to the Domain? ... I looked it up on the site and I can see the notice. Are there any plans to reinstate the route? Why extend it for such a short period of time, print it on all the bus stop signage, and then stop service??"
I finally got a reply back today.
"These services have been temporarily curtailed from going to THE DOMAIN due to a safety concern by the bus union. They will terminate at Town /Hall. Sydney Buses is attempting to resolve this matter as soon as possible. We apologise for the inconvenience."
Interestingly, this all but confirms the rumour I heard over the weekend that the drivers were complaining about junkies hassling them on College Street. But hello, all the Eastern Suburbs buses go that way too! Why the sudden safety concerns for drivers just on these three lines? It's really annoying.

| | |
| --- | --- |
| | [2] |
Whoa. AskMeFi goes Hitchcock! "Is my husband trying to kill me?" She certainly makes a pretty convincing case for it. Of course, hundreds of people are chiming in that she's probably just paranoid and should see a therapist, which is good advice. But man, yeah, if the Snook suddenly suggested we get large life insurance policies and then go sailing and hiking in sparsely populated areas, I'd be creeped out too!

Sunday, January 18, 2009
| | |
| --- | --- |
| | [4] |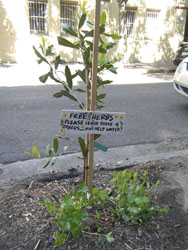 Moorgate Street Macadamia!
Last Monday I headed over to Michael's to pick up our veggie box and we got to talking about the neighborhood's "food for the future" plan. There are lots of new fruit trees and vegetables and herbs over near Myrtle Street, but so far none over on Moorgate. Michael mentioned that he still had a macadamia tree that needed planting, and did I know of a spot? That night I sent him a photo of this bare spot in the sidewalk, where a previous tree had been damaged and dug up by the Council. "Perfect," he said. "Come by Friday night and we'll plant your tree." So we did! He and I set to work with shovels and a pickaxe. ("Wow, so the Council gives you permission to bust up the footpath if necessary?" "Um... Let's just be quick about it.") We actually met like half a dozen neighbours in the course of the planting, all of whom thought it was a great idea and pledged to help with watering. Michael let me do the honours of actually planting the macadamia. He suggested we should add some more plants and perhaps a sign to make it look planned and cared for, which should hopefully reduce the chance of somebody vandalizing it. Today, the Snook and I added mint and parsley near the base along with a sign that I painted. ("FREE HERBS - Please leave some 4 others... and help water!") I think it looks really cute! I hope the rest of the street likes it.


Hey, remember the murderer that nearly ruined our trip to Dubbo three years ago? He's still on the lam and has been breaking into people's houses to steal equipment! CREEPY.

Friday, January 16, 2009

Thanks to the Guitar Hero: World Tour community website, you can now see stats for our band, Prof Death n Dr Jonz. (Just click on the band tab.)

| | |
| --- | --- |
| | [1] |
Letterman's Top 10 George W. Bush Moments. Only five more days... (Link courtesy of Daring Fireball.)


Star Wars... as retold by someone who hasn't seen it. That's pretty funny. I'm pretty sure she got the "crusty old white guy" bit from Chasing Amy though. (Link courtesy of Max.)

Thursday, January 15, 2009

Our new President. I'm hoping to score the Spider-Man with his picture on it today too...

Update: Damn. The Snook and I stood for twenty minutes outside in 90-degree heat waiting for Kings Comics to open this morning, only to be told that all the special Obama cover variant issues had already been pre-sold to their standing order customers. Apparently Marvel will be doing a second printing next week that all have the special cover. So I've got to wait.

| | |
| --- | --- |
| | [6] |
Eileen posted her score to this IQ Test. I'm itching to take it, but I'm still drinking my morning coffee and waking up. The results would hardly be accurate! Will wait a bit longer.

Wednesday, January 14, 2009
| | |
| --- | --- |
| | [3] |
RunningBlog: Spudds
Earlier this week an email went around the office announcing that the weekly gym sessions would be starting up again. Huh? It turns out that the company pays for an employee circuit training session every Wednesday afternoon at a local boxing gym around the corner. Neat! Not wanting to be the conspicuously absent new girl, I packed my gym gear this morning and tried to look like I knew what I was doing. At 1:15 about half a dozen of us walked over to Spudds Gym on Crown Street. It's a tiny terrace that has been converted into a WORKSHOP OF HORROR. "Spudds" (aka Mark Carroll) is the proprietor, and I soon found out that he was a former Rugby League star (and afterwards bodyguard to Russell Crowe!). Spudds started me on a bike in the "hot room." This tiny room at the back of the gym actually had heaters running to make you sweat MORE. Every couple of minutes we rotated through the equipment, each of us eventually taking a turn in the ring throwing punches at Spudds's pads. Then we had to run around the block. Then we had to do it all AGAIN. By this point I was feeling... not great. Yeah, I'm not in peak shape at the moment, but even when I was my abilities were better suited to endurance than short bursts of power. So when we started the third circuit, I hit a wall. I was supposed to be doing squats with weights in my arms while balancing precariously on half a medicine ball. (No, really.) Suddenly my legs started shaking, and I felt like I was going to faint or puke or cry (or all three). I grabbed my water bottle and waved at Spudds. "Need... air..." I gasped. I stumbled out the door and down the street towards the East Sydney Hotel. I really felt awful, dizzy and shaky. I knew I should walk but I just couldn't. I sank to the pavement and leaned back against the hotel wall. I sipped my water and tried to get my breathing back. A few minutes later, the fog finally lifted and I could think straight again. I walked back to the gym and offered an apology to Spudds. "Hey," he said, "you're doin' great! Now give me a 100 sit-ups." So I pulled out my mat, sat myself down, and did the best I could. I guess that's the best you can offer, right? It'll be easier next week.

| | |
| --- | --- |
| | [8] |
Knit Graffiti
Oh good grief. "Knitted graffiti" is in the news again. I noticed a few months ago that somebody was putting it up on poles around Newtown. Look, I thought it was an amusing idea like FIVE YEARS AGO when I first heard of it. But "growing global movement"? Sorry, SMH. FAIL. I bet there have been maybe a dozen people in the entire world who have actually done this in any systematic or legitimate fashion. The rest are just imitating something they saw on the Internet in the hopes people will think they're creative and kooky. (Sorta like the whole "zombie flash mob" thing, which I am similarly bored with. Do I sound annoyed enough? Come on, it's Hump Day.) Anyway, I also think I may have actually contributed to this article. There was a journalist at the TC SnB a few weeks ago, and he asked offhand about knitted graffiti. I tried to impress upon him how NOT A MOVEMENT the whole thing was, but he was not to be swayed. So I gave him Miss Helen's contact information, knowing that if anybody knew the identify of Newtown's "tagger," she probably would. So really, if I'm irritated by the story I only have myself to blame.



Hilariously, several different non-knitters sent me that link this morning. It's like they think of me as the official spokesperson for the wacky world of non-traditional knitters.



| | |
| --- | --- |
| | [2] |
Prompted by a Ravelry discussion this morning, I've set up an Australian Knitting Events Calendar. You can view it at that link or subscribe in your preferred calendar application via ICAL or XML. I've added the major craft shows already, and I've started listing stitch and bitch groups. If you have particular events you'd like to see added, please email me. (Alternatively, if you'd like to be in charge of adding events for your region, let me know and I'll give you admin rights.)


Steampunk can kill you. (Well, eating old watch parts can, anyway.)

Tuesday, January 13, 2009

Gum Election. Neat! (Found via Nora's shared Google Reader items.)

| | |
| --- | --- |
| | [1] |
This one's for all you Jacob 'shippers...


Any of you know how to make stained glass? Snookums and I think we need a Darth Vader window in our house.

Monday, January 12, 2009
| | |
| --- | --- |
| | [1] |
Coming in 2009: the Paris Hilton Creative Collection, "a multi-faceted line of fashion crafting kits from some of the most popular craft segments including scrapbooking, jewelry making and fabric embellishment." SCRAPBOOKING. But of course.

| | |
| --- | --- |
| | [1] |
Hey Sis, you really should download this free sewing pattern for a child's apron and make them for Penn and Indie!

| | |
| --- | --- |
| | [2] |
Street Pianos
As I was walking over to get the car last night, I noticed a couple people setting up a piano in the middle of Chippendale's Peace Park. "What's all this about?" I asked. They said it was part of the Festival, and that there were 20 "street pianos" being installed all over the city. I wondered aloud what they would do if it rained. Six hours later I found out, as I was returning the car to Myrtle Street in the aftermath of a loud thunderstorm. As I walked back to the house, I could hear music playing. When I got close I could see that some kind soul had thrown a large tarp over the piano, and had then crawled underneath to play a little night music. "Now there's something you don't see every day..." (There's a photo on the site of the Chippo piano. They've since moved it onto the grass beneath a tree.)

Update: It sounds like they're going to lock it at night to keep drunks from pounding on it at 2am. Good call.

Sunday, January 11, 2009
| | |
| --- | --- |
| | [2] |
Rockin' Out in Wahroonga
The amazing new three-piece "Blue Midgets" played an impromptu set in the Barkers' lounge room this afternoon. That's Gadgetgirl on vocals, Yankinoz on the bass, and the Snook on lead guitar. (Yeah. We bought another guitar. Like I said, we're obsessed.)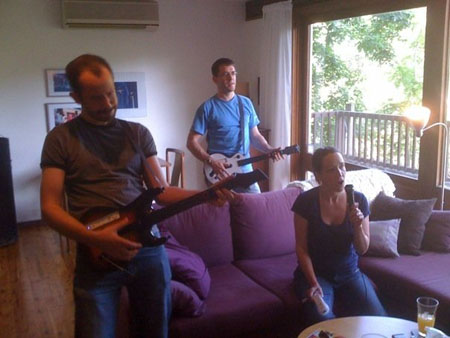 | | |
| --- | --- |
| | [2] |
Google Calendar <---> iPhone
I wanted to figure out an easy, secure, and free(!) way to sync my Google Calendar to my iPhone. (I know it's now built into iCal, but that's only if you're using OS X 10.5, which I'm not.) This morning I found GCALDaemon, and I quickly had that up and running. It's pretty neat! It provides two way syncing between my Google calendars and iCal, and the iPhone then of course syncs to iCal. So it's perhaps not the most elegant solution, but it'll do the trick until we finally upgrade to 10.5. (And yeah, I could've just used Safari to access Google's mobile calendar site, but where's the fun in that?)


This article about real Neopolitan pizza mentions Da Michele, the place we went when we visited Naples in 2003.

| | |
| --- | --- |
| | [1] |
Cute Things Falling Asleep. Amy just sent me that, and it's the Cutest Thing Ever.

Saturday, January 10, 2009
| | |
| --- | --- |
| | [16] |
Hooray! I finally got my iPhone today! My number hasn't been ported over from my old carrier yet, so I can't use it to make any actual phone calls til that happens. But we've got it on the house wireless and we're having a play. Snookums is sitting next to me watching "Jesus is my friend" on YouTube.

For those that have one, any good app recommendations? I've got Facebook, RTM, and AroundMe. What else is good? Any usage hints or tips?


More rockin' fun from XKCD...

Friday, January 9, 2009

Credit Crunch Embroidery Sampler. Neat-o! Using a traditional craft to commemorate a very modern event.


Top 10 Countries by Robot Density. A fascinating little graph that tells you where, you know, the Singularity is likely to occur. Remember, folks, robots are everywhere, and they eat old people's medicine for fuel.

| | |
| --- | --- |
| | [8] |
Uh, in case you didn't notice, my blog got another sexxxy visit from an angora fetishist today. Man, the "Angora Man" posts really draw them in. (NOTE: There technically aren't any obscene words in the comment, but it may still qualify as Not Safe For Work, depending where you are...)


"A Day in the Life of Gene Simmons." Also known as "A Day in the Life of People Currently Obsessed With Guitar Hero."


Obama meets Spider-Man. Neat! Because Obama is a self-confessed Spidey fan, Marvel have worked him into the next issue (and put him on the cover). Judging by Kings Comics, #583 should be out here in Oz next Thursday. I'm going to try to get one.

Thursday, January 8, 2009
| | |
| --- | --- |
| | [4] |
Mark Bittman - he of the no-knead bread phenomenon - gives advice on cleaning out your pantry for New Year's. I did something similar last week, much to the Snook's chagrin. I threw out probably an entire grocery bag full of expired stuff: spices, pasta, bread-making supplies, semi-dried fruit, etc. Some of this stuff was YEARS out-of-date! He argued that most of it was still perfectly good to use, in the sense that it wouldn't kill us. My response was that whatever potency and flavor they had originally was long gone, and we'd be better off getting smaller amounts of fresher supplies. I mean, if you haven't used SOY GRITS since 2004, what are the chances you're going to use them in 2009?


One for the Snook: Crossword Puzzle Apartment Building. There are clues located all over the city, and at night the answers are illuminated. Neat!

Wednesday, January 7, 2009
| | |
| --- | --- |
| | [9] |
Substitution in Cricket. I've been confused by the match Australia are currently playing against South Africa, as one of the SA players got struck on the hand and had to retire injured in the first inning. I assumed that somebody would bat for him in the second innings, right? I mean, the guy got his hand BROKEN. But no! Substitutions are only allowed in the field, and the new player can't bat or bowl or act as wicket-keeper. How odd. Seems a little unfair that a single bit of bad luck can keep a team a man down for the rest of the match.

Tuesday, January 6, 2009
| | |
| --- | --- |
| | [4] |
Deep. Fried. Cupcakes. O brave new world world that has such wonders in it!


Thanks to everybody who wished me luck on my first day at the new job. It went GREAT! Everybody is really cool and friendly, and I'm excited about the stuff I'll be working on. Staying in the same industry is a big help. It was a huge confidence boost to be able to come in, know exactly what they're talking about, and be able to contribute right from the get-go.

| | |
| --- | --- |
| | [8] |
Twilight versus Lost Boys
This past Friday, one of the arguments that the girls were giving me for Twilight's suckitude was that "Lost Boys was so much better!" Really? Because all I remember was Kiefer dangling from a bridge with his lame vampire gang, Dianne Wiest being super stupid and annoying, Corey Feldman having a ridiculous accent, that weird song with the chanting children, and that scene where Corey Haim is singing in the bathtub and his dog saves him from being eaten by a scenery-chewing Jason Patric. And those are hardly Cinematic Highlights For the Ages. Anyway, we may have to put it to the test considering that Popcorn Taxi is screening Lost Boys with a Corey Feldman Q&A on January 21st. (Good grief. Do you realize that movie is 21-YEARS-OLD??)

| | |
| --- | --- |
| | [5] |
How to Freeze Greens (like Spinach, Collards, Kale and Swiss Chard). We got a big bundle of Swiss Chard in last night's food box, so I'll probably be trying out this technique tonight. I've also got quite a few cucumbers to use up. Anybody have a foolproof recipe for sun dills? (First link courtesy of not martha.)

| | |
| --- | --- |
| | [5] |
Unwanted Kittens. Apparently the NSW RSPCA are putting down 10 unwanted kittens a day this Christmas season. I'm glad that we (and Miss Fee and the S.V.) were able to save Petey and his brothers from meeting a similar fate, but I'm also pissed that his mother was obviously not desexed by her irresponsible IDIOT owner.

Monday, January 5, 2009

Twilight: The Puppet Saga. I think most people will agree this is a big improvement on the original. (Though not cousin Jenny!)

Sunday, January 4, 2009
| | |
| --- | --- |
| | [4] |
Happy blog-birthday to me!
Web-goddess is now officially eight-years-old. Good grief. Have I really been doing it that long? Lately I've been spending a lot of time on Facebook, and it's been weird to see how many of my high school and college classmates have kids now. I guess - for better or worse - this blog is my baby. This is what I have to show for the past eight years. Each anniversary has become sort of a special point of reflection for me, when I can look back over the highlights of the past twelve months. As usual, I've compiled some fun statistics to celebrate. (Previously: 2008, 2007, 2006, 2005, 2004, 2003.)


Number of posts: 868 (A 7% increase from last year's 811. Going back to a desk job probably helped.)
Number of comments: 2195 (An 11% decrease from last year's 2454.)
Comments to post ratio: 2.53 (Hm. Lower than last year's 3.02.)
Posts mentioning the Snook: 193 (Up from last year's 167. I must like him more.)
Most commented posts: My first half-marathon, getting laid off, losing my step-brother, Ron Howard's endorsement of Obama causes family arguments, getting a new job, and the now deleted "Sorry Day" post. (Man, most of those are heavy. Remember when we used to talk about silly Internet stuff?)
Top 10 commenters excluding myself: Bex (130), rachel (104), Emily (104), Jenny (76), eileen (66), M-H (66), aim (50), jp (42), Kevin (41), and crumpet (38).
Number of polls: ZERO! I think I, like, completely forgot about those.
Moblog posts: only TWO! (I haven't got it working on my new host yet, so no big surprise there.)
Oscar contest entries: 386, won by Gerald Granozio
Nike+iPod total distance run: 811km / 504mi (That's a 64% increase on 2007!)
Races run: Mother's Day Classic, Sydney Half-Marathon, City 2 Surf (third in a row!), Bridge Run, Melbourne Half-Marathon, Tough Bloke Challenge.
Finished knitting projects: twelve, including my "highly-commended" Road to Golden, several pairs of socks, and two novelty jumpers
Media appearances: two (interview/photo for JJJ Magazine which never got published; interview/photos in October issue of Knitting magazine about WWKIP Day in Sydney)
Jobs: three (knitting shop, software developer, software developer/BA)
Trips: Los Angeles for work in July; Melbourne for a race in October; Eungai for Christmas in December
Natural disasters: EARTHQUAKE!
New additions to the family: Professor Death (aka "Petey"), our new kitten; and Indie Marie Carbo, my new niece
So goodbye to 2008! I just had a look over last year's resolutions, and I did pretty well at keeping them! I ran regularly through most of the year and completed my first half-marathon (along with a second and several other races). I took swimming lessons and learned to do a proper stroke. I got a new job back in I.T. that paid better than the knitting shop. I was more organised both at work and at home. Not too bad!

Okay then, what's for 2009? I'd like to keep up my running and improve my half-marathon time, with a goal towards running a full marathon in 2010. Towards that end, I need to drop about 10kg. I'd like to take a few more steps down the path towards becoming a full-time Business Analyst. I'd like to win a blue ribbon at the Easter Show. I'd like to do some volunteer work. Here's to a great year, everybody!

Saturday, January 3, 2009
| | |
| --- | --- |
| | [2] |
Petey Update: Isn't he a gorgeous boy?




This week Petey saw the vet and got his microchip inserted, which means he's officially OURS. (Snookums insisted I register his name as "Professor Death," which was slightly embarrassing.) He's already much healthier than he was three weeks ago! His coat is getting shiny, and he looks a lot less starved. The huge improvement has been in his sociability. He's gone from being very nervous and skittish to being incredibly affectionate and sweet. He loves to be petted and scratched. He's even letting us hold him and pick him up!

We kept him sequestered in the laundry room for the first few days, but we soon gave in and let him have the run of the house. It's been hilarious watching his interactions with Amy. Since he's too small to be a threat, her main reaction seems to be one of SUPREME EFFING ANNOYANCE. He keeps trying to make friends, and she mostly rebuffs him and stomps away. I nearly made her head explode last night when I put down a big bowl of kitten milk, and she was torn between the urge to flee and the greedy desire to slurp it up beside him like the little piggy that she is. (Her pride won out. She gave me a dirty look and slunk away like a sullen teenager.) Progress is happening though. I've seen them touch noses once or twice, and the past two mornings we've woken to the sounds of cats chasing each other up and down the house. (Which is awesome, considering that one of the main reasons we wanted another cat was to give her exercise.) He's just this stubborn little brother, wearing down her resistance. Yesterday morning she was lying on the floor in my office when he crept in and stretched out beside her. I immediately snapped a photo before she remembered that she hates him. Score one for Petey!

Friday, January 2, 2009
| | |
| --- | --- |
| | [6] |
Meeting of the Top Secret Twi-Hards Club
Today myself and four other ladies-who-shall-not-be-named (though three of them are bloggers and you could probably guess!) slunk into Hoyts Broadway to finally see the awesomeness that is Twilight. I was the only one that had read the book, so they were all coming to it fresh (other than certain details - LIKE SPARKLINESS - that I may have let slip). Anyway, I was pretty much prepared for it to fully suck... and it kinda did. There were a lot of cringeworthy moments, like the whole biology class scene and Jasper's horrendous facial expression and Volchok's scenery-chewing. And it didn't help that one of our group was pissing herself with laughter through all the intense romantic scenes. But at the same time... I also kinda LOVED IT. I know, I know! Yes, the silly hair, the brooding glances, the ridiculous special effects, all of it. It was just ridiculous cheesy teenage melodrama, you know? But so's opera, really, and sometimes I like that stuff. And hey, some reviewers thought it was good! I don't need to be ashamed for enjoying it... right? (I know. I suck.)

Thursday, January 1, 2009
| | |
| --- | --- |
| | [1] |
New Year's Eve Fireworks
Okay, I've had a little sleep so hopefully I can stop ALL-CAPS SHOUTING now. (Sorry about that.) The SMH has posted their official fireworks photos, which focuses on the Bridge and probably looks like the bits you saw on TV. Our view was from a roof in Pyrmont, which meant that while we couldn't see the Bridge itself, we got to watch the fireworks exploding from six different locations. And we were pretty much level with them, which was exciting. Here's the video I shot. (The music is from the party. The spots where it goes dark are where I'm trying to focus on my fellow partygoers, but my little camera just couldn't make them out.)





Thanks again to Tim for inviting us!


Far Side Reenactments done in photography. Nice! I'm just disappointed nobody's done my favorite ("Llook out Llarry! It's the llandllord!") yet.

| | |
| --- | --- |
| | [1] |
Happy New Year! It's 1:30am and the Snook and I just got back from my friend Tim's New Year's Eve party. He's got an eighth floor apartment in Pyrmont, which meant that we could see six of the harbour fireworks locations. It was AWESOME. I took quite a bit of video that I'll upload in the morning. We also had our first go at Rock Band on the PS3, and ZOMG, I NEED THIS GAME. I had a reluctant turn at the drums, thinking I'd suck, when in actuality I ROCKED. We need to get this game as soon as possible. Seriously.

Also, when we got home, we discovered that Petey had thrown up ON OUR BED. Poor little guy.

archives
You can search through the archives by post keyword using the form on the left, or you can browse by month using the links at the bottom.
"Moblog" refers to posts and images posted directly from my mobile phone.

"PW Blog" refers to posts recovered from my very first weblog, which dealt with news related to my college dorm.