Monday, January 31, 2011
| | |
| --- | --- |
| | [1] |
Awesome. The SMH says my fringe is totally trendy! Too bad I suck at styling it.


Shared today on Google Reader:You can follow me on Reader here.

Sunday, January 30, 2011
| | |
| --- | --- |
| | [11] |
Jamie's 30 Minute Meals #2: Summer Veg Lasagne
This is our second cooking experiment from Jamie's 30 Minute Meals. We had about half a dozen episodes saved on the DVR, so we skimmed through them today looking for a suitable one. (We reckoned that if we could watch the episode first, we might stand a better chance of reproducing it.) We settled on Summer Veg Lasagne, Tuscan Tomato Salad, and Quick Mango Frozen Yoghurt.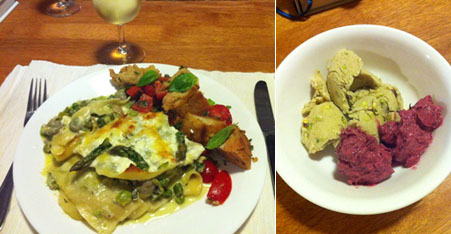 Quick verdict: We couldn't find any frozen mango cheeks, and fresh ones are just way too expensive right now. So we subbed in frozen berries for the dessert. Everything else was according to the recipe, pretty much. It was FANTASTIC. We rated this one 9.5/10. Our elapsed time was 60 minutes. That's why we've taken off half a point. We feel that with more practice we could maybe shave off 15 minutes, but there's no way we could get this one down to 30 minutes total. Still, the taste made it all worthwhile! Read on for a photo essay of the preparation. [more...]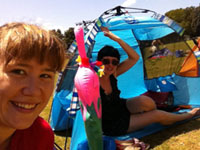 Opera in the Domain 2011
This was the fifth year in a row for our unofficial knitting meetup at Sydney's Opera in the Domain. We had about twenty people in our group in the end, all gathered together under the stars listening to Bizet's Carmen. I'd never seen that opera before, but the music was instantly familiar from hundreds of movies and commercials. I thought Carmen and Escamillo were great, but I just couldn't buy Don Jose as a romantic lead. (I whispered to Rodd that the actor reminded me of this.) There were sound problems throughout the night, especially with Don Jose's microphone. I have no idea how the people at the back of the Domain were able to hear anything! But the dancing was great, and I was bopping along in my seat to a lot of music. Too bad the story has such unlikeable characters!

Anyway, the day actually started long before that. I was the first one from the group to get to the Domain at about 12:40pm, and I could see that the field was going to fill up faster than usual. Reecie arrived not long after and we quickly set to work defining our area with blankets and shade tents. Within half an hour we were already having to defend our spot from invaders! Luckily reinforcements arrived soon and we mostly managed to fight off encroachers. (The nerve of some people! Turning up right before the show and thinking they could plop down right in front of us.) We picnicked and drank wine and knitted and got interviewed by some local news cameramen. It was a lot of fun! Read on for photos. [more...]


For those of you who've seen Black Swan, this visual effects feature showcases some of the amazing work that was done in it. (BUT DON'T WATCH IF YOU HAVEN'T SEEN IT. SPOILERS!)

Saturday, January 29, 2011

Shared today on Google Reader:You can follow me on Reader here.

Friday, January 28, 2011

Shared today on Google Reader:You can follow me on Reader here.


RunningBlog: Week 4
I suppose it was inevitable that I'd have a "down" week after so much exercise last week. That's okay. We're also having a run of hot weather, so just getting out there is a big win. I started with a run of 7km on Sunday. (It's a cutback week on my marathon training plan.) On Monday I did a Spudds class after work, where I had some good form on the rower. Tuesday I ran to work wearing my new backpack, but it was a really sucky run. I just felt flat and tired. Wednesday I did a quick core workout before the Australia Day festivities, and this morning I did an easy run before work. Huh. I guess I did more than I realised.

Jan. 23: 7.01km
Jan. 25: 5.21km
Jan. 28: 6.06km
Total this week: 18.28km (11.4mi)
Total in 2011: 82.81km (51.75mi)

To meet my goal of running 1100km in 2011, I should be at 84.6km. So I'm about 2km behind pace. That's fine; I've got another long run scheduled this weekend that should put me well ahead!

Thursday, January 27, 2011
| | |
| --- | --- |
| | [7] |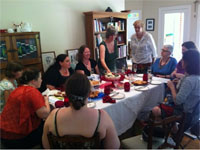 Happy Australia Day!
Well, yesterday anyway. It's weird having a holiday in the middle of the week. It's like it's thrown off my whole circadian rhythms or something.

Anyhoo, I had a lovely day. I spent the morning baking cookies and making Rice Krispie treats. Then I caught the train with JP over to RoseRed's house for a lovely knitters' party. We had scones with jam and cream, sandwiches, meat pies, cakes, cookies, and everything lovely. I noticed a pavlova sitting beneath a dome and wondered to myself why the fruit seemed to be clumped together instead of evenly distributed. Imagine my surprise when I realised it was Sydney Harbour, complete with a banana bridge and a strawberry Opera House!

After much merriment, knitting, and champagne, I headed back to the city with Kylie. After a quick stop to pick up the Snook, we caught a bus to the city and met Kunaal at the Opera House. It was time to see Amanda F**king Palmer!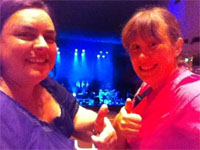 The show was AMAZING. Kylie and I spent some time marvelling at the set (one half of which was "bogan"; one half was "art fag"). Amanda opened the show herself by acknowledging the Gadigal people, the Aboriginal people of this area. Then The Jane Austen Argument kicked everything off with a couple songs. They were okay; a bit too "Melbourne arty" for my taste. Then came Mikelangelo and the Black Sea Gentlemen, who we LOVED. Hilarious and brilliant, and great musicians too. And finally, with much fanfare, out came Amanda Palmer! She swooped around the stage; she climbed down into the audience; she slithered across people in the stalls. We were entranced. She sang a hilarious song about how evil Vegemite is. She drank VB on stage and we commiserated on how shit it is. She threw flowers. She played the piano; she played the ukelele; she played the keyboard. She played for hours. At one point, she brought out her husband Neil Gaiman who read a few pieces for us, including one he'd written that day on Australian megafauna. He also surprised her with a poem about all the reasons he loved her. (WE WERE ALL SQUEEING LIKE CRAZY.) The Black Sea Gentlemen came out at various points to accompany her, and they amused us by dressing up in increasingly crazy costumes. The show ended with a raucous encore of "Map of Tasmania" with sexy go-go dancers and a female beatboxer and all kinds of fun. It was amazing. Three-and-a-half hours! Great way to end the day.

| | |
| --- | --- |
| | [3] |
Note to self: Make the Pioneer Woman's cinnamon rolls... but do a small batch.

Wednesday, January 26, 2011

Shared today on Google Reader:here.

| | |
| --- | --- |
| | [7] |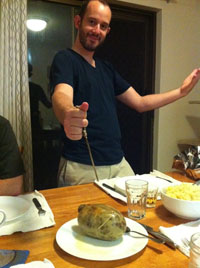 Robbie Burns Night
Yesterday at 11am I got an IM from the Snook: "Och! It's Rabbie Burns Day." To which I jokingly replied: "Neeps and tatties for dinner then?" For those who are confused, Robert Burns was the most famous poet of Scotland and January 25th was his birthday. It's traditional for Scots to have a Burns Supper on that night with traditional foods, whisky, and recitations of Burns's poetry. Now, the Snook and I are not Scottish. Not a bit. But we've visited Scotland on a couple occasions, and we have good friends who are Scottish. Also, we're foodies and we love any excuse for an exotic feast. (I have a dream of going to the annual Bastille Day dinner at Bennelong some year.) So that little joking exchange in the morning stuck in my head all day...

At 5pm I was packing up from work and I messaged the Snook to see if he really did want Scottish food. On a whim, I asked Twitter where I could get a haggis in Sydney on short notice. A few people replied mentioning various specialty butchers in the suburbs, but making a special trip was probably taking the joke too far. Then my friend Sharon tweeted that Hudson Meats have haggis on their website. Hudson is in Surry Hills, which is only like a 20 minute walk from my office. So I rang the shop to confirm, and half an hour later I had a 2-pound haggis in my backpack. Was I really going to cook and eat this thing?!

For those who don't know (or who've never seen So I Married an Axe Murderer), haggis is a dish containing sheep's 'pluck' (heart, liver and lungs), minced with onion, oatmeal, suet, spices, and salt, mixed with stock, and traditionally simmered in the animal's stomach for approximately three hours. Yes, SERIOUSLY. Basically, it's like a cross between a meatloaf and a breakfast sausage... involving lots of organ meat. (You don't actually eat the stomach though; that's just there for cooking.) Neither of us had ever had one before. Haggis come pre-cooked, so all you really have to do is heat them up. Traditionally you boil them, but there's always a risk they'll rupture and you'll have haggis soup. So I went with the safer oven method: wrap tightly in aluminum foil; place in roasting pan with some water; and roast at 180C for an hour. While it was roasting I invited Fiona and Matt over to join us. We had our haggis with mashed neeps and tatties (turnips and potatoes) and a whisky sauce. We also recited Burns's poem "Address to a Haggis" in terrible Scottish accents. It was great! Read on for more details... AND PHOTOS. [more...]

Tuesday, January 25, 2011

Shared today on Google Reader:You can follow me on Reader here.


The Oscar nominations will be announced tomorrow... which means it's almost time for the Ninth Annual web-goddess Oscar Contest! I hope you're getting ready to make your predictions. This year's sock monkeys are going to be something special!

| | |
| --- | --- |
| | [5] |
Whoa! Finally the Internet does something useful! You can now cancel your Yellow Pages delivery for three years. THAT'S BRILLIANT. Those stupid dead-tree phone directories drive me up the wall. Every few months our street gets littered with stacks of them. Nobody uses them! They're just rubbish!

| | |
| --- | --- |
| | [4] |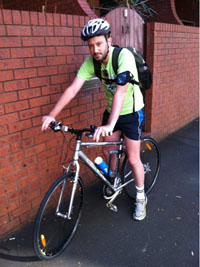 Mr. Snook Gets a Bike
The big news around these parts lately is that Mr. Snook is now a full-fledged bicycle commuter. He'd been thinking about it for a while. His office is just over 4km away, but the traffic on George Street means that it takes 45 minutes on the bus. Meanwhile the City of Sydney has been making a big push to put more bike lanes on back streets, and he worked out that there was a route he could take to avoid the big roads. Then all he needed to do was get a bike.

This turned out to be harder than we thought. Every bike I've ever owned has come from KMart or a garage sale, so I had no concept of what a real commuter bike would look like or cost. Over the course of a couple weeks, he visited Cheeky Transport, King Street Cyclery, Inner City Cycles, Clarence Street Cyclery, City Bike Depot, and Cell Bikes. He also checked out the used listings online and read up on cycling message boards. I kind of freaked out about the prices at first, most of which were well up over $600 for a basic road bike. (I've purchased cars for less than that in Indiana!) But he made the case that a well-made bike would be safer and need less maintenance in the long run. He ended up getting the Cell 2010 SS101, and in three days he's put well over 20km on it! Way to go, Snookums. :)

Monday, January 24, 2011
| | |
| --- | --- |
| | [1] |
Shared today on Google Reader:You can follow me on Reader here.

Sunday, January 23, 2011
| | |
| --- | --- |
| | [4] |
Jamie's 30 Minute Meals #1: Mustard Chicken
As promised a few weeks ago, the Snook and I have decided to cook and blog our way through Jamie's 30 Minute Meals in its entirety. We got the book this week (thank you Booko!) and picked out a hopefully-easy recipe to start with: Mustard Chicken with Quick Dauphinoise, Greens, and Black Forest Affogato.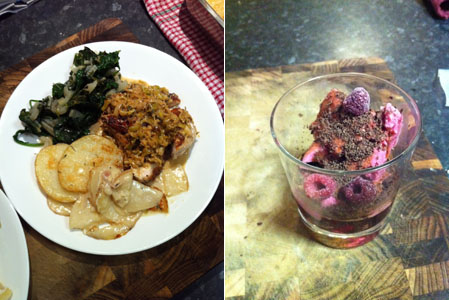 Quick Verdict: We experimented a bit with the dessert but the other three components were prepared exactly as specified. Both of us rated this one 8/10. With a few small tweaks, it could've been even higher. Our elapsed time was 50 minutes, but that was mostly due to capacity of our frying pan. Read on for a photo essay of the entire preparation. [more...]

| | |
| --- | --- |
| | [1] |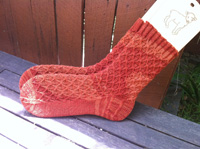 Shur'tugal Socks
This was the first pattern scheduled for the "Super Special Six Pattern Sock Club" I'm participating in. The idea is that the group (which is now up to 200 members!) chose six sock patterns via a vote and throughout the year we'll be knitting them with wool from our stashes. (You can read more here, here, and here.) I have plenty of sock wool in my stash, so in December I tucked away six special skeins for this series. On New Year's Eve, I pulled one out at random: the Shibui Sock in "Pagoda" (a beautiful burnt orange) that I bought at my Mom's LYS in Goshen. I wound the two skeins together into a center-pull ball and then I was off!

The problem is that I hated this pattern. Oh, don't get me wrong, it's really well-written. I've just found historically that I get really, really bored with tiny allover repeating patterns, especially those involving two-stitch cables. (Remember Conwy?) Plus I just could NOT memorise the pattern. Twice I picked it up at the wrong spot and had to frog back. I knitted both socks at the same time on 2.75mm circulars, and I did the larger size. It just seemed to take FOREVER. I was so thrilled to finally cast them off today and be done with it! They are pretty though. More details are over on Ravelry.

I will also admit to some irrational irritation with the pattern just because of the name. Apparently it has something to do with "dragon riders" and it's from that book I hated.

Friday, January 21, 2011

Shared today on Google Reader:You can follow me on Reader here.

| | |
| --- | --- |
| | [2] |
Draco Malfoy's got nothin' on me.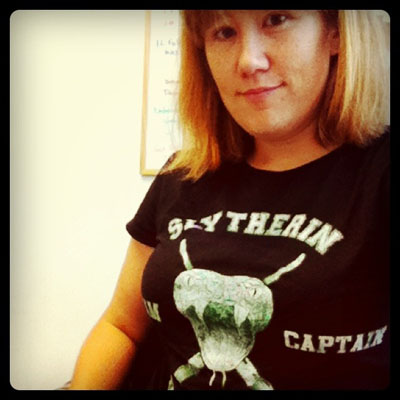 I ordered the shirt a few weeks ago from Tee Fury.
| | |
| --- | --- |
| | [3] |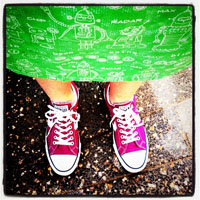 Robot Skirt
I forgot to mention that I finished my third skirt! This is the same A-line pattern that I used for the previous two. (It's the one from the class I did at the Sewing Room last year.) The fabric is a thick cotton drill I got when I was visiting my Mom in the U.S. last year. Fun!

The shoes are new Converse "re-issues" I got last weekend from Platypus. Only $39!

| | |
| --- | --- |
| | [2] |
I'd heard about Momofuku's Cereal Milk Ice Cream before, but I didn't realise a recipe was available. SNOOK: I WANT THIS.

| | |
| --- | --- |
| | [2] |
Ooh, Bex linked to this great dirndl skirt tutorial. Fun! I need to get a big roll of tracing paper so I can draft some patterns.


RunningBlog: Week 3
This week was packed with exercise! It started on Saturday with a core workout (36 push ups, 71 sit ups, and 55 squats). Sunday was my long run. It was technically Week 9 of my Galloway marathon plan, so the scheduled LSR was 9 miles. I did it with 2:1 run/walk intervals the whole way, and I ran the middle 6K with Miss Fee. After resting Monday, I did an easy recovery run Tuesday morning and a Spudds circuit that night. I did another Spudds class Wednesday at lunchtime. Thursday I did another core workout (39 push ups, 79 sit ups, and 60 squats). And today I ran to work in the morning wearing a heavy backpack. PHEW!

Jan 16. 14.91km
Jan 18: 6.06km
Jan 21: 5.37km
Total this week: 26.34km (16.5mi)
Total in 2011: 64.53km (40.3mi)

To meet my goal of running 1100km in 2011, I should be at 63.46km. So I'm now 1km ahead of pace! This next week will be another cutback week, so I'm going to try to rest up before the next long one.

Thursday, January 20, 2011

Shared today on Google Reader:You can follow me on Reader here.

| | |
| --- | --- |
| | [2] |
The Girl's Guide to Having an Abortion. Straightforward, non-political, non-gory facts about what is involved in terminating a pregnancy. Statistically 1/3 of American women will have or have had an abortion. Even if you are 100% against it, you should know what you're arguing against.

Wednesday, January 19, 2011

Should I Work for Free? A handy flowchart for those in the creative profession... or any profession, really. (As god is my witness, I will get someone to take over as Guild webmaster this year!)


Shared today on Google Reader:You can follow me on Reader here.

| | |
| --- | --- |
| | [1] |
Brisbane Floods: Before and After. Brilliant gallery from the ABC showing aerial photos of Brisbane with a neat mouseover swipe effect. I had been thinking we were pretty lucky being in Sydney, but recently I found out that Sydney had floods in 1986. Unfortunately I can't find any resources online that describe exactly which parts of Sydney suffered. Anybody know where I can find a floodplain map?!

Update: Shite. This story has a firsthand account from someone about the '86 floods. "The only way I could get home (to the Inner West) was to walk. There were no buses, because much of Broadway was flooded, with water around 1 metre deep all the way from Railway Square to the intersection of City Road." GREAT.

Tuesday, January 18, 2011

Shared today on Google Reader:You can follow me on Reader here.

| | |
| --- | --- |
| | [1] |
Martha's Blog
Am I the only person completely obsessed with the question of whether Martha Stewart does her own blogging? I think she does, but the Snook thinks I am being hopelessly naive.

me: http://www.themarthablog.com/2011/01/the-emergency-room-snowstorm.html
"Normally, I would be out in the elements taking photos, but I asked Mike Fiore, my property director, to cover for me."
SEE? MARTHA DOES HER OWN BLOGGING
Rodd: yes, of course she does
And Hugh Jackman is by the harbor near the opera center too.
me: if you are suggesting that one of martha's staffers does her blogging and actually went out of his/her way to call attention to the fact that somebody else was doing the blogging so as to make people like me more certain that martha is doing it...
that's an inception-like level of deceit that my brain can't process
her previous post was about splitting her lip
complete with gross shots of the doctor stitching her up
MARTHA IS JUTS LIKE ME

Monday, January 17, 2011

Shared today on Google Reader:here.

Saturday, January 15, 2011

Shared today on Google Reader:You can follow me on Reader here.

| | |
| --- | --- |
| | [2] |
MONA = HotR
The Snook and I have been giggling over the SMH stories about Tasmania's new Museum of Old and New Art (or MONA). An eccentric millionaire has built a three-story underground museum carved out of a sandstone cliff and stuffed it full of random art from all over the world. It's all deliberately jumbled together with no labels. The creator refers to it as an "adult Disneyland." Hello? This is basically Australia's House on the Rock. We're obviously going to have to go.


Note to self: Go through this AskMe about kimchi later and, uh, make all of it.


Hip Pressure Cooking. Neat! In case you missed it, Laura left a comment with a link to her site. I was wary at first that it was just a driveby SEO-riddled linkspam, but the site looks to be a legit source for all sorts of pressure cooking info. I'm especially interested in the series of Beginner Basics that's about to start...

| | |
| --- | --- |
| | [2] |
Twilight Apple Fingerless Gloves. "The lameness keeps you warm." HA!

Friday, January 14, 2011

Shared today on Google Reader:You can follow me on Reader here.


RunningBlog: You guys should go read "The Goofy Challenge" over at beyond defeat. (ESPECIALLY MY MOM.)


RunningBlog: Week 2
This is a cutback week on my marathon training schedule - GOD THAT SOUNDS WEIRD - so my distance was light. I also had a Spudds session on Wednesday and did two core workouts (pushups, situps, and squats) during the week.

Jan. 9: 5.47km
Jan. 11: 5.04km
Jan 14: 5.86km
Total this week: 16.37km (10.2mi)
Total in 2011: 38.19km (23.8mi)

To meet my goal of running 1000km in 2011, I should be at 42.3km. So I'm a couple km's behind, but I've got a 14.5km run planned for Sunday so I'll more than make it up. :)


Bookmarking: Textile Dictionary.

Thursday, January 13, 2011
| | |
| --- | --- |
| | [5] |
Chicken and Dumplings!
We successfully christened our new pressure cooker tonight! We made Alton Brown's Chicken and Dropped Dumplings. The pressure cooker worked great for cooking the chicken, and the resulting broth was delicious. While I picked the meat from the bones, the Snook mixed up the dumpling dough (which is basically a choux pastry). He then loaded it into a bag and squeezed out small dumplings into the broth. We thought they looked pretty dubious at this point, but once he put the lid on they swelled up big and fluffy and beautiful. Eight minutes later the dumplings were done and the chicken went back in the pot. LOVERLY.

Of course, this isn't quite the way my family make it back home in Indiana. This made more of a clear soup with chicken and discrete, pillowy dumplings. I can't find the recipe, but I'm pretty sure my Aunt Berb's "dumpling" mixture there is more of a thick, lumpy batter that gets spooned in. I've sent out emails to the relevant relatives and hopefully I'll get the mystery solved soon.


Shared today on Google Reader:You can follow me on Reader here.

| | |
| --- | --- |
| | [3] |
I read Obama's speech at the memorial in Tucson today, and it brought tears to my eyes. It was a moving and powerful tribute.



And while I appreciate Obama taking the high road, I still think Sarah Palin is a monster and a terrible human being.



| | |
| --- | --- |
| | [1] |
Chunk from The Goonies on an antique china plate. My sister will be ALL OVER THIS.

| | |
| --- | --- |
| | [1] |
Grrr. I wish my hair would get longer so I could do fun stuff with it like this 1940's braided headband style.

Wednesday, January 12, 2011

Hey family! Oprah's Australian shows are going to air next week. They start on Tuesday the 18th for you guys in the U.S. Record them! Then come visit and we can show it to you in person. :)


Shared today on Google Reader:You can follow me on Reader here.

| | |
| --- | --- |
| | [8] |
Pressure cookin'
How excitement! We had some Amazon gift certificates from Christmas and decided to spend them on a kitchen gadget we've been lusting over: a pressure cooker. Last week we ordered the Fagor 9 Piece Pressure Canning Set from Amazon, and today it's here! It's got a 10L pressure cooker and all the bits you need to can (aside from jars). I can't wait to get it home and try it out.

Resources to bookmark:I'm interested in the canning part of it, but we'll need to get some jars first. Anybody know where I can get proper Mason jars? Does Bunnings carry them? (The fancy "House" store at Broadway has them but they're like $7 each.)


Doll Clothes Pattern. Bookmarking for future sock monkey reference.

| | |
| --- | --- |
| | [4] |
I am going to be following this Swing Dress Sew-Along with interest. The pattern is pretty and I think it would be flattering on me. Unfortunately most of my craft time for the next few months is booked for Easter Show knitting, but perhaps later in the year... (Any of my friends want to have a mini-sew-along with me?!)

| | |
| --- | --- |
| | [5] |
"Why Chinese Mothers are Superior." I've seen that article linked a few places lately, and it's been pretty divisive. The Korean (as I expected) was in favour of that parenting style. Reactions on MetaFilter ranged from "this is child abuse" to outright envy. Truthfully, I think I fall more towards the envy end of the scale. This comment seemed especially relevant to me. My parents never pushed me to do anything. And while that was great - and I had a relatively happy childhood and turned out fine - I also never really learned to work hard at anything. The stuff I'm good at is the stuff that comes easily. I wonder what I could have accomplished if they'd made me stick with the stuff that was difficult. (I have a suspicion the Snook would probably say the same thing.)

Maybe that's why I keep persevering with running, even though I suck at it. It's the one thing I do that I'm not good at, and I need to feel like I'm working at something.

Tuesday, January 11, 2011
| | |
| --- | --- |
| | [1] |
Shared today on Google Reader:here.

Monday, January 10, 2011

Shared today on Google Reader:You can follow me on Reader here.

Sunday, January 9, 2011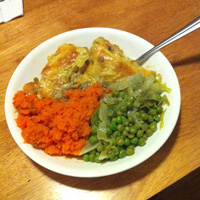 Jamie's 30-Minute Meals - Chicken Pie
Okay, so are you guys watching Jamie's 30-Minute Meals? They started airing it here recently and we've been recording each episode. We really like it! I like the concept of showing how to prepare a whole meal (complete with sides and desserts), and how he gives you the whole order of operations (which I always suck at). Last week the Snook was inspired by the Roast Beef episode to make us a Roast Pork dinner. He did the carrots, potatoes, and Yorkshire pudds as per the show, but changed up the beef fillet to pork and made his own gravy. It was fantastic.

This week it was my turn, and I decided to tackle the "Chicken Pie, Smashed Carrots, and French Peas." (The recipe's not online but my friend Josh has the book and shared it.) I'd read some complaints that the "30 minute" thing is a cheat, so I decided to time myself as an experiment. We already have homemade ice cream, so I skipped the dessert. We decided that having to read the recipe was a likely hurdle, so the plan was to have the Snook shouting out instructions like a rally co-driver. (I read through it myself ahead of time.) I got out all the ingredients and utensils. I did all Jamie's suggested prep: put a wet towel under the cutting board, plug in the food processor, boil the kettle, turn on the oven, and get the pans heating up. And then WE WERE OFF.

The first part was deceptively easy. I cut up my chicken breasts and got them going in the pan. Then I was meant to slice my mushrooms and green onions in the food processor. Within the first five minutes, I hit a major road block: our food processor SUCKS. It's too small, and the blades are really crappy. The mushrooms went through okay (if a little minced), but the green onions gave me major trouble. Instead of slicing through nicely, they jammed between the blade and the lid and wrapped themselves around the axle. I ended up having to quickly chop the last bits by hand. Eventually I got them into the pan though and added the other stuff for my pie. This is when I started to realise that our big frying pan was going to be a tight fit. It was impossible to stir quickly or I'd slop gravy over the edge. But whatever, the pie mix was cooking. I was still trying to be calm, but things were getting crazy.

Next was the carrots. Again, you were meant to slice them in the food processor. Again, disaster. They kept getting wedged and I kept having to take the lid off and pull bits out. Carrot juice and bits flying EVERYWHERE. Again, I ended up chopping the last bits myself. Finally got them in the pan with the other ingredients and the lid on.

Then it was time to assemble the pie. I dumped the filling into a Pyrex baking dish and then turned to my puff pastry. I was using up a couple sheets from the freezer that had been broken, so I tried to "Frankenstein" them together into a coherent sheet. It was a bit sloppy and messy, but not too bad. Pie went into the oven. I knew I was running way behind at this point.

Finally the peas. I made up a thickened chicken stock in the same pan I'd cooked the pie filling in and then got my peas into it. I was supposed to run the lettuce through the food processor, but BUGGER THAT. I quickly sliced it by hand. That went in, along with the other ingredients. That's when I realised I didn't have a lid big enough for that pan. BUGGER BUGGER. I just turned it down and let it cook.

Then the last step: the carrots got drained and then smashed with a potato masher. That went okay. Then it was plating up time! The pie looked better than expected and smelled great. The peas probably got a bit overcooked, but they were still tasty. The carrots were good. (I'm not a huge fan of carrots, and I ate these happily.)

Final verdict: The elapsed time (since I started cutting up the chicken) ended up being about 45 minutes. I was way stressed out and actually sweating by the end of it. My kitchen was a disaster. But you know what? It was still worth it. The meal was excellent. Clean-up actually only took a few minutes since you only really use three pans. And I did WAY better than those crappy Guardian cooks. I also learned some really valuable stuff:
Preparation is key. Get everything out and ready to go. Make sure your salt isn't hiding in the living room (like mine was). Make sure the pepper grinder is full.
Precise measuring is overrated. Instead of measuring out 2 teaspoons of this and 1 heaped tablespoon of that and 300ml of stock, I just eyeballed it. It was fine.
You don't need to peel carrots or trim button mushrooms. Really. Just give 'em a wash.
If you really want to take advantage of the food processor, IT NEEDS TO NOT SUCK. (Yeah, we'll be getting a new one.)
The book is sold out in most places but we've got it on order. (Tip for the Aussies: Use Booko to find the cheapest price.) The Snook said as we were eating: "When it gets here, you want to cook our way through the whole thing?" Sounds like a plan!


Shared today on Google Reader:You can follow me on Reader here.

Saturday, January 8, 2011

Shared today on Google Reader:here.

| | |
| --- | --- |
| | [1] |
RunningBlog: Some sage advice on getting out there for a morning run - when you really don't want to - from Elma:
"The moral of the story is: your morning run actually starts the night before when you lay your clothes and other essentials out. Without this preparation there's a good chance the morning run won't happen at all."
I need to get in the habit of preparing like that too.

Friday, January 7, 2011
| | |
| --- | --- |
| | [2] |
Sydney No Pants Subway Ride. That is one nude-adjacent event I will not be participating in.


Shared today on Google Reader:You can follow me on Reader here.

| | |
| --- | --- |
| | [1] |
RunningBlog: Week 1
I can't believe I'm starting over again at the beginning!

Jan 3: 11.75km
Jan 5: 5.83km
Jan 7: 4.24km

Total this week: 21.82km (13.6mi)
Total in 2011: 21.82km (13.6mi)

I need to average 21km per week to meet my goal of running 1100km in 2011, so I hit that target pretty much exactly. I have a feeling that my weekly totals are going to ebb and flow a little more this year thanks to the marathon training. Galloway's plan has me always following a long run with 1-2 weeks of cutback. I'm sure it will all average out in the end...

| | |
| --- | --- |
| | [2] |
RunningBlog: How to Put on a Sports Bra. HA! So true. I actually bought three new sports bras a few months ago. Two of them have clasps in the back, which is great. The Moving Comfort Juno is totally weird though: it goes on over your head but it ALSO has clasps. It's a chimera.

Thursday, January 6, 2011

Shared today on Google Reader:here.

| | |
| --- | --- |
| | [3] |
RunningBlog: I have gone insane. I blame JayDub and AirForceTed. I am seriously considering training for and running the 2011 Macleay River Marathon on June 12th. It's not far from where Ma and Pa Snook live. Ma Snook has actually been trying to get us up there for years now. (They do other distances besides the full marathon.) It's a small marathon, and it's meant to be relatively flat. The other big advantage is - as far as I can tell - there's no time cut-off. That's what's keeping me from doing one in Sydney. Every marathon I can find here cuts you off at 5:30, and I'm guessing I'll probably be closer to 6:00. If the Macleay lets you finish no matter what... we may have found my big race for the year!

I've already had a look at Galloway's novice plan. (HELL YEAH I'll be run/walking this thing.) It's 30 weeks long, but conveniently I'm pretty much already up to the week 8 workouts. I think I've got a pretty good base built up if I can stay injury-free.

AM I REALLY DOING THIS? Can I do it? Maybe this is just residual New Year's Resolution craziness.

| | |
| --- | --- |
| | [2] |
Photo Coasters. Neat craft idea! I'll have to try that sometime.

Wednesday, January 5, 2011

Shared today on Google Reader:here.


Yarn Monster. "The yarn monster eats raw yarn and excretes perfectly rolled yarn balls." Heh. It's an electric ball winder in a monster-shaped enclosure. They've wired it up to an Arduino board so you can control the direction and speed via a wireless remote. Pretty cute! I'd think you'd want some sort of a guide for the wool though. The yarn cakes come out much nicer when the wool is held under a bit of tension.

Tuesday, January 4, 2011

Shared today on Google Reader:here.

| | |
| --- | --- |
| | [13] |
Happy blog-birthday to me!
As of today, web-goddess has finally hit double-digits. This site is now TEN YEARS OLD. That is crazy! Of course, the past couple years have seen markedly less activity as I spend more time on Facebook, Twitter, Ravelry, and Google Reader. Still, I keep postin' and you keep readin'. We'll keep going as long as we can. As always, I've compiled some fun statistics to celebrate. (Previously: 2010, 2009, 2008, 2007, 2006, 2005, 2004, 2003.)

Goals for 2011: Run 1100km in the calendar year and get my 10K time to under 60 minutes. Lose 15kg. Hand-off the position of Knitters Guild Webmaster to someone else. Sew a dress for myself. Join the IIBA and attend another training course. Decide what we're going to do with the garden, and then do it. Get new kitchen countertops. Visit New Zealand. And of course, win that damn blue ribbon!

| | |
| --- | --- |
| | [4] |
A newspaper in the UK ran a map of the flooding in Queensland and included a completely non-existent Australian state called "Capricornia." How odd.

Monday, January 3, 2011

Day 10 and 11 of Christmas Vacation
The last two days were pretty relaxed. Yesterday was a hot one, and we mainly huddled in the house. We did go for a walk in the afternoon around Sydney Uni. (We'd been hoping the Macleay Museum was open, but it wasn't.) I worked on my socks for a while, discovered an error, and ended up frogging them back halfway. The Snook made me Jamie Oliver's "30-minute" roast beef for dinner (but with pork fillet instead of beef). It was great!

Today I went for an 11.75km long run to Centennial Park and back. After lunch, the Snook and I went to George Street to see The Voyage of the Dawn Treader. I enjoyed it, especially the first half. (I was THRILLED to see Lucy getting to kick some ass with a sword.) For dinner, we made Martha Stewart's Perfect Macaroni and Cheese. And that's it! Time to go back to work...

Sunday, January 2, 2011

Shared today on Google Reader:here.

Saturday, January 1, 2011
| | |
| --- | --- |
| | [3] |
Day 8 and 9 of Christmas Vacation - Happy New Year!
Yesterday morning started with a 5km run around Sydney Uni that conveniently put me over the 1000km mark. Back at home, I showered and spent some time sharing my completed goal all over the Internets. In the afternoon, I had a nap. (No, seriously.) Then it was time to get ready for our New Year's Eve dinner party. Unfortunately we had a couple last minute cancellations due to illness, so in the end it was just us and our friend Kunaal. It still rocked though. We had Nuts and Bolts (the Aussie equivalent of Chex Mix) along with Braised Chicken Thighs and Sauerkraut. Dessert was a selection of Indian sweets along with our homemade ice cream. Being big nerds, the three of us all plugged in our laptops and ran around World of Warcraft together. It was fun! Kunaal headed off at 11 and we stayed up to watch the fireworks on TV and listen to the booms out the window.

This morning I figured the best way to start off the New Year was with pancakes and bacon. Yum. Then I knocked off some chores: updated our money management software, adjusted our budget, and balanced the books. I also Skyped with my sister and helped her with some web hosting issues. Then I remembered a small piece of work I'd promised to do for Candi, so I fixed that up. After lunch, I casted on for my first "Super Special Six Pattern Sock Club 2011" pattern of the year. (Yes, really.) I've got both socks past the cuff and I've done two repeats so far. The Snook and I are also cranking through Angel Season 2. I can't believe I have to go back to work in three days...


Shared today on Google Reader:here.

| | |
| --- | --- |
| | [2] |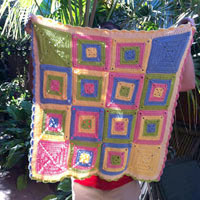 Olivia's Rainbow Blanket and BSJ
Eagle-eyed readers will have noticed that the first two projects shown on my knitting round-up below haven't actually been blogged yet! That's because I only just finished them yesterday. First up is an actual, honest-to-god CROCHETED item: Olivia's Rainbow Baby Blanket. This is a project that I basically made up myself. My Mom had sent me 5 balls of "Sugar and Cream" cotton last year and I'd idly started crocheting squares based on this pattern. When my niece was born a couple weeks ago, it inspired me to join them all up into a blanket for her. I did 12 multi-colour squares (rotating the stripes each time so the squares are all different) along with 4 solid squares. I joined them all together with Cream, then crocheted a Cream border all around. Then I did a scalloped border in a different colour on each side. I'm really happy with how it turned out! I was debating on whether to back it with some fleece or flannel, but I think I like it the way it is.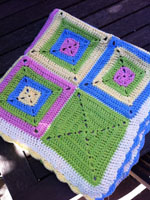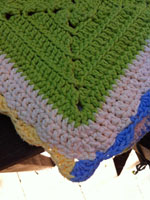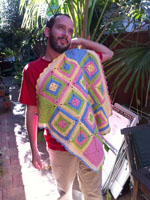 Next is yet another Baby Surprise Jacket. I used some Jo Sharp Silkroad Aran Tweed that was leftover from my St. Brigid. It came out quite big, but I figure she'll grow into it. The buttons are made out of coconut. :)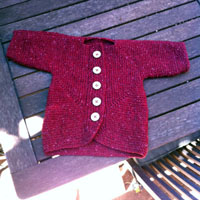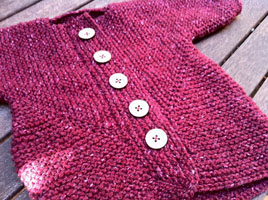 archives
You can search through the archives by post keyword using the form on the left, or you can browse by month using the links at the bottom.
"Moblog" refers to posts and images posted directly from my mobile phone.

"PW Blog" refers to posts recovered from my very first weblog, which dealt with news related to my college dorm.