Tuesday, January 31, 2012
| | |
| --- | --- |
| | [1] |
Super Tuesday Annual Bike Counts - Bicycle Network Victoria - Australian cyclists! Make sure you get out on your bike on March 6th to be counted.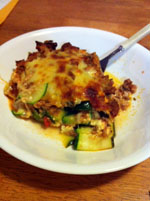 Dinner Tonight: Primal Zucchini Lasagna
This is a good recipe for building up your freezer stocks. I used about six big fat zucchini, and that was more than enough. For the meat, I used half ground beef and half ground pork (with some extra oregano, fennel seed, and chili flakes to make it more like Italian sausage). I also opted for the mushrooms for a little extra umami. Here's a tip: be sure to drain your browned meat if it's dropped a lot of fat/water. I always skip that step, and it does make the final dish a little sloppy. (Mostly just an aesthetic issue though - it still tastes good!) And obviously this is a low-carb lasagna that will fill you up without pasta. :)

Monday, January 30, 2012
| | |
| --- | --- |
| | [12] |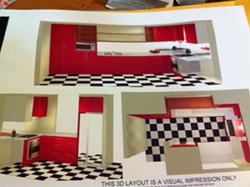 Our Kitchen
We have been talking about renovating our kitchen ever since we bought the house 4+ years ago. I mean, this? Pretty crappy. We replaced the cooktop and oven first, but that's as far as it went. I've had a New Year's Resolution for the past two years to Do Something About the Kitchen, and now the wheels are finally in motion. We made contact with three different custom kitchen places: two small companies, and then the big one (Harvey Norman Renovations). One of the smaller companies came out to measure and then never sent through the final quote. The other one measured and invited us to the showroom, but they wouldn't give us a detailed quote without a deposit. We called Harvey Norman mostly on a whim, figuring that they would be expensive and crappy. But they were AWESOME. Not sure if it's just the designer that got assigned to us, but Scott was fantastic. He was punctual, good with communication, friendly, and he had great ideas for our space. (He comes from an architect/designer background.) We spent 3+ hours at HN Alexandria on Saturday discussing options and appliances. The final quote for everything came in at a couple grand more than we'd hoped, but we talked it over with the Snook's Dad and our feeling was that it's going to be worth it. HN will project manage and handle everything, which we like. (We're so not DIY.) The cupboards are going to be SHINY RED polyurethane. Scott also introduced some wood to create feature shelves over and around the sink. The countertops are going to be stainless steel. (Huzzah!) The floor is going to be black and white checkboard tile. And the best part? We are getting an enormous side-by-side fridge that is going to DOUBLE our fridge/freezer volume. I expect it to be LIFE-CHANGING. (We also got a new kick-ass rangehood, an integrated dishwasher, and a convection microwave.)

The only downside? Apparently we'll be without a kitchen for THREE WEEKS during the build. (We're having them strip it back to bare walls to redo the floor and wiring.) So that's going to be a challenge. I expect we'll try to get by with the microwave and barbecue as best as we can. Anybody ever survived one of these renovations before?

Sunday, January 29, 2012
| | |
| --- | --- |
| | [1] |
Custom Power Rangers Hoodies - Awww, sweet! But screw buying one; I'll KNIT me a Pink Ranger hoodie!

Saturday, January 28, 2012

Succulent Collection crochet patterns - These are actually really pretty and neat! I kind of want to make them.

Thursday, January 26, 2012

I totally called it! Bunting is definitely a thing.

Wednesday, January 25, 2012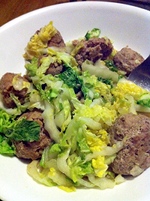 Dinner Tonight: Asian Pork Balls with Napa Cabbage
This is a recipe I found a few months back when I was looking for a way to use up some Napa cabbage from the veggie box. It's pretty simple to make, but the flavours are great! I definitely recommend putting the sherry into the broth; it adds some nice complexity. I don't bother with the step of thickening the sauce; we just eat it like soup. It's got heaps of protein and very little carbs. It's also fairly cheap, and it makes plenty for leftovers for lunch the next day!


This is fun: One of the project managers here got selected to participate in Google's new Apps marketing campaign. If you watch that video, you can see our office! They're also featuring her heavily all over the SMH website today. Go Karen!

| | |
| --- | --- |
| | [2] |
New job!
Not a lot of blogging so far this week, just because my new job at Sitback is taking up all my focus! So far it's going really well. I expected to spend a couple days finding my feet, but instead on day one I got handed a document and asked if I could make it better. And I realised I could! I'm not a green BA anymore; I actually know what I'm doing. I'm addin' value, baby! Then yesterday I had a big client meeting to kick off a new project. I think I acquitted myself pretty well. The things that I'm doing and the work in the pipeline are confirming that this move was the right choice for my career. It's an exciting time...

Oh! And since I'm using my laptop as my work machine right now (since I'm contracting), I realised that I can update my DeskCam more frequently. Here's today. Of course, the Snook then immediately sent me this. "I don't look like that!!!" Do I? :)

Monday, January 23, 2012

Ilsa Handlebar Basket Pattern by HemmaDesignPatterns on Etsy - Ooh, neat! Pattern to sew my own bicycle basket. Thanks for the tip, Tia!

Sunday, January 22, 2012
| | |
| --- | --- |
| | [1] |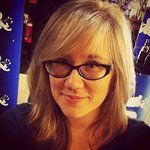 Weekend in Photos
It's been a busy couple of days. It all started on Thursday when I went to get my hair cut and coloured. My normal stylist Katherine at Broadway Hair Lounge was on vacation, so instead I got the lovely Ruth. Ruth was fantastic! We did a whole head of foils, most blonde but with some darker brown throw in as well (to help even it out closer to my natural colour). Then she gave me a great cut. I love it, and judging by the comments on Facebook, everybody else did too!

Friday was momentous. It was my last day at work at Mobile Embrace. Can you believe it's been three years? Three years since I got laid off and then got a new job two days later. I don't even look like my security pass anymore! My friend Kunaal organised a lovely lunch for me at Bibim to mix, a nice Korean restaurant on William Street. Fifteen of my co-workers came along, which was very touching. I managed to get all my work done and handed over, and then it was time to shut down for the last time! Sean even made me an artwork to commemorate the occasion. My new job starts Monday morning, and I'm looking forward to it...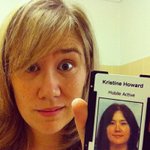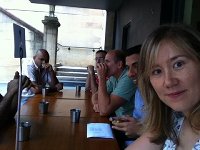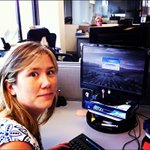 Saturday morning we were up bright and early for the first ever official St. Peters Parkrun. This is a free weekly timed 5K run that takes place all over the world. The Snook and I rode over on our bicycles, which marked the first time we'd ridden to/through Newtown. There were 60+ runners all gathered for the run. I saw my friends Paul and Adina from Dailymile, and Miss Fee joined us as well. We took it very easy, doing 2:1 run/walk intervals around the course and finishing in 38:45. (My knee is still a bit dodgy.) It was great fun! We're hoping to take part each week. Paul took some fantastic photos of us during and after the event. We then had a nice ride back to Chippendale to recover.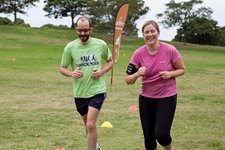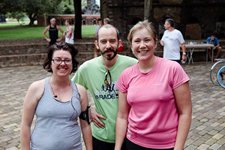 And today brought even more bike riding! We rode our bikes to St. Peters again for the free City of Sydney Cycling Confidence course. There were seven of us plus two instructors. We had a quick chat inside about "theory" (such as where to ride on the roads, how to communicate effectively with drivers, how to be a gracious cyclist) and then a basic skills check out in the parking lot (braking, signaling, changing gears, etc.). And then we were off on a tour of Sydney! We took back streets and bike lanes through Alexandria, Waterloo, Redfern, and Surry Hills. At various places we stopped to talk about traffic situations and to practice drills on the street. We also had a rest stop in a park, complete with snacks. I finished the course feeling a LOT more confident about riding in the city, and I definitely recommend the course to anybody in Sydney! We're already booked into the Bike Maintenance course in three weeks.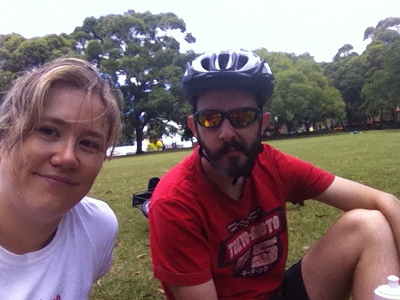 | | |
| --- | --- |
| | [1] |
Hahahaha... Some Bravo TV talk show host got Ralph Fiennes to read Harry/Voldemort slashfic. Too funny.


STAR TREK CATAN?! - That's brilliant! Definitely putting this one on the Christmas Wish List.


When Talent Can Easily Find New Opportunity, How Do You Retain Talent? - EXACTLY. This issue has been pretty relevant to me in the past few weeks...

Thursday, January 19, 2012
| | |
| --- | --- |
| | [1] |
Stormtrooper cake. This is surely the greatest cake ever created. LIFE-SIZED, PEOPLE! (Link courtesy of Kunaal.)

Wednesday, January 18, 2012
| | |
| --- | --- |
| | [3] |
Road rage is in the news. Boofhead Shane Warne had a run-in with a cyclist and is now bitching on Twitter about how we should all be licensed. (Of course, Warnie's version bears little resemblance to the cyclist's.) I was also shocked to read about this incident in New Zealand where an American cyclist was knocked off his bike and punched in the face.

I was just saying to the Snook last night that I actually felt safer riding down the lane with traffic than I did on a bike lane or shared footpath. Now I'm not so sure.


The Fixie Bike Index - LOL. An attempt to quantify the "hipster-ness" of various American cities by looking at second-hand bike listings for fixies.

Tuesday, January 17, 2012

AFP has formed a supergroup to play the entire Violent Femmes first album this weekend. - What does it cost to fly to Tasmania? I NEED TO GO TO THERE.


CultureLab: Touching the crocheted clouds - Math + nature + craft + textiles + Roald Dahl reference = WIN.

| | |
| --- | --- |
| | [1] |
The Illusion Knitting of Pat Ashforth and Steve Plummer - Wow. This blows my Autobots logo out of the water. I wonder if they machine knit them?

Monday, January 16, 2012
| | |
| --- | --- |
| | [19] |
RunningBlog: A Decision
I'm not going to run the Gold Coast marathon this year. I'm not going to run any marathon this year. I know this sounds stupid, but it feels incredibly FREEING to say that. I know I said I was going to. But as soon as I said it, I felt weighed down by it. The next seven months stretched ahead like the worst homework assignment ever. It wasn't like that last year. I don't know what changed. But lately running is feeling less fun and more like a chore. It feels like something I only do because you guys expect it, and because I've made my running so public. It doesn't help that I keep adding a new injury every six months. I hurt my right knee ten days ago, and it's still not recovered. Every day that I don't run, I feel a terrible guilt knowing that I'm "falling behind" on my goals. Isn't that silly? I went out for a run this morning knowing that I shouldn't, just because I felt ashamed at not getting in any miles this week. (I got plenty of exercise, just not running.) That's just stupid, right? Who am I doing this for, anyway?! So when I got back to the house this morning, wincing as my knee climbed each step, I said to the Snook, "I don't think I want to run the marathon." And he said, "Okay." And I immediately felt SO MUCH BETTER. I feel like that's a big sign that I'm making the right choice. Right now to run would be to force the issue, and I don't feel like forcing it. I want to have some fun. I want to face some new challenges. I will continue to run, but I'm not going to set any expectations on it. That feels good to me.

Sunday, January 15, 2012

Buy our stuff! I'm destashing some knitting books over on Rav, and the Snook is selling off a PlayStation and games over on eBay.

| | |
| --- | --- |
| | [2] |
How-To: Portlandia Put a Bird on It Brooch - According to a few people I know, Portlandia is a show that the Snook and I really, really need to watch.

Friday, January 13, 2012
| | |
| --- | --- |
| | [1] |
Moda Bake Shop: Charming Window Pillows - I always wondered how these quilt blocks were done. Brilliant! Uses a lot of fabric though. I love that you basically make and sew together a heap of cootie catchers to start.

Thursday, January 12, 2012
| | |
| --- | --- |
| | [1] |
7 Trends in Business Analysis and Project Management to Watch for in 2012 - I especially like #1: "Divergence of the PM and BA Role." This is a big one for me. I don't want to be a PM, but my whole career people keep trying to get me to be one. They are very different roles, and it doesn't make a lot of sense to have the same person filling both on a project. (The good news is that my new job will be strictly BA.)

| | |
| --- | --- |
| | [1] |
Indiana, Enjoy Your Final Two Years Of "Tax-Free" Amazon Purchases - Well, crap. I've looked at the Amazon help pages, and it looks like this is going to be added to all orders being shipped to Indiana. So even though I don't live there, I'll be paying tax to send gifts to my family. BOOOOO!


Super simple travel mug - But a canning jar offers next to no insulation for your hands. So it's not a travel mug, is it? Let's be honest: IT'S A SIPPY CUP.


FBI: Missing teacher search draws tips, no answers | ajc.com - I know some people are weirded out by the fact that I upload my location to the Internet while I'm running, but things like this are why. I'm willing to trade a little privacy for the safety of knowing that the Snook can always find me if I get into trouble.

| | |
| --- | --- |
| | [1] |
Magic of Roald Dahl Celebrated on UK Stamps - I got a quote and mention at the bottom of this article!


Achievement Unlocked: Bicycle Commuter!
Yesterday I survived my first ever rides to and from work on Tiffany. I spent some time working out a route that would avoid major roads and traffic. In the morning, I ended up cutting through Redfern to get to the Bourke Street Cycleway. Man, that thing is NICE! Separated bike lane all the way to work. Then in the evening, I cut across the CBD to meet up with the Snook and ride home via Darling Harbour. The worst part was the three blocks on Park Street between Elizabeth and George. I ended up getting off and just walking through that bit. (Too many pedestrians; too much traffic.) Both routes ended up being about 5K, so I did 10K total for the day. And I did a Spudds class too at lunch! FIT KRIS IS FIT.

| | |
| --- | --- |
| | [1] |
Stuffed Hobbes (with pattern) - I need to make this for all my nieces and nephews, and for the Snook, and for myself.


Crocheted Cyclops Costume - That. Is. Awesome.

Wednesday, January 11, 2012
| | |
| --- | --- |
| | [1] |
Rainbow eucalyptus - Wow, pretty!


The Friday Podcast: Who Killed Lard? : Planet Money : NPR - I definitely remember reading that passage from "The Jungle" and being grossed out.

Monday, January 9, 2012
| | |
| --- | --- |
| | [1] |
The Dresden Dolls, Enmore Theater, Sydney
On Saturday we went to see The Dresden Dolls at the Enmore Theater. We'd seen Amanda play solo last year at the Opera House, but this was our first introduction to the Dolls. I have to say, I think I prefer the solo stuff. I can appreciate the Dolls in terms of art and musical proficiency, but it just isn't my favourite style of music. (When they say "punk cabaret," they mean it. LOUD and CACOPHONOUS.) Still, it was an entertaining show. The highlight was during the encore, when a sweaty bra-wearing person flopped into the seat in front of us in the balcony - AMANDA HERSELF. She then proceeded to sing "Mein Herr" while crawling all over the balcony. At one point some crazed fan jumped on her and gave her a hickey until security pulled her off. It was pretty fun. I managed to get the whole thing on video. (It's cool; AFP confirmed on Twitter she's got an open camera/video policy.)



Being grumpy, lazy old people, we arrived late to skip all the opening acts. We did catch the Bedroom Philosopher performing his "Northcote, So Hungover" hit but with substituted lyrics from YouTube. He did it the next night in Melbourne as well, and somebody filmed it. I think his delivery was funnier our night, but we sadly didn't get Amanda wandering the stage as a bored hipster. :)


Spotted this little write-up about the MONA Museum in Hobart. I definitely want to visit sometime. This bit raised my eyebrows though:
Tattoo Tim, as he is called, sits on a pedestal throughout the day so museum visitors can view the tattoos on his back. He will be at the museum daily for at least the next month and will take guided tours once a day through the Delvoye exhibition. When he dies, he will be skinned and his tattoos displayed in a more traditional frame.

''That could be tomorrow, but I hope it's not,'' the 35-year-old from Switzerland says with a smile.
I hope for his sake he meets with a nicer fate than poor Drioli!


Monorail: build it and they will come, except they didn't - For the record, I think a "Lazertube-Skywalk" would be AWESOME. (And there I go using that word again...)

| | |
| --- | --- |
| | [1] |
Behind Every Great Woman - BusinessWeek - Need to double my salary before I can afford to keep Snook on as a househusband...


RunningBlog: Week 1: And back to the beginning I go for the third year in a row! The first week of 2012 was an interesting one. I did my first "long" run of marathon training - 7 miles. It was on a very hot day, so I took it nice and slow. I missed my mid-week run in favour of trying to give blood once again, and I'm happy to report that this time it was successful! On Friday I went out for an easy 5K, but it was just awful. My legs and feet hurt and I just didn't want to be out there. In retrospect, I realise what the problem was. I accidentally wore my old running shoes! Unfortunately that mistake resulted in me developing a slight case of runner's knee. I exacerbated it on Saturday with a long bike ride and a strength workout. I've been icing and resting it ever since.

Jan 2: 11.51km
Jan 6: 5.80km
Jan 7: 14.44km (cycling)
Jan 7: strength workout
Total cycling this week: 14.44km (9mi)
Total cycling in 2012: 14.44km (9mi)
Total running this week: 17.31km (10.8mi)
Total running in 2012: 17.31km (10.8mi)

I'm not going to start comparing myself to the necessary goal pace just yet or it'll make resting this knee more difficult. I'll get there once the long runs start extending, I know it.

Saturday, January 7, 2012

Jamie's 30 Minute Meals #37: Broccoli Orecchiette
This was our 37th cooking/blogging experiment from Jamie's 30 Minute Meals. I'm still catching up on the backlog! For this one, we made "Broccoli Orecchiette, Courgette & Bocconcini Salad, Prosciutto & Melon Salad." We picked it because we knew we were getting rockmelon (cantaloupe) in our weekly veggie box, and we had some zucchini to use up as well. I was on chef's duty for this one, and I managed it in an easy 26:14!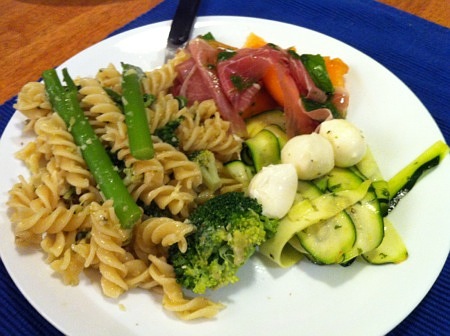 Substitutions: The only change - and it's an obvious one - is that we used fusilli instead of orecchiette, simply because that's what we could find! Everything else was as written in the recipe.

Quick verdict: This was great! A tasty and easy pasta dish along with two flavoursome salads. I think the anchovies and chilli were the key to the pasta and kept it from being boring. I was actually dreading the prosciutto and melon, mostly because I'm not a huge fan of cantaloupe. Ours was perfectly ripe though, and it went SO WELL with the prosciutto. I loved it. The courgette salad was good, if a bit messy! We both rated this one 9.5 out of 10. It's a nice summery Italian feast that you could whip up for a group pretty easily.

Read on for a photo essay of the preparation. [more...]


Crochet Tintin Rocket - That's really cool! I'm reading my first Tintin book ever now (after seeing the movie last week).


Goths up trees - Man, I love single-focus Tumblrs.

| | |
| --- | --- |
| | [2] |
Trying to drive a stake through a conversational staple - latimes.com - I'll admit I say "awesome" way too much, and it annoys me.


Free Cycling Confidence Courses - City of Sydney - Just booked myself and the Snook in for this free Cycling Confidence course in a couple weeks. I can ride a bike just fine, but my childhood pootling around in the country is a far cry from community in the Sydney CBD!

Friday, January 6, 2012
| | |
| --- | --- |
| | [3] |
Happy blog-birthday to me!
Can you believe I nearly missed it? The ELEVENTH birthday of this blog actually took place on January 4th, two days ago, but I was having too much fun with our nephew Kurt to sit in front of the computer. That's pretty much been the story of the year, I guess. If I'm not out (literally) running around, I'm usually on Facebook, Twitter, Ravelry, DailyMile, and Health Month. The poor blog has fallen way down the priority list. Still, as I said last year, I keep postin' and you keep readin'. We'll keep going as long as we can. As always, I've compiled some fun statistics to celebrate. (Previously: 2011, 2010, 2009, 2008, 2007, 2006, 2005, 2004, 2003.)
Number of posts: 707 (1% INCREASE on last year!)
Number of comments: 814 (another big drop from last year - nobody comments on blogs anymore!)
Comments to post ratio: 1.15 (still dropping)
Posts mentioning the Snook: 162 (this is like some universal constant - it barely fluctuates from year to year!)
Most commented posts: Oscar Contest 2011, Macleay River Marathon 2011 Race Report, 25 Ways to Wear a Scarf in 4.5 Minutes!, Marathon training run, and 2011 Blog Birthday.
Top 10 commenters excluding myself: Rachel (52), M-H (37), 1funkyknitwit (33), Kristen (27), Dr K (27), RoseRed (26), Miss Fee (19), The Snook (17 - seriously!), Jenny (17), JulieK (14).
Oscar contest entries: 414, won by John M.
Runkeeper total distance run: 1043.77km / 652mi - 4% increase on last year
Finished knitting projects: eleven, including redyeing a previously knitted cardigan and my second major crocheted thing!
Finished sewing projects: just two shirts that I haven't even blogged yet, and a Wonder Woman skirt!
Jamie Oliver meals cooked: 37! Our favourites were Grilled Sardines, Oozy Mushroom Risotto, Tasty Crusted Cod, Spaghetti alla Puttanesca, Beef Hash.
Memorable restaurant feeds: Bentley Bar and Restaurant, Porteņo, Momofuku Seiobo
Frocktober: dresses or skirts worn on 22 days of the month!
Movember: $220 raised by the Snook!
Concerts and outings: Amanda Palmer concert, One Man Lord of the Rings, "Paul" screening with Nick Frost and Simon Pegg, talk by Terry Pratchett, Star Wars Burlesque,
Looking back on my goals for 2011, I didn't actually accomplish that many of them. I did manage to hand off the Knitters Guild webmaster position to someone else, but I promptly volunteered for another role. (D'OH!) I joined the IIBA and went on a training course. We have made some progress on our kitchen and garden plans. And hey, I RAN A MARATHON. But the second half of the year was difficult, and I dealt with illness and injury that wrecked my other running goals. I lost a few pounds, but not as many as I'd hoped. Work was challenging as I dealt with changing responsibilities. I'm really looking forward to turning things around in 2012.

Goals for 2012: Renovate the kitchen. Run 1100km in the calendar year and get my 10K time to under 60 minutes. Lose 15kg. Sew a dress for myself and continue with transition to "dressing like a grown-up." Sort out my US tax situation. And as always, win a goddamn blue ribbon at the Easter Show!

| | |
| --- | --- |
| | [2] |
Homemade Mexican Feast with FlavourCrusader
Yesterday my friend Sharon came over to cook some food together. She had recently bought a tortilla press and she wanted to try it out. Sounds like a good excuse to me! We made pork tacos complete with homemade tortillas and guacamole. (Well, Sharon did most of it! I mainly took photographs.) Sharon has posted the tortilla recipe along with some photos of the process over at her FlavourCrusader blog. It was a fun and tasty project. Thanks Sharon!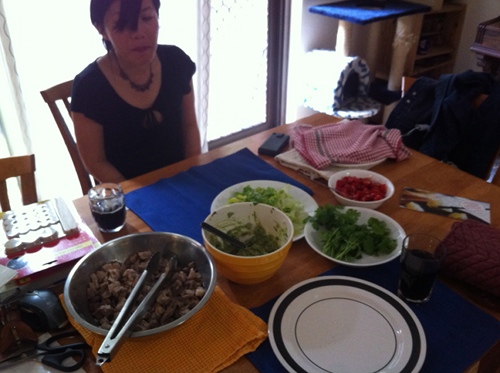 RunningBlog: Awesome, just discovered that Sydney parkrun is now open for registration! This is a weekly timed 5K at Sydney Park in St. Peters. It's free to join and run. I met the organisers last year and they're pretty cool. I'm looking forward to participating!

| | |
| --- | --- |
| | [1] |
RunningBlog: Aww, neat! Kristen got interviewed about her running experiences and credited me as one of her inspirations. How nice is that! It actually makes me laugh a little, as Kristen kicks my butt all over the place. She bikes! She swims! She runs more than I do! And she has two kids and a big dog too. She is Super Woman. :)

| | |
| --- | --- |
| | [5] |
Confession: one of my goals for 2012 is to get featured on Sydney Cycle Chic. I know; I'm tragic.

Thursday, January 5, 2012

Tusken Raider Star Wars Crochet Hat - Bookmarking for future Easter Show entry. :)

Tuesday, January 3, 2012

Steph & Eva: Challenge: Bento with Adult Theme - Eva made sexy bento! *applauds*


New Year's Eve 2011
The Snook and I were invited to spend New Year's Eve at Josh and Jamie's house at Blue's Point. They've got a great view of the Bridge from their balcony. I even got a new frock for the occasion! We had to get there quite early as they close off the whole Point once it gets crowded. (And it gets very crowded.) We killed some time messing about by the pool. There was a lot of drinking. At some point, the Americans (me, Jamie, and Josh) taught everybody else to play Flip Cup. (Incidentally, the animated gif on that page is probably the Best One on Wikipedia.) By 9pm Blues Point was totally packed. We headed upstairs to Thierry's apartment to have the best view of the family fireworks. We could see both the Bridge and the Darling Harbour fireworks. I jumped on a giant bean bag. We danced. At some point, the champagne came out and it was time for the big show. Happy New Year!

Josh posted these photos of us on Facebook today and they CRACK ME UP. Such a fun night (notwithstanding the hangover the next day). Thanks, Jamie and Josh!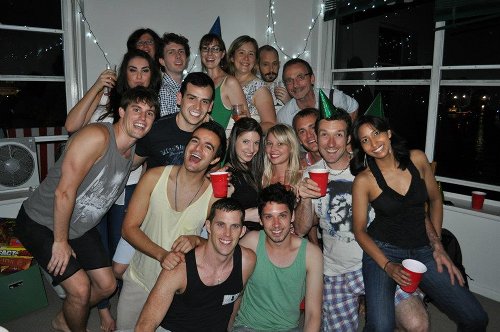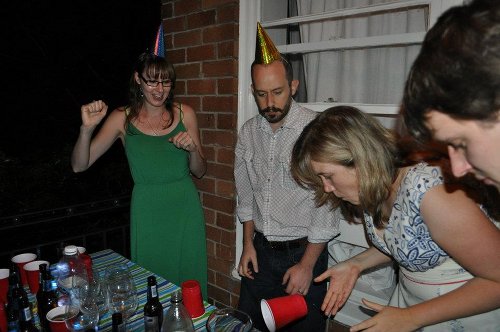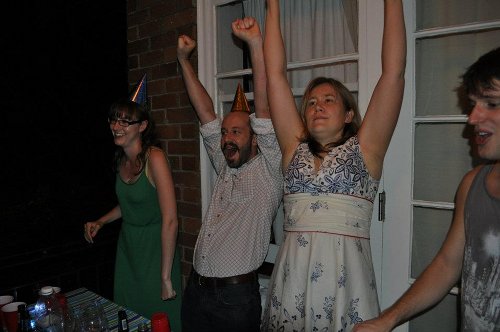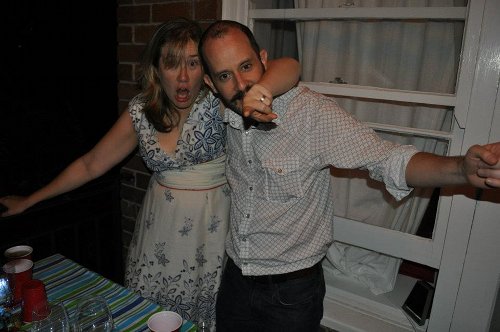 Monday, January 2, 2012
| | |
| --- | --- |
| | [2] |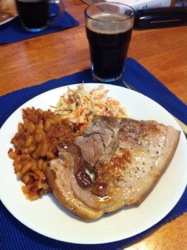 Dinner Tonight: Pork Chops, Maple Baked Beans, and Coleslaw
For those that don't know, the Snook and I take turns cooking dinner just about every night of the week. We use a lot of recipes off the Internet, and I thought it would be fun to document some of them here for you. (And I know you guys like the food posts!) Tonight's meal was designed around these Maple Baked Beans from Serious Eats. I started them early today. You use dry beans but you don't pre-soak them; instead you simmer them for 20 minutes first. I found I actually had to cook them for 25 minutes as they were just too hard before that. Then I assembled the dish as directed in our crock pot and cooked it on high all day. After about 5 hours, the ham hock was falling apart. So I pulled out the bones and transferred the meat and beans to an oven-safe dish. I added the butter and brown sugar and finished them off in the oven. YUM! Very nice baked beans, not too sticky sweet. The Coleslaw is actually from another Serious Eats recipe. It's pretty good, but I recommend you only make half (unless you want to be eating coleslaw for the next two weeks). The Snook just cooked the pork chops in a frying pan with a bit of olive oil, salt, and pepper. Nice meal, and we have plenty of leftovers!


Spudds Christmas Party 2011
A couple weeks ago was the annual Spudds Christmas Party. I went along to collect the award for our company. There were plenty of people there, but I knew NO ONE. So I got some practice at mingling and small talk with total strangers. (Protip: Find a hot Italian chick and hang out with her. Old dudes will buy you drinks all night.) When I collected the award, Spudd made me give a little speech. I said, "I ran a marathon this year--" and everyone applauded. I continued, "--but I think I was actually prouder the day I got three 100s on the rower." They roared. Spudd told them that I was one of only two girls to reach that milestone this year. Yay! When I was leaving, I noticed that Spudd's son Josh had a "photo booth" set up in the corner where he wanted people to take a silly photo. I obliged. Fun night!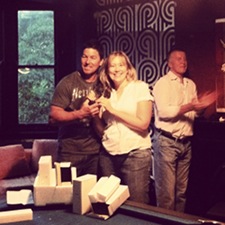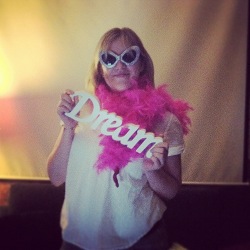 | | |
| --- | --- |
| | [1] |
Cheers to my cousin Jenny for alerting us to the availability of Best of Bootie 2011. These free mashup "CDs" are available in January every year, and they are AWESOME. I love very catchy music, and frankly, these mixes are pretty much my only connection to what's happening in modern pop and R&B. They make GREAT running music too! Highly, highly recommended.

Edited to add: Aaaaand I just came to a mashup called "Eine Kleine Big Booty Bonkers" which samples Mozart. LOVE IT.


Jamie's 30 Minute Meals #36: British Picnic
This was our 36th cooking/blogging experiment from Jamie's 30 Minute Meals, and I've now got a backlog of THREE meals, so get ready for a flood of posts! The weather has finally gotten appropriately "summery" here in Sydney, so we chose to make the "British Picnic" for this one: Sausage Rolls, Mackerel Pate, Lovely Asparagus, Crunch Salad, and Pimm's Eton Mess. That's a lot of different dishes! We watched the TV episode to prepare. The Snook was on chef's duty, and he managed it in a respectable 38:54.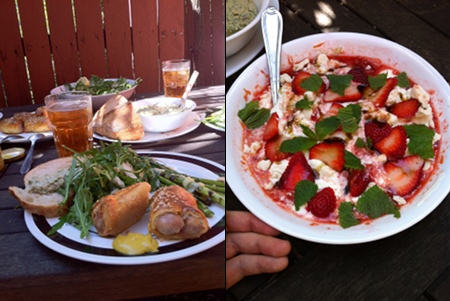 Substitutions: We couldn't find real Lancashire cheese, so we used cheddar instead. We also couldn't find prewashed watercress (and couldn't be arsed picking it off ourselves), so we used rocket for that. We had a plain orange instead of a blood orange in the dessert, as well as little meringues instead of big ones. Other than that, everything was as written in the recipe.

Quick verdict: How lovely! We might have been sitting in the stands at Wimbledon, I tell you. The sausage rolls were excellent, and for once Jamie's use of fennel seeds was appropriate. The cheese went a bit ick on the asparagus, but it was still tasty. I had been worried about the mackerel pate, but it was very nice! Strongly fishy, but nothing I couldn't handle. The pickled onions and pear worked surprisingly well together in the salad. And you can't really go wrong with Eton mess, can you? We washed it all down with a big glass of Pimm's Cup. Summertime bliss in only 38:54...

Read on for a photo essay of the preparation. [more...]

| | |
| --- | --- |
| | [1] |
The Wedding Blog - Amanda Palmer has finally posted the story of her wedding to Neil Gaiman, and it actually made me tear up a little. I identify with a lot of her reasons for initially not wanting to get married, and then for changing her mind. And I really identify with the idea of having a small, unplanned, FUN wedding. Theirs sounded lovely.

Sunday, January 1, 2012

2011 Knitting Round-Up
As you can see, my main output this year was socks. I don't think there were very many of us who worked all the way through the Super Special Six Pattern Sock Club. But you know me - my favourite thing is to set a long term goal and then plod along doggedly after it. I think I'll slow down on socks though and perhaps aim to make myself some real garments this year. I think the Snook might need another cardigan as well...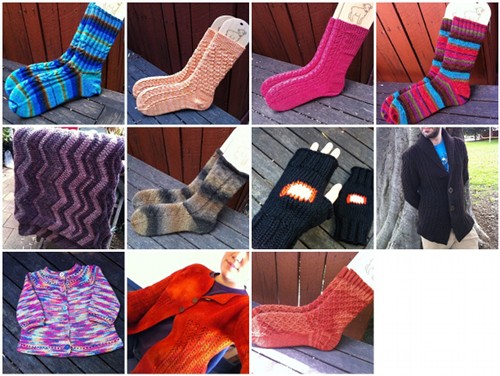 1. Boyfriend Socks, 2. Nanners Socks, 3. Fox Faces Socks, 4. Leyburn Socks, 5. Purple Ripple Afghan, 6. Nutkin Socks, 7. DailyMile Mitts, 8. Snook's Hipster Cardy, 9. Eyelet Yoke Cardigan, 10. February Lady Sweater (Dyed), 11. Shur'tugal Socks

archives
You can search through the archives by post keyword using the form on the left, or you can browse by month using the links at the bottom.
"Moblog" refers to posts and images posted directly from my mobile phone.

"PW Blog" refers to posts recovered from my very first weblog, which dealt with news related to my college dorm.