Monday, October 31, 2005
| | |
| --- | --- |
| | [13] |
We had a trick-or-treater tonight! It was a little girl with her dad. I gave her a glow-in-the-dark plastic skull full of candy, which was all I had left. (I took the rest of the party leftovers to work today.) They were nice and I turned the skeleton lights on for them, but I really wish non-American trick-or-treaters would learn that you don't go to houses without their porch lights on! It was pure luck I had the candy. These are the unwritten rules, world! Learn them.

Sunday, October 30, 2005
| | |
| --- | --- |
| | [12] |
Happy Halloween!
Ladies and gentlemen, I give you eccentric millionaire Chairman Kaga (founder of Kitchen Stadium), and Iron Chef Hiroyuki Sakai, the "Delacroix of French cuisine."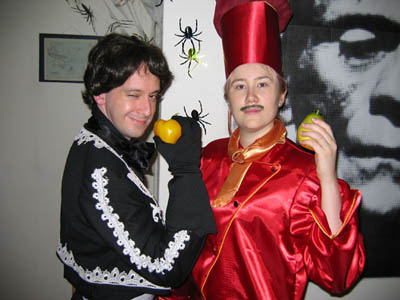 More photos are forthcoming, but in the meantime Amy's put a couple up on Flickr. The Other Andrew also has a write-up. (We had bloggers all over the place!) And yes, at one point in the night the Snook *did* take a bite of that pepper. :)

Saturday, October 29, 2005
| | |
| --- | --- |
| | [3] |
Knitted Digestive Tract. That's kinda neat! And remember the knitted uterus from before? It's like some Mad Knitting Scientist is creating a WoolMonster, one set of organs at a time... (Link courtesy of Nora.)

Friday, October 28, 2005
| | |
| --- | --- |
| | [3] |
Note to Sydney knitters: The Entry Guidelines for the Royal Easter Show have been posted! Deadline is December 9th. I'm definitely entering something this year...

| | |
| --- | --- |
| | [6] |
I went to meet a hypnotherapist this morning. No, REALLY. It's just that I've kinda lost my "oomph" with regards to the weight loss, you know? It was easy at the beginning when it was all a novelty, but now I'm all, "Ehhh, I'm bored" and I'm starting to think about food again all the time. And I still lack the ability to stop eating when I'm full. So I looked at a bunch of websites and contacted the one that looked the least creepy. She turned out to be extremely professional and nice, and she thinks that I'd be an "ideal candidate" for the process. (And no, she doesn't tell everybody that; I made her tell me about people who *wouldn't* be right for it.) So I think I'm gonna give it a go. First session is next Friday. (What, you think I'm gonna do it before the candy extravaganza that is tomorrow night? No way!)


Hank is giving away two copies of a new book about Degrassi Junior High, so head over there if you're interested. I reserve the right to mock your lameness, though, if you do.

| | |
| --- | --- |
| | [5] |
My cousin Jenny just e-mailed me a heads-up that there's a new Goblet of Fire scene available online. It shows the chaos at the Quidditch World Cup and ends with... [more...]

| | |
| --- | --- |
| | [5] |
Inspired by Brigita and Reen, I've created my own Frappr map. Basically, you go there and add yourself to the map so we can all see where the web-goddess readers live. (You can also add a comment and a picture if you want.) Yeah, I know, it's essentially a navel-gazing exercise but I'm actually interested to see how many Yanks I have versus Aussies. I'm guessing the Yanks would win, but maybe I'll be surprised... So go add yourself, okay? It'll take two seconds.



Note: I have to say, that's a pretty neat service. It works just fine with both my Mac and my international address, which normally cause most other webapps to puke. So no excuses!



| | |
| --- | --- |
| | [1] |
Heh. Rupert "Ron Weasley" Grint got fugged, but it was pretty good-natured. I thought the hair was weird myself, but then I rediscovered my teenage girl crush on boys with long locks. *sigh*

| | |
| --- | --- |
| | [4] |
Cut-Up Cakes - an old cookbook that shows women how to turn ordinary sheet cakes into dyed coconut monstrosities. It's like baking a tangram. Who wants to eat a swan? And "Fanny the Fish" is just wrong in any culture...

Tuesday, October 25, 2005
| | |
| --- | --- |
| | [1] |
The Australian iTMS features a Celebrity Playlist from Russell Crowe. And get this - he put "Closer to Fine" by the Indigo Girls on there! I nearly fell out of my chair.


YARN Magazine has just posted its contributor guidelines, just in case you're thinking of submitting some patterns! (I know I am.)


According to ZDNet, the Australian iTunes Music store has officially launched! Snookums is home sick so I'm trying to get him to sign us up so we can have a look. I have to say I'm not thrilled about AUD $1.69 a song though. Once you work out the exchange rate, that's more than the US! What's the rationale there? Sure, Aussies are used to paying more for stuff that has to be shipped in, but we're talking about bits and bytes here. I suppose I should just be glad it's not as bad as the UK...

Later: I have just purchased my first song. It was "Move This" by Technotronic. I love that song.

| | |
| --- | --- |
| | [3] |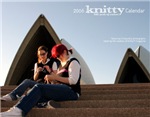 Woohoo! The Knitty Calendar is available for ordering! Now you can hang me on your wall.

Later: Okay, now that I've looked at all the other images I can really see where ours fits in. They're all so colourful and kooky!

Much later: The Honorable Mentions Gallery is now up, and both of our other photos were selected! Well done to Rob.

| | |
| --- | --- |
| | [5] |
It's always fun to find yourself being discussed on the Internet, especially when people are trying to schedule things around your Halloween Party because it's obviously becoming the SYDNEY SOCIAL EVENT OF THE SPRING. Except for that whole horse racing thing next week.

In related party news, things are coming down to the wire as usual. My costume is about 40% finished. (I still have to make pants.) The trial batch of Wilton Milk-Chocolate Cupcakes with a Peanut Butter Candy Filling were a dismal failure. And did I mention that the Snook has come down with a cold? Poor baby may have to stay home tomorrow.

Monday, October 24, 2005
| | |
| --- | --- |
| | [2] |
Slashdot have picked up the Australian iTunes Music Store story... Looks like the announcement should come tomorrow morning!

Sunday, October 23, 2005
| | |
| --- | --- |
| | [1] |
I had a major breakthrough with the fish phobia tonight. We were out to dinner at my co-worker Leanne's new place, and her boyfriend Brendan (the one who works at XO) cooked for us. Knowing my issues with fish, he served us baked rainbow trout with smoked almond stuffing and he ASSURED me that it wouldn't be fishy in the slightest. So there I was with an ACTUAL FISH on my plate, nasty little eye staring up at me and everything, and I reached out with my fork and ate a bit. And he was right! It was pretty nice. I'm not gonna say it's now my favorite dish ever or anything, but I told him that eating a whole friggin' fish is pretty much the highest compliment I could pay him as a chef. The Snook was conspicuously silent during this portion of the meal, which I correctly interpreted as his version of not talking to the pitcher during a no-hitter. No jinx! So we've reached another milestone. Of course, I nearly yuked it all up when Leanne, on a dare, ATE HER FISH'S EYEBALL. *shudder* Actually perhaps it's better if I don't think about that bit...



The real point of the visit was so that Leanne could help me construct my Halloween costume, which she did. And it's gonna be AWESOME!



Saturday, October 22, 2005
| | |
| --- | --- |
| | [1] |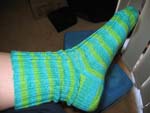 Straight-Laced Socks
Remember the wool I won in the Give a Little Raffle? Here it is! These are the Straight-Laced Socks from Knitty. As usual, I had to adjust the heck out of the pattern to make it work. I increased the number of stitches to 76 (38 on each needle) and thus had to change the maths of turning the heel. I think I've finally got my head around it, but I made this heel a little narrow. (Technically it's perfect though, so I couldn't bear to frog it back.) The toe was also turning out a little long so I started doing the decreases every row instead of every other. Still, they're really pretty, aren't they?

| | |
| --- | --- |
| | [4] |
The Tapestry Craft 25th Anniversary Sale is now on... and I'm wiped out. I also think I may have developed RSI this week. Seriously. My wrist hurts.


Heh. Some guy on AskMetafilter wonders "Why do you like U2?" and asks whether he's alone in his hate for them. The ensuing discussion is 90% people agreeing that they suck - "U2 is the Wal-Mart of 'alternative' music" is a particular highlight - and 10% people going, "Yeah, I liked 'em back in high school but everything since the 90's pretty much sucks." Which amuses me.

| | |
| --- | --- |
| | [1] |
Crochet Baby Yoda Ears. That is GENIUS!

Friday, October 21, 2005

Woohoo! Just saw on Major's site that the launch of the Australian iTunes Music Store is rumoured to be "imminent." KICK ASS. I think that means I need to empty out my US$ balance before I can switch to the Aussie account. I'm off to buy some Presidents tracks!

| | |
| --- | --- |
| | [5] |
Heh. Miss Helen's been talking up Amy's and my Knitty Calendar Contest win over on livejournal. I had a bunch of hits from there this morning! In related news, we were sent the cover image so we could verify the spelling of our names and such. It sounds like their aiming to have the calendar available on Monday!

| | |
| --- | --- |
| | [7] |
Halloween Treat: Buck Eye Balls
I wasn't sure whether I should post this and ruin the surprise for any guests at our party, but the reactions I've gotten from the few people I've showed them to have persuaded me to do otherwise. The people of the world need to have this recipe for their own Halloween parties. Thus I present to you my greatest creation ever: "Buck Eye Balls."

Most of us who grew up in the Midwest remember buckeyes, the peanut butter-and-chocolate balls that our Moms would make on special occasions. They popped in to my head recently while planning the menu for our Third Annual "Bringin' Halloween to the Aussies" Party. But how to make them suitably ghoulish? It hit me like a flash: make them look like human eyeballs. It took three experimental batches before I got everything just right, but the results are before you. Here's what you do:

To make the peanut butter mixture, you need 1 part butter, 2 parts peanut butter, and 3 parts powdered sugar. The mixture should look fairly "dry;" add more powdered sugar if yours is too gooey. (This is the part I kept messing up.) Add a couple drops of red food colouring at a time until it's a nice disgusting red. (If you add it after you've mixed the other ingredients, you get a mottled "hamburger" type look. It may appear smoother if you add it before putting in the powdered sugar.) Use your hands to form the mixture into 1-inch balls. If they don't roll easily you can try putting the mix in the fridge for a while, but my advice is to add more sugar. (In worst case scenarios, you may need to try a different and less oily peanut butter. The smooth stuff I used in my first batch just stayed gooey the whole time.) Put the balls in the fridge for a while just to firm them up a little more before dipping. A lot of the recipes on the Internet tell you to use paraffin with your chocolate, but I just bought white chocolate "cooking compound" that already had it included. Much simpler. Put a handful of the white chocolate pieces in a bowl and microwave it on low, stirring often, until you get a nice smooth consistency. Now get your peanut butter balls out. Stick a toothpick into the top of each one. (This is your handle for dipping.) The idea is to leave a circle on top for the iris of the eye. It's a good idea to scrape the bottoms off on the edge of the bowl as you pull each one out, otherwise you get a lip where it pools on the plate. Set each one on wax paper to cool and set up. Once they're hard, pull out the toothpick and press a dark chocolate chip (point down) into the hole. To make the veins, I used a toothpick dipped in red food colouring like a pen to draw them on. (Note: These can get pretty smeary so leave plenty of time for them to dry before eating.) And that's it! Needless to say, they taste delicious. Now I just need to knock out about fifty of these next weekend...

Thursday, October 20, 2005
Moblog: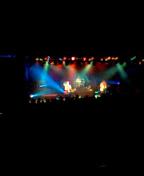 Pogoing like I'm 19
She's Lump, she might be dead! At the PUSA show with Amy and Rob. Rockin' like it's 1996! Peaches for me...

Later: Wow, fantastic show. That's the first time I've ever heard Australians chanting "USA! USA!" (and most likely the last). The Presidents evidently have a new album out but they deferred to the crowd and mixed in all of their old hits. (I have never seen a crowd pogo like they did during "Kitty.") People were actually crowd-surfing! It was like we fell through a hole into the mid-90's. Tripod nearly stole the show for me though. They were hilarious. I had to cover my face during the "You may be a little autistic" song because I was laughing so hard...

How to Make a Life Poster. Those are pretty sweet!


I get the feeling that the BBC thinks Gwyneth Paltrow is being snobby or precious with her complaints about London life, but I say SING IT, SISTER. Her gripes were my gripes, and they're a large part of why I was happy to leave. It was gray all the time. I got tired of walking past trash on the streets and blowing black stuff out of my nose after taking the Tube home. And is it impossible to have a shop be open when people actually want to shop?

Wednesday, October 19, 2005
| | |
| --- | --- |
| | [8] |
Total knitting nerdery: Happy Mac / Sad Mac Sweater. Oh man, if I made one of these for me and then one with Tux on it for the Snook... My head would explode.

| | |
| --- | --- |
| | [7] |
In 1982 three twelve-year-olds saw Raiders of the Lost Ark and decided to film their own shot-by-shot remake. It took them seven years to finish. And next week, the Snook and I are going to see it in Sydney. I've got the theme music playing in my head already...


Flying Toaster Screensaver, available for both Mac and PC. Remember After Dark? You know you do. My monitor is now full of toasty goodness. (Link courtesy of The Unofficial Apple Weblog.)

| | |
| --- | --- |
| | [4] |
In other news, check out DeskCam! It took over four hours (and four pots of colour) to get me to this shade of blondeness. (My hairdresser Paige rocks!) The red came out a lot better than I'd hoped, leaving a few random bits of pinkiness throughout that preserve my rock star edge. Or something. I just realized this is my third completely different hair colour in a year. We had brown with blonde streaks, red, and now blonde with pink bits. It's like my hair attention span keeps getting shorter. Next year I'll probably have to get a perm.

| | |
| --- | --- |
| | [10] |
It appears the cat's out of the bag, so we can make it official: Amy and I won the GRAND PRIZE in the Knitty Calendar Contest! That's right; the picture of us in front of the opera house is going to be on the front cover! HOW COOL IS THAT?

Tuesday, October 18, 2005
| | |
| --- | --- |
| | [3] |
Hmm. Rockpool has changed format and dropped a la carte in favor of a five course degustation. Very shades of Tetsuya. At least you still get a choice for each course. Maybe the Snook and I will have to check this out... Oh, and the word through my sources, by the way, is that XO is closing in May, so if you haven't been yet you should go. The Snook and I really enjoyed it. (Link courtesy of Sydney Food Diary.)


I was putting our bamboo knitting needles up on the website today when I discovered the English-language home page of Tulip, our Japanese supplier. I was cracking up at the translations, especially their two slogans: "The Needles is Affection" and "Smile of Hand Knitting." It's very Mr. Sparkle.

| | |
| --- | --- |
| | [3] |
Australian Politics Test - The Snook and I both took it and our scores are pretty funny. We're pretty solidly Democrat/Green, but we both also oddly rated One Nation and Family First ahead of the Liberal Party. We're self-hating hippies.

Monday, October 17, 2005
| | |
| --- | --- |
| | [1] |
Oh man, the news we have been waiting to hear! The Amazing Race is finally going to have overseas productions, including one "for the Asia-Pacific region"!!! DUDE, WE ARE SO APPLYING. But wait, who will take on the role of Phil? He's a Kiwi; he should do our show too! (If Eddie McGuire is waiting for me on the mat, he's going to get a kick in the nuts...)

Sunday, October 16, 2005
| | |
| --- | --- |
| | [1] |
Lee totally rocked Australian Idol tonight! (Though I did think his punked-up version of "Eye of the Tiger" was a teensy bit too fast). And I was totally laughing when Kyle was talking about how everyone in the country loves Lee and he hasn't met anyone who hasn't, and the Snook and I were all, "We have!" The other three guys' performances were pretty forgettable. I really want to like Dan but he always looks scared to death when he comes out on stage. He doesn't look like he has any fun. He takes it all too seriously. (Quote the Snook: "He looks like he's gonna barf.") Emily was great but she still weirds me out a little bit. (I think it's the crazy eye makeup.) Kate was good but I was just disappointed that she didn't do Madonna after teasing us with the awesome netted headband in her segment. As for Anne, I'm a big fan of "Open Arms" and she did a fantastic job, but Holden was right on the money: she oversang the hell out of that song. Interestingly, it really does look like it could come down to Lee and the three chicks! And that would be hilarious. I feel like he knows it's a piss-take, and I respect the fact that he's not really "playing the game." He really does come out every week and just be who he is. (And it's doubly funny that he gets such props for musical integrity when his preferred genre - lite pop/punk - is just about as trivial as they come.) He just looks like he's havin' fun. I also like how he sticks his tongue out when he's really excited, which makes me think of Muriel...



As I said to the cat afterwards, "I'm off to vote for Lee now because every week he stays in it just annoys the hell out of your Aunty Amy and Unky Rob! And that's never not funny!" :)



| | |
| --- | --- |
| | [5] |
Man, that sounds like it was hell of a football game! I'm almost glad I didn't get to hear the fourth quarter; I would've been bouncing off the walls. I wonder what this will do to our ranking...

Saturday, October 15, 2005

"If I were a rich man..." I'm gonna be singing that for days. I just got back from seeing Topol - honest-to-God Topol! - in the new Sydney production of Fiddler on the Roof. My boss Albert scored some comps and called me up this morning to say they had an extra. How sweet is that? We had excellent seats, right in the center, and I have to say I was pretty impressed with the Capitol Theater. It was very Italian, all marble and niches with faux Classical sculptures. I liked the twinkly star ceiling too. The show itself was excellent. I still cannot get past the fact that it was freakin' TOPOL up there on stage. You know when he starred in the film version? 1971. THIRTY-FOUR YEARS AGO. And now he's 70! He's a little trimmer than before but I was just in awe of the energy and vitality he brought to the stage. I would've been panting after three hours of exuberant dancing but he just seemed to feed off every bit of applause (and we gave him plenty). It's undoubtedly a star vehicle but it's still well worth seeing. Amongst the other actors I particularly liked Hodel, Perchik, Golde, and the crazy woman playing Fruma Sarah. ("Tevye's Dream" was awesomely psychedelic for such a sparse production design.) I was actually in Fiddler about ten years ago - man, I feel like Topol! - in a community production. This was my first opportunity to watch the show from the seats and, for the most part, I was just reacting to Topol and appreciating the show from a technical standpoint. Sometime in the second act, though, it started to get to me. During "Far From the Home I Love," a song I always found boring in our production, I started to well up with tears. There's just something about following the man you love somewhere far away from your family...

| | |
| --- | --- |
| | [2] |
Oh. My. God. Halloween Costumes for Your iPod. As far as I can tell from the FAQ, it's not a joke either!

| | |
| --- | --- |
| | [2] |
Got up just in time this morning to catch the end of the Pep Rally live on the Internet. Of course, the crappy Windows Media Stream doesn't like my computer so I don't have any sound, but it was so cool to suddenly recognize that everyone was moving their arms in sync and to have the 1812 Overture start playing in my head. I haven't seen any of the rumoured famous people yet. Are they there and I just can't see them? (Mom's apparently at the stadium right now so I'm hoping she'll provide some pictures.)

Update: I just called Mom on her cell as they were leaving the stadium. Oh, so the fat guy was Rudy! I did not get that.

| | |
| --- | --- |
| | [2] |
Ooh, Stipey got fugged! As the picture was loading (from the top) I was thinking, "Actually, that isn't really too bad, even considering the scarf-thing..." and then the boots appeared and I was like, "... OH."

Friday, October 14, 2005
| | |
| --- | --- |
| | [1] |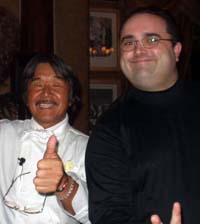 Check it out! It's Toast and Sakai! I know somebody who's met an Iron Chef! (And if you came to our first Halloween party, you know him too! He was the proctologist.)


The Pope thinks I need to find a new exercise.

| | |
| --- | --- |
| | [2] |
Knitted Cupcake Hats. Awww, those are adorable! I might need to make one for Marianne to match the butterfly cardi I have planned for her. (Hey Nat, this is a hint for you to send me her measurements!)

Thursday, October 13, 2005
| | |
| --- | --- |
| | [2] |
Hardest. Boxing Class. EVER. tonight. Our usual Thursday night kickboxing-cardio group was getting too big, so they re-worked the schedule to split it into two classes. Albert and I chose the later, "boxing-only", class tonight. As soon as I saw the instructor I started wincing. He's this really small guy but he's so strong and wiry and flexible I bet he sleeps all Jean Claude Van Damme-style at night, doing the splits supported by wooden chairs in his bedroom. We had about three minutes of rest out of forty-five; the whole time we were punching and crunching and squatting. The worst was the last five minutes: We all started lying facedown on the floor in front of our bags. When he said "go" we had to spring to our feet, do 10 punches on the bags, then get back down and do 10 pushups. Then it was up for 8 punches and 8 pushes, etc, and so on down to 0. I was doing them girly-style (with my knees on the floor) and I still barely made it. I'm not going to be able to lift my arms tomorrow... And you know what made it worse? The godawful music they play there. I find myself wishing that some Max would step up in our group and be all, "Here's this kickin' CD of mash-ups I made for today's workout." And I would be propelled to new heights of ass-kicking-ness. Alas, our class is 90% chicks wearing makeup and I just don't see it happenin'...

| | |
| --- | --- |
| | [1] |
It's kinda neat reading about China's second manned space flight while I'm also reading Tom Wolfe's The Right Stuff (about America's first forays into space). Does anyone know what the Chinese word for "astronaut" is? Mmm, now I'm hungry for pineapple-filled moon cakes...

Wednesday, October 12, 2005
| | |
| --- | --- |
| | [9] |
New Poll: Hey, I haven't done one of these in ages! My hair has faded to a disgusting pink so it's time to visit the hairdresser again. I'm getting that itchy feeling though, that maybe it's time to change it up again. What do you think? Vote down there on the right.


It turned out to be a grey day for a funeral. I got a lift with some co-workers out to Rookwood Cemetery, which just happens to be the largest cemetery in the Southern Hemisphere. (Australians love declaring things the "largest x in the Southern Hemisphere.") Anyway, we found the Jewish office and were directed to wait next to a freshly dug grave. Really. By the time the family turned up, there were probably forty or fifty people gathered together. I was pleased to note that the rabbi really looked like a rabbi. (From this Midwestern girl, that means he wore a trench coat and a hat and had a long Orthodox beard.) The rabbi asked for volunteers to help carry the plain wooden casket from the hearse and several guys stepped forward. The ceremony was carried out in both Hebrew and English, and at the end the rabbi gave a very nice eulogy for Laurie. I have to say, I was a little surprised when he invited family and friends up to shovel dirt on the casket in turn. I'd never seen that before. Then the professionals took over and the grave was filled within minutes. The rabbi then gathered the mourners together to pray, and afterwards he did a curious thing where he tore the shirts of the Morris sons. Then we hugged Mrs Morris and everyone headed back to Sydney. I discovered that dozens of customers had e-mailed their condolences and remembrances of Laurie, and for a while I felt really good about humanity. Then the staff told me about the asshole customers who had the nerve to complain about us being shut that morning, like it was such a hardship for them to wait four hours for their damned hardanger fabric WHEN WE WERE AT A FUNERAL. So I'm back to being a misanthrope again.

(Later that afternoon, Leanne and I were inspired to learn more about Jewish funeral traditions. The thing with the shirts is called "tearing the Kria" and it's meant to be symbolic of the way your heart is rent. The rabbi told the sons that they should never repair it. That website also answered many of my other questions about the ceremony, like why it happened so fast and how come the casket was so unadorned. It's a totally different burial tradition than I'm used to in Protestant U.S.A. There was just such an emphasis on the fact that this was a mortal man and we were burying him in the earth... I'm glad I went.)

| | |
| --- | --- |
| | [6] |
Rumors are flyin' in the lead-up to this weekend's ND vs USC game. Bon Jovi at the pep rally? That's nuts. Okay, so the game is in South Bend at 3:30pm, right? That makes it Sunday morning at 6:30am here. Ouch. The question is, how can I watch/listen/follow along to the game? Even if I could find a sports bar that broadcast American football games, I doubt any would be open then. Does anyone know of a radio stream online?

Tuesday, October 11, 2005
| | |
| --- | --- |
| | [4] |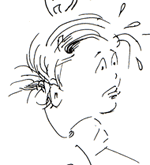 It's been a rough couple of days at Tapestry Craft. Mr. Laurie Morris, founder, friend, and father figure to many of us, has passed away. Laurie opened the shop with his wife Ruth nearly thirty years ago and, though his sons run it now, he still liked to pop in and visit. I first met him about a year ago when we were frantically trying to get the shop moved to our new premises in time for the grand re-opening sale we'd planned. That night is pretty much a blur for me. I remember packing wool; I remember painting the walls of the new shop; but mostly I remember sitting in front of Albert's crappy computer frantically trying to create all the sale signage we needed but had somehow forgotten til the last minute. And it was pouring rain and I'd been running back and forth down the street to Kinko's - without an umbrella - and stressing that I wasn't going to get it all done... And there sat Laurie in the corner, sketching on his pad. I'd heard that he was an artist and cartoonist of some renown when he was younger, but at that point I hadn't seen any of his work. Later that night, he slipped me a piece of paper. It was a cartoon of me. (Click on the thumbnail to see the full version.) How charming is that? The old guy loved to flirt. I've had it sitting on my desk at home ever since. Tomorrow morning I'll go to his funeral and say goodbye. He was a really nice man.

| | |
| --- | --- |
| | [5] |
I added 199 more tapestries to the shop's website yesterday, including my most favorite one of all: Topless Centaurs on Mars. I'm not joking. Be sure and view the large size; it's hilariously bad. The Snook's grandmother was bugging us a while ago to pick out a tapestry so she could stitch it for us, and if she asks again this puppy is MINE.

Monday, October 10, 2005
| | |
| --- | --- |
| | [2] |
Whoa! The food blogger I've been reading for the past six months is a girl! For some reason, I just always thought she was a guy. Here I am craning my neck in every restaurant in the Inner West looking for a tubby guy with a camera, when I've probably passed this innocuous-looking Asian chick ten times...

Sunday, October 9, 2005
| | |
| --- | --- |
| | [3] |
Dear Other K. Howards in the world...
Please learn to type your damn e-mail address. I'm stick of my Yahoo Mail account filling up with spam from Classmates.com for Katherine and Ancestry.com for Keith.

| | |
| --- | --- |
| | [9] |
After Serenity...
Me: "Hey, he didn't wear the hat!"
Snook: "What hat?"
Me: "I don't know. All these Firefly fans are knitting crazy yellow and orange hats with pompoms, and I think the big Jayne guy was supposed to wear one. But he didn't."

So, "Browncoats," what was up with that? I loved the movie, by the way, and though I'm definitely a Joss Whedon fan, I never saw a single episode of the show. I guess that makes me one of those converts y'all were hoping to get with this movie! I did cry at the end, even though I didn't have nearly the emotional connection you guys must have had. The Reavers scared the crap out of me. Jayne made me laugh. I kept waiting for River to kick some ass (and it was hugely satisfying when she did). Mal was suitably Han Soloish in a way nobody else has been since 1982. I just have a few (possibly spoilerish) questions for the fans... [more...]

| | |
| --- | --- |
| | [9] |
So... last night was The Night. The Night We Went to Tetsuya's. Amy had made the reservation months ago and by the time it rolled around all four of us (me, Snookums, Amy, and Rob) were pretty keyed up with anticipation. The Snook and I had a late breakfast and then didn't eat anything else all day; THAT'S how much we wanted to have empty bellies for all the culinary goodness that awaited us. At last the doors were parted by a pair of waiters and we were led inside like royalty. We were quickly seated in a small dining room (at that point, we were the only people in it) and we informed the waiter that we'd all be having the degustation with matched wines. We also decided to have the optional starter of oysters to begin. Interestingly, Grab Your Fork visited the restaurant in April and the menu was almost exactly the same, so you should go there to read AugustusGloop's review and see pictures of all the different courses. (We thought of taking photos but didn't want to look too touristy.) Read on for my take... [more...]


One of the Snook's and my favorite Australian musicians, Paul Kelly, recently gave a one-hour interview to ABC Queensland. You can download the whole thing as an MP3 and apparently he performs four live songs on it. (I'm still downloading it at the moment.)

Saturday, October 8, 2005
| | |
| --- | --- |
| | [1] |
Good grief, how did we miss THIS? Lex, Big Tom, and Jerri from Survivor are all in town for "TribalCon" this weekend! Now I'm having fun envisioning all the great ways I would mock Lex in person for his non-righteous indignation over the way he was played by Boston Rob.

| | |
| --- | --- |
| | [7] |
WOOHOO!
I just got in from a nice lazy Saturday morning with the Snook to find about seventeen hysterical messages from Amy. Remember that Knitty Calendar Contest we entered a couple months ago? Well, we just got an e-mail from Amy Singer saying that one of our photos was selected! (We're not allowed to tell you which one yet, nor which prize we won. It's kinda like going on Jeopardy and then not being able to tell how you did til your show airs. Knitty is all about building the suspense.) But anyway, HOW COOL IS THAT?! I'm a model! And of course, it's all down to the phenomenal photo-taking ability of Rob. I think the formal announcement will be made when they post the Fall Surprises, so it shouldn't be very much longer...

Friday, October 7, 2005
| | |
| --- | --- |
| | [3] |
Oh my God. I just saw an ad on the ABC for Operatunity Oz. They're doing the "Opera Idol" thing here! Note to self: Ask Joseph if you can borrow his video camera, because DUDE, I am SO AUDITIONING for this! (Don't get me wrong. I can't sing. I just think it would be awesome to try. And maybe my enthusiasm would win them over and then they'd train me so I could! Or maybe they'd just play my video on TV and mock me. Either way, I'd be teh Famous!)

| | |
| --- | --- |
| | [4] |
This one's for the mad cyclists out there: How about riding from Sydney to Perth? (For comparison, say from Atlanta to L.A.)

Thursday, October 6, 2005
| | |
| --- | --- |
| | [1] |
I found this AskMetafilter question about procrastination very helpful, since the questioner is basically describing ME. (Example: I wrote my valedictory address in the van on the way to graduation.) I'm hoping somebody comes up with a surefire method to kick this habit...

| | |
| --- | --- |
| | [2] |
Doo doo doo doo dee doo...
This Arrested Development ringtone is just amusing the hell out of me.

Wednesday, October 5, 2005
| | |
| --- | --- |
| | [11] |
Any of you Americans seen Halloween sprinkles in the shops? I'm looking for cookie and cupcake decorations for the party and they're impossible to find over here. That Canadian place will ship internationally but $35 seems a bit steep. Can any of you do an emergency run for me? I can reimburse you the cash via PayPal or knit you something if you want...


Wow, thanks Peru!

| | |
| --- | --- |
| | [5] |
How smart are you at Physics? Oh my gosh, that was EMBARRASSING. I technically scored 6/10 correct, but really I only earned four of those. (I only got the wire colours right because of the fun mnemonic in this AskMetafilter question that I happened to read over breakfast, and as I was working through the last one my co-worker leaned over my shoulder and pointed out the correct answer.) They should rescind my AP credits.

| | |
| --- | --- |
| | [3] |
DietBlog: Another small loss. They all add up... to fourteen kilos! Man, I wish I'd get to fifteen already so I could buy my new Crocs.

Monday, October 3, 2005
| | |
| --- | --- |
| | [3] |
Knitty Pattern Round-Up
Finally I've got another Finished Object to share with you, along with two knitted Gifts. First is my take on the ubiquitous Clapotis. I never planned to knit one of these wraps (which have gotten ridiculously popular in the last year), but I just happened to be listening to the KnitCast interview with the designer on the same day that we got this luscious new shade of Noro in... and I was powerless to resist. I worked out that I needed six balls of Kureyon to do the pattern as written, but after I'd casted it off I realized I wanted it longer and frogged it back to include a seventh ball. As it is, I can wear it as either a really big scarf or a smallish wrap. I like it. (I blocked mine out into a rectangle and I prefer it knit-side out, both of which are different from the model photos.) Next is Shimmer, a glamorous little lacy shrug that was knitted by my friend Miss Fee. She made it for herself to wear for a wedding but afterwards decided it was too big to wear again (and too nice to consider unraveling). She persuaded me to try it on and pronounced it a perfect fit, and then she gave it to me! How nice is that? It's knitted out of Filatura di Crosa's Zara mixed with Night to give it a bit of glitz. I know I was anti-shrug before, but this one is just so pretty and girly! I need to get some nice tops to wear with it. And last is the long-awaited picture of baby Ruth Cunningham wearing the Norgi jumper I knitted her. I have no idea how Nat and Staci managed to get it over her head, but doesn't it look adorable anyway? I love it with her little jeans!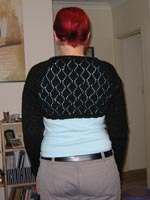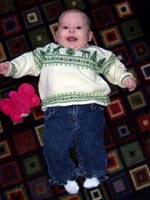 | | |
| --- | --- |
| | [2] |
Thanks to some stellar numbers from Brady Quinn, the Irish were able to beat Purdue and reclaim the Howard Family Football Title from my brother's team. (Don't worry, Ant; you guys will kick our asses come basketball season.) Man, what I wouldn't give to be there for the USC game though!

Sunday, October 2, 2005
| | |
| --- | --- |
| | [9] |
It's that time again...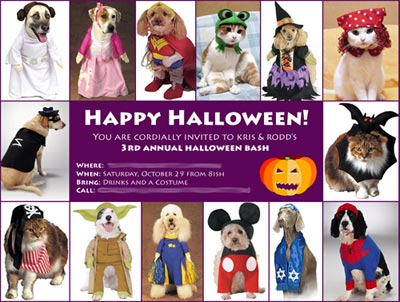 E-mail invites have just gone out. If you're a w-g regular and you're in Sydney, you're probably invited so check your Inbox and Spam filters. Thanks to my sister for her e-mail earlier this week which provided the inspiration. I spent a ridiculous amount of time tonight lining up these ridiculous pets. (No, Dr. Amy Jones is not one of them. Although the Snook is trying to acclimatize her to wearing things on her head.) See you at the shindig!



Hey, "Other Andrew," you feel like dropping by? I don't have an e-mail address for you. Nor you, Tia, if you're reading...)



Moblog: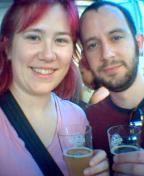 Cheers Big Ears!
It's beer o' clock and we're down at the Australian Beer Festival! Very warm and crowded, but the beer is good...


One for the Snook: High-Tech Beer Mats.

Saturday, October 1, 2005
| | |
| --- | --- |
| | [2] |
Whaddaya know, there is going to be a knitting festival in Goshen this weekend! Awww, I'm sorry I'm gonna miss it. Of course, heading out to the Australian Beer Festival should make up for some of the disappointment... (Thanks to Aunt Deb for the heads-up on the knitting.)

archives
You can search through the archives by post keyword using the form on the left, or you can browse by month using the links at the bottom.
"Moblog" refers to posts and images posted directly from my mobile phone.

"PW Blog" refers to posts recovered from my very first weblog, which dealt with news related to my college dorm.