Wednesday, October 31, 2007
| | |
| --- | --- |
| | [1] |
Now there's a new one. An otherwise normal-looking customer just approached me with a packet of Velcro and asked in all seriousness, "What is this used for?" What do you say to that? Embarrassingly, I stammered something about "shoes" and mimed tearing it apart. "You know, rip!?" I can't figure out who was the bigger idiot.

| | |
| --- | --- |
| | [2] |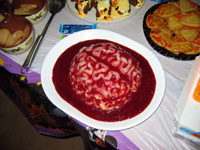 Happy Halloween, everybody!
I've finally managed to get my party photos up, and I've included links to all the recipes if any of you are still looking for last-minute ideas. To the right you can see this year's centerpiece: Panna Cotta Brains in Raspberry Sauce. Disgusting yet delicious! Thanks to everybody who came along, and apologies for not getting more photographs of the costumes. We'll see you all next year in the new house!

Tuesday, October 30, 2007
| | |
| --- | --- |
| | [1] |
Disney is shutting down "It's a Small World" for refurbishments... because modern guests are too fat. Yikes. Me, I'd prefer them to alter all the rides for tall people! (Link courtesy of AskMeFi, where the comments are going just about as well as you might imagine.)

Monday, October 29, 2007
| | |
| --- | --- |
| | [3] |
As the announcer puts it: "...one of the most miraculous plays in all of college football!" I can't disagree. Trinity University had two seconds left on the clock and scored a touchdown off a crazy play that included fifteen lateral passes! Looks more like rugby than football to me.


I was still too pooped yesterday to post my party pictures, but Erin (who looked lovely as Tracy Turnblad!) has posted some of hers. She also kicked my butt at Wii Boxing, which is why I can barely lift my arms today. (Must. Do. More. Weight Training.)

Sunday, October 28, 2007
| | |
| --- | --- |
| | [6] |
Happy Halloween from the Mythbusters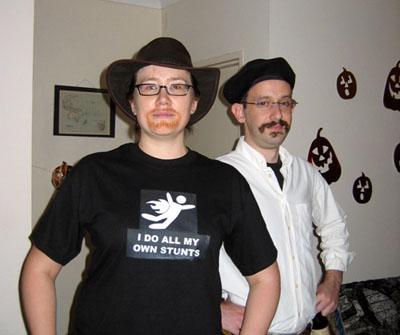 This marks the third year I've gone in drag. I'm getting a little tired of having a beard! Next year I'll have to go as something ultra-girly, I think.

Anyway, our 5th annual Halloween party was a smashing success. Pics will be up once we've finished putting the house back together...

Saturday, October 27, 2007
| | |
| --- | --- |
| | [1] |
Awesome. Way to go, ladies!

Friday, October 26, 2007
| | |
| --- | --- |
| | [9] |
Someone on AskMeFi has asked whether those "deceptively delicious" recipes are a way for adult picky eaters to get more variety in their diets. The poster also mentions that they hate all vegetables in just about every form. A couple people trotted out the "Ooh, you could be a supertaster!" suggestion. Whatever. Instead I actually cheered at this comment:
"You are a food sissy. With every microwaved meal, with every bland bite, with every glob of pasteurized processed American cheese food product that you shovel down your insensate gullet, you become more of a food sissy. Stop it. Get over yourself. It doesn't taste bad, it just tastes DIFFERENT. The only way to learn to like veggies is to EAT THEM CONSTANTLY until you like them."
AMEN! It's tough love, but it needed to be said. And I say that as a reformed food sissy myself. Ask my mother. The only vegetables I'd eat growing up were potatoes and sweet corn. Deciding to "get over myself" a few years ago was the best decision ever. I have no idea how people can survive (or enjoy life!) without fresh tomatoes, coriander, roast pumpkin, capsicum (peppers for the Yanks), basil, spinach, etc. You're missing out on so much!

| | |
| --- | --- |
| | [3] |
The Accidental
Last night I finished The Accidental by Ali Smith, which y'all recommended a few months ago. Unfortunately... I didn't like it much. I feel like an absolute git for saying that, because it won all sorts of awards and every single review I can dig up is uniformly positive. Yet somehow it just didn't grab me. I guess maybe it's because I'm a sucker for big, plotty stories (whether in books or movies), and I've never gone in for inscrutable character or mood pieces very much. This book reminded me of an Art Film. Intellectually I can tell that the writing is excellent and I can see what people are praising about it, but I didn't really find myself engaged on an emotional level. (I'm moving the rest of my thoughts inside, lest anyone get spoiled.) [more...]


Socks and Monsters
I'm happy to report some Finished Objects for October. First up are my Whitby Socks, which I started on the way home from knitting camp at the beginning of the month. I had to frog and restart once, as the number of stitches suggested just wasn't working for me. (I actually went up to 67 from the 51 suggested.) It was an easily memorized pattern and the cables were fun without being bothersome. I also tried out an eye of partridge heel for the first time. The original pattern is from Knitting on the Road and the yarn is the last of my Colinette Jitterbug. I love the colours, but I don't think I'll be getting any more. (My Vinnlands are already starting to pill and felt from a single wear.) I knitted these at the same time on 2.75mm needles using the two-circulars method. I'll be cross-posting these at the Southern Summer of Socks as well. I think a goal of one pair per month is pretty do-able...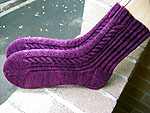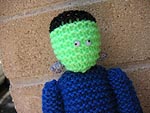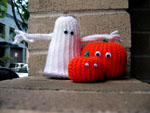 The other fun things I've been making are these toys from Jean Greenhowe's Jiffyknits. I bought the book a few years ago for the Halloween stuff but somehow never remembered to make them before our party. So far I've made two pumpkins, a scary ghost, and Frankenstein's monster. The patterns themselves are *extremely* simple. It's literally just garter stitch strips with no shaping whatsoever. (You don't even have to know how to purl to make these toys.) Construction isn't quite as fiddly as I feared, though sometimes you have to cut circles of cardboard to reinforce the round shapes. And I'm not sure the whole "knit a boulder and sew Frankenstein's legs to it to prop him up" worked very well. He's kinda wobbly. I do love joggle eyes though...

AND - I'm happy to report that by posting these toys to Ravelry, I've now jumped to #4 on the list of people with Halloween projects. (You can see it on the "People" tab.) Next year I'm aiming for #1!

| | |
| --- | --- |
| | [5] |
Life in Chippendale
Did I mention that we're moving into the new house NEXT WEEKEND? It's exciting. I told the Snook the other night that I find myself a lot more interested in Chippendale issues now that we're buying here. Which is silly, because we've been here for four years already. Somehow I guess I never really felt attached to the neighborhood before. When everybody was going nuts organising meetings about the CUB site redevelopment, we kinda just shrugged our shoulders, thinking, "We don't have any property values to worry about. And we can always just leave." I could count on one hand the number of "neighbors" I actually knew. Now I find myself stopping to say hello to people. We haven't even moved into our building yet, and I've already introduced myself to half a dozen tenants. It's fun. I mean, we could've gotten a lot more "house" for the money if we'd bought out in the suburbs, but being a part of this vibrant, connected community is the whole reason I wanted to stay in the city.

On a related note: I've just been invited to contribute to Life in Chippendale, a neighborhood blog I think I've mentioned a few times before. Steven assures me that even my mundane observations of life in the city will be welcome!

Thursday, October 25, 2007
| | |
| --- | --- |
| | [1] |
Knitted, felted olives. Those are adorable.


Meme
I was just about to fill out this big quiz from Andrew's site... when I remembered that my Grandpa Harter made it onto the Internet this month (Hi, Grandpa!), and I sent him my URL and now I have to think about what I say lest I give him another heart attack. So I may skip some questions. Read into that what you will. [more...]


McDonald's Pizza. I think that's the best Frankenstein food I've seen yet! And yeah, I'd probably eat it. You would too.


What I will NOT be doing tomorrow: making homemade candy corn. That's nuts! I'd sooner make homemade Peeps (and you know how I feel about those).

Wednesday, October 24, 2007
| | |
| --- | --- |
| | [2] |
Wake Up Cat. Hahahahaha... This is exactly what Dr. Amy does in the morning. Actually she's added something new to her repertoire as well: she tries to eat my bedside lamp. I don't understand it. The Snook has the exact same lamp on his night table, except his is black and mine is blue. She apparently only likes the blue ones. So she sits there next to my head chewing on my lamp until I get up and toss her to the floor. Stupid cat.

| | |
| --- | --- |
| | [18] |
Apparently my Grumpy-Old-Womanness does have its limits. I was serving a real G.O.W. in the shop this morning when, apropos of nothing, she decided to share some outrage with me.

Me: Just the single skein? That'll be $1.20, thanks.
Old Lady: I was just walking up York Street, in front of the Grace Hotel, and I passed a man and a woman walking. And he was very tall, and she was very small. And he had his hand RIGHT DOWN HER BACKSIDE! Right down there! I couldn't believe it!
Me: (just holding my hand out for the money)
Her: So I slapped him on the wrist! I told him that his behaviour was DISGUSTING, and that he should get a room, and how would he like it if that was his daughter, and someone was FIDDLING WITH HER PRIVATE PARTS in public? Don't you think that's appalling?
Me: Well... I can think of worse things. I mean, I find spitting or littering in public really annoying because they directly affect me... but two people who are in love...
Her: HE WAS FIDDLING WITH HER PRIVATE PARTS.
Me: I get that, and I'd probably go home that day and say, "You wouldn't believe what I saw this morning," but I don't think it's the worst thing.
Her: Well, I'm AUSTRALIAN, and I was raised with--
Me: I'm Australian.
Her: (confused) But--
Me: I'm Australian.
Her: You sound like you're from North America.
Me: I'm AUSTRALIAN, with an Australian passport.
Her: Okay, fine, you're Australian. I just mean that I was raised here, and I was taught that certain behaviour is wrong.
Me: I was raised in the Bible belt, and I was taught to mind my own business.

She got me outraged all right, but not in the way she expected! I mean, I can think of lots of stuff I find more objectionable than PDA. Smokers. Public urination. Golf umbrellas. The existence of leggings with zips. Two consenting adults making out on the street is pretty low on my list of triggers.

Tuesday, October 23, 2007
| | |
| --- | --- |
| | [1] |
The TV gods have finally come up with a way to get me to watch Grey's Anatomy: They're putting Pacey on it. DUDE, I'M THERE. (Link courtesy of Jenny.)

| | |
| --- | --- |
| | [4] |
This is an Official Halloween Party Reminder for those of you who haven't told me whether you're coming to the party this weekend or not. We're planning food, so drop me a line or SMS and let us know whether to count you in. And for those still looking for a costume, the Snook gives you: The 30 Most Unsettling German Halloween Costumes.

My favorite is the mobile phone.

Monday, October 22, 2007
| | |
| --- | --- |
| | [6] |
Attention Sydney Sock Knitters: I have seen the future, and it is Araucania. Specifically, Araucania Ranco Solid and Ranco Multi. Both are 75% wool, 25% nylon. Both have over 340m per 100g skein (compared to a miserly 267 on Jitterbug). And both were in my hands this afternoon in the shop. I actually GASPED when Albert pulled them out of the bag. They're beautiful. I told him they're going to be a massive hit, so he should get a couple packets of every colour. Get ready!

Oh, and also coming: the breathtaking Mirasol Hacho (a 100% merino 8ply) and Mirasol Cotanani (a 60% cotton, 40% wool 8ply). Yes, you read that correctly. A wool/cotton blend READILY AVAILABLE IN AUSTRALIA. I swooned.

| | |
| --- | --- |
| | [3] |
56 American roller coasters... from the front seat. AWESOME. I haven't been to Cedar Point in more than seven years, so I loved getting to "ride" the Magnum once more. I hadn't even heard of that new Maverick coaster. Anybody try it this summer?

Saturday, October 20, 2007
| | |
| --- | --- |
| | [1] |
Dumbledore is gay. Interesting! I especially like Rowling's astute observation that the fanfic world is going to go nuts over this news.

Friday, October 19, 2007

Middlesex
Last Friday I finished the second of Eileen's book recommendations, Jeffrey Eugenides' Middlesex. I knew absolutely nothing about it before I started, and I deliberately avoided the introduction at the front of my edition. I needn't have worried. The big "hook" of this story - that it's being narrated by a hermaphrodite - is given away on the first page. It's not so much the story of what Cal is, but how he came to be what he is. So instead of immediately gratifying my curiosity (and voyeurism), Eugenides' narrator abandons his intriguing opening in favour of the story of how Cal's grandparents immigrated to the US. They escaped the Great Fire of Smyrna (it was eye-opening to be reading this while the debate about the Armenian Genocide is going on) and eventually ended up in Detroit. Eventually the story skips ahead to follow the romantic tribulations of Cal's parents, first-generation Greek-Americans who had no idea what the previous generation had gotten up to. By the time Cal(liope) is finally born halfway through the book, I couldn't put it down.

That's not to say the book is perfect. The family stuff is certainly compelling - and the hermaphroditic element is undeniably interesting - but overall I never really warmed to Cal as a person. I liked Calliope and I sympathized with her confusion, but I didn't find her sudden transition to Cal to be very believable. This review from the New York Review of Books spells it all out much better than I can. Still, the characters are all vivid and fascinating, and it taught me a little bit about a period in history I knew very little about. (My favorite part was probably the reintroduction of Desdemona to the narrative. I had actually thought several times to myself, "What happened to her? Did I skip a paragraph where she died?" Ha!)

Now I'm on to The Accidental by Ali Smith, as recommended by Brittanie. Again, I'm going in cold. So far it's a very different read to Middlesex, like the difference between an impressionist Art Film and a sprawling Scorsese narrative.

Thursday, October 18, 2007
| | |
| --- | --- |
| | [1] |
Stories about poker seem to keep cropping up now that I have a semi-relative that plays professionally. Check out this exposé about a cheating ring at an online poker site. Fascinating. (Link courtesy of Daring Fireball.)

| | |
| --- | --- |
| | [14] |
One-Woman Etiquette Crusades That I Am Currently Pursuing:
Bus Panickers. If I'm sitting in the outside seat on the bus and the person beside me starts making "get up" signals five minutes before my stop, I smile and say, "Oh, I'm getting off there too" and then make them wait til the bus comes to a complete stop. Eventually someone's going to pee themselves from anxiety, I just know it. People, you won't get trapped on the bus!
Anti-Social Bus Sitters. If someone is sitting in the outside seat on the bus (leaving the inside empty or, god forbid, sitting their bag there), I make sitting beside them a PRIORITY. We're not in elementary school anymore; you have to share. Make room for other people!
Door Cloggers. If four people are standing at the back door of the bus, leaving the whole back end empty while others are crammed against the windshield, I'll call out sweetly, "Can you move to the back please?" And if they don't, I'll pointedly push my way through and then give them a dirty look. Again, you won't get trapped on the bus.
Public Spitters. It's always men. It's DISGUSTING. I give them pointed dirty looks.
Cigarette Butt Droppers. Again, disgusting. There are trash cans with ash trays, like, every fifty feet in the city. Use them. I currently give these people dirty looks, but I can see it escalating as I get older. I'll probably end up brandishing their smoking butt in their faces. Use the trash can!
Escalator Hogs. It's gotten to the point where I actually relish seeing two people standing abreast on the escalator, so that I can exclaim "Excuse me!" while barreling past. The sign says to stand to one side. Obey it.
Golf Umbrellas. Please go outside and put up your umbrella. If you hold one arm straight out to the side, are you still within the boundaries of your umbrella? If so, YOU ARE A BLIGHT ON SOCIETY. You make it impossible for people with normal umbrellas to walk past you on the sidewalk. And unless you're tall as well, you're probably whacking tall people in the face with spokes as you obliviously stroll to work in your own personal environmental bubble. Your right to remain dry stops when I have to walk in the street to get around your stupid, inappropriately large umbrella. For these people, I look pointedly at their umbrella, roll my eyes, and then give them a dirty look. Maybe I should wiggle my pinkie at them?
Yes, I realize I'm turning into a Grumpy Old Woman. But dammit, we're trying to have a society here!

Wednesday, October 17, 2007

My poor Penny has roseola!

| | |
| --- | --- |
| | [2] |
I blame my father, really, for my inexplicable love of car chases and the Smokey and the Bandit movies. I suppose that's why I got so caught up in this Wired article about an attempt to break the Cannonball Run record. Two complete geeks (with lots of money and very little regard for speeding laws) planned to break the 22-year-old speed record for crossing the US from New York to Los Angeles in a car. Did they make it? You'll have to read to the end to find out.


Sydney is evidently suffering an acute butter shortage. EEEEK!


Poll Results: It's interesting, isn't it? Catch-22 is definitely polarizing, though not exactly in the way I predicted. It appears that almost all men like the book, but women are split nearly 50/50 on it. Eh, I'll still be giving it a pass.

Tuesday, October 16, 2007
| | |
| --- | --- |
| | [4] |
Thanks, y'all.
Thanks to everybody for all their kind words and commiseration. I feel kinda like I did a few years ago when I had several interviews at Kazaa and then they didn't hire me. I rated that as my biggest disappointment of 2003. (Of course, they got raided by the copyright police a few months later, which helped to take the sting out.) A lot of people have been telling me today that this is some sort of sign, that I wasn't meant to be at Google right now, that something better is on the horizon. And much as I'd like to believe that, in the harsh light of day I don't really think there are any greater forces at work. It just didn't happen. They didn't need/want me right now. And that's disappointing, yeah... but I also find myself being grateful for all the stuff I do have. We are buying an amazing house (I still have to tell you guys that whole story). I'm still working with people I care about in a business I want to succeed. I've got a great partner who supports me no matter what. I'm just going to try to remember these things.

Oh, and I did get a completely unexpected pick-me-up. I was idly trawling the Ravelry forums last night searching for mentions of the shop when i came across the following exchange from about a month ago. ("LYS" means "local yarn store.") [more...]

| | |
| --- | --- |
| | [2] |
It was a rather lackluster performance night on Australian Idol Sunday, so I wasn't expecting much from the results show last night. In fact, the Snook and I basically fast-forwarded through everything just to find out who got booted. My finger slipped on the button a little bit during the group sing though, and that half-second glimpse was enough to know that we were missing something special. "FOR THE LOVE OF GOD, THEY'RE DOING PSYCHO KILLER!" We went back. I can honestly say that seeing James Mathison pop up from beneath the camera singing "Fa fa fa fa fa fa fa fa fa far better" was the single greatest moment I have ever witnessed on this show.

And yeah, Wee Ben got booted. He was boring me a little bit, honestly. So I'm not too put out. I still think it's Matt and Tarisai's to lose...


Frankly, I can't believe it's taken them this long to get around to stuntcasting Rent.

| | |
| --- | --- |
| | [1] |
In the same vein as Andrew's "Dead Steve Irwin" costume from last year, check out these ideas for offensive Halloween costumes as provided by AskMeFi. (Warning! They really are offensive! Don't say I didn't warn you!) I am ashamed to admit that I chuckled at many of these.

Monday, October 15, 2007
| | |
| --- | --- |
| | [18] |
Not goooooood news. The bastards have rejected me. You must all now switch to using Yahoo as a search engine. I'm going to go drown my sorrows in wine.

| | |
| --- | --- |
| | [7] |
The heat will be on!
The Snook and I have done some pretty crazy things in our time. We got married in Vegas with an Elvis impersonator. We've gone to grown-up Space Camp. We made a turducken. And yet somehow, I think this will be one of the best adventures yet: We're going to dinner with two Iron Chefs. SERIOUSLY. In just over three weeks, we will sit down to a seven-course meal prepared by Iron Chefs Sakei and Chen. How INSANE is that? I cannot wait. I am primed and ready for anything. So bring on your fish ice cream, Sakei! Bring on your slabs of foie gras and piles of shaved truffle!



I know it's extravagant. I don't care. If you like food as much as we do, you'd do it too!




From Flickr: Craft Rooms. I've been thinking about this a lot, now that I'll have a whole room to organise all my crafty stuff in!


How to make bibim bap. Excellent. I'm hungry.

Saturday, October 13, 2007
| | |
| --- | --- |
| | [2] |
Hooray! Kristen's published a preview photo of Alexander in the Baby Yoda costume... :)

| | |
| --- | --- |
| | [5] |
Sock Yarn for Sale
Thanks to the ever-fabulous kylie gusset, five skeins of the Knittery's "Warm Pinks" Merino Cashmere sock yarn are winging their way to me from Melbourne. Not only is this a lovely yarn, but $5 from each skein is being donated towards breast cancer research. Two of the skeins are already claimed (by me and Hannah) but the other three are up for grabs if anyone's interested. Because kylie got them at a discount for her bulk order and consolidated one Sydney shipment to me to save postage, each skein is $24.00 (lower than what you'd get on your own). Let me know if you're interested!

Friday, October 12, 2007
| | |
| --- | --- |
| | [17] |
Brain Teaser
Stefanie linked to this week's NPR Sunday Puzzle, which is this:
Name a well-known city in the United States, two words, 10 letters altogether. Add the letter A at the front, add the city's two-letter state postal abbreviation at the end, the resulting 13-letter chain will be palindromic, that is, it will read backward and forward the same. What city is this?
It took me a couple minutes of doodling on the back of an envelope to get it. This will be a tricky one for non-USians!

| | |
| --- | --- |
| | [9] |
Annnnd... Crocs are officially dead to me. I'll be throwing my old pairs out. This makes me sad.


Costco in Oz? Sweet.


New Poll: Let's settle this Catch-22 business once and for all. I couldn't help noticing that its only defender in the previous discussion was male. Is this is a gendered book? Vote down there on the right and give me your opinion.


The Blog of Unnecessary Quotation Marks. HA!

Thursday, October 11, 2007

"How the moustache won an empire." (Link, of course, courtesy of the Snook.)


Ooh, the Apple Store Sydney looks like it's going to be amazing! Now I just have to decide whether I'm still dorky enough to camp out for the opening.

| | |
| --- | --- |
| | [10] |
Bah. I was all excited about NaNoReMo until he announced the chosen book: Catch-22. I HATE Catch-22. I had to read it in college and I swear I had to restart it about six times before I could muster the interest to plow through to the end. I guess I'll sit this one out. (Besides, I'm in the middle of Middlesex and I'm loving it. Thanks again for the recommendation!)

| | |
| --- | --- |
| | [1] |
Rock on, Dear Abby.

Wednesday, October 10, 2007
| | |
| --- | --- |
| | [8] |
There's a major sh*tfight going on in the Ravelry forums today, and I've been watching with interest. It's about privacy and the expectations people have when they join a social site. The owners basically announced that (as many of us hoped) once the site is out of beta, anyone will be able to visit the site and view your projects, stash, etc. You'll still have to join in order to get your own Notebook, leave comments, send messages, or post in the forums. Fair enough. (This is exactly how Metafilter works.) The outcry is coming from folks who've contributed to groups and forums that they'd rather not be associated with their username (such as atheists, gays, etc.). I don't get this. Who on the Internet still doesn't know that you NEVER post anything in the expectation it will be private? It boggles the mind. And I don't get their insistence that making the site password-protected will matter. Once they open sign-ups, anybody that wants to can join and "stalk" you that way. So what's the point? *sigh* I'm just glad that Casey and Jess aren't turning Ravelry into livejournal or Facebook. Down with closed communities!

| | |
| --- | --- |
| | [1] |
Pumpkin Brownies. I finally got my Baker's Edge pan, and this looks like a good recipe to try out!

| | |
| --- | --- |
| | [13] |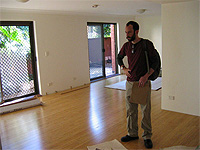 From the NSW Office of Fair Trading:

Exchanging sale contracts is the legal part of buying a home. Before exchange, the agreement is usually just verbal and not binding. Up until you exchange contracts either you or the vendor have the right to change your minds.
In other words, once you've exchanged, it's all locked in. AND WE'VE JUST EXCHANGED! Man, buying a house is a pretty glacial and frustrating process. We've had to wait two weeks just for one bank to fax a piece of paper to another bank. But we've just gotten confirmation that we're locked in, and the house is definitely going to be ours. I suppose this means that we can stop being so cagey about its location... RIGHT NEXT DOOR to our current apartment. Ha! Easiest. Move. Ever.

So now we just have to wait for settlement. Default is six weeks, but we're hoping to get it pushed through faster so we can move in sooner. Special thanks to Andrew and Miss Fee for their advice regarding buying into a strata building. Stay tuned for the housewarming party...!

| | |
| --- | --- |
| | [2] |
Needless to say, I'm watching this Google court case pretty closely.

| | |
| --- | --- |
| | [3] |
Holy cow! Spotlight has Halloween stuff! Obviously my movement to promote the holiday in Australia is gaining momentum.

| | |
| --- | --- |
| | [2] |
The PM might not like the moth invasion, but Dr. Amy Jones sure does. One blundered into the house yesterday and she spent fifteen minutes batting it around before I put it out of its misery. Moth = best cat toy ever.

Tuesday, October 9, 2007
| | |
| --- | --- |
| | [21] |
Are you right-brained or left-brained? According to the spinny dancer, I am left-brained. EXCESSIVELY LEFT-BRAINED. I been focusing on that thing for five minutes and for the life of me, I can't even imagine how you'd begin to see her turning the other way. (I wonder if this has some correlation with my geek score below...?) (Link courtesy of Danielle.)


The Knitty Halloween Surprise is up. I'm going to have nightmares.

Monday, October 8, 2007

Baby Surprise Jacket
I've been slacking off on the first week of the Southern Summer of Socks, mostly because of all the babies y'all keep having! As previously mentioned, my cousin Tony and his wife Molly just welcomed their daughter, Bailey, into the world. As this is the first GIRL I've had the opportunity to knit for, I jumped at the chance to pull out my pink yarn. I was gifted some glorious hot pink Manos del Uruguay Cotton Stria by my Secret Pal last June, and I decided it was just begging to become a Baby Surprise Jacket. I had just enough to squeak it out. I also found the most perfect big pink button in my button box:







It's all ready to send off, along with some pink Tim Tams! (Thanks to Amy for the suggestion.)

| | |
| --- | --- |
| | [1] |

"Sometimes I think of myself as a glorified mechanic..."
Oh yes, you HAVE to watch this video. I know, I know; it looks like your basic wannabe-edgy Web 2.0 viral marketing crap, and it is. But this is viral marketing crap starring my very own SNOOKUMS!

Sunday, October 7, 2007
| | |
| --- | --- |
| | [5] |
I am a Dorky Nerd Queen.


I think it's the "Dumb/Dork/Awkwardness" category that stings the most. Ouch! (Link courtesy of the very non-nerd Mary-Helen.)


Yarn... with EYEBALLS. That is no doubt the coolest, creepiest knitting yarn I've ever seen. I'm getting in the Halloween mood! (Link courtesy of Jen.)

Saturday, October 6, 2007
| | |
| --- | --- |
| | [5] |
Grrr. Could somebody with a myspace account please send a message to this person for me? Here's what it should say: "I'm really glad that you found my sock monkey tutorial useful. But don't you think you could've just posted a link instead of hotlinking THIRTY-SIX images from my site? I had over 1000 image hits from myspace.com yesterday, and I pay for my bandwidth. That's not cool. Plus you didn't even give me credit for it anywhere. Did you somehow miss that line at the bottom every page that reads: 'Copyright © 2004 Kristine Howard. Please do not reproduce without my permission.'? Seriously not cool."

Update: WAIT! Hold the presses. I just realised that's a myspace account, not a livejournal one (as I imagined it). I have a myspace account! I'll email the offender myself.

One Hour Later: Well, the person killed the post. Fair enough.

| | |
| --- | --- |
| | [1] |
Knitted Skull Tights. Oh man, imagine if I entered those in the Easter Show next year! HA!

Friday, October 5, 2007

Post-Interview Euphoria
So... I just finished interviewing with two more people at the Company-That-Shall-Not-Be-Named, and I feel like it went really well! I was relatively confident since I figured that they wouldn't have invited me back if they didn't like me. I gave the HR chick the low-down on the house situation (basically, the mortgage company doesn't like it if you change jobs before settlement, so I can't start for several more weeks) and they were really cool with that. I'm excited!



Oh, and I got to ride in an elevator with a bunch of guys from YouTube, who pretty much define the term "scruffy lookin' nerf herder."



Thursday, October 4, 2007
| | |
| --- | --- |
| | [3] |
Moblog: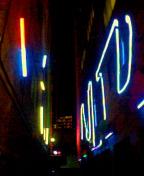 Our New Gaudy Laneway
See? I told you it looks like Vegas. What a waste of money and electricity! None of the shops around it are even open at night.

| | |
| --- | --- |
| | [16] |
Baby Yoda Costume
It's finished! I've got everything ready to send off to Alexander this week. After felting the hat last week, I then soaked the ears in watered-down PVA glue and propped them up on newspaper to dry. They took a lot longer than I expected (nearly four days), but they look great. I sorta pinched and pulled them to make them a little more curly and Yoda-looking. The pattern is here. I knitted it out of Naturally Alpine 14ply on big needles, and I had plenty left over from a single hank. I'm just making a bit of i-cord now to tie under his chin if necessary.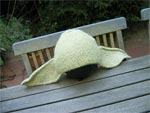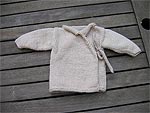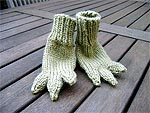 The second piece of the costume is the Baby Yoda Sweater, which I knitted on 4mm needles out of some completely random yarn from my stash. (The two sleeves are actually different yarns, but they're so close you can't tell. I figure Yoda probably wove his himself, so any variation is probably a good thing.) There's an i-cord tie on the inside as well as the outside.

And the socks are just the pièce de résistance, aren't they? I started knitting just plain socks out of the leftover wool, thinking Alexander would need something to keep his feet warm, when the Snook pondered aloud, "You know what you should do? Put three toes on the end!" BRILLIANT. So there's no pattern here; I just made them up as I went.

I can't wait til Kristen posts a picture of him wearing it!

| | |
| --- | --- |
| | [2] |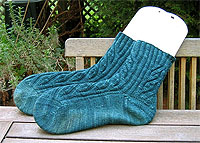 Vinnland Socks
In order to clear the decks for the Southern Summer of Socks, I took along my half-completed Vinnlands to knitting camp last weekend with the aim of finishing them off. And I did! The pattern is free from The AntiCraft. They're knitted toe-up utilising a short-row heel and toe (but one that doesn't involve wrapping!). My weird sizing issues turned out to be not such a big deal; the poochiness at the toe disappears when it's stretched across my foot. I used one skein of Colinette Jitterbug in "Velvet Olive," and I'm thrilled to say that I had less than 12 inches left over at the end. (Toe-up socks = ECONOMY, baby!) They're meant to have a tubular cast-off at the top, but I was drinking too much red wine to bother with such niceties. I just did a regular old ribbed cast-off, and they look fine. Oh, and I used 2.75mm needles to counteract my usual propensity towards overly tight knitting. I wore them in Sunday night's "Fashion Show" and there was such a response that I ended up teaching an impromptu "socks on circulars" workshop Monday morning!

| | |
| --- | --- |
| | [8] |
Vegas, baby!
A bunch of workmen spent all day yesterday installing neon tubing and crazy coloured lighting in the alleyway behind Tapestry Craft. I'm not kidding. Apparently it's to celebrate the "opening" of the lane (which is now to be called "Temperance Lane") and it'll stay up for three months. It's like our own little bit of Vegas in an alley. The rumour is that this has something to do with Clover's aim to develop Melbourne-style funky little laneways in Sydney, and that it cost $35K. Here's my question: Why? Why celebrate the "opening" of a street that was already there? Why spend thousands of dollars on a tacky art installation that very few people will see and then turn around and tell us bus fare hikes are needed? Not happy, Clover.

Update: The new goss is that it might be for a movie shoot. Anybody heard what's filming in town?

Way Later Update: Nope, it's not a movie shoot. When I left tonight, there was a proud-looking guy taking photos out there. "But what's it for?" I asked. "It's an art installation to celebrate the opening of the new laneway!" he said. "See, we put up a sign with the new name and everything!" I frowned. "But... the lane existed before. It just didn't have a name. I don't get why we're celebrating the opening of a lane that was already here." He looked crestfallen and shrugged. I think I hurt his feelings. I still think it's a stupid idea.

Wednesday, October 3, 2007
| | |
| --- | --- |
| | [3] |
The Snook sent me a link to this amusing comic, which he knew I'd like. I totally didn't get it til the 3rd panel, and then I laughed and laughed.

Tuesday, October 2, 2007

Albert called me during Knitting Camp on Sunday.

Him: Do you think you can teach the kids' knitting class on Tuesday?
Me: Who in the what now?
Him: Kids. There are three little girls coming in for our school holidays knitting class.
Me: Kids? Me? Are you sure?
Him: Trust me, you were last on the list. Everyone else was busy.
Me: Well, okay. I guess if it's only three they can't gang up on me.

Turns out I needn't have worried. They were great! Sidonie, Nell, and Poppy ranged from 8-11 but they all picked it up SO QUICKLY! I casted on for them and then we just practiced our knit stitches the whole time. It was interesting to me to see how their personalities manifested in their knitting styles. Poppy was a bit bull-headed, and in her impatience to slip the stitch off the needles she'd often yank her whole needle out. "Grrr!" she'd growl, but by the time I got over to her she'd often fixed the mistake herself. Nell picked it up the fastest, but she didn't trust herself and every so often she'd freeze and I'd hear, "Something doesn't seem right... I think." Sidonie was quiet and methodical, but (like me) she tended to pull her stitches a little too tightly. They were all shy at first but I had them chatting away by the time their Mums returned. "Aww, just one more row!" they begged. The Mums consented, and five minutes later while they were chatting I saw Nell surreptitiously begin a second row. It warmed my icy black heart. I made three new knitters today!

| | |
| --- | --- |
| | [1] |
Ugh. Television Without Pity redesigned, and I HATE it. What happened to the little woodcut pictures? Those were great! I wonder if this is what happens when you get bought out by a big company.

| | |
| --- | --- |
| | [6] |
Hmm. Interesting AskMeFi question: Is a statue of a sleeping Mexican offensive? On one hand it makes me think of Speedy Gonzales cartoons, and vintage Looney Tunes cartoons make me HAPPY; but on other hand, sometimes when you watch those old cartoons you wonder how in the heck the animators didn't see anything offensive in their racial caricatures.

Monday, October 1, 2007
| | |
| --- | --- |
| | [1] |
Moblog: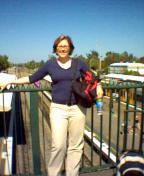 Catching a train...
Just waiting for the 2:05 back to Sydney. Geez, it's hot. It was a great weekend but I think I'm all knitted out.

archives
You can search through the archives by post keyword using the form on the left, or you can browse by month using the links at the bottom.
"Moblog" refers to posts and images posted directly from my mobile phone.

"PW Blog" refers to posts recovered from my very first weblog, which dealt with news related to my college dorm.