Friday, October 31, 2008
| | |
| --- | --- |
| | [1] |
It's time for Movember!
It's the last day of October, which means that there will be a lot of men going clean-shaven tomorrow morning. The Snook is officially registered this year, and is in fact Captain of his company's team. You can see his fundraising page here. If you're feeling charitable, please head over and give him a donation. (It's to raise funds for men's health issues like prostate cancer and depression.) I'll be tracking his 'tache progress throughout the month here at W-G. Oh! And I'm officially a Mo'Sista. I wear fake mustaches enough; I figured it was time to get involved.

| | |
| --- | --- |
| | [1] |
Manamana! That is one of the best three-person Halloween costumes ever.

| | |
| --- | --- |
| | [1] |
Halloween theme for Firefox. I'm using it at work and it's spook-tacular!

| | |
| --- | --- |
| | [3] |
I didn't want to announce it earlier and jinx anything, but as it's now officially Halloween... My house is a Peep-free zone! That feels so good to say. This is the first year in a long time that someone from my family hasn't sent me a package of those icky little sugar-coated pieces of foam rubber. *shudder*

Thursday, October 30, 2008
| | |
| --- | --- |
| | [2] |
Halloween Teaser #2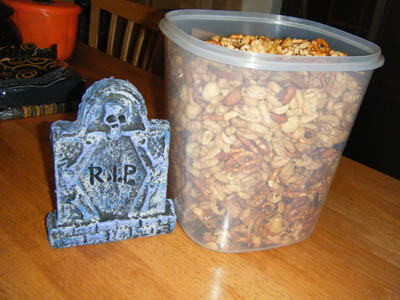 What's that? Oh, I'll tell you what that is. That, my friends, is a METRIC ASS-TON of Chex Mix.

Except it isn't really Chex Mix, since you can't get Chex here. It's Nutrigrain + pretzels + bagel chips + macadamias + other nuts MIX. And seriously, there's like two gallons of snack there.


Fingerprint Rings. Bookmarking in case we ever decide to get wedding bands...

| | |
| --- | --- |
| | [9] |
Vote. (The Neil Patrick Harris moment was the one that really caught my attention. "I'm voting because I fell in love, and I want it to count." Seriously, Californians, vote NO on Prop 8.)

Edited to add: Here's a letter from someone in California that this affects personally. I found it very moving.
Itís wrong to make gay couples pay the price for someone elseís misplaced fear. On November 4, itíll be only you in the voting booth. Nobody will see how you vote Ė thatís your business. But before you mark your ballot on Prop 8, please take a moment to ask yourself, in all honesty, what does it hurt you if gays and lesbians get married? Will it make you love your spouse any less? Does it make you love your children any less? Would it hurt your family if, after 16 years, Bill and Robert finally get to tie the knot? I think your answer will be no. Your marriage will be no weaker if Prop 8 doesnít pass. Your family will be no less under the law or under God.
Speaking as a straight married person, the only negative I can think of regarding gay marriages is that it would just mean more social engagements for my calendar. (Seriously! So many weddings these days!) And maybe that cute barista at Toby's would stop flirting with the Snook if he had his own husband. (Not that the Snook minds. He has no scruples when it comes to good coffee.)

| | |
| --- | --- |
| | [1] |
20 Costumes That Will Earn You a Halloween Beating. I dunno; I kinda think the "Bacon and Eggs" one is amusing.

Wednesday, October 29, 2008
| | |
| --- | --- |
| | [1] |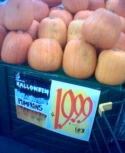 Twenty-dollar Pumpkins
Last night I was in Harris Farm picking up some more stuff for the Halloween party when I noticed that they were still flogging their $20 orange pumpkins. I took a quick photo, shrugged, and continued my shopping. Later in the queue, I noticed a guy standing next to me juggling three of them.

Me: Pssst! If you can get over to Paddy's this week, I found them there for fifteen!
Him: Fifteen! That's pretty good! Did they have many?
Me: Actually, not really. And they were priced by weight, $4/kilo.
Him: That's okay. I'll stick with these.

The poor guy paid SIXTY DOLLARS for three pumpkins! That's some dedication right there. And judging by the accent he was an Aussie, not some nostalgic Yank. Obviously my campaign to bring this holiday to the Antipodeans is gaining momentum. As he was leaving, we wished each other a "Happy Halloween!"


Zac Efron to star in Footloose remake. That is just a bag of WIN on so many levels.

| | |
| --- | --- |
| | [1] |
Appliance sales are down all over the US... except for deep freezes. I get that. Man, I'd LOVE a deep freeze. Our freezer is always full. I wonder if we could put it in our extra spot in the car park??

Tuesday, October 28, 2008
| | |
| --- | --- |
| | [3] |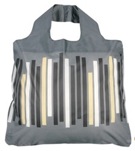 I was in a health store in Newtown recently when I noticed they had some ENVIROSAX bags. I'd read about them online, and they were only about $7. So I got this one! They roll up very tiny so I've been carrying it in my handbag every day. I LOVE IT. I've used it about ten times now! I even carried my big orange pumpkin home from Paddy's in it last weekend. It's very spacious and strong. The handles are the perfect length too; I can sling it over my shoulder or hold it by the handles and not have it drag on the ground. If you need a reusable shopping bag, I highly recommend them.

| | |
| --- | --- |
| | [7] |
More shocking POOP ICE CREAM revelations in today's Daily Telegraph:
They're calling it "Gelatigate". They also refer to the suburb (on their front page) as "Poogee Bay."
"Mr Williams also confirmed that a staff member had tasted the substance in question and agreed it was not chocolate sorbet." (Italics mine.) EWWWWWW!
"...the hotel's head chef resigned after he personally smelled the sample which Steve and Jessica Whyte took home to their freezer." EWWWWWW! And damning.
"They've served us poo. There's nothing else that it can be," Mrs Elliott said after taking a whiff of Mrs Whyte's napkin. "I wish I can tell you it was something else but I can't, it absolutely stunk." Then why in the world did her friend EAT IT?
I should've known the Telegraph would report all the really ucky bits. And their reader comments are (unintentionally, I'm sure) hilarious...

| | |
| --- | --- |
| | [2] |
Neat! Mimzilla saw the Yoda costume I knitted for Alexander last year and made her own! Nice job, mimzilla.

| | |
| --- | --- |
| | [3] |
Stress and Itchiness
"Stress may make you itch." The Snook just sent me that link. In the past six months my skin has just been crazy. I thought for a while I might be developing some sort of allergy, because I kept breaking out in itchy red welts. There doesn't seem to be any pattern though, and Dr. Chin (and Emily) both diagnosed a random case of "dermatitis". It certainly does seem to have a stress component though. Great. So on top of non-specific stress-related stomach pain, I also have skin irritation. I really need to learn to meditate or something.

Monday, October 27, 2008
| | |
| --- | --- |
| | [5] |
Vivaldi at the Opera House
Thanks to the generous Kate, the Snook and I headed to the Opera House tonight to see Europa Galante performing Vivaldi's "The Four Seasons" (along with some other Baroque pieces). The group of 14 musicans are known for performing on period instruments, including a mandolin and a harpsichord. It was fascinating. Look, I'm not a big classical music person. I've been to the Concert Hall a few times, but it's always for things involving Lord of the Rings or Bugs Bunny or videogames. That said, I really honestly enjoyed myself tonight. A good part of that was recognizing the music, I'm sure, but also it was impossible not to get caught up in the passion these guys had for it. Most of them were standing throughout the performance, so when they were really going at it during a vigorous passage it was almost like they were dancing (or even head-banging). The harpsichord gave me shivers with its first note; it felt like we were listening to Music for Kings and Queens. (I did feel bad that the player had to sit with her back towards us throughout the performance!) During the intermission, the Snook and I talked about why certain pieces of music evoke pictures in your head. Why should this melody feel suspenseful and anxious, while that one feels light and happy? I don't know enough about music theory and the human brain. It was sure fun though.

OH! But people suck. The audience is always what ruins these things for me. Look, if you have a cough, STAY HOME. If you want to take 50 pictures with your ginormous digital SLR, GET A PRESS PASS. (The bright LCD of the girl next to me drove me crazy.) Don't eat candy out of rustling plastic bags. Don't come in 15 minutes late and clomp to your seat. Don't rush for the exits the second the final piece ends, and definitely don't try to slink back in once they start up an encore. And for the love of God, TURN OFF YOUR MOBILE PHONE. ARGH. They really should hand out etiquette leaflets at these things.

| | |
| --- | --- |
| | [8] |
Okay, is anyone else both completely horrified yet somehow also fascinated by the Poop Ice Cream story? IT'S SO GROSS. And what the hell does Kevin Bacon have to do with it? (Is the lawyer going for some sort of Chewbacca defense?)

| | |
| --- | --- |
| | [3] |
Cookies. I'm looking for a PLAIN crispy chocolate cookie, similar to the crunchy bit inside a Tim Tam. Anybody know of a storebought brand that can be found in Sydney? (G/Polliwogs were the closest thing we could find, but I'd rather not have pictures on them if I can.) Or I'll even take a recipe if that's all I can get. Any ideas?

Sunday, October 26, 2008
| | |
| --- | --- |
| | [5] |
Here's a little Halloween teaser for those you coming to the party next weekend...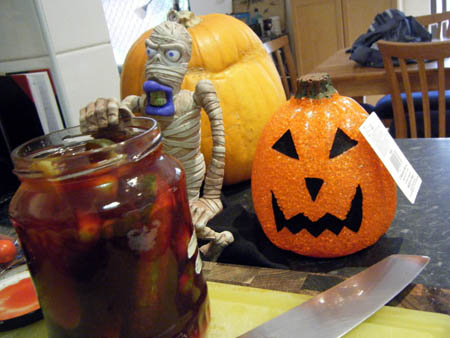 Some of you will probably guess what's in the jar. And yes, I did manage to dye my fingertips red while making it.
| | |
| --- | --- |
| | [2] |
FLUFF. That's pretty much exactly what I imagine the cupboard over at Eileen's and Erin Fair's apartment looks like.

| | |
| --- | --- |
| | [5] |
Wassup 2008. Okay, sorry Ron Howard, but I think this one just stole your thunder! The original "Wassssuuupp?" guys from the Budweiser ad reunite for a new one. I thought it was just funny at first... but the last ten seconds genuinely made me choke up. (Link courtesy of Waxy.org: Links.)

| | |
| --- | --- |
| | [3] |
Time Off to Vote for Employees ó A State by State Survey. My Australian co-workers could not BELIEVE that the US holds elections on a Tuesday. "What if your boss doesn't let you out to vote?!" I really like having them on a Saturday here.


How to make Star Wars Halloween costumes for dogs. BRILLIANT! The Pomeranian-as-Ewok is my favorite.


I discovered earlier this week that Peter Sagal has a blog! I love him on Wait Wait.... The only weird thing is finally seeing what he looks like. Somehow, in my head, I pictured him as looking just like Alton Brown. (I think it's because they have similar accents.) Needless to say, he doesn't.

| | |
| --- | --- |
| | [9] |
More Politics
I was feeling a little depressed and alienated this morning, wondering if all my Indiana relatives are resentful of my interest in the election. Then I called my Grandma. Holy crap! If Indiana goes Democrat this year, you have my Grandma Veva to thank for it. "George Bush has RUINED THIS COUNTRY over the past 8 years," she told me. "I wouldn't vote for John McCain if he was all there was!" We talked about how she'd been a big Hilary supporter and she was disappointed that Hilary didn't get the VP nod, but the fact that HRC was campaigning for Obama convinced her to get behind him. We talked about how if he did win, the Republicans would probably try to get votes invalidated. ("Dirty tricks!" she called it.) We talked about people we knew who'd been swayed by emails calling Obama the Antichrist. (She tells them that if it's God's will that Obama gets elected, "nothing can stop it!" I thought that was neat way of turning the evangelical argument on its head.)

Anyway, yeah, you may well be tired of hearing me bang on this particular drum. I'd ask you to please just respect that some of us are genuinely optimistic about this election, and we genuinely believe we stand at a huge crossroads. After eight years of feeling let down by the electorate, I actually feel hopeful. And if you feel like my posting about Obama is somehow a personal attack on you, well, I'd suggest you just take this site off your bookmarks for the next couple of weeks. I'll understand.

I'm just happy to be reminded that I'm not an outlier, that my liberalism and passion do run in the family. I come by it honest.


RunningBlog: Official Race Photos
Hooray! I just got an email telling me to check the Race Photos from the Half-Marathon again. I looked before but there weren't any of me, but now there are THREE! I'll saved them here for posterity. [more...]

Saturday, October 25, 2008

Halloween Update: Thanks to the amazing Miss Fee and her mad sewing skillz, my Halloween costume is now completely finished! The Snook's is finished as well. The invitations have been sent out, and I'm chasing people up for RSVPs. Now we're just finalizing the menu. OH! AND I GOT A PUMPKIN! A real orange one. I had a brainwave and went to Paddy's Market this morning to check the veggie stalls. Tucked away in the very last corner, I found a single big round orange pumpkin. The stall holder told me they were $4/kilo, and it worked out to $15.50. DONE! She said they'd had several that morning, but this was the very last one. HOORAY! I'll be carvin' a pumpkin this week...

Friday, October 24, 2008
| | |
| --- | --- |
| | [20] |
I love Ron Howard. I mean, yeah, I love my Dad Ron Howard, but I also love "Opie" Ron Howard. He, Henry Winkler, and Andy Griffiths think you should vote for Obama, and so they made a video about it. It's quite possibly the most awesome video on the Internet.

Also, the New York Times officially endorses Obama.

Thursday, October 23, 2008
| | |
| --- | --- |
| | [1] |
Willow is pregnant! And I totally just screamed when I realized that her husband is WESLEY, which I already knew but had somehow forgotten. Willow is having Wesley's baby. So weird.

| | |
| --- | --- |
| | [1] |
Sock Monkey says NO on Prop 8! They're using my Gay Sock Monkey Cowboy images but that's fine by me. I only wish I'd thought of it myself!

Wednesday, October 22, 2008
| | |
| --- | --- |
| | [1] |
Meme time! I haven't done one of these in a while. (Link courtesy of Staci.)

10 years ago I was:
1. A senior at Notre Dame, enjoying the hell out of my best and greatest year at college
2. Stage managing a new Mainstage production about a plane crash survivor
3. Trying to figure out how to get back to London (where I had spent the previous semester)
4. Avoiding a good friend that I had hooked up with in London, and whose girlfriend (probably justifiably) wanted to kill me
5. Eagerly awaiting the release of The Phantom Menace.

Yeah, there were some bad choices. [more...]

| | |
| --- | --- |
| | [1] |
SNOW? I knew it was cold today, but not that cold!


Max found this sweet Boba Fett Hoodie... and now I'm totally thinking about knitting one. I could do it.


Knit Monster Head. That is just so creepy. I can't even look at it. Way worse than the Feathers balaclava...

Monday, October 20, 2008
| | |
| --- | --- |
| | [4] |
The Eyeballing Game. Ooh, fun! You have to bisect angles, mark the center of circles, and create parallelograms just by eyeballing lines on the screen. I'm not that bad at it. I got 4.33 on my first try, and 2.93 on my second. (The lower the better.)


More Obama endorsements today: The Chicago Tribune (the first time they've ever endorsed a Democrat in 161 years), Colin Powell, and my old college roommate. I'd say that's pretty conclusive right there.

Sunday, October 19, 2008
| | |
| --- | --- |
| | [1] |
Emily came over yesterday and brought us a present: a bag of "Obama Blend" coffee from Campos.
Great depth of character, strong, and eloquent. This very appealing blend unites coffees from Africa and the Americas to produce a cup which has gotten us excited. Formidable middle palate flavors, syrupy with an uplifting finish. Excellent drink for going forward.
HA! Rodd and I are both enjoying it right now.

Saturday, October 18, 2008
| | |
| --- | --- |
| | [4] |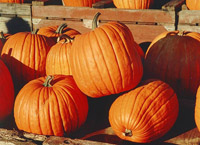 I stopped in at the David Jones Food Hall this morning to see if they had any Halloween supplies. And there they were! Actual orange pumpkins! I knew they had to be available somewhere, but I've never seen them for sale before. I enquired at the greengrocer area. "Are the orange pumpkins for sale, or are they just for decoration?" "They're for sale!" the helpful attendant told me. And the price? Twenty-eight dollars. I nearly choked. That's seven times what my Mom paid for one in Indiana this past week. *sigh* I guess my Obama-lantern will have to be green instead of orange.

Edited to add: I just saw them at Harris Farm at Broadway for $20. I must be going insane, because I'm actually considering it.

| | |
| --- | --- |
| | [6] |
The Snook and I just registered for the 7 Bridges Walk next Sunday. It's a 25km walk around Sydney crossing over - you guess it! - seven bridges. Should be fun!


The Morris and Sons (formerly known as Tapestry Craft!) sale website is up and running. It took me about six hours to get ready last night, but it appears to have been well worth it. They've had about 35 orders in the first two hours! I'm pretty proud of that.

Friday, October 17, 2008
| | |
| --- | --- |
| | [4] |
Stress. It's been a busy week at work; the TC Sale is supposed to launch tomorrow; and on top of everything... it looks like Dr. Amy Jones is SICK! She was really weird last night, roaming the house and never really settling down. And then today we suddenly noticed that she's going to the litterbox really frequently. (This morning it was like 3-4 times in half an hour.) I think the poor thing has a UTI. I've just called the vet and we're going to take her in tonight. I feel awful for not noticing sooner. I know how painful that is for a human, so I hate to think she's been trying to tell us that she's hurting.

Update: And we're back. The vet explained that cystitis in cats can be caused by a number of factors: stress, infection, crystals in urine, or even cancer. Her age makes cancer unlikely, and he didn't feel any stones during the examination. So we're going to treat her for an infection and hope that clears it up. He gave her a shot of anti-inflammatory something-or-other and a prescription of tablets. We just shoved the first one down her throat and - thank goodness - she seems to have eaten it without too much drama.

All up it cost us about ninety bucks. Do any of you have pet insurance? I was asking the lady at the vet about when it becomes a good idea. She seemed to think that a younger, strictly indoor female cat was probably a low risk, and it wasn't really necessary. Given that we've had her for 4.5 years and this is the first treatment she's ever had (beyond yearly checkups), I think we're ahead of the curve. I'm just wondering when to start thinking about it...

Thursday, October 16, 2008
| | |
| --- | --- |
| | [3] |
What we've done with our veggie box so far:
Potato Gratin with Caramelized Fennel and Leek. We had this last night (along with some salmon fillets) and it used up all of our potatoes, the leek, and the fennel. The flavour was great, but I've never had much luck with gratins. They always turn too soupy. What am I doing wrong?
Cranberry-walnut chicken salad. I made this tonight and used up a bit of the celery and the cos lettuce. (I served the salad on the lettuce.) I already had some dried cranberries to use up in the pantry, so that worked out nice. All I ended up buying was some tarragon and shallots. It looked just like the picture! So vibrant and fresh. I actually really liked the celery in this.
Mom's Apple Cake. The Snook made this tonight and used up all but one of the apples and three of the oranges. It's cooling on a rack as we speak. It smells fantastic.
So we're down to one apple, half a celery, half a lettuce, and three oranges. This is kind of a fun puzzle! I hope we get different things in each box. It's a good impetus to try out recipes, at any rate.


Cat-leidoscope. Other than a few missing orange splotches, that could be our cat!

| | |
| --- | --- |
| | [1] |
Heroes fans! Claire Bennet says to vote for McCain. Of course, she also swears a couple of times, so you know she's being sarcastic.

Wednesday, October 15, 2008
| | |
| --- | --- |
| | [2] |
Giant bowl of bibimbap. Droooool.... ahhh...

| | |
| --- | --- |
| | [1] |
RunningBlog: The official race results are now available. My net time was 2:47:59, so I finished exactly 11 minutes slower than last time.

| | |
| --- | --- |
| | [12] |
Food for the Future Veggie Box
Since we missed the Food for the Future Fair in Chippo this past weekend, I had a look at Eva's photos to see how it went. I got really excited by this one which shows a leaflet about "veggie boxes." The idea is that for $25-30, you get a box delivered every week full of in-season fruit and veggies from local farms in the Hawkesbury. The Snook and I immediately agreed that it's a good idea. We always struggle with eating enough veggies, so this will force us to use them up (and learn new ways to cook them). I immediately filled out the order form and got an email back from the organizer right away. They were selling boxes at the Fair, and he still had one remaining box left if we wanted it. I walked over last night and picked it up!




So for our $30, we got a dozen organic free-range eggs, a few onions and potatoes, two different varieties of apples, oranges, a leek, a bulb of fennel, a head of cos lettuce, a bunch of celery, a tub of Blue Mountains honey, and five bottles of organic ginger beer. Nice! Now I just have to figure out what to do with it. I think the eggs, leek, and potatoes are crying out to be used in a quiche or frittata. The fennel will be good braised or used in a stew. But what to do with a whole head of celery? Neither of us particularly likes eating it raw...

| | |
| --- | --- |
| | [1] |
Portraits Of People In Clothes Made From Their Pets' Fur. I find it's much easier to just give your cat a cuddle before going out the door in the morning. You get covered with just as much fur, but you don't have to bother knitting it!

| | |
| --- | --- |
| | [9] |
I was surprised to see a story about Elkhart, Indiana (the area where I'm from) on Consumerist this morning. It was something about a new law that you're only allowed to have one garage sale a month. I thought it was funny until I read the associated NYT article. Elkhart is hurting, bad. "The jobless rate in Elkhart has increased more than in any metropolitan area in the country." Unemployment is over 9%. So many people were involved in the RV industry, and it's just fallen apart because of the high gas prices. Unemployment, debt, and garage sales seem to be all that's left. It's pretty sad. Of course, the author has to tie it into politics at the end. The guy who says that he doesn't think people there are "ready to vote for a colored President" just made me shudder.

Tuesday, October 14, 2008
| | |
| --- | --- |
| | [1] |
If you're like me, every time you hear The Hollowmen credits start, you think, "What IS that song?!" Tonight the Snook tracked it down for me. It's an 80's band from New Zealand called The Bats and the song is "North by North." There you go!

| | |
| --- | --- |
| | [5] |
Good grief. Studies show that fatter U.S. states support McCain.

| | |
| --- | --- |
| | [1] |
RunningBlog:
Melbourne Wrap-up
Of course, the half-marathon wasn't the only thing I did in Melbourne. We arrived on Friday morning and, as it was too early to check-in at the hotel, we dropped our bags and headed out into the city. I was on the hunt for a specific element of my Halloween costume, so we walked to the Queen Victoria Markets to do some shopping. I didn't find what I was looking for, but a stall holder gave me some good leads on other places to check. We had lunch at the Markets and then headed back to the hotel for a rest. In the afternoon, we caught a tram to the MCG for the Race Expo so I could pick up my free swag. I also bought a pair of Skins shorts to wear in the race (on the recommendation of Emily and Clare). Then we headed out to Richmond to meet up with some Ravelers at a wine bar. There we hung out with Sonia, binkaboo, foreverknit, madaco, and of course, Damo. Afterwards we had a burger in Richmond and then headed back to the hotel to sleep. [more...]

| | |
| --- | --- |
| | [4] |
Star Wars ABCs. Those are gorgeous. Makes me wish I had a kid I could share them with! (I don't think the Carbos want me to turn their babies into geeks. Pity.)


Fun Halloween Decoration: Papercraft Edgar Allan Poe.

Edited to add: Two more! Patrick the Pumpkin Patch Prince and La Catrina.

Monday, October 13, 2008

I really, really want to carve an Obama Pumpkin for Halloween!


DJ Tiddles in the house! I really wish my cat would let me dress her up in clothes.

| | |
| --- | --- |
| | [14] |
RunningBlog:
Melbourne Half-Marathon
If you've been following my training at all, you know that the last month has been difficult. I peaked too early, caught a cold, and found it difficult to stay motivated as Race Day approached. I think I expected that my second half-marathon would be way easier than the first, but that was definitely not the case.

Race Day dawned unseasonably hot and windy in Melbourne. I'd had a terrible night's sleep but still felt relatively okay in the morning. I had, however, forgotten the #1 piece of pre-race advice: Get everything you need to wear or take with you ready the night before. So I was a bit frantic trying to get ready and eat some breakfast (toast with peanut butter) before the cab arrived. Once we got to the MCG, I discovered my mistake. I'd forgotten my iPod. Crap. That meant I had no way to track my pace or keep an eye on my split times (not to mention no way to distract myself). There was no time to go back, so I just had to accept it.

There were thousands of people streaming down from the MCG to the starting line, so I rushed to use the bathroom and get ready. I pinned on my number and attached the timing chip to my shoe. I ate a Gu pack and drank some Gatorade from my water belt. I rubbed Voltarin (an anti-inflammatory gel) on my back and hamstrings. The Snook took a quick picture of me in front of Rod Laver Arena, where the Australian Open Championships are held. Then I kissed him goodbye and headed to the starting area. There were 7,700 runners in the Half-Marathon but you'd never know it by how well-behaved and orderly the crowd was. I did some easy stretches and tried to quell my nerves. Someone sang a lovely a capella version of the national anthem. And then we were off! [more...]

Sunday, October 12, 2008
| | |
| --- | --- |
| | [3] |
RunningBlog: Home. Just took a cab home from Sydney Airport. (Snookums is staying an extra day to visit his company's Melbourne office.) It turns out that the second half-marathon is a lot harder than the first one. I finished it though, if a little slower than last time. Expect a full race report tomorrow once my brain is functioning again.

Thursday, October 9, 2008
| | |
| --- | --- |
| | [4] |
We're packing for the trip to Melbourne. We fly out in nine hours. Eep!


Shannon: "How long have you and Rodd been together?"
Toast: "Are you kidding? They've been together FOREVER. They've been together since... dot coms."

It's funny because it's true.

| | |
| --- | --- |
| | [2] |
I can't believe I'm saying this, but go watch this "Diddy blog". P. Diddy calls out McCain for referring "to a grown man as 'that one.' A man that has worked hard, a man that has done the impossible, a man that has fought for every ounce of respect that he should deserve... Whether you agree with somebody or not, you're trying to be the President of the United States, and you refer to another man as 'that one'? ... That's not right, man."

| | |
| --- | --- |
| | [1] |
Spring!
I know I was blathering about it yesterday, but it really has been lovely this week. (It helps that I'm on vacation.) On Monday the Snook and I took the GoGet car out to Lidcombe to go to Bunnings and Spotlight. We'd settled on a compromise in the garden: I can have a small veggie patch in the corner, but I have to weed and water it myself. We came back with enough plants and soil to get started. And here it is! We picked the spot that gets some good sunlight for part of the day, but it's still partially protected by the tree and the roof. (See all those rocks on the ledge? Those came out of the dirt!) I bought a combination pack of seedlings that included four tomato plants, two capsicum, eggplant, beans, snow peas, and chillis. (I've also planted two pumpkin seedlings in their own patch elsewhere.) So far they seem to be doing great! Today I'm going to put down some wet newspapers as mulch. Yep, here in Chippendale we're all about sustainability! (I'm sad we're going to miss that Festival this weekend.)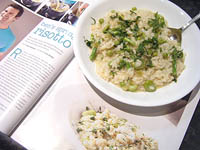 Oh! And here's the other thing that really made me feel like the Farmer's Wife this week: Risotto Primavera. It's from the September issue of Delicious magazine. While the Snook manfully heaved dirt and sifted rocks in my garden, I sat barefoot on the patio shelling fresh peas and broad beans into a bowl. The peas were so beautiful nestled in their pods, and the broad beans revealed a brilliant green under their thick outer skins. The recipe also calls for onion, garlic, white wine, parmesan, and asparagus tips. It turned out so delicious. I garnished it with chopped mint and extra cheese. It's easy to eat well this time of year.

| | |
| --- | --- |
| | [10] |
Rock the Vote
The NYT calls out the Republicans for running the dirtiest Presidential campaign in memory. Experts declare Obama won the 2nd debate. Both Joe Biden and Jimmy Carter send me emails (via Democrats Abroad) reminding me to send in my absentee ballot. And lo and behold, Indiana may be a swing state!

I rushed to the Post Office yesterday and spent TWELVE DAMN DOLLARS to send this thing via Express Post. It probably would've gotten to Indiana in time with normal Air Mail, but I wanted to make sure that this Hoosier gets to play her part in history. Thanks for the reminders, Joe and Jimmy!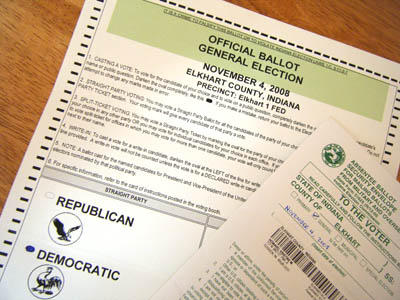 Interestingly, the Aussie clerk at the post office was astounded that I couldn't just go vote at the US Consulate on Election Day. "Why don't you do that? That's what we do!" I had no answer. It really would be a lot simpler than this craziness (which changes for every single state).



Why in the world is the Democratic symbol there a ROOSTER?



Wednesday, October 8, 2008

This article by Terry Pratchett is pretty sad. I finally read Good Omens while I was in L.A. and I enjoyed it way more than any of the Discworld books. I hope he continues to draw attention to dementia research and gets it some more funding.

| | |
| --- | --- |
| | [1] |
The sounds of spring: The handy-man at our old apartment complex has just fired up the lawnmower. I can't remember the last time I heard a lawnmower. I love this time of year.

Tuesday, October 7, 2008
| | |
| --- | --- |
| | [1] |
RunningBlog: It's the final week. The Half-Marathon is on Sunday... and I can't decide whether I'm completely ready or completely burnt-out. These last few weeks since my 25km training run have been difficult. I was sick, and then I just didn't have the energy or drive to finish my training plan. I only ran twice last week. I think I might have peaked too early. I'm still looking forward to the run this weekend, but I think I'm going to cut myself some slack and just try to enjoy it. Having a goal is great for motivation, but not if it saps all of the fun out of the activity. It doesn't matter how fast or slow I go. I just want to get out there and have a good time.


They've started tearing down the old Kent Brewery a few blocks away, and every night I try to peek over the hoarding on my way home to catch a glipse. It looks so eerie and fantastic, like someone demolishing Wonka's Chocolate Factory. The only tall bit still standing is the large chimney. Check out this awesome photo...

Sunday, October 5, 2008
| | |
| --- | --- |
| | [2] |
David Dale ponders how to get Aussies to eat kangaroo. I'll admit that 'roo isn't my favorite meat. It's not because I have any sort of a "Skippy" complex, but just because it's so dark and gamey. It all depends on the preparation, really. (Now I sound like one of those idiotic commentators on Iron Chef: "You've done a great job of covering up the smell!") The Snook got us a couple small 'roo roasts the other night, and they'd been marinated with loads of garlic. Sliced on sandwiches with barbecue sauce? YUMMO.

| | |
| --- | --- |
| | [1] |
The Other Andrew took some beautiful photos of our knitting tea party over at Miss Fee's yesterday. That last one of the person in the striped shirt knitting the yellow sweater is me.

| | |
| --- | --- |
| | [7] |
Thirteen years ago
Happy birthday, Eileen! I was remembering back to Eileen's birthday freshman year, when it suddenly hit me: That's when she set our dorm room on fire! I pulled out my box of photos and started digging, and at last I found it...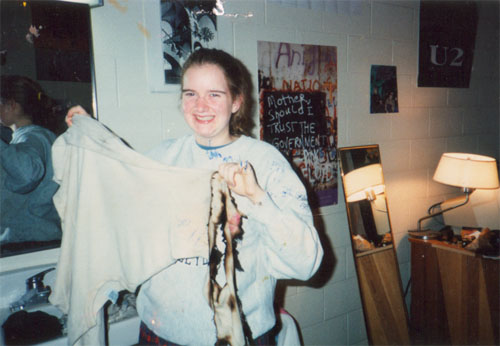 I'd been at an audition for a play that night, and when I got back to PW (our dorm) I immediately noticed a funky smell in the air. "That's from your roommate," some girl in the common room said. "She set your room on fire." "Yeah, right," I joked. "No, seriously. She did." I took off running. This photo is pretty much what I found. She'd been burning some (contraband) candles that a friend had sent her as a gift, when Erin Fair burst in and threw a handful of birthday cake at her. Eileen had, of course, given chase... knocking over the candle onto a pile of her own laundry. Little did I expect I'd be embarrassing her with the story thirteen years later on the Internet!

I found two more fun photos of us if you want to see. [more...]

Saturday, October 4, 2008

Ebert critiques the VP debate from a "performance" perspective. He likens Palin to a dog standing on its hind legs: "It is not done well, but one is surprised to find it done at all."

| | |
| --- | --- |
| | [1] |
Hooray! My oldest blog buddy Brigita is back at her old haunt. What a year. Love ya, B.

Friday, October 3, 2008
| | |
| --- | --- |
| | [6] |
Holy crap. Forget Palin as the VPILF. Does anyone else think Biden looks like a SILVER FOX in this debate?

| | |
| --- | --- |
| | [1] |
The Sarah Palin Pity Party:
When you don't take your own career and reputation seriously enough to pause before striding onto a national stage and lying about your record of opposing a Bridge to Nowhere or using your special-needs child to garner the support of Americans in need of healthcare reform you don't support, I don't feel bad for you.

When you don't have enough regard for your country or its politics to cram effectively for the test -- a test that helps determine whether or not you get to run that country and participate in its politics -- I don't feel bad for you.
Biden is going to trounce her in the debate today, and this feminist will be cheering. I hope Hilary is throwing a party somewhere. Me, I'll be streaming it from SBS.

Wednesday, October 1, 2008
| | |
| --- | --- |
| | [2] |
Fiction Rule of Thumb, an XKCD comic that the Snook rightly predicted I would love. It also neatly encompasses Everything Kris Hates About William Gibson Novels.

| | |
| --- | --- |
| | [2] |
I'm just feeling a little overwhelmed. My new role at work has me hopping, and I'm finding it difficult to say "no" to anybody (since I want to do a good job). On top of that, this just seems to be a very busy time of the year! I probably spend half an hour a day just tending to my various To Do lists. I'm really looking forward to my vacation time next week. I haven't had a week off since last March, so it's going to be nice to be able to get some stuff done around the house. (And it's finally Daylight Savings this weekend! I LOVE Daylight Savings.)

archives
You can search through the archives by post keyword using the form on the left, or you can browse by month using the links at the bottom.
"Moblog" refers to posts and images posted directly from my mobile phone.

"PW Blog" refers to posts recovered from my very first weblog, which dealt with news related to my college dorm.