Saturday, October 31, 2009
| | |
| --- | --- |
| | [3] |
Happy Halloween! We're in full swing of party preparations here...

Friday, October 30, 2009
| | |
| --- | --- |
| | [2] |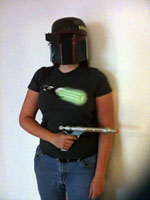 That bounty hunter is my kind of scum!
The Snook and I both discovered rather last minute that some folks in our respective offices would be dressing up for Halloween. I quickly laid claim to the Snook's Boba Fett helmet. As I was getting dressed this morning, I lamented that I didn't have a blaster. "Yes you do!" Snookums said. "Your stepmom got you one for Christmas years ago. It's still in the package!" And so it was! Frickin' awesome. I brought along a bunch of stuff to decorate my desk and cracked open a bag of candy corn for my co-workers. (The Snook went as Indiana Jones, but I haven't gotten a picture yet.)

And no, these aren't our official costumes for the party tomorrow... You'll have to wait another day!


RIP Josephine. At least I got to meet her before she died!


Awww, it appears my efforts to Bring Halloween to the Australian People are foundering. I'll turn the grinches around, you'll see!

Thursday, October 29, 2009
| | |
| --- | --- |
| | [7] |
Cake Eyeballs
Whoa! These turned out so good. You'll recall that in previous years I made Buck Eye Balls, which were peanut butter balls dipped in white chocolate. This year I decided to take a page from Carbolicious Cakes (my sister's company) and try my hand at the ubiquitous cake balls. They turned out so well! One of them fell into the chocolate completely, so we got to taste it. Eileen immediately pronounced them "so delicious!" Now we just have to NOT EAT THEM before the party.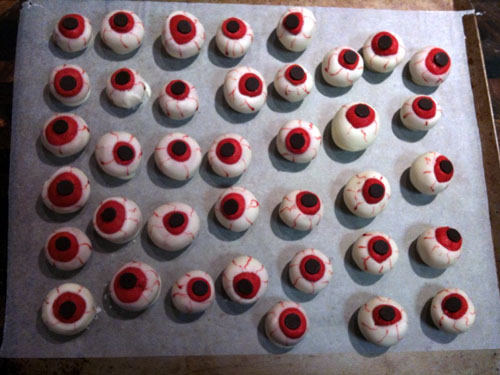 Wow. Just looking at these 80's scratch-n-sniff stickers immediately brought back sense memories. I distinctly remember getting the apple and popcorn ones from one of my grade school teachers. (Link courtesy of PCJM.)


The Chippendale Fresh Food Co-Op has officially launched! We're going to sign up.


What a fantastic Halloween costume! A Real Comic Book Character. That is so cool.


My 461 bus unexpectedly terminated at Town Hall this morning because of "an accident." I grumbled my way up Park Street towards work expecting to see some minor fender bender. Instead... taxi SMASH! Whoa! The engine block was actually sitting on the sidewalk! It was nuts. It's a good thing it happened so early in the morning; from 8am onwards there would've been loads of pedestrians waiting on that corner to cross the street.

Wednesday, October 28, 2009

The RSPCA have posted a Thank You video for Cupcake Day 2009. There's a Cookie Monster Cupcake (not mine, but very similar) at 1:05.

Tuesday, October 27, 2009

The nitty-gritty economics of raising chickens. That's a lot to think about.

| | |
| --- | --- |
| | [1] |
Got a second? Please go vote for Scott Fischer's book "Jump" in the Spoonfuls of Stories contest. Scott is my stepmom's brother-in-law, and this is his big break opportunity to have a book he wrote and illustrated promoted by Cheerios. You can vote once a day until Friday!

| | |
| --- | --- |
| | [2] |
Serious capybara babies are serious. Capybaras look UNREAL.


Man! I seriously think I'd volunteer for the simulated mission to Mars were it not for A) my complete lack of the required skills and B) my not living in one of the ESA member states. Damn.

Monday, October 26, 2009

In Pictures - Sydney Bridge Breakfast. Yeah, the Snook and I were amongst the 45,000 people who DIDN'T score tickets in the lottery. Maybe next year.

| | |
| --- | --- |
| | [1] |
Whoa. Prompted by today's awesome xkcd redesign (in honour of the death of Geocities), I looked up my first website and the Snook's. Notice anything? We both used crappy gifs of Bill the cat. DESTINY!

| | |
| --- | --- |
| | [1] |
If you found the luxury tampons offensive... this is worse.

| | |
| --- | --- |
| | [6] |
Submitted as actual feedback to the Coles website:

"I'd like to complain about the ongoing remodeling efforts at Coles Broadway. Look, I get it was time for a refurb. The shopping center may in fact have demanded it. But the way it's being done has turned my weekly shop into a complete nightmare. I now actively dislike going to the store. It's not the construction; it's the layout. It doesn't take a cynic to immediately notice that the milk has been strategically moved to the spot farthest from the entrance. The dairy has been split up with butter and cheese at one end of the store with the veg, and yogurt clear at the opposite end with the milk. The new cases for the meat are only half as high and the different meats are not clearly defined. I have to lean over and peer at each and every shelf in an aisle crowded with other confused customers. No one knows where anything is anymore! Customers are forced to wander up and down every single aisle, which appears to have been by design. On my last visit, I saw an employee whose sole function appeared to be helping customers find things in the store. THIS IS BAD DESIGN, and it makes me want to switch to a supermarket that is not openly antagonistic towards their customers."


Horace Behr and Mr Bunnyford. Freaky and disturbing amigurumi.

Sunday, October 25, 2009

Talkback: Vegging Out. My neighbour Michael was on the radio the other day, and Ma Snook heard it and sent me that link. There's also a photo gallery. Chippendale's garden experiments are now getting national media coverage!

Saturday, October 24, 2009

Food for the Future Fair
The Food for the Future Fair is in full swing, and the Knitters Guild stall is being mobbed by kids who want to knit. Here are the unsuspecting knitters right before the onslaught: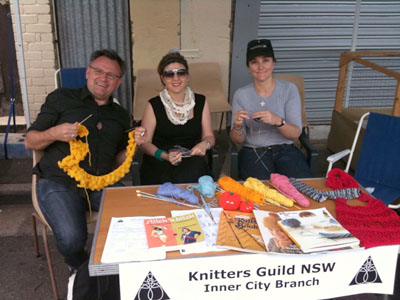 And here's what it looked like after the kids found us. Eeek!

The Snook and I got to watch Lord Mayor Clover Moore open the new food co-op (while wearing a 350.org T-shirt); I sampled some macaroons from Sweetness the Patisserie, and I finally got to meet fellow Chippendale blogger Steven Noble. Pretty fun! Now I'm off to run some errands, but I'll be back at the knitting stall from 2pm-4pm.

Friday, October 23, 2009

Hallucinations in sensory deprivation after 15 minutes. See? That explains why I couldn't sleep in the Outback. IT WAS TOO QUIET.


Awwww, baby Tassie Devils are cute!


Signs of economic recovery in Elkhart, Indiana. (Video) My mom sent me that link this morning. I'm glad the RV industry has picked back up, but I really hope folks have figured out that it can't last. The electric cars project seems to best hope for putting everyone to work in a more sustainable industry.

Thursday, October 22, 2009

"The woman at my polling place asked me, do I believe in equality for gay and lesbian people? I was pretty surprised to be asked a question like that. It made no sense to me. Finally I asked her, 'What do you think I fought for on Omaha Beach?'" Phillip Spooner is a hero, and he just made me cry.

Wednesday, October 21, 2009

Obviously I need this one too...


My Roald Dahl Presentation
I just realised that I completely forgot to tell you how it went! Two weeks ago I headed off to Willoughby Public School, where my nephew Kurt is a third grader. They've been studying Roald Dahl lately, and Kurt had showed his class my website. His teacher got excited and invited me to come give a talk. So I whipped up a little presentation and brought along some of the rare items from my Dahl collection. The kids were great, listening attentively and asking really good questions. (Third graders do fidget a lot though!) They were really excited that I got to visit Gipsy House and meet Liccy Dahl. I gave them a collective present of some Dahl-themed board games I was given by the manufacturer, and I lent their teachers a few books and movies. A very sweet little boy had evidently been nominated as the official "thanker," and he presented me with a card and a W.P.S. pen and coffee mug. Sweet! At the end of the hour, one little girl asked if she could email me a story she'd written about Roald Dahl. "Sure," I said. "Your teacher can give you my email address." That set off a chorus of "Me too! Me too!" The teacher looked at me questioningly. "Are you sure you're ready for this?" "It's fine," I assured her. The next day I had more than 20 emails in my Inbox. (Whoops.) Overall it was a lot of fun, and I'm really grateful that they invited me. I may have to do it again next year!

| | |
| --- | --- |
| | [1] |
Luxury Tampons. I had the exact same reaction when I saw that stupid ad.


"I should like to die. I am sickened at the brute world which you are smiling with. I hate men and women more. I see nothing but thorns for the future ... the world is too brutal for me - I am glad there is such a thing as the grave - I am sure I shall never have any rest till I get there ... I wish I was either in your arms full of faith or that a Thunder bolt would strike me." GOOD GRIEF, John Keats! And you thought your high school boyfriend was melodramatic.

Tuesday, October 20, 2009

Black Dog Syndrome. This is why I'm so glad that Miss Fee was able to rescue all three of the kittens last Christmas. Petey and Tom would have had a rough time in a shelter!

Six.
http://www.howmanypeopleareinspacerightnow.com
| | |
| --- | --- |
| | [3] |
To celebrate the 20th anniversary of their album "Flood," They Might Be Giants have written some track-by-track liner notes.


Food for the Future Fair
Just a reminder that the 2009 Chippendale Food for the Future Fair will be held this Saturday, October 24th, from 10am-4pm. The Inner City group of the Knitters Guild (of which I am Convenor) will be giving free knitting lessons there all day long. It's going to be a great day! If you're in Inner Sydney and you're interested in art, food, gardening, sustainability, and culture, you should come along. The official program is available here. (Me, I just want to pat a chook.)


My sister has posted another picture of Indie in the dress I knitted her. Cutie!


The Daily Telegraph has a short story on the random goat of Chippendale, who you'll recall I actually got to meet. Neat! (Link courtesy of Life in Chippendale.)

Monday, October 19, 2009

Morris and Sons Sale!
Morris and Sons are having their occasional-but-increasingly-annual October Sale right now. This is kind of a weird one for me. It's their first sale in five years that I haven't been involved with in some capacity. All I did was send through instructions for updating the website. On one hand I guess it's good that the system I set up works well and the training I've given them over the years has paid off. They can run it all themselves. On the other hand... they don't need me anymore! It's a little sad. But the sale looks good, so you should totally go.


The Snook IMed me this morning to ask if I was secretly the author of this comic strip. I am not, but evidently the artist and I were separated at birth. That comic strip encapsulates every single one of my Grumpy Old Woman Pet Peeves.

Sunday, October 18, 2009
| | |
| --- | --- |
| | [4] |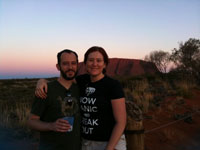 Outback Adventure
The photos from our trip to Adelaide, Alice Springs, and Uluru are now up! The main part of our trip was a three-day adventure camping trip with Wayoutback Desert Safaris. I can't recommend this company enough. The trip was exactly what we hoped it would be, and it was worth every penny. Our small but varied group camped out under the stars together and hiked through some of the most amazing landscape in the world. Our guides Mike and Carl were knowledgeable, friendly, and capable. There was plenty of food, and thankfully many bathroom breaks with real toilets. It wasn't the most relaxing trip, but if you're looking for a real outback experience, Wayoutback is the absolute best way to do it. Anyway, yeah, go check out the photos for more details. (Eileen has posted some too.) [more...]


Holy crap! There was an anti-fascist demonstration in Chippendale a few weeks ago. How did we miss this? Humanist House is right around the corner from us! Our Knitters Guild group used to meet there!


Chippendale Planting & Gardening Day: Sat 24 October
News from Michael Mobbs:
Sydney Council has kindly given us plants to plant as part of the Food for the Future Fair on 24 October. And council has given us mulch to protect the trees we've planted. At 3 pm, after the bales of mulch serve their purpose as seats during the fair we'll pick them up in a ute and take them to Rose, Shepherd, Myrtle and Pine and Balfour to put around the trees and plants.

Some plants are to replace those which have been vandalised, stolen or died in Rose, Shepherd, Myrtle and Pine. Others are to go in a new productive garden bed at the southern end of Balfour beside Cleveland. Plants include: Midginberry, citrus, lemon grass, strawberry, grevillea, hakea and others.

If you want plants to put in and maintain in front of your place please either email me or drop this note back to my place with your name, address and email so I can hold plants for you to pick up on Saturday.
There's more information on the provided PDF. I'll be working the knitting guild stand at the Fair most of the day, but I'm going to try to get down there if I can!


Need an avatar for Facebook or Twitter? My awesome designer friend Sharon has launched a competition and, if you win, she'll design one for you! All you have to do is email her and tell her how you want to be portrayed and where you'd use it. Give it a go!


HOME! Working on many, many blog posts. Stay tuned.

Saturday, October 17, 2009
| | |
| --- | --- |
| | [1] |
Back in civilization! After five days in Alice Springs - most of which was spent camping in the desert - we're back in Adelaide for one last night. Tomorrow it's home to Sydney, where I'll be doing a massive blog post with loads of pictures. I wonder if the kitties missed us?

Tuesday, October 13, 2009
| | |
| --- | --- |
| | [4] |
We're in Adelaide! Yesterday we flew out of Sydney at the crack of dawn. We spent the day exploring Adelaide on a very windy, rainy, and cold day. I've been posting pictures on Facebook and Twitter. Today we head to Alice Springs and Australia's red centre! Posting will be light while we're on our camping trip...

Sunday, October 11, 2009

So far Eileen's been here for 48 hours, and she's already seen most of inner Sydney. She even got to take in a Knitters Guild meeting yesterday morning! Last night we took the ferry to Watson's Bay and had a fantastic dinner at Doyle's on the Beach. Today we're going to do the Bondi to Coogee Walk, rain be damned!

Friday, October 9, 2009

Eileen has arrived! I dragged her all over Sydney in the pouring rain today. Now she's having a nap...

Thursday, October 8, 2009

"'Spectacular' sunrise platform at Uluru." Neat! We'll get to see it next week!

Ebert is Twittering!

Sexy Disney Princes, drawn in their underwear. Rowr! Yeah, a little disturbing, mostly because the guys in those stories are like sexless Ken dolls. I like that Prince Philip wears boxer briefs.

Wednesday, October 7, 2009
| | |
| --- | --- |
| | [2] |
Hahaha. I totally agree. The plan to rescue Han from Jabba the Hutt never did make much sense. But that discussion made me laugh and laugh...

| | |
| --- | --- |
| | [2] |
"The wonder of wool... or how knitting is once again helping us through the hard times." Interesting that the UK is reporting increased sales. I have to wonder if it's really wool though. In my experience, newbies tend to go for the cheap acrylic (especially if they're looking for a price-conscious hobby). And whatever Ginger Spice is knitting there is mostly definitely NOT wool. I do have to laugh at the idea that Kimberley Stewart would rather stay in and knit than go out and party. Sure, riiiiiiiiiight. (Link courtesy of Alysha's twitter feed.)


RunningBlog: I haven't done one of these in a while, huh? I'm happy to report that I'm back into a regular running schedule. I've been running three times a week following the Couch to 5K plan to rebuild my fitness level. I'm also using this as a way to transition into forefoot running. I've just finished Week 5 and did my first 20 minutes of continuous running since before I got sick. It was great! Forefoot striking is starting to feel really natural, and my lower back ache is pretty much gone. My right hip is still tight and frozen though, so I may need to see the physio for that. I had sore calves for the first few weeks, but that's mostly gone now. My knees feel a bit achey after today's run. I'm definitely going faster with the same amount of effort though.

Tuesday, October 6, 2009
| | |
| --- | --- |
| | [1] |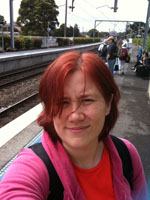 Knitters Guild Camp 2009
This weekend was the bi-yearly Knitters Guild NSW Camp at the Kurri Kurri Conference Centre. I left work early Friday afternoon to catch the 5.15pm train from Central Station to Maitland with Miss Fee and Alison. It was a three hour trip, so we had a picnic dinner on the train and entertained ourself with - what else? - knitting. We finally got to the venue and settled into our rooms before breaking open the wine. I was happy to see that I had Optus internet access, albeit patchy at times, so I was able to twitter and keep in touch with the Snook. Saturday Fiona and I went for a run and saw lots of kangaroos! All day Saturday I taught my "Socks on Two Circulars" class, with Fiona ably assisting. Nearly everybody managed to finish their two sample socks. I even found time to cast on some new socks for myself! Afterwards I went to Alison's excellent yoga session, which really helped to work out some of the kinks. Saturday night I set up the new Guild projector and helped Phyll with her presentation on the Guild Archives. Sunday I slept in before heading to my Knit One Below class. It was a challenging technique at first, but I soon got the hang of it. I made a couple samples. I suppose it's good to know, but I don't really see myself using it anytime soon. (The bulky textured fabric just isn't for me.) I did another yoga class Sunday night, and then after dinner we had Show & Tell. Fee showed off her fabulous wedding dress to much acclamation. Then it was time for my "Welcome to the Knitternet" presentation. It went really well! We had quite a big crowd, and many of them chimed in with their own experiences. Fiona then did her "Colour and Knitting" presentation, which was well-received and even got some nods from special guest Prudence Mapstone! We finished the weekend with another run on Monday morning before catching an early train back to Sydney. I had a nice time, made some new friends, and hopefully even taught a few people a thing or two... (Fiona's camp photos are here.)

| | |
| --- | --- |
| | [2] |
My gaydar works across continents.
On the weekend, I logged in to Facebook to see a message from someone at my high school. It basically said, "I know you live really far away and you probably don't know and it's probably none of my business anyway, but is [person from our high school that I used to date] a homosexual?" My brain nearly fell out. I tried to think of what possible responses she could expect me to send back.
"Yep. Totally gay. I chose to date him anyway."
"Yep. He was straight when we went out, but decided to try men after me."
"No. He's just thin and neat."
In the end I went with pretty much the only answer I could give: "I have no idea. I haven't seen him in over ten years. And yeah, it's none of your business."

Thursday, October 1, 2009

Hey Aussies, it appears that we're all getting a free swine flu vaccine. My doctor offered it to me this morning but apparently Broadway hasn't received their stock yet. (I did get my dip/tet/per booster this morning, as my recent whooping cough test showed that my childhood immunisation had worn off.)

| | |
| --- | --- |
| | [1] |
Congratulations RT!
It was just over FOURTEEN YEARS ago when I nervously walked into my freshman year dorm room and met Eileen, my roommate. I'd never met anyone from New England before - much less from Boston - so the Dunne family were a little overwhelming! Eileen and I got along great, dorm room fires notwithstanding. We had Biology together, which was super useful because I never would've passed without her helping me on those damn lab reports. I just didn't understand how she could like it so much. But Eileen was sure from Day One that she was going to be a biology major, and I really admired that she knew what she wanted to do. She has stuck to that ever since. The last six years of grad school have been tough, and I knew there were times when she wanted to throw in the towel. She stuck it out though, and as of yesterday my very own Roomater has earned her PhD! Congratulations, Dr. Dunne! And the best thing is, she flies out here in one week so I can toast her in person.


Garden Update: The broad beans have sprouted! Everything looks to be relishing the warmer weather and sunshine. Coffee grounds seem to be doing a good job of repelling the slugs.


A photographer has been travelling the world, taking photos of all the oldest living things. She should be collecting it all to make Vita-Wonk!


There are some super cute new baby koalas over at Taronga...


Whoa. A magic wand that is actually a TV remote with an accelerometer? That is so cool! I could be swish-and-flicking my way through Seinfeld each night. (Link courtesy of not marth.)

archives
You can search through the archives by post keyword using the form on the left, or you can browse by month using the links at the bottom.
"Moblog" refers to posts and images posted directly from my mobile phone.

"PW Blog" refers to posts recovered from my very first weblog, which dealt with news related to my college dorm.