Sunday, October 31, 2010
| | |
| --- | --- |
| | [4] |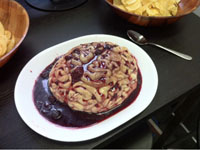 Halloween 2010
Even though we cancelled our annual party this year, I still felt the need to exercise my Halloween crafty impulses. Luckily there are a couple other people at work who like the holiday, so we combined forces to throw a party on Friday. (It was also our end-of-the-month drinks, so that worked out nicely.)

Throughout the week, I brought in Halloween decorations to liven up my corner of the office. I also made a pilgrimage to Sugar Fix to get candy corn and mini Reese's Cups, which I put out in bowls on my desk. (Want to be popular? Free Reese's Cups are the answer.) Thursday night I made a batch of my traditional Witches' Finger Cookies. I went with a shortbread recipe this year, which helped retain the details a little better. They were a huge hit! I also broke out my brain mould and whipped up Igor's Pickled Brain. I've done panna cotta before, but this one is basically a giant White Russian set with gelatin. I kept in the fridge all day at work and unmolded it at the end of the day. For sauce, I just poured on some stewed berries from a can, which looked suitably gross. People went NUTS! At one point there were like six people around it taking photos. Very gratifying! It was tasty too, with a strong coffee flavour. Quite a kick, too. My co-worker Gemma brought a lot of other snacks, including some excellent sugar cookies, chocolate crackles, and decorated cupcakes. Most of the office was on a sugar high all day long.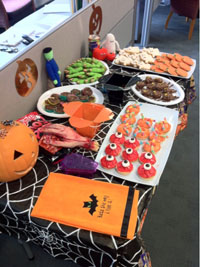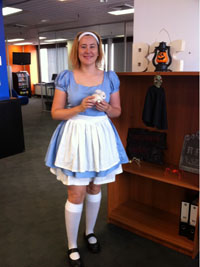 My costume was very last minute. I'd been toying with a few different ideas. In the end, I pulled out my Lucy dress from Halloween 2008. This was sewn from a pattern that was actually intended as an Alice in Wonderland dress. So, why not be Alice? Unfortunately there was a problem as soon as I pulled it on - this thing was WAY too short for wearing at work. So I worked late into the night Thursday cutting up an old bedsheet to make myself a petticoat. I also made a small pinafore/apron to wear over the top. The Snook lent me his little white rabbit and made a tiny pocketwatch for him to wear. With a pair of white knee socks and an Alice band, I was ready. I changed just before lunchtime on Friday, and the reaction was great! In fact, at the end of the day, my boss announced they were giving a bottle of wine to the best costume... and I won! That was pretty awesome, especially considering just about all of it was homemade.

Friday, October 29, 2010

Asparagus Cake. That's AMAZING. Sister, get on that.

Wednesday, October 27, 2010
| | |
| --- | --- |
| | [1] |
Halloween
Just to reiterate for those who missed the message a few weeks ago: we will NOT be hosting our annual Halloween party this year. We decided to take a year off. (And it was such a good idea. No stress!) So no, it's not that you didn't get an invitation. There's no party happening. :)


Death by knitting needle. Pretty awesome AskMeFi question about horror movies featuring knitting-related murders.

| | |
| --- | --- |
| | [1] |
Magic at Uluru. It rained at Uluru earlier this month and a photographer was there to capture it. Amazing. Our tour guide told us how it looked in the rain when we visited last year, but said it's a pretty rare occurrence. Neat.

Tuesday, October 26, 2010
| | |
| --- | --- |
| | [2] |
Take Back Halloween! I absolutely love this site. I tweeted this morning that I was fed up with having to add "-sexy" to my Google searches for Halloween ideas. Hmm, maybe Boudicca?


RunningBlog: Whoa, neat! My podcast was featured as the 2nd review on a new website: Channel Runner Review. Saint Steve himself recorded my review! That's pretty cool.

Monday, October 25, 2010
| | |
| --- | --- |
| | [1] |
FreeVote.org.au - I support a conscience vote on marriage equality. Do you?

Here's the personal text I put in my email to the Prime Minister and Leader of the Opposition:
My husband and I are married. We are not religious and we don't belong to any church. We don't plan on having any children. Why were we allowed to get married when other couples, who happen to be gay, are not? It's just not fair. We believe all committed and loving couples should be able to have their marriages recognised in the same way by the state.
Saturday, October 23, 2010

The Big Blog Theory - a blog written by the science consultant from The Big Bang Theory, explaining scientific concepts from each episode. Nerd heaven!

Friday, October 22, 2010

RunningBlog: Week 42
The deadline crunch at work this week meant that I missed both my Monday yoga class and my Wednesday Spudds workout. I did get in all my runs though, and I think it really helped with my stress levels.

Oct. 17: 10.02km
Oct. 19: 6.00km
Oct. 21: 6.09km
Total this week: 22.04km (13.8mi)
Total in 2010: 798.02km (498.7mi)

To meet my goal of running 1000km in 2010, I should be at 807.6km. Less than 10km behind pace now! I'm making it up...


TopBetta
I've been pretty quiet lately, huh? The main reason is this website, which just launched on Wednesday. I have been working on this site for about five months, and the original specification I wrote ran to over 70 pages. It was a mammoth undertaking. And it didn't stop once we got into development; I have since done a *dozen* different versions of the spec as things were added, removed, and changed. The dev team were amazing, and they pulled out all the stops in the last few weeks to get it done. There have been a few hiccups since launch, of course, but far less than I had feared. Now we get to start putting back in a lot of the stuff that was cut for deadline. But not today, today we finally get to celebrate getting to the (first) finish line. Well done to everyone on my team! We did a good job.

Wednesday, October 20, 2010
| | |
| --- | --- |
| | [8] |
Why are women depicted differently from men in food photography? EXACTLY. This is why I still have a hard time taking Nigella Lawson seriously. Men get to be chefs; women have to be porn stars posing with phallic vegetables.

Tuesday, October 19, 2010

Shared today on Google Reader:here.

Sunday, October 17, 2010
| | |
| --- | --- |
| | [8] |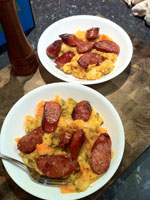 Stamppot and Scones
This week's veggie box had more kale in it, so I went hunting for another way to use it up. Somehow I hit upon the idea of making stamppot. Stamppot is a Dutch dish that basically consists of boiling up a ton of vegetables, mashing them, and serving it with meat. I'd been wanting to try this dish for 25 years.* Here's the recipe I used. Most of the cooking time is in the preparation. I used potatoes, butternut pumpkin, sweet potato, carrots, parsnips, leek, onion, and kale. After a rough mashing, I added a big whack of butter, salt, and pepper. As the meat accompaniment, we fried up a half a dozen Spanish chorizo sausages. It was very tasty! It easily made six large servings.

* In the 3rd grade, I discovered the book The Twenty-One Balloons at my school book fair and bought it. I still have that very book, complete with my 8-year-old self's signature. It's one of my favorite books in the world, and I've probably read it twenty times. At the end of the story, the Krakatoans are forced to escape their exploding island aboard a massive balloon platform. The only food they have to eat is what Mrs. D (of the Dutch house) had prepared for dinner: Stampot von zuurkool met rookworst. Isn't it funny the things that stick in your mind? As soon as Google showed the word "stamppot," I knew exactly where I'd heard of it, and that I had to make it.

I also did some baking today. Earlier in the week I saw this typically gorgeous Smitten Kitchen post featuring Apple and Cheddar Scones. I've been on an apple-and-cheese kick lately, so it appealed to me. We had pretty much everything already on hand, so I whipped them up for tea today. They were so good! It was my first attempt at making scones from scratch. (Normally the Snook is the scone-maker in this house.) He said they were "light and crispy." We devoured two each not long after taking them out of the oven.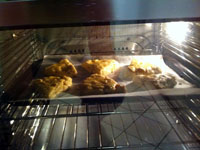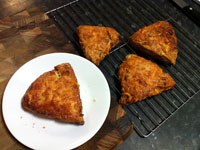 Saturday, October 16, 2010
| | |
| --- | --- |
| | [1] |
We are lucky.
It appears I have the 26th best job in America, according to CNN. The Snook's current role is #37, but he's also been #1 many times over the last 10 years. The weird thing is that neither of us actually got degrees in our current fields. (I did Communications; the Snook did Chemistry.) For the most part we just stumbled into our roles because we find them interesting and they play to our strengths. We're very lucky.

Friday, October 15, 2010
| | |
| --- | --- |
| | [2] |
At work today, Sean sent an email with the subject line "SHAZAM!" I immediately started hearing a voice in my head going "Shazam! Shazam!" Who is that? It's like a TV character. Was it from Andy Griffith? Is it... Gomer Pyle? IT TOTALLY WAS! HOW DO I KNOW THIS?

I am my father's daughter.




RunningBlog: Week 41
Huh. I just realised that I trained on five out of the last seven days! That may be a personal record. Sunday was the WWFoR, of course, where I ran the Zen Run 10K. Monday I went to yoga class. Tuesday I was laid up all day with a killer headache, but Wednesday I went back to work and did my usual Spudds circuit. Thursday I went for an easy run, and then this morning I did speed intervals. I guess my energy is starting to bounce back a bit!

Oct. 10: 10.01km
Oct. 14: 6.00km
Oct. 15: 5.44km
Total this week: 21.45km (13.4mi)
Total in 2010: 775.91km (484.9mi)

To meet my goal of running 1000km in 2010, I should be at 788.4km. I'm slowly gaining ground again...

Thursday, October 14, 2010

Shared today on Google Reader:here.

Monday, October 11, 2010
| | |
| --- | --- |
| | [3] |
Wait, what?! Ione Skye is married to Ben Lee? How did I not know that? (Also, she's 8 years older than he is. Nice one, Ione!)

Sunday, October 10, 2010
| | |
| --- | --- |
| | [4] |
RunningBlog: Worldwide Festival of Races 2010
Today was the much anticipated Sydney get-together for the Worldwide Festival of Races. We had six runners turn out for our event in Centennial Park: Kunaal, me, Andrew, JayDub, Eoin, and Jo. It was a glorious spring day and we had a great time running together.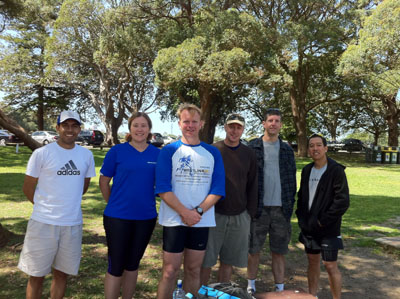 That's the post-race photo though. We all started turning up at the Park prior to 10am to make camp and get ready for our events. At 10:10, the Snook fired the starter's pistol (an iPhone app, of course) and we hit the track. Kunaal and JayDub ran with me for the first few km's, and JayDub ended up pacing me for the whole first 5K. We finished the first lap in under 35 minutes and stopped back at camp for a quick drink of water. [more...]

| | |
| --- | --- |
| | [1] |
Knitters Guild
Saturday was my penultimate Knitters Guild meeting as Convenor of the Inner City group. I'm really looking forward to "retirement." I've had a lot of fun working with Rosemary and Geraldine, and I'm proud of what the three of us have accomplished. But at the same time, it's like hosting a party every single month. Eventually you want to just go to the party and have a good time like everyone else! So we'll definitely be celebrating after next month's AGM.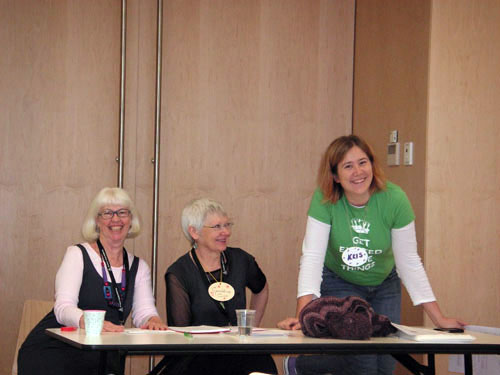 Our October meeting featured a steeking workshop taught by Mary-Helen and Sandra. Earlier in the week I'd stuffed up by spending an exorbitant amount of money on colour copies of the course material, but in the end it turns out that was a Good Thing because the projector in our meeting room was broken. So that worked out nicely. I took several photos during the meeting which are now up on our website. (If anybody has others to contribute, please send them through!)

After the meeting, I hung around to help with our monthly "Learn to Knit" workshop. We taught 7 women of varying ages how to knit. I haven't been knitting much myself lately, so it was nice to pick up the needles again. At least I can teach others to get enjoyment from it!

Saturday, October 9, 2010

"Anything is possible when you smell like a monster!" I love Grover.

Friday, October 8, 2010
| | |
| --- | --- |
| | [5] |
Our office won Ben and Jerry's Free Scoop Friday! We got like 50 pints of ice cream! Best. Friday. Ever.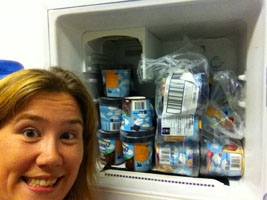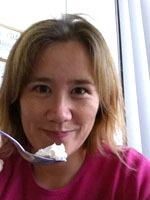 RunningBlog: Week 40
Kind of an up-and-down week. I was just so TIRED at the start. It may have been related to Daylight Savings, or to all the physical work we did on Monday on the house. At any rate, Tuesday and Wednesday I just felt like a giant slug. This morning I had a great run though, and I'm starting to feel a little energy return. I'm really looking forward to our Sydney Worldwide Festival of Races event on Sunday!

Oct. 3: 7.01km
Oct. 5: 2km
Oct. 6: 5.92km
Oct. 8: 6.56km
Total this week: 21.49km (13.4mi)
Total in 2010: 754.46km (471.5mi)

To meet my goal of running 1000km in 2010, I should be at 769km. So I've got about 15km to make up yet...

Thursday, October 7, 2010

"People who care about biodiversity don't keep cats," says Germaine Greer. OH SUCK IT, GERMAINE. What utter trolling. I am Australian. I have cats. I care about biodiversity. My cats don't go outside and they don't reproduce. Problem friggin' solved.



There was a stray - with a collar - who spent several months visiting our garden and scaring away the birds and the skinks. We couldn't catch him, so we called the rangers on him and they took him away. The skinks and the birds are back. SEE HOW IT WORKS?



Wednesday, October 6, 2010
| | |
| --- | --- |
| | [2] |
Shared today on Google Reader:here.


KIMCHI SHORTAGE?! Yikes!

Tuesday, October 5, 2010
| | |
| --- | --- |
| | [1] |
RunningBlog: I finally caved and signed up for dailymile. Man, so THAT'S where all the runners are! I've had like 20 people friend me already. Craziness.

| | |
| --- | --- |
| | [2] |
Curtains and art! Oh my!
Early Saturday morning, I invited the Snook to come over to Broadway with me to pick up my contact lenses. "Oh, and we can check out the new Reject Shop that's opened up," I suggested. Do you know about this place? IT'S MY NEW FAVORITE STORE. It's a $2 shop that's actually clean and organised! We ended up buying a giant roll of bamboo fencing for our passionfruit to climb. I also picked up a number of frames because I had a growing collection of stuff to hang on the walls. That got me thinking... "How about we go to IKEA tomorrow and look at curtain stuff?" We've been living here for nearly 3 years without curtains. For some reason he said yes, so Sunday we fought our way through the crowds and emerged laden with curtain-related paraphernalia. And on Monday, we put it all together. Over the course of about 8 hours, I learned how to use a hammer drill (our walls are made of brick) and we covered the place in dust. Have I mentioned how I impressed I am with my handy husband?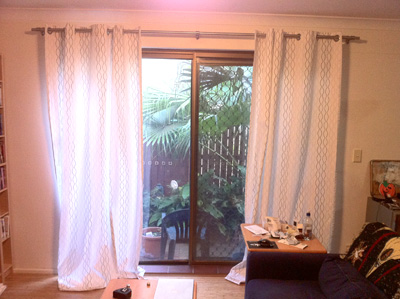 Curtains! Curtains in my living room! We went with the DÄMPA fittings, and luckily we didn't need to cut any. The curtains are the HENNY RAND. (Yes, I know they're way too long. You're meant to let them hang for a while before you hem them.) [more...]

| | |
| --- | --- |
| | [1] |
The Norton Project
This is a story about how my brother and I stole our fathers 1969 Norton Commando, had it restored and then gave it back to him for Christmas. He had no idea.
It's BRILLIANT. It made me think of my own Dad, and how I'd love to do something like this for him someday. I dare you to watch it and not get a little teary.


Ooooh! Just found a tutorial for sewing notebook covers out of tea towels. My Mom actually gave me about a dozen old linen tea towels when we visited. Most of them have some sort of outdoor scene and a calendar (for a year long past). That might be a nice use for them!


A Place a Day - lovely photoblog from a new Chippendale neighbour!

Monday, October 4, 2010

Pooped
If change is as good as a holiday, then the Snook and I went on a round-the-world cruise on this 3-day weekend. We worked our butts off on the house, and we've got a lot to show you. Photos once it gets light again... :)

Sunday, October 3, 2010

Wow. Remember our trip to Dubbo five years ago that nearly derailed because there was a murderer on the loose? He's still on the lam! He's hiding out in a national park and despite all efforts, they just can't find him. Such a creepy story!

Saturday, October 2, 2010

Hogwarts finally gets the Internet. HA! Nicely done. Can anybody read Russian? I want to know what Viktor wrote on Hermione's wall...


Shared today on Google Reader:here.

Friday, October 1, 2010
| | |
| --- | --- |
| | [1] |
A Man's Guide to Sweaters. Excellent. I wish the Snook would wear turtlenecks, cardigans, and sweater vests. I'd have him looking like Steve McQueen in no time.


RunningBlog: Week 39
A light week this week, as I got in two cross-training sessions (yoga and Spudds). I should've done another run today, but I just didn't feel like it. I'll make up the slack on this coming long weekend. :)

Sept. 26: 8.16km run
Sept. 28: 5.58km run
Total this week: 13.74km (8.5mi)
Total in 2010: 732.97km (458mi)

We're 3/4 of the way through the year! To meet my goal of running 1000km in 2010, I should be at 750km right now. So I'm a little behind...

| | |
| --- | --- |
| | [1] |
How to Use the Rind of Parmesan. We have about a dozen of those in a baggie in our fridge.


Mmmmm. Pumpkin Rice Pudding. Sounds good.


This New York Magazine profile of Roald Dahl is really weird! It's got a lot of information about him that I'd NEVER heard before in all my research. He was descended from William Wallace? He had all his teeth pulled out? His last words were "Ow, f*ck!"? I wonder if it's all from that new biography. I need to get it.

archives
You can search through the archives by post keyword using the form on the left, or you can browse by month using the links at the bottom.
"Moblog" refers to posts and images posted directly from my mobile phone.

"PW Blog" refers to posts recovered from my very first weblog, which dealt with news related to my college dorm.