Thursday, November 29, 2001
| | |
| --- | --- |
| | [3] |
One more flight to go!
Well, we made it out of Indiana and safely to Los Angeles, though we seem to have brought the crappy weather with us. As usual, the stress of traveling has killed my immune system and I'm suffering from the nastiest of colds. Thank God for Nyquil. Anyway, tonight the Snook and I board our last plane for the long haul - 16 hours to Sydney. I'll probably be lynched long before that though, by a gang of passengers incensed by my hacking cough. Next time you hear from me, I'll no longer be a resident of the Northern Hemisphere. Hope everybody had a great Thanksgiving!

Thursday, November 22, 2001
| | |
| --- | --- |
| | [8] |
Just checking in! We made it to America and now we're sitting at my aunt's house watching the Macy's Parade. Security on the international flight was actually pretty lax; other than a dog sniffing me there didn't seem to be much out of the ordinary. My sister claims that domestic flights are much worse, so we'll see how that goes when we take off for L.A. next week. Happy Thanksgiving everyone!

Sunday, November 18, 2001
| | |
| --- | --- |
| | [2] |
Shh! I snuck online on Nick's computer but don't tell Snookums. He's trying to see how long he can go without it. Anyhoo, thanks for all the kind words below. We're just about ready to go. My computer Boudicca was sent off to live with her new family, and 90% of the rest of our stuff left with the shippers on Friday. (We sent TEN big boxes!) Now we're down to a suitcase each. It's very liberating. We leave Tuesday at noon and we should land in Chicago that afternoon. The next time you hear from me I'll be home in the U.S. of A.! I can taste the Mountain Dew now...

Thursday, November 15, 2001
| | |
| --- | --- |
| | [6] |
This is it, folks. Boudicca (my lovely iMac) is leaving me to find a new home with my friend Kingsley. Not only that, but the Snook's computers will be packed up for the shippers tomorrow. As a result I shall be without access to the Internet until we fly home next week and I can pick up my new iBook. A frightening proposition, isn't it? I haven't gone cold turkey on the Internet in seven years. Wish me luck, and I'll see you next week.

Wednesday, November 14, 2001
| | |
| --- | --- |
| | [3] |
Would you pay a penny per page to visit this site? No, I'm not contemplating a new revenue model. This scheme is supposed to be the great solution to getting compensation on the web. The ensuing Slashdot discussion points out some of the big problems. What exactly constitutes a page? Would I get charged every time I refresh? Wouldn't this result in sites breaking down content even further to spread it out over the most pages possible? Additionally, I've gotta wonder how well this approach would translate internationally. I'm moving to Australia but my own websites are hosted in the U.S. One U.S. cent is probably going to constitute a larger portion of my income there than it would in the States. I imagine it would be even worse in developing nations. So is this really the best solution for making the Web globally effective, by setting up an economic barrier to those who might benefit from it the most? What about students and teachers? Most of my Dahl site visitors log in from schools or libraries. Should they have to pay per page too? I'm not gonna lie to you; I like the idea of being able to make a living off my hobbies. But as a surfer myself, I can't believe this is the best step forward.


Hooray! The next Star Wars film is opening on May 16th in Australia! (That's the same day as in the U.S.!) Here's the full schedule...

| | |
| --- | --- |
| | [1] |
Salon interviews the man who invented the Pill. Pretty interesting, especially the bit about why there won't be a male contraceptive pill anytime soon. The guy also has a pretty radical stance about voluntary vasectomies. Huh.

Tuesday, November 13, 2001
| | |
| --- | --- |
| | [6] |
Max points to an interesting article on how to write a college admissions essay. My school gave you a list of topics from which you had to choose, but most of them were boring "Read this Maya Angelou book and tell us how it affected you" type crap. I went for the "Write about your hero" option. So who was my hero? See if you can guess. I wrote about her love for her family (even though she fought with her sister a lot), her spunk and imagination (especially that time she squeezed all the toothpaste into the sink), her unconventionality (and the way she'd pull perfect Susan's boing-boing curls), and her sensitivity and courage (like when the girls had to bury Picky-Picky). So who was it?

| | |
| --- | --- |
| | [1] |
Newspaper headlines I noticed while waiting in line at Sainsbury tonight:I never thought I'd say this, but I miss the days of tube strikes and criminal nudity.


It's only the second day, and Peter Buck's air rage trial has collapsed. The judge has dismissed the jury for some reason. The whole thing is like a circus. Why in the world would a stewardess serve someone fifteen glasses of wine in three hours? I don't care how famous they are; that's just ridiculous.

| | |
| --- | --- |
| | [8] |
I know I've been slacking off on the posting. It's insane though. We leave in one week. We're not packed. Boudicca (my computer) is leaving on Thursday. The shippers are coming on Friday. Our oven heating element is broken. My sister leaves in four days. Flying right now seems kinda scary. We still don't have anyone to take the double room in the house. It sucks.

| | |
| --- | --- |
| | [7] |
Are you a Pom? (For you Yanks, a Pom is an Aussie slang term for a British person.) I scored a sixteen, which puts me worryingly close to being one. Hopefully I'll be able to rectify that in the near future. (Link courtesy of Kristen.)

Saturday, November 10, 2001
| | |
| --- | --- |
| | [1] |
I'm a magnet for assholes. Yes, truly. I discovered this tonight at the Paul Kelly concert in Shepherd's Bush. Paul Kelly is a famous Australian musician that Snookums and I like a lot. (He also resembles Principal Snyder from Buffy a great deal.) The show was great, but the audience members around us were not. In front we had a pair of tarts, both in "one-armed tit tops" (TM Meg). The one to the left was being chatted up by an obnoxious loser the entire night. They talked through the entire damn show, including both encores. It was the rudest thing I've ever seen in my life. At one point during a lull in a quieter song, I heard them discussing the merits of the Spice Girls. (And lest you think we were sitting in some obscure corner of the balcony, we weren't. We were standing in the center of the stalls 30 feet from the bloody stage.) I spent ages trying to work up the courage and righteous anger to tell them off. Justice was served, however, when a tall man in front of them lifted his short flossie girlfriend up onto his shoulders, placing her ass right in the chatty tart's face. My laughter was not quiet. Okay, enough ranting. It's been a long day. The Harry Potter review will have to wait til the morn. Sleep tight, kids.

| | |
| --- | --- |
| | [3] |

THAT WAS BLOODY BRILLIANT.
Yes, that's me out in front of the Harry Potter poster at 8:15 this morning, half-asleep in my glasses. (Click on it to see the full-size version.) And yes, I did walk all the way through Hammersmith with that lightning bolt on my forehead. There were probably 30 people (mostly parents and kids) at the first showing, and I was the only one who came "in costume". There was a slight emergency when the film stopped just as the Quidditch sequence was beginning, but they eventually got it sorted and it gave the kiddies a convenient bathroom break. EVERYBODY LOVED IT. I'll write a more lengthy review later in the day (must sleep), but for now, my advice is to get on the phone and book your tickets for the first show possible. You won't regret it.


Why am I up at the crack of dawn? Oh yeah, to see the first public preview of Harry Potter and the Philosopher's Stone! Now I just need Snookums to draw a lightning bolt on my forehead...

| | |
| --- | --- |
| | [3] |
Brigita's getting married today! Brigita's getting married today! Congratulations, my friend. Be the princess; you deserve it.

Friday, November 9, 2001
| | |
| --- | --- |
| | [2] |
Roger Ebert's review of Amelie is finally available. He liked it as much as I did.


Well, it's the Snook's last day at work. Hooray! For those of you in London, we'll be having leaving drinks tonight in Hammersmith at Smollensky's. See you there!

| | |
| --- | --- |
| | [2] |
You know what's fun? Totally hijacking the comments thread on somebody else's blog. Check out what my friend Kel and I did on Tara D's site. At least we got the answer (though I think I'm more technically right).

Thursday, November 8, 2001

I was doing a little Internet research to discover why Lady Victoria Hervey's Style column was replaced in last week's Sunday Times when I came across this excellent article full of tips to fake being a posh British aristocrat. I'll see you all at the next non-branded polo match, okay?

| | |
| --- | --- |
| | [8] |
Meg's doing this new thing where she asks questions and has people answer them in the comments. As imitation is the sincerest form of flattery, let's give it a go, shall we? Okay, what was your last dream? I'll go first...


Cholesterol makes you smarter. That is literally the greatest news EVER. Suddenly I'm craving a cheeseburger.


So Prince Charles got slapped in the face with a flower today, right? What kind of a crappy protest was that? You wanna make an impression, you gotta throw a pie. The hilarious part of Chuck's tale is that apparently the President of Latvia called him up later to apologize for the girl's actions and to say that she was obviously "mentally unstable". (They actually said that on the News tonight.) That cracked me up.


Finally, somebody else noticed the Taliban/Taleban issue that I mentioned back in September. The BBC expert explains why there are different spellings, but he doesn't really clear up the issue of why Americans use "i" and Brits use "e". I am unsatisfied.


Hey, a guy at my university got second place on College Jeopardy. Cool. Unfortunately, in case you're wondering, my appearance on Who Wants to Be a Millionaire? didn't really pan out. They haven't called. Damn you, Chris Tarrant! I was all set to kick Ladies Week ass.


Damn it! Why do I only discover bands after they break up? Lately I've had a major Catatonia fixation, specifically their song "Road Rage". For you Yanks, they're an awesome Welsh band that apprently broke up in September. Crap. Check out this description of the lead singer Cerys: "A lady singer whose voice sounds exactly like Shirley Bassey puking five pints of Jack Daniel's (with snakebite chasers) into the Grand Canyon through a megaphone during an earthquake." Isn't that fantastic? I've been bellowing out "Road Rage" all afternoon, but unfortunately I sound nothing like her. I pretend though.

| | |
| --- | --- |
| | [3] |
I packed a box today! And I did some other travel related chores! And the dishes! That means I've been a very good girl, and that means I can blog. :)

Yeah, it's been hard. I hate looking at my site and seeing only one tiny post per day. I know I'm addicted but it's difficult to stop. I took that Blogaholic Quiz and I got 68 out of 100. That's a lot. Some of them were pretty embarrassing admissions too. Like the question about starting flame wars? Been there, done that. And the one about dreaming about blogging? Try dreaming about bloggers. I swear to God I dreamt last night that I was at a party at Max's house. Isn't that weird? I think my subconscious was dwelling on today's Survivor picks and anticipating my ultimate victory celebration. Yeah, I have issues. Anyhoo, it's nice to have some guilt-free blog time before me.

Wednesday, November 7, 2001
| | |
| --- | --- |
| | [1] |
A rare culinary success!
Remember my ill-fated foray into the world of homemade pizza? I'm happy to report that tonight's experiment - homemade chicken pot pie - landed firmly on the other side of the Delicious-Meter. It was fantastic! Never underestimate what you can do with pre-made pastry. It's a godsend.

So yeah, I haven't been posting much lately. And yeah, I promised I wouldn't until I tackled the packing problem. Put those two concepts together and you're left with the conclusion that... I've done nothing. Well, not nothing. I made out a very detailed To Do list. That's almost like being productive, right? At least my chicken pot pie kept the day from being a total washout. How can I stop procrastinating? Somebody, anybody, kick me in the ass!

| | |
| --- | --- |
| | [4] |
Oh no. Oh nonononono. I forgot to remind my parents to tape the Buffy musical last night! ARRRRGGGGHHHH! Did anybody tape it? I'm desperate!

Tuesday, November 6, 2001
| | |
| --- | --- |
| | [11] |
Okay, I've been keeping it hush-hush til now but I can remain silent no longer...

We're leaving London two weeks from today!

And while I'm mentally ready, I'm soooo physically not. That's why I'm taking the hard step of of saying: "I will not blog until all my chores are done for the day." So I'm gonna go now. I've got laundry to do and boxes to pack. Don't worry; I'll still be posting. But I'm such a procrastinator that I need to set myself some ground rules or we'll never be ready to go. Wish me luck, kids.

Monday, November 5, 2001
| | |
| --- | --- |
| | [2] |
Don't be like Mike. Wow, pretty damning list of complaints. And it didn't even mention his gambling habit!


What the hell? Salon's running an article about "The Phantom Edit". Like, six months after the fact. Way to be on the ball there. Or maybe I'm mistaken. Perhaps the story was posted in June for Premium subscribers, and it's just taken this long for it to trickle down to the great unwashed unpaying masses.


Just as I was about to lament the lack of anything interesting to blog today, Snookums came through with a real gem: The Australian National Public Toilet Map. Remember my tirade against public pee-ers? We've argued it extensively and, much to my chagrin, the Snook is on the opposite side of the fence. He says that city planners are the ones to blame for not providing enough clean, well-maintained public toilets for people to use. I still counter with the fact that women have learned to "hold it", but he says they shouldn't have to. Anyway, I think he sent me that link to appease me on the issue a bit. As he himself put it, "now we can plan our trips and never have to resort to public urination!"

Sunday, November 4, 2001
| | |
| --- | --- |
| | [5] |
Hey, the Weblog Review visited my site and gave it a glowing review! Awww, it's nice to get some positive feedback. :)


Curt Schilling guarantees Game Seven victory. You know, I'm rooting for the Diamondbacks and all... but that's the kind of statement that can really come back to bite you in the ass.


John pointed me towards an extensive theory of what Palpatine/Sidious was really up to in Star Wars Episode 1. Hmmm. You know, this does make a lot of sense. If only I could believe that this is how Lucas had planned it. I've watched all the supplemental stuff on the DVD and I got no hints of anything this complex. I'll just secretly believe this is the real story in my head, I guess.

| | |
| --- | --- |
| | [2] |
New Poll: Have you ever met any celebrities? Did you make a complete ass of yourself, as I do each and every time?

| | |
| --- | --- |
| | [2] |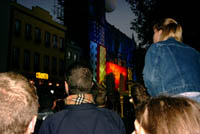 Harry Potter Premiere!
That's right folks, I braved the cold and the crowds to bring you a few photos from the Harry Potter film premiere in Leicester Square tonight. Nobody would go with me, so I went by myself. Some pigheaded police kept us from getting close, but I still managed to see lots of stars. From the movie I saw Ron, Hagrid, Vernon Dursley, and Albus Dumbledore. I also saw the Duchess of York (Fergie), Cher, Cliff Richard, Steps, and Richard Branson, among others. Oh! And Miriam Margolyes stood right next to me! (She had tickets but the cops weren't letting her through.) Nobody else seemed to recognize her, but I was practically bursting. She was about to leave and I couldn't decide whether to give up what spot I had to go say hello, so in the end I just smiled at her like a maniac and she was polite enough to grin back. Go me! Anyway, most of my "celebrity" pictures turned out exactly the same (i.e. you can't identify anybody), so I've left those out. The ones left should give you a sense of the atmosphere though. I can't wait to see the movie!

Saturday, November 3, 2001
| | |
| --- | --- |
| | [4] |
Well, it's Bonfire Night over here in Britain. This is the third one I've experienced, and I still can't get over the novelty of setting off fireworks in November. Where I come from, fireworks are meant to be experienced on a warm summer night, lying on a blanket with your siblings trying to catch "lightnin' bugs" and oohing at the patriotic local show. Instead here everyone tramps out to a hill in the middle of the freezing cold night to commemorate a murderous traitor. Very odd, the British.

There are still (loud) fireworks going off on our block. I don't think Britain has the same laws against, you know, BIG fireworks that we do in the U.S. These suckers sound huge. It's gonna be a while before I sleep.


What I Learned From When Dingoes Attack: Dingoes attack when they're hungry. Yep, that's it.

Friday, November 2, 2001
| | |
| --- | --- |
| | [13] |
The Yankees are the Microsoft of the sports world. Discuss.

| | |
| --- | --- |
| | [2] |
Grrrrr. Hypothetical situation: you're an American salesperson with a girl in London on the line just aching to spend $1800. This potential customer is American herself and wishes the items to be sent to her mother's house in America. What do you do? Sell her the frickin' goods, right? Wrong. Apparently some people don't like to take international credit cards. Even when they're plain old Visas that work fine in American stores and ATMS and everywhere else you could think of. There's no reason; they just don't like typing "U.K." or something. Luckily I am an enterprising individual. (You did realize I was talking about me, right?) A quick call here and the billing address is changed. Computer is purchased. Millions rejoice. And yet Kris rants...

| | |
| --- | --- |
| | [2] |
Quiz of the Day: the Discovery Health Sensuality Test. Actually this is one of the better online quizzes I've taken. The questions were thoughtful and actually made me realize some of my unconscious perceptions. I scored an 80, which means:
You are one sensual human being! You are titillated by the sensual stimuli of everyday life. The smell of flowers, the sensation of silk against the skin, the taste of food, the sound of music, and the rich colors of life tickle and tease you to ecstasy. Yours is a hedonistic attitude, and you deeply enjoy the physical pleasures that life has to offer. This is great-a good smell or beautiful color is often enough to keep a smile on your face and a song in your heart.
Actually I pretty much agree with this analysis. When I go to the store, I have to touch everything. If I see flowers, I have to smell them. When I hear a song with a beat, my booty starts shaking itself automatically. I can't stand to wear itchy sweaters. I love the feel of a cold room, crisp sheets, and a warm duvet. When the sun is shining, I can't help but feel happy.

This bit was a little scary though: People who delight in sensual pleasures are at a slightly increased risk for addictions... That's a confirmation of something I've felt about myself for a while now. When I like something, I get obsessive about it. When I first heard R.E.M.'s "Out of Time", I honestly didn't listen to anything else for a month. And remember the whole hummus addiction? That's mostly why I don't do drugs, I guess. I just know that I wouldn't be able to control myself. (Link courtesy of Brigita.)

| | |
| --- | --- |
| | [2] |
Tomorrow night at 8:15 on Channel 5: When Dingoes Attack. Oh yes, Snookums and I will be watching. :)

| | |
| --- | --- |
| | [1] |
Scene from the Cop Shop
For my Australian visa I need some sort of document proving that I'm not a criminal, so this morning I headed out to the Hammersmith Police Station to request a copy of my record. I opened the door to discover about twelve people already waiting while a single harrassed policeman tried to work the counter. While I waited, I watched as a young guy tried to claim that his £200 mobile phone had been stolen on the bus. I was buying his story until the cop, who was filling out the crime report, asked him what color it was. The "victim" had to stop and think about it. Yeah, riiight, buddy. Make sure to work out those pesky little details before you file the insurance claim.

| | |
| --- | --- |
| | [2] |
DeCSS (DVD decryption software) has been declared "pure speech" by a California court. Sweet! This software breaks the encryption on a DVD so you can play it on a Linux computer. The Motion Picture Association of America have a vested interest in making sure you can only play discs on approved players, and so they've been suing in court to prevent people from distributing it or even linking to it. Some people think that's ridiculous (and I happen to agree). At any rate, it looks like I can wear my DeCSS T-shirt in the U.S. without fear of getting arrested.

| | |
| --- | --- |
| | [6] |
Oh. My. God. Have you guys played around with the Internet Archive Wayback Machine yet? They've archived, like, ten billion web pages since 1996, including some gems from the past of yours truly. For instance, there's my very first personal site ever: Kristine Howard's Page O' Wonders. (I was such a nerd freshman year.) You can also see an ancient version of my Roald Dahl site and a later incarnation that's a little less crappy. Horrors! There's even my first corporate web page job. I can't believe anyone actually paid me for that.

| | |
| --- | --- |
| | [2] |
Well, Amelie has finally made it to America, and right off the bat some idiot doesn't get it. "Why does she lead him on a wild goose chase when she's clearly crazy about him?" asks the Salon reviewer. That right there, to me, says everything about how profoundly this man misunderstood the film. I don't know; maybe you boys just don't get it. Haven't you ever had a crush on someone so powerful that you couldn't look them in the eyes? That you couldn't speak when they were near? Amelie leads Nino on a "wild goose chase" because that's the only thing she can do. She delights in strategems because they allow her to forget her loneliness. Amelie and Nino are both dreamers, and their games are the only way they can communicate with each other. If you are so cynical and worldly that you've forgotten these feelings, don't bother going to the film. You'll just ruin it for all the dreamers around you.


Woohoo! My improbable Survivor Pick 'Em success continues. I successfully predicted that "Mother Africa" would get the boot and was rewarded a whopping 55 points. I'm now ranked 8th out of 22 in our group, and I'm at the 87th percentile overall in the game. Give it up for the girl who can't even watch the show!

| | |
| --- | --- |
| | [2] |
Cathleen lists the Top Ten Reasons to Live in London. Unfortunately I have no idea where "Bradley's" is or what "The Dogs" and "Urban Farms" are. And I've been living here for two years! I'm the worst Londoner ever. My own personal list would probably be:
Ain't Nothin' But the Blues Bar (any night that the Voodoo Vendors are playing)
Greasy full English breakfasts on hungover Sundays
The Thames at night
The Serpentine in Hyde Park (especially the bench on the east side that says: "To Rudolf Steiner, who loved this spot")
Wagamama gyozas, yaki soba, and Kirin beer
The bookshops on Charing Cross Road
The Tiroler Hutte in Bayswater
Black cabs and double-decker buses
Indian food
Being able to see more movies, shows, and bands than just about anywhere else in the world
I'm realizing that my list has changed significantly since I was here a few years ago as a student. Back then it was about going out and doing something every night. Now it's about snuggling up on the sofa with Snookums, takeout from the Indian place down the street, and the Buffy DVD. :)

Thursday, November 1, 2001
| | |
| --- | --- |
| | [14] |
Brigita admits to some apprehension regarding the musical Buffy and goes on to reveal her issues with the entire "musical" form. I just left her a massive comment trying to defend the genre. I know there are others with strong feelings on the subject too. What do you think? Do you have problems with people "bursting into song"?

| | |
| --- | --- |
| | [6] |

Good grief. Living in this tiny country has completely destroyed my sense of distance and proportion. I was just talking to the Snook about that Harry Potter thing I mentioned below and I asked him how far this place was from Sydney. I mean, look at the map. The amusement park is supposed to be 45 minutes south of Brisbane. That's only, like, half a state away. But guess how long it takes to get there? Fourteen hours. Seriously. I mean, you can drive the entire length of Britain in that amount of time! I'm just having trouble grasping the fact that Australia is pretty much the same size as the U.S. (if you lop off Alaska, which is over half a million square miles). The problem is that it's divided into so few states. Looking at a map with those lines shrinks it in my head. It's so weird, you know?


Further proof that Australia rocks: The Harry Potter Movie Magic Experience. If I can just talk to the Snook into taking me, I'll have pictures for you all. :)

| | |
| --- | --- |
| | [7] |
Okay, remember when I was upset that Giles was my Buffy dream date? I take it all back. Between my new Season Three DVD and the promo for the musical episode, I am loving that librarian. I like it when he shows a little Ripper, especially in "Band Candy" when he goes all mockney.

| | |
| --- | --- |
| | [21] |
In the spirit of the season, try your skill at Candy Bar Math. I only got four out of six, but come on. I've been outside the country for two years. My ability to differentiate between different varieties of Hershey candy bars has been severely diminished. I was like, "Mr. Goodbar? What the hell?" (Link courtesy of Brigita.)

| | |
| --- | --- |
| | [4] |

We had trick-or-treaters! Tiny British trick-or-treaters! I couldn't believe it. We didn't have them last year; they just appeared. Nick and Alex (the English guys) were supremely annoyed at the fact that London parents seem to be trying to imitate and kick-start this very American pasttime. I was just annoyed at the fact that they don't know any of the "Trick-or-Treating Etiquette" that us Yanks know by heart. For example, in the U.S. kids know to only go to houses that are decorated and/or have their front porch lights on. Right? Well, since nobody decorates here parents were seriously just taking their kids around the neighborhood knocking on EVERY DOOR. Luckily when they hit us my sister happened to be working her way through the bag of Meijer bulk Halloween candy Mom sent us, so I was able to hand out a couple chocolate balls to each kid. But I can't imagine that they found more than a couple houses willing and able to give them something. Also, the kids had TINY bags. Really, really small. Of course, since nobody was prepared for them, they didn't really need big ones, but that's beside the point. These kids need to learn the joys of carrying a pillowcase. And lastly, some idiot brought his kids to the door at, like, 9:30. By then all our candy was gone, and I'd thrown out my jack-o-lantern (since it was getting moldy anyway). So I had to tell the kids that I didn't have anything for them. I just glared at the father. What kind of jerk drags them around to random houses that late? Seriously, I should go on TV and teach these Brits how it's done.

archives
You can search through the archives by post keyword using the form on the left, or you can browse by month using the links at the bottom.
"Moblog" refers to posts and images posted directly from my mobile phone.

"PW Blog" refers to posts recovered from my very first weblog, which dealt with news related to my college dorm.