Saturday, November 30, 2002

Dinner... success. Too stuffed for words... More tomorrow.

Friday, November 29, 2002
| | |
| --- | --- |
| | [3] |
Mia - whose site I don't visit often enough - has been posting her requirements for a husband. Some of these cracked me up, and some I really identified with. Here are my favorites:
6. Know what I eat and do not eat.
I would add: "And never ever trick me into eating something I don't like, like Yabbie and Dill Paté."
8. Try to understand that even tho I collect Anne Rice books, that does not necessarily mean I like her work.
WORD. Just because I have a pathological need to own everything Roald Dahl ever wrote does not mean that I'm obsessed with him. It's just something that I do. It's like it's my job.
16. Yes, I know I own this shirt in red and blue. I want to own it in black as well.
As someone who owns the same GAP baggy wool sweater in four different colors, I really have to agree.
22. Must be able to spell most commonly used words in the English language.
Yes yes yes. I dated a dumb guy once, and never again. He used to send me letters when I was studying in Germany and I'd just cringe.
30. He will know that I perform my best when it's at the last minute.
That's me all over the place. Ever since college, I haven't been able to start any project until the deadline is staring me in the face. It's like my will to act doesn't kick in til the last possible second. I always pull it out in the end, though.
Actually I may have to revise that last comment, given that my guests are arriving in less than 24 hours and I still haven't vacuumed...

| | |
| --- | --- |
| | [2] |
We didn't start the fire... That amused me. I need to learn Flash.

| | |
| --- | --- |
| | [1] |
IT'S A THANKSGIVING MIRACLE!
As he was leaving for work this morning, the Snook noticed that the postman had tried to deliver a package to us. We haven't been expecting anything, so it was a surprise. I took the card and went to pick it up while I was doing all the food shopping. Guess what it was? The American food I'd ordered - and cancelled - earlier this week! So yeah, technically that's Thanksgiving Incompetence, but seeing as how it means I'll get real American pumpkin pie, I'm in a forgiving mood. Praise Baby Jesus! :)

Thursday, November 28, 2002
| | |
| --- | --- |
| | [6] |
Thoughts on Harry Potter and the Chamber of Secrets:
Dobby was just wrong. Not how I pictured him at all. He also talked... differently than I expected.
Tom Riddle wasn't as hot as anticipated. Oliver Wood, however, was. And yeah, call me a sicko if you want, but Daniel Radcliffe is looking pretty cute.
There were some very scary bits. I had to hold Rodd's hand during the spider part. I'm a jumpy girl.
Kenneth Branagh was brilliant. Much like my sister, I found myself laughing at everything he did, which often meant that I was guffawing while everyone else was silent. We're weird like that. Must be a genetic thing.
I like the way that the filmmakers left in references to things from the book that had been cut, like when Nearly Headless Nick addresses Percy and "Miss Clearwater". (You learn she's his girlfriend in an excised subplot.)
What was the deal about Draco picking up the little green box in the Slytherin common room? I didn't remember that from the book. It felt weird, like something had been cut.
The computer graphics were so much better than the first film. The Quidditch match in particular looked amazing. I was literally squirming in my seat as Harry and Draco raced through the beams.
"I didn't know you could read." = another embarrassingly explosive burst of laughter
I have officially seen two members of the Hogwarts staff in person: Madame Pomfrey was played by Gemma Jones, who I saw as Big Mamma in "Cat on a Hot Tin Roof" in London last year (she also played Bridget Jones's mother); and Professor Sprout was played by Miriam Margolyes, who I actually ran into at the Philosopher's Stone premiere in London a year ago. Go me.
The ending was really sweet, and the whole audience burst into spontaneous applause. (Actually they applauded several times, with Harry's spinning duel spell against Draco getting one of the biggest cheers.) It was kinda neat to be among so many people who were really involved in it.
The Snook liked it!
I'm also happy to report that Rodd picked up on the fact that Hermione and Harry are clearly not romantically interested in each other. "Girls don't hug boys they like. Even I know that." Isn't he smart?

| | |
| --- | --- |
| | [6] |
Happy Thanksgiving! I've had this old episode of The Brady Bunch going through my head all day, where the family dress up as Pilgrims and stuff and act out the first Thanksgiving. Am I insane here? Somebody back me up, please.

You know my favorite part of Thanksgiving? The day afterwards. It was a yearly tradition that my sister and I would go out shopping that morning and battle the crowds with my Mom. We'd always stop at Michael's Craft Store and pick up some of their plaster Christmas tree ornaments. Then it was back home to paint them. I always tried to do mine perfectly, while my sister (who was the better artist) would always get a little too creative and start painting tributes to our dead dog. (I'm totally serious.) My brother, bless his heart, tried really hard, but he just didn't have the patience. Eventually we'd get tired and start begging for the Christmas tree. That's right; we'd put our tree up the day after Thanksgiving. It was a fake tree, but a really nice one. (Nowadays I don't like real trees so much. They're always too prickly and sappy and needles get everywhere.) So we'd put it together and then start hanging all the old ornaments, moldy construction paper Santa Clauses from scout meetings and beaded Christmas wreaths. Finally it would be done, and if there was any snow we'd don Dad's coveralls and haul our sleds up the hill in the backyard. Once we were sufficiently cold and wet, we'd come back inside for leftovers. I can picture it right now. I'm not sure if there ever was one day that we did all those things, but in my mind they all run together anyway. Too bad it takes being really far away to make your appreciate your family, huh?

Big hugs to everybody...

| | |
| --- | --- |
| | [4] |
At long last, it's Harry Potter Day! Only ten hours to go. Sadly, I've accepted that the scarf will never be done in time.

Wednesday, November 27, 2002
| | |
| --- | --- |
| | [9] |
I am so embarrassingly out of the loop. I just finally heard this Avril Lavigne chick and I am now obsessed with this "Sk8er Boi" song. (I cringe just to type that title.) Who the hell is she? Is she just a "punkier" Britney? Do you think less of me for listening to this stupid song ten times in a row? I'll get over it, I promise.

| | |
| --- | --- |
| | [10] |
Get your own Bond Girl Name. I'm "Shira Highbeams". Hee. (Link courtesy of Duchess Whetmore.)

| | |
| --- | --- |
| | [4] |
Miami Dolphins running back Ricky Williams has his own website! And it's not some slick marketing site; he's designed and built it himself. He's even got a journal he updates. He sounds like a pretty cool guy. I love it when people you never expect put themselves out on the Internet.


Warning: Drought Weakened Livestock Ahead
The Sydney Morning Herald asked its readers to contribute pictures of the drought and recent dust storm. You can now see the best ones in a gallery. Some of them are really good. They also state where the photos were taken, which is nice if - like me - you find Australian place names endlessly fascinating. (Wee Waa?)


Just in time for the holiday weekend, the Kushiel's Dart discussion has begun. Go nuts, people. The next book on our list is Moon Palace by Paul Auster. This is a short and easy read, so it shouldn't take up too much of your Christmas shopping time. I think you'll like it. Let me know if any of you have trouble locating it!

Tuesday, November 26, 2002
| | |
| --- | --- |
| | [4] |
Knitting in Harry Potter. I so want a Weasley sweater with a big ol' "K" on it.

| | |
| --- | --- |
| | [4] |
I was all excited when I found "How to Make a Hand-Turkey" because I'm getting ready to make some decorations for my big dinner. Then I read it and laughed and laughed.


The center of the city registered 100 degrees Fahrenheit yesterday. Engineers estimate that the Harbour Bridge grew an estimated 8-10 centimeters as the steel expanded. Isn't that neat? I told you it was hot.

Monday, November 25, 2002

Whew! Good thing I got here when I did!


Awww, crap. I just ordered a bunch of American food from this website only to find out that they can't deliver it in time for my Thanksgiving dinner this weekend. No authentic canned pumpkin pie for me. :(


It's ninety degrees out today and I'm sitting inside knitting a six foot long wool scarf. What's wrong with this picture? (I'm hoping to have it done by Thursday so I can wear it to the Harry Potter premiere.)

Sunday, November 24, 2002
| | |
| --- | --- |
| | [9] |
How good are your geography skills? Try this test. I got 18 out of 20. (I can't believe I missed the ones I did.)


There's a Swedish restaurant a couple blocks from our house that the Snook and I have been meaning to try out. It's called kök. (Their front window explains that it's pronounced shirk.) As you can imagine, we've been making jokes about the place for weeks. Every time we tried to get in, though, they were closed. We headed up there again on Friday only to discover that it's been turned into an Italian cafe (with no amusing name). I'm very disappointed.

Saturday, November 23, 2002

A genetics expert carries the entire human genome on his iPod. Now that's just cool.

| | |
| --- | --- |
| | [8] |

Thanksgiving Marble Magnets!
I spent the morning scouring the Internet for images to use for some Thanksgiving marble magnets. I'm going to print them out on a color laser printer and then put the magnets together this afternoon. In case any of you would like to do the same, I've provided my image sheet for you to use. Here's the low-res version so you can see all the different designs. There are some cartoons, some stylized images, and even some Norman Rockwell scenes. If you want to use them, download the high-res version. It's at 300 dpi, which should give you a nice crisp image when you print. They're designed for 20 mm diameter magnets, so if you need them larger or smaller, you might need to change the resolution slightly. Have fun!

Friday, November 22, 2002
| | |
| --- | --- |
| | [1] |
It's Public Service Announcement Day. Here's another one for you fellows: Don't set your laptop directly on your lap. It could burn your genitals. Snookums and I are still laughing at this guy's claim that he was just "writing a report" fully-clothed. Uh-huh. Anyone bothered to check his ISP logs?


Note to aspiring New Zealand politicians: Don't knit in Parliament. How funny is that? My favorite part of the story is the end: "Retired parliamentarian Marilyn Waring, who admitted to knitting 32 garments during her nine years in parliament, said in her autobiography it had been the only productive thing she had accomplished in the debating chamber." Ha!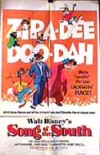 Today I finally got to see the "infamous" Disney movie Song of the South. As it's never been released on video (many speculate that this was due to complaints by the NAACP over the depiction of blacks in the film), the Snook managed to download a copy from Kazaa for me. Personally, I didn't find it offensive at all. In fact, I didn't realize til afterwards that the movie is set after the Civil War, and thus none of the blacks in it are supposed to be slaves. For a film made in the 1940's, Disney treated the subject just about as sensitively as he could, I think. The result is actually a surprisingly boring film. I was expecting an animated version of Birth of a Nation, but instead it was more like Old Yeller (in the blandness of the live-action footage and story). The animated sequences were great, but they only constituted about 10% of the film. (They gave me crazy nostalgia though. I'm pretty sure I had a Brer Rabbit Little Golden Book as a child, because - though I hadn't seen the movie before - I could practically recite the cartoon dialogue.) At any rate, I found a great fan site with loads of information about the film. It's really well designed too. You should check it out, if only to see how all fan sites should be done.

| | |
| --- | --- |
| | [2] |
Looking for a great Christmas gift for that special Roald Dahl fan in your life? Why not buy them The Gremlins, his super-rare first book from 1943! They'll love you, I promise. (But don't buy it for me, silly! I'm the one selling it.)

| | |
| --- | --- |
| | [2] |
The Snook and I did our ritual "weighing-in" this morning to check our diet progress, and get this: I weigh 50% more than he does. Yeah, he's a skinny little man, but still. I'm going to go stick my head in the oven.

| | |
| --- | --- |
| | [3] |
Ladies and gentlemen... I give you The Return of CouchCam! You may be lucky enough to see me sitting down there watching the cricket and knitting. (Note: the Australian local time is printed on the image, should you ever want to know what time it is here.)

| | |
| --- | --- |
| | [3] |
Oh dear God. Some English couple got high on GHB and the guy ended up yanking out 18 of his girlfriend's teeth. And what was the bit about her being dressed in a clown suit? I'm gonna have nightmares about that. (Link courtesy of Jann).

Thursday, November 21, 2002
| | |
| --- | --- |
| | [6] |
New Poll: Now I'm thinking about my new DVDs. For those of you that watched the show, which guy did you like the best? When I was Angela's age, I was all about Jordan. Now that I'm older and more mature, I'll go with the sensitive nerdy Brian Krakow type every time. (I've also thrown in the Dad and the Gay Best Friend for those of you with different tastes.)

| | |
| --- | --- |
| | [13] |
Kick. Ass. I just got an e-mail notifying me that my My So-Called Life DVD Box Set is finally being shipped! I was freaking out, what with A) the company turning out to be dodgy and delaying the release for months, B) us moving house and me not remembering what address I put on the order, and C) other people already receiving theirs and me not hearing a word. I'd honestly just about written off the money. But lo and behold, it's on its way! Apparently I was even brilliant enough to use my Mom's address (thus saving the international shipping costs). So it'll still be weeks and weeks before I have it in my hands... but at least I didn't get ripped off.

| | |
| --- | --- |
| | [1] |
Happy belated birthday to Tricia! Really, you'd think being a blogger she would've given us more notice. Come on, girl! We expect a countdown weeks in advance and daily reminders of your Amazon wish list. :)

(Only sixteen weeks til my birthday! I know you can't wait.)

| | |
| --- | --- |
| | [1] |
The whole list of the Top 100 Albums of the 80's is out. The good: REM kicked U2's ass. The bad: I think my alterna-teen high school boyfriend had, like, most of these records. Thus either he was cooler than me (impossible!), or the whole list is crap (thus negating REM's victory). Oh wait - there's a a third possibility. He was a pretentious wanker! I feel better now.

Wednesday, November 20, 2002

Outbreak. Dammit. I hate cold sores. I just felt the tell-tale "tingle". Yeah, yeah, I've already started smearing medicine all over it, but I don't know how much good it will do. Those stomach cramps a few days ago must have been related to some minor virus. I always get a cold sore whenever my immune system's been compromised. (I also get them under extreme stress, but I haven't been feeling that.) Bugger.

| | |
| --- | --- |
| | [7] |
My sister - yeah, the one who called me and the Snook "pod people" - just sent me a link to this MSNBC article about three new studies that say the Atkins Diet is better at reducing cholesterol and weight than the traditional low-fat diet. She will be assimilated.

Tuesday, November 19, 2002
| | |
| --- | --- |
| | [2] |

Check it out. This is the very first thing I've knitted from a pattern. It's a potholder! For such a simple-looking item, it was ridiculously complicated. I had to pull it apart and restart about ten times. (It didn't help that whoever wrote the pattern was an idiot.) I'm pretty proud of it though. Now I'm on to bigger and better things. I used this great site (link courtesy of Megan) to generate a pattern for a striped Gryffindor scarf! If all goes well, some of you might even be getting these for Christmas this year! :)

| | |
| --- | --- |
| | [8] |
Heh. You could put your weed in there. (Am I the only one that still quotes that sketch? Do you even know what I'm talking about?)


John, who is one of my favorite British bloggers, has finally launched the new-and-improved version of his site. Looks good!

Monday, November 18, 2002

My friend Steve - who just got back from an extended backpacking trip through Asia; who nearly made it to base camp at Everest; and who some of you may remember from various pornographic postings he's made here in the past - has launched his own weblog! Should be interesting reading. And hey! My site is like the gateway drug of blogging. People leave comments here, and before you know it they've got their own site. You're next, Dad. :)

| | |
| --- | --- |
| | [7] |
Matt got TiVo. Kim got TiVo. I am destined to be the last person in the world without TiVo.

| | |
| --- | --- |
| | [5] |
RunLog: Two more personal bests! I finally broke eleven minutes for the mile, and I finished the 5K in 37:00 flat. My back didn't trouble me at all and my tendon hasn't hurt since I got the new shoes. Of course, now I have new problems. After I got off the treadmill I went to stretch and noticed myself feeling very woozy and dizzy. I don't think it was a dehydration issue, because I hadn't had any less to drink today than I normally do. I sat down for a minute and it went away. But get this: fifteen minutes later I was at the post office waiting in a huge line to pick up a package. They had the air con cranked way high and I was still warm from the gym. Suddenly my stomach just started cramping and I felt like I was going to be sick. I was sweaty and clammy and I could feel my stomach churning. Eventually I couldn't take it anymore and headed home as quickly as I could. So what was up with that, I ask you more experienced runners? Was I actually dehydrated? Or was it going from the very warm outside to the really cool inside? Hmm, the water I was drinking during my run had come from the fridge, so could the coldness of that have been a factor? This has never happened to me before, and it made me feel so crummy that I want to avoid it happening again.

| | |
| --- | --- |
| | [2] |
Holy crap! Indiana is the ninth smartest state? And I don't even live there anymore! :)

| | |
| --- | --- |
| | [6] |
The Lord of the Peeps: Fellowship of the Peeps. People, I have no words...

Sunday, November 17, 2002
| | |
| --- | --- |
| | [8] |
Okay, so I've been stressing about this Thanskgiving dinner and reading all the great turkey ideas you guys posted... and now I'm wondering how you are with side dishes. I mean, I'd planned to just do the normal veggies and casserole-type stuff, but I'm suddenly worried that my plain Indiana fare will fail to impress. So, got any new and exciting ways to serve yams? Any secret family recipes for outta-this-world baked beans? I'm looking for inspiration, folks. If you've got any favorite holiday dishes, please post a recipe or link to this thread and save my ass. Thank you. :)

| | |
| --- | --- |
| | [14] |
I had a bit of a reading marathon today and managed to finish Kushiel's Dart. Huh. I think we'll have lots to discuss. How's everybody else doing? I know this is a busy time of year, so if folks haven't had a chance to pick it up (but still want to) let me know and we'll just postpone the discussion a bit. If you're still on the fence, just let me warn (or is it persuade?) you again that this is a very "sexy" book and you should be pretty open-minded before tackling it. There aren't any really graphic sex descriptions; it's more just the idea of what Phédre is and how her world works. (Personally, I'd have preferred more scenes of nookie with my favorite character - and less with, oh, say everybody else - but that's jumping ahead to the discussion and that's very naughty.) Just so you know.

Saturday, November 16, 2002

My house stinks. The Snook is brewing again...

| | |
| --- | --- |
| | [4] |
<darkly>No, Harry Potter is not out here yet. It won't be out here for two weeks. So I don't wanna hear about it. This is my punishment for seeing it before everybody else last year. I'm trying to convince the Snook to fly me to Singapore before I explode with frustration.</darkly>

Friday, November 15, 2002

Ask Yahoo answers the age old question: "What are blogs and why are they so popular?" My reply would be: "If you have to ask, you don't spend enough time on the Internet for me to bother explaining it to you."

| | |
| --- | --- |
| | [10] |
Dammit! Max wrote a nice big post about my Thanksgiving plans, but thanks to some insensitive bastards, he's turned off his comments and I can't thank him for the shout-out. Thanks, Max! I was also going to tell him that we deep-fry turkeys in Indiana, too. (At least, my Mom says she's done it.) I found a recipe and showed it to the Snook yesterday, to which he immediately replied: "Where in the world do we get 20 liters of lard?" Good question. We'll stick with roasting.

| | |
| --- | --- |
| | [4] |
The drought rages on. The city has imposed voluntary water restrictions to try to bring the level in our reservoirs back up. Apparently "voluntary" means they're not going to fine you if you water your lawn, but they're urging your neighbors to tell you on if you do. Hmmm. Fine, I can refrain from watering during the day. But my worms need moisture or they'll dry out and die! I figure I can also stop taking the occasional bath and go back to just showering. I'll miss my bath bombs though!

| | |
| --- | --- |
| | [5] |
Singapore may unban chewing gum. Huh. You know, when we visited last year I was so impressed by how clean and nice the city was, I kinda found myself agreeing with the ban. Of course, I was being a criminal at the time (since I had a pack of Wrigley's buried in my backpack that I chew on planes to keep my ears from popping). Now I can go back and be a law-abiding visitor. :)

Thursday, November 14, 2002

The Snook and I tried out another local pub's trivia contest tonight. It was just the two of us, and we came in second! We lost by one friggin' point. We should've had it too, except I pulled a complete boner and misidentified a Dido song as Sarah McLachlan. But still, a $30 bar tab (between two of us) is nothing to sneeze at!

| | |
| --- | --- |
| | [7] |
Hooray! I'm planning a big ol' American Thanksgiving dinner for a bunch of Aussies - though we have to hold it on the 30th, since it's obviously not a public holiday here - and I just found a company that delivers American food Down Under! I've been trying to figure out how to make a pumpkin pie without the canned mix, and now I don't have to! They don't have Cool Whip though, which is a slight disappointment. (Listen to me! Like it'll be such a hassle to have to use real whipped cream over the fake stuff.) The menu is starting to take shape, and luckily I won't have to fight my way into the stores weeks in advance here. I can do this! I am not domestically-challenged! This is my new mantra.

Now I just have to pick the brains of all the female members of my family for recipes... :)

| | |
| --- | --- |
| | [10] |
Whoa. Have you guys seen Sophie Ellis Bextor's anti-fur ad? (Here's the big version.) I admire her principles, but one has to wonder if she wears leather. (I don't think those boots in the "Murder on the Dancefloor" video are synthetic.) Because really, there's not a heck of a lot of difference, is there? I mean, we eat the rest of the cow so it's less of a waste, but you're still wearing animal bits for fashion. I guess foxes are just cuddlier looking than cows.

| | |
| --- | --- |
| | [2] |
Today's Protest Scorecard: 13 arrested, 1 injured. Three of the people arrested were women who stripped naked in front of the U.S. Embassy. That's kinda funny. The injured person was a female newspaper reporter who got trampled by some police horses. The Snook took a different route to work and hasn't seen any hippies down his way yet. It's still early though...

Update: The Herald's got a picture of the naked chicks! Apparently they covered themselves in fake blood and rolled around on an American flag. And hey, one of them was from Newtown! The Snook didn't witness anything interesting, other than a load of cops and horse poo.

| | |
| --- | --- |
| | [5] |
Some evil spamming bastards have been apparently scraping my site's comments for e-mail addresses. Apologies to everyone involved. I guess I'm going to have to try to figure out a way to spam-proof the site. Until I come up with something, you may want to leave your e-mail addresses off when you comment. (Although at this point, it may be trying to shut the barn door after the horse is already out.)

Wednesday, November 13, 2002

Last week was the Melbourne Cup, which is Australia's premier horse racing event. (It's like their Kentucky Derby.) Everybody in the country bets on who's going to win this one race. It's huge. The other thing it's known for is the hats. All the ladies wear huge flowered and feathery headgear, just like the Ascot scene from My Fair Lady. Even the gentlemen get in on the act. Here the Snook models his own modest chapeau, which he fashioned himself from a bit of newspaper. He didn't attend the actual race, of course, but I'm told his creation made quite a stir at the local pub where he and his workmates watched it on the telly. :)

(Yes, I told him to smile but he never does. He thinks he looks crap in photos, when really - when he smiles - he's so damn photogenic it makes me jealous. So the seriousness of expression here is deliberate.)

| | |
| --- | --- |
| | [3] |
Alcohol causes breast cancer. Great. Friggin' wonderful. Has anyone been keeping a list? I believe we're finally at the point where everything fun will kill you. What am I supposed to do, go live in a cave off nothing but mung beans and spring water?

| | |
| --- | --- |
| | [2] |
Holy crap. Check out this picture of a dust storm that ripped through the state yesterday. That's when happens when you have a drought, kids.

| | |
| --- | --- |
| | [3] |
The World Trade Organization is meeting in Sydney this Friday and - as you might expect - protests are looming. City cops have just made matters worse by refusing to grant a permit for a peaceful march tomorrow. It's going to turn into chaos, I just know it. I wonder if I can convince the Snook to stay home.

(Incidentally, check out the list of "essential protesting gear" at the end of that article: helmet, sealed goggles, gas mask, and clothing that seals at the neck and cuffs. I don't get the last one. What's that for?)

| | |
| --- | --- |
| | [1] |
Vindicated! Someone else has noticed that the Jedi Archives room from Star Wars: Attack of the Clones looks exactly like the Long Library at Trinity College, Dublin. The Snook and I saw the library a year ago and we immediately noticed the resemblance when we saw the movie. It really does look just like that, with busts of famous collegians down the sides. (You're supposed to be able to see side-by-side comparison photos here, but I can't seem to connect to the site right now.)

| | |
| --- | --- |
| | [2] |
AU4P. Now what the hell does that mean? It's chalked up and down all the footpaths in Newtown. Seriously, I saw one every twenty feet from the North Indian Home Diner to the high school (like six blocks). One version is followed by a question mark. I just have no clue. It's like I've wandered into a Thomas Pynchon novel. Any guesses?

Tuesday, November 12, 2002
| | |
| --- | --- |
| | [4] |
Have you Domers been reading The Observer lately? Seems my old dorm, PW, is in the center of a big scandal right now. The assistant rector was fired but Student Affairs (and our rector) aren't giving a reason. The AR claims that it was a personality conflict with the rector, but neither she nor any of the other members of the hall staff are allowed to publicly comment. In fact, the resident assistants claim to have been threatened with dismissal themselves for speaking about it. I know most of you couldn't care less about dorm politics at a university on the far side of the world, but for the few of us that went there, this is a pretty big deal.

| | |
| --- | --- |
| | [2] |
The Prime Minister of Australia has a weblog. A sample:
Oh my God! Best. Weekend. EVER. The APEC summit was soooooo much fun... [T]he best, coolest, most totally wicked part of the summit? George Bush was there!!! And Tony Blair wasn't!!! We hung out heaps, sometimes it was even just the two of us! Well, like there were security guys and stuff, but apart from that, it was just us! Janette wouldn't let me bring my Playstation, but I snuck my Gameboy up there and we played that heaps, mainly during the boring politics stuff. I asked George if he wanted to come jogging with me, but he didn't. Probably 'cause it was so hot. I thought Mexico would be cold, 'cause it's near Chile, but it's not. It's kinda like the Northern Territory, but with less Aboriginals and more cactuses... Anyway, it was totally gnarly and I reckon Tony Blair's heaps jealous that he wasn't there.
Priceless.


Holy crap. Some scammers just made off with a million bucks by attaching a recording device to an ATM and using it to duplicate cards. The scary part? The ATM they used is in our neighborhood. I'm pretty sure I've never used that one, but I'm going to be a lot more careful in the future...

| | |
| --- | --- |
| | [2] |
Oh Pacey... How the mighty have fallen.

Monday, November 11, 2002

Roger Ebert praises the films of Buster Keaton. I saw some of his films in college and really enjoyed them. If anybody wants to buy me an early Christmas present, feel free. :)


It was a weekend of extremes. Saturday night the Snook and I rocked out at the Reel Big Fish concert. Sunday afternoon we attended his grandma's 80th birthday party. (We gave her a set of the photo marble magnets I made, which she loved.) Now I'm just tired.

Sunday, November 10, 2002
| | |
| --- | --- |
| | [14] |
I picked up my copy of Kushiel's Dart at Borders today. (It was in the sci-fi/fantasy section, if any of you are having difficulty finding it.) To be honest, it doesn't look like something I'd pick up otherwise. But that's the whole point of this little exercise, isn't it? I'm loving that we're reading such a wide variety of stuff. I can't wait to see how this one turns out. It looks pretty long though, so if you're going to play along you should try to pick it up soon. (We can always postpone the discussion a bit if people are having trouble getting through it in time. So no worries.)

Oh, and check out this message from the forum. We've been linked on a Jacqueline Carey fansite! Hopefully this means we'll have some new people to join in the discussion.

Saturday, November 9, 2002
| | |
| --- | --- |
| | [2] |
Take Rolling Stone's Simpsons Quiz! The Snook and I only missed a couple.

Friday, November 8, 2002
| | |
| --- | --- |
| | [6] |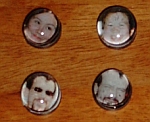 Marble Magnet People!
It worked! My cunning plan worked. Instead of using magazine pictures, I successfully put the Snook's and my faces under the marbles. (Click on the picture to see the full set. Apologies for my crappy camera. They really do look pretty good.) I'd read that using Bubble Jet-printed images wouldn't work, because the ink is water soluble and runs when you put the glue on it. I had a hunch that color laser printed photos would work better. And they did! If you want to hear how I did it, read on... [more...]


The Snook and I recently bought tickets for Big Day Out this year. It's a mega-huge rock festival. Apparently two years ago a young girl got crushed to death in the mosh pit during Limp Bizkit's performance. The coroner's inquest just ended today and he had harsh words for both the concert organizers and the band, who continued to play even when the crowd started crushing. To their credit, the organizers accepted their share of the responsibility and said they've made plans to avoid such accidents in the future. They also said that Limp Bizkit would never again be invited to play. Of course, Fred Durst then had to respond and say they wouldn't come back anyway. What an ass clown. Anyhoo, I'm still looking forward to it nevertheless. I want to see the Foo Fighters, Jane's Addiction, the Vines, PJ Harvey, and Kraftwerk. I just need to remember to steer clear of the mosh pit...

| | |
| --- | --- |
| | [2] |
Again, I'm going to skip the Friday Five this week. It's all about the recent U.S. election, which means I have jack squat to say about it. No, I didn't vote. I didn't even remember to renew my driver's license the last time I was home, much less register and request an absentee ballot. I am a crappy citizen. (Of course, I don't live there anymore either. Is that any excuse? Probably not.)

| | |
| --- | --- |
| | [5] |

Hyperventilating.
Went out to do laundry. Did my customary "Spider Check" in the corners of the shed. Noticed a huge hairy brown tarantula-lookin' thing in the doorjamb, about - oh - two inches from my head. Freaked out. Came inside and IMed the Snook. He was anything but reassuring.

Him: Those ones don't drop. They just run real fast. Well, they do jump if you scare them. That's why you should wear shoes, so you can stomp on them after they jump on you.
Me: WHAT? Are they bitey?
Him: Not really.
Me: "Not really"?? What the hell does that mean?
Him: Well, they hardly ever bite, and they're not deadly. Some people claim they do nasty things like make your arm fall off, but more likely it'll just hurt a lot.
Me: *dead faint*

| | |
| --- | --- |
| | [6] |
The thermometer says it's 81 degrees outside, but Yahoo Weather confirms that it feels like 91. Whew, that's hot. Unfortunately the Snook had to, like, work or something, so my beach plans were scuppered. Maybe tomorrow then. Meanwhile I've stocked up on Diet Coke and Popsicles, and there's cricket on the telly. Life is good.

| | |
| --- | --- |
| | [6] |
My friend Major just e-mailed to let me know that somebody linked to my Roald Dahl site in this Metafilter thread about Shel Silverstein. Cool.

Thursday, November 7, 2002

I just realized that people are finding our Book Group via Google and contributing to past discussions. That's neat! Now I/we just have to remember to check them every now and then so I/we can respond. :)

| | |
| --- | --- |
| | [11] |
New Poll: Which upcoming movie are you most excited about seeing? I would've said Lord of the Rings up til last week, when I had a Harry Potter-inspired dream. (No, not like that, Moire.) So I figure I should let my subconscious be my guide.


We are so going to the beach tomorrow. Check out that forecast. Glorious. (Yes, Ma Snook, I've been putting on sunscreen and wearing a hat when I go out.)

| | |
| --- | --- |
| | [6] |
I got marbles! After all the tramping about yesterday, I ended up finding them at "Eastern Flair", the weird-ass patchouli-smellin' hippie store a few blocks from our house (where I got the Snook's zen garden a few months back). I couldn't believe it. Now I'm ready to make some magnets!

(I'm not going to use magazine pictures. I've got a different plan, a plan so cunning you could put a tail on it and call it a weasel. I'll let you know how it turns out.)


I am roasting a turkey for Thanksgiving this year, Moby be damned.


Moire found this Ideal Weight Calculator that tells you not only what your medically recommended ideal weight should be, but also what other people of your age, height, weight, and gender think your ideal weight should be. It's interesting. The suggested range for my age and height is 60-79 kgs (that's 132-174 lbs), but apparently all the other chunkers think I should aim for 74 kgs (163 lbs). But get this: if I change my weight to 163 lbs, the perceived ideal weight drops to 147. In other words, one woman's ideal is another woman's hell. Heavier people set a heavier ideal weight for themselves (presumably to make themselves feel better about not being at it), but everybody always wants to be skinnier. Hmmm. At any rate, I've still got a ways to go to reach my goal, so I should probably hit the gym.

Wednesday, November 6, 2002
| | |
| --- | --- |
| | [9] |
The Coraline discussion seems rather stagnant, but I'm not too surprised. It's just a good story, you know? Not a lot to discuss there. We need to get started on the next book though. We're supposed to be reading Will Self's Great Apes, but I'm going to suggest we skip over it to the next one. The reason being, I looked for Apes at the library today and as far as I can tell, it isn't available at all in Australia. So unless there are any objections, I think we should move on to Kushiel's Dart by Jacqueline Carey.

(Unless, of course, you're all tired of the project by now. Are you? Now I'm worried. Should we have another round of book suggestions? Maybe we should scrap the idea of a scheduled list and have monthly votes to pick? Gimme some feedback here, please.)

| | |
| --- | --- |
| | [11] |
The results are in, and the Republicans have won control of both Houses. Looks like two more years in Oz for me!

| | |
| --- | --- |
| | [7] |
Everybody's making marble magnets, so I thought I would too. I headed into the city today with a simple list: silicon glue, magnets, and glass marbles. Items #1 and #2 were fairly easy to come by, but #3 was the killer. THERE ARE NO CLEAR FLAT GLASS MARBLES IN ALL OF SYDNEY. I went to every arts, craft, and homewares store in the CBD. I'm not exaggerating; I went to at least 12 stores and it took me almost three hours. Lincraft (our version of Micheal's) had them, but only as part of these silly Christmas gift packs with a big-ass vase and a candle. Grace Brothers had spherical pink ones. Nobody had the clear flat ones. Everyone I asked was convinced that somebody else was selling them. Nobody sells them! I get so lulled into thinking that I can get everything I could get in America here - I mean, we've got Taco Bell and Borders! But then every now and then I enter the Twilight Zone and discover some item that is just unknown in Australia. (Remind me to tell you about my spaghetti squash misadventures sometime.) So now I'm tapped. I've got magnets and glue, but no damn marbles. Where else can I look? There's no worse feeling than heading out all ready to buy something and then being DENIED.

| | |
| --- | --- |
| | [1] |
Foxtrot rocks. I laughed my ass off when I saw today's Ellen Feiss parody.

| | |
| --- | --- |
| | [1] |
RunningBlog: I feel like Forrest Gump. These are my magic running shoes! I thought I'd take it easy today, seeing as how I haven't been to the gym in nearly a week and I'm still wary about my back and my Achilles tendon. I figured I'd just do a mile or two and see how I felt. Well, I felt great! I breezed through the first mile and just kept going. I ended up shaving another 15 seconds off my 5K time (38:15). What's more, I cut way down on the walk breaks. (I took short breaks after each of the first two miles, and then two more during the last mile and a bit.) And my back didn't hurt at all! Usually by the second mile it's practically spasming (is that a word?), but today I didn't have to stop to stretch it at all. Hooray for the new shoes!

| | |
| --- | --- |
| | [2] |
Fun Flash Game O' The Day: Toboggan Jump 2001. I made it up to the bonus round but I kept setting my team on fire. How well do you do?

| | |
| --- | --- |
| | [1] |
Hey Hoosiers! Fort Wayne got mentioned on Slashdot! They're reporting on how DeBrand's chocolate company is fighting back against an unscrupulous e-commerce patent lawsuit. They even linked to the News-Sentinel's story. My sister writes the obituaries for them! I'm two degrees from the Slashdot front page! (Hey, it's closer than I ever got before.)

Tuesday, November 5, 2002

Happy birthday to my brother Anthony, who turns 20 today! I hope those Boilermakers show you a good time.

| | |
| --- | --- |
| | [3] |
Does anyone else think Mariah Carey sounds legitimately insane? (Scroll down.) Seriously, who calls people "lambs"? Crazy people, that's who.

| | |
| --- | --- |
| | [1] |
The Herald is running a good article about fan fiction. It starts with a sample of Harry-Draco slash, so I expected the tone to be pretty hysterical and anti. Instead the author explains the origins of the whole practice and of slash in particular. (It was all about Kirk and Spock in the beginning, baby.) She does a great job of explaining the various theories about why people write fanfic, even relating it to folk traditions that go back as far as The Iliad. The only complaint I have relates to a few minor misspellings. But come on, anybody who's done their research on this stuff should know it's Sunnydale and Dagobah! :)

| | |
| --- | --- |
| | [8] |
RunningBlog: I forgot to mention that I finally got my new running shoes yesterday. These are the ones I got. As expected, I didn't get the cool scientific high-tech fitting they show in the commercials, but my salesperson was reasonably knowledgeable and these seemed like a good choice within my budget. I'm off to the gym to try 'em out!

Monday, November 4, 2002
| | |
| --- | --- |
| | [3] |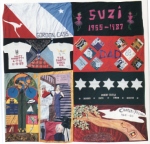 As part of the ongoing Gay Games activities, the Sydney Convention Centre is displaying the International AIDS Memorial Quilt this week. I went to see it today. Where I come from, quilting commemorates happy events: births, marriages, birthdays. I was curious to see how it could be used to memorialize a death. I've never known anyone with AIDS (though one of my best friends in college went through a scare and had to get tested), so I didn't expect it to have that much impact on me. Within five minutes I was choking back tears though. It's impossible not to. It's not that the quilts are sad; in fact, most of them are cheerful celebrations of people's lives. It's just the sheer number of them, and knowing that each panel (and there had to have been over 1000 that I saw) was put together by friends, families, and lovers trying to come to grips with a life cut short. As I walked along, I marveled at how many of the tributes were for white thirtysomething men. I've heard gay men lament that an entire generation has been lost, but I didn't really understand what that meant. And yet they didn't all fit the stereotype - there were women and old people and young people and even little kids. It was just heartbreaking stuff.

I liked seeing the different ways people chose to commemorate their loved ones. Some just had a name and a date, while others actually attached items that were important to the person (teddy bears, jean jackets, even a CD). The volunteer assured me that I could take pictures, so I snapped a few of some of the panels that stopped me in my tracks. You just wouldn't believe the creativity and work and love people have poured into this project. (The last one is for an eight-year-old boy named Troy. The pictures around the border were drawn by his second-grade classmates.)






Sunday, November 3, 2002

No Friday Five this week. I glanced at the questions and saw they were all about religion, and as my hangover is still raging from last night, I'm in no shape to discuss weighty theological matters. So to paraphrase Buffy, think of something cool and pretend I said it.


Fabulous.
"At a time when there is so much fear and danger, anger and destruction, this event represents an alternative vision for humanity." Yes, the Gay Games have started in Sydney. I doubt I'll go to watch any of the sporting competitions, but I'm really interested in some of the cultural events they've got scheduled. The highlight has to be Bea Arthur. When am I ever again gonna get the chance to see a Golden Girl? :)

| | |
| --- | --- |
| | [7] |
Boston College. Again. Son of a bitch.

Saturday, November 2, 2002

Hey Dad! Check it out. This Beemer has an "easter egg" where - if you press the right combination of buttons - it'll do an automatic burn out for you! How cool is that? (I've only ever done one unintentionally. <pride>It took me a while, but I can drive stick pretty well now.</pride>)

Friday, November 1, 2002

In other astounding news... I ate garlic prawns last night! Yes, actual seafood. And I'm still alive! It was pretty good too. :)

| | |
| --- | --- |
| | [17] |
RunningBlog: Five miles! Five frickin' miles. I'm going to go have a heart attack now.

Update: Not good. I'm feeling some significant pain a couple inches above my left heel when I walk. That's Achilles tendon territory, right? Crap. Can any of you runner types advise me about this? Most of these sports medicine sites seem to suggest icing it. I'll do that. At what point should I seek medical attention? I can still walk on it.


Did you know that the Johnny Cash song "A Boy Named Sue" was written by Shel Silverstein? I didn't. Now I'm curious about his other adult stuff.

| | |
| --- | --- |
| | [3] |
Whoa! Draco is Eminem! They should've got the Draco kid to play young Eminem in his movie. Thanks to Moire for finding that.

| | |
| --- | --- |
| | [1] |
Can you believe I didn't mention Halloween at all yesterday? Maybe that's because it was a total non-event here. Seriously, I didn't see a single person in costume. The Snook claims he saw some skanky chick in fairy wings down by the train station, but she probably dresses like that every day. (We get a lot of freaks in Newtown.) We celebrated by getting dressed up and going out for a nice Italian dinner around the corner at "Da Stefano's". You Days of Our Lives fans will appreciate my amusement. It was nice.

archives
You can search through the archives by post keyword using the form on the left, or you can browse by month using the links at the bottom.
"Moblog" refers to posts and images posted directly from my mobile phone.

"PW Blog" refers to posts recovered from my very first weblog, which dealt with news related to my college dorm.