Tuesday, November 30, 2004
| | |
| --- | --- |
| | [11] |
Last minute San Fran tips?
Man, I totally miss blogging about, like, random Internet stuff instead of my life all the time. Only five more days til we're home! In about twelve hours we fly off for San Francisco. We're staying in this funky hotel and so far all we have booked is the Anchor Steam Brewery tour on Wednesday and Alcatraz on Thursday. Any last minute recommendations? I'm thinking of maybe making a pilgrimage to the Apple Store...

Monday, November 29, 2004
| | |
| --- | --- |
| | [10] |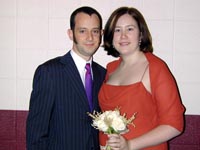 Well, it's over.
In the end it was all bright smiles and happiness. I made a minor error coming down the aisle when I forgot to stop at the right place and continued on with the rest of the bridesmaids, but luckily the preacher (and half the guests) waved me back. (Fortunately, both Snookums and my uncle Ron - the official videographers - were aiming at the little flower girl and ring bearer behind me, so my mistake has already been expunged from posterity.) Everybody said I looked really pretty in my orange dress, even though my sparkly dyed shoes turned my toes red. The Snook, as always, looked pretty fly. He completely cemented his place in the family with a stunning karaoke rendition of "The Devil Went Down to Georgia" during the reception. Afterwards we headed to the hotel for a little jacuzzi and Papa John's action. *sigh* And now all this wedding crap is over, so hopefully we can all get back to more meaningful pursuits... (like the second season of The O.C.!)

Sunday, November 28, 2004
| | |
| --- | --- |
| | [7] |
It's four hours til the Wedding of the Century begins, and the tears and recriminations have already begun. It's gonna be a long day, folks...

Friday, November 26, 2004

Australians often talk about going to "the snow," as if seeing snow was the equivalent of visiting Disneyland or Paris. Other than a few flurries in London, Snookums had never really been to "the snow" before. Last night, the snow came to him. It started yesterday afternoon and fell throughout the night. Hooray for winter! This morning he was introduced to the duty of all Indiana husbands: scraping the ice off the car. After dinner Joey's going to teach him how to make snow angels. Pictures are forthcoming...

Thursday, November 25, 2004
| | |
| --- | --- |
| | [4] |
Since nobody in Indiana seems to believe me when I tell them, let me just end all the speculation and confirm that I'm not Mrs. Snook. I mean, yeah, I married the Snook and all, but I'm still Ms. Howard legally and forevermore. Mrs. Snook is his Mom, and even she approved my decision to stay me. You are, however, permitted to informally refer to me as Mrs. Snook if it amuses you, which it seems to do for a lot of people. But only if you call him Mr. Howard. :)

Wednesday, November 24, 2004
| | |
| --- | --- |
| | [4] |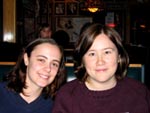 Check it out everybody! I met yet another previously-known-only-via-the-Internet buddy tonight in the form of our very own Moire. (It's always weird meeting people with blogs, because they never sound the way they do in my head. Moire, on the other hand, sounds exactly like the Hoosier I expected her to be.) She even brought us a wedding present! How nice is that? The Snook came along to listen to us chatter and have his first Applebee's experience. All in all, a very successful meet-up.

Tuesday, November 23, 2004
| | |
| --- | --- |
| | [7] |
We just finally watched the wedding. We are such dorks!

| | |
| --- | --- |
| | [2] |
Back Home Again in Indiana...
Our plane touched down in South Bend tonight and we stood for a few minutes waiting for the doors to open. In front of us were some local 9th graders that were evidently flying to visit relatives for Thanksgiving. "Oh my God," the girl said. "We've been flying since six a.m.! That's, like, twelve hours. All the way from Wisconsin." People around us started smirking. I couldn't help myself: "You should try flying fourteen hours on one flight from Australia." Her face lit up. "Australia? Oh, wow!" Her boyfriend asked, "Where's Australia?" The grown-ups all looked at each other incredulously. She answered him: "It's where the toilets go backwards and there's kangaroos." Him: "But where is it?" Her: "I don't know. You know I'm not good at geography." Snookums could take it no longer. He leaned over and explained, "Basically you fly from LA like you're going to Hawaii and you keep going about twice as far. And that's where Australia is." The boyfriend: "So it's, like, on the other side of Hawaii?" Mercifully the airplane door opened and we were able to shuffle past them. "How such an educational system ever produced me," I said to the Snook, "I have no idea."

Sunday, November 21, 2004
Good Things:
We got back to our room Saturday night to discover a bottle of champagne and a huge gift basket from my PW girls! It was awesome. Thanks so much to Kel, Eileen, Liz, and Crawfy.
Helen sent us a bunch of CouchCam pictures of Dr. Amy Jones playing. We miss her!
The Sydney Airport lady e-mailed to say that she had the hat and she's sending it on. Sweeeet.
Ed McMahon was on our flight home! He's really, really old and scary now.
Bad Things:
Vegas got really cold and windy Saturday night. They cancelled the "Sirens of Titan" show so we didn't get to see it.
The weather got worse today and it rained and rained. Our flight home got delayed four hours. I'd had a great time in Vegas but damn I was glad to finally get on the plane.
I'm off to bed. Tomorrow's another travelling day as everybody makes their way to Indiana for the Wedding of the Century. 'Night, folks!

| | |
| --- | --- |
| | [26] |
Just Married...
Hey everybody! Sorry about that whole delay thing. We got there on time but the chapel was absolutely swamped. We ended up starting about an hour late so that's why you had difficulty. (Apparently my Mom was phoning them repeatedly asking where we were, which explains why people kept barging in and asking for us.) As you probably saw, we had a hella good time. It was so much fun. Thank you guys so much for watching and cheering for us! We're gonna go party up in Vegas for another 24 hours or so and then head back to LA before flying to Indiana on Monday. We're getting the photos developed soon so we should have some to show you in a few days...



Hey, Sister: Flight gets in at 6:15pm tomorrow night. See you at the airport!



| | |
| --- | --- |
| | [25] |
We finally found an Internet cafe! Wedding in T minus three hours... I think we're all set. License: check. Underpants: check. We're good to go. Oh, and Helen forgot the link to convert the time for you; here you go. Don't forget - 4:00 pm Vegas time! (That should be 11am Sunday in Sydney time, 7:00 pm Saturday in Indiana time.) Apparently to view the wedding live you just click on the "Live Wedding" link. If you miss it, the webcast will be viewable for a month. I believe you just have to enter "Rodd Snook" as the groom's name. Okay, we're off! My stomach is churning... :)

Saturday, November 20, 2004
| | |
| --- | --- |
| | [3] |
Hello all, Miss Helen here(you may have spotted me on couch cam as I am house and cat sitting )with a special guest entry, as I'm here with an update from Kris, who couldn't make it to a net cafe, but rang to let me know that the wedding will be on at 4pm Vegas time on Saturday(which is tomorrow for you Americans, and yesterday for us Australians, but still tomorrow, even though it is yesterday. Phew!). Here's a handy link that should work, to show you what time 4pm Saturday Vegas time is, wherever you are. The link to the webcast is over in the right column and you can of course view the wedding for up to a month afterwards. Don't forget to throw confetti at your monitor when they're done!

Friday, November 19, 2004
| | |
| --- | --- |
| | [4] |
Oh, and I forgot to mention that I finally gave the happy couple their wedding gift: the Sunday cable throw from Jo Sharp's fourth book, Home. It took me well over a hundred hours to knit, and I used 36.5 balls of Jo Sharp 8-ply wool. I modified the pattern to make it a bit wider and added fringe to both ends to make it a little more "blanket-y". It's really pretty and warm. (Unbeknownst to me, it also perfectly matches the beige and red of their living room color scheme.) It's about six feet long by four feet wide. Here's a pic of my sister lounging under it along with a detail of the cabling up close: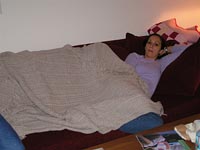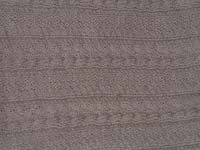 | | |
| --- | --- |
| | [2] |
Los Angeles
Well, we made it. We had a minor debacle at Sydney Airport where the Snook and I somehow managed to lose a $100 hat I'd bought as a gift for my brother. He'd had it on his head when we went through security but somehow it had disappeared by the time we boarded the plane. Twelve annoyed hours later we landed and were able to contact the duty-free shop where we thought we lost it. Turns out they have it! They're going to try to mail it out to us. So I'm feeling pretty good about that.

Other than that, the flight was pretty uneventful. We spent the day chilling at my sister's apartment in LA and getting to know her fiancé Dan. They took us out for a big Mexican feast at some place called "Paco's". (Apparently it was where Jerry Maguire and Dorothy had their first date.) Now we're just going to bed in preparation for our early flight to Vegas tomorrow. Oh, and I did hit one other snag: the new white underpants I bought specially to go with the wedding outfit still have the Kmart security tag on them! I'm afraid to pry it off for fear it'll explode or something. So now I've got to find some place in Vegas to buy new underpants. (And don't even bother suggesting I go "commando." I'm getting married, people!)

Wednesday, November 17, 2004
| | |
| --- | --- |
| | [10] |
That's it for DeskCam for a few weeks, folks... I'm waving you all bye-bye!



Oh, and that's my new wedding hair. I was going to keep growing it out but my friend Losh said that shorter hair makes me look younger. So short and flippy it is! It's also a slightly darker and redder shade of brown, with really contrasty blonde streaks underneath.



Tuesday, November 16, 2004
| | |
| --- | --- |
| | [17] |
I GOT A DRESS! Thank Gawd.

| | |
| --- | --- |
| | [8] |
The Wedding Show
For those of you wanting to watch at home, our ceremony will probably take place this Saturday evening (Vegas-time). This means it'll be Sunday morning for the Aussies. We'll post the details about 24 hours beforehand once everything is confirmed. And don't worry; they archive the video for a month so you can always sleep in and watch it later. :)

Monday, November 15, 2004
| | |
| --- | --- |
| | [1] |
Photoshop Contest: If Pirates Ruled the World... HA! My favorite is "Wal-Marrrt."


Roger Ebert's obsessive love for Renee Zellweger is really, really disturbing me. Oh, and check out this line from his Polar Express review: "There are so many jobs and so many credits on this movie that I don't know whom to praise..." The answer to that question, Rog, is DAN CARBO, my soon-to-be brother-in-law who worked on the movie. So if you go see it, hang around and see if you can spot his name in the credits. (It'll probably be way, way down at the bottom.)

Sunday, November 14, 2004
| | |
| --- | --- |
| | [9] |
Weekend Update:
I still don't have an outfit for our wedding. I do, however, have the shoes. I was trying on yet another crappy white dress at Portman's on Friday when I thought to myself, "What's the point? I don't even have shoes to go with this." And then, like lightning, I had a perfect vision of exactly the shoes I wanted to be married in. Oh yes, pristine white low-top Chuck Taylor sneakers. I happily marched up to General Pants Co. and bought them. They shall not be worn til the day of the wedding. In this, at least, I am satisfied.
Helen started at Tapestry Craft! She even had a run-in with Creepy Jesus Lady on only her second day. She asked CJL if she'd knitted her own sweater, and CJL replied: "Yep, me and God." (CJL was pretty annoyed with me on this visit, I think, because I refused to return some of the wool she bought during the sale. Apparently Jesus forgot to warn her to read the sale policy.)
Saturday was our Post-Sale Celebratory Dinner at Ichiban Teppan-Yaki. Snookums joined me and the rest of the TC staff for an evening of food, fire, and flying eggs. Afterwards we went to "Viva Karaoke," which was pretty fun. I got into it, anyway. Unfortunately most of my co-workers were too shy to sing, which kinda sucked. (And of course, we had a "mocker" amongst the group who thought it was much funnier to make fun of everyone else, which didn't help the shyness issue.) Clinton was definitely the rockstar of the night with his Ricky Martin moves. The two of us also duetted on a rockin' version of "Sk8er Boi" that left me hoarse afterwards.
I'm so close to being done with my sister's wedding gift. It's take me well over a hundred hours. I hope she likes it!
Snookums and I met up with my friend Sharon at the Newtown RSL this arvo, and guess who I saw? Tripod. We were just sitting in the bar when I saw Yon wander past. I was like, "Snookums, look look look! Right behind you. It's the guy from Tripod." Him: "The baldy?" Me: "No, the one with glasses. Look look look!" Turns out they were doing a gig later that night. Ten minutes later Gatesy strolled out. Me: "It's another one! Ooh, it's the cute one!" Him: "The cute one?? Scod?" Me: "No! Gatesy. Quit obsessing about Scod. Oh wait, Scod just came out." Man, I wish we had seen the show now. Instead we just listened to the end of the meat raffle and then headed home.
I am so unprepared for this trip. We leave in less than a hundred hours. I have less than a week of singleness left. AND WHAT THE HELL AM I GOING TO WEAR FOR THE WEDDING?
Saturday, November 13, 2004
| | |
| --- | --- |
| | [2] |
For myself: How to Write a Request for Proposal.

Friday, November 12, 2004
| | |
| --- | --- |
| | [3] |
The KFS Sweater Project: a guy models 25 extremely daggy sweaters that he pulled out of his wardrobe. Let this be a cautionary tale for knitters everywhere. (Link courtesy of Matt.)

| | |
| --- | --- |
| | [2] |
Check out the iApology at SorryEverybody.com. (Scroll down halfway.) Note the track number as well as the time elapsed/left in the song. Very clever, eh?

Thursday, November 11, 2004
| | |
| --- | --- |
| | [4] |
Here's a glowing review of Delicious Library, which I downloaded a few days ago. It's an OS X program that helps you maintain your collection of books, movies, CDs, and video games. That sounds boring, but it's actually pretty jaw-dropping. I was just messing around with it, playing with the demo collection, when I hit the "Scan Barcode" button. My iSight popped up a black-and-white video window with laser scanlines on it. Curious, I held the nearest book up in front of it. Five seconds later, my computer said (actually said, mind you): "The Complete Novels of Jane Austen." And there it was, sitting on the little virtual shelf with all the data loaded in from Amazon! I was like, "Get OUT!" That is pretty damn sweet. I figure I'll wait til we get back from the trip to drop the $40 on the license and give the thing a real workout.



See? I can shill with the best of them. Too bad in this case it's because I actually like the product, and I'm not getting anything in return. Take that, Warner Brothers!



Wednesday, November 10, 2004
| | |
| --- | --- |
| | [5] |
Beaky laid an egg! And have I mentioned how much I absolutely love the idea of a a bird named "Beaky"?

Tuesday, November 9, 2004
| | |
| --- | --- |
| | [17] |
I'm conflicted. Remember how I was ranting about the new Wonka movie? Well, I just got an e-mail from someone at Warner Bros. asking me to plug the movie on my Dahl site. They'll send me a poster if I do. So here's the conundrum: This is information about a Roald Dahl adaptation, and presumably most of his fans will be interested in it. So I should just post it, right? On the other hand, to me the movie looks like it's going to piss all over the original story. I'd rather not act as a shill for that. So should I do it? The principled bit of me says no; the not-so-principled bit is shrieking "Maybe they'll invite you to the Sydney premiere and you can meet Johnny Depp!" over and over. Stupid, I know.

Monday, November 8, 2004
| | |
| --- | --- |
| | [7] |
Um, so if any of y'all are looking for a last minute wedding gift for us... we'll take this. Seriously. That would be sweet. :)

| | |
| --- | --- |
| | [2] |
The Tale of Creepy Jesus Lady
This happened on Saturday afternoon. This hippie-lookin' lady came in about ten minutes before closing and immediately gave off the you're-going-to-be-here-for-another-half-hour vibe. Great. I also noticed that she was wearing a big circular cardboard pendant around her neck with "JESUS" written on it in ink pen. Things did not look good. She grabbed a basket and started loading up (but without any particular sense of urgency). I was busy helping a few stragglers so I lost track of her for a bit. Eventually I noticed her pestering Albert up at the other counter. She'd heard me mention that the new store will have a coffee shop and she decided that she had the perfect name for it. It was so long that she actually had to write it down. It was something like: "Tapestry Craft Total Tea Shop Creative Coffee Cafe." (As she put it, "So you could just refer to it as the TCTTSCCC!") Albert somehow managed to keep a straight face and launched into a great performance of "How to Deal with Crazy People." He thanked her and said he'd give her a call back about it. He grabbed a piece of paper to write down her contact details. "What name should I put?" "Jesus." Say what? We both looked at her. "Or you could put YESHUA," she happily announced, turning over her cardboard pendant to reveal that very name on the other side. Uh-huh. Albie high-tailed it out of there, leaving me to deal with her as she finalized her purchases. As I was ringing her up, I went into the standard store patter of asking how she'd heard about our sale. "Oh, I didn't know about it," she said. "I don't get out much, but I'm a CHRISTIAN, and I pray for EVERYTHING. It was a MIRACLE from CHRIST that I made it here for the sale today." Really? "Yes, the last time I came you were closed. So it was a MIRACLE from JESUS that you were open today." Wow, most folks just read the sign with the opening hours on the door. I just kept nodding and smiling. With a flash of inspiration, I asked if she went to any knitting groups. "No! But I'd love to. Where do you find out about that stuff?" she asked. "The Internet," I answered solemnly. "Are you on the Internet?" Regretfully, she said she was not. And thus I was able to ascertain that it was safe to talk about her on my website. Clever, no? I can't wait to see what happens when she finds out that we passed on her TCTTSCCC suggestion.

| | |
| --- | --- |
| | [4] |
Sorry Everybody. Americans apologize to the rest of the world for not ousting Bush. Some of those photos are great.

Sunday, November 7, 2004

OS-tan: Japanese fan-created anime girls that personify various computer operating systems. Geeky but fascinating.

| | |
| --- | --- |
| | [5] |
Um, did any of you Hoosiers notice - and you might not have* - that the actual Cousin Happy of Happy's Place left a comment here yesterday?!



* You probably didn't see it because it's an old post, so comments don't show up immediately. That's part of my anti-spam efforts.



Saturday, November 6, 2004
| | |
| --- | --- |
| | [1] |
I really, really hope that the upcoming Hello Kitty Online Role-Playing Game is available for Mac, because that much cuteness and shininess combined would rock my world.

| | |
| --- | --- |
| | [1] |
The comment-spammers have claimed another victim: John has taken down all commenting at his blog. This sucks. I'm not immune either; w-g now regularly gets batches of hundreds of spam comments a couple times a week. (This is even more remarkable considering that I'm using homemade blogging software, which means some effing spammer actually went to the trouble of programming a special case for my site.) I'm doing what I can to fight back. Archived posts are still open to commenting but anything older than two weeks must now be approved before being visible on the site. I've just added some code that checks to make sure that my site is the proper referrer for any form submissions. And I've also written up some tools to make blasting the damn things on the backend easier. Please let me know if any of this creates issues for you (real people) commenting. I'm just trying desperately not to have to resort to some sort of registration system.

Oh, and I got rid of the BackLinks (my version of TrackBack) too. I was getting hundreds of spams via that route too but I decided that the net benefit just wasn't worth it. Nobody pays attention to TrackBacks anyway nowadays, do they?

| | |
| --- | --- |
| | [1] |
I was reminded by the anxious-but-prudent Ma Snook that I should probably inform all wouldbe house-thieves that our house is not going to be empty while we're away gettin' hitched, so don't even think about getting your fingerprints on the G5. Helen will be guarding the fort and CouchCam will be backing her up. So don't you even think it!.

Friday, November 5, 2004
| | |
| --- | --- |
| | [3] |
Bored now. Snooky's off having a surprise Bachelor Party with his mates. I celebrated one of my last evenings as a Bridget Jones-like singleton by settling down to a dinner of Little Debbie cakes, beer, and the Simpsons. (Man, my diet is, like, so wrecked.)

| | |
| --- | --- |
| | [6] |
Tales from the Knitting Trenches
Since I'm sure none of you have been able to sleep from the anticipation, I'm happy to be able to bring you the end of the Saga of Angora Man. You remember him, right? Well, our knitter finished his sweater fairly quickly and I was eager to get a look at it. It's your basic men's crew-neck sweater... just in extremely fluffy snow-white angora. We discovered a problem when we went to call him though - his number didn't work! I guess that's what non-refundable deposits are for, right? But wait, this story has a happy ending. A few weeks ago I was busy cutting some embroidery fabric for a customer when I noticed a familiar fuzziness in my peripheral vision. I looked up. It was him! "Hey!" I said. "It's you, Angora Ma--" (Just caught myself there.) "And you're wearing a new sweater! Gee, it's sooo lovely!" And yes, folks, he was wearing a third white angora sweater. This one was also a women's garment, as evidenced by the puffy sleeves and the panel of smocking on the front. "Your new sweater is ready!" I told him. "It's really gorgeous!" We took him over and he immediately wanted to model it. I had to deal with other customers but evidently he was pestering the other manager for ages. Did it fit right? Did it hang correctly? It really didn't seem to be hanging quite right, he thought. Losh had the unenviable task of trying to explain that this was simply because he'd been wearing ladies' sweaters, and the new one was actually a men's garment. In the end he was happy enough, though, and forked over the rest of the cash. And thus ends the strange, fluffy tale of Angora Man.

In other news, I'm in the latest issue of Creative Knitting! I met the original editor, Nicola, eighteen months ago at a Stitch & Bitch in the city. Earlier this year she read on Amy's site about my career change. She e-mailed me and asked if I'd write the "Cable Knits" section for the next issue. (It's just a little sidebar where a knitter talks about what they're doing right now.) Anyway, I sent my copy off to her and pretty much forgot about it. Then in the past 24 hours I had two different customers at the store ask me if I was "the girl from Creative Knitting." Yeah, that's me! So I ran out at lunch to buy a copy. It's really cheezy and kinda "gee-whiz!", but apparently it was also pretty memorable, so I'm proud of it. Read on to see a scan. [more...]

Thursday, November 4, 2004

Yay, Steph and Eva have started a weblog! (What a great tagline.) Some of you might have met them at the party.


Gangsta Knitter... knit for me! Man, that's catchy and hilarious. (Link courtesy of Mary-Helen.)

| | |
| --- | --- |
| | [2] |
Little Johnnie must be fuming. A whole article about world leaders' reactions to Bush's reelection, and not once is Australia's PM mentioned! But he's Bush's bestest friend... isn't he?

Wednesday, November 3, 2004
| | |
| --- | --- |
| | [56] |
I'm heartsick. I can't believe this. How can another four years of that dickhead possibly be justified? Who the...? What the...? How? Why did you jerks let me down? Here I am, defending us to the rest of the frickin' world, one person at a time, telling every US critic that we're really not so bad, that I think most folks are basically good, that things are generally getting better, that we're not as backwards as our President makes us look. But you know what? That's a big damn lie. The majority of my fellow citizens care more about two gay men setting up house than they do about responsible foreign and economic policy. I'm f**king ashamed.

Whew. That rant's been building up for about six hours. Only sixteen months til I can get Australian citizenship, huh? And here I was thinking that moving back to the States might be a foreseeable goal. Sorry, Ma. As long as a Bush is in the White House, my mailing address will remain in another hemisphere.

| | |
| --- | --- |
| | [5] |
Indiana goes to Bush. Yeah, I saw that one coming a mile away. Huh, I wonder what I have to do as an absentee voter to change my address to a state where my vote might make more of a difference...

Tuesday, November 2, 2004
| | |
| --- | --- |
| | [3] |
A Month of Softies is a new group craft project started by loobylu. Basically, she provides a theme each month and everybody crafts something that uses it. At the end of the month, everybody sends her a picture of what they made. Neat, huh? The theme for November is "The Accessorized Elephant." I've already got lots of ideas for it... but I probably won't have any chance to make anything, since we leave for the States in, like, two weeks. ACK. (Link courtesy of Kirsty.)

| | |
| --- | --- |
| | [1] |
iPod Backup Battery in an Altoids Tin. Now that is cool.


Oh, man! I really, really want a Gay Agenda. (Link courtesy of Awful Cufflinks.)

Monday, November 1, 2004
| | |
| --- | --- |
| | [5] |
I've created a new theme in honor of our impending connubials.


What-what-what? iPod Socks??? I knitted my first iPod garment eight months ago! Come on, Steve. I deserve some credit.

archives
You can search through the archives by post keyword using the form on the left, or you can browse by month using the links at the bottom.
"Moblog" refers to posts and images posted directly from my mobile phone.

"PW Blog" refers to posts recovered from my very first weblog, which dealt with news related to my college dorm.