Wednesday, November 30, 2005
| | |
| --- | --- |
| | [16] |
RunningBlog: Super Pathetic DietBlog (and Trail Note)
I shouldn't have whined about staying the same weight for three weeks. I had a gain. Yeah, turducken and all, but it's still depressing. I'm now back to 2.4kg away from wearing my new shoes. I know that's nothin', and I should be thinking about how it'll only take two weeks to get rid of. But I'm not. People keep complimenting me and I smile and thank them for their encouragement... but I don't think any of them realize how down I am about my progress right now. I know I've had peaks and troughs before, but the trough I'm in is lower than I've felt since I began WW seven months ago. I was in the shower the other day, not thinking about anything in particular, when suddenly my brain just stated: "You can't do it. You'll never do it." And then it was out there, and I can't seem to shake this feeling of powerlessness and self-loathing. I forced myself to a kickboxing class Monday night (mostly in the hopes that it would mitigate what was sure to be a gain at the meeting last night), but it left me so sore and bruised and tired afterwards that I just felt on the verge of a breakdown. Yesterday afternoon I had a crazy e-mail exhange with the Snook - "Why am I always starving? I HATE MYSELF." - in which I tried to rationalize skipping the meeting but he wouldn't let me. I left work dreading the weigh-in and wanting nothing more than to sit at home and eat leftover pumpkin pie and be completely self-destructive. And that made me so damn angry with myself that I decided to do the most painful, punishing thing I could think of: I went running. I put on my goddamn shoes and hobbled out the door. I ran all the way down Harris Street to Pyrmont, around by the Anzac Bridge and the Fish Markets, and then back up Wattle Street to home. Along that back stretch I was definitely in some pain - my side ached, my ankle was sore - but I could see someone else coming towards me, someone as red-faced and sweaty and slow as I was. It was only just as we reached each other that I realized it was Karen, one of the girls from my WW meeting. We shared a wave and a smile. Anyway, I got home and showered and made it to the meeting, and the whole time I was sitting there I was still feeling depressed and like everything I'd accomplished was a big fluke. Megan told us that motivation is a combination of how important a goal is to you and how confident you are in your ability to reach it. My confidence was at rock bottom... But then at the end of the meeting Megan announced that we had a milestone to celebrate, that someone had just passed the 30 kilos lost mark... and it was Karen. I felt both inspired by her and completely jealous, and then that made me feel like a big selfish jerk. I need to get out of this rut and I need it to happen fast. I'm seeing the hypnotherapist again on Friday, and I'm hoping to see her again the next week. In the meantime, I'm just going to take it one day at a time.


Squeee! An interview with my teenage TV boyfriend Michael Cera (aka George Michael). That's two Arrested Development posts in a row! (Link courtesy of Kevin.)

Tuesday, November 29, 2005
Moblog: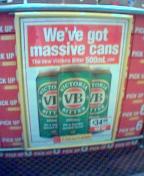 Massive Cans
Everytime I see this sign, I hear it in Gob Bluth's voice.

And on a related note, our Korean high school student has started her week-long "work experience" with us. ANNYONG!

| | |
| --- | --- |
| | [2] |
Hooray! The Jordana Paige Knitter's Purses and Messenger Bags have finally arrived in the shop! This is the first product line that I actually researched on my own and convinced Albert to order in. (Mostly because I want one.) And what's more, we're selling them for the same price as Woolshack! So if you're in Sydney and you want to buy a knitter the Best Christmas Present Ever, stop in the shop and save the shipping cost. (Or alternatively, buy one for me!)

Monday, November 28, 2005
| | |
| --- | --- |
| | [6] |
All I'm saying is, if you're gonna tell your wife that your company wants you to list your "favourite website" on their lame new corporate site, THE ONLY COOL OPTION is to list your wife's blog. I'm just sayin'. OTHERWISE SHE THINKS YOU'RE ASHAMED OF HER.


All hail King Mike!
The Snook and I watched a fascinating program last night called Britain's Real Monarch. While researching a previous documentary, Tony Robinson discovered evidence that Edward IV was illegitimate, and thus every British monarch for the past 500 years has been ineligible for the throne. The goal of the program was to figure out just who exactly *should* be the current monarch. We were only mildly interested until we realized that Tony's search was taking him to... Australia. That's right, the true King of England is a fair dinkum Aussie battler. (Okay, so he's really a Pom and a Lord, but he lives here now and barracked for Australia during the Ashes.) What's more - he's a Republican! It was too funny.

| | |
| --- | --- |
| | [3] |
I'm going to be ordering tickets today for Goblet of Fire on Thursday (probably the 8:15 show at Broadway) so let me know if you want to join us!

Sunday, November 27, 2005
| | |
| --- | --- |
| | [8] |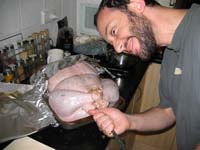 The Thanksgiving Photos are all uploaded and ready for your perusal! The first half are all about the turducken preparation - final boning, spreading the stuffing, sewing him up. (Vegetarians may not want to look!) Then there are a bunch more shots from the party of people eating way too much... I hope everyone is recuperating well today!

Saturday, November 26, 2005
| | |
| --- | --- |
| | [8] |
We did it!
I've got a LOT more photos to upload tomorrow, but these are all I can bear to do right now. I'm going to go into a food coma. Suffice it to say that the turducken was a magnificent and stunning success! Thanks to everybody who attended and shared their awesome food with us.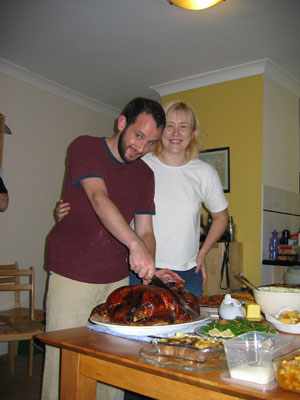 [more...]

The Turducken is IN THE OVEN, folks! The assembly was much easier than we'd imagined, and the Snook exhibited a heretofore unknown sewing aptitude with a blanket stitch to make your Grandma weep. Photos are forthcoming...


Check it out: a knitting pattern for iPod Mittens. They're mittens with a pocket to put your iPod in. Clever!

Friday, November 25, 2005
| | |
| --- | --- |
| | [1] |
Here's a link for my Dad, who is probably sitting in a tree with a gun at this very minute: How hard is it to shoot off a padlock? Answer: Very hard. (Link courtesy of John.)

| | |
| --- | --- |
| | [3] |
HAPPY THANKSGIVING!
Preparations for our Saturday feast are continuing apace Down Under. Stage One of the Turducken Assembly is now complete. Two of the three stuffings are finished and chilling in the fridge. Both recipes are from this article. First is the cornbread stuffing, which we're planning to use as the outer layer between the turkey and the duck. (That's actual Jiffy Cornbread in there!) Next is the sausage and smoked oyster, which we modified a bit. The sausage is actually beef sausage (because I have Jewish co-workers), and one-third of the oysters are actually mussels (because we grabbed the wrong can at the supermarket). I was a bit skeptical of this one but the smell is absolutely fantastic. It's going in the very center of the chicken, so obviously we're going to have a bunch of it left over to eat on the side. I can't wait! Still to make: remaining stuffing (chicken, chestnut, and truffle), banana pudding, sweet corn casserole, deviled eggs, and maybe some baked beans if I can be arsed. Oh, and I'm dipping the rest of the frozen buck eye balls from Halloween, so we can finally finish those off too!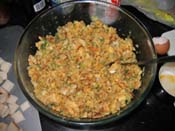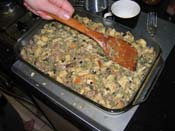 Update: Whoops. Snookums has just pointed out to me the inconsistency of using beef sausage instead of pork for our Jewish friends... and then loading the stuffing with shellfish. Apparently that's not the reason he chose the beef after all, but rather because "they're the closest thing to American spiced sausage I've seen here (in terms of the spiciness)." Lest you think we're both idiots...


Now THIS is what I need instead of running on the road: The Treadmill Bike. HA!

| | |
| --- | --- |
| | [1] |
Heh. I was a finalist in Kay's Frappr Awards in the category of "My Hair is Red." Not anymore, it isn't! (Secretly I already miss it.)

Thursday, November 24, 2005
| | |
| --- | --- |
| | [4] |
Sweet. My Mom has officially launched her quilting business and has made her first sale! So if you're looking for an awesome Christmas present for that special someone, bookmark her listings page, okay?


Any web designers want to do a good deed for Christmas? The Knitters' Guild of NSW site (of which I am the webmaster) is in dire need of a re-design, and I'm crap at it. Of course, we've got no money to pay you with but I'd be happy to knit you something in return. I don't need much; maybe just a couple PSDs and I can derive all the pages I need off those. (I'm great with executing designs. I just suck at conception.) E-mail or leave a comment if you're interested.


If anybody else is wondering why Town Hall Station was evacuated this morning, it appears there was a small fire.

| | |
| --- | --- |
| | [6] |
Here's your True Crime story for the day: Some guy has been posting questions to AskMetaFilter for a while now asking about possible recourses to getting screwed on eBay auctions. He bought a laptop; he received a box of sand; will the seller get off scot-free? That kind of thing. His latest question was about a seller who took the payment and then claimed the laptop was stolen out of his car. Somebody in the thread finally put two and two together and looked up this guy's eBay history... and he hasn't bought any laptops. In fact, he appears to be running a large number of auction scams and has actually been selling laptops. That's right; he was using AskMeFi to see if there were any flaws in his brilliant scamming technique. Of course, the first problem was that he used the same login name on both sites. And then there's the fact that his profile also included a link to his myspace page with pictures of himself and his family, and from there people were able to Google up a whole heap of information. One of the laptop buyers discovered the discussion and joined in with the information that he had. Now the cops are involved. It's fascinating reading in a real-time CSI kinda way...

Wednesday, November 23, 2005
| | |
| --- | --- |
| | [1] |
DietBlog: And just to round out this triumvirate of suck postings, I officially stayed pretty much the same weight for the third weigh-in in a row. EIGHTY-FIVE KILOS IS MY EVEREST. My beautiful red Crocs are up on a shelf. I'll be lucky if I get to wear them by the time Rent comes out!

| | |
| --- | --- |
| | [1] |
Sonofa-- I just discovered that I'm going to have to wait til friggin' MARCH for Rent to premiere in Australia. That's three months away! The damn Region 1 DVD will probably be out by then! This sucks. And Ebert only gave it 2.5 stars. I can see his complaints, though a lot of them sound like issues he has with the opera as well.


With twelve hours to go to Thanksgiving,* I have just discovered that I am in the Land of No Pork and Beans. Seriously. Canned pork and beans just doesn't exist in Australia. How am I supposed to make Aunt Deb's Crockpot Baked Beans without pork and beans?



* Okay, we're not eating til Saturday, but I thought the anecdote needed some sense of urgency.




The Snook spent, like, twenty minutes the other day telling me about these amazing colored bubbles but I admit I just didn't really see the point. Reading the article now though, I'm BLOWN AWAY. Those are so cool!

| | |
| --- | --- |
| | [4] |
We are the Weasels, my friends...
Huzzah! After twelve long years in the wilderness, the Purple Weasels of PW have finally brought home the Interhall Football Championship once more. Awesome work, ladies! I still remember how crushing it was that my class didn't get to play in the stadium, and I've still got my purple jersey - #11, "Howie" - in the bottom drawer of the dresser. Maybe I'll bust that sucker out this weekend and have some turducken in your honor. (Link courtesy of Brigita, who actually played on the previous PW winning team and whose legacy we strived unsuccessfully to live up to...)

Tuesday, November 22, 2005
| | |
| --- | --- |
| | [6] |
During one of our recent (but increasingly rare) forays into the world of live television watching, I noticed ads proclaiming that Veronica Mars is soon to premiere on Australian TV. I don't know much about it other than the folks at TWoP seem to think it's pretty great. Any of you folks watching it? Should we set the TiFaux?

| | |
| --- | --- |
| | [2] |
At long last, it's the news you've all been waiting for: I've added Feathers to the TC website. I know you're thrilled. Don't everybody thank me at once.

| | |
| --- | --- |
| | [1] |
Moblog: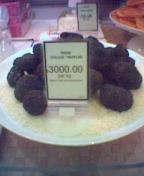 Truffle Shuffle
I was reminiscing to the Snook about the truffle mash we had the other night at Tabou when he said, "Why don't we put a truffle stuffing in the turducken?" And then I turned into Homer Simpson and drooled all down my shirt. Thus at lunchtime today we found ourselves at the David Jones Food Hall eyeing these fresh Italian truffles. "Does that really say THREE THOUSAND DOLLARS a kilo?" It did. So we turned and headed to the "gourmet foods" section, where a nice customer service lady pointed us to preserved truffles, truffle oil, and truffle salsa (from Tetsuya's!). We went with $30 worth of preserved truffle. The things we do for our guests... (And yeah, Amy, whatever's left over in the jar is soooo going in some butter!)
| | |
| --- | --- |
| | [3] |
RunningBlog: Trail Note
I actually got out of bed at 6:30 this morning and went running. I KNOW! Threw the whole family's schedule out-of-whack. The cat was like, "Whuuuut?" I ran the same route as Sunday, hoping to improve on my time a bit. I really need to get a stopwatch; I just rely on my iPod to tell me how long I've been gone. I could tell I was definitely going faster though. I remember that "Pump Up the Jam" (thanks, Max!) kicked in around the Fish Markets last time, whereas today I was quite a bit farther along Pyrmont Bridge Road. I could almost see the ghost of myself a couple hundred yards back and I was trying to concentrate on beating her to Glebe. Unfortunately running on one day's rest is a lot harder than running on three days' rest for me, and by the time I got up the hill to Glebe Point Road I had a burning stitch in my side. I had to walk a couple blocks to get my breath back. I finished fairly strong though and I think I ended up cutting two or three minutes off my time in the end. I'll see that as a big win though, considering how much pain I was in and how much heavier the traffic was on a weekday (meaning I couldn't blow through a lot of the lights). My ankle's a little sore now though... I think I need some new running shoes. These are over a year old!

Monday, November 21, 2005
| | |
| --- | --- |
| | [2] |
'Round about 8:30 tonight the Snook was telling me about his crap day when we suddenly heard a noise like thunder in the distance. "What the hell? Are we being bombed?" Then I remembered. "It's the big Aussie Idol finale!" We weren't gonna sit there and actually watch it, of course, but we did wait til it was over and then time-shift our way through at super speed. This is where I make an embarrassing confession: Of the four previous Idol finalists, the one whose performance I enjoyed the most was Shannon friggin' Noll. I KNOW! But you know what? He seriously has improved in the last two years. His stage presence was way better and he actually looked like a rock star moving around up there. Much as I liked Guy back in the day, his new look just isn't doin' it for me. So rock on, Shannon. As for the result itself, our official stated opinion was that we didn't care one way or the other, but just as James Matheson was about to name the winner, the Snook blurted out "EMILY!" And in my secret heart, I knew I wanted it to be Kate. And YAY, I WON! Well, really Kate did. It's funny; in all our discussions of Idol here at w-g nobody ever seemed to give her any odds at all of winning it. Emily had the touchdowns; Emily had the touching ghetto backstory; Emily had the audience support. I even think Emily is probably the better singer. What's interesting though is that I actually preferred Kate's version of that first single. It just sounded a little more "country" and I felt like she delivered it better. Plus she's a battler, and this country loves a battler. And she had rockin' cleavage tonight. Give it up for the big girl!


My sock monkey tutorial is now a featured article on craftbits. I'm flattered!


Check it out, a complete Knitted Wedding! That's insane.

Sunday, November 20, 2005
| | |
| --- | --- |
| | [11] |

Happy anniversary, Snookums
One year ago today - well, give or take the time difference - the Snook and I stood in a little white wedding chapel in Las Vegas and promised to be each other's best friend forever, in the presence of Elvis, Reverend Ron, and all our friends and family watching on the Internet. To be honest, not a lot has changed for us in the interim. My ratio of referring to him as "husband" rather than "boyfriend" has gone up, but I still slip up occasionally. We're the same Kris and Snook as always... but every now and then, I remember how special it was and how amazing it felt to share our relationship with all the people we care about. I wish everybody could have that. In less abstract terms, we celebrated tonight at Tabou on Crown Street in Surry Hills. It was this year's Good Food Guide Editor's Pick for Favourite French Bistro. MON DIEU, IT WAS GOOD. The Snook started with the rabbit terrine (very Fat Ladies), while I had the cheese souffle (sooo delectable I'd eat it for breakfast, lunch, and dinner). For mains the Snook had the veal en croute, while I had the pork loin (pictured here). I finished with a Bombe Alaska while the Snook had a prune and almond tart. It was seriously good food, without being as imposing or "art-for-art's-sake" as Tetsuya's. I could definitely go back there again.

And in a special nod to the folks back at Netdecisions, the wine we drank tonight was a bottle of 7-year-old Cabernet Sauvignon... that just so happened to be the very first bottle ever purchased on Mad About Wine. MAW was the first project the Snook and I worked on at ND, and the occasion of our meeting...

| | |
| --- | --- |
| | [3] |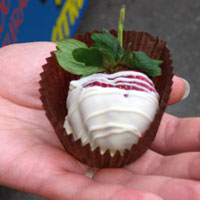 Glebe Street Fair
Look at me, all pretendin' I'm a foodblogger and stuff! The Snook and I headed over to Glebe this afternoon after I got off work to check out the fair offerings. We ended up eating some food and buying some books... and I got my red Crocs! Okay, so I haven't technically earned them yet, but as it was the distributors themselves manning the stall they were selling them for 10% off and I just couldn't resist! (Snookums gave his approval, pending my adherence to the putting-them-on-a-shelf-until-85-kilos plan.) [more...]

| | |
| --- | --- |
| | [4] |
RunningBlog: Trail Note
I had another nice run this morning. I'm trying to go down streets and visit neighborhoods that I don't really see that often, so this morning I headed towards Pyrmont. The plan was to jog up Broadway to Harris Street and then run all the way down it to Elizabeth Bay at the end. Along the way I passed the big ABC Studios, the Powerhouse Museum, and the Jean-Marc Patisserie that made our wedding reception croque en bouche. When I couldn't go any farther - on account of the harbour - I went around left in a big loop by the Channel 10 Studios and past the Sydney Fish Markets. (I'm happy to report that they aren't very stinky on a Sunday, so I didn't have to hold my nose.) Then I followed Pyrmont Bridge Road up into Glebe and down Glebe Point Road, checking out all the stalls being set up for today's Festival. Pretty soon I was home... and wondering about my stats. Unfortunately that whizzy GMap Pedometer thingy doesn't work in Australia, so I had to cobble together a bunch of street maps and manually measure out my path. I'm a little disheartened though. Total Distance: 5.2km (or 3.2mi). Elapsed Time: 50 minutes. Speed: 6.24km/hr (or 3.88mph). That sucks! On the treadmill I used to go way faster than that. I'm not sure what to attribute it to. I guess I'm definitely stopping more, as I have to cross lots of roads and occasionally wait for stoplights. Sydney can also be pretty hilly, so I can see where that would slow me up a little bit. Maybe I'm just not pushing myself since I haven't had the numbers before. I'll run this route again this week and see if I can speed it up a bit...

| | |
| --- | --- |
| | [5] |
Moblog: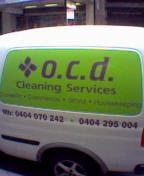 OCD Cleaning Services
I bet they get your house REALLY clean.

Saturday, November 19, 2005
| | |
| --- | --- |
| | [4] |
Following last year's tradition of Christmas at the Zoo, Snookums and I have just booked ourselves a holiday weekend away at the Western Plains Zoo at Dubbo. We're going to be staying at the Zoofari Lodge and apparently we get to go on three behind-the-scenes safari tours. (Which should be fun for those of us with irrational fears of animals.) The second night we'll be staying in a honeymoon spa squite at Cattleman's, "the only NRMA rated four and a half star motel" in Dubbo. Should be fun! Oh, and we're going to rent a car for the five hour drive out there. I was all excited thinking we were going to be getting into the Outback... but not so much. (As I understand it, the Outback really only begins once you get past Bourke.)

Friday, November 18, 2005
| | |
| --- | --- |
| | [1] |
Moblog: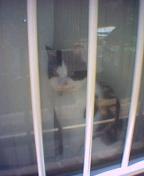 Kitty in Jail!
Okay, she's not really in jail. This is just Dr. Amy's favorite sunning spot in our bedroom window (as seen through the security bars on the street).

| | |
| --- | --- |
| | [3] |
Apparently Mischa Barton's boob popped out on the last episode of The O.C.. I'm like, "Since when does Mischa Barton have boobs?" (I snark because there's a giant poster of her wearing a tiara and those stupid Keds she "designed" on a shoe store outside our George Street entrance, and it bugs me.)


Hey Mom, Santa has a podcast! You really need to download that for Joey.

| | |
| --- | --- |
| | [9] |
It's official: The Snook and I are making a turducken for Thanksgiving this year. (Though what with Thanksgiving not being an official holiday in Australia, we're moving it to Saturday.) I've just posted a request for advice on AskMetaFilter. Anybody here ever made one? On a related note, this thing is supposed to feed, like, twenty-five people, so if you're in Sydney and you'd like to help eat this beast and you're not a total random, drop me a line.

| | |
| --- | --- |
| | [1] |
What the--? I just saw a reference to Scrubbles on Max's site and thought, "Matt isn't posting. His RSS feed hasn't had anything for months." And then I went to his site and HOLY CRAP, he is posting and he's got a new design and tons of fun stuff for me to read through. Apparently his RSS feed has changed though, which is why I wasn't getting any updates. I had him bookmarked as index.rdf; now he's atom.xml. So here's a tip for those of us using RSS exclusively these days: check the actual sites once in a while to make sure something hasn't gone wrong. I'm off to read Matt's archives...

| | |
| --- | --- |
| | [2] |
I just realized that you all get to see the new Harry Potter this week, but the Aussies have to wait til December 1st! That sucks. Hoyts is pre-selling tickets though, so I'm thinking of heading over to the Broadway that Thursday night... in costume, of course. Any other Hogwarts Alumni want to join me?

Thursday, November 17, 2005
| | |
| --- | --- |
| | [1] |
Ooh, remember that Linux Illusion Knitting Scarf that Jussi pointed me to that was unfortunately only in Finnish? She just found me the English version. Hooray! Thanks, Jussi.

Wednesday, November 16, 2005
| | |
| --- | --- |
| | [1] |
Though we were busy watching a Scrubs marathon, the jubilant yells from the apartment across the way tipped us off that the Socceroos qualified for the World Cup for the first time in 32 years. Go the Aussies!

| | |
| --- | --- |
| | [1] |
Oh good grief. I've found a description of the American ending of Pride & Prejudice. So it wasn't bad enough that Mr. Darcy got saddled with "I love, love, love you"... Now he gets "Mrs Darcy, Mrs Darcy" too? Quel horror.

| | |
| --- | --- |
| | [6] |
RunningBlog: Trail Note
Best run in a long time tonight. I didn't really feel like going out; it's been gray and drizzly and cold all day. I threw on a long-sleeved T-shirt though and promised myself some Bourke Street Bakery sourdough if I made it to the top of Enmore Road. For music I had Max's Boot Camp Mix pumping on the iPod. I took off through Chippendale and crossed over Cleveland, winding my way through the Uni and up past the Engineering buildings. I popped out on City Road and began the long slog up to Newtown. The rain was misting down and I was literally talking myself into each and every step. "Just up to that light pole... I meant the next light pole... Now listen, legs, you can walk when you get to the traffic light..." Somewhere along the way it started to get easier, and by the time I got to Newtown Station I felt like I was cruising. I headed up Enmore Road past the landmarks of our years living there: the Oporto we visited way too often; the Cat Protection Society where we got Dr. Amy Jones; the Blockbuster where we fed our Buffy addiction. Soon I was at my intended destination so I checked the time. Only 26 minutes! I needed a new goal. "Self," I said, "you're gonna run all the way to the goddamn Marrickville Metro." Halfway there my legs started to protest, but my brain stubbornly insisted that I wasn't turning around until I'd slapped the door of the shopping center with my hand. So I did. And then I turned right around and started the long trip back home. As I came back up City Road past the Uni, I suddenly realized that it wasn't raining anymore. I turned over and looked over my shoulder... and stopped dead at the sight. The sun had finally broken through the clouds just as it was setting over the main quad, and it was seriously some of the prettiest "God light" you've ever seen. I took that as a sign that I'd done enough and walked the rest of the way to the supermarket. Elapsed jogging time: 1 hour, 10 minutes. I'm gonna be hurting tomorrow...


For the sake of future Googlers (and my own poor memory), here are the WW Points values for the menu items at Wellbeing. (They don't have nutrition information on their website so I had to work it out from the instore fliers.)
Salads: Chicken: 4; Vegie: 2.5; Tuna: 2.5; Sweet Chili Potato: 1.5
Dressings: Balsamic: 1.5; Basil: 1.5; Garlic: 1.5; Herb Mayonnaise: 1.5
Soups: Chicken & Sweetcorn: 3; Minestrone: 1; Potato, Leek & Spinach: 4; Pumpkin: 4; Tomato & Basil: .5
I didn't bother calculating the sandwiches or risottos because they're all off the frickin' scale...

| | |
| --- | --- |
| | [2] |
"Longer Pride for US Austen Fans. Huh. That's interesting. And it reminds me that I haven't actually given my review of the movie yet, which I just saw on the weekend. My love for the book and the BBC miniseries adaptation is well-documented, but I can honestly say that I went into this thing with an open mind. I knew they were going to have to cut out a lot to get it down to two hours, but Ebert gave it four stars and other Austen fans had told me they liked it, so I figured it couldn't be that bad. Folks, I pretty much hated it. There were things that I definitely liked - the look of the film, Jane actually being prettier than Lizzie, Donald Sutherland, the different portrayal of Mr. Collins as less of an idiot and more of somebody scared sh*tless - but overall, I didn't really enjoy myself. The thing that really drove me up the wall was the writing. Characters would just have paragraphs of dialogue where they'd flat-out state all their motivations and the plot exposition. It was like Pride and Prejudice for Dumbasses. Example: Charlotte's psycho speech to Lizzie informing her that she's marring Mr. Collins. "I'm 27-years-old and a burden on my family! I'm going to be an old maid! I'm terrifed and I need security and safety and he can give me that! Don't judge me, Lizzie!" It sounds like I'm condensing and exaggerating, but I'm really not. That's exactly how the characters in this version talk. OF COURSE that's why Charlotte married him, but nobody just comes right out and says it! Darcy's proposal in the rain was another scene that had me writhing in my seat. "I broke up my friend and your sister because your family were embarrassing and I thought she didn't like him very much." "SHE'S JUST SHY!" Dear Readers, I submit to you that the word "shy" appears NOWHERE in the text of Pride and Prejudice. Another dumbass exchange came when Darcy and Lizzie were discussing Lydia's scandal: "This never would have happened if I hadn't been too PROUD and embarrassed to tell everybody about what a rotter he is." "No, it's all my fault! I should've told everyone in town about him!" It's like nobody has any inner monologue. They speak every single subtle motivation and thought they have. Then at the end, when Lizzie tells her Father what Darcy did for the family... my brain fell out. Why? No one would do that. Any person with two brain cells would realize how crappy and obligated that would make him feel (not to mention the fact that Darcy explicitly didn't want anybody to know), so why does she do it in this version? I have no idea. Maybe the scriptwriter wanted to show that Mr. Bennet wasn't giving his consent purely for monetary reasons, but because he now knew that Darcy really was a good guy. But instead to me it came off as him being pressured into it. The other big problem I had with the film was the general lack of decorum observed by everyone in it. Bingley saying to Jane, "I've been an unmitigated ass"? Lady Catherine de Bourgh arriving at the Bennet house in the middle of the frickin' night with her hair all crazy? Mr. Darcy and Lizzie having a screaming sexually-charged argument in the middle of a rainstorm? Darcy striding across a field with his shirt wide open? NO WAY. NO FRIGGIN' WAY. I understand that the social customs of the 18th century seem a little weird and foreign to us in 2005, but that doesn't mean you can disregard them completely, especially when they constitute such a huge part of the story. How can Darcy object to Lizzie's family's behavior when his own sister is all "LIZZIE!" to somebody she's never met and bouncing around the room like an idiot? Anyway... this rant is getting a little long, and I could go on for hours. (Why only one Wickham scene until the elopement? Why the lack of any seasonal progression to show the passage of time? What is up with that crazy scene where Keira Knightley just stares at the camera for three minutes and her face starts to look weirder and weirder until you're about to jump out of your seat just to get away?) I'll sum up by saying yeah, this is probably the best two-hour version of the story that could've been made. But it's the Cliffs Notes version. You get the major characters and the major plot points, but none of the humor, subtlety, and wit that made the original so great.


DietBlog: Well, I ain't wearin' my red Crocs just yet. I stayed the same this week. I suppose that's a positive result; at least it means my big drop last week wasn't a fluke. And I did have three kinda-sorta blow-outs on the weekend: movie night (popcorn and Choc Top), House of Kathmandu (Nepalese food), and Una's (Austrian food). I might've managed a loss with only one of those, but the trifecta was my doom. It's cool. I'll get to 85 next week. The meeting itself was great this week. Megan is back and everyone's energy levels just rose. She also gave me the welcome news that she's got a back-up recorder willing to take on the job, so I may not have to do it anymore. It's been nice to get my meetings for free but I'm really looking forward to participating fully again. Come to think of it, my taking on the position pretty much coincides with the slowing of my weight loss...

Tuesday, November 15, 2005

Whoa, Paul Daniels has an online journal! He's a professional British magician that you'd probably recognize if you saw him. The Snook and I once caught an episode of a reality TV show that took famous people and made them "start over" from the beginning of their profession. I believe Daniels was in Chicago with his wife Debbie, and he had to organize and put on a standup/magic show just as if he were a nobody.

Sunday, November 13, 2005
| | |
| --- | --- |
| | [1] |
RunningBlog: Trail Note
Did I mention that I'm running again? Well, I am. Lately I've just been taking off after work - I loooove daylight savings - and heading in a different direction. I've been through the uni and up through Newtown to St. Peters and back; down Cleveland Street as far as Moore Park and back; and this morning I zig-zagged my way through Ultimo to Darling Harbour. It was a GORGEOUS day to be out. I passed a group of old Asian ladies doing Tai Chi near the Exhibition Centre and debated on joining them. I saw vendors setting up stalls for the Thai food festival later this arvo. I chugged past tourists on Pyrmont Bridge trying to capture the perfect city skyline shot. Mostly I just marvelled at how magnificent Sydney can be on a summer day... And of course I sweated. I sweated a lot. (Thanks, hypnotist.)

| | |
| --- | --- |
| | [7] |
The Top 20 Geek Novels, as nominated by readers of the Guardian's Technology Blog. I've read eight of them so far: 1. Hitchhiker's Guide to the Galaxy; 3. Brave New World; 4. Do Androids Dream of Electric Sheep?; 5. Neuromancer; 6. Dune; 9. The Colour of Magic; 10. Microserfs; and 17. American Gods. Of those, I have to say that Microserfs and Do Androids Dream of Electric Sheep? were far and away my favorites. I'm surprised Ender's Game didn't make the list though. Maybe it has something to do with Uncle Orson being an asshat... (Link courtesy of John, who has out-geeked me by nearly double.)

| | |
| --- | --- |
| | [1] |
Me: Ooh, check it out! Evangeline Lily sucking face on the Hobbit...
Snookums: Yeah, I already saw that one. Wasn't it on Rove? It's like, "Are they just friends? Or are they MORE?"

We're not even to our first wedding anniversary yet and the Snook has already passed me in celebrity gossip accumulation. His transformation is complete.

Saturday, November 12, 2005
| | |
| --- | --- |
| | [1] |
Tonight's discovery: I like Nepalese food! The Snook and I were in the mood for something new so we perused menus on Glebe Point Road until we finally decided on House of Kathmandu. We had the mixed grill for two, garlic naan, and the boneless goat curry. Everything was excellent. The platter arrived sizzling hot with several different pieces of lamb and chicken. The meat was succulent and the coriander sauce was a lovely complement. I was a little apprehensive about eating goat, but other than being a bit chewy it just seemed like a lamb curry. (It was pretty spicy though, and we only had the "medium" heat. It definitely builds up on you!) For dessert, Snookums ordered the Gurkha Pudding and I had the Himalayan Ice Cream. Both were so good that we switched halfway through. The service was friendly, although I have to admit that they did flub our order a little bit. We were supposed to have pappadums to start and several side dishes, but in the end we had so much food anyway (and they didn't charge us for the extra stuff) that we didn't really miss it. We'll definitely be going back!

| | |
| --- | --- |
| | [8] |
Are you a Republican? I am apparently 13% Republican: "You're a tax-and-spend liberal democrat. People like you are the reason everyone else votes for guys like Reagan or George W." Greeeeat. (I mostly attribute my positive score to the idea that everyone should pay the same percentage tax, a position from which I freely admit I'm willing to be persuaded.)

Update: Ack! Forgot to give attribution. Link courtesy of Six Different Ways.

| | |
| --- | --- |
| | [10] |
No offense to the breeders, but the Snook and I would looooove a restaurant that required children to be well-behaved. I'm not anti-kid; I'd sit down to dinner with Billy and Carissa Gaghan any day of the week. I'd just like a reduction in the number of times a nice dinner is ruined because some assclown both A) refused to get a sitter for the night and B) can't control their heathen of a child. (And as long as we're doing pie-in-the-sky wishes, can I get adult-only doctors' waiting rooms too?)

Friday, November 11, 2005
| | |
| --- | --- |
| | [2] |
Nora pointed me to these offensive T-shirts and I was all prepared to get righteously, feminist-ly angry, but instead I found myself laughing because I passed a chick on Broadway yesterday wearing the one that says, "I had a nightmare I was a brunette." And she was a brunette.


Hmm. This explanation of how to pull a rabbit out of a hat is kinda disappointing. And messy. Wouldn't the magician also get charcoal all over his head?

| | |
| --- | --- |
| | [1] |
Why Arrested Development is the Best Show on Television. The Snook and I could not agree more.

Update: Noooooooo! Those idiots! Could it maybe move to cable?

| | |
| --- | --- |
| | [3] |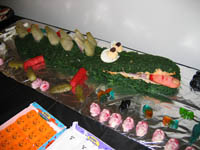 Halloween photos are online!
Finally I got off my butt today and uploaded the photos from this year's party. The highlight of the food was definitely my Enormous Crocodile as seen there on the right. It was a complete pain to make, but luckily as I was going as Hiroyuki Sakai - Iron Chef French - I was able to channel some of his "Delacroix" skill to put Mr. Crocodile together. Guest costume highlights included Facial Peel victims, bruised and bloodied nursery rhyme characters, and the Phantom's nips. Seriously.

| | |
| --- | --- |
| | [1] |
Finnegan the Squirrel. Awww, now that is the cutest thing ever! An orphaned baby squirrel adopted by a mama dog and her puppies.

| | |
| --- | --- |
| | [2] |
Oof, we had the hardest boxing class last night. It was led by a new instructor, this deceptively tiny little Irish girl who morphed into freakin' Mike Tyson whenever she was demonstrating our combinations. I was feeling pretty good thoughout, despite sweating so much that I looked like I'd been caught out during that freak downpour yesterday afternoon. (Thanks, hypnotherapist!) Afterwards the Snook and I went down to get changed, but once I hit the locker room I suddenly had the overwhelming urge to barf. It was like in high school when they work you so hard on a hot day that you can't help but throw up. I sat there for ages willing myself not to yuke. I finally made it out to meet the Snook, who took about two seconds to diagnose the situation: "What'd you eat for lunch?" "Salad, fruit, muesli bar..." "When?" "11:30.... Oops." Luckily I had a banana in my bag which I sloooowly began to eat on the walk home. Within a few blocks I was feeling better. Note to self: Don't go seven hours without eating before a boxing class ever again. I'm still feeling the effects of the workout today; my shoulders are killing me! The interesting bit is I'm pretty sure I heard the instructor in the locker room afterwards (through my haze of nausea) saying that she'd mixed the music herself. I wonder if I could persuade her to try one of Max's mixes next time?

Thursday, November 10, 2005
| | |
| --- | --- |
| | [2] |
Ooh, how cute! A baby cardigan with the interlocking ND on the back. I need that chart.

| | |
| --- | --- |
| | [1] |
Moblog: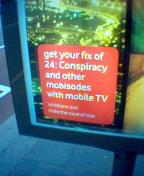 Mobisodes... Puke!
Every time I see this ad I grit my teeth. MOBISODES. Cursed be the "hip" advertising exec who came up with that one.

Later: And yeah, I realize that "moblog" is just as silly, but really, we needed a new word for that one. Like "podcasting." There was no need to coin a new word here when good old "episode" still works. Stupid marketing asshats...
| | |
| --- | --- |
| | [1] |
I'd be all about a heated bra, but I certainly don't want one covered in faux fur.

Wednesday, November 9, 2005
| | |
| --- | --- |
| | [1] |
Yay! Another Domer from the Class of '99 has ventured into the world of weblogging. Go over and say hi to Staci (who is also the wife of my friend Nat Cunningham and the Mom of Marianne and baby Ruth).


I was amused by this blog entry cataloguing various indie bands' answer to the question: "Would you perform on The O.C.?" The great majority say they would, and the answers are pretty funny. (I love the one that says they would have preferred to play the Bronze. Totally.)

Tuesday, November 8, 2005
| | |
| --- | --- |
| | [1] |
OMG Girlz Donít Exist on teh Intarweb!!!!1 That article made me laugh. I'm not a hardcore gamer or anything but I can still remember the crazy looks I'd get when the Snook and I went to the retro games store in London. Not to mention all the karma I'd get on Slashdot by inadvertently revealing my gender in a comment... (Link courtesy of Geek-fu.)

| | |
| --- | --- |
| | [7] |
DietBlog: I walked into the meeting tonight expecting a modest loss. I've been good all week: I faithfully tracked my Points; I got lots of exercise; I drank lots of water. I even went to the grocery store and stocked up on healthy snacks to keep at work so I wouldn't be tempted to eat junk food. And of course, there was that whole hypnotism thing, not that I seriously expected it to make much difference. I mean, she'd told me that my metabolism might rise a bit, and that I might sweat a bit more when I exercised - (My response? "That would not be possible.") - but I didn't really expect it to make much of a difference. So I climbed on the scales... and HOLY CRAP, EIGHTY-SIX KILOS. I swear to God that they read eighty-nine last week. A three kilo drop? That's like six-and-a-half pounds! There's just no way. I didn't have a baby or anything. So I tried to rationalize it: Maybe I read the scales wrong last week. Maybe it was all water weight. Maybe the scales were miscalibrated. Maybe I was wearing really heavy shoes or something. But all along, a little voice inside my head was whispering, "But maybe... it was MAGIC!" Whatever the reason, I am back on track, baby! That's officially 14.1 kilos lost in total, and if all goes well I'll be down to fifteen next week. (And I get to buy my new Crocs!)

Monday, November 7, 2005
| | |
| --- | --- |
| | [3] |
Man, it only took 27 votes to see Dan England voted off Australian Idol tonight. And I didn't even vote! I felt bad for him but he was never gonna win it. He's got the best male rock voice I've ever heard but he just looked too weird. During the clip montage they showed him in T-shirts and both the Snook and I did double-takes. He looks so, so much chubbier in the suits he's been favouring these last few weeks. They made his shoulders look three feet wide and his neck disappeared. The guy's definitely got a future though, and he should be more comfortable now that he can hold his guitar onstage again. I'd pay to see him.

And you know who else I'd pay to see? Leapin' Lee Harding! Seriously, the guy is just fun. He should be a game show host, or an extra Wiggle or something. Or maybe host birthday parties... like mine. That would rule. GO LEE!

| | |
| --- | --- |
| | [2] |
I was serving a customer at the shop last week when she handed me a gift certificate with my own handwriting on it. "Did I sell this to you?" I asked conversationally. "No, actually I won it in a competition..." Oh cool! The Hornsby Country Women's Association called me up months and months ago with a request to sponsor their inaugural "Australiana Beanie Competition" and I managed to talk Albie into ponying up for two prizes. This lady, Geraldine, had won in the "Landscape" category. We chatted for a bit and I said I was sorry that I hadn't seen any of the winning entries. (We just gave them the prize; we didn't get to judge it.) So she was kind enough to send me some pictures of her prize-winning beanies along with a lovely long letter about her knitting experience. Today I posted it at the site. Some days the nice customers just manage to outweigh the crappy ones, you know? And that makes it all worthwhile.

Sunday, November 6, 2005
| | |
| --- | --- |
| | [5] |
Cluck, cluck. I'm a chicken.
I got hypnotized today. At least, I think I did. I met my hypnotherapist this morning and we started with another nice long chat about my fears and goals for the process. My biggest worry, I told her, was that she'd be doing her thing and I'd be sitting there thinking, "It's not working; it's not working." And she was like, "Oh, you may well be. But that's cool. It'll still work." So that was nice to know. After our chat, I leaned back in my leather easy chair, closed my eyes, and kicked up the leg rest. She dimmed the lights and basically started going through our usual end-of-yoga-class routine - "Relax your feet, relax your legs, relax your arms, etc." Then she counted backwards from ten and with each number I was supposed to somehow "go deeper" and relax further. I felt pretty damn relaxed, but to be honest I didn't feel like I was in any sort of trance state. I felt like I could open my eyes and sit up at any moment... but I didn't want to. She'd mentioned before that she was going to try to "talk to" my subconscious, but didn't realize that meant she was going to address it directly. I remember her thanking it for helping me with my successes, but that it was being overprotective now and needed to channel its efforts into helping me. To be honest, I don't remember a lot beyond that. It's weird; at the time I remember thinking that I was still totally "awake" and noting everything so I could blog it later... but now there are only bits and pieces. Every now and then she'd stop and do the counting down from ten thing again, and I'd again puzzle over how to "go deeper"... and then on the third time, as we got down to one, suddenly I really did go deeper. It was like I could feel my head go "click," like when you suddenly realize how to see those Magic Eye pictures and then you can do it at will. I was still totally conscious; I was like, "Wow, so THIS is the place I'm supposed to be in!" It was like I'd finally shucked off my body and crawled up into my own head. Very relaxing and nice. And I could drift out of it and back into it without much effort. Meanwhile she was still going on about my goals, and how I wasn't going to have the fear and worries anymore. Towards the end she asked me to imagine myself at my goal weight, and then to imagine myself in that body. As I told her later, I randomly welled up like I was going to cry at that point. ("Happy cry or sad cry?" she asked. "Mostly overwhelmed cry, I think." "It's okay. Everybody cries in here.") I also remember right at the very end there was something about the colour blue, and how every time I saw it my subconscious was going to remember the things she'd said. And then she started counting up from one to five, and I was supposed to feel the energy going back into my limbs... and I kinda did. And then I sat up and we talked about it. She gave me some homework - the counting down relaxation exercise - and I'm supposed to call her in a week with my progress.

As I re-read that, it all sounds very cosmic and hippie and weird... which is surprising to me. It honestly didn't feel like that at the time. For most of it, I was just sitting in a chair thinking how boring a blog entry this was going to be. I mean, I was just sitting in a chair listening to some woman talk soothingly at me. It was only when I called the Snook up afterwards that I realized I was having trouble remembering the things she'd said. I can tell you in great detail what we talked about before and after the hypnosis bit, but the middle is all kinda vague. In terms of actual results, I haven't noticed any real effects yet. I was as hungry as ever, and though I certainly noticed blue things, I wasn't sure if that was just me consciously doing it. *shrug* We'll see.

Saturday, November 5, 2005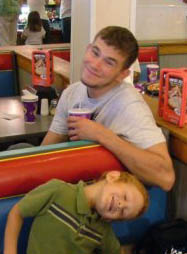 Happy birthday, Anthony!
Best wishes for your 23rd, little brother. (Even though Joey there is now the littlest, you'll still always be my Bubby.) Hope it's a good one...

Friday, November 4, 2005

The new menu at Sumo Salad really shits me. None of the new salads are in the WW Points Guide and as far as I can tell they got rid of all the really low-fat ones. (The Thai Beef was my ultimate fallback lunch plan - only one Point!) So today instead I had Pumpkin & Pinenut, which is one of the few holdovers from the old menu. It used to be 2.5 Points. I just used my little Points calculator thingy with their nutritional information and as near as I can tell it's gone up to 5.5! Can that possibly be right? I also plugged the numbers into the patent formula and it actually goes even higher. What the hell have they done? It seemed like the same old salad: spinach, pumpkin, feta, cucumber, dressing. They added some walnuts but that wouldn't have made that much of a difference. They must have meddled with the dressing. I guess that's it for me then. Sorry, Sumo. I'll have to cut up my frequent member's card.

Update: I've sent them a complaint via their website.


DietBlog: I've jumped back on the WW wagon. Well, not so much "jumped" as "fled screaming from the scales." Yep, I gained two kilos in October. That takes me back up to eleven lost, still with twelve to go. I've just had no energy, you know? And I've been obsessed with food, and then there was Halloween, blah blah BLAH. So I've turned over a new leaf. I bought a brand new tracking notebook this week and I'm religiously writing down my food. I ran for an HOUR Wednesday night and then went to my first kickboxing class in ages today. (I couldn't quite make it all the way through due to my sore legs, but it was still a good workout.) And then this afternoon I was supposed to have my first hypnotherapy session... except the bloody woman stood me up again! That's the second time! It did sound like a legitimate emergency though - her sister "went into premature labour" - so I'll give her the benefit of the doubt, especially as she offered to squeeze me in Sunday morning before work. (Snookums jokes that maybe this is all part of the treatment, like constant anticipation and then frustration will raise my metabolism or something.) I'm also looking forward to getting our old leader Megan back at the Glebe WW meetings. Chris has been great, but I just really responded to Megan during the few sessions I had with her. Hopefully she'll give me some more inspiration!

| | |
| --- | --- |
| | [3] |
Can you eat this pie in only fifteen bites? It took me two tries. (Link courtesy of Pop Culture Junk Mail.)

| | |
| --- | --- |
| | [2] |
I'm asking about steeking over on AskMeFi.

Thursday, November 3, 2005

DogCatRadio - an online radio station for pets that are home alone all day. How neat! I wonder if Dr. Amy Jones would like this... (Of course, whenever I'm home in the middle of the day she just gives me grumpy looks for interrupting what is obviously All Day Naptime.)

Wednesday, November 2, 2005
| | |
| --- | --- |
| | [3] |
Me: Hi, We've been trying repeatedly for two weeks to process your order but we still can't get your card details to go through. I can't hold the item any longer so I'm just going to cancel the order.
Her: Sorry, I was just at this big fire in Wollongong and my wallet fell into a big burning tree stump and my credit card was destroyed so I had to have it cancelled but they're sending me a new one next week so if you can just hold it til then I'll call you with the new number and you can try again...
Me: Riiiiiight.

I only wish I was joking. A burning tree stump.

Tuesday, November 1, 2005
| | |
| --- | --- |
| | [3] |
Catboy says goodbye. I hope everything is okay, Robert, and that I get to meet you and Mina someday!

| | |
| --- | --- |
| | [4] |
Me: How come none of the Melbourne suppliers are answering their phones today?
Albie: It's Melbourne Cup Day! It's a public holiday in Victoria.
Me: What? *snort* You mean they get a public holiday because of a stupid horse race? That's idiotic.
Albie: They're trying to make it a holiday in New South Wales too...
Me: Yay! I love horses!

Actually, my animal-phobia notwithstanding, I do love horses today... on account of the fact that my pick in the $2 sweep we had with the printers next door came in third! I won eight bucks! And my horse's name? Xcellent...

| | |
| --- | --- |
| | [2] |
Congratulations to Tricia and Jeff, who used their "corpse bride and groom" costumes to announce their engagement. Hooray! In related news, the Snook and I will be opening a Japanese restaurant.

archives
You can search through the archives by post keyword using the form on the left, or you can browse by month using the links at the bottom.
"Moblog" refers to posts and images posted directly from my mobile phone.

"PW Blog" refers to posts recovered from my very first weblog, which dealt with news related to my college dorm.