Friday, November 30, 2007
| | |
| --- | --- |
| | [3] |
A-ha! I wondered why the hell we were getting the ABC News Victoria feed tonight. I figured it was because the Sydney staff were all getting pissed at their Christmas party.


I've just contributed my first post to Life in Chippendale.

| | |
| --- | --- |
| | [1] |
Hooray! Little Inigo Nettle has finally been born. Congratulations to Lara and Mark. (Man, waiting for blog friends to have babies is quite stressful. I must've hit Lara and Tracey's sites about 100 times each in their last months...)

Thursday, November 29, 2007
| | |
| --- | --- |
| | [1] |
How many HTML elements can you name in five minutes? There are 91 in total, and I managed to get 42. Of course, I totally cheated at the end. I probably only got 35 on my own.


We have Internet! And it's all down to the Snook. When several ISPs all claimed that we weren't able to get ADSL at the new house, he refused to believe them. He spent a week posting on forums and emailing technicians until he finally got someone to look into it. Lo and behold, that "no" turned into a "yes"! Now he's busy fixing up our wireless network and bringing CouchCam back online. (Ooh, your first glimpse inside the house!) And lest I give you the idea that his handiness is all cerebral, he also broke out the powertools this week to mount my new IKEA mirror in the wardrobe. *sigh* I always did have a thing for Handy Smurf...

| | |
| --- | --- |
| | [5] |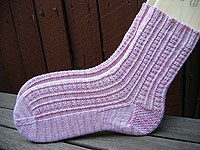 Retro Rib Socks
Despite everything else that happened this month, I still managed to meet my Southern Summer of Socks goal of one pair per month. This pattern is "Retro Rib Socks" from Interweave's Favorite Socks. (More photos are on Flickr.) I've now made FOUR pairs from this book; I love it. What I didn't love was the yarn: TOFUtsies. It's a blend of wool, cotton, "soysilk," and chitin. (Yes, ground up crustaceans.) Sounds interesting, right? I had a hell of a time getting it to behave.

My first problem was that I tried casting on from the center of the ball, thinking I'd do my usual "knit two at once" trick. Right away I ran into difficulty. This yarn is so loosely spun and apt to split that I just couldn't make any headway with it. A single strand would always be pulled loose from the rest and I just couldn't get it to sit properly. I tried about three different patterns before giving up and going to the outside of the ball. That worked a lot better. (Of course, it also meant I had to knit them one at a time, so I had to battle a little Second Sock Syndrome.) Also, as the yarn has very little stretch, I had to cast on over two needles to get it loose enough to go over my leg, even though I'd already gone up to my usual 2.75mm needles.

Okay, so that's all the negatives. In the positive column, it certainly feels very nice to wear. I even made the Snook try them on to gauge the prickliness factor, and whether I could use the fiber for him. (He likes them better than pure wool but still finds them itchy. Weirdo.) The other nice thing is the meterage. I had heaps of this yarn left over, and I didn't make them deliberately short or anything. You'd defiitely get a man's pair out of a single 100g ball.

Next up: Jaywalkers! I've finally given in to the temptation, seeing as how everybody else in the known universe has knitted them.

Tuesday, November 27, 2007
| | |
| --- | --- |
| | [1] |
Tiki Heads and Ape Librarians
A few months ago over Ravelry, I floated the idea of a "secret pal" exchange on the Australian Knitters group. Lots of folks were onboard, and we hammered out a plan for a "Tea Cosy Swap." Everybody was to knit a tea or coffee cosy for their pal, along with $20 or so worth of related treats. My secret pal was Jen, who occasionally comments over here. I made her three crafty things, along with homemade brownies, chocolate-covered coffee beans, and a pack of Japanese cookies. She got her package today, and despite a near tragic dog-related incident, she really liked it!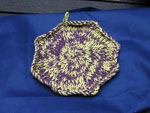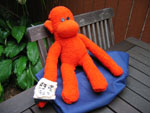 There are more photos over on Flickr. Read on for descriptions and pattern notes. (Man, this'll be a lot easier when I can just link to 'em on Ravelry.) [more...]


Sorry for my lack of blogging mojo of late. We're still waiting on Internet to be hooked up at the new house. (There was some confusion as to whether we could get ADSL2, despite the fact that we had it at the old house, which is 50 FEET AWAY. Telstra sucks.) And while we found a neighbour with a conveniently open wireless network, I feel guilty about using it too much. So for now, my only blogging time is at work... and we're heading into a busy time. (SALE!) Hopefully things will get resolved soon.

Sunday, November 25, 2007
| | |
| --- | --- |
| | [1] |
OH. MY. GOD. I was about to say that I don't care whether Matt Corby or Natalie Gauci wins Idol tonight... until I saw what Matt was wearing. ARE THOSE LEGGINGS? I reached for the phone.

Me: It's me. WHAT is he wearing on his legs?
Amy: AHHHHH! DON'T TELL ME! We're timeshifting and we're behind! AHHHHHHH!
Me: Goddammit! Catch up! You're gonna get spoiled in 15 minutes anyway!

Five minutes later...

Amy: Okay, I'm caught up. Dude, those were velvet leggings.
Me: I know! I was thinking he looked okay from the waist up, and then they pulled back, and I VOMITED.
Amy: It's back! Okay, call me when it's over.

| | |
| --- | --- |
| | [3] |
Holy crap! Not only did Labor win and the Liberals lose, but Howard lost his seat and Costello retired from the front bench. Looks like Malcolm Turnbull will be the leader of the Opposition. It's been a crazy day...

Saturday, November 24, 2007
| | |
| --- | --- |
| | [2] |
Errands...
Picked up the GoGet station wagon.
Drove to Toast's flat to pick up half a dozen empty homebrewing kegs.
Drove to the city to pick up some freecycled ceramic planters from the Snook's office.
Dropped all that off at home.
Drove to Homebush to IKEA* to get a bookcase and a bunch of other stuff.
Drove all the way home like a madwoman to make it back within our alloted GoGet time.
Stopped off in Glebe to vote.
Assembled IKEA.
Collapsed on couch.
Phew. What a day. Still no Internet here (we're "borrowing" a neighbour's open wireless connection), so I'll be following the election results on TV tonight. GO KEVIN!



* For my own future reference, it is NOT POSSIBLE to go through the largest IKEA in the Southern Hemisphere in one hour. Must remember to schedule at least two in order not to feel rushed.




Wow! Another one of the Happy the Hobos just left a comment. That post has certainly travelled a long way. We've now heard from two Happys and Froggy!

Friday, November 23, 2007

Final Baby Update... for the time being, anyway. They've sent Kara home with orders to stay in bed and try to relax. Apparently they're going to try to keep him in there another week or two. Kara and Ant are doing well though, and I guess it's good they got to get out of the hospital for Thanksgiving. Now I'm not going to mention this little bugger again until he's properly BORN!

Thursday, November 22, 2007
| | |
| --- | --- |
| | [2] |
Just got the call... We're officially home owners!


Chrystalla: We just had a dead person in the shop!
Me: What are you talking about?
Her: This guy came in to do some shopping, and he had some bags in his hands, and he asked me if he could put them behind the counter. And I said "Sure," and he handed them over. And then he said that he had to make sure not to forget it or lose it, because it was his sister's ashes, and he'd just picked her up!
Me: YOU'RE. JOKING.
Her: I had a dead person, right in my hands!

| | |
| --- | --- |
| | [1] |
Mr. T plays Warcraft, yo! Hee. I wonder if I can join his Guild. (Link courtesy of Snookums.)

| | |
| --- | --- |
| | [3] |
Day 3 of Baby Watch continues... No news from home. Mom says they're keeping Kara on magnesium to override the contractions. Her water hasn't broken yet, but for a while there the contractions were coming five minutes apart. I think they're just trying to buy as much time as possible to let the baby's lungs develop a little more.

| | |
| --- | --- |
| | [1] |
Bwahahahahaha! I so cannot wait for this election Saturday. If I can't help boot out Bush, at least I can help boot out one of his cronies.


It looks like Yarn mag has a buyer! Great news.

Moblog: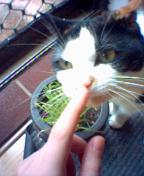 Happy Thanksgiving. Smell my finger.
Settlement day is here, and everybody's excited. The Internet is unplugged at the old place though, so we are OFF THE GRID, folks! Moblogging is my only outlet til I get to work...

| | |
| --- | --- |
| | [2] |
The Bearded Cap. Knitters, start your engines!

Wednesday, November 21, 2007
| | |
| --- | --- |
| | [2] |
Hannah made TARDIS Socks! Very, very cool.


Book Review: Abarat
I've just finished reading Clive Barker's Abarat. I picked it up at the St. Barney's Fair book sale for $1.50 last winter. I knew nothing about it and the cover was pretty boring (in fact, the font on my copy made me think it was called "Ararat" until I actually cracked it open), but I remembered enjoying Barker's The Thief of Always so I thought I might give it a shot. I'm glad I did. It was great! Well, except for the first chapter. I understand that it'll probably pay off later, but man, it's completely different in tone to everything else that comes afterwards. It felt very "Wizard of Earthsea" (i.e. BORING) to me, so it was a relief to turn the page and meet Candy Quackenbush from good ol' Chickentown, Minnesota. The story reminds me of Labyrinth and Alice in Wonderland, and it's got some extremely memorable characters. In fact, one of my only complaints is that it introduces so many of them, and oftentimes Candy's only with that person for a chapter or two. That got a bit frustrating and repetitive. I was so glad to see John Mischief and his brothers return to the tale. (I want a John Mischief action figure. Seriously.) So there I was, grooving on the story and not having any idea where it was going to go, when suddenly -- it ended. Whaaaat? Yep, the last, like, twenty pages of my copy were just appendix. What the hell? So I go to the Internet, and it turns out that this is the first book in a SERIES OF FIVE. I feel a bit sucked in. Nowhere on my copy did it indicate that this was a series! And while I did enjoy it, I'm a little annoyed that I'm now hooked for four more books (only one of which has actually been published so far). But anyway, if you like fantasy but you find a lot of it boring and humourless, this is a great story.

| | |
| --- | --- |
| | [12] |
What's the reading level of your blog? Mine scored: ELEMENTARY SCHOOL. (Ouch.)

Tuesday, November 20, 2007
| | |
| --- | --- |
| | [5] |
Happy 3rd Wedding Anniversary to my bestest friend, who brought me flowers tonight. They were gerberas. He knows they're my favorite.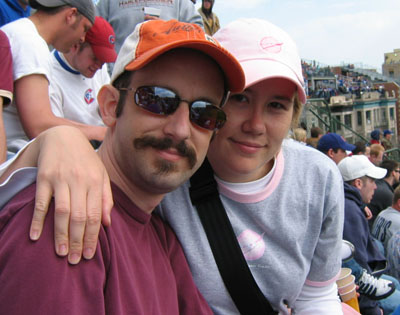 | | |
| --- | --- |
| | [3] |
Sadly, I have seen my future: the horrors of World of Warcraft addiction.


IKEA MAME Dinner Table. Duuuude, WANT.

| | |
| --- | --- |
| | [1] |
Holy crap! My Mom just sent me an IM to let me know that my brother's wife Kara is in labour as we speak - six weeks early! Looks like my nephew wants to be born EARLY. Fingers crossed til I hear more news...

Update: No news! It's 24 hours later, and she's still hanging in there at the hospital. They're trying to forestall labor as much as possible right now to give the baby's lungs a little more time to develop.

| | |
| --- | --- |
| | [5] |
It's a long shot, I know, but do any of you guys in Sydney have a recommendation for a locksmith? We need to get the locks at the new place changed, and I'm trying to avoid picking a name at random out of the phone book.

Monday, November 19, 2007
| | |
| --- | --- |
| | [3] |
Popcorn Taxi are promoting a special screening of The Darjeeling Limited. Personally, I'm not a huge Wes Anderson fan, but I know some of you are. And Jason Schwartzman - aka Max Fischer - is actually going to be there. Whaddaya think? Worth going?

| | |
| --- | --- |
| | [1] |
One Ring to Rule Them All, Mate.
Sunday, November 18, 2007

Moving Update: And it's EMPTY! Only took us two weeks. It's still a nasty pit, but at least everything's out.


This one's for the Snook: Manly Ways to Prepare Turkey. We're not sure yet whether we're going to bother doing anything special for Thanksgiving. It's just too darn hot.


Oh, waaaa waaaaa waaaa, Matt Corby! Turns out he doesn't like the winner's song. Well, NO DUH. Nobody does. But remember last year? Damien actually had the talent to turn it into something listenable. Corby's also fretting that the studio won't let him release the kind of stuff he wants to write. Dude, why did you even audition for Idol in the first place? I thought we had some talented singers this year, but man, I just wish some of them would've cut the whinging about the show format.

Saturday, November 17, 2007
| | |
| --- | --- |
| | [1] |
Moving Update: Aren't we done YET? We're down to the real annoying stuff now, that last 10% that's hiding in the back corners of drawers and cupboards. Why do we have so much crap? At one point today I found myself carrying a fondue set, a popcorn popper, a jaffle maker, and a stick blender, and I thought to myself: "I'm going to be ashamed to read Unclutterer after this." Not that we aren't throwing things out. Ooooh no. We're getting rid of heaps of stuff. I took three suitcases full of books, videotapes, clothes, toys, and boardgames over to our local Red Cross Op Shop. I've carried half a dozen big garbage bags of rubbish out to the trash room. And it's still not empty! But it will be, hopefully by tomorrow afternoon. Then that gives us a few days to tidy up before the real cleaners come on Thursday to hopefully try to reclaim as much of our security deposit as possible. That also happens to be the DAY OF SETTLEMENT, which I'm a little disappointed to learn we aren't expected to be at. I was envisioning some sort of very solemn ceremony, where we'd sign something, and they'd sign something, and we'd hand over an oversized cheque, and then there'd be the Ritual Handing Over of Keys. Except we've already got all the keys and the lawyer is authorised to dole out the cash, so my dreams of the Great Ritual of Settling on the House will go unfulfilled. Too bad.

Thursday, November 15, 2007
| | |
| --- | --- |
| | [2] |
While I in no way condone the bashing of goths with goon bags, I still think that's just about the funniest headline EVER.

| | |
| --- | --- |
| | [1] |
Oh, sweet! I would totally use a city bike rental scheme. I'm reluctant to invest in a bike without knowing how much use I'd get out of it, so this would be perfect.

| | |
| --- | --- |
| | [1] |
My sister sent me some photos of Penn's first professional haircut. The lady cut off his crazy wildman hair and turned him into a little yuppie! I said to the Snook: "You know who he looks like? Calvin! In that strip where they're trying to take his Christmas picture and his hair's all slicked down and he keeps pulling faces." So I surfed over to the Calvin & Hobbes Index to look up the date of the strip, and then found it in our Complete Collection. I give you proof: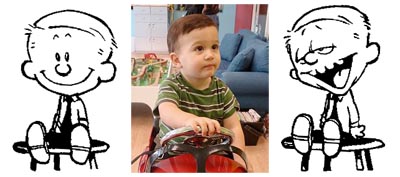 Look well, Sis, for that is your future!

| | |
| --- | --- |
| | [1] |
Things That Are Different in Our New House, Mostly Because It's Not a Dank Cave:
I wake up between 6-6:30 every morning to the sight of sunlight streaming in the window.
I come home and immediately open the front door and the patio door so I can feel the breeze.
I made some serious smoke with the new stove last night, and it didn't set off the fire alarms. In fact, it cleared out of the house within 10 minutes.
I don't have to make a special effort to see what the weather's like before I leave the house. There's always a window within sight.
I saw a currawong from my desk yesterday morning. Snookums helped me identify it. Nature! Right where I can see it!
I feel like all this light and air flow are going to make such a difference to our moods and health. You should see the piles of dust (and MOLD!) we're finding behind things at the old place. We talking Is Your House Killing You? territory, folks.

Wednesday, November 14, 2007

Want. (Link courtesy of Amy, who also wants.)

| | |
| --- | --- |
| | [3] |
Moblog: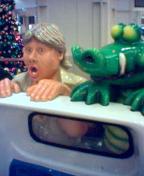 Crikey!
This is a children's ride at my local shopping center. Somehow Steve Irwin's face really creeps me out.


Need a little pick-me-up? Watch this adorable YouTube video. I don't normally like such things, but I liked this one.

| | |
| --- | --- |
| | [8] |
I got a phone call today just before lunch.

Guy: Hi, this is Rob calling from EB Games about your pre-order--
Me: EEK! IT'S HERE, ISN'T IT?
Guy: Yes. Your copy of High School Musical: Sing It is here.
Me: Sweeeeet. hysterical laughter Am I the only one who pre-ordered it?
Guy: Yes.

I've been reading the reviews, and they're pretty much what I expected. Still, I think I'm gonna have fun with this. I was also excited to pass this tidbit along to the Snook: "If you have a friend who doesn't want to sing, he or she can use the d-pad to rotate between percussion instruments -- cowbell, drum, etc. -- and then shake the Wiimote to use the instrument as you sing." I CAN SING AND HE CAN PLAY THE COWBELL. (It's like we'll have our own band!) And it comes with a microphone in case anymore Singstar type games come out for Wii.

Tuesday, November 13, 2007
| | |
| --- | --- |
| | [3] |
On AskMeFi: What's it like to feel loved? I wrote about my Mom.


We gotta move these refrigerators...
I've had Dire Straits stuck in my head all day. This morning was to be the final big push of the move, the day that we moved the last of the heavy appliances. I had a brainwave last night and called up a nearby secondhand whitegoods store. "Hi, I've moved into a new house and I've now got an extra washing machine. Do you want it? And as long as you're here, can you help us move a fridge?" (That's what you call putting your feminine wiles to work.) The guy agreed to come by this morning "between 9 and 10" to pick up the washing machine and help us move stuff. By 9am the Snook and I had emptied the fridge into a cooler, unhooked all the washer connections, and shifted all three appliances into place near their respective front doors. Then we waited. And we waited. And he didn't turn up. At 10am I rang the shop again to find out where he was. The guy who answered didn't know: "He hasn't gotten in to work yet." He asked if we could stay til 11:30. "Uh, we've both already taken time off to be here NOW. That really sucks." So as I stood there, fuming, something snapped. "F*** IT. WE'RE MOVING THEM OURSELVES." Thus, fueled with the kind of adrenaline that only comes of being screwed by a service professional, the Snook and I got to work. And folks, we moved both washing machines and that fridge (up six stairs!) with only a two-wheeled trolley and the sweat of our own brows. It was glorious. I'll probably be sore tomorrow, but today I feel like a superwoman.

Oh, and the washing machine guy finally turned up 45 minutes late. He took the old washer and gave us $100 credit at the shop. Better than nothing, I guess!

Monday, November 12, 2007
| | |
| --- | --- |
| | [4] |
Anthony Bourdain bags out the current "stars" of the Food Network. HA! We watched a fair bit of FN when we were in Indiana last April, and Snookums still has nightmares about "that Italian chick with the huge teeth." (Link courtesy of patrick.)

| | |
| --- | --- |
| | [2] |
For those who are interested, in the five days my site has been at my new web host, mod_security has successfully repelled 384,360 spam comment attacks on the site. That's over 76,000 per day. And while I've done all I can to thwart them, I feel really powerless and frustrated by this. Whoever is doing this: YOU REALLY SUCK.

| | |
| --- | --- |
| | [3] |
Moving Update: It's been one week now, and I'd say we're past the 75% mark. It's starting to look like a home! Amy came over on Friday for a much needed interior design consultation and also helped me move over quite a bit of stuff. (She's handy with a wrench, that one.) We also had the plumber and the exterminator over that day too, which made for quite a party. (Dude, toilets aren't cheap to fix!) Saturday the Snook and I took apart the IKEA entertainment wall and started sorting through the crap. We put some stuff into storage (VHS tapes, etc) but the rest is all going to Vinnie's. We also started on the mammoth task of moving over the books and bookcases. Sunday I continued to move books while the Snook started bringing over office and computer stuff. What's left: the last two bookcases, about half the kitchen stuff, and about half the office. Oh, and the fridge and the washing machine. I've got no idea how we're going to handle those...

| | |
| --- | --- |
| | [6] |
I've just launched a redesign of the Tapestry Craft site. Hope you liek it!

| | |
| --- | --- |
| | [1] |
The Snook and I walked to work together this morning. About five minutes after we split at Liverpool Street, I had a phone call from him.

Me: What is it?
Him: Idol sighting!
Me: No way! Who?
Him: All of 'em! I think they must be staying around here.
Me: What were they doing?
Him: I dunno, going to breakfast probably. I saw the Jazz Man; he was wearing a hat and sunglasses but he wears those on TV so I recognised him. And then I saw this little girl, and I was like, there's another one! So I looked around and then I saw Bad Haircut going up the street.
Me: Nice one.

For what's it worth, I want Natalie to win. Holden's pulling out all the stops for a Matt Corby landslide though...

Saturday, November 10, 2007
| | |
| --- | --- |
| | [2] |
Kristen posted a photo of Alexander in his complete Yoda costume. I love, love, LOVE how the three-toed socks turned out.

| | |
| --- | --- |
| | [2] |
Not sure if all the Aussie knitters have heard the news yet, but YARN mag is no more. That sucks.

| | |
| --- | --- |
| | [1] |
Our Mythbusters Halloween costume got some more attention this week. Mathowie posted it to del.icio.us and then mentioned it in the latest MetaFilter podcast. He referred to me as a "sexy Adam Savage"!

| | |
| --- | --- |
| | [1] |
Allez cuisine!
This week was our highly-anticipated dinner with Iron Chefs Sakai and Chen at the Observatory Hotel here in Sydney. I was kicking myself the whole time that I'd forgotten to print out the photo of me and Snook dressed as Sakai and Kaga. (And of course, I couldn't print it out at work because the site was down. *grumble*) But that niggling annoyance aside, I was excited and rarin' to go. We met up with Toast and Shan and headed in. We had a small table for four in the back corner of the Globe Bar with a big TV screen right beside us (for watching all the kitchen action). Shan and I took photos of every course, but I'm not going to bother posting them because Not Quite Nigella has written it all up way better than I ever could. Seriously, if you want to see and read about what we ate, go over there. I will say that my favorites were definitely Chen's mud crab soup and his signature mapo tofu, but that my least favorite was the soup that went with the mapo tofu. Afterwards, we all rushed out into the lobby for a chance to get autographs and photos.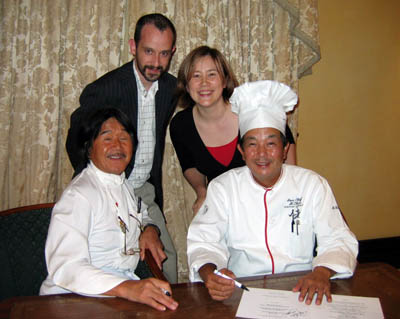 Neither of them spoke English very well, so I chose my words carefully. "Chef Sakai, do you know 'Halloween'?" I asked as I approached. "Halloween, yes!" he said cheerfully. "I WAS YOU!" I blurted out. "And him," pointing at the Snook, "he was CHAIRMAN KAGA!" They laughed and laughed.

Final tally of weird/unfamiliar stuff that I ate that I never would've eaten five years ago: salmon mousse, braised carp, caviar, jellyfish, calamari, sea urchin roe, foie gras, kinugasa mushrooms, mud crab (with roe), lobster tail, and shark fin (we guessed there was some in the soup I didn't care for). And while all that sounds really exotic, the dishes weren't really "out there." It's not like I had a pile of any of those things; they were mostly used in tiny amounts as interesting flavours or textures. I had the definite impression that the Chefs were toning down the weirdness factor for Western palates. (Case in point: Sadly, no fish ice cream.) Anyway, I've posted a few more photos from our table after the jump. [more...]

| | |
| --- | --- |
| | [1] |
The comments are back! Do you guys even KNOW how difficult this week has been for me? I said to the Snook in a moment of frustration on Wednesday: "It's like I keep having all these THOUGHTS, and I don't have any outlet to share them with the world! If Kristy has a thought and doesn't blog it, does it ever really exist?" Hyperbole, sure, but I really missed my little site.

Friday, November 9, 2007
| | |
| --- | --- |
| | [6] |
And we are BACK!
Man, that was annoying. I got up Tuesday morning and opened up my site to see... nothing. Forbidden errors everywhere. You know; you saw them too. I fired off a quick support email to my hosting provider asking what was up. I got a reply back pretty quickly informing me that my site had been the target of a DDOS attack for the previous 72 hours, and they'd eventually been forced to shut it down because I was knocking all the other sites off my shared server. The support person claimed that access was now restored. This was not the truth. Not only could I not see the site, I couldn't ssh or ftp to it either. I was able to get to the access logs though.

There are some assholes in this world, let me tell you. Some person (or persons) is hitting my comment submission page upwards of 70,000 times a day. Luckily my little "captcha" question does a great job of keeping them off the site. Not a single one actually made it into the database. Unfortunately whoever has turned on this firehose doesn't actually care whether their comments make it through or not. I've been explaining it like this: Say someone is prank calling your house every ten seconds. You've got caller ID so you know not to pick up the phone, but your phone line is still tied up the entire time. Plus it costs you time and effort to look at the number every time it rings. My php script was filtering them, but it was using up too much processing power to do it. I needed to block them before they got to the filter. Unfortunately they were changing IP addresses every couple hundred requests (mostly using open relays in Bulgaria and Turkey) so I couldn't just block them outright. Finally the Snook and I hit upon a solution. It involves mod_security, an Apache module that allows me to set rules and kill bad requests before they tie up my system. So far it seems to be working. They're still pointing the firehose at me, but hopefully I'm deflecting the worst of it.

So the upshot is - I've changed to Quadra Hosting, which is based here in Australia. I don't begrudge my old host for turning off the site, but I am annoyed that they took 72 hours to give me access to my files. (No, I didn't have a recent backup. Yes, I know this is stupid.) That's why commenting is still restricted; even though they gave me ftp access, they've still locked down that particular file. Anyway, we seem to be back in business. I'll hopefully have commenting back on as soon as possible. Thanks for hanging in there!

Monday, November 5, 2007

Another Moving Update*: I'd say we're about 20% along now. I managed to successfully cook dinner in our new crappy oven, which was mildly gratifying. The cat has finally emerged from the closet and seems to be eating. Here's the truly amazing thing though: We just realised that it's been 48 hours since we've watched any television. I cannot remember the last time I've gone that long without turning on a TV. On one hand I feel oddly free, and almost like I never need turn it on again... and on the other hand, I friggin' love our bigass TV and I can't wait to see it in the new living room. Technology will win.



* You're going to get a lot of these, because I have nothing else to talk about until IRON CHEF on Wednesday night...




Wow. This story about a Bahraini man who was raised as a woman is very Middlesex. They don't name his specific genetic disorder, but it sounds just like Cal from the book.


Farewell to the Fabulous Moolah, who passed away last Friday. I remember watching WWF with my brother back in the 80's, and being absolutely flabbergasted by the fact that there was an actual WOMAN on the BAD GUYS' TEAM. She was pretty cool.

| | |
| --- | --- |
| | [3] |
Help! This is an official plea for Moving Assistance. We've come to the conclusion that our television is just two big for two people to move without serious risk of dropping it. I know some of you have said you'd help... so here it is. Let me know if you're free either some night this week or this weekend. Free beer and eternal gratitude as yours for reward.


Moving Update: So far everything's on schedule! We weren't technically supposed to move in til Sunday, but Saturday afternoon we saw the owners leave and said to each other, "Let's get started." So Saturday night we moved over the barbecue, outdoor furniture, and most of the outdoor plants. For Sunday our goal was to to move over the bedroom and the cat. We started by pulling out all the clothes we don't wear anymore, and then sorting those for the Op Shop and the trash pile. (This is the part I was looking forward to.) Then we pulled apart the bed and reassembled it next door. We took a break and headed to Balmain for lunch with Kenya, who was lending us his trolley. We then spent the rest of the day moving over dressers, night tables, the mattress, bathroom stuff, everything. Then it was time for the cat. The actual transportation was pretty easy. I set down the empty laundry basket and waited for her to jump in as usual. Then we plopped a tray down on top for a lid and carried her over. She... freaked out a little. The place is still so empty, and the wood floors make it more echo-y than the old place. She pretty quickly found a favorite spot though: Up high on the shelf in our closet, watching us putting things away. She refused to eat or use the litter box at first, but we knew she'd come around. With the bedroom finished and energy to spare, we decided to bring over the necessities. We wrestled over the couch (swapping the brown cover for the old blue one, so look for that upon CouchCam's return!), the bar fridge, and breakfast supplies. Then we made the happy discovery that we're close enough to access the wireless point at the old house... hence we've got Internet. Sweeet!

So I write this on the couch from the new house, having spent our first night here. It was weird. I still can't believe this place is really going to be ours, and theoretically we could live here for the rest of our lives. There's still so much more to do. But the kettle is boiling, the cat just pooped in her litter box, and I've got to get ready for work. We're adjusting.

Sunday, November 4, 2007
| | |
| --- | --- |
| | [9] |
The Story of the House
Moving Day has finally arrived, so I thought I'd tell all you little children the magical tale of how we found the house. On September 1st, the Snook and I headed out for another day of looking at apartments. I was still a little bummed out about losing the (first) Google job, but I was trying to be optimistic. We had a list of half a dozen places to check out, and we thought we might swing by an auction in the afternoon (just to get an idea of how they work). One of our first stops was at Renwick Street in Redfern, to look at some new flats that had just been built. They were fantastic. (I can't find a link now; looks like they've all been snapped up.) Huge 3 bedroom flats, very modern, all very cool. And the price was definitely right. (Under $600K.) It was tempting. We spent the new couple of hours trying to decide whether we wanted to live in Redfern. The location wasn't great (right off Regent Street), but supposedly the 'Fern is going to be the next big real estate hotspot. We debated. After lunch, we decided at the last minute to check out the auction in Chippendale. I noticed as we walked over that there was an older woman ahead of us that seemed to be going in the same direction. The three of us rode up in the lift together, and all three of us got the same cold shoulder from the agent when he discovered we weren't there to bid. I heard her asking him what he expected the property to sell for. I thought it was a decent flat, and if we'd known about it a month earlier, we might have gone for it. Anyway, we decided not to stick around and headed back to the elevator. The woman was in there with us. "So, are you two looking to buy?" she asked conversationally. "Oh yes," we said. "How many bedrooms?" "Welll... ideally 3, but whether we can afford that in the area is a different story." "We're selling a 3 bedroom," she said. "Would you like to see it?" So she led us back down the street... and straight to our own apartment. Or rather, the apartment RIGHT NEXT DOOR. We looked at each other. "You're JOKING." [more...]

Friday, November 2, 2007
| | |
| --- | --- |
| | [3] |
Anansi Boys
Last night I finished Anansi Boys by Neil Gaiman (as recommended by crumpet). Loved it, loved it, LOVED IT! I tore through this immensely fun story in less than a week. I liked it way more than American Gods, mostly because that story was so full of obscure mythological figures that I was constantly worried I was missing references. Anansi Boys, on the other hand, is fairly self-contained and I could just enjoy the story. I really liked that it was set in a world that I could recognize (sometimes too well - hello London!) yet there are other realities only a hairs-breadth away from us. Stuff is just constantly! happening! and then it all comes together neatly at the end. I heartily recommend it, especially if you like a little bit of fantasy. I just have one question though - what the hell was the deal with the lime? :)

Also note: Wikipedia says that the BBC World Service will be broadcasting an adaptation on November 17 starring Lenny Henry and Matt Lucas. Now I just have to figure out how to record it.

| | |
| --- | --- |
| | [1] |
I'm trying to figure out how this knitted Brain Bag was constructed. I don't see how you could knit it in one piece, so I'm guessing it's just several meters of stuffed knitted tube sewn to the outside of an existing bag. Right?

| | |
| --- | --- |
| | [8] |
I am a Level 10 Night Elf Druid.
Confession: I've been playing World of Warcraft. I know, I know. I tried it last year but didn't get hooked. Rodd plays it all the time though and, well, I enjoy spending time with him. So when he recently griped about the lack of smart players in his guild group, I put my hand up and volunteered. So far I'm just playing once a week. (We refer to Thursdays as "Pew-Pew Night!") We got our characters up to level 10 last night, which means that you can now see me on the online "armory". No, I have no idea what any of that stuff means. I just let the Snook (aka Droso) lead me around so I can blast stuff. I told him my only requirement is that I don't want to do anything insultingly girly, like be a healer or a cook or something. (Which is why my chick is learning "skinning.") Oh, and her name is "Cynara," which comes from that stupid book.

| | |
| --- | --- |
| | [6] |
Sydney Sock Knitters: Remember that new sock yarn I told you about? It's here. I just unpacked five huge boxes of it and, man, it was like THE BEST CHRISTMAS EVER. I'm putting them on the website today, so they should be up soon.

Edited to Add: They're heeeeere! Ranco Solid and Ranco Multi. Unfortunately the colour cards we have don't do the yarn justice at all, so you really need to see them in person to fully appreciate how pretty they are!

| | |
| --- | --- |
| | [2] |
Baby Yoda! That is too, too cute. (For those that don't know, I knitted that.)

Thursday, November 1, 2007
| | |
| --- | --- |
| | [1] |
This is for Eileen: Roger Federer as King Arthur. Okay, I don't even like the guy that much, but that picture? Phwoar.


Ahh, evidently this is what I should've done to get the Google job. Cyber-squatting.

| | |
| --- | --- |
| | [1] |
Sweeeeet! Mythbuster Adam Savage left a Metafilter comment complimenting me on my Halloween costume. My Dad is gonna be SO IMPRESSED.

archives
You can search through the archives by post keyword using the form on the left, or you can browse by month using the links at the bottom.
"Moblog" refers to posts and images posted directly from my mobile phone.

"PW Blog" refers to posts recovered from my very first weblog, which dealt with news related to my college dorm.