Saturday, November 29, 2008
| | |
| --- | --- |
| | [2] |
Ebert reviews Australia. I find it interesting that he doesn't really say anything about the performances. He doesn't even describe the story very much, except to say it's old-fashioned. He seems mostly interested in the racial aspects, which, yeah. Probably the only bit worth talking about. I still don't have any desire to see it though.


I was just reading this round-up of changes at Disney theme parks when I got to this bit:
Now that Obamania is in full swing and the country appears ready to proudly wave the red white and blue again, Disneyland's Main Street is ready to highlight the long neglected 'U.S.A.' part of its title in the coming months. Up will go the banners and flags while the Opera House will welcome back a resuscitated Lincoln, now sharing the stage with Barack himself in a supporting role. God Bless America on that one.
FANTASTIC. I didn't even think of that. They'll be adding an Obama-bot to the Hall of Presidents. I can't wait to see how it turns out. I predict a renewed interest in that attraction for the next few years, well beyond its current demographic of families with bored kids just looking for a few minutes of air conditioning.


Watchmen: The Condensed Version. That is all kinds of awesome.

| | |
| --- | --- |
| | [3] |
Me: Whoa! Corncob wine!
Snook: That's disgusting.
Me: I think you mean AWESOME. It's like moonshine! You should make me some!
Snook: I don't think so.
Me: No, you should! And then we could serve it to somebody who really likes wine, like your brother-in-law Chris, and try to get him to guess what it was!
Snook: And he'd wonder why we were giving him a glass of horrifying sludge.

Friday, November 28, 2008

When in doubt, comment it out. Nice.

| | |
| --- | --- |
| | [4] |
Happy Thanksgiving!
The Snook and I celebrated last night with Amy and Rob at a special dinner hosted by the Democrats Abroad. As you might imagine, the group had a lot to be thankful for! There were some very hearty toasts and cheers happening. We talked about exactly the type of things you'd expect: why Australians who romanticized snow were CRAZY, how stupid the American healthcare system is, what was wrong with Sydney's public transport, how we all wanted to marry gays and give tax money to druggies. You know, that type of thing. I have to say I was a little surprised at the demographics. The only DA event I'd attended before was the primary, and I remember noticing that everyone there was... older. Well, they were pretty much all older last night too. I'd guess that the average age was probably 50+. Snookums guessed that the younger expats just might not be as politically active. Another random observation: I saw more black people (as in, people of African heritage) last night than I have in the previous eight years of living here, I think. Anyhoo, we had a great time and got to meet some cool people, and none of us had to cook a turkey. WIN!

I did, however, bake on Wednesday night. I made Martha Stewart's Sweet Potato Pie with Pecan Topping for us, and a traditional pumpkin pie to take in to the office. The pumpkin pie was more difficult, mostly because my usual source for Libby's canned pumpkin had sold out! So I had to make this from scratch. (Yes, you can totally make pumpkin pie from scratch. Just cut up pumpkin - I used Kent - boil or nuke til it's soft, then run it through the food processor. Substitute for the canned stuff in the recipe.) They were both a big hit!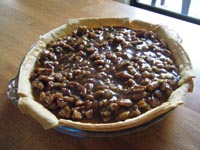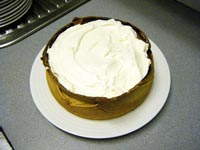 Thursday, November 27, 2008
| | |
| --- | --- |
| | [1] |
God bless Paula Deen: Deep-Fried Stuffing on a Stick. To go with your deep-fried turkey, naturally.


Lara has posted some more photos from our Halloween party, if you want to see more guests and food.

Wednesday, November 26, 2008

According to a wine-tasting robot, people taste like bacon. I probably would've guessed that.

Tuesday, November 25, 2008
| | |
| --- | --- |
| | [1] |
Oooh! I just discovered that Brideshead Revisited is starting this Sunday at 7:30 on ABC2. There are eleven parts and this is the first episode, so set your TiFauxes to record! (I've never seen it before, but I understand it has something to do with gay men and Jeremy Irons, and I'M ALL ABOUT THAT.)

| | |
| --- | --- |
| | [5] |
How babies are made... in Germany. HOLY COW. (Probably not safe for work, by the way, even though it's apparently an actual children's book.) I still remember just enough German to follow the text. And, um, I just learned a lot of words that I never learned in high school Deutsch.

| | |
| --- | --- |
| | [4] |
From Wikipedia:
From the moment he wakes up with gum in his hair, things just do not go Alexander's way. At breakfast, Alexander's brothers Nick and Anthony reach into their cereal boxes and pull out amazing prizes, while all Alexander ends up with is . . . cereal. His teacher doesn't like his drawing of an invisible castle, he loses his yo-yo, there is no dessert in his lunch, the dentist tells him he has a cavity, there is kissing on TV, and he has to wear his railroad train pajamas (he hates his railroad train pajamas). No wonder Alexander wants to move to Australia! The book ends with his mother's assurance that everyone has bad days, even people who live in Australia.
Even people who live in Australia. Indeed.

| | |
| --- | --- |
| | [1] |
ESPN has a really nice article about Notre Dame interhall football. I played for my women's dorm (GO P-DUB!), but it's not taken quite as seriously as the men's version. I mean, the players themselves take it seriously, but since the girls only get to play flag football the cost and insurance issues aren't so great. Also, I don't remember that we ever cut anybody from the team. It was more of just a fun thing to do, rather than some fulfillment of a childhood dream or anything. (Link courtesy of RT, who played Defense.)


The "broken windows" theory of crime is correct. That's neat! I'd heard that rule before but it's cool that someone actually put it to the test. There's a burnt trash bin around the corner from our house (no idea whether it was lit deliberately or accidentally by a cigarette butt) and every morning I see it I just mentally recoil. It makes the whole street look so junky. I hope they get rid of it soon.

Monday, November 24, 2008
| | |
| --- | --- |
| | [1] |
More veggie box goodness tonight! We got celery, pak choy, a leek, onions, potatoes, carrots (real ones with the tops still on!), a sweet potato, a monster zucchini, lemons, oranges, apples, nectarines, and half a dozen organic eggs. Phew. I used up some of the potatoes and eggs making a Provencal salad. It also had cherry tomatoes, tuna, olives, capers, parsley, and green beans (including four from my garden!). The dressing is white wine vinegar, olive oil, dijon mustard, and garlic. I served it on a bed of endive and baby silverbeet. If you liked the previous tuna pasta dish I made, you'll like this one!

| | |
| --- | --- |
| | [6] |
Weekend Update: It was grey and horrible the whole time. Do I need to say more? Friday started promising with beers and Japanese food after work, but I was dreading Saturday morning. I had to go to the Knitters' Guild Executive Committee meeting and give a report on the state of the website. Which isn't too bad in and of itself, but I knew that there was also going to be quite a bit of discussion about the Ravelry Incident. (Basically, two weeks ago somebody started a discussion thread on Ravelry to air some gripes about the Guild. The Guild didn't like this AT ALL. The first rule of Knitting Guild is you do not talk about Knitting Guild. Seriously. The whole thing blew up into this huge scandal with the non-Internet using folks feeling very attacked and defensive towards those Ravelry people.) And since I was going to be there, I knew the chances were good that I'd end up trying to defend The Entire Internet to a bunch of aggrieved old ladies. I wasn't wrong. After three hours of that - I wish I were joking - I headed off to Newtown for SSK. Ahhh, to be around people who get it. That was a nice time. Sunday morning I got up early to head to IKEA with Miss Jane. I'm proud to say I was quite restrained. I got a lazy susan for the pantry, a coat rack for the entry hall, and another Benno to hold our DVDs. (Of course, I haven't put any of it together yet.) After getting home, I came down with a wicked sinus headache that's been kicking my butt ever since. My nose is relatively clear but somehow there's still pressure making me feel nauseous. Standing in the shower clears it momentarily, but I can't do that 24-7. Any suggestions?


Photos from the Tim Tam production line. *drool* What I wouldn't give to work in that QA department...

Sunday, November 23, 2008
| | |
| --- | --- |
| | [7] |
A Room With a... WHAT?
I just watched A Room With a View, the recent TV version that I recorded last weekend. I was prepared for it to suck compared to the Merchant Ivory production, but I was pleasantly surprised! It was less arty, but I think the story was simpler to follow. I really, really liked Rafe Spall as George Emerson. (I didn't think anybody could top Julian Sands, but I think I prefer this earthier, sexier George.) But wait - did they insinuate that both Mr. Beebe and Cecil were gay? I could've gone along with that departure from the book... until the surprise ending. WHAT. THE HELL. George dies on the battlefield? Right after we see them triumphantly getting it on in front of the view of the Arno? And the final scene is her in the field with the carriage driver? That was the weirdest thing ever. Weird and depressing.

Saturday, November 22, 2008
| | |
| --- | --- |
| | [1] |
The complete screenplay for Wall-E. Just reading the ending made me cry again. (Link courtesy of kottke.)

Friday, November 21, 2008
| | |
| --- | --- |
| | [1] |
Red Lantern in Surry Hills
For our anniversary dinner last night, the Snook and I finally got to try out Red Lantern in Surry Hills. I've been wanting to go there ever since they were featured on Heat in the Kitchen on SBS a few years back. They do authentic Vietnamese cuisine, and I was in the mood for some seafood. (For those that don't know, I was a confirmed pescaphobe for most of my life. I *never* ate any seafood at all - not even fish fingers - until I moved to Australia. Suffice it to say, I've gotten over myself.) The service was great, friendly and attentive from the start. I was a little disappointed that we couldn't get the tasting menu - it's only available for parties of 4 - but our waiter was able to recommend his favorites from the normal menu. We started out with the Goi Cuon (traditional rice paper rolls). They were very good, with lots of mint and large prawns peeking out. There was a spicy peanut-based dipping sauce too. (Truth be told, I think I prefer the Lime & Garlic from Chop Chop, but this was still very nice.) We also went for one of the entree specials: grilled scampi (i.e. langoustine). I'd really only ever seen these on Iron Chef before. ZOMG, SO GOOD. Sweet, creamy meat - not fishy in the slightest - with luscious butter and black pepper and coriander on top. Between the two of us, we were scraping the shell clean in our desperation to savor all of it. For the main, we had the house speciality Cha Chien Don, whole fried snapper with fish sauce, lime, and ginger. It was BEAUTIFUL. The meat came off in juicy hunks, and I even found myself scrabbling after the crispy skin. (Me. The pickiest child in the world eating FISH SKIN. My mother's head will be spinning, I tell you.) We were too full for dessert, so I finished the night with a Vietnamese liqueur coffee that was so strong it'd curl your hair. So in summary, I had three courses with seafood and I loved all of them. That's pretty much the highest recommendation I can give right there. (Also, langoustine might be the new truffle. I MUST HAVE MORE.)


For the Snook: Ozzy Osbourne's World of Warcraft commercial.

Thursday, November 20, 2008
| | |
| --- | --- |
| | [2] |
The first Twilight reviews are starting to trickle in...

Edited to add: Snookums just pointed me to this list of six excuses grownups can use for going to see Twilight this weekend. I think Jenny's definitely going for #6. Me, I don't really have any big desire to see it. Robert Pattinson doesn't really do it for me. If anything, I'm only curious as to how it translated from the book... which was trash. Swoony, over-the-top, ridiculous teenage trash.

| | |
| --- | --- |
| | [13] |
Happy anniversary to my best friend...
Four years ago today two silly kids went to Vegas, met Elvis, and got married in a Little White Wedding Chapel.



And I'd do it all over again.

| | |
| --- | --- |
| | [9] |
Gmail themes
I logged into Gmail this morning and noticed that things looked different. Then a message popped up telling me to check out the new Themes tab. Holy crap! That's awesome! I'm rockin' the Desk theme right now. It appears that some of them actually change throughout the day to reflect the weather in your location. Sooooo cool! (Note: It appears they're rolling this out slowly. Snookums doesn't have it on his account yet, nor does anybody else in my office.)

Edited to add: The Gmail blog has more info and pictures of the themes.


Five Quick Physics Lessons for Obama. On hand, neat! I didn't know that nuclear bombs were so hard to make, nor that the problem of storing nuclear waste had been effectively solved. On the other hand, some of these are pretty depressing. No hydrogen cars? No more manned space travel? Inevitable global warming? Crap.

Wednesday, November 19, 2008

Stuff White People Like: Halloween. I'll admit it made me CRINGE. That's so, so us.

| | |
| --- | --- |
| | [1] |
"The New Coop de Ville: The craze for urban poultry farming." When I went to pick up our veggie box last week, I asked Michael (of Sustainable House fame) whether he kept chickens. He did! He showed me them clucking away in the narrow strip of space alongside the house. He was actually chucking veggie scraps to them straight out the kitchen window! I confessed that I had long been fascinated by Rentachook, which is where he gets his from. Snookums and his mother have tried many times to talk me out of this wild idea. I know that they're tiny dinosaurs and that I'm afraid to touch them. I know that they pretty stupid as far as pets go. I know that they'll poop all over and dig up the garden. I can't help it - I still think it's such a cool idea!

| | |
| --- | --- |
| | [2] |
I bought two adorable new sundresses on Sunday afternoon. Therefore it's been raining ever since.

| | |
| --- | --- |
| | [1] |
Peanut Butter Buckeye Bars. *droooool*


I need to make a sign like this for my garden.

| | |
| --- | --- |
| | [4] |
Hey, Fin! I think I just found your 2010 Halloween costume...


Cousin Jenny posted the second part of her adventure meeting Robert "Undead Hottie" Pattinson in a mall. He totally checked out her boobs.

Tuesday, November 18, 2008

Eek! ThinkGeek now has a Geek Kids section. Almost makes me wish I had an anklebiter myself!

| | |
| --- | --- |
| | [5] |
Huh. Tim Tams will now be sold in the US for the first time ever. Man, there goes what little power I had as the family supplier of Tim Tams from abroad.

Monday, November 17, 2008

George Bush "is a dill"
Is the whole "What's the G20?" story getting any airplay in the US? Because it has amused me to no end over here. A month ago, Australian Prime Minister Kevin Rudd was hosting a dinner party at Kirribilli, when he received a phone call from George Bush. Apparently, at some point during the conversation Rudd mentioned the upcoming G20 Summit, to which Bush replied: "What's the G20?" A prominent journalist happened to be at the dinner, and soon the story had been leaked to the newspapers. Rudd's staff says it never happened. The Americans say it never happened. The Federal Opposition say it happened, but that Rudd made it up to impress his dinner guests by making the American President look like an idiot. And oddly enough, Rudd himself has refused to answer the direct question of whether he told his guests about it. These politicians have been spending hours of time in Parliament actually discussing how dumb the American President is, who leaked the news to the press, and whether this revelation will damage US-Australian relations. It's all pretty hilarious. And this week we've all been on tenterhooks to see how Bush would greet Rudd at the big G20 Summit. (Verdict: "frosty".) Meanwhile, I bet Rudd is feeling sad that his dinner parties next year won't be enlivened by any calls from Sarah Palin.

| | |
| --- | --- |
| | [4] |
RunningBlog: Holy crap. They've released a promotional video for the Tough Bloke Challenge, the race that me and Snookums and Emily and Clare are doing next month. It's just... ludicrous really. The whole concept is making me laugh. I can just picture myself right now getting stuck in one of those tubes, or hanging motionless on the monkey bars (like George Michael) over a mud pit. I'm resigned to bringing up the rear. In fact, given that there's a ten minute penalty for each obstacle you fail to complete, I have a feeling that we could be in the realm of EPIC FAIL here.

| | |
| --- | --- |
| | [8] |
My cousin Jenny waited in line all night with a bunch of teenagers to score tickets to see Robert "Cedric Diggory/Edward Cullen" Pattinson at a book signing. Her verdict? "Um, he's honestly the most beautiful man I've ever seen in person." Yeah. This guy.


The Knitting Robot Strikes Again
It's really unfair of me to make fun of the Snook for playing his videogame all weekend. The truth is, I spent just as much time sitting on the couch beavering away on my knitting projects. I made a start on the Space Invaders socks I'm knitting for the Colony of Gamers Child's Play Drive, and I added several inches to the aran jumper I'm knitting for next year's Easter Show.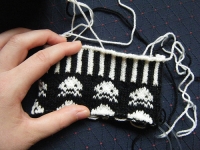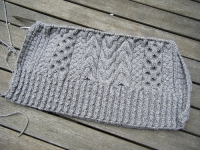 I've modifed the bmp socks from the originals a little bit. I'm using Easy Care 5ply instead of a traditional sock wool, and I've gone up to a 3mm needle. I know from experience that I tend to knit fairisle fairly tight though, so I'm hoping they'll still fit without much adjustment. As for the aran, it's my first official Starmore: Na Craga. I'm knitting the front and back at the same time on a long circular, but the pieces are still separate. (Consensus is that the seams will give it some needed stability.) The cable patterns are very simple once you get going and I don't even need to refer to the charts anymore.

While I was knitting, I also managed to watch all of Seinfeld Season 6 on DVD...

| | |
| --- | --- |
| | [1] |
I'd just like to clarify that the World of Warcraft player who reached level 80 in less than a day after the new expansion came out was NOT the Snook. He did play it all weekend, but he's only at 72.

Sunday, November 16, 2008
| | |
| --- | --- |
| | [1] |
Idol Sighting!
I went for a run this afternoon and soon found myself waiting for a light to change up near Central Station. As I stood there, I noticed a very familiar-looking Asian guy walking towards me. My first thought was that it was one of the Snook's co-workers, and I nearly opened my mouth to say "hi." Then a lightbulb went off over my head: It was Thanh Bui! He stood next to me, waiting at the pedestrian crossing. The light finally changed and we began to walk. I made a snap decision and pulled off my headphones. "Excuse me," I said, turning to him. "Are you Thanh?" His voice was soft and shy. "Yes, I am," he said. I gave him a big smile. "You did really great this year!" He said thanks as I sped off into the crowd. Hey, he wasn't my favorite or anything, but he seemed like a nice guy. He sang ABBA in front of everyone in Australia! That takes some courage. So I was happy to think that maybe my comment lifted him up a bit. (I was also interested to see him sitting in the stands at tonight's live show!)

As for the Final 3, is there really any doubt? I loved it when Dicko said "Holden hates me anyway" and gave Wes a touchdown. For second place, I'm going to have to go with the shearer. Spano's good, but I thought he really boned it tonight. His first song was one nobody recognized, and his second one (Santana's "Smooth") was one everybody and their mom recognized, but he sounded awful on the low verses. Luke still moves around a little awkwardly, but both of his songs were solid and he deserves to get to go to the big show. But seriously, WES ALL THE WAY. I'm totally voting.

Saturday, November 15, 2008
| | |
| --- | --- |
| | [2] |
Woooo! I harvested my first bean crop of the year today. FIVE WHOLE BEANS! We had them with our dinner and they were delicious.

In other garden news, we got a bag of lucerne mulch (basically munched up hay) today and I spread it over the weed matting in my veggie patch. It looks much nicer than the ratty old newspapers I had before. It also has a pleasant "barn-y" smell. We've also declared war on caterpillars, which are eating our basil to bits. We got some Pyrethrum spray, but actually picking them off the plants seems the most effective strategy. Plus it's very satisfying to chant "Die, die!" as you stomp them on the pavement.

Friday, November 14, 2008
| | |
| --- | --- |
| | [1] |
If you thought the idea of a Feathers balaclava was bad, feast your eyes upon the handknitted Blythe doll gimp mask. NIGHTMARES, PEOPLE.

| | |
| --- | --- |
| | [2] |
Burn-E. Awesome! It's like the "Rosencrantz and Guildenstern are Dead" version of Wall-E. (Apparently it's going to be on the DVD extras.)

Thursday, November 13, 2008
| | |
| --- | --- |
| | [7] |
Urticaria
Oh great. Another mystery ailment. I've had normal skin for most of my life, but this year I've just felt super-sensitive to any irritation. I started noticing that wherever my clothes touched or rubbed me, I developed itchy red welts. In times of stress - like when I flew to LA - I broke out in red blotches. I mentioned it to my doctor a few months ago, but he was only able to diagnose "contact dermatitis"... which is basically saying, yep, your skin is irritated. Well, duh. Last night things took a turn though. It was still light when I got home so I headed out to check on my veggie patch. We had leftover weed matting from the path so I decided to lift my newspaper "mulch" and put it down underneath. Half an hour later I was in the kitchen cooking dinner, when the Snook got home and saw me absent-mindedly scratching my arm. "Dude, what's wrong with your arm?!" he asked. (You know it's serious when he uses an American-ism like "dude.") I looked down, and my left forearm from elbow to wrist was covered in puffy red welts. "I... don't know," I said. "Did you rub up against a hairy caterpillar?" he asked. "I don't think so." I headed to the shower, thinking that washing off the irritant was a good start. I noticed at that point that I had some soil on my knee (from kneeling in the garden), and when I brushed it off my knee was similarly irritated underneath. I showered and started applying a cortisone cream. Then I had a brilliant idea - I'd take photos of the rash so I could show my doctor the next day! I managed to get a few shots before the cream got it under control.

Tonight I went to the doctor (I was due for my normal allergy shot anyway) and I explained about the weird reaction. Then I whipped out my camera. He was impressed! I think that's the first time anyone's described their symptoms to him with actual photographic evidence. He took one look and said, "Urticaria." Hives. Huh. (I always pictured hives as being more dramatic, like giant red buboes or something.) But anyway, there doesn't seem to be any doubt about it. So what's the trigger? Apparently there's really no way of knowing. It could've been a caterpillar, but the fact that I had it on both my knee and my arm doesn't support that entirely. Plus I've been having isolated welts and itchiness for many many months now, so a single irritant can't account for all of it. There is a definite heat/sweat component ("cholinergic urticaria") and definitely pressure as well. So great. I'm 31, and I've suddenly developed hives.

| | |
| --- | --- |
| | [2] |
Very Green Stir Fry
Well, we certainly have been eating our vegetables this week! Last night I made a very green stir fry. I started with tofu, chilli, and ginger; then I added choy sum, zucchini, and broccolini. I added a "honey and coriander" sauce packet from Coles and splashed on some soy sauce as well. We had it over rice with fresh coriander on top.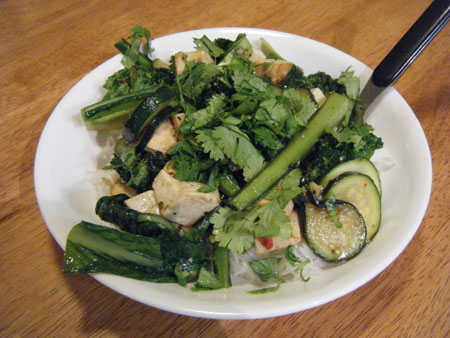 The previous night, Snookums made us Beef Wellington using the mushrooms and some excellent paté with a beautiful Scotch fillet. We had zucchini and sweet potato mash on the side. That means our "To Use Up" list is down to: red cabbage, pumpkin, beetroot, fennel, sweet corn, rhubarb, capsicum, onions, and potatoes. (The pumpkin, beetroot, and fennel are currently roasting in the oven for dinner tonight.) By George, I think we've just about done it!

Edited to add: I can't believe I forgot to mention the amazing Resurrection of the Oven! Last night I turned the dials just to see what would happen, and lo and behold the damn thing started working! I don't think it was a timer issue, as we'd flipped the circuit breaker several times. Now we're wondering whether something inside overheated. But at any rate, hooray! Oven!

| | |
| --- | --- |
| | [1] |
50 Facts You Might Not Know About Barack Obama. Regardless of politics, I think we can all agree that it's gonna be pretty damn cool to have a basketball court at the White House.


I was all set to deride this crochet bacon scarf for jumping on the silly bacon meme bandwagon, but then I read about how much skill went into creating it. Kickass! I didn't know that intarsia was possible in crochet, much less that it hid colour changes better than knitting.

| | |
| --- | --- |
| | [1] |
Star Trek covers for your light switches and power points. Sweeeeeet.

Wednesday, November 12, 2008

The farmers are back! There will be a farmers' market in the Chippendale Peace Park this Saturday. Too bad we're still overloaded with vegetables.

| | |
| --- | --- |
| | [4] |
I want to try poutine! Unfortunately the closest I've been to Canada in the past ten years was the Canadian Pavilion at Epcot Center. (We actually asked one of the Canuck workers there, but she shamefully confessed they didn't serve it.) It looks simple enough to make, except for one thing: cheese curds. What the heck are those, and where do I get them in Australia? Do I have to make my own?

Update: I bit the bullet and asked Metafilter.

Tuesday, November 11, 2008

I just noticed that I've had some hits from the Colony of Gamers Child's Play Drive 2008 post. Greetings, gamers! I got contacted last month by Dana from the In-Game Chat podcast asking if I'd be willing to knit/craft something for this year's raffle. All the money raised goes to support Child's Play, a gamer-supported charity that donates toys, games, books, and cash to children's hospitals around the world. I agreed, and I'll be knitting a custom pair of these Space Invaders socks for the winning Aussie ticket. (Special thanks to the designer Aija Goto for giving me her blessing.) So if you'd like to support a great cause and possibly win some super-cool socks, please go PayPal them a few bucks.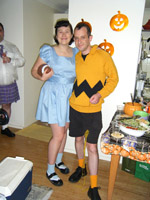 Blockhead
I just realized that I forgot to properly document my most recent Finished Object! "Blockhead" was designed partly as a Halloween costume and partly just as a jumper I thought the Snook would like. The pattern itself is from Wendy leaflet #5101, which is the exact same one I used for the Long Sleeve Cotton Polo. Because the zig-zag would be done as intarsia, I couldn't knit the body in the round as I normally do. So the front and back were knitted separately to the armholes; then the whole thing was joined up on one circ for the yoke and collar. The yarn is Brown Sheep Cotton Fleece (80% cotton, 20% merino) that I ordered direct from the mill in the US. It was ridiculously cheap (luckily I got it before the Aussie dollar collapsed) and I used less than 7 skeins for the whole jumper. The yarn was wonderful to knit with, much less splitty than the Jo Sharp cotton, and I think it'll be a good weight for our climate. Snookums actually graphed the zig-zag for me (after much analysis of the comic strip) and it's available for download as a PDF here. Now all I need are some buttons and it's done!


RunningBlog: It's been awhile! Following the Melbourne Half-Marathon last month, I took a couple weeks off completely from running. Now I'm slowly starting to build up again. Tonight I decided to run/walk home from North Sydney, which was about 7km all up. It took me just short of an hour. I've been reading Runner's World and starting to think about goals for next year...

| | |
| --- | --- |
| | [5] |
Keith Olbermann talks about Proposition 8. He admits that he doesn't have a horse in this race; he's not gay, nor is anyone close to him. I thought it was fascinating. He's such a great speaker. I mean, yeah, it's fun when he goes off on a righteous rant, but that's not what this is. For him, it's all about love.

| | |
| --- | --- |
| | [2] |
Last night...
Snook: There's something going on in the city tonight that you're going to be mad you missed!
Me: What?!
Him: They closed off the George Street bus stops in front of the cinemas because of a special event...
Me: Ooh, a movie premiere! Is somebody famous in town?
Him: Teenage girls EVERYWHERE.
Me: Oh, man! It can't be Twilight yet...
Him: Nope. But you're close.
Me: OH! High School Musical 3??
Him: Zac Efron is here.
Me: NOOOOOOOOOOOOOOOOOO!

| | |
| --- | --- |
| | [1] |
Hahahahaha! Defective Yeti reviews Twilight. He actually does a really good job of describing the book. I can't believe I read the whole thing (and 2.5 sequels) either...


Letter from a Veteran. Lovely blog post from my old roommate Eileen about her grandfather, who served in WWII. Her aunt recently found a letter that he had written home to his parents and Eileen's posted it on her site.


Oh neat! I was telling the Snook about that "Craig's List bank robber guy" the other day and how he'd apparently been caught thanks to some DNA evidence. But what I didn't know is that the DNA sample they used to match him came from his chewing tobacco spittoon-cup! Gross, yet fascinating.

| | |
| --- | --- |
| | [7] |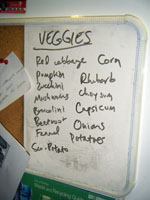 A Veggie Conundrum
I went to pick up our veggie box last night from Michael at the Sustainable House. He let me swap a few things (I know from experience the two of us can't get through a whole cos lettuce in a week) and he even gave me an extra jar of this week's special treat, a hot Sri Lankan eggplant pickle. Anyway, I got the box home and started unpacking... and HOLY CRAP, we have a lot of vegetables! I put a list on the whiteboard so we would be reminded to work our way through them. It reads: red cabbage, pumpkin, zucchini, mushrooms, broccolini, beetroot, fennel, sweet potato, sweet corn, rhubarb, choy sum, capsicum, onions, and potatoes. Note: For most of these items, we just receive a small amount suitable for two people. (Personally I like this, while the Snook feels he'd rather have more of a few things and less variety.) Anyway, here's the kicker - our oven is broken! Friday night I was pre-heating it for a pizza when it tripped the circuit breaker. We flipped it back on, and nothing. No fan, no heating element. Thank God the stove still works. So we're ovenless until we can get it repaired, which makes using up all this veg that much harder. Any suggestions?

I used half a dozen potatoes, a quarter of the red cabbage, and a carrot from the fridge in last night's dinner: Veal Schnitzel with Coleslaw and Rösti.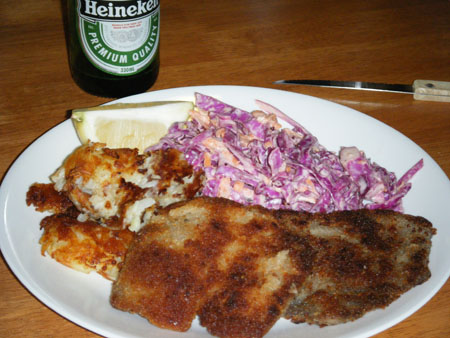 It was fantastic! That was the first time I'd ever made rosti (using this recipe) and it turned out really great. Who needs Una's when you can whip this up at home?

Monday, November 10, 2008
| | |
| --- | --- |
| | [1] |
They're back! Iron Chefs Sakai and Chen are cooking up a dinner in Sydney again. We went last year but I somehow doubt we're going to get another unexpected tax windfall... (Link courtesy of Eva.)

| | |
| --- | --- |
| | [1] |
Chippendale Food Box Blog. Fun! We get to pick up our next box tonight. We've got a nice selection of stuff in there - sweet corn, fennel, potatoes, zucchini, eggs - along with a few things we don't normally eat, like button mushrooms and rhubarb. It's going to be a challenge!

| | |
| --- | --- |
| | [1] |
I discovered this morning that Vogue UK recently featured a Roald Dahl-inspired photo shoot. WHAT THE--? Dude, only about three of those photos have any connection to Dahl's work at all. See, I knew this is what would happen when Tim Burton remade Charlie. People who haven't read any of Dahl's stories now associate him with some generic Burton vibe of KOOKY and DARK and WEIRD, as if that sums up everything. (In my opinion, none of them are especially Burton-esque as written.) The only photos I really liked - and felt an actual connection to Dahl's work - were the Red Riding Hood one, the one with the giant peach, and the Glass Elevator at the end.

Sunday, November 9, 2008

Congratulations to Anna and her new husband Clem! The Snook and I went to their wedding yesterday at St. Andrew's Cathedral in the city. I have to say, walking into a beautiful cathedral and hearing a band playing U2 behind the altar is a unique experience! It was a beautiful ceremony and I was happy to be able to share it with them. (Did I mention their great taste in music? Even the hymns were rockin'.) And even though the wedding was very different from my own, I can still respect that it was exactly right for them. Anna is honestly one of the nicest people I know, and I hope she and Clem have a wonderful life together.

| | |
| --- | --- |
| | [4] |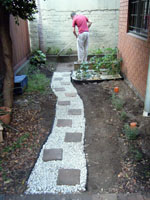 How does your garden grow? Very well, thank you!
Check it out... We got a path! Ma and Pa Snook were in town this weekend so they came over today to help us with a few projects. After Snookums and his Pa made the necessary trip to Bunnings, they got down to work. We now have a shiny new tap halfway along the side of the house, which will make it much easier to keep all the plants watered. They also brought us loads of plant cuttings from the Snook homestead, including four elkhorns which they wired to trees. (Evidently we're supposed to stuff banana skins behind them for food? This Midwesterner sometimes finds rainforest plants a little scary.) After the in-laws headed home, Snookums and I headed out to do some hard labour. He finished digging out our path while I hauled rocks and bags of sand. We lined the path with a fabric weed mat, then covered that with river sand. Then we laid down pavers reclaimed from the back garden. A couple bags of white gravel were added to fill in the gaps. I think it looks nice! Much better than the old tree trunk discs rotting in the grass.

My veggie patch is going gangbusters. I took some photos... [more...]

Friday, November 7, 2008
| | |
| --- | --- |
| | [1] |
Barack Roll. Okay, so I know the whole meme is really played out... but that made me laugh and laugh and laugh. (Link courtesy of the Snook.)


Mmmm, compost. This morning as I headed out for my run I stopped by the Peace Park to chuck my rotting jack-o-lantern into our community compost bin. When I lifted the lid, a visible cloud of steam rose into the air. I could feel the warmth from inside. I knew they were supposed to get warm, but I'd never seen it in action before!

Thursday, November 6, 2008

Obama Victory Cartoons from today's newspapers. There are a couple negative ones in there... but they're drowned out by all the AWESOME. (Link courtesy of PCJM.)


I'm plugging GoGet car share over on the Life in Chippendale blog. It's just such a great idea, and I'd like to see it succeed and spread to other neighborhoods.


Vote Lando Calrissian!


Happy birthday to my brother Anthony, who not only turned 26 today... but just announced that he and his wife are pregnant with their second child! Congratulations, brüder!

Wednesday, November 5, 2008
| | |
| --- | --- |
| | [16] |
It's over! It really happened! And WHOA, Obama is suddenly AHEAD IN INDIANA. I'm starting to get teary.

Three hours later: Good grief. Still waiting on final results from Indiana. But with more than 99% reported... we've so got it. I'm so proud. I have to call my Grandma.

Five hours later: Well, CNN may not have called it, but 538.com did. INDIANA GOES DEMOCRAFT FOR THE FIRST TIME IN 44 YEARS! I wouldn't have guessed it at all. I was telling people all day that I considered it a moral victory just that it wasn't a blowout. (After all, Bush did carry the state by 20 points in 2004.) I'm so happy to be wrong, and I'm so, so proud to have been part of this. It would've been easy not to bother this year. It was tempting to say, "My vote won't count anyway." The cynical voice in my head told me that absentee ballots are rarely matter. But you know what? 23,000 of us Hoosiers made the difference. We did it. Way to go, everybody! Somewhere my great-grandpa Tony is smiling.


There are a lot of people in the office still recovering from yesterday's Melbourne Cup revelry. Myself included.

Tuesday, November 4, 2008

What Kevin said. Yup.

Monday, November 3, 2008

EEEK! I want the neverending edamame-popping toy!


WAIT, what? I could've voted at the US consulate? I didn't know that! Oh well. At least I know my vote - despite costing me $12 to send - definitely got there in time to be counted.

Sunday, November 2, 2008
| | |
| --- | --- |
| | [5] |
BEST. PHOTO. EVER.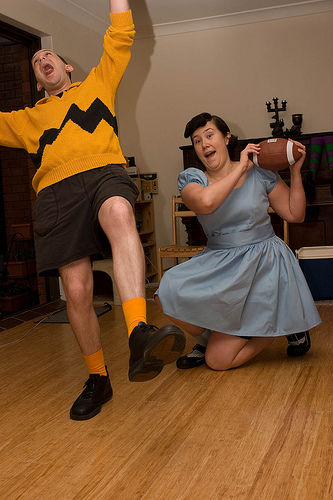 Rob has outdone himself this time. I think this is honestly my favorite photo ever taken of the two of us. I really need to have it blown up and framed, I think.

| | |
| --- | --- |
| | [4] |
"OH MY GOD! HE'S DOING A FULL-ON MICHAEL JACKSON ROUTINE! YOU'VE GOTTA SEE THIS! OH MY GOD! HE'S DOING THE MOONWALK! THE LONG-HAIRED HIPPIE GUY IS DOING THE MOONWALK AND HE KICKS ASS! THIS IS THE FIRST PERFORMANCE WHERE HIS HAT IS ACTUALLY APPROPRIATE! THAT ROCKED SO MUCH!"

Yeah. That was me yelling to the Snook. Needless to say, I thought tonight's Idol rocked. Wes doing the moonwalk was the most kickass moment since Dean Geyer did that backflip. Everyone else's performance was just utter crap by comparison. Wes is walking away with this thing!

| | |
| --- | --- |
| | [14] |
Happy Halloween from Charlie Brown and Lucy!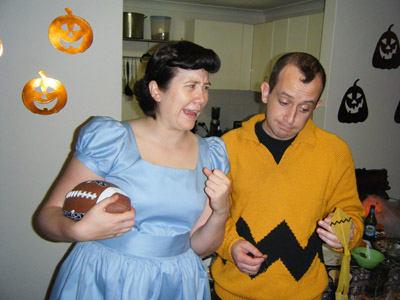 Great party! It's 1:15am and the last of the guests has left. We've stored what leftovers we can and put the rest in the bin. It's time for a much needed sleep... Photos when we finally get up again!

Sixteen hours later: Okay, the photos are up! As usual, I spent too much time socializing and not enough time taking pictures of the guests. You can see more (and better) photos of the festivities at: Andrew's site, Rob's Flickr page, Bex's Flickr page. I'm sure there will be more as people get them uploaded. Incidentally, I think we set some kind of a record with this party. More than 50% of the guests were bloggers! (Links on the photo page.)

SPECIAL THANKS to: Miss Fee for helping me with my dress, Emily for carving the scary jack-o-lantern, Rob and Amy for their last-minute decorating assistance, and to all of the guests that brought special treats. It's actually very humbling that so many of you are willing to come and share in our craziness with this event every year!

Saturday, November 1, 2008
| | |
| --- | --- |
| | [4] |
Halloween Teaser #3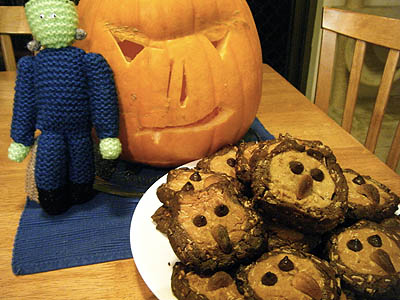 Cutest. Cookies. Ever. (Special thanks to Emily for carving the very evil and Voldemortish jack-o-lantern.)

archives
You can search through the archives by post keyword using the form on the left, or you can browse by month using the links at the bottom.
"Moblog" refers to posts and images posted directly from my mobile phone.

"PW Blog" refers to posts recovered from my very first weblog, which dealt with news related to my college dorm.