Tuesday, November 30, 2010

Shared today on Google Reader:You can follow me on Reader here.


New Pomplamoose Christmas video! Also, they did a really cute Hyundai commercial too. :)

| | |
| --- | --- |
| | [1] |
Rolled-up hedgehog. SO. CUTE.

Monday, November 29, 2010
| | |
| --- | --- |
| | [1] |
Spring Cleaning
On our weekend the Snook and I...
Did about 10 loads of laundry, including the special stuff like woollens and delicates.
Bleached the hallway ceiling where the old dryer had made it moldy.
Reorganised and cleaned the utility closet.
Reorganised and cleaned the kitchen cupboards, including under the sink. (PUKE!)
Cleaned out the fridge and pantry.
Took out several loads of rubbish and recycling.
Polished the induction cooktop.
Filled two new kegs of homebrew.
I love productive weekends.

Friday, November 26, 2010

Shared today on Google Reader:You can follow me on Reader here.

| | |
| --- | --- |
| | [2] |
Happy Thanksgiving everyone!
The past few days in Sydney have been bright and sunny and hot, so it hasn't felt much like the holidays here. And of course, Thanksgiving isn't a holiday in Australia so we don't get any days off. The Snook and I celebrated last night with some homemade turkey burgers with camembert and cranberry sauce, washed down with beer and followed by ice cream sandwiches. Not bad, actually.

Looking at last year's list of thanks, it's pretty much unchanged this year. I'm thankful for...
continued success at a great job. I've been here nearly two years now and my role continues to stimulate and challenge me. My team met an extremely stressful deadline this year and launched a successful project that has been well-received by the public. I like what I do and the people I work with. The Snook has also been going well at his new job and his initial contract has been extended. These are good things!
our little house in Chippendale. This year we finally got to make some improvements that I love: new cooktop and oven; new washer and dryer; new curtains. The Snook also singlehandedly pushed through a mortgage refinance for us that is saving us heaps every month. We're going well.
great friends. Just the best. When I have been stressed out or sad this year, they've been there for me.
continued health. I haven't had the best year in terms of illness, but I'm still fit and strong. We have affordable health insurance and access to good doctors.
the continued well-being of our family. Our visit home to the States in July/August was just fantastic. We got to visit nearly everybody and see for ourselves how great they're doing. There were new babies to cuddle, new houses to see, and new stories to hear. Knowing that they're all okay makes it easier to be far apart at times like this.
And as always, I'm thankful for every day I get to spend with my best friend. I'm not always the nicest or easiest person to live with, but the Snook always makes me feel like I'm the best.

RunningBlog: Week 47
The year is winding down! Only five weeks to go. After last week's fantastic workouts, this week I felt pretty tired and run-down. (It doesn't help that our cat is sick and he's been keeping us up at night.) I managed to meet my distance goal but I didn't feel very swift doing it. I only had one session at Spudds. It was just a worn out kind of week.

Nov. 21: 11.61km
Nov. 23: 5.01km
Nov. 25: 7.25km
Total this week: 23.87km (14.9mi)
Total in 2010: 891.23km (557mi)

I'm 90% of the way to my goal of running 1000km in 2010! I just have to hold it together for a few more weeks...

Thursday, November 25, 2010

Turkey Day on the Tube - a quiz about Thanksgiving-themed TV show episodes. I got 11 out of 11! (Well, I knew like 8 of them and then made educated guesses on the rest.)


Shared today on Google Reader:here.

Tuesday, November 23, 2010

Happy birthday to my amazing nephew Penn! Well, really it was yesterday but it's today where he is. He's 4-years-old now! How can this nummy baby be a grown-up little boy already?


Apple's iOS 4.2 is available today, and it includes free "Find my iPhone" service. Huh. That would have been useful two months ago.

Monday, November 22, 2010

Happy anniversary Snookums... under the sea.
Saturday was our sixth wedding anniversary, so as usual we planned a special dinner to celebrate. And where better to celebrate than a "subterranean Italian seafood restaurant"?!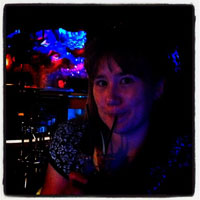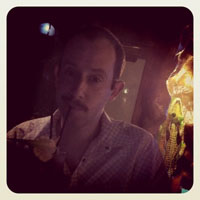 A couple months ago Eva forwarded me one of those "deal of the day" links where the offer was a 4-course dinner at Grotta Capri. I freaked out. Grotta Capri was in Muriel's Wedding! It's the crazy restaurant/bar where Sophie Lee (and the other mean girls) told Muriel that they didn't want her hanging out with them anymore. It actually exists, and it's here in Sydney. (It's also famously crawling with actual mobsters.) So that's where we went! The food was alright, nothing too special really. The main draw was sitting in an insane restaurant covered in blue stalactites and assorted nautical flotsam. There was a DJ on playing a truly demented mix of holiday, mafia, and party classics. (I'm not joking. We went from "Blue Christmas" to the theme from The Godfather to "Y.M.C.A.") The cocktails were awful, but the tiramisu was pretty good. It was just so cheesy and fun. We had a nice time.

I'm lucky to have somebody willing to indulge these whims!


Not sure if I've mentioned it before, but Poolga has gorgeous free wallpaper for iPhones.

Saturday, November 20, 2010

Living in inner city Sydney, we're used to hearing fireworks go off just about every weekend. Now thanks to the Sydney Fireworks twitter account, at least we know where it's coming from! (Boom boom boom... right now!)


Casa 360°. Is this a real house? Because I kind of love it.


Hahahaha... The Harry Potter cast tries to talk American. The Snook thought that Draco was the best, but I thought Rupert was pretty good (except for that dodgy "mozzarella").


Note to self: Make a Pumpkin Cream Pie.

Friday, November 19, 2010
| | |
| --- | --- |
| | [4] |
This is for my Dad: The Knick Killer. It's all about how Reggie Miller used to drive the Knicks (and Spike Lee, and the whole city of New York) crazy. We Pacers fans loved it.

| | |
| --- | --- |
| | [1] |
Since tomorrow is our wedding anniversary and I'm thinking about it...

Is marriage a perk for the elite? TIME magazine looks at some statistics that may surprise you. Jezebel distills it down with commentary. The bit that really floored me:
"In 1990 more high-school-educated couples than college graduates had made it to the altar by age 30. By 2007 it was the other way around." And people who never went to college are less likely than graduates to marry at all — according to Luscombe's numbers, just 48% of those with no college marry, while 64% of those with diplomas do....
The report goes on to speculate about why marriage might be becoming the privilege of the educated and well-off. Things like: money to outsource chores, more flexible working hours and arrangements, better conflict resolution skills... Interesting to think about. There's also a Metafilter discussion.


From Robocop, With Love. That is so awesome. More parents should make their kids' Halloween costumes.


RunningBlog: Week 46
Another week's distance goal met! This was actually a really great week for me in terms of training. I managed three runs and two sessions at Spudds, and I even got double-hundreds on the rower! Today's run was windy but not too cold, and I felt pretty comfortable throughout. I tried out my new SKINS A400 3/4-length tights, which felt nice. (More on those in a minute.) All in all, a great week!

Nov. 14: 10.23km
Nov. 17: 6.07km
Nov. 19: 6.55km
Total this week: 22.85km (14.3mi)
Total in 2010: 867.36km (542.1mi)

Only 132.6km left to meet my goal of running 1000km in 2010! I just need to keep hitting 22km/wk and I'll get there.

SKINS preliminary review: I'd previously bought myself a pair of SKINS shorts at the Melbourne 2008 Running Festival Expo (where I ran the half-marathon). I still wear them occasionally, but they're not my favourite running gear. I think this is because I got them too small. I'm tall and I'm right between the L and XL sizes, and in the shorts I got the L. With the new tights, I requested the XL. I like them MUCH BETTER. They still compress (I mean, that's the point) but they're not so uncomfortably tight that they leave marks on my skin. I've got a couple other pairs of cheap Kmart 3/4-length running tights, so that's my other basis for comparison here. Unlike those, the SKINS tights don't have any sticky rubber around the calves to keep them from riding up. I was worried about that at first, but it wasn't a problem. The calf area actually feels tighter than the rest, and I think that's probably intentional. They stayed in place throughout the run. I was also worried about the waistband, as on the SKINS shorts I found they wanted to roll downwards over my tummy. Again, this wasn't a problem with the tights. (That may be more about getting the wrong size in the shorts.) The only negative was the feeling that they were a bit low in the crotch. It took me a few minutes at the start of the run of hitching them up to get them in a comfortable position. (Note: I also have this problem with pantyhose, so it may be more of a personal issue with wearing tights than anything else.)

Okay, so how about performance? Did the magic pants make me run faster? Not really. They didn't hinder me, but I don't think they gave me any super boost either. They were just comfy pants. I'll need a few more trials before I can ascertain whether they provide any real benefit over my cheaper Kmart version.

| | |
| --- | --- |
| | [5] |
Anti-Bullying Starts in First Grade. A mother writes about her disappointment at finding out her little girl Katie got teased for carrying a Star Wars water bottle to school because "it's for boys." The comments are full of support from geeky women telling Katie that it's okay to be different, it's okay to like things that other people say aren't "girly," and most of all, it's okay to love Star Wars! I couldn't have put it any better myself.

Thursday, November 18, 2010
| | |
| --- | --- |
| | [1] |
One Question IQ Test. I failed miserably!


Shared today on Google Reader:You can follow me on Reader here.

Wednesday, November 17, 2010

RunningBlog: SKINS Landmark Challenge
Two weeks ago I got an email from someone at SKINS asking if I'd be interested in testing out their new A400 Active range. "Uh, sure!" I said. They also invited me to create a Landmark Challenge on their new Facebook app. The idea is that you post photos or a video of yourself attempting some sort of fitness feat and then everyone else is challenged to try it and post their scores. I immediately thought of my weekly attempts at Spudds to get 100m in 20s on the rowing machine. So what the hell! I had Spudds record a video of my attempt on Monday night:





I honestly had NO IDEA that I make those grimaces when I'm rowing. GRRRR! Fierce Kris is FIERCE! :)



Anyway, my Challenge went live on the Facebook app and you can see it by scrolling down on the "Featured Challenges" list to "Rowing Machine Challenge." So far I think mine is the only Challenge submitted by the public. I can't wait to see if anybody else has a go. I'm going to see if I can get my double-hundreds tonight.

Oh! And they sent me a pair of Women's 3/4 Compression Tights today, so I'll be testing and reporting on those very shortly... Thanks SKINS!

Update: I got my double hundreds today! New Challenge score is officially 200m. :)

| | |
| --- | --- |
| | [1] |
If they had a referendum tomorrow, I'd vote to become a republic. Of course I would. HOWEVER - as a dedicated fan of fairy tales, monarchies, and happy endings (in much the same delusional fashion as Muriel Heslop and Blair Waldorf), I am ALL ABOUT the royal wedding. Yay! Where can I get on a waiting list for a commemorative plate?

Monday, November 15, 2010
| | |
| --- | --- |
| | [2] |
"Jane Pratt taps blogger Tavi Gevinson to revive 'Sassy'." As I said on Google Reader, this is one of the best gifts the universe could ever give me. Sassy was a huge, HUGE part of who I was (and who I wanted to be) in high school. I had a subscription and I read every issue voraciously. I thought Thurston Moore and Evan Dando were dreamy. I planned entries to the "Sassiest Girl in America" contest (but never followed through). I mocked Seventeen and YM. I even bought a hand-painted T-shirt (featuring a big female symbol) from the classifieds in the back and actually wore it to school.

I've got no idea what happened to my old magazines. They probably got chucked when I went off to college. It's a huge source of regret. I really need to get that book.

Sunday, November 14, 2010
| | |
| --- | --- |
| | [3] |
The outgoing Inner City Committee 2010
Here's Geraldine, Rose, and I celebrating our retirement from leading the Guild's Inner City group yesterday.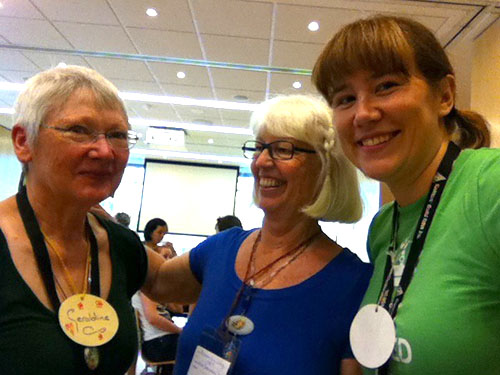 Our term was a long one; it's actually been 22 months since we took office. In that time the membership has more than doubled to 73 and we've changed venue twice. Our group now has its own bank account with a healthy balance. We're averaging about 40 members per meeting. We've had a lot great workshops and talks, many by our own members. I'm really proud of everything we've accomplished! ...And I'm looking forward to being a "civilian" again. :)

The new committee are going to be great. The Convenor is Tia, and I'll be working with her to hand over the reins. Secretary will be Kelly, and Treasurer will be Jane. Best of luck to all of them!

Friday, November 12, 2010

RunningBlog: Week 45
I met my distance goal for the week! Of course, that 10K run on Sunday helped. Just need to keep this momentum going for a few more weeks...

Nov. 7: 10km
Nov. 9: 6.07km
Nov. 11: 6.21km
Total this week: 22.28km (13.9mi)
Total in 2010: 844.51km (527.8mi)

Only 155.49km left to my goal of running 1000km in 2010, and I've got seven more weeks to do it. I need to keep hitting 22km per week!


Shared today on Google Reader:You can follow me on Reader here.

Thursday, November 11, 2010
| | |
| --- | --- |
| | [6] |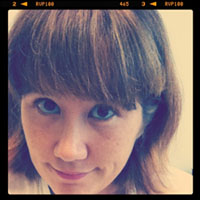 And although I liked you anyway, check out your haircut
A proscenium to stage a face that needs no makeup - TMBG

In case you missed it on Twitter or Facebook, on Sunday I got my hair cut. And yeah, I got bangs. (Fringe, they call it here in Australia.) I'm still getting used to it. I haven't had proper bangs since grade school. The Snook thinks it makes me look like my niece Indie.


Cat Odyssey: Indiana State Prison, Michigan City, Indiana. This is a lovely piece about this prison's program where inmates can adopt a cat. Well worth a read.

Wednesday, November 10, 2010
| | |
| --- | --- |
| | [9] |
What the--?! According to Alysha, the pet store at Birkenhead Point is actually selling SQUIRRELS as pets. This blows my mind for several reasons.
I have never, ever seen a squirrel in Australia. They are certainly not native, and I've never seen a feral one either. I would've thought they were illegal. Like hamsters.
In the U.S. squirrels are, of course, very common. Yet I've never heard of anyone keeping one as a pet in a cage. That seems kind of cruel and pointless.
They're $1200+ each?!?!
I kinda want to visit the store now just to see them myself for the novelty factor.

Tuesday, November 9, 2010
| | |
| --- | --- |
| | [1] |
Shared today on Google Reader:You can follow me on Reader here.


The Shirt Skirt. Tutorial for making a casual shirred skirt from an old T-shirt. Brilliant!


A lovely little ceramics studio in our neighbourhood is having a bowl decorating workshop. I think I might go!

Sunday, November 7, 2010

Curtains... Hemmed
Remember the curtains we hung last month? I finally got around to hemming them today! I used this great tutorial and the iron-on hemming tape that came with the curtains. It was a little bit of a bodge because my curtains were SOOO not square. There was no chance of me lining up the edges and having the hem be level. So I ended up having to pretty much put a pleat on the back of each one on one side. They look fine from the front though! Just skimming the ground. I'm not sure I trust the hemming tape (especially when it comes time to wash the curtains), but they'll do for now!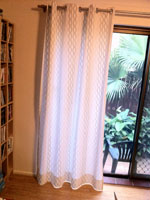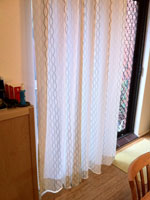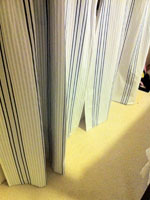 | | |
| --- | --- |
| | [1] |
RunningBlog: 2010 Rebel Sport Run4Fun 10K
This was my second year running this race (last year's race report) and my first with the Snook beside me. A bunch of guys from my office were also signed up as well. We met Kunaal at Central Station at 7:15 and enjoyed an uneventful trip to Olympic Park. Once we got there, I dropped off my backpack and made a toilet stop. I had been hoping for cool rainy weather like last year, but instead it was turning out sunny and warm. The Snook and I lined up in the Purple group (the other guys were all in the Red) and waited for the gun to go off.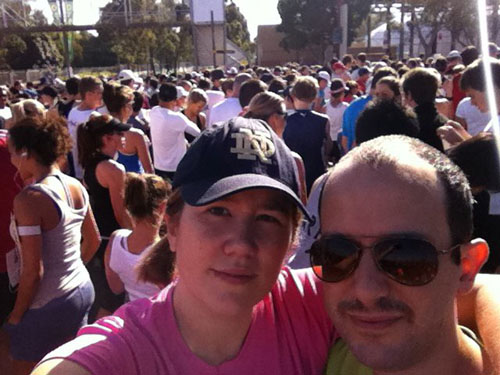 I had my iPhone safely strapped to my arm - no chance of losing it this time - and I started RunKeeper as we inched towards the starting mats. I made a quick mental decision to not worry about checking my pace during the actual race. It was going to be more fun to just enjoy myself with the Snook. The first couple KMs were relatively easy, except for the excessive crush of people. (I think they need to stagger the start even more next year.) I felt good so I skipped the first water stop. The sun was getting stronger all the time though. We doubled back and headed towards the back half of the course.

Sidenote: I have to say, I was really disappointed by how many people I saw jumping the curb and cutting corners. I probably could have shaved another minute off my time if we'd done what most of the crowd was doing. Bah.

Anyhoo, I could feel my pace starting to slow in the second half. They'd changed the course from last year so it had less turnarounds, but it was also a bit more hilly too. I walked briefly as I had a drink at the second water stop. At the 7K mark, the Snook announced that he was "finally warmed up" and that he was feeling good. I announced that I was falling apart and that I hated him. We persevered. My friend Tytana ran past and said hello. The 8K mark was right at the top of a small hill, and I had to walk for 30s to catch my breath. Then it was the final push to the finish. My friend Raj shouted a greeting as he sprinted past us. At the 9K mark, I told the Snook to go on ahead and finish strong. I had a sudden side stitch and it was all I could do to just keep going. He pulled ahead a bit. We rounded the stadium and entered the tunnel. I had nothing left to sprint, but I did my best to hold on until the end. The stitch was hurting so bad. RunKeeper recorded a time of 70:21, but my official adjusted time was 70:00 exactly. So I only missed last year's PR of 69:06 by a little bit! I'm happy with that. (Snookums finished in 69:22.) Up in the stands we reunited with our friends...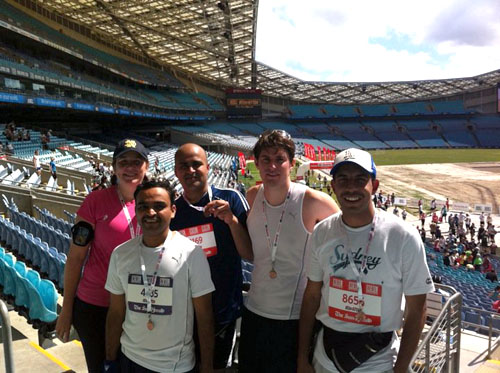 The MobileActive running team: Me, Raj, Venks, Josh, and Kunaal

It was a fun day. Thanks to my best friend for running with me!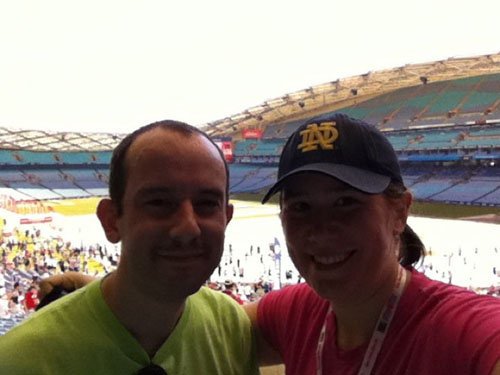 Friday, November 5, 2010
| | |
| --- | --- |
| | [3] |
Maile Sweater and Swirl Hat
Hey, I knitted something! It's been months and months, actually. But last week my friend Kevin's first child was born, and such a thing demands commemoration. I picked the pattern and the yarn before the birth, assuming that the combination would work for either gender. It helps that the father is Irish. :)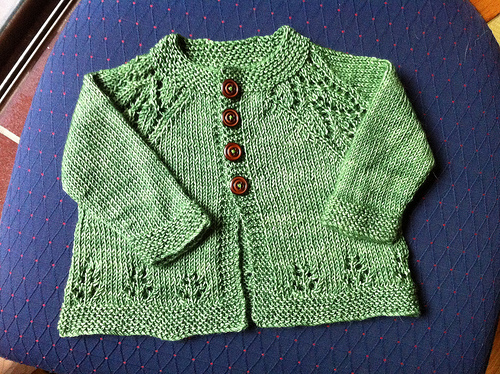 The cardigan is the Maile Sweater. It's knitted from the bottom up in one piece. I actually knitted it twice: the first time on 3.5mm needle as per the pattern, and the second time on 3.75mm needles. (I thought it looked a little small so I frogged it and started over.) On the first attempt, I followed the pattern exactly including knitting the sleeves flat and joining them with no cast-off stitches. I wasn't thrilled with it though, and the underarms had a few stitches that looked very stretched. So when I frogged and reknitted, I took the opportunity to experiment. The sleeves were knitted this time in the round via Magic Loop. When I joined them, I set aside 4 live stitches on the body and 4 live stitches on the underarm of the sleeve on waste wool. I later grafted these together (a la Elizabeth Zimmerman). It makes for a very nice finish, and it definitely made those first few rows after joining easier.

The wool is "Merino Chubby Sock" in Barleygrass by the Knittery. One skein was plenty to knit the jumper, and I had so much left over that I actually made a matching hat. The pattern is the "Swirl Hat" from Sheepy Time Knits. And I still have wool left over! This stuff goes a long way.

As usual, there are more photos and details over on Ravelry: Maile Sweater / Swirl Hat. Now I just have to wait to get a photo of the baby actually wearing them!

| | |
| --- | --- |
| | [2] |
RunningBlog: Week 44
I missed last week's report, but it would have been depressing anyway. I've been having increased pain in my right foot (the one that's been bothering me all year), and then last weekend I got knocked out by a virus. So my totals for the past two weeks are fairly low.

Oct. 26: 6.01km
Oct. 27: 5.87km
Nov. 3: 6.32km
Nov. 5: 6.01km
Total this week: 12.33km (7.7mi)
Total in 2010: 822.23km (513.89mi)

It is now exactly eight weeks til the end of 2010. I am still 177.77km shy of meeting my goal of running 1000km this year. I'll need to average 22.2km per week to hit the target. Given the state of my foot, this isn't going to be easy. I've got one more race scheduled: the 10K Run 4 Fun this Sunday. After that, I'm thinking I may need to incorporate some walking and give my foot a chance to rest up. I'm going to do my best to reach the goal, whatever it takes.

Thursday, November 4, 2010
| | |
| --- | --- |
| | [1] |
Twitter for Adults. If any of you have been thinking about signing up for Twitter, these are some very useful tips for using it in a professional, non-sucky way.


Me: Snoop Dogg dressed as the Count for Halloween!
Snook: 1... 2... 3... 4... shizzle.


Shared today on Google Reader:You can follow me on Reader here.

| | |
| --- | --- |
| | [2] |
Mr Sulu calls out anti-gay douchebaggery. No, really. It's awesome. George Takei is the new Betty White, I tell you.


Am I the only one that just realised that Eric Northman is in Lady Gaga's Paparazzi video? How random.

Wednesday, November 3, 2010

Shared today on Google Reader:You can follow me on Reader here.


Note to self: Paint walls in house, then put awesome decals on them.

Tuesday, November 2, 2010

Photos from the House on the Rock Halloween Weekend. Awesome. I especially like the one of Neil as the Doctor.

I really should post my pictures from our trip sometime...

| | |
| --- | --- |
| | [5] |
Stress. Why am I so susceptible to it? Friday's Halloween party celebrations were cut short when I started feeling a tell-tale tingle on my lip in the afternoon. Crap. I haven't had a cold sore for well over a year. I felt worse and worse as the day progressed. I left the party as soon as I could and rushed home to get my anti-viral prescription filled. It had expired, but luckily my doctor was working late and able to authorise a new one. I took the drugs and then basically spent the next 72 hours lying on our couch. I'm not sure if it's the virus or the medicine, but I just feel so horrible and dizzy and sore. The glands in my jaw were swollen and tender. On the plus side, the antivirals stopped me from having shooting neuralgia pains going up my whole head. The drugs worked quickly, and by Monday I was starting to feel myself again. The sore is already healing, enough that I'm not too self-conscious about it. Man, could they just hurry up and cure this already? It SUUUUCKS.

| | |
| --- | --- |
| | [2] |
Like Roger Ebert, I remember. My absentee ballot was sent weeks ago. I didn't vote Republican.

Monday, November 1, 2010

Chrontendo is a video podcast that aims to examine every single Nintendo game in chronological order. The Snook and I watched Episode 1 tonight. (So far the guy is up to Episode 33!) It's AMAZING, and I love it so much. The Snook was incredulous at first that someone could even get through every NES game in a liftime. "There are probably over a thousand!" he said. "This guy has a CALLING," I answered. "Don't disparage it! It's a beautiful thing!" (This Metafilter post has handy links to each episode.) I predict many enjoyable hours of nostalgia watching this.

archives
You can search through the archives by post keyword using the form on the left, or you can browse by month using the links at the bottom.
"Moblog" refers to posts and images posted directly from my mobile phone.

"PW Blog" refers to posts recovered from my very first weblog, which dealt with news related to my college dorm.