Wednesday, November 30, 2011

Little Printer | BERG Cloud - I can't decide how I feel about this. It's obviously some pretty cool technology, and the design is great. But thermal printing a mini-newspaper for myself each morning seems so deliberately anachronistic. Like, why wouldn't I just look at that stuff on my phone? This might actually be TOO HIP for me.

Tuesday, November 29, 2011
| | |
| --- | --- |
| | [3] |
It's time.
*sniff* I think I got something in my eye.



| | |
| --- | --- |
| | [1] |
The Cinnamon Bear: An Old-Time Radio Christmas Tradition - Neat! I'm sure my sister and brother will be interested in this for their kids.

Sunday, November 27, 2011

Amazon.com: Wonder Woman Snuggie - Also going on the Christmas list...


Retro Space Age Stockings - These are AWESOME. I think I might need to make a couple for us.

| | |
| --- | --- |
| | [4] |
StumbleUpon Traffic Deluge
Last week my spam radar went off when my site received some innocuous-looking comments from random visitors. I couldn't see that they were promoting anything, so I approved them. Curious, I went to Google Analytics to see if I could spot where they'd come from. HOLY CRAP, my site traffic was going BERZERK. What the--? On Wednesday November 16th alone, I had over 21,000 visits! That's more than fifty times my regular audience.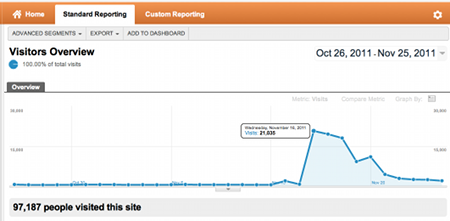 It didn't take long to find out what had happened. Somebody submitted one of my posts to StumbleUpon and the floodgates opened. In one week, I got over 76,000 hits from them. And what was the post? This one with the embedded YouTube video of "25 Ways to Tie a Scarf." It's not even my content! I simply shared it. The comments kept coming though, and people seemed to think that I was the girl in the video (even though I'd included a link to the site where it's from). Eventually I edited the post to add a disclaimer, but it hasn't helped much.

So what's the fallout from this? That big surge of traffic looks nice, but most of the visitors didn't click on any other page on the site. I doubt they'll turn into repeat visitors. Since the post was so recent, I didn't even have Google Ads on it - I only show them on posts over two weeks old - so I didn't earn any money from it. I had to deal with a lot of very dumb comments from people who don't read very closely. (I have to say, I don't have a very high opinion of StumbleUpon users after this.) On the plus side, I'm very happy that Quadrahosting seems to have handled the extra traffic just fine. Bring on a slashdotting! (Just kidding.)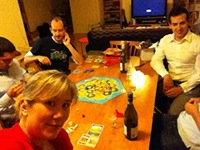 Thanksgiving 2011
This was a highlight in my otherwise crappy week. The Snook and I had planned to have a simple Thanksgiving dinner on Thursday night after work. On Wednesday though, I decided it would be more fun to make it an impromptu dinner party. My American friends Josh and Jamie didn't have anything planned, and Kunaal is always up for a gathering. So in the end we had quite a merry little party! I made slow cooker turkey legs, homemade green bean casserole, and gingery carrots. Josh and Jamie brought mashed potatoes, pumpkin pie, and bread rolls, and Kunaal brought fruit pies. And afterwards, we had a rousing game of Settlers of Catan. I'm thankful to have been able to celebrate the day with such good friends!

Read on for photos and links to the recipes I used. [more...]


RunningBlog: Weeks 46-47
Here, practically at the end of the year, the wheels have well and truly come off. As you can imagine, being sick has hampered my running. I haven't hit the road in nearly two weeks. I'm meant to begin marathon training on December 1st, so I'm really hoping to get over this in the next few days.

Nov. 12: 2.19km (walking)
Nov. 13: 10.58km
Nov. 14: 2.88km (walking)
Nov. 14: 2.97km (walking)
Nov. 15: 5.75km
Total this week: 0! The dreaded donut!
Total in 2011: 969.96km (606.2mi)

To meet my goal of running 1100km in 2011, I should be at 994km right now. Ouch. A full 24km behind pace. It's moving beyond my grasp...

| | |
| --- | --- |
| | [2] |
Sick
The reason I've been relatively quiet all week is that I've been SICK. It started a week ago on Sunday when I was really run down and sleepy, to the point where I even took a nap (which I never do). On Monday I woke up with a fever and sore throat. I stayed home Monday and Tuesday, thinking it was just a cold that would clear up with rest. I dragged myself to work Wednesday and Thursday, hoping to trick myself into feeling normal. By Friday, my sore throat was still raging (to the point where it was difficult to sleep). So I went to the doctor Friday with a suspected case of strep throat. He gave me antibiotics and sent me home again. So I've had another two days of pretty much lying prone on the couch, and I still don't feel very good. My throat is still sore; I still feel exhausted; and the mucus in my throat has caused a bone-rattling cough. This really sucks.

| | |
| --- | --- |
| | [2] |
Our Bella, Ourselves | The Hairpin - Excellent essay reclaiming the Twilight books into the feminist canon. Oh sure, they're poorly written and some of the plot turns are incredibly cheesy. But they also address adolescence in a way that many women find more honest than Buffy and Katniss. They also tap into very real fears about pregnancy, gestation, and birth, ones that I'll admit I share. So yeah, it annoys me a little when people (who haven't even read them) slag them off as literary trash. They wouldn't be so popular if they didn't speak some truths, even if they're ones we don't like to hear.


Colette Patterns Holiday Book Bundle - Dear Santa, This is at the top of my list. For the patterns, I would like Parfait and Chantilly.


Sittin' in the front row - Roger Ebert's Journal - Interesting blog post from Ebert about where he likes to sit in theaters. It was prompted by this post on the Observations on Film Art blog by Bordwell and Thompson. Hmm. Those names sounded familiar. As Ebert put it, "If you took any kind of film class in college, the odds are excellent that they wrote the textbook." I got up to check the "Film History" textbook I still keep on my bookshelf. Yep, it's them. How neat! Bookmarking their blog for the future...

Thursday, November 24, 2011

Now I Know: The Great Emu War - I did not know the theory/myth that emus and kangaroos can't go backwards.


Lego Freddie Mercury - That's pretty sweet.

Wednesday, November 23, 2011

Cult Unreleased Game 'Desert Bus' Ported to iOS in the Name of Charity | Touch Arcade - Neat! I've heard about this legendary game; never seen it in action.


Lego Lightning McQueen/Millennium Falcon mashup - How... weird.


Fabric Swatch Notebook Printable - Note to self: Print out a bunch of these and get organised!


Developer creates proxy server to control any device via Siri | 9to5Mac | Apple Intelligence - So my dream of saying, "Siri, open the front gate!" when I've got my hands full is that much closer to reality!

Tuesday, November 22, 2011

Australian Star Wars burlesque brings you sexy Tusken Raiders - Remember when we went to this a few months back? Great video reel here of highlights. The group has a new show on soon: "The Empire Strips Back."

Sunday, November 20, 2011
| | |
| --- | --- |
| | [12] |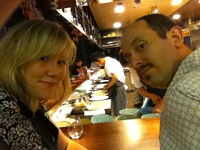 Anniversary Dinner at Momofuku Seiobo
Seven years ago today - well, really tomorrow Australian time, but it was today US time (time zones make everything squirrely) - the Snook and I got hitched in Vegas and partied with Elvis. SEVEN YEARS! Time does fly. As is our wont, we went out to a fancy restaurant to celebrate. And not just any fancy restaurant - we went to Momofuku Seiobo! This is David Chang's first Momofuku restaurant outside New York, and it opened a few weeks ago in the newly revamped Star Casino. It's been getting rave reviews. Getting a reservation was always going to be tricky. They use an online system that only takes bookings 10 days in advance, and it opens each day at 10am. Since the restaurant only seats thirty, the tables are gone in seconds. The food gods were smiling though, and on our second attempt, we scored a table! I was SO EXCITED.

Finally the day arrived, and we got all frocked up and headed to the Casino. It took us 20 minutes just to find the restaurant! (Tip: It's across from Zumbo's new outlet.) As you might expect, I took photos of just about everything. Read on if you want to see all the amazing things we ate... [more...]

Friday, November 18, 2011
| | |
| --- | --- |
| | [1] |
Chocolate Chip Cookie Pie - Note to self: Bake this for Kunaal's birthday next year.


Tutorial: How to sew on the Meringue waistband - Second part of the tutorial I linked yesterday.

Thursday, November 17, 2011
| | |
| --- | --- |
| | [2] |
Movember Update: Welcome to Marlboro country.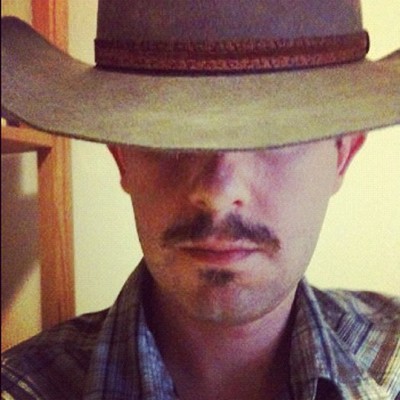 The Snook has now raised over $200 for Fauxvember. Woo! And also: swoon.


Justin Timberlake and Jimmy Fallon for GQ Magazine | Tom & Lorenzo - Seriously, Fallon + Timberlake = WIN. Always.


Tutorial: How to add a waistband to the Meringue Skirt - Useful! I think I need to make some more skirts.

| | |
| --- | --- |
| | [2] |
This 28-Year-Old's Startup Is Moving $350 Million And Wants To Completely Kill Credit Cards - Business Insider - Pretty cool. So he's basically just built a web service that sits between account transfers. People use direct account transfers a lot in Australia, but it hasn't taken off as retail payment method yet.

| | |
| --- | --- |
| | [3] |
Tracking Finances
There was an article this morning on Get Rich Slowly called "The Many Ways to Control and Know the Flow of Your Dough". It reminded me that I've been meaning to post about this too. It's not a sexy subject, of course, but it's actually something I'm quite proud of. We started tracking our finances last year and now have detailed data going back for more than 12 months about all of our expenses. I can tell you how much we spent on groceries, how much we spent on the cats, how much we lost to bank fees, etc. It's pretty invaluable.

So, how did we get here? The Snook and I have historically not been hugely organised with our finances. Since we've been together, we've earned enough to do what we want and that's pretty much all we cared about. That all changed when we bought our house. I started reading finance blogs like GRS and The Simple Dollar. I knew we needed to have an emergency fund of a couple months' expenses, but I had no idea what we actually spent. It was time to start tracking. I first tried out an iPhone app called "Cha-Ching" for several months, but they got bought out by Quicken and development stopped. I know a lot of people like online services like Mint, but support for Australian bank accounts is/was pretty crappy. (I'm wary of using the cloud for my financial data too.) Then I discovered MoneyWell, and we've been using that ever since.

I'm not gonna lie; there was a learning curve. MoneyWell uses the metaphor of envelope budgeting, which I had to get my head around. We also experienced some syncing issues between the iPhone and desktop versions, which have thankfully since been worked out. I'm sure I don't use 70% of the powerful features in the app, but right now it's perfect for our needs. For the first few months we used it solely for tracking, but once we had an idea of our monthly expenses, we started using it for budgeting as well. Here's how we use it now:
On the 1st of the month, I "refill all the buckets" (where bucket = envelope). Basically, I have a custom amount allotted for each budget category that gets put into virtual buckets. Some buckets I empty and start fresh each month (like Groceries or Dining Out), while others I allow to build up (like our Vacation fund).
Throughout the month, we both use our iPhones to record expenses. Periodically, I check the online bank accounts and input things like bill payments and credit card expenses. We're not super anal about it. Every now and then I check how much cash we have against how much we're supposed to have, and it's always out by $5-20. (I just chalk that up to Dining, since it's pretty safe to assume it's incidentals like coffee.)
At the end of the month, I generate a report that shows the totals spent for each bucket. I then work out how that equates to the Balanced Money Formula. I have a shared Google spreadsheet where I record the totals for Income, Needs, Wants, Charity, and Savings for each month.
I know that sounds like a lot of work, but it's actually not. The iPhone apps sync to the desktop app, and I probably spent maybe 2 hours on it per month. Now that I've got a system down, I actually look forward to the end of the month when I get to see the results of our efforts. I've learned that we spend slightly more than half our income on "Needs," but that's not too surprising given the high cost of living here. I've learned that we have a tendency to splurge on groceries, so having a set bucket amount is useful to remind us to rein it in. Seeing the amount we were spending on dining out each month persuaded us to start taking our lunches in every day. And it's not all frugality - having some money allotted each month for Entertainment and Hobbies means you don't have to feel guilty for spending it!

The upshot is: tracking your finances is a really, really good idea. You don't have to be all high-tech about it. A pencil and some paper works just fine. (If you're a data nerd though, I do recommend MoneyWell for Mac and iOS.)

Wednesday, November 16, 2011

USAJOBS - Search Jobs - Wow. NASA actually posts "Help Wanted" ads for ASTRONAUTS. Unfortunately even if I had the required science degree (which I don't), my crappy eyesight would rule me out. I guess the simulator at Kennedy is as close as I'm ever gonna get.


Hoosier Mama Pie Company | Pie Quotes - I love this.


Virtual Planetoid Crochet Hat Pattern From Kim Werker - Heh. Great movie reference.

Tuesday, November 15, 2011

Coon Skin Man Tells All - YouTube - As one of my friends on Facebook put it, being from Indiana means that I can understand what the witness is saying perfectly. I cannot, however, understand why he is wearing a coonskin cap.

| | |
| --- | --- |
| | [5] |
Everything You Missed in the Hunger Games Trailer: 40 Awesome Images! - I'll admit I'm excited by this.

| | |
| --- | --- |
| | [1] |
Crochet: Simple Statement Wreath « ohmygoodknits! - Ooh, I like this! Wonder where I can get a styrofoam wreath form.


How to make your own feral raccoon suit - Holy crap. Worst idea ever.

Monday, November 14, 2011

Playful kitten - Awww. It kinda looks like a baby Ewok.


"David Chang's Momofuku Seiobo at The Star casino complex is worth every bit of inconvenience and expense" - Daily Telegraph - Could I be any more excited about Saturday night? I still can't believe we scored a reservation. I hope it lives up to the hype. (Probably impossible at this point!)


Notre Dame Attempts To Out-Ugly Maryland With New Helmets - SBNation.com - Ahhh. I saw some Facebook comments about the helmets but couldn't imagine what they looked like to inspire such antipathy. Yikes.


Study Hacks» If You're Busy, You're Doing Something Wrong: The Surprisingly Relaxed Lives of Elite Achievers - Thinking about how this applies to marathon training. Quality workouts versus quantity...

Sunday, November 13, 2011

RunningBlog: Weeks 44-45
I need to catch up a bit! It's not too difficult, considering that I took all of week 44 off running. It seems to have done me some good too! The tiredness and aches that I was feeling in my lower legs has mostly dissipated. I got in a couple good runs in Victoria last weekend, and I got in a good one on Friday. Amazing what a little rest can do...

Oct. 31: 3.25km (walking)
Nov. 2: 2.70km (walking)
Nov. 5: 6.22km
Nov. 6: 10.30km
Nov. 9: 2.79km (walking)
Nov. 11: 6.01km
Total this week: 22.53km (14mi)
Total in 2011: 953.63km (596mi)

To meet my original goal of running 1100km in 2011, I should be at 951.9km right now. So I'm pretty much right on pace now! Just have to hold on for the next month and a half...

| | |
| --- | --- |
| | [24] |
25 Ways to Wear a Scarf in 4.5 Minutes!



That's pretty brilliant, even for someone like me who only ever wears the same scarf in the same way all the time. (Miss Fee will love it! She owns All The Scarves.) The behind the scenes look at the making of the video is cool too.

Update to add: I think I need to clarify that I AM NOT THE GIRL IN THE VIDEO. I just saw it online and shared it. The video is from Wendy's Lookbook.

| | |
| --- | --- |
| | [2] |
Star Wars Cookies with Common Cutters - That is some brilliant geek baker hackery right there.

Saturday, November 12, 2011

Nougat: Expanding the Custom Carbonite Line - I think Snookums and I definitely need to be encased in carbonite for all eternity.

Friday, November 11, 2011
| | |
| --- | --- |
| | [3] |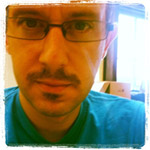 Fauxvember Update
We are eleven days into the month, and as you can see the Snook's 'tache is progressing nicely. His fundraising tally is now up to $65, and he's closing in on his target of $100! (Special thanks to Sally and Anonymous for contributing.) I've been trying to convince him that he needs to "incentivise" people to donate... something like maybe JOINING TWITTER if he hits triple digits? So if you'd like to join me in putting pressure there, please consider donating. And Sing Ho! for a Mo!

| | |
| --- | --- |
| | [2] |
Holy crap, Paterno got fired?! I'm totally reeling. I read about the Penn State molestation scandal earlier in the week but figured Paterno would probably escape unscathed. Upon hearing the news, the students predictably rioted. Man, this is just crazy.


Girl Scout Cookie flavored lip balms. Yum! | Fashion - Yahoo! Shine - Dear Family: If any of you see these, please pick me up a pack.


Behold The Pork Roast Molded In The Shape Of A Tiny Pig - I kind of like it. It's postmodern.

| | |
| --- | --- |
| | [1] |
Rocky's Star Wars Nursery | Apartment Therapy Ohdeedoh - Is it socially acceptable to have my own bedroom be Star Wars themed, or do I have to have a kid?

Thursday, November 10, 2011
RunningBlog:
Grantland: The Rise of the Female Distance Runner

Ranked Choice Voting: Does a mathematical algorithm make for better elections? - Yes. This is how we vote in Australia, and I like it a lot.

| | |
| --- | --- |
| | [1] |
Embroidery With Sprinkles (And Other Cuteness) - Clockwork Lemon - Sister: This is awesome.


Reddit: George Lucas knits at my Starbucks every morning - HAHAHAHA. It makes me so happy to know that not only are there knitters over at Reddit, they're geeky and clever enough to make funny knitting-related slams on George Lucas. (Link courtesy of the Snook.)


Momofuku Seiobo | Terry Durack restaurant review - WOOHOO! We managed to get a reservation for our anniversary next weekend. It was pretty stressful. They use an online reservation system that opens each day at 10am, and the seats are all gone within ten seconds. Today we had me, the Snook, and Kunaal all logged in and clicking madly. And it worked! Can't wait for that pork bun...

Wednesday, November 9, 2011
Children as Financial Paradox
Tuesday, November 8, 2011

PSA: Just in case you're all, "WHAT'S WITH ALL THE POSTS, KRIS?!" I'll just point you to this post, wherein I explain that due to the way Google have UTTERLY SCREWED READER, I am now sharing my random links individually on the blog. Like I used to. Yeah, kickin' it old school.

| | |
| --- | --- |
| | [5] |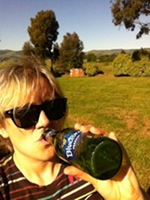 Sewjourn
This past weekend was a special one. Many months ago, my friend Ailsa came up with the idea of a Knitters' Retreat at Sewjourn, a crafters' cottage in country Victoria. There were ten of us who ended up going, and it was fantastic. We all flew down on Friday and then drove out to Lancefield, about an hour outside Melbourne. Over the next two days, we knitted, we laughed, and we ate cheese and drink wine like it was a competitive sport. Some of us went for a run (and got lost and had to be rescued by the others). We ate at a fancy restaurant. We visited Hanging Rock, where SOME PEOPLE delighted in playing the panflute on their iPhones and threatening to jettison OTHER PEOPLE out of the car INTO ANOTHER DIMENSION. (Namely, me.) It was all a lot of fun. My photos are here, but you can see others over at knitabulous, missfee, a room of my own, jp knit 'n' natter, and Shades of Grey. Thanks to Ailsa for inviting me along, and to all the other ladies for making it such a memorable weekend! [more...]

The Crochetdermy of Shauna Richardson
| | |
| --- | --- |
| | [4] |
Do the dishes like nobody's watching - Love it. That kid's got moves!

Monday, November 7, 2011

Hacked! - Magazine - The Atlantic - I turned on Google's two-step authentication a few months back. It's annoying, but articles like this remind me of the importance.

| | |
| --- | --- |
| | [1] |
Big Bang Theory fuels physics boom | Education | The Observer
| | |
| --- | --- |
| | [2] |
Mark's Daily Apple: Introducing the New Primal Blueprint Food Pyramid - This is a good visual guide to the way Snookums and I are eating right now.


Make a Fall Tree Button Shirt - Very cute! Would also look good on a skirt.


Checkout Girl: Fantastic Mr Fox Costumes - These made me laugh and laugh. So brilliant. Cross-posting to RDF...


The Scientific Seamstress: Printable Bias Tape Maker - That is the most awesome thing EVER. I can't believe I spent a week trying to buy one when I could have just made it!

Thursday, November 3, 2011

Fix the New Google Reader, by Adding Some Color and a More Compact Layout - Softpedia - I just installed both scripts they recommend. Much better.

| | |
| --- | --- |
| | [2] |
RunningBlog: The Once and Future Way to Run - NYTimes.com - A long article from Christopher McDougall on barefoot running. I'm very interested in the "100-Up" exercise he mentions towards the end. If I'm going to train for another marathon, I need to do everything I can to remain injury free.

| | |
| --- | --- |
| | [1] |
Walk the Line Sydney - AH HA! If you're wondering why there are pink dots all up and down George Street in Sydney, I think this is why.


PhotoBlog - Die-hard fan builds shrine to Bollywood star Shah Rukh Khan - Wow. I really need to see Ra.One.

Wednesday, November 2, 2011

Korean recipes: Mapa tofu - Maangchi.com - I had no idea there was a Korean version of this. It looks... weird.


Art of the Hobbit: Never-Before-Seen Drawings by J.R.R. Tolkien - For the Snook.

Tuesday, November 1, 2011
| | |
| --- | --- |
| | [4] |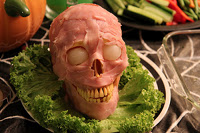 Halloween Party Photos 2011
After taking 2010 off, we were back with a vengeance for Halloween 2011! This year was our eighth party, and it was bigger and better than ever. More than forty guests packed into our house to show off their costumes, sample our spooky food, and have some fun. Oh, and we made a Meat Head. It was CREEPY AS.

As always, I've got photographs that attempt to document the insanity. (There are recipe links for the curious as well.) Our friends outdid themselves this year, and there were some seriously amazing costumes. Most of the photographs were taken by Jonathan Feldman and myself, with a few from Jamie Griego, David Edgar, and Jane Matlock as well. Thank you to the photographers, and to everybody who came along!

And if you have any photographs of guests that I don't have, please let me know!

Update: Thanks David for the picture of Issy as Bellatrix!

| | |
| --- | --- |
| | [7] |
Frocktober Wrap-Up
Frocktober has come to an end for 2011, and I'm happy to report that the initiative has raised over $112,000 so far. As for me, I managed to wear dresses or skirts on 22 days out of the month. I had no idea I had so many non-pants clothing options in my closet! Here's a recap of some of the different outfits I rocked this month:
























One interesting side effect of this experiment has been the number of times people have commented about me "losing weight." I actually haven't. It's just that the vintage styles are more fitted than my modern clothes, and they show off my existing shape better. I guess there's a lesson there, and I should be in 50's drag all the time!

Wampa + Pug = Wampug!

Drive-By Quiltings - MOM, this is the coolest thing ever! Ricky Tims is a musician and quilter. When he's on the road, he posts his location so quilters can go to nearby overpasses and hold up their quilts for him. Love it.


Elegant liars - Making sense of The Matrix. Nice.


Sing Ho! for a Mo. - The Snook is once again growing wacky facial hair in November to raise money for men's health issues. However, due to a number of reasons, he's doing it with a different organisation this year. Please consider donating!


Google Reader D-Day
Well, Google has finally pulled the pin on their promised Reader changes. IT SUCKS. They have completely removed the existing sharing and commenting. Now you're meant to share to Google+ and comment there. I hate it. I seriously considering changing RSS readers altogether, but I can't find a web-based one I really like. So I was moaning on Twitter when gilmae responded: "There's always your blog..." Huh! That's right; I used to share links here all the time. So I quickly modded my existing post-to-blog form so that I could invoke it from Reader's "share to" menu. Seems to be working fine. This means that you're going to start seeing a lot more individual linky-posts here. I hope that's okay!


Yarn Love Print - Cute! Wouldn't mind having this in my craft room.

archives
You can search through the archives by post keyword using the form on the left, or you can browse by month using the links at the bottom.
"Moblog" refers to posts and images posted directly from my mobile phone.

"PW Blog" refers to posts recovered from my very first weblog, which dealt with news related to my college dorm.