Tuesday, December 28, 2004
| | |
| --- | --- |
| | [1] |
Wow, Mary-Helen won one of the big Tapestry Craft gift baskets we were raffling off last week! I swear I didn't rig it; I wasn't even here when they drew it. But how cool is that? Obviously, being one of my knitting buddies makes for good karma. (Well, if you can consider a big basket full of lurid novelty wools "good.")

Monday, December 27, 2004
| | |
| --- | --- |
| | [9] |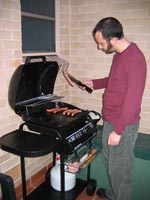 A Man and his Barbie
The Snook and I took advantage of the post-Christmas sales today to do some "manly" shopping. (It was manly both in our no-nonsense approach and the type of items we bought.) First stop was DJ's to cash in our wedding gift vouchers for some new knives. The Snook had his heart set on Global, so that's what we got: the roast slicer, the vegetable knife, and the 10cm paring spear. Then we headed to Barbeques Galore to finally fulfill the great Aussie dream of owning our own barbie. We ended up with the Billabong model. Here's the Snook grilling our inaugural round of snags. Of course, we also threw some prawns (i.e. shrimp) on later. They were delicious. (And I don't even like seafood!) So now we're embarking on a Grill Fest. Anybody got any tried-and-true BBQ recipes they want to share?

| | |
| --- | --- |
| | [2] |
A-Z of Web Browsing
Just a fun, pointless little idea I picked up from Kristen. Basically, you clear the address bar in your browser, type in every letter of the alphabet, and list the first URL that appears on the history list. It gives a pretty good idea of what I've been up to over the holiday.There's a lot of blogs on there, but that's what I read to wake up in the morning.

What a horrible tragedy. I was interested to find out if the top end of Australia registered any big waves, but apparently we're safe. This MetaFilter thread pointed me to first-hand accounts of many Asian bloggers in the area.

Saturday, December 25, 2004
| | |
| --- | --- |
| | [8] |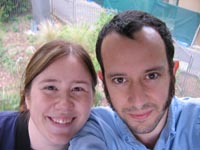 Happy Festivus! Or Chrismukkah! Or whatever.
We ended up having a much happier holiday than expected. It started when we got special package in the mail from my Mom. It was a Christmas ornament that played a pre-recorded message from my little brother Joey: "Merry Christmas to Mr. Snook and Kristy. We love you!" I started bawling as soon as I heard it. We spent Friday relaxing and getting ready for our feast over at Amy and Rob's today. We even made some very special gingerbread cookies. Can you guess what the shape is? (I bought the cutters at an op shop a few years ago. Some disgruntled Aussie tourist must have gotten rid of them.) On Christmas Day the four of us headed out to Taronga Zoo to visit the monkeys and the meerkats. Snookums and I had a close encounter with a koala and recorded our very own special holiday message for Joey. (He likes koalas.) Then we headed back to Rob and Amy's place for a Mexican feast complete with two very Aussie desserts: homemade summer pudding and pavlova. Whew. I'm stuffed. I'm looking forward to two more days of relaxation before I head back to work...

Edited to Add: Amy just posted a great picture of the four of us.

Friday, December 24, 2004
| | |
| --- | --- |
| | [6] |
The notion that a size 16 actress is such a "fat pig" as to star in a taboo-busting play about fat acceptance just churns my stomach. You know what separates me from that actress? About two inches of height. I had no idea I was exposing the Snook to such societal ridicule. (She says with sarcasm and bitterness...)

| | |
| --- | --- |
| | [1] |
Bah, humbug.
I'm just not in the holiday spirit. I wonder why. Could it be - oh, I don't know - the old man who shat his pants in the store yesterday? Apologies for being crude, but I'm still really not over it. And I'm not exaggerating. I was helping a nice man pick out a Christmas gift for his daughter when the old fella, who's been in the store before, walked up with some tapestry wools in his hand. He was sweating and shaking, but he's always been a bit weak and I've had to get him a chair before so he could rest. This time, the customer and I both recoiled in horror. He stank. It was an ungodly smell. In retail you smell a lot of stinky people, but he was the worst ever. He mumbled something as he set down his wools and returned to get more. The customer I was helping had basically fled to the other side of the store. I rang up his sale and he gratefully fled outside. Then the old guy returned. He put down another handful of wools and gasped that he needed a chair. I ran for a green plastic lawn chair that we had sitting near the framing department. As he collapsed in it, I noticed that his shorts were extremely dirty. "Could he...? Nah." I thought. "He's just old and smelly." I rang up his wools while standing as far from him as possible. I handed him his change as he staggered to his feet. Then he turned and headed for the door. My jaw - and those of my co-workers - dropped. His gray shorts were completely covered in crap, and he had it smeared all down his calves too. It was horrific. Bridget and I ran for the paper towels and Windex, which was all we could find. We wiped down the chair as best we could and took it downstairs to be disinfected. Three hours later I swear I was still smelling poo everywhere.

And how was your holiday shopping experience?

Wednesday, December 22, 2004
| | |
| --- | --- |
| | [7] |
Your Honor, I stand accused of disgusting myself.
Exhibit A: I went in search of a "LOVE THE O.C." t-shirt after the Snook told me he spotted them in the Imperial Arcade. I told myself that I would only wear it "ironically," but everybody knows that's a lie, right?
Exhibit B: I hesitated once I determined that the vile Supré had the shirt for sale, but ultimately I went in anyway. I tried not to look directly at the jelly shoes or camouflaged ra-ra skirts.
Exhibit C: I spent fifteen humiliating minutes searching through racks of XXS sizes to find the one single Large tank top in the whole bloody store.
Exhibit D: I paid $20 for a shirt too small to wear out of the house. (But not too small to flaunt on my DeskCam.)
Exhibit D: The salesman adamantly refused to let me leave without a flaming pink reusable Supré shopping bag which I then had to carry all the way home, thus announcing my shame to all the world.

Your verdict?

Tuesday, December 21, 2004
| | |
| --- | --- |
| | [3] |
JK Rowling says: "It's done." Sweet!

Monday, December 20, 2004
| | |
| --- | --- |
| | [2] |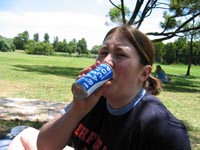 So, I tasted Pocari Sweat.
On Sunday I went to joint blogger birthday party for Andrew and Eva out in Centennial Park. Since Andrew had e-mailed me after my last mention of Pocari Sweat to express his love for it, I figured a couple cans would be a good birthday present. Needless to say, he was pretty happy and he decided to share the joy by giving me a taste. I was hesitant. Plucking up my courage, I took a sip. My initial reaction wasn't exactly positive, but I definitely wouldn't say it tasted like "bodily fluid" either. I'd probably describe it as like a lemonade or Solo, but without any sugar. Kinda like a really crappy Gatorade. So while the taste isn't totally vile, I still think the international marketing concept could use some work...

Sunday, December 19, 2004

Netcraft reports that several web hosting companies have disabled Movable Type comments because comment spam is putting a serious drain on their servers. The ensuing Slashdot discussion speculates on the problems within MT that allow this to happen, and it has some good ideas for ways to fix (or switch) your blog to secure it. (As for me, I haven't had any spams since I implemented the "More than five links" rule. This doesn't happen til after they post, though, which means it's still tying up my server a bit. Now I'm thinking about a blacklist that would keep them from accessing the script...)

Saturday, December 18, 2004
| | |
| --- | --- |
| | [3] |
Gingerbread Laptop and CPU. That's pretty neat! I've never tried making any gingerbread sculptures before. (Mostly because I know the Snook would insist on making all the gingerbread from scratch, and I'd get bored and lazy halfway through and quit.) Has anybody else ever done it? Is it really hard? (Link courtesy of not martha.)


Since we got camera phones a few months ago, our biggest use of them has been taking pictures of ourselves and sending them to each other. It was especially helpful at Halloween when we were both costume-shopping separately. Anyway, I just cleaned it off and found a couple funny pictures of me. (Just mouseover for the captions.)






It's all Greek.
The Snook: "It's easy. Quicktime is to AVI as Sorenson is to DIVX."
Me: *hysterical laughing* "Fleurgen is to schneurgen as gmergen is to geflorgen. You didn't make it any easier."

| | |
| --- | --- |
| | [1] |
A warning for the pescavores: Go easy on the fish or you could end up crazy like Gollum!


Note to self: Check out this book club recommended to me by a customer today...

Friday, December 17, 2004
| | |
| --- | --- |
| | [7] |
Oh my god. This Mario quilt is the Coolest. Quilt. Ever. I feel my patchwork urge returning. But how to top this?

Thursday, December 16, 2004
| | |
| --- | --- |
| | [1] |
I don't think I could personally hang my eyeglasses off a nose piercing. I just have this feeling that it would, like, tickle me between the eyes, and I'd go cross-eyed from staring at the lack-of-bridge all the time. (Didn't that sorta happen in The Jerk?) That said, I got terribly frustrated while shopping for new sunglasses tonight. All the styles were wraparound, which my Korean face completely rules out. (My nose has very little bridge so wraparounds end up sitting on my cheeks, which I hate.) Maybe "Blue Blockers + Piercing" would be just the ticket?

| | |
| --- | --- |
| | [7] |
Hey, Gadgetgirl's husband Rob has a new weblog! He has some nice pictures from a recent trip to India. (The Snook refuses to blog as such, but reading his Usenet posts is always enlightening. When he refers to "SWMBO", that's me. Ten points to the first person that guesses the acronym!)


It's been a stressful week at work, but I wanted to let all the knitters know that on Saturday Tapestry Craft will be having an official product launch for Noro yarns. I know! How sweet is that? We're finally getting them. I also heard through the grapevine that "Don from Prestige Fibres" is also going to be giving some of this cult-favorite wool away, so be sure and stop in if you're in town...

Wednesday, December 15, 2004
| | |
| --- | --- |
| | [3] |
John thinks you've probably already seen them, but I for one think these freaky Cartoon Character Skeletons are worth a double-take. Hello Kitty looks scary, yo.


Okay, so I managed to lose all the ratings and playcounts in my iTunes music library. I still had that data on the iPod, but it wouldn't update iTunes (since I had the iPod set to manually update because out library is bigger than the iPod). I did some desperate Googling tonight and discovered iPod-iTunes Data 1.0.1. It's not the prettiest application in the world, but I'm happy to report that it copied all my metadata back to my Mac. (Tip: I had trouble getting it to work at first because I didn't read the fine print about setting the "update" dates at the bottom, which default to the current date. It only checks songs that you've played since that day, so if you're doing it for the first time, you need to click the down arrow about a million times to get back to the first day you used the iPod. That was easy in my case, but it could be a bitch if you've had yours a long time.)

Tuesday, December 14, 2004
| | |
| --- | --- |
| | [9] |
Look at me, puttin' pr0n up on DeskCam. :)



Catchphrase of the Month: "We're married now. It's allowed."



| | |
| --- | --- |
| | [2] |
60% of The Human Body is Made Up of Body Fluids
I just stopped by our local Chinese grocery to grab a Diet Coke when I noticed something new in the cooler in amongst the Red Bulls and Gatorades: Pocari Sweat. Yes, Japan's most famous soft drink named after a smelly bodily fluid is availabe right around the corner from my house. Reviews on the Internet are mixed. I am now completely obsessed with this fearsome drink. Dare we try it?

Monday, December 13, 2004
| | |
| --- | --- |
| | [1] |
Here's an idea for the hardcore librarian in your life: Have a word from a new short story tattooed on your body. Kinda interesting, but there's no way I'd have a giant "Remember?" plastered across my forearm.


Woohoo! I actually own one of Forbes Magazine's Best Designed Products of 2004. I feel so tomorrow.

| | |
| --- | --- |
| | [2] |
Wedding Gift Shout-Outs
We will, of course, be sending out actual thank you cards to folks, but I just wanted to throw some thank-you linkage towards Rob and Amy (who sent us two great Star Wars cookbooks), Max (who rounded out our Harry Potter DVD collection with Prisoner of Azkaban), and Moire (who came through with the always-appreciated cold hard cash). You guys are wonderful and we appreciate you thinking about us!

Sunday, December 12, 2004

Nominations are open for the Best of Blog Awards 2004... which includes a category for Best Knitting/Craft Blog. I'm just sayin'.

| | |
| --- | --- |
| | [2] |
Both Moire and Kevin pointed me towards the Charlie and the Chocolate Factory trailer, and I admit I'm a little torn in my first impression. My actual inner monologue was like, "Hey, they made Johnny Depp look slightly older and less handsome; that's good. And heh, the kids and Grandpa Joe look fine. What's with Mike Teevee playing videogames? On one hand that's not strictly what the book says, but on the other I think it's a fair modern interpretation of the character, since nobody watches Westerns on TV anymore. Ooh, the boat looks good! What's with Willy Wonka in the jungle? Hmm, I wonder if that's Loompaland and he's swatting some snozzwanger. The Oompa-Loompas look... weird, but at least they're not orange. I guess it's fair to reinterpret them, since Dahl himself did. I love Violet and her mom wearing matching J.Lo tracksuits. But what on earth is up with that Austin-Powers-like rock band scene? Yes, the Oompa-Loompas sing, but they didn't perform friggin' music videos..." And then I went through on slow-mo and looked at every single scene, and the more I thought about it the more I realized that if I was seeing this trailer for the first time without any reference to the book, I'd probably think it looked really awesome. I just find it difficult to reconcile with Felicity Dahl's (and everybody else's) statement that they wanted to be "faithful" to the book. It looked too Tim Burton. (And I'm still unnerved by the IMdB credit for Christopher Lee as "Willy Wonka's father.") Unfortunately I think Peter Jackson has set the bar too high for most film adaptations of books. So like I said, I'm conflicted. It's not that I don't think the movie will be good; it's that I resent it being marketed as "The One True Movie of the Book" when it's blatantly not.

| | |
| --- | --- |
| | [3] |
Just found a great link on MetaFilter: Chicago Then & Now. A photographer attempts to reproduce some photos taken of the city from over fifty years ago. It's interesting to see how some shots look almost the same (some buildings even have the same signage!), while others are depressingly different. As I read recently, architecture is the only form of art which is regularly allowed to be destroyed. My dad mentioned to me recently that the Sun-Times building has been demolished to make way for a Trump Tower. That's just sad, people.


I just spent, like, an hour and a half reading this recounting of the Azaria Chamberlain case. It's fascinating stuff, especially to an American whose only previous knowledge of the case was based on Elaine Benes sneering "Maybe the dingo ate your baby!" According to the Snook, up until very recently most Australians still felt that Lindy was actually guilty. It's just mind-boggling.


Apologies for not blogging much lately (and not putting up our trip photos), but I'm absolutely knackered. I came back from holiday and jumped right into a Hell Week at work. We have officially moved Tapestry Craft to its new location at 50 York Street. It's only about ten doors down the road, but sheesh, do you know how many products we have? Like 30,000. Oh, and we already sent out cards telling all the customers we were opening this Saturday. The move itself would have been difficult enough without the additional problems of the new shop not being, you know, completed. I felt like ass from my cold but it really was an "all hands on deck" situation, so I worked pretty much 'round the clock. Friday night was a haze of painting, cleaning, carrying, and stacking. I staggered home at 3:30 am for a couple hours sleep before our opening at 9. It was, to put it mildly, a disaster. The stairs between the two floors weren't even done, which meant that customers who wanted to visit the knitting section had to walk all the way around the block to the back door. The computers weren't set up (which meant we couldn't look up any prices) and the cash drawers weren't connected (which meant we were making change for customers out of our pockets). We also seriously underestimated how many rubberneckers would show up on the first day so we were pretty busy the whole time. At least it made the hours fly by. I couldn't even go to sleep when I got home; I'd already agreed to go to a friend's for dinner. By the time I hit the sack last night, I was practically a zombie.

So yeah, that's why I haven't been posting. I'll be recovered soon.

Wednesday, December 8, 2004
| | |
| --- | --- |
| | [5] |
I hope you're seeing lots of movies over the holiday season... because the Third Annual Web-Goddess Oscar Contest will be starting up very soon! (Awards night is February 27, 2005.) Want to hear a secret about the prize this year? I don't think it's going to be a monkey. Christopher e-mailed me a while ago with his idea for a "Soctopus," a brilliant idea whose time, I feel, has finally come. Stay tuned!

| | |
| --- | --- |
| | [3] |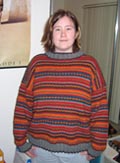 A solstice a long time coming...
I am so happy to report that my Jo Sharp "Solstice" sweater is finally finished, nearly two years after I started the damn thing! I ran into difficulty in September (2003) when I started sewing it up and realized that I'd made a complete cock-up of the drop sleeves. I'd cast them off too tightly, which meant that the armhole was rather tight and not nicely drapey like it should be. Unfortunately I only realized that after I'd sewn the sleeves on and woven about 50,000 ends into the seam. Frustrated and annoyed, I packed it in a bag and set it aside to work on happier projects. It languished for over a year. Periodically I'd take it out and pick at the seam, then sigh and put it away. I just couldn't deal with it, you know? Then last month I had a flash of inspiration: Why not pay somebody to fix it for me? So I took it in to work and gave it to Ann, the lady who runs our knitting clinic. She worked on it all through our holiday and had it ready for me when I got back today. She not only fixed the sleeves (and added a bit more needed length), but she also seamed the sides, knitted the collar, and wove in the remaining 100,000 ends! Of course, as part of the deal I had to put up with a fair bit of griping and criticism from her about my crappy finishing techniques, but hey, I was a beginning knitter, all right? And she did compliment me on my even knitting, which was nice. (Apparently my final measurement was only two centimeters off the 130 specificed in the pattern.) At any rate, it's finally finished and I can wear it... in about six months when this damn summer heat wave ends. *sigh* But aren't the colors great? I wanted something big and crazy bold to wear with jeans in winter, and I think this will fit the bill nicely.

| | |
| --- | --- |
| | [5] |
Okay, seriously, Notre Dame's Alumni Association are scaring the crap out of me. They're like the Catholic Mafia or something. First incident: earlier this week I received the annual ND "Christmas-card-and-donation-plea" but was surprised to see it addressed to both myself and the Snook. How in the hell did they know we got married? I didn't tell them. That's spooky. And then today I got an e-mail asking me to fill out an alumni survey... addressed to my Gmail address. I've never given them my Gmail address. How do they know this stuff? How is it that members of my own family don't even know my address over here but Notre Dame has me under total surveillance? Am I the only one?

| | |
| --- | --- |
| | [4] |
I got an e-mail this morning notifying me that the new Knitty is up, but before I could even settle down into it Andrew forwarded me a link to this pattern. Heh. (Based on the URL, I thought it was going to be a wombat.) Maybe I'll knit him and Kathleen one for a wedding present? :)

Later: Okay, now that I've had a read, there are a couple other patterns that caught my eye. This hat is adorable and I love the little skiers. This cuff may tempt me into trying bead knitting. I'm always up for more socks. And I know the Snook would love a tux penguin! But my absolute favorite is Belle Epoque. *swoon* Sooo Elizabeth Bennet.

| | |
| --- | --- |
| | [8] |
Place the State. How well do you know your US geography? My score: 96%, 8 miles, 319 seconds. (I really only messed up one or two at the beginning and then the rest were all perfect.)

Tuesday, December 7, 2004
| | |
| --- | --- |
| | [3] |
Turn your Mac into a typewriter. Well, not really. But that nifty bit of shareware makes typewriter noises whenever you push a key, including a nice clunky carriage return when you hit "enter." It scared the crap out of the Snook and made me giggle like crazy, which is pretty much a glowing recommendation. :)

| | |
| --- | --- |
| | [3] |
The comment spam is really, really pissing me off. I'm happy in that I've succeeded in keeping it from showing up on the site, but I still growl every time I log in and find I've got 400 pending spam comments to delete. I've just coded in my latest grenade in this escalating war: a limit on the number of links per comment. Let me know if any of you legitimate users bump into it. (I don't think you will.) Is there some way I could show this crap to Google and just, you know, have them remove comment spammers' links from their index? Because that would rule.


Whoa! Somebody on MetaFilter is reporting that a friend got busted by US Customs after a bar of Lush soap tested positive for THC. She was threatened with jail time and received a $500 fine. And there I was three months ago, blissfully unaware as I marched through airports across the US carting about twenty pounds of Lush products home for the fam!

Sunday, December 5, 2004
| | |
| --- | --- |
| | [5] |
We're home. And while it was so awesome to see my family again, I've never been so happy to get back after a trip before. Almost three years to the day since I migrated here... and I guess it's really finally home in my heart now. We've got lots of pictures and stories to tell, but for now I'll be sleeping off my cold and my jet lag for the next 24 hours. Many thanks to Helen for watching the fort for us. (And as for the cat? We might as well have only been gone for an hour. Sheesh.)

archives
You can search through the archives by post keyword using the form on the left, or you can browse by month using the links at the bottom.
"Moblog" refers to posts and images posted directly from my mobile phone.

"PW Blog" refers to posts recovered from my very first weblog, which dealt with news related to my college dorm.