Saturday, December 31, 2005
| | |
| --- | --- |
| | [1] |
Don't forget to go play a round of "I Never" at Tara D's Friday Pseudo-Drinking Game. Today's items are fun...

Friday, December 30, 2005
| | |
| --- | --- |
| | [4] |
Often when the Snook and I are in a shop, one of us will spot an item and whisper: "That's for the Basement." This refers to a shared dream that we have of one day owning a house with a large furnished basement, which we will decorate with all the nerdiest, coolest retro kitsch we can find. Our Basement is definitely going to have a Tiki Bar. It will have soft-focus 70's paintings (or possibly needlepoints) of doe-eyed tropical naked women on the walls. It will have shag carpeting. Cocktails will be served in multicolored aluminum drinking cups. And in the corner will sit one of these beauties...

Thursday, December 29, 2005

Ooh, you can now input your latitute and longitude on your MetaFilter user page! There are only a couple of us listed in Sydney so far.

Wednesday, December 28, 2005

To this day, I'm unable to go into a Dunkin' Donuts without thinking: "Time to make the donuts!" Rest in peace, Fred the Baker.

Tuesday, December 27, 2005
| | |
| --- | --- |
| | [1] |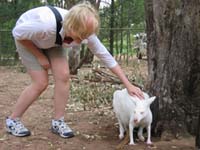 Zoo pictures are online!
And what did you do for Christmas this year? Me, I patted an albino wallaby! I also drove over six hundred miles, got slobbered on by a giraffe, played a round of Putt-Putt of Death at the crappiest "tourist attraction" in history, and ate my weight in Christmas pudding. Oh, and no sightings of the murderer, though there was a (debatable) avian homicide.


I cancelled my Blogger account way back in 2001, and I've resisted the impulse to register again ever since... but as of today I'm back. No, I'm not moving away from my home-grown system; it's just that I got an invitation to join a new Sydney grogblog* called The Martini Club. So those of you with Blogger sites may notice that my comments are signed differently. Just in case you wonder!



* I just made that up. You read it here first, folks!



Sunday, December 25, 2005
| | |
| --- | --- |
| | [2] |
Moblog: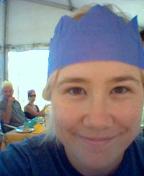 Happy Christmas!
Stopped for lunch in Mudgee, the traditional Christmas crackers included. Not a cloud in the sky and merriment abounds. We hope you and yours have a great one too!

Saturday, December 24, 2005
| | |
| --- | --- |
| | [6] |
Moblog: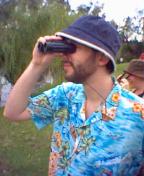 Dawn at the Zoo
They opened the zoo today so the weekend isn't a total loss. No sign of the murderer. We're off to see the meerkat feeding! And isn't my hubbie rockin' that Hawaiian shirt?

Friday, December 23, 2005
| | |
| --- | --- |
| | [2] |
Moblog: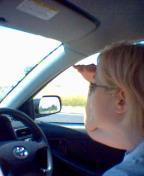 Christmas Manhunt
Six hours into the trip and we just got a message that they've closed the zoo... because there's a MURDERER on the loose. Seriously. This will be quite the adventure.


I know a lot of people who are going to be getting a very special cross stitch bookmark for Christmas next year...

Wednesday, December 21, 2005

Have a tricky question? Now you can just ask Christopher. Trust me, he knows his stuff. After all, he invented the Soctopus!

| | |
| --- | --- |
| | [1] |
Boob Paintings. That just about says it right there.

| | |
| --- | --- |
| | [3] |
We just had an American tourist in the shop asking if our knitting patterns were in ENGLISH. The mind boggles. I told Heather she should have responded in made-up funny-talk. To paraphrase Eleanor Lavish, they really should make travellers pass a test at the airport.

Tuesday, December 20, 2005
| | |
| --- | --- |
| | [9] |
Ebert's Best 10 Movies of 2005. Good grief, I haven't seen ANY of these.


Oh my stars. Just checked the forecast for Dubbo, where we're headed for Chrissie this weekend... and a HUNDRED degrees? ARE YOU KIDDING ME? I'm gonna melt.

| | |
| --- | --- |
| | [1] |
Help me; I'm gagging. Seriously.

| | |
| --- | --- |
| | [4] |
Yeah, yeah, Americans are fat. Tell us something we don't know. I did object to something in that article though: "...three out of four people in the country will have a body mass index of more than 25, the benchmark of corpulence." Corpulence? It's the benchmark for being overweight, but I hardly think that qualifies you for CORPULENCE. I'm currently at 26.7 and I wouldn't say I'm "excessively fat." Pudgy, yes. But not friggin' corpulent. Sheesh. (Also note the graphic of fattest states down there at the bottom. Indiana made the list!)


I just discovered an incredibly useful AskMetafilter thread about Photoshop tricks. People list a ton of keyboard shortcuts that I never knew existed. And here I was thinking I was flash because I knew that holding down the space bar gives you the hand tool!

| | |
| --- | --- |
| | [23] |
Me: So the whole blogosphere is talking about how foul Turkish Delight really is. Well, not foul, but certainly not something you'd sell your family out for. Now that's an interesting question. What would the White Witch offer you? What would you sell me out for?
The Snook: Hard drives.
Me: Hard drives??
Him: You can never have too many hard drives.
Me: I meant CANDY, you idiot!

So that's the question. What confection would the White Witch offer you? For me, it would definitely be either Erdbeer-Joghurt Milka bars... or possibly some combination of chocolate and peanut butter. Maybe buckeyes. Buckeyes would definitely do it.

Monday, December 19, 2005
| | |
| --- | --- |
| | [3] |
That was a relaxing weekend. I spent most of Friday reading: Bev Vincent's The Road to the Dark Tower, Volume 1 of The League of Extraordinary Gentlemen, Volume 1 of The Sandman, and the beginning of Stephen King's Everything's Eventual. (Yeah, I've been on a bit of a Dark Tower-related kick lately.) Saturday we hit the Glebe Markets, watched about a dozen TiFauxed episodes of Scrubs, and dined on excellent Vietnamese food at Saigon Saigon. Then on Sunday it was over Willoughby for dinner with the in-laws. Only four more days til I'm on Christmas break!

Friday, December 16, 2005
| | |
| --- | --- |
| | [4] |
RunningBlog: Trail Note
I haven't run much this week. I've been feeling kinda lethargic and crappy, and it seems like I've had a headache every day. I kept planning to run and then I'd still be sitting there two hours later, thinking I just didn't feel like it. I thought that maybe my body was telling me I needed a break. Then today I finally just forced myself out there... and now I think that lack of running was the source of the whole problem! It's like I just cleared out all my psychic crap and my energy's flowing again. I felt good, really good. I ran across Cleveland Street and through Darlington, then up King Street through Newtown all the way to St. Peter's. Then I turned around and ran back up to Missenden Road, down through the University, and across Vic Park to home. Took me about fifty minutes all up. I also noticed that I don't feel embarrassed running now. I used to imagine everyone was staring at me and that I must look incredibly awkward and funny and weird, and that the ground must be shaking with every heavy footstep... but today I actually felt light and fit and healthy... and, frankly, damn sexy. I like this feeling!

| | |
| --- | --- |
| | [4] |
OH MY! We just watched the Amazing Race finale, and... (Don't look, Robert!) [more...]


What the hell? Now they're telling people to avoid Bondi, one week before Christmas? This could get very ugly.


I have these trivia quizzes over on my Dahl site, and anybody who gets a perfect score gets their name published on the Trivia Master Board. Of course, kids being kids and all, I have to check the names before they get posted lest I end up with a bunch of naughty words. This morning I was scanning through 2500 names (yeah, I don't update much anymore) when a few actually caught my eye and made me grin:
"Homer Sexual"
"IShouldGetOutMore"
"Joseph Sciancalepore (Shank-la-poor)" It took me a minute to realize he was giving me the pronunciation.
"poopala"
"Southern Gentleman"
"STEPHANIE CULLEN (I PREFER TO BE CALLED STEPH PLEASE)"
"vermicious ED"
And I only had to delete about 20 obscenities! Maybe the children are our future...

Thursday, December 15, 2005

Good grief. If Marty and Jess can't make it work, what hope do the rest of us have?

| | |
| --- | --- |
| | [9] |
An actual e-mail from an actual (former) customer

no, what i was enquiring about in your shop today was not 'for my wife'. i have never come across such blatant patronising sexism. i have been working with wool and canvas for over 30 years and wanted to know the price of mono 14 count canvas. i will never shop in your premises again and i will relish in regaling my sordid tale and actively encouraging everyone i know stitchers and knitters alike to avoid your store at all costs

I'm still shaking my head over this. I sent him an apology, of course, but here's what I WISH I had written:

Dear Polly Prissy Pants,
Give me a break. Ninety-nine percent of the men who come in our shop are only there to pick something up for a female family member, and most of them get so defensive about the fact that they're in a "craft store" that you'd think we were giving free castrations out the back. So if a member of staff accidentally implies that you might not be shopping for yourself, that's not sexism... IT'S STATISTICS. We're all about guys who stitch. Seriously. Ask any of the (admittedly few) guys who come to the shop SnB. They're treated like rock stars. Needlecraft has been belittled as "women's work" for so long that when anybody with a Y chromosome takes an interest, we fall all over ourselves trying to help them out. We think it's sexy. (See: "Russell Crowe knitting".) So maybe you could, like, GET OVER YOURSELF, okay? I deal with "blatant patronising sexism" every day of the week, so forgive me for dismissing your cries of "Help, help; I'm being repressed!" Call me when you're getting harrassed on the street and earning seventy-five cents on the dollar. Seriously. I'll teach you to knit.

Obi-Wan and AIDS babies. Could Ewan McGregor be any nicer? He could not.

| | |
| --- | --- |
| | [6] |
"The Lion, The Witch, and the Really Foul Candy." Heh. A lot of kids are going to be in for a shock when they get their first taste of Turkish Delight. Oh, and I could've written this article... last year!

Wednesday, December 14, 2005

Dude, how come I never see ads for volunteers to lay in bed for two months until too late?

| | |
| --- | --- |
| | [2] |
Since a couple people have asked me about the riots in Sydney, no, they're not anywhere near us. It's all way, way out in the suburbs. Just to illustrate, there's a map of "Sydney" in that article and I thought the BBC had screwed up at first by putting the airport on the northern side of the harbour. However, discussion with the Snook confirmed that the body of water shown is actually Botany Bay, thus most of what people think of as Sydney (and the part we actually live in) is off the screen to the north. So don't worry about us.


Jon just posted a huge and fascinating photo-essay about his recent trip to Seaside, Florida. He and his colleagues were studying New Urbanism, which as I understand it is a form of city-planning that Seaside (and a few other towns) exemplifies. I actually visited Seaside with the fam a few years ago as a break between theme parks, and all we really knew about it was that it was cute and it was "that town from The Truman Show." It's interesting to look at Jon's photos and see a lot of the features (and the reasoning behind them) that we missed.

Tuesday, December 13, 2005

Oh. My. God. We just had our company Christmas Party at Una's on Broadway... and I have never seen such an amount of food in my life. I'd made the booking and I repeatedly called the guy to confirm that we were bringing twenty people, and since we were having the set banquet menu I was expecting maybe, say, one schnitzel per person, that kind of thing. Instead they just kept bringing out platter after platter of stuff. I swear we had at least SIXTY pieces of deep fried camembert all up, and then there were platters of sausages and sauerkraut and vegetable strudel and two gigantic rosti the size of dinner plates... It was just too, too much. It was easily twice as much food as we could have possibly consumed. It was like some sort of Elizabethan feast. Of course, that kind of excess is just what you need for a holiday gathering! (Yes, I'd given myself permission to pig out. I've earned it.) I saw a stack of about eight takeaway boxes awaiting Albert as we waddled off home...

| | |
| --- | --- |
| | [1] |
Um, just in case you Hoosiers missed it, the actually VOICE OF FROGGY (from Froggy's Pad) left a comment on my site! I can die now.

Monday, December 12, 2005
| | |
| --- | --- |
| | [11] |
DietBlog: It's like the best Christmas Present ever.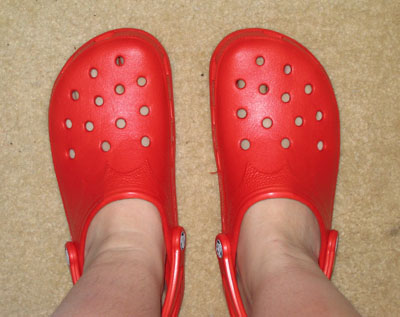 [more...]
Saturday, December 10, 2005

RunningBlog: Ferrets, Farmer's Tans, and a Trail Note
In case you're wondering what happened to CouchCam, it's currently facing the wall to avoid offending your delicate sensibilities with the sight of a half-naked Scotsman. That's right, folks, Ben (aka WeeB, aka The Ferret) is visiting us in Sydney for the first time. He flew in Thursday night and we immediately took him out for a Nepalese feast at House of Kathmandu. (The best part was the complete lack of guilt I felt, given that I'd had a run that morning and watched my Points all day long.) Friday was devoted to giving Ferret a tour of our fair city. We walked for probably five hours all up, taking time in the middle of the day to join the Snook and his co-workers for lunch. It was a bright and beautiful day, and despite my slip, slop, slap I still ended up rockin' the farmer's tan. (Check out DeskCam; only a true Midwestern girl could get a line like that.) I snapped a couple pictures not realizing that my camera was in some weird overexposure mode, but I kinda like the results: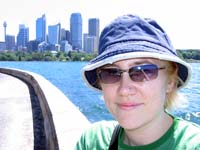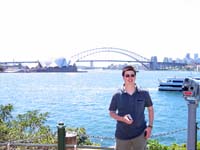 In the afternoon I went on my longest run yet: all the way down Cleveland Street to the Sydney Cricket Ground, around Fox Studios past the horse stables and up to the start of Centennial Park, then back down Anzac Parade to Cleveland, turning right on Chalmers and running around Central Station before heading back down Broadway to home. Elapsed time: one hour five minutes. Distance: 8.5km (which, due to the fuzziness of my pedometer's calculations, I'm dubbing "Kristy Mystery units"). I can definitely tell I'm improving though. Once I get warmed up, I don't really need to stop and walk at all. (What rest I need I'm getting at traffic lights.) I'm also enjoying myself more, and I think I'm starting to get into that mental state runners talk about where you just seem to be able to brainstorm and work things out and solve the problems of the world. Maybe it's a rhythm thing and I'm getting consistent enough that I go into a kind of self-hypnosis. *shrug* At any rate, it's nice to finally be able to think about things other than the screaming aches and wearinesses of my own body. When I came to the cricket field at Sydney Boys' High, I headed to the right intending to skirt along the footpath, but then impulsively I decided to head right across it instead. Nearby a young guy was teaching a little kid to skateboard, and an old couple were throwing tennis balls to their dogs, who were rolling around on the grass in doggy ecstasy... and I just couldn't help smiling. Some days Sydney just won't let you be in a bad mood.

Friday, December 9, 2005

*Gasp!* Two new knitting bags from Jordana Paige. We haven't gotten these in the shop yet, but I am SO ordering in this pink and black tweed messenger bag. I like the satchel too, but it's not the sort of bag that I'd ever carry. And dude, did I mention that we actually sold one of the graffiti purses? I couldn't believe it.

Thursday, December 8, 2005
| | |
| --- | --- |
| | [9] |
Moblog: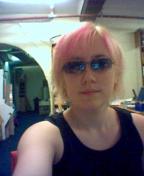 New sunnies!
Damn, it has been hot and sunny these last few days. I'm frantically trying to get the shop website ready for the start of our Christmas sale on Saturday – Shhh! – but I took a few minutes at lunch to buy these from a dodgy geezer outside Coles. They're supposedly "genuine Ray-Bans" and they set me back $20. (Ray-Ban is at least spelled correctly; no SORNY for me!) And can I just say, I am loving myself sick in this black tank top! I am mesmerized by the sight of my own collarbones. (Related note: I just realized I can tighten my belt to the last hole!)
Tuesday, December 6, 2005
| | |
| --- | --- |
| | [6] |
DietBlog: I don't want to jinx it by being too optimistic, but I had a good week. I ain't breakin' out the red Crocs just yet but we're nearly there. And while I did take the night off from exercise, I didn't use Moron Customer's comment as an excuse to self-destruct tonight. That's a Good Thing.

| | |
| --- | --- |
| | [1] |
Serenity as performed by hand puppets. That's pretty funny. I liked that they referred to Mr. Universe's "girlfriend" as the Buffybot. (Link courtesy of PCJM.)

| | |
| --- | --- |
| | [9] |
Customers Who Can Bite Me Today:
Italian lady in the acid wash jeans who asked a hundred questions and swore up and down that her friend bought some ball of wool here that we Just. Don't. Sell. She then proceeded to pile up four hundred dollars worth of yarn on the counter only to decide to leave half of it at the last minute.
The vandal who ripped half a dozen pages out in the middle of a $50 Rowan magazine. Listen, jerk, do us a favor and just steal the book if you want the pattern so damn bad. Don't frickin' RUIN it.
Titsiana. Yes, her. We had a shoplifter on the weekend walk out with two pairs of rosewood needles and the kit for the Anny Blatt wrap I knitted. That's well over two hundred dollars worth of stuff. Upon reviewing the security footage, guess who it was? I can't bloody believe it. Maybe that was her plan all along, to freak everybody out with her glistening boobs and her crazy personal space issues so that the staff keep far enough away from her that she can do her thieving.
The nice regular customer lady who complimented me on my new hairdo and then, while I was digging out some embroidery scissors for her, added "Congratulations..." and then time seemed to slow down and in that nanosecond I had about fifteen guesses for where that sentence was going to go, things like "Congratulations on your wedding!" or "Congratulations on losing the weight!" but instead she said IT, the thing that makes my blood boil – "Congratulations on the baby!" Blank stare. "THERE. IS. NO. BABY." "Oh my, I'm so sorry! I shouldn't..." "THEN LET THIS BE A LESSON TO YOU."
Of course, it's really that last one that burns me up the most. Here I was finally getting some confidence back and feeling really good about tonight's WW meeting, and then some RUDE MORON has to go and ruin it all like that. The Snook tried to put a positive spin on it: "Really you should take it as a compliment, because what she was really saying was that you have a small bum." And I can see where he's going with that, but it doesn't help much. All the weight I've lost just serves to accentuate the pot belly even more. CURSE MY APPLE-SHAPED GENES!

I am a marketing genius. It hasn't even been a week and we've already sold FOUR of the Jordana Paige bags. Of course, business acumen is a double-edged sword... We're sold out of the brown messenger bags, which was the one that I wanted for myself. :(

Monday, December 5, 2005
| | |
| --- | --- |
| | [10] |
That million would've come in handy.
I should mention that I did not make it to the Big Brother auditions this year as I had intended. Instead the Snook and I began our pursuit of the great Australian dream – we went house hunting. That's right; we two perpetual adolescent geeks are actually planning to buy a house. Or rather, a flat. It won't happen for months and months but we figure it doesn't hurt to get a feel for what's available. We checked out four places in this area... and to be honest, they were all CRAP. None of them were as nice or as big as our current place. (Yeah, we'd buy this place if we could, but the damn letting agency owns the whole block and they're not selling.) At least now we feel slightly better about our recent rent increase. But anyway, yeah, Australia will have to wait another year for the Web-Goddess-on-Big-Bro phenomenon. I'm sure you're all devastated.



Now I'm just bracing myself for inevitable hysterical "YOU'RE STAYING IN AUSTRALIA?!" phone calls from the fam...



| | |
| --- | --- |
| | [1] |
Apparently the first issue of YARN Magazine should be hitting the newsagencies this week! Any Sydneysiders spotted one in the wild yet?

Update: They sent the shop a copy! I like the articles, look, and vibe of the magazine, but I have to say that the patterns didn't especially grab me. I did like the felted wine bottle socks though, and the Twilley's Denim cardigan is pretty...

Sunday, December 4, 2005
| | |
| --- | --- |
| | [2] |
RunningBlog: Trail Note
On Wednesday I bought a new pedometer, one with a stopwatch and distance calculation built-in. The distance thing is a bit of a crapshoot; you tell it how long your stride is and it multiplies that by the number of steps you do. Factor in the fuzziness of determining a "step"... and the error factor gets pretty huge. I've used it twice on my regular Pyrmont run now and I'm still getting a distance of around 5K. The ability to stop the clock when I'm waiting at stoplights certainly helps though. I've cut about five minutes off my time just from that. It's still taking me about 45 minutes to do the circuit though, which is a good ten minutes off my last competitive time. Oh well. It's a hilly course and even when I'm not stopped waiting at lights, sometimes I have to slow down for cars and pedestrians. I'll get faster. (I saw the hypnotherapist today, in case you're wondering where this tentative optimism is coming from.)


On my way home from work tonight, I could swear I heard a far-off wailing noise, almost as if someone in, say, Perth was crying out in devastation. Poor Robert. You could've been a Fern! At least we know that there will be another season of the Race, and that it won't be another of these crappy "Drive between various BP stations in the U.S." versions...


Note to Self: If your iPod freezes up again, this is how you reset it.

| | |
| --- | --- |
| | [11] |
Goblet of Fire Review:
Okay, now I feel like I've had a few days to digest the movie and I can talk about it objectively. I'd warn you that there are spoilers ahead, but if you haven't seen it and you haven't read the book, what the heck are you doing reading this anyway? [more...]

Saturday, December 3, 2005

"Whore-Stand." Oh man, that is hilarious. I love Max's funny teaching stories. Now I'm going to have to go read The Scarlet Letter.

| | |
| --- | --- |
| | [4] |
DeskCam: As usual, I went to see my hairdresser Paige tonight with the simple intention of touching up my roots and having a trim. As usual, I left with something completely different. It's shorter, blonder... and with rockin' new hot pink highlights. It's like Sienna Miller meets Jem and the Holograms.

Friday, December 2, 2005

It's the little things. I just realized that A) my BMI is 27.5, which means I'm no longer "obese" and I'm halfway to my healthy range; and B) I've dropped down a level on my WW exercise Points calculator. (Technically this isn't so great, because it means I earn less Points for the same exercise because I'm moving around less poundage, but it's still nice to move that little slider to the left.)

Thursday, December 1, 2005
| | |
| --- | --- |
| | [6] |
Woohoo! The big day is finally here! I've got my Gryffindor scarf on - yeah, I'm sweating - and there's less than twelve hours to go. I've also got an extra ticket to the 8:15pm showing at Broadway if anybody's interested...

| | |
| --- | --- |
| | [1] |
Hee! Now my computer has Christmas lights.

archives
You can search through the archives by post keyword using the form on the left, or you can browse by month using the links at the bottom.
"Moblog" refers to posts and images posted directly from my mobile phone.

"PW Blog" refers to posts recovered from my very first weblog, which dealt with news related to my college dorm.