Sunday, December 31, 2006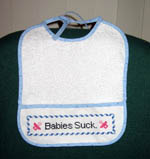 Babies Suck
I made my sister another present for Penn. It's a baby bib! The design came from subversive cross stitch, and the bib itself is from DMC. I managed to finish it in just one day, despite not being the world's greatest cross stitcher. (Yeah, I know it's not quite centered properly.) And don't worry; I already floated the idea to her on the phone and she loved the sentiment. New mothers are all about sarcasm, I guess.

Saturday, December 30, 2006

Prague Restaurant
On a whim last night, I rang Prague in Potts Point to see if they were booked out. It's a well-known Czech restaurant famous for its food and beer, and the Snook and I have been talking about going there for ages. The nice man said he could fit us in at 7 so I headed off to meet the Snook to celebrate my last day of the sale. We were seated in the upstairs area, and I was quite surprised at how modern and posh it seemed. (I was expecting more of an "oom-pah-pah" atmosphere like Una's.) We settled in with half-liter mugs of beer and watched the rain come down. I ordered the "Bohemian Party Dish," while the Snook had the Goulash with Bread Dumplings. It was a TON of food. I particularly enjoyed my potato pancake and smoked sausage (which reminded me of Eckrich Farm sausage at home, and how much I missed that). We finished the night with another beer, the Gambrinus. I was all very enjoyable, but I have to say I think I still prefer Una's. Prague was like visiting an actual high-class Czech restaurant, while Una's is more of a friendly family place. The older I get, the more I realize how much I prefer the latter.

| | |
| --- | --- |
| | [4] |
The January 2007 issue of Australian Women's Weekly has a pattern for a "Gumnut Babies Hat," for those who might be interested. It's a little garter stitch helmet with ear flaps, and it features stuffed gumnuts or wattle hanging off the sides. It's a little daggy, but still kind of cute.

Thursday, December 28, 2006
| | |
| --- | --- |
| | [8] |
The Knitting Spectrum
On one hand you have a knitted piece of Christmas poo, and on the other you have knitted mathematical representations of hyperbolic space. And I like both of 'em!

| | |
| --- | --- |
| | [2] |
Debunking the World's Most Expensive Chocolate. Awesome article. The Snook's going to like it; he likes quality chocolate. Me, I'm happy with 99¢ Easter bunnies from the drug store...

Wednesday, December 27, 2006
| | |
| --- | --- |
| | [25] |
I Invite You to Judge
I just had the rudest customer in the shop, but it occurs to me that maybe other people think such behavior is acceptable. I appeal to you, O Wise Internet, Arbiter of All Etiquette. What do you think? There's a poll down there on the right. Here's the situation: [more...]

Tuesday, December 26, 2006
| | |
| --- | --- |
| | [3] |
Does anybody know why Sunday's Foxtrot (at least on Yahoo's site) was in Spanish? Is it a mistake, or was it deliberate? And what the heck does it say? It looks like the Dad says something about "green pants," and Jason replies with something about George Lucas. I'm lost.

| | |
| --- | --- |
| | [8] |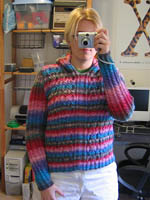 Cabled Jacket of Doom... VANQUISHED
Okay, I've officially been working on this project for six months now. First I had to contend with the problem of multiple errors in the pattern. (Suck it, Debbie Bliss.) Then the cat decided she liked the taste of Noro. At the end of July I realized I was running short on wool and decided to frog the whole body back and reknit it a smaller size. (Major kudos to Calico & Ivy for having more of my dyelot, and to Don at Prestige for helping me track it down.) In August I declared that this jacket was "my Everest," and that I'd "finish it or perish in the attempt." I hadn't even gotten to the frackin' sleeves yet. The steeking was relatively pain-free, thank God, and I started the collar without too much trouble. In September I started the sleeves and decided to turn the collar into a hood. I was just a few steps away from finishing it... and as Indiana Jones says, "That's usually when the ground falls out from underneath your feet." Unthinkingly, I knit my sleeves according to the pattern, and when I went to sew them in they wouldn't fit. (It's all because stupid Debbie Bliss assumes you get her row gauge, and I so didn't.) So the jacket went on a shelf for three months while I brooded over this final obstacle. On Friday night, I pulled it down and started frogging back the sleeves. People, I knit those sleeve tops FIVE TIMES over the past three days. Not only was I working without a pattern, but I was also contending with my own freakishly broad shoulders. But last night - FINALLY - I got it. I GOT IT. I needed to keep the momentum going. Back to the collar-turned-hood. Yeah, I had to frog that back once to re-work the shaping. Again, I was basically inventing here, though I did get ideas from both Rogue and Janda. I used a three-needle cast-off to join the hood seam this afternoon. Check it out. I'm still not happy with the excess material at the back of the neck (which I think is a remnant from the original standup collar design) but I'm not going to redo it. How often do people wear their hoods up anyway? It looks great down, so it's staying. Now I just need to steek the front, sew in a zipper, and maybe do an I-cord border around the whole front edge.

But the important thing is - I WIN! This jacket threw everything it had at me, and I defeated the sucker! This sweet sense of victory almost makes up for the fact that I spent the entire Christmas holiday sitting on my couch, giving myself premature arthritis.

Monday, December 25, 2006
| | |
| --- | --- |
| | [1] |
Merry Christmas!
We're three days into our four day holiday, and I've been outside the house for a grand total of about ten minutes. It's been great. And you know what else is great? My new friggin' T-shirt. Check out DeskCam. Isn't that the coolest thing ever? Super special thanks to Bex, who got it for me as a gift. That was literally one of the best surprise Christmas presents I've ever had in my life, Bex!

I'll check in tomorrow with a big post about the Epic Battle I've been locked in with the Cabled Jacket of Doom. Suffice it to say, I haven't actually played any Wii thus far. But I think I've broken the back of this sucker. I shall be victorious! (In my new T-shirt.)

Sunday, December 24, 2006

How to make a sock frog. Awesome!


I remember laughing when I discovered that Ma Snook has a CD called Pachelbel's Greatest Hit... but not as hard as I laughed at this comedian's rant about the ubiquitous piece. HILARIOUS. (Link courtesy of John.)

Friday, December 22, 2006
| | |
| --- | --- |
| | [7] |
Dude, I'm posting from my Wii!! This is decidely cumbersome.

| | |
| --- | --- |
| | [1] |
Real Men Wii Standing Up. HA! Only 2.5 hours more until the Christmas holiday officially starts, and I will have four days of uninterrupated Wii and knitting time...


Funny Cat Pictures, again courtesy of the Snook. He says, "These made me laugh til I cried." (A lot of the captions are extremely geeky and Internet meme-related, so they might not be as amusing to those of you who don't spend all your time on Fark, World of Warcraft, MetaFilter, and Slashdot.)

| | |
| --- | --- |
| | [6] |
JK Rowling has announced the title for the final Harry Potter book: Harry Potter and the Deathly Hallows. What does that even mean, really?

Thursday, December 21, 2006

I've had a hankering for macaroni-and-cheese for a couple weeks now, so last night the Snook and I decided to try out Delia's recipe for Souffleed Macaroni Cheese. She describes it as the "best ever," which sounded pretty good to us. It's a rather involved process though, and sometimes Delia's instructions can sound a bit condescending. (For example, she specifies how much water to boil your noodles in.) Our only real problem was that the baking dish we'd heated up was much too small for the volume of pasta we'd prepared. So 2/3 of it went into a nice heated Pyrex baking dish, and the rest went into a cold casserole. If any of you are thinking of trying it out, I'd suggest you go for the biggest, flattest dish you have. You want as much surface area as possible, because the crust is the absolute best part of this dish. The macaroni itself was okay; I'm not a huge fan of Gruyère. But the puffy, crispy, salty (thanks to the Parmigiano) crust is really what makes this special. I'm sorry I don't have a picture - we dug into it as soon as it came out of the oven! (Another tip: When Delia says "generous" portions, she means it. I doubled the recipe thinking I'd freeze the extra two servings, but really it made like six. And those are six Kristy servings, which really are generous.) So overall I'd probably give this recipe a 7 out of 10. Next time I might try a different cheese and see if that makes a difference...

| | |
| --- | --- |
| | [10] |
Knit From Your Stash 2007. I find this idea both intriguing and SCARY-ASS. Only knitting from my stash? For nine months? But... but... what if we get some beautiful new wool in the shop? What if Knitty has a pattern that I simply must make? Truth be told, I do have a massive yarn collection. (I'm onto my fourth large storage box.) And I've actually got the yarn for lots of projects I've been meaning to do. Can I do it? Do any of you DARE to take the challenge with me?


Behold: The Nativity of the Awesome!


My husband e-mailed me a link today to the "Cats 'n' Racks" section of CuteOverload.com. I told him I'm not stuffing Dr. Amy Jones down my shirt. No way, no how.

| | |
| --- | --- |
| | [1] |
Did I tell you I got all my hair chopped off again? Because I did.

Wednesday, December 20, 2006
| | |
| --- | --- |
| | [4] |
People Suck
If you see somebody in Sydney carrying a pink tweed Jordana Paige messenger bag, do me a favor and ask them how much they paid for it. If they hesitate, punch them. Somebody just stole one out of the friggin' shop today. How can people be such jerks?

Tuesday, December 19, 2006

Survivor Finale. I was very happy, to say the least. [more...]

| | |
| --- | --- |
| | [7] |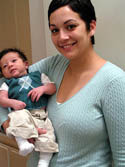 Amy and Penn
Wow. How great does my sister look? Not only did she dress Penn in the argyle vest I made him for his first ever visit to church, but she also color-coordinated her own top! That's some A+ mommying right there. The only downer is that Penn's growing so fast he'll be too big for all the stuff I knit him really soon.


Happy Mac face cross stitch. Cute!

Monday, December 18, 2006
| | |
| --- | --- |
| | [18] |
How did I manage to never read The Handmaid's Tale? That is just astounding. Amy actually recommended it to me ages ago and I dutifully picked it up at the bookstore, but I'll admit I was dragging my feet on actually reading it. You know how when one of your friends really urges you to try something, and somehow that makes you not want to? Like, what if it sucks and you have to reevaluate your opinion of their opinion; or it's really weird and you wonder why they ever thought you would like it? Happily, as soon as I opened the cover I was SUCKED IN. (And I don't mean in the bad way.) I just couldn't put it down. At first it was just the insane curiosity of trying to figure out how someone who lived a life that doesn't sound too unfamiliar to me could end up in a world so very, very wrong. And then once I did figure it out... I just couldn't escape. Dear god, where would I fit in in this world? How could I survive? Every time I turned a page, I thought to myself, "I'd kill myself. I'd absolutely kill myself." By the end there was just so much sadness. I'd have preferred it to finish without the little futuristic coda though. I don't think it added much to the story for me, and there was just such a "Basil Exposition" whiff about the way the speaker talked about Gilead. I resented that it all had to be spelled out like that. Regardless, I closed the book thinking that it was really excellent.

Aaaaaand then I had to go and look it up on the Internet, and find out that it's one of the books a lot of people get shoved down their throats in school, so there's a lot of negative stuff about it out there. There's nothing that kills a buzz faster than knowing that a lot of people think something you enjoyed was really, really lame. (See also: Silas Marner, which I also liked.) Ptooooey.


Life in Chippendale linked to this inventory of pollutants in our neighborhood. Very interesting. The biggest sources are cars (we don't have one), lawn mowing (we don't have a lawn either), domestic/commercial solvents/aerosols (we're dirty pigs), and... "beverage and malt manufacturing." SNOOKUMS!!!

No, really, it's not him. There's a big-ass brewery up the road (that will be closing soon). Besides, he hasn't brewed in ages. It's too hot!

| | |
| --- | --- |
| | [2] |
Wow. Those sure are some purty mittens! (...No! Must finish Easter Show entries!) Link courtesy of Moment to Moment.


My Nintendo evidently has Kathleen's soul inside. HA! Best chuckle I've had all day.

| | |
| --- | --- |
| | [1] |
What the hell. I did it. I just put in my entry for the 2007 Royal Easter Show knitting competition. (Americans: Think State Fair.) I entered the Cabled Jacket of Doom into the "Aran Knitting" category in the hopes that I'd be inspired to get off my butt and finally finish the darn thing. (I've actually finished both sleeves, but when I went to sew them in I realized I need to frog back the tops and redo the shoulder depth. And so I got disheartened and put it on a shelf, as I am wont to to.) It doesn't have a snowball's chance in hell of winning though, seeing as how the judging criteria is "that of authenticity." Somehow I don't think rainbow-striped Noro is very authentically "Aran." It might be interesting enough to get exhibited though. I also entered my Argyle Cardigan in black and pink Superbaby Alpaca... which I've been planning to knit for about two years now. I guess I'd better get on that! I always work much better when I have a deadline.

Sunday, December 17, 2006
| | |
| --- | --- |
| | [7] |
Culinary Experimentation
I decided earlier this week to try out a few recipes from the blogosphere: Staci's "Peanut Butter Balls" and that New York Times "No-Knead Bread" everybody's been talking about. Getting the bread started was easy; I just dumped everything in the bowl and mixed it together. I was worried that my dough wasn't "wet" enough though, so I dumped in some more water. (Mistake.) After I had that covered and fermenting away, I went to work on the peanut butter balls. They're basically the same as my Buckeyeballs, but with Rice Krispies mixed in. As usual though, I had difficulty getting the mixture stiff enough to roll into balls. I wonder if this is because I'm usually making these when it's hot here, whereas in the Northern Hemisphere it'd be colder. I dunno. Anyway, those went into the freezer to set...







On Wednesday night, my dough looked suitably bubbly so I turned it out onto the floured counter and did the "fold and rest" thing. Then I gave it two hours for a secondary rise. Unfortunately... it didn't. It was just way too wet and floppy. We decided to bake it anyway, and the result is the first loaf above. The crust was great but the inside was too dense and chewy. It just didn't rise (and possibly bake) long enough. The peanut butter balls waited in the freezer til Friday night, when I dipped half of them using the leftover white chocolate from Halloween. I did the rest of them with milk chocolate on Saturday night. They're not as pretty as Staci's, but man they're good! I've eaten about seventeen. Ugh. Saturday night we also started a second batch of the bread, this time obeying the recipe weights exactly. We put it in the office to rise (since the abundance of computers makes it warm in here). Today we turned it out... and again, the second rise was underwhelming. It's supposed to double in size, and it just didn't! This batch was much less wet though, and the resulting loaf was much less dense. The crust is incredibly crunchy though. Maybe I gave it too long with the lid off? I have a feeling we're going to be playing with this process a bit.

| | |
| --- | --- |
| | [4] |
We finally saw Casino Royale Saturday morning. (The Snook doesn't like to watch movies when there are, you know, other people in the theater.) He was watching it with the eyes of someone who's read all the Bond novels and seen all the films, and he seemed to enjoy it a lot. He giggled for thirty seconds after the "'How was your lamb?' 'Skewered. One sympathizes.'" exchange. He was also glad that the nut-whacking scene was transferred intact from the book. Me, I mostly just thought the movie was entertaining. I was bouncing around in my seat during the first fight scene in the bathroom. And the whole construction scene chase? Was AMAZING.* The middle section was rather boring for me, especially as I got a little confused about the timeline of the poker game. (I didn't realize it was happening over several days.) Then I had a mega-misunderstanding with the character of Felix Leiter. Somehow when I read the advance press touting Jeffrey Wright as Felix, I mixed it up in my head with Jeffrey Tambor from Arrested Development. So I spent the whole movie waiting for George Bluth to turn up. (I even vowed to send in a complaint to Hoyt's after the movie ended, because "they'd obviously missed a reel" and that bit had been left out. A quick trip to the IMdB left me feeling sheepish.) Anyway, yeah, it was good. Except that we went so early in the morning that I didn't bother to put my contacts in, and the strain of watching a movie in my glasses gave me a migraine and I spent the rest of the day sleeping on the couch. That wasn't so good.

* The Snook leaned over during a lull in the chase to whisper that what the black guy was doing was an actual sport. I'm like, "HUH?" So I looked it up when I got home. Turns out that the character was played by the inventor of free running, a "physical discipline, in which participants... attempt to pass all obstacles in their path in a smooth and fluid way." Neat!

| | |
| --- | --- |
| | [3] |
Sometimes I'm just readin' along on MetaFilter when I see a headline that makes my jaw drop. Today it was the fact that the incidence of the most common form of breast cancer dropped 15% over the course of one year. Holy crap! What was the reason? Scientists are attributing it to the fact that millions of menopausal women stopped taking hormone replacement therapy. It's so weird to think that we can send people to the moon and clone sheep, but we're still pretty clueless about the way our own bodies work.

Saturday, December 16, 2006
| | |
| --- | --- |
| | [7] |
Where's Sam Jackson when you need him?
Y'all will probably chuckle at this story of a seven-foot python being pulled out of some Australian's lady's toilet. It's your basic quirky "Believe it or not" type of fluff journalism. EXCEPT THIS STUFF REALLY HAPPENS. I remember not long after we moved out here, Ma Snook brought down some photos she'd taken at the Snook family residence. (It's about five hours up the coast from Sydney.) There's the garden, there's the garage... and there are two seven-foot pythons MATING IN THE FRONT YARD. I nearly fainted. (For the curious, they were literally standing up on their tails and twisting around each other. It was so weird.) Oh, and then there's also the time that little Kurt, Rodd's nephew, went out to the rabbit pen and then reported to his incredulous grandmother that "there was a snake in there." Nobody believed him until they went out to investigate. A massive python had squeezed through the chicken wire and proceeded to eat all the baby bunnies. They could clearly see the lumps along his body. Of course, he was then too fat to squeeze out again so he was just hanging out in there, digesting. I would just like to reiterate that these events happened at the same house where my beloved Snookums grew up, and were I personally have spent the night on several occasions. Sometimes I forget that once you get outside Sydney, AUSTRALIA IS FREAKING SCARY.


"Knitting for Adults Only." Bah. Like San Francisco knitters are somehow more cool and edgy than the rest of us? Knitty did their Sex & the Knitty issue two years ago!


Even though I find the concept horrifying, I'm pretty sure my Dad would feel like the Hunter of the Millennium if he shot a seven-legged hermaphroditic deer. *shudder* More pictures here. I always knew Wisconsin was weird.

Friday, December 15, 2006

...with club sauce
Historically I've not been one to wear lots of buttons, but I just might have to make an exception.

| | |
| --- | --- |
| | [2] |
A-ha! I just met the mysterious Rose Red in the shop at last. Meeting someone whose blog you've been reading is always a surreal experience.

| | |
| --- | --- |
| | [2] |
I've just finished reading Marie Antoinette: The Journey by Antonia Fraser. I picked it up on impulse at Kinokuniya a few weeks ago with the idea of reading it before the movie comes out later this month. It was fascinating! I discovered that I really knew very little about this period in history. As an American, you learn in school about the French who helped us win the Revolutionary War, and you think of all those guys are noble and heroic. But man, some of them were also horrifyingly bloodthirsty. (Poor Princess de Lamballe!) I also thought that once they'd cut the king's head off, that was pretty much it for the monarchy. Not so; France went back and forth for a good seventy-some years. The book isn't just dry history though. Fraser's writing really has you sympathising with Antoinette from the very beginning, which makes some of the later parts of the book (like the flight to Varennes) feel very thrilling and cinematic. I also liked all the illustrations and paintings that were included. (I'm really looking forward to the costumes in the movie.) Coincidentally, just this week the French government announced that the heart of the dauphin (Marie Antoinette's murdered son) would finally be put to rest in the family's crypt. I think I may have to find some more books on the Revolution...


"Is the Wii overrated?" Not according to Miss Jane and Fiona, who came over for a session on Wednesday night. Neither of these girls are "video gamers" at all, yet they were both squealing "I HAVE TO GET ONE OF THESE!" by the end of the night.

| | |
| --- | --- |
| | [1] |
Well, that's depressing. According to this UN report on aging (found via this Ask MeFi question), the median age of the human population right now is 26. This means I'm older than the majority of people alive in the world. AND SO ARE MOST OF YOU, PROBABLY!

| | |
| --- | --- |
| | [10] |
The Real World
I've had so much stuff to blog about this week, but I just haven't been sitting in front of a computer much. (The Sale has been kicking my butt.) But this info is just too good to wait any longer. A certain designer friend of mine mentioned this week that she turned down an upcoming gig in Sydney to "design a house for some show called The Real World." UM, EXCUSE ME? I quickly learned that yes, it really is the MTV proto-reality show, and their next season is going to take place Down Under. In Darling Harbour. About ten minutes' walk from my house. (They're going to convert the old bowling alley, apparently.) I also discovered that most Australians have never heard of this show. It just somehow missed their radar entirely. As you can imagine, I gave this designer person an earful. "But the Real World house is iconic! It's always super-cool, and you'd be the one to design it!" Nah, she's not interested. Whatever. I'm already planning to rejig all my jogging routes to go by the house. Watch for me next year!

Thursday, December 14, 2006
| | |
| --- | --- |
| | [2] |
I would just like to thank the Snook for sending me a link to this rant, which perfectly encapsulates the frickin' craphole of a day I've had. "The customer is always right" my ass...

Wednesday, December 13, 2006

The 40 Best Celebrity Rumours Ever. There's some nice trashy gossip for you to muse over today...

| | |
| --- | --- |
| | [4] |
Greatest. Baby Picture. Ever. [more...]

Tuesday, December 12, 2006
| | |
| --- | --- |
| | [1] |
And just what am I doing over there on DeskCam? I'm playing with WiiSaber. It's a little application that connects up your Nintendo Wiimote with your Mac and makes light saber noises as you swing around the controller. It even rumbles as you connect with your "opponent." It's way, way more fun than it sounds. (Note: I do get an error every other time I launch the application. If I go into System Prefs and delete the controller from my Bluetooth devices list, then it works fine again the next time I start it up.)

| | |
| --- | --- |
| | [1] |
Fun Quiz of the Day: Hair Care or Digital Audio? I actually scored an amazing 12/14. You'd never guess it, considering the haystack that is currently sitting atop my head. I'm totally getting it all cut off on Thursday. (Link courtesy of Daring Fireball.)


Oh man. If they make a Bob Ross game for the Wii, I will have to get it.

| | |
| --- | --- |
| | [6] |
One's a wish,
two's a kiss,
three's a very bad cold.

Recited to me by a very cute old lady in the shop this morning after I had a sneezing attack

Sunday, December 10, 2006
| | |
| --- | --- |
| | [6] |
I keep forgetting to give a little bit of explanation for my Wii evangelism. A couple people have mentioned that they've been reading the references to it on my site and they just don't get what the big fuss is about. I mean, "it's just a video game, right?" Here's the thing: I'm not a video gamer. I loved Atari and NES back in the day, but I haven't really been into video games in, like, the last ten years. Why? Because all the games suck. They all seem to be first person shooters or real-time strategy... and I'm just not into those. (My all-time favorite games NES games were Tetris and Dr. Mario and Super Spike V Ball.) I don't care that Sony and Microsoft keep pumping out more polygons so I can shoot ever more realistic looking people. That's not fun. So then I read this article about the Nintendo Wii, and here's the bit that really got me: "The classic controller was something we had become fond of and gamers had become comfortable with. It had many important elements. But it also had come to dictate a lot of what went into games—the way graphics were made, the way battles were fought in role-playing games, the arc of in-game stories. They were all being made to fit one standard. Creativity was being stifled, and the range of games was narrowing." Exactly, dude. So the idea was to go in a completely different direction, to step back and see if maybe the way we interact with technology could change the types of game being created. And that's what sucked me in. I feel cheesy for saying it, but buying the Wii was almost political for me. I wanted to let the industry know that there's a market beyond 15-30 year old males. And the best part is - it's actually pretty fun! So now I'm a gamer.

| | |
| --- | --- |
| | [1] |
Wiikend Update: The sad thing is, a week ago I was totally dismissive of reports of "wii shoulder." Now? My right rotator cuff is killing me. And we didn't even play that much! We played for like two hours on Thursday night, and not at all on Friday (since I was at the shop all night). I played maybe two more hours on Saturday. And today my arm kills! It was the tennis. I'm a little bit addicted.

Anyway, today we had Andrew and Kathleen and Steph and Eva over for a little Wii-B-Q action. Kathleen got right into the boxing, as evidenced by the photo below. Steph also worked up quite a sweat knocking out his opponent. Andrew played it much cooler. The six of us had a great time working our way through the various Wii Sports and Wii Play games. (I think my new favorite is the Wii Play where you ride a cow and knock down scarecrows.)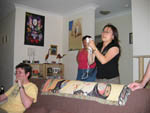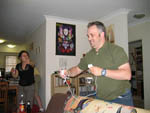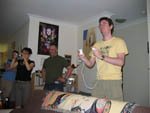 Many, many drinks later (and after I tried rather unsuccessfully to convert Eva to my love of High School Musical)... the guests went home and the Snook and I fired up the Legend of Zelda again. We've decided to play it together and take turns trying to take one character through to the end. We've just made it through the "village" bit and we've somehow turned into a wolf. (?) It's starting to get spooky...

Saturday, December 9, 2006
| | |
| --- | --- |
| | [2] |
RunningBlog: For other Nike+ iPodders: I had an error earlier this week when uploading my latest run. An alert box popped up saying that the "server could not validate" my run data. I did some poking around online and found this method of re-uploading. Unfortunately that still didn't work for me. I sent off an e-mail to Nike outlining the problem and they wrote back to say they were looking into it. I just tried the re-upload method again and it worked! So if you have runs missing from your online totals, give it a try.

| | |
| --- | --- |
| | [1] |
How did I miss the Winter Knitty? I really like Binary, Argosy (especially the Noro version), Piggle (when my hair gets longer, I might have to make one sized for me!), Norberta, and Sheldon. Hmm, it's all toys and accessories. I didn't like the garments much.


Um... some minor glitches. The sale website might be a little bit late.

Later: It wasn't too late. We got there in the end. There's still a slight problem with the stock levels - it says a lot of the sale wool is out of stock when we have hundreds of packets in the shop - but I've done what I can for now. And we've already had nearly $500 in sales on the website! VINDICATION.

Friday, December 8, 2006

Done. That sale is 95% ready to go. We finished at 11:00 tonight... which means I was sitting in front of a computer frantically uploading products for FOURTEEN HOURS. I'm going to veg all day tomorrow.

| | |
| --- | --- |
| | [6] |
Yay! Guess who just won tickets to see Bill Bryson in February? Me! That's a nice little rainbow on an otherwise stressful day... (Sale setup is progressing. I'm trying to stay calm.)


Bad Customer Relations
There is a Quizno's in World Square. I would like to order a sandwich platter for the staff who will doing the sale setup tonight. Unfortunately I cannot find a frickin' phone number for that outlet anywhere. It's not on their website. Neither phone number on whitepages.com works for them. Who doesn't publish a phone number? Especially when their menu says to call your local outlet for catering? No business for you!

Thursday, December 7, 2006
| | |
| --- | --- |
| | [1] |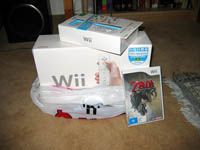 Wiiiiiiii!
It's here! I picked him up tonight from the EB Games on Broadway. We got the Wii, the "Wii Play" pack (which we thought was going to contain an extra nunchuk along with the Wiimote, but it doesn't), and the Zelda game. Apparently the Australian retailers didn't get any stock - consoles or games - beyond what we pre-ordered. So yay for forethought! We cracked open the box as soon as the Snook got home. Installation was pretty darn easy, and it picked up our wireless network and downloaded the required updates fairly quickly. We created our "Mii" characters (little avatars that you use in the games) and then fired up Wii Sports. Moving the controller around is both really weird and really natural at the same time. We started on some training modes just to figure out how it worked. They were amusing, but I'll admit I started to get bored after a while. Then we figured out how to play head-to-head. THAT RULES. We played a couple games of tennis, and then a whole game of bowling (in which I broke 100 for the first time EVER). Then we put in the Wii Play game and had some fun with Ping Pong, laser hocky, and the shooting range. Suddenly it was 10:30 and we'd been playing for two hours. And get this - my shoulders are actually a little sore! This is definitely more of a workout than usual videogaming. (And the Snook burnt a lot more calories than he usually does playing Warcraft.) I'm looking forward to cracking open Zelda on the weekend...

Oh! And we took a couple more pictures. Here's the Snook doing an impressive follow-through during our bowling match. And here's me trying to hit a home run during our baseball training. (Sadly, that's how I hit in real life too.) But the FUNNIEST thing is, I just got an e-mail from one of the Snook's friends who was watching us on CouchCam. And check out the great action shot he got of Dr. Amy Jones!

Wednesday, December 6, 2006
| | |
| --- | --- |
| | [6] |
The Japanese Wii Safety Manual. I'll have to keep that in mind for tomorrow... WHEN I GET MY WII. (Incidentally, the only picture I don't get is the one where the Wii's sitting next to the bags of laundry. What the heck does that mean?)


Lenticulations. I love these. They remind me of looking through a Viewmaster, that sensation of something being almost hyper-realistic.


Dude, check out these hats from the FUTURE! They look like normal winter caps, but according to the manufacturer, they're actually made from some space-age stuff that hardens the exact second something hits your head (like the ground), thus absorbing the force like a helmet. And then they go soft again. Does anybody else find this mind-blowingly weird?

More from the Snook: "It's totally for real. It's like silly putty -- how you can pull slowly and it stretches, but pull it quickly and it snaps. Honey does something like that too. If you stir a pot of honey slowly, it's just thick and gooey, but if you try to yank the spoon really hard it will freeze up tight. Basically wearing one of these would be like having silly putty all over your head (but hopefully more comfortable)."

I love that he's so smart.


Some days my job is just fun. I just spent half an hour helping someone pick out wool to knit a koala suit. What's it for? The forthcoming Snugglepot and Cuddlepie musical. The designer's assistant has been in and out over the past couple of days collecting yarn for the costumes. I'm hoping he'll comp me a ticket...

Tuesday, December 5, 2006

Sweeeet. The Snook's Halloween Meatcake was added to the official Meatcake Gallery!

| | |
| --- | --- |
| | [4] |
Um, not that I'm sitting at work hitting refresh on the BBC Sports site or anything... but ARE YOU GUYS SEEING THIS? The Poms are all out before tea on Day 5, and the Aussies need 168 off 36 overs. This is turning into a ripper of a match!

| | |
| --- | --- |
| | [2] |
Fun link from the Snook: The UnSuggester. You enter the title of a book that you have and it tells you which other books you're least likely to own. He writes: "Interestingly, the first search I did was for The Book of Skulls. Among the unsuggestions are several books in our library - The Lovely Bones, Stitch 'n Bitch, Little Women, Naked. Hmmm... Those are all yours..." I should upload our bookshelves. Obviously we'd blow the system's algorithms.


Huh. My boss Albert was on his way into the shop this morning when he noticed a woman at a stoplight with a coffee cup sitting on her car's roof. He waved to get her attention and pointed at the cup. She called him over to thank him for the head's-up... and gave him $15 in Starbucks gift cards. IT'S A PROMOTION. So if you see somebody driving around Sydney with a cup on their roof, let them know! Even if you don't like their coffee, you can always give the cards to a homeless person.

Monday, December 4, 2006

Photos of crossing the Nullarbor. It's a lot less sparse than I expected. I'd still rather do it this way though...

| | |
| --- | --- |
| | [4] |
Everyone gather around the piano for that Christmas favorite... Jingle Rock Bell! Warning: That song WILL be in your head for the next day.

| | |
| --- | --- |
| | [2] |
Whoa! Scientists in the UK have traced the polonium-210 that killed Alexander Litvinenko to a nuclear plant in Russia. DUN-DUN-DUUUUNNNNNNN! And the Snook just sent me a link to this gem of a Slashdot comment:
But it's so simple. All I have to do is divine from what I know of Putin: is he the sort of man who would get the polonium-210 from his own nuclear reactor or his enemy's? Now, a clever man would get the polonium-210 from his own reactor, because he would know that only a great fool would put the evidence within reach. I am not a great fool, so clearly I can clearly not believe the evidence in Russia. But he must have known I was not a great fool, he would have counted on it, so I can clearly not believe the evidence in front of me.
That is BRILLIANT.

| | |
| --- | --- |
| | [3] |
Wii-Mania has finally gotten the better of me. I haven't been this excited about video games since Super Mario Bros. 3 came out for the NES. (Remember how there was a preview of it in that Fred Savage movie, where his autistic little brother won the Nintendo world championship? Ahhh, youth.) Anyhoo, we placed our pre-order yesterday, thus ensuring that we'll get a machine when they come out on Thursday. Anybody up for a Wii-B-Q next weekend?

Sunday, December 3, 2006

RunningBlog: Nice! My Nike+ iPod Shoe Hack got linked on Podophile, who described it as his "favorite DIY method."

Saturday, December 2, 2006

RunningBlog: Oh, and this article on the possibility of people using your Nike+ sensor to STALK YOU? Is ridiculous. I doubt many runners wear their running shoes everywhere. And besides, if you know their habits well enough to place sensors wherever they're going to be, you might as well just follow them around. It's pointless. Besides, I watch Veronica Mars and everybody can be tracked by their cell phones anyway.

| | |
| --- | --- |
| | [2] |
RunningBlog: It appears that running a marathon in two weeks may have been a little, uh, overambitious. I just can't help it; I'm signed up for two separate Nike+ iPod challenges (one to run the farthest in a month; the other to run 50 miles in the 25 days up to Christmas) and my competitive urge has kicked in. Tuesday night I actually set a new personal best for the mile (10:24) but as I was climbing the hill from Sydney Uni's No. 2 Oval, I felt a sudden stab in my hamstring. Again. Crap. I ended up walking the rest of the distance home. I guess I've been ramping up the distance too quickly. I decided to give it a rest on Wednesday and Thursday. I also started rubbing Voltaren on the muscle a few times a day (since I can't take ibuprofen anymore) and I've taken a couple Epsom salt baths. I also saw a massage therapist Thursday afternoon who gave my legs a thoroughly painful going-over. Friday I felt cautiously optimistic enough to try a short run. I went for a two mile run around Vic Park and tried to concentrate on taking shorter strides and not killing myself. I also ran 90% of it on the grass, which I figured would help. I still felt some pain, but it wasn't really the muscular strain of before. (I think it was just soreness from the massage.) Afterwards I went to GNC to pick up some Endura. It's nast but I'm forcing myself to choke it down a couple times a day. Does anybody else have any suggestions to get me back on the road as quickly as possible?

Friday, December 1, 2006
| | |
| --- | --- |
| | [2] |
Hey Sis, at least Penn wasn't a THIRTEEN-POUNDER!


I think I might have to order the Snook a Polonium-210 Coffee Mug for Christmas.

| | |
| --- | --- |
| | [4] |
Holy crap! And just like that, NaBloPoMo is OVER. I'm proud to say that I didn't miss a single day. My only close call was Saturday the 25th, when I actually had to jump up drunkenly from a picnic table and commandeer Major's computer in desperation. I made it though! Now I'm just hoping I win a prize... *fingers crossed*

I'm a little sad I didn't get mentioned in the W review though.

archives
You can search through the archives by post keyword using the form on the left, or you can browse by month using the links at the bottom.
"Moblog" refers to posts and images posted directly from my mobile phone.

"PW Blog" refers to posts recovered from my very first weblog, which dealt with news related to my college dorm.