Monday, December 31, 2007
| | |
| --- | --- |
| | [3] |
Dr. Amy Jones loves watching people take showers. I'm serious. You'll be in there, scrubbing away, and suddenly realise that there's a cat sitting on the toilet tank and staring at you. Anyway, it appears she's not the only pet to do this.

Friday, December 28, 2007

Hello Kitty Contact Lenses. I kind of want to get a pair just to freak out the Snook. (Link courtesy of John.)

| | |
| --- | --- |
| | [1] |
Mini Socks and Swatches
I whipped up two little objects last night. The first is a little "Sock Blocker Keychain," which came in a kit from Robyn's Nest. Isn't it cute? I believe the yarn was Lorna's Laces. The second project is a swatch for my planned Easter Show entry this year: "Road to Golden" from the Fall 2007 Knitscene. (You can see pictures of other people's versions on Flickr.) I was a bit worried that the acid yellow is too bright and lairy, but so far everybody I've showed it to likes it. What do you think?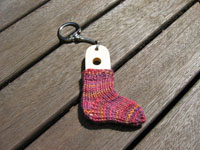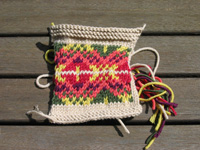 Thursday, December 27, 2007

Wow. It's been two years and they still haven't caught our zoo murderer yet.

| | |
| --- | --- |
| | [6] |
Everybody, mooove!
I took another step on the road to Grumpy Old Ladydom yesterday. The Snook and I somehow got the very stupid idea to head into Myer to look for a new coffee grinder. Of course, everybody in Sydney seems to have had the same idea. (Note to self: When you see police directing foot traffic in and out of a department store, come back another day.) It took us 20 minutes to get from the entrance to the escalators, and it was just a Gauntlet of Suck. We were packed in shoulder-to-shoulder, and yet there were idiots trying to push baby carriages. I passed Titsiana the Thief at one point; she must've been having a field day. (The Snook suggested I point her out to the security guards, but there was just no way.) Anyway, we finally made it within sight of the escalators and joined the queue of people heading upstairs. I stepped on and immediately gritted my teeth. People were just standing all sprawled out on both sides. With a quick look of apology to the Snook, I finally did what I've been longing to do: I yelled out, "STAND TO THE LEFT, PLEASE!" Amazingly, people jumped to the left as if they'd been shot. I was able to walk right up past them all in about two seconds. Snookums says it reminded him of Fezzik clearing the road in The Princess Bride. I can live with that.

| | |
| --- | --- |
| | [3] |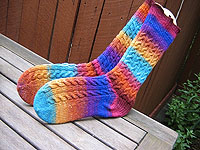 Widdershins in Noro Kureyon Sock
These socks gave me carpal tunnel, I swear. I swore on Christmas Eve that I'd finish them over the holidays, and I spent pretty much every spare minute on the 25th and 26th working on them. The pattern is Widdershins, adapted to be knit on two-circulars. I used Judy's Magic Cast-On for the toe, and it was AWESOME! I'll definitely be starting my toe-up socks this way from now on. My biggest problem with the pattern was simply one of gauge, which is really my fault. Fifty-four stitches (with cables) is just too tight for my foot at my normal sock knitting tension. So I ended up increasing a bit more than directed throughout the foot, which meant that I had to wing it quite a bit on the heel. That's probably why the heel doesn't fit quite as nicely as the one in the picture. Oh well, they're still wearable. I also reversed the cable twist on the second sock so they're mirror images. The other fun thing I did was use a tubular cast-off for the cuffs. I'd never done it before, but the Knitter's Book of Finishing Techniques has really great instructions. I did it too tightly the first time, but I unpicked it and did it properly. It looks really nice.

Oh, and the yarn? Yeah, that's the new Noro Kureyon Sock yarn. It's not available in Australia yet, but the supplier sent me a ball so I could test it out. It feels pretty rough to knit with (like any Noro, really), but the colours are just fabulous. It's also got a really long colour repeat, so you're going to have to unwind half the ball if you want your socks to match. I was also impressed with just how far a single 100g ball went. These are really long! I'm wearing them today and they feel a little itchy, but not too bad. I'll report back once I've give them a good wash. (More details are on my Ravelry notebook, for those who are members.)

Wednesday, December 26, 2007
| | |
| --- | --- |
| | [6] |
Merry Christmas!
The Snook and I were debating accompanying the photobloggers on their trip to the Zoo yesterday, but late Christmas Eve we realised we were having an HRE ("ham-related emergency"). (The emergency being the shocking lack of it in our diet.) So we spent most of Christmas Day relaxing at home and tending to a massive five-pound ham. We followed Nigella's recipe, which entails braising the pork in Coca-Cola for 2.5 hours, then applying glaze and blasting it in the oven for a few minutes. It was delicious. We also had mashed potatoes (with truffle), glazed carrots, and steamed broccoli. For dessert, I went with another recipe from my 1965 CWA Cookbook. This time I tried "Delicious Pudding" (December 2), or "Lemon Delicious" as it's more commonly called nowadays. Unfortunately this one wasn't quite such a success...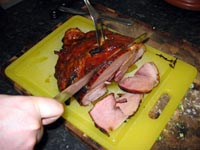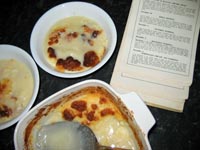 I followed the pudding recipe to the letter, but the thing just WOULD NOT SET. I pulled it out of the oven after the prescribed half hour, and it was just milk soup. So I put it back in. It was well after an hour before it started to thicken at all. I've since done some research online, and all the similar recipes I can find (like this one) use slightly less milk - and sometimes more egg - and recommend baking for longer. So if I make it again, I'll probably make some adjustments. Here's the original recipe... [more...]

Monday, December 24, 2007
| | |
| --- | --- |
| | [2] |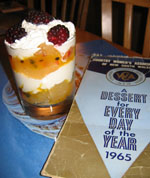 Flummery
The in-laws came down to visit last week, and Ma Snook bestowed upon me one of the family heirlooms: a genuine 1965 Country Women's Association "A Dessert for Every Day of the Year" calendar. (She knew I'd been eyeing one at the 50's Fair a few months ago, but some woman bought it out from under me while I was deliberating.) This thing is AWESOME. It has desserts that I've never heard of using ingredients I've never heard of measured in completely archaic units. (I had to look up what a gill equates to.) After having a good flip through, I decided that my first foray into the exciting world of Australian puddings would be the "Fruit Flummery" (January 7, for reference). A flummery, for those not familiar, is a soft, sweet dessert made from thickened fruit. (Think "jam" but a little more bland and wobbly.) This version seemed pretty simple and only had a few ingredients. What I should have realised is that cramming 366 recipes (including one for Leap Day!) into a small calendar means that there's some serious editing happening. This little recipe - a mere six sentences - left out the fact that this sucker needs to chill for a good six hours or so. So my flummery, which was started on Sunday evening, ended up being our Christmas Eve treat. Here's the recipe. [more...]


Snook: "By the way, I think we're on xkcd."

He wins the sweetest husband of the day award for that one.

Saturday, December 22, 2007
| | |
| --- | --- |
| | [5] |
Books
As I've finished all the books you guys recommended last winter, I figured it was time for some new reading material. Next in the queue are:
Atonement by Ian McEwan. I've been reading the film reviews with interest, and I noticed that most of them made a big deal about how it's okay, but the book is SO MUCH better. It was Kevin's review that really sealed it for me though, so I headed over to Dymocks to pick up a copy. They had about 500 of them, and they all had Duck Face plastered on the cover.

Me: Excuse me... Do you have any copies of Atonement that DON'T have Keira Knightley on the cover?
Staff Member: Yeah, I've got some hidden here behind the counter.

She really did. So now I've got it, but I'm finding it hard to make much headway. Not that it's boring or anything; it's just that every time I start reading it, I zonk out within ten minutes. I've heard there are some war scenes in it later, so I'm hoping it'll pick up soon.
The Ladies of Grace Adieu by Susanna Clarke. The Snook and I both enjoyed Jonathan Strange and Mr. Norrell, so when I saw that her next book was now available in paperback, I had to get it.
The Name of the Rose by Umberto Eco. That suggestion came directly from this AskMeFi question, where someone asked for books similar to Jonathan Strange, books that are really dense with detail and often mash genres together. I don't really know anything about this book other than it was a movie with Sean Connery (which I haven't seen), but it was universally praised so I'm going to give it a go.
Have you read anything good lately?

I made it to SSK today for gusseting's visit, and we had a huge turnout! There were probably 20 people there (most of whom are on Ravelry). Kate's put up photos on Flickr here. In particular, I'd like to draw your attention to the plate of cookies I baked this morning. (That's peanut butter blossoms and snickerdoodles.)

| | |
| --- | --- |
| | [1] |
Check out this hilarious eBay auction. Hey, if any of you want me to send your friends raving, incoherent postcards from Australia, that can be arranged. And I'll charge a lot less than $400...


Apparently there's still such a shortage of Wiis in the US, that a Wii Options Market has formed. Craziness. It hasn't been that bad in Australia yet, though they are predicting shops will run out this weekend. (Original link courtesy of Daring Fireball.)

| | |
| --- | --- |
| | [4] |
Those of you who wish to save your retinas, please look away: Faux Jean Leggings. DEAR GOD, MAKE IT STOP.

Friday, December 21, 2007

This is awesome! I just discovered that you can read Thinking Machine stories online! I had a book of them as a kid. The "Thinking Machine" was a super-smart detective, sort of an American Sherlock Holmes. The author Jacques Futrelle hadn't written very many when he went to Europe to promote the books... and arranged passage back to America on the Titanic. Yeah. So there aren't any more. Anyway, I think these versions online may have been slightly edited in my book. There are details that I distinctly remember from the stories that don't appear here. (I'll list one in particular after the jump so as not to spoil anybody. Go read the stories. They're really good.) [more...]

Thursday, December 20, 2007
| | |
| --- | --- |
| | [9] |
Now this is weird! A delivery guy just turned up at the front door with a package for me from Games Paradise. I didn't order anything from them. The Snook swears he didn't. So we open it up, and it's a brand new Harry Potter "Scene-It" game. Sweet! There's no invoice, so I assume it's a gift from someone. But there's also no note or indication at all who it's from! So come on, who's my mystery benefactor??

Update: It was Mom. :)


Monster Turducken. I feel like using just the breasts is cheating a little bit though. It sounds as if they aren't making a "Russian doll" so much as stuffing gobbets of meat in a meat bag. (Link courtesy of - if you can believe it - Andrew G.)

Wednesday, December 19, 2007
| | |
| --- | --- |
| | [8] |
Leanne: Guess what everybody? We're getting rid of Feathers!
Me and Devvy: Yayyyy!
Leanne: Maybe we should have a bonfire.
Me: That would be TOXIC.

Tuesday, December 18, 2007
| | |
| --- | --- |
| | [6] |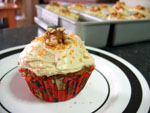 Carrot Cupcakes with Maple Cream Cheese Frosting
The Snook mentioned the other night that the grocery store had some lovely carrots (which he was serving to me for dinner), which reminded me that I've had a hankering for come carrot cake lately. I made the mistake of saying that aloud at work yesterday... and promptly received about half a dozen requests for it. A cake is always hard to transport and dish up though, so I decided to go with cupcakes instead. A few websites mention that carrot cake can be a bit dense and heavy for cupcakes, so I found this recipe with a trick to avoid the problem. You "emulsify" the oil by pouring it into a running food processor (with egg and sugar). Sounds fancy, but was actually really easy. So I baked a dozen of them last night, and this morning I decorated them. We're actually out of maple syrup at the moment (and Coles didn't have any last night), so I used the hand mixer to beat a bit of maple flavouring along with a good scoop of brown sugar into a block of cream cheese. It tastes FANTASTIC. Then I sprinkled on some orange icing sugar (I have the biggest collection of Halloween-related baking paraphernalia outside the US) and then topped with a walnut half. I hope everybody likes them! (And I have to say, I'm really proud of my food porn photography. Hooray for the macro mode!)

Monday, December 17, 2007

Sock Monkey Fingers Popped Out. Weird name; cute pattern! That might actually convince me to make wrist-warmers this year. (Link courtesy of Bex.)


Korea's Dark Half. That map and the associated text are really fascinating. You'd think I'd know more about this stuff (since it's part of my heritage and all), but I don't.

Sunday, December 16, 2007

I love the obscure book questions on AskMeFi. Today somebody asked this question, and I realized that I'd read part of that book myself. It was called In the Year of the Boar and Jackie Robinson, and I definitely remember reading at least an excerpt from it in grade school. (Did anybody else? Maybe it was a common one in those anthologies we all had to read.) Man, I might have to order a copy so I can relive third grade...

| | |
| --- | --- |
| | [8] |
Mean Girls was on TV last week, and I had no idea that it was a harbinger of things to come. Why are girls so bitchy towards each other? On Monday I got a vague warning at the shop that we were to crack down on gossiping, as some of the staff were saying upsetting things. "Sure, whatever," I thought, and filed it away in the back of my brain. It was several days before I discovered that some of the mean shit was actually about ME. On one level I'm just amused, like weren't we supposed to get over this crap ten years ago? And at the same time I'm sorta hurt, because it was my success at doing my job that was being called into question. So UGH, WHATEVER. And yeah, I kinda know I'm fanning the flames a little bit here, seeing as how other members of staff actually read this site. I should probably the bigger person and just not mention it at all. But I'm human, and I'm smarting a little bit. I figure this is the safer way to get it out of my system.

Saturday, December 15, 2007
| | |
| --- | --- |
| | [5] |
Wow. This tale of a Serial Yarn Thief sure puts our Titsiana to shame!

Friday, December 14, 2007

KnitML. This is pretty nerdy, but man, I can definitely see the potential applications. Being able to automatically translate a pattern - into a chart, into another language, into a different size - would be awesome.


Hey, Ravelry got link on Unclutterer today!

Wednesday, December 12, 2007

Awesome. My friend Sharon's new art venture Astropunks just got linked on HGTV!

| | |
| --- | --- |
| | [8] |
My mom just sent pics of my new nephew. Here's one of Anthony and Isaiah, which makes me feel all warm and fuzzy... but also weird and old. [more...]

| | |
| --- | --- |
| | [2] |
I am seriously considering doing Boot Camp next month. I feel so lethargic and flabby right now, and I haven't run in ages. Maybe this would be a kick in the butt.

Tuesday, December 11, 2007
| | |
| --- | --- |
| | [5] |
My first attempt at Jaywalkers didn't turn out very well. They looked great, but they were too narrow to go over my ankle! I'm going to try again with this toe-up version.

| | |
| --- | --- |
| | [1] |
Knitting a flaming skull onto a jumper is pretty bad-ass, but it's even MORE bad-ass when you get your jumper photographed with Alice Cooper.

| | |
| --- | --- |
| | [1] |
Scrubs cast help crew member propose. *sniff* That is really, really sweet.

| | |
| --- | --- |
| | [2] |
KittyWigs. Oh, if I could only get Dr. Amy to wear a pink wig!


Did you feel it? That little seismic shift? We have a female (acting) Prime Minister today.

Monday, December 10, 2007
| | |
| --- | --- |
| | [2] |
Wow, the London-to-Sydney Bus finally arrived, and it sounds like the trip was nine kinds of hell. As we pretty much all expected.

| | |
| --- | --- |
| | [5] |
Just heard - via an e-mail from my Grandpa Harter(!) - that my brother and Kara are at the hospital in Fort Wayne. It looks like this baby is finally coming tonight!

Update: He's here! Isaiah David Howard weighed 7lbs 15oz and was 20" long, despite being a month premature. (Apparently he's the biggest preemie EVER.) Congratulations to Anthony and Kara. I've gotta get cracking on some more baby stuff!


The Story of Quilts. Mom will like that one.

Sunday, December 9, 2007
| | |
| --- | --- |
| | [1] |
Oh. My. God. High School Musical: Sing-a-long for the Wii is SO. MUCH. FUN. Especially when you've never played it before and you start singing and your guests don't know the words and they all sneak out while you're warbling "This Could Be the Start of Something New."

Saturday, December 8, 2007
| | |
| --- | --- |
| | [3] |
Ambivalent Sexism Inventory. I scored a .55 on the "hostile," and a .82 on the "benevolent." I've got a guess why, but I'll hide it so you can take the quiz unspoiled. [more...]

| | |
| --- | --- |
| | [3] |
Soaking Sydney. Are we going to keep having apocalyptic weather all summer? Luckily I was dry at home yesterday during the storm, but it sure scared the hell out of the cat.

| | |
| --- | --- |
| | [5] |
The Tapestry Craft Christmas Sale is now on! You'll also note that the site has been completely rebranded, a Herculean task I managed to pull off in THREE DAYS this week. (I'm stunned myself.) Please let me know what you think!

Friday, December 7, 2007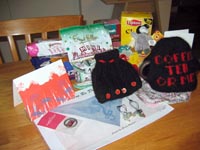 Remember the Tea Cosy Swap package I sent off a week or two ago? Well, yesterday I got surprised at work with my own package from Westozcaat! The Express Post bag was seriously full to bursting, and Little Bec and Devvy couldn't believe it as I kept pulling package after package out from inside. I got two handknitted teacosies (one of which from Amy's pattern!), a knitted washcloth, four different kinds of tea, two sets of handmade stitch markers, three packets of cookies, candy, a shawl pattern, some little toys, a magnet, a lint shaver... It was incredible. Thanks so much to Westozcaat for livening up a pretty stressful week!

| | |
| --- | --- |
| | [2] |
Dude! Club 23's for sale! I predict Eileen is headed to a loan shark as we speak...

Thursday, December 6, 2007
| | |
| --- | --- |
| | [5] |
The new Knitty is up, and it's SOCKTACULAR. I like the Lighthouse Gansey Socks, Azure Socks, and Slippery Socks. I also really like the Three Tams. I have to say, though, that Kitty is the most frighteningly ugly knitted toy I've seen in a long time. That first picture looks like it's about to eat the child.

Wednesday, December 5, 2007
| | |
| --- | --- |
| | [3] |
Snookums pointed me to these really awesome photos of the storm we had in Sydney earlier this week.

| | |
| --- | --- |
| | [2] |
So wait a second... If Telstra is part-owned by the government, and Telstra sells porn, that means it's really the government that's selling the porn!

| | |
| --- | --- |
| | [3] |
Festive Knit Vomit
When Mel sends me a link, I have to click on it carefully. I mean, this is the girl who finds some of the most filthy stuff on the Internet the HEIGHT OF HILARITY. So it was with trepidation today that I clicked over to this site... and found myself disgusted in a whole new way. Thanks, Mel.


Random Stripe Generator. I just found this on Ravelry this morning, and it's AWESOME. Great for knitters, and probably for lots of other artsy-craftsy activities.

| | |
| --- | --- |
| | [1] |
I'd have to say that this is just about the best LOLCAT pic I've seen in a while. I like the fact that it takes you a second to get the joke. I find that much cleverer that the ones that spell everything out. ("WHERE DAT RODERUNNER GONE?")

Tuesday, December 4, 2007

People often get quite astonished when they see me knitting two socks at once. I wonder what they'd make of this lady?


I've been reading Todd Klein's blog for a while now. He's been a letterer in the comics industry for thirty years, and his site is really entertaining for anybody who likes design and text. He's just announced that he and Alan Moore have collaborated on a special one-off print: Alphabets of Desire. I enjoyed the story of how it came about, but I'm thinking, "Greeeeat. How many hundreds of dollars is this gonna cost?" So I clicked over to his shop page. $16. And postage is another $4. I placed my order immediately. Hooray! I bought some art for the house!

Monday, December 3, 2007
| | |
| --- | --- |
| | [5] |
Graphical interpretations of rap lyrics. Some of these are really funny, and some are just mystifying because me? Not a huge rap connoisseur. This one is totally my favorite though. (Link courtesy of Eileen.)

Sunday, December 2, 2007
| | |
| --- | --- |
| | [1] |
Isn't it always the way? You sit down to dinner, and somebody turns up with a piano.

Later: Did you know that it's physically possible for two guys to physically carry a piano? I didn't. I honestly thought that a piano - even an upright - weighed like a thousand pounds. So it was with great excitement and glee that I watched as two of the most Ocker guys I've ever seen maneuvered a piano up our front steps and into the dining room. (You'll probably be able to see it in the distance on CouchCam in the morning.) Now all we have to do is get it tuned and the Snook will be able to give Darren a run for his money. (Thanks to Ma and Pa Snook for arranging for it to be sent down!)

| | |
| --- | --- |
| | [1] |
For Sale: One Useless Cat. When I saw that link title, I totally expected it to be the Snook trying to sell Dr. Amy Jones on eBay. Instead it's TOTAL CUTENESS OVERLOAD!

Saturday, December 1, 2007

CouchCam is back! I really didn't plan your first glimpse of our new house being me on the couch watching High School Musical and knitting... but there ya go.

archives
You can search through the archives by post keyword using the form on the left, or you can browse by month using the links at the bottom.
"Moblog" refers to posts and images posted directly from my mobile phone.

"PW Blog" refers to posts recovered from my very first weblog, which dealt with news related to my college dorm.