Wednesday, December 30, 2009

The Cost of Care. Really effective graph showing various countries' health care spending vs. life expectancy. Be sure to click to enlarge the graphic, and pay particular note to the way it uses colour too. (Am I reading that right? Australia has the 3rd highest life expectancy after Japan and Switzerland? Sweet!) Link courtesy of kottke.

Tuesday, December 29, 2009

Remember when I discovered Australian "chow mein"? The SBS Food site has a blog post speculating on its origins. It really is an Australian classic. (And judging by M-H's comment on my original post, New Zealand knew about it as well.)


Tom's Four Generations Baby Quilt. Lovely! Makes me want to quilt again.

Friday, December 25, 2009
| | |
| --- | --- |
| | [1] |
Mangomisu!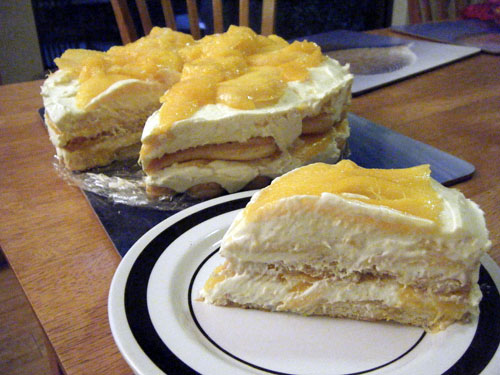 I knew we had to make this as soon as I saw it on the Delicious cover. It looks so good! (Plus, it fits nicely with my goal of eating as many mangoes this summer as possible.) Snookums made it earlier today. It's basically a tiramisu but with mango flavouring instead of coffee. Ladyfinger cookies are dipped in Grand Marnier and orange juice, then layered with a thick vanilla cream and mango slices. It turned out pretty spectacular. I forgot to make the accompanying raspberry sauce, so we'll have that with it tomorrow. :)


Merry Christmas, to all of you who celebrate it. Us, not so much. We did tag-team in the kitchen to prepare an awesome dinner last night. The highlight was Seared Beef with Sweet Chilli Caramel Sauce from this month's Delicious magazine. (That sauce is AMAZING. The recipe also makes about 50 times more than you need for the amount of meat, so we're trying to figure out what else to do with it.) We also had sauteed Savoy cabbage and roast vegetables. For tipple, I made us a jug of Jamie Oliver's "Raspberry & Ginger Fizz" (also from Delicious). Basically, you muddle a handful of mint, two handfuls of raspberries, a tablespoon of sugar, and a big piece of ginger in a jug, then top with ice, 8 shots of vodka, and ginger beer. Delicious!

Anyway, after a lovely lie-in this morning we're both in full-on hermit mode. The Snook is off raiding in Azeroth, while I plan on making some serious progress on St. Brigid. I've got Skype on if any of the family feel like saying hello...

My favorite snowman, like, EVER.
Wednesday, December 23, 2009

Samsung New Year's Eve Promotion. See? We don't just do ringtones... :)


I love it when knitting and Ravelry-related stories get picked up on MetaFilter...


Martha Stewart Weddings has never featured a gay wedding before... til now. It's lovely, and as Andrew points out, it's particularly nice that they did it without a lot of fanfare.

Tuesday, December 22, 2009

The Snook and I just watched all seven parts of this massive review/commentary on Star Wars: The Phantom Menace. The "serial killer" framing device is a little annoying, but the observations about the movie are SPOT ON. I can still remember how I felt driving home after the midnight showing, still dressed up in my ridiculous Amidala outfit, trying to talk myself into believing that it didn't suck. But it sucked. And this guy explains exactly why. (Spoiler: Jar Jar is hardly even mentioned.)


SPIDER!
When I got home tonight, I thought I'd check on my veggie patch. So I stepped out the backdoor and, la-di-da, nearly walked headfirst INTO THIS.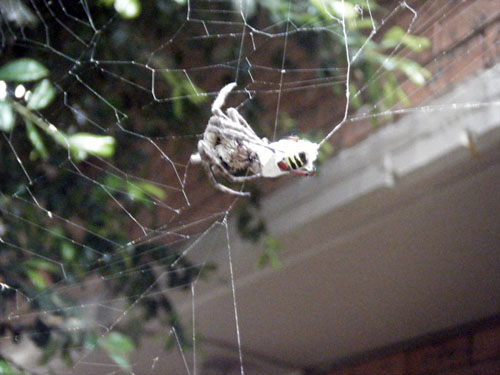 The massive web spans from the lilli pilli tree across the path, and Mr. Spider is sitting directly at face height. His body is over an inch long, easy. As I stood frozen and time slowed to a crawl, I was able to see that he was merrily cocooning some unfortunate insect (a bumblebee? a cockroach?) to save for dinner. I slowly backed into the house and grabbed my camera. I got as close as I dared to get the shot, then scampered back in to google spider identification charts. Mr. Spider looked kinda hairy, so my first guess was that he was a Huntsman. (They look evil but aren't, really.) But I quickly discovered that HUNTSMAN SPIDERS DON'T MAKE WEBS! So I tweeted for help, and luckily Issy came to my rescue. It's a Garden Orb Weaving Spider. Oh, and judging by the size he's probably actually a she. I'm going to call her Shelob. She'll be there until the Snook gets home and prods her with a stick, I imagine.

| | |
| --- | --- |
| | [2] |
Growing Up Heroes. I've submitted the photo of me as Wonder Woman from 1981. I'm just waiting for it to be published...

Update: There I am!


Cranberry Pistachio Blondies. If it's not too hot, I think I might make those this weekend.

Monday, December 21, 2009
| | |
| --- | --- |
| | [6] |
The Snook walked in while I was watching the How to Make a Cherpumple Pie-Cake video. He watched it with me. "No," he said. "Just... NO."


Note to self: Buy these Peanuts figurines for the Snook next year.


I really like the phrase "Unnecessary Dairy Overlap". That is all.


Cookies! Gourmet's Favorite Cookies: 1948-2008. Lots of good stuff in there. I made snickerdoodles last night and dyed the sugar red and green to be more festive. Most of my co-workers were appreciative, though one said that the green ones "looked kinda moldy." Ingrates.


RunningBlog: My base training continues. Using a heart rate monitor has definitely made a big difference in my runs. I don't worry so much about running the whole distance without stopping; I just try to maintain a consistent level of effort the whole time. If my heart rate maxes out trying to run up a hill on a hot day, it's better to walk it and stay within my target zone. Along those lines, I'm also noticing what a dramatic difference the weather makes. On a hot or humid day, I have to be vigilant about slowing down or my pulse skyrockets. On a cool breezy evening (like last night) I can run along at a decent clip without breaking 140bpm. Anyway, here are the weekly totals for the past month:

Nov 23: 21.5km (13.35mi)
Nov 30: 23km (14.2mi)
Dec 7: 24.5km (15.2mi)
Dec 14: 26km (16mi)

According to my Buildup Schedule, this week (week 4) will be a recovery week of only 20km. Looking forward to it. My lower back was bothering me a little last night, and overall my legs are feeling a little tight and tired. I was amused to note that I'm actually getting a small callus on the ball of each food. Hey, I guess that's proof that I'm a forefoot runner now!

Sunday, December 20, 2009
| | |
| --- | --- |
| | [13] |
I liked it, so I put a ring on it.
After five years of being married, the Snook and I finally have wedding rings! We just picked them up today.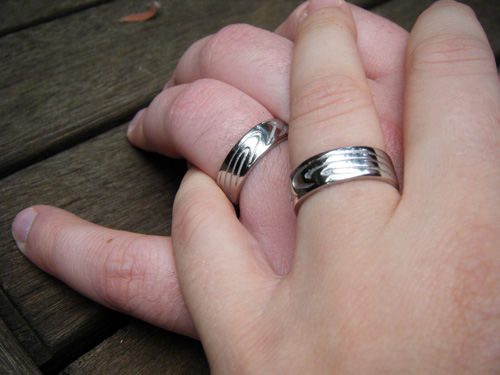 They're platinum and each one features the other's fingerprint, stretched out around the band. They were designed by my friend Candi Robertson of Candi Precious Jewelry. They're shiny, shiny nerd rings and I absolutely love them.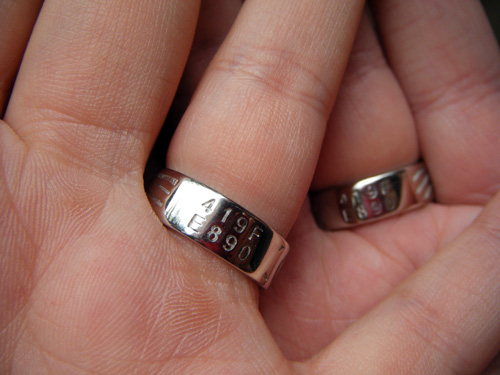 The backs of the rings feature a timestamp in hexadecimal: "419F E890". That's the exact time we got married five years ago. (Candi was dubious at first, but now she loves the idea.)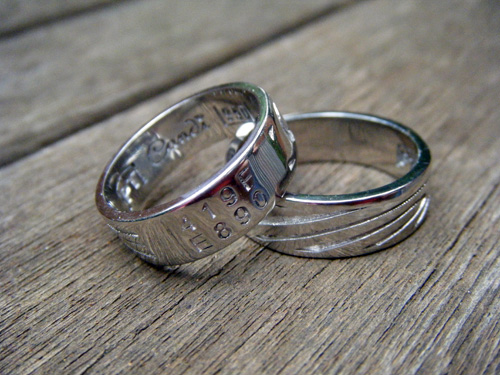 I got to see the rings in raw form a couple weeks ago, and I'm amazed at the change. Candi did such a good job of polishing and finishing them. If you need any jewelry at all, I highly recommend calling her up!

Saturday, December 19, 2009

Star Wars Weather. Ha! Neat. We're just chillin' out, here on Yavin 4.

Friday, December 18, 2009
There is no page fold.
Thursday, December 17, 2009

9 Fattiest Christmas Creations. I take offense to the inclusion of the sausage tree. They're classy.

| | |
| --- | --- |
| | [13] |
Coles Broadway Frustrations
This is pretty much the exact debate the Snook and I have every time we're in Coles. I REFUSE to use the self-serve checkouts. As a former checkout chick, I know that trained checker is always going to be faster than a bunch of slack-jawed shoppers tentatively poking at a touch-screen. I'm also extremely dubious that Coles is passing on the savings they make from cutting those checker jobs. (Why should they? They have a duopoly.) I am also still unhappy with the store redesign, which makes no logical sense whatsoever. No one can find anything. (Example: Cat food and cat litter are in two separate aisles, and while you might assume that the store would want to make it convenient for shoppers, they'd obviously rather get us to spend thirty seconds longer in their hamster maze.) They've also put an aisle across the middle of the store (breaking every aisle in half), so there's no clear traffic flow and the whole thing is a nightmare. I also refuse to use their butcher while there is a perfectly good independent butcher fifty feet outside the entrance (who they're obviously trying to drive out of business). So why am I still shopping there? It's the only place around to get the stupid cat supplies.


Mmmmmm. I found a recipe for Momufuku Bakery's famous crack pie. Apparently Anderson Cooper is a big fan. Maybe a project for Christmas if it's not too hot to turn the oven on?

Tuesday, December 15, 2009
THE HORROR.
Monday, December 14, 2009

Elvis Cupcakes. Those are brilliant. Definitely one to remember for next Halloween.

St. Brigid is growing


I'm up to row 117. The back is meant to be 178 rows long, but algebra tells me that at my present row tension, it's going to be about 10cm too short. So I'll probably be doing an extra repeat to bring me up to 200 rows. I'm getting 35 rows to the ball of Silkroad Aran Tweed, so it looks like the front and back will take about 12 balls in total.

| | |
| --- | --- |
| | [3] |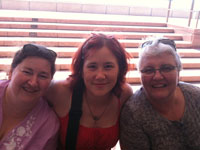 Knitters' Festive Season Celebration
Saturday was a banner day in the Sydney knitting community. First we had the final Inner City Guild meeting for the year, a massive affair that topped out at forty people! I've put some photos up on the IC website. We had some amazing food, with Tia's Christmas Cake Balls as my personal favourite. After the meeting, about half of us headed across the road to the Sidewalk Cafe at the Opera House. Sue had organised a summer "knitting in public" event for us billed as the "Sydney Festive Season Celebration." We had a Kris Kringle gift swap (I got some yummy snickerdoodles!) and spent the afternoon knitting and chatting in the sunshine. Crowds of people drifted past as they left Handel's "Messiah" and did double-takes as they saw 20 people knitting. (Many thought we were doing some sort of charity event.) It was a lovely day, even if I did get sunburnt on the back of my shoulders! There are photos over at Bells's site.


Hm. Ebert reviews Avatar and gives it four stars. He says Cameron is the only guy in Hollywood who knows how to spend $300 million wisely. I hadn't been planning to see it - the trailers bored me - but his opinion carries a lot of weight...

Friday, December 11, 2009

Sketchy Santas. HA!

Thursday, December 10, 2009
| | |
| --- | --- |
| | [2] |
Keep Calm and Cast On. Lovely! I should get one of those printed for my office.

| | |
| --- | --- |
| | [1] |
RunningBlog: This is the time of year when I start thinking dangerous thoughts about the upcoming race season. I'm someone who always needs a goal and a training plan to stay motivated, and lately I've been thinking about... the big one. The marathon. Could I really do it? It would certainly be something to work for. It's stuck in my brain now, and I can't shake the idea. I even googled to look for possible destination marathons next spring.

First things first though, right? Before I even consider marathon training, I need to build up my weekly mileage. I've been averaging about 20kms a week or so, and I need to just about double that to have a decent "base." I'm using this buildup plan and so far it's going well. (I'm halfway through Week 2.) I've successfully increased to running four days a week with 1-2 days of additional cross training. I'm still forefoot running, and my only pain at the moment is a twinge in my right calf. (I think some ice and Voltaren are in order there.) My current plan is to run the Sydney Half Marathon in May and then see how I feel after that. If I do go for the marathon, it would likely be the Melbourne Marathon in October.

The other big news is that I bought a Timex Heart Rate Monitor and I've been using it for the past week. For effective base training, I'm meant to stay within 70-80% of my maximum heart rate (with one run a week up to 85%). That's actually meant slowing right down, and on warm days I have to walk the hills to stay within it. The more I do it though, the faster I'll get within that range. The Timex works great, and I definitely recommend it for any other interested beginners. You do have to wear a chest strap, but it fits pretty nicely under the band of my sports bra. When I'm running with my HRM on my left arm and my iPhone with RunKeeper on the right, I feel like the BIONIC WOMAN!


5 Things Hollywood Thinks Computers Can Do. An oldie but a goodie. I knew that uploading an alien virus from a Powerbook would be in there.

Wednesday, December 9, 2009
| | |
| --- | --- |
| | [1] |
I won a major award! Well okay, it's not a leg lamp, but it is an awesome cookbook! Not Quite Nigella announced a contest last month to give away four copies of the new Buon Ricordo cookbook. The Snook and I both love Armando Percuoco's food (based on this and this) so I decided to give it a shot. I left the 9th comment out of 176... and I just found out tonight that mine was one of the four chosen! YAY! (She mentions that there's a recipe for Timballo in there. The Snook and I may be in for a Big Christmas...)


Things I learned from iPhone & Droid ads. Ha! Although the idea of a "robot phone" is pretty cool.

| | |
| --- | --- |
| | [5] |
St. Brigid
The honeymoon period with St. Brigid is officially over. Last night I suddenly became aware of how painfully slow it is. Those cable sections? They're 24-row repeats and EVERY ROW IS DIFFERENT. No memorisation allowed. I'm 50 rows in, but the back is meant to be 178 rows long. Given how tight my row gauge is, I'm probably going to have to lengthen it too. So conservatively I'm about one-fifth of the way through the back, which means I'm one-tenth of the way through the whole body... and given how ginormous the sleeves are, that'll add a fair bit... so... KILL ME NOW.

Tuesday, December 8, 2009
| | |
| --- | --- |
| | [2] |
Evolution of the Hipster. The Snook sent me that link while actually wearing his Three Keyboard Cat Moon shirt, thus proving that he is actually a Meta-Nerd2.

| | |
| --- | --- |
| | [1] |
From MetaFilter: Great places to lunch in Sydney's CBD for under $15?

| | |
| --- | --- |
| | [1] |
"Christ Turns Down 3-Year, Multimillion Dollar Deal To Coach Notre Dame." HA!

Monday, December 7, 2009
| | |
| --- | --- |
| | [5] |
St. Brigid
I've started my project for the 2010 Sydney Royal Easter Show: "St. Brigid" by Alice Starmore. Yes, I'm still stuck on Starmore arans. And I'm NOT doing this in cream; I'm going to keep knitting things I want to wear and the judging committee can suck it. This is Jo Sharp Silkroad Aran Tweed in "Posie," which I've always wanted to knit with. So far so good!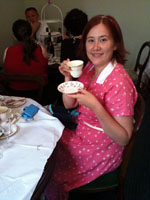 Knitters' Christmas Tea Party
I went to a tea party! The regular Thursday night crowd from the Morris & Sons SnB all met up on Saturday afternoon at Harrogate Teas. We nibbled on sandwiches, sipped a variety of teas, and guzzled our weights in champagne. (I'm serious.) It was so much fun! We also had a "Kris Kringle" swap of decorations, where I got a lovely sparkly dove ornament. And of course, we all frocked up. I'm wearing a vintage "Jonathan Summers" dress that Ma Snook gave me last year. (Everyone joked that I looked like a Stepford Wife.) Lyn has some great photos here, or read on for mine... [more...]


"Can 'Nice Girls' Negotiate?" Depressing but spot on, I'd say. Money quote: "When men ask for something, they are being proactive; when women ask, they are being pushy."

| | |
| --- | --- |
| | [3] |
I see commercials for that 8 Hour Rapid Detox all the time on Go! network. Nice to know that it really is exactly the diarrhea-inducing scam I figured it was.

Friday, December 4, 2009
| | |
| --- | --- |
| | [9] |
More on Sleep Cycle Alarm Clock
That was good timing! I posted my review yesterday and then found out that the 2.0 update dropped on the same day! The new version includes historical graphs of your sleep patterns. Here's my data from last night:

Went to bed / woke up: 11:13 PM / 7:00 AM
Total time: 7h 46m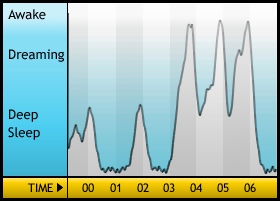 This wasn't a good night's sleep. I was more aware of the iPhone than I've been the previous few nights, and every time I turned over I thought of how it was being recorded for the graph. Then as the sun started to come up, the damn cats went berzerk. I didn't sleep very soundly for those few hours. I finally got back into deep sleep an hour before the alarm... which meant there was no optimum time to wake me and I got up at 7am feeling groggy and annoyed.

Okay, so the jury's still out on whether this is all make-believe. I'm trying to find scientific research backing the ability of actigraphy to accurately detect sleep stages, and I haven't got proof yet. I think I need to get the Snook to hook his iPhone up too so we can compare graphs in the morning. I'm really curious whether he's affecting my phone's data...

Thursday, December 3, 2009

Iconic Photos: Wrapped Reichstag. That is so cool. I'd heard of it but never saw the photos.

| | |
| --- | --- |
| | [5] |
App Review: Sleep Cycle Alarm Clock
Last week I happened to see a tweet about a new iPhone app called Sleep Cycle Alarm Clock. As I am a notoriously crappy sleeper - and the app was pretty cheap - I decided to try it out. The idea is that your movements in bed are a fairly accurate indicator of which stage of sleep you're in. (This isn't snake oil; it's called actigraphy and sleep clinics use it.) The accelerometer in the iPhone registers your movements through the night and therefore knows what stage of sleep you're in. You set the time you want to wake up, and the app wakes you up at the optimum point in your sleep cycle in the half-hour window before the alarm. I've just been resting the iPhone face-down on the corner of the bed, not covered by anything. (It hasn't fallen off yet.) I ran the "test" phase the first night, where you move around and it makes sounds to show it's registering the movements of the mattress. Interestingly, it did register when the Snook rolled over but I didn't, which made me wonder whether it would be accurate. I also wondered whether the cats' daily wrestling match on the bed at 5am would mess it up. At any rate, the first two nights we used it, the alarm just went off at the specified time. (I expected that; they say it can take a couple nights to get calibrated for your sleep patterns.) Since then, I've had two days where it went off before the set time and I definitely noticed that I was awake instantly, without any grogginess. The first day, I actually turned it off and went back to sleep for half an hour (since I'd set it a bit early), and I noticed when I got up the second time that I felt more sleepy and crappy. This morning, I got up as soon as it went off and felt great. The Snook said he also felt better than usual, so maybe it does work fine for two people (or else our sleep cycles have synchronised over the years). I'm still not convinced it isn't just the placebo effect. Maybe I feel awake and energised because I want the thing to work? Only more experimentation will tell. I'm eagerly awaiting the 2.0 update, which will actually graph your sleep cycles from the previous night. Theoretically then I could do some experiments sleeping on my own to see whether the Snook is throwing off my timing. So if you're a bad sleeper like I am - or just a "body hacker" who likes self-experimentation - it's a great little app to play with. Does exactly what it says on the tin!


"Amid recession, meth menace evolves." An article about the rise of meth addiction in Elkhart, Indiana (where I'm from). Like Moire, who pointed me to the story, I was stunned by this quote from the local prosecutor: "I literally did talk to an RV manufacturing facility group of supervisors who sat there and said, you know, these guys really work fast when they are on meth." That makes me sick.

archives
You can search through the archives by post keyword using the form on the left, or you can browse by month using the links at the bottom.
"Moblog" refers to posts and images posted directly from my mobile phone.

"PW Blog" refers to posts recovered from my very first weblog, which dealt with news related to my college dorm.