Friday, December 31, 2010
| | |
| --- | --- |
| | [1] |
Knitting Round-Up 2010
It's that time of year when we look back and say... "Is that really all I knitted this year?!" I actually threw in my first real sewing project just to pad it out a bit. All links go to Ravelry, but you can also get more info on my crafts page.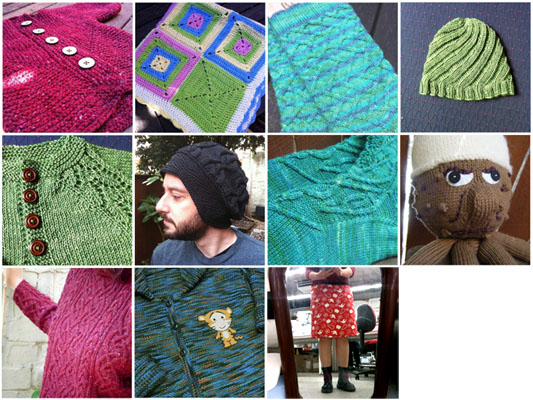 1. Baby Surprise Jacket, 2. Crochet Baby Blanket, 3. Sam Socks, 4. Swirl Hat, 5. Maile Sweater, 6. Miller's Hat, 7. Absinthe Socks, 8. Albert the Magic Pudding, 9. St. Brigid, 10. Tigger Hoodie, 11. My first skirt!


Shared today on Google Reader:here.

| | |
| --- | --- |
| | [7] |
RunningBlog: Week 52 - I'M DONE!
I am extremely happy to report that this morning I crossed the 1000km threshold for the year. Hooray! Thanks to everyone who supported me along the way.

Dec. 25: 6.44km
Dec. 27: 8.65km
Dec. 29: 6.88km
Dec. 31: 5.04km
Total this week: 27.01km (16.88mi)
Total in 2010: 1002.41km (626.5mi)

I knew today that I needed 2.63km to hit the 1000, so the Snook came along to the park and stationed himself near that point. He shot some video as I crossed the imaginary line.



| | |
| --- | --- |
| | [4] |
Day 7 of Christmas Vacation
A quiet one. In the morning I did a quick soak of some kidney beans and then got my Best Baked Beans going in the slow cooker. I knitted two swatches for one of my Easter Show projects but they're both looking a bit big. Hm. Miss Fee came over with a Giant Bag O' Tango to help me pick colours for Paper Dolls (which I am toying with the idea of cardigan-izing). The Snook and I also loaded up Fee's car with compost and peat and vermiculite for her garden (since I have given up on the idea of ever producing veggies in our shady space). Plans for NYE dinner tonight are firming up nicely, so we made a shopping list and headed over to the Broadway to stock up. Back at home, dinner was hot dogs and baked beans and coleslaw. (So good!) Afterwards, we started our second batch of ice cream for the guests: Alton Brown's Burned Peach Ice Cream!

Thursday, December 30, 2010

Shared today on Google Reader:here.


Day 6 of Christmas Vacation
I got up early because Miss Fee was picking me up for a run. We headed to Iron Cove to run the Bay Run. It was a beautiful day. (That's another 6.85km off my total, leaving me with 2.6km to go!) After a shower back home, the Snook and I headed into the city to run a few errands. He got computer parts; I got some sewing supplies. Then I headed to HCF Dental to see if I could get an emergency appointment to fix a broken tooth. (I was eating a toffee on Boxing Day when a bit of tooth around a filling went CRUNCH and disappeared.) I didn't have to wait too long and within an hour I was out the door all fixed up. He'd had to drill a little bit though, so I'd had a local anesthetic and the whole right side of my face was numb for hours. The rest of the day was pretty uneventful: I had a nap; I finished the crochet baby blanket; I made some banana ice cream. I also watched the Carbo family's entire series of 8 YouTube videos documenting all of Christmas morning. The highlight was seeing my nephew Penn open our gift and leap to his feet shouting "MOOMINS!" That was great. :)

Wednesday, December 29, 2010

Shared today on Google Reader:here.

Tuesday, December 28, 2010

Day 4 and 5 of Christmas Vacation
Yesterday morning I went for an 8.65km run around Newtown and Sydney Uni. It was perfect weather - cool and drizzly. The rest of the day was a flurry of cleaning and tidying. Our friends Steve and Kate (the ones who got married at the Jenolan Caves) are visiting from London and we were hosting them for the night. Kate's allergic to cats, so I made a valiant effort to at least reduce the number of cat fur tumbleweeds floating along the floor. (She took drugs; it ended up being okay.) The Snook made us a beautiful dinner: slow-roasted beef rib roast (from Neil Perry's recipe), perfect french fries, and a salad of baby spinach, bleu cheese, and nashi pear. We also had loads of cheese and wine and Christmas pudding (not to mention hunks of torn-off gingerbread house). We played Rock Band way into the night.

This morning we all awoke to the smell of freshly-baked bread from the bread machine (again, courtesy of the Snook). After Steve and Kate left, I went to Newtown to meet up for an impromptu knitting lunch with Miss Fee, JP, Ailsa, and Kylie. Great conversation and company! When I got home, the Snook and I ducked over to Broadway to pick up a Christmas pressie for ourselves: a little green ice cream maker. (The drum is currently in the freezer. Tomorrow we'll try out some of Alton's Banana Ice Cream.) For dinner we just nibbled on leftovers, mostly cheese and crackers. Is there anything better than camembert and quince paste on a cracker? There is not. I have also made massive progress on the crocheted cotton baby blanket, and I'm now adding a scalloped edging. I think I'm getting the hang of this crochet thing!

Sunday, December 26, 2010

Day 3 of Christmas Vacation
Yeah, I had two whole days of productivity before the Slack Fairy landed. After some fun phone calls to the fam this morning, I spent the whole day crocheting and watching videos. I finished all the squares for Olivia's blanket and I've started joining them together. Yay for slack. :)


Shared today on Google Reader:here.


I think the Christmas blog post that made me smile the most was Neil Gaiman unwrapping his lamp post. And he's already got it set up!

Saturday, December 25, 2010
| | |
| --- | --- |
| | [1] |
Day 2 of Christmas Vacation
The Snook and I went for a 6.44km run around Newtown and Sydney Uni this morning. The Snook baked a bread, which made for a lovely lunch. I worked on the crochet granny square blanket I'm making for my new niece Olivia. I wove in all the ends on the 7 existing squares and then crocheted 3 more. (I'm aiming for 12 in total.) The Snook and I finished decorating our gingerbread house. Dinner was pork fillet with mustard sauce, roast beetroot, and mashed potatoes. *yawn* Good day!

| | |
| --- | --- |
| | [1] |
Merry Christmas!
How's this for a holiday tableau?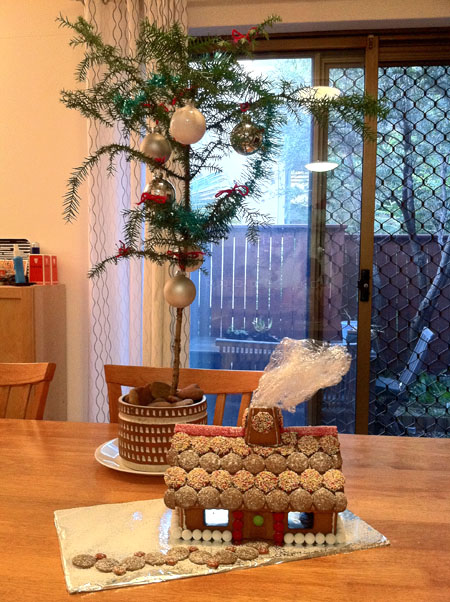 Our tree is a native hoop pine that Ma and Pa Snook gave us this year. We decorated it with tinsel, glass balls, and yarn bows. The gingerbread house was bought at IKEA and assembled and decorated by us today with Chocolate Buttons, Allens Freckles, sour fruit tape, Smarties (the Australian kind), and Cadbury Snow Bites. Putting it together was fun!


RunningBlog: Week 51
Well, this is it, folks. One week left to go and we are coming right down to the wire. I ran three times this week, including a stint on the treadmill at Spudds on Wednesday. The legs are holding up okay. I've been doing 3:1 run/walk every single time and slathering on Nurofen gel. That seems to help.

Dec. 19: 10.12km
Dec. 21: 8.29km
Dec. 22: 5.00km
Total this week: 23.41km (14.6mi)
Total in 2010: 975.4km (609.6mi)

Today the Snook and I went for a Christmas run together and knocked off another 6.44km. That means to meet my goal of running 1000km in 2010, I still need to do 18.16km in the next 6 days. Totally achievable! I AM GOING TO DO THIS.

Friday, December 24, 2010
| | |
| --- | --- |
| | [1] |
Day 1 of Christmas Vacation
After a lovely sleep-in, the Snook and I made a menu for the next five days and extrapolated a grocery list from it. Then we headed off to Broadway to: Coles (groceries), Harris Farm (veg), Baker's Delight (mince pies), Fresh Foods (meat), Broadway Cellars (booze), and Toby's (coffee). With all luck, we won't need to leave the house all weekend! Back at home, we tidied up and did laundry and took out the compost. I finished off my green robot skirt (and Dr. Amy promptly sat on it). We also did the basic assembly on my IKEA Pepparkakshus (gingerbread house). For dinner, we made Teriyaki Tofu with Asian broccoli in oyster sauce. YUM.



The idea here is that if I commit to blogging what I do each day, there's less chance I'll just sit on the couch and knit the whole time.



Thursday, December 23, 2010

Shared today on Google Reader:here.

Wednesday, December 22, 2010

Shared today on Google Reader:here.

Tuesday, December 21, 2010
| | |
| --- | --- |
| | [5] |
Brooklyn Tweed Shelter
My dining room just got AWESOME.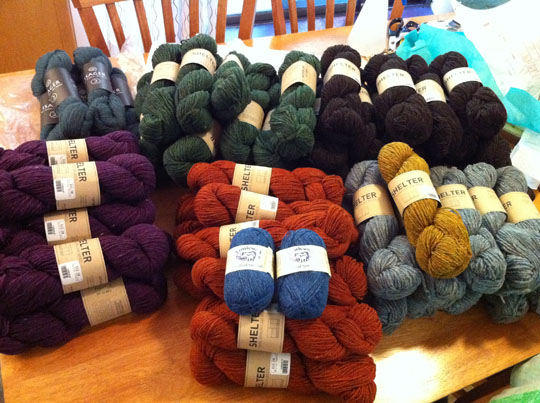 Back in early November when the exchange rate was really good, I asked on Ravelry if anybody wanted to combine on an order of Brooklyn Tweed's Shelter. I knew that Knit Purl has free international shipping for orders over $300, so I was just hoping to reach that benchmark. Well, four knitters responded and our order ended up being $800. Eeep! Some of the colours were out of stock, so we had to wait a month til more came in. (Apparently the Shelter's been really popular.) Finally a week ago we got notice that it had been shipped, and today it arrived! There are more photos of the glorious unboxing over on Flickr.

My selection was the 16 skeins of "Pumpernickel" (aka dark chocolate brown). It's destined to be a Hipster Cardigan for the Snook. :)


Shared today on Google Reader:here.

| | |
| --- | --- |
| | [1] |
Christmas Party Roundup
The past two weeks have been full of various Christmas-related festivities.

First there was Spudd's annual party at a pub in Glebe. (Spudds is Mark Carroll, my trainer.) He gives an "award" to each of his corporate clients, so here's me collecting on behalf of my office.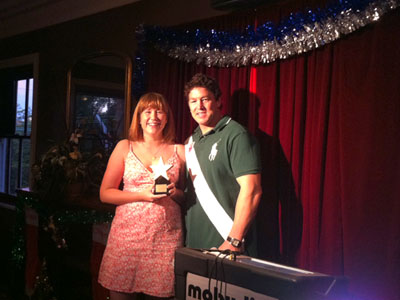 Next was "SKIP" (i.e. Sydney Knit in Public). A few years ago some of the Sydney knitters decided that the annual WWKIP Day in June was just too darn cold for sitting outdoors, and we wanted a summertime KIP too! So the Christmas KIP was born. Each year it's been held at the Sidewalk Cafe down at the Opera House. We had about a dozen knitters this year, and we got some serious double-takes from tourists and theatergoers.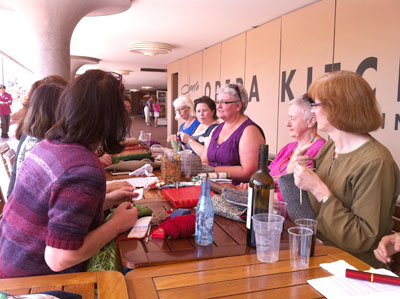 And then we come to the office Christmas Party, which was held last Friday at Baia at Darling Harbour. I broke out my old prom dress for the occasion, as well as my foam reindeer antlers. This is me and Josh, my new coworker from the U.S.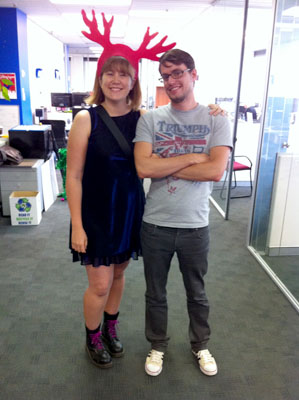 Another one of me and Josh from our table at the restaurant. This one cracks me up, especially with Sven looking inadvertently stern in the center.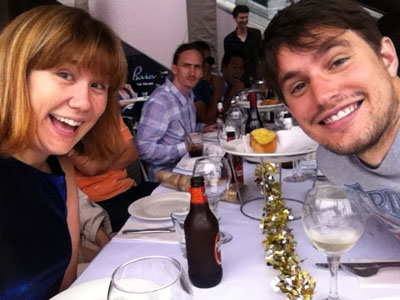 Here's Sandeep, Kunaal and Josh. We had nerdy tech fun at our table.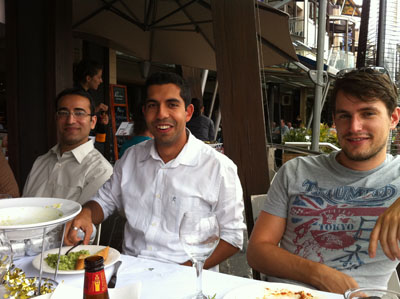 And I swear, if I ever record an emo album, this is going to be the cover. It's me, Fransiska, and Fei looking particularly melancholy.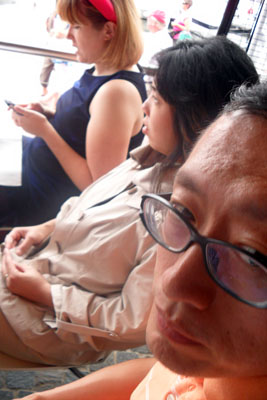 Merry Christmas!

| | |
| --- | --- |
| | [2] |
Non-Newtonian fluids. The second video actually made my jaw drop. Didn't they do it once on Big Bang Theory? Regardless, that looks WICKED COOL.


Broiled Mussels from Smitten Kitchen. These look good. I'm still more of a mussel fan in my head than I am in reality, but I think I'll get there.

Monday, December 20, 2010

Shared today on Google Reader:here.


Awww, nice! My sock monkey tutorial is a featured friend link on Sock Monkey Sisters.


How to: Make an Ironing Mat.

| | |
| --- | --- |
| | [7] |
The High Cost of Books
Everybody who visits or moves to Australia ends up being astounded by how much books cost here. I always just chalked it up to transport costs and local profiteering. That's why I was interested to read former NSW Premier Bob Carr's blog post this morning: "Protectionism Means You Pay More for Books". So it sounds like there's some rule that local bookstores can't import stock from overseas if there's an Australian publisher carrying the same book (inevitably for a higher price). The justification is that by propping up local publishers, we're ensuring they'll continue to publish Australian literature. Huh! I had no idea. THAT SUCKS. I guess that's why most people I know get their books from Amazon or The Book Depository.

| | |
| --- | --- |
| | [4] |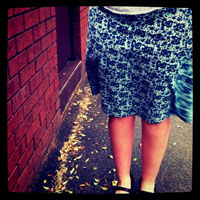 I sewed another skirt!
Saturday I finally decided it was time to start sewing some of the skirts I'd planned. I'd bought a couple different fabrics over the past months, and last weekend I prepped them (basted the edges, pre-washed and dried, and ironed) and cleaned out my sewing machine. So I dug out the pattern from my class a few months ago and got stuck in.

This is the one that I managed to finish (since it's the only one I had a zipper for). The fabric is a very fine wale corduroy (light blue with dark blue paisley) that I got on Clearance at Lincraft. It was so cheap that I didn't have high expectations for the finished product, but I figured it would be good for practice. To my surprise, it squared up nicely and didn't give me any trouble at all. I laid out all my pattern pieces and remembered to make sure the nap all ran the same direction. The sewing was fairly straightforward, though I did have to refer back to my old skirt a few times just to double-check the order of operations. Sewing in the zipper was probably the scariest bit, and I played around with several different techniques (including sticky tape!) before settling on basting it in by hand just to make sure it didn't shift around. I only made one tiny mistake in the whole project, when I forgot to leave a seam allowance to turn back at the opening of the facing near the zipper. (That's the final step - to turn back the raw edge and tack it down on the underside of the zipper. I managed to get it to work, but it may fray a bit at the top edge. I might put some clear nail polish on it.) Here's a bigger picture so you can see the true colour a bit better.

I wore the skirt to the barbecue on Sunday, and needless to say I'm THRILLED with it. The cord feels very soft and lovely to wear. My only disappointment is that the waistband seemed to bunch up by the end of the day. I had the same problem with the original skirt though too, so it may be a fit issue. Any sewers want to advise me? Or do you think I need thicker interfacing for the facing pieces?

| | |
| --- | --- |
| | [1] |
Storm at Sea (with Babies)
I think this might actually be the highlight of my brief career as a quilter. Yesterday we were at a barbecue with many of the Snook's college friends, a group which for the first time included two actual babies. (We're all growing up!) Nick went to get a blanket for Chloe and Seraphina to play on, and as he shook it out, he said, "Do you recognise this?"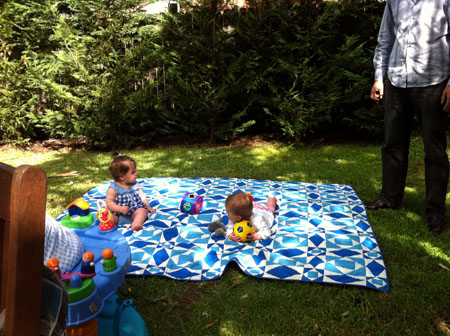 That's the quilt I made them for their wedding seven years ago! I was so happy. "You actually use it?" "We use it just about every day!" I think that's probably the highest thing a handmade quilt could hope for. To be given in love and friendship at the start of a life together, and many years later to be spread out for the babies to crawl on. Isn't that lovely?

Sunday, December 19, 2010

Shared today on Google Reader:here.


RunningBlog: Week 50
My legs still feel like they're on the verge of giving out, so I took things very easy this week. Spudds was on holiday so I skipped my usual two sessions there. I only did two runs and I kept things real slow (even doing run/walk on one of them).

Nov. 14: 6.04km
Nov. 16: 6.84km
Total this week: 12.88km (8.05mi)
Total in 2010: 951.99km (595mi)

So that's just under 50km (31mi) to go... in two weeks. Uh-oh.

Saturday, December 18, 2010

Shared today on Google Reader:here.

Friday, December 17, 2010

Shared today on Google Reader:here.

Thursday, December 16, 2010

Shared today on Google Reader:here.

| | |
| --- | --- |
| | [1] |
Massive congratulations to my sister-in-law Kara and my brother Anthony on the arrival of their new daughter Olivia. Yay, I'm an Auntie again!


Yesterday was our office "Kris Kringle," where we all got to sit on Santa's lap and collect a random present. I got a giant Toblerone!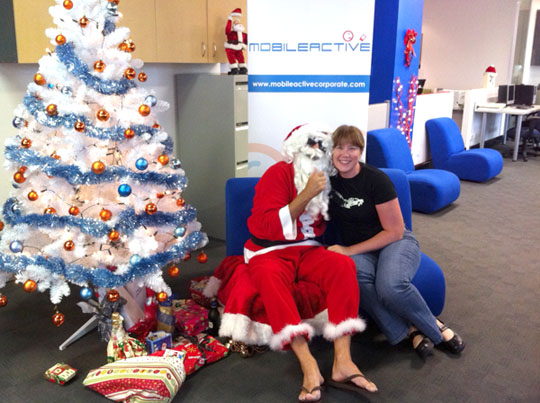 He was a very Aussie Santa. In addition to the thongs, he had a cold beer on the floor next to him. :)


Augmented Reality App for the Colour Blind. That's so cool! And what a great idea. I'm not colour blind, but I know at least one guy in my office is. (I've already sent him the link.) The example with the green girl from Star Trek was great.

Wednesday, December 15, 2010

Shared today on Google Reader:here.

Tuesday, December 14, 2010

Shared today on Google Reader:here.

| | |
| --- | --- |
| | [1] |
For the Snook: "Sean Connery in Dr. No: The Template for James Bond." An in-depth look at the secret agent's costumes in his first film outing, from the guy who writes the The Suits of James Bond blog.

Monday, December 13, 2010

Looking for an original Christmas gift? My friend Anton is selling some of his artwork. I love his style, which has been featured on several magazine covers this year. You should check it out!


Shared today on Google Reader:here.

| | |
| --- | --- |
| | [3] |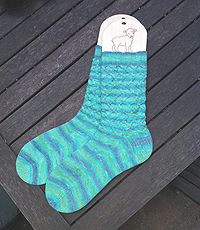 Sam Socks
While these turned out great in the end, I always seem to have terrible issues with Cookie A patterns. I bought Sock Innovations last year and this was my first project knitted from it. I discovered pretty quickly that there were major errors in the printed pattern. It completely omits the ribbing at the top of the leg, and it also tells you an incorrect number of leg repeats. (If you plan to knit anything from this book, I highly recommend you check the errata. There's a LOT of it.)

I knitted these on two 2.75mm circular needles. I could tell they were going to be tight around the ankle, so I cast on extra stitches so that I'd have a full extra pattern repeat around the leg. I knitted the heel exactly as written and just left the extra pattern repeat on the top of the foot. I usually like to knit my socks two-at-a-time, but that's basically impossible with this pattern because you are constantly shifting the starting point of each round. So I was forced to knit each leg separately down to the heel, after which I knitted both socks together down towards the toes.

The wool is a single skein of Yarntini Mint Fizz Stripe that I received in a swap from Dancingman. It was lovely to knit with. The third photo (heel detail) is closest to the actual colours: spring green, aqua, and purplish-grey stripes. I had about 1.5m left over when I finished, which was perfect. I'm very happy with how these turned out! (More details and photos are on Ravelry.)

Saturday, December 11, 2010
| | |
| --- | --- |
| | [3] |
RunningBlog: Week 49
Only three weeks to go, and suddenly everything is harder. My right foot is hurting again (after being great for weeks). My left shin is niggling me a bit. My right quad (just above the knee) feels sore and possibly even a little swollen. I've just got to hold it together for a few more weeks.

I cut back my distance a little bit in a failed attempt to rest. My long run on Sunday was a 3:1 run/walk around Blackwattle Bay with the Snook. Monday I had a session at Spudds. On Wednesday I doubled up with a short run in the morning before work (the foot was hurting) and then Spudds again at lunchtime. I ended with a walk/run home from work and around Newtown on Friday.

Nov. 5: 10.37km
Nov. 8: 5.46km
Nov. 10: 7.15km
Total this week: 22.98km (14.3mi)
Total in 2010: 939.11km (586.9mi)

Three weeks left, and just over 60km to go...


Shared today on Google Reader:here.

Friday, December 10, 2010

Shared today on Google Reader:here.


Michael reports that Sydney City Council has decided our corner of Chippendale should be a trial demonstration site to showcase sustainable street technologies and programs. That's great! They're giving Michael a grant and support to help make things even better. I wish I could help more with the road gardening, but of late it's all been done on Fridays. I'd like to get involved again.

Thursday, December 9, 2010

Shared today on Google Reader:here.

Tuesday, December 7, 2010

Shared today on Google Reader:here.

Monday, December 6, 2010

Shared today on Google Reader:here.

Sunday, December 5, 2010

Shared today on Google Reader:here.

Saturday, December 4, 2010

Shared today on Google Reader:here.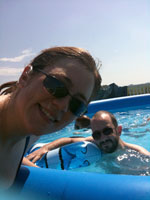 USA Trip 2010 photos!
I have finally - four months late! - uploaded the photos from our trip back to the US in July and August. Lots of stuff from our family visits in there, along with our momentous trip to The House on the Rock and Taliesin in Wisconsin. Thanks again to everyone who housed us or met up with us along the way!


"Candlelight" by the Maccabeats. Cute Jewish college male a capella group covers "Dynamite" and turns it into a Chanukah song! Now I'm hungry for latkes.

Friday, December 3, 2010
| | |
| --- | --- |
| | [1] |
Shared today on Google Reader:here.


RunningBlog: Week 48
This week my energy and strength finally bounced back a little bit. On Sunday I decided to challenge myself on my long run by taking the bus to Iron Cove. I then ran the 7km Bay Run followed by 5km back up Victoria Road to home. I did 3:1 run/walk the whole way. Tuesday was pouring rain all day, so I put my run off til the evening when it finally let up. It was still really humid and the first couple km's were wearing a heavy backpack, so my speed wasn't great. Wednesday I had a KILLER workout at Spudds that left me sore for two days after. (Felt awesome though.) Today I ran speed intervals up and down Wilson Street before work. Considering how crazy the weather's been and how busy this time of year is, I'm really happy to be getting in the workouts.

Nov. 28: 12.69km
Nov. 30: 6.16km
Dec. 3: 6.05km
Total this week: 24.9km (15.5mi)
Total in 2010: 916.13km (572.5mi)

Only four weeks left in my goal to run 1000km in 2010! I have crossed the 900km mark and I'm still on track. I've got 4 weeks to do 84km, which means 21km a week. LET'S DO THIS.

Thursday, December 2, 2010

Shared today on Google Reader:here.

Wednesday, December 1, 2010
| | |
| --- | --- |
| | [1] |
Shared today on Google Reader:here.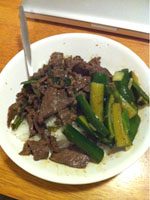 Bulgogi with Cucumber Kimchi
We had a surplus of cucumbers in the fridge from our last two veggie boxes, so I decided that some sort of pickles were in order. Once I settled on making cucumber kimchi, bulgogi suggested itself as a natural accompaniment. (Plus it's my favorite Korean dish ever.) I cut up and salted the cucumbers on Sunday and left them overnight. Monday morning I added the rest of the ingredients. (Note: I didn't have any Korean chili powder on hand, so I just used what I had. It tasted fine but it didn't have that bright red colour.) I covered the bowl with cling film and left it on the counter for 24 hours. Monday night I sliced up a rump steak (which I'd frozen first to make it easier to slice thinly) and then put in the rest of the marinade ingredients. (I was out of sesame seeds so I left them out, but it's better with them.) Tuesday night I fried up the beef really quickly and served it over rice with the kimchi on the side. It was really good!


Do you live in the electorate of Sydney? Now that Labor have agreed to gather feedback on marriage equality, Tanya Plibersek has launched a survey. Please go contribute.

archives
You can search through the archives by post keyword using the form on the left, or you can browse by month using the links at the bottom.
"Moblog" refers to posts and images posted directly from my mobile phone.

"PW Blog" refers to posts recovered from my very first weblog, which dealt with news related to my college dorm.