Wednesday, February 28, 2001

Uh-oh. Snookums already hates the Mouse House for what they did to his beloved Winnie-the-Pooh, and this Coke business could very well push him over the edge. He does not take kindly to childhood icons becoming merchandising whores.


I just stumbled across a totally fascinating publication called The Naming Newsletter, which bills itself as "A Quarterly Report On The Strategy & Tactics of Naming." There are lots of little articles filled with tips and lessons for naming a business or brand. I especially liked "Where Did They Get That Name?" Did you know that "Chef Boyardee" is a phonetic spelling of "Boiardi", the man who invented the recipes?


So in the space of, like, 12 hours, Seattle's had to deal with Mardi Gras riots and an earthquake. Some sort of divine karmic retribution for unleashing Starbucks and grunge on the world? We may never know.


Where the hell have I been? Apparently the official site for Bridget Jones's Diary is up. You can even see the preview trailer, which I wasn't a big fan of. The clip itself -- Bridget and Daniel making out on the floor -- seemed very true to the book, but the editing and music of the trailer give it an overall sucky vibe (at least, to me). They also restrict Zellweger's voice to a couple of "Oh!"'s, so it's hard to get a feel for the accent. It does sound a bit posh for Bridget, though.


The Onion shrewdly observes that everyone should have a supportive gay friend to counsel them on romance. I've got one. Have you?

| | |
| --- | --- |
| | [4] |
More quiz madness: According to the London Zoo, my ideal animal blind date would be a "Moon Jellyfish."

If the jellyfish wants you, you're an easy catch. It's covered in stinging cells, which are used to paralyse its prey. Conversation is doomed if you don't enjoy speaking to a cucumber, since the jellyfish consists of 96% water and that doesn't leave room for much of a brain... Treat yourselves to an afternoon in a flotation chamber.

Which sucks, because if there's one kind of animal I hate, it's the slimy ocean-dwelling kind. *shudder* Why couldn't I have gotten a nice kitty cat? (Link courtesy of brigita.)

| | |
| --- | --- |
| | [3] |
Apparently that niece of Dubya's, the one with the crush on Prince William, has launched a new career as a catwalk model. Whatever.


"It's a souvenir of a national disaster. It's a very British thing to do, isn't it?" The scavengers have descended upon the remains of the Millennium Dome. The most expensive item sold at auction yesterday was a "Giant hamster and cheese," which was purchased for Ł3,000 for a visitor attraction in Kent. Very sad.


The Guardian has a very interesting article about whether the Pill changes a woman's ability to sniff out genetically appropriate mates. Someone did an experiment where they had a group of women smell T-shirts that various men had worn and say which one they liked best. Most of them, like mice, preferred the mate with genes for immunity that differ from their own. But women on the contraceptive pill picked the exact opposite! Some researchers think that this could be very bad for the human race, evolutionarily-speaking. Others don't even think that smell really makes that much of a difference. What do you think? Personally, I think body odor is very important in picking the people that you wanna, you know, get close to.

| | |
| --- | --- |
| | [5] |
Another interesting survey. This one is the Bem Sex Role Inventory. My results? "Your Femininity Score is 4.15. Your Masculinity Score is 4.65. You are sex-typed as near masculine." Huh. I'd probably agree with that assessment. Most girly-girls piss me off. (Link courtesy of Hit-or-Miss.)


Hooray! User Friendly finally mocks that "All Your Base" crap. I knew I wasn't alone in my backlash. :)

Tuesday, February 27, 2001
| | |
| --- | --- |
| | [1] |
According to the Environics 3SC Survey (which I found on /usr/bin/girl), I'm an Autonomous Post-materialist. I agree with the motivations (personal autonomy and self-fulfillment) and key values (freedom, spontaneity) it lists for me, but not the icons. Dennis Rodman? As if. I do quote Eric Cartman quite a lot, though.

"I'm, like, up myah, and you guys are, like, down... myah."

| | |
| --- | --- |
| | [2] |
Beware the Ides of March! In a completely blatant and non-subtle ploy for commercial gratification, I added my birthdate and links to my Amazon UK and Amazon US Wishlists to the left-hand column. That's right, folks, in just over two weeks yours truly crosses the threshold to 24. (What a boring number.) I'll still be in Oz, so don't bother ringin' up, though. The celebrations, for those in Ye Olde London, will be postponed til the end of the month.


Roger Ebert's got a new Movie Answer Man column up. Topics covered include Hannibal, Gladiator, and various Academy Award nominees.


R.I.P. Etoys. All you scavengers should dig in before everything's gone.


Matthew Perry's in rehab again (scroll down). No mention of where or why. Poor Chandler.

| | |
| --- | --- |
| | [3] |
The beef situation just keeps getting worse over here. Now there's an outbreak of foot-and-mouth disease. It really is quite dramatic, with analysts showing maps predicting the spread of the disease and newscasts full of footage of burning animal carcasses. It's like a bovine version of The Stand or something.


Wow! It was a banner day for disturbing search requests here at w-g. People visited this site yesterday looking for: "ugly tough dirty mean bad", "UK mouthwash", "where to find prostitutes," "theology text messaging", and "oh my goddess buddy icons". Gee, I hope they didn't find my site too disappointing. :)

| | |
| --- | --- |
| | [2] |
Matt linked to an interesting article about obituaries today. Coincidentally, my sister types up the obits for the News-Sentinel in Fort Wayne, Indiana. She wrote a poem called "The Obituary Writer" about the thoughts she has when summarizing somebody's life. It's pretty good.


More R.E.M. news is revealed. (Links courtesy of Ghost in the Machine.)


Some things you might've noticed: 1) I changed the image name of the the Valentine. It shouldn't hurt anything on your site if you've linked to the post, but if you've linked to the image, you'll need to update it. (You'll see it's a simple change.) If you're sucking it down off my site onto your own page, though, you're gonna get a broken image. Which is your cue to copy it to your own server if you wanna keep it. 2) I've been mucking around with the stylesheet and layout here. Let me know if it creates any problems in your browser. Thanks...

| | |
| --- | --- |
| | [1] |
Dreamlog: I woke up this morning with the following thought fully-formed in my head: "I need to mention my dream on web-goddess. I was out on a date with Jack Nicholson and we were on the Tube in London and we had to hide from Lara Flynn Boyle, who was working on the platform we were approaching." The weird thing is, though, I'm not sure whether I actually had that dream (since I can't remember any of it), or whether I simply made it up and then dreamt about posting it. Isn't that odd?

Monday, February 26, 2001
| | |
| --- | --- |
| | [3] |

This Salon article about the "new slackers" really annoyed me. First of all, the reference to Richard Linklater's film Slacker is totally incorrect. There was no "just-out-of-college temp slave" made famous in that movie. Linklater was depicting an entire culture, not some Ethan Hawke wannabe. The camera just follows interesting people around Austin, Texas, and none of them bear any resemblance to the newly unemployed dot-commers profiled in the article. What, they couldn't spare 97 minutes for some cinematic research?

The whole thing just smacks of Schadenfreude, you know? It's like, everybody's been slagging off the dot-commers for a while now, but these authors have taken it a step further: "Hey! This means we can rag on Generation X for being unemployed, ambition-less, waste-of-space slackers again!" And that's just bollocks. That stereotype was never true in the first place, and taking a few well-deserved months off after a year of working sixteen hour days doesn't make you a derelict either. I swear, if I was in their situation and some smug, smarmy Boomer accused me of being a slacker, I'd kick their ass. *pause* Well, no, I wouldn't. I'm a wuss. But I would use their e-mail address to sign them up for pr0n.

| | |
| --- | --- |
| | [4] |
I can't help laughing. William Shatner will host the Miss USA pageant this Friday in Gary, Indiana. Y'all know that I regularly defend my Hoosier state, but there's nothing that can be said for Gary. If you ever have the misfortune of driving to Chicago on the Indiana Toll Road, you'll see why: it's the ugliest city in the country. It literally looks like hell, all fire and brimstone and sulphurous fumes from the steel mills. (A helpful tip: when you find yourself rolling up the windows and putting the air on "recycle," you're in Gary.) And it was the murder capital of the country for, what, several years during the 90's? I guess they're hoping Captain Kirk's endorsement will turn things around... but it doesn't seem bloody likely.


It's always fun to quit listening to my work mp3 collection for a couple weeks and then revisit it. I just snorted out loud when Wyclef Jean's "The Rambler" came on. There's nothing funnier in the world than hearing Kenny Rogers sing, "You got to know when to hold 'em..." and then hearing Wyclef shout "Ghetto! Ghetto!" in the background.


I was reading not.so.soft today and reflecting for the 43rd time how much the owner, Meg, reminds me of me. I mean, she lives in London, listens to Ani Difranco, and works in web design. She's also a great writer (which I'm not, but aspire to be). Okay, so those are normal, "Huh, she kinda sounds like me" type similarities. But today, she posted a picture of herself... and she's totally my doppelgänger! I'm serious; that's me with my hair braided and my glasses on. I'm freaked out.

Saturday, February 24, 2001
| | |
| --- | --- |
| | [3] |
Grrrr. I was just checking my bandwidth statistics at Portland and I was shocked to discover that during February my site has exceeded the montly allowance by more than 500%. And you know why? Because of the Valentine. I'm really glad that so many people posted it on their site, but for future reference, it's always best to copy an image to your own server and link to it there. Otherwise my host has to bear the brunt of serving images to lots of un-related sites, and then the patient yet frustrated web-goddess has to pay an extra $20 for her bandwidth that month. And that pisses her off.


"Roll Your Own" Comments System
Based on the e-mails I've been getting, it seems other people have run into problems modifying Steve's PHP comments system for use with their own weblogs. Since I'm in a magnanimous mood, I decided to write up a step-by-step description of everything it took to get mine working. It's in layman's terms, and as long as you've got PHP support at your host you shouldn't have any trouble implementing it. It also lists all the problems and workarounds I found, so hopefully you'll have it easier than I did. Let me know how it goes!

Friday, February 23, 2001

Dubya gave his first press conference, and the verdict wasn't good. My favorite part: "An informal poll of White House reporters indicated that 100 percent were confident Bush had absolutely no idea what the BBC reporter was talking about. That won't be in their stories Friday, I'll bet."


Awww! A little bilingual Indiana boy called 911 and calmly translated the operator's CPR instructions to his mother in Spanish. He ended up saving his brother's life. That stuff makes me get all teary.


I just discovered that Kevin from Ghost in the Machine has another weblog specifically devoted to Harry Potter: The Leaky Cauldron! It's got new pictures from the set, and they look fantastic...

| | |
| --- | --- |
| | [2] |
At last, at last!
Sorry about the lack of posts today, but BlogVoices had been slowing my site down to a crawl and I couldn't take it any longer. I've implemented a stand-alone discussion system! I found a link to a handy-dandy PHP comments script at Scrubbles that did the trick nicely. It's the same one Ernie used it at little.yellow.different. and I sorta used his example for inspiration. I've been fiddling with it for hours now and I think I've got all the bugs worked out. (Any further problems with download time are strictly the fault of my crap hosting provider.) To try it out, just click on the little speech bubble icon at the top right of this post. Let me know what you think!


I'm... speechless. Ben Stiller, who I thought had my best interests at heart, is apparently producing and may star in a comedy called "Go to Hell, Mike Piazza." Why, Ben? Why you gotta be dissin' my man?

Thursday, February 22, 2001

Can you help Theseus escape the Minotaur? Lord knows I can't. This damn maze is drivin' me crazy. Somebody please help!


Dreamlog: So I had at least three different dreams last night, but unfortunately I can only remember two. In the first I was at Cedar Point with my sister and brother and Snookums, but before we got to ride anything I got in a big nasty fight with my sis. It was over near the Pirate Ride (which the bastards took out a couple years ago), and she was sitting at a picnic table and we were just screaming at each other. And I remember suddenly looking up and seeing horrible gray crowds just rolling in and filling the sky. And I'm like, "AMY! If you don't shut the hell up, we're gonna get stuck out in the storm!" There was a huge crack of thunder, and then I woke up.

In the second dream, I was in a house full of people and had to fight my way out from the basement. Helping me were Drew Barrymore and Lucy Liu. (Which must mean that I was Cameron Diaz, but I have no idea why, since I haven't even seen the damn movie.) I had this short sword which kind of split apart, so really I had two short ninja swords that I was twirling and fighting with. We eventually made our way up the stairs to the front door, but when I threw it open there stood Mrs. Diane Heitger, my ex-boyfriend's mother. So I quickly put my sword away and said hello, hoping to move her away from our exit path. But before I could get out, I woke up.


I was just checking my referrer logs to see how many people have been sucked in by my flagrant karma whoring on Plastic, when what to my wondering eyes should appear but an honest-to-goodness disturbing search request! Somebody apparently found my site after searching on "asian escorts at web". Huh. Now that I'm listed on Google I seem to be reachin' a whole new audience...


Remember that guy, the one who broke into Amazon's headquarters? He's got his own website where you can apparently watch a webcast of his entire sold-out play, "21 Dog Years: Doing Time @ Amazon.com." I might try to watch it tonight after work...


Ernie at little. yellow. different. links to an interesting article that explains why many Asians turn red when they drink. Huh. I'm technically a quarter Korean, yet I've never had any problem with al-kee-hol. Can't even think of anybody in my family who does, for that matter. Of course, I've never gotten my Grandma blitzed.

Wednesday, February 21, 2001

This puppet guy's show reminds me of the "Dance of Despair and Disillusionment" from Being John Malkovich. Ooh, maybe I'll even get to see it when it comes to London thus summer!


No no no no no! I've resisted! I haven't mentioned the damn thing once! And just when I think it'll all blow over as quickly as it arrived, my beloved Mighty Big TV had to go and mention that damn "All your base are belong to us." Ugh. It was funny until it took over the world.

PW Blog: Princeton can do it; why can't we?


Don't have time to read whole books? Try Book-A-Minute! Actually, their reviews are pretty damn hilarious, especially the sci-fi and fantasy. My favorite, though, has to be If I Ran the Circus by Dr. Seuss:

Morris McGurk: "If I ran the circus, I would make Mr. Sneelock do lots of dangerous things, because I have repressed Freudian feelings of hatred for him as a father figure, because he made me clean up the yard."

PW Blog: More hard-hitting journalism from the Observer: bar owners worry that getting busted might cause them business. No duh. The most disturbing part of this article is the quote from the owner of the establishment formerly known as "Bridget Maguire's Filling Station":

"I went in there with a bottle of disinfectant and a putty knife. It took nine months, and voila, Molly's came. It was like giving birth."

*shudder*


Poodoo! I was in the lead on Plastic's Karma Whoring Contest and then somebody had to point out that you're supposed to be logging on from the United States to be eligible. How much does that suck?! I give up. My karma whoring days are over. I hate you, Plastic.


Is it just me, or does this murder case sound exactly like the plot of the Gus Van Sant film To Die For? Except that in the movie, Nicole Kidman and Matt Dillon didn't have any kids.

I remember walking out of our campus screening of To Die For thinking, "Man, Max from Space Camp got creeeeepy when he grew up." Little did I expect he'd go on to play the loathsome Commodus. *shudder*


In case you haven't noticed, I've added a "favorite icon" to this site. IE5 users should be able to see it in their Address bar and in their Bookmarks list. You can learn how to make one here. (I also made one for RoaldDahlFans.com.)

Tuesday, February 20, 2001
Attention music fans:
I just got an e-mail from my college friend Matt Curreri, who has a new album out. You should order it. I saw him perform several times back at ND and I guarantee you'll enjoy his work. (His label says he appeals to fans of "R.E.M., Belle & Sebastian, Elliott Smith, Velvet Underground, and the Beach Boys," if that helps.) I'm curious to see how this album turns out, because on his website it sounds as if he's changed direction from the "silly" stuff he did at school. That's fine with me... I always liked the sincere stuff better anyway. Give him a listen.


Suddenly that trip to Australia in March isn't looking so good. Mir could fall on us. Great. And that blurb about there not being any "biological nasties" on board isn't reassuring... Wasn't there something in the news a few months ago about it being covered in space fungus? Oh yeah, there it is.


Everybody today's talkin' about the third-grader whose race-related science fair experiment was banned. You know what my third-grade science fair project was? The Solar Heated Home of Tomorrow. I got my dad to build me a house out of plywood and cut a big hole in the roof, which I then covered with plastic wrap. Then I taped Ziploc bags full of water to the inside walls. A carefully aimed desk lamp and a stick-on thermometer completed the set-up. No offense to my dad's excellent craftsmanship, but it was seriously the worst "experiment" ever. The whole thing was just an excuse for me to decorate the house with markers. (But since not many kids even bothered to try, I did get to go to Regionals!) What I'm sayin' is, this kid actually conceived of a legitimate experiment with a purpose. Why are they censoring her? The school system should be giving her research grants.


Sweet! I'm on an e-commerce kick. I also just renewed my membership in the R.E.M. Fan Club. Oh, how I relish the Christmas singles. They've got a nice gallery of them -- I've got 1992's "Where's Captain Kirk" Vinyl 7" and 1999's CD with Neil Young. The News page also reveals some of the song titles from the forthcoming album. Now I just wish they'd get some decent T-shirts in the Thriftstore so I could display my fanaticism to one and all.


What a satisfying feeling. I just donated $25 to Planned Parenthood in George W. Bush's name. Seriously. Someone came up with this great idea to show the President exactly what we think of his policies. Here's the message I sent along (that he'll receive): "I'm lucky to live in a country where my reproductive rights are secure--the UK. Please reconsider your position on such rights in the US. Otherwise I cannot, in good conscience, return home to a country that doesn't allow me sovereignty over my own body." It's a bit clumsy, but you're only allowed 255 characters so I had to significantly chop my first

rant

draft.


Just updated my geek code block. Do you have one? If you're reading this, you probably should.


A student wrote the following line in an editorial at SUNY-Stony Brook: Dear Jesus Christ, King of Kings, all I ask is that you smite George W. Bush. He also asks the Lord to smite Carson Daly. Pretty obvious satire, don't you think? Apparently the Secret Service didn't. They interrogated him, subjected him to a psychological exam, coerced him into giving permission for them to examine his medical records, and searched his house. The hell?? Since when are students not protected by the First Amendment? I hope Jesus smites the asshole who authorized this cock-up.


Some online comic sites are running an interview with Berkely Breathed (part 1, part 2). You do know who Berkely Breathed is, right? This reminds me of sophomore year of college, when Liz and I correctly identified the comic strip that "Bill the Cat" appeared in and won a gift certificate from the local radio station. (It was "Bloom County.") Read the interview; it's pretty good.

Monday, February 19, 2001

Regis Philbin is donating $2.75 million for a studio theater in the new Performing Arts Center his (and my) alma mater is building. Which is really generous and nice and all, but I find this quote from the chair of the department hilarious: "We would welcome this gift for any purpose, but to designate it for a theater that will be the home space for our lab and performance-art productions -- a place for experiment and adventure in the arts -- is especially appropriate." What? Since when did Regis Philbin become "experimental" and "adventurous"? It's not like we're talking about Lars Von Trier here. That ass-kissing seriously pushes the boundaries of credibility.

PW Blog: Regis is donating money for a lab theater at ND's performing arts center. That's the kind of thing that makes the rest of us alumni look bad. :)

PW Blog: The Observer has a good story about Planet Irish, which is apparently a student-run online community for ND students. I was actually really impressed by the site. It looks like something I would've made my start page.


I finished Do Androids Dream of Electric Sheep? by Philip K. Dick yesterday. It was fantastic. I figured I wouldn't like it, since I hated William Gibson's Neuromancer so much. Gibson was so deliberately alienating and difficult that I had pretty much given up on hardcore sci-fi for good. PKD was a revelation though. The story itself wasn't difficult to follow and it completely absorbed me. The parts that stayed with me, though, are the background issues: Mercerism, nuclear fallout, cloning, identity, and empathy. I'm looking forward to finally seeing Blade Runner to see how it stacks up. (Based on some of the reviews I've read, I'm not expecting it to be very similar to the book.)


My dad's a big fan of Mark Cuban, the owner of the Dallas Mavericks NBA team. Apparently Cuban just got suspended for two games for rushing onto the court at the end of a Dallas-Cleveland game. The players got in a fight because the Dallas team was trying to run the score up to 100 so the home crowd would win 99-cent chalupa coupons as part of a Taco Bell promotion. How wacky is that? From the article: "Fans began chanting "Cha-lu-pa! Cha-lu-pa!" in the game's waning seconds..." The opposing team was not amused. "It's bigger than chalupas," Wesley Person said. "Their coach called a play with 10 seconds left in a 20-point game. That's disrespect." Fair enough. I just wish I could get a damn chalupa in London.


Ironminds argues that Fred Durst should run for President in 2004. Why? Because "the nookie can be lots of things. Like Jerusalem." Heh.


Ooh, I forgot to mention what Snookums got me for Valentine's Day: Interactive Yoda! It's seriously one of the coolest toys I've ever had in my life. He's sorta like a Furby, except you don't have to feed him or anything. He comes with a lightsaber and he frickin' teaches you to be a Jedi. Seriously! There are 21 lightsaber moves you learn and he gives you combinations that you have to reproduce. He's got a sensor that tells whether you do them correctly. Snookums made it through the first level to become an official Jedi, but I'm still stuck back as a Jedi apprentice. (He's a better fencer than me.)


Damn. What my sister would've given for this domain name: lloyddobler.com. I found it while checking out this "pithy" list of great 80's movies that I found linked on Lake Effect. Actually I watched one of them, The Breakfast Club, just this past Saturday night. (It was part of BBC2's "I Love 1984" special.) I'm getting to love British telly, especially since they never bleep any of the curse words.


Big congrats and best wishes to Brigita, whose secret has finally been revealed. (Mouseover the cartoon of her and her boy.) Hey B, how's about an Amazon wishlist so we can buy you stuff?


Max's anecdote last week about students who don't believe we landed on the moon made me laugh. That is, until I actually read about the ridiculous program Fox aired to support the conspiracy theorists. For those of you trying to debunk such, uh, bunk, Bad Astronomy refutes nearly every argument from the show. In addition, NASA themselves responded on their site saying "Yes, we did!" You know, NASA is about to finish one of the most important missions of the last 10 years, and it's just sad that people continue to disbelieve the amazing work that they do.


Wow. I can't believe this. Dale Earnhardt died. I'm not a fan of racing or anything (I think it's the most boring "sport" I've ever seen), but this was one of the guys that even non-fans recognized. He was my uncle's favorite racer. I hope maybe this forces NASCAR to recognize how dangerous racing is and that they need to implement more safety restrictions.

Saturday, February 17, 2001

Yes, I've removed the time stamps on my posts. Can you guess why?


Snookums and I went to see Tap Dogs last night. It was awesome. Six sexy Aussie guys in combat boots and Levi's "tap, stomp, jump and splash their way through an energetic array of raunchy dance routines." If you've got time, take a look at the Quicktime highlight movie. My favorite part was when they each had a drum pad in front of them and they danced on it to create a full rock rhythm drumline (bass, high hat, everything). The bit with the angle grinders and showers of sparks was damn sexy too. :)

Friday, February 16, 2001

Make a Mr. Men or Little Miss!
You remember those books right? Of course you do. That's Little Miss Kris, over there. Isn't she cute? (Come on, it's Friday night!) Like the fabulous StorTroopers, there aren't a lot of options so you may have to do some Photoshopping to complete the likeness. (Link courtesy of not.so.soft)

| | |
| --- | --- |
| | [2] |

Cool! The official Harry Potter site is now up! It's a bit Flash-intensive, but it's worth it, I think. Make sure you watch the introduction movie... The tone of the design seems to be darker and scarier than I expected. And I'm proud to announce that I've been sorted into Gryffindor!


Microsoft says open-source software is un-American. Excuse me while I collapse in giggles. Whew! That's a good one. On a related note, I just bought Rebel Code: Linux and the Open-Source Revolution for vacation reading. It looks good... I'll let you know how it turns out.


Sorry for the lack of posts today. I've been in running around between offices for meetings. Ugh. All done now. *smile* And my mom just came through with the happy thought of the day: My younger brother Anthony was designed "Tuffy Muffler Player of the Game" at his high school basketball game last night. He had 16 points against our curséd rivals, the Panthers of Prairie Heights. Congrats, Antny!

Thursday, February 15, 2001
PW Blog: Apartments.com is hosting a contest to find the Messiest College Apartment in America. The winner gets $10,000. Suddenly I wish I had taken more pictures of the room I shared with Eileen Dunne freshman year...


MenWhoLookLikeKennyRogers.com. This is the funniest thing I've ever seen in my entire life. I had to run around and show everybody in my office. Damn, I love the Internet.


Fresh Hell found a great story on how bibliophiles organize their books. Personally, I'm so anal that I found this fascinating. I used to alphabetize all my books by author, but my Dahl collection got too large and too important to be mixed in with everything else, so now that's separated out. Then I kinda like to keep all the nice big hardcovers together, then paperbacks, and the reference books always go last. Oh, and books in a series must be shelved in the proper order from start to finish. Like I said, I'm anal. (You don't even wanna hear about my CD collection...)


Hey girls! (Boys, hide your eyes.) Apparently Procter & Gamble are developing high tech, interactive panty liners that will tell you when you're going to get your period, when you're ovulating, if you're pregnant, and if you have an infection. (Sounds nuts, but true!) The only problem I have with this idea is that women are going to be persuaded into wearing panty liners every day. That's insane - nobody does that! So while it sounds like some great breakthrough for feminine health, it's actually just a giant cash cow in the making for Always and Tampax. I've posted a much longer rant on this article at Plastic. (Okay boys, you can open your eyes now.)

PW Blog: Um, apparently this week is Chastity Week at ND. There are soooo many things I could say about that, but I won't.

PW Blog: Hahaha... Notre Dame got hit pretty hard by the Anna Kournikova Virus, but SMC didn't. Go figure.


Hahaha... Notre Dame got hit pretty hard by the Anna Kournikova Virus, but our sister school St. Mary's (which is all-female) didn't. Go figure.

PW Blog: Wow. There's an article at the Observer about a girl from Howard Hall who was banned from the dorm after breaking parietals. I can't believe that the punishment is so harsh. I always had the impression that a lot of coed sleep-overs happened on campus, but this makes it sound like they're really cracking down.


Salon's music critics pick the 10 most paranoid songs of all time. #7 is "Private Eyes" by Daryl Hall and John Oates, which was the inspiration for my sister's weblog.


Hooray! It took me about 40 hours but I finally managed to break 10,000 points on Level 2 of Bejeweled. (10,127 to be exact.) I couldn't get those damn jewels out of my head all last night. I finally figured out the best strategy, though, which seems to be to work up from the bottom so you get maximum slidage and opportunity for combination moves.

Wednesday, February 14, 2001

Tara D. loves me. She's the sweetest! And this has to be one of the most elaborate e-cards I've ever seen. Make sure you've got your headphones on. :)


There's nothin' like spending $1500 in the space of your lunch hour. But we got our tickets to Oz!


Who didn't look at their report card and speculate that their teacher was on drugs? Too bad that this one actually was.

(To counter the negative teacher story, I'll offer up a positive as well. Congratulations to Max on winning "Auburn City School System Teacher of the Year"! See, not all of them trade A's for prescription painkillers.)


Ooh! The one-sheet poster for Bridget Jones's Diary is out! I'm getting a very good vibe from this film. I read somewhere that they tested it with an English audience and it scored higher approval ratings than any other film, even Notting Hill. I just re-read the book last weekend in anticipation for the movie. I realized, though, that the two males leads are, like, NEVER in the same scene together. In fact, Mark Darcy (i.e. Colin Firth) is barely in it at all! I wonder if his billing before Hugh Grant reflects an enlargement of the role. I hope so. Mmmm, Darcy-licious.


Happy Valentine's Day, everyone!
I know it's commercial and I know it's stupid, but this is seriously the first year in forever that I've had somebody I even wanted to celebrate it with. So be bitter if you must, but don't rain on my parade. (And special thanks to my Grandpa, whose yearly Valentine always makes me remember that there's at least one man I can always count on.)

Tuesday, February 13, 2001

Since I'm always the last to jump on the Meme Bandwagon, it's taken me ages to get around to playing Bejeweled. Damn, is it ever addictive! I've been playing it for the last hour or so and I can't even see straight. I'll update you on my high score tomorrow, once I've gotten a little better at it.


Brevity, thy name is Max. His Oscar reaction is so much better than mine...


Elie Wiesel was apparently involved in the Marc Rich pardon. WHAT? The Nobel Prize winner? This just gets weirder and wierder. I wrote off a lot of people's complaints about the Rich affair simply because I thought they were just slamming Clinton as usual. It looks like the truth is more complicated than I thought. And it doesn't look good, Bill.


Modern Humorist sums up all my feelings towards Kate Hudson with this (sadly imaginary yet all too real) quote following her Oscar nomination: ""I just screamed! Then I giggled. Then I flounced about in a quirky, offbeat playful way with a daffy, loopy grin. So did my mom!"


Oscar nominations are up.

Immediate thoughts: I'm glad Crouching Tiger, Hidden Dragon cleaned up, but Wonder Boys got shafted big time. Damn. I love me some Tobey Maguire. I'm suffering from a case of severe Kate Hudson Backlash and I haven't even seen the damn movie yet. She's on the cover of every bloody magazine in London! Gladiator has got to be the most overrated film since Titanic. Yes, Russell Crowe was hot. But his swordplay didn't even come close to Ewan McGregor's in The Phantom Menace (which shall be my all-time standard for such things). And it even recycled the "revenge-your-dead-soulmate-while-still-hooking-up-with-the-royal-hottie" plotline that I loathed so much from Braveheart! I tried to watch Erin Brockovich on an airplane and it was just too damn boring. Yes, that's right, I'd rather read the in-flight magazine for the 3rd time than watch plucky lawyer Julia jiggle her breasts for two hours. She can sport all the lower-class SlutWear in the world and carry three brats on each hip, and little ol' non-celebrity me still ain't gonna identify with her. Suspension of disbelief only goes so far. And what's up with Soderbergh's double-nod? I guess Hollywood just loves to congratulate the sell-out. (Note to Steve: Re-watch sex lies and videotape, write something along those lines, and give James Spader a call. Please. Love, Kris)

Whew! I feel better now that I've got that off my chest. Now I'm off to Plastic to reproduce my rant on the inevitable post there. What fun!


Wow! I just got

spam

a helpful reminder from Amazon.com. They write:

Your birthday is right around the corner--March 15, to be exact.
What better reason to update your Wish List?

Thanks for the tip, Jeff.


I've been wanting to get a digital camera for a while now... and articles like this make me think I definitely should. My sister used to work in photo-processing and -- while she herself only handled the film canisters and not the prints -- she would occasionally tell me about pictures that her boyfriend (who did work with the prints) had seen. *shudder* Not that I'm takin' nekkid pictures or anything, but the idea of skeevy high schoolers looking at my stuff creeps me out.

Monday, February 12, 2001

I've seen this link to "Things my girlfriend and I have argued about" before and simply skipped over it, thinking that it was probably non-funny crap. But today, on a whim, I clicked. And oh Lordy, is it ever hilarious. Seriously.


Some chick at my university tried to defend Indiana in the campus newspaper. (Most of the student body come from elsewhere and slagging off the Hoosier State is a popular pasttime.) As a Hoosier myself, I defend Indiana all the time. I disagree with her on two points though: A) Corn rocks, and B) Most people from Indiana do not have street smarts (with the notable exception of those unfortunate enough to grow up in Gary or Indianapolis). That's not to say we can't ever acquire them, but growing up outside of big cities pretty much limits your opportunities to cultivate them at a young age. Heck, my town only had one stoplight. I understand the writer's frustration, but even I admit that northern Indiana isn't exactly the cultural center of the world (which is why I'm outta there).

PW Blog: Some chick tried to defend Indiana in the Observer. As a Hoosier myself, I defend Indiana all the time. I disagree with her on two points though: A) Corn rocks, and B) Most Hoosiers do not have street smarts. That's not to say we can't ever acquire them, but growing up outside of big cities pretty much limits your opportunities to cultivate them while growing up. Heck, my town only had one stoplight. But just because we're rural doesn't mean we're stupid.

PW Blog: Hey! Check it out! Tambre Paster, a junior aerospace engineer and fellow Weasel, just became the first African-American drum major in University history! (Hey, Liz, she was in your section, wasn't she?) CONGRATULATIONS, TAMBRE!

PW Blog: There apparently was a power blackout on South Quad last Friday night. Unlike the one that affected most of campus my senior year, the students did not run around starting fires and demolishing furniture. Damn. Those were the good ol' days.


I'm deeply skeptical about Bush's plan to fund "faith-based intiatives," but this article linking it to Notre Dame's ACE Program made me pause. I mean, I have friends who're doing this Program (it sends graduates to teach in under-resourced Catholic schools) and I definitely think that the work they do is a good thing. If Bush could guarantee that there wouldn't be any sort of bias in giving out the money... But I really don't think that's possible, do you? Do you really believe that if, say, a Wiccan group was running such a similar Program, that their chance of getting funding would be anywhere near the same as a Catholic group? No way, José.


Salon's running an interesting story on those Y2K "wack-jobs." (Seriously, the author actually calls them that. Ha!) I hate those people. They remind me of when I used to work in a grocery store in my small town, and every time the weatherman predicted a storm we'd get a rush of old people buying jugs of water and flashlights. I'd stand there at the cash register, all of sixteen-years-old, thinking, "Wolcottville, Indiana is the last place anything remotely interesting would happen, let alone something environmentally catastrophic." I really think there's a deep human desire to hole up in a bunker for some reason. Either that or my natural optimism is once again setting me apart from the hordes of paranoid wack-jobs around me.


For my sister: John Cusack reveals his next two projects. (Link courtesy of Ghost in the Machine.)


Dawson's Creek "Sex Day" has come and gone and I'm just finally getting to experience it over here in the UK. If you missed it too, check out the MBTV recap or download the episode.


Folks seem to be lovin' the Wiggum Valentine. I got mentioned on little.yellow.different., Lots of Co., and 13 Days From Monday. Awww, I'm glad you folks liked it!


Oh, what a nice and relaxing weekend. I took advantage of the downtime to scan in photos from the Deviant and Diverse Party we threw back in October. They're pretty funny.

Friday, February 9, 2001

Sorry for the lack of posts yesterday and today. I just haven't felt the urge. My karma whoring on Plastic has sucked away any and all desire to visit other websites. (For the record, I've posted 14 comments and my karma's up to 6.) I'll try and do better.


I copied Brigita's idea of answering all the questions on the Guess The Dictator/Sit-Com Character game as if they were directed at me personally. So guess who I am?

Mary Albright from 3rd Rock from the Sun

Ugh.

Thursday, February 8, 2001

Roger Ebert's new partner Richard Roeper dissects the success of Jennifer Lopez. I love it. Here's a quote: "Jennifer Lopez is an undeniably beautiful woman who has shown promise as an actress in films such as "The Cell" and "Out of Sight," and she's a mildly talented singer/dancer of at least "Star Search" semifinalist caliber--but the fact that she has the No. 1 movie and the No. 1 CD in the country is a striking blow for mediocrity."


AICN has a another great report from the set of Kevin Smith's latest movie, "Jay and Silent Bob Strike Back." (part 1, part 2) You know, Joey Lauren Adams is a nicer person than I give her credit for being. Maybe she isn't the bastard mutation of Jewel and Renee Zellweger after all.

Wednesday, February 7, 2001
| | |
| --- | --- |
| | [114] |

Are you a Simpsons fan? Are you dating one?
My Snookums is a big fan of the show, and I reeeeally wanted to get him a "I Choo-Choo-Choose You" card for Valentine's Day. (Lisa gave one to Ralph Wiggum in a memorable episode.) Unfortunately I couldn't find one anywhere on the Net, let alone a frame grab so I could draw my own. Frustrated, I posted a plea for help on alt.tv.simpsons. Lo and behold, somebody came through! So I took the frame, enlarged it, straightened it out, and set to work cleaning it up. I even removed Ralph's chubby fingers. Click on the link to see the result! It fits on a normal sheet of paper, and I figured I'd have Kinko's print it on a big sheet of nice stock so I could fold it over into a card. Feel free to print it out and give it to your honey, but if you post it on your site please toss a link back my way. [more...]

PW Blog: oh what a night... it looks like the 'backer has it's own website! just in case you wanted to research their menu and/or buy some authentic 'backer gear. in spired by their [in]famous sign—"linebacker inn; steaks and cocktails"—i always wanted to walk in there and ask for a prime rib, a martini, and a room.

as i was never much of a 'backer backer, i was saddened to see that Club 23 doesn't have a website of their own. my search on google only turned up some "tour" dates on local bands' sites and some blurb on NDToday.com, "What I Wish I Knew When I Was a Freshmen:" [sic]

No matter how bad it looks on the outside, Club 23's juke box makes it one of the coolest bars in South Bend.

my question is, how would knowing that as a first year student help you in any way? how many freshmen can actually get into club? my other gripe is that everyone knows that the coolest thing about club is the slushies and how the unique "atmosphere" makes you appreciate california's strict smoking laws five years after graduation. smelling like an ashtray has never been known to help alleviate hangovers... (Posted by Brigita.)

I just heard my (English) project manager on the other side of the room say something about "George Bush Junior." When he walked over a few seconds later, I asked him what he had said about our new President. He said contemptuously, "Ah, I wouldn't piss on 'im if he was burning." Seriously! It cracked me up.

So, I was just in the pub for lunch and I heard a remake of Fleetwood Mac's "Dreams." Who the heck recorded that? I wondered. Turns out it was The Corrs, back in 1998. I tried in vain to find a copy online, but I had to resort to my fallback. (Thanks, Aim.)


Former Amazon employee Mike Daisy's film and one-man play make the on-line bookseller sound a lot like Microsoft, at least the version depicted in Douglas Coupland's brilliant "Microserfs." Sounds like they've got their own little "Cult of Jeff" goin' on. And that part about the prehistoric cave bear is just too delicious. Suddenly I'm very hungry for two-dimensional foods.


(Whoa, Coupland's official site is a nightmare. How about, you know, some plain ol' HTML, Doug? Maybe a site map? Wouldn't hurt.)


"Smelly T. Rex on display in London." Sweet! Well, not sweet. Pretty damn gross supposedly. Ooh, I can't wait to see it. Our Natural History Museum really is one of the coolest museums I've ever been in (and it's one of the prettiest buildings in London).


Kickass. My sister's finally updating her weblog on a regular basis. Did I mention that she's one of the most hilarious writers I know? "The Chicken Curry Caper" made me laugh and laugh.


These things disgust me! When is America going to get good gun laws? Screw the NRA. Screw Charlton Heston. We need to keep weapons of destruction out of the hands of everybody. And where the hell do people get AK-47s??

Tuesday, February 6, 2001
PW Blog: Jen Grubb, nemesis of Weasels everywhere, has apparently been drafted into the WUSA (Women's United Soccer Assocation). This brings the number of former ND players in the league up to 10.

PW Blog: Oh cute! Apparently Meaghan Leahy, a senior on our women's basketball team, finally got to play on the same court as her younger sister Maureen, a freshman at Boston College. I got a kick out of reading how their parents tried to appease both groups of fans during the game.


Oh wow. Max tipped me off that Disney's Beauty and the Beast is going to be an IMAX film. How cool is that? I saw Fantasia 2000 when it played in London at the Trocadero, and I'd LOVE to see B&B play there too. (Although I'll probably have to go by myself again and fight my way through the hordes of screaming ankle biters.)


Ironminds asks: Is George W. Bush updating the White House Web site himself? This just gets funnier and funnier. Update: Kel pointed out that the real White House site is whitehouse.gov. Apparently Ironminds and I got duped. Sorrrrrry, George.


Hey Brigita! Looks like the American eToys is going under as well. You best head over there ASAP... They've got a "75% Off Everything Sale" goin' on!


For some reason, I became obsessed with making some minor design changes here at web-goddess. The navigation is now more prominent, and the site's a bit wider as well. (I figure I'm already too wide for 640x480 people, so I might as well utilize the space the 800x600 ones have.) I've also included some (hopefully) helpful explanations and links on each page in the yellow box. Whaddaya think?


I have been unable to resist the fun of joining in with Brigita and Max to find out my pokéname. Apparently I am "Pikarider" and I live in the icy glaciers of Nunavut. My diet consists mostly of meatballs, fruits and kerosene. I have a fear of tahini and kippers. (They got that right.) I also have gossamer wings (Awww, pretty!) and the ability to resist sledgehammers. In combat situations, I can swim in lava and shoot fire. Sounds like I pretty much kick ass.


Ooh, geeky Star Wars fun. It's an Ask the Emperor Magic 8-Ball type thing. I asked him whether I should take my lunch hour now, and he said, "I find your lack of faith disturbing." I'm still trying to interpret that one.


I didn't like Plastic.com when it first came out, but it's grown on me. In fact, I think I'm a full-fledged karma whore now. I've posted, like, 8 times in the last hour. I think it has to do with the fact that I've been lurking on Slashdot forever and longing to participate, but I was worried that I didn't have the technical knowledge to add anything to the discussions. But pop culture? That's totally my bag, baby!


Wow! Some engineering students just pulled off the prank of a lifetime: suspending a VW beetle from the Golden Gate Bridge.

Monday, February 5, 2001

Hey! I saw these guys on Scrapheap Challenge! They made a steam-powered car. Actually the best American team ever (on the original version) were "The Long Brothers," who won the World Final last December. They had to crush a car, and while the British team engineered a professional-type pneumatic crusher, these American farmboys simply made a "big-ass sledge hammer" and bashed the hell out of it. I was proud.


Signature just seen on Usenet: "If Laura Bush really wanted a gown that reflected the spirit of this inauguration, she should have shoplifted it."


When Public Transport Goes Awry
I had completely forgotten about today's Tube strike until I got to the office and noticed that over half the desks were empty. Thank God I live within walking distance of work. The little sandwich man who comes 'round told me that it took him over an hour to drive in from the other side of Hammersmith, which is seriously less than half a mile away.


Dammit. I'm desperately trying to find a Valentines card that says "I Choo-Choo-Choose You" on it (like on "The Simpsons"). I've looked everywhere! E-mail me if you have any ideas.


Lake Effect links to a hilarious and spot-on parody of both "Peanuts" and the Smashing Pumpkins... "Smashing Peanuts". I really liked some of the Pumpkins' music, but I never really got into them. I think it had something to do with Billy Corgan's incredibly scary birthmark that covered, like, 90% of his body. And my 11th grade boyfriend's snotty assertion that D'arcy was a shit bass player and Corgan wrote everything. (I know now that he was right, but he was only saying it because she was a girl, not because he knew any better.) And how much do I love that Snoopy uses a Mac?


Huh. Apparently you can now customize your own shoes at Nike's website. Someone took them at their word and requested the word "sweatshop" emblazoned on their shoe to "remember the toil and labor of the children that made my shoes." Nike didn't see the humor. Now they're having a hard time trying to defend their decision.


Jakob asks: "Are Users Stupid?" I think I'm going to send it 'round on the Developers mailing list here at work. The WAP kids cried foul when Jakob said WAP was crap, and here he is refuting all of their arguments again. Nothing like a usability expert to fan the flames of a techies vs. designers war. Heehee... (I suppose such humor looks like the height of nerdiness to people outside my industry - and it probably is - but it's a Monday for God's sake.)


Are you a Kevin Smith fan? News Askew's got pictures from the set of Jay and Silent Bob Strike Back. Looks like it's going to be hilarious... At least now we know what the deal was with that damn orangutan.


AICN has a great interview with Steven Kloves, the writer from Wonder Boys and Harry Potter and the Sorceror's Stone. Not a lot of new details, but apparently he's already at work on the adaptation of the next book ("Harry Potter and the Chamber of Secrets"). Just the way he talked about his love for the material and his respect for Joanna Rowling... It reassured me that the movie is going to be as true to the source as possible. I can't wait!

Sunday, February 4, 2001
PW Blog: Yay! Lizzie has taken it upon herself to leave blog comments. In celebration I hereby proclaim that this weblog is now All About Me and Lizzie. Everyone else should consider themself excluded until they can be bothered to contribute. So there! :)

Saturday, February 3, 2001
PW Blog: Did I mention that this weblog is now All About Me? Good. Here, look at my pictures from EuroDisney. Perhaps you'll be more inclined to leave comments about them than my witty and incisive Notre Dame commentary.

PW Blog: The site I've been working on for the past six months has finally launched. It's at gift-track.com. Feel free to visit and then shower me with accolades.

PW Blog: DAMN IT! Why isn't anybody responding to the posts anymore! The little "discuss" links are back. Didn't you notice? Where are the Sex Camels? Where is the love?

Fine, if nobody wants to participate, I'll just make the site even more All About Me. Are you happy now??

Friday, February 2, 2001

I just came across an interesting article at Feed about London and the descreasing evidence of its Victorian past. Pretty interesting if you've ever been here. No one would ever recognize Waterloo as a Victorian era station anymore... The tube stop is clean, silver, and futuristic, and the interior looks like nothing so much as an airport. I admired it when the new look was unveiled, but I'm starting to see the sadness inherent in "cleaning" up history's traces.


I completely forgot it was Groundhog Day! Apparently we're going to have six more weeks of winter. Judging by the weather we've been having in London, though, I didn't need any dang groundhog to tell me that.


I almost forgot to mention that gift-track.com, the site I've been working on for the past six months, is finally live! I'm the only HTMLer, so everything you see is my work. (Unless it's broken, in which case it's probably the fault of some damn Java developer.)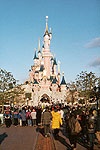 My EuroDisney pictures are finally up! Re-live all the adventure through my witty commentary and photos. Come on, you know you're curious about those French-types... :)

Thursday, February 1, 2001

BlogVoices appears to be having a major meltdown, which could be why my site:


A) took 15 minutes for you to download
B) came up with about 150 javascript errors
C) is currently pissing me off




I am apparently 35% Slut, which is less than the national average. Huh. You learn somethin' new every day.

PW Blog: Hot rumor from campus: Coach's is closing! My friend Pat reports that Martin's and Osco are reportedly buying the property. This sucks! I liked Coach's! Coach's and the 'Backer were my scene. (Yes, I have no shame.) Now even more people are going to have to cram into Club, which will make it suck even more and therefore hated even more by yours truly. The bar scene in South Bend is getting truly pathetic.


As I reported to Dark Horizons, Marilyn Manson is NOT going to be playing Willy Wonka. I have confirmation from the Dahl estate that the script isn't even finished, and no actors have even been considered for casting yet. Visit this page at my site to keep abreast of all the latest "Charlie" film news.


Somebody in Danville, Kentucky managed to pass off a phony $200 bill with a picture of George Bush on it to an unobservant Dairy Queen cashier. Hilarious. Where can I get me one of these? (On a related note, I think I've actually been to Danville, KY at some point in my childhood.)


Apparently my home state, Indiana, is considering finally moving to Daylight Savings Time. This is kinda sad, because the old adage that "Time stands still at Notre Dame" won't be literally true anymore.


Fantastic! As hit-or-miss points out, The Hero Machine is even cooler than StorTroopers. Check out my badass self over there! That's Blaster Web-Goddess, in case you're wondering. (You can click on the picture to see the enlarged version.) She lost an eye a few years back during a shootout with her mortal enemy, The Weaver. She's sworn revenge, of course, and now she stalks a post-apocalyptic I.T. universe in pursuit of the vile miscreant, only pausing to help out HTMLers in distress along the way. Ennio Morricone is composing her theme song as we speak. :)


The Observer finally published my letter to the editor!

PW Blog: That young boy, Scott Delgadillo, the one that came to the Purdue game with the Make-A-Wish Foundation, died Monday night. *sniff*


Holy cow! Next Wednesday is officially "Sex Day" on Dawson's Creek! Check out the trailer for the episode.

archives
You can search through the archives by post keyword using the form on the left, or you can browse by month using the links at the bottom.
"Moblog" refers to posts and images posted directly from my mobile phone.

"PW Blog" refers to posts recovered from my very first weblog, which dealt with news related to my college dorm.