Thursday, February 28, 2002
| | |
| --- | --- |
| | [6] |
More Gym Thoughts, by Kris Howard:
I think sometimes guys go overboard in their quest to look "hardcore". This one guy caught my eye tonight as I was doing my quad exercises. He was doing chin-ups in the corner, but apparently lifting his own body weight was too easy for this He-Man. So he was clenching, like, a fifty pound free weight between his thighs. I'm serious; it almost looked like he was holding it in his ass. It was the funniest thing I've ever seen.
The rowing machine is incredibly deceptive. The first minute was easy, and my little virtual boat was soon ahead by three boat lengths. Deluded but inspired, I continued to row for seventeen more minutes. I can barely type right now. By morning, I won't be able to lift my arms. Stupid, stupid, stupid.
I finally got chatted up by a chick. I was on the inner thigh adductor machine (of course) and this middle-aged goth lady asked if she could workout with me. She even gave me the "I haven't seen you before. Are you new here?" line. Fortunately I was done with my lifting, which gave me a polite excuse to head for the treadmill. Snookums was much amused.
I am a self-loathing big girl. Let me explain. Tonight on my way out, the girl at the counter struck up a conversation with me. She was way heavier than me, but she said she'd lost two stone (28 pounds) in the past four months. I asked how she did it, and she said it was all cardio. I explained that my trainer has me doing weight lifting too. She pooh-poohed that idea, and then said, "That just adds bulk, and we big girls are strong enough anyway, don't you think?" I mumbled an agreement and hit the door before she could continue. Why does it bother me that she put us in the same group? I am big. I'm tall and I've got boobs and a bum, but I wouldn't say I was obese. Yet somehow the "big girl" label bothers me. Whenever someone sympathizes that I'll "never be a size eight", it upsets me. Part of that, I think, has to do with the messages we females get from the media and advertising. Jenny Craig says that anybody can lose forty pounds. Weight Watchers doesn't say, "Oh, but you'll never be a size eight; you're just a big girl." They say, "Give us your money and it'll happen." And that's seductive. I feel like accepting the big girl label is a cop-out. But maybe I'm deluding myself. I dunno. I guess the reason I rejected being grouped with the counter chick tonight was that in some psycho part of my brain, I want to believe I can be a size eight. And by grouping myself in with her, I'd be admitting that that's never going to be true.
Ugh. Who knew that the rowing machine would make me so damn introspective?

| | |
| --- | --- |
| | [14] |
I'm Belle! She's my favorite! Which Disney princess are you? It's not the most well-written quiz - Hello? Look at my result up there - but it's an entertaining Thursday diversion. (Link courtesy of Brigita.)


R.I.P. Spike Milligan. Did you know that he was Roald Dahl's first choice to play Willy Wonka?

Wednesday, February 27, 2002
| | |
| --- | --- |
| | [13] |
What was I thinking? Christmas my ass. This is just like moving all over again. It's gonna take all day to unpack this stuff...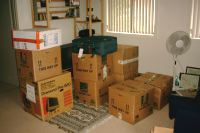 Tuesday, February 26, 2002
| | |
| --- | --- |
| | [2] |
Walking through the Broadway Shopping Centre today, my bad fashion spidey-sense started tingling. I quickly looked around for the source of the irritation. No, it wasn't any of my fellow shoppers, and it certainly wasn't me. That's when I realized that every mannequin in every single shop window was wearing... a ra-ra skirt. *shudder* It's back, ladies. In a big way.


Good: Our stuff is finally arriving from London tomorrow! Yes, it's taken three months, but they're here. Ten boxes! I don't even remember what we had in there! It's gonna be like Christmas.

Bad: The jackhammers started at 8 a.m. this morning. I woke up clenching my jaw. I can't wait for this damn café to be finished.


The Snook is a bit of wine connoisseur, as is his brother-in-law Smithy. (Smithy actually has a purpose-built wine cellar with all kinds of crazy high-tech gadgets measuring the humidity and temperature and stuff.) Next to those two, I feel like a complete Philistine. I can't tell the expensive stuff from the plonk. Anyway, that's why I found this article so amusing. It's about a scientist who did a study on taste, especially in regards to wine. He basically concludes that all "professional tasting" is hooey, and that the experts are just making it all up. One of his particularly cheeky tricks was to serve them all a white wine, and then serve them the same wine dyed red. Everyone fell for it. See? Maybe I'm not the uncultured rube I thought. (Link via PCJM.)

| | |
| --- | --- |
| | [2] |
So I go to check out this Stripper FAQ that anon linked, thinking it would be good for a laugh. (Warning, link not exactly work safe.) Instead I found myself choking on my orange juice once I realized the chick made more - working just three nights a week - than I did at my cushy IT job in London. Damn.

Monday, February 25, 2002
| | |
| --- | --- |
| | [26] |
I've been thinking about that "audience" thing I said below. You know, in my mind I think of the audience of this site just being the folks that leave comments. But I myself visit lots of sites where I just lurk and never post anything. So I wonder - do I have many lurkers? If you're a regular-ish reader and you rarely (or never) comment, please do me a favor and say hello. You don't have to come up with anything witty; just let me know that you're out there. (I'm suddenly paralyzed by the thought that there aren't any lurkers, and this is just going to be embarrassing.)

| | |
| --- | --- |
| | [2] |
Photoshop 7.0 for Mac OSX is out! It looks sweeeet. Of course, it's $600 American. That's $1200 Australian. That's a month's rent. I cannot justify spending a bloody month's rent on a piece of software. Thus, as of yesterday I have officially switched to The GIMP. It's not the easiest thing in the world to use, but it's got good documentation, it does nearly everything Photoshop does (which is way more than I need anyway), and it's free. And I don't have that icky feeling of being a software stealer anymore. In fact, everything on my machine is now legal! How many people can say the same?


Cathleen is whinging about the BBC's Olympic coverage in England. Hey, if all they showed was the British curling victory, I'd be pissed too. Luckily the Australian coverage has been excellent. Throughout the Games we got two or three hours of coverage a night, all of it highlights. But to Channel Seven's credit, there seemed to be an effort to cover a bit of everything. So not only did we see the two Australian victories, but we also saw most of the winning performances in everything else. I was also relieved that the Aussie coverage seemed relatively free of the sappy glurge that the American networks cram down your neck. It was mostly just sports.



And, of course, The Ice Dream! Last night was Roy and H.G.'s last show. They have been so funny over the past two weeks. Who else would dare to make fun of the idea that "Old Man Shea" was standing beside his son and grandson with the torch? Who else would show every skating routine from the Hugentoblers, a sister and brother team that finished near the bottom despite some very flashy home-made outfits? Who else would award medals to the worst "Hockey Bastards"? It was the perfect antidote to all the sentimental Olympic crap you get in America.


"How to Write a Better Weblog." I actually thought this article was fairly useful. I mean, as Michele points out, blogs are mainly personal sites and therefore no one should ever attempt to proscribe the way they're to be written. But for a lot of us, what started out as a personal exercise has become something bigger. You find a "voice". You worry whether the design of your site is sending the right message. You start to play up to the audience. (After all, if you didn't acknowledge them at all, why are you posting this stuff on the Internet anyway?)

For me, this site started as a way to keep lots of family and friends updated on what I was doing far, far away. But nowadays, for better or worse, it's become so much more than that. It's partly my own talk show, where I get to lead the discussions that I want to lead. It's partly a travelogue, where I get to show you guys some of the amazing stuff I've seen. It's partially a diary, so I can remember the day I left Netdecisions or the day my new brother was born. There are so many reasons that we write, but at the core of every one is the idea that someone else is going to read it.

That's why I found the article useful. Not because it tells you what to write about in your weblog, but because it emphasizes the importance of good writing for an audience. Sure, it's not a law and you're free to "rItE hOwEvHh U wAnT", but think how much more impact your ideas and thoughts could have if you presented them more readably. Look at the A-listers that everyone links to. What do they have in common? Good writing. If you care at all about your audience (and whether you admit to it or not, you do), you should make sure that reading your site is a pleasure, not a chore.

Saturday, February 23, 2002
| | |
| --- | --- |
| | [4] |
Helloooo, navel piercing! Well, that wasn't on my schedule for the day.

| | |
| --- | --- |
| | [4] |
Friday Five:

1. Hey, baby, what's your sign? Do you think it fits you pretty well?
I'm a Pisces. My birthday's coming up real soon! March 15, to be exact. Yeah, I think Pisces fits me well. Except for it being a fish, and me with that seafood aversion and all...

2. What's the worst birthday gift you've ever received?
Ugh. One of my high school boyfriends once presented me with a cubic zirconia tennis bracelet. I'm not disparaging the cheapness; I'm disparaging the entire concept. I am the last person on the face of the world that you'd possibly imagine wearing a jeweled tennis bracelet. *shudder*

3. What's the best birthday gift you've ever received?
It's probably a tie between the car my parents got me when I turned sixteen and the bike I got when I turned seven. No, it was definitely the bike. It was beautiful: purple with rainbow streamers on the big curvy handlebars, and a painted rainbow on the banana seat. I loved it.

4. What's the best way you've celebrated your birthday thus far?
Last year was pretty good. The Snook and I had a picnic at the Sydney Royal Botanic Gardens and then watched "A Midsummer Night's Dream" out in the park. The best of my childhood was when I had my party at Showbiz Pizza. I got to sit in a throne and talk to the robotic singing animals. It was fantastic.

5. What are your plans for this weekend?
Friday was "Visa Day", which thankfully went well. Today I'm entertaining the Snook and his friends, who are gobbling down my chocolate cake while playing "Lord of the Rings" as we speak. (Movie quote: "I feel like I'm babysitting but I'm not getting paid.") *grin* Other than that, I've got a ton of internet chores I need to do. I'm also going to head up to the Op Shop (that's "Goodwill" to you Yanks) and pick up some fabric to start making a quilt. Yeah, I'm going nuts with the crafts.

Friday, February 22, 2002
| | |
| --- | --- |
| | [7] |
This is it, folks. Rodd and I are heading to the Immigration Office to turn in my visa application. I'm so stressed I'm developing a cold sore. Best case scenario: they give me the permanent residency today. Probable scenario: we turn it in and they take a while to decide. Worst case scenario: I get turned down and have to leave Australia in a week. Yeah, that would really suck. So cross your fingers for us today!

Update: Well, it wasn't as bad as I expected. Our case worker explained that my application looked great and that I would've been instantly approved, except that all Americans have to undergo an extensive background check. And apparently the U.S. authorities are using September 11 as an excuse to be, like, months behind in processing them. So anyway, they gave me a "bridging" visa which allows me to stay here until they can give me a final verdict. They also granted me permission to work, which means that the Snook and I are finally going to join the job hunt in earnest. So ultimately things look very good, but I'm just going to have to wait a while to get the official stamp.

Thursday, February 21, 2002
| | |
| --- | --- |
| | [13] |
Weekly Trivia Update: We lost again. Big time. And our hated rivals won. But on the plus side, the Snook won us three free jugs of beer! Which makes for a pretty cheap night out. Questions we missed:
What are the three yellow properties on a Monopoly board? (Technically the question was about the English version, but I couldn't even remember the American ones.)
In which book did Dale Carnegie say, "The only way to get anybody to do anything is to make him want to do it." (Slight paraphrasing there, but you get the point.)
What was the real name of the "leather man" in the Village People? (He's the one that died a year or two ago.)
Can you do any better than we did? Put your answers in the comments.


Seven... bloody... a.m. Did I mention that they're putting in a café right below our apartment? Which is cool and all - except for the fact that every day this week, the Snook and I have been awakened at 7:00 by the sound of pneumatic jackhammers ten feet below us. I so appreciate starting the day with a headache.


Hee. I read this article about James Van Der Beek and Kerr Smith getting engaged as them being engaged to each other. I've been reading too much fan-fiction. :)

Wednesday, February 20, 2002
| | |
| --- | --- |
| | [1] |
Very interesting discussion going on at Tara D's site. Are you a wabi-sabi person or a weltschmerz person?

| | |
| --- | --- |
| | [3] |
Hee hee! Max was right. I was amused by this article about the Hollywood phenomenon of good guys using Mac and bad guys using PCs. Actually, the Snook and I find it more amusing when a program shows a "PC" running Windows that is clearly a Mac running a Flash movie in reality. Even Office Space - which is otherwise so true to the IT industry - falls prey to a similar mistake. Remember when Peter is frantically trying to close down his machine and leave the office before Lumbergh stops him? Check out the widgets and progress bars on his screen. It's clearly a Mac. But for some reason when he finally manages to shut down, he gets a C: prompt. I giggle every time I see it.

Tuesday, February 19, 2002
| | |
| --- | --- |
| | [6] |
Holy crap! Sickness = the best diet EVER. Screw this gym stuff; I'm gonna go hang out at the hospital. :)

| | |
| --- | --- |
| | [8] |
Ebert has added Say Anything to his list of "The Great Movies." I tend to agree.


Who else is anticipating a huge increase in applications to UC Berkeley this year?

| | |
| --- | --- |
| | [9] |
Make your own license plate. Yeah, mine's stretched a bit. Remember when you used to get little bicycle license plates in boxes of Honeycomb cereal? I'd always pray for a cool one, and instead it'd be Texas every single time. Not that Texas sucks or anything, but I swear that's the only one they ever gave out.

| | |
| --- | --- |
| | [2] |
New Poll: What's the verdict on going to the gym when you're sick? Snook's been urging me to go all through this flu, but I've been resisting. At present I'm mostly better, but I'm still congested and at times I hack and cough. I'm worried that any cardiovascular workout will make me wheeze like a freight train. Or am I just making excuses? Your call.

Sunday, February 17, 2002
| | |
| --- | --- |
| | [3] |
Today at the Fair Day, some guy excitedly told us: "Did you hear that Australia just won its first ever gold medal? He was a speed skater. He won because he was last and all the other guys fell down." We all laughed. It was the classic joke. Except later I found out, it really happened! The guys on the Ice Dream are having a field day with this.

| | |
| --- | --- |
| | [2] |
On the mend. I'm feeling much better today. I dragged myself out of bed to meet up with Kristen and her fiancé for brunch. My first blog meet-up! Very cool. Then I headed down to Victoria Park for the Mardi Gras Fair Day. Mardi Gras is Sydney's big month-long Gay and Lesbian Festival. I couldn't believe how many people were there. There were booths for gay veterinarians and lesbian bikers and gay Christians and everything else you can possibly think of. I saw drag queens and butch women and men dressed as nuns, and everyone seemed to be leading a dog on a leash. (I never realized the gay community was so into pets.) Our play had a booth and I spent a couple hours there promoting the show. We were also having a raffle for a big basket of "adult products" donated by our sponsor, SassyRoad.com. It was so much fun. If you're in Sydney next month, I expect to see you at the show!

Saturday, February 16, 2002

I still feel crappy. I made it to the rehearsal today, but I had to bail on the dog racing. (Snookums just SMSed me to say he won $110 on the trifecta!) We think we may have discovered what's ailing me though. Apparently our friend Steph (who was at Trivia with us Wednesday) and her boss have both been ill with some flu that's going around. How come I get every single bug, though, and Snookums never gets sick at all? It's not fair.

| | |
| --- | --- |
| | [5] |
Friday Five:

1. What was the first thing you ever cooked?
Probably ramen noodles. We were crazy about those when we were kids. They're apparently very popular in Korea, so we called them by their Korean name: "rom-yen".

2. What's your signature dish?
Snookums would probably say it's my chili, although I readily admit it cannot hold a candle to my father's. I'm much better with the baking than the cooking, actually. I'd probably say it's my peanut butter cookies.

3. Ever had a cooking disaster? (tasted like crap, didn't work, etc.) Describe.
Remember the infamous pizza incident?

4. If skill and money were no object, what would make for your dream meal?
I don't know. I'm a simple girl. All the stuff I like, either I or the Snook can make. For dessert, though, I wish I could make a cheesecake like I had the other night at Mama Maria's Italian Restaurant. It was simply divine.

5. What are you doing this weekend?
For the first time ever, I actually have plans! Today I've got the first rehearsal for the new play, and then tonight we're all going to the dog races ("the Doggies") for my friend Kenya's birthday. Then tomorrow I'm going to man our play's booth at Victoria Park Fair Day, and then in the afternoon I'm meeting Kristen for my first ever international blog meet-up!

Friday, February 15, 2002
| | |
| --- | --- |
| | [3] |
The tickle I've been feeling in the back of my throat for two days can be ignored no longer. I'm sick, folks. *pout* Snookums has been taking good care of me though. Orange juice and chicken soup are on the menu today!


Hmm. It turns out my experiment this morning might not have been entirely scientifically accurate.

| | |
| --- | --- |
| | [2] |
Cruel irony. Tara D, who's been defending Valentine's Day to me all week, just had the shittiest one EVER. Some jerk stole her wallet at the grocery store and then went on a spending spree. I'd explain more, but you really should read her version of it. I mean, she's a professional comedian, so despite the suckiness of what happened, her re-telling of it is still the funniest thing I've read in a while.


Awww! Slashdot's Commander Taco proposed to his girlfriend yesterday via the website! That's the cutest thing ever. On a related note, Channel 7 here has a new show called "Marry Me" where they film outrageous public marriage proposals. Snook astutely predicted that I'd love it. It's not that I have a thing for weddings or anything. It's just that these poor guys do the most embarrassing things, and they're so nervous, and you just have to laugh.

| | |
| --- | --- |
| | [5] |
Science at work! My friend Pat and I just solved one of the great mysteries of our time. I'll let you see it unfold in real-time via our Instant Messager conversation:
Pat: actually, what time is it there
krisinsydney: it's 10:16 a.m.
Pat: oh
krisinsydney: We're, what, seven hours behind Chicago?
Pat: but its tomorrow
krisinsydney: right.
Pat: crazy round earth
Pat: so, does the toilet swirl the other way down there?
krisinsydney: i think that's a myth.
krisinsydney: i haven't watched though.
krisinsydney: okay, so flush yours and see which way it goes.
Pat: ok, i'll be right back
krisinsydney: i'll go do mine.

(Pause)

Pat: right to left
Pat: counter clockwise
krisinsydney: no way!
Pat: what does yours do
krisinsydney: well, ours doesn't actually swirl. it just whooshes straight down. but i filled the sink and pulled the stopper and THAT goes clockwise!
Pat: haha
Pat: i told you
Pat: mr wizard wouldnt lie to me
See? Conclusive proof that drains swirl one way in the Northern Hemisphere, and one way in the Southern. Now we just need someone equatorial to tell us what they do in the middle. Kristen??

| | |
| --- | --- |
| | [4] |
Hello?? Did anybody else see that my site was visited by a gangbanger yesterday? Evidently my ripping on Gary, Indiana was not appreciated. I've since removed his comments, but here's a tip for you G's in the future: Misspelling "motherf***ker" makes you look more comical than tough. Try and get it right next time. Oh, and thanks to Moire for backing me up. I got a posse!

Thursday, February 14, 2002
| | |
| --- | --- |
| | [3] |
The café around the corner from our apartment has a chalkboard out front that always has an interesting (and often timely) quote on it. Today's was an old Sicilian proverb: "Everlasting love lasts two years." I just thought I'd throw that out there for anybody feeling, you know, bitter today.

| | |
| --- | --- |
| | [9] |
Question of the Day: What do people call themselves where you live? Snookums and I were talking about this on the bus today. Six months ago we were Londoners, but now we're Sydneysiders. We couldn't imagine what people in Perth call themselves. So what are your city's citizens called? Do you find it funny? If you don't know it, what do you think they should be called?


What a lovely day! The Snook and I spent it at Coogee Beach, soaking up sun and Pacific waves. I hope everyone spent it in a way that made them happy. :)

| | |
| --- | --- |
| | [4] |
In case you didn't see it, my friend Stefanie came up with a great link about why Jennifer Connelly's up for Best Supporting Actress instead of Best Actress. I still think she was scared of the competition, though.

| | |
| --- | --- |
| | [9] |
Are you a music loser? How many of these albums do you have? If you've got twelve or more, you might be a Dido fan. (I have six, but if you count mp3's of the bands mentioned, it goes much higher. Thus I'm probably a loser.)

| | |
| --- | --- |
| | [4] |
Because I know you all wait breathlessly to hear how we did on the trivia each week... we lost last night. By one stinking point! We did beat our hated rivals (the "Rebels Without a Clue" team), but it was harsh to be so close and miss it. See if you can get some of the ones we missed: (1) What were the names of Marilyn Monroe's three husbands? (We got two of those.) (2) What's the term for the heart's contraction that pumps blood throughout the body? (3) At which Olympics did Amy van Dyken win a bunch of swimming medals? If you can get those, you shoulda been there! We'd have won.


Australian Survivor News:
Oh my god. THAT SUCKED. I can't put it any other way. You would've thought that no one could mess up such a surefire concept, but they did. My impressions:
The theme song bites. It sounds more Irish than Australian.
How much free shit are they gonna be provided with? As near as I could tell, each tribe got rice, cooking equipment, a tarp, a rope, blankets, a compass, fishing equipment, a shovel, and a machete. Why not a camp stove while you're at it? Sheesh.
Food is not going to be an issue. Each tribe pulled more fish out of the ocean in the first day than the Brits did all season.
The first reward/immunity challenge was RIDICULOUS. First off, David from Kadina was allowed to "sit out" because he was sick! Therefore the other team had to lose a member. Outrageous. Then the challenge (which involved pulling logs out of the ocean to make a bridge across a fire pit, climbing a tower and lighting a torch, lighting spears off the torches to throw at a bonfire, and waiting for the bonfire to burn through a rope) ended up as a DRAW because the wind blew out both fires before they could burn high enough! The tribes had to come back and compete for immunity again the next day!
The tie-breaker was a silly "true" or "false" quiz based on a history of the location that the host read two minutes before. Lucinda ended up losing it for Kadina.
God I hate Lucinda. She's like this 42-year-old soccer mom who's trying to pretend to be 25 (i.e. she had tiny braids in her hair and she loved parading her bony ass around in a sports bra). She was so distraught after the challenge that she sobbed back at camp and told her teammates to vote for her. It was the most pathetic thing ever. (I almost wanted them to keep her around, just so I'd have someone to loathe a bit more.)
Lucinda bit the big one. In fact, she was voted out 8-0! She voted for her damn self! That should be against the rules! And nobody called her on that shit!?
As you can see, I've been bitterly disappointed. I had high hopes, but the show let me down all over the place. And the contestants are all too nice! There hasn't even been a whiff of an alliance yet. It better improve next week...

Wednesday, February 13, 2002
| | |
| --- | --- |
| | [3] |
Thanks to John's heads-up, I just pre-ordered the My So-Called Life DVD. It ain't cheap, but they're only gonna do this once folks, so get in while you can.

| | |
| --- | --- |
| | [5] |
Oscar nominees are out. A few thoughts:
Good for Will Smith and Denzel Washington! For the first time ever, two black men are nominated in the "Best Actor" category.
Renee Zellweger? Please. (I'm so over my pro-her phase.) All she did was put on a few pounds. Her accent was actually terrible, we discovered (when we didn't watch the screen). Whoever thought that both Renee Zellweger and Ethan Hawke would be nominated for Oscars??
I haven't seen the movie, but doesn't Jennifer Connelly have, like, the leading female role in A Beautiful Mind? Did they call it a supporting role just so she wouldn't have to go up against Sissy Spacek?
Personally, I think the artistic categories are the really difficult ones to call this year. I mean, the costumes in Moulin Rouge and Lord of the Rings were used for completely different purposes, and both brilliantly. How do you pick one over the other??
It's nice to see Amelie picked up a few. It's a shoo-in for Best Foreign Film, I think, seeing as how I've never heard of any of the others.
Wow. They caved to the critics and threw David Lynch a bone. My sister hated that movie.
I expect my friend Kel's annual "Oscar Pick 'Em Contest" e-mail to be arriving soon. Anybody got any hot tips?

| | |
| --- | --- |
| | [12] |
I finished Pullman's His Dark Materials series. Wow. I'm not even really sure what I think. It was so dense. I've got a few questions for the few of you that have read it. Go to the comments page to discuss...

| | |
| --- | --- |
| | [3] |

Snookums and I decided last week that we wouldn't be celebrating a traditional Valentine's Day this year. Personally, I've always been bitter about the holiday because I never really had anyone special to share it with. (My relationships always seemed to implode about that time of year.) So we decided not to participate in something designed solely to sell merchandise and make single people feel crummy. That's why I was super surprised when he came home with flowers for me yesterday afternoon. He said it was a non-Valentine's Day present for me. He even remembered that gerberas are my favorites! What a sweetie. I'm feeling all warm and lovey-dovey now, but I promise to compose myself by Thursday. Okay, single people?

| | |
| --- | --- |
| | [2] |
Is your house drafty? Never fear! It's Tara D's Craft Corner to the rescue! This week, TD teaches us how to make a draft snake. Now if I just had some decent pinking shears...

Tuesday, February 12, 2002

Australian Survivor starts tomorrow!
Tonight was the "Casting Special", which showed clips from the 8500 audition tapes that were sent in. They had an entire section of people singing "I Will Survive" (a very common idea). Several people demonstrated their ability to eat gross things (including cow's brains). There was a lot of animal wrestling. It was pretty funny. At the end they showed the tapes from the sixteen selected contestants. I haven't made my selections for our Pick 'Em game yet, but I've got a few hunches. I'll let you know how I go.

| | |
| --- | --- |
| | [2] |
Tara Lipinski is guest-starring on The Ice Dream tonight. She's all grown up with alternative hair. She looks like some scary blonde Fairuza Balk.

| | |
| --- | --- |
| | [2] |
Did you ever look for the star on a Tootsie Roll Wrapper? I was always told that if you found one, you could send it in for a prize (or make a wish on it or something). Turns out it's just another urban legend.

| | |
| --- | --- |
| | [3] |
So last night as the Australian premiere of Alias, right? I'd been hearing that a lot of people liked the show, so the Snook and I gave it a shot. It was entertaining. Not the greatest thing ever, but not crap. So today I went to TSFKAMBTV to check out their recap. And get this - it had all these bits in it that weren't shown in our version! I guess the American show was shown without commercials, right? (Was that just the premiere, or all of them?) And so to make room for them here, they cut out lots of little bits. I'm pissed.


"The World of the Laid-Off Techie." Oh god. Sometimes stuff like this comes along, and it just makes me so scared that we made the wrong decision in leaving our jobs in London. It wasn't, right?


I haven't suggested any cheesy quizzes in a long time! Try this one: Which Office Space character are you? I got Peter, though I think I'm probably actually halfway between him and Michael Bolton. Without all the gangsta rap though. (Link courtesy of anon.)

Monday, February 11, 2002
| | |
| --- | --- |
| | [2] |
Help! What's the name of the Dave Matthews Band song that plays during the Black Hawk Down commercials? I'm so out of the Top 40 loop over here.


New Poll: What did you think of the little boy with the lantern being chased by the giant scary KKK icicles and rescued by David Bowie?


The Matrix was on TV tonight. It was the first time I'd seen it since I moved to Sydney (where it was filmed). It was amazing how much of the city I recognized. The "woman in the red dress" sequence happened in front of the fountain in Martin Place. The Centrepoint Tower was clearly visible in the skyline shot that Morpheus shows Neo on the television. I was able to pick out the Anzac Bridge in the distance when Neo was on the window ledge. It made me feel a little more at home here to be able to recognize the landmarks.


I've added items 58-68 on my list of (Almost) 100 Things About Me. This section includes the tale of my dressing up as Queen Amidala for the Star Wars Episode One premiere, as seen at right. Yeah, I'm a big nerd.

Sunday, February 10, 2002
| | |
| --- | --- |
| | [9] |
It doesn't happen often, but every now and then I discover some aspect of Australian culture that is completely different to the American way. For instance, Channel Seven has a show on every night called "The Ice Dream" that basically makes fun of the Olympics. It's hilarious. These two sportscasters just rip on everybody and everything. They called the Opening Ceremony "rubbish". During their recap of the pairs ice skating tonight, they actually dubbed in fart noises whenever the couples did their spins. They keep making double entendres about the slogan "the fire within". They've got a mock campaign going to host the 2010 Winter Olympics at some place called "Smiggins Hole, New South Wales". Now, can you honestly imagine an American show like this? Sure, Dave Letterman will send his Mom to the Games, but he doesn't take the piss for ninety minutes every night. Americans take such things very seriously. Australians don't take anything seriously. It amuses me.


50,000 Sycophants at 50,000 Keyboards Can't Be Wrong! Heh.

| | |
| --- | --- |
| | [1] |
Ahh, too many birthdays! Martin's was Friday. Sorry I missed ya, mate!

Saturday, February 9, 2002
| | |
| --- | --- |
| | [2] |
Princess Margaret has died. How sad, and what terrible timing for the Queen. She's just commemorated the fiftieth anniversary of her dad's death, and now her sister's gone. I'd never heard the tragic love story of Margaret's affair with Captain Peter Townsend. What a terrible choice to have to make.

| | |
| --- | --- |
| | [1] |
Snarky, less-than-reverent thoughts on the Olympics Opening Ceremony:
What the hell was up with that "boy lost in the woods" bit? The Aussie commentators were telling us what was happening, but you could totally tell that they were just reading it off a paper. Nobody could glean a damn thing from that pretentious bit of crap. At one point Snookums was like, "Why is he being chased by giant silver KKK members?" And the "fire" guy? I'm like, "Where did David Bowie come from?"
I swear that at one point, the skater couples were doing the "Pemchenko" from The Cutting Edge. Did anybody else see that?
Greece still get to lead off the procession? How much do the modern Olympics have to do with Greece nowadays? Practically nothing.
I don't mind when the commentators say that a country's never won a medal; that's fine. I think it's a bit mean to add "Oh, and they've got no chances this year either."
You could practically hear the Australians bitching about the cold. :)
Did you see that nutty Bermuda flag carrier wearing shorts? I bet he literally froze his ass off.
Who designs each team's outfits? The Chinese one makes them look like Arctic McDonald's workers.
The Former Yugoslav Republic of Macedonia? They get alphabetized under "F" for "Former"??
Heh. The Jamaicans are "raising the roof". Kickass.
You know these teams with only one athlete? Who the heck are the other old guys marching with them?
Oh dear Lord. The Korean outfits are atrocious. What the hell is up with those hats?
The Mongolian hats, on the other hand, rock. Part Attila-the-Hun, part catwalk.
Huh. Nepal's flag isn't a square. That's kinda cool.
I know that New Zealand's various sports teams are referred to as the "All Blacks", but why are their Olypians wearing all black? The Aussies didn't wear their national colors.
Hey, Norway. The 80's called and they want their silver headbands back.
There's a lot of fur on display here. I'm wondering if it's all fake, because it looks awfully expensive. And in more than one case, awfully tacky. Yes, Russian Federation, I'm looking at you.
The commentator just said that Sweden has won a "swag" of medals. I thought that word was just drug slang.
Okay, the Swiss look like aliens. Seriously. "Do you like your quasi-futuristic garb, Mr. Powers?"
Snookums: "That'd be a good job." Me: "What?" Snookums: "Being the guy that has to dig up one random fact about each country for the stupid commentators."
Hear come the Americans. Did you hear that Bush finished his pep talk to them with "Let's roll!"? *squirm*
Oh, there's Michelle Kwan. She's so cute. Whatever happened to that Lipinski chick? Did she go pro or something?
Oh no. It's that kid again. This time he's with Native Americans. I have nothing against them; I just squirm when white people romanticize their culture after hundreds of year of repressing them. We've reduced their entire historical impact to dream-catchers and casinos. People decorate their homes in "Southwestern" style without a thought of how people actually live on reserves. But enough ranting...
Wow. Horses can walk on ice? I can't walk on ice.
Native Americans dancing to rock music. I'm going to go get some beer. I can't watch this anymore.
I missed the whole emotional bit at the beginning with the WTC flag, in case you're wondering why I'm snarking instead of sobbing. I've also been outside the States long enough to laugh at our excesses. We can just be so ridiculous sometimes, friends.

| | |
| --- | --- |
| | [4] |
On the recommendation of several people (including Bill), I finally broke down and bought the first book in Philip Pullman's His Dark Materials series. I'd been avoiding his work for some time, thinking that it was some attempt to cash in on Harry Potter popularity (like Artemis Fowl, which I hated). Luckily I couldn't be more wrong about Pullman. His books are fantastic. I finished the first one in about a day. Snookums asked me at one point what it was about, and I couldn't even give him a coherent answer. "Well, there's this Dust, but I don't really know what that is... and a girl at Oxford, except in this world people have dæmons, which are physical manifestations of their souls... and somebody's kidnapping kids... and an alethiometer, which tells the truth... and armoured bears... and witches... and gypsies... and something about the Northern Lights... and, well, it's complicated!" One thing did bother me about the story, though: why didn't Lyra use the damn alethiometer more often? If I had a device that would tell me the true answer to any question I asked it, I'd consult the damn thing 100 times a day. Especially if I was involved in a major adventure! She never once thought to ask, "Will we win? What the heck should I do next?" Dumb little kid.

Oh, and weirdness. As near as I can tell, the first book was published in the United States as The Golden Compass, right? Well, in Australia and the U.K. it's called Northern Lights. I managed to find an explanation for the name change. I figured it would be something like, "Dumb American kids don't know what the northern lights are", but it turns out it was just more of a bureaucratic bungle. Anyway, did I mention that the books rock?


Once again, happy birthday to my Dad today!


Friday Five:
As this week has a Valentine's theme and all the questions are - *ahem* - a bit risque, I'm gonna have to take a pass. I know enquiring minds want to know, but really. I mean, my parents read this site! :)

| | |
| --- | --- |
| | [4] |
As anon goes, so go I. She recently tackled the "100 Things About Me" meme and inspired me to craft my own version. As usual, I had to change the rules to make it seven hundred times harder for myself. Instead of just listing bare facts, I'm basically listing interesting stories and anecdotes. Since that takes ages, I'm only up to 57. I should have time to finish it this weekend though. If you've got a few minutes to kill, check it out. I had quite a few laughs writing it.

Friday, February 8, 2002

Throwdown in the Senate! I gotta side with Robert Byrd on this one, mostly just because I had a scholarship in his name during college.

| | |
| --- | --- |
| | [1] |
Speaking of my dad, Ma Snook sent me a page of outback-related links that she thought he'd like. He'll love this one about how to survive in a four-wheel-drive out there.


Wow! Happy birthday to the Rons! February 8th is Ron Yeany (of leatheregg) and February 9th is Ron Howard (my dad, not the famous director). It's a Ron kind of week.


I think we can safely count Michele in the Wil Wheaton Backlash Club...


Hooray! The international movers called and our stuff went through customs without any taxes or duty being assessed. Yes, that would be the ten boxes of stuff we shipped from London nearly three months ago. I can't even remember what's in there! Moving halfway around the world is a loooong process, folks.

| | |
| --- | --- |
| | [2] |
Remember the teenager who crashed a plane into a Florida building? His suicide note is now online. This looks pretty damning. I still think he could've made it all up, but I'm gonna go ahead and rescind most of the benefit of the doubt I gave him back in January.

Thursday, February 7, 2002

What a fabulous evening! The Snook and I went to see Bugs Bunny on Broadway at the Sydney Opera House. The show (conceived by American conductor George Daugherty) features various Warner Brothers cartoons projected onto a large screen while a live symphony orchestra plays the famous music below. It was so cool! They actually started off with "Flight of the Valkyries" (without the cartoon) and afterwards the conductor accurately surmised that every single person in the audience had been singing to themselves: "Kill the wabbit!" They did the "Rabbit of Seville", "A Corny Concerto", "Baton Bunny", and "Rhapsody Rabbit", among others. And of course, the big finale was the full six minutes and forty-five seconds of "What's Opera, Doc?" There's nothing like seeing Elmer in his "magic helmet" singing of his love to Bugs as Brunhilda up on a giant screen while the orchestra crashes below. My favorite moment of all, though, came during the Wile E. Coyote cartoon "Zoom and Bored." At some point, the coyote runs off a cliff or something and the orchestra completely stops as he contemplates his fate in silence. At that exact moment, all 3000 of us in the concert hall smiled as we heard the laughter of two little kids in the second row. It was fun.

Oh, and the icing on the cake? It actually stopped raining today! It was the most amazing feeling in the world to be standing outside the Opera House, staring up at the city skyline and the Harbour Bridge through a gorgeous, sparkling evening sky. It felt like being in a movie or something. You've just gotta see Sydney at night.


There's an interesting argument taking place in my college newspaper's "Viewpoint" section this week. It's about Johnny Walker Lindh, the American Taliban fighter. This guy is calling for leniency in Lindh's sentencing. Whereas this guy not only thinks Lindh should be executed, he thinks his father should be executed as well. (I almost thought the second guy was being satirical at first, but now I'm pretty sure he's being sincere. He even called the previous guy's letter "liberal garbage." ND sure churns out some nutballs.)


Hmmm. Slate's got a good article about the Dvorak keyboard layout. You know, the one that puts the keys we actually use the most nearer to our fingers? (That's the opposite of the QWERTY keyboard, which spreads everything out.) I actually tried to learn Dvorak once back in high school. I had already surpassed my keyboarding class in terms of speed and I was looking for a new challenge. My teacher tried to dissuade me, saying that it's like trying to become expert at playing two different musical instruments. Eventually I gave up when it started impacting my QWERTY speed. But this article has revived the idea in my mind. Why shouldn't I give it another shot now? I'm not working a desk job, so the learning curve shouldn't hurt me. I think I'm gonna try.

| | |
| --- | --- |
| | [2] |
The discussion we were having about Rosie O'Donnell's sexuality and the importance of celebrities "coming out" seems to have moved from Tara D's site to Matt's. Feel free to jump in.

Wednesday, February 6, 2002

Another victory! Oh, we didn't win the Trivia tonight (again). But I did manage to win two of the "free jug of beer" competitions. The first involved identifying a filmmaker, which I correctly deduced was Quentin Tarantino before twenty other people. The second was called "heads or tails", where you have to stand and put your hands on your head or your bum. The quizlady flips a coin, and if she gets your sign, you're still in. And I was the last one in the bar standing! I never win anything!

| | |
| --- | --- |
| | [4] |
Hooray! I just got an e-mail from a theater company in Sydney who want me to help them out with a show. It's non-paid, of course, but at least it's a reason to get out of the house. I called the Producer back and I'm gonna go see a read-through next week. The show is apparently about the adult film industry (hi, Mom!) and it'll run throughout Sydney's Gay and Lesbian Mardi Gras festival in March. It looks like I'd be helping out with props, set design, and publicity. How awesome is that?

Tuesday, February 5, 2002
| | |
| --- | --- |
| | [16] |
You know, sometimes when you go to the gym mad, you just come out madder. Tonight's list of complaints:
The ladies' locker room has a fat mirror in it. You women know what I'm talking about. The kind that makes you look bulgy in all the wrong places when you look in it. It's right near the door, too, so I see it right at the beginning and end of my workout. The damn thing is so distorted it should be in a Funhouse. It's not a very inspiring sight.
I had to rearrange my usual routine because some scary woman was monopolizing the inner thigh adductor machine. You know, the one where your legs are spread way out. Except she wasn't actually using it; she was just sitting in it. Spread-eagled. Like she was at the gynecologist.
My left ear is mutant. It's freakishly small. My new iPod earbuds were too big and kept falling out, so I got some of those sporty ones that curve over the back of your ear. They fit fine on my right ear. They do not fit fine on my left ear. In fact, they stay in for about two seconds before popping out. Can you get plastic surgery on an ear??
I wish fitness results were correlated to how red and sweaty one's face gets. I'd be the frickin' Queen of that place.
I'm not a gym size-ist. In fact, I think less healthy individuals (and I include myself in that group) should almost have priority on the equipment. However, when you're so big that you literally have to squeeze into a piece of equipment, perhaps you shouldn't be using it just yet. Yes, big fat man in a little T-shirt, I'm talkin' to you. That abdominal machine will never be the same.
Every time I swear I won't check my weight, and I always do. And it makes me so mad! It keeps moving up and down. One day I'll lose a pound, the next I'll gain it back with interest. What the hell am I doing this for?
Whew. I feel better now that's off my chest.

| | |
| --- | --- |
| | [3] |
More proof that I need to get a job: I just spent two hours reading all of this season's Friends scripts. Pathetic.

| | |
| --- | --- |
| | [9] |

"It says 'I Choo-choo-choose You,' and there's a picture of a train!"

Since some people have been asking about it, once again I present to you my Simpsons Valentine. (It's the one Lisa gave to Ralph Wiggum in a memorable episode.) I made it for Snookums last year since he's a big fan. A kind person on alt.tv.simpsons provided me with a screenshot, which I painstakingly cleaned up and enlarged. Feel free to print it out and give it to your honey.

Please note: Last year I had a lot of problems with people sourcing this image directly off my servers. Please don't do this! I have no problem with you linking to my site (in fact, I encourage it!), but if you actually want the image to appear on your page, please upload it to your own webspace so you're not sucking my precious bandwidth. I'll be watching the server logs very closely to make sure everybody's playing fair.


This is getting ridiculous. Now there's a tropical cyclone named after me.

| | |
| --- | --- |
| | [4] |
To counteract the effects of the decadent Italian dinner I had last night, I am declaring today to be a "detox" day. Fruit, veg, and lots of water, and that's it. Wish me luck.

Monday, February 4, 2002
| | |
| --- | --- |
| | [3] |
Accomplishment: Tonight at dinner, for the first time in my life I managed to tie a cherry stem in a knot with my tongue. Yeah, baby.


My reign of terror in Australia continues. After the fires, we now have floods. Next I bring the locusts!

| | |
| --- | --- |
| | [11] |
And another thing... U2's done both the NBA Finals and the Superbowl now. Will they be whoring themselves out to the World Series next year? (Probably not, there's no half-time to erect their giant pretentious sets.) I was impressed that Bono managed to make it back from pressing the flesh at the World Economic Forum in New York in time to don that oh-so-touching stars-n-stripes waistcoat. Do those guys spent any time in Ireland anymore?

(I actually like U2; I'm just having a knee-jerk reaction to their deification right now. Am I the only one who remembers Pop?)


The Snook and I watched the Big Game live on television this morning. How nice was it to watch the Superbowl at 10:30 a.m.? It almost made up for the fact that we don't get to see any of the commercials. Which reminds me: ever wondered what the cameramen do while the adverts are running? They zoom in on cheerleaders' boobs and asses. I swear to God. We international types get to see everything.

Oh yeah, and it was a pretty damn good game. I was rooting for the Pats the whole way, which makes it the first time in ages that the "Kristy Curse" didn't strike. (Unlike the cricket yesterday, which was a major disappointment.) And wasn't Brady the cutest? "That's my car?? ... This will be a team car!"

| | |
| --- | --- |
| | [2] |
Phil saw his shadow and y'all have six more weeks of winter coming. Does that mean we get six more weeks of summer??


Grrr. Sometimes I hate being a day ahead of you guys. It's Monday morning, and I fire up web-goddess to see what comments have been left. But wait! I've forgotten that it's only Sunday there. Crap.

Sunday, February 3, 2002

Michael Moore's summation of Bush's wrongdoing in the Enron disaster is masterful. For a few weeks I've been feeling like I'm not getting the whole story from the media, and now here it is. Granted, Moore can be a bit over-the-top sometimes, but here he seems to be backing up his wild accusations with evidence.

| | |
| --- | --- |
| | [5] |
Funny Australian Observation O' The Day: Aussie newscasters pronounce the word "debut" as "day-boo". That cracks me up.

Oh, since the Super Bowl is coming up, here's a sports-related bit of trivia. In Australia, the word "root" has a very, very different meaning. In fact, it's a very vulgar and rude word for "having sex". Which is why the Aussies spent the entire last Olympics giggling at Americans "rooting" for their teams. (I won't even tell you what "fanny" means here, but suffice it to say that the mere mention of a "fannypack" sends Snookums into fits of laughter.)

Saturday, February 2, 2002

Holy crap! I found my first Googlewhack... and it's my own site! Check it out. I am the only site on the Internet for the search "singlets hummus". I didn't even come up with that; I just saw it on my list of last searches. How insane is that? My score:

singlets: 20,100
hummus: 41,800
singlets hummus: 840,180,000


The Snook and I just got done watching his favorite movie, Tombstone, on television. Wanting to know the truth about the events in the film, I turned to the Internet. Wow, they really white-washed some stuff! Apparently most of the Earp boys' wives were reputed to be prostitutes, and it's not even certain that Wyatt was married to his before he left her for the actress. Are you a big fan of the movie? You should take this guy's Tombstone Purity Test. The Snook only managed to score a paltry 80. (It's pretty difficult unless you've actually been there.) I myself got, like, two.

| | |
| --- | --- |
| | [7] |
John found a fantastic essay that questions the importance of teamworking skills. Personally - and this might be the wrong thing to say considering I'm currently looking for work - I hate working in teams. It all goes back to being the smart kid in elementary school. I'd get stuck with all the anti-social losers that the teacher felt would benefit from my leadership. Instead I ended up doing all the work myself just so we wouldn't fail. Eventually I discovered that I just work better alone. Even when I played sports, I played singles tennis, where my success or failure was entirely up to me. It's just easier to get things done when you're the only person responsible for it.

That said, I have of course had to work on teams in my career and the experiences were not all bad. The best cases were when everyone had a clearly defined role. I'd rather be the only HTMLer and have to do twice as much work than have to pair up with somebody else and go through the business of deciding who does what, what format to do it in, correcting their mistakes, etc. To me, specialization is the key to a good team. The only problem is that most I.T. companies fall into the mistakes mentioned in this article. They use "teamwork skills" as a convenient way to pressure people into working 60-hour weeks. If a project (or team) was getting behind, the solution was always to throw more people at it, rather than look at the ways the structure was already messed up. Most "successful" team projects only happened because two or three individuals pulled an all-nighter fixing what everyone else had screwed up.

Snookums and I have been debating this type of thing for awhile now. We lived with a Project Manager who felt that it was the duty of the better team members to handhold the others through the project. Our argument was always that companies may want this, but they never budget for the extra time. When a project is high priority on a tight deadline, mentoring goes out the window. And when it comes right down to it, I trust myself in those situations better than I trust anybody else.


Which Buffy villain are you? I'm Anyanka (Anya), which I think fits pretty well.
Your job was purely to grant revenge on men by their angry female lovers. Unfortunately you're mortal now, and also in love. You're getting the hang of being human, but you've still got some rather strange habits that give away your old, evil nature.
Translation: You were an angry, bitter, man-hatin' girl before, but now you've got a schmoopy and you're happier than ever and you try not to mess it up. (Link courtesy of anon.)

| | |
| --- | --- |
| | [2] |
Ooh, boy, that was fun! I just spent ten minutes nominating people for the Anti-Bloggies. Oh, not you, of course! Just my enemies. Heh heh. Which reminds me, those of you involved in the Great Blogger Code war of January might want to, you know, nominate somebody for "Biggest jerk". It does a body good.


Friday Five:

1. Have you ever had braces? Any other teeth trauma?
Nope. My dentist suggested I could get braces in junior high, but I rejected that plan because it might affect my trumpet playing. That's right. Like I'm some sort of professional trumpet player now or something.

2. Ever broken any bones?
Nope. I fall down a lot though, so it's pretty amazing. And I do have a dodgy ankle. I twisted the hell out of it in a tennis match back in high school and it's been weak ever since. (That's the one that gave when I spectacularly wiped out in Australia last year.)

3. Ever had stitches?
Nope. Gosh I'm boring! My sister's had lots though. Once she hit her head on the fender of the car and cut it open. And then in our high school Powder Puff game, she slipped on the first play and cracked heads with some other girl and had to get stitches all down her forehead. (Sorry to broadcast your stories, Sis, but I've got nothin' here.)

4. What are the stories behind some of your [physical] scars?
I've got a tiny chicken pox scar on my nose. I've got a whitish blobby scar on my left thigh where I once burnt myself with melted plastic. (I was burning straws with a lighter and a bit dripped off. Don't play with fire, kids.) I've got a faint, thin scar on my right thigh from falling off my bike in college. (Very embarrassing.) And lastly, I've got a scar on my navel from a very ill-advised piercing incident a couple years ago.

5. How do you plan to spend your weekend?
Actually I have no plans. Zero plans. How boring is that?

| | |
| --- | --- |
| | [2] |
It's Groundhog Day here already! Unfortunately it's not celebrated in Australia (and I don't think they have any native groundhogs here anyway), so I can't really tell you if he's seen his shadow or not. I guess I'll have to leave that up to Punxsutawney Phil. Interestingly, one of my roommates when I studied in London lived in Pennsylvania and her uncle was part of the "Brotherhood of the Groundhog" or something. He's one of the guys in top hats and frock coats who pull the poor bugger out of his cage every year. I regret never having made the pilgrimage from ND.

| | |
| --- | --- |
| | [6] |
You guys are the best. It's the morning and life goes on. I'm gonna get back on this weblogging horse and try not to wallow. If even my sister - as confirmed an atheist as anybody I know - believes my great-grampa is in a better place, then he is. She also reminded me of one of my favorite memories of him: watching him on a videotape, up in his native Kentucky mountains, casually reach over the kill a Copperhead snake with his cane without breaking a stride. He was a cool guy.

| | |
| --- | --- |
| | [4] |
Sometimes people e-mail me and ask about living so far from home. I tell them that for the most part, it's not too difficult. I talk to my family on the phone. We e-mail. We instant message. Often family gossip reaches me over here before it reaches my sister in Indiana. I tell myself that I have about the same level of contact with them as I did in college. I make-believe that the distance doesn't matter. But every now and then, things happen that emphasize just how far away I am.

My great-grampa died last night. I've been a terrible granddaughter. I didn't visit him at the nursing home when I was last there. He never got to meet Rodd. And now all I can remember is going to his house when I was little, and sitting on his knee and eating circus peanuts and listening to his stories. And this weekend my whole family will meet to lay him to rest... and I won't be there. I won't get to comfort them, and they won't be here to comfort me. It's a lonely feeling.

Papaw and I were never that close... but I never realized how far apart we were either.

Friday, February 1, 2002
| | |
| --- | --- |
| | [2] |
New Poll: How good are you behind the wheel? Are you Luke Duke or Sheriff Rosco P. Coltrane?

(Funny sidenote: One of my roommates in college thought for her entire childhood that his name was "Rosco Pico Train". I swear. I've never laughed harder in my life.)


Queen Elizabeth was late for the first engagement of her Golden Jubilee (that's fifty years on the throne, Yanks) because her car got stuck behind a student driver. Hee!

I don't think Americans realize how lucky they have it with the driving situation. When I turned fifteen, I got my learner's permit and signed up to take Driver's Ed at my school during the summer. I got an A on the exams (a monkey could) and survived several hours of driving and observation. As a result, when I turned sixteen and headed to the BMV I was able to completely skip the driving portion of the test. What's the point of this? Other than the fact that I still can't parallel park in a space smaller than thirty feet, in order to get an Australian driver's license I have to taken both the written and driving exam. How in the world am I going to be able to pass that? I'm a country girl. Any stoplight with more than three cars constitutes major traffic for me. There's no way I'm gonna pass the test if I have to do it in Sydney...


As you can see from my Links list, I'm still resisting MBTV's name change. I hereby propose we now refer to it by the acronym TSFKAMBTV, which stands for "The Site Formerly Known As MightyBig TV". Keep the dream alive.

| | |
| --- | --- |
| | [11] |
Apple finally throws down the gauntlet and explodes some common myths about their products. I could've used this information last week when I got into an argument with a die-hard Windoze fan. Her main point was Myth #3 ("The software I need isn't available for Macs.") After the Snook and I spent ten minutes explaining that it was, we got her to admit that what she really meant was "The pirate software I need isn't as easily available on Macs." Well, no duh. If you're looking for a platform for warez, Windoze is your bitch. If you're looking for a well-designed, easy-to-use, powerful-as-all-hell computer (with tons of legitimately free software to boot, thanks to OSX's Unix roots), then a Mac is for you.

On a related note, did I mention that I finally got my iPod? I love love love it. I've just about filled it up (over 1200 songs!), which - granted - isn't my entire music library, but it's more than enough to keep me happy at the gym (or in my eventual work commute). And it looks so cool. All the gay guys at the gym envy me.


Australian Survivor News: Apparently my complaints yesterday reached the right ears. The official Australian Survivor website has launched! The tribes will be called "Kadina" and "Tipara", which are apparently names of ships that have been wrecked off the coast. Check out the shipwreck in the picture... Supposedly that's where Tribal Council is going to be held!

Check out this description of one of the contestants:
Twenty-seven-year-old Craig is an electrician from Victoria who sent himself in a box to Channel Nine and personally handed his audition tape to executive producer Stephen Peters.
Psycho! Awesome.


Oh. My. God. Sophie Lee is starring in a play in Sydney. She is my favorite Australian actress. I'm so there. Remember her? She was bitchy Tania in Muriel's Wedding. ("I'm a bride! I'm supposed to be euphoric!") She was also in The Castle (which Ebert and I highly recommend) and Holy Smoke (which, incidentally, was the occasion of the Snook's and my first date). Anyway, nobody plays bitchy blonde ditzes like Sophie. LOVE her.


It's answer time!
The first correct guess was submitted by Beau (though not for the reason he thought). A couple others guessed that one as well. Congratulations! Here we go...
I got a tattoo for my twentieth birthday.
True. It's the Korean word for "rite of passage". It's nowhere you'd ever see unless I showed you. :)
 
I have had blue hair.
True. That was for my twenty-first birthday. (I have birthday issues, obviously.) I had a friend put a blue streak in my hair, which was blonde at the time.
 
I can do a cartwheel.
False! I wish it were a matter of choice, Beau, but in reality I can't do a cartwheel to save my life. It was my greatest shame in elementary school.
 
I have never broken a bone in my body.
True. Sorry, anon and Khay. I'm clumsy and I fall down a lot, but I've never broken anything.
 
Despite being my high school valedictorian, I actually failed a class my senior year.
True. This fooled Brigita and Kel. Valedictorian was actually determined after seven semesters, so your grades from the last semester really didn't count. I had been on a study trip to Germany the previous summer, and I had committed to a year of German 4. I was the only one taking it though, I wasn't learning anything, and my teacher was a complete beeatch. So I got permission from the study program to switch to Drama second semester. My German teacher got pissed that I went over her head and insisted that I was still in her class. I told her I didn't care. (I'd already been accepted to ND, who didn't care.) The guidance counselor sided with her, so I ended up failing that last semester. I'm actually pretty proud of it.
 
I am one quarter Korean.
True. Everybody knows this, right? Mom's mom is Korean.
 
I can juggle.
True. I had to learn it for a play freshman year of college. I can do two balls with one hand, or three balls with both hands.
 
I have been skydiving.
True. I caught Jeremy, Moire, and Claire on this one. I went with the Parachutin' Weasels, a group of girls from my dorm. It was the day after classes ended senior year, and I was (understandably) hung over like a dog. It was tandem jumping, and the only thing going through my head on the way down was "Don't puke on your jumpmaster. Don't puke on your jumpmaster."
 
I saw "Star Wars Episode 1: The Phantom Menace" eight times in the theater.
Embarrassingly true. In my defense, Ron, I'd sorta zone out for most of it and then perk up when the final light saber battle started.
 
I have made a quilt from scratch.
True. I'm crafty, I am.
I'm surprised I stumped so many of you. I even got Snookums, who reasoned that "all girls know how to cartwheel". If only that were so. *sigh* If only that were so...

archives
You can search through the archives by post keyword using the form on the left, or you can browse by month using the links at the bottom.
"Moblog" refers to posts and images posted directly from my mobile phone.

"PW Blog" refers to posts recovered from my very first weblog, which dealt with news related to my college dorm.