Sunday, February 29, 2004

The Snook and I headed into Newtown again tonight to say goodbye to a Sydney institution: Alex Cordobe's Pizza. After 32 years of serving up the best pies in the city, Dobe's is no more. The place was packed but the food was as good as ever. Snookums had the ham, pineapple, and olives, while I had the searingly-hot Mexican. We drank beers and toasted the passing of an institution. At the end of the night the waiters dragged Dennis (the current owner) out from behind the counter and doused him with champagne. Fare thee well, pizza man.



Interestingly, I got a waiter to confess that "Alex Cordobe" doesn't exist. They picked it off a poster of a bullfighter.




Final call for Oscar Contest entries!
We've had over 400 entries this year. Holy crap. I'm going to close the voting when I get up in the morning, which should be about five hours before the show starts. So if you haven't entered yet, do it NOW! A sock monkey hangs in the balance. (I'm going to do second and third prizes as well since there are so many entries.)

If you'd like to see how the tally is progressing throughout the show, bookmark this page. I'll be updating the award winners in real time (well, as quickly as I can get them off the web) and the scores will update immediately. As you can see, there's currently a 400-way tie for first. :)

Oh, and if you're going to be taping the show (or watching it near a computer), I'd love it if you could e-mail me the number of dead people in the obituary tribute montage. I've had a couple of volunteers already but it never hurts to double-check!



Good luck, everybody!



| | |
| --- | --- |
| | [12] |
The Snook and I want a cat. Unfortunately I haven't had one since I was little and the Snook's only familiar with outdoor farm cats, so this morning I headed to the bookstore to buy a cat owner's manual. I stood there looking through the pet section for ages. There were lots of books on dogs, lots on fish, several on birds, several on random pets like ferrets and bunnies, but only a tiny handful on cats. It amused me to see "Dogs for Dummies" and "The Idiot's Guide to Budgies" and "Rabbits for Dummies" and "The Idiot's Guide to Sharks", while there wasn't a single "Dummy" book in the cat section. I take this to mean that cat owners are just naturally more intelligent. Anyway, I got one and we're reading through it. Cat ownership, here we come!

Saturday, February 28, 2004
| | |
| --- | --- |
| | [2] |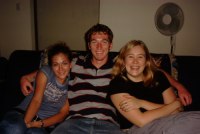 Finally, a visitor!
After two long years in Australia, a member of my family has finally come to visit. My cousin Tony is here for the semester studying in Wollongong (just south of Sydney) and came up to see us this weekend. Here I am with him and his girlfriend Molly. We took them out for a traditional Newtown evening of cocktails, beers, and Japanese food. I managed to goad them into eating sushi and octopus! It was pretty darn fun.

Friday, February 27, 2004
| | |
| --- | --- |
| | [12] |
I tried to read through Orson Scott Card's thoughts on same-sex marriage and I couldn't even get through it. The sheer stupidity... He honestly tries to argue that gays who marry are stealing something from his own marriage. He thinks that loving couples who want to get married are somehow weakening the institution (along with divorce and single parents). It made me feel ill. You know, I loved Ender's Game and all, but his personal views are really starting to color my opinion of his work - and not in a good way.

| | |
| --- | --- |
| | [4] |
A Californian's Conception of the United States. Heh.

| | |
| --- | --- |
| | [9] |
Don't forget, ladies! This Sunday is the one day every four years when tradition says you can propose to your man. If he says no, he still has to give you a kiss, a rose, and a pair of gloves. Pretty sweet, huh? I may just try it - my recent irritation with the institution notwithstanding - just to score some free swag from the Snook. :)

Thursday, February 26, 2004
| | |
| --- | --- |
| | [2] |
The 10 Strangest Toys of 2004. I actually think that "Root-Vue Farm" thing is kinda cool. Oh no, I've become a gardening geek!

| | |
| --- | --- |
| | [1] |
By the way, I just noticed that Amazon has made an update to their Wishlist features: You can now specify the priority level on any item on your list. You can also sort by priority. It's kinda fun going through and rating how much you want everything. The only annoying thing is that you can't go through the whole page changing priorities and save them all; you have to change one, hit the button, let the page refresh, and do it all over again. But fun...

Wednesday, February 25, 2004
| | |
| --- | --- |
| | [2] |
There is an Australian-themed restaurant in Portland, Oregon... called Wanker's Corner. Seriously.

| | |
| --- | --- |
| | [4] |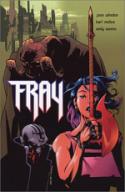 Huge thanks to John for sending me an early birthday present: Joss Whedon's futuristic Slayer comic Fray. I wasn't sure I'd like it - I don't think I've read a real comic book in my life - but as soon as I opened it I couldn't put it down. I read the whole thing in one sitting tonight. The artwork was amazing, the pace was tight, and the writing was vintage Joss. I just loved how... cinematic it was. I really hope they do a sequel. Meanwhile, do any of you have any more suggestions for comics or graphic novels? I was thinking of trying Neil Gaiman's Sandman books next. Are they good?



Only nineteen days til I turn 27. Does that put me in my "late twenties"? I don't wanna think about it.



| | |
| --- | --- |
| | [4] |
Oscar Contest Volunteers Needed: We have almost 300 entries! That's incredible. Would any of you folks with TiVos be able to help me out with something? The time-delay on the show here is going to create some difficulty in scoring the contest. I'll be able to get the results in real-time off the Web, but it's the tiebreaker question I'm worried about. I won't be able to count the dead people in the Obituary Montage until they broadcast the show here several hours later. Could a couple of you TiVo-ers count them and e-mail me the number? Otherwise I won't be able to declare an immediate winner. Just leave a comment or e-mail me if you can help. Thanks!

| | |
| --- | --- |
| | [2] |
All this rage is makin' me thirsty...
Earlier this week the Snook mentioned that he and his co-worker Toast were discussing the Atkins plan. Toast is a weightlifter and he really knows a lot about this stuff. According to him, there's a magic formula for how much water you need to drink every day to stay hydrated and lose weight on a low-carb diet. You ready? Here it is:

Your weight in pounds / 2 = Fluid ounces of H20

I was excited about this approach til I realized it means that I need to drink nearly three liters of water a day. Ouch. I'm making a valiant effort though. I'm already up to 2.4 liters today. The secret seems to be to not have ANY caffeine. I still have to go to the bathroom every hour or so, but it's not nearly as bad as it'd be if I gave in to the sweet siren call of Diet Coke.

| | |
| --- | --- |
| | [6] |
I've just written letters to my two Senators and Congressman. I used the Congress.org site to e-mail them but they seem to have disappeared off the site. Hmm. At any rate, I've also printed them out and plan to mail them off tomorrow. You should all do the same. Read on if you want to see what I wrote. [more...]


The Squirrelly is here! (In other words: Matthew of defective yeti has finally had his baby.)

| | |
| --- | --- |
| | [4] |
So. Angry.
If Bush manages to actually enshrine homosexual discrimination in the goddamn Constitution, I swear I'm never getting married. Ever. I can't in good conscience reap the benefits of getting married if somebody equally worthy is denied them on the basis that their partner happens to be the same gender. Screw him and all his homophobic supporters.

Update: I just downloaded my absentee voter registration card.

Tuesday, February 24, 2004
| | |
| --- | --- |
| | [3] |
Eeeek! I just had my taped phone interview with BBC Radio Suffolk. I'm going to sound like a complete tool, I just know it. It was pretty fun though. They're going to send me a cassette since the show isn't broadcast on the Web. I'll digitize it once it gets here so you'll all be able to hear me geeking out. :)

| | |
| --- | --- |
| | [2] |
Nine out of ten Americans like Australia best. I like to think that I'm doing my little bit to foster good US-Oz relations. Take that, Europe!

| | |
| --- | --- |
| | [1] |
Mind-Blowing Fact of the Day: Eggplants are actually berries. Isn't that weird? There's more where that came from on this page about fruits and veggies.

Monday, February 23, 2004
| | |
| --- | --- |
| | [9] |
Are you Yankee or Dixie? (Linguistically-speaking, that is.) I actually came out 58% Dixie. That's so weird. I would've guessed I'd be Yankee all the way. I think I've spent too much time overseas. (Link courtesy of Max.)

| | |
| --- | --- |
| | [10] |
More gorgeous wedding photos from San Francisco. (I went through them all but I didn't spot the ND girls anywhere.) In a related MetaFilter discussion, somebody mentioned that Mayor Daley (of Chicago) is in support of the marriages. Can anybody confirm this? I always thought Chi-town would be a nice place to live, but if this is true you can put me down as a future resident and happy taxpayer.


You know, I was never a huge fan of Doonesbury before, but I friggin' love that Gary Trudeau has offered a $10,000 reward to anybody that can definitely prove that Dubya showed up for his National Guard duty in 1972. Somehow I think the money's safe.

| | |
| --- | --- |
| | [1] |
Q: How many hipsters does it take to screw in a lightbulb?
A: What, like, you don't already know?

That was my favorite joke from this MetaFilter thread. (Warning, many very tasteless jokes in there... but funny too!)

Sunday, February 22, 2004
| | |
| --- | --- |
| | [12] |

Behold, the Beast from Hell!
I haven't given you a knitting update in ages, have I? Yes, that's me in a custom knit devil-horned hat. The pattern's from Debbie Stoller's book Stitch 'N' Bitch and I whipped it up in about six hours. (Pattern note for those playing at home: I used two balls of Heirloom 12-ply on 6mm needles.) I discovered some black wool in my stash so I might try the kitty-cat hat next. Now I just have to wait for it to get cold enough to wear!

Catching up on other projects... I also made a jumper/sweater for my iPod! My old case was getting grubby and I rarely use the belt clip anyway. There's a pattern in Stitch 'N' Bitch but it requires sewing, so I just made up my own. (I started by knitting a flat rectangle about the size of the bottom of the iPod, and then picked up around the edges and knit in the round to the top. Then I cast off the front and continued knitting flat to make the flap. I even put a yarn-over in the right spot to leave a hole for the headphone jack!) I haven't sewn any velcro on it yet, which is why I have to hold the flap closed here. Also note: I finally got my iPod in-ear headphones! As Ron suggested, they are a bit tinny. I only really notice it on the badly-ripped songs though. I've fiddled with the equalizer settings to boost the bass and that helps. But I'm back in the Cult of the White Wires!

Another recent finished object is the red scarf I'm sporting below. The wool is some handspun and hand-dyed stuff I bought at Camp Creative in January. The thickness varies from thread-thin to finger-thick. I just cast on eight stitches on my 10mm needles and knit til I ran out of wool. It went about six feet. I'm loving it. Oh, and my sister tells me that "skinny scarves are in" in the US, so unbeknownst to me I'm already in style for the winter!

Oh, and there's a work in progress in that last picture too: my muscles. I'm on Week 3 of my weight training regimen and I'm feeling pretty darn buff!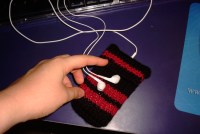 | | |
| --- | --- |
| | [3] |
Yay! According to Nora, two girls from Notre Dame (from Lyons Hall, to be exact) got married in San Francisco last week. I met one of them a couple times and I'm just so happy for them.

Saturday, February 21, 2004
| | |
| --- | --- |
| | [4] |
Apparently the hot new crime in the world of fine art is... stealing quilts. Seriously. I better start learning how to work a barcode into my stitching!

Friday, February 20, 2004
| | |
| --- | --- |
| | [4] |
Jewel sucked. I feel vindicated.

| | |
| --- | --- |
| | [2] |
It's well known around the Midwest that practically every old person in Indiana migrates to Florida for the winter (my family included)... but I never knew that the Amish did it too!

| | |
| --- | --- |
| | [2] |
Ron has an excellent new splash page.



[I'd like to take this opportunity to reassure my family that I was NOT KIDDING when I said that they all had to register to vote and vote AGAINST BUSH if they ever wanted me to move back to America and get married and have babies. I mean it, Grandma Veva!]




The Snook and I had to head back to our old neighborhood Newtown this morning and we noticed a new restaurant: Sushi Boat! As far as I can tell, it's just like a sushi train except the food floats on little boats in a channel. (It sounds like that crappy duck game we used to play at my Mom's company picnic that consisted of picking up a rubber duckie and winning the prize that corresponded with the number written on its bottom. Not a lot of skill involved there.) I think we're going to have to investigate this one further.

| | |
| --- | --- |
| | [3] |
The Ultimate 80's Quiz. That's actually a really well-done quiz! (Aside from a few spelling mistakes, anyway.) It starts really easy but gets a lot harder. I scored 72 out of 100, which puts me at the "Brat Packian" rank. Sweet.


The Good: Another article in the Australian media about TiVo!
The Bad: They doubt it'll ever be available here.
The Ugly: The cost of importing one and hacking it to work Down Under.

Thursday, February 19, 2004
| | |
| --- | --- |
| | [3] |
Adventures in Food Preparation
As you can see from the photos below, the Snook and I have been makin' pickles. Specifically, we're making sun dills. My mom used to make them when I was a kid and I loved them, so a few months ago we planted cucumber seeds in the garden. As with everything else we planted, they went berserk. Last weekend the Snook noticed that I had three big fat ripe ones. Here you can see the before and after shots. Now we just need to leave the jar in the sun for a couple days and I'll be eating ice cold fresh pickles by Monday!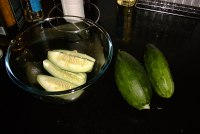 Also, we tried out a great new sausage and bean stew for dinner tonight. It's sorta like a cross between chili and gourmet beanie weenies. It's not exactly the most Atkins-friendly dish but it's an awesome winter warmer. (Why we made it in the height of Indian summer is a mystery even to me.) It even involved fennel, which I didn't think I liked. Read on for the recipe. [more...]


Are any of you English folks in listening range of BBC Radio Suffolk? They contacted me about doing an interview about my Roald Dahl site, which they want to feature as their "site of the day". The piece airs at 3:45 pm each afternoon but I don't know the day yet (as I haven't yet done the interview). I've checked their website but it isn't clear if this segment is broadcast on the Internet. Anybody around there that could possibly tape it for me? I'll provide more details once I know them.

| | |
| --- | --- |
| | [18] |
Who the hell are Aphrodite Marketing? My Yahoo account has been relatively quiet spam-wise lately (with most offenders being sent straight to the Bulk Mail folder) but these jerks have suddenly exploded into my Inbox in a big way. They seem to specialize in HTML emails where the actual spam pitch is contained in a big image, while the text of the email looks like a message from a friend. I keep reporting it as spam but the torrent isn't slowing. Bastards.

| | |
| --- | --- |
| | [2] |
This waiting-for-my-residency thing is a little nerve-wracking. I was reading this article on mail-order brides today (more on that in a minute) and was surprised to see that only 191 Australian spouse visas were granted to Russian women last year. That places them fifth on the country list and the US is ranked even lower. I know I don't really have to worry but I was surprised to learn how uncommon my situation is. I figured the number would be in the thousands.

On a related note, The Age has a story today on green card marriages of convenience. Last year almost 10% of applicants got rejected for lack of evidence. We haven't had to go through the interview process they describe but I know all about trying to prove your relationship is "genuine." It's hard enough for legitimate couples; I can't imagine trying to fake all the necessary documents.



Going back to the Russian bride article... It made my blood boil, all that crap about how Western women have been somehow "ruined" for marriage by feminism. WHATEVER. If our desire to be treated with respect and equality by society and our partners precludes the Neanderthals of the world from proposing to us, LUCKY US. Finding a wife shouldn't be about choosing a mother-substitute to cook your food and iron your shirts. I just feel sorry for the women in bad circumstances - economic, political, whatever - who are so desperate that they feel the possibility of domestic and sexual violence at the hands of a man they hardly know is a gamble worth taking.



| | |
| --- | --- |
| | [2] |
25 degrees!
Drink Pepsi? Want to maximise the number of free iTunes songs you win? Check this out. It's hardly a novel concept, but I probably wouldn't have thought of it. (Not that it matters, given that we still can't even buy iTunes songs in Australia, much less win free ones with our sugar water.)


The Herald has a nice interview with Ani Difranco (though it includes a not-too-favourable review of her latest album). She's in town for a couple concerts. I've seen her in London and the US and I wouldn't mind seeing her here, but I can't find anybody who wants to go with me! (The Snook jokingly said he'd go only if I found him a "Cover me in honey and throw me to the lesbians" T-shirt to wear.)

| | |
| --- | --- |
| | [1] |
The Onion A.V. Club is currently running an interview with Arthur C. Clarke, author of Max's favorite movie.

Wednesday, February 18, 2004

I was happy to read this article from The Age about new birth control options for women that lessen or stop menstruation. Finally scientists are starting to realize that most women would be happier not having a period. I've been on Depo Provera for over two years now and it's the Best. Thing. Ever. It's like being a guy! And for those who are worried about being "unnatural", it turns out that monthly bleeding isn't exactly a natural state of events either:
And although it may initially seem unnatural, prolonged amenorrhoea is actually nothing new. An article in the Medical Bulletin of the International Planned Parenthood Federation last summer said, "regular menstruation is not natural: before modern contraception, women spent much of their reproductive lives amenorrhoeic as a consequence of either pregnancy or breastfeeding".
Plus it's fun to say and it's got that cheery little "Amen!" in there. AMEN-ORRHOEA!

| | |
| --- | --- |
| | [2] |
Somehow the "political compass" test came up in conversation with the Snook last night, and he revealed that he was pretty firmly in the leftist-libertarian camp. I couldn't remember taking it before so I just did it myself... and I got leftist-libertarian. I should've expected that.


I think I just found the Snook's birthday present for this year... HA! (Link courtesy of PCJM.)

Tuesday, February 17, 2004
| | |
| --- | --- |
| | [7] |
Cross your fingers!
I just sent off the final bits of my application for Permanent Residency. I managed to work in the photo of us as Buffy and Spike (to show that we attend parties and events together) but Snookums nixed my idea to use this one from the Sydney Peace Rally. Maybe after a change of government...

| | |
| --- | --- |
| | [5] |
Snook: "Babe, do you wanna make a clown wig?"
Me: "What? No. Why?"
Him: "Because there's one in the sink."

Behold, the death of Spike hair and the return of the Snook.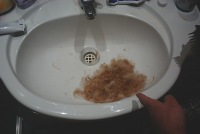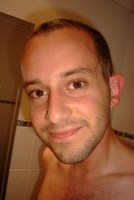 I just stumbled across this picture of the first same-sex couple to be married in the United States. Seriously, look at that. It brings tears of joy to the eyes. How can anyone honestly say that these two wonderful old ladies shouldn't be able to enjoy the same happiness and validation as everybody else? It almost makes me want to get married. Almost. :)


Someone has constructed a knitted vest for her VW Beetle. That person is now my hero. (Link courtesy of not martha.)

| | |
| --- | --- |
| | [1] |
Metafilter is back. Commence time wastage.

| | |
| --- | --- |
| | [5] |
I just realized that Ebert's posted his Oscar predictions and he's got some real surprises in there. For instance, he thinks Shohreh Aghdashloo will win Best Supporting Actress over popular choice Renee Zellweger. He also thinks Bill Murry might win over Sean Penn. Very interesting...

| | |
| --- | --- |
| | [2] |
Oscar Contest: We're up to 180 entries so far! There was a spike today and I'm wondering if I got linked somewhere interesting. Anybody know?

Monday, February 16, 2004
| | |
| --- | --- |
| | [3] |
Allergy Update: The Telfast really isn't doing much for me anymore so last week I called a specialist recommended by my doctor. I booked an appointment with him in four weeks to do a prick test and see if we can finally figure out what the heck is causing this. On a related (and humourous) note, my left eye is completely bloodshot today. I think it's because I had some allergan trapped in my contact that irritated it. I'm on a fresh pair now but the redness is still there. It doesn't hurt though and I'm freaking all my co-workers out. Fear my angry eye!


I finally cracked open my copy of Stephen King's Wolves of the Calla yesterday and I've been engrossed ever since. I didn't realize how much I missed Roland's world. Today I came across TheDarkTower.net, which is a fan site dedicated to the series (and its intersections with King's other books). I'm particularly interested in the Roadmap since there are lots of connecting books I haven't read. I think Salem's Lot will be next on my list. There's a lot about Father Callahan in Wolves and I can't wait to read his backstory in more depth.


The Shameless Acquisition of Stuff
Hooray! Our Amazon package finally came today. The Snook and I had amassed quite a large gift certificate total (courtesy of Christmas gifts, commissions from my Dahl site, and payment for Harry Potter scarves) so we splurged like the happy little Sims that we are. We added the Buffy Season 4 & 5 DVDs to our collection, along with The Office Season 1, Baz Luhrman's production of La Boheme, and Who's Afraid of Virginia Woolf?. (I stage managed a production of that last one in college and I absolutely love the movie.) We also picked up two Indian cookbooks and four Calvin & Hobbes collections. It's been ages since we bought any new books or movies so we're just in consumer bliss right now. This should keep us busy for a week or two. (Incidentally, should any of you wish to contribute to our further acquisition of stuff, we have a wish list. Oh, and my birthday's in a month.)

Like I said, shameless.


I have seen a world without MetaFilter, and I don't like it. At last Matt has a status update for those of us who have lost purpose in life.

| | |
| --- | --- |
| | [3] |
Ugh. My nemesis is in town.

| | |
| --- | --- |
| | [2] |
Max found a funny article about the plague of New Yorkers using their iPods to tune out the world. I think the reporter was exaggerating a little bit though. There's nothing intrinsically magical about an iPod that lets you tune out other people better than with a regular old Walkman. You can just do it for longer. I especially liked this quote from an iPodder:
"It's a society within itself... You've got your biker community, your hip-hop community. And now you've got your iPod community. It's all about those wires."
Word. I'm so sick of waiting for Australia to get its shipment of In-Ear headphones!

| | |
| --- | --- |
| | [4] |
Looks like the WB has cancelled Angel. To be honest, I really have no idea what's been happening on that show. The Snook and I are still back in Season 1 of the DVDs. I wonder if this means they can do a big happy ending with a SMG cameo? That'd be nice.

Saturday, February 14, 2004
| | |
| --- | --- |
| | [8] |
Happy Valentine's Day! The Snook and I celebrated with a night on the town. I did three new things that I'd never done before:
I ate a raw oyster! Seriously! With just a bit of lime juice! And I didn't die.
I went to Star City, which is my first casino visit ever. It was insane. We didn't bet anything.
We took the light rail home. Not exciting, but still a first for me.
What did you do?

Friday, February 13, 2004

Wow, Lycos laid off everybody at Webmonkey. And with that, the last vestige of the 90's Internet boom is swept away...

| | |
| --- | --- |
| | [4] |
I'm all for Barbie ditching Ken, but what marketing wizard came up with "Blaine the Australian boogie boarder"? I've never heard of a single Blaine in the past two years.


New holiday design: I couldn't resist.

Thursday, February 12, 2004
| | |
| --- | --- |
| | [2] |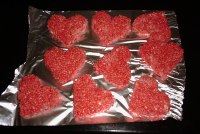 Rice Krispie Hearts
I decided to make some treats for the office tomorrow to celebrate Valentine's Day. I did the usual Rice Krispie recipe but substituted pink marshmallows (strawberry flavor) instead of plain. That wasn't quite pink enough, so I also stirred in a fair bit of red food coloring. They're quite gruesome now, don't you think? I also stirred in a bag of white chocolate chips which I hoped would remain whole but instead they just melted into the rest of the cereal. It's fine; they still taste good. The hardest part was punching the damn things out with the heart-shaped cookie cutter. I tried to do it while they were still warm (so I could mush the leftover bits back together to make more treats) but they cooled rapidly and I had a hell of a time cutting them out. Still, they're kinda cute and it's always fun to put the whole office into sugar shock first thing Friday morning...

| | |
| --- | --- |
| | [6] |
This is where Kris's ego instantly grows three sizes.
My normal carpool buddy Kevin stayed home today so I had to bus it. (And, as Molly Ringwald utters in Sixteen Candles, "I loathe the bus.") So there I was on the way home, slumped in the corner with my headphones on and a scowl on my face, when a nice looking guy slid into the seat next to me. Five minutes later I realized he'd put down his book and was staring intently at me. Anticipating another iPod encounter, I hit "pause" and turned to him.

"This is going to sound really weird and stalkerish," he said, "but you look really familiar." I was all confused, like, "I do?" He next asked, "You're American, aren't you?" I was thoroughly bewildered at this point. "Yeah...?" "I read your blog!" No. Way. My jaw dropped. This guy seriously recognized me from this site. I was like, "You're sure you're not a stalker?" Nope, it turns out his name is Andrew and he's a fellow Sydney blogger. How cool is that? I had to SMS the Snook immediately and tell him how famous I am. He was suitably impressed.

| | |
| --- | --- |
| | [5] |
Annoyances:

- There are no Apple In-Ear Headphones in stock in all of Sydney. I called every Apple Centre in the metropolitan area. My shallow desire to sport visible white headphones has been thwarted.

- Has anybody else noticed that MetaFilter's been down for three days? I can't find any status information on the usual sites and I'm craving a 'Filter fix.

| | |
| --- | --- |
| | [4] |
Excellent. Business 2.0 magazine has published photos of Dr. Atkins taken two months before his death. That is not a man that weighs 260 pounds.


My co-worker's seventh wedding anniversary is coming up and today he was brainstorming ideas for a present. So I did a little research and turned up this list of traditional anniversary gifts. Needless to say, he was less than enthusiastic about his options (wool, copper, or a "desk set" if you want to go the modern route). My boss got all excited when he saw the choices for his upcoming ninth anniversary: willow or leather. I waited for the inevitable dirty joke. "Fantastic!" he said. "She can get me a cricket bat!"


Wow, Bill Maher has a weblog! I didn't know that.

Wednesday, February 11, 2004

Check out this Online Barcode Generator. I'm totally using this to generate stripe patterns for my knitting! How cool would it be to wear a scarf with a secret code in it?



| | |
| --- | --- |
| | [22] |
Remember when I asked when Anderson Cooper had gone "totally gray"? I'd like to revise that question. Here's my new one: When did Anderson Cooper go totally GAY? An excerpt from today's Sydney Morning Herald entitled "Spotlight on New York Fashion Week":
Among the celebrities attracted to the opening shows was Queer Eye for the Straight Guy's Carson Kressley. Reported the San Francisco Chronicle: "In the front row at the Nautica show, Carson Kressley was in a thin olive cashmere cable-knit sweater, charcoal grey pants and square-toe black shoes. Kressley and his apparent new beau, Anderson Cooper (Gloria Vanderbilt's son), were cooing through most of the show, so it's a wonder he saw enough of it to comment, but he did say he liked the mix of tech fabrics (waterproof merino jackets) with classic tailoring (charcoal cashmere wool windowpane three-button suits)."
Eeeeek! So since when does Anderson play for the other team? I'm depressed. Although given my history of like boys that eventually turned out to be gay, I suppose I shouldn't be surprised. I bet Carson doesn't let him wear any of those yummy flannel shirts anymore, either.

| | |
| --- | --- |
| | [9] |
Before anybody sends it to me, yes, I've seen the story about how Dr. Atkins was supposedly obese. To be honest, I'm not really convinced by either side's arguments there. The health information was leaked by a "pro-vegetarian" group with an obvious bias, but then again, the Atkins people have a financial interest in protecting his reputation. It's confusing. Also, if he really did weigh that much, did they doctor the photos they used on his books? Because he certainly doesn't look that fat in them.

At any rate, y'all shouldn't worry about me. I had my blood pressure checked yet again last week and my doctor pronounced it "excellent". Unfortunately I'm still a chunker, but I'm a lot less of a chunker than I was two years ago. I've got a new personal trainer who's started me on a weightlifting routine. My body-fat percentage is a shocker - How can a third of my body be fat? That's ridiculous - but we're working on that. I'm even drinking protein shakes with milk now to speed recovery in my new badass muscles. Also, the Snook and I have each eaten our weight in cherry tomatoes in the past two weeks so we're chock full o' vitamin goodness. In summary: Don't worry, kids; we're not gonna keel over and hit our heads on the sidewalk anytime soon.


The Oscar Contest now has almost 150 entries. Who are all you people? I really hope we don't have a twenty-way tie. On a related note, there's apparently some controversy about Fernando Meirelles's nomination for directing City of God. Apparently another filmmaker named Katia Lund basically co-directed it but she's gotten very little credit. It sucks that Meirelles has, like, no chance of winning, because that might be her only chance to get a mention.


At the risk of sounding unsympathetic, I was happy to read that DisneyWorld is re-tooling their Special Assistance Pass system. The last time we were there I was disgusted by the rampant abuse we witnessed. Families would drag Grandma along in a wheelchair just so their six kids could jump the queue at Space Mountain.


I checked my server statistics today and my eyes nearly fell out. Fully one-third of the files I've served this month are the Valentine. People are still abusing it. (A pox on all the stupid teenagers who hang out in web forums!) My .htaccess file now contains about 25 different domains which are forbidden from accessing it. As a last resort, I've also removed the big jpeg completely and it's now offered as a zip file instead. At least they can't steal that.

| | |
| --- | --- |
| | [5] |
The Star Wars trilogy is finally coming to DVD... and I'm a little disappointed with the announcement. It looks as if they're coming as a four-disc set with only the "Special Edition" version of the films. There's a documentary and some missing footage, but it doesn't sound like there are any commentaries or anything. The Snook and I predict that George is going the Peter Jackson route and he'll later release collector's editions with lots of extras. Money grubbing bastard!

Tuesday, February 10, 2004

"Quotes From Either President of the United States George W. Bush or Senator/Chancellor/Emperor Palpatine From The Star Wars Movies". I got them all right, but then again, I'm a big Star Wars nerd.

| | |
| --- | --- |
| | [3] |
I often tease the Snook about being a packrat. He saves everything on the off-chance he might need it someday. Me, I'm the opposite. I have a psychological need to purge. I often err on the side of getting rid of things, even things that I probably should keep. That's why these pictures scared the hell out of me. That, my friends, is my nightmare and - I fear - the Snook's future. *shudder* (Link via Metafilter.)

Monday, February 9, 2004

Woohoo! Craigslist will soon be launching in Sydney and Melbourne. Sweet.


It's thirty-six degrees here today. Yeah, that's thirty-six degrees Celsius. And it's only going to get hotter this week...

| | |
| --- | --- |
| | [1] |
(Belated) Friday Five:

1. What's the most daring thing you've ever done?
Hmm. Daring can mean a lot of things. If you mean actual "risk of death", then it would have to be going skydiving. I went with a bunch of girls from my dorm ("The Parachutin' Weasels!") during Senior Week '99. If you mean "courage I didn't know I had", that would be sticking out that first week in London by myself. I had no money, no friends, and an intimidating new job. It took every bit of nerve not to cut my losses and head home.

2. What one thing would you like to try that your mother/friend/significant other would never approve of?
Well, the Snook's pretty liberal. I can't really think of anything that would offend him that I would actually care to do. Now, my mother on the other hand...

3. On a scale of 1-10, what's your risk factor? (1=never take risks, 10=it's a lifestyle)
I'd say I'm probably a 4. I do the occasional risky thing but for the most part I'm pretty meek. I don't do extreme sports; I don't take drugs; I don't gamble. I'm pretty boring, actually.

4. What's the best thing that's ever happened to you as a result of being bold/risky?
If I hadn't stayed in London... I wouldn't have met the Snook. He's the best.

5. ... and what's the worst?
I've had my navel pierced twice and it never healed properly and I now have a scary mutant little scar there. My navel doesn't like being pierced. No more extreme body manipulation for me.


I don't understand. How can they call something a "free trade agreement" when it still includes tariffs and quotas on Australian goods? I suspect the US is screwing us.



Snookums's Conspiracy Theory: Note that the raids on Kazaa happened, like, three days before the agreement got signed. He thinks that it was a condition imposed by the US (via the RIAA). Sneaky record industry bastards!



| | |
| --- | --- |
| | [2] |
Unintentionally Funny URL O' The Day: snog.org.au. It's not what you expect.


Happy birthday, Dad!

Saturday, February 7, 2004

Yay! Kristen's posted her pics from our rendezvous in Sydney last weekend. You can also see the Snook's recently-reblonded hair.

Friday, February 6, 2004
| | |
| --- | --- |
| | [1] |
Which is more sad: the fact that someone came to my site via a Google search for ROALD DAHL EROTICA, or that I'm upset at my #224 ranking?

| | |
| --- | --- |
| | [1] |
Holy shite! The Kazaa offices in Sydney got raided by the copyright police today! Okay, I am now officially over feeling bad that they didn't hire me.


Awesome picture of the "Evil Eye" galaxy. Space is cooool.

| | |
| --- | --- |
| | [1] |
Looking for the perfect touch for that special Valentine's Day dinner? Ladies and gentlemen: Janet Jackson Breast Cupcakes.

Thursday, February 5, 2004

A Beginner's Guide to Poker. Interesting reading if you're completely clueless at it like me.

| | |
| --- | --- |
| | [4] |
New Poll: Tell me your opinion on the boob seen 'round the world...


Sometimes the news is just full of good things. Like today, for instance:
The International Cricket Board is considering a Cricket Super Series that would pit the #1 team in the world (currently Australia) against an all-star team from all the other cricketing nations. That would just ROCK. I tried to think of an American equivalent but we really aren't that great at team sports that the rest of the world plays.
Massachusetts Ruling Clears Way for Gay Marriage. Fantastic. I can't wait to start shopping for a wedding gift for Ron and Marlin.
Scientists have suggested that they could genetically modify farm animals to produce omega-3 fatty acids. As a carnivore with a lifelong distaste for fish, I say BRING IT ON!
What's making you smile today?


Check it out: My first Ask Metafilter post!


RunningBlog: I was reading through Glitter today when I stumbled across a link to this awesome website dedicated to Women's Weight Training. There is so much information here! The author, Krista, went from being a stubby nerd girl to one strong lookin' chick. I am inspired.


HTTPanties. Woohoo! Another project for my iron-on transfer paper. :)

Wednesday, February 4, 2004
| | |
| --- | --- |
| | [1] |
Why Your Movable Type Blog Must Die. Now that's some vitriol. (Link courtesy of John.)

| | |
| --- | --- |
| | [1] |
Kevin and I nearly drove off the road this morning while listening to JJJ*. Adam and Will were talking with the news guy about today's scandal over the introduction of Kahlua flavoured Mint Slices and Tia Maria flavoured Tim Tams**. Adam joked that he'd only eat a Kahlua Tim Tam after first downing about eighteen beer flavoured ones. Will then immediately burst out with "I'd love a C**k-Sucking Tim Tam!" There was about five seconds of stunned silence before the newsreader managed, "I don't see what that has to do with the issue, Will..." They had to explain it to him later. Hee!***

* JJJ is the national alternative public radio station.
** They're both kinds of cookies. Tim Tams are like a national obsession.
*** A "C**k-Sucking Cowboy" is a shooter. Thanks to Will's parody, I think it's only a matter of time before somebody introduces the "Tim Tam" version though.

| | |
| --- | --- |
| | [14] |
Wondering about alternative medicine...
My allergies have been pretty bad this summer and the big 180mg Telfast pills are getting less effective. What's a sniffly girl to do? Pseudoephedrine makes me feel wacky so that's out. In desperation, I caved to a co-worker's recommendation and today got some Brauer Homeopathic Hayfever Relief. Now I feel kind of silly though, and I keep hearing Pa Snook's voice in my head telling me that it's snake oil. Do any of you guys use homeopathy? I'm supposed to spray this stuff under my tongue when I get up in the morning and then every four hours til bedtime. (Why under the tongue? Why is that special? There's a mystery here.) No results yet, but it least it doesn't taste too bad.

On a similar note, my boss just got back from a visit to his new osteopath. He got diagnosed with all kinds of food allergies. I'm like, "How in the world do they test for that in a one-hour visit?" He started explaining the process, which involves the patient holding the suspect food to his chest with his left hand while holding his right arm out and resisting pressure from the doctor. I'm not making this up. If you have an allergy to the particular food, you won't be able to resist and your arm will fall. "What, you have to hold the food to your bare chest?" I asked. Nope. Just through your clothes. And the food itself can still be packaged! He actually dragged me into the kitchen and demonstrated with a liter of milk. I stood there like a dope holding the bottle to my chest and resisting with my arm. But lo and behold when he did it, his arm fell as "proof" of his allergy. I am super skeptical here. I could maybe see it if you were holding the food to your nose or something, or if you held it to your skin and it left a mark, but there's no way I can believe that a food allergy is so strong as to affect your bicep muscle merely while being held in the opposite hand through layers of packaging.

Now I'm wondering if the bottle of homeopathic spray on my desk undermines my righteous skepticism over the osteopath...

| | |
| --- | --- |
| | [10] |
Serial Comma Vindication
For four years now I've had British and Australian people correct me when I write things like "I had bacon, eggs, and toast for breakfast." They all omit the second comma in the list. Even the Snook told me he was taught it that way in school. Now I have conclusive proof that my way is correct though! I will never again cave in to comma-omitting pressure.

Tuesday, February 3, 2004
| | |
| --- | --- |
| | [2] |
More carbalicious cravings... Chocolate Zucchini Cake. *drool* (Link courtesy of virulent memes.)

| | |
| --- | --- |
| | [11] |
Why Grace Brothers Sucks
We bought a widescreen TV from them two years ago. We've had problems with it ever since. It has a weird magnetized color spot on one side that we can't get rid of, and recently the black bars on the side (when watching normal TV) have started going all wavy and screwy. All out of warranty, of course.
Last winter I bought a coat there and they forgot to take the security tag off, which meant I had to make an extra trip back - in the cold! - before I could wear it.
They were completely unhelpful during my marathon search for glass marbles last year, despite the fact that they use them all throughout their poncy furniture areas.
In October I headed to the lingerie department because I needed a push-up bra for my Halloween costume. They didn't have a single one that would fit me. The staff - all of whom were over 60 - were completely unsympathetic to my plight. At one point, they even tried persuading me to purchase a bra two sizes too small that I could only wear with the aid of this weird extender thing.
Last week I hit the shoe department because I needed sensible black dress shoes to wear to a wedding and everywhere else only had three-inch heels. I eventually found what I needed but the experience sucked. If I'm paying triple-digits for a pair of shoes, I want some damn service. I shouldn't have to wander back and forth trying to get a salesperson's attention. I even had to specially request a pair of try-on socks (which were handed over quite grudgingly). I had to keep chasing down the salesperson to get the sizes I needed. She was a transvestite who, once it became obvious that I was not going to purchase the $300 extremely pointy fancy shoes she recommended, preferred to stand in the corner and sing ABBA's "Chiquitita" over and over to herself. Seriously.
Against my better judgment, after the shoe debacle I headed back up to lingerie for a strapless bra. I've never bought one before and the options were bewildering. Did I get any assistance from the Blue Hair Brigade? Nope. Granted, it was fifteen minutes before closing, but it's not like there were any other customers hanging around. Eventually I grabbed one in desperation and headed to the dressing room. It soon became evident that it wasn't going to work. I heard the girl in the next booth talking to a salewoman who sounded sorta nice. As she was leaving, I hailed her over for help. She walked in and was like, "Oh, no no no!" So she fetched me another one. When she got back, I reached over the door for it. She was like, "It's me! Let me in!" So then I had to suffer the indignity of a sixty-year-old voyeur seeing me topless and struggling with recalcitrant underwear. (The new one was better though, I'll give her that.) They were kicking me out of the store and I got so flustered that when I left five minutes later, I forgot my beaded bracelet (one that I made!) in the dressing room. I didn't discover it til I was two blocks away.
Today the Snook went back to get my bracelet. An excerpt from our communication:

Me: Did you remember to stop at Grace Brothers?
Him: Yup. The lady was very rude, but I got your thingy.
Me: They're all rude there! It's a rude place! She didn't disparage the QUALITY of my CRAFTSMANSHIP, did she?
Him: No. I just said that my girlfriend had left a "beaded cuff" and she was like "A WHAT???" and I had to explain. Then she got it and gave a little snicker and a funny smile when she gave it to me -- not sure what that was about. Maybe she thought it was mine and I was lying about the girlfriend because I'm actually a trannie on the weekends or something.
In summary, Grace Brothers sucks. I'll be shopping at David Jones from now on. Thank you.

| | |
| --- | --- |
| | [5] |
It's been raining a bit.

Monday, February 2, 2004
| | |
| --- | --- |
| | [6] |
Speaking of boobage... There's no way that was unintentional. Who wears silver pasties if you don't intend to show your breasts? Sorry, Janet, that was just skanky.


Tracey has posted her latest desktop calendar for February 2004. Very cute!

| | |
| --- | --- |
| | [2] |
Which reminds me... I'm having a little bit of an issue with the contest links. I decided to allow each entrant to list their personal website if they had one, and it would automatically show up on the list of participants. A couple people have interpreted "personal website" rather creatively though. There are some business sites (which I have left for the time being) and at least one porn site (which is now gone). I don't want to be prudish or anything, but that's not really what I intended with the list. I don't know if the person was making a joke or whether they really wanted to trick people (possibly even kids - this site has no age limits) into seeing something nasty, but I decided to kill it. I let their entry stand since it looked legitimate, but I'm going to be closely checking each new link that gets posted. I just wanted to offer an explanation in case anybody's wondering why their hyperlink was suddenly removed.

| | |
| --- | --- |
| | [2] |
It might just be Atkins-induced carb cravings... but these Cake on a Stick things look pretty darn good! (Link courtesy of Virtual Linda, who became the 94th person to enter my Oscar contest today. I've been periodically checking through the entry links and there are some great undiscovered blogs in there.)

Sunday, February 1, 2004

Japanese Story appears to have finally hit the U.S. (only four months late)... and Ebert's a fan. I wondered what he'd think of it. Hmm, I wonder if that means that Toni Collette would be eligible for the Oscar next year. She rocked the house in this movie.

| | |
| --- | --- |
| | [1] |
How to train a cat to use a toilet. I am intrigued.

| | |
| --- | --- |
| | [7] |
The Snook and I are considering doing the Quick Cleanse Detox Program. For two weeks you go vegetarian and cut out all sugar, caffeine, alcohol, and processed foods. You also take a lot of herbal supplements that basically make you poo out all your stored toxins. Has anybody done anything similar? Any tips or bits of advice?

| | |
| --- | --- |
| | [1] |
How does a geek propose to his girlfriend? With a wedding cake case mod. That's awesome. (I'd settle for a brand new G5 though.)

archives
You can search through the archives by post keyword using the form on the left, or you can browse by month using the links at the bottom.
"Moblog" refers to posts and images posted directly from my mobile phone.

"PW Blog" refers to posts recovered from my very first weblog, which dealt with news related to my college dorm.