Monday, February 28, 2005
| | |
| --- | --- |
| | [10] |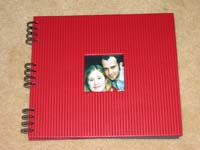 Wedding Album
A few weeks ago, Amy suggested that we put together a photo album to show our guests at the reception. With this, my inner scrapbooking demon was unleashed. The results are now online for your to check out. I'm just happy that I managed to resist the urge to add stickers.



Note to the parents: I regret that I didn't have any good pictures of us with Joey, Colfax, or Josh to include. We need to get some of those! I've got plenty of space to add them in later.



| | |
| --- | --- |
| | [7] |
Entries are now closed for the Oscar Contest. The results will be updated live here. Good luck everyone! (And don't forget to count dead people for me...)

Later: Woohoo! That documentary upset definitely spread out the scores a bit.

It's Over: Man, I really thought Christopher was going to pull off the victory there. It would have been fitting, as he was the original inspiration for the Soctopus. Alas, Clint Eastwood was his downfall. Damn you, Clint! First prize thus went to steven johnson, who got all ten categories correct and nailed the tiebreaker. Second prize goes to David Eskridge, and third to Ed Ploog. Thanks to everybody who entered!

Sunday, February 27, 2005
| | |
| --- | --- |
| | [9] |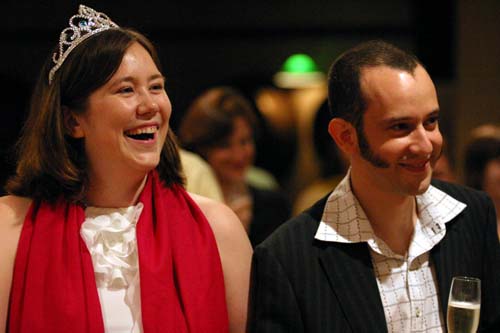 The reception was a smashing success....

Saturday, February 26, 2005

Paris Made Me Change My Number. Ha! I'm just annoyed I didn't get a chance to phone Seth Green before he changed his. I'd be all, "Quit taking ass-roles, Oz!"

Friday, February 25, 2005

I'm talkin' food phobias over on Ask.MeFi. About seafood, naturally...

Thursday, February 24, 2005
| | |
| --- | --- |
| | [9] |
Just looking at the Oscar Contest predictions and, man, there are clear-cut favorites in every single category. I hope there's at least one upset or we're going to end up in a massive tie. As with last year, I need a couple volunteers to count the dead people in the tribute montage for me. (It won't air here til a few hours later.) The good news is that I've got Monday off so I'll be sitting on the computer watching the results come in and updating everyone's scores.

| | |
| --- | --- |
| | [3] |
What I've Been Up To:
Swimming. No, really. On both Tuesday and today the Snook and I got up at 6:30 and walked over to Vic Park Pool to swim laps. It's part of our new plan not to be such fat-asses. Stop laughing. Unfortunately we really suck and we haven't managed more than six lengths each so far. My biggest hindrance is that I was never taught to do a proper stroke. The Snook showed me the breaststroke but I AM THE WORST PERSON EVER AT IT. I actually go faster when I don't kick my legs. When I do kick, I end up veering off to the right every time like a broken grocery cart. It's pathetic.
Work stress. Can't say much at the moment, but there's a bit of a shift going on. I'm only tangentially involved but it's still wrenching.
Cabaret. Gadgetgirl's Mom is in town so Tuesday night the three of us headed to Newtown to see "Dolly Downunder." She was fabulous. The best part of the evening, though, was when Dolly - in preparation for her "clarinet solo" - announced she'd be playing Acker Bilk's greatest hit. In the three seconds of politely puzzled audience silence that followed, a drawling Midwestern voice could clearly be heard saying emphatically, "STRANGERS ON THE SHORE." Dolly started. "Who said that?" she said. "House lights up!" The lights came up, and she zeroed in on our table where Amy's Mom sat triumphantly. Dolly chatted with her and adorably mimicked the accent, then dedicated the song to Lynn. Amy and I were pissing ourselves. Greatest cabaret moment EVER.
Reception preparations. I was happily putting together our photo album tonight when I realized how much I was enjoying myself. I even thought, "Ooh, I should go to Dymocks tomorrow so I can get a sparkly pen for writing captions. And maybe they'll have some appropriate stickers or a novelty hole punch!" And then I realized that I was becoming a GODDAMN SCRAPBOOKER and promptly threw myself beneath a train. Metaphorically speaking.
Oh, and I'm working six days straight so I can have the reception and day after off. The customers are really starting to annoy me. Titsiana came in again. *shudder* The only ray of light was when Real Angora Man came in today to tell me about the progress on his faux fur bolero.


Hey, Mike: Please get better soon, because your Sydney show is coming up and my tickets are en route! Love, your lifelong fan Kris. (PS - Please don't wear one of those weird leisure suits for the concert.)

Wednesday, February 23, 2005
| | |
| --- | --- |
| | [7] |
Moblog: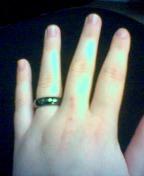 Wedding rings at last!
Check it out! Ma and Pa Snook got us some hematite rings on their recent holiday, so now we've finally got temporary wedding bands!

Monday, February 21, 2005
| | |
| --- | --- |
| | [3] |
Busy, busy, busy, work work work. Remind me to tell you about my new (non-) favorite customer sometime soon, the one I have dubbed "Titsiana Booberini." *shudder* Oh, and a final plea for RSVPs from the reception invitees. If you don't come to the party, you don't get to see the way cool photo album I've been slaving over...

Yeah, okay, that was a lame bribe. How about free beer?

Sunday, February 20, 2005
| | |
| --- | --- |
| | [5] |
From Microsoft: A parent's guide to computer slang. As John Gruber puts is, this is so square it's hilarious. Now I'm off to eat some |-|4/\/\.

| | |
| --- | --- |
| | [12] |
Fill my head.
I bought a couple new books yesterday: The Character of Cats and Stiff: The Curious Lives of Human Cadavers. I've been reading a lot of non-fiction lately. I used to devour novels but anymore I just don't trust my judgment as to what's good. So I was intrigued by this post at defective yeti. He's basically asking his readers to recommend books and promising to read them this year. Sounds like a pretty good idea to me. Most of the books I get are ones I see recommended on blogs anyway. Therefore I'm asking you guys to help me out. What should I read? There's no requirement that it be new, but I'd prefer fiction over non-fiction (since I have no trouble picking those out myself). Bonus points for unusual stuff like graphic novels. I promise to post at least something about every book as I finish it. So, whaddaya got?


[Jim Emerson] spells out the Unwritten Rules of Oscar. Only a few days left to enter the contest!



Note: Edited to change Ebert's name to Jim Emerson's. I'm really annoyed that they don't differentiate Ebert's articles more from the other contributors.



Friday, February 18, 2005
| | |
| --- | --- |
| | [4] |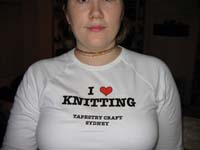 So... I went to the knitting thing tonight. It was a bit sad, really. Better Homes & Gardens are going to be talking about pub knitting like it's this big, huge movement, when in reality there were a total of five of us there. (Granted, it was short notice.) We ended up packing the room with half the production staff, so consequently I spent the whole time stuck in the corner trying to teach the makeup guy how to do garter stitch. And I went to all that trouble to make a special shirt...







And yeah, that's my sheep.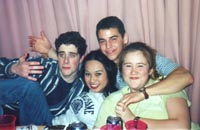 I was going through some pictures last night when I found this awesome one of me at a cast party in college. And who is that with his arm wrapped around me? Rob "Dell Dude" Sudduth. Oh yeah. Me partyin' up with the cute Dell guy. I told you!

Thursday, February 17, 2005
| | |
| --- | --- |
| | [10] |
After curry, three glasses of wine, and the latest episode of The O.C.

Me: ...So, I thought that the accepted psychological basis for heterosexual man's preoccupation with lesbianism was that they got to watch naked women without the presence of a man to make them feel all gay and stuff.
Snook: Nahhh, for me it's just because there's twice as much boobies.
Me: [after shooting wine through my nose] Dude! Can I put that on my website?
Him: Whatever...


Attention Sydney knitters! I've just gotten word from Meg that the Sydney Stitch N Bitch is going to be filmed by Better Homes & Gardens for an upcoming show! The only problem is that the presenter's schedule means they need to film the spot... tomorrow night. We need to pack Hart's Pub with as many knitters and crocheters as we can get. If you can hold a pair of needles, we want you there. It starts at 5:00 pm (which is a crap time, I know). Details and a map are available on the website. Hope to see you there!

| | |
| --- | --- |
| | [2] |
Huh? I was just reading this BBC news story about the recent Japan-North Korea World Cup qualifier when the accompanying photograph caught my eye. Is that security guy carring a light sabre?? Now that's a novel way to keep soccer hooligans in line.

| | |
| --- | --- |
| | [2] |
Project Gorditas - Follow along as my scrawny college roommate goes on the South Beach Diet for Lent! Heehee. Awww, you and Maria are doing great, Reen. This gives me inspiration!

Wednesday, February 16, 2005
| | |
| --- | --- |
| | [21] |
Guess the Commercial
Okay, remember when we played this before? I give you the setup for an Australian television advertisement that is currently pissing me off, and you guess the punchline and the product. Ready?

We crane in on a couple panting in bed, presumably post-coitus. The man is fidgety and disheveled. "Sorry," he says. The Angelina Jolie-lookalike beside him grins. "That's okay." She rolls over to the night table as the wacky trumpets of sexual dissatisfaction kick in. As her partner covers his eyes in masculine shame, she moans with pleasure as she pops open... WHAT? And WHY?

Let the guessing commence. Your clues: This isn't one of those ads that airs at 2:30 am. It's been on every day this week during Days of Our Lives, which runs at 1:00 pm. You can tell this because the woman is wearing a tank top to cover her boobies, despite the fact that nobody - outside Buffy the Vampire Slayer and the women of Sex and the City - have sex with a top on. So it's not that dirty...

| | |
| --- | --- |
| | [15] |
TV Stuff:
Did Mimi on Days of Our Lives get fake boobs? We're just up to the bit where Philip is going to rent her half of the loft, and as she stood there in her (awful, horrible) crochet shawl, I suddenly noticed that her new (glaring, orange) huge breasts were filling half the screen. Snookums was unable to confirm (and he usually has good fake-boob-dar). Any opinions?
Man, Lost is soooo good. We just watched the second episode. The Snook is the King of Wild and Unsubstantiated Speculation. When the Korean woman unbuttoned her top button, he turned to me in all seriousness: "She's going to kill him." When Sawyer read the piece of paper and then meaningfully glanced at the hiking group, he announced: "He's gay. You're supposed to think he's looking at Kate, but he's really checking out hobbit ass." Luckily the damn polar bear was a twist neither of us could have made up. I think we're hooked. (Although every time they mention flying out of Sydney, I get a little more freaked out. Qantas... Qantas never crashes...)
Finally finished watching the second season of The Office. My heart broke. How in the world could Maria Lucas do that to Tim? She's such an idiot! Yeah, I think I read a spoiler somewhere that they kiss in the Christmas special, but I'm worried that I read it wrong and they might not have a happy ending because that would be so, you know, hip and realistic and crap. I don't care if it's realistic or not. I want Dawn and Tim to hook up, dammit! So now I need to rent the DVD, I guess.
And hey, doesn't the new Survivor start soon? And the Rob-and-Ambah season of the Race isn't far off. It's a good time to TiFaux.


Hmm. I think Candy Sushi would be an awesome addition to this year's Halloween party! Can somebody send me some Twinkies in, oh, about six months? (Actually, Twinkies don't really get stale, do they? You could send them to me now.)

| | |
| --- | --- |
| | [3] |
Note to self: Make Ron's Blue Stater's Texas Chili this weekend. That sounds sooooo good...


Oh my God. It's a Hello Kitty crop circle. That rules! (Link courtesy of Ernie.)

Tuesday, February 15, 2005
| | |
| --- | --- |
| | [2] |
"Questions Frequently Asked About TiVo, Answered by Someone Who Loves TiVo Too Much." Heh. Of course, our own system isn't an actual TiVo, but it's changed our lives nonetheless. I haven't watched live television in probably a month. I've discovered some great shows that are only on at truly absurd hours of the night. I worry when the hard drive starts to fill up and badger the Snook to get our second capture card hooked up (which, of course, will only exacerbate the problem). I wonder if we should get cable TV. (We shouldn't. Australian live TV is actually pretty damn good, especially with the networks importing all the best US shows.) I feel embarrassment when I realize that everyone who visits my blog knows that I recorded Dancing With the Stars. Like I said, it's a life-changer.

Monday, February 14, 2005
| | |
| --- | --- |
| | [3] |
Happy Valentine's Day!
At the last minute, the Snook and I decided to head out for a Valentine's Day dinner so we got all gussied up - check us out; I wore the orange bridesmaid dress - and headed to the Lord Nelson, a pub and brewhouse that happens to have a very nice restaurant on the first floor. We sat down and had a look at the holiday set menu. "Shall we get it?" I asked. "But it has a seafood plate as the appetizer," Snookums said, knowing that I don't really eat seafood. "I'm game," I said. A few glasses of wine later, out came the plate. There were four prawns, four oysters (two with strawberries and mangoes on them), two scallops with salmon roe, and an honest-to-goodness Moreton Bay Bug. Folks, I ate everything. I really did. The prawns were really good, but I'd had them before. I wouldn't say I really love oysters yet, but they're definitely growing on me. (The ones with the fruit were surprisingly delicious.) I was wary of the scallops for fear they'd be fishy, but they ended up being really good. (And the salmon roe - which looked like little orange tapioca balls and is pretty damn gross to contemplate - really did burst pleasantly in the mouth.) Lastly, the bug, as seen in the photo before you. Hell yeah, I ate that sucker. Cross him off my list. The Snook was absolutely floored that I was brave enough to try everything. The thing is, it was all delicious. I don't know if it's just that Sydney seafood is particularly good (which it is), or that I"m slowly developing my taste for this stuff (which I probably am), but I am definitely becoming a fan of the shellfish. Yum. The rest of the dinner was excellent - I had the chicken; the Snook the steak - but not nearly the phobia-challenge of the entree. Pretty cool, huh?

Saturday, February 12, 2005

Dude, this HGTV Soctopus is scary.

| | |
| --- | --- |
| | [1] |
Just did some much needed house-cleaning on my Weblog and Link lists down there on the right. The Weblogs list is now identical to my Daily Bookmarks list, so if you've always wondered where I find some of this stuff, them's the places.

| | |
| --- | --- |
| | [11] |
Judging by the Dooce-Trolling Metric, I'm getting pretty damn famous!
Yeah, I'm still being trolled. Look, folks, for the record, my parents didn't bankroll my Notre Dame education so I could "peddle yarn" for a living. They didn't bankroll anything. Ask 'em. I was valedictorian and got a decent size scholarship; I worked full-time jobs every summer and parti-time throughout the year; and I went into debt up to my eyeballs. Every single loan was in my name. (Actually one was co-signed by my aunt - since my parents couldn't - but I paid that one off in full with my first Christmas bonus in London.) There were times when I didn't get my grades on time because I was still waiting for the tuition checks to clear. I still owe about thirty grand, and I'm currently paying that off in a country where the exchange rate is really, really shitty. (Getting better, but still shitty.) So call me an expat snob if you must, but a freeloader I am not. And what kind of jerk demeans somebody else's job and snottily insinuates that they didn't earn their position in life? I'm just stunned that there are people so petty and vindictive.

Says the Snook, "Tell him to come to Australia. We have beautiful sandy beaches... with lots of sharks... who have a taste for troll."


Check out this great photoessay on the "Evolution of Personal Audio". It begins with the personal transistor radio and ends with the iPod. I've think I've had everything from the ghetto blaster onwards... (Except for the silly iPod snowboarding jacket. Nobody owns one of those.) It's funny how quickly things date. I remember the Christmas when I got my Discman and how excited I was to have something so "high-tech." Now when I see somebody on the bus struggling to change CDs while standing up it seems positively archaic.


Quick! Hide your Valentines! Cultural vigilantes are trying to put a stop to Valentine's Day in India. This could give millions of singletons around the world some very dangerous ideas...

And hey, this is kind of a neat concept. I could be a cultural vigilante. You know what I'd put a stop to right now? The Bill. No question.


We finally watched the Amazing Race 7 finale tonight... and damn. I'm putting our reaction inside, just so any Aussies don't get spoiled.



Sidenote: No matter what the haters say, I am SO STOKED for Rob and Amber in TAR8. The Snook and I laughed our asses off at them in the preview. Go the Robfather!

[more...]

| | |
| --- | --- |
| | [4] |
Hmm. Vogons. Not how I pictured them. (Link courtesy of Kevin.)

| | |
| --- | --- |
| | [8] |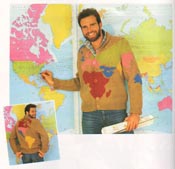 Since Eileen asked, here's the picture of Sexy Geography Teacher in all his glory. (Click for a bigger version.) Now you can see where I got the inspiration. Wouldn't you have liked to've had this guy teaching you about Mercator projections?

Further construction notes: This is an actual pieced garment, not something knit in the round (as I usually do). The graph consisted of the back, the two front sections, and one sleeve. The other sleeve is blank. The design is only on the "outer" section of the garment, meaning if you lift up your arm there's not another version of India beneath it. I can scan the graph if anybody wants to have a look at it.

| | |
| --- | --- |
| | [8] |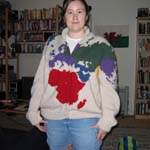 On Thursday I gave my latest knitting project its first public airing... I present the Geography Cardigan! I got the idea from an old 80's knitting book Mrs Morris (the shop owner) lent me as a joke. The tackiness of the patterns really needs to be seen to be believed. (The back cover, for instance, features a guy in suspenders and a bow-tie standing next to a woman wearing a sweater... with knitted suspender and bow-tie motifs. Get it? It's an OPTICAL ILLUSION. Very clever.) Anyway, I was flipping through it and suddenly there he was: Sexy Geography Teacher. He had a Ewan McGregor 'tache to go with his acid-wash jeans and the grooviest, daggiest cardigan I'd ever seen. I had to make one. After a period of trial and error I settled on Sirdar Nova as the yarn of choice. It's not 100% wool, but it's soft and it was the only thing thick enough to get gauge that had a range of bright colors. In terms of technical difficulty, it was my first ever attempt at intarsia and I bungled it a bit. It looks fine from the outside, but I made the mistake of occasionally carrying the wool across the back instead of cutting and starting a new strand (because it was only a gap of a few stitches, and I'm lazy). I've since found out that you NEVER MIX INTARSIA AND FAIRISLE, which is what I was doing. Consider yourself warned. Anyhoo, I also had to invent a way to knit the collar on to the garment since the one knitted to the pattern specifications was way, way too small. But it worked out. I'm actually pretty proud of it! I still need to head to Newtown for some appropriate buttons, but it's definitely one of my more successful projects. And check out the back! (And as the Aussies keep asking, Australia's on my left elbow. No, I wasn't clever enough to do the thing where you reorient the whole world to put Australia on top. Sorry.)

Thursday, February 10, 2005

An Interview with an Australian Subject

Me: Snookums, does Prince Charles's marriage prompt you to reconsider who you want for your head of state?
Snookums: No.
Me: Why not?
Snookums: Because I don't think that the issue is anything to do with people... This person or that person...
Me: Continue...
Snookums: Huh? I said my piece.
Me: I don't get it. Explain.
Snookums: It shouldn't make a difference, this person or that person.
Me: You mean, whether or not you're a republic shouldn't depend on whether whoever's King is a really nice guy?
Snookums: Exactly. It shouldn't be a cult of personality. That's exactly the type of thing we're trying to avoid with all this debate about what kind of a republic we should be. It shouldn't be about this person or that person...
Me: You said that three times. So, do I take this to mean that we're a republican household?
Snookums:*silence*
Me: Oy! So are we republicans? Because I think I like being a socialist expatriate snob.
Snookums: Huh? Sorry, what? I'm watching some funny shit I downloaded.

| | |
| --- | --- |
| | [3] |
Me: No. Way. Dude! Charles and Camilla are gettin' hitched!
Snook: Nuh-uh.
Me: And check it out: He's going to spend his last few weeks as a single man in Australia! You guys should totally take him to that ***** bar you guys when to for your Bucks Night.
Snook: Yeah, we should just be like, "Yo! Charlie! Bucks Night. We're gonna show you how we do it Down Here..."

Moblog: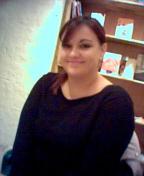 Stitch and Bitch time!
Here's my buddy Katie at the new Thursday night Tapestry Craft Stitch and Bitch. We had six people tonight... Success!

| | |
| --- | --- |
| | [6] |
From the ABC: "Pull your dacks up - or face $50 fine!" Hahahaha! I hope this will mean the end of the atrocious wave of women with triangles of G-string appearing above the waistband of their pants...

Wednesday, February 9, 2005

Damn it. I totally forgot it was the Amazing Race finale today, and thus that I'm supposed to be on an Internet blackout until the Snook finishes downloading the episode. So I surfed on over to Kim's site, la di da, and two seconds later realized I'd just spoiled the ending for myself. Grrrrr.

| | |
| --- | --- |
| | [1] |
Happy birthday to my Dad! Hope it's a good one, Pops.

Tuesday, February 8, 2005
| | |
| --- | --- |
| | [3] |
Me: Snookums? You're allowed to buy yourself a Valentine's Day present, okay?
Him: What'd you get?
Me: A handbag.
Him: A handbag?!
Me: Wellll, Brigita got one! And they're on sale! And they're rilly, rilly kewl. And see? It has a little record! I'll be, like, the only person in Sydney with this bag.
Him: Whatever. (to the cat) Hey, Puss Puss! What do I want for Valentine's Day?

Ten bucks says it'll be computer parts.

| | |
| --- | --- |
| | [6] |
Note to self: Implement some of these referrer spam blocking techniques tonight.

Update: Okay, I set up .htaccess to block anybody with a referrer matching the usual spam keywords. Let me know if it gives you any problems reaching the site. (Although that's actually impossible, because if you can't reach the site then you can't read this post or comment anyway. Catch-22.)

Monday, February 7, 2005
| | |
| --- | --- |
| | [7] |
Kooky Customer of the Day
I spent half an hour this morning helping some lady pick out wools to make a tapestry cushion. She'd already bought a kit that included the yarns, but they were acrylic and she apparently had a mandate to make this puppy all natural. We couldn't find all the colors, of course, so she had to substitute and that meant, you know, MAKING DECISIONS and all, which can be very difficult when you've never done it before. Eventually, I sighed in frustration and laughed, "Your friend must be pretty special for you to go through all this trouble!" She responded, "Oh, it's actually for my daughter. She just got engaged!" I congratulated her. "And she lives in this commune, you see, where they're not really allowed to have possessions as such, at least not artificial ones; like if you buy them a microwave, it has to go in the 'Communal Kitchen' for everyone. But now that she's getting married, they'll be allowed to finally have their own room, a bedroom combined with sitting room and nursery, when that rolls around, and they're allowed to decorate it but only with natural fibres, which is why I'm making her the cushion. Gee, I really wish I could ask her about the colors, but they don't allow me to visit her..." I just gulped and pointed out that one of her chosen yarns was 50% acrylic, which meant she had to spend another fifteen minutes revising the colors. So here's a tip: When you get invited to a wedding at your local Branch Davidian Complex, be sure and check the fibre content of your gift. You don't want to look like an ass, now do you?

Sunday, February 6, 2005
| | |
| --- | --- |
| | [17] |
So it was the big TV Premiere Week... last week. But given that we're nerdy TiFaux types, we only got around to watching stuff on the weekend. We're time-shifting hipsters, I tell ya. Channel Seven - who I don't think I've consciously watched in the past year - reeled me back in with their excessive hyping of Desperate Housewives and Lost. The verdict?
Desperate Housewives was so-so. I thought it was going to be trashy and funny, not all mysterious and kinda sad. At one point I turned to the Snook and commented, "This show is actually making me sympathize with Teri Hatcher. Teri effing Hatcher. We are officially in the Bizarro World." It's got a big ensemble cast, though, which I guess means it takes longer to establish everybody's character and relationships. We'll give it a few more episodes, but if it doesn't get good, I think we'll be deleting that one. Snookums's Five-Second Review: "They set up too much. Gratuitous mystery. Gratuitous voiceover." (Me: "That's your review? That's not a review!" Him: "Make up something and say I said that.")
Lost, on the other hand, kicked a lot of ass. I was always a Matthew Fox fan - his hotness being the sole redeeming quality of Party of Five, in my humble opinion - and he seems really well suited to the character. And he's aging well. Hummina. I cheered when Harold Perrineau came onscreen. I love me some Mercutio. The airplane crash scared the crap out of me, though. Is the (completely unrealistically skinny) pregnant chick supposed to be Australian? As soon as the pilot said something about flying back to Fiji, I did a shrieking double-take to the Snook: "IS THIS SUPPOSED TO BE THE FLIGHT FROM SYDNEY?" (Sorry Mom, I'm never flying home ever again.) As soon as the clanking monster noises started, I announced: "It's Kong. Peter Jackson wasn't doing a movie; he was doing a series. Look, it's clearly New Zealand. And there's Merry running around. The monster is clearly King Kong." You heard it here first, folks. And hey, are we all in agreement that Merry is a junkie? Good. We're definitely recording the second part of the pilot this week. Snookums's Five-Second Review: "Spoooooky. A bit melodramatic, but, you know." (He's no Ebert.)
It totally didn't premiere this week, but I only finally just got around to watching it: Arrested Development. I TiFauxed an episode way back because I heard it was good, and then somehow I forgot about it. In a fit of boredom I finally watched it, and I laughed my ass off. (It was the episode where the Dad teaches the kids "lessons" with his one-armed buddy.) Are all the episodes that good? Why the hell didn't you guys tell me about this? Now I've got to wait and hope that it gets show again.
Oh, and we saw Sideways last night with Amy and Rob. (Note: The person in the background of this picture getting ready to pound some raspberry beer is me.) I thought it was a bit heavy-handed at times, but by the end I was a total convert. The Snook and I had a big debate on the way home about Miles's book, and whether we thought he was going to commit suicide, and whether it was going to work out at the end. (Of course it will! They just don't need to insult your intelligence by showing you that.) We also discussed that if he ever cheats me on me, I reserve the right to break his nose by beating him with a motorcycle helmet.

Good times.


Somehow, what with all the backing up of my computers I've been doing over the past few weeks, my Mail.app Inbox now contains two copies of every message I've ever received. I thought I was going to have to have the Snook do some Unix jiggery-pokery to eliminate the duplicates, but then a quick Google search turned up this: Mail Scripts. I'm trying it out right now. Looks like a winner!

Later: Not quite. It worked all right on my Sent folder but it keeps throwing up errors every time I try it on my Inbox. I'm stumped.


Check out this article about knitting as political protest. Pretty interesting, but you know what's even better? It includes a pattern for a knitted grenade! I'll have to whip that one out at the next Stitch and Bitch... (Link courtesy of miftik.)

| | |
| --- | --- |
| | [6] |
The Real Angora Man
Sometimes my job is a Seinfeld episode. You remember the story of Angora Man, the little old guy with the fluffy white angora sweater fetish? I didn't think anybody would ever top him. I was so wrong.

On Thursday I met the real Angora Man. He was a big guy, maybe in his late 40's, and my first impression was that he was probably here picking something up for his wife. He had a ball of some lurid lime-green Lincraft novelty wool that he was trying to match. He said he needed it to finish the cuffs of a sweater. From his comments, I gathered that he knew more about knitting than the average husband. "Are you knitting this yourself?" I asked. No, he had a knitter-for-hire that was knitting it... for him. Hmmm. I stopped asking questions. As I was showing him around the shop in a vain attempt to find something that would work, his attention was caught by our glass display case of expensive wools. "Wow," he said. "I've got to have that." He was looking at the angora. The lime-green angora. "The, uh, angora?" I said. "Very lovely. Would it be, uh, for yourself?" "Oh yes," he said. "I collect angora sweaters. I have over two hundred." That's when I began composing this post in my head. [more...]

| | |
| --- | --- |
| | [2] |
Huh. I just discovered that there's a town in Australia called Kentucky. I looked it up because some woman gave it as her address on our visitor's book at work, and I thought maybe she was just a confused American. But nope, there is a Kentucky Down Under!

Saturday, February 5, 2005

Million Dollar Spoiler
No, I'm not talking about the Amazing Race. Apparently some conservative fatheads - including El Supremo Fathead, Rush Limbaugh - have purposefully revealed the "surprise" of Million Dollar Baby because they don't agree with the film's politics. Roger Ebert is pretty damn mad. (Note: Don't go there if you have any plans to see the movie.) Of course, the really important question here is: How will this affect the Oscar Contest? Could a conservative backlash against the film hurt the actors' chances to win? Could this swing the Directing prize back towards Scorsese? Only the Soctopus knows for sure...

Moblog: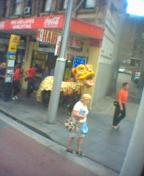 Dancing Dragon
On the bus down George Street. Chinese New Year has begun!


I totally missed Groundhog Day this year, but apparently Phil predicted six more weeks of winter. Does that mean the Southern Hemisphere gets six more weeks of summer? Woohoo!

Friday, February 4, 2005
| | |
| --- | --- |
| | [3] |
Help! Any artists in the house? We're playing around with ideas for the wedding reception cake, and we'd like to get a nice cartoon of Elvis to put on there. Nothing complicated; just some stylized line art of the King of Rock 'n' Roll. Google Image Search is turning up nothing. Anybody interested? Alternatively, does anybody have a good picture of Viva Las Vegas-era Elvis - like from a book - that they could high-res scan for us?

Later: Nevermind! We went with one of these instead.

| | |
| --- | --- |
| | [2] |
I've recently become obsessed with the Wicked soundtrack, and today I found this page full of pictures of the original Broadway cast. Useful if you're from a country that won't get a production for probably years...


If you couldn't tell from the fact that DeskCam has finally changed, I got my computer back! Looks like the G5 was suffering from a faulty logic board. The guys at Apple Centre Broadway replaced it and she seems good as new. I would've had her back sooner but Friday is my only weekday off (and I didn't fancy carrying the thing back from Broadway myself). Just in time to print out all our reception invitations...

Related link: How to Backup Your Mac with rsync. I was lucky in that I managed to boot up in Firewire mode and transfer everything to the laptop, but I really should be doing regular timed backups.

| | |
| --- | --- |
| | [2] |
Damn it. Remember my Simpsons Valentine that I made back in 2001? Somebody else has done an identical version and it's even been linked on Boing Boing. I don't want to accuse the guy of ripping me off; it's not like it's a totally original concept or anything, and if we both traced the same screenshot then it just follows that our drawings would look alike. I guess I've just got sour grapes that now somebody else is getting all the official credit for having the idea.

Edited: Upon further inspection, there are some significant differences in the drawing. I squared mine up, while he left the bottom a little skewed. His wheels are also drawn differently to mine. Oh well. I guess great minds think alike!

Wednesday, February 2, 2005

Massive needlecraft news of the day: Lincraft's gone into receivership! Our only wool competitor in the center of Sydney has basically declared bankruptcy! My world is officially rocked. (I suspected that they were foundering a few weeks ago when a couple of their employees stopped by our new location to spy. They seemed clueless and - I'm totally not being bitchy here - one of them had a full-on 'tache. And it was a girl. Not that that has anything to do with their financial situation, but it certainly gave the whole store a creepy vibe that might have had something to do with it. I'm just sayin'.)

| | |
| --- | --- |
| | [7] |
Top 100 Singles of the Decade's First Half. Oh, good grief. I'm so out of the damn loop. I've only heard, like, ten of these. When did the Snook and I become so old? I used to listen to Triple J when I had a long car commute to work - which kept me relatively on the cutting edge, music-wise - but nowadays the only radio we listen to is 2WS while we're cleaning house. We never watch live TV anymore. We float through the days listening to our mp3s and watching shows that we've TiVoed days before, and it just feels like there's this massive disconnect between the stuff we experience and the stuff that's actually happening. Does anybody else get that? (Original link courtesy of Max, who in an ideal world would be my neighbour and meet me for coffee every day so he could fill me in on what "the kids" are listening to.)


Sydney Friends and Family: Our Australian wedding "reception" is officially booked! It'll be held on Sunday, February 27th. The invitations will be in the mail by this weekend, but I just wanted to let you all know to keep that day free.

archives
You can search through the archives by post keyword using the form on the left, or you can browse by month using the links at the bottom.
"Moblog" refers to posts and images posted directly from my mobile phone.

"PW Blog" refers to posts recovered from my very first weblog, which dealt with news related to my college dorm.