Tuesday, February 28, 2006
| | |
| --- | --- |
| | [7] |
DietBlog: Not to twenty just yet. Crud. I actually accompanied Miss Fee to my old city WW meeting last night and weighed in there, but they said I'd gained 400g and that's just ridiculous. I mean, honestly! Something is wrong with their equipment. So I stepped on the scales tonight at my real meeting and it turns out I lost 100g. And given how much hair I had cut off last Thursday... I'm gonna call it even. I'm trying hard not to get de-motivated though. (What? It's a perfectly cromulent word!) Last week was a randomly difficult one for me mentally, so to get through it without a gain is probably a victory. I also had the weekend temptations of Steph and Eva's housewarming (where I was on best behavior) and Deb's housewarming/birthday party (where I was, um, not). I'm just going to try to stay positive. Some scared little group of neurons lurking in the back of my brain doesn't want to get to goal, and I can accept that. Being not-fat is a big leap. I'm going to give myself all the time I need to adjust.

But to end this post on a positive, I dragged the Snook over to the Broadway on Sunday to watch me try on six different pairs of size fourteen pants. AND THEY ALL FIT. I bought three pairs. The cashier was like, "Are you starting a new job?" And I crowed, "No, I just lost a lot of weight and nothing fits me anymore!" I've worn new pants two days now and people are actually noticing my size even more. (I guess because I'm not hiding it.) And if I do say so myself... my bum looks fantastic. :)

| | |
| --- | --- |
| | [1] |
Hooray! There's a special Days of Our Lives recap for charity over at TWoP. And it's from a corker of an episode during the whole "Marlena is the Salem Stalker" storyline...

| | |
| --- | --- |
| | [2] |
A customer from New Zealand just e-mailed the shop asking about a product that we sell. It's in stock and visible on our website. So what did they want to know? If I knew of anywhere local in New Zealand they could get it. WHAT? It's not like I don't do the Miracle on 34th Street thing when I can, directing people elsewhere for stuff we don't stock. That's cool. But to ask me about something we have in the store and then have the cheek to ask for a recommendation for somewhere else to buy it? I'm just in awe of the sense of self-entitlement of some people... (On a related note: Did I mention the lady who got annoyed that we didn't have the fabric that she was supposed to pick up and demanded that we let her use the phone to contact her sister - IN BRAZIL?)

Monday, February 27, 2006
| | |
| --- | --- |
| | [7] |
How Aussie are you? I was shocked to see I'd actually gotten 17 out of 20 correct! I've heard about half in actual use, and the rest were just guesses based on my experience with Australian slang construction. The comment they gave me with my score was spot on: "You will communicate fairly effectively with the native population, but they will still mutter "bloody yank" when you walk out of the pub." Very true. (Link courtesy of Deb, who is a true blue Aussie Sheila.)

| | |
| --- | --- |
| | [1] |
50 Animals in Casts. Another one for the Snook! (Link courtesy of John.)

Sunday, February 26, 2006
| | |
| --- | --- |
| | [5] |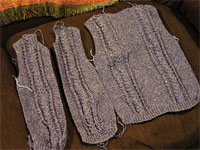 Knitting Olympics Update: How's everybody been doing? I'm happy to report that Leonie (aka crumpet) has already won Australia a gold medal. So we've got one... and I suck. Much like Michelle Kwan, I crashed to the ice upon realizing that my program (finishing the fairisle cardigan I was designing for Marianne) was a little too ambitious and my heart just wasn't in it. Or something. At any rate, I changed events halfway through the Games. (IS THAT EVEN ALLOWED? I'm gettin' crazy, here.) My measurements are already six months out-of-date and winter will be ending soon, so the goal was to choose something pretty that I could crank through quickly. My eye landed on Sirdar's Denim Book of Aran Knits, which I used last year for the Snook's Looking Glass Jumper. And whaddaya know, there's an adorable little hooded cardigan in there just begging to live in Colorado. As you can see at right, I've finished the back and both fronts (including pockets!), and I'm about halfway up the sleeves. So no, I am not going to make it in time to medal this year. But hey, if any of you want to have a Knitting Commonwealth Games, I am so ready...

| | |
| --- | --- |
| | [1] |
The universe has its yin and yang. To balance the passing of Barney Fife, we have the amazing and wonderful news that Tara D has achieved a lifelong dream: she's been hired by Second City. You know, Bill Murry, John Candy, Jim Belushi, Gilda Radner, Eugene Levy... That Second City. CONGRATULATIONS, TARA! Seriously, the next time you're in Chicago you must go see her in a show. You will laugh your ass off, I guarantee it.

| | |
| --- | --- |
| | [1] |
I was genuinely sad to hear that Don Knotts died. Farewell, Barney Fife. You and your one bullet used to make me laugh and laugh.

Friday, February 24, 2006
| | |
| --- | --- |
| | [8] |
Any of you Sydneysiders have experience with cleaning services? The Snook and I have finally accepted that we're on the wrong side of the fundamental paradox of "liking to live in a clean house" and "being totally and completely averse to actually cleaning." And if I learned anything from The Sims, it's that maid service is the primary key to a happy home life. Now we just need a recommendation...


RunningBlog: Trail Note
I've had a case of the mean reds for the past few days. I don't know why. It's just like a switch was flipped, and suddenly I'm feeling depressed and bored and nervous. I have the urge to eat and eat and eat. (Before you say it's probably hormonal, my Depo shots generally take care of that.) Could it be because the past few weeks have been so easy and I don't think I've earned it? Is it because I'm actually afraid of getting to goal? Both are possible. I'm also dreading tomorrow's inaugural workout with the Dove. For some reason I feel really embarrassed about him knowing how unfit I am. I know, I know - this goes against my whole "why hide the obvious?" dieting ethos, but I can't help it. Sure, losing (nearly) twenty kilos is an accomplishment, but what if he expects me to be able to run faster and do more push-ups than I can? I'm afraid.

I did turn some of this anxiety into a positive, though. I headed out tonight with a vague goal of getting to Centennial Park and actually running the jogging track inside. (Usually I turn around because it takes me thirty minutes just to get there.) I was pretty tired when I finally arrived. The day was hot and my sports bra was too tight, so I had a stitch threatening the whole time. "Self," I said, "if you can actually make it around the track without walking, I don't care if you walk all the way home." So I did it. I paused halfway around to have a sip from a drinking fountain, but it was no more than ten seconds so I'm counting that as a win. I timed myself at 26 minutes and these guys have measured the loop to 3.7km. With a little mathematical extrapolation, that equates to a 5K time of 35 minutes... which just happens to be my time from the last 5K race I ran. I think that's good. I mean, I'd already been puffing up and down across Surry Hills for thirty minutes just to get there, so if I'd been starting fresh I think I would've taken a good amount of time off it. As promised to myself, I walked most of the way home. It felt pretty good.

| | |
| --- | --- |
| | [1] |
How to Speed-Clean Your Kitchen. Are you reading this, Snookums? ARE YOU? Because we are straight up slobs. (Link courtesy of krisalis.)

| | |
| --- | --- |
| | [3] |
This one's for the fluffies: the knitwear of Lizabeth Oliveria. It's pretty lewd - well, except for the Superman - and DUDE, it's all mohair! (Link courtesy of SixDifferentWays.)

| | |
| --- | --- |
| | [4] |
OH. MY. GOD. "Lazy Muncie." It's the "Indiana response" to that "Chronic-WHAT-cles of Narnia" rap from SNL, and it's BRILLIANT. (A warning to certain members of my family though: It does contain bad words. Download at your own risk.) I wasn't expecting much, but I nearly spat banana all over my monitor when they got Jim Davis (creator of Garfield) to throw a gang sign. The roll call of famous Hoosiers is awesome, and the "move your ass to Fort Wayne" chorus is pretty good too. I just loved seeing Indiana stuff in a rap video - Bob Evans, Sears, a barn... Too, too funny. (Link courtesy of Moire, who may now have to film the Fort Wayne response.)

Thursday, February 23, 2006
| | |
| --- | --- |
| | [9] |
New hair. It's a little bit Sienna Miller, a little bit 60's girl group.


Oh, dear GOD. Pugs in hats. I think this one's my favorite. (We're cat people, but I just know the Snook is going to love this. Funny animals crack him up.)

| | |
| --- | --- |
| | [1] |
TWoP have posted a Serenity recap and, though the author's writing style sounds a little weird to me, it's neat to read about the movie from the poit-of-view of a serious Firefly fan.

Wednesday, February 22, 2006
| | |
| --- | --- |
| | [2] |
Pet the Cat. (Link courtesy of my Mom.)

Tuesday, February 21, 2006
| | |
| --- | --- |
| | [13] |
DietBlog: I'm soooo close to a major milestone. I lost another 800g to bring me to 19.2kg lost in total. I want to get to 20kg so badly. My BMI is currently 25.5, so I only need to lose another kilogram or so to put me in the healthy bracket. Do you understand how momentous this is? It's like the horizon is rushing up to meet me. In one week, maybe two, I WON'T BE FAT ANYMORE. Oh sure, I'll still have a pudgy belly and my jogging speed will still be laughably slow, but no matter what anybody says to me, I won't be overweight. The little family jokes about Kris being chubby that I've been hearing for ten years? Not anymore. Feeling ashamed whenever some crappy tabloid news show does a story on the "obesity epidemic"? Not anymore. Automatically reaching for the largest garment on the rack? Not anymore. I feel like I'm in freefall here and it's a little scary. When did this happen? When did I turn into somebody who's not me? I've actually had experiences in the past few weeks when I've been hanging out with people bigger than me, and I've gotten a shock when going to the bathroom and catching a glimpse of myself in the mirror. I'm used to changing my hair but I'm not used to changing shape. Today I wore pigtails and I suddenly became obsessed with how big my head looks on my now-skinny neck. Do I have a bobblehead? You guys would tell me, right?

All exhilarations and anxieties aside, I had a great laugh at WW tonight. Our topic was "putting myself first," which is the habit I have the least trouble with, quite frankly. I have no kids or family to support here. You've read my blog. I'm always first. But anyway, we were supposed to talk amongst ourselves about our plans for "putting ourselves first" this week. My discussion partner had, like, the best quote ever: "Well, I haven't been exercising much lately - you know, because of work stress and, well, I'm being stalked - but this week I plan--" And I'm like, "WAIT. You're being STALKED?" Which, you know, SCARY and all, but also hilarious within the context of the boring talks we usually have. If ever you need to justify hanging around the house, stalker avoidance is one of the best excuses you can have.


Chrystalla went out to lunch today and came flying back thirty seconds later: "Kris, come quick! Bill Clinton is next door in the R.M. Williams shop! Here, take my camera phone!" I dropped everything and ran, but alas, Bill had vanished. There were a lot of people milling about and some large SUVs on George Street, so perhaps I just missed him. Damn. Moblogging a picture of me shaking hands with Bill would've been too cool.

Later: Holy crap, it was him!

| | |
| --- | --- |
| | [2] |
Ha! I just read Adam Spencer's interview in the guide where he mentions wanting to knit some fractals for this year's Knit-In. So I went to the ABC 702 website to leave a comment about it... and it looks like Mary-Helen beat me to it! Nice one. :)

| | |
| --- | --- |
| | [1] |
There's a question on AskMetaFilter today about knowledge organisation and library classification systems that I just know some people will find fascinating...

Monday, February 20, 2006
| | |
| --- | --- |
| | [5] |
*gasp* I want an NES alarm clock!


How come I never get commissions to knit things like giant Suntory bottle cozies?

| | |
| --- | --- |
| | [2] |
Yet another reason why you should keep your cats indoors.

Sunday, February 19, 2006
| | |
| --- | --- |
| | [5] |
Saturday morning the Snook and I joined his mom, sister, and nephew on a visit to the Rozelle Markets. We bought Trivial Pursuit and Pictionary for the amazing sum of $5, and I found a copy of The Magic Pudding. Our real haul, however, came afterwards when we stopped at Herbie's Spices. The Snook's been wanting to hit this shop for ages. We got chipotle powder, saffron, dukkah, fenugreek... heaps of good stuff. And today he used the chipotle to make me Ron's Blue Stater's Texas Chili. YUM! He actually used the beer brewing pot, he made so much chili. Our freezer is now full of it. The best part is that we worked out that it's only, like, two Points per ladleful! Now if only I had some light sour cream...

| | |
| --- | --- |
| | [6] |
Whoa. Ebert has published his official Oscar predictions, and he's got some major upsets in there. Well, upsets in the sense that it's not what my contest entries are predicting. At least we shouldn't have any ties!

Friday, February 17, 2006
| | |
| --- | --- |
| | [3] |
RunningBlog: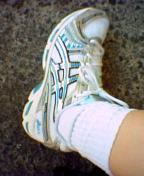 Bring on the 10K!
I may not have new pants, but I've got new shoes! And they're all silvery and *tomorrow*.


| | |
| --- | --- |
| | [2] |
DietBlog: As I said earlier this week, my clothing situation is getting fairly dire. Everything's too big on me. (I know, I know; it's not like the worst cross to bear in the world.) I simply have to buy some pants to wear to work. Last night Miss Fee - freshly returned from the hells of the Gold Coast - insisted on accompanying me over to Temt in the Mid City Centre to try some on. The experience was rather depressing. I tried on three different pairs of size 14 trousers, and only one came close to fitting. The other two wouldn't even button, and they made my thighs look like sausages. With that experience still fresh in my mind, I tried to beg off going shopping with Amy today. I told her what happened... and she told me about the magical world of the fashion industry, where clothing sizes are simply made up. MADE UP, I TELL YOU. And Temt is particularly bad, she said. So I submitted. We went into Sussan and I reluctantly pulled on the first of four pairs of size 14 pants... and all four fit me. What's more - they looked good! They made look tall and slim and my bum was just tiny! It was a REVELATION. I didn't buy any just yet - I need to figure out exactly what my wardrobe requirements are - but it was such a huge confidence boost to not have to automatically reach for the largest size on the rack. Before we left the Broadway, Amy insisted we go into Sportsgirl. I hate Sportsgirl. I hate their stupid window displays; I hate their promotion of formal shorts; I hate the hippie boho crap they're still trying to shove down our collective throat. I was sure nothing they had would fit me but I dutifully went into the changing room with a pair of twee olive trousers... and they fit. They were a little small, but they fit. "There you go!" Amy announced. "You are now small enough to shop at Sportsgirl." I told her my life was now complete.

Seriously, though, getting into a size 14 was one of my original weight loss goals. I wanted to be able to go into any shop in Sydney and find something I could wear. And today, I realized that it's finally happening. This is a brave new world.

| | |
| --- | --- |
| | [1] |
This is for my Cuppycake Gumdrop Snookums.

Thursday, February 16, 2006

The RU486 bill has passed and control of the drug is now in the hands of the TGA. It's nice that common sense can prevail every now and then, isn't it?


That other Oscar pick 'em contest has finally launched. Can you Outguess Ebert? His prize is definitely worth more than mine, but hey, mine is open to Floridians!

| | |
| --- | --- |
| | [1] |
Blogging Tips from a D-Lister. Great tips from Matt about increasing traffic and being a "good" weblogger.

Wednesday, February 15, 2006
| | |
| --- | --- |
| | [9] |
Trivia Update: We had a very respectable 2nd place finish tonight, made more remarkable by the fact that there were only two of us. (We were really hoping for 1st to secure the $70 bar tab for Kenya's birthday this weekend, but we were once again trounced in the second round by our nemeses, the old fat guys.) Here are your questions for the night:
Name four of the sequels to Planet of the Apes. (We pulled two of these out of our ass.)
Name three of the six one-word #1 singles for Fleetwood Mac, other than "Rhiannon."
Which TV show featured the lyrics: "I'm the unknown stuntman that made Redford such a star"? (My Dad will be proud to know I got that one right.)
Give the maiden names for Princess Mary of Denmark, Hilary Clinton, and Margaret Thatcher. (Props to Amy for her "assistance" on that last one.)
Name the five most popular sports in Australia in terms of attendance at the grounds.
We missed out on all four jug questions tonight, I'm ashamed to say. Not a great showing.

| | |
| --- | --- |
| | [1] |
As Leanne will be going back to university in a few weeks, it's fallen to me take on more of the traditional managerial tasks here at the shop (as opposed to just huddling over the website). Last week I learned to do the banking, and this week she's training me to do the roster. I'm therefore alternating between MWA HA HA! moments of power madness, and whimpering fits of anxiety as I realize that, yes, with great power comes great responsibility. And scheduling shifts for eight people with conflicting requirements makes my heard hurt.


Someone is asking MetaFilter: Was Corey Haim's character in Lost Boys gay? I had honestly never even entertained the notion.

Tuesday, February 14, 2006
| | |
| --- | --- |
| | [8] |
DietBlog: After the interview I high-tailed it over to the weigh-in. I wasn't sure what to expect. I know I went over Points at least three days last week - including one serious blowout at Tia's birthday party - but I also did a heck of a lot of exercising to make up for it. Turns out it paid off in the end! I lost another .9kg, which brings me to 18.4kg lost in total. And I turned right around and had a minor blowout at dinner tonight... but it was so worth it. My Valentine made me homemade chocolate mousse atop a heart-shaped piece of cake, studded with rum-soaked raspberries. I guess it's back to work tomorrow!



Related note: I'm starting to have a severe clothing problem. I have - no joke - ONE pair of pants that fit me, and even they're a little big. I've been getting by cinching everything up with a belt, but that's starting to look ridiculous. Anybody want to help me buy some new clothes?



| | |
| --- | --- |
| | [16] |
Just got the call from Radio 2GB. The interview is definitely on tonight! 7:20 pm on 873AM. I'm not skipping my damn meeting though; I'm having them call me on my mobile. :)

Later: I did it! Felt like I talked a mile a minute, so we'll have to review the tape to see if I'm intelligible. I managed to work in references to the shop (of course), Sydney Sity Klickers, Sydney Stitch N Bitch, and even Helen and Katherine (the girls spinning in Centrepoint). Snookums snagged a recording so we should have it up later tonight for those who missed it.

Much later: Here is is! That's a 1.2MB MP3. You know, my voice sounds really weird. I get such a mixed reaction to my accent these days - Americans think I sound Australian; Australians think I sound American. I can actually hear both in that clip. Some phrases sound almost Valley Girl (where did that come from?), while other words are almost Strine (like "bikini"). Mostly I'm just relieved because I sound a lot less dumb than I did in my head. I got in a few good anecdotes and I didn't stumble over my words too much. (Though the latent high school speech team impromptu speaker in me winces every time I hear myself say "Um...") Snookums and I listened to it, and I'm like, "I'm damned charismatic! Where's my TV show?"

| | |
| --- | --- |
| | [3] |
The best ski masks EVER. Why isn't anybody at the Olympics wearing these? (Link courtesy of the Snook, via Hank.)

| | |
| --- | --- |
| | [4] |
Now that's a novel argument. Some crazy-ass conservative Member of Parliament is arguing that Tony Abbott should retain control of RU486... because Australia is aborting so many babies that the country will be Muslim in fifty years. (Reading insanity like that always makes me want to use Moire's favorite emoticon: O_o) My favorite bit of the article is the comment made by someone else in her own Coalition: "I think Danna's on her own on that one." HA! I can't wait to see her next bit of proposed legislation, which is sure to tackle the related problem of those of us of breeding age who choose to remain childfree and thus contribute to Australia's falling birth rate... and Islamisation. Although I'm a foreigner, so she probably wants to put me in Woomera anyway.

Monday, February 13, 2006
| | |
| --- | --- |
| | [2] |
Did anybody else, like, get tears in their eyes watching The Biggest Loser tonight? No? Just me then? Well, it was emotional. In terms of personal identification, Fiona is the one I immediately gravitated towards. She's just about the size I was when I joined WW last April, and seeing her step on the scales in her underwear was like looking in a mirror. (Well, a mirror that sees into the past.) In terms of emotion, Kristie, Cat, and Shane were the ones I felt the most for. And even though I'm now quite public with my weight loss process, I can totally identify with the ridiculous feeling that somehow if people don't know your actual weight, they won't realize that you're fat. The show wasn't all highlights though: the whole "gluttony" segment with the room full of food was a bit overdone, and what's with the way that Jillian woman always scrunches up her nose? I hate her already. (And I hope somebody quickly teaches Bob how to pronounce "Aussies" correctly.)

| | |
| --- | --- |
| | [4] |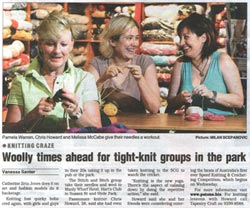 Here it is. Not a bad picture in the end, though they spelled my name wrong, of course. (Trivia: He wanted Melissa and I to be sharing a laugh so at this moment we're actually discussing her humongous pregnant boobs.) I also enjoyed the fact that - despite speaking to the journalist for fully ten minutes - they chose to use only one quote, and that was the most vapid, clichéd thing I said the whole time. (She kept asking me about whether knitting was "relaxing," and in desperation I dragged out the old "knitting is the new yoga" chestnut. And I immediately felt like a tool. So of course that's what they used.) I'd also like to point out that I actually said I "probably wouldn't" be entering the fastest knitter contest (mostly because Rose Hill is difficult to get to when you live in the city, work all day, and don't have a car). Oh, and I have no idea what that title means. NO IDEA. She didn't get that from me.

| | |
| --- | --- |
| | [4] |
I'm gonna be on the radio!
This is just my week of total media convergence. I just got a call from someone at Radio 2GB who read my article in mx today (I haven't even seen it yet!) and wanted to know I'd like to be interviewed on Murray Wilton's "The Good Life" tonight. Sure, why not? I am the Queen of Craft this week, apparently. (Can you feel the momentum gathering? My TV show can't be far off.) If any of you Sydneysiders want to listen to me make a blathering fool out of myself, they're supposed to ring me around 7:20pm tonight. It's on 873AM.

Oh, and they apparently have live streaming over the Internet too, so you international types can have a listen as well... (Though of course, the Snook will be recording it so I can post it afterwards.)

Update: Ack! They may have to bump me til tomorrow! I've got Fat Fighters tomorrow! Which will win out, my obsession with WW or my need for public exhibitionism? More details to come...

Still later: I think I've been bumped. It's well after the time they said she'd call and they're on to the cooking segment. Damn. I skipped kickboxing tonight to be here by the phone, and now I've got to decide whether to skip the meeting tomorrow. I am officially bummed.

Much later: That was the most boring radio show I've ever listened to in my life. I'm going to WW, celebrity be damned. They can call me on my mobile if they want to chat.

| | |
| --- | --- |
| | [2] |
h2ohno!
I got suckered into buying a bottle of h2go sparkling tangerine today. I figured it couldn't be that bad for me, given that it's basically just water with a little flavouring added. It was only hours later when I was inputting my WW Points for the day that I realized the stuff has 1.5 Points per bottle! I'm better off drinking Diet Coke.


The BBC News website has been running a series of "Ask the Industry" articles, where regular people send in their questions about the future of the entertainment industry and they "theoretically" get answered by industry executives. I say "theoretically" because the answers the execs give are piss-weak. First we had digital music, and now we have digital film. Read and marvel as these PR robots try desperately to not give a single honest answer to these simple questions. For example, "What's the point of DRM?" Most of the answers amount to: "Without DRM, the legitimate ways you have of paying for music would not be possible," which doesn't actually answer the question. (And then of course you get the Napster idiot at the end claiming that somehow their DRM isn't as bad as Apple's, because it works with more MP3 players or something.) It's all wank. Also note the perfectly valid question about "Why do movie companies still insist on DVD region encoding?", to which the only real response the idiots offer is "Because they can." (Okay, so the classification excuse isn't a bad one, but that doesn't stop kids from getting region-free discs from elsewhere...) It's like watching a Presidential debate, where each person only answers the question they want to hear without respect to the words that were actually uttered.

Sunday, February 12, 2006
| | |
| --- | --- |
| | [2] |
Holy crap; I was a User Friendly Link of the Day! I was just checking my server statistics, and geez, that's the closest thing to a Slashdotting I've ever experienced. We're talking more than triple my normal amount of hits.


We just watched the first two of the final four Arrested Development episodes, and man, how great is it seeing Justine Bateman? She looks fabulous! I have to say though, I found the way the plot flirted with hooking her and Michael up reeeeally disturbing. More so than the cousin lovin', of which I'm normally a big fan. (But George Michael? Is getting a little creepy.) And now let us all bow our heads and pray that Showtime picks this show up, so it can move to cable and disturb us all even more...


Here's a helpful tip for you: Whenever a trendy bartender says, "I'll just pop to the kitchen and get the soy sauce," cancel your drink order. So says me, who in a misguided fit of bravado ordered and then actually drank a "manuka honey and soy martini" on Friday night. Yeah, I basically drank a MARINADE, people. *shudder*


I've just added some frequently asked sock monkey questions to address some of the responses I'm getting!

Saturday, February 11, 2006
| | |
| --- | --- |
| | [1] |
DUDE! I just discovered that the gay sock monkey cowboys were mentioned in episode 11 of Cast-On, one of the most prominent knitting podcasts. It's towards the beginning when Brenda is talking about subversive knitting, and she says that the award for the week goes to my "Brokeback monkeys." Apparently they made her laugh really hard, and she especially liked my photoshopping of the movie poster. I have to admit though for those who are wondering, I did not knit these. The beauty of sock monkeys is that they're made from $5 K-Mart knee socks. Anything that took more time or money would be a waste.

| | |
| --- | --- |
| | [2] |
I just stumbled across a photoessay about the new Journey to Narnia exhibit at Disney MGM Studios, and it includes a really nice photo of Lucy Pevensie's lovely 1940's embroidered cardigan. Because I just know you all sat through the movie analyzing the knitwear, as I did.


Former Netdecider Stefanie stumbled across an ancient joke today from the old mcdonalds.co.uk team team. It's the prank wedding page she put up for me and Julian way back when. Too bad the picture doesn't show up! For some reason, I think there was a picture of Ronald McDonald involved...

Friday, February 10, 2006
| | |
| --- | --- |
| | [4] |
RunningBlog: Trail Note
I recently found a new favorite jogging route. I head back through Chippendale and across Cleveland Street, turning right on Abercrombie. Eventually I hit Wilson and that takes me all the way into Newtown. It's nice because there aren't a lot of lights to stop at, and the houses along Wilson Street have the prettiest flowers. I'm in love with frangipanis at the moment, and there are at least half a dozen in different colour combinations along the way. There's also one house with some amazing purple plant growing under the front fence; I'll have to take a picture so we can identify it. The street is also pretty hilly, which I've sorta come to appreciate. (I'm usually warmed up by the time I get to them, so it's not so bad.) Once I get to Newtown I can continue on to Enmore or St. Peters, and then jog back down King Street to home. I did the short circuit today in about thirty minutes flat and I actually felt progressively better throughout the run. How weird is that? The first ten minutes sucked, but by the end I didn't want to stop. (I obviously need to warm up more thoroughly.) I think I need new shoes though. I haven't had any repeats of my foot pain from two years ago - possibly due to the fact that I'm not running on the treadmill anymore - but I'm starting to feel some general soreness along the sides of my feet. I've e-mailed the Dove asking for shoe purchase guidance (as well as boot camp instruction). Bring on the 10K!


GASP! Afghans for Afghans is auctioning off an All-Noro Afghan, and it's gorgeous. I wish I had a few hundred dollars to spare! *cough* Birthday present... *cough* (Link courtesy of Mason-Dixon Knitting.)

| | |
| --- | --- |
| | [1] |
Wow. I knew George Clooney was a cool guy, but I really had no idea. I liked hearing his praise for his Aunt Rosemary, and his prank on Arnie was hilarious. And good on 'im for standing up for his beliefs and being true to his craft. Plus, I will always love him for doing the E.R. cameo for Juliana Margulies's final episode. (Link courtesy of John, who is also a Clooney fan.)


And now, some Personal Announcements...
Happy birthday to my Dad! (Well, it was yesterday, but it's still his birthday in the U.S., and I did manage to work the dateline issue properly this time to call on the correct day.) I'd give him crap about his age and stuff but seeing as how I turn friggin' 29 in a few weeks, I just don't have the heart. Hope it's a good one, Pop!

And speaking of "pop," good luck and wishes to Lynnette, who's just about to! I can't wait to hear all the gory birth details. No, really. It helps to keep my hormones in check. :)

| | |
| --- | --- |
| | [1] |
Great diet-related question over on AskMetaFilter. No, I didn't ask it, but I sure read it. (For what it's worth, I don't think I'm suffering a lot of sagginess. I haven't been carrying the weight for long enough to really destroy the elasticity, I think.)

Thursday, February 9, 2006
| | |
| --- | --- |
| | [13] |
After Howard's depressing statement about same-sex marriage this week, the minor RU486 victory is especially sweet. I couldn't sum up the issue any better than Moment to Moment. I wonder if sending a letter to our representative would do any good, seeing as how I'm not technically a voting citizen just yet...

| | |
| --- | --- |
| | [3] |
Knitting Olympics Update: Well, I've finally decided what I'm going to do: I'm going to finish the cardigan I started for my friend's daughter, Marianne. It's about half done and I've been dragging my feet for weeks, mostly because I think I might have been a bit ambitious with the design. But now that I've got a definite deadline, maybe I can get in gear and get this out to her before she's too big to wear it. I hope.


"Phone call for Media Whore..."
I just got interviewed! MX (that free paper they had out at train stations, etc) is going to be running a story related to this Fastest Knitter Competition thingo, and they wanted to talk to a "young knitter." As I tend to talk, you know, a lot, I got volunteered for the position. According to Vanessa, the journalist, it's supposed to run on Monday. So you Sydneysiders should be sure to grab a copy!

Later: We just had the accompanying photoshoot. Since the photographer changed the times on us so often, it ended up being just me, Mel, and a random lady we dragged in from the shop. I was really disappointed we couldn't wait for Tia, who was looking fabulous today and certainly would improved the shot!

Moblog:
I can open wide!
Just had my final wisdom tooth check-up with Dr. Wong, and he gave me a sticker! Upon further reflection though, it could be read as sorta rude.

Wednesday, February 8, 2006
| | |
| --- | --- |
| | [2] |
"Howard says no to same sex marriage." Awww, I wonder who proposed to him. Ruddock?

Tuesday, February 7, 2006
| | |
| --- | --- |
| | [7] |
DietBlog: Evidently serving customers does me good! I was a little apprehensive about the weigh-in tonight, mostly because I didn't do much exercise last week once I got my wisdom teeth out. But there it was - 82.6kg. That's another 1.1kg lost, which brings me to 17.5kg in total. (That's 38.5lb for the non-metrics.) I have to say, I really think the novelty of using the "eTools" on the WW site is what's driving this recent surge. I'm tracking EVERYTHING, even the meals that I'd normally write off as too much trouble to look up. (Like last Saturday when I had movie popcorn and then four slices of pizza.) My only annoyance is when I enter my weight and the thing says: "It looks like you're losing weight too fast. This might lead to health problems." Dude, I'm not wasting away here. I'm losing because I've still got a fair amount to lose. So quit giving me grief, website! [more...]

What I Need to Do at Work This Week:
Tackle a backlog of Internet orders and e-mail enquiries
Liase with the Arts Coordinator at the Royal Easter Show about sponsoring some prizes in the craft division this year
Work on the Queen Adelaide website (a trammed tapestry company we own) so we can get it online and making money
Contact Sydney retirement villages about organizing possible day trips/events at the shop
Continue adding items to the shop website so people quit calling and griping about things that are missing
What I'm Actually Doing at Work This Week:
Standing at the counter serving customers, because other members of staff can't be bothered to turn up
It's reeeeally frustrating.

Later: Well, that makes up for it! Thelma Mackenzie came in again and brought me more chocolate!

Monday, February 6, 2006
| | |
| --- | --- |
| | [1] |
Sexual Averages. Fascinating. At the very least, you can now work out how many Weight Watchers Points you earn gettin' bizzay... (I can't believe I just said that.)


A special thanks to the Mackenzie family of Santa Cruz, California, who chatted with me in the shop today and gave me a sample of their fine chocolates. It went a long way towards improving my case of "the Mondays"!

| | |
| --- | --- |
| | [1] |
Any Sydney knitters that are free this Thursday are invited to take part in a photo shoot in the shop at 1:00pm. It's related to this inaugural Australia's Fastest Knitter and Crocheter Competition that's being held at the Stitches and Craft Show later this month. We'd love to have the place packed with people!

Sunday, February 5, 2006
| | |
| --- | --- |
| | [4] |
I'm so excited about the contest this year, I posted it to MeFi Projects.

| | |
| --- | --- |
| | [39] |
Oscar Contest 2006
It's that time, folks! The Fourth Annual Web-Goddess Oscar Contest has officially launched. I've added a few more awards categories this year (to hopefully lessen the odds of a tie) but otherwise it works exactly the same. Go here to enter.

But Kris, you ask, what do we win? Hold on to your hats. If you manage to reign supreme this year, you will win none other than your very own pair of gay sock monkey cowboys. (I know! You're like, "She didn't." But I totally did.) They're rainbow... They have cowboy hats and boots... And they share the love that dare not speak its name. They are my greatest sock creations of all time. What to see more? [more...]


The 4th Annual Web-Goddess Oscar Contest will start later today! Stay tuned...

On a related note, we saw Walk the Line with Rob and Amy last night. My reaction was pretty much the same as Ebert's - the story was your basic predictable biopic but the real redeeming factors were the acting and the music. Joaquin Phoenix has always struck me as a little creepy, and that definitely hasn't changed. He was so good as Cash, though, that now I kinda think of Johnny Cash as a little creepy too. I was all set for Reese Witherspoon to drive me up the wall - from her very first Minnie Pearl "Thanks, y'all!" at the Grand Ol' Opry - but she completely won me over. In fact, I had been expecting to be blown away by this grand fairy tale romance but by the end of it, I just felt sad and angry at how June had been manipulated by this guy for years. And proposing to her on stage? That was the biggest dick move of all. I came straight home to look her up and find out if she wrote any autobiographies. (She did.) I know they were together for thirty-five years and all evidence points to them being very much in love... but I hope to hell he was the most Perfect Husband on Earth, because he had a lot to make up for. Now if you'll go excuse me, I've got to search the P2P networks for "Swallerin' Place."

Saturday, February 4, 2006
| | |
| --- | --- |
| | [7] |
Bugs
Oh good grief. My sister just alerted me to the fact that Australia is currently suffering a bed bug invasion. Granted, it sounds like most of the trouble is in the tropical parts of Queensland so we're definitely too far away to worry. Our biggest problem at the moment is ants. This is the second summer in a row we've been invaded by tiny little black ants. I hates them forever! And after a few years of avoiding them, it seems the mozzies are finally back after me with a vengeance. I managed to get bitten about a dozen times on my way home from WW Tuesday. I didn't discover most of the bites til Thursday morning. ("You look like you're po, Kristy!" "I know, Snookums!")

Friday, February 3, 2006
| | |
| --- | --- |
| | [2] |
Here I am suffering through an aching jaw and a bout of mental diet weakness/exhaustion, and Max has to go and post this. If only it were possible to eat pixels... *drool*

| | |
| --- | --- |
| | [3] |
Um, excuse me Channel 10? Just what in the hell did you mean with that teaser proclaiming next week's episode of Veronica Mars to be the "season finale"?? From where I'm sitting, it looks like episode 11 out of 22. Does this mean we're going to be TAKING A BREAK from the only good show you currently have? Am I going to have to wait MONTHS to find out who killed Lilly (and where Veronica's Mom is and who her Dad really is and why that scary guy falsely confessed and why Duncan dumped Veronica, etc)? If this is the way you're going to behave, I'm going to have to spurn you yet again in favor of the Internets. I need my fix of Logan and Weevil.


Meme Time
Bah, Amy tagged me. I haven't done one of these in ages.

Four jobs I've had:
Grocery store check-out chick
Purchasing Office assistant at an RV manufacturer
HTML webmonkey
Knitting shop employee/manager/marketer
Four movies I can watch over and over:
Pride and Prejudice (the BBC miniseries)
The Star Wars original trilogy
Swingers (I wrote a major paper on it)
Office Space
Four places I've lived: [more...]


The dentist put me on Keflex, which never fails to make me think of lobstrosities, astin, and tooterfish popkins. They should put a picture of Roland on the box or something.


I didn't know Siskel and Ebert were Muppets! That's amusing. I like that Ebert was randomly blue.

| | |
| --- | --- |
| | [6] |
Ooh, The Amazing Human Body is opening in Sydney! It's that exhibit of cadavers where they've been "plastinated" and you can see everything inside. Thanks to Dr. Wong for telling me about it yesterday! (Evidently the fact that I chose to keep my own teeth indicated to him that I'd also have a morbid interest in a scientific exhibit of flayed corpses.)

Thursday, February 2, 2006
| | |
| --- | --- |
| | [4] |
"Get me the elephant gun..."
Oh, that Dr. Wong is such a card. Today's procedure was even quicker and smoother than the last one. For some reason, though, this time it took a lot more anesthetic to numb the right side of my face. He'd poke and prod, and I'd go, "Nope, that's still kinda hurty!" And he'd inject me with some more stuff. At one point, he asked Maria for, like, the fifth hypo of stuff, and she was all, "Really? More?" And I said apologetically, "I'm a horse." That's when he busted out the elephant gun line. Ho ho! Eventually we got there though. "Okay, you're gonna feel some pushing," he said as he gripped that bottom molar. Literally ten seconds later, that sucker was OUT! It's hard to be all, "Damn, you're good!" when you've got tubes hanging out of your mouth and half of it's numb. He put in a stitch and then tackled the upper one. I had visions of the double-ended root pick again, but this one also came out clean with a minimum of yanking. And just like that, I was done! As he was writing up my antibiotics prescription, I mentioned that I'd written up the "root pick experience" on my website last time. "Can I have the address?" So if you're reading, Dr. Wong, hello! I'm doing just fine. (He said something about printing this out and putting it on the bulletin board, which was very cute. I guess when your business is playing the role of Big Bad in everybody's worst dental nightmare, you don't get a lot of positive professional feedback...)

| | |
| --- | --- |
| | [1] |
Moblog:
Doped to the gills!
On the train home from the dentist. The last two wisdom teeth came out pretty easily. No chipmunk cheeks yet! Full recap to be posted when I get home...

Wednesday, February 1, 2006
| | |
| --- | --- |
| | [3] |
RunningBlog: The Dove has offered to help me out with my 10K training this year. For those of you who don't know him, he worked with us at Netdecisions in London and he's super fit. This is because he used to be in the army for many years and now runs triathlons in his spare time. In short, he would Kick. My. Ass. I am both tempted and afraid. I've never had a "boot camp" type trainer before. Would it do me some good? Would I just resent him? Any thoughts?

| | |
| --- | --- |
| | [6] |
Trivia Update: Well, it felt like we were sucking the big one tonight, yet somehow we managed to finish in a tie for first place! (We ended up coming in second in the tiebreaker as the other team pulled a Rain Man and knew exactly how many nautical miles it is from Sydney to Hobart.) I also won us a free jug of beer for identifying the Steve Miller Band. Here are the best ones from the night:
Name the four islands of Japan. (Snookums ROCKED all four of these.)
What planet are Klingons from? ("No, Snookums, the answer is not 'Uranus.'")
Which three singers sang "All for Love" from the film The Three Musketeers?
Who were the five Marx brothers?
Name two movies (not TV movies) starring Angelina Jolie that start with the letter "G". (I eventually got these but it took twenty minutes of racking my brain.)
What are the three most popular surnames in the UK?
Now I've got to go to bed so I can get up early and work off that $30 bar tab...

archives
You can search through the archives by post keyword using the form on the left, or you can browse by month using the links at the bottom.
"Moblog" refers to posts and images posted directly from my mobile phone.

"PW Blog" refers to posts recovered from my very first weblog, which dealt with news related to my college dorm.