Monday, February 28, 2011
| | |
| --- | --- |
| | [2] |
Oscar Contest Winner
Congratulations to John M. who was the big winner in this year's Oscar Contest! John actually finished in a 4-way tie for first place with Andy Saur, Anita Hoffman Ehrenfried, and Eloise. It came down to the tiebreaker, which was 41 dead people. Anita had 38, but John took the prize with his guess of "42 1/2". (I'll admit the fraction cracked me up.) Congratulations, John! Your Black Swan and White Swan sock monkeys will soon be on their way to you. And thanks to everyone else for playing. See you next year!

I was thrilled to see that John actually put in his entry on the very first day, which I'm hoping indicates he's a regular entrant or a friend-of-a-friend.

Update: Just checked the records. This is John's FOURTH year entering and his first victory!


If you were thinking of signing up for Health Month - which I recommended last week - today's the day to do it, as the March "game" starts tomorrow!

| | |
| --- | --- |
| | [3] |
Oscar Contest - Final Update! I will stop taking entries as soon as the show starts at 5pm California time (which is noon Sydney time). You'll be able to follow along with the scores on this page, which should update as each award is announced. Good luck everybody!



And if you're watching the show life - which I'm not since I'm at work - please count the dead people for me in the obituary montage and leave a comment here after it's finished.



Update: Entries are now closed!

Sunday, February 27, 2011
| | |
| --- | --- |
| | [7] |
Jamie's 30 Minute Meals #6: Duck Salad
This is our sixth official cooking/blogging experiment from Jamie's 30 Minute Meals. As we did last week, we picked this one with the idea of going to the Eveleigh Farmers' Market Saturday morning to get any necessary ingredients. There are always a couple vendors there with duck. When we got there, we worked out pretty quickly that four duck breasts were going to cost us close to $30. The Snook persuaded me to get two whole ducks from Coles instead (for $40 total), which would also give us legs and fat for confit, and a carcass for making stock. Sounds like a plan! So earlier today he carved up the ducks so we could get started. I was running a pretty serious caloric deficit for the day thanks to my long run, so I was excited for such a big, healthy meal.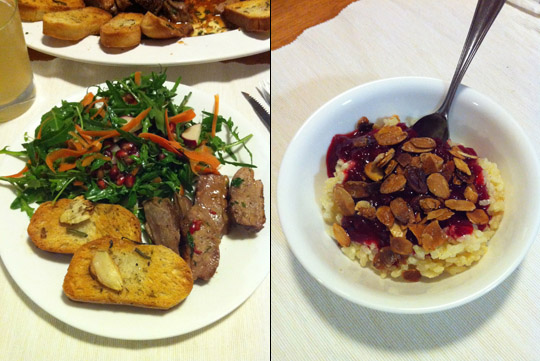 Quick verdict: We followed it pretty much exactly (except for actually making homemade rice pudding in the rice cooker rather than buying expensive pre-made stuff). Elapsed time was 39:52, but we think this is one you could easily get down to 30 minutes once you have it memorised. There's not much to it, really! In terms of presentation, this was the best one yet. If you served this at a small dinner party, people would be in awe! We both rated it 9/10 for taste (but we may have overcooked our duck a little bit). Read on for a photo essay of the preparation. [more...]


Shared today on Google Reader:here.


Oscar Contest - Final countdown!
Just over 24 hours to go in the web-goddess 2011 Oscar Contest, so be sure to get your entry in! As always, I need a few volunteers who'll be watching the show to count the number of dead people in the "In Memoriam" montage. I know miftik already has her clipboard ready. Anybody else available?

Saturday, February 26, 2011

Shared today on Google Reader:here.

Friday, February 25, 2011

Shared today on Google Reader:here.


RunningBlog: Week 8
Pretty good for a cutback week! Last Friday the podiatrist fitted me for orthotics and then taped me up again. It was too hot to run on Sunday, so I bumped my weekend run to Monday. I felt great! On Wednesday I actually decided to do speed intervals in the morning before Spudds. The tape had come off by that point, but my foot still felt surprisingly okay. The Spudds workout was hard and left me quite sore afterwards. Today I did an easy lunchtime jog with my friend Raj just to work out the stiffness before my next long run on Sunday.

Feb. 21: 6.43km
Feb. 23: 6.11km
Feb. 25: 4.65km
Total this week: 17.17km (10.7mi)
Total this year: 179.03km (111.9mi)

To meet my goal of running 1100km in 2011, I should be at 169km right now. So I'm currently carrying a buffer of 10km. I expect that to grow this week given that I'll be running my longest distance ever: 14 miles - 22.5km! Longer than a Half Marathon...

| | |
| --- | --- |
| | [2] |
The NYT has a great article on Dooce.com, the "Queen of the Mommy Bloggers." I've been reading Dooce since before she got pregnant with Leta, I think. It's an excellent look at the history of her site and the "real life blogging" genre in general. The bit that surprised me was how much money she makes from her site. I had no idea. I mean, I guessed it was a decent amount, given that she and Jon haven't had day jobs in a long time. But that site is clearly up in the stratosphere in terms of generating advertising revenue.

In the interests of full-disclosure, w-g makes an average of $4 a month from ads on the archives. Fortunately RDF more than makes up for it...

Thursday, February 24, 2011

Shared today on Google Reader:here.

Wednesday, February 23, 2011

Shared today on Google Reader:here.

| | |
| --- | --- |
| | [4] |
AHHHHH! Eileen! We need to go to Singapore! They've got a Battlestar Galactica Roller Coaster with duelling trains, and one side is a Cylon Raider and the other is a Viper Mark II! LET'S MAKE A PLAN.

Tuesday, February 22, 2011
| | |
| --- | --- |
| | [2] |
Shared today on Google Reader:here.


Health Month
A few weeks ago I saw a MetaTalk post about forming a team for Health Month. I'd seen the site before when it was in private beta, but now anyone can sign up. I quickly joined the MetaFilter team. The site is all about promoting good habits and behaviours through social gaming. You create a number of rules (free accounts can have up to 3) that you then track each day. A rule might be "Eat leafy greens 3 times a week" or "Don't smoke" or "Meditate for 10 minutes each day." Then every day you visit the site and say whether you followed your rules or not. If you break enough rules, you lose a life point. If you follow enough rules, you earn fruit that can be used to heal yourself or others. There's other fun stuff too, like random daily bonuses and check-ins with your "spirit animal" and stuff like that. Here's my profile. I've been playing along for a couple weeks now, and I have to say, I think it's working. The daily logging is quick enough and fun enough that I haven't missed a day yet. Having simple, explicit rules means I don't forget to follow them. And the best part is the social aspect happening on our Game Wall. Everyone has been great about posting comments and tips to support each other. More and more people in the health industry are realising that "most health solutions aren't medical, they're social." Cool idea.

Anyway, I'm enjoying the "game" so much that I ponied up $5 for March. (If you're a paid subscriber, you can have unlimited rules. You also get "sponsorship chips" you can give to others as well.) If you've been thinking about making some personal changes, I'd suggest trying it out!

| | |
| --- | --- |
| | [1] |
So there's a new Radiohead album. There's also a video for one of the songs that features Thom Yorke dancing in a warehouse. Somebody has set his dancing to Beyoncés "Single Ladies." It made my day.


The Snook discovered today that he's a referenced author! Someone actually found a practical use for the results of his university chem thesis and patented it. He's listed in the references and everything! Now we're trying to figure out his Erdős–Bacon number.

Monday, February 21, 2011
| | |
| --- | --- |
| | [1] |
Shared today on Google Reader:here.

| | |
| --- | --- |
| | [1] |
Saturday was the apps4nsw development day, a "hack day" event where programmers were challenged to mash up government data in new useful ways. The Snook went along as part of the Yahoo team. (He tried to get me to go, but I felt like a day at home knitting was a bigger priority.) I followed along throughout the morning on the Twitter stream when I saw a bunch of people retweeting a Flickr photo. I clicked through and saw a very familiar neck...




Hey! That's my Snookums! I immediately emailed to tell him he was Twitter-famous.



The project he helped with didn't win a prize, but I was proud of him just for taking part.



| | |
| --- | --- |
| | [12] |
Jamie's 30 Minute Meals #5: Oozy Mushroom Risotto
This is our fifth official cooking/blogging experiment from Jamie's 30 Minute Meals. Hey, we've made it through 10% of the book! I had plans to go to the Eveleigh Farmers' Market on Saturday morning, so I figured we should find a recipe that uses ingredients I can get there. We settled on Oozy Mushroom Risotto, Spinach Salad, and Quick Raspberry & Lemon Cheesecake. For most of my life, mushrooms have been my most hated food, but I've been working to get over that in the past few years. I figured this would help. But I wasn't going to use just any old crap button mushrooms from Coles. There's always a stall at Eveleigh selling fancy mushrooms ("The Fun Guy"), so that was my first stop Saturday morning. Let me tell you: 500g of fresh exotic mushrooms is NOT cheap. Neither are dried porcini. I'm glad I suffered the expense though, as the resulting meal was well worth it.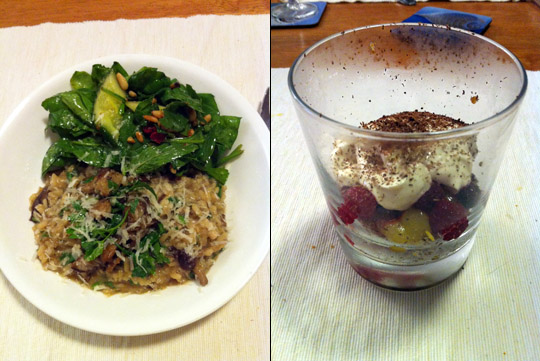 Quick verdict: No substitutions on this one; we followed the recipe pretty much exactly. Elapsed time was 43:07, which wasn't too bad. In terms of taste it was fantastic, and we both rated it 9.5/10. I would have never thought such a quick risotto would turn out so good! We did come up with a couple things we'd do differently next time though. Read on for a photo essay of the preparation. [more...]

Saturday, February 19, 2011
| | |
| --- | --- |
| | [1] |
Shared today on Google Reader:here.


Inspiring Colour Combinations. Wow. A lovely post by my friend Ailsa about how she took inspiration from something she saw online.

Friday, February 18, 2011

Shared today on Google Reader:here.

Sage advice.

RunningBlog: Week 7
This was one of my longest distance weeks ever! On Saturday about ten of us got together for a dailymile meetup and 5K run. The Snook and Kunaal were there too. My foot was still taped up, and I was amazed at what a difference it made. I didn't have any pain on the 20 minute walk through Glebe to get to the starting line, and the first 3K of the run were pain-free too. (I said to the Snook: "It feels like I got a foot transplant!") By the 4th kilometer though, I started to feel my arch aching a bit beneath the tape. Still, it wasn't too bad. On Sunday I did my longest run since the Half-Marathon last year: 19km (12 miles). I did 1:1 run/walk the whole way. I went to Centennial Park, did a couple big loops, then headed back. The Snook met me and ran the last few km's with me. I felt surprisingly good and I didn't have much trouble with recovery afterwards. My foot was sore, but I think the tape definitely made a difference. I took Monday and Tuesday off to rest. Tuesday night I did a core workout at home, then Wednesday had a killer session at Spudds. Thursday night I walked home from work carrying a big heavy backpack. And then this morning went for a slow 6km on a grey and humid morning.

Feb. 12: 5.34km
Feb. 13: 19.51km
Feb. 18: 6.02km
Total this week: 30.87km (19.3mi)
Total in 2010: 161.84km (101.1mi)

I've crossed the 100-mile threshold for the year! To meet my goal of running 1100km in 2011, I should be at 148km right now. Wow, my buffer is growing! Time for another cutback week though to give everything a rest.

I've also got a follow-up session with the podiatrist today. I'll let you know the outcome...

| | |
| --- | --- |
| | [2] |
Wait, what? I got Notre Dame around the corner, and Boston University a few blocks away? I had no idea.


Barb wrote a zine! I emailed her to get a copy. I told her I'm only sorry that Sassy isn't still around so I can send in a review.

| | |
| --- | --- |
| | [4] |
Felafel Land
Last week there was a bit of a brouhaha when Eddie McGuire referred to western Sydney as "the land of the felafel" on his radio show. (My personal feeling is that it was probably only 25% racism and 75% Eddie-being-a-dickhead, but whatev.) Anyway, the Snook is going to the apps4nsw "Hack Day" event tomorrow, where developers from around Sydney will spent 10 hours mashing up government data in new and interesting ways. As practice, he decided yesterday to test Eddie's hypothesis. He pulled restaurant data from TrueLocal to create a heat map of the kebab shops in Sydney.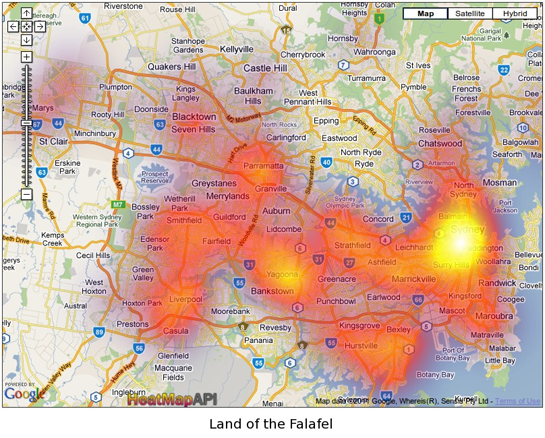 Some interesting results there. Plenty of felafel available in the CBD, but once you go over the Harbour Bridge, you're in a veritable felafel desert.



Incidentally, if you have any inspiration for an app idea for the Snook, leave a comment or drop me an email. He's even dabbling in iPhone development too...



Thursday, February 17, 2011

Shared today on Google Reader:here.

Wednesday, February 16, 2011
| | |
| --- | --- |
| | [1] |
Shared today on Google Reader:here.

| | |
| --- | --- |
| | [2] |
Indiana lawmakers: I'm ashamed of you. And Ralph Foley of Martinsville is being deliberately obtuse. This Amendment means that people with skills and talents to offer Indiana will leave to live elsewhere where bigotry isn't enshrined in the State Constitution. OH, LIKE ME.

| | |
| --- | --- |
| | [1] |
Chocolate, 2010 by Martynka Wawrzyniak. That may well be one of the weirdest things I've ever seen on the Internet. Ten minutes of a woman getting chocolate poured on her face. Yes, seriously. At one point she has to blow chocolate out her nose to breathe.

Tuesday, February 15, 2011

Shared today on Google Reader:here.

| | |
| --- | --- |
| | [1] |
My 9th Annual Oscar Contest is now up to 120 entries. Don't forget to put yours in before the big show! (There are clear favourites in just about every category, so I hope we have some upsets!)


Amanda Palmer has released a video for "On an Unknown Beach," a lovely lonely song she covered by a New Zealand artist called Peter Jefferies. You should go watch it, then go buy her album Amanda Palmer Down Under if you haven't already.

Monday, February 14, 2011
| | |
| --- | --- |
| | [1] |
Shared today on Google Reader:here.

Sunday, February 13, 2011
| | |
| --- | --- |
| | [11] |
Jamie's 30 Minute Meals #4: Curry Rogan Josh
This was our fourth official cooking/blogging experiment from Jamie's 30 Minute Meals. The weather this weekend has been cooler, so we thought something warming was appropriate. We also had some pumpkin and carrots to use up from the veggie box, so one recipe leaped out at us: Curry Rogan Josh, Fluffy Rice, Carrot Salad, Poppadoms, Flatbread, and Beer. (I love that Beer is in the meal title!) No dessert with this one, but it made a huge feast's worth of food.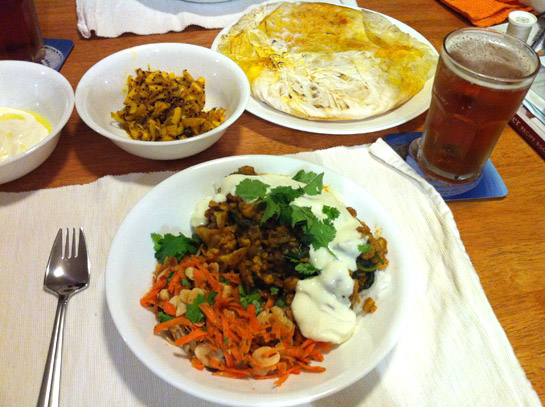 Quick verdict: The only substitution we made was using Kent pumpkin instead of butternut. Time-wise, we were worse than last week with an elapsed time of 48:02. There are definitely things we'd do to save time next time though. Overall I rated it 9/10, while the Snook rated it 8.5/10. (Personally, any recipe with two whole bunches of coriander/cilantro is A-OKAY by me!) However, we both agreed that the lemon pickle SUCKS. Read on for a photo essay of the preparation. [more...]

Friday, February 11, 2011
| | |
| --- | --- |
| | [5] |
RunningBlog: Injury update: Regular readers will recall that about a year ago I started having some weird tightness and aches in the arch of my right foot. I took a few weeks off and had a bone scan - and was radioactive for a day, which was fun - that didn't show any fractures or serious inflammation. The doctor (from a local sports med clinic) thought it was just overuse from three months of forefoot running. She advocated ice and stretching. Unfortunately that injury has plagued me off and on ever since, depending on the shoes I wear and the mileage I run. Taking time off hasn't seemed to have helped at all. So today I finally went to a proper podiatrist to find out what the hell I should do about it.

After hearing the whole saga, he flexed my big toe and poked the tendon in my arch, and I just about jumped off the table. OUCH. He said that even if it didn't show on the scan last year, I definitely have Plantar Fasciitis. (The most common form involves heel pain, which I've never had. But you can have PF without it, apparently.) I've also got some strained ligaments along the side of my arch as well. The interesting thing he said is that the injury is such that stopping running wouldn't help it heal. Simply walking around is enough to keep it from properly healing. I steeled myself at this point, figuring he was going to put me in a cast or something for 3 months. But to my surprise, he said that altering my running schedule would be our LAST resort with treatment. First he wanted to try taking some of the pressure off my arch with tape to see if it made an immediate difference in my pain level. So he strapped me up. He said to go ahead and do my scheduled runs this weekend. (Yay!) I'm also supposed to only wear shoes with support (as opposed to my beloved Converse). Next week I'll see him again to discuss the outcome. It may well be that I end up getting orthotics for a while to allow me to keep running while it heals.

So it's both bad news and good news. Now I'm just sorry I waited so long to see a specialist! I'm glad I finally have a diagnosis and I can move forward on this.


For those of you who don't know, back in 2004 I actually posted a photo tutorial for making your own sock monkey. So even if you don't win this year's Oscar Contest, you can always make your own!


RunningBlog: Week 6
This week I bounced back from last week's chin-up related setback. Sunday was my "long run," but as it's a cutback week I was only scheduled for 4 miles. The Snook and I did another mile time trial, and though I felt we were speeding along, the time was a disappointing 10:58. (I went back and cleaned up the GPS on our first time trial a month ago, and that one was 10:20.) My foot was bothering me, so I took Monday and Tuesday off to rest. Wednesday I had a morning run and then a Spudds session at lunch. (I KICKED ASS on the rower.) Yesterday I treated myself to a full-body massage in the evening, where a little Chinese man went to town on the knots and tightness in my legs. This morning I went for another run, and though my legs felt great my foot was pretty sore. I'm seeing the podiatrist at lunchtime, so hopefully he'll be able to advise what to do.

Feb. 6: 6.81km
Feb. 9: 6.09km
Feb. 11: 6.12km
Total this week: 19.02km (11.9mi)
Total in 2011: 130.97km (81.8mi)

To meet my goal of running 1100km in 2011, I should be at 126.9km. So I've still got a 4km buffer. I actually have quite a lot of running scheduled this weekend. Tomorrow there's a 5K Group Run/Meet-up with some of the Daily Mile folks. Then Sunday is my scheduled long run of 19.2km (12mi). Eek! Hope my foot is up to it.

Thursday, February 10, 2011

Shared today on Google Reader:here.

| | |
| --- | --- |
| | [22] |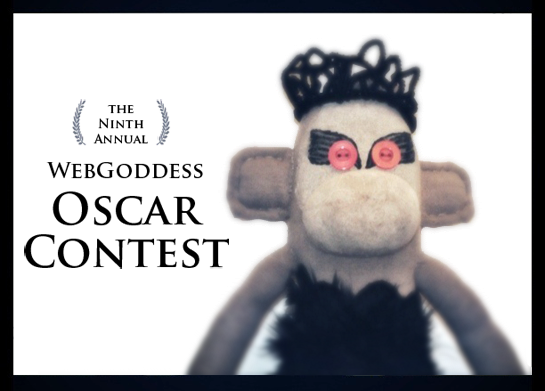 My annual Oscar Contest is now open! I have added an additional category this year ("Best Cinematography") to hopefully help avoid ties. If you pick the most correct answers, you'll win the big prize: a pair of custom-made, one-of-a-kind Black Swan and White Swan ballerina sock monkeys! One is beautiful, pure, and repressed; the other is totes sexy-crazy. They might just be my best sock creations yet. (However, I disclaim all responsibility if you use them to act out the movie and then it drives you insane.) Read on for more photos, or go here to enter. [more...]

Wednesday, February 9, 2011
| | |
| --- | --- |
| | [7] |
Marketers Suck
So last week, the phone rang not long after I got home one evening. The only people who ever call are my mother-in-law, old ladies from the Knitters Guild, and telemarketers. It turned out to be the last. Just as I was gearing up to tell him to never call me again, he uttered the magic words: "We'd just like to get your opinion on a new TV show. Would that be all right?" Why yes, it would! (I think 75% of the shows on TV are utter crap. Therefore of course I'm happy to do anything I can to, like, replace some of the crap with stuff I like. Plus I like the idea of people listening to my opinion, of course.) Also, they'd give me a $10 Myer card and I could win like $250 in prizes for helping. So he said they'd send me out a DVD to watch and then call the next day to get my thoughts. And by the way, could I please tell them if I'd purchased any breakfast cereal in the past month? How about moisturizer? Toilet bowl cleaner? These questions raised a big red flag in my mind, but I shrugged it off as mere demographic information. I WAS GONNA GIVE MY OPINION ON A TV SHOW, DAMMIT.

Yesterday was finally the big day. The Snook opened the envelope and started laughing at me. It contained the DVD along with a massive stack of papers, some in envelopes marked "OPEN BEFORE WATCHING DVD" and even "DO NOT OPEN". There was a whole instruction sheet on what I had to do. In one envelope was a series of "prize" selection sheets, and I was meant to go through and indicate which "prize" I'd like if I won the drawing. And what were the prizes? Coincidentally, things like breakfast cereals... and moisturizer... and toilet bowl cleaner. The situation was becoming clear. Then I was instructed to watch the DVD, which had a complex series of menus I had to navigate to "unlock" the show. (The instructions also said I could only watch it once. I am somewhat curious to see what will happen if I put it in again.) The instructions told me that the show was an old pilot that they were thinking of remaking. Folks, it was awful. It was called "The Rocky Laporte Show" and seemed to be an "Everybody Loves Raymond" clone set in Chicago from five years ago. I sat through the whole stupid thing, including the commercials. (Another warning flag.) Then I opened up the "OPEN AFTER WATCHING THE DVD" envelope to find another set of "prize" selection sheets, where I was again instructed to select from breakfast cereals... and moisturizers... and toilet bowl cleaners.

"Do these people really think I'm that stupid?!" I asked the Snook. "This isn't about the show at all! They actually think that seeing a couple commercials is going to make me pick different brands from the list? THIS IS THE STUPIDEST MARKETING EXERCISE EVER." There actually was a small questionnaire about the show, just a couple multiple choice questions about whether you liked it and whether you liked the characters. (I said it SUCKED.)

So after spending like an hour on this whole stupid thing, I decided to google "Rocky Laporte Show" and see if this really was a legitimate pilot. The very first result is this blog post, written by someone disgusted over getting tricked into watching the show as part of a stupid marketing exercise. Folks, it was the EXACT SAME SURVEY... and hers was from FOUR YEARS AGO. That was it. I chucked the papers in the bin and made a mental note to give the guy a piece of my mind when he called.

And that was tonight. Interestingly, they seem to outsource the data collection to India. Before the operator could get into his spiel, I cut him off. "I don't want to participate anymore." "You... don't want to participate? Why?" So I told him. "I think this whole thing was misrepresented. I thought I was going to be giving my thoughts on a TV show, and instead it just an excuse for a sneaky brand survey. The show sucked. And afterwards, I googled the title and saw that you guys have been pulling the same stunt for four years now. So I'm not participating." He thanked me and hung up.

So learn from my example! Don't get sucked in by flattery, thinking you're going to be commenting on some new TV show. Chances are they just want to find out what brand of toilet bowl cleaner you use.


Shared today on Google Reader:here.


Murder by Butter. It's like a rejected Roald Dahl story.

| | |
| --- | --- |
| | [1] |
Black Swan: The Abridged Script. On a possibly-related note, my annual Oscar Contest will be launching very shortly! (Link courtesy of John.)

Tuesday, February 8, 2011
| | |
| --- | --- |
| | [1] |
On Saturday the Snook and I went over to Strathfield Park (on like the hottest day of the year) for the engagement party of my friend Sean and his girlfriend Jess. We mostly just huddled in the shade and tried not to get sunburnt or dehydrated. My friend Cristian took some cute photos of us with his massive DSLR.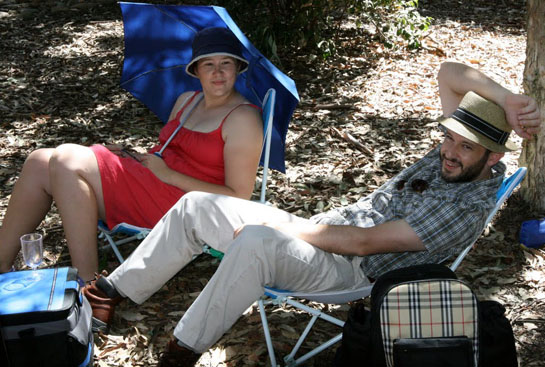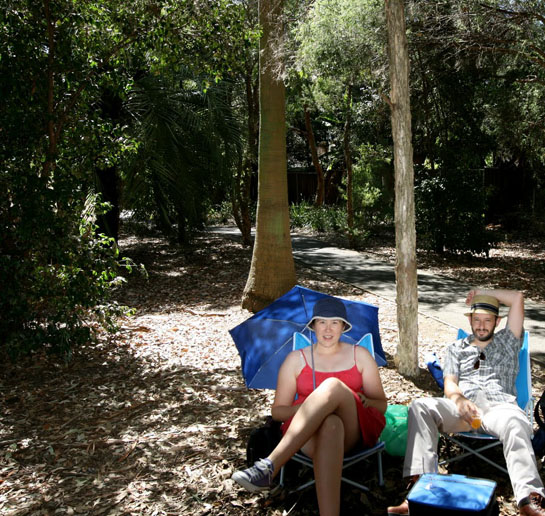 Thanks for the pics, Buzman!


Shared today on Google Reader:here.

Sunday, February 6, 2011
| | |
| --- | --- |
| | [3] |
Jamie's 30 Minute Meals #3: Cheat's Pizza
This was our third official cooking/blogging attempt from Jamie's 30 Minute Meals. It's been so hot in Sydney this week that we wanted to choose a "cooler" meal, something with lots of salad. We settled on Cheat's Pizza with 3 Delish Salads, Squashed Cherries & Vanilla Marscapone Cream. It actually worked out pretty perfectly, as we had a surfeit of tomatoes and basil from our weekly veggie box, and cherries were on special at the grocery store.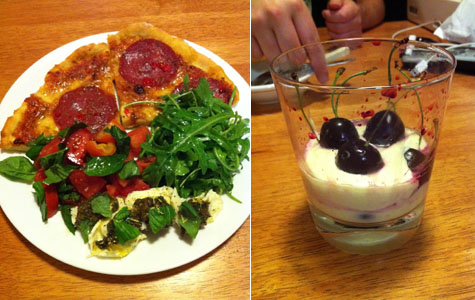 Quick verdict: This was the first recipe where we didn't substitute anything; we had it all. This was also our FASTEST attempt yet! Elapsed time: 38:26. That's pretty damn good! I think you could easily get this one down to 30 minutes once you had the recipe memorised. (There's also a step we'd eliminate if we did it again; more on that in a minute.) Overall I rated it 9/10, while the Snook judged it 8/10. Read on for a photo essay of the preparation. [more...]

Saturday, February 5, 2011

Shared today on Google Reader:here.

Friday, February 4, 2011
| | |
| --- | --- |
| | [1] |
Shared today on Google Reader:here.


Today a fellow Yank also became a fellow Aussie and wrote an excellent essay on "Mateship and becoming Aussie." Good on ya, Mark.

| | |
| --- | --- |
| | [4] |
RunningBlog: Week 5
Ups and downs. It's been such a hot week, but I started the week with a big UP! On Sunday I did my longest run in many months, a 17.2km run-walk to Centennial Park and back. I did 1:1 run/walk the whole way and it worked great! The walk breaks really helped with my recovery the next day. On Monday I did an easy run/walk home from work in the evening and then a short core workout. On Tuesday I went to Spudds after work and then did an easy run/walk home. Wednesday was Spudds again, and that's when I crashed. He had me trying to do chin-ups, and it was just total frustration. I spent the next two days in a total funk. Today I woke up determined to finish the week with a decent run. It started well but towards the end my right foot was aching. I definitely think I've strained it a little. So I walked the last ten minutes back to the house, and that's when I noticed my chest was burning. I mean, on the outside. My skin. It was on fire, all around the collar of my shirt. I got home and pulled it off to see a huge red splotchy rash from my collarbone to my sports bra. No idea what caused it, and it's still itching several hours later. GAHHHH.

Jan. 30: 17.22km
Jan. 31: 2.98km
Feb. 1: 2.94km
Feb. 4: 6.00km
Total this week: 29.14km (18.2mi)
Total this year: 111.95km (70mi)

To meet my goal of running 1100km in 2011, I should be at 105.7km. As expected, that long run made up quite a bit of distance. I'm now about 6km ahead of pace. Hmm. Maybe that's why my poor foot is feeling tired? These cutback weeks are a Good Thing.

Thursday, February 3, 2011
| | |
| --- | --- |
| | [4] |
Shared today on Google Reader:here.

| | |
| --- | --- |
| | [1] |
My step-brother Colfax has won the Internet. That is the funniest thing I've ever seen. It probably helps to know that Luke is Colfax, Leia is my step-mom Cindy, Han is my Dad, and Obi-Wan is their dog Sprocket. COLFAX, YOU ARE A GENIUS.


Valentine's Heart Layer Cake. I am an absolute sucker for hidden designs inside cakes. That is so clever!

Wednesday, February 2, 2011
| | |
| --- | --- |
| | [3] |
Lessons in Manliness from Atticus Finch. I love To Kill a Mockingbird SO MUCH. You can keep your Great Gatsby and your Catcher in the Rye; as far as I'm concerned, Mockingbird is The Great American Novel.


"Floods expose national loss of loyalty and respect for leaders." Right on, Ross Gittins. Fully agree. Also, I think "deathbed bastardry of Kristina Keaneally" needs to be an album title NOW.

Tuesday, February 1, 2011
| | |
| --- | --- |
| | [1] |
Shared today on Google Reader:here.


I just made a post on Life in Chippendale about a proposal to convert part of Sydney Park and the Powerhouse Museum carpark into educational and farming facilities. Great idea! I love the idea of little urban farms. (It was The Goode Life that did it.)

archives
You can search through the archives by post keyword using the form on the left, or you can browse by month using the links at the bottom.
"Moblog" refers to posts and images posted directly from my mobile phone.

"PW Blog" refers to posts recovered from my very first weblog, which dealt with news related to my college dorm.