Sunday, March 31, 2002
| | |
| --- | --- |
| | [9] |
IU is through to the NCAA Finals. As a Hoosier, I have to say I'm pretty proud. And how cool is their new coach? He said, "In basketball, coaches get too much credit. I mean, I proved that this year. I mean, here I am, a second-year coach, no experience, and sometimes I have no idea what's going on the court -- I mean, no idea. I'm happy we're playing for the national championship." He sounds fun. Anyway, my cousin Jenny, who sometimes posts here, was actually at the semifinal game, so I figured I'd better provide someplace for her inevitable hysterical victory comments. Go Hoosiers! :)

| | |
| --- | --- |
| | [11] |
Farewell to the Queen Mother. She was an amazing old lady. One of my professors in England speculated years ago that she'd consumed too much gin throughout her life to actually die, and that she'd just "ascend to heaven on her artificial hips". She just seemed so invincible. I almost wish I was back in London to see the inevitable outpouring of national grief.

Saturday, March 30, 2002

Ah, Easter. The grocery story is filled with chocolate eggs, the TV channels are showing Jesus dramas, and the sex toy shop around the corner has a chalk drawing of two rabbits humping outside its door. One holiday, so many interpretations...

| | |
| --- | --- |
| | [18] |
New Poll! What's your favorite Easter taste treat? (Warning: this poll is rather U.S.-centric, since I never really figured out what Brits eat for Easter.)

| | |
| --- | --- |
| | [3] |
Friday Five:

1. If you could eat dinner with and "get to know" one famous person (living or dead), who would you choose?
Is there any question? Roger Ebert. Totally. Yeah, yeah, I know I'm supposed to say Shakespeare or something, but it'd be much more fun if it were a person who's really alive that I could be friends with. And he'd be a really fun person to talk to, and then maybe he'd take me to the Oscars with him. :)

2. Has the death of a famous person ever had an effect on you? Who was it and how did you feel?
I remember feeling absolutely gutted when I realized that Roald Dahl had died before I ever got a chance to write him a letter.

3. If you could BE a famous person for 24 hours, who would you choose?
As Snookums put it, "Me! I'd be me, famous!" If I couldn't be myself, I'd probably be Britney, as long as she wasn't having one of those "buckets of urine" days. I mean, she's mega-famous.

4. Do people ever tell you that you look like someone famous? Who?
Nope. When you're a quarter Asian, you don't look like anybody but your own family.

5. Have you ever met anyone famous?
At a fan convention in England, I met David Prowse, who played Darth Vader's body in all three Star Wars films. Does that count?

Friday, March 29, 2002

And the evilness of today continues...
Here's a tip for you web developer kids out there: Don't write code when you're angry. You're likely to mess up some SQL statement that, when run, completely buggers your database, and of course you don't have a backup. And that sucks.

| | |
| --- | --- |
| | [3] |
Good Friday, my ass.
What a weird day. First, I woke up to the sound of the fire alarm going off in the hallway. Snookums was already up and dressed so he headed down to see what was going on. It turns out some idiot smashed the glass on alarm button down in the lobby. So while there was no fire, the alarm stayed on for about half an hour. Then this afternoon I finally managed to drag myself out to the gym, only to discover fire trucks sitting in front of the shopping center (where my gym is). They had the whole center roped off and traffic diverted. So no gym for me. So I turned and headed for the grocery store to get supplies for dinner tonight. There I was confronted by a great big chain holding the doors shut. They were closed for Good Friday. So now I'm home, no workout and no food, facing the prospect of four rainy days. And this is supposed to be a holiday?

| | |
| --- | --- |
| | [3] |
Okay, I've mentioned that I'm a big Roger Ebert fan before, right? He's my favorite critic. I think a lot of "serious" moviegoers don't think of him as legitimate, since his image is so tied up with television and the whole "thumbs" thing. But if you read some of his written reviews, you'll find that he's one of the smartest critics out there. You might not always agree with him, but his writing is always witty and entertaining. Often after reading some of his archives, I find myself wishing that I could know what Ebert thought about some other things: politics, music, television, etc. Fortunately, in recent years he's actually started writing about these things as well. Now he's taking on music piracy, God bless 'im. I especially liked the ending. Man, am I an Ebert groupie or what? (Link courtesy of Matt.)


Oh jeez. So Bono appeared as a character witness at the Peter Buck trial. Shouldn't he be in Rome getting beatified or something? And what the hell is the point of him saying that he can't imagine Peter Buck doing the things he's charged with? Obviously half the people on the damn airplane can testify that he did. (Sidenote: why don't they put cameras in airplanes to provide evidence for this kinda thing?) Is Buck just trying to say that he had a drug reaction and went mad? Because that's a really, really weak excuse. I'd have a lot more respect for him if he just owned up to making a big mistake. (Link courtesy of Max.)

| | |
| --- | --- |
| | [2] |
The Blogger CD Swap boys have an opening for one Canadian weblogger. Anon?


Has the Web gotten boring? In some ways I think it has, and I do think that the "profit" argument has a lot to do with it. Back in 1994, people were building crazy sites and offering them up to the world just for the fun of it. Nowadays no one wants to lift a finger unless they can make some quick cash. Maybe we webloggers are the last hope of fun on the Net. We create things and offer them up just in the hope that other people find them amusing. (And yeah, the ego boost is nice.) We're it, kids.

Thursday, March 28, 2002

"I used to have a red leather tie. I used to wear it in my 'Deliberately-Dressing-Like-a-Dickhead' phase." - The Snook

Sometimes my boyfriend makes me laugh.

Wednesday, March 27, 2002
| | |
| --- | --- |
| | [11] |
Okay, this is gonna sound stupid, but can anybody e-mail me a recipe for Rice Krispie Treats? I've got a hankering for them but I'm not sure how to make them. I went to the store for a box of the cereal, but to my surprise I discovered that here it's called "Rice Bubbles". The only recipe on the box was for "Chocolate Crinkles", which is apparently the preferred puffed rice treat of choice here in Australia. (Snook says they're nasty. They consist of cereal, cocoa, coconut, sugar, and fat. Actually, though, that doesn't sound that far off Rice Krispie Treats. He says, "They're the kind of thing little kids eat lots of and end up all sticky and covered in chocolate and then they chuck because they ate eleven of them.") Anyway, I don't want some random recipe off the Internet; I want the official Kellogg's Rice Krispie Treat formula. If anybody's got a box at home, I'd be ever so grateful if you'd pass it along.

| | |
| --- | --- |
| | [4] |
My mailman hates you guys.
Wow, the birthday love keeps flowing. Getting presents through the mail is the best, because they're so unexpected. Thanks to my mom and Joe for the quilting supplies, and to my dad and Cindy for the "George W. Bush Family Paper Doll" book. (Seriously, that one made me shoot Coke out my nose with laughter.) Big thanks also to Mama Snook for the clock, Max for the Susan Cooper books, Kristen for the A Room With a View DVD, and Brigita for the Bruce Campbell Gift Package Extraordinaire. You guys rock.


I was reading an article about the congressional trial challenging the Children's Internet Protection Act when I came across the following statement:
CIPA, signed into law in 2000 by President Bill Clinton, was the third attempt by Congress to restrict access to the Internet and its estimated 11 million World Wide Web sites, about 1 percent of which experts say contain some sort of sexually explicit material.
One percent??? Does that sound low to anyone else? I mean, sure, if you're talking hard-core porn images, but what about erotic fanfiction, smutty personal journals, and chatrooms? Don't get me wrong; I'm not arguing in support of the CIPA. I think it's idiotic. I'm just pointing out that whoever wrote this article hasn't done any research since 1997. Google's indexed over two billion pages already! Very sloppy reporting...


Dreamlog: This waas the ultimate nerd dream. I dreamed that somehow Rodd and I were at the LucasFilm offices during pre-production for Star Wars. We got to see all the concepts as they were being developed. I remember a guy coming in and telling us that they'd just finalized the design for Darth Vader. Some of the other characters looked totally wrong though (C-3PO had really long legs, for instance). I had the brilliant idea that we could just tell these guys what the movie was supposed to look like, and that would save them lots of time. But upon discussing this idea with Rodd, we realized that this would create a time travel paradox. Since we were in the past but with knowledge of the future, if we told George Lucas what C-3PO was supposed to look like, then that's why he looked like what we thought he did in the first place. And that meant that the version we had seen in the future wasn't necessarily the one that they would've created on their own had we not interfered. Get it? So then we had the brilliant idea that for each character, we'd make up a list of options, one of which would be the version we knew from the future, and the rest all wrong. And that would still save them time, but it would also allow them to retain a decision in the matter. Then I woke up. Like I said, it was a really nerdy dream.

| | |
| --- | --- |
| | [2] |
Well, that project I mentioned I was working on is almost finished. It's a revamp of the alumnae website for my college dorm. I had sudden inspiration on Friday and scrapped everything I had done previously. What you see there took me four days, start to finish. I'm pretty proud.

Monday, March 25, 2002
| | |
| --- | --- |
| | [12] |
Well, I scored fifth place in Matt's pool, and, uh, somewhat worse in Kel's. The cursed irony is, if I had stuck with my annual strategy of just going with Ebert's picks, I would've won! And Bosnia or no, I will maintain that Amelie got robbed big-time. Big-time.

And by the way - is anyone else fainting with anticipation and excitement for Spider-Man? No? Just me? Okay then.

| | |
| --- | --- |
| | [4] |
Jim Broadbent? Jim Broadbent??? There go my chances in both of my Oscar pools. I mean, hey, I like the guy and all (he was great in Bullets Over Broadway), but who in the hell predicted that?

Sunday, March 24, 2002
| | |
| --- | --- |
| | [8] |
Fifteen bloody kilometers. We did it. Just over two hours. Man, I'm tired. Thanks to everybody for their support, and especially to anon, brigita, Frances, and our parents for the donations. (If anybody else wants to contribute, there's still time...) I took pictures along the way, but I didn't want to lug my digital camera so we just used an instant one. I'll post the pics as soon as I can get them developed.

Saturday, March 23, 2002
| | |
| --- | --- |
| | [7] |
Tara D is finally back from her holiday, which sounds like it was L.A.-tastic. To celebrate she's doing yet another lyric game. This time, you have to send her a list of all the songs you can think of with "L.A." or Los Angeles landmarks in them. Go on, you know you'll kick my ass.

| | |
| --- | --- |
| | [2] |
HEART ATTACK. Oh. My. God. Someone just knocked on our door, which was rather a surprise. (We have a buzzer, so we know when to expect people.) I peeked through the eyehole to see two official looking guys. I opened the door and they both thrust badges at me. My brain exploded:
"OH MY GOD. IT'S THE IMMIGRATION OFFICIALS. THEY'RE GOING TO DEPORT ME!"
Instead it was two cops investigating an assault that occurred down the road from us a few weeks ago. I told him we hadn't heard anything. Then I shut the door and slumped to the ground in a dead faint. *whew*

| | |
| --- | --- |
| | [3] |
My name is Kris, and I love reality television.
Last night Snookums and I caught the first episode of Australia's newest reality TV series: The Club. It's all about an Aussie Rules Football* team that's being put together specifically for the show. That's right, it's a sports team that will actually compete (albeit in Division 2) and the viewers get to make all the important decisions, like who plays, who coaches, and what the team song will be. Seriously. Last night we got to pick the team name (the "Hammerheads") and watch the four coach candidates narrow down 1500 hopefuls to a mere 50 possible players. (The final team will probably have only fifteen or so.) And get this - three of them are female! One was a sexy black chick, one was a tearful mother-of-three, and the last was a young, tough, athletic girl. Her name was Debbie Lee, and she's amazing. We watched her drop kick the ball through the uprights from forty yards out while running full-speed. She was better than most of the guys on the field. The show then explained that the AFL league hasn't decided yet whether women will be allowed to play in the games. They feel it could create a dangerous precedent. Personally, I think it would be the greatest thing for them to do. If Debbie Lee plays, I'll watch every game I can. Heck, I'll buy a T-shirt. They've got a potential marketing bonanza on their hands, here. And what a fantastic idea for a show! Everybody likes to bitch about how their favorite team is run, and now you can have an actual say in things. It's got me watching, and I don't even understand the damn sport.

* Aussie Rules Football, in case you don't know, is this really insane sport they play down here. It's kinda like rugby crossed with ultimate frisbee crossed with soccer. You're not allowed to pass the ball forwards; you have to kick it or bump it off your fist (like a serve in volleyball). And if you're running with it, you have to tap it on the ground every 10 yards. To score you have to get it through the uprights. The players don't wear padding, and they smash the hell out of each other. It's huge in South Australia and Victoria. I don't really understand it.

| | |
| --- | --- |
| | [2] |
The Sydney Opera House is getting a $24 million facelift and - even more interestingly - the original architect is going to advise on the project. When I first visited the Opera House last year, I was amused to hear the story of Joern Utzon and how he angrily abandoned the project after years of fighting with the government. Since he left before the inside was finished (and took all his plans with him), the builders had to figure out what to do with the interiors themselves. And that's the whole problem, you see. The inside is crap. It's just so 1970's. The main decorative element inside is "exposed concrete", which gives the entire space that lovely "Barbican" feel. (For you non-Brits, that's the gigantic concrete arts complex in London. More modern architecture at its very worst.) The actual furnishings are all wood paneling and shag carpeting. Really, the interior of the building is the aesthetic opposite of the exterior. So that's why it's such a great thing that Utzon is finally coming back to fix some of the more egregious errors. I can't wait to see it.

(Incidentally, I went to the Sydney Morning Herald to see if I could find the official story about this. It wasn't on the home page, so I used their search box. Sure enough, I found the story, which had been published yesterday. But get this! They tried to charge me a dollar to read it! For an article from yesterday! That's ridiculous.)


Friday Five:

1. What is your favorite time of year? Actually it's weird. I pretty much like all the seasons, as long as the sun is shining. I think I have Seasonal Affective Disorder. When it's bright out, I'm happy and energetic. When it's dark or rainy, I just lack the will to live. (I was pretty depressed in England, as you might imagine.)

2. What is it about your favorite season that, well, makes it your favorite season? Well, like I said, I like the sun. A bright spring day is full of anticipation for a glorious summer. The air smells fresh. Everything is new. A sunny and hot summer reminds me of school holidays in Indiana, swimming in the lake, eating just-picked sweet corn, and heading to Cedar Point. In the fall I love the changing colors of the leaves and being able to break out my sweaters and long-sleeved shirts. Then there are football games and bonfires. A bright winter day is about playing in the snow and preparing for Christmas. It means sledding with my sister and brother. See, I can enjoy any season. I just need the light.

3. What is your least favorite time of year? Why? Again, anytime it's dark. During the winter in England, the sun would set at 4:30 p.m. I'd NEVER see the sun. South Bend in February is almost as bad.

4. Do you do anything to celebrate or recognize the changing of seasons? My family used to always go camping for the weekends of Memorial Day and Labor Day. It was a nice way to bookend summer. Here in Australia I'm still trying to come to grips with the seasonal flip-flop, so no celebrations just yet.

5. What's your favorite thing to do outside? My favorite thing is just to spread out a blanket on the grass on a warm day and lie there and read. I had a special spot in Hyde Park where I'd often go. (It's down on the east side of the Serpentine not far from the Italian Fountains, near Rudolf Steiner's bench, if you're interested.) The first weekend we spent together, Snookums found me there and brought me strawberries. It was lovely.

Friday, March 22, 2002
| | |
| --- | --- |
| | [7] |
I'm on a major coding kick for another website, so it's gonna be a light blogging day. Stay tuned...

Thursday, March 21, 2002
| | |
| --- | --- |
| | [2] |
The next Harry Potter book has been delayed until autumn. Crap.

| | |
| --- | --- |
| | [4] |
A prominent UK film critic has denounced the new Ali G movie as "the most obnoxious British movie ever". I probably won't see it. I laughed at the character the first few times I saw him, but nowadays I think his schtick is a bit tired. I'm just not a fan of "mean" humor, that works by making fun of someone who doesn't get the joke. It makes me uncomfortable. (That said, I still think Jann's imitation of him is hilarious beyond description.)


Snookums and I spent all day cleaning yesterday. Our apartment was a wreck. Not only did we still have piles of boxes (from our London stuff) still waiting to be taken down to the recycling bins, but we still hadn't cleaned off the balcony from our Australia Day party (in January). Oh, and I shed like a dog, so the carpet was covered in Kristy-hair balls. Are you getting the full disgusting picture? So we cleaned. We cleaned the kitchen. We cleaned the bathroom. We did loads of laundry. I vacuumed the entire flat. I vacuumed the couch. I vacuumed the balcony. We can now actually see the surface of our dining table. We now know exactly how man dishes we can fit in our cupboards. Cleanliness is a wonderful thing, my friends. (Not to mention the fact that I can now finally take pictures to post for my Mom.)

| | |
| --- | --- |
| | [4] |
Have you done your good deed for Easter this year? Okay, I know that's not a real tradition or anything, but I'm trying to create some guilt here. Please, please consider sponsoring the Snook and I in the Walk Against Want. It takes place this Sunday and we're going to attempt the big 15K version. The event raises money for "Oxfam Community Aid Abroad", which will go towards helping people in developing countries and indigenous people in Australia. Any little bit helps, and a donation of $5 US would go pretty far here. If you'd like to help, just drop me an e-mail. I promise it won't be a big hassle or anything. Okay, guilt over. You may resume your regularly scheduled bloggage.

Wednesday, March 20, 2002

Snookums and I were excited to see that the convenience store opening one floor beneath us is nearly ready. Today the name was unveiled: "Presido Convenience Store." We groaned. The name of our apartment building is "The Presidio". (Note: the typo there is not mine. They actually spelled it wrong on the bloody building.)

| | |
| --- | --- |
| | [14] |
Oh. My. God. Lord of the Rings skins for The Sims. Now you can finally live out your sordid little Frodo-and-Sam fantasies!

| | |
| --- | --- |
| | [7] |
Ooh, check out the Blogger CD Swap. I'm torn. I'd love to participate... but I'm worried that my CD's will suck in comparison to everybody else's. Pathetic, right? I mean, it's free anyway to nobody's gonna care. I should just do it.

| | |
| --- | --- |
| | [3] |
Snookums went to university at sixteen. His college, Wesley College, would set up its own in-house bar during special events. St. Paul's College, next door, had its own permanent licensed pub. Students would go on pub crawls through Sydney that would visit thirty and forty establishments. Upperclassmen would host cocktail hour in their rooms. And guess what? Everyone survives. People still form meaningful relationships. People do other things besides drink.

What's the point of this? Notre Dame has banned dorm dances. Doesn't sound like such a big thing, but it's yet another tradition that's been stripped away in recent years under the guise of "moving focus away from drinking". Ten years ago, Domers would've never dreamed that camping out for football tickets would be banned, or that Sophomore Sibs weekend would be cancelled, or that dances would have to move off-campus. My dorm's signature event, Queen Week, will probably be cancelled, since it exists in support of our annual fall informal. No more Lewis Crush, no more Alumni Wake, no more Pop Farley.

This is a sad day for Notre Dame. I think Brigita put it best: Rudy wept. I only hope the students manage to mount some resistance to this policy. If there's any cause they'd rally around, this is it.

Tuesday, March 19, 2002
| | |
| --- | --- |
| | [2] |
What does your US zip code say about you? According to this site, people where I live in Indiana are likely to drive pickups, go hunting and fishing, follow auto racing, and purchase vinyl flooring for their homes. We're talkin' scarily accurate, folks.


The Sydney Harbour Bridge turns seventy years old today. A bunch of people born on the same day climbed it today. See, I told you it wasn't scary! Happy birthday, Bridge!


Peter Buck's "air rage" trial is happening in London. Apparently at one point during the struggle on the plane he was heard to argue, "I am REM and I can make up a story that I was assaulted." *wince* Oh, Peter. And check out this summary of the charges. Are they suggesting that he peed on the floor of the airplane bathroom?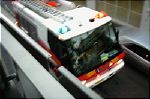 Excitement! Yesterday the Snook and I were just lounging around at home when we both suddenly became aware of a loud clamor nearby. There seemed to be a siren buzzing and a bell ringing. Loudly. I opened the door to our apartment to find that it was the fire alarm in the hallway. "Ack! Should we evacuate?" We decided we should. So we headed down the fire escape and out to the front of the building, where we discovered that only five other people from the building had bothered to flee like ourselves. Everybody else was on their balconies watching us. Eventually some guy came out and announced that someone had been smoking in the 2nd floor hallway (smoking is verboten outside private apartments) and that had set it off. By the time we got back to our flat, the fire department had showed up. It was parked right outside our balcony, which is where I took this picture. Okay, so it's not a very exciting story, but when your days are filled with quilting and soap operas, anything that breaks the monotony is appreciated.

| | |
| --- | --- |
| | [10] |
Harry Knowles says Star Wars: Episode 2 is better than your wildest dreams. Of course, Harry liked Godzilla too. But if the movie is as he describes it... I can feel the excitement building. Only two more months!


Elkhart County, Indiana has revealed the plans for its new Fair Ground extension. And get this - the landscape architect that designed it is my dad's new wife Cindy! Cool.

| | |
| --- | --- |
| | [2] |
Apple seems to be taking a turn for the worse with this new iMac. Evidently they're having trouble supplying enough of them to match demand. Snookums and I finally saw one in real-life at one of the Apple outlets in Sydney. I was not impressed. I thought that the round base was going to be all white and shiny, like the top of my pretty pretty iBook. Instead it's kind of translucent with a dull matte finish. It looks crappy. It's also much bigger than I thought. The monitor, of course, is gorgeous though.

| | |
| --- | --- |
| | [1] |

Since my mom wanted me to get "all pretty" for my birthday dinner last week, I figured I'd show you all how it turned out. Don't I look nice? It was a good excuse to unpack some of my London gear, anyway. My blouse was actually a button-up, satiny-type thing. (Apparently it absorbs all light like a black hole or something, which is why you can't see it in the photo and it all blends together in a shapeless mass, making me look like a halfback.) My hair's pulled back with a flower in the back. Sometimes it's good to be the princess. :)

(Interestingly, when Snookums took this picture I was fully expecting to have to open it up in the Gimp and do some serious chubbiness-erasing photo manipulation work. Actually, though, it didn't turn out too bad. Maybe I am losing some weight. I guess I can see it more with an actual photo than by looking in the mirror. That realization still doesn't help with the aching post-yoga muscles, though...)

| | |
| --- | --- |
| | [1] |
Well, my dad got hitched. Apparently he also saw them dye the Chicago River green, made eye contact with Dubya during the St. Patrick's Day parade, visited the "cheeseburger cheeseburger" place from the Saturday Night Live skit, and dined on the 95th floor of the Hancock Building. I wish you could hear him tell it. He's much funnier than me. I'm telling you, this man needs a weblog.


Word of the Day: slacktivism. Sounds like something Douglas Coupland would've come up with, doesn't it?

Monday, March 18, 2002

"The IBM PC was created by people who drank alcohol. The Mac was created by people who smoked pot." Hee hee!

| | |
| --- | --- |
| | [2] |
Ebert's Oscar picks are up. As I'm in two different pools and I've only seen, like, three of the movies, I need all the help I can get.

Sunday, March 17, 2002

It's Indian summer... and it's St. Patrick's Day. Are any of you Northern Hemisphere-ers feeling my confusion? My head's going to explode.

| | |
| --- | --- |
| | [2] |
ND lost to Duke, but it sounds like it was a great game. At least more people will realize that Notre Dame doesn't live and die by its football season. (Actually we do, but we don't like everybody else to know that.) :)

| | |
| --- | --- |
| | [5] |
Yoga Redemption! Yes, Brigita, I decided to give the dreaded yoga another shot. This class was a million times better than the last one. There were a bunch of us newbies, and since it was the "new moon" (or something), our instructor took it really easy on everybody. We did a lot of stretching and poses. I really surprised myself with my flexibility (I've been doing a lot of stretching with my regular workout). So I could bend, but I'm still not very strong. "Downward Dog" remains my nemesis. I can only hold it for about three seconds before my arms start shaking with the effort of keeping me from nose-diving into the floor. But for the most part I kept up, and I felt really good afterwards. I might just make this a weekly occurance!

| | |
| --- | --- |
| | [8] |
Trivia Question: Can you name five countries that end in the letter "r"? No cheating and using an atlas! It took the Snook and I about five minutes to puzzle them out. Three are easier, but the last two are hard. I'll throw out some hints if no one gets them.

Saturday, March 16, 2002
| | |
| --- | --- |
| | [1] |
One last post for the day... CONGRATULATIONS TO RON AND CINDY! Yep, my dad's getting married today!

| | |
| --- | --- |
| | [9] |
Notre Dame blew out their first round opponent... but now we face top-ranked Duke. Hopefully St. Paddy's day will give us some Irish luck!


How cute! I just went to my "My Yahoo" page and noticed a little birthday cake icon up at the top. Yahoo wished me a happy birthday! And they even have a page that tells you all about the other stuff that happened on your day.


I'm not going to be answering the Friday Five this week, since it's all about animals and most animals scare me. So my answers wouldn't be that interesting. In fact, you'd just make fun of me.


Add yourself to the Globe of Blogs! What a great idea. This is the kind of directory the blog community's been needing for a while. I'd be much more likely to read the site of someone from my area or hometown. And hopefully, I'll be the first Sydneysider on the list! (Link courtesy of Brigita.)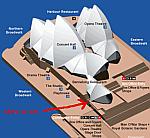 Wow. Snookums treated me to a night to remember. We got all dressed up and headed out for dinner, but he wouldn't tell me where we were going. When we got out of the cab at Circular Quay and started heading towards the Opera House, I guessed immediately. He had made reservations at the Bennelong Restaurant, which is actually in the small separate "shell". (Click on the image to see where.) It was amazing. The food was so good. I had the beef tenderloin, he had the lamb. We had wonderful sunset views of the city skyline and the Harbour Bridge. We had wine and champagne and decadent desserts. I can't recommend it enough. Afterwards we met up with Carrot, Major, and Steve at a bar in the city and spent a couple hours boozing it up with friends. What a night...

Friday, March 15, 2002
| | |
| --- | --- |
| | [1] |
As usual, I slept in about half an hour more than the Snook did, which gave him time to slip up to King Street and get me stuff for a special birthday breakfast. And what awaited me when I finally stumbled yawning and blurry-eyed into the living room? A custard tart, sliced strawberries, a dusting of cocoa, and a single long-stemmed red rose. Awwww... And now he's baking me a cake!


Please note: This is not a Goonie fetishists site. I don't care if you have dreams about Kerri Green's underpants. If you leave disgusting comments here, they will be deleted. So don't bother anymore, okay?

| | |
| --- | --- |
| | [24] |
Happy birthday to me! It's my birthday, get busy! It's my birthday, get busy!

(Actually, I just realized that it's technically still the 14th in America. I should probably wait another sixteen hours to celebrate. But I'm not!)

Thursday, March 14, 2002
| | |
| --- | --- |
| | [9] |
New Poll: In honor of the group therapy session Brigita and I are having, please indicate your position in your junior high social caste system. (For you non-Americans, we're talking about ages 13-15.)


Michael Stipe is doing electronica? Kickass.

| | |
| --- | --- |
| | [3] |
Are you an international (wo)man of mystery? I am. I correctly translated 9 out of 10 phrases in this quiz. I only missed one of the Spanish ones. Actually, that's pretty surprising, since I pulled the French, Italian, and Portuguese answers out of my ass. (Link courtesy of Kristen.)

| | |
| --- | --- |
| | [7] |
Sars (of TSFKAMBTV fame) has written a great essay about teenage girls and how cruel they can be. I never really experienced much of what she's talking about. I wasn't part of the popular crowd, but I didn't rebel enough that they singled me out or anything. I was smart, and - while they didn't reward that trait - they at least respected it (especially when they'd get assigned to work with me on a project). I had my persecutors though. In my case they were the non-popular kids, the ones who are all dropouts and single mothers now. They picked on me because I was a "brain". One low-life stole my brand new Umbro shorts (which I'd saved up to buy) out of my gym locker. I knew exactly who'd done it, but I didn't say a word. These were the kids who hated anyone that they perceived "above" them, and unlike the popular kids, I didn't have the group armor or the ability to look down my nose at them. I was vulnerable and they knew it. I had a scientific calculator stolen as well. I used to honestly wish that I wasn't so smart. Can you believe that? That a person would honestly wish to be less intelligent? Nowadays I can't. Nowadays I'm different. I haven't run into many of these people since high school, but on the few occasions that I have, it's been a delicious experience. "Oh, you're still working at the air conditioner plant? Yeah, I got my degree from Notre Dame, lived in London for two years, and recently moved to Australia. Have a nice life." Yeah, it's mean, but I feel a little occasional revenge is justified, don't you?

| | |
| --- | --- |
| | [4] |
How Smart Are You? I've been kinda worried that my brain has been atrophying, what with me being out of work for five months and all. Fortunately, no permanent damage seems to have been done. I scored only three less than Bill Gates!

Wednesday, March 13, 2002
| | |
| --- | --- |
| | [4] |
Two more sleeps til my birthday! Two more sleeps til my birthday! (Can you see the restraint I'm using here?)


Walk Against Want
The Snook and I have finally received our sponsorship books. If you'd like to help us out, you can donate by credit card, check, or PayPal. I can even send you a receipt if you'd like. Please drop me an e-mail if you'd like to help out. Seriously, even $5 would be great.

| | |
| --- | --- |
| | [2] |
Wow! My friend Jann's weblog has a new URL, a new design, and a new "now-frequently-updated" whiff of freshness about it. Check it out.

| | |
| --- | --- |
| | [5] |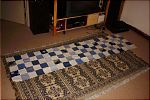 Since Snookums has been busy with his computer (recently unpacked from three months in transit), I've kinda been avoiding mine. It just doesn't feel right that both of us should be hunched over computer screens for ten hours a day when we're not being paid for it. So instead I quilt. I quilt and I watch Buffy. This is a picture of my quilt so far. That's five rows out of about twenty-five that I have planned. (Yeah, it's massive, I know. But I like big blankets.) All the colored squares are different shades of blue, some with patterns and stuff. It's gonna be awesome.

Oh, and re: Buffy. When you Americans finally get your Season 3 DVD, be sure and listen to the commentary on "Bad Girls". The guy speaking (the writer) talks quite candidly about the "lesbian subtext" of Buffy and Faith, and how Eliza Dushku was always pushing for more. Snookums and I found it both hilarious and fascinating. :)


Holy crap! How did I miss this? Notre Dame's in the NCAA Tournament! Go Irish!

Tuesday, March 12, 2002

Amusing anecdote: Hugh Jackman was being interviewed on Australian TV about his movie Kate and Leopold, which is just now opening here. The reporter asked him about Meg Ryan, and he started spouting off about how nice she was and what a good friend and how she made him feel welcome and how she just loved everything Australian-- and the interviewer interjected with: "Well, she would, wouldn't she?" It was pretty funny, considering that's what everyone was thinking. He just kinda chuckled and shook his head, as if to say, "You're gonna get me in trouble."

| | |
| --- | --- |
| | [5] |
Well, Spa Day has come and gone. I'm rather ambivalent about the experience. I mean, on one hand it's nice to sit in a darkened room listening to rainforest sounds while somebody massages warm goo into you. On the other hand, my face looks exactly the same and my new manicure is ruined already. It was nice to be the Princess for 90 minutes though.

| | |
| --- | --- |
| | [6] |
I know that the boys all love Kylie... but - God help me - I just can't stop listening to Sophie Ellis Bextor's "Murder on the Dancefloor". I need help. It was the video that sucked me in. I saw it at the gym. Does anyone else think she looks like Shannen Doherty's skinnier, even bitchier younger sister?

| | |
| --- | --- |
| | [5] |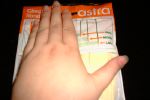 Hmmm. I feel bad about the bragging now. As a peace offering to my sister, here's a picture that ought to make her laugh for six months straight. You see, she thinks it's the funniest thing in the world that I have freakishly small hands. ("Carnies... circus people... small hands, smell like cabbage...") And somehow she's managed to convince everyone I know that it's really funny too. So recently I bought some rubber gloves at the grocery store (to cut off the fingertips to use as makeshift quilting thimbles) and I was amused to see that there was a "sizing guide" on the back of the package. I couldn't resist lining my palm up to see where I landed. As you can clearly see (if you look at the larger version, anyway), my hand is about a centimeter smaller than the smallest size. Har har. Happy?


Since my sister is always accusing me of bragging about my life on here, let me indulge myself. Today, you see, I will be having a "one-hour facial, mini-manicure, and back massage" at the beauty parlor around the corner where I get my eyebrows done. They sent me some card for my birthday offering me the special at half off, and I'm nothing if not thrifty. (Actually I'm not, but I never let that get in the way of a good impulse buy.) I'm wondering, though, what the hell they do to my face for an hour. I'm not sure I touch my face myself for an hour a day. I'll let you know how it goes.

| | |
| --- | --- |
| | [3] |
Speaking of Six Feet Under, can I just tell you how it's my new favorite show ever? And how Peter Krause is the hottest guy in the history of the world? I'm sorry, Max; I gave Alias a fair shot but that Will guy creeps me out. (He kinda reminds me of my friend BJ.) I gave it up.


I am continually amazed by how liberal television standards are everywhere outside America. Tonight, after the Snook and I finished watching Six Feet Under, we saw a "local" ad promoting "Maxine's All Nude, All Rude, Pussy Extravaganza." And lest you think it's some sort of naturist cat convention, the commercial's visual accompaniment left little to the imagination. Of course, we still don't know what the actual event is, but they definitely got our attention.

Monday, March 11, 2002
| | |
| --- | --- |
| | [2] |
Sydney is apparently the fourth most desirable city to live in. That's out of the whole world, folks. Granted, it's the air pollution that's keeping it down (we have to wash icky black stuff off our balcony chairs before sitting in them), but there's a million other things that make up for it. And considering that London is way down at #41 (and falling), I definitely feel like we've traded up.

| | |
| --- | --- |
| | [2] |
I haven't been in a very bloggy mood lately. I say that knowing that I'll probably end up posting fourteen times tonight.

Sunday, March 10, 2002
| | |
| --- | --- |
| | [4] |
They don't call Chicago the "Windy City" for nothin'. Ouch.

Friday, March 8, 2002
| | |
| --- | --- |
| | [4] |
Friday Five:

1. What makes you homesick?
Hearing about family get-togethers. Corn on the cob. Mountain Dew. Seeing pictures of my new brother. Re-runs of cheesy American TV shows, like "The Fresh Prince of Bel-Air". Being sick. Pictures of Chicago. Any mention of Indiana. Quite a lot, really. I've just gotten good at repressing.

2. Where is "home" for you?
I guess I'd just say "Indiana." There's no particular house; my entire family is scattered to the winds.

3. What makes it home for you? People? Things?
It's odd. It's not really for either of those reasons. It's mostly just because that's the only place I really know. Although when I am in Indiana, I always refer to my place outside it as "home". I guess "home" is basically wherever I'm not. It's always a state of longing.

4. Where is the furthest you've been from home, miles-wise?
I think I'm gonna win this contest hands-down. 9,348 miles. Beat that, any of you. (Interestingly, according to that site I'm not three times as far from home as I was when I lived in London. Wow.)

5. What are your plans for this weekend?
Basically just work on my quilt, work out at the gym, and clean up this place. Oh, and Sunday we're having a leaving-do for my friend Carrot, who's off on a world tour soon.

| | |
| --- | --- |
| | [3] |
Ask Yahoo answers the question, "What is kimchi and how is it made?" I've watched my mom, grandma, and aunts eat this stuff for as long as I can remember. It's one of the things that I wish I liked more, just to feel a little closer to that part of my identity. If you're thinking of trying it, though, you should know that it's really hot. Really hot.

| | |
| --- | --- |
| | [8] |
More Fashion Don'ts (brought to you by the guys at my gym):
Never, ever wear a horizontally striped tank top with vertically striped shorts. You look like a test pattern.
Zubas are always a bad idea. You know zubas, those big cotton pants with the patterns all over them? Yeah, no woman (or gay man, for that matter) respects someone wearing those.
Oh, and by the way... I've lost 8 pounds! Can you believe that? I think I've broken through some sort of metabolic wall.

Thursday, March 7, 2002
| | |
| --- | --- |
| | [7] |
So London is doing the cow thing. Sheesh. I'm glad I left. (Link courtesy of anon.)


I've just added electronic greeting cards to my Roald Dahl site. So go give 'em a look!

Wednesday, March 6, 2002

Brigita found a great article called "Punk Shui" that explains the basic principles of feng shui. According to that, our "money" corner is filled with dustbunnies and an overloaded power outlet. That doesn't sound good. Our "marriage" corner, on the other hand, is where our two computers sit in networked harmony. That's pretty appropriate, I think.


Last night was the opening night for the play. There was a decent sized crowd (though only four of them were people un-related to the production), and the actors really kicked it up a notch. It went great! The Snook seemed to enjoy it a lot. Hopefully our word of mouth is going to increase and we'll have a good sized house through the weekend.

| | |
| --- | --- |
| | [5] |
RunningBlog: Pledge Drive! The Snook and I have decided to do the Walk Against Want this year. It's a 15 kilometer walk through Sydney for Oxfam Community Aid Abroad. The walk is supposed to "raise money and show support for poor people in developing countries and Indigenous people in Australia". We need to start collecting pledges from people, so let me know if you'd like to participate. (Hey Americans, thanks to the exchange rate your dollar goes twice as far here, so you don't need to donate a lot to make a real impact.) If you want to help us out, leave a comment or drop me an e-mail. Every little bit helps!

P.S. Woohoo! My first real athletic "event" since college. I was just gonna do the 5km version on my own, but then the Snook said he'd be willing to partner me for the big one. That's about ten miles, folks! So wish us luck... It's gonna be a long walk.

Tuesday, March 5, 2002
| | |
| --- | --- |
| | [1] |
I think E Online wins the prize for "Best Anne Heche Baby Headline": Heche: From Mothership to Motherhood. Insane or not, I can't believe anyone naming their child Homer Heche Laffoon. He'll be laughed out of kindergarten.


So Prince William is reportedly lonely at college. You know, suddenly I'm regretting cancelling my UK work visa...

| | |
| --- | --- |
| | [7] |
Ahem. I'll be 25 in ten days. Just throwin' that out there.

| | |
| --- | --- |
| | [7] |

I've been meaning to blog this for ages. Have you guys seen the Titanic Super Slide? I first learned about it last year when my Dad reported that they had one at the County Fair back home. It's an actual giant inflated Titanic ship, half sunk in the "water", that you climb up in order to slide down the "deck". Just like when those wacky Irish steerage passengers did it in the movie! Isn't that fun, kids? I couldn't believe it. In the end I chalked it up to Indiana bad taste. (Not that we Hoosiers have nothing but bad taste, but hey, we elected Dan Quayle.) But guess what I saw here in Sydney at Fair Day a few weeks ago? The damn Titanic Super Slide! Am I the only one that finds the concept of turning a historical tragedy into a children's fairground attraction appalling? What's next, the "Leap from the Hindenburg Bungee Jump"? The "Escape the Black Plague Haunted House"? *shudder*

Monday, March 4, 2002
| | |
| --- | --- |
| | [5] |
The Little OS. A charming picture story for children and Mac zealots. (Link courtesy of John.)

| | |
| --- | --- |
| | [6] |
Poodoo! I knew I shoulda waited to order my iPod case. Moire just found one in leopard skin!

| | |
| --- | --- |
| | [2] |
I bailed on the "quilt" task. Instead I finished the new website for the play I'm helping with. Wow, it was good to work those rusty HTML muscles.

Sunday, March 3, 2002

Gah. I finally got on the 'Net tonight and I was thinking it'd been days since I posted last. Instead it was less than 24 hours. I need to unplug. I'm gonna go work on my quilt for awhile.

Saturday, March 2, 2002

Prince Philip did it again. This guy is hilarious. He's, like, the English version of Dubya... except he was making embarrassing verbal faux pas years before the Bushes took office.

| | |
| --- | --- |
| | [7] |
New Poll: Battle of the Discount Chain Stores! Where do you go to buy all the little things that make life livable?

| | |
| --- | --- |
| | [14] |
Friday Five:

1. What's your favorite vacation spot?
I'm a big fan of the theme park vacation. I used to love camping at Cedar Point. I also had a great time in Florida a few years back hitting all the Disney Parks, Islands of Adventure, and the Kennedy Space Center. EuroDisney was pretty fun too. When I go on holiday, I like to do stuff. It'd probably be less stressful to just go somewhere and chill, but I always feel guilty for not seeing everything possible.

2. Where do you consider to be the biggest hell-hole on earth?
Hmmm. I'd probably say Gary, Indiana, but I don't wanna bring down the wrath of the homeboys again. :)

3. What would be your dream vacation?
Snookums and I are actually planning one of my dream vacations right now. We're thinking of taking the Indian Pacific train from Sydney to Perth. It's one of the "great" train journeys of the world. You travel pretty much the entire length of Australia, across the bight and through the outback. If we do it, we're gonna do it first-class so we get the luxury sleeping car and meals in the fancy dining room. It takes three days to get to Perth, and then we'll hang out there for a few days before flying home. How cool would that be?

4. If you could go on a road-trip with anyone, who would it be and why?
Hmm. Shall I answer with real-life people or blog people? Let's go with blog people; that'd be more fun. Max would definitely be navigator, because then he could run the stereo and play us all the custom trip mix tapes he'd inevitably have made. Tara D would be in the backseat, cracking my shit up the whole way. Moire would be back there too, ranting about her job and reading us excerpts from the latest Harry Potter slash fiction she'd found. I, of course, would be driving. :)

(Not that I wouldn't take the rest of you, but in general I hate road trips, so I'd need the unique talents of these three individuals to keep me from getting bored and running the car into a bridge embankment.)

5. What are your plans for this weekend?
Not sure. Probably just helping with the play (which starts next week). I need to go get some more fabric for my quilt. And today is the Mardi Gras parade, but I don't know if I can go. I might give it a try though, since my piercer last week said to look for him on the leather fetishists float. (Hee! This should be fun once Google indexes this page.)

Friday, March 1, 2002
| | |
| --- | --- |
| | [6] |
They're just now broadcasting the Grammy Awards here in Australia. The Snook and I were half-watching the "Lady Marmalade" performance when I asked, "Where the hell is Christina Aguilera? She was billed as performing, and she hasn't come out yet and the song's almost over!" And the Snook said, "Isn't that her over on the far left?" Me: "No, that's some black chick." Him: "I think that's her." Me (squinting): "Holy crap! That is her! Geez, lay off the self-tanner!" Seriously, she looks scarier every time I see her.


It's not a particularly fun link or anything, but here's a site with lots of graph paper that you can print out at home. It came to my rescue today when I was trying to lay out the quilt I'm making. (Yeah, you heard that right.) Anyway, it's a useful site to have bookmarked.

| | |
| --- | --- |
| | [3] |
iPods can be used to steal software. Well, duh. So can a friggin' floppy disk. The real point of this article is that Apple machines were being sold in an environment where none of the sales staff had any clue how to secure them. And that's the whole argument for the Apple retail stores, and why Apple has such a small market share anyway. CompUSA sucks.

| | |
| --- | --- |
| | [3] |
Mirror, mirror, on the wall / Shovel chestnuts in my pap???

What the hell? Tara D has written a Lyrics Quiz. You should go give it a try, because I'm sure as hell not gonna win. I recognized, like, two out of twenty. And it doesn't help that I have Britney Spears's "Overprotected" stuck in my head courtesy of the bloody gym. I suck.

| | |
| --- | --- |
| | [13] |
Another person got fired because of her blog. Does this sort of stuff make anybody else nervous? Not that I have a job to lose or anything... but I've always been up front about my identity on the Web. I think it's important to be able to connect real people with the pages you visit and the things you read. Otherwise it's all too easy to flame, badmouth, and hack people, because they're not real human beings to you. But could this come back to hurt me? I'd like to say that I'd never work for an employer that would seek to censor their employees, but I've never been poor enough to test my morals like that. When I started at my last company (See how I didn't mention them by name? I'm learning!), I made sure they knew about my Roald Dahl site and the personal pages that were contained within it. They were fine with it. Then I started web-goddess, and over the course of the two years I was there, more and more people found out about it. I still get e-mails from former co-workers who visit this site to see what the Snook and I are up to. (Some of them even leave comments - Hi Stefanie!) Basically what I'm trying to say is, sure, I lose some freedom of speech by being honest about who I am. There are people and subjects that I can't talk about without hurting feelings. There are some that I won't touch out of embarrassment (my parents read it, for God's sake!). But is that a good thing? Sometimes I consider setting up a completely anonymous blog where I can say everything I can't at w-g. Have any of you other bloggers had similar thoughts? Do you practice self-censorship? Which is better - to be anonymous and free to say anything, or to be yourself and accept responsibility for the things you do say?

archives
You can search through the archives by post keyword using the form on the left, or you can browse by month using the links at the bottom.
"Moblog" refers to posts and images posted directly from my mobile phone.

"PW Blog" refers to posts recovered from my very first weblog, which dealt with news related to my college dorm.