Monday, March 31, 2003
| | |
| --- | --- |
| | [1] |
I'm crying over someone I've never met. My heart goes out to Beau and I'm just so grateful that he felt he could share this experience with all of us. I don't know if I could have gone through it with as much peace, humor, and dignity as he and his family have. I'm going to just stop there before I get really maudlin and cheesy.

| | |
| --- | --- |
| | [10] |
New Poll: Would you send a guy flowers? If you are a guy, what would you think of a chick that sent you flowers? I'm kinda stressing. (Shh! Don't mention this around the Snook til after tomorrow.)

Update: Yeah, as most of you guessed, I sent the Snook flowers for our anniversary. I specified something "manly" and "small enough to carry on public transport." The arrangement ended up being a couple orange gerberas surrounded by gumnuts, grevillia, and some funny small orchids. (Mostly Australian native flowers for you foreign types.) He liked it a lot, though I don't think I'm going to make a habit of it. I think he got a little embarrassed carrying it home. :)

| | |
| --- | --- |
| | [1] |
I was feeling rather domestic-goddess-like tonight, so I had a quick squiz through the Atkins website to find a new low-carb recipe to try. I settled on Shortcut Moussaka, mostly because we had some baby eggplant in the fridge we needed to use up. It was great. I got to the butcher's too late to get mince lamb so I had to substitute regular beef, but that didn't seem to hurt. I was surprised at how well the whole thing sorta stuck together. I was expecting it to just be a big sloppy mess. Instead it came out in fairly well-defined chunks, like lasagna. Must've been the layers of cream cheese. Anyway, this one is highly recommended. (Especially for you newbies buckling under the Induction restrictions...)

| | |
| --- | --- |
| | [3] |
My friend Kevin got me addicted to Frontier House, the PBS show about three families pretending to be pioneers out in Montana. The Snook and I decided last night that we like the Glenn family from Tennessee. They don't bitch and whine (except about their stupid neighbours), and the kids seem to be enjoying the project. The Clune family, on the other hand, are rich folks from California (the father brags that he's never mowed a lawn in his life, and neither have his kids), so you can guess how well they adapt. The two teenage girls actually got ratted out for sneaking in makeup. I admit I had to laugh when they were bawling while milking their cow in the middle of a freak June snowstorm. The third family, the Brooks, are really nice, hard-working, and uninteresting. If you aren't going to whinge about the work, you at least need to whinge about your neighbours if you're going to hold my attention!

Sunday, March 30, 2003
| | |
| --- | --- |
| | [1] |
Happy birthday to Jann, who has finally reached the Age-That-Shall-Remain-Nameless.

| | |
| --- | --- |
| | [18] |
The Sydney Morning Herald has finally tracked down the guy responsible for all those annoying "brokenman.net" chalkings around Sydney. I'm deliberately not linking to his site and I've made a personal pledge to never visit it myself. He's chalked Newtown several times and I used to think it was just a cryptic (and annoying) marketing campaign. Now I know he's just a stupid publicity-hungry conspiracy theory wanker. I hope I spot him the next time he's chalking our neighborhood so I can give him a good kick in the bum.

| | |
| --- | --- |
| | [3] |
Final Oscar Contest Results
I didn't bother working out the placings, because really there were only eight of them (from seven correct down to zero). Read on to see a list of everyone who played and how many they got right. See you all next year! [more...]

| | |
| --- | --- |
| | [2] |
The Snook and I went to a rugby match last night to see the Queensland Reds annihilate our New South Wales Waratahs. Quite frankly, I had no idea what was going on on the field for most of the match. I'm an intelligent person (I even understand cricket!), but I just had no clue. There'd be a whistle and everyone would groan, and I'd look at the scoreboard to see that someone had been charged with "intentionally collapsing the scrum" or "joining tackle in front last feet", and I'd just have no frickin' clue. Now I know how the Snook felt when I took him to a Notre Dame game.

| | |
| --- | --- |
| | [17] |
Craftiness + Hoochiness = Knitted Bikini
Check out what I made! I felt like I'd been making scarves for years, so as a change of pace I decided to knit a bikini using Get Crafty's fabulous instructions. It's knitted with cotton, not wool, and as I used a double thickness throughout it's pretty dense (and therefore ensures no nipple visibility). Unfortunately this design is just not the right swimsuit for my body shape. The trunks, which just barely manage to go over my thighs, are pretty cute, but they're so low that I have major plumber butt (even though I followed the instructions for "more coverage"). And the top... Well, I think the main problem is that string bikinis aren't made for girls with larger boobs. I'm a C cup, and the whole triangle thing just doesn't work. Even if I made them bigger, they still don't fit the shape of the breast very well. (I really need to figure out how to knit one with an underwire.) So needless to say, I shan't be sporting this puppy at the beach anytime soon. It was a fun experiment though. [more...]

Thursday, March 27, 2003
| | |
| --- | --- |
| | [9] |
Trivia Recap: Another second place finish for us tonight. There weren't any huge groaners though; the winners just knew a couple more than we did. I won a Fosters hat for knowing what city Ally McBeal was set in. Here's one for you all to ponder: What are the four longest mountain ranges in the world? (We got three.)


I was very disappointed at first with my results for the Which 'Buffy' Couple Are You and Your Significant Other? quiz. We got "Willow and Xander", which sounds sorta non-sexual and crappy. But now that I think about it, it's actually not that bad. We're big dorks who are best friends and like to hang out and watch TV together. I'll go with that. And hey, they're like the only couple that still has a functioning relationship on the show. So that's good, right?

Update: Snookums informed me that he took the test and he got Buffy and Angel. "But I don't know what your answers were, " he sniffed. So evidently we're somewhere in the middle. :)

| | |
| --- | --- |
| | [1] |
This stupid news story claims that REM has a war protest song available for download at their site, but I sure as heck can't find it.

| | |
| --- | --- |
| | [4] |
Sorry for the slow posting this week. Work is kinda kicking my ass right now.

Wednesday, March 26, 2003
| | |
| --- | --- |
| | [7] |
Just saw the episode of Survivor where Shawna was voted off. That was the greatest, grossest immunity challenge of all time. Snookums almost snorted beer out his nose when Deena got whacked in the head with the side of beef as time expired.

Tuesday, March 25, 2003
| | |
| --- | --- |
| | [3] |
Ask Yahoo tries to define the difference between rap and hip-hop. Me, I still don't get it. I'm loving this "Mundian To Bachke (Knight Rider Remix)" by Punjabi MC though. It's from Bend It Like Beckham and it's kinda like Indian rap. I heard it on the radio the other day and immediately started bopping like I was in a Bollywood film.

| | |
| --- | --- |
| | [6] |
Oscar Contest 2003 Winners: With a total of 7 out of 10 correct predictions, Luis is the clear winner and will soon be in possession of Oscar the Sock Monkey. Second place was a ten-way tie, which was decided using both the tiebreaker and date of entry. Thus second place went to Sara and third place to photogjunkie. Unfortunately somebody has to get the wooden spoon, and this year that honor fell to Jai, who didn't get a single point. Thanks to everyone who played though! I'll have full results and rankings available soon. See you next year!

Monday, March 24, 2003

Oscar Contest Scoring Update: We have a clear winner with seven correct, but there's a ten-way tie for second place with six correct. Time for the tiebreaker to come into effect!

| | |
| --- | --- |
| | [2] |
As I'm not too busy today, I'm managing to keep up with the Awards online. I was worried at first, as we had a 38-way tie after the first two awards. Luckily Adrien Brody has seriously shaken things up. Never bet against a guy in a Holocaust movie!

| | |
| --- | --- |
| | [2] |
There's a new iPod software update that supposedly cures a lot of the battery problems users were having. I installed it yesterday without any hitches. I'm fully charged now, so hopefully within a day or two I should be able to report how it works. My battery would run for hours, but on standby it ran down within a few days. I'm hoping this will fix that. (Hey, Moire, maybe this will bring your battery back from the dead!)


Woohoo! Australia have won the Cricket World Cup in devastating fashion. The top order finally managed to kick some ass and the bowlers took out India's top batsman in the first over. I love what this article has to say about Gilchrist: "Nor did the presence of a packed field prevent him cutting through and over point with the sort of flashing blade more commonly associated with wielders of the epee." I think some purple prose is indeed in order.

Sunday, March 23, 2003
| | |
| --- | --- |
| | [3] |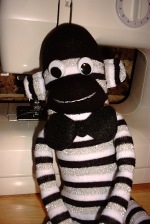 My Oscar Contest has officially stopped accepting new entries, so I figured I'd better show you all what you're playing for. Meet Oscar the Sock Monkey! As you can see he's all dressed up in black tie and silver sparkles. He's got googly eyes and a big grin, and he's even got his own little Academy Award!

As the response to the contest was about ten times what I was expecting – 144 entries? Who the heck are all you people? – I'm also providing regular sock monkeys for second and third place. The Awards start at 5:30 PM Pacific time Sunday, which means 12:30 PM Monday afternoon here. As I'll be at work all day at the draconian, no-Internet unnamed printer company, you'll have to wait til I get home for the results to be tallied. Basically, plan on the winner being named about five hours after the Awards start. Good luck everyone! [more...]

Saturday, March 22, 2003

Friday Five:
Dude, what is up with everyone mentioning me in their answers this week?

1. If you had the chance to meet someone you've never met, from the past or present, who would it be?
Contrary to popular belief, I don't think I'd pick Roald Dahl. He could be a pretty unpleasant guy and he'd probably not like me and then I'd just feel like I'd wasted my life, or something. No, I'm going to go with the old standby: Roger Ebert. I figure since I like his writing so much we'd get along swimmingly, and maybe if we got to be friends he'd take me to the Oscars and Sundance and stuff. Or I could be his co-host! (Screw that Roeper guy.) Yeah, that'd rule.

2. If you had to live in a different century, past or future, which would it be?
Ooh, I'm going to be in the minority on this one: the past. Pretty much any past, as long as I get to be a rich princess and don't have to deal with muck and plague and stuff. Regency England would be pretty good. I could be Elizabeth Bennet and win myself a rich husband with my quick wit and "fine eyes". Things were simpler back then.

3. If you had to move anywhere else on Earth, where would it be?
This is going to sound totally conceited, but I don't think I'd want to move right now. Sydney has everything I want. We've got the cultural opportunities of a large city but without all the problems you get in London or New York. We have better weather than Chicago. You don't need a car, like you do in LA. It's pretty much perfect (with the exception of constantly missing, like, everyone I've ever met in the US and UK).

4. If you had to be a fictional character, who would it be?
I think I already kinda answered this one. Yeah, Elizabeth Bennet. Totally.

5. If you had to live with having someone else's face as your own for the rest of your life, whose would it be?
Well, the Snook does have that Allyson Hannigan fixation... She kinda annoys me though. I'm thinking more Natalie Portman, except I'd be more vivacious and approachable with her looks than she is.

| | |
| --- | --- |
| | [3] |
Happy birthday to Australia's own orangecat! Hope you're having a purr-fect weekend! (I couldn't resist.)

| | |
| --- | --- |
| | [7] |
What does "Look between the huge melons" mean to you? Anyone? Anyone? A million points and tons of respect if you know the reference.

Thursday, March 20, 2003
| | |
| --- | --- |
| | [2] |
So. Damn. Close


The Snook, Steve, and I came achingly close to carrying off both trivia prizes tonight. We tied for first place but lost the tiebreaker, which was something about the number of days hostages were held in Fiji in 2000. (We were 16 days off; the winners 14.) That was bearable, though, since we still won $30 bar tab for next week. (Personal highlight: knowing both TV shows that featured Jim Neighbors and winning a jug of beer for identifying Cindy Crawford based on her SAT scores.) The real pain came with the jackpot questions: What is the name of the New Zealand Women's Cricket team? Which book of the Bible featured "The love of money is the root of all evil"? And which producer worked with Madonna on her "Ray of Light" album? We guessed "the All Whites", the book of "Timothy", and "William Orbit". Answers 2 and 3 were correct... Answer 1 was "The White Ferns." We missed out on $750 BY ONE FREAKIN' WORD. And the Quiz Master set ours aside and read everybody else's *wrong* answers first, thus making us sure that we had won. Trivia is a cruel, cruel mistress.

Wednesday, March 19, 2003
| | |
| --- | --- |
| | [5] |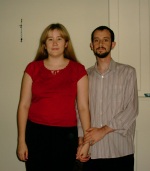 Birthday Recap
The Snook took me out Saturday to the Sydney Opera House to see The Way of the World, a Restoration comedy starring Miriam Margolyes. It was fantastic. Afterwards we headed to the top floor of the Toaster to Cadmus, where we drank cocktails and stuffed ourselves with the best Lebanese food I've ever had. On Sunday we had the regular crew over for beer and board games, where yours truly scored the Pictionary World Record of All Time. (Upon seeing the topic for an "All Play", Major joked that it would be a tough one for me. Correctly deducing that it was probably something Australian, as soon as the clock started I yelled out "Vegemite! Bob Hawke!" Everyone groaned. It had been Vegemite.) We also played The Fellowship of the Ring (where we hobbits successfully destroyed the One Ring) and Buffy the Vampire Slayer (where, as the Master, I was defeated in my attempt to enslave all humanity). All in all, an excellent way to start year number twenty-seven.

| | |
| --- | --- |
| | [7] |
Found yesterday stuffed in our mailbox...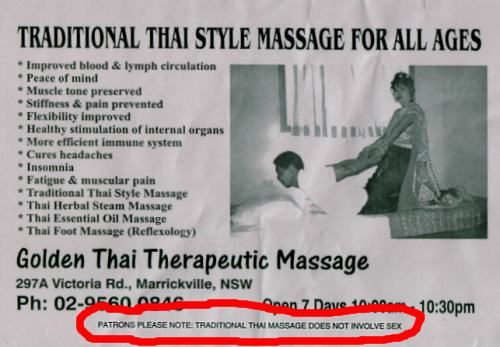 Kristen's nominated me for the Anti-Bloggies in the "Turn off that webcam!" and "Best Heterosexual Weblog" categories. Ha!

Tuesday, March 18, 2003
| | |
| --- | --- |
| | [7] |
Wow! Two guys climbed the Sydney Opera House this morning and painted "NO WAR" on it in giant red letters. While I admire the sentiment, couldn't they have defaced an unattractive building? Like, say, Kirribilli House?

Monday, March 17, 2003
| | |
| --- | --- |
| | [4] |
There are now officially seventy-five entries in my Oscar Contest. Seventy-five! Who the heck are all you people? Anyway, I've posted the complete list of everyone's predictions so far. E-mail me or leave a comment if you really really need to make a change. As there are so many entries, I'm going to add two more prizes for second and third place. So if you haven't entered yet, get going!

| | |
| --- | --- |
| | [1] |
Some idiot thinks the world should boycott watching the Academy Awards to send an anti-war message to President Bush. That might work, you know, if Bush had anything at all to do with the Oscars. What a stupid idea. Like he cares. He probably thinks it's all heathen and sinful anyway.

| | |
| --- | --- |
| | [1] |
Check out Ebert's Oscar predictions. I like it when he gets all worked up over Scorsese. And did you catch the fact that he's got an iPod? Ebert's a Mac user! I just knew it.

| | |
| --- | --- |
| | [4] |
I think I work in a sick building.

Sunday, March 16, 2003
| | |
| --- | --- |
| | [2] |
Folks who share my birthday, according to Yahoo:
Rock singer Mark McGrath (from Sugar Ray)
Rock singer Bret Michaels (from Poison)
Singer Terence Trent D'Arby
Model Fabio
Rock singer Dee Snider (from Twisted Sister)
Supreme Court Justice Ruth Bader Ginsburg
Now wouldn't that be a party!? I have the lamest birthday ever.


Ebert's at it again. Now he takes on Bush for believing God is on his side. I think he brings up some really great points. "Free will must be absolute or it is not free. God is not a coach who allows the quarterback to make most of the decisions, but sometimes sends in a play from the sidelines." Amen to that.

Saturday, March 15, 2003
| | |
| --- | --- |
| | [20] |
Helloooo, 26! It's technically still the 14th here, but I'm gonna hit the sack and post-date this one. Thanks to everyone who sent cards and well-wishes. In the imaginary Showbiz Pizza Place in my head, you're all sittin' at the table wearin' party hats.

Friday, March 14, 2003

I'd love to see this documentary about the guy that defrauded the game show Press Your Luck. I watched a lot of game shows as a kid.

| | |
| --- | --- |
| | [1] |
Weight Watchers Recipe Cards from 1974. That's seriously the funniest thing I've seen on the Web in a while. I'm going to be saying "Mackerelly" for days. (Link courtesy of Kim.)

| | |
| --- | --- |
| | [1] |
Friday Five:

1. Do you like talking on the phone? Why or why not?
Yep. I just like to talk. I'm a chatty cathy.

2. Who is the last person you talked to on the phone?
The Snook. He called me at work this afternoon to say he'd come upon a stash of old computer parts at his college. (He was doing some work there.) He wanted to know if he should salvage the stuff for me to use as crafting materials. I said, "Hell yeah!" I'm envisioning computer key beaded necklaces and motherboard-encrusted picture frames. Sweeeet.

3. About how many telephones do you have at home?
We've got two: a regular old cordless and an ultra-cool Queen Amidala Star Wars phone (with buttons you can press to interject "The Federation has gone too far this time!" in your conversations). The Snook and I both have little Nokia 3310 mobiles too.

4. Have you encountered anyone who has really bad phone manners? What happened?
Huh? Random question. Well, I do get kinda pissed when people walk away from their desks and leave their mobiles unattended. Some guy in my office has the frickin' Wedding March as his ringtone, and I hear it about forty times a day.

5. Would you rather pick up the phone and call someone or write them an e-mail or a letter? Why or why not?
Definitely. I am a lazyass.

Thursday, March 13, 2003
| | |
| --- | --- |
| | [14] |
Trivia victory! We came back from five points down to win in stunning fashion. (And this time it wasn't because the first place team got disqualified!) Personal highlights were identifying the Night Court theme and naming one of the last two non-Americans to win the Best Actress Oscar. (Can you guess them?) It helped that a lot of the music identification this week were from the mid-nineties. I'm crap at stuff from the 60's, but give me 4 Non Blondes and Snow anyday.

| | |
| --- | --- |
| | [2] |
Cute Baby Animal Alert! "Weesa give you una bongo..."

| | |
| --- | --- |
| | [5] |
Sweeeeeeet. There's going to be a Buffy Convention in Melbourne in May! I'm trying to talk the Snook into going. (Link courtesy of orangecat.)

| | |
| --- | --- |
| | [5] |
Curses! I am foiled by my own celebrity. The third Australian series of Big Brother will be starting up soon... and I know someone with the inside scoop. Today I pleaded with Deep Throat to reveal some of the surprises in store. "No way!" they said. "I know you. You'll post it all over your bloody website!" I was forced to admit that I would. Thus I remain just as clueless as the rest of you. I did manage to wrangle forth one little tidbit: "This year it's all about the house." Apparently they've just spent an incredible amount on it, and I'm guessing that it's going to have some fun hidden features. There supposedly was a recent press release saying something about a glass wall down the middle that will separate the boys from the girls. Deep Throat wouldn't confirm or deny this, but I got the distinct impression that it's a red herring. I guess we'll all find out soon enough!

Wednesday, March 12, 2003
| | |
| --- | --- |
| | [3] |
OmniWeb 4.2 Beta 2 is now out for you OS X kids. It seems to fix that annoying bug that made it crash every two seconds. Hmm, maybe I'll have to switch back from Safari...

| | |
| --- | --- |
| | [5] |
Ooh, Moire's finally posted wedding photos! And check out the curly tendrils... Very pretty!

| | |
| --- | --- |
| | [4] |
Whoa. Has anybody else noticed that CouchCam has gone, like, infrared? I actually think it looks kinda cool. But no, we haven't done that on purpose...

Tuesday, March 11, 2003
| | |
| --- | --- |
| | [2] |
Bichel... Bichel... Biiiiichelllllllllllllll! (Apologies to the non-cricket fans, but Australia - previously unbeaten in the World Cup - just almost got their asses handed to them by the Kiwis. Luckily Andy Bichel, the Champion of the World, was once again available to play the hero...)

| | |
| --- | --- |
| | [5] |
In case there was any doubt at all, this picture clearly reestablishes Renee Zellweger as my nemesis. She's just too friggin' gawky and weird right now.

| | |
| --- | --- |
| | [6] |
For the most part, the Snook and I are so similar that I just kinda forget that we grew up in different countries. Every now and then, though, I make a startling discovery, like the fact that he's never eaten Kraft Macaroni and Cheese before. How weird is that? Luckily the box my Aunt Deb sent me for Christmas made it through quarantine, so I was able to initiate him into the realm of crap budget pasta dishes tonight. It was just inconceivable to me that he'd never experienced the joys of elbow macaroni and day-glo orange cheese powder before. I'm happy to report that - though he initially thought it had a "strange aftertaste" - he quickly wolfed down his portion. Another bridge crossed...

| | |
| --- | --- |
| | [3] |
Another rainy day; another wet birthday card. The forecast doesn't look any better for the rest of the week. This sucks.

| | |
| --- | --- |
| | [8] |
This article about iBook battery problems is seriously freaking me out. Apparently some people are reporting that after the 10.2.4 OS X upgrade their batteries get drained flat in no time, and the only recourse is to get them replaced. As mine is mostly a desktop machine I keep it plugged in pretty much 24/7, so I haven't noticed this yet. I'm almost afraid to unplug it though. Anybody else having problems?

Monday, March 10, 2003

I love it when Ebert goes off on non-movie-related rants. Now he's got a bug up his nose about public prayer. I like his distinction between "vertical" and "horizontal" praying, but I think he's a little unfair in saying that all public praying is done for recruitment or exclusion. I'm not religious but I went to a Catholic university, and I know that sometimes a group of people like to express their faith together. It didn't bother me and I didn't feel like they were going out of their way to try to convert or alienate me. Of course, I can see where having a group of Bible beaters glaring at your during a sporting event would be kind of annoying...

| | |
| --- | --- |
| | [6] |
Orlando Bloom and Johnny Depp are starring in The Pirates of the Caribbean, according to this interview. I predict that the sight of such chiseled and beautiful cheekbones on the screen together will be almost too painful to look at. Almost.

| | |
| --- | --- |
| | [3] |
I hate the rain. I had to wait forever for a bus and my nice leather shoes got all wet and some stupid soaked girl plopped down right beside me and I didn't have any change for the train and there were idiots with golf umbrellas everywhere and when I got home I discovered that a birthday card from my grandparents was sticking out of the mailbox and had gotten almost too wet to read. *sniff*

Saturday, March 8, 2003
| | |
| --- | --- |
| | [16] |
Seen today at the Newtown shopping centre...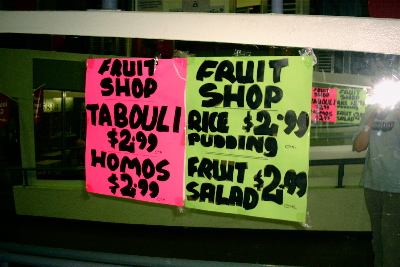 Well, where else do you think you buy them? :)

Friday, March 7, 2003
| | |
| --- | --- |
| | [2] |
Congratulations to Moire, who's getting hitched this weekend. (Now I have that "They're finally getting married" song from the end of The Muppets Take Manhattan stuck in my head.)


Friday Five:

1. What was the last song you heard?
I don't actually know the title, but it was by Kylie Minogue. Kevin (the guy I ride to/from work with) was playing her CD in the car tonight.

2. What were the last two movies you saw?
In the theater: Bowling for Columbine and Chicago. At home: Emma and Pride and Prejudice. (What can I say? I crave English costume drama when I'm sick.)

3. What were the last three things you purchased?
The Knitter's Bible, a chicken kebab, and a Diet Coke.

4. What four things do you need to do this weekend?
Pay bills, e-mail my tax agent, send off my Walk Against Want money, and get rid of this damn flu.

5. Who are the last five people you talked to?
What, in person? Rather than list co-workers, which is kinda boring, I'll list the last five friends I talked to. There's Kevin (who I ride with), the Snook, Steve, Major, and Kenya (all of whom were on our trivia team last night).


Eek! I am officially out of the new movie loop. I had no idea that a Narnia film was in the works. We saw a theatrical version in London two years ago that was excellent. For some reason I never liked the BBC miniseries though. I guess the casting of Lucy as a little fat girl with buck teeth just didn't jibe with my imagined version. I hope they get this one right. (Thanks to Kevin for the heads-up.)

Thursday, March 6, 2003
| | |
| --- | --- |
| | [14] |
After the triumph of last week, our trivia karma was evidently all used up. We placed fifth tonight and didn't come close to winning the jackpot. I myself won the first two mini-prizes of the night though (a jug of beer and a polo shirt), which is pretty satisfying. I correctly answered that when it's midnight in London it's also midnight in Casablanca, and that the northeastern USA state with less than 25000 people per city is Maine. The question that tested us the most, however, was, "Name eight movies Mel Gibson has starred in with one-word titles." We knew seven of them, and I thought of an eighth after we turned in the quiz. Can you get them all?

| | |
| --- | --- |
| | [2] |
The Snook and I flipped on the TV tonight just as the show Getaway was starting. It's a travel show where the hosts travel around the world and tell you about great places to go. Imagine my surprise when the second segment of the show was on Elkhart, Indiana! The Aussie host was all excited to travel to the "RV Capital of the World". He went to a motorhome convention and even visited the Shipshewana flea market and the Essenhaus! I nearly pissed myself laughing when he pronounced Amish as "Aim-ish". The best part is that I managed to hit record on the VCR so I'll be able to watch it whenever I'm homesick. I just can't believe we managed to catch that right when I needed the most. It was great.

Wednesday, March 5, 2003
| | |
| --- | --- |
| | [8] |
Gross. And did I mention that I'm staying home today because I'm still sick? Yep, this damn bug is now three weeks old. I managed to evict it from my throat and it set up shop in my lungs. I was up all night coughing and horking up nastiness. In the immortal words of Xander, "Mix in a little rectal surgery, and it's my best day ever!"

Update: Well, I'm back from my fourth doctor's visit in three weeks. I'm on yet another round of antibiotics, as well as stuffing myself with Vitamin C and Primrose Oil. The whole time she was talking to me I kept thinking about Max's fascination with flesh-eating virii, and I swear I was thisclose to asking her if I could get tested for Ebola. :)

| | |
| --- | --- |
| | [4] |
I was just researching cocktails for a work project (as one does), when I came across a recipe for a Pan-Galactic Gargle Blaster. As you all know, the effect of this drink is like "having your brains smashed out by a slice of lemon wrapped round a large gold brick". We may have to try this.

| | |
| --- | --- |
| | [11] |
I just found out from my Dad that we've had the third death in the family in the past year. I've lost my great-grandpa and two great-uncles, and I haven't been there for any of it.

| | |
| --- | --- |
| | [26] |
Ooh, sexy desktop images. I've go the "Space Doggy" on my iBook right now. (Link courtesy of John, a soon-to-be Switcher.)

Tuesday, March 4, 2003
| | |
| --- | --- |
| | [2] |
Damn. I thought the Snook and I were finally going to get our chance. Then I read the disclaimer. "g. Both members of each team must be United States citizens and live in the United States." Awwww, no fair!


Ooh! I almost forgot it's Shrove Tuesday. We're not religious, but hey, any excuse for pancakes, right? I'm torn between making my good ol' American thick-and-big-as-a-dinner-plate recipe and this crepe-style one from Delia Smith. Hmmm, maybe we'll have both. It's supposed to be a bit of a feast, right? Then it's straight back to the low-carb, I promise.


Apparently it's possible to brew beer in a washing machine. The Snook is gonna love this.

| | |
| --- | --- |
| | [3] |
Today the Sydney Morning Herald ran a story about TiVo! It's mostly fluff and it doesn't say they're bringing it out here or anything, but at least it's a mention.

| | |
| --- | --- |
| | [6] |
According to this site, there is exactly one "Kristine Howard" running around the UK. As it ain't me, I must conclude that I have a doppelganger. If any of you Brits meet her, see if you can figure out which one of us is the "evil" twin, okay? (Link courtesy of Kristen, who is a unique snowflake.)

[Sidenote: I really, really hope the webmaster was going for an SMS type "You R Not Me" type name. Otherwise that's just the worst case of misplacing apostrophes (and misspelling contractions) that I've seen lately. Helpful tip: spell-check your domain names, folks.]

Monday, March 3, 2003

Apparently there's going to be a new remake of Around the World in 80 Days... starring Jackie Chan. As Passepartout. And British comedian Steve Coogan will play Phileas Fogg. I quote from the article:
Based on the novel by Jules Verne, "80 Days" begins with Passepartout (Chan), an adventurer, trying to make it to China to restore a sacred object stolen from his village. He's joined by Phileas Fogg (Coogan), who puts his rep as an inventor on the line to provide the transport. Bent on stopping them is Lord Kelvin (Jim Broadbent), head of the Royal Academy of Science, who'll lose his fortune if the duo circles the globe in that 80-day period.
Based on the novel by Jules Verne??? If you haven't read the book, let me spell it out for you: it's nothing like this. Passepartout is French, for God's sake! They never even go to China! I shouldn't get so upset, but the original really is one of my favorite books. This quote is especially ironic: "We believe in Frank Coraci's vision for a film that will be a lot like 'Willy Wonka' -- colorful, fun and adventurous," said Cary Granat, head of the company developing the picture. I'd just like to point out another similarity with Willy Wonka: they're both complete rip-offs that bastardize and dumb-down an excellent story. Hmmph.


The spring issue of Knitty is out! Too bad the seasons are reversed here and all these pretty little spring things aren't exactly appropriate for an Aussie winter...


Y'all probably realized it a while ago, but today is 03-03-03. I didn't get that til it was almost over.

| | |
| --- | --- |
| | [1] |
I found a great bookmaking tutorial today. I might have to try making a journal! (Not for me; this is my journal. But they'd make nice gifts...)

Sunday, March 2, 2003

The Sydney Gay and Lesbian Mardi Gras Parade was last night. I think Madam Sadam and Her Weapons of Mass Seduction is the Greatest. Float. Concept. Ever.

| | |
| --- | --- |
| | [28] |
I want a kitty. There's a pet store just around the corner with kitties. Every time I walk by I all but press my nose to the glass and make kissy faces. The Snook and I are discussing the pros/cons right now. If you have any suggestions or advice (for or against), speak now or forever hold your peace...


I had to delete a couple entries from my Oscar Contest this morning. They all came from the same IP address and had the exact same answers, right down to the tiebreaker. If these were legitimate entries and I've deleted them in error, let me know and I'll reinstate you.

Saturday, March 1, 2003
| | |
| --- | --- |
| | [5] |
New Poll: I've been feeling conflicted over the "crafty" turn the site has taken in the last few months. I used to have a lot more "Random! Web! Links!" stuff, but nowadays I spent 40 hours a week at a job where I can't really surf. Do you mind? Do you roll your eyes whenever I start talking about knitting or marble magnets? Put my mind at ease (or tell me to shut up) with the poll down on the right...

| | |
| --- | --- |
| | [18] |

Cutest. Bag. Ever.
I've been obsessed with bags lately. (It offends my feminist pride to admit I carry a purse.) I keep accumulating them because I can never find the ideal one. I got a suede one recently that's damn near perfect, but every time I carry the thing it rains. Anyhoo, last night on the train home I had a flash of inspiration - why not use one of my now giant (courtesy of the diet) pairs of corduroys to make a bag? The result is before you. It's lined with a red bandanna and I appliqued felt hearts to the front. Isn't it cute? Read on to get the instructions and more pictures... [more...]

| | |
| --- | --- |
| | [17] |
Beware the Ides of March! It's two weeks until I officially enter my "late twenties". That sucks. I cannot possibly be four years from thirty. It's just... inconceivable.

archives
You can search through the archives by post keyword using the form on the left, or you can browse by month using the links at the bottom.
"Moblog" refers to posts and images posted directly from my mobile phone.

"PW Blog" refers to posts recovered from my very first weblog, which dealt with news related to my college dorm.