Friday, March 31, 2006
| | |
| --- | --- |
| | [1] |
Nice little article about Ramona Quimby. I wrote my Notre Dame admissions essay on why Ramona was my hero. Every time the Snook nags me about squeezing the toothpaste in the middle, I imagine squirting the whole tube out into the sink.

Thursday, March 30, 2006
| | |
| --- | --- |
| | [2] |
I was just finishing off the back shoulders of Rogue tonight when I came to the short-rows. Now I've done short-rows before on socks, so I started "wrapping and turning" without hesitation. Then I came to a row instructing me to knit across all stitches, "picking up and hiding wraps." Huh? That's puzzling. I've never seen the expression "hiding wraps" before. I've had patterns tell me to pick them up and knit them together with the wrapped stitch, but I wasn't sure if that's what the designer was indicating here. So I went searching. Thank goodness that Google indexes PDFs! This page from Interweave's Knitting Glossary explains it well. In fact, I also learned that my "wrapping and turning" was completely wrong! I've been taking the wool to the opposite side, slipping, putting the wool back, and then slipping the stitch back - but I should've been slipping, taking the wool to the opposite side, slipping, and then wrapping. I wonder what sort of a difference this is going to make to my short-row heeled socks in the future. Anyway, the back is officially done. I still think this thing looks small. I've stretched it around myself and it's going to be a snug fit! As if I needed more weightloss inspiration.

| | |
| --- | --- |
| | [1] |
An Interview with John C. McGinley. You may know him as one of the Bobs from Office Space, or as the one-and-only original sarcastic bastard doctor Perry Cox on Scrubs. (There, I said it. Suck it, House!)

Wednesday, March 29, 2006
| | |
| --- | --- |
| | [1] |
Snookums would like me to link to this video of a London busker performing Motörhead's "Ace of Spades" with a puppet army of Ken and Barbie dolls. No, I don't know where he finds this stuff.

| | |
| --- | --- |
| | [5] |
Greek Festival, Darling Harbour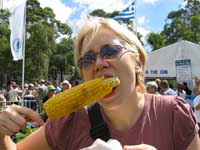 I can't believe I finally scooped Helen! On Sunday the Snook and I walked down to Darling Harbour to check out the big Greek Festival. It was beautiful and sunny and hot and crowded. We had some food and watched some dancers. I had a great time! (The Snook was less entranced: "I'm not emo; I just hate people." We saw that graffito once and it's become a catchphrase.) I even took my camera... [more...]

| | |
| --- | --- |
| | [3] |
RunningBlog: Another MILEstone
I just had a sudden realization. The path around Centennial Park is 3.7 kilometers, which equates to 2.29 miles. Last week with Albert pushing me I managed to finish it in 'round about 22 minutes... which means I ran a sub-ten-minute mile. Whoa! Remember back a few years ago when I was struggling to break 12:00? When the heck did this happen? I am so inspired I think I'm actually going to go the athletics field tonight and run on the track. I haven't run on a track since high school.

Later: Do you know how many laps around a track you have to run to run ten kilometers? TWENTY FRICKIN' FIVE. And I did it! My longest run in probably eleven years. Unfortunately I forgot my pedometer so I don't have an accurate time for it, but going by the watch of the drunk maintenance guy at the field, it took me about 65 minutes or so. And that, my friends, is excellent. I wasn't pushing too hard at all so I definitely think the 60 is achievable. There weren't a lot of other people at the field, and towards the end it was just me chugging around while a bunch of guys had soccer practice in the middle. At one point a ball came flying towards me and I picked it up. "I'm American!" I yelled apologetically. "I can't kick for shit!" So I tossed it back to them as they laughed. "You run good though!" one of them replied. I'm gettin' there, buddy.

| | |
| --- | --- |
| | [4] |
Ooh, this AskMetaFilter thread is going to make Amy foam at the mouth: apparently Merriam-Webster now believes that "literally" also means "virtually." It's like I can hear the ranting from all the way across the Harbour...

| | |
| --- | --- |
| | [4] |
AskMetaFilter tackles the issue of the best cat litter system. The Snook's actually become rather disillusioned with our LitterMaid. He thinks the tines don't go down far enough and thus you get a layer of stinky wee-soaked litter on the bottom. My issue with it is just that it's huge and she tracks litter everywhere. I'd like to reclaim our guest bathroom! Something like this might be the way to go. It's just that we've got so much invested in the damn LitterMaid - did I mentioned we lugged that thing back to Australia from Indiana? - that I can't bear to part with it. I wonder if I cleaned it up, would anybody buy one second-hand?

| | |
| --- | --- |
| | [2] |
Somewhere in Newtown there is Seth Cohen graffiti. I must find it.

Tuesday, March 28, 2006

Whoa! Now there's a positive. I've lost a total of 47 pounds... which, according to this calculator, would be worth nearly HALF A MILLION DOLLARS in gold. So I got that goin' for me.


DietBlog: I'm basically the same as I was two weeks ago. I'm trying very hard to see the positive in that.

Monday, March 27, 2006
| | |
| --- | --- |
| | [1] |
Random Knitting Pattern: Felted Fortune Cookies! I'm really just bookmarking this so I can remember it for the next Tapestry Craft newsletter. (Link courtesy of not martha.)

| | |
| --- | --- |
| | [2] |
Max has a great post about funny school mascot names. I think the Cornjerkers might be my favorite school nickname in history. I'm just sad they're not from Indiana!


Is anyone else really excited to see if Wal goes during tonight's Biggest Loser? No? Just me then? (They'd be fools not to vote him out.) I'm officially barracking for Kristy and Ruth to win it, though I think Kristy has a much bigger chance.

| | |
| --- | --- |
| | [1] |
How to Play Piano. EXCELLENT. The Snook and I have discussed getting him a keyboard for his birthday this year since he used to play piano when he was younger. I've always wished I could play myself... so I just may give this tutorial a go!


Huh? How did I not know that the World Pooh-Sticks Championship was on this weekend? I've won a few rounds of pooh-sticks myself, actually. (Oh my God. Those pictures are from when we were living in London. Look how fat I was! Or rather, don't.)


You know how when you're around somebody who's really sick, you kinda start to feel sick yourself? Leanne's got a vicious cold and I could feel my head start to ache just looking at her. Poor thing! We sent her ass home.

Sunday, March 26, 2006
| | |
| --- | --- |
| | [2] |
This Ask MetaFilter thread has given me lots of good ideas for additions to my running playlist.

Saturday, March 25, 2006
| | |
| --- | --- |
| | [2] |
Rogue Nervousness: I've been knitting like a fiend all week and I've finished the body up to the arm holes. I'm a little nervous. It looks so small! I know my measurements were good and that it's just that the cables are pulling in a lot, but it's weird to knit something for myself that isn't the size of a blanket. Also, the foldover stocking stitch hem I did seems to be curling up. Do you guys think it will block down flat? Claudia's looks so flat in the picture. Lastly, my row gauge was still coming out tighter - seven rows instead of six - so I worked out that I needed to add in another 14 rows to make the body the right length. Unfortunately the cable repeat is six rows... so I erred on the side of making it longer and went with three extra repeats. Now that I've finished it though... it looks like somehow I've managed to come out an inch-and-a-half too long! I'm going to leave it though. I've got plenty of yarn and I'm tall, so I'm going to trust that it'll work out in the end. I'll post a picture tomorrow.

| | |
| --- | --- |
| | [4] |
RunningBlog: Trail Note
Not to make this all "RunningBlog" or anything, but you will not believe what I did today. I ran two laps around Centennial Park - that's 7.6km - WITH MY HUSBAND. Yes, the Snook actually ran. Those of you who don't know him do not understand the magnitude of my surprise. I have known him for six years now, and I have never seen him run farther than half a block without complaining of heart palpitations. Turns out he's been holding out on me this whole time! It all started a few weeks ago when I suggested he come to the park with me and walk a lap or two, and he said he thought he should get some actual running shoes. Being a tight-arse, though, he wanted to go to Kmart and get $20 trainers. Since I really didn't see where this was going, I agreed. (He nearly chickened out at the last minute. "I'll have three pairs of shoes! I'm becoming a metrosexual!") That day at the park, I ran my lap while he walked behind me. Afterwards he confessed that he'd jogged about a fifth of a lap when no one was looking. So today he came along with me to ostensibly do some more walking. "Let's have a bit of a jog," I said, "and you tell me if you need to stop." And we did two laps! We stopped probably about every kilometer or so to take a quick walk break, but our total time for the two laps was a decent 53 minutes. He even pushed me a bit since his natural pace is a little bit faster than mine. I just still can't quite believe it. "You're caught out now," I said. "You're going to have to do this all the time!" "I suppose," he said. "We're going to become those people." I guess we are. I finally have a running buddy. SQUEEEEEE!



And yes, the first thing on the To Do list is to get him some better shoes.



Friday, March 24, 2006
| | |
| --- | --- |
| | [3] |
RunningBlog: Trail Note
As I ran up Wilson Street to Newtown early this morning, watching the sun rise and chase away the storm clouds, I decided to declare last week's diet funk officially BUSTED. I feel really great. I ran two laps around Centennial Park Wednesday night and cut a minute or so off my time. (Albert pushed me to a faster pace than normal on the first lap, which made up for my very slow jog on the second.) Last night I went to boxing class and worked up such a sweat that I actually made the mat slippery. (Note to self: Find terrycloth sweatband.) Then this morning I had a great little forty minute jog up to Newtown and back. I'm eating well and tracking my Points again. I guess the lesson to be learned is that occasional lapses are totally okay, but that my body can't handle prolonged periods of rich food and drink like it used to. I was seriously out of it for four days.

| | |
| --- | --- |
| | [3] |
Hey Aunt Deb, aren't we supposed to be 1/32 Native American or something? Which tribe are we? I hope it's the Sioux. They rock. (*wondering how one donates money to a tribe*)

Wednesday, March 22, 2006

CouchCam is currently SvenCam, thanks to a mischievous Snook who didn't want people watching him while he was home sick. So now you get to watch me make frightful faces as Sven's revolving shiatsu hands make it all better...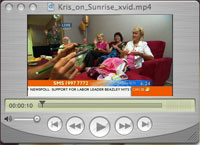 At long last, I have the footage you've all been waiting to see: me and the ladies from the Knitter's Guild rockin' it on Sunrise. It's a fairly big file (about 10MB) and you may have to download the whole thing before it plays. Yeah, we're like postage-stamp-size and the sound isn't perfectly synced, but you get the idea. You can see all four clips from when they cut to us, including the final one where I get to sit next to Kochie. A massive thank you to Snookums for the editing and encoding! Here it is...

Addendum: Ack! I just tested it and noticed that - on my iMac, at least - when I click the link I get a page of gobbledygook. Right-click and Save As, however, works fine. So do that if you have any trouble.

| | |
| --- | --- |
| | [4] |
An Unpaid Endorsement
I have a new lunchtime addiction: Vermicelli's rice paper rolls. They just opened around the corner this week and they're great! I've had the lunch special twice now, and my favorites would have to be the Sesame Beef rolls (they taste like bulgogi!) and the Portuguese Chicken salad. My only regret is they don't have any nutrition information so I can accurately add up my Points. (I'm going to count them as slightly higher than the Sumo rolls, since they seem to have more meat.)

| | |
| --- | --- |
| | [6] |
RunningBlog: Learning How to Run. Yeah, I need to go for a run tonight. Unfortunately my birthday dinner triggered a weeklong food depression in which I'm still mired. I've been really tired for days - like, sleepy tired - and I'm stuffing my face with carbs. I haven't even bothered tracking my Points. This is BAD, y'all. I know in my brain that all the rich food I had last week was the culprit, yet I'm still having trouble snapping out of this. (Needless to say, I didn't weigh in last night.) Anybody have any words of wisdom for nipping a shame spiral in the bud? (Running link courtesy of Brigita.)

Tuesday, March 21, 2006

Dudes! Shhh... The new Rowan magazine is here! Some of the patterns are freakin' weird though. For example, what, pray tell, is the knitted item in this picture? (It's that stupid armband.) And I just feel really sorry for this poor male model. (He probably thought he was going to be all Blue Steel, but instead he's more Derelicte.)


Need a laugh? Someone asks MetaFilter for the funniest jokes that don't involve making fun of anyone. They tend towards puns and wordplay, but there are some real gems in there. I like the one with the big horse and the little horse. Oh, and the Snoop Dogg jokes. I am a sucker for Snoop Dogg jokes.

| | |
| --- | --- |
| | [6] |
On a whim, I bought some KiwiBerries at the grocery store this morning and they're currently ripening on my desk. Does anybody know how to eat these? Do I just chew them up, skin and all?

Monday, March 20, 2006
| | |
| --- | --- |
| | [2] |
I have had a really busy non-busy weekend. (Busy in the sense that I felt like I was on the go constantly; non-busy in the sense that I feel like I got absolutely nothing accomplished.) Friday was St. Paddy's Day so we headed over to the Papists' for some beer and truly excellent Irish stew. (Seriously, Major, I want the recipe.) Saturday morning I was off to Newtown for my quarterly Depo injection, at which time I realized that my new Pommy doctor is actually Sir Bob Geldof. Sir Bob wants me to have a bone density scan to make sure I'm not losing calcium from the hormones. Whatever, Bob. I also met up with Miss Jane, who lent me Miss Fee's knitting swift and ball winder. The Snook and I then had a lot of fun figuring it out so I could turn my five skeins of Harmony (color 801 Natural) into five beautiful center-pull balls. In the afternoon I was back to Newtown for SSK where I completed my gauge swatch for Rogue. Later that night I also experimented with different knitted hems. I like the twisted stitch hem the pattern recommends, but I quickly realized it wasn't going to work with cardiganizing the pattern (since the hem lies on the bias rather than flat). So I tried a few widths of stocking stitch and then knitting my cast-on edge up into a tube, which seems to work well. I went with eight rows and I think it's going to look nice. I also tried out one of the side cable panels just to make sure I was understanding the symbols right. Then I actually washed my swatches and laid them out to dry. (I know! Who does that?) Checking in the morning, I'm still a tiny bit tighter than the pattern suggests - I get more like 4.75 than 4.5 stitches per inch - but I'm not knitting it any looser. It'll block to the right size. I did manage to go on a run Sunday, thank God, because Sunday night ended up being an orgy of consumption. One of Rodd's cousins (well, kinda) got married and we attended the reception in Pyrmont. It was the biggest, funnest, most ostentatiously Italian gathering I've ever been to. We drank ridiculous amounts of wine and danced to "That's Amore!" I ate everything - in a good way. I mean that I tried absolutely everything they put in front of me. Anchovies, olives, mussels, oysters (natural and kilpatrick), nonnata (which, since I now know what it is: *shudder*!), prawns, ocean trout, EVERYTHING. As I said to Ma Snook at one point, "Did you ever think that the girl who cried because you tricked her into eating yabbie paté would be eating this stuff?" (She maintains that there was no deception involved.)

So diet-wise, yeah... It's not going to be a good week. But I just need to write it off and get back to work, right?

Friday, March 17, 2006
| | |
| --- | --- |
| | [4] |
Well, I bought the Rogue pattern. Jeez, it looks hard! The fact that it's going to be such a challenge makes me feel less like I'm jumping on a bandwagon. Now I just have to figure out what size to make. I just measured my bust and got 39". The pattern suggests an ease of 2-4". My options are the finished bust size of 39" or 43.5". I'm almost thinking I should go the 39". The 43.5" would be a little baggy on me right now as it is, and I figure my bust is only going to shrink as I lose these last couple of kilos. I could easily lose another inch or two off that measurement. Besides, every sweater I've knit for myself has come out enormous. It's time that I actually knit something fitted. Thoughts?

Thursday, March 16, 2006
| | |
| --- | --- |
| | [3] |
After work tonight the Snook and I headed over to DJ's to pick up my birthday present. The way I figure, this thing will pay for itself after ten massages (given what I pay the Chinese lady). We've got it strapped to the chair just to the right of CouchCam. We're taking it in fifteen minute turns and it's fantastic. I'm never leaving the house again!


Yay! TelevisionWithoutPity have finally added an official Scrubs forum. I love Scrubs. The thread of favorite quotes is especially good, and it includes Rodd's and my all-time favorite: "Hey, champ! What has two thumbs and doesn't give a crap? [holds up thumbs, pointing in at self] Bob Kelso. How ya doin'."

| | |
| --- | --- |
| | [6] |
I guess the news should be trickling down through the non-Internet savvy members of my family by now, so it should be safe to let the cat out of the bag: My sister's having a baby! She's one of the first of our generation so it's a pretty big deal. Everybody's freaking out. :)

Wednesday, March 15, 2006

Google in 20 Years. That made me guffaw. (Link courtesy of John.)

| | |
| --- | --- |
| | [2] |
Birthday Dinner
The Snook kept our dinner destination a secret to the very end, helped enormously by my ignorance of Sydney geography. I knew we were going to Randwick... to Belmore Road... and then suddenly we pulled up to Restaurant Balzac. "Oh!" I said. "I know this place!" It was an inspired choice. After our last fancy dinner, I was looking for real food cooked exceptionally well, and that happens to be Matthew Kemp's forte. We seriously considered the degustation, but frankly there were too many good things on the a la carte menu that just weren't included. (Our menu was slightly different from the one posted.) I was also feeling adventurous. (This is probably fodder for a whole 'nother post, but I've been reading Jeffrey Steingarten and I've decided to GET OVER my food phobias because they're silly.) So in the end I had the "Wagyu Minute Steak with Café De Paris Butter, Gnocchi, Sweetbreads and Snails," followed by the "Risotto with Fresh Truffle." The Snook had the "Raviolo of Braised Quail and Chestnuts with Roasted Breast, Bacon and Sage" followed by pork neck (not listed) with "Boudin Noir, Pumpkin, and Brussel Sprouts." Everything was fantastic. I'm serious; this was one of the best meals I've had in Sydney. My starter - including the snails and sweetbreads, of which I'm pretty sure I had both pancreas and thymus - was incredibly moreish, all caramelized meats and yummy carnivorousness. (I ate offal and I enjoyed it! Mr. Steingarten should be proud.) My truffle risotto... Well, to be honest when I read that truffle risotto was available, I envisioned the most delicious idealized truffle risotto ever, and quickly realized that it was not likely to live up to my expectations. I was wrong. I don't even have the words to describe how good it was. There's probably a German word of seventeen syllables that means "something that unexpectedly lives up to expectations you didn't even think possibly could be realized." It was that good, and it was a generous portion. (Goodbye, BMI!) The Snook and I were, of course, trading tastes of each other's dishes, and his were just as good. Before our official dessert - bread and butter pudding for me, chocolate fondant for the Snook - they brought us a taster of Rhubarb Eton Mess that actually BROUGHT TEARS TO MY EYES. Is there anything better than crumbled meringue and real, heavy whipped cream? No, there is not. The service all night was excellent, not least because they brought my dessert with a birthday candle in it. We polished off a bottle of Penfolds Bin 128 Shiraz (courtesy of Toast - thank you sir!) along with dessert wine and a gin & tonic each... which explains the clumsy and disjointed nature of this review. Suffice it to say that while Tetsuya's was the height of modern art, Restaurant Balzac (courtesy of Matthew Kemp) was a damn fine meal. I can't wait to go back.

| | |
| --- | --- |
| | [5] |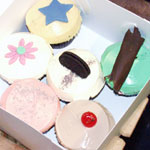 Birthday Cupcakes!
So much for the healthy BMI rating. I picked these up this morning at Cupcakes on Pitt and brought them into work for the staff. There was much rejoicing. I had the one with the Oreo on top. *grin* Sooooo good. Much lighter than I expected, both the cake and the icing. I recommend them!

| | |
| --- | --- |
| | [4] |
I am such a sheep. I can have zero inclination to knit a particular garment, but as soon as I hear it mentioned in a podcast I just have to make it. (See Clapotis.) The latest one to catch my attention is the Rogue Hoodie, which everybody in the world made ages ago. I was like, "Eh, that's nice," and I admired the one Crumpet knit, but I didn't feel any particular compulsion to make it. Recently I've been catching up with the back-episodes of Cast-On though, and in episode five Brenda talks about making Rogue and how much she loves the pattern. And suddenly I found myself tossing up between 10plys to knit it in. *sigh* How predictable. Anyway, I'm seriously thinking about this gorgeous new New Zealand merino we just got in the shop. Am I insane? I know it'll probably be too warm to wear for ten months of the year... and maybe I'm just being too much of a sheep... but I just can't stop looking at those cables. My dalliance with fairisle has been forgotten with the re-emergence of my cable addiction. Does anybody want to try to talk me into/out of this?

| | |
| --- | --- |
| | [2] |
Crocheted scarves that look like food. Those are absolutely brilliant! My favorite is the Bomb Pop; I may have to attempt a recreation in knitting. I wonder what it is about crochet that inspires so many of its practitioners to create food-related items... (Link via Pop Culture Junk Mail.)


Ewww. For the record, me and my hair would never kiss Darth Vader.

| | |
| --- | --- |
| | [14] |
Beware the Ides of March! Yep, it's my birthday. I'm now the same age as my Grandma!

Tuesday, March 14, 2006
| | |
| --- | --- |
| | [8] |
DietBlog: It's a damn small world
My brain is still reeling. At Weight Watchers tonight I met Ken, the husband of our new leader Barbara. He was filling in as weigher. While chatting I found out that he's actually an American... from Indiana... from Goshen... and grew up three doors down from where my Dad lives now. I nearly fell over. HOW RANDOM IS THAT? I feel like I'm going to discover the Infinite Improbability Drive in the bottom of my sock drawer or something. Next week I fully expect Ken to tell me we're related. It's just too, too weird.

Anyway, all Twilight Zone-ishness aside, I have an important announcement to make: I am not fat anymore. Did everybody hear that? I AM OFFICIALLY NOT OVERWEIGHT. I lost another 900g to bring me down to 78.5, which gives me a BMI of 24.8 - and that is just this side of normal. Normal! I really don't think I'm processing this at the moment. I turn 29 years old tomorrow... and I'm not overweight. Those facts just can't be right, can they?

| | |
| --- | --- |
| | [3] |
Oh no. I just discovered that Television Without Pity has posted a recap of my most horrific childhood memory, also known as "that episode of Little House where Ma gets an infection and almost amputates her own leg." I watched it once when I was, like, 8, and it has haunted my nightmares ever since. I'm not kidding. I haven't even been able to bring myself to read past the first page of the recap. And I wasn't even a regular Little House viewer!

| | |
| --- | --- |
| | [3] |
The Snook hasn't gotten his kegerator plumbing fully operational yet, but maybe this story will give him some inspiration. (No, I am not suggesting you make beer come out the faucets, dear...)

| | |
| --- | --- |
| | [5] |
Moblog: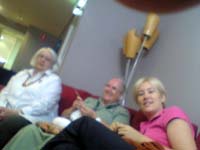 Sunrise
Well, there we are... (minus Miss Fee, of course, who is taking the picture). As soon as we arrived this morning they told us that they weren't going to be able to chat with us after all, due to time constraints. Getting bumped is now the story of my media career! (I suppose it's to be expected given that my appearances usually fall under the category of "human interest" stories, aka "filler.") So they stuck us in the same little room where we knitted with Nuala and cut back to us several times throughout the show. Apparently Mel and Kochie were arguing with the producers the whole time about coming up to see us, and eventually the "talent" won out. I got to sit next to Kochie! He really is a giant. (And no, he didn't tell me about his Wednesday night adventures, Robert.) And that's basically it. Oh, but that bit where they were marveling at the person knitting the "tube"? That was me, working on the Snook's next sweater. So it ended up being pretty boring in the end, but we'll see if we can't get some video up for those of you who missed it...

Update: The Snook just sent me an awesome screengrab. I actually look really good! It's so weird; that's not what I thought I looked like at all. I'd only glanced at the monitor and I think my brain filled in the details with my old self-image. That's AWESOME. And man, I should get a commission for advertising those Crocs!
Monday, March 13, 2006
| | |
| --- | --- |
| | [2] |
This is for all those Domers who need to come out of the closet...

| | |
| --- | --- |
| | [3] |
The Snook is a bit anal about rinsing all the cans and jars we intend to recycle. I'm lazy so I'm not. Turns out that it doesn't really matter, so I win!

| | |
| --- | --- |
| | [11] |
The Kris Howard Media Onslaught Continues
We just got a call from Channel 7, and apparently they need someone to go on Sunrise tomorrow to teach the anchor Mel how to knit. Guess who got the job? I hope I'm skinny enough for the morning show! (If any other Sydneysiders are interested in joining me, they need more people knitting in the background. Of course, you'd have to get up at the butt-crack of dawn...)

Sunday, March 12, 2006

Huh. The US has begin issuing biometric passports with RFID chips. I wonder if this is why it's taking so long for my family to get theirs. Looks like the Garbericks are at the forefront of the global war on terra!


This is officially Post #5555. Thank you.

| | |
| --- | --- |
| | [2] |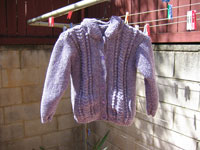 Marianne's cardigan is finished!
And it only took me two months longer than I expected. *sigh* Of course, that's to be expected when you completely change patterns halfway through. After struggling through a fairisle cardy of my own design, I shelved that WIP in favor of something I could actually finish in time for Marianne to get some use out of it. This little hooded, cabled cardigan is my second project from Sirdar's Denim Book of Aran Knits, and it's knitted out of Denim Sport Aran (in "Purple Heather," which has since been discontinued, I think). For once I didn't bother with altering the pattern to knit it in the round, or make it longer, or switch anything around. Instead I just cast on and did exactly what the damn thing said. I was a little worried about the sad state of my mattress stitch, but luckily since I was mostly sewing moss stitch to moss stitch, you can't even tell where it's wonky. I made an excursion to All Buttons Great and Small yesterday for the buttons. Isn't it cute? This was my first experience with both pockets and a hood, and I'm really proud of how well it turned out. I hope Marianne's Mom and Dad like it! (Note: I deliberately knitted it two sizes too big. I figured she'd grown a bit since the last measurements I had - which were six months old by now - and this way she'll hopefully get to wear it next year too.)

Saturday, March 11, 2006
| | |
| --- | --- |
| | [2] |
RunningBlog: Trail Note
The Dove is trying to get me to think about "cycles" in my workouts, such as cycling between easy days, medium days, and real tough grueling days. Then there are larger cycles, like easy weeks and hard weeks. I get the concept, but I'm having a little difficulty with the execution. Having an "easy" week feels too much like I'm slacking off. So I've settled for having "different" weeks. Last week was quite focussed on running, with two long runs to Centennial Park. This week I'm doing shorter runs but more kickboxing and strength work. I'm also working in more fartlek this week, doing sprints and generally just running faster when I can. It keeps me interested. I did my Pyrmont-to-Glebe run today in forty-five minutes, but since that includes the time I spent waiting at stoplights I figure I've definitely cut a few minutes off that route. I don't feel like my pace is so glacial anymore. I think I'm finally seeing some real improvement!

I still have my mental setbacks though. Last night I ran up through Newtown to the top of Enmore Road, and on my way back I passed one of the guys from my WW group. We shared a wave and I sort of sheepishly said, "I'm being good tonight!" And he was all laughing, like "I'm not!" And so afterwards for like ten minutes, I was trying to think of excuses I could give him at the next meeting for why I was working out, stuff like "I'm saving up Points for my birthday" or "I'm trying to meet a weight deadline" or something. But then I realized that's bullshit. Why am I making excuses for doing stuff that's good for me? It's like I morphed back into my high school self, trying to shrug off my good grades and going to pains to explain to the other kids that I hadn't, like, studied or anything. Because it's obviously not cool to TRY for anything. But how else are you supposed to lose weight? It's not like it's some magical process where it just melts away if you wish hard enough. So I decided that I'm through making apologies for trying to improve myself. That's just stupid.

Oh, but get this - I was talking to my Dad on the phone today and he asked me what my weight was in pounds, so I worked it out for him. Later I had this nagging feeling that I had missed something big... and then it hit me. For the first time in, like, ten years, I actually weigh LESS than the amount listed on my driver's license. For real! That number used to be my *wink wink, nudge nudge* "Oh, sure you weigh 180, riiiight..." and now I'm actually below it! I am very proud of that.

Friday, March 10, 2006
| | |
| --- | --- |
| | [3] |
For some reason I'm all about new products today. It's Friday and I feel like shopping! Anyhoo, check out thefoodloop. I definitely think the Snook needs some of those for his next birthday. He's a big fan of making elaborate stuffed roasts, and somehow I always end up holding massive pieces of meat together while he curses at useless kitchen twine. Plus we're suckers for kitchen gadgets.


Presenting The Slanket, the "Best Blanket Ever." My first thought was that it was a brilliant idea, and it really is the best blanket ever. But the more I looked at the site, the more perplexed I got. What exactly is it? They never really show you a picture of just the Slanket so you can see how it's constructed. I assume this is because A) fleece is really cheap and easy to sew and you could just make your own, and B) you'd notice that you could achieve the same result for nothing simply by wearing your dressing gown back-to-front. (Link courtesy of Pop Culture Junk Mail.)


Wait. You mean it's actually still possible to launch a "humorous" petition and get featured in an internationally-syndicated news story? What is this, 1996?

Thursday, March 9, 2006
| | |
| --- | --- |
| | [2] |
Damn. It. Sold out. I need to be quicker at these things!

| | |
| --- | --- |
| | [11] |
Dr. Amy Jones: 1, Absolute Domestics: 0
Me: Hi, I had a message to call you regarding our cleaner, Nurgul.
Her: Yes... Nurgul contacted us this morning. Now, I understand you have a cat.
Me: Yes. Oh God, did she get out? Is she lost or something?
Her: No. Your cat is making Nurgul anxious.
Me: What? Anxious?
Her: Yes. She's sent the job back to us to find you a new cleaner.
Me: That's so weird. She's really skittish, I swear!
Her: *laughing* Well, she must have done something to scare off Nurgul!
Me: That little shit...

So yeah, Nurgul lasted all of ONE visit. I even made sure to let them know ahead of time that we had a cat (so we didn't get a cleaner who's allergic or anything), so it's not like it was a surprise. I wonder what the hell the little monster did.

| | |
| --- | --- |
| | [3] |
An Experiment
This week dozens of "Absolut Kravitz" posters popped up in Sydney. I noticed several of them on my way to work Monday. They show Lenny Kravitz with a headphone cord wrapped around him, and there's a line of text at the bottom with a website address. It was only as I was passing my third or fourth one that I realized that a few of them - notably not the ones on the automatic rollers - actually have three little headphone jacks built in. "Huh," I thought. "I wonder if there's actually an mp3 player in there or something." So on my way home last night, I decided to pay the price of looking foolish and assuage my curiosity. I unplugged the iPod and plugged in. They do play music! All three seem to be playing the same song. I wonder how they do that. Must have cost them a bundle. But anyway, Sydneysiders now apparently have a free source of Kravitz should they feel the need to rock out in the middle of the footpath.

Wednesday, March 8, 2006
| | |
| --- | --- |
| | [4] |
Wow. I just found a helpful script that will create an iTunes playlist for you with the songs truncated to specific times so when you're doing your running workout, you know when your run/walk intervals end. How cool is that? Too bad it's only for friggin' Windows.

Tuesday, March 7, 2006
| | |
| --- | --- |
| | [9] |
DietBlog: As I stood in line at Weight Watchers tonight, I started mentally composing a post about the dreaded "P" word - "plateau" - and how I was going to try to stay positive, even though my weight loss had stalled. I mean, I felt tired and bloaty, and the scale at home didn't seem to be moving much, and I just knew that it was going to be another teeny loss. So I handed over my Passport and stepped on the scales...

Me: WAIT. IS THAT A SEVEN? DID YOU JUST START WITH A SEVEN?
Weigher: Can you stay still please?
Me: OH MY GOD, IT'S A SEVEN. YOU'RE KIDDING ME!

It's official, folks! It was the most beautiful seven in the world. It was Seven Costanza. It was amazing. And you know what the seven means? It means I have lost over twenty kilograms. (20.7 to be exact, which is about 45.5lbs.) I have left the eighties behind and I'm in the Land of Sevens. I still can't really believe it. It hasn't sunk in. After basically staying the same last week, I dropped 1.4kg this week. Who's the Biggest Loser? Kris is the Biggest Loser!

After the meeting I talked with our new leader Barbara about setting my official goal weight. She recommends I set it for the top of my weight range - that's 78kg; only 1.4kg to go til I'm not fat! - simply because as long as I stay under that number, I get my meetings for free. So once I hit 78, I'm starting the Maintenance phase. I can still keep on losing though; I'm thinking 75 looks like a nice round number. I just can't believe it. One week before my 29th birthday... and somehow the future seems a lot brighter!

| | |
| --- | --- |
| | [7] |
Moblog: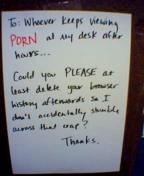 I really shouldn't have to say this.
I've had all I can stand, and I can't stands no more!

Later: Oh, good grief. My browser history is riddled with this stuff. I'm about *thisclose* to naming and shaming, people!

Monday, March 6, 2006

While sending a parcel to a customer today, I discovered that Queensland has a Dawson Creek. It's just like on TV! Except instead of giant-foreheaded self-absorbed teenagers, it's full of man-eating saltwater crocodiles.

| | |
| --- | --- |
| | [20] |
Oscar Contest 2006
That's it folks; entries have officially closed! You can follow along and see how well you did here. We ended up with 597 entries in total! Good luck...



Can those of you with TiVo leave a comment with the number of dead people? Thanks.



Later: Clooney? Well, that was a little unexpected.

Later still: Dude! "It's Hard Out Here for a Pimp"?! Now that broke the deadlock.

Much later: It looks like we have a winner! In sole first place with ALL TWELVE CORRECT is Craig, who put his entry in a mere ten minutes before the show started. (Which sounds dodgy, I know, but as far as I can tell he's legit.) So congratulations, Craig! You'll be getting an e-mail from me shortly. Thanks to everyone who played along this year. You may now commence grumbling about Crash winning Best Picture...

| | |
| --- | --- |
| | [4] |
I poached an egg for my breakfast this morning... in the microwave! I've never done that before. A bit of quick Googling was all it took. I put a bit of water in a cappucino mug (something smaller would've been better), then gently cracked my egg into it. I used a skewer to poke the yolk a few times so it wouldn't explode. (It doesn't leak out though, and the resulting yolk was still nicely runny). Then I covered it with cling film and nuked it at 60% power for forty-five seconds, and then continued checking it in fifteen second intervals. Ninety seconds seemed to be about perfect. Yum!

Sunday, March 5, 2006
| | |
| --- | --- |
| | [1] |
How do ingenious - or not-so-ingenious - students cheat? AskMetaFilter tackles the problem. My own contribution is courtesy of someone who actually comments here occasionally! :)

Saturday, March 4, 2006
| | |
| --- | --- |
| | [5] |
RunningBlog: Trail Note
As today is one of my "hard" days - the Dove has me cycling my workouts between easy, medium, and hard - I told the Snook to put on his walkin' shoes. We headed out towards Centennial Park. The sun was coming out and people were already turning up for the Mardi Gras after-party at Fox Studios. We made it to the Park in 45 minutes flat. Then I planted him on a bench with a Baker's Delight Cheesymite Scroll and The League of Extraordinary Gentlemen while I hit the jogging track. I noticed that I was definitely fresher and faster today, and I finished the 3.7km loop in just over 24 minutes (cutting two minutes off my usual time). After a quick stop for a sip of water, I started slogging my way through a second lap. I was definitely slower here, but I wasn't hurting and I actually felt like I could run a fair way. I jogged about half of it and then decided I might as well do some Fartlek. Repeatedly I picked out a spot way ahead of me and then sprinted as fast as I could til I reached it. Then I'd walk and wheeze and puff like a freight train, scaring all the adorable children out on their training wheel bikes. It felt really good though. I finished the second lap in 26 minutes, which put me on pace for finishing the 10K in 67 minutes. Not bad! Ideally I'd like to do it in sixty minutes when I run it in a few months. Do you guys think that's doable? I feel like it's totally reachable. I am encouraged. Afterwards we walked home again, which means that I earned - no joke - like 11 extra Bonus Points today. (I really, really want to get down to 80kg this week!)

Friday, March 3, 2006

The Rags: Paraphernalia of Menstruation. I was just idly reading through this very interesting online exhibit (courtesy of the Powerhouse Museum) when I was amused by the sight of Newtown graffiti on one page.

| | |
| --- | --- |
| | [1] |
Oscar Contest Update: Wow, the entries have really been pouring in these last few days. If you haven't entered yet, you're really cutting it close! Go on, make your picks. During the actual show, I'll be following along on the Internet and updating the winners. You'll be able to see a live tallyboard here that shows everyone's scores. (Man, I'm really counting on Supporting Actor, Foreign Film, and Song to break up all the ties!) As with the past few years, I'll need some of you TiVo viewers to volunteer to count the dead people for me in the annual obituary montage. Pretty please?

Oh, and as for enforcing the rules, I just went through and discovered about a dozen people had entered more than once. A few were obviously just due to hitting the submit button twice, but there were several where the person had revised their entry a few weeks afterwards. I figured since the rules clearly state you only get one shot, I was justified in deleting their later entry. (Just in case you were wondering why you might not do as well as you're expecting, cheaters!)

| | |
| --- | --- |
| | [1] |
Whoa. But will they have frickin' laser beams on their frickin' heads?


Timeline of a Very Bad Day:

8:15 - Woke up an hour late because someone forgot to set the alarm.

10:00 - Accidentally deleted a significant chunk of the products on the shop website.

10:05 - Discovered that Danny's backup system was more, um, "hypothetical" than, say, "existing."

10:10 - Sent e-mail to website host praying they have a recent backup.

10:30 - And this is the WORST. My knitting nemesis - the old lady who runs the clinic in the shop - stopped me on her way downstairs. "I really like your hair," she said. "Oh, thanks!" I said. "It looks much nicer," she added over her shoulder. UM, EXCUSE ME? That is the most backhanded "compliment" I've ever gotten in my life.

Next I fully expect to get hit by a bus.

Thursday, March 2, 2006

I, too, always wondered about the ending of Caddyshack...


MetaFilter has a post about John Howard's anniversary of 10 years in power today. It's pretty depressing, except for the hilarious insults people keep leveling at him.

| | |
| --- | --- |
| | [6] |
If you saw a strange person on CouchCam this morning, that was our new cleaner Nurgul! She's Mongolian. (Why does "Nurgul" remind me of Garfield? Wasn't the cute kitten named that?) I'm excited to see what she did. I was there for the first bit, showing her around and doing last minute tidying. (Yeah, we cleaned for the cleaner. But mostly it was just piling up the important stuff so she knew what she could safely chuck.) It's really weird leaving a stranger in your house. I was also having middle class guilt over paying an immigrant to clean my house, til I remembered that she's getting the same per hour rate I am. *sigh* I'm in the wrong business.

Wednesday, March 1, 2006
| | |
| --- | --- |
| | [5] |
RunningBlog: Trail Note
"I've got a fever... and the prescription is MORE COWBELL!" I did another long run tonight (as mentioned below), all the way to Centennial Park, around the jogging track, and back home. My time on the track was exactly the same as last week - 26 minutes. I felt a lot better this time though. My breathing wasn't as labored; I was going slow but I felt like I could go on forever. The best part of these long runs is that I finally get to hear the ends of Max's mixes! There I was chugging along tonight to this vaguely Latin sounding percussive mix, when a light bulb went off in my head and I nearly fell over laughing as I realized what the voice was singing over and over. (It was the aforementioned line about cowbell.) Well done, Max. And well done me!

| | |
| --- | --- |
| | [1] |
Oh, please let it be true! Please please please let it be true! Is Showtime even available in Australia? I'd even get cable, just to thank them if it's true. (Link courtesy of fellow Bluth lover, Amy.)


Can I just say: what with my new trousers and all I am doin' this haircut a hell of a lot more justice than Sienna Miller is. PUT ON SOME PANTS, WOMAN!

| | |
| --- | --- |
| | [4] |
Oh dear god. I just ran for an hour-and-a-half and I'm sore enough as it is. I don't need to see what I just put my boobs through! *shudder* That is disturbing.

Later: Actually, what's more disturbing is the Snook's reaction to these bouncing breasts: "You know, this Flash technique they're using is really interesting, because Flash doesn't really have a way to process images to distort them on the fly, so..." And it became a whole discussion. Surprising.

| | |
| --- | --- |
| | [3] |
Boing Boing's been doing this thing lately where people send in transit maps from various cities with all the names replaced with anagrams. It was only a matter of time before somebody did Sydney. So, where do you live? I used to catch the train every morning from Wont New to What Noll, back when I worked near Wry Steed. And hey, there's Rob and Amy's place in Roman Rat!

| | |
| --- | --- |
| | [3] |
Ten seconds after the Snook got off the bus this morning I had to ring him to tell him that apparently Aragorn is in town. Wow, Viggo Down Under. I bet he's going to write some wonderful poetry after he gets home.

archives
You can search through the archives by post keyword using the form on the left, or you can browse by month using the links at the bottom.
"Moblog" refers to posts and images posted directly from my mobile phone.

"PW Blog" refers to posts recovered from my very first weblog, which dealt with news related to my college dorm.