Saturday, March 31, 2007
| | |
| --- | --- |
| | [1] |
I knew you could cut up grocery bags and knit with them... but I'd never have guessed someone would make an entire 1950's outfit. Wow.

Friday, March 30, 2007
| | |
| --- | --- |
| | [11] |
Who's that? Oh, it's me and friggin' Kim and Kelly Deal, that's who!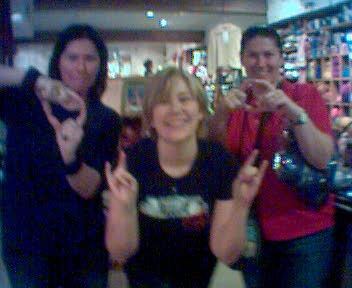 So I was in the knitting shop, and this American-sounding chick came in looking for wool. So I helped her pick out some stuff, and she was soon joined by another chick... who looked just like her. "Are you guys--?" I asked. "Yep, twins," they said. They were here for more than an hour - in fact, they're still here - and I chatted to them off-and-on, completely oblivious. "Where are you guys from? Oh, Ohio? Yeah, I'm a Hoosier. I hope you're not Ohio State fans." "Go Buckeyes!" they said. After a while, I headed in to the office to call our warehouse guy. As I was on the phone with him, Lissa came in with a wild look in her eyes. She grabbed a pen and proceeded to write "KIM DEAL" in front of me. "NO F**KING WAY." I can't believe I missed it. I went back out and proceeded to be the lamest fangirl ever, and they kindly submitted to this ultra-crappy mobile phone picture for me. (Why I didn't take the megapixel shop camera on my desk, I have no idea.) They're making OSU signs, in case you're wondering. So yeah, today I got to meet my 16-year-old alternateen heroes. What a day, huh?

For the clueless, the Deal sisters were in two of the seminal alternative rock bands of the late 80's and early 90's: the Pixies and the Breeders. The Pixies have reformed and are currently touring, and apparently they're doing a show in Sydney tomorrow night. I was more of a Breeders fan, ever since I caught the video for "Cannonball" on an episode of 120 Minutes. "Last Splash" was on constant rotation in my car from the day I got it. I have a prized-but-ratty Breeders T-shirt at home that I bought at Tower Records when I was 16 and have worn ever since. How cool is that?

| | |
| --- | --- |
| | [7] |
No Ribbon For Me
Hey, it looks like the Easter Show winners have been posted! And I didn't win anything. Judging by my level of disappointment, apparently I secretly cared a lot more than I told everyone I did. :(

Update: Holy crap! Veronica got a first place! Way to go, Veronica! At least somebody I know won something.

| | |
| --- | --- |
| | [1] |
It appears that our washing machine has been fixed. Phew! I was really dreading having to carry a backpack of dirty clothes home, like some lazyass college student.

Thursday, March 29, 2007

So it looks like The Chaser scored a record rating for last night's show, and in usual web-goddess fashion, I am prepared to take all the credit for it. Hey, I sat in that stupid booth for, like, three hours!

| | |
| --- | --- |
| | [3] |
Citibank = Spammers
How annoying is this? I was just out in the knitting shop helping a customer, when this young guy and chick walk in. They're wearing matching Citibank lanyards so I figure they've come over from a meeting or something.

Me: What can I help you with?
Guy: We're just going around to all the businesses in the area let you know about our great low interest rates--
Me: I'm sorry, what?
Guy: We got a great new low interest rate going.
Me: *blank stare* For what, loans?
Guy: Yes.
Me: You're in here... during the work day... offering me a loan?
Guy: We're just going to everyone on this street--
Me: I'm sorry; we're working in a knitting shop. We're not interested in loans.
Guy: But--
Me: And I personally make it a policy not to respond to unsolicited commercial... SPAM.
Chick: What part of America are you from? *smarmy grin*
Me: Uh, Indiana.
Chick: Do they have a lot of marketing over there?
Me: I wouldn't know. I've been here for five years.
Guy: When is the business owner available?
Me: He's upstairs right now. SERVING CUSTOMERS.
Guy: We'll come back later.
Me: You can try your luck, but I doubt it'll work...

Spam. People spam. How is this different from cold calling? It's even more confrontational since it's IN MY FACE. (And of course, there's no National "Do Not Pester Me in Person" Registry.) It's annoying enough to get off the bus at Town Hall and have to run the gauntlet of chuggers and beggars; I don't need marketroids following me into the workplace. And what's up with asking where I come from? It's like she was suggesting that only Americans would find their tactics objectionable. WHATEVER. I should send in a complaint.

| | |
| --- | --- |
| | [2] |
DIY Peeps. *shudder*

| | |
| --- | --- |
| | [3] |
The cover art for Harry Potter and the Deathly Hallows has been revealed! I have to say, the US cover is about ten times better than the British one. The latter looks like a freakin' Pratchett book. [more...]

Wednesday, March 28, 2007
| | |
| --- | --- |
| | [2] |
For those that taped The Chaser tonight, the best shot of us came right after the "Qantas choir" bit. The camera pulls back across the audience and - if you look towards the top, about six rows behind the "Brian Burke associates" - you can see a very familiar mustache. And I'm the one in pink sitting beside it.

I'll see if the Snook can get a screenshot later.


I read this article on password hacking, and now I'm setting proper (different!) passwords on all my sites. Which I should've done a long time ago. But I'm lazy.

| | |
| --- | --- |
| | [9] |
Reason #412 Why We Haven't Reproduced:
The Snook and I have been laboring under the delusion that our washing machine was broken all week. We called the nice folks at Direct Appliance Service to come take a look at it. The guy fiddled with the knob and know it works perfectly. There wasn't anything wrong with it; we probably just overloaded it. Thankfully, the nice man didn't even charge us the call-out fee. (Hence my public recommendation.) Now you may laugh at us.

Later: No, wait! It really is broken. The damn thing stopped working again.

Tuesday, March 27, 2007
| | |
| --- | --- |
| | [1] |
"Once a jolly knitter sat beside a billabong..." Mary-Helen has given us a new patriotic song for the ages. And she's not even Australian!

| | |
| --- | --- |
| | [2] |
The Snook and I joined Rob and Amy tonight for the taping of the first episode of The Chaser's War on Everything's new season. After spending more than an hour penned in by Security, waiting for the boys to finish rehearsal, we were ready for some laughs. The set looked great (including Miss Fee's Trojan horse) and the Easter eggs the guys threw to the crowd were much appreciated. The show was extra long since they had a lot of material from over the summer, so I imagine it'll get trimmed down a fair bit. My favorite bit were the nudists. Yes, they really did get naked in the studio. Be sure to watch tomorrow night at 9pm! (Or download it if you're not local...)

| | |
| --- | --- |
| | [2] |
Yoshimi battles the pink robots... on Broadway. I predict Amy will be ALL OVER THIS. (Link courtesy of John.)

Monday, March 26, 2007
| | |
| --- | --- |
| | [2] |
Minus: The coffee shop was out of Diet Coke this morning.

Plus: Albert and Mrs Morris went to see Scoop on the weekend, and apparently Mrs M kept saying through the whole movie how much I looked like Scarlett Johansson. W00t!

Sunday, March 25, 2007

Note to Americans: Daylight Savings has finally ended here in Sydney - *sob!* - so the time difference has changed. We're now ten hours behind Indiana time (plus one day), and seven hours behind LA time (again, plus one day).

Saturday, March 24, 2007
| | |
| --- | --- |
| | [3] |
For anyone who missed us on the Internet this morning - like, oh, my MOM and my SISTER and my COUSIN and probably the whole rest of my family, not that I'm bitter, except that them seeing it was the WHOLE REASON for getting up at the BUTT CRACK OF DAWN anyway, GAH! - Amy took a little movie of us in the booth and put it on YouTube. I'm on the phone with my American stalker, who is desperately trying to buy the scarf I was knitting on Wednesday. (You'll note that I'm sporting the excellent "I blogged your Mom" shirt that Bex got me, while she herself is wearing an awesome "I learned to knit in prison" shirt.)

| | |
| --- | --- |
| | [6] |
Doing my Civic Duty
In addition to knitting on the Internet this morning and finishing the Kitty Kat Cardy, I had one other important task for the day: VOTE! Today was the NSW State Election and, as voting is compulsory in Australia, I got to vote here for the very first time. The Snook and I headed over to our local polling place this afternoon, which just so happened to be at the Notre Dame Sydney campus. I was amused by how totally casual the whole process was. I showed a lady at a card table my driver's license, and she ticked me off a big list of names. Then she handed me two paper ballots (one of which was truly massive) and directed me to a simple cardboard booth. No, really! No Diebold machines, no curtains, no hanging chads. Just a pencil and a couple pieces of paper. (I have to say, the ballots were really well designed, too. I had no trouble understanding exactly where I had to mark.) Then I just had to fold my ballots and put them in some cardboard bins. (No lock box or anything!) And that was it! We were in and out in less than ten minutes.

I have to say though, I totally cracked up at some of the parties listed on the big ballot. I mean, the first one was "The Fishing Party." (My Dad would be all over that one.) I also remember "Australians Against Further Immigration" (like I'd ever vote for them), "The Shooters Party" (again, one for Dad), and the cryptic "Save Our Suburbs." I'm just disappointed I didn't see the "Standing-At-The-Back-Dressed-Stupidly-And-Looking-Stupid Party."

| | |
| --- | --- |
| | [10] |
And with eighteen minutes to spare, the Argyle Kitty Kat Cardigan is finished!

Later: Pattern notes have been added after the jump. [more...]

Friday, March 23, 2007
| | |
| --- | --- |
| | [4] |
And don't forget... I'll be appearing here tomorrow morning at 8am Sydney time (which is 5pm Friday Indiana time). The phone number to SMS or ring us is +61 424 875 224.

| | |
| --- | --- |
| | [1] |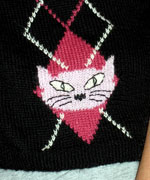 Little Kitty Faces...
We're in the home stretch, people! I've got fourteen hours until Veronica picks me up to head to the Easter Show headquarters. (Minus time for sleep, hygiene, and an hour's worth of faffing about on the Internet tomorrow morning.) Both sleeves are now attached and super-puffy. I've done two of the four cat faces. (A sneak peek you see before you.) So tomorrow I've just got to do the other two faces, and then work out what I'm doing for the button situation. Plenty of time, right?


Now here's a fun question: How high would a tower have to be in order to be seen from both US coasts? I like math geeks.

| | |
| --- | --- |
| | [2] |
Delicious Irony

April 2006: Chicago bans foie gras.
March 2007: Chicago has wild goose problem.

Links courtesy of the decidedly carnivorous Snook, who adds (in a Nelson voice): "Ha, ha!"

| | |
| --- | --- |
| | [2] |
ARGHHH. Seven staff absences in five days. This is getting ridiculous. Anybody want to work in a knitting shop? (I'm so looking forward to my vacation. Only one more week...)

| | |
| --- | --- |
| | [1] |
Square knitting needles and crochet hooks. That's so weird. They claim they're way easier on your hands and arms and that they produce extremely uniform tension. I'd be interested in testing thing. (Link courtesy of not martha.)

Thursday, March 22, 2007
| | |
| --- | --- |
| | [1] |
How much caffeine do you consume in a day? Check out this online calculator. Just click the green arrows next to the things you drink. Two bottles of Diet Coke puts me around 180mg, which they describe as "in the zone."

| | |
| --- | --- |
| | [2] |
Holy crap, Tracey and Regan are having a baby! Congratulations, guys! Let's just hope the Sydney photobloggers aren't invited to the birth... :)

Wednesday, March 21, 2007
| | |
| --- | --- |
| | [7] |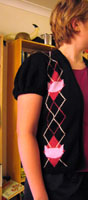 That's ONE puffy sleeve!
One sewn in, one to go. It's a wonder I even had the energy. What a week! In three days, we've had FIVE staff absences in the shop. Basically, this means yours truly (aka The Go-To Girl) was on her feet and serving customers non-stop. Normally this would've provoked a massive rant, but I've actually had nothing but really nice people. We had an American tourist who basically hung out with me for two hours today. On her vacation! Two hours! So at least the days have gone by quickly. And then I actually spent two hours tonight of my precious knitting time staying late to parcel out the Knit Picks (because I know y'all are itching for them). Now that's dedication. Anyway, one side of the cardigan is now complete except for the kitty faces. The sleeve wasn't too difficult to sew in, but as I was rounding the back of the shoulder I let fly with a string of obscenities. There, STARING ME IN THE FACE, were three random purl stitches interrupting my lovely blank canvas of stockinette. What the--? Did I go momentarily insane? I continued sewing in the sleeve while meditating on my options. I could chalk it up to an Amish mistake and just hope no one notices... or I could deal with it. The Snook was surprised to see me preparing for surgery. "You don't understand," I said through gritted teeth. "My Knitting Nemesis is also entering the competition, and I WILL NOT STAND to have her see such a glaring error on my piece." So before I could talk myself out of it, I snipped. I snipped and I unravelled and I made a great big hole in the jumper I've been killing myself to knit for the past month. Then I picked up the stitches with some DPNs and began the painstaking process of grafting the stitches back together. (I should mention again that this is black 4-ply. Somewhere my optometrist is moaning in his sleep.) I cursed and I stressed and I had to make, like, three false starts, but I got there in the end. Once it's pressed, you won't notice a thing. And I'll be able to sleep at night. Hey, isn't that a nice puffy sleeve?


You heard it here first: THE KNIT PICKS ARE HERE! I'm unpacking the box at this very second. We've also got megatons of Debbie Bliss, including the Pure Silk (which is absolutely divine) and lots of Cashmerino in multiple thicknesses.


I just discovered that I'm quoted in this article about knitting entitled "Street art goes soft." I think I remember giving the interview a while ago. (It gets hard to keep track of all my media appearances, dahlings.) She got one thing wrong though - we never had anyone from Quitline at the Knit & Quit classes. We tried, but apparently they have ZERO budget to support anything other than the phone lines.


Crazy Muncie. The Snook sent me that link.


VEGETARIANS, LOOK AWAY! The rest of you, check out these Deep Fried Cheese-Filled Bacon-Wrapped Hot Dogs. Mmm, low carb.

Tuesday, March 20, 2007
| | |
| --- | --- |
| | [8] |
Moblog: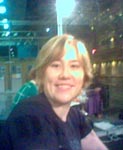 My Live Internet Debut
Dude, that was so fun! Well, yeah, I kinda got stuck with a random co-host. I turned up and told the producer that I was the last minute fill-in for the 7 o'clock slot, and she was like, "Oh, so's this guy. Do you guys each want to do half an hour or..." And I was like, "Whatever." I realized pretty quickly that on my own, I wasn't going to be doing much other than answering the phone. So I figured I'd have him to do that. (Unfortunately he apparently didn't tell me about most of your messages! Sorry about that.) But in spite of it, I actually had a really great time. The producer chick was really nice and we sorta teamed up. (She's a pretty good knitter, too.) I had been pretty anxious on the way over there - Would I look fat? Would people think I was boring? - but I found that I got comfortable really quickly. What did you guys think? I haven't seen any of it yet, but it felt pretty good. All of the other people I'd seen kinda just sat there and did nothing, or else they wore wacky costumes and hula-hooped. I just wanted to be different without being too over-the-top. I hope at least it amused you.

That said - I booked in for another slot! I'm going to be on Saturday morning from 8am-9am Sydney time. By my reckoning, that will be about 5:00pm on Friday Indiana time, so all the Americans should be able to tune in! The producer loved the idea of having a knit-in, so any knitters that want to come along, let me know.

PS - Did you guys see the Snook? He apparently walked behind as we were winding down. And then, of course, he and I pulled a total "bonehead" by sticking out our tongues as we left...
| | |
| --- | --- |
| | [5] |
I just volunteered to do a shift for the Countdown to the Chaser. (Dude, live knitting lessons from w-g on the Internet!) Now I just have to wait and see if they call me up. Gee, if only I knew someone - *cough, cough* - at the ABC who could put in a good word for me.

Later: Holy crap! They called me up, like, twenty minutes later. There's an empty spot tonight from 7-8... so I'm on it. That's right; yours truly will be chat-chat-chatting away LIVE ON THE INTERNET from 7-8pm tonight Sydney time. (The Snook's going to attempt to record for posterity.)

Almost time: They appear to have a mobile number that you can use to ring me during the show! It's 0424 875 224. Give me a call with questions or comments! (And compliments. I'm terrified of people ringing to say "You suck.")

| | |
| --- | --- |
| | [1] |
Search the web... with Kevin Federline. No, really.

Monday, March 19, 2007

Wow. Television Without Pity just got bought out... by a network. I've been reading that site for, like, ten years, back from when it was "Dawson's Wrap."

| | |
| --- | --- |
| | [2] |
Nerdy to the Max
I was helping customers in the shop today when a lady asked if she could order some knitting needles. As I wrote down the order, I asked her for her name and phone number. Her surname was Babbage, she said, "like cabbage with a 'b'." "And like Charles Babbage!" I added. She smiled. "Actually," she said, "he was my husband's great-great-great grandfather." GET OUT. We chatted about it for a while and she explained how the descendants of the guy who basically INVENTED THE COMPUTER wound up in Australia. And then I had to call the Snook and geek out. Isn't that neat?

| | |
| --- | --- |
| | [2] |
Okay, I'd just like to say that No Knit Sherlock! is quite possibly the best knitting blog title I've ever seen.

Sunday, March 18, 2007
| | |
| --- | --- |
| | [8] |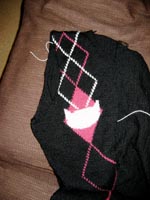 Weekend Update
Well, that was fun. We didn't get much trip preparation done, but thanks to the Snook my birthday weekend was one to remember. It started Saturday morning with a trip to Bills in Surry Hills for breakfast. We met up with Miss Fee (and her Mystery Visitor) for scrambled eggs and coffee in the sunshine. Afterwards I headed to Glebe for my first appointment with my new stylist, Desiree at Partners Hair Workshop. She was fantastic! I'm used to salon visits taking forever, but Desiree had me out the door in under ninety minutes. (And that's including foils, cut, and blow dry!) Back at home, the Snook was preparing for my birthday barbecue... right before the heavens burst. So the festivities were all indoor. But no matter; we had Wii! Many, many games of tennis, fishing, cow racing, and boxing ensued. We also had a veritable cadre of bloggers amongst the guests, including Amy, Rob, Kenya, Bex, Helen, and Andrew. (I'd count Major too but he stopped updating.) We had salads, chicken, fish, SO. MUCH. CHEESE., chips, bread and truffle butter, and really just everything lovely. The Snook made a rich low-carb chocolate cake and Andrew countered with some decidedly high-carb (but sooo worth it!) fancy cupcakes. As you might imagine, the Snook and I spent most of Sunday just in recovery mode. We had lunch in Chinatown with his mother and sister, but otherwise I spent the day working on my cardy. The other puffy sleeve is now finished! I've moved on to the embroidery, as you can see here. I've got til Saturday to put it all together and finish it off. I think I'm actually gonna make it!


Hooray! Kristen and Mark have just had their baby!

Saturday, March 17, 2007
New hair.

Men stare at crotches. Okay, that makes me giggle.

Friday, March 16, 2007
| | |
| --- | --- |
| | [2] |
Hierarchy of Programmers. Hey, I'm higher than I thought I'd be! (Not that I'm the greatest at PHP or anything, but I don't suck.)

Thursday, March 15, 2007
| | |
| --- | --- |
| | [10] |
Did somebody say... PUFFY SLEEVE?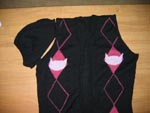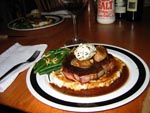 It appears that my meticulous calculations have worked! The first puffy sleeve is finished and it's just about as perfect as I could've hoped for. I need to give both pieces a good ironing before I sew it in, but I'm 95% sure this pattern is a keeper. You can see how it looks on my arm here. Now I just need to knit another one and finish the thing off! Easy peasy.

And that second photo? That's the amazing dinner the Snook cooked me tonight. (Vegetarians LOOK AWAY NOW.) It was a low-carb carnivore's feast. Starting from the bottom, there's a bed of mashed cauliflower surrounding a Scotch fillet steak wrapped in bacon, with fried duck's liver on top. And what's that funny white golf-ball-thingy? Oh, it's truffle butter. (Seriously, I could eat a bowl of that stuff.) The sauce is a reduction of sherry and homemade veal stock, and there's a side of green beans amandine. We washed it down with a few glasses of an excellent Australian red.

You know, so far my 30's really don't suck!


Dr Amy Jones is not amused.


W00t! Finally got my Secret Pal match. It's going to be so hard for me to hide my identity! I can't keep secrets. And if whoever has me is visiting, hello! My questionnaire is here.

| | |
| --- | --- |
| | [30] |
Beware the Ides of March!
Yours truly is now a Woman of a Certain Age.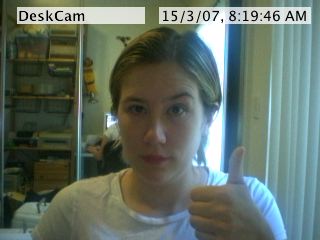 I was reminiscing this morning about where I was ten years ago. I was a sophomore in college and we'd all gone to Boston with Eileen for Spring Break. It was a great week. About a dozen of us all met up to see Rent for the first time. I wanted to get a tattoo to mark my 20th, and as they were illegal in Massachusetts at the time (is that still the case?), we had to go to Connecticut. It was a big secret, because Eileen had gotten one a few months before and her Mom didn't know about it, so we had to keep mine very hush-hush. I remember distinctly hanging over the back of a chair while the guy slowly inked the Korean characters on my lower back. Liz was filming the whole thing with her video camera (whatever happened to that tape?) and munching a Big Mac while circling around us. Later we went to Boston College to party with some of Reen's friends, and I got ridiculously drunk playing Asshole. I was horrendously sick afterwards... and of course we then had to take the train back to Indiana, and I was sick for the entire 24-hour trip. Good times.

Am I really so far removed from that girl? I don't tend to imbibe to that excess anymore. I care less about fitting in with the crowd. I feel more confident in speaking up for myself. I don't have swooning crushes on girly-boys who wouldn't give me the time of day (except for Daniel Radcliffe). I feel pretty comfortable with my body. I still say "random" and "whatever" a lot. So maybe I've grown up a little.

And now, drumroll please, Snookums has promised me a very special birthday present. Some of you have been waiting for this day for years. And here it is...

Wednesday, March 14, 2007
| | |
| --- | --- |
| | [4] |
John will be so proud. Last night after work I ventured into Kings Comics and bought my first real, actual comic book. (The others I've been reading have all been trade paperbacks bought from bookstores.) And what did I get? I got the first two issues of The Dark Tower: The Gunslinger Born. I also asked about the upcoming Buffy Season 8 books and was told it should be here tomorrow! Nice b-day pressie. So this is what I don't quite get, comic book fans: How do you know when new books come out? Do you just have to wait and watch on the comics sites?


Hey, here's another picture of me from last weekend's MetaFilter meet-up. And yes, zamboni's 'tache is definitely one to rival the Snook's.


An artist in England is doing a new series where she cross stitches every text message sent to her. Including stupid ones sent by Pete Doherty. Hey, anything that'll get the "kids" into embroidery, I guess!

| | |
| --- | --- |
| | [1] |
How depressing. The Stardust Casino in Vegas - where we stayed on our wedding trip in 2004 - was destroyed to make way for a new mega-resort. Snookums is already scouring eBay for memorabilia.

| | |
| --- | --- |
| | [13] |
And it's here at last... the last day of my twenties. In the past week I've had lots of people tell me that the thirties rock, that they're way better than the twenties. I'm worried that they may be LYING. What do you think?

Tuesday, March 13, 2007
| | |
| --- | --- |
| | [7] |
Kitty Kat Cardy Update: I've been dealing with some contrasting impulses this week. On one hand, the cardy bodice could look really cute as a vest. But do I wear vests? Not really. On the other hand, knitting long sleeves in the next ten days is going to kill me. Then last night I had a brainstorm: I could put short sleeves on it! And not just any short sleeves - PUFFY SLEEVES. Yes, that's going to push the whole thing so far over the cliff into the Land of Twee that the world might implode. But I don't care! It's already going to have EMBROIDERED KITTY FACES on it! I think we may even be venturing into Alannah Hill territory here! Maybe I can sell the design to her for next year's collection! The very concept of puffy sleeves is making me CRAZY!

But yeah, they're tricky to knit. Bex gave me some helpful advice and I've filled several pages with scribbled calculations tonight. But it just might work...

| | |
| --- | --- |
| | [3] |
Giant Cadbury Creme Egg. ACK! The Creme Egg is secondly only to the dreaded Peep on my list of Candy Enemies. (Link courtesy of Bex.)

| | |
| --- | --- |
| | [5] |
Easter Show Quandry: I'm looking at the 2007 Arts Schedule here, and under "Special Arts Regulations" it says this:
9. Exhibits (with the exception of quilts, weaving and spinning) which have been washed will be disqualified.
Huh? Do they really mean that? I had been planning on giving the Cabled Jacket of Doom a gentle hand wash and then a blocking, but it sounds like they're saying they'd boot me for that. What's the problem with washing, anyway? All my stuff is covered in cat hair!

| | |
| --- | --- |
| | [2] |
My sister's dog Buster has his own page on Dogster. That kind of cracks me up.

There's a Catster site too, but I think a Flickr page is enough for one cat, isn't it?

Monday, March 12, 2007
| | |
| --- | --- |
| | [6] |
Nintendo guru wants more happy games. See, that pretty much encapsulates my whole issue with the video games industry. There are just too many "dark" games based on violence and horror. I want to play fun stuff that challenges while still making me smile.

| | |
| --- | --- |
| | [11] |
Stella McCartney Target Mayhem. Dude, maybe I won't go to Bondi Junction tonight after all. (Link courtesy of Bex.)

Later: Holy crap. I guess there's no point in going. They cleaned the place out. And get this:
The most popular items were McCartney's much-hyped trench coat in grey and navy - just 6000 are available Australia-wide...
SOB. That's what I wanted! If any of you happen to find youself in a Target that has the Stella trench in a size 14, BUY IT. I will reimburse you. Black is preferable, but I'll take any.


Wow. Thirty-five years after admitting women, Notre Dame finally elected an all-female ticket to the office of Student Body President and Vice President. Well done, ladies!


Photos from Sunday's Metafilter Meetup. Those are some great folks, and I such a good time I put my knitting away after only five minutes. The only negatives: beer at the Australian was over EIGHT DOLLARS A PINT, which is a rort. (Although it did keep me from drinking very much.) And then seven hours later I puked up my dinner, which I can only attribute to possible food poisoning from the salad I had. (Like I said, I didn't drink much.)

Sunday, March 11, 2007
| | |
| --- | --- |
| | [6] |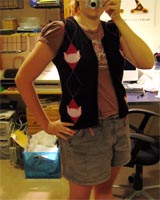 Why yes, I am a knitting robot from the future...
That there is the body of my Argyle Kitty Kat Cardy FINISHED. Well, not technically finished. I have to weave in a million ends and embroider on the white diagonal lines and the cat faces, but the actual knitting is done. (I used a three-needle cast off for the shoulders.) Folks, that is a total of eight days from start to finish for that sucker. And did I mention it's in BLACK 4-PLY? I'm a little amazed myself. I was helped by the fact that halfway through the week I checked my row gauge and realized that doing five diamonds up the front was going to make it too long. I fretted about the non-symmetry of only doing four, but the girls at the guild meeting today convinced me it'd be fine. So that saved me 20% of the expected time.

As of this moment, I have exactly thirteen days left before the exhibits have to be turned in. And of course, I still have to knit the sleeves. Anyone want to take bets on whether I make it?



And in health news, I think I'm feeling better. My temperature seems to have stabilized and my throat isn't getting any sorer. Of course, this damn bug might just be incubating til my holiday starts...



Friday, March 9, 2007
| | |
| --- | --- |
| | [1] |
Home. Sick. I started feeling crappy yesterday at work, and today I'm officially running a fever. My throat is starting to get sore. I think I'm finally experiencing a visit from the Dreaded Summer Flu, which has claimed many a victim in the past month. On the upside, I slept in til 11:30 today.

Thursday, March 8, 2007
| | |
| --- | --- |
| | [1] |
Study backs worth of Atkins diet. Interesting reading. I don't know that I've lost any significant weight yet (mostly because I've done very little exercise) but at least I haven't binged in the past two weeks. So that's good.

Wednesday, March 7, 2007
| | |
| --- | --- |
| | [5] |
This Ask MetaFilter question about the way we define our relationship with food really struck home for me. Parts of the question (and the ensuing comments) could have been written by my subconscious. I know for a fact that when I was most successful with Weight Watchers, I was thinking about food *constantly*. It was something I focussed on nearly every minute of the day. I also know that the reason I've put back on a little bit weight in the past few months (and the reason I've stopped going to WW) is because I got tired of maintaining that focus. I got tired of tracking every bit of food. I got tired of taking special dishes to potluck dinners so I could avoid everyone else's fatty (and delicious) contributions. I got tired of denying myself things. Of course, none of this is how it's supposed to work. WW was supposed to help me deal with these underpinning emotional issues so that I wouldn't have to obsess about food. But instead it became just another test, a system that I could game by being clever. So while I'd say WW was successful in getting off the weight, it didn't help me deal with why I had gained it in the first place. (And yes, I realize completely that going back to Atkins is just grasping for another set of rules I can manipulate.) I dunno. That anonymous poster got me thinking. Maybe I need to try an entirely different approach...


Attention Sydney Fashionistas: The Stella McCartney range at Tar-zhay is launching this coming Monday! (You can see pics of the range here.) I am seriously loving a couple of those coats. As far as I can tell, the Bondi Target is open the latest on Monday nights (7pm). Anybody want to head over there after work with me? You may even get to see me wrestle someone for a trench coat.

| | |
| --- | --- |
| | [5] |
Hooray! The next MetaFilter Runs challenge begins on the weekend. I haven't really had much motivation to run since the last challenge ended, so this will be really good for me. Of course, seeing as how we're going to be in Indiana for the last week of it, it's also going to be a difficult one. "Can Kris actually work up the willpower to run on her vacation? Stay tuned..."

Tuesday, March 6, 2007
| | |
| --- | --- |
| | [2] |
My Kitty Kat Cardi continues to grow. [more...]

| | |
| --- | --- |
| | [3] |
Well, my friend Sal finally made it back to the States and today she sent me a link to our photos from jetboating. Check 'em out!







We're the goonies sitting in the back row of the boat. Oh, and if you're wondering why everyone else is in red and we're not? Because they're wearing ponchos. WUSSES! Sal and I rocked it hardcore and got soaked in the process. I highly recommend the ride if you ever visit Sydney. It's not that scary and you do get to see a lot of the harbour. Just get the 30 minute short ride though; that'll be enough!


Dr. Amy Jones was driving us CRAZY this morning, scratching and meowing at the bed for hours. We tried locking her up in the bathroom, giving her an early breakfast, refreshing her water, everything. She was just being a total poophead. Snookums thinks maybe the wind gusts scared her, or else the lunar eclipse messed with her brain. Me, I'm wondering if my Depo shot last week has screwed with her hormones.

Monday, March 5, 2007

Time lapse video of someone painting a Photoshop portrait of Radiohead's Thom Yorke. It's amazing.


My sister is finally MommyBlogging...

Sunday, March 4, 2007
| | |
| --- | --- |
| | [9] |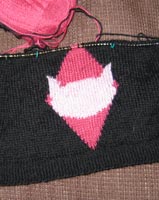 Youth was wasted on me.
So how did I spend the next-to-last weekend of my 20's? I'm ashamed to say: sitting on my butt and knitting. Saturday morning was the Annual General Meeting of the Knitter's Guild, and it totally just SAPPED MY WILL TO LIVE. I was surrounded by blue-haired busybodies who actually spent half an hour heatedly debating the issue of whether we should print annual copies of the Membership Directory. Seriously. (For the record, I think the whole issue would be avoided by putting it on the website, but as A) that would mean work for me and B) I don't actually care one way or the other, I kept my mouth shut.) My Knitting Nemesis was also in fine form, dominating the debate, waving her camera around, and generally just annoying everyone who was counting down the minutes til Tea Time. Basically, that was ninety minutes of my life that I'll never get back. (Notable exception: Miss Fee received her Level 1 Certificate, and a hearty congratulations to her!)

Afterwards I suffered a major allergy attack and a subsequent headache, so I decided to pike on SSK and the Mardi Gras parade (to which the fabulous Bex had invited me). I then spent most of the next 36 hours working on my argyle kitty-kat cardigan, a teaser of which you see before you. I'm supposed to enter it in the Easter Show, but it'll never be done in time. If it turns out well though, I might write it up for Yarn. I also watched Freaky Friday and Cat People (both of which were EXCELLENT), four episodes of House, three episodes of My Name is Earl, and the Biggest Loser weigh-in. Yeah, I suck.

| | |
| --- | --- |
| | [4] |
Edible Chess. That is neat!

Friday, March 2, 2007
Moblog: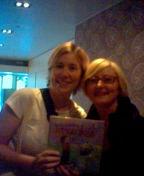 Fabulous Franko is here!
Miss Jane has just launched her first children's book and we all couldn't be prouder! The reading was fun and we got signed books for the little ones. Well done, Jane!

Thursday, March 1, 2007
| | |
| --- | --- |
| | [2] |
How did I miss that today was National Pig Day? The Snook and I shall have to celebrate tomorrow. And maybe Saturday and Sunday. It shall be a Pig Weekend!

| | |
| --- | --- |
| | [2] |
RunningBlog: I can't believe I forgot to mention this, but I won my first Nike+ Challenge! Over the thirty days of the Metafilter 1.0 Challenge, I logged 88.37km (which is just shy of 55 miles). I can't believe it either. Especially since I injured myself halfway through and thus had to walk all the rest of it. I feel a little guilty actually, seeing as how the other participants were all dealing with the Northern Hemisphere winter and I was cruising through summer. I'm also lucky to live such a pedestrian-friendly city where I can walk to work and back every day. I'm sure the MeFites will get me next time. Many thanks to Hoey for setting it up and especially to pyjammy and pjrivera for pushing me ever further. :)

Mindful of the fact that some people (*cheeky look in Andrew's direction*) are sick of seeing them, I've posted my progress chart after the jump. [more...]

| | |
| --- | --- |
| | [12] |
Any Disney/Orlando advice for us?
I'm finalizing the details of our stay in Orlando next month(!). We get in on the evening of Tuesday the 10th, and we fly out on Monday the 16th. I was looking at staying in a Disney Hotel, but JEEZ they're expensive! Mousesavers.com recommended this place instead, and that's what I'm leaning towards. (Especially since it's right across the road from Celebration; I've always wanted to go there!) So I'm thinking we stay there throughout that week and do the touristy stuff. We do have the Astronaut thing on the 12th, which unfortunately means (I think) that the multi-day Disney tickets that save you money aren't going to be any good for us, since we wouldn't be going to the parks on consecutive days. The Snook's not a huge thrill-ride guy, so I'm thinking we can give Universal a miss. (Though I went there in 2000 and LOVED it.) So I'm thinking maybe one day at the Magic Kingdom, and then another day at Epcot. Normally I'd give the MK a pass since I've been there before (and Rodd went to the one at EuroDisney), but then again he's never ridden the Haunted Mansion and neither of us have been on Splash Mountain. Neither of us have been to Epcot, and I think we'd like that. Is Animal Kingdom worth going to? I like the sound of Expedition Everest, but the rest doesn't sound too spectacular. I've done MGM before and - though I might be able to drag the Snook onto the Tower of Terror - I doubt he'd enjoy it much. Any thoughts or suggestions? (We'll probably spend that Saturday/Sunday with my relatives.)

| | |
| --- | --- |
| | [3] |
Dude, the Commies hate web-goddess! My site is blocked in China.

archives
You can search through the archives by post keyword using the form on the left, or you can browse by month using the links at the bottom.
"Moblog" refers to posts and images posted directly from my mobile phone.

"PW Blog" refers to posts recovered from my very first weblog, which dealt with news related to my college dorm.