Monday, March 31, 2008
| | |
| --- | --- |
| | [4] |
Well, I had my first day at the new job. As always with these things, I was introduced to a bewildering array of new people and systems and jargon and processes. The people are all really friendly though, and I can honestly say that they're the most professional company I've worked for in the IT industry. (When I got to work this morning, I had a desk, stationery, employee handbooks, email address, everything. It was brilliant.) It turns out that today was the monthly combined birthday party and welcome for the new people, so we had cakes outside in the morning. That was nice. Then at lunchtime, I had my first game of foosball with the other guys on the PHP team. (My team lost, but I'm still a little rusty. I'll improve.) So all in all, it felt less like a first day and more like a birthday party! The only negative so far is that there's FREE Diet Coke in the fridge, calling to me. It's like I'm being tested or something.

And yep, this site is a portal for employee blogs. I met the guy who set it up today. Which is cool, except now I'm self-conscious that I post five times as much as the rest of them!

Sunday, March 30, 2008
| | |
| --- | --- |
| | [6] |
RunningBlog: Running Skirt Review: "GymGirl" from SkirtSports.com
A month or so ago I read about running skirts in one of the groups over at Ravelry and decided I'd give 'em a try. I ended up ordering a GymGirl from SkirtSports.com (mostly because they were on clearance and they'd ship to Australia). The skirt came on Friday, so I wore it out for my "long" run today. While I'm definitely sold on the idea of a running skirt, I'd only rate this particular one a 7 out of 10. Read on to see the pros and cons. [more...]

| | |
| --- | --- |
| | [2] |
I went over to Tar-zhay yesterday to pick up some button-down shirts for my new job. While I was there, I spotted my DREAM COAT. Folks, I have been looking for a trench coat for years now. Esprit had a beautiful red one a few years back, but when I tried it on my stylist advised that it wasn't a good cut for me. (It was too short, basically.) And remember the whole Stella McCartney trench debacle last year? I'd just about given up. Yet there it was yesterday, staring at cheerfully from across the store: a bright red, long, perfect-fitting trench coat. (They call it an anorak on the website. Click on the bottom "frame" to see a closeup.) I snapped a surreptitious mirror photo of myself wearing it and sent it to Miss Fee for her opinion. It was perfect. And what's more - with their 20% off Sale, it ended up being about SIXTY BUCKS. I bought it.

And then I came home and saw this. I swear I'm not, like, becoming her clone or something.

| | |
| --- | --- |
| | [11] |
For those of you who are on Ravelry, check this out. (For those of you who aren't: Somebody notified me this morning that I was listed on a "Copyright Hall of Shame" website, complete with my home and email address. Why? Because I wondered about the legality of fabric license agreements, and the person who maintains the page - and is against such licenses - felt that I was "spreading misinformation." I don't know how a request for clarification can be "spreading misinformation," but there you go. Anyway, it turns out the person is on Ravelry so I made a big post calling them out for it. I appreciate that this person has a vested interest in clearing up copyright issues as it pertains to craft, but I don't think starting a witch hunt for people who disagree with her and then posting my contact details for others to harass me is the best way to make her case. Especially as I don't actually disagree with her in the first place. You'd think she might have emailed me to clarify before pronouncing judgement, huh?

| | |
| --- | --- |
| | [1] |
Vintage Pillowcase Lunchbox Tutorial. Oh, those are so sweeeet! I'm now consumed by the impulse to throw a Pillowcase Lunchbox Construction Party and have everybody over to my house so Bex can talk us through the sewing... (Link courtesy of Danielle.)

| | |
| --- | --- |
| | [3] |
The Westing Game
I changed schools in 7th grade, and I can remember going to "Reading" class (in retrospect, how weird that we had a "reading" class!) on the first day. The teacher explained that the class was in the middle of a big project in which they had to read a book and then do all sorts of activities on it. Then she gave me the two choices: The Westing Game (which she'd described as "challenging"), and a novelization of Charles in Charge. I'M NOT EVEN KIDDING. I picked The Westing Game without knowing anything about it. (Later I discovered to my horror that I couldn't see a single other person in the class reading it. And that will tell you a lot about the Lakeland school system.) Anyway, I LOVED the book. I thought Turtle was so cool, and I wanted to be just like her. I also developed a secret lasting desire to learn shorthand, because I was sure it would come in SUPER HANDY someday. I didn't figure the mystery out ahead of time though, but then again I never do. I really need to re-read it one of these days...

Saturday, March 29, 2008

Very sneaky! I noticed this site popping up in my referrers the other day. It looks like a public page somebody has set up to track a couple blogs. "Hmm," I thought. "MM are the initials of my new company." So I started looking at the other sites that were listed... and at least one of them is another employee. Looks like somebody over at Mobile Messenger has set up an employee blog portal!

| | |
| --- | --- |
| | [7] |
New haircut. Behold my Katie Holmes-ness!

Friday, March 28, 2008
| | |
| --- | --- |
| | [1] |
Courtesy of the Snook... Buffy Trivia! It's super easy though. I got 10/10.

| | |
| --- | --- |
| | [2] |
Huh. Evidently I sleep-walked into the office last night and posted this question on AskMeFi under a different name. Because that? Is exactly the stuff I've been worrying about.

Thursday, March 27, 2008
| | |
| --- | --- |
| | [2] |
The sad thing is, as soon as I read the headline about a man shooting his wife while trying to install cable television, I knew immediately that it had taken place in the US. :(

| | |
| --- | --- |
| | [2] |
Moblog: It's my last day here at TC, and I've had some lovely messages from customers, staff, and friends. I even got some surprise presents!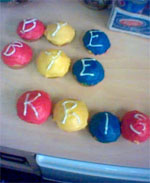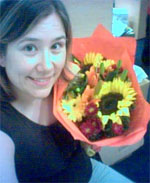 The cupcakes are homemade by Becca, and they're very tasty! I immediately ate the "K". The surprise flowers are from Zephyrama, who I've gotten to know through Ravelry. Sunflowers make a good day even better!
| | |
| --- | --- |
| | [3] |
Ohhhh, man. If the Snook and I were on the East Coast (or if we suddenly won the lottery), we would SO be going to ROFLCon. XKCD! Group X! The lolcats guy! Leeroy Jenkins! Everyone who's anyone on the Internets... EXCEPT FOR US. Darn it.


The Snook directed me to this slideshow of Famous Last Words. "Scroll along to the ninth one," he suggested. Hey, it's Touchdown Jesus!

Wednesday, March 26, 2008
| | |
| --- | --- |
| | [3] |
Vintage Knitting Box
You know that scene in Amelie, where she finds the cigar box full of the young boy's treasures? That happened to me today. While cleaning my desk, I discovered a box of knitting supplies that a customer had given me several months ago as a donation to the Guild. If I recall correctly, they had belonged to a relative who had passed away, and no one else in the family wanted them. I forgot about them til today. I couldn't believe my eyes when I opened it up. I've put the photos up on Flickr.

| | |
| --- | --- |
| | [2] |
Over on Ravelry, we're coming to the end of our second "swap" in the Australian Knitters group. This time the theme was knitted/crocheted bags. Each person had to construct a bag for their recipient, and then ($30 budget permitting) send along some extra treats with it. My package was delivered to the shop yesterday, and my swapper was the awesome Tricia (who's now travelling in the Middle East).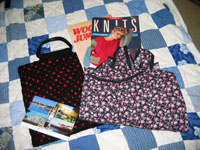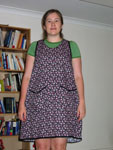 Check it out! The bag is crocheted out of thick black wool and features a silky red lining with two snaps to keep it closed. It's the perfect size to carry around a sock knitting project. Tricia also sent me two awesomely daggy 80's Australian picture knitting books. (I didn't know Liz Gemmell wrote one of those!) Not pictured is a bar of chocolate, which is currently chilling in my fridge. And that flowery black thing? Is a HOMEMADE VINTAGE APRON. I couldn't believe it! Tricia made it herself (with some assistance from her Mum). The arms crossover in the back (behind my head), and it's got two handy pockets on front. That means I now have THREE retro aprons... which I suppose officially equals a collection! Thanks again, Tricia. :)



As for my own swap package, it's 90% ready to be sent. I just ran out of stupid polyfill tonight so I've got to get some more tomorrow to finish something off...



| | |
| --- | --- |
| | [1] |
Rick Astley seems pretty cool about the whole "rickrolling" thing.


Ahhh, Sydney. A customer in the shop just asked if she could bring her dog to a crochet class. "He's really small," she said, "and he's hypo-allergenic!" Um, no.

| | |
| --- | --- |
| | [1] |
Huh. I always wondered if you really do need to duck when getting in and out of helicopters. Turns out you don't, but it's a pretty instinctive response when you've got big heavy whirly things over your head.

Tuesday, March 25, 2008
| | |
| --- | --- |
| | [2] |
RunningBlog: Milestones. Today officially marks one month of giving up Diet Coke. Today was also the first time I had two workouts in one day, running in the morning and swimming in the evening.

I would've killed for a Diet Coke afterwards.

Monday, March 24, 2008
| | |
| --- | --- |
| | [2] |
The Dreaded Peeps
Amazingly, our new home has remained Peep-free for nearly five months. I don't know how I escaped Easter, but I did! However, this weekend I found myself playing cultural anthropologist for the knitters over at Ravelry. Many of the non-Americans were confused by the sudden appearance of what appeared to be a canary-yellow swirl of poo over the Ravelry logo in the corner. (The site often adds holiday-appropriate flair to the logo.) I was able to step in and explain, "No, it isn't poo; it's a disgusting, vaguely bird-shaped piece of marshmallow that most Americans dislike but somehow got really trendy on the Internet in the past few years. They're made of Evil." There was much gratitude for clearing that up.

Sunday, March 23, 2008
| | |
| --- | --- |
| | [2] |
How Not to Diet: We baked this cake last night. Oh, except we substituted pecans for the walnuts, so really our version is a "Caramel Pecan Upside-Down Banana Cake." ZOMG. It is delicious. The recipe suggests that the caramel is too sweet though, and you may prefer the cake without it. I think that's rubbish. Personally, the next time we make this, I'm going to leave the cake out and just make a cookie sheet of caramel-coated pecans. They were that good.

| | |
| --- | --- |
| | [2] |
RunningBlog: Earlier this week I managed to catch my friend Nat (husband to Staci) on IM, and we chatted briefly about our training programs. (He's doing a half-marathon about the same time as I am.) After hearing about his most recent "long run," I felt inspired to push even farther myself. Yesterday I headed out on my longest run since last year's City to Surf. I headed up Cleveland Street all the way to the end, then past Fox Studios, down to Centennial Park, around an entire lap of the park, then all the way home again. It was just over 10K (about six miles). I was feeling a little achy in my lower back (I saw my physio again on Thursday) so I decided to take it easy. I started doing 5:1 intervals (five minutes running, 1 minute walking), but switched to 4:1 about halfway through. The interesting thing is, I still managed to keep a really good average pace. I'm not far off what I need to do to make the time cutoff in the race. I did the 10K in 77 minutes, and for the race I need to do 11K in that time. That includes probably ten minutes of warm up and cool down walking too, so without those I'd have been even faster. And what's even more remarkable: I didn't get any side stitches! I think the run-walk breaks are helping with that a lot. My friend Susi lent me a copy of John Bingham's No Need for Speed, and I love the idea that you don't need to go fast to be a "real runner." I'm starting to feel more confident about this race!

Of course, I'm pretty sore today. I think we might head over to the pool later for a recovery swim...


I've been stumbling across some wacky knitting-related links lately. First, Rob over at cockeyed has been magnifying knitting wool with this funny magnifying thing he got at a toy store. There's a closeup view of some Noro in there! The second fun thing is this Design Exhibit in Norway, which features (down at the very bottom of the page) a knitting machine built into a hanging lamp, so when it's switched on, it knits its own lampshade. Very neat.

Saturday, March 22, 2008

Wow! It appears that Miss Fee and the Sock Victim are officially engaged. Congratulations you guys! It's going to be one hell of a party...

Friday, March 21, 2008
| | |
| --- | --- |
| | [5] |
I went to the Easter Show today with Bex, Emily, Fin, and several of their friends. We saw my award-winning jumper, and marvelled at the usual array of great big pumpkins. We tried to see the ducks dressed in human clothes, but the crowds were too big. We watched some woodchopping and ate some crap food. The knitters in the group were disappointed in the sad lack of yarn to buy. We finished the day at the "Psycho Sideshow," where I had a minor freakout at the sight of a guy lifting a car battery with his nipple piercings. (*shudder*) So all in all, another fun year at the Show!

Thursday, March 20, 2008
| | |
| --- | --- |
| | [1] |
"'Healthier hearts' for cat owners." According to this BBC article, the Snook and I are lowering our changes of a heart attack simply by having Dr. Amy Jones in the house.

| | |
| --- | --- |
| | [17] |
Job Search: The Aftermath
Well, in the end I had one positive and one negative result. Hey, at least that makes the decision easy, right? Looks like I'll be starting on the 31st of March. The company is called Mobile Messenger, and it's definitely a straight IT coding role (as opposed to what I do here). Everyone there is really friendly, and I'm looking forward to getting in on their foosball tournament. (Little do they know, Eileen and I actually had a foosball in our dorm room for a year. MWA HA HA!) I'll admit I'm a little hesitant about stepping out of my comfort zone. The role is highly technical and I've got some big gaps in my programming knowledge. On the plus side though, the company knows this (thanks to a series of tests and interviews) and they still want me anyway. So that's a big compliment, right?

And you all have to boycott SBS for a while, okay? :(

| | |
| --- | --- |
| | [1] |
Crap. I just found out from MetaFilter that March 20 is supposed to be "Sweater Day" in honor of Mr. Rogers, and that Mr. McFeely wants everyone to wear their favorite sweater on that day. The first problem, of course, is that it's already March 20th here. So I missed out. And secondly... IT'S NOT WINTER HERE. Stupid Northern Hemispherists.

| | |
| --- | --- |
| | [8] |
Sometimes the Snook and I share a brain, and it's scary. The other night I went to the grocery store (by myself), and while I waited in line I had an epiphany. I rushed home to tell him.

Me: I think I'm going to get my hair cut short again. And I know exactly how I want it to look.
Him: Like how?
Me: Well... like Katie Holmes--
Him: On IN STYLE magazine??
Me: Actually... Yes. Exactly. HOW ON EARTH DID YOU KNOW THAT?

Wednesday, March 19, 2008
| | |
| --- | --- |
| | [1] |
Pregnant With Meaning: A Reproductive Reading of What's Opera, Doc?. The Snook and I had a good chuckle over that one. (Actually, I kind of lost it at "A white liquid drips onto the rabbit." OH. MY. GOURD.)

| | |
| --- | --- |
| | [1] |
Oh, sweet! I got a special birthday present in the mail tonight from Ma and Pa Snook: an awesome PINK Swiss Army Knife! I love it love it love it. (The Snook has had a blue one for ever, and I've always been jealous.) While I was exclaiming over how cool it was, I turned the packet over in my hand.

Me: "Your Mum wrote something on the back... 'Will be confiscated at airport by--' I can't read the last bit..."
Snook: (has a quick look) "Bastards."
Me: "HA!"

So thank you, thank you Bev and Pup!


Oh neat! Bex designed a sock pattern for The Knittery, and it's now available for download on their site for free! Well done, Bex. :)

| | |
| --- | --- |
| | [4] |
More swimming fun...
Last night I had arranged to meet up and practice with one of the other girls in my class. I bought a swim cap, which made for some comical fun in the changing room as I tried to get the thing on my head. (I'd never used one before.) A nice lifeguard allowed us to borrow kickboards, and he even gave us a private half-lane to use. I managed sixteen half-lengths of the pool, which was a pretty good first workout. I started off using the kickboard, but eventually I tried a few lengths without it (just doing the crawl). It would feel natural for a second or two, but every time I came up for air it would start to feel awkward and complicated again. (I actually feel like I pulled a muscle on the right side of my neck while whipping my head up trying to get air.) I spent some time observing the "proper" swimmers in the fast lanes too, watching how they barely lifted their head and how effortless they made it look. I think I just need more practice. The Snook gave me the great idea to practice my breathing just standing in the pool, so I might try that next time.

HOWEVER - I had a big problem. Cramping. At various times during the half-hour, I got cramps in both feet and both calves. It KILLED. I've been doing some googling, and according to this page it's a fairly common complaint. I did notice that it seemed to ease when I went slower, so I guess taking it easy and allowing my ankle to relax is key.


Knitabulous has posted a righteous rant about the bad displays and poor judging (my own jumper excepted, of course) at this year's Easter Show. I think she's spot-on.


Over on AskMeFi, somehow asks: "How do you define a cookie?" It's not as easy as you'd think. I definitely agree that they have to be sweet (a bacon cookie is an awesome thing to contemplate, but it's definitely not traditional), and I don't think "bars" or "squares" should count.

| | |
| --- | --- |
| | [6] |
Job News: When it rains, it pours. One of the companies has made me an offer. Now I'm just waiting to hear on the other one.

Tuesday, March 18, 2008
| | |
| --- | --- |
| | [10] |
HIGHLY COMMENDED!
Holy crap! Some of the girls over on Ravelry went to the Easter Show's "Arts Preview Night" tonight, and they reported back that my Road to Golden won a Highly Commended Award! That's so awesome! My first official knitting ribbon. Of course, now I can't sniff that my work is unappreciated in its own time. It's a trade-off.

Update: The awesome Ailsa took lots of photos, and there are a couple of Road to Golden in there. [1, 2] I'm stoked that it got displayed on a mannequin instead of being stretched all to hell on fishing line. But this is weird: is my jumper holding hands with the one next to it??

Update later: The official results are now up!

| | |
| --- | --- |
| | [2] |
No news. Job decisions are still pending. I think I'm getting another ulcer.

| | |
| --- | --- |
| | [3] |
George Clooney googles himself. I do like the Clooney.

Monday, March 17, 2008

Still waiting. The latest news is that I should hear about the jobs tomorrow. (EEEEEK!) And the Easter Show website has been updated to say that the results will go live on Wednesday. (If any of you are going to the Arts Preview Tuesday night, let me know if you spot a ribbon on my jumper!)


Cute essay. An ESL teacher takes a Japanese student on a Goonies pilgrimage. I had no idea that movie was popular in Japan. (Link courtesy of MetaFilter.)


Small Things
It's the small things that bring the greatest joy really. The Snook has been moaning for months about the cutlery basket in our dishwasher. It's obviously not that one that came with the machine, and all the knives fall out the bottom. He told me two weeks ago in all seriousness that replacing that basket "would cause the greatest immediate change in his own personal happiness." So last weekend we went to IKEA and got a couple of these. They work great and nothing falls out. He's happy.

For me, the small thing that annoys me most is the lack of handles and knobs in our kitchen. The cupboards all have spring magnetic catches, but they don't work so well. So without handles, you have to scrabble and grope to get them open. On that same trip to IKEA, we picked up a bunch of cheap metal knobs and handles. (We'll probably redo the kitchen someday, so it wasn't worth springing for the fancy ones.) The Snook fired up his drill on the weekend and started installing. This morning I groggily stepped into the kitchen to feed the cat, and when I reached for the cupboard... it just immediately opened beneath my hand. Such a small thing, but it totally brightened my day.

And lastly, here I am on my first day back from a week's vacation, and I've got an actual desk and cubicle! It doesn't sound like much, but at least I'm not sitting at a crappy picnic table anymore. It's bliss.

| | |
| --- | --- |
| | [6] |
The SMH asks: "Would you still buy an iPhone if it was locked to Telstra?" Sadly, I've gone past the point of rational thought. Yes. Yes, I would.

Sunday, March 16, 2008
| | |
| --- | --- |
| | [6] |
Restaurant Atelier
The Snook and I have been talking about visiting Restaurant Atelier for years, since way back when it was still on King Street in Newtown. Now that they're in Glebe, I've been intrigued by the idea of there being a one-hatted restaurant within walking distance of our house. So this year, the Snook finally booked us in for my birthday dinner.

My first impression was one of extreme coziness. We had a cushy corner booth with a view of most of the dining room, which was rapidly filling up. We ordered a G&T and a martini to start, and Snookums was pleased that the waiter confirmed his choice of gin. (That always gets you five points with the Snook.) We perused the menu. I was drawn to the seven-course degustation, but then I heard one of the servers telling another table about the night's special: slow roasted pork loin. It sounded goooood. When she came to take our order, I asked whether there was any chance that we could get the pork as one of the degustation courses. "That might be able to be arranged," she winked. "I have an inside line with the kitchen." (Later I realized that this was the famous Bernadette, partner of Darren the chef.) We decided to splurge and go with the matching wines as well. What the hell.

People, it was brilliant. Read on if you want to hear about the food in excruciatingly delicious detail. [more...]

Saturday, March 15, 2008
| | |
| --- | --- |
| | [1] |
Attention Australian Wii Owners: I stopped in at EB Games this morning and I was able to confirm that the Wii Fit is now "listed in their system," meaning you can put a deposit down for it. It's definitely out on May 8. Hooray! I'm looking forward to it.


Awww, Penn made me a card! What a sweetie. :)

| | |
| --- | --- |
| | [14] |
Happy birthday to me...
Thanks for all the well-wishes. Snookums started the day by going out to get me fresh croissants and coffee for breakfast, and really, what more can a girl ask for?

| | |
| --- | --- |
| | [2] |
This one's for my sister and Moire: On Thursday the Fort Wayne PD called out the bomb squad to investigate a suspicious package... and it turned out to be a turnip. HA!

Friday, March 14, 2008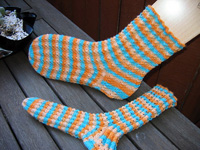 Bed Socks for Lynn
These were a very quick project I started a few weeks ago for Amy's Mom Lynn, who's in the hospital right now. I thought they might be nice to keep her toes warm! The pattern is called "Bed Socks in Lemon Pattern Fancy Knit Stripe" from Nancy Bush's Knitting Vintage Socks. The yarn is Knitterly Things Vesper Sock Yarn, and I actually had quite a bit left over. I knitted them two-at-a-time on two 2.75mm circular needles. The pattern is well-written, and my only complaint is all the bloody k3togs. I hope Lynn likes them! (Cross-posted to Ravelry and Southern Summer of Socks.)

| | |
| --- | --- |
| | [9] |
No. Nooooo. I REFUSE to believe that I'm Comic Sans. No way. Nuh-uh. Stupid quiz.

| | |
| --- | --- |
| | [1] |
I hate waiting.
Job interview decisions. Easter Show results. My birthday tomorrow.

| | |
| --- | --- |
| | [3] |
Bacon Lollipops. Another item for the Halloween shopping list!

Thursday, March 13, 2008

RunningBlog: Wow. Andrew G ran the LA marathon a few weeks ago. His account is really inspiring! I hope my experience at the Sydney half-marathon goes as well...

| | |
| --- | --- |
| | [1] |
Swimming: Part 2
I had a realization at my swimming lesson tonight. Swimming is HARD. I know that sounds stupid, but I've never before used swimming as a method of getting from A to B. It's always been for cooling off at the beach or floating on the lake or playing, never for transportation. So I never really thought much about the mechanics of it before. On the few occasions I've tried to swim freestyle, I'd just sort of throw myself into it, with the kicking and the paddling and everything. And yeah, I sucked at it. Now that we're breaking it down into its separate parts, I'm suddenly aware that a swimmer has to do lots of things all at the same time: floating, blowing bubbles, kicking, paddling, and timing the breathing. Folks, I'm one of those proverbial people that has trouble walking and chewing gum. Doing five things at once is a huge, HUGE challenge for me. It's no wonder I had trouble with it before. At least with running, really all I have to worry about is not tripping.

Anyway, we added our arms into the mix tonight (but still with the kickboards). We went up and down half the length of the pool, trying to time our breathing to the same side every time. That's still the part that's giving me the most trouble right now. I'm not fast enough at it, and I'm still bringing my head up too high as I gasp for breath. I think it'll come with practice. Tonight was also the first time I feel like I got a decent workout, because kicking up and down the pool (even just half a length) is surprisingly tiring. I exchanged phone numbers with one of the other girls in the class and we're going to try to practice together one night a week. Fun!


Wow. Scientists have developed a neckband that allows for subvocal communication. Now where do I get my Jane?


"Apple plans third Australian store." Excellent. I'm excited to see what the CBD store looks like when they take the covers off!

Wednesday, March 12, 2008
| | |
| --- | --- |
| | [3] |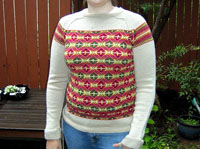 Road to Golden
This past Saturday, the Snook and I drove out to Homebush to drop off my entry for the 2008 Royal Easter Show. I knitted "Road to Golden" from the Fall 2007 Knitscene. It's a modern fairisle jumper knitted on circular needles. I substituted Filatura di Crosa Zara for the yarn and had some fun playing around with colours. I'm still not entirely happy with the way the neckline turned out, but I figured I can always pull it apart after the Show. Now I'm just waiting for the results to come in... (More project details are over on Ravelry.)

Edited to add: Here's the link to the results page for my category. It's still showing last year's winners right now. (If you see "Mrs Merle Parrish" in first place, that's last year.)


Oh, wow! Two years ago, I knitted a hooded cardigan for my friends' daughter Marianne. I knew it was going to be a bit big for her at the time, but I figured she'd grow into it. And guess what? She finally has! It looks great on her, and I'm glad she likes it so much. Thanks to Staci for the update... :)

| | |
| --- | --- |
| | [4] |
The new Spring Knitty is up... but I'm not a huge fan of the patterns. In fact, the one I like the best is the most ridiculous and impractical: the Mosey legwarmers. They just seem like something I'd see on a super-cool 16-year-old Japanese girl, and as you all know, I secretly long to be a super-cool 16-year-old Japanese girl.


I was completely fascinated this morning by this AskMeFi question: "Why aren't turtles considered dinosaurs?" There's some fascinating stuff about evolution and biology in there.


Oh, sweet. The Wii Fit has an official Australian launch date: May 8. (That's a week and a half before the US!) I wonder if any of the games places are taking pre-orders for it yet...

Monday, March 10, 2008
| | |
| --- | --- |
| | [11] |
Crossing fingers.
I've had four job interviews in the past week... and the last one I had today was THE BEST. It's such a perfect, perfect fit for me, I don't even want to talk about it for fear I'll jinx it. But if you believe in prayer or The Secret, or the Blue Dot or, you know, vibes or whatever... I could use some!


Sweet! Remember the South Korean astronaut with the special kimchi? Well, he got in trouble and they've replaced him with a woman! Go Yi So-yeon!

| | |
| --- | --- |
| | [4] |
Berowra Waters
My vacation week got off to a great start yesterday. Bex had invited the Snook and me to help celebrate Fin's birthday. Eleven of us headed up to Berowra Waters (about 50km north of us) for a picnic on the BBQ Boat! This was basically a pontoon with a built-in gas grill. We puttered up and down Berowra Creek (which joins up to the Hawkesbury River), stopping occasionally to eat, swim, and even fish.








I remembered to get batteries for my camera, but I somehow forgot the memory card. D'OH! So all the pictures are from my spectacularly crappy mobile phone. The first is me driving our little GoGet car. We actually had to take a ferry (a drive-on ferry!) across the creek to the marina. Next is me and the Snook on the BBQ Boat. You guys, we had SO MUCH FOOD. The third picture is me and Fin swimming alongside the boat. Since the Creek is tidal, the water was saltier than I expected. The current was pretty strong too, so I didn't stay out there for very long. The last picture is Snookums working his hand fishing-line off the side of the boat. He didn't catch anything, but he did get a few nibbles.

At one of our last stops, I noticed something orangish floating in the water near the boat, like a discarded shopping bag. "What's that?" I asked to the Snook as I pointed it out. "Jellyfish." Suddenly we noticed there were loads of them. They'd all drifted into one cove, and we were right in the middle. They weren't the stingy-death kind, thank goodness, or I'd still be freaking out about having swam in the same body of water. They were very pretty though, and I was amazed to see something like that out in the wild and not at an aquarium. It was very cool.

Thanks again to Bex and Fin for inviting us!

Saturday, March 8, 2008

VIP Fibers: "the first & original company to specialize in hand spinning YOUR pet's fur into Fur-Ever™ Yarn."

Oh. My. God. (Link found in a hilariously titled Ravelry post: "Pet Yarn, creepy or not?" I'm going to have to vote CREEPY there.)

| | |
| --- | --- |
| | [1] |
Note to self: Buy or borrow a deep fryer in October. There are so many great food ideas for Halloween in here it isn't even funny.

| | |
| --- | --- |
| | [1] |
Don't. Tease. Crocodiles.
| | |
| --- | --- |
| | [3] |
Speed machine.
103 wordsThis is why people don't like to share offices with me. My typing speed is apparently quite distracting.

(I took "keyboarding" - as it was called then - in the 9th grade. We learned touch typing on actual typewriters. I was pretty fast, but nothing special. Then in 10th grade, I discovered the car racing game in "Mavis Beacon Teaches Typing." The rest is history.)

Link courtesy of Miss Fee...

Thursday, March 6, 2008
| | |
| --- | --- |
| | [6] |
Swimming!
I had my first class tonight over at the Thorpe-quarium, and it was great. There were four of us in the class (all girls), and our teacher was a young woman from Brazil. Two of the students were very new to swimming, while the Irish chick and myself were further along. We started with the basics - blowing bubbles under the water. Then we moved on to floating and kicking, first with kickboards and fun noodles but eventually without. Nothing too taxing, but it felt good to start at the absolute beginning and confirm that what I was doing was correct. I'm also proud to tell you that I am the frickin' Hermione Granger of floating. We were supposed to use the noodles to start, but I tossed mine right away and showed the teacher that I could do it without.(I think it's my pot belly. I have natural buoyancy.) The other girls were all nice and friendly, and we had a fun time together. I can't wait to go back next week!

| | |
| --- | --- |
| | [3] |
I was a little worried about Obama's losses in Ohio and Texas, but Kevin's spelled it all out for me: Hilary's still done. Stick a fork in her. I especially liked the football metaphor.
Obama is up 34-7 in the fourth quarter. Clinton just scored a touchdown. The score is now 34-14, but now there's only 2 minutes left and Obama has the ball. For all intent and purposes, he can just take a knee and run out the clock. (Not that I suggest he do so. Since the other team is playing dirty, we might as well run up the score.)
On a related note, I got some emails today from the Democrats Abroad confirming that I'm now a full member. (I signed up when I voted in the primary.)

Wednesday, March 5, 2008
| | |
| --- | --- |
| | [3] |
Clearing the decks before vacation...
They're renovating the office area at the shop, so I worked from home today. At first I was looking forward to it, like, "Woohoo! I get to 'work' from 'home'!" But instead, I found that without the random disruptions of calls from the shopfloor, I was able to slip into a disturbingly productive mindset. Other than two quick breaks (to eat a sandwich and Skype my nephew during his dinner), I worked straight through til after 7:00 without even realizing it. I managed to add 160 new products to the TC website, including loads of new Clover knitting accessories (and Chibis!). I think the award for my Favorite New Product is a toss-up though, between A Tatting Adventure and this disturbing frog.



I'm not going away anywhere for vacation. I'm just taking a week off. I haven't had any days off in nearly a year. Needless to say, I'm REALLY looking forward to it.



Tuesday, March 4, 2008
| | |
| --- | --- |
| | [6] |
Oxtail Stew
I had another good customer service experience tonight. I went over to the Broadway to get supplies for this beef stew, and I stopped in at the butcher for the meat. "Would that gravy beef be good for a stew?" I asked the guy at the counter. He nodded. I opened my mouth to tell him how much I wanted, when I was suddenly interrupted by another guy in the back. "Nah, you'll want the oxtail!" he suggested. The what? Oxtail. He showed me a tray of it, which reminded me of shin beef (for making osso bucco). It didn't take much convincing. It was cheap, and my helpful butcher friend gave me some tips on cooking it. (Just brown it and leave it on the bone while it cooks; add in a good glug of red wine; let it stew for a long time...) So tonight, I cooked oxtail stew for the first time. I cooked it on the stove (rather than putting it in the oven) for about two hours, and I substituted potatoes instead of rutabaga. It was GREAT. The meat went very tender, and the gelatine from the bones made for a lovely rich thick soup (without being overly fatty). Any ickiness I might have felt over eating, you know, SPINAL CORD pretty much disappeared when I had the bowl in front of me. I was gnawin' those bones with my bare hands! (My sister will be retching at this point.) Thanks, Mr. Butcher Man! It was cheap, filling, and oh so tasty. Much recommended for the carnivorous folks...


Oooooooh! The cops say that the Nando's explosion a few weeks ago was DELIBERATE. I'm not sure I buy the story about the brother-in-law. If this were a TV movie, he'd have been the one there setting the fire to collect the insurance money...


What would Cary Grant do? Sage advice.

| | |
| --- | --- |
| | [2] |
The Happy's Place post just keeps getting more surreal....

| | |
| --- | --- |
| | [2] |
I was reading this article about the repainting of an Aboriginal mural at a Redfern community center when I realised that I knew one of the people quoted in the story. Lyn Turnbull is (was?) a member of our inner city Guild group. Looks like she's still fighting the good fight.

Monday, March 3, 2008
| | |
| --- | --- |
| | [4] |
Dude. I would totally go to the Japanese girly schoolboy cafe! (Has anyone else been surfing Google all day, trying to track down an English translation of the original manga? No? Just me then? Okay.)


Wow! Tessuti is a fancy fabric store down the street from us in Sydney, and we recommend them to people all the time. I just found out they have a blog! It looks great so far...

| | |
| --- | --- |
| | [5] |
The Snook was all excited to jump on the hat bandwagon... until he saw this photo. Good grief.

| | |
| --- | --- |
| | [5] |
RunningBlog: Entries for the Sydney Half-Marathon are now open... and I just signed up. I'm scared sh*tless about the time cutoff. I was only able to run once last week, which was disappointing since I'd managed to stick to three times a week since Christmas. I told myself that I'd be better off resting and fighting off this virus than weakening myself and making it worse. Anyway, I'm committed now so there's no backing out. (Also, it's now been five days since my last Diet Coke. The Snook joked on the weekend that my flu symptoms were actually DTs from the withdrawal.)

Saturday, March 1, 2008
| | |
| --- | --- |
| | [4] |
A quiet kind of weekend...
At 6:30 on Thursday night, while I was knitting away at the TC SnB, I suddenly felt dizzy. Like, my head started spinning. I soldiered on for the last half hour, but it didn't go away. Maybe low blood sugar? I ate a few cookies from the office before heading home, but that didn't help. I felt like I had vertigo. I went to bed early and slept about ten hours, but the feeling was still there the next morning. Friday afternoon I went to my doctor to get my monthly allergy shot, and he took one look at me and said, "You're coming down with a virus." Crap. I suppose it stands to reason; both Miss Fee and Bex have been sick recently, and I've hugged them both in the past week. "So what can I do to minimize the impact of this?" I asked. "Go to bed. Cancel everything this weekend and just rest." YES, SIR! Consider it done...

archives
You can search through the archives by post keyword using the form on the left, or you can browse by month using the links at the bottom.
"Moblog" refers to posts and images posted directly from my mobile phone.

"PW Blog" refers to posts recovered from my very first weblog, which dealt with news related to my college dorm.