Tuesday, March 30, 2010
| | |
| --- | --- |
| | [6] |
Easter Show disappointment
So... the Easter Show. I didn't win anything. I was a bit of a letdown, though it's always nice to have your friends yell "YOU WAS ROBBED!" over and over. The Magic Pudding was nicely displayed, and apparently he was a big hit with people passing by. St. Brigid was strung up in a corner rather lifelessly. Many of my friends won ribbons though, and I was very happy for them. (Lots of photos here.) I'm also happy to report that Gary continues his tradition of excellent nude marquetry. So I grumbled about the judges, and I toasted all the Ravelers, and it was on-the-whole an enjoyable evening. Now I just have to figure out how to knit a nude zombie clown giving the middle finger for next year...


Support Joey's efforts to Jump Rope for Heart!
As he did last year, my little brother Joey is doing "Jump Rope for Heart" to raise money for heart research. Here's his fundraising page is here. If you've got any cash to spare, please consider sponsoring him. My Mom is going to try to get video of him jumping (as she did last year). Way to go, Joey!

Edited to add: WOW! He's reached his fundraising goal in just one day. That's fantastic. Thanks to everyone who donated. (I think you can still donate if anyone missed out.)


Free Printable Sketching, Wireframing and Note-Taking PDF Templates. Very useful if you find yourself scribbling websites on bits of scrap paper.

| | |
| --- | --- |
| | [2] |
Kelly McMahon sent me this year's finalists in the Peep Diorama contest. Despite my hatred for the Peeps, some of these are really good. KLAATU BARADA PEEPTO was a personal highlight.

Monday, March 29, 2010
| | |
| --- | --- |
| | [13] |
Cyborg Kris, Or: How I Learned to Stop Worrying and Love the Implanon
As some of you may know, two Fridays ago I went to my doctor to get Implanon. While this is a slightly icky topic, sure, I figure it's also important enough to discuss (especially for future Googlers). Implanon is the most effective form of birth control available. (It's actually four times as effective as surgical sterilisation, if you can believe it.) It's also incredibly cheap: it cost me less than $100 and it lasts for three years. So what is it? It's a matchstick-sized rod that's implanted on the underside of your arm. The other big advantage it has over Depo-Provera (which I was on for years) is that once you remove it, your hormone and fertility levels come back up within days. (Depo can take months and months to leave your system.) I know that I don't want kids now; but time is running out and I don't want to screw us over if we change our mind. So that was the rationale for switching. (Well, that and the fact that even with multiple calendar reminders, I still missed my last Depo shot. Oops.) [more...]

| | |
| --- | --- |
| | [1] |
Polish Easter Butter Lamb. That is awesome. I'm trying to imagine the meal where you'd get through a pound of butter though...

| | |
| --- | --- |
| | [6] |
RunningBlog: I may disagree with just about all of his political positions, but full marks to Federal Opposition leader Tony Abbott for finishing his first Ironman. That's awesome. I also think Nicola Roxon should shut up about how much time he spent training. Ten hours a week for an Ironman is really very little. I also believe that politicians deserve a life outside their job, and I'm more than happy for an elected official to spend that much time on their own health. GOOD ON YA, TONY. (Unfortunately Tony probably wouldn't afford me the same courtesy, as he thinks a woman's time is better spent having babies... and there I go hating him again.)

Friday, March 26, 2010

The Korean Tiger. ROWR! (I have a tiger-print dressing gown.)


"Peeps prejudice?: Easter week trial takes on bunny bias." Hey, if that diorama-girl can be called as an expert witness, so can I. I will fully support the assertion that public display of Peeps is grounds for eviction! (Link courtesy of the Snook.)

| | |
| --- | --- |
| | [5] |
A sneak preview of Photoshop 5's content-aware fill. My jaw dropped. That is some magic, magic stuff happening there. It's the kind of thing that laypeople imagine computers should be able to do, but people who work with computers think of as pretty much impossible. And somehow they did it.

Thursday, March 25, 2010
| | |
| --- | --- |
| | [4] |
RunningBlog: In Geek Girl Runner Episode #5 I talked about changing my run-walk ratio on my long runs to 3 minutes running/1 minute walking. Now here comes Jeff Galloway saying that even shorter periods of running can be used to go faster! One of the people he trains has done a 4:38 marathon using 30 seconds running/30 seconds walking. Crazy! Maybe I'll keep cut my ratio down even further for this weekend's 10-miler and see what it does...

| | |
| --- | --- |
| | [1] |
The Godless Streets of Chippendale. I had no idea that our little postcode was home to double the national percentage of atheists. Is it because we have so many uni students, I wonder? At any rate, I feel very at home in my little enclave of progressive pumpkin-sex-enablers.

| | |
| --- | --- |
| | [7] |
RunningBlog: Geek Girl Runner Episode 005
The long-awaited fifth episode of the Geek Girl Runner podcast is now available! Sorry about taking so long. (I explain what I've been up to in the meantime in the show.) This one is particularly interesting in that I recorded the whole thing in a single take! Extemporaneous speaking FTW. Thanks again to everyone who's been sending in feedback. This episode features: my training update; emails, comments, and shoutouts; and a small rant about whether podcasts are, in fact, a vanity project. (Spoiler: OF COURSE THEY ARE.)

Show links:
Sydney Royal Easter Show
Sydney Half-Marathon
Mother's Day Classic - join the Geek Girl Runner team!
My 13K long run
Triathlon Mind Training - podcast and blog by Ironmanjay
Scrubbles - blog of Matt Hinrichs, who drew my masthead
Crazy Floridian - blog of Adam Culp
CORSO LA META - podcast and blog by Jimbo_W
You Don't Have to Run Alone - podcast by Ted Beveridge
Phedippidations - podcast by Steve Runner

Thanks as usual to Nick Arthur for the use of his song "Little Donut Party". Please give me some feedback and let me know what you think!

Wednesday, March 24, 2010
| | |
| --- | --- |
| | [3] |
We're on a landing page!
A couple weeks ago a co-worker asked if I had any pictures from our trip to Uluru. I sent her the link and asked why. She said that we were doing a promotion with Flight Centre, and they wanted a vacation picture to use in it. Snookums and I said we didn't mind, and so... here we are!

Hahahaha, for some reason it just makes me laugh and laugh. Now I need to get into one of the TV commercials...

| | |
| --- | --- |
| | [1] |
For my sister: John Cusack... in the rain. HA! He really is always in the rain.

| | |
| --- | --- |
| | [1] |
Stop Motion Knitting
This beautiful advertisement for natural gas shows a home being covered with knitting as a metaphor for it warming up in the morning.



I also recommend watching the "making of" video. It looks like they started with everything covered and then slowly unraveled it all, bit by bit. Lovely!

| | |
| --- | --- |
| | [2] |
RunningBlog: Week 12
Apologies for missing last week's entry. I've just been a bit stressed and down lately. My running is going really well though, and I think it's helping me to cope. I have managed long runs of 11km (7mi) and 13km (8mi) in the last two weeks without too much trouble. I'm also doing two morning runs each week and a cross-training session at Spudds. I've been gratified to see the pace on my morning runs has slowly been improving after the two weeks I took off for my cold and injury. My foot is feeling much better, and I'd say it feels 95% recovered. I'm still running in my New Balance though; I haven't returned to the Newtons since the injury. (I'm still doing a midfoot strike though even though it's more difficult in these shoes.) On to the numbers...

Mar. 20: 5.23km
Mar. 21: 13.14km
Mar. 24: 5.41km
Total this week: 23.78km (14.8mi)
Total in 2010: 236.91km (148mi)

To meet my 1000km goal, I should be at 230.7km. So I'm about 6km ahead of pace right now!

Tuesday, March 23, 2010
| | |
| --- | --- |
| | [1] |
Michael is exhorting us all to help the sex life of Chippo's pumpkin vines. Heh. Both vines that I've grown haven't had a single female flower, so I've yet to do any pumpkin fertilisation myself. I'll be on the lookout though.

| | |
| --- | --- |
| | [7] |
Easter Show Knitting
The other big thing that happened last week was that I finally finished my Easter Show knitting. I had two entries this year: "St. Brigid" in the aran category and "Albert the Magic Pudding" in the knitted toys. I think they turned out pretty well!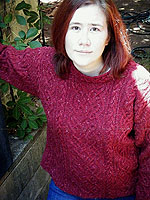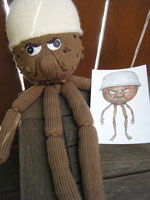 St. Brigid is from Alice Starmore's Aran Knitting, a book which is sadly out-of-print. (Used copies go for $300! No joke!) Luckily I know someone with a copy who was generous enough to share. This is my second Starmore after last year's Na Craga. The wool is Jo Sharp Silkroad Aran Tweed in colour 127 Posie. It's a very pretty pinky red with little flecks through it. Starmore's patterns are famously huge with lots of ease, so I had to play to get the right size. I actually used 4mm needles to get gauge and lengthened the body by an extra repeat. I also lengthened the arms quite a bit. The original version had fringe around the bottom (ew) and a mock turtleneck (ew ew), so I left both of those off. This is a very warm jumper, and I'll probably only get to wear it a few times a year. But it's beautiful and I made it and I love it. (More pictures on Flickr and more details on Ravelry.)

And then there's the Magic Pudding. (No, Mom, he's not an octopus!) He's from a famous Australian children's book by Norman Lindsay. The Snook read me this book, and I absolutely loved it. It's a shame that kids in America don't know it! I based my original design off a postcard with a watercolour of the Pudding by Lindsay himself. I was really tickled when the RAS volunteer who was taking my entries recognised him immediately. Maybe next year I'll have to do Bunyip Bluegum? (More details on Ravelry.)

| | |
| --- | --- |
| | [4] |
Pre-existing conditions
Dooce has written a post about what health care reform means for her family. In short, she, her husband, and her daughter Leta have been been denied coverage by private insurance companies for "pre-existing conditions." They have had to buy expensive state-run high-risk cover. This bill means that they will actually be able to get OFF the public option and into the private system. Excellent. (Also note: John's pre-existing condition is HAYFEVER. You've gotta be kidding me, right? If I lived in the U.S., that'd be me. WTF?!)

Monday, March 22, 2010
| | |
| --- | --- |
| | [4] |
KICK-ASS
My other bit of birthday celebration was attending Popcorn Taxi's sneak preview of KICK-ASS. This is a new film based on a comic book about a normal kid who decides to put on a costume and become a superhero called "Kick-Ass." The crowd was definitely the stereotypical "comic book geek" demographic. (I'd estimate less than 10% were female.) Since the movie still doesn't open for a few weeks, they actually confiscated all our mobile phones as we went in. The Snook and I had seen a couple of trailers, but neither of us really knew what to expect. It was AWESOME. It was equal parts dark humor and ultraviolence. It was an incredibly visceral experience. I was literally wincing and bouncing in my seat through some of the action sequences. At a couple points, the whole audience broke into cheers and applause. After the movie finished, Matthew Vaughn the director joined us via phone to take questions from the audience. He talked about how he pretty much had to finance the film on his own, and how his goal was just to make the kind of movie that he and his friends would like. He said he didn't like the modern trend of handheld, quick-cut action sequences where you can't tell what's happening. Each action set piece in the film was completely different from anything we'd seen before. He told a few stories about Chloe and the infamous scene where she uses the c-word. He surprised me by revealing that filming took place in London, which I wouldn't have guessed. He also told us about some of the fun musical choices he made when putting together the soundtrack. (There was a long discussion about the Elvis track -- but to be honest I don't even remember it, because it occurred during a really exciting part of the movie and I was too caught up in what was happening onscreen to note the music!)

A few more notes: Yeah, the language in this film is really bad, and most of it comes from an 11-year-old girl. If that super-offends you, don't go. However, Hit Girl is my frickin' hero and I think she is one of the most awesome girls in movies ever. (The Snook was making comparisons to Mathilda in The Professional, but I think Hit Girl kicks Natalie Portman's ass.) Also, the other girls in the movie AREN'T IDIOTS. This point was probably lost on the dudes in the audience, but I sure noticed. I'm used to accepting a certain amount of "Megan Fox" cheesecake in my stupid action movies, so it was really refreshing to not have that. (Yeah, "Katie" is hot but she's also a real character. She wasn't objectified and she was on equal footing in that sexual relationship. I liked Katie.) Oh! And Nicolas Cage was AWESOME! Huge surprise to me. I haven't liked him in anything in years. I loved, loved, loved him in this. (Matthew Vaughn told us a fun story about the development of Big Daddy's voice.) I also really liked the way the movie realistically used the Internet, like with Kick-Ass's big break (which comes via YouTube, naturally) and the way Dave interacted with his fans via MySpace. It firmly grounded the movie in our universe and played by rules that we all understood.

So if you like big dumb action movies that aren't actually dumb, you'll like KICK-ASS. I'm actually thinking of seeing it again when it hits the theaters. And then I'm going to dye my hair purple and learn martial arts.

Edited to add: This review says it all much better!


Chuck Hahn Dinner
To celebrate my birthday last week, the Snook and I went to the Chuck Hahn dinner as part of the March into Merivale promotion. It was held at Bistro CBD and featured three courses with matched beers. (I tweeted a picture of the menu.) Chuck himself couldn't come due to illness, but he sent Tony the master brewer from Malt Shovel. Tony walked us through the beers as each course was served, and he came around to our individual tables to chat too. I especially liked the "beer map" that was provided, and that allowed me to visualise where these beers fit on the dark/light ale/lager continuum. The food was great (though the Snook found the oxtail a little salty). Very fun outing, and I think Bistro CBD is definitely worth another visit.


GOOD GRIEF. Has it really been nearly a full week without a blog post? I think that may be some kind of record. Sorry about the silence; I've just been super busy lately. We'll see if we can't get some updates happening more regularly...

Tuesday, March 16, 2010

Chewbacca says you should have your own domain name. Good tip.

Monday, March 15, 2010
| | |
| --- | --- |
| | [9] |
Kristy, it's your birthday! Happy birthday, Kristy!*
So today is my 33rd birthday. Man, that feels old. I was digging around this morning and found some photos from my 23rd birthday back in London, ten years ago today. I was living with the Notre Dame London Program then as an R.A. and working as an HTML developer at Netdecisions. A bunch of my work friends went out with me to Si Senor, the only Mexican restaurant I could find in all of London. (I think it's since closed.)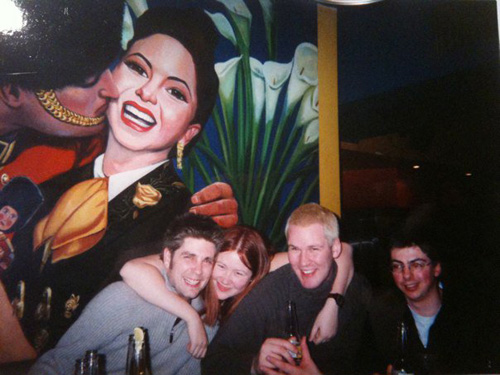 BJ, me, Alex, and Ben (aka Ferret)...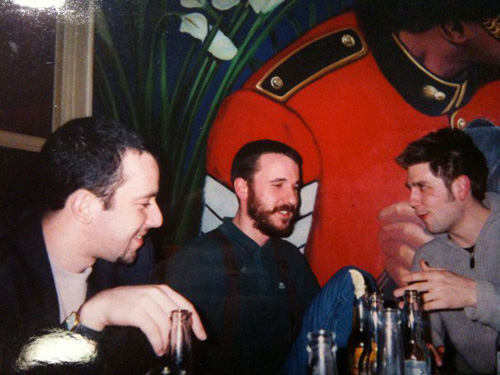 Snookums (two weeks before we started dating!), Eman, and BJ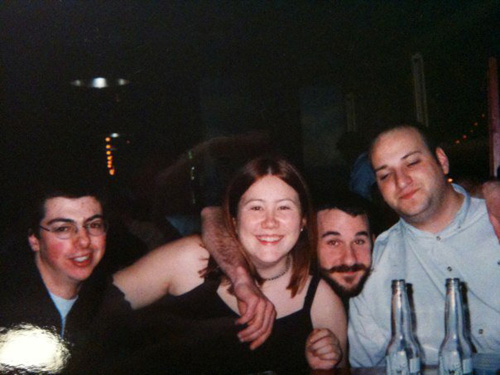 Ferret, me, Eman, and Mark (aka Squirrel)

There are more pictures with more folks from that night, including some of the students who joined us later. It was so fun. I can't believe we were so young. I can't believe it's been so long since! (Hm. And I can't believe I didn't have ANY girl friends back then. Did I just hang out with guys? Quite possibly.)

Thank you to everyone who's popped up on email and Facebook and Twitter to say "Happy birthday." I also managed to score two(!) birthday cakes: a Spice Cake with Espresso Icing (courtesy of the Snook), and a "Belle" Barbie cake (courtesy of the amazing Miss Fee). The Snook and I are going out tomorrow night for the Chuck Hahn dinner, and then Thursday we'll be seeing the premiere of KICK-ASS. What a great way to start the week!

* Yeah, the Snook serenaded me with the Michael Jackson birthday song from The Simpsons. Very sweet.

Thursday, March 11, 2010
| | |
| --- | --- |
| | [4] |
RunningBlog: Week 10
I'm still experiencing the after-effects of the Public Nudity Epiphany, I think. For the past 15 months, I've been struggling with the rowing machine at my weekly Spudds session. There's always at least one station on the circuit where you do two 20 second rowing sprints separated by a 10 second rest. The goal is to get 100 meters in 20 seconds. I've done it a few times in the past year, but I've never been able to get two in a row. My form is improving though, and I've been closing in. (Last week I had 101 and 98.) Yesterday I stood before the machine and took a few seconds to visualise myself doing it. Then I sat down and strapped in. The first 20s felt good, and I was well within pace. I got 101m for that one. Spudds came over to congratulate me and told me to "stay loose" during the 10 second rest. "Back yourself!" he yelled. And I was off. My pace was slower, and my technique was definitely sloppier. But he stood over me shouting that I could do it, and I gave it everything I had. As the buzzer sounded, my distance slipped upwards... and stopped on 100m. I gave a shout. It was as satisfying as finishing my first half-marathon. He gave me a high-five and told me that I was the first female to do it. (I'm a little doubtful of that; I'm sure some of the women in his evening classes could do it. Still, it's a big accomplishment.) I tweeted afterwards: "I feel like I can do anything." I really do. This whole "self-confidence" buzz is intoxicating.

But hey, running is what this is all about, right? Because of my continuing issues with my right foot, I've dropped my running back to three days a week (rather than four). With my Sunday distance increasing, I want to give my arch as much rest time as possible.

Mar. 5: 5.27km
Mar. 7: 10.16km
Mar. 9: 5.43km
Total this week: 20.86km
Total in 2010: 191.27km (119.5mi)

To meet my 1000km goal, I should be at 192km. So right on track!


Molasses Coffee Marinated Pork Chops from Alton Brown. Yum. I've got some pork chops in the freezer just begging for this...

Tuesday, March 9, 2010

Michael Mobbs has a couple blog posts (and photos) about the failure of the new fancy "rain gardens" in Chippendale. I wondered if they were working. We guessed that they were there more to filter cigarette butts out of the stormwater drain than anything.


RunningBlog: Peter Sagal (of Wait Wait...Don't Tell Me fame) has a column in Runner's World this month and has blogged his "Three G's for Runners". It's got some nice pointers for anybody starting out in running.


Clarification on the tiebreaker
Since someone emailed to ask, I did not include John Hughes in the tiebreaker count for the Oscar Contest. Jenny and I debated it during his tribute, and we hoped the producers would make it easy by including him in the "In Memoriam" reel as well. But they didn't. However, the actual wording on the entry page was: "How many dead people will be featured in the annual Hollywood obituary tribute reel?" I think it's pretty clear that the question is not how many dead people will be honoured at the show, but rather how many people are in the specific tribute montage. So on that basis, we went with the count of 34. Of course, it really sucks for Tom Cassutt, because if they had included Hughes (or Farrah Fawcett! or Bea Arthur!) he would've won the whole shebag. Sorry, Tom!

Monday, March 8, 2010
| | |
| --- | --- |
| | [2] |
And the winner is... Jonathan Wells!
Thanks to everybody (392 of you!) who entered this year's Oscar Contest. The final score tally is here. We ended up with a 14-way tie for first place, all of whom got 12 out of 13 answers correct. It then went to the tiebreaker, which was 34 dead people in the tribute reel. Jonathan Wells guessed 33, and Tom Cassutt guessed 35. So to break the tie between them, I had to go to order of entry. Sorry Tim, Jonathan put in his entry about twenty hours before you did... so Jonathan is the big winner! Congratulations to him, and condolences to all of you who missed out.



The Snook thinks I should offer a "wooden spoon" prize to last place. "Send them a warewolf merkin so they can pet it when they feel sad about their lack of prescience." Hm. I bet I could sell those on Etsy.



Edited to add: I've just checked the history and this was the fifth time Jonathan has entered the contest. (Actually, it may be more than that; I only saved the entries going back to 2006.) So well done to a long-time reader!

| | |
| --- | --- |
| | [2] |
Oscar Contest 2010... Only 90 minutes to go!
You've got til the show starts to get your predictions in for the big contest. We're closing in on 400 entries! Throughout the day, I'll be updating the winners and you'll be able to see your scores update on this page.

As usual, if any of you will be watching the show with a DVR, can you please count the number of dead people in the obituary tribute for me? I have a feeling that we could end up with quite a big tie for first place this year (unless there's a surprise upset).



And just a note: I had a couple people put more than one entry into the contest, and the extras have been deleted. I'm serious; you only get one shot. Your first entry is the one that I saved, so if you changed your mind later, too bad!



Update: And the contest is closed! Here we go...

Update later: Have gotten three independent counts of the dead people montage and all said 34. So that's what we're going with! (Thanks to Jenny, Miftik, and Kel.)


The fifth cake is a Moomin cake! Sweet.

Saturday, March 6, 2010

Q&A session with some of the craftsmen involved in that Rube Goldbert video for OK Go. I'm totally in awe.

| | |
| --- | --- |
| | [2] |
Boudicca: Back from the dead!
As you may recall - or not - my iMac G5 "Boudicca" died just over a year ago. She was one of the very first unibody iMacs, and she was nothing but trouble from the start. (The one I'm talking about was actually a replacement for the original one that self-destructed within six months of purchase.) When she died the last time, we were given a ridiculous quote from the Apple Store to have her fixed. The logic board was riddled with blown and leaking capacitors. She was out of warranty, out of AppleCare, and out of luck. I found out that there had been a Repair Extension Program for this specific issue - and my serial number was even covered! - but alas, it had expired in December 2008 (about two months before mine died). I bought a new laptop and set her aside, hoping that maybe she'd be worth some money on eBay. One of my resolutions for the New Year was to deal with the issue, so I started calling Apple repair shops to see if they were interested in her for parts. Nobody was interested. In desperation, I tweeted that she was for sale if anybody wanted her. A friend-of-a-friend (who happens to work in Apple tech support) wrote back, suggesting that I call Apple Support again. He said that he still regularly saw machines come in with my issue, and that several of them had been granted "exceptions" to the Repair Program and fixed free-of-charge. It seemed too good to be true. I called up the number and spent half an hour talking to a nice guy, who eventually transferred me up to the manager. They put me on hold for a bit... then the magic words: "You're approved!" He put it into the system and I took the machine to NextByte the next day. They told me there'd probably be some wait before they could get to it, but I didn't care. Hey, at this point it's a free computer, right? Six weeks later, I finally called Nextbyte to see what the heck was happening... and was told that my machine had been fixed for weeks. They just had never called me! (Idiots.) This morning we picked her up. I deliberately didn't plug her in before heading to the Guild AGM, knowing that if she was still broken I'd just stress about it all day. So when I finally got home tonight, I plugged her in and hit the power button. BONGGGGGG! Success. I was up and running on the network within minutes. It's so nice to have a desktop machine again! And now DeskCam will actually be from my actual desk again! So huge, huge thank yous to Stu for advising me how to fix it up. I owe him one!

Friday, March 5, 2010
| | |
| --- | --- |
| | [4] |
RunningBlog: Week 9
Things are getting better! Each run my foot seems to be improving. This morning I only had a little niggle, with no tenderness under the ball of my foot at all. Unfortunately my speed is still way, way down from being sick. If I keep my heart rate below 145, my time per kilometer is anywhere from 30-60s SLOWER than it was a month ago. It's frustrating, but it's oddly gratifying to know that I had that fitness to lose in the first place. I'll get it back.

Feb. 26: 5.18km
Feb. 28: 8.06km
Mar. 2: 5.14km
Total this week: 18.38km
Total in 2010: 170.41km (106.5mi)

To meet my 1000km goal, I should be 173km. So I'm pretty much right where I need to be!

| | |
| --- | --- |
| | [9] |
St. Brigid is blocking
The Show is rapidly approaching! Time to get this sucker finished. I started by dunking the front and the back in cold water and making sure they were totally saturated. Then I gently squeezed out a bit of the water before rolling each piece in a towel. Carefully I stepped all over it til the towel was soaked, removing a lot of the water. The pieces were then pinned out to the pattern's measurements. I freaked out a little bit at first because the squares look so big! But when I compared them to Na Craga, they're only slightly bigger. (Which is good, as I have boobs and the Snook doesn't.) So I think that will be okay. It was hard to get a decent shot with the crapping lighting in my office, but I don't think I've lost any stitch definition. As soon as these are dry, I'll do the sleeves. (I ran out of pins!) Then it's time to start sewing up!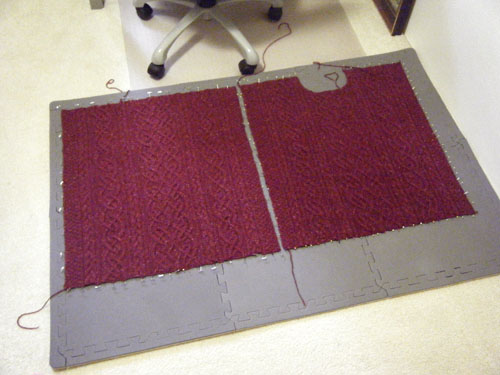 Incidentally, I am LOVING that I had the forethought to use spit-splicing on this thing. I have like five ends to weave in there. That's brilliant.


Procrastinators vs. incubators. Yes! I am an incubator! It describes me perfectly. I've never been very good at motivating myself unless I have a concrete deadline staring me in the face. I don't operate well with open-ended projects that just meander along. And when I pull the inevitable all-nighter to get stuff done, it's always really good. Phew. I'm not the only one. (Link found via this related and fascinating discussion about I.T. industry productivity.)


Star Wars Amigurumi. Neat! I need to learn to crochet better.


OK Go Irish
Okay, everybody in the world has linked to the "Rube Goldberg Machine" version of OK Go's new video "This Too Shall Pass." And you should watch it, because it's awesome. But what I didn't realise is that there's also a marching band version featuring the Notre Dame Marching Band! The band play along with them in a field with camouflaged musicians popping up and kids running around with ribbons. It's very cool. (I wonder what the ND association is. The ND band famously played "Here It Goes Again" at a halftime show a couple years ago. Maybe that was the genesis?)

Edited to add: Okay, I just found another version of Notre Dame's "Here It Goes Again" routine and the YouTube description clearly states that this led to the collaboration on "This Too Shall Pass." Man, could I love the ND Band more? I could not.

Wednesday, March 3, 2010

Ebert's new voice. I was tearing up.

| | |
| --- | --- |
| | [1] |
RunningBlog: Inspiration
Huge thanks to Justin Manganaro for sending me these links to keep me inspired through my injury and illness!



There are two more after the jump... [more...]

| | |
| --- | --- |
| | [1] |
RunningBlog: Geek Girl Runner Episode 004
The fourth episode of the Geek Girl Runner podcast is now available! There's no radioactivity in this one, but there is quite a discussion of public nudity. (I'm serious.) Thanks again to everyone who's been sending in feedback. This episode features: my training update; emails, comments, and shoutouts; and a discussion about body image and self-confidence.

Show links:
Photos from trip to Kiama
My long run (with photos)
Sydney Half-Marathon
Mother's Day Classic - join the Geek Girl Runner team!
Running the Narrow Path - podcast by Krister Wilhelmsson
Triathlete's Coffee Shop and Run That by Me Again - podcasts by Mango
You Don't Have to Run Alone - podcast by Ted Beveridge
"Sydney Stripped Bare for Opera House Shoot"
Gallery of photos from the photo shoot

Thanks as usual to Nick Arthur for the use of his song "Little Donut Party". Please give me some feedback and let me know what you think!

Tuesday, March 2, 2010

Hm. New Chocolate Covered Peeps. These aren't engaging my Peep-horror-reflex, so maybe they're okay. I'll have to wait to try one before pronouncing a verdict.

Monday, March 1, 2010
| | |
| --- | --- |
| | [2] |
Some amazing photos from today's naked photoshoot. (Warning! You probably don't want to open that link at work.) And no, I still haven't been able to spot me and the Snook in any of them, so you don't have to feel ooky about possibly spotting our bums.

| | |
| --- | --- |
| | [10] |
Posing Naked for Spencer Tunick
Just over a month ago, I saw on Twitter that Spencer Tunick was coming to Sydney as part of Mardi Gras. I jumped on IM with the Snook:

Me: dude.
    the naked photographer is coming to sydney: http://www.mardigras.org.au/tunick/
    want to do it? :)
    i'm deadly serious, actually.
Rodd: I saw that. I have no problem with nudity.
Me: should we do it??
    i think i would like to be naked in public
    i think i look good
    :)
Rodd: :)

And that was pretty much all it took. We both signed up. Last week we got the secret email with instructions about what to do, and suddenly it became very real. Could I really do this? I was surprised by my own nonchalance. Sure, I told everyone that I was comfortable with my body, but was I really? I'd only know for sure on the day. [more...]


RunningBlog: Entries are now open for the Sydney Half-Marathon! Get in before March 19th to get the early bird rate.

| | |
| --- | --- |
| | [2] |
"Sydney stripped bare for Opera House shoot." And we were there! I'll do a full write-up later today.

archives
You can search through the archives by post keyword using the form on the left, or you can browse by month using the links at the bottom.
"Moblog" refers to posts and images posted directly from my mobile phone.

"PW Blog" refers to posts recovered from my very first weblog, which dealt with news related to my college dorm.