Thursday, March 31, 2011

Shared today on Google Reader:here.


One Man Lord of the Rings
This past Tuesday, the Snook and I went to the Opera House to see Charlie Ross perform his One Man Lord of the Rings. I didn't really know what to expect, and I had a suspicion that it might be lame. The concept is that he acts out the entire trilogy playing all the characters with no props and no sets. (I've seen people do Shakespeare in a similar fashion, and that sucked.) Luckily my fears were unfounded and it was fantastic! He launched right in at like 100mph and barely slowed over the next 75 minutes. The show is very much based on the films, and a lot of the characterizations, jokes, and references that he does are specific to the movies. (There were a couple nerdy asides about the Silmarillion and Tom Bombadil though, which we appreciated.) During the flooding of Isengard, I was delighted to see him act out the Ent dousing his burning head in the water! That's like my favorite little moment from the whole trilogy. Ross is a skilled mimic who brought to life characters and scenes in ways I didn't expect. Sure, anybody can do a halfway decent Smeagol. But a totally realistic Treebeard complete with tromping-through-the-forest sound effects? Impressive. I also really liked his reduction of Denethor to a receding hairline and disgusting eating habits. Yeah, there was the obligatory "gay hobbits" joke, but on the plus side he left out Arwen entirely and majorly truncated the long, long endings. The audience had a great time and pretty much laughed throughout the whole show. At the conclusion, he sat down for a few minutes and told us the story of the production, including the "cease and desist" that put the show on hold for five years. Such a nice young Canadian gentleman! You should go see it if you can.

Wednesday, March 30, 2011

Shared today on Google Reader:here.


RunningBlog: Today's "dailymission" over on dailymile is to post your most unflattering running photo. I'm sure you can guess which one I posted.


RunningBlog: NPR had a story recently about whether running hurts your knees. Great news - it doesn't! In fact, it looks like running actually helps ward off osteoarthritis. Just be sure to go out slow, especially if you (like me) are on the heavier side of the bell curve.

Tuesday, March 29, 2011

Shared today on Google Reader:here.


RunningBlog: Macleay River Marathon News
Thanks to a Google Alert, this week I spotted this CoolRunning thread about the Macleay Marathon. (That's the one I'm training for.) This year they've had all three races (Marathon, HM, and 10K) certified because they've changed the course somewhat. The website will be going live and entries will be taken from Friday, April 1st. Apparently there's a field limit so I'll be registering as early as I can. There does appear to be a time cut-off, but it sounds like after that you just have to run on the footpath because they have to open the roads.

I'm getting excited!

Monday, March 28, 2011

Shared today on Google Reader:here.


RunningBlog: Running Music
I got an email from Jimmi asking: "Have you ever shared your running playlist? I have just started training and I'm not sure what music to use." Here's my reply:

Hi Jimmi! Nowadays I mostly listen to running podcasts, actually. My favourites at the moment are:

B-HAG Running Podcast
Running with the Pack
Running the Golden Years
You Don't Have to Run Alone
Slow Runners Club

When I was first starting out and doing Couch to 5K, I loved Robert Ullrey's podcasts for it. They're mostly just dance music, but the intervals are built in so you know whether you're meant to be running or walking. It was really helpful.

If you prefer music to talking when you run, Podrunner is a great show. The DJ organises each show around a specific "beats-per-minute", so you can find out exactly which tempo you like to run to.

I hope that helps!

| | |
| --- | --- |
| | [2] |
Health Month - Rules for April
It's almost time for the April game of Health Month to start, and I think I've got my rules nailed down. I've been adding more each month as I reinforce the habits that I've learned. In February I had 3 rules; in March I had 8 rules; and in April I'm going for 11. Some of the MeFites on our team have been listing their rules and their justifications, so I'm going to do that here as well.

1. Bring lunch to work 2 days a week - This one is two-fold. There's a financial benefit, in that I save money by not going out to lunch. There's also a health benefit, in that the food I bring is generally healthier than what you can buy in the neighbourhood.

2. Study BABOK (Business Analyst Book of Knowledge) at least 1 day a week - This is a career goal. Last year I felt like I was spinning my wheels at work a little bit, so I'm trying to shake things up. Each week I print out and study about 20 pages more of the BABOK.

3. Limit internet usage to 24 hours a week - This one is more nebulous than it sounds. Basically, I just want to limit my aimless, messing about on the Internet time. I don't keep track to the minute or anything; it's more like a rating system. On my best days, I rate myself about a 2. On my worst days, it might be 6 or 8. This one is pretty much key if I want to accomplish anything else on the list.

4. Allow 2 alcoholic drinks a week - I actually cheat and expand this to mean two days with allowed drinking per week. Having the SodaStream at home has helped a lot, as I don't missing having a glass of wine with dinner if I can have sparkling water. This is giving both a financial and a health benefit!

5. Floss every day - Self-explanatory.

6. Go to bed before 10pm at least 4 days a week - I have trouble with this one. In March I tried 5 days a week and didn't do so good, so I'm taking a step back. I don't have to be asleep; I just have to be in the bedroom getting ready for bed.

7. Stretch for 15 minutes at least 3 days a week - This one was my biggest failure in March by far. I just can't find a good time to do it, and I only ever remember right at bedtime, which means I have a choice between the bedtime rule and the stretching rule. When do you guys stretch?

8. Read a book for at least 30 minutes 1 day a week - I miss reading books. I think the Internet has stolen a lot of that time. I aimed for 2 days a week in March and didn't do great, so I'm going for just 1 day a week in April. I have a new Roald Dahl biography that I'd like to finish and then a list of other books folks have recommended.

9. Allow white flour 1 day a week - New one! This one is more extensive than it sounds. Basically, it means adhering to my current "slow carb diet" plan. (I plan on posting about that soon.) This wasn't an official rule in March, but I actually did really great with it and I'm seeing results on the scales. Might as well track it officially!

10. Do meaningful work at least 4 days a week - New one! In the past few weeks I've just felt like I'm stretched a little thin, like I'm just running around putting out little fires without tackling any big jobs (both at work and at home). I want to get to the end of the day knowing that I made progress on some larger goal. It's deliberately vague, in that I figure I'll know "meaningful work" when I see it.

11. Practice my ukulele at least 2 days a week - New one! I haven't practiced in a week, and I want to play some songs at knitting camp.

Yes, I am a total self-improvement nerd... but I am in love with Health Month and the benefits that I'm seeing from using it. The support from the MetaFilter team has been amazing. If I'm still this happy with it after April, I'll probably upgrade to the full paid yearly subscription. It's that good.

Sunday, March 27, 2011
| | |
| --- | --- |
| | [3] |
Jamie's 30 Minute Meals #10: Beef Hash
This is our 10th cooking/blogging experiment from Jamie's 30 Minute Meals. Hey, we're 20% of the way through! We picked this particular recipe because we had the TV episode recorded and because we had several of the ingredients in the pantry already. The hash itself also seemed fairly low-carb and we knew it would freeze well for lunches. Lucky for us, it turned out to be tasty too!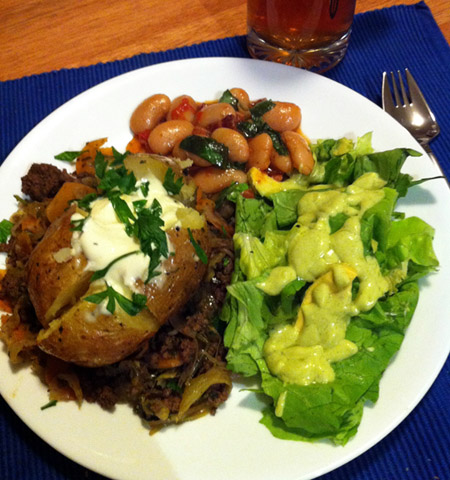 Substitutions and changes: We decided to make a DOUBLE batch of the hash since we had a kilo of mince in the freezer. We couldn't find any watercress in the shops, so we left that out of the salad. Other than that, no changes at all!

Quick verdict: Such a filling and warming dish! Simple and hearty and perfect for a chilly night. We were both surprised how great the potatoes turned out given the unorthodox "microwave + grill" method of cooking. Elapsed cooking time was 42:55, but we did do a double batch of the hash so that used some extra time. I rated it 9.5, and the Snook rated it 9 (out of 10). Honestly, the salad and beans are a bit extraneous. If I were going to make this one on a work night, I'd just do the hash and potatoes. Read on for photos of the preparation. [more...]

Saturday, March 26, 2011
| | |
| --- | --- |
| | [1] |
MOM! Check this out: Infinite Variety: Three Centuries of Red and White Quilts. Those are amazing. My favorite is "Vortex" (slide 32). HOW DO YOU DO THAT?!

Friday, March 25, 2011

Shared today on Google Reader:here.


RunningBlog: Week 12
Another cutback week, and a very short one at that. I took last weekend off to try to treat my pulled hamstring. I massaged in anti-inflammatory gel a couple of times a day and iced it every few hours. Saturday I went out to the Sydney Running Centre in Edgecliff to get some new shoes. My podiatrist advised me to get a "neutral" shoe to work with my new orthotics. The staff at SRC were great, and I ended up going with Mizuno Wave Rider 14's. (They only had my size in the men's, so I got those tomorrow grey and green ones!) On Monday I was determined to try out my shoes, so I went out for an 8K in the morning before work. Halfway through the heavens opened and it bucketed. I was drenched; I was sore; I was miserable. Seriously, what a crap run. Wednesday was a Spudds class at lunch, where I kicked some ass with 102m and 100m on the rower. Thursday I did another run in the morning before work. I would have liked to have gotten another in, but I just ran out of time. And as Hal Higdon tweeted yesterday, you really shouldn't try and make up lost mileage. It's gone! My legs need the rest anyway.

Mar. 21: 8.33km
Mar. 24: 6.35km
Total this week: 14.68km (9.2mi)
Total in 2011: 280.44km (175.2mi)

In order to meet my goal of running 1100km in 2011, I should be at 253.8km right now. So I've still got nearly 30km of cushion! I've got one more cutback week before my next long run: 32km. I'm getting excited for it...

Thursday, March 24, 2011

Shared today on Google Reader:here.

Wednesday, March 23, 2011

Shared today on Google Reader:here.


Never Say No to Panda! Series of commercials for a type of cheese. Pretty funny! (Link courtesy of my friend Stu.)


Note to self: crochet this hat for my nieces...

| | |
| --- | --- |
| | [1] |
Harry Potter wizards in other movies. Neat! Infographic charting which wizards have appeared in other films together. I would've guessed something like Sense and Sensibility to have the most, but there's actually one with NINE. Wouldn't have guessed that one.

Tuesday, March 22, 2011
| | |
| --- | --- |
| | [4] |
Tim Tam (and Oreo!) Stuffed Chocolate Chip Cookies
Sometimes I amaze even myself. I knew I wanted to make some sort of sweet treat this week as a belated birthday gift for my friend Kunaal. (He was overseas on his actual birthday a couple weeks ago.) Kunaal has a serious sweet tooth, and he is partial to chocolate. I suddenly remembered seeing Oreo Stuffed Chocolate Chip Cookies being linked on a bunch of food blogs recently. "But self," I thought, "Oreos are kind of a novelty here and they're really more American than Australian. WHAT ABOUT TIM TAMS?" Tim Tams, for the uninitiated, are just about the best chocolate cookie in the world. They're an Australian icon, and everybody who visits and tries them gets addicted. What better way for an immigrant like myself to symbolize the two cultures than by baking one national icon inside another?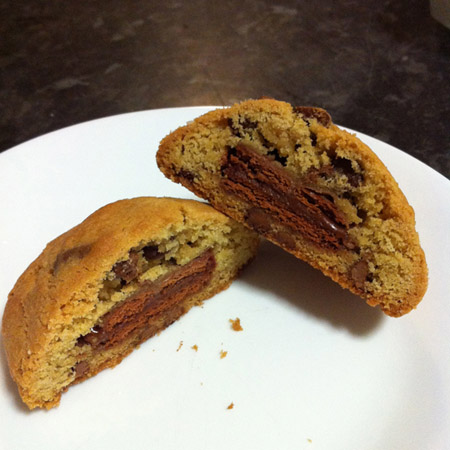 Oh man, they turned out AMAZING. I was half worried that the chocolate coating would melt and, like, leak out of the cookies or something, but they worked perfectly. I followed Picky Palate's recipe pretty much exactly. I have to give a big thank you to the Snook, who helped with the assembly. We did half of them with Oreos, and half of them with Tim Tams. (We cut the Tim Tams in half so they were square rather than oblong.) These are some pretty hefty cookies! I let each batch bake for about 14 minutes or so, just until they were golden and lovely. Then they cooled on the tray for 5 minutes before going on to a rack. I was worried they'd be squishy, but they feel pretty robust and I don't reckon transportation will be a problem.

Such a great idea, and such a great result! Now I want to bake more things inside of things. Hmmmm...


Shared today on Google Reader:here.

| | |
| --- | --- |
| | [1] |
Dear Sister. The next time I visit you, I will require Homemade Hostess Cupcake Cake Balls. Thank you.


Tutorial: How to take in jeans at the side seams. Brilliant! I have a pair of "boyfriend-style" jeans that gape horribly at the waist. I'm definitely going to do this.

Monday, March 21, 2011

Shared today on Google Reader:here.


Aww, Martha made an adorable Arctic needle-felted tapestry for her new granddaughter, Jude. So cute!


BetterWorldBooks
I randomly followed a Twitter link today to a blog by a fellow Sydney I.T. person and started reading this post about "humanising a product." I was amused to see this bit in an email from a book he'd ordered:
"I can't believe I'm leaving Mishawaka, Indiana already – the friendly people, the Hummer plant, the Linebacker Lounge – so many memories."
HA! I had to know more. You don't see Mishawaka references every day over here! The email was from BetterWorldBooks, a company that sells new and used books to fund literacy projects around the world. It turns out it was founded by three Notre Dame grads in 2002! What a great idea. I don't remember any of their names... I wonder if I knew them.

Sunday, March 20, 2011
| | |
| --- | --- |
| | [1] |
Jamie's 30 Minute Meals #9: Green Curry
This is our 9th cooking/blogging experiment from Jamie's 30 Minute Meals. We picked this recipe for a few reasons: We had the episode saved on our DVR. (It's always nice to watch him prepare it rather than rely on the book solely.) This one doesn't have a dessert, and it also looked like one that could be fairly low-carb, as long as you didn't eat the noodles. (I indulged a fair bit at my birthday last week, so I'm trying to make up for it.) And also, we LOVE green curry. :)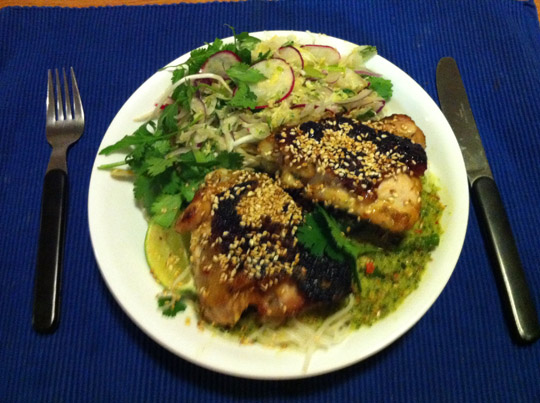 Substitutions: Not a single one. However, we didn't bother with the "garnishes" of prawn crackers, chili sauce, and a cos lettuce. That just seemed like overkill for two people!

Quick verdict: Pretty good! The chicken was very good and the skin crisped up nicely. Snook thought overall the flavours of the meal were very tasty. We both liked the curry a lot, but we felt the kimchee slaw probably had a bit too much chili. We both felt it rated between 8.5-9/10. Not a homerun, but pretty darn good. Elapsed time was 39:09, but I can't think of many ways to speed it up (beyond having the recipe memorised). There are just a LOT of ingredients to handle with this one! [more...]


Shared today on Google Reader:here.

Friday, March 18, 2011

RunningBlog: Week 11
BOOYAH, birthday week! I kicked some ass. Sunday I did my longest run ever, which you already know about. Monday and Tuesday were just rest days. Wednesday was Spudds, and as a birthday present he took it pretty easy on me. Thursday morning I did a run around the neighbourhood, and that's when I started to notice some issues with my right glute and hamstring. I ran again today at lunch, and I was definitely feeling it in the hamstring. I've pulled it. I've just slathered on some Voltarin and I'll do some icing too. I've got another two weeks before my next super-long run, so I'm not too worried about it.

Mar. 13: 27.8km
Mar: 17: 6.19km
Mar. 18: 5.35km
Total this week: 39.34km (24.6mi)
Total in 2011: 265.76km (166.1mi)

To meet my goal of running 1100km in 2011, I should be at 232.7km right now. Wow. I'm fully 30km ahead of pace. Just have to keep it together through these next three months of marathon training!


Shared today on Google Reader:here.

| | |
| --- | --- |
| | [5] |
A New Way to Measure Obesity: The Body Adiposity Index (BAI). Huh. I hadn't heard of that before. I'm curious to see how my numbers would work out. I'm healthy as a horse (Dr. Chin ran full blood tests on me a few months ago) but my BMI puts me firmly in the "overweight" category. I'll have to check out the BAI and see if it's any different. (Incidentally, according to the comments on that article the formula is missing a critical symbol. I'm just going to use this calculator instead.)

Thursday, March 17, 2011

Shared today on Google Reader:here.

Wednesday, March 16, 2011

Shared today on Google Reader:here.

| | |
| --- | --- |
| | [5] |
The Bentley Bar and Restaurant
The Bentley is a restaurant that I've been wanting to try out for a long time. It's been awarded two hats for several years in a row, and it's the most high-profile "molecular gastronomy" type restaurant in Sydney. (The chef is that guy who went on Masterchef last year and made the crazy pea dish that Claire had to replicate.) The Snook made reservations for my birthday so last night we headed over there after work.

I got there early (I was actually the first patron in the place) but they happily seated me at our table next to the front window. I ordered a G&T and checked in on Foursquare while I waited for the Snook. Our waiter was a woman from Michigan, and she was fantastic. I'd read some miffy reviews from people who thought the servers were snobby or mean, but I didn't see that at all. Eventually I spied the Snook coming up Crown Street bearing a flower for me. Awww, so sweet! And it was my favourite.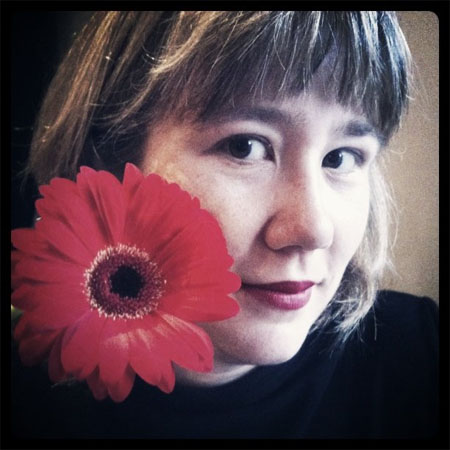 We had been tempted to order the tasting menu, but after some consideration we decided to go "a la carte" instead. Since we planned on sharing everything, we figured that way we could taste just as many dishes but get to pick the ones we wanted. I picked the "Duck Liver Foie Gras Parfait," "Beetroot with Snow Peas and Goat's Curd," "Slow Roast Duck Breast," and a new dessert that isn't on the website yet that involved goat's cheese mousse. The Snook picked "Kingfish Ceviche," "Jamon Poached Tuna," "Fillet of Black Angus Beef," and the "Raspberry Parfait." Everything was AMAZING. And you know what? It wasn't too weird. (No listening to waves crashing on an iPod tucked in a seashell or anything like that.) It was definitely "arty," in both the plating and the preparation. We didn't have any foams, but the chef definitely likes his "soils." Each dish was very, very tasty and beautiful. The waitstaff were great at recommending wines to go with each course. I took some increasingly bad photos of the dishes as the night wore on, so keep reading if you're interested... [more...]


Oooh, some details on the Chippendale stabbing from last year...

Tuesday, March 15, 2011

Shared today on Google Reader:here.


Jump Rope for Heart
For the third year in a row, my little brother Joey is doing "Jump Rope for Heart" to raise money for kids with heart issues. His fundraising page is here. If you've got some spare cash you're able to donate to a good cause, please consider making a donation on his page. And check out the video of him jumping rope... He gets better every year!

| | |
| --- | --- |
| | [8] |
Beware the Ides of March! I'm 34 today. I think it's going to be a good day.

Monday, March 14, 2011

Shared today on Google Reader:here.


Stephen King officially announces that he's working on another Dark Tower novel. Awesome. I was actually just thinking that I need to re-read the series...

Sunday, March 13, 2011
| | |
| --- | --- |
| | [5] |
RunningBlog: Longest. Run. Ever.
Today was a scheduled 17-miler on the marathon training plan. That's 27.3km. That's 5km farther than my last long run, which was itself my longest run ever. Yikes. But you know what? I DID IT. Here's the run report I filed over at Daily Mile. [more...]

| | |
| --- | --- |
| | [1] |
Jamie's 30 Minute Meals #8: Pregnant Jools's Pasta
This is our 8th cooking/blogging experiment from Jamie's 30 Minute Meals. We decided this week to move our "Jamie meal" to Saturday nights which gives me a lot more time to put the post up on Sunday. The goal for this particular meal was to CARB-LOAD in preparation for today's long run. With that in mind, we picked out "Pregnant Jools's Pasta, Crunchy Chicory & Watercress Salad, and Little Frangipane Tarts." We saw the corresponding TV episode a couple months ago, so we had a good idea of the preparations.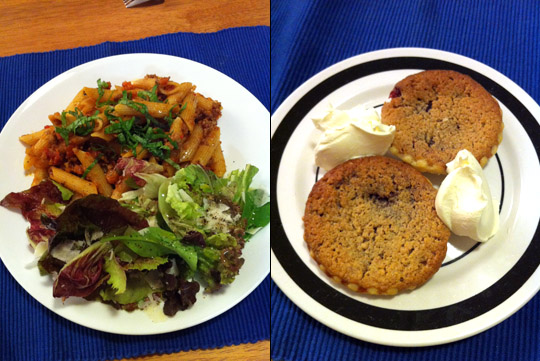 Substitutions: We couldn't find red chicory in any of the shops - it must not be in season - but we did find a bag of mixed salad at the farmers' market that had red chicory in it. We only made a half-recipe of the dessert. It was supposed to use "golden" caster sugar, but we couldn't be arsed buying it specially so we just used plain. The Snook ground his own almonds (just because he objected to the price of pre-ground at the grocery store) and we used cherry preserves instead of raspberry jam. Everything else was as-written.

Quick verdict: Yum! This is the quickest and easiest recipe in the whole book, I bet. The frangipane tarts are really impressive considering how quick they are to make. The sausage pasta is just good, filling comfort food that would please any picky-eater. The Snook found the simple salad a little too bitter for his taste, but I thought it was a nice contrast to the sweetness of the pasta. We both rated it 9/10. Our elapsed time was 35:23, but the last 5 minutes were just standing around waiting for the tarts to finish baking. If we'd have been quicker getting them in the oven, we'd have easily made the 30 minute mark. This is a great recipe for any beginners who aren't super confident in their cooking ability! Read on for a photo essay of the preparation. [more...]

| | |
| --- | --- |
| | [2] |
I am going to go on the record as LOVING the knitted royal wedding. I think it's adorable, and billion times more clever than Jean Greenhowe clowns. Of course, I am the type of person that makes crazy ballerina sock monkeys for fun.


Shared today on Google Reader:here.

Friday, March 11, 2011
| | |
| --- | --- |
| | [1] |
I am such a hipster.
I was listening to Amanda Palmer last week when I was seized with the impulse to learn to play the ukelele. (It happens.) So I headed over to Amazon with a gift certificate burning a hole in my pocket. And here I am a week later with my very own ukelele!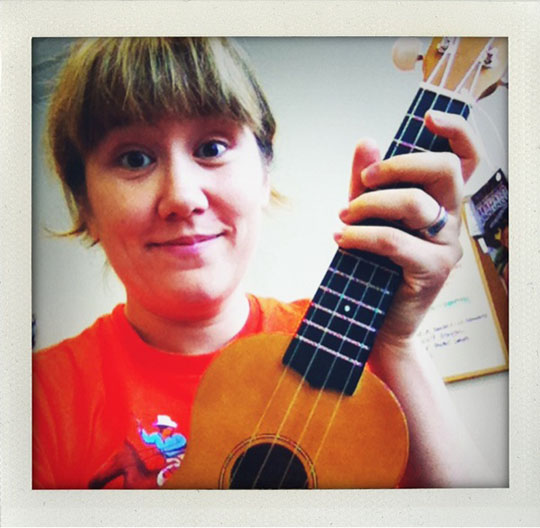 I've decided to name her "Betty." And now it's time to go to Uke School!

| | |
| --- | --- |
| | [4] |
The Snook pointed me to this "fun toy" today and hinted that "the colours aren't random." It took me a minute to figure it out, and then my jaw dropped in delight! Thanks, Snookums. :)


Shared today on Google Reader:here.


RunningBlog: Week 10
A week of really crappy runs! It happens, I guess. Sunday I had a scheduled 5-miler with a "Magic Mile" time trial. Unfortunately I had pigged out on confit duck and garlic bread like two hours before, so the run ended up being VERY UNPLEASANT. I figured my time trial would be a wash, but to my surprise it was great - 10:19! I wonder what I could've done if I hadn't had Giant Bloaty Duck Belly... Anyhoo, Tuesday I went for my first run in my orthotics. I kept it short and went pretty slow. They were agony at first, and I just couldn't figure out how to adjust my foot strike to feel natural. After ten minutes I was thinking of giving up when suddenly it improved! I think maybe my legs and feet stopped fighting the insert. I did another run in them this morning, slow and steady. I don't think I'll use them on my super-long run on Sunday; I'll tape instead. But it's good to know that I'll eventually be able to run distance in them!

Mar. 6: 8.09km
Mar. 8: 4.51km
Mar. 11: 6.18km
Total this week: 18.78km (11.7mi)
Total in 2011: 226.42km (141.5mi)

To meet my goal of running 1100km in 2011, I should be at 211.5km. So I've still got a 15km buffer!

Thursday, March 10, 2011

Shared today on Google Reader:here.

Wednesday, March 9, 2011

Shared today on Google Reader:here.

Tuesday, March 8, 2011

Shared today on Google Reader:here.

| | |
| --- | --- |
| | [3] |
Jamie's 30 Minute Meals #7: Asian-Style Salmon
This is our seventh official cooking/blogging experiment from Jamie's 30 Minute Meals. We picked this recipe because we hadn't tried a fish recipe yet, and because we happened to have the corresponding TV episode saved on our DVR. (As before, we noticed that on the show Jamie does some things differently than the book. I'll try to mention those as we go.) Historically I haven't been a very big eater of fish, so these dishes are definitely going to be more challenging for me. This wasn't my favorite of the Jamie meals we've made, but it did get me to eat a big piece of salmon... which is fairly momentous in our house.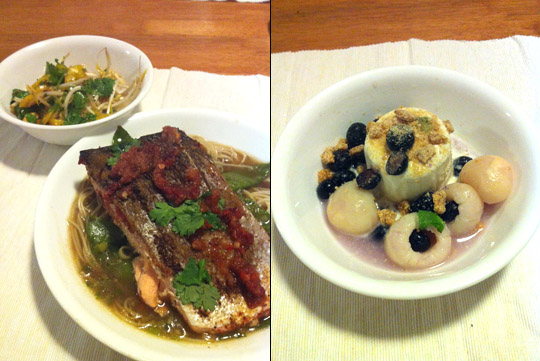 Substitutions: Our salmon fillets were slightly bigger than the ones called for (250g instead of 180g), and the Snook had to remove the pin bones himself. (We didn't count that as part of the cooking time.) He also had to spend a few minutes removing a few scales the fishmonger had missed. We had to settle for canned mango instead of fresh, and we used snow peas for the broth instead of sugar snap. We used some of the Snook's duck stock instead of a stock cube.

Quick verdict: We both weren't that impressed, to be honest. Personally, I thought this was my least favorite so far. We both rated it 8/10. It was somehow less than the sum of its parts for me. The Snook thought the dessert was "kinda meh." Our elapsed time was 39:59, but a lot of that was extra fish prep time. (Twenty minutes had elapsed before we got it into the oven.) Read on for a photo essay of the preparation. [more...]

Monday, March 7, 2011

Shared today on Google Reader:here.

| | |
| --- | --- |
| | [3] |
Weekend Update:

In case you're wondering, this week's Jamie's 30 Minute Meals recipe is going to be a day late. The Snook went to three different shops yesterday but couldn't find any bean shoots, so we had to postpone...

Sunday, March 6, 2011
| | |
| --- | --- |
| | [1] |
Ask MeFi: What are some good songs about being awesome? I need to make a playlist of just about all those. It'll go great with my new iPhone lock screen wallpaper. (Thanks Miss Fee!)

| | |
| --- | --- |
| | [1] |
Shared today on Google Reader:here.


I've only ever eaten at an In-N-Out once in my life, when my sister took us there when we visited Los Angeles in 2004. Now that the Carbos are back in L.A., I'll definitely be looking to hit it again on our next trip. And when I do, I'll be ordering off the secret menu. Check out this survival guide/review from someone who ordered every single item off the secret - and extra-secret - menu...

Saturday, March 5, 2011
| | |
| --- | --- |
| | [3] |
Shared today on Google Reader:here.

Friday, March 4, 2011
| | |
| --- | --- |
| | [2] |
RunningBlog: Week 9
This week saw me do my longest distance ever! On Sunday (as mentioned previously) I ran over 14 miles. It took me just over three hours doing a 1:1 run/walk. I felt surprisingly great during the run, but ever since I've felt run-down and a bit flu-ey. I'm not sure if I'm actually fighting off some sort of virus or if it's just because of the stress of the run. At any rate, I took Monday and Tuesday off to recover. (I didn't actually have much muscle soreness, which is good!) Wednesday I did my Spudds class and felt pretty great. Thursday morning I went for an easy run just to shake out the soreness from Spudds. And today... today I got my orthotics! They feel weird. He wants me to walk around in them for a few days before I attempt a run. Luckily this is a cutback week so I've only got 8K scheduled for Sunday.

Feb. 27: 22.61km
Mar. 3: 6.00km
Total this week: 28.61km (17.88mi)
Total in 2011: 207.64km (129.77mi)

To meet my goal of running 1100km in 2011, I should be at 190km right now. So I've built up a considerable cushion. The goal for March is to continue to follow my training plan and to avoid getting sick or injured!


Amanda Palmer has released a video for "In My Mind", which is probably my favorite song off her new album. It's lovely. The video isn't what I expected, but I think it still works.


Ken Jennings is answering questions over at Reddit. He is hilarious.

Thursday, March 3, 2011

Shared today on Google Reader:here.

| | |
| --- | --- |
| | [1] |
"People with full bladders make better decisions, scientists discover." Very interesting! I have a long-held personal theory that the male ability to pee standing up results in grown men who have no ability to "hold it" for any length of time. This research therefore indicates that women - who are much better at waiting for a toilet rather than peeing up against the nearest tree or wall, like YUCK DUDES PLEASE STOP - are actually SMARTER because of it! #smug #smart #hastopee

| | |
| --- | --- |
| | [5] |
Wonder Woman!
Last Sunday I went for my longest run ever: just over 14 miles (22.6km). I was well-prepared. I taped my injured foot myself. I put Voltaren on all my niggling sore places. I had my water belt and four packets of Endura gel for nutrition. I'd also lined up The Other Kris to meet me half-way and run a bit together. It was great! The whole run went perfectly. I first ran through Newtown to Sydney Park, where I did a little tour of the wetlands and cricket ground. Then I headed through the industrial wasteland of Alexandria on my way to Centennial Park. I met Kris in the park and we ran about 6km together. My planning was spot-on, as I finished the two loops in the park with exactly 3.5km left to run home. The Snook met me on Cleveland Street and ran the rest of the way back to the house with me. Then I drank two chocolate milks and had an ice bath. :)



Such an amazing run merited a reward, I decided. Issy mentioned on Twitter that the MAC Wonder Woman line was finally available. I'm not a huge make-up wearer, but who can resist bright red lippie in a Wonder Woman case? I stopped by DJ's last night to try it on and ended up buying it.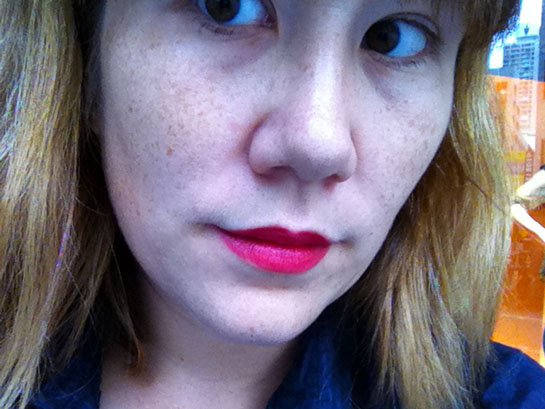 I love it! (I tweeted an Instagram version that's more dramatic.) When I finish my next - even longer! - long run, I might have to reward myself with another item from the collection...

Wednesday, March 2, 2011

Shared today on Google Reader:here.

Tuesday, March 1, 2011

Shared today on Google Reader:here.


RunningBlog: Here's an excellent round-up of scientific research on compression garments. The consensus seems to be that there's little evidence they help athletic performance, but they may aid in recovery. Huh. Maybe I'll save my SKINS for after my next long run...

archives
You can search through the archives by post keyword using the form on the left, or you can browse by month using the links at the bottom.
"Moblog" refers to posts and images posted directly from my mobile phone.

"PW Blog" refers to posts recovered from my very first weblog, which dealt with news related to my college dorm.