Saturday, March 31, 2012
Shared today on Instagram: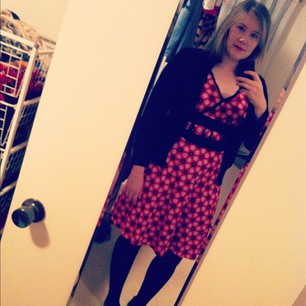 Big night... again. I wish I knew how to use makeup...

Powered by Webstagram


You Can't Handle The Hottest Doctor Who Fashions of 1984 - I feel like I might actually have this book somewhere. I hope so. It looks awesome.


Sydney Lineposter Screen Print Light Brown/White by lineposters - Nice. Just realized that with the fam visiting in a few months, I can get them to courier some things to us! This is going on the list...

Favorited today on Twitter:
You can follow me here.
Friday, March 30, 2012
Shared today on Instagram: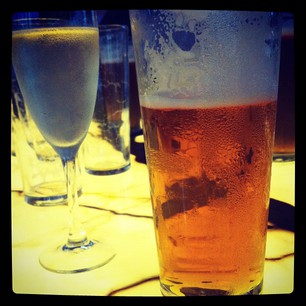 Friday night in The Rocks. Yowza.

Powered by Webstagram

Shared today on Instagram: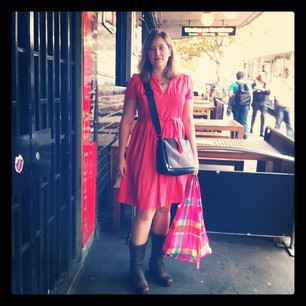 Such a hipster today. I even put a bird on it.

Powered by Webstagram


Bezos Expeditions | F-1 Engine Recovery - Jeff Bezos has discovered the Apollo 11 rockets on the floor of the Atlantic Ocean. That is fricking cool.

Favorited today on Twitter:
You can follow me here.
Thursday, March 29, 2012
Favorited today on Twitter:
You can follow me here.
Wednesday, March 28, 2012

20 Supporting Characters From '90s TV Shows Then And Now - BuzzFeed Mobile - Stevie's ear spacers are freaking me out. Dewey looks cute though. And as I may have mentioned before - Ferguson went to Notre Dame a couple years ahead of me.


Salon.com - "New Girl's" new manhood - The Snook and I have really been enjoying New Girl, and a big part of that is due to Schmidt. Or as I like to call him, Deputy Leo.

| | |
| --- | --- |
| | [1] |
xkcd: Cadbury Eggs - Cadbury Eggs rank second only to Peeps in my Pantheon of Horrifying Easter "Treats".


Me: Hahahaha...
Me: stupidly catchy teen pop song, apparently from canada or something
Me: with a hot dude and a - surprise gay! - storyline
Me: you'll like it.
Josh: oh i've seen it :D
Josh: that was alllllll over the gay rags
Me: Hahahahahaha... AWESOME
Josh: the ending is cute :)
Josh: i wish the guy had more of a cheesy grin than a total look of horror though

It's fun when you see something your friend will like and are totally justified because they are ALL OVER IT already. :)


Bacon and Egg Easter Basket | Elise's Kitchen - Primal Easter yay!

Monday, March 26, 2012
Shared today on Instagram: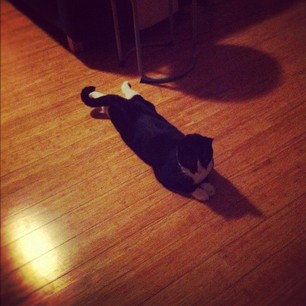 Petey sprawls. We think he likes to cool his harbles on the floor.

Powered by Webstagram

Favorited today on Twitter:
You can follow me here.
Sunday, March 25, 2012
| | |
| --- | --- |
| | [5] |
Easter Show Knitting: This year I set a record in finishing THREE projects for the Easter Show knitting competitions. I probably shouldn't blog about them yet - because, you know, SPIES and whatnot - but I can't be bothered. I never win anyway, so there's no point in being coy. As you will see, I stuck to my customary themes of "Giant Cabled Thing," "Non-Traditional Colours," and "Toys Based on Australian Children's Literature." Oh, and this year I added a new one: "Disturbing Accessories." I even freaked myself out.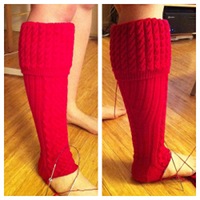 First, the Giant Cabled Thing in Non-Traditional Colours. It's Cookie A's Rhiannon Socks knitted in hot pink Wollmeise. Yes, really. Longtime readers will remember that I actually tried to knit these socks four years ago and failed miserably. There are some truly diabolical cable stitches in there (increasing four stitches while cabling at the same time, for example), but this time I cracked it. I knitted them both at the same time on my usual 2.75mm circs. This photo, of course, is from before they were finished. They were blocking for the past few days so I didn't even have time to get a proper finished photo! Hopefully the Easter Show display monkeys don't, like, cut holes in them when they display them. (If you want more details, check out the Ravelry page.)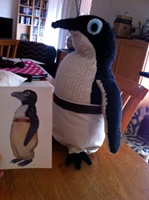 Next is my toy entry. Two years ago I knitted Albert from The Magic Pudding, and this year I decided to knit Sam Sawnoff. Sam, of course, is a penguin and a loyal member of the Noble Society of Pudding Owners. I used the Norman Lindsay watercolour as my model, basing the body off the "Fairy Penguin" pattern in the "Cleckheaton Wildlife in 8ply" book. I actually used two strands of 8ply wool throughout to make him bigger, and I improvised the feet and wings a bit (since the pattern instructions were incomprehensible). His eyes are felt, and his trousers are calico. They turned out a bit more nappy-like than I wanted, but I don't think it can be helped given the realities of penguin anatomy. Incidentally, I'm pretty sure Norman Lindsay never even saw a real penguin. Sam is WACK. (More details on Ravelry here.)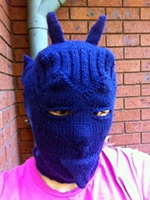 And now we come to DISTURBING: the Bokaclava. I'm not sure how I came across this free pattern, but somehow a few years ago I agreed to knit one for my colleague Sean. It sat hibernating for a long time til I was inspired to finish it. My goal, of course, was to completely freak out the Show judges. And given how much it freaked ME out every time I tried it on, I think I will succeed. I knitted it out of some random Aran wool that I was gifted, and the thing looks more like something you'd buy in a Newtown fetish shop than something entered in a country show. And really, that's pretty much what I was going for! BOOYAH. (And the Rav page is here.)

And now to wait and see the results of the judging. Any bets?


Cycling Stuff: Just because I can't ride* right now, doesn't mean I can't still think about it, right? The Snook and I have just become members of Bicycle NSW. In addition to being a great organisation dedicated to promoting cycling, it also provides public liability and personal accident insurance to its members. If you want to be a responsible bike rider, you should have insurance.

I'm also thinking about two upcoming events I'd like to attend. First is Rolling with Clover, a group bike ride/protest through the CBD next Sunday in support of the Lord Mayor. We're meant to dress up in something fancy. (You know, because only dirty hippies ride bikes and not big important capitalists or whatever.) The other event is the Ride 2 Riverstone, a fundraiser ride that takes place in Western Sydney. Maybe I could do the short one - the 35km - by May? That could be fun.

* Following an ultrasound last week, I've finally got a diagnosis: quadriceps tendinosis. The immediate prescription, as ever, is REST. And this time no cycling either. I've got a physio appointment lined up for Wednesday, and I'm using the foam roller on my quads. But I miss my bike already... :(

Favorited today on Twitter:
You can follow me here.
Saturday, March 24, 2012
Shared today on Instagram: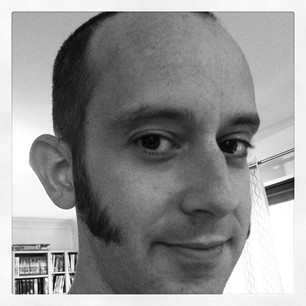 It always freaks me out for a while when he does this. #rockabillysnook

Powered by Webstagram

Favorited today on Twitter:
You can follow me here.
Friday, March 23, 2012
| | |
| --- | --- |
| | [2] |
"Star Trek: The Next Generation" Crocheted Enterprise Crew - Cute!

Shared today on Instagram: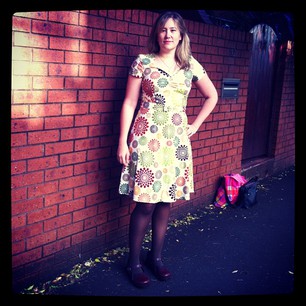 New dress, properly styled. Just need to learn to apply makeup and I'll look like a proper grown-up!

Powered by Webstagram

| | |
| --- | --- |
| | [3] |
Woman set alight walking along Sydney street | smh.com.au - WTF. Regent Street, Chippo? YIKES.

Favorited today on Twitter:
You can follow me here.
Thursday, March 22, 2012

Smart - Cablog - I'm never as cynical as I should be. God, this is scary. Young women of Sydney, please be safe.


How-To: Make a Tailor's Ham - Oh neat. I need one of those!

| | |
| --- | --- |
| | [1] |
After seven years of chasing after him, the cops finally caught Malcolm Naden. Wow. Our criminal is no longer on the loose!

Favorited today on Twitter:
You can follow me here.
Wednesday, March 21, 2012
| | |
| --- | --- |
| | [1] |
Shared today on Instagram: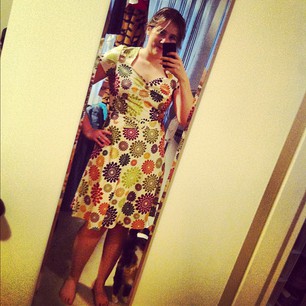 New dress from Heartbreaker. Hello, sweetheart!

Powered by Webstagram


Fort Wayne Children's Zoo's Dingoes Are Growing Up Fast! - So cute! I really must take the Snook to their Australian exhibit the next time we visit.

| | |
| --- | --- |
| | [2] |
10 Reasons the Rest of the World Thinks the U.S. Is Nuts - The Huffington Post - This spot-on rant might just as well be titled: "10 Reasons Kris Doesn't Live in the U.S. Anymore." I am very lucky to live somewhere where my employer has no right to know my reproductive status and no means to attempt to control it. Religious freedom my ass...

| | |
| --- | --- |
| | [2] |
What Australians Eat - This is pretty shocking stuff (to this caveperson, anyway). As the Snook put it, "The average australian eats 2kg broccoli in a year. I think we eat that in a month." I was also depressed by this: "When we cook, a Westfield survey found more than half Australians rotate between a repertoire of five meals or fewer." No wonder bread, junk food, and fries are so popular.


one tiny hand - Amy Carbo, this is so for you.

Tuesday, March 20, 2012

What she really said: Fighting sexist jokes the geeky way! - This is brilliant. Granted, the only people I know who use "That's what she said" in real life are Rodd and Kunaal, and it's always funny to me when they do it. But I can see where it'd get annoying if people kept doing it after you said not to. Major, major respect to Jessamyn for fighting back with her brain! (I wish I was more of a programmer.)


mad in crafts: Make Joan Holloway's Pen Necklace - LOVE IT.


How-To: Grow a Portrait Gourd - Whoa! They look like mandrakes from Harry Potter!

Shared today on Instagram: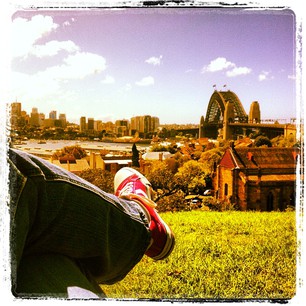 Some days this city just spoils you.

Powered by Webstagram


Government Free VJJ | Dear Men in Congress: If we knit you a uterus, will you stay out of ours? - Hahahaha! Hear, hear! (Link courtesy of stufromoz.)



I'd be lying if I said a small part of my brain wasn't considering knitting a VAGINA for the EASTER SHOW NEXT YEAR...



Favorited today on Twitter:
You can follow me here.
Monday, March 19, 2012

Have you seen this Direwolf? Arya Stark's Lost Dog Poster - Nice.

Favorited today on Twitter:
You can follow me here.
Sunday, March 18, 2012
Shared today on Instagram: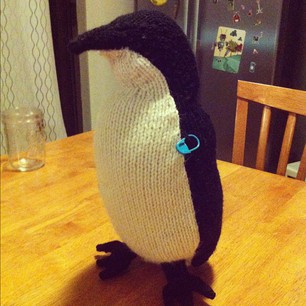 MY CREATION LIVES! (Well, he still needs wings. And eyes. And pants.)

Powered by Webstagram

| | |
| --- | --- |
| | [3] |
Boxed Wine: Not Just for Your Alcoholic Aunt Anymore | Mr. Money Mustache - Hey, Mr. Money Mustache not only comes out in favor of boxed wine, but he also mentions our preferred brand as well - Banrock Station! (I had no idea it was available in the US.) I had to laugh though at the mention of couples who go through "a bottle of wine a week." Uh, yeah. We go through a fair bit more than that...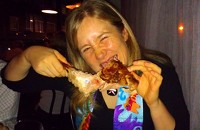 Game of Thrones Dinner - A few weeks ago I spotted an article in the SMH about a special Game of Thrones themed menu that Gastro ParK was doing this month. I'd heard of the restaurant before; Miss Fee went there last year and enjoyed it. I rang them up to ask about a possible booking and found they were filling up fast! I managed to get a table for four for the 15th... which just so happened to be my birthday! Awesome. I invited the other two biggest GoT fans I know (Kylie and Kunaal) and we prepared ourselves for an evening of GEEKING OUT. I am happy to say the experience did not disappoint. Kylie took photos and wrote everything up over on her blog, so go there if you want to see what we ate. The venison was beautiful; the soup exquisite; the roast pork divine. We dove in like we were Baratheons. And that dessert... A giant silver tray dotted with all manner of sweet things including a passionfruit-filled dragon's egg that melted when the waiter poured over "liquid gold" (a la Viserys)? DIED AND GONE TO HEAVEN. My favorite part was the ostrich-egg sized cloud of frozen aerated buttermilk panna cotta. (Granted, the crash from the sugar buzz the next day kinda sucked. But still - WORTH IT.)

Highly recommended if you can manage to get a table!

| | |
| --- | --- |
| | [2] |
Corned Beef Brisket
Since Mary-Helen asked about my corned beef yesterday, I thought I'd share the recipe. I had the idea a couple weeks ago to make something "Irish" for St. Patrick's Day. I ended up basing the dish on these two recipes. I'm really pleased with how it turned out! I had seen a lot of warnings that it would look grey and unappetizing without saltpeter (which is difficult to get these days), but mine turned out nicely browned. (Granted, it wasn't the traditional "red", but I didn't mind.) Overall the dish was a lot easier and tastier than I expected!

I bought the brisket at Establishment 218, and it was a massive, vac-packed 8kg+ slab of beef. (It was flat, not rolled.) The butchers helpfully cut it into quarters so we could get it home (on our bicycles). I only ended up using half of it, and I sold the other half on to my Irish friend Kevin so he could make his own. :) [more...]

Favorited today on Twitter:
You can follow me here.
Saturday, March 17, 2012
| | |
| --- | --- |
| | [3] |
Shared today on Instagram: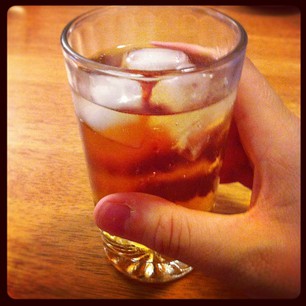 Jameson & Ginger. For a classy St. Patrick's Day. #enjoyingthis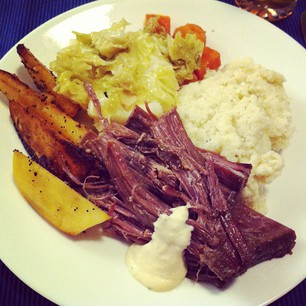 Dinner Tonight: IRISH! Homemade Corned Beef & Cabbage, Cauli Mash, Glazed Turnips, Horseradish Cream.

Powered by Webstagram

Friday, March 16, 2012

The Story Behind That 9,000-Word Quora Post on Airplane Cockpits - Megan Garber - Technology - The Atlantic - What do all the controls in an airplane cockpit do? Somebody actually answered that. (This one's for the Snook.)

My niece is the cutest.
Thursday, March 15, 2012
| | |
| --- | --- |
| | [2] |
Shared today on Instagram: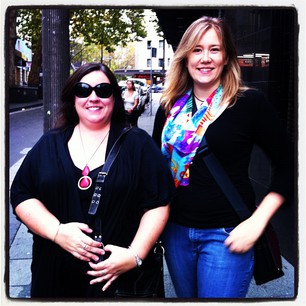 Kylie and I dressed in black, in honour of the Night's Watch. (Jon Snow is our boyfriend.)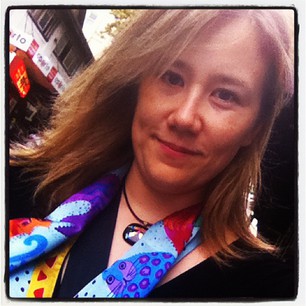 Happy birthday to me! New necklace + scarf courtesy of Ma Snook.

Powered by Webstagram

| | |
| --- | --- |
| | [3] |
Kitchen Update: You'd think I'd know from watching all those episodes of Grand Designs that renovations never go as fast as you think they well. This process is just GLACIAL. We had the "Check Measure" guy out to do detailed measurements of our kitchen a few weeks ago. He then took those away to make an exact plan. (Apparently the previous one was too vague, and they have to be certain everything will fit before they can build the cabinets.) Then we had to approve all those plans. Now we're waiting for the actual project plan that will tell us when everything is finally going to happen.

We've been crossing some things off the To Do list though. We managed to pick out, purchase, and pick up the tiles for the floor. (Full-bodied porcelain tiles in black and white are surprisingly hard to find! I guess more people want their kitchens to look like Roman villas than 50's diners.) We also got the builder out to give us a quote on extending one wall. And last weekend, we got our appliances delivered from Harvey Norman. We were going to wait until right before construction, but what the hell! I'd rather start using my massive new fridge right now.


| | |
| --- | --- |
| Old and busted | New hotness |


Yep, the new fridge is set up in the dining room. It won't actually fit in the old space in the kitchen til we tear stuff out, so that was always going to be the case. The refrigerator compartment is a bit bigger, but the freezer is HELLA bigger. More than double. We are giddy with the possibilities. (The first thing we did after we plugged it in was ride to Establishment 218 and buy $150 worth of meat.) The new microwave has also been put to work early. However the faucet, dishwasher, and rangehood are still sitting boxed up in the corner, and will be for the foreseeable future. COME ON, HARVEY NORMAN. LET'S DO THIS.

Wednesday, March 14, 2012
Shared today on Instagram: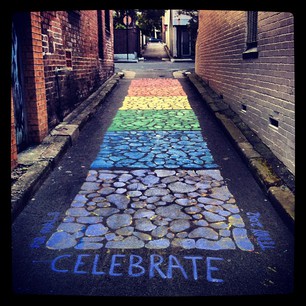 Spotted in Paints Lane, Chippo. #unexpected #prettiness

Powered by Webstagram

| | |
| --- | --- |
| | [1] |
"Bike Thief" - NYTimes.com - A guy in New York conducts an experiment where he attempts to steal his own bike in broad daylight in a number of locations - including right outside the 9th Precinct Police Department. Needless to say, nobody stops him. This is why I'm so nervous about parking my bike outside. At home we bring them in the house, and at work I take it in the office (up two flights of stairs). I've only parked on the street a couple times, and mostly where I could see it. This past weekend, I rode to Surry Hills for the Guild meeting and parked my bike at the racks behind the Library. It was out of my sight for over two hours. Happily, it didn't get nicked... but I'm sure it could have happened just as easily as it did in NYC.

Interestingly, the video mostly shows him using chain locks. Are the U-locks or steel cable locks any stronger? I have a Knog lock, and it feels pretty hefty. Just wondering if maybe the type of lock is more of a factor than I thought...)

Tuesday, March 13, 2012

Lucky Charms Treats - DEAR GOD. I know these are nutritionally-deficient Franken-foods that no sane adult should go near... but man, I want 'em.


The Hunger Games Craft Roundup @Craftzine.com blog - That embroidered map is pretty amazing. Not sure about the shoes though... :)

Shared today on Instagram: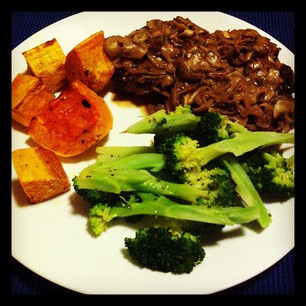 Dinner Tonight: Paleo Salisbury Steak, Butternut Pumpkin, and Broccoli.

Powered by Webstagram

Monday, March 12, 2012
| | |
| --- | --- |
| | [3] |
'Bizarro World' - The Boston Globe - A fun article about video game records, and how a random lady discovers that she's the best Tetris player in the world. You know, I used to be pretty damn good at Tetris myself. This makes me want to play again... (Link courtesy of John.)

Sunday, March 11, 2012
Shared today on Instagram: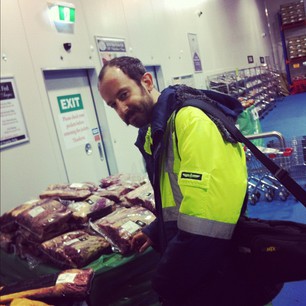 Time to fill up our big new freezer! Rode to Alexandria and bought a lot of MEAT.

Powered by Webstagram


Plaintiff in healthcare law challenge went bankrupt - with unpaid medical bills - Los Angeles Times - As someone on MetaFilter said: "Hey, that's a funny coincidence!" Amusing how many "rugged individualist Conservatives" see no hypocrisy in complaining about government intervention while freeloading off everyone else.


Angel does stuff. - Bwahahahaha! Nice one. Somebody with a David Boreanaz cutout is having lots of fun imagining what Angel is up to these days. My personal favourite is the late night snack attack.



Sophomore year we had Jerry Maguire and Darth Vader cutouts in our dorm room. I can't believe we didn't think of doing anything this clever with them.



Favorited today on Twitter:
You can follow me here.
Saturday, March 10, 2012
| | |
| --- | --- |
| | [3] |
Shared today on Instagram: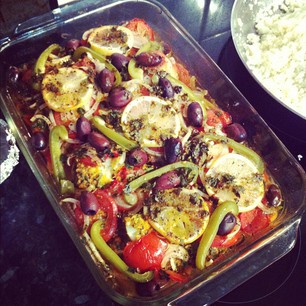 Beautiful Moroccan Fish Tagine, courtesy of the Snook. #paleo

Edited to add: If anybody want the recipe, this is it.

Powered by Webstagram


Motherf**kin' Bike - Terribly rude song, but also hilarious. Represents just about all cyclist stereotypes. (I especially liked the use of the ukulele.)

| | |
| --- | --- |
| | [1] |
Rachele Gilmore's 100 MPH Fastball | MetaFilter - This post isn't actually about baseball; it's about opera. There are two YouTube performances linked there that you should watch. The first is an aria as performed at the Met by a star at the top of her game. It's wonderful. The second is the same aria performed by her understudy at another performance. The understudy makes the most of the opportunity and blows the audience away. Apparently there was a 17 minute ovation! And it's believed that one of the notes she hits is the highest ever sung at the Met. Both performances are fun and beautiful even if you don't like opera. Very cool.

Favorited today on Twitter:
You can follow me here.
Friday, March 9, 2012

Lolita cover redesigned | MetaFilter - I know it's not meant to be sexy, but I knew a guy at Notre Dame who had memorised the first paragraph of Lolita... and it was breathtaking. He later joined the priesthood. I'm not kidding.

| | |
| --- | --- |
| | [1] |
Shared today on Instagram: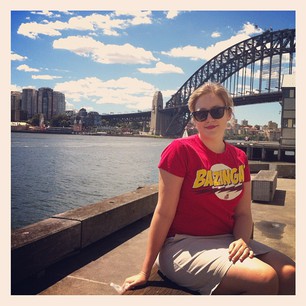 Gorgeous day. Red lippie. Bazinga.

Powered by Webstagram


"The Ink Ceiling" - My company Sitback has another mention in the media! They're loving us these days. This one is about tattoos in the business environment (yes, really) and my boss Paul is quoted. I can't remember if I noted the tatts when I met him, but I do think they're pretty cool. I don't think anybody there knows I've got one though... :)

| | |
| --- | --- |
| | [2] |
TweetAngel Will Call Your Small Business About Negative Tweets - I can see where you might think this was an awkward stupid idea... but I know people who are afraid of the Internet. People who talk about Twitter the way you imagine some 1950's authority figure to talk about rock and roll. I've no doubt they'd pay to get a phone call when somebody was trashing them online. I only hope that TweetAngel accepts cheques.

Favorited today on Twitter:
You can follow me here.
Thursday, March 8, 2012
| | |
| --- | --- |
| | [1] |
How Tortoiseshell Cats Show the Limits of Cloning - Aww, I knew Dr Amy Jones was one in a million already.

| | |
| --- | --- |
| | [1] |
Baby Goats Hopping (VIDEO) - Dear Snook: Are you SURE we shouldn't get a goat? Because these are ADORABLE. (Link via @imdominating.)

Favorited today on Twitter:
You can follow me here.
Wednesday, March 7, 2012
Shared today on Instagram: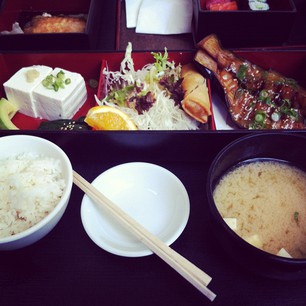 Team lunch at Japanese place today. Yummy! I left the rice, of course. :) #reasonablypaleo

Powered by Webstagram

| | |
| --- | --- |
| | [2] |
Measurable Progress
Over the past six weeks, I've ridden my bike to my new office in the Rocks several times. I realised today that I've been getting faster with every single ride! Check out this data:

30/01 - 27:15
03/02 - 22:57
03/02 - 22:57
06/02 - 21:36
05/03 - 20:41
06/03 - 19:24
07/03 - 18:00



I've ridden a lot more than that, but those are all basically the same route to work in the morning.



Pretty cool, huh! Today was the fastest ever. I'm sure that some portion of it is just me being more comfortable riding in traffic, but there's obviously some strength increases happening too. The best part is that I haven't really been trying - I'm just having fun on my bike!

Favorited today on Twitter:
You can follow me here.
Tuesday, March 6, 2012
Shared today on Instagram: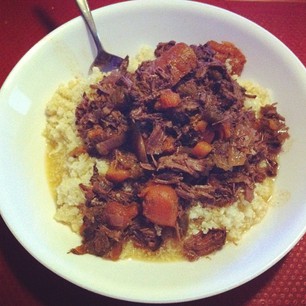 Dinner tonight: Slow Cooked Beef Cheek on Cauliflower "Rice" #paleo

Powered by Webstagram


Make Your Own Corned Beef and Cabbage - CHOW - Holy crap, YES. I am going to get a brisket this weekend and make proper Oirish food for St. Paddy's Day next weekend. Complete with turnips!


Five Leadership Mistakes Of The Galactic Empire - Forbes - Turns out force-choking your underlings is not a recommended management strategy. Heh.

| | |
| --- | --- |
| | [11] |
Food journal for the Paleo Diet - PaleoTrack - Ooh, very nicely done web app! I was able to quickly enter my breakfast for the day and see the overall breakdown of calories from fat, protein, and carbs. I'm sure the numbers would shock some of you. 70% from fat! (Delicious, satisfying fat.) That's the only way I can make it to lunch without my tummy grumbling. And yet my weight keeps steadily trending downwards...

| | |
| --- | --- |
| | [3] |
Psychologists confirm: Women REALLY don't like beards | Mail Online - I am clearly a weirdo. I think Will and Keanu look way hotter with beards. I think the key is having them well-groomed. Brad Pitt looks like a mental patient with that billy goat beard.


Dub Box Camper | Uncrate - Hipster SWOON. We could pretend to be Lucy and Desi in "The Long Long Trailer"!

| | |
| --- | --- |
| | [8] |
Anybody watch The Good Wife? This New Yorker article makes it sound really good. I thought it was just a soap opera. Wonder if DVDs are available...

Favorited today on Twitter:
You can follow me here.
Monday, March 5, 2012
Shared today on Instagram: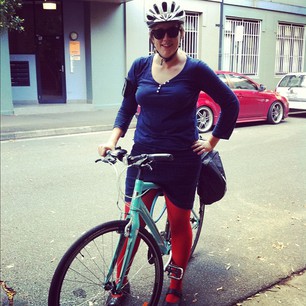 Proof that I did it. Turns out bike shorts underneath were a Very Good Idea. #justflashedhalfofsydney

Powered by Webstagram

| | |
| --- | --- |
| | [2] |
Shared today on Instagram: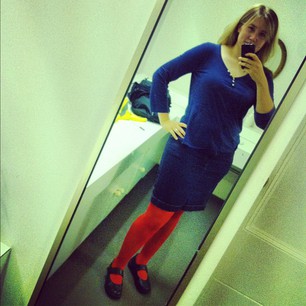 Bright and cheery Monday calls for bright and cheery tights.

Powered by Webstagram

Sunday, March 4, 2012
Shared today on Instagram: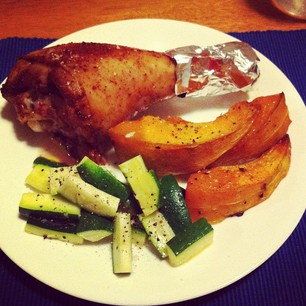 Dinner tonight: Caveman Pops (Roast Turkey Legs), Pumpkin, Zucchini. #paleo

Powered by Webstagram

Shared today on Instagram: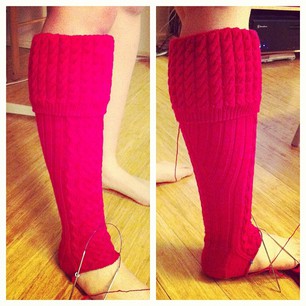 Finally nearing the end of these socks! Which is good, because I'm sick of them.

Powered by Webstagram

Favorited today on Twitter:
You can follow me here.
Saturday, March 3, 2012
Shared today on Instagram: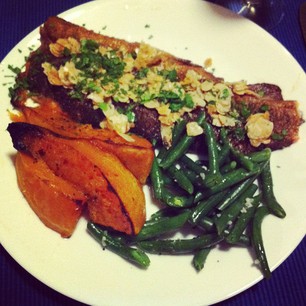 Dinner tonight: Rainbow Trout with Almonds, Pumpkin, and Beans. #paleo

Powered by Webstagram


"Morale of the story: a little woo goes a long way." Hey, that's my company featured in today's Sydney Morning Herald! I am actually secretly in that photography twice. Over Paul's head, you can see some text saying "...precious about the Retailer...". That's part of a "Woo" I gave a co-worker. And on Karen's shoulder, you can see my name projected on the scoreboard.

Favorited today on Twitter:
You can follow me here.
Friday, March 2, 2012
| | |
| --- | --- |
| | [8] |
"Pickiness: The Secret Eating Disorder Nobody's Talking About" - Seriously? They're actually suggesting the picky eating should be put into the DSM-V as a mental disorder?! I'll admit I have very little patience with these people. It's because I used to be one. And through a little effort and experimentation, I got over it. I can't help but think, "What crybabies." Ever notice how these disorders only show up in places like the US and UK, where indulgent parents and an abundance of food make it possible for someone to spend their whole childhood eating nothing but - ugh - chicken nuggets?

Favorited today on Twitter:
You can follow me here.
Thursday, March 1, 2012
Shared today on Instagram: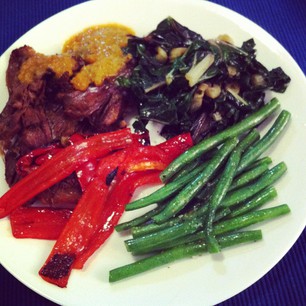 Dinner tonight: Slow Roasted Lamb Shoulder, Silverbeet, Capsicum, and Beans. #paleo

Powered by Webstagram

Edited to add: The lamb is Mark Vetri's Slow Roasted Lamb Shoulder, and it was excellent. I saw the recipe last week, and fortunately our butcher had a great deal on lamb shoulders. (2 for $30!) You actually brine it in the fridge for 3 days. I modified the recipe a bit. I just did one shoulder, which was about half the size he specified. I used dried rosemary instead of fresh, and I cut down on the sugar a bit. It all went into a big Ziplock and then sat in the fridge getting tasty. Today I cooked it in the slow cooker rather than the oven. I rested it on a bed of onions, carrots, and celery. It smelled AMAZING when we got home. I pulled out the shoulder and set it on a tray to cool. The bones slid out easily. In the recipe, he has you slice it and then fry the chunks for extra crispness. Instead I sorta pulled it apart into shreds on the tray, then whacked it under the grill for a few minutes. Yummy, salty, lamby goodness! The only drawback to the slow cooker is you don't get nice roast veggies to have with it. (Mine were cooked into mush, which I attempted to turn into a gravy.) Still, a great way to use a cheap, flavourful cut. Will definitely do this one again.

Shared today on Instagram: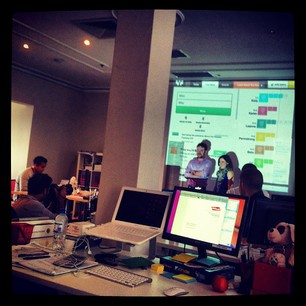 Photoshoot in the office! Very cool.

Powered by Webstagram


Can We Feed the World on the Primal Blueprint Diet? - Part 1 - Good question, and worth thinking about. Sustainability isn't cheap...

Favorited today on Twitter:
You can follow me here.
archives
You can search through the archives by post keyword using the form on the left, or you can browse by month using the links at the bottom.
"Moblog" refers to posts and images posted directly from my mobile phone.

"PW Blog" refers to posts recovered from my very first weblog, which dealt with news related to my college dorm.