Tuesday, April 30, 2002
| | |
| --- | --- |
| | [4] |
Oh my God. You know that killer Maryland tornado? It went through Moire's front yard. She's okay, but the entire town is flattened. Go read her account of huddling in the basement while the twister blew by her place. Very scary stuff. Like her, I lived in Indiana for years and never experienced anything like this.

What WB Drama Are You?
I am Felicity. Weird. I've never even seen that show once.

You are most daring, and like the quote says, you grab the bull by the horns! You do what makes you happy, not what anyone tells you to do. Because of this attitude, chances are that you're the creative type, whether it be with a paintbrush, a guitar, a journal, etc. You're also pretty laid-back, so it's casual all the way for you. You'd rather be comfortable than be a slave to fashion. Finally, you're a total romantic. Love is most important to you, so you will do whatever it takes to protect it. You might not go as far as Felicity did (she flew across the country to follow Ben!), but definitely fight for it with all you've got.

Hmm. That's pretty accurate, I guess. Maybe I'd like the show. Too bad it's cancelled. (Linked because everybody else is doing it.)

| | |
| --- | --- |
| | [3] |
New Poll: What's your verdict on ol' Spook Tooth? You know, I honestly don't know where I got that phrase from. I think it's one of my sister's. At any rate, I'm referring to "Jewel", the singer-songwriter-poet (and crappy horse rider). As my college roommates can attest, I've had an irrational hatred of her for many years now. Am I the only one?


Let me see if I get this straight: Jewel (the singer) had to cancel several performances because she got thrown off a horse and broke her collarbone. She was going to debut her new single, "Break Me". Seriously. I think she just did it for the publicity. :)

That reminds me of Clem Snide, the band that opened for Ben Folds last week. We only caught the end of their set, but we liked what we heard. My favorite part was the singer's introduction to "Moment in the Sun". He claimed that he was trying to channel Jewel through the song, "during that living-in-a-van phase". I laughed and laughed. I've never been a big Jewel fan. The spook tooth scares me.

Monday, April 29, 2002

Holeee crap. Have you checked out my Recent Search Requests page lately? Katrina got evicted last night, and I'm #5 with a bullet on Google's results list. Great. I don't have any porn, people!


Some greenies at my alma mater tried to set a world record for tree hugging. I kid you not.

| | |
| --- | --- |
| | [3] |
Woohoo! While looking up movie times online today, Snookums discovered that tickets are currently on sale in Sydney for Star Wars Episode 2: Attack of the Clones. Six hours later, I had a pair of them for the very first midnight showing in my hand. I admit I'm kinda bummed that we won't get to camp out, but the fact that I'll see it fourteen hours before you chumps in the Eastern Hemisphere more than makes up for it! :)

Saturday, April 27, 2002
| | |
| --- | --- |
| | [1] |
Cool! I just realized that Claire has a new blog. The world needs more snarky Aussie bloggers. And not only has she linked me, she's linked my Dahl page! As she is brilliant and funny, I have returned the favor.


This is the coolest thing ever. A southern Indiana man built his own roller coaster out of scrap metal. It even goes upside-down! This guy sounds like my dad. :) (Link courtesy of John.)

| | |
| --- | --- |
| | [2] |
Happy birthday, Bill! (I didn't include the word "belated", because it's still technically Friday in the US, right?)

| | |
| --- | --- |
| | [12] |
"Typecasting: The Use (and Misuse) of Period Typography in Movies". That's awesome. I love nitpicky articles like this. I've also noticed myself becoming more "font-aware" over the last few years. Lately, I've developed a physical revulsion to the inappropriate use of "Comic Sans MS". (Yeah, I still use it for my Dahl logo, but it's appropriate there.) For example, there was a restaurant near our place in London called "Spicy Fong!" that used Comic Sans MS on all its menus and signage. Could you possibly think of a font less suited to a Chinese restaurant? Me neither. I refused to go near the place.


Success! The Snook had a lot of willpower, but I broke him. He's now as hooked on Big Brother as I am. We were both shocked to see Damian - the house Lothario - voted out last week. He was one of the couples! (He was probably the one most likely to have sex in the house, too, so imagine our loss.) This week's scandals have been all about Katrina. First it was revealed that she's posed nude in a soft-core porn mag. And even more shockingly, it's now being reported that she's a Young Liberal! There's even an e-mail campaign afoot (masterminded by Young Labor, no less) to get her evicted. Who knew Big Brother was so political?

| | |
| --- | --- |
| | [1] |
The last of my Blogger CD Swap CDs arrived yesterday. Hooray! I've got a phat stack of music I should be listening to. Big thanks to Todd, Dobbs, Ida (my favorite cover art of all time, by the way), Sophia, and Teejay (who insanely sent me three awesome discs and thus proved that somebody spent more time on this project than me). Air kisses of gratitude also go out to Kristen, Max, and Matt, none of whom were on my original list but whose CDs I'm enjoying anyway. You guys all rock.

| | |
| --- | --- |
| | [3] |
Friday Five:

1. What are your hobbies?
Besides all this Internet crap? I quilt. My first blanket is coming along very well, aside from the fact that my fingertips are all raw and bloody from stabbing myself too many times with a quilting needle. I'm also learning Korean in the hopes of amusing my grandparents the next time I go home.

2. Do you collect anything? If so, what?
Though I collect books in general, I also have tons of Roald Dahl stuff. I've got an entire shelf of his books, including several rare volumes (that I paid an arm and a leg for on eBay). I've also got Dahl movies, Dahl CD's, Dahl records, Dahl magazines, and even a doll (from Matilda). I tell myself that it's all for the site, but really, it's for me. :)

3. Is there a hobby you're interested in, but just don't have the time/money to do?
I'd love to actually get "serious" about my Dahl collection and go after some of the really nice first editions. Since I've seen prices with four digits, though, that'll have to wait til I make my first million. I've also had a crazy desire lately to learn to knit. I'm just working my way through the domestic arts, people.

4. Have you ever turned a hobby into a moneymaking opportunity?
When I was first heading to London, I sold my rarest Dahl book because I needed the cash. I immediately regretted it though and was lucky enough to be able to buy the same volume back later. Quilting could possibly be a money maker, though. I used to scoff at how much the Amish back in Indiana charged for these things, but now that I know the work involved in making one by hand, I don't think hundreds of dollars is out of the question. Of course, this first one is for my bed. It's getting cold at night!

5. Besides web-related stuff (burbs, rings, etc.), what clubs do you belong to?
Not really anything. I don't know enough people here to join a club yet.


Check it out! Remember the Australian reality TV show I told you about, where the viewers control the fortunes of a minor league rugby team? (Sidenote: The Hammerheads just won their first game! Chicks still aren't allowed to play, though, so Debbie Lee is working as assistant coach.) Well, anyway, it looks like HBO is developing something similar in the U.S., except with baseball! I got the impression that the team will be an existing minor league team, though, rather than a new one composed of all amateurs. Honestly, the best part of watching The Club is seeing the randoms that got picked to play. It's a great show concept, though. If they get the right people/characters, it could be a big hit.


Mucho apologies for the lack of post. Turns out it wasn't our ISP; it's our server. Dialing out works fine from either Snook's or my computer, but when we go through our server (and firewall), nada. Since we haven't changed anything recently, we're wondering if we got hacked. Snook's busy scraping everything off it and reinstalling, so hopefully we'll be back in business soon.

Thursday, April 25, 2002
| | |
| --- | --- |
| | [4] |
Ahhh, it's been too long since I did one of these. What High School Stereotype Are You? Not surprisingly, I am a geek. I object strongly to their indiscriminate use of "geek" though. Sure, I got good grades, but I also played sports and went to dances. And I never played role-playing games (back then)! I mean, there are geeks, and then there are nerds. (Link courtesy of Brigita and anon.)


I'm suffering Internet withdrawal. Our ISP has been "throttling" us because we download too much. Whatever. It's too slow to do anything. I wish the damn ADSL guy would come put us out of our misery!

Tuesday, April 23, 2002
| | |
| --- | --- |
| | [7] |
Have any of you ever tried to learn a foreign language on your own, like from a book or tape? I've decided I'd like to learn Korean, but I can't find a single language school in the city that offers it. Now I'm wondering if I could do it on my own. I found a helpful website, and I was thinking I could get a book or tape to go along with it. If you've done something similar, do you have any suggestions? Is it too difficult to learn without other people to converse with? What kind of materials should I look for?

Monday, April 22, 2002
| | |
| --- | --- |
| | [9] |
Calling all old-school gaming nerds! You can now play the Hitchhiker's Guide to the Galaxy Text Adventure online! It's java-based, but I got it to run fine in Mac IE. It's fun! I keep dying, though. I can't figure out how to stop the bulldozer. :)

| | |
| --- | --- |
| | [1] |
Michele pointed me to a great interview with Philip Pullman, author of the His Dark Materials trilogy. Did you know The Mail on Sunday called Pullman the most dangerous man in Britain? And here I thought all the conservative book critics were too busy burning copies of Harry Potter to notice. My sister just finished the books, so she should appreciate getting a bit more insight into Pullman's personal religious philosophy. I was amazed by his statements that C.S. Lewis's Narnia books are "detestable". He makes some good arguments against the view of Heaven that those books present. Good stuff.

Sunday, April 21, 2002

"It's a mysterious story of wealth, society, bridge - and maybe murder." A wealthy older Melbourne couple vanished a few weeks ago and the police can't seem to find them anywhere. Although I really don't see where "bridge" comes into it, unless the article's author is trying to make us think the bridge instructor had something to do with it.

| | |
| --- | --- |
| | [4] |
It's actually very early Sunday morning, and we just got back from the Ben Folds concert. It was fantastic. Just him and a piano and a couple hundred of us packed in a theater. Then the Snook and I headed to the local tapas place for some late night snackage and the best cheesecake I've ever tasted. Good times.

Saturday, April 20, 2002
| | |
| --- | --- |
| | [2] |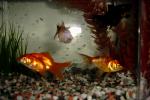 At long last, we have our babies!
Well, fish babies. Big Gay Al helped us pick them out Thursday. If you wanna see 'em up close, click here. The black one in the upper right has really bulgy eyes, so we named him Admiral Ackbar. Continuing clockwise we have Grand Moff Tarkin, Aurra Sing, and Porkins. (He's the fat one facing backwards.) We also have a little snail that sticks to the aquarium walls. His name is Salacious Crumb, of course. (If you don't get the names, just remember that we're geeks.)

| | |
| --- | --- |
| | [2] |
Friday Five:
They're all TV-oriented this week, which sucks since I'm slightly out of the American TV loop.

1. What's your favorite TV show and why?
I'd say Buffy, but we're waiting for the Season 4 DVDs so I'm all out of sync. Currently then I'd have to say it's a tie between Six Feet Under and Big Brother. SFU is easy to understand; it's just a good show. (And Peter Krause is damn hot.) Big Bro is a more embarrassing pleasure. The Australian version is the best I've seen yet! They've only been in there for twelve days and we've already got two couples going (each of which involves boy/girlfriends on the outside). And every Thursday we get Big Brother Uncut, where they show all the curse words, drunkenness, and full-front nudity. I swear to God, on actual network television. The first Uncut featured all of the housemates showering nude (including the fitness instructor that I hate shaving her bikini area - *shudder!*) as well as a drunken lesbian kissing session during a game of Truth or Dare. Don't you wish the American version was as good? :)

2. Who is your favorite television star?
Buffy. SMG rocks. (But Peter Krause runs a close second.)

3. What was your favorite TV show as a child?
I didn't really have a favorite. I'd watch anything and everything. I especially liked The Hogan Family, Cheers, and ALF. (Yeah, laugh it up.)

4. What show do you think should have been cancelled by now?
Ally McBeal. Oh wait, my bad. :)

5. What new show do you hope escapes the axe this season?
Though I haven't seen a single episode, I've been reading and loving TWOP's recaps of Undeclared. I want it to stay on the air just so I have a chance of seeing it someday.


BWAHAHAHAHA! I just headed over to TWOP to read the latest Dawson's Creek recaplet (no, that's not the funny part yet), and I noticed that the advertisement down the side of the page reads "Learn Film Making!" It's for the New York Film Academy. (You might need to refresh a couple of times to see it.) Hee! Isn't that funny? Because Dawson is a film maker... and he sucks... and stuff? Okay, it was only funny to me.

Friday, April 19, 2002
| | |
| --- | --- |
| | [1] |
Woohoo! Snookums and I are going to try to get tickets to see Ben Folds tomorrow night. Did you know that he actually moved to Adelaide (South Australia) when the band split up? That's where he lives now. Huh. Anyway, we don't know a lot of his stuff, but we like what we have, so it should be fun.


Seriously, Wooly Willy was one of my favorite toys ever. (Of course, having lived in England for so long, that name takes on an entirely different and not-so-wholesome meaning.) I also seem to remember having the Doodle Balls game. (Again, with the double entendres!)


I've become a big fan of Six Feet Under in the past few months. Here's an article about the show's opening credits that I found interesting. That music really is just perfect for it. (Link courtesy of NowThis.)


Hot on the heels of the Weblogger CD Exchange comes the Film Exchange Project. Sounds like an interesting idea. I might take a pass on this one though. All that international postage is putting a hole in my pocket. (Link courtesy of Ron.)

| | |
| --- | --- |
| | [12] |
In honor of the Destiny's Child discussion, what's your favorite misheard song lyric?

| | |
| --- | --- |
| | [11] |
Can somebody explain how in the heck Destiny's Child are writing an autobiography? Isn't Beyonce, like, the only one from the original group? The article sorta implies that there were six of them originally, which I know isn't right. Can somebody give me a condensed history?

Thursday, April 18, 2002
| | |
| --- | --- |
| | [2] |
You gotta love English cuisine. The UK government has given Heinz the go-ahead to label their tins of baked beans as counting towards your recommended daily intake of five portions fruit and vegetables. Apparently spaghetti-o's and soup will count as well. Health experts are, as expected, horrified.

| | |
| --- | --- |
| | [6] |
Bardot - one of the bands I put on my mix CD - has just called it quits. Ahh, the first Popstars band implosion.

| | |
| --- | --- |
| | [9] |
But nice people are better.
Right after typing the post below, I headed out for my day's errands... and it was like the universe was trying to cheer me up. I met friendly and nice people everywhere I turned.
I stopped for a second to peek in at the cafe below us (it's almost done) when the owner invited me in to take a look. It turns out his name is George and he's the one that referred the music video people to our place last week. He might even give me a job! He was really nice.
Then I headed for the post office to send a Roald Dahl prize book. The lady at the counter remembered me from sending all the CDs and chatted with me about Dahl. She was the nicest post office lady ever.
On my way out of the post office, this scary stoner guy held the door for me and said that he liked my Breeders T-shirt. In the eight years I've had it, no one has ever recognized the group.
After I did my workout, I met Snookums at the pet store to pick out fish. Big Gay Al was there again, and he let me hold one of the lop-eared bunnies! (He breeds them for the shop.) And you all know how I am about animals. But it was so sweet and cute! Apparently they can be litter box trained, they don't smell, and they live for years. I'm seriously thinking about getting one.
So I'm all happy again. Not all human beings are assholes. And how was your day?

| | |
| --- | --- |
| | [1] |
Mean people suck.
My recently-married Dad moved in with his new wife three weeks ago. This past weekend, he parked his Jeep in front of the house and went in to bed. When he came out in the morning, some asshole had broken in. They tried to jimmy the lock with a screwdriver, but when that didn't work they just busted the window. Then they proceeded to rip his stereo out of the dash. At first Dad thought that was the extent of the damage. Then he discovered that they'd stolen his garage door opener, gone around the back of the house, opened the garage, and stolen his mountain bike. And this all happened in a nice, Midwestern, "Leave it to Beaver" residential area. What kind of savages would do such a thing? What kind of an ass do you have to be to think, "I'm going to break in and forcibly remove your stuff and make it mine."? I rant about people who think they are above the rules, but in my case that usually means people who cut in line or bitch at the check-in woman at the airport. I don't know what I'd do if I was actually confronted with someone who had so little respect for the rest of humanity that they'd actually smash through a window and take my stuff. I feel as mad and frustrated as I did when those assholes egged us. We're trying to have a society here, people. (TM Brigita)


Who is General Tso and why are we eating his chicken? Now we know. My college roommates and I would always wonder this when we placed our weekly order to Bai-Ju's Noodle House in South Bend. On a similar note, did you know that Paul Simon got the song title "Mother and Child Reunion" from a chicken-and-egg dish he spotted on a Chinese restaurant's menu? You need never be puzzled by your take-away again. (Original link courtesy of Fredo.)

Wednesday, April 17, 2002
| | |
| --- | --- |
| | [4] |
My server's clock is still horked, which is messing up the number of posts on this page as well as the recent comments box. I've raised the issue with Support again, so hopefully it'll be fixed soon. Sorry about the inconvenience!

Tuesday, April 16, 2002
| | |
| --- | --- |
| | [5] |
The Snook and I both got rejected by the same company today. It's a novel experience for us. We're overachievers. Rejection is a bit of a reality check. (Not that we're upset or anything. The company sucked. But still.)

| | |
| --- | --- |
| | [4] |
Jakob Nielsen has a new report on website usability for kids. Since I myself run a site geared towards children, I read it with some interest. Unfortunately it confirmed my worst fears. Kids want bells and whistles. Kids don't like to read. Kids don't get hierarchical navigation. All of which means my site is one big usability nightmare for them. Honestly, though, I sorta knew that would be the case when I designed it. I had to think about the adults that would visit the site too, though. I also wanted to make it clear that my site was about information, not pure entertainment. I mean, compare my site to the official one. That's the debate right there. The official one is very flashy and whizzy and noisy, yet it's also incredibly difficult to track down specific information about Dahl or his books. My site, on the other hand, is pretty much transparent about where everything is located. Which is better? Personally, I think challenging kids is more important than pandering to them. I'm not talking about making things deliberately difficult, but I'm not talking about making them totally simple either. Kids are gonna need to learn how to research someday. Why should I hand them everything on a silver platter? I want them to think and read and figure things out. I refuse to dumb down my site because little Johnny's too impatient to click on the "Timeline" to find out Dahl's birthday. This is where I think the flaw is in Nielsen's study. Was he studying kids using websites for fun, or kids using websites for a purpose? Which type of site do you prefer?

I think I might make a survey at my site to find out what the visitors think. Not that that will make me change anything, but I might as well know if I'm pissing them off.

| | |
| --- | --- |
| | [4] |
Stop the presses! Roger Ebert's website (actually the entire Chicago Sun-Times site) has a new design. I like it! Much less image-oriented, which means it doesn't look so bad when I surf with the images off. I think the blue is nice too. I just wish they hadn't filled in the "o" in the logo URL. That bugs me.


"There's no doubt that many Australians experience a collective cringe over Irwin's showman-like antics. Unlike Americans, they're put off by his impassioned testaments to his own sincerity, the preachy tone of his "saving the world" pitch, and his hair-trigger, often comical sentimentality. 'Australians like people who underplay,' ventures documentary-maker Malcolm Douglas. 'Even Paul Hogan underplayed stuff, whereas Steve Irwin comes across like a used-car salesman selling everything down the camera.'"

Here's a great article about Steve Irwin, the Crocodile Hunter. I found the description of his childhood and early career pretty hilarious. You also get to read about how he met his wife. ("Crikey, a sheila who loves wildlife and can take a good hit on the head, that's the woman for me!") Interestingly, it also tackles the issue of his curious non-fame in his home country. He pretty much represents everything that makes Australians cringe about themselves. Good reading if you're a fan (like my Dad).

| | |
| --- | --- |
| | [2] |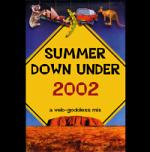 Since the deadline for mailing has come and gone, I've taken the liberty of posting the artwork and liner notes for "Summer Down Under 2002", my Burn Baby Burn mix CD. Feel free to take a gander. I had a blast making it. Oh, and if you feel like swapping it for one of your own, just let me know!


In case you're wondering, the clock on my server is all messed up, which is why so many posts are appearing on the front page. I've put in a support request to fix it.


Some things make you ashamed of your home state. I have nothing more to add.

Monday, April 15, 2002
| | |
| --- | --- |
| | [4] |
Have you guys heard of Singlefile? It's a web-based application that allows you to keep track of your book collection. It sounds like a great idea, but I'm not sure if it's worth $20/year. I could probably build something similar and run it here at my own site. Hmm... I smell a new web project coming on!

Sunday, April 14, 2002
| | |
| --- | --- |
| | [5] |
New Poll: It's another "favorite food" topic. When you're at the big game, what's your snack of choice?

| | |
| --- | --- |
| | [1] |
Great weekend! It started off Friday with the arrival of several mix CDs in my mailbox, courtesy of Mr. Jones. Snookums and I have been shaking our "bootays" ever since. Then on Saturday we headed to my first ever professional rugby game: the New South Wales Waratahs vs. the Otago Highlanders. Basically, it was Australia against New Zealand, so emotions were running high. New South Wales ended up winning 31-13. It was awesome. I couldn't help making crunching noises at every tackle. (Sidenote: When I eventually return to America, I plan on introducing the concept of the "meat pie" as the ultimate sporting venue snack. They're sooo much better than hot dogs.) Afterwards we headed to the sports bar at Fox Studios Australia for some bowling, foosball, and beer. Today I was a good girl and went to the gym, and then I worked on my quilt. The entire top is finished and I've got it basted together with the backing and filling. The quilting itself isn't so easy. I was really frustrated at first, til I realized that I don't have to be as good as my Mom at it. Once I accepted that (like all my other domestic endeavors), things got a lot easier. Now we're watching Star Wars on telly. Ahhh, perfect.

Saturday, April 13, 2002
| | |
| --- | --- |
| | [1] |
Friday Five:

1. What is your favorite restaurant and why?
In England, I would've said Wagamama's. Love the gyozas. In the U.S., I'd probably say Chili's (the one in South Bend, Indiana), since that's where we always went during college. Here in Australia, though, I'd have to say Mama Maria's. It's a dinky little Italian place a couple blocks from here. Really great food and a friendly atmosphere. That's our default place when we can't pick anywhere else to go.

2. What fast food restaurant are you partial to?
Internationally, McDonald's. Yeah, yeah, global corporations are bad, but it's such a comforting feeling knowing that wherever I go, I can always get a Quarter Pounder with Cheese that will taste exactly the way I expect it to taste. In the U.S., I'll go with Taco Bell, since I miss it. They've got them here in Oz, but the stuff isn't quite right. It's close, but still a little wrong.

3. What are your standards and rules for tipping?
I'm all messed up with this. See, in places other than the U.S., they actually pay wait staff a decent wage. Tipping isn't necessarily expected. Delivery boys in England would make me wait while they made change, rather than just keeping it as I requested. It was weird. Here it's much the same. You generally just leave the change (as in, the coins) and that's enough. At a nice place, though, I think we generally tip about 15%.

4. Do you usually order an appetizer and/or dessert?
Depends on the restaurant. At Wagamama's, I always got an appetizer. (Mmmm, gyoza.) At the Red Kangaroo Noodle Place up the street, I always get their Chicken & Sweet Corn soup. At other places it just depends on how big my main course is. Snookums is a desert freak, so I've been ordering those more and more. Cheesecake is my favorite, but I had some passionfruit sorbet the other night that was to die for. (No wonder the weight loss is going so slowly.)

5. What do you usually order to drink at a restaurant?
We usually drink wine. Most of the places here are "Bring Your Own", so we always grab a nice bottle at the shop on the way there. Otherwise I'll just have a soda.

Friday, April 12, 2002

Proud Parents
That's right, the Snook and I are now the proud parents of... an empty fish tank. Let me explain. After thinking about it, we decided that a cat might be a little "high maintenance" to start our pet-owning lives. So we settled on some nice goldfish. We even bought a coffee table just so we'd have a nice showcase for our babies. Finally today we headed to the local pet store to pick everything up. There we were greeted by an immense gay American (who we now refer to, of course, as "Big Gay Al") who informed us that Sydney water is so nasty that we have to wait at least a week for the water in our aquarium to become livable. Snookums was heartbroken. Big Gay Al was not to be swayed, though, and we were forced to depart with only the hardware. It's all set up now, with the chemicals and bacteria and crap all added, so hopefully in a week we can bring some fishies home to it. Can't wait!

Thursday, April 11, 2002
| | |
| --- | --- |
| | [8] |
The Snook's been driving me crazy for two days now with these "colored spots" he keeps seeing on the TV. He's convinced that it's somehow become magnetized or something, and thus we get weird purple spots over certain color backgrounds. (Can you tell that I'm skeptical?) His most recent attempt at correcting the "problem" involved him holding his giant computer monitor up in front of it while I turned it on. This would supposedly "de-gauss" it.

Snook: Maybe they've installed something in the cafe [below our apartment] that's creating a magnetic field...
Me: Like a giant magnet?

I dunno; I just find the whole thing funny.

| | |
| --- | --- |
| | [2] |

Holy crap! This is the coolest thing ever! They're filming a music video across the street from our apartment, and the director just came over to ask if they could get some shots off our balcony! I'm gonna see if I can sneak a few pictures for you...

Update: Cease excitement. It was some college kids doing a video for the local cable-access station of a local weirdo who walks around playing the guitar with a cockatiel on his shoulder. I'm not kidding. They're gonna send us a copy, though, so at least we'll get to see our names in the credits.


Hmm, so Dave Barry's Big Trouble movie has finally been released? I'm less than enthusiastic. I bought and read the book years ago and - if I recall correctly - I thought it sucked. I'm normally a big Dave Barry fan, so the utter non-funniness of this book should be apparent to you. I can't even remember what it was about. That's how forgettable it was. I can't imagine that it'll make a very good film, especially if Tim Allen's in it.

| | |
| --- | --- |
| | [8] |
It's three a.m. On top of everything else, I'm suffering from a severe bout of self-induced insomnia. Oh, I can sleep; I just choose not to. See, I've been having disturbing dreams lately. I dreamed that I met with George Bush and John Howard to discuss stem cell research. I dreamed that I was in a play at my high school and, despite not knowing any of my lines, bitched out my director for giving me such a small part. I dreamed that my sister killed somebody and I had to help her hide the body. I dreamed I was having a baby. Like I said, disturbed. And what's more, they're coming every night, all night. Some of the worse ones leave me upset and shaky in the morning. This never used to happen to me. I'm wondering if it's my new hayfever medication...

| | |
| --- | --- |
| | [6] |
Matt linked to an interesting article about the ethics of posting "found" material on the Internet. I've been puzzling over a somewhat-related issue lately myself. Does anyone know anything about public artwork and whether it can be reproduced online? There are a number of murals in Newtown (where I live) that have caught my attention. Most seem to have been done by random graffiti artists, but a few seem to be attached (literally and metaphorically) to businesses. My first impulse was to post some pictures of these at my site, which has turned into a full-blown "Why don't I start up a Mirror Project-type site for everyone to post these?" idea. I'm worried that there might be copyright issues involved, though. But that can't be the case when the artwork's already been put out there in the public domain, can it? What if I take a picture of myself and the mural just happens to be in the background? Is that acceptable? As long as I'm not making money off it, I would assume that such a website could only be seen as promotional, encouraging people to visit the murals shown and to be on the lookout for public art in their own hometowns. Or is this just a silly idea? All I know is, if you saw the big map of Africa on the side of Newtown's North African Eatery, you'd see what I mean. Someone worked hard on that. This stuff deserves to be noticed.

| | |
| --- | --- |
| | [7] |
In case you didn't notice, my blogging drought ended. And though I still haven't been to the gym, my life force energy seems to be on an upswing. Today I successfully managed to finish my Burn Baby Burn Mix CD! I'm worried that I put way too much effort into it though. I always do that. It's like when we'd have gift exchanges in elementary school, and I'd always pick out something over the price limit yet really cool that I'd like to get myself, and in exchange I'd get a piece of wood with that "Footprints" poem glued to it. Not that I think your CDs will in any way equate to "Footprints"! I just mean that I never know what's required in such situations and I tend to overcompensate. In other words: I spent five hours laying out the booklet insert to make sure that the pages were double-sided and lined up correctly and organized so that they'd be in order when you turn the pages. When in reality, nobody would have thought the less of me for printing it out on a sheet of paper, folding it up, and wedging it inside. See, when you don't have a job, you find lots of other little tasks for your brain to obsess over. *sigh* Anyway, they're going out in the mail tomorrow, so you, you, you, you, you, you, and you feel free to bitch about my issues when you get it. I'll understand.

| | |
| --- | --- |
| | [3] |
I finally picked up a copy of the Willy Wonka and the Chocolate Factory - 30th Anniversary DVD the other day. You know, I have really mixed feelings about this film. On one hand I have the same cheesy feelings of nostalgia and love for it that all Generation Xers have. On the other hand, as a Roald Dahl expert I find it to be a cheap, shoddy, craptacular adaptation of the book. So I had a lot of conflicting emotions while watching the "cast commentary" version today. My thoughts:
While it was great to have all five of the kids there, I wish they had actually shown them grown-up at the start (a la the terrific Goonies DVD commentary). Instead you just get voice introductions, and it's a little hard at first to remember who's who.
Just as in the film, Charlie and Augustus don't say a lot. Mike, Veruca, and Violet dominate the discussion. I guess that's not surprising, considering those three stayed in the acting profession while the other two quit and faded from public view.
Veruca and Violet were both hot for Charlie in a big way. Apparently Veruca won and Violet ended up with some random other blond extra kid. Violet is still bitter about this, and the two of them spent most of the commentary laughing about it. They kept trying to get Charlie to comment, but he seemed embarrassed and wouldn't say anything.
You could totally hear them trying to pull Augustus into the conversation and failing. He's only in the movie for about fifteen minutes anyway, so once he'd gone up the pipe he was pretty much silent. They finally just resorted to asking him for German pronunciations and landmark identification every so often.
Damn. I've corresponded with both Mike and Violet (via my Dahl site), so I was totally hoping for a shout-out. Denied.
The only mention of Dahl's name occurred when Mike referred to one of the schoolteacher's speeches as "So Roald Dahl." Which was utter crap, since that bit didn't come from the original book and didn't sound anything like typical Dahl.
Dahl only makes a few appearances in the extra documentary and featurette, as well. The director never explains why he decided to throw out all of the Oompa-Loompas original songs in favor of the dreadful Bricusse/Newley ones. He also mentions but never fully explains why Dahl's original script was torn to shit and rewritten by someone else. He does, however, tell the thrilling tale of how the entire film was conceived and produced merely to sell a new Quaker Oats candy bar (that ended up flopping completely). Well, at least no one will be in any danger of presuming the producers' intentions to be artistic.
See what I mean? I start out with nice feelings towards the film, but that quickly fades when I realize how great it could have been and how crappy and commercial it turned out. I feel sad that my generation venerates such a shallow marketing ploy as a cinematic classic. Mostly I feel for Roald Dahl, who hated the end result and resented having his name put to it. Sure, he wasn't the greatest writer in the world, but at least he wasn't responsible for "Oompa loompa doompety doo."

Holy crap. Am I insane, or did I just realize that Billy from Six Feet Under is Elton from Clueless, but with, like, a lot more hair? My mind is blown.


"Web Designer Builds Home Out of Flash". My friend Ferret sent me that link, and if anybody could do it, he could. :)

Tuesday, April 9, 2002
| | |
| --- | --- |
| | [11] |
I'm all blogged out. In fact, I'm "everythinged" out. I've got lots of projects waiting to be finished and I just can't muster the energy. I haven't been to the gym in a week. My Burn Baby Burn CDs are still missing their cover art. I blame it all on seasonal affective disorder, really. Does anybody have any ideas to get me motivated?

Sunday, April 7, 2002

Shhh! My brain is still dealing with the after-effects of last night's drinking session, so I'm going to put it to bed. Don't wake the baby.

Saturday, April 6, 2002

Ahh, baseball. It looks like my Mets could have a good year! They certainly got off to a great start against their hated rivals. (And no, I'm not playing Fantasy Baseball this season. I learned my lesson when I got spanked in my league last year.)

| | |
| --- | --- |
| | [3] |
Hey, click on this link and add your location to the map! It correctly guessed that I was in Sydney, yet for some reason the dot it added for me was in California. Go figure.

Update: Don't bother. It got linked everywhere today and the resulting traffic killed it.

| | |
| --- | --- |
| | [2] |
Friday Five:
Huh. These are all about daily routines. You guys (that is, the gainfully employed ones) are gonna hate my answers. :)

1. What are the first things that you do in the morning to start your day?
Well, the Snook and I generally wake up about 9:30 or so. Most days he gets up before me and I snooze for another hour. I go to the bathroom and then plop down on the couch with my laptop. He'll be at the desk, already signed on. Then we do our little morning computer rituals. He reads his Slashdot; I catch up on Metafilter. After an hour or so we munch some breakfast. That's about it. Neither of us are morning people. We function much better in the evenings. Even in London we'd never make it into work before 10 a.m.

2. What are the last things that you do at night before going to bed?
Wee, take out my contacts, brush my teeth, drink of water, and then into bed. I used to read a lot before going to sleep, but since the Snook dozes off as soon as his head hits the pillow, I've been cutting it back.

3. What daily routine have you recently added to your day?
Searching through the want ads. Oh, and Days of Our Lives on Channel 9 from 12:00 - 1:00.

4. What routine do you wish you get rid of?
Probably putting in/taking out my contacts. It's always been a bit of a hassle, and right now it's allergy season so my eyes are really red and sensitive. One of these days I'm just gonna get Lasix surgery, I swear.

5. What's the one thing that makes you feel like something is missing if you don't do it some point within your day?
This is gonna be totally cheesy, but if I don't get enough smoochies from my boy during the morning, I feel "off" the rest of the day.

Friday, April 5, 2002
| | |
| --- | --- |
| | [5] |
The Snook and I finally saw The Royal Tenenbaums tonight. I didn't like it as much as Ebert did. I seriously think I might have liked it more if every single actor in it hadn't been so recognizable. Instead it was a steady stream of "Look at Gwyneth Paltrow being so un-Gwyneth Paltrow-like!" and "Gee, isn't if funny how Ben Stiller keeps wearing the same tracksuit?" Their characters were based on costumes and gimmicks, and I couldn't find a single person to like or identify with. I also have a history of not liking movies without plots (and this one didn't have much of one). If any of you really liked it, can you explain why?

(Clarification: I'm not saying I didn't like it. It was entertaining. It wasn't my favorite movie of the year, though, and I think I only laughed out loud maybe once, as opposed to the guy behind me who guffawed all the way through it. What did he get that I didn't get??)


Apparently having Bono as a character witness was a good defense strategy. Peter Buck got acquitted of those air rage charges. I'm not sure if I believe his "non-insane automatism" excuse, though.

| | |
| --- | --- |
| | [2] |
Kristen Dunst is not dating Tobey Maguire. Thus spake Yahoo!. Apparently the Tobester can cry on command, though, which doesn't do a lot to dispel the "freak" image I have of him.

| | |
| --- | --- |
| | [6] |
Kristen found an amazing picture of Sydney Harbour. If you wanna know why I live here, that's a big part of it. Gorgeous. It's even better in real-life. :)

| | |
| --- | --- |
| | [6] |
I found a possible job! Cross your fingers for me...

Thursday, April 4, 2002
| | |
| --- | --- |
| | [2] |
That last post got me thinking about "The Frug" and how I haven't seen his show in ages. So I hit Google and found out why. Whoa. Am I the only one who didn't know about this? There's even a "Jump the Shark" page devoted to the show. I'm in total shock here.

| | |
| --- | --- |
| | [7] |
The Chicago Sun-Times gets in on the Nigella Lawson love-fest. Are British chefs sexier than American ones? (Personally, I always had a crush on Craig, the Frugal Gourmet's hot young assistant.) Martha Stewart fans might be amused with the "Nigella vs. Martha" comparison chart at the end of the article. Nigella, for example, is "deep conditioner" to Martha's "hot glue". My favorite? Nigella: "Dresses as if she loves men." Martha: "Dresses as if she loves horses." Hee!

| | |
| --- | --- |
| | [7] |
An Australian police officer was shot in the head and chest last week while chasing down a stolen car. They eventually caught the four guys who did it, but the cop died yesterday in the hospital when his family decided to turn off his life support machines. The suspects had their charges upgraded to murder today. Here's what I don't get though: how is it murder if they didn't actually kill him? I'm not arguing on their behalf; it just strikes me that a savvy lawyer might be able to get them off a murder charge on this technicality. Or am I just totally confused here?

| | |
| --- | --- |
| | [2] |
A rare culinary success!
Last night I tried my hand at one of the classics of American cuisine: the venerable meat loaf. And guess what? It turned out great! Well, it wasn't the best looking thing ever, but it tasted good. I need to stick to the basics, I guess.

| | |
| --- | --- |
| | [4] |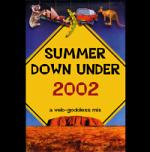 My Blogger CD Swap mix is done! Granted, the "summer" theme is a bit tenuous (I just put songs by all the bands that were big in December/January). I relented on my "No Kylie" rule, so she's in there. I think it's pretty good, actually. I'm a little nervous about sending Americans a mix of all foreign stuff, but I guess if they volunteered for the project then they're open to it. I hope they all like it!

| | |
| --- | --- |
| | [7] |
The Ladies Home Journal ranked the "200 Best Cities in the U.S.". And guess what, Moire? Fort Wayne, Indiana didn't do too badly! South Bend and Gary, though, didn't fare so well. The Bend actually scored lower on the "low crime" chart than Gary did! How did everyone else's cities rank?

| | |
| --- | --- |
| | [2] |
I knew a guy in my hometown named Dave Park. He named his firstborn son "Fenway". True story.

Wednesday, April 3, 2002
| | |
| --- | --- |
| | [2] |
I hate spammers. I especially hate the ones that send you messages that say, "Hey, I visited your site and noticed you're not listed on some search engines..." They piss me off.
Okay, first off, the spammer is assuming that I want my site listed on 50,000 random crappy search engines. Which I don't. Based on my server logs, 90% of people come though via Google or Yahoo anyway, and I'm already listed there.
Why add the bit about visiting my site? In the case of Purple Weasels.org, I think it's pretty clear that the site is not for the general public. It's an online community for a very specific group of people. It's obvious that it shouldn't be submitted to lots of search engines. Therefore, the spammer is either stupid or dishonest.
Why must they send huge bloated HTML-formatted e-mails? Am I the only one that uses PINE to read my mail these days?
I'm just annoyed because this particular spammer has hit all three of my personal sites and has repeatedly ignored my requests to be removed from their mailing list. Anybody feel like engaging in a little Google bombing with me? Just throw up a link like this - "evil spamming assholes" - on your site. I thank you.


Snookums has his first job interview today, which gives me a helpful kick in the bum to ramp up my own job search. So there probably won't be much in the way of links today...

| | |
| --- | --- |
| | [14] |
Weirdness. Earlier today I read this story that exposes the scam behind all those "Work at Home" signs you see all over the place. Apparently it's all done by the same company, Herbalife. It sounds incredibly dodgy. Two hours later, Snookums brought in the mail... which included a flier for Herbalife. Can you believe it?

Tuesday, April 2, 2002

Man, this fourteen-hour time difference really sucks. I get up thinking that April Fools Day is over, but really you guys in the States are still at it. Ron completely had me going. At least I figured out that the Metafilter thing was a joke.


Since I can't bear the thought of y'all waking up, heading to web-goddess, and seeing that next post right off the bat, I'm gonna end with something a little cheerier. I'm almost finished with my Blogger CD Swap playlist! I went with the Australian angle, because everything else I own is stuff everyone's heard a million times. So it's 100% Australian, with nary a Minogue in sight. (Oh, quit your bitching. Like I said, I wanted stuff not everyone's heard already.) Now I just have to get the all important song transitions right...

| | |
| --- | --- |
| | [5] |
Oh God. This is turning into one of those "I hate humanity" kind of nights. Check out this Metafilter discussion and the accompanying links. (Warning: definitely not safe for viewing at work.) How can men be so awful? Why do I even bother trying to be optimistic about my fellow human beings?


Hee! Best April Fools Day fake news story: "You've got Blogs! AOL buys into homegrown media". It's about AOL-Time Warner supposedly buying the rights to two hundred of the most popular blogs. My favorite part is where the AOL executive says, "No cat will ever go ill in America again in obscurity." Ha!

| | |
| --- | --- |
| | [6] |
A Rant About the Sorry State of Teenagers Today
Okay, so I'm running this contest over at my Dahl site, right? I received about forty entries all together and now I'm trying to decide who wins. I've got lots of nice entries from adults, and several good ones from little kids as well. But the writing in the teen age group is just unbelievably bad. I'm not talking about splitting infinitives or misusing participles or anything tricky either. I'm talking about basic spelling, grammar, and punctuation. You know, the stuff most people learn by the sixth grade. These "essays" were almost unreadable. I've never seen such run-on sentences in my life. Random words would be capitalized for no apparent reason. One kid actually wrote the word "copetishion" (as in, "competition"). My jaw hit the floor when I saw that one. The nine-year-olds' entries were so much better! I can't figure it out. Snookums feels that - as a former County Spelling Bee champion - I'm being prejudiced against people who have difficulty with language and spelling, but I honestly don't feel like I'm being overly pedantic. This is basic stuff. They're not dyslexic; they're just sloppy. Is it that the younger kids are still at an age where teachers care about such things and therefore enforce them? Is it that teenagers just don't care? Is it that younger kids visiting my site are probably there because they're precocious readers (and therefore a good writers), and that most teenagers visiting will probably be looking for a book report to scam off the Internet? Or is this just the way it works, and the smart nine-year-olds of today will eventually mutate into the surly illiterate fourteen-year-olds of tomorrow? I hate to sound so cynical, but you wouldn't believe these e-mails. Are these sub-literates representative of high schoolers today, Max? I sure as hell hope not.

Monday, April 1, 2002
| | |
| --- | --- |
| | [5] |
Since it's still Easter where most of y'all are...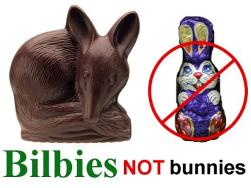 | | |
| --- | --- |
| | [5] |
Happy anniversary to my sweet Snookums. Two years down, lots to go. :)

archives
You can search through the archives by post keyword using the form on the left, or you can browse by month using the links at the bottom.
"Moblog" refers to posts and images posted directly from my mobile phone.

"PW Blog" refers to posts recovered from my very first weblog, which dealt with news related to my college dorm.