Friday, April 30, 2004
| | |
| --- | --- |
| | [2] |
New poll: What should be my first post-Famine meal? I've listed my first impulse options, but feel free to leave a comment if you have something better!

| | |
| --- | --- |
| | [2] |
Pay me NOT to eat!
No, I haven't been kidnapped. That photo on the right is just my way of announcing that I'll be participating in World Vision Australia's 40 Hour Famine this year. The idea is that people sponsor me to go forty hours without food. It takes place May 14-16, starting at 8 pm on the Friday. All proceeds go towards hunger relief in Tanzania. This page contains more information on how to donate. Everyone who contributes will get listed and linked, and I plan to make hand-crafted thank-you gifts for you all as well. And of course, I plan to blog the entire event. I'll probably be obsessing about food, so feel free to send me your favorite recipes to post. Will I faint? Will I go mad? Will I start hallucinating that the Snook is a giant hotdog? I really have no idea.

| | |
| --- | --- |
| | [1] |
Owning a cat increases your vocabulary
Phrases that have crept into the Snook's and my everyday speech in the past two months, which we have seldom had occasion to use before:
My cat's breath smells like cat food.
No, Kitty... Kitty is a bad kitty!
Mom, Kitty's bein' a dildo.
I think I uttered every one of those during Amy's trip to the vet last weekend. Good times.

| | |
| --- | --- |
| | [2] |
Are you a typoholic? While my font identification skillz aren't the best in the world, I still nurture irrational prejudices against businesses that use Comic Sans MS on their signage.


Wow, Xander's in rehab. Best of luck, Nicky.

Thursday, April 29, 2004
| | |
| --- | --- |
| | [9] |
The 50 Best Restaurants in the World. Sydney made the list twice! Rockpool's at #29 and Tetsuya's at #13. We dined at Rockpool two years ago and it was the best meal of my life. Now I'm thinking Tetsuya's might be in order for the Snook's birthday in June...


Attention Aussies: EzyDVD is having a "boxset bonanza". Buffy DVDs are half-price! Lots more too, like Simpsons, Angel, and 24. Free delivery within Australia. Forgive me if I sound like a paid shill here. I used EzyDVD a couple Christmases ago to order Snookums the entire James Bond DVD library. The order never arrived but their customer service was great and they dispatched another one right away. (We think somebody at Maine Logistics lifted it.) So I'm fairly comfortable recommending them. Now I just can't decide whether to get Buffy Season 6 now or wait til we hit the States in November...

| | |
| --- | --- |
| | [4] |
The Sydney Morning Herald website has a new design... and I'm not sure I like it. It's just way too wide, and there just seems to be too much going on horizontally with all those columns. I like the addition of the search box though, and the navigation redesign makes much more sense. (Though it doesn't seem to be completely finished. I was happy to see that Column 8 and Spike have been moved out from under the National section - which never made any sense to me - but if you go to either section, the breadcrumb trail on top still thinks that's where they are. Weird.)

Wednesday, April 28, 2004
| | |
| --- | --- |
| | [1] |
Words related to stress and anxiety. I'd completely forgotten about the undertoad. I also like hathos, testosteronic, and caving. The Snook and I cave a lot.

| | |
| --- | --- |
| | [6] |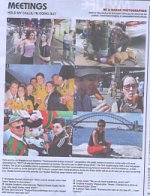 It's not enough that I plaster the Snook all over my website... Now I'm getting him into print as well! Last week my coworker Mardi told me about a photo contest the Sydney Morning Herald Radar section was running. You were supposed to send in a "quintessential Sydney moment", and the winner won a $900 camera phone. I forgot about it until right before the deadline so I decided to just send in a photo from my site. I went with Rodd and Amy eating cheese-on-a-stick at the Easter Show. To my surprise, the editor e-mailed me yesterday to let me know that I was a finalist. I ran to the newsagent this morning to buy the paper and check the results. Unfortunately, I didn't win. They picked the "serious" picture of the homeless guy instead. Whatever. I still got the Snook in the paper!

Tuesday, April 27, 2004

15 Reasons an iPod is Better than a Boyfriend. Heh.


I finally got around to selecting the winning entries in my Roald Dahl Sequel Contest. You should go read them; they're pretty funny. I especially like the bit in the second one where an Iraqi uses George's Marvelous Medicine to get rid of Saddam Hussein.

| | |
| --- | --- |
| | [3] |
UnJustified
I was all excited to see Justin Timberlake at his "intimate" show at the Hordern Pavilion in Sydney in June... until I went to buy tickets and saw the price. $180 each! Good grief. Sorry, JT, but I wouldn't pay $180 to see anybody.

Update: Hmmm, it looks like the $180 is only if you miss out on the regular $130 ones that go on sale tomorrow. But jeez, even $130 is still too much for Justin.

| | |
| --- | --- |
| | [4] |
RunningBlog: It's officially 54 days til the Nike Women's Classic. I've added a training log down there on the right to add a sense of accountability to my preparations. (Feel free to kick my ass if you think I'm slacking.) I've scheduled a session with a personal trainer on Monday. He's supposed to be a running specialist so hopefully he'll get me on track.


Simon and Jules win The Hothouse. Thank GOD. My faith in the Australian reality-TV voting public is restored. I was really worried that they were going to give it to that lazy, greasy, dole-bludging layabout Pete. I think it's funny that the winning couple are contractually obligated to live in the house for two years. I bet that most of the votes for Simon and Jules came from the neighbors on Bribie Island. Two years of living next to Pete would definitely drag down the property values...

Monday, April 26, 2004
| | |
| --- | --- |
| | [9] |
Weekend Update
Three-day weekends are just glorious, aren't they? It's the perfect amount of weekend time. We had one day for socializing, one day for housework, and one day for hobbies. It was brilliant.
Friday night: Stayed up late to watch The Mummy on TV and work on my sweater.
Saturday morning: Took Amy to the vet for her last kitten vaccination. She whined and struggled the whole way there. Not fun.
Saturday afternoon: Workout time! Legs and biceps.
Later Saturday afternoon: Drinkies with friends. We got to see Mr. and Mrs. Healy for the first time since their honeymoon. I also partook of a hookah for the first time in my life. Apple tobacco tastes like candy!
Saturday night: Dinner at JuJu's in King's Cross with Andrew and Kathleen. It's supposed to be one of the best and most authentic Japanese places in the city. You have to take your shoes off when you go in! At one point I got up to go to the bathroom and Andrew warned me about "weird bathroom etiquette." My mind immediately flashed: "Ass towels!" But it wasn't. Instead you just had to slip on these weird sports sandals to go in. The food was fabulous though. I ate fish egg udon! I just pretended that the little orange dots were spices instead of little fishy ova.
Sunday: House cleaning. Majorly. I even went through my clothes and picked out all the crap I never wear to take to the op shop. I also rearranged everything to put my summer stuff away. *sniff*
Sunday evening: I dug out my Handspring PDA and put fresh batteries in it. Then I installed this KnitAble software to keep track of my knitting. I catalogued my whole stash!
Monday morning: Knit, knit, knit. The Snook brewed beer.
Monday afternoon: Gym time again! Shoulders, triceps, and abs. And I ran 2.5 km. And the Snook brewed beer.
Monday night: Watched Queer Eye - How great was the Mullet Man? I loved him! - and finished my sweater! And the Snook brewed beer. Well, actually he stopped for a bit to play photographer. We ended up doing a little sweater fashion show. I'm really happy with how it turned out. (In case anybody is Googling, this is the Janetta Dexter Sampler Sweater from Jacqueline Fee's The Sweater Workshop. I had to add a few extra designs to get the length I wanted.) I didn't know drop shoulders looked so good on me! I am now the queen of two-handed fairisle knitting. The only problem is the thing is so damn warm I'll only be able to wear it for one month a year. *sigh*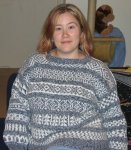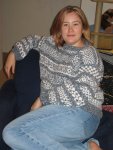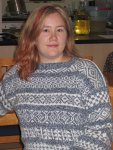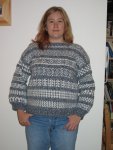 Friday, April 23, 2004
| | |
| --- | --- |
| | [2] |
Hey, you! Need a little good karma? Please consider sponsoring Tricia in the Courage Classic this year. It's a great cause, and if she's going to spend three days killing herself on a bicycle, the least you can do is throw her some cash!


Need something to keep you occupied Friday afternoon? Check out this addictive Flash game. I really suck at it.


The Herald has some possible spoilers about Buffy's involvement in the Angel finale. No, SMG isn't appearing on the show, but apparently the Slayer will figure into the plot. (It's kinda neat to hear that she's still having adventures, like catching up with an old friend.)


Maintenance Tips for Mac OSX Panther. I should probably do these over the weekend. I've been getting a weird problem occasionally when waking up from sleep where my desktop stays black. If I hit the power button and then "S" for shutdown, the desktop briefly lights up before shutting down. The Snook thinks I have some rogue process that kills the desktop.


Owning a Cat
Upside: We change our sheets a lot more often than we ever did before.
Downside: This is because Amy occasionally leaves a smudge on the sheets after she does her morning poo. Ewwwwww...


You know those posters of Yoda made up of lots of little images from Star Wars? Check out War President, a portrait of President Bush composed of photos of all the American servicemen and women killed in Iraq. Pretty powerful image...

Thursday, April 22, 2004
| | |
| --- | --- |
| | [2] |
I'm obsessed with How Much is Inside?. I just spent, like, an hour reading it and I'm not even halfway through. Soooo funny, especially the one about Vegemite.



Note: I'm also now obsessed with whether I should have put a period at the end of that first sentence. It just felt wrong to end with a question mark, especially one that was part of a link. I suppose I could have put the site title in quotes, in which case I think an extra period is technically incorrect, but nevertheless that still looks wrong to me. (I'm obsessed with "How Much is Inside?".) Any thoughts from my fellow grammar-philes?




How to be a ninja. Hiiii-yah!

| | |
| --- | --- |
| | [7] |
I heard a co-worker blathering on this morning about Gucci's new designer iPod cases. "I want one!" she announced. "Do you have an iPod?" someone asked her. "No, I guess I'd have to get one of those," she answered. Idiot. I went over and showed her my homemade knitted one, which she (of course) disdained. Oh well. Those than can, do. Those that can't, shell out $200!


Just a reminder for you lucky folks near a Ben and Jerry's shop: Next Tuesday is Free Cone Day! They're also going to be giving away 50,000 iTunes Music Store songs as part of a voter registration drive for young people.

Wednesday, April 21, 2004
| | |
| --- | --- |
| | [7] |
More craftiness...
As Robert finally received his "Get Well" package from me today, I can now display the contents without ruining his surprise. First up is the official Version 2.0 of my iPod Jumper pattern. The striped one was sent off to my friend Kel, while the "Catboy" design was obviously for Rob. These are both knit in cotton, which seems to hold its shape a little better than the wool I tried before. They feature a velcro closure and a hole for the headphone jack. (Anybody else want one? I take commissions!) Next is a genuine, authentic Rockford Red Heel sock monkey. I really like how he turned out. I'd make more but unfortunately I don't have any more of the socks; they're so nice that I've kept the other pairs to wear!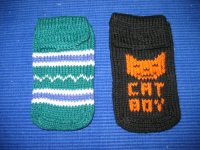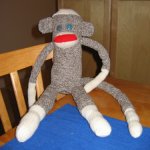 | | |
| --- | --- |
| | [4] |
What's your birthday color? Mine is "Blue Fog". It's boring and the description isn't me AT ALL: "Many people find you magnetic and lovable. You have a gentle manner that makes you a favorite to be around. You have an ease that makes others feel calm. You are quick-minded but keep much of what you know to yourself. Highly sensual, your personal color helps you guard against going to extremes. Wearing, meditating or surrounding yourself with Blue Fog rekindles your spirit and reminds you to take some time for yourself." Huh?

| | |
| --- | --- |
| | [7] |
Congratulations to the Snook, who got 1st and 5th place - in the same category! - with his homebrew at the Bathurst show last week. You can see the official results here. Scroll down to the "Belgian/French Specialty" category. I'm so proud of him!

Tuesday, April 20, 2004
| | |
| --- | --- |
| | [1] |
Good grief... Give that sheep a haircut!

| | |
| --- | --- |
| | [10] |
What's your ecological footprint? If everybody lived like me, we'd need 4.4 planets to support us. Ouch. I thought I'd come out better since I don't own a car, but it doesn't seem to take carpooling into account. I took the biggest hit in the food category, though. An Atkins diet (with lots of meat and eggs) takes a lot of environment to support. :(


Knitters Against Bush. Sweet. I want one of the T-shirts.

Monday, April 19, 2004
| | |
| --- | --- |
| | [2] |
I am not the only one that takes issue with inappropriate strollers.

Sunday, April 18, 2004
| | |
| --- | --- |
| | [8] |
Last night Snookums and I went out to see Eternal Sunshine of the Spotless Mind with a friend. I don't mean to sound like a wanker or anything, but I'm not sure I can say anything meaningful about it right now. It's just too close. I really, really liked it. I found myself fighting back tears about halfway through. I absolutely loved the ending (though the idealistic part of me wanted it to end as soon as Joel woke up that last time, not wanting to see the messy yet realistic and ultimately uplifting ending). I'd also like to take this opportunity to thank (*eye roll*) the Snook for giggling and squeezing my hand when Joel said, "Constantly talking isn't necessarily communicating." Har har. He also thought it was pretty funny to lose me in the bathroom crowd afterwards so I'd get all weirded out. (And I did just have my hair dyed a funky color...)

| | |
| --- | --- |
| | [1] |
Knitting Update
Thanks to the extra wool my Mom sent out from the States, my Janetta Dexter Sampler Sweater is coming along nicely. Today I managed to finish the body completely and add the collar. Here I am modelling it so far. (I had to actually add in a few more designs than the original pattern called for, because mine was knitting up so short. I'll probably have to do that on the sleeves too.)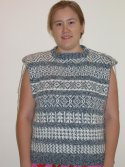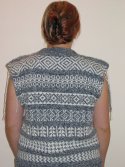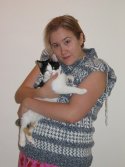 Note: You might notice a slight reddish tinge to my hair in that middle photo. That is not a mistake. I had my hair done yesterday and I specifically told my hairdresser to make me look like a rockstar. I'm still all blonde on the top and sides but he cut in big chunks of bright red throughout the back. It looks super cool. You won't see it until I master the art of blow-drying though. Yes, I'm truly, truly, truly outrageous!

Another note: You might also notice that I look like a fat cow in these photos. You wouldn't be wrong there. That's what three weeks of no gym and too many fried-foods-on-a-stick will do to you! But I'm happy to report that I'm back on my fitness regimen and I actually went for a run OUTSIDE this afternoon. I've only got two months til the Nike Women's Classic so I better get training!
| | |
| --- | --- |
| | [3] |
How to create a Hello Kitty bong. That cracks me up. And hey, there just happens to be a Sanrio store in Chatswood... I bet these things would sell like mad at Glebe Markets.

Saturday, April 17, 2004
| | |
| --- | --- |
| | [1] |
I love it when Ebert gets all political. Now he's defending Howard Stern and castigating Rush Limbaugh. Marry me, Roger!

Friday, April 16, 2004
| | |
| --- | --- |
| | [15] |
HOORAY!
The waiting is finally over...
Dear Ms Howard
I am writing to you about your application for a permanent Partner (Residence) visa . . . I am pleased to advise that the following persons were granted a permanent visa on 13 April 2004: Kristine Michelle Howard . . .
It took two and a half years, but I am now a fully-fledged permanent resident of Australia! Thanks to everyone who helped us out, especially Ma Snook, Steve, and Major (who all made statutory declarations that our relationship was legit). Residency basically gives me all the same rights as citizens (with the exception of voting). I can finally get a credit card, and if I want to go back to university I'll be able to get government aid. I can even collect unemployment! When I IMed the Snook to let him know, his first response was: "Does that mean you're going to leave me?" Silly boy. As if I'd go through all this just for a green card. :)


"Its the time again where your stomach yearn for the delicious YUM CHA." I received an invitation earlier this week to join an underground Yum Cha club at my office. I told Gilbert the organizer that I'd had it once before but hadn't really liked it. He told me that the key to a good yum cha experience was having somebody there that knew how to order. He wasn't wrong. I went along at lunch today and loved everything he had them put before me. Pork buns, broiled eggplant with prawn, steamed choi, spring rolls, dim sum, everything. Sooo good. And now I'm stuffed.


War Bowls. Oh my god, those are cool! Bowls made out of melted plastic army men, knights, and ninjas. I wonder how they make them... For some reason I imagine the melting army men would give off toxic gasses.

| | |
| --- | --- |
| | [2] |
Bookmark for later: Online practice test for Australian driver's license.

| | |
| --- | --- |
| | [4] |
I just found some interesting information on tortoiseshell and calico cats. Did you know that if you clone a multi-coloured cat (like ours), it's impossible for the offspring to be multi-coloured too? That blows my mind.

Thursday, April 15, 2004
| | |
| --- | --- |
| | [6] |
Help! Can cats get bloody noses? I just noticed when I got home tonight that Dr. Amy Jones has something black in one nostril. I figured it was either a bit of lint, or maybe a piece of food that stuck to her while she was rooting around like the little pig that she is, but when I tried to wipe it away I realized it was pretty firmly stuck. Now I'm thinking that it's a bit of dried blood. Have any of you ever had a cat get a bloody nose? I called the vet and they said she'd probably be okay, just to watch her over the weekend and bring her in if it gets any worse. She might have just scratched herself or run into something, right? Put me at ease, here.


The Prime Minister has finally decided to abolish ATSIC. Didn't Mark Latham propose that a month ago? Are we going to spend the next six months in the lead-up to the election with the government copying every idea that Labor comes up with?

| | |
| --- | --- |
| | [2] |
Hey Sis, if I were you I'd rethink that decision to forgo earthquake insurance. Scariness.

| | |
| --- | --- |
| | [5] |
Watch as I kill your childhood: Corey Haim has apparently resorted to selling his hair and teeth for extra cash. Ick-o-rama.


Amazon have launched a new search engine today: A9. It's apparently built on top of Google but includes other things like Amazon's "Search Inside the Book" technology. Could be useful...

Wednesday, April 14, 2004

Space Invaders knitting chart. (Link via Craftster.) Man, I'm all about the knitting links today...

| | |
| --- | --- |
| | [6] |
The Snook has been faithfully taping every episode of Dr. Who since the ABC began airing them last year. I think he's only missed one day. He then transfers them to the computer and burns them to CD. His goal, as I understand it, is to eventually own every single episode. Unfortunately a copyright dispute means that some of the most famous episodes (involving the Daleks) can't be re-broadcast. I learned this from a great opinion piece in today's Herald. The author goes on to explain why copyright extensions are a bad thing and how the proposed Free Trade Agreement with the US is going to result in the removal of many works from the public domain in Australia. I mean, really, can anyone honestly argue that "life plus 70 years" is that much more of an incentive to creation than "life plus 50 years"?

| | |
| --- | --- |
| | [2] |
Bravo, Harriet Veitch! "[W]hat are you going to do with yourself when you get old and turn into a granny or granddad? You won't be hip-hopping to your iPod on your motor scooter the way you think; you'll be crocheting blankets for the grandbabies or carving cots because you can't afford to buy one at McIkea. Someone will have to teach you these crafts, and it will be people like us, the ones you scorn right now." Let's hear it for the knitters, the crafters, the handworkers, and the bakers!

| | |
| --- | --- |
| | [2] |
Knitting for Charity
My KnitWits group at work has decided to do some knitting for "Wraps With Love", a local group that donates knitted blankets to the needy. Any Aussie knitters want to join us? I'll volunteer to collect the squares, sew them togther (or host a sewing party), and send them off to the charity. Let me know if you'd like to participate!

| | |
| --- | --- |
| | [1] |
This is so cool. In a couple days NASA will launch a satellite filled with gyroscopic equipment designed to finally test once-and-for-all Einstein's Theory of General Relativity. It'll orbit over the poles and "measure how space and time are warped by the presence of the Earth, and, more profoundly, how the Earth's rotation drags space-time around with it." I've just been reading about Einstein's theory in Bill Bryson's A Short History of Nearly Everything and this experiment just sounds so tomorrow. We're testing things that previous generations thought untestable and unknowable. Bring on the tractor beams and warp drives!

| | |
| --- | --- |
| | [4] |
Calling American East-Coasters: An Aussie friend of mine is going to be visiting relatives in Virginia around Thanksgiving and was wondering if there was any chance of snow skiing at that time of year. I told her that I thought Virginia had fairly mild winters, and - while you're not far from the Appalachians - the Rockies they are not. Any ideas? Should I just tell her to book a side trip to Canada?


Microsoft warns of three 'critical' security flaws. They admit that it "could allow hackers to sneak into personal computers and snoop on sensitive data". Meanwhile, Apple cuts price on entry-level Macintosh computer. I'm just sayin'...

Tuesday, April 13, 2004

"I do support the right of every American to marry, including gay, lesbian, bisexual and transgender couples. I believe that marriage and other civil rights protections are essential to making all families safer and more secure." You can sign the petition too.

| | |
| --- | --- |
| | [11] |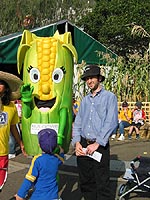 Our photos from the Sydney Royal Easter Show are now up! The Show is basically equivalent to the State Fair around here. There are lots of farm animals and rickety carnival rides and junk food, and everybody spends too much on souvenirs they don't need. Snookums, Amy, and I headed out there last Saturday for some down-home Aussie country fun...

Sunday, April 11, 2004
| | |
| --- | --- |
| | [4] |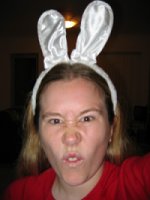 Happy Easter!
Apologies for the silence... I've been enjoying the holiday weekend. I'm happy to announce that I have just completed my second movie: An Easter Message from Kris and Rodd. (I'm starting to regret dropping that Film Production class!) We spent yesterday at the Royal Easter Show - photos are forthcoming - but otherwise we've just been enjoying ourselves. Today we had a nice quiet day of knitting and brewing, and we celebrated in the evening with a leg of lamb and a bottle of wine. Thankfully much chocolate was consumed and there was nary a Peep in sight! I hope your holiday was as nice as ours...

Thursday, April 8, 2004

I just stumbled across two other American expatriates blogging from Sydney: Greg from Southern Cross and Scott from A Yank in Oz. Counting Amy, that means there are now four of us! We just need to find a few more than then we can all meet up and play softball. Or something.

| | |
| --- | --- |
| | [13] |
Vegetarian Survey: A friend of mine is working on a project to write a business plan for a vegetarian food store. She distributed this survey around here at work and I offered to post it on the 'Net for her. Please take a second to post your responses in the comments. It'll only take a second and I know she'd appreciate it! It's technically only for Australians, but you international types can play along too, I guess. [more...]

| | |
| --- | --- |
| | [2] |
Attention Glitterati! As I'm sure you've realized, the Glitter boards have now moved. You've got to re-register on the new site, though, so don't forget! If you're a crafty person and you haven't been there before, you should definitely check it out.

Wednesday, April 7, 2004

In other news, I think I broke my little toe. I clumsily whammed it into the bedroom wall. It f**king hurts. I iced it for a few hours only to have it go so numb that I couldn't feel it, and hence I whacked it into the wall again. Then Snookums ran to comfort me and stepped on it. Seriously. I screamed.

| | |
| --- | --- |
| | [4] |
Speaking of laughing my ass off... Calling all Snape fans! I'm too sexy for this Death Eater. Make sure you've got your sound on. That's the funniest Flash I've seen in ages. (Link courtesy of Moire, the Queen of Harry Potter Slash.)

| | |
| --- | --- |
| | [4] |

My First Movie!
As the money earned by my Roald Dahl site has finally reached $300 (thanks to Google Adsense), I decided to finally get the new digital camera I'd been eyeing: the Canon PowerShot A80. The Snook and I have been playing with it all night. "Take a movie of me!" I said. He obliged. We then plugged it into the Mac and copied the clip into iMovie. Neither of us had ever used it before but we quickly figured out how to add titles and transitions. It was so friggin' cool. "Hey, put Land Down Under in there!" Snook suggested. I clicked on the music tab and my whole iTunes library appeared, complete with search box. In less than ten seconds the audio track was added. Even Linux Boy here was wowed. We finished it off and exported to QuickTime... and here's the finished product. We laughed our asses off. :)



Note: Yes, I'm using a slightly funny voice, so don't get weirded out and think that's how I really talk.




Book Review: "Eragon"
I finally managed to finish "Eragon". While my initial impression of the book didn't change much, I'd admit it did get better towards the end. I still think the publishers were a little hasty putting this out. The writing style was juvenile and the plot "homages" were altogether too obvious. (I started humming the James Bond theme as soon as they got to the giant hollowed-out volcano.) I also got annoyed when the "revenge quest" plot that occupied most of the book was suddenly dropped (quite unresolved) in favor of "rescue the princess". Characters would fail to anticipate plot twists that I could see coming miles away. (For instance, I'll bet you dollars to doughnuts that we find out in the next book that the "twins" are double-agents and set up Eragon to get killed by the Shade.) And how many times in one book can you end a chapter with the main character getting knocked out? Eragon winds up unconscious more often than Giles.

So overall, I wouldn't recommend this one for the adult fantasy fan. It's just too boring, too derivative, and too predictable.

| | |
| --- | --- |
| | [2] |
What what what? Sydney bus drivers earn $50,000 a year? *chokes* Screw this I.T. crap.

| | |
| --- | --- |
| | [5] |
I ate a KFC Kid's Meal for lunch today, just because it came with a Powerpuff Girls pink clip-on coin purse. My co-workers were horrified. My purse is awfully cute though! (Forgive me, Dr. Atkins!)

| | |
| --- | --- |
| | [4] |
If Snookums has his way, this is what Dr. Amy Jones will eventually look like. (Good grief, can that picture be real? Snopes has nothing on it so far.) I've been trying to stick by the vet's recommendations - feeding set portions two or three times during the day - but he keeps undermining my efforts. Amy has figured out that if she mews pitifully enough (or annoys him enough), he'll give her a "little bit" of food to tide her over. She's already noticeably bigger than she was when we got her. Darn manipulative cat!

| | |
| --- | --- |
| | [10] |
Warning: Political rant ahead! Skip if you're not in the mood.
I keep getting e-mails from people in which they apologize for being Republicans, like they expect me to shun them or something. Do I give off some sort of intolerant vibe? Really, folks, you're perfectly entitled to your opinion. I won't bite your head off. I have no problem with people who think differently from me... as long as they can back up those beliefs. You have to have done your homework. You have to support your position. If you support Bush because your family has always been Republican, or because he's got a Southern accent, or because he constantly invokes God, then I'm sorry but I think you're an idiot. If you've got a concrete reason - like you run a corporation, or you're a gun lobbyist, or you're a homophobic religious fundamentalist - then I guess I can understand it. But for the average American trying to get by on the average American wage, I just don't get it. What has he done that was actually good for you? Jobs are being lost, freedoms are being restricted, and soldiers are dying. Who could possibly think these are good things? I'm honestly asking here. I'll even play along myself. Here are my complaints about Dubya: [more...]


What's your Luck Factor? I was below average on the first three and average on the last. Hmmm. I don't feel that unlucky. Maybe it's just that I never expect to be lucky.

Tuesday, April 6, 2004
| | |
| --- | --- |
| | [4] |
I knew they were making a Lemony Snicket movie, but I didn't realize Jim Carrey was playing Count Olaf! Check out the trailer. It looks... interesting. I think he looks the part but I didn't really imagine the Count being so goofy. In the books I read (the first four), he was very creepy and scary and menacing. That's part of the reason I didn't like them so much. I don't like scary stories! But other than the goofiness, this looks like it good be a good film. I hope they keep the books' warped sense of humor. And how funny is it that Jude Law is providing the voice of Lemony Snicket?! (Link courtesy of Kevin.)

| | |
| --- | --- |
| | [5] |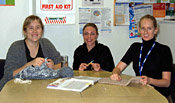 Today our office kitchen was the location for the inaugural KnitWits meeting. From the left that's me, Molly, and Mardi. I taught them to knit a couple weeks ago during our lunch breaks and we decided to make our sessions a regular occurence. I dragged in my sweater (and proceeded to muck it up), while Mardi worked on a ribbed scarf. Molly's still practicing her basics, but she's progressing well. Now we just need to get a few more people!

| | |
| --- | --- |
| | [2] |
Backstreet's back! All right! (It's sad that I'm excited about this.)

| | |
| --- | --- |
| | [1] |
Shock! Horror! The hosts of SBS's Movie Show, David Stratton and Margaret Pomeranz, have defected to the ABC! To an Aussie, this is pretty much as big a deal as when Letterman jumped to CBS.

| | |
| --- | --- |
| | [8] |
Have any of you ever had a wart? I never have but I noticed this morning I've got a very small, shiny little bump on the side of my thumb. It's tiny, like the size of a pencil point. It doesn't hurt or anything but now that I've found it I just can't leave it alone. I don't know what it is. It might be a burn from an oil splatter while cooking dinner, or it could be a friction blister from my knitting wool. Or - as my paranoid brain guessed this morning - it could be a wart. Any ideas?

Monday, April 5, 2004
| | |
| --- | --- |
| | [4] |
What?! Apparently the founder of IKEA has overtaken Bill Gates as the world's richest man. Sorry Bill, that's what happens when an administration voluntarily runs the dollar into the ground.


A co-worker pointed me towards Petalia today. It's an Australian pet site with loads of information on cats, dogs, fish, and everything else.

| | |
| --- | --- |
| | [2] |
Hmm, it looks like we've got two new competing Australian reality shows in the works! We saw a commercial on the ABC last night asking for contestants for "Outback House", which will be similar to previous PBS and BBC shows. They're going to take a group of "modern Australians" and see if they can live like it's 1860. It looked pretty neat. Up against it will be "The Colony" (which I discovered thanks to a comment by Ben). That one will actually send people from the UK on a voyage by ship to Australia to start out as colonists. Some will even be convicts!

Sunday, April 4, 2004

The spring issue of Knitty is here! I was amused to see that someone has repurposed the old Geek Code into a Knitter's Geek Code. It's a little messy and complicated but still kinda fun. Here's mine:

-----BEGIN KNITTER'S GEEK CODE BLOCK-----
Version: 1.1
KER++$ Exp+ SPM++ Steel+ Wood Pl-- Den++ Nov- Cot+ Wool+++ Stash Scale++ Fin-- FI++ Int-- Tex>++ !Lace Flat- Circ+++ DPN ML+ Swatch KIP+ Blog+++ SNB+ EZ+ FO+ WIP+ GaugeW+ ALT Q+ X Sw-
------END KNITTER'S GEEK CODE BLOCK------


Even Merle Haggard admits he's "not all that happy" with Bush.

Saturday, April 3, 2004

I'm better. The wedding was beautiful. Snookums emceed the reception and did a wonderful job. Congratulations to Major and Steph! I'm goin' to bed.

Friday, April 2, 2004
| | |
| --- | --- |
| | [4] |
I feel bad for bitching about my job now after how nice they were today. I woke up feeling sick to my stomach but forced myself to go in anyway since I'd already taken two days off this week. (I don't think it's food poisoning as nothing has, uh, moved; it's more like nausea and cramping and pain in general. I think it may be flu-related. This has happened to me several times before.) I was doing all right until noon, but then the smell of other people's lunches hit me. I came as close to puking as it's possible to get. I decided to get on out of there. My friend Kevin couldn't leave yet though, so I decided to catch the bus back. I staggered out to the stop and waited in the hot sun. Within five minutes, my legs start shaking and my face went clammy. There was no way I could last the 30 minute trip home. I managed to get back to the office where Kevin took one look at my white face and put me to bed in our "sick bay". That was nice. He also evidently called my boss and told him what had happened, because before too long the HR chick showed up with a Cab Charge so I could take a taxi home. That was even more nice. I rested for an hour and then caught my cab. Now I'm home and Dr. Amy Jones has started her ultrasonic kitty healing process (i.e. she's purring in my lap). Hopefully I'll be recovered enough for Major's wedding tomorrow!

| | |
| --- | --- |
| | [1] |
Want to move to Oz? Australia has announced they'll be letting in an extra 5000 immigrants next year.

| | |
| --- | --- |
| | [3] |
Another year, another racial brouhaha at my alma mater. On Tuesday, former Notre Dame player and Heisman winner Paul Hornung gave a radio interview in which he offered this analysis of our string of losing seasons: "We can't stay as strict as we are as far as the academic structure is concerned because we've got to get the black athlete. We must get the black athlete if we're going to compete." What an ass. The university was understandably annoyed and commentators were offended. I especially liked this scathing response: "Never mind that about half of Notre Dame's current roster is black. Never mind that Notre Dame football doesn't lack black athletes, just great athletes. That's irrelevant. Of significantly greater relevance is Hornung's assumption that academic standards must be lowered to give the darkies, er ... I mean the colored, er ... I mean the black athletes a chance. After all, the white athletes clearly have no problem meeting these standards -- the evidence being the brilliant sociological elucidation offered by Professor Hornung." Right on. After initially defending his boneheaded remarks, Hornung today apologized.

He reminds me of the chubby kid on the tour my Mom and I took for prospective students back in 1994. Most of us wanted to hear about student life and classes, but that idiot only wanted to know if we'd get to go inside the stadium. Finally the tour guide snapped. "Look," he said, "if all you're interested in is football, don't apply. Notre Dame is a tough school and there are only six home games a year. A Notre Dame degree is about more than being just a fan." We nearly applauded.

| | |
| --- | --- |
| | [2] |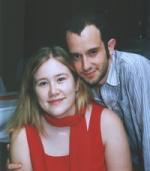 Summit Restaurant Review
In accordance with our tradition, the Snook and I headed out last night for a fancy dinner to celebrate our anniversary. We'd booked a table at the Summit, which is the revolving restaurant on the 47th floor of the Australia Square building. We were lured in by this review: "Very James Bond, circa Diamonds Are Forever. But after a few drinks it turns very Austin Powers, circa The Spy Who Shagged Me. Groovy, baby." Who could resist that? So we got all cleaned up and headed out.

The decor is very retro with deep red carpet and molded white space chairs. The view was fantastic. We were there at 7:30 so it was dark and we had the whole lit-up city to look at. It did take a while to adjust to the "outer-half-of-the-room-is-spinning" thing. (It reminded me of the White Water Landing platform at Cedar Point, actually.) The rotation was very slow - it took us over two hours to go all the way around - but it was still very noticeable. I can't imagine how annoying it must be for the waiters to constantly have their tables moving in relation to the kitchen. As is apparently the custom at revolving restaurants, a lady came around with a camera and took several pictures of us. Later on in the meal she brought back the proofs so we could check them out. My favorite was the photo above. Pretty nice, huh? I may get some copies made for our parents. (We also bought another one of the Snook by himself in which he looks like the sleaziest lounge lizard in the history of the world. I burst out laughing when I saw it. It's hilarious. I'll post it sometime soon.)

The food was really good. My starter was veal fillet on angelhair pasta with pesto and basil, and for the main I had venison wrapped in pastry. Both were incredibly yummy. The Snook had the "game trio" to start (venison, quail, and 'roo) and then the seafood risotto. For dessert he had sorbet and I had the almond and amaretto parfait. I'm still drooling. Oh! And I finally had a mojito! I liked it a lot. I'm not a wine connoisseur myself but the Snook felt that the list was very good and the wines we bought by the glass were excellent. Overall the food cannot be faulted. It wasn't as orgasmically over-the-top as Rockpool but it was better than Wildfire. Service was good but they didn't seem to have enough staff on and we often had to catch a waiter's attention when we needed something.

Final rating: 8.5/10. Excellent food, okay service, great view. Of the Sydney restaurants we've visited, I'd only rate Rockpool and Bennelong higher.

Thursday, April 1, 2004
| | |
| --- | --- |
| | [8] |
Bush's term as President has seen more American jobs lost than any other President since Herbert Hoover. Check the chart. Pretty damning stuff. I still don't get why anybody would vote for him. (Pssst, Sis, show this to that Republican fiance of yours.)

| | |
| --- | --- |
| | [6] |
Sydney City Council has just passed new regulations requiring driver's licenses for yum-cha cart operators. I had yum-cha for the first time a few months ago and was unimpressed. It's basically "dim sum", as I understand it, where they wheel around carts full of little stuffed pork buns and chicken wings and spring rolls. Apparently there have been a rash of yum-cha cart accidents so now wait staff will have to undergo training and carry "L plates" for the first six months. Hee!



Note for Non-Aussies: Here's the process for getting a driver's license in this country (as I understand it). First you have to pass a Learner's Test, after which you get your "L plates" to put on the car. It's just a little sign with a red L on it. You have to log a certain number of hours driving and then you get to take your Provisional Test, which is a driving test with an instructor. When you pass that, you get your "red P's". Then later you have to take a Hazard Perception Test, after which you get your "green P's". And after that, there's one final test before you get your real license. Pretty insane, huh? The L and P plates mark you out as a new driver, which means you have to drive slower and you get higher penalties for being pulled over. It's a pretty thorough system!



Addendum, many hours later: I started to tell Snookums about the story tonight at dinner when he mentioned he'd already seen it. "Pretty good," he said. "I bet a lot of people fell for it." Me: "Uh... D'oh!" Consider me April Fooled. I can't believe I'm that dumb.


Worst. Job. Ever! Check out this Slashdot thread of the worst web development job stories. Is it any wonder I want to leave this industry?

| | |
| --- | --- |
| | [11] |
Happy anniversary to my sweet Snookums...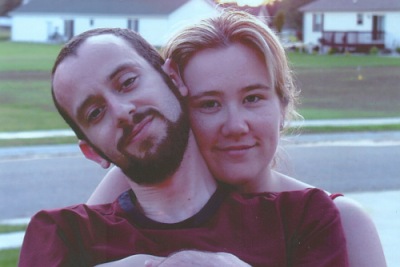 Four years down and lots to go!



Note: The picture was taken by my sister when we visited the States last June. Just in case you're wondering when the Snook's facial hair spontaneously reappeared... It hasn't.



archives
You can search through the archives by post keyword using the form on the left, or you can browse by month using the links at the bottom.
"Moblog" refers to posts and images posted directly from my mobile phone.

"PW Blog" refers to posts recovered from my very first weblog, which dealt with news related to my college dorm.