Saturday, April 30, 2005

ROWR! We are officially Tiger-ing it up tonight. So far I've only been able to install it on the iBook (since the iMac is awaiting service... again). The biggest immediate change is that I've now gone RSS crazy. I went through all my daily reads and bookmarked all the RSS feeds so Safari can notify me when the content changes. So if you don't have a feed, get one!

Later: I'd seen a couple people mention the snazzy RSS Visualization screensaver but it didn't show up in my options. Took a little digging to discover that it only works with Quartz Extreme video cards. I guess it'll have to wait til the iMac is back in action!

| | |
| --- | --- |
| | [1] |
Why Geeks and Nerds are Worth It. Hee! The Snook and I got quite a kick out of that. He keeps telling me to "back that ass up" and "put on some make-up" now though. :)

Friday, April 29, 2005
| | |
| --- | --- |
| | [1] |
Good grief. This year's ND Shirt is butt-ugly. I can just hear the alma mater now: "And our shirts forever... FUG THEE NOTRE DAME!" (Link again courtesy of Brigita, whose blog I'm catching up on.)


Hmm. Check out this little blinkenlight that paces your bites of food at dinner. I can't decide whether that's brilliant or stupid. The Snook and I do have a tendency to wolf down our food rather quickly. (Link courtesy of Brigita, who is similarly of two minds.)

Thursday, April 28, 2005
| | |
| --- | --- |
| | [4] |
I just spent, like, half an hour serving a pregnant customer who's getting ready to go on maternity leave. Naturally, she wanted a cross-stitch to keep her from going insane. So I helped her pick one out, fetched all the beads and cottons for her so she didn't have to bend and reach, and assured her that we could mail her anything else she might need if she couldn't make it into the shop. Then I had to help her select a fabric for it. I have to say, I was feeling pretty satisfied with my level of customer service here. Never let it be said that Kris Howard doesn't go out of her way to help the pregnant women! So I was preparing to cut her fabric, which usually takes me a while since you have to follow the grainline really closely (and you can't tear linen). Feeling ever so gracious, I said, "This might take me a few minutes, so if you need to have a seat or anything..." "Oh great!" she said. "Do you mind if I just duck out and have a ciggie?"

I just stared at her.

Wednesday, April 27, 2005
| | |
| --- | --- |
| | [5] |
A few more photos from Monday's bush walk. The first is me with the legendary "Three Sisters" rock formation (which I had previously only seen in its cross-stitch and tapestry incarnations). Next is Amy taking a picture of Rob as he poses proudly with his new car, which has just gotten ACTUAL DIRT on it for the first time. And lastly is the Snook, taking care not to hit his head as he scurries beneath a canyon overhang.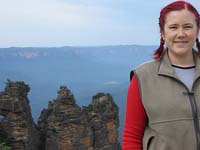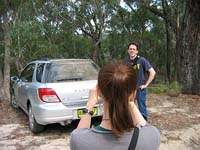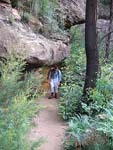 | | |
| --- | --- |
| | [2] |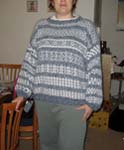 SweaterMod!
As I've been too uninspired to start any new knitting lately, I decided it was time to make some much needed modifications to my Sampler Sweater. (Finished result seen here. Try not to get too distracted by my SEXXAY sweatpants.) The first issue was that the neck was too big. The pattern called for the neck to take up 33% of body stitches, but as I was doing a big floppy sweater, that ended up being way big for me. Every time I wore it, I felt like I was wearing a boat neck instead of a crew neck. Luckily I had some of the white wool left, so I simply picked up inside the existing collar and knitted a new one, making it a bit longer so it peeks out like an undershirt. It's not a huge difference, but it definitely helps the collar hold its shape a bit better. The second problems were the cuffs and ribbing, which ended up shapeless and inelastic. I decided to unpick them and re-knit them on smaller needles to pull them in a bit. The first challenge was undoing the cast-on edge of the waist ribbing. Big problem. For some reason, I had this idea that you could just rip back knitting from the bottom the same way you can from the top. Turns out it doesn't. Each and every stitch has to be unpicked by hand. As the sweater is a couple hundred stitches around (and the ribbing is fourteen rows deep), I soon realized this was going to take FOREVER. So then I had the brilliant but scary idea to pick up stitches just about the ribbing, cut the sweater, and then unravel the ribbing down from there. It was a bit iffy at first, but in the end it worked beautifully. I then knitted my new ribbing back down from there. I was so happy with the result that I unpicked the cuffs (I could rip them) and reknitted those too. Et voila! A newly wearable sweater that I'm actually satisfied with.


The only thing worse than an already impossible deadline is an incompetent co-worker who loses three weeks of your work. I'm ready to KILL.

Later: He found it. Thank Gawd. Urge to kill subsiding.

| | |
| --- | --- |
| | [2] |
Rob's uploaded a couple pictures from the bush walk yesterday, including this one I especially like. I believe that was the moment when I finally realized that, hey, canyons are pretty deep, and there's no magical elevator that takes you back out once you've gotten in. You just gotta climb. It's like you can hear me thinking: "F*****ck... We gotta go up THERE?"

Tuesday, April 26, 2005
| | |
| --- | --- |
| | [4] |
DietBlog: I have officially lost 4.8 kilograms... That's over 10 pounds! I'm a little shocked myself. My usual Monday meeting was cancelled because of the public holiday so I headed off tonight to Glebe to visit another group. I honestly had no clue what to expect when I stepped on the scales. It seemed like I'd been losing some more, especially after that bush walk yesterday. (In fact, when I stepped on the scales last night I'd lost an extra kilo or two in water weight! But I hydrated really well today so I don't think that had any lasting effect, fluid-wise.) I also had some residual guilt from the hamburger and fries I had for dinner last night. I know I more than earned it from the exercise, but I still had this irrational fear that it would cancel out all the good stuff I've been doing. So when the weigher man wrote down my weight, I did a total double-take. I said to him: "Are you sure? I'm soooo close to five kilos!" He smiled and checked it again. "I could almost fudge it... but nah, not quite" he grinned. That's cool; I'm sure Emily will be happy I saved my first victory for our regular meeting next week.

Nearly five kilos in three weeks... Man, that's so fast. I honestly can't believe how easy it's been. I don't want to sound like a Weight Watchers shill, but this program is really workin' for me. No, actually, I'm doin' the work. But I needed the framework. I have officially now walked to work every day for three weeks (30 minutes; and once it was raining!). This week will be my fourth yoga class and I'm really looking forward to it. I had my second squash lesson on Sunday. I'm still drinking the occasional beer or glass of wine, and we're still going out to eat at least once a week. I've even stopped thinking about food so damn much (except for one notable nightmare last week when I dreamed I gobbled down half a package of Lik-M-Aid). Now I just need to keep it up for three more months...


Yay! Princess Mary got knocked up.

Monday, April 25, 2005
| | |
| --- | --- |
| | [3] |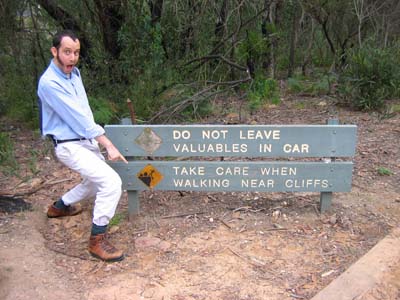 Web-Goddess Goes Bush.
Today the Snook and I joined Amy and Rob for a trip to the Blue Mountains. Our first destination was the Three Sisters in Katoomba, as I'd never seen them. Then we did a little window-shopping and had lunch. Finally, off to do some real Aussie bush-walking. Our chosen path was the Grand Canyon Track which is 5 kilometers down into a sub-tropical canyon. We climbed down rocks and slithered under overhangs and splashed across streams, all with a minimum of hand-holds (and none of the accompanying legal waivers you'd expect in a similar American setting). I did fairly well; I only slipped a few times and I didn't take any tumbles. My difficulties only began when we had to start climbing out again at the other end. That's when carrying the extra weight really catches up with you. I felt like I was climbing the Endless Stair of Mordor. I was sweaty, tired, and puffing like a freight train. Finally I made it out. The guidebook says it's a 3.5 hour walk; we did it in 3 flat. Kickass. We're going to do it again in six months and see if we improve. More pictures tomorrow (assuming my legs function well enough to get me out of bed).

Sunday, April 24, 2005
| | |
| --- | --- |
| | [2] |
Pope Steve I. According to the BBC, Mac users are Catholic and Windows users are Protestant. Now put down that pirated copy of XP and go say three Hail Woz's.

Saturday, April 23, 2005
| | |
| --- | --- |
| | [2] |
Calling all Sydney wizards! I was just in Glebe where I discovered that Gleebooks is hosting a train trip to Hogsmeade to celebrate the launch of the new book. Anybody else want to join me and the Snook? (I think he's going to have to be a Slytherin.)

| | |
| --- | --- |
| | [1] |
I did it! I just sent off my membership application to the Knitters' Guild of NSW. I also volunteered to be their Website Convenor, since they're in need of one. I'm in, girls!


The Wendy's Chili Finger was a HOAX! Whoa!

Friday, April 22, 2005

Roo Poo Paper. The mind boggles. I didn't know you could make paper out of poo! I guess it's probably just mostly vegetable matter anyway, huh?


Korean Barbecue Do's and Don'ts. I'm hoping to take the fam out to Korean BBQ in Strathfield if/when they come to visit in January... (Link courtesy of Not Martha.)

| | |
| --- | --- |
| | [3] |
As all my reserves of willpower are currently being used in sticking to the diet, I hesitated all of about three seconds before clicking on Kevin's link to the Star Wars Episode 3 Script. And now I'm spreading the guilt around by offering the temptation to you. Suckers.

Thursday, April 21, 2005
| | |
| --- | --- |
| | [8] |
What Type of American English Do You Speak? I'm 75% General American English, 10% Upper Midwestern, 5% Dixie, 5% Midwestern, and 5% Yankee. I figured that much. A lot of them I had to think about though, since I don't use many of those phrases over here. I should totally write my own quiz: "Which version of International English do you speak?" Question 1: Do you say a) ass, b) ahhhss, or c) arse? Question 2: How many syllables are in the chemical element with the symbol 'Al'? (Hint: You probably have a roll of it in your kitchen.) Question 3: Is it a) ketchup, b) catsup, or c) tomato sauce?

I got a million of 'em. (Link courtesy of Brigita, who definitely pronounces 'envelope' and 'amen' correctly but regrettably stuffs up 'aunt.')

Wednesday, April 20, 2005
| | |
| --- | --- |
| | [1] |
Kristen just finished one HELL of a bike ride. Well done!


For the record, I will actually be stitching and bitching tomorrow night at TC from 5-7. Finally I get an early shift! Can't wait to see you guys there.

| | |
| --- | --- |
| | [12] |
Does this make anybody else spitting mad? This is the kind of crap that makes me grateful to live in Australia right now. As long as a drug is legal, a pharmacist should be required to dispense it. If you're not happy with that, you shouldn't be a pharmacist. Simple. I have a moral objection to Feathers yarn, but you don't see me withholding it from customers, now do you?

| | |
| --- | --- |
| | [7] |
What a bad day. Couple of days. People called in sick to work so I had to serve customers two days running, meaning I had no time to work on our website, meaning I'm even further behind on a project that was nearly impossible to begin with. I dreamed about work all last night, so mentally I just worked, like, a sixteen hour shift. My iMac is officially borked again, so I'll be desktop-less for another week while it's getting serviced. I had a stupid, pointless argument with the Snook this morning that left me on the verge of tears. My allergies are acting up. It's raining and the Golf Umbrella People are out to get me. All I want to do is go home and eat deep-fried macaroni and cheese til I go into a food coma.

Does anybody have any surefire methods of cheering yourself up that don't require eating lots of crap that'll ruin my diet?

Monday, April 18, 2005
| | |
| --- | --- |
| | [2] |
DietBlog: I officially lost one kilo during Week 2, bringing my total loss to three. And I got another gold star! I totally wasn't angling for that one, either. Emily just asked if anybody had done anything new that week, and I mentioned that I'd played squash for the first time. (I had my boss Albert, who plays a lot, give me a lesson yesterday. More on that in a minute.) So she gave me another star. Yay! Things are progressing nicely. The Snook and I made an extremely yummy (yet very low point value) Shepherd's Pie tonight using kangaroo mince. I've also noticed that my EXTREME HUNGRINESS seems to have dialed back a bit, and I don't need to eat as much at lunch to ward off mid-afternoon STARVATION. Several people have told me that I'm looking skinnier (most notably when Amy complimented my actual ass on Saturday) but it's easy to write them off as just being nice, you know? But the scales don't lie, baby!

Oh, and as for squash... I thought it would be pretty easy to pick up, given that I played tennis all through high school and I did a rotation of racquetball during college PE. Unfortunately, it took me a really long time to realize that a squash ball doesn't, you know, BOUNCE. Albert would hit one off the front wall and it would bounce once, and I'd be waiting in the position I'd expect to hit a tennis ball from. And then the ball would bounce again three feet in front of me. It was like playing with the deadest tennis ball in the world. It took me a good fifteen minutes to mentally adjust and get into a position where I wasn't lunging for every shot. The other big change is that in squash, all raquet speed is generated from the wrist, whereas in tennis you mostly use your arm. But you don't have time to use your arm in squash, so I had to un-learn four years of tennis swing. We didn't actually get around to playing a game; I was having enough difficulty just returning the ball reliably. I was getting a hell of a workout though. I think we're going to make this a weekly event...


If anybody is interested, I just worked out how many WW Points are in the Peters CarbSmart ice cream: 1 Point per 50g. There you go!

Saturday, April 16, 2005
| | |
| --- | --- |
| | [4] |
I had my first diet-related dream last night. (Or shall I say... nightmare?) I dreamed that I was walking through the kitchen and there was a cookie sheet out with loads of fresh, warm peanut butter cookies, and I just grabbed one and stuffed it into my mouth. And then there was some sort of giant chocolate bar, and I was breaking pieces off and eating them before suddenly I was like, "OH MY GOD, WHAT AM I DOING? I'VE RUINED EVERYTHING!" And I just remember the awful feeling that I'd stuffed it up and that there'd never be any point in trying to continue. I was so relieved when I woke up.


We had little impromptu Aussie craft-blogger meet-up today at Amy's place to watch some episodes of Craft Corner Death Match. Joining us were Katherine, Helen, and Clinton. I wasn't hugely impressed with the show, to be honest. I can see where they were going with the concept, but it's got a few big problems for me:
The Host. He sucks! He just gave off this whole "Man Show" vibe that we all seemed to resent. I get that they were going with the whole "Rarr! Wrestling meets craft!" thing, but some of his jibes seemed bordering on the misgynistic and insulting. I don't think he considered anything the contestants made useful or beautiful. It was a big joke to him. I kept waiting for him to tell the contestants to "make me some pie, bitches." And the bit where they had to reach into his pants pockets to pull out categories? REALLY unnecessary.
The time limit. Ten minutes isn't enough time to do anything. We also didn't get to see very much of the contestants actually working either. The show either needs to expand to an hour or cut some of the (admittedly humorous) interstitial crap.
The judges. What's with giving scores to two decimal points? That's just silly. Some of them seemed rather petty and vindictive to the contestants too. I understand that everybody wants to be the next Simon Cowell, but it's just not very pleasant to watch.
So overall, I give the show 7.35 on originality, 4.46 on execution, and only a 6.329 on enjoyment. We had a lot more fun watching the fabulous Brini Maxwell afterwards...


And you thought iPod Shuffles were just for listening to... (That one with the Crisco and the poppy seeds makes me wanna barf though!)

| | |
| --- | --- |
| | [3] |
Congratulations to my sister Amy, who helped organize the extremely successful Leukemia and Lymphoma Society Inaugural Celebrity Rock 'N Bowl Event. The auction she put together raised $20,000 more than expected! Check out the pictures to see the celebrities that took place. All I can say is, if a member of my own family was in the same room as Ben Mackenzie from The O.C. and DIDN'T GET ME AND THE SNOOK AN AUTOGRAPH, she can consider herself OFFICIALLY UNINVITED TO ALL OF AUSTRALIA. Ahem. But congrats again, Sis!

Friday, April 15, 2005
| | |
| --- | --- |
| | [2] |
US President Turns Off Australian Women. Well, no DUH. I like the picture they chose to illustrate the story though. Heh. Baby fish mouth.

Thursday, April 14, 2005
| | |
| --- | --- |
| | [1] |

At long last, Cheesylove is finished! This is the Knitty pattern I started well over a year ago. At one point, I completely frogged it back to the beginning and started over (which meant re-casting on A THOUSAND stitches for the ruffle. Do you know how long it takes to do ANYTHING a thousand times? I do.). I was toying with the idea of putting short sleeves on it but in the end I decided I liked it better as a vest. Pattern notes follow. [more...]

| | |
| --- | --- |
| | [4] |
Good Lord! 622 Music Videos. I don't know who this guy is, but he ROCKS. Most of them are in Quicktime, it looks like. Lots of stuff from 80's and 90's. (Amy's gonna be all over this.) I'm grabbing the two Matthew Sweet videos right now. Squee! (Link courtesy of MetaFilter.)

A little while later: Hey, that's Samantha Mathis in REM's "Strange Currencies" video, isn't it? The forgotten little sister in the holy alterna-girl triumvirate of Claire and Winona. Major 90's flashbacks here. And I really liked "At My Most Beautiful" too. I can't figure out who the chick is. She looks like she could be one of the Phoenixes, but I can't find her credited anywhere.

| | |
| --- | --- |
| | [6] |
I just discovered that I've been suffering from Keratosis Pilaris my whole life! Well, I knew I was suffering from something, but I didn't know what it was called. My brother's got it too. I think I've been growing out of it, slowly, but it's not completely gone yet. Damn bumpy arms!

Wednesday, April 13, 2005

Did anyone else feel a tremor in the Force today? The Snook has ventured into the belly of the beast. I triple-dog-dared him to wear one of my Apple shirts but he declined. Wimp!


This BBC story about eight newspapers "backing" the "Apple bloggers" (ThinkSecret, et al) is so stupid. No judge - or right-minded person, for that matter - would equate a case of corporate whistleblowing with leaking trade secrets. One is in the public interest. One is not. The public may be interested in knowing Apple's every move - I know I am - but to compare it with Watergate is a bit much, I think.


Woohoo! Tiger ships on April 29. It also looks like they aren't making the Aussies wait an extra day, so we should be the first ones in the world to get it!

Tuesday, April 12, 2005
| | |
| --- | --- |
| | [9] |
TV Stuff:
Man, how awesome is Survivor Stephanie? She's tough and she's optimistic and she eats bird fetuses and she's got great abs and she Dutch-braids her own hair. (Mental note: Update goals in WW notebook to read "Become Stephenie.") I feel like if I knew her in real life I'd probably hate her because we'd both be so competitive, but I love watching her kick butt on the show. Well, "kick butt" in the sense of "trying really hard in the face of relentless defeat." Oh, and let us never speak of the bird fetuses again, because I'm still cringing. That is my ultimate, ULTIMATE nightmare. The Snook kept laughing at my horror. I was like, "You don't understand. The notion of a Very Small Animal being in my hand scares the bejesus out of me, so the thought of having one in my mouth..." HORROR.
I can't believe I didn't mention this, but what's up with Days changing Belles on me TWICE IN TWO WEEKS? I never even realized how much I liked the first actress, but man, Belle #2 brought it home big time. She sucked. She was a bad actress, she had no chemistry with either Philip or Shawn, and - it feels shallow to admit it but hey, I'm talking about a soap here - she was really unattractive. A total minger. Within the space of one episode my interest in that storyline dropped about 500%. I started actively rooting for Jan to complete Shawn's brainwashing and win him over. But just as soon as I'd resigned myself to the situation... they changed her again! Belle #3 is definitely prettier and less whiny, but she's still no Original Belle. She has sort of a pinched, anorexic look about her. Gain five pounds, Belle #3, and you could vault to the top of my Favorite Belle List! And now I'm back to hating crazy psycho Jan.
As far as I can tell it hasn't aired in the US yet, so you Americans simply MUST watch Operatunity when it comes on PBS. It's a documentary shot a few years ago in England where non-professional singers vied to be chosen to perform with the English National Opera. ("Opera Idol," if you will.) I absolutely loved it, even though I totally guessed the ultimate winners really early. I still cried when they won though. There were just all these normal people who had a gift - albeit one with not a lot of practical use today - and most of them had given up so much of their dreams along the way. The big finalé performance was on Sunday and I've got it taped to watch this weekend. Can't wait...
We're still gamely watching each episode of Desperate Housewives, but it's really not catching on with either me or the Snook. Every now and then we halfheartedly make a prediction about the mystery, but mostly we just don't care. I don't predict we'll be TiFauxing it much longer.
Lost, on the other hand, has us and most of Australia hooked. We actually missed the last episode (since it conflicted with Operatunity) but it seems several the Snook's co-workers were able to burn copies for him. I'm dying to figure out who whacked Sayid when he was triangulating the signal.
Oh, and in case you haven't visited our house in the last month and been personally subjected to a viewing, the Snook and I are officially obsessed with Arrested Development. We've watched the entire Series 1 DVDs (Thank you Kel!), like, three times now. I must admit, my favorite character of all is Buster. I say "Hey, Hermano!" at least once a day. Unfortunately we're going to have to wait til Season 2 airs here, I think. The Snook's been nosing around on the torrent sites and apparently only the more recent episodes are available, and we don't want to watch them out of order. Damn!
Monday, April 11, 2005
| | |
| --- | --- |
| | [2] |
*wink* I'm looking for a copy of WWCalc, if, uh, anybody has one. *rubs nose meaningfully*

| | |
| --- | --- |
| | [1] |
Oh my god. EXTREME CUTENESS ALERT! The Silly Sleeping Pose Olympics. It's all pictures people have sent in of their cats sleeping in weird positions. We make fun of Dr. Amy Jones for this stuff all the time. She likes to splay on her back with her legs spread out in a very lewd fashion. She's a bit of an Aussie hornbag, I think. (Link courtesy of John.)

| | |
| --- | --- |
| | [1] |
The Wisdom of Gadgetgirl: "No matter the question, metallic shoes are NOT the answer." So true. I'd also add this: "Especially if you're already wearing a metallic dress." Call it the Mischa Barton Corollary of Metallic Fugliness.

| | |
| --- | --- |
| | [1] |
I'm only sorry we got married too soon to put the Triumph the Insult Comic Talking Doll on our Bridal Registry. That is GENIUS. (Link courtesy of Max.)


Oh, and guess what else I did on the weekend? I went to my first ever Knitter's Guild meeting. Yes, I'm joining an honest-to-goodness guild, like I'm some medieval blacksmith or something. The Inner City group seems pretty cool and I didn't get too much shit for being a yarn store sell-out...

| | |
| --- | --- |
| | [4] |
DietBlog: Okay, so I had my first official weigh-in today... and I lost two kilos! Dude, that's like FIVE POUNDS. That's insane. I was like, "Are you joking? That's a lot, right?" And the weigher said it was, but that it was pretty normal and that my body would probably adjust soon so the rate would slow down. I'm still stoked though. I don't want to sound like a dork, but I really think the "meeting" aspect is what's going to get me through this. I always liked school stuff. For example, our leader was up there tonight talking about affirmations and visualization, and she kept asking people for examples. But nobody would talk! So I kept saying stuff, because if we're all just going to sit there staring at each other then it's just a waste of my time. Right? I might as well get something out of it. I don't care if they think I'm a kiss-ass; I'm not paying $15/week to screw around. So I asked questions and made comments and generally spoke about 500% more than anybody else. Oh, and since you're all waiting with breathless anticipation... I got my first Bravo star! She asked if anybody'd made any positive lifestyle changes and I said that I'd walked to work every day for the past week (which is 30 minutes), and on my day off I even walked all the way from the city to Newtown (which took me, like, an hour). Lemme tell ya, it feels pretty damn good to have that star sitting on my little "Progress Trail."

Overall, I feel pretty positive about how it's going. I went to our health fund on Friday to see if they offered a rebate and was surprised to discover that I'm eligible for $200 bucks back! So I went ahead and pre-paid for four months' worth of meetings. (I also splurged on a couple of the "point tracking" books.) Other than that, emotionally Friday was the lowest point of the week. I just felt hungry and irritable all day long. It's also my day off alone so I didn't have anybody to talk to and keep me from thinking negative thoughts. I perked up on Saturday though, mostly because I'd saved up enough points to have our usual pancakes and bacon. The Snook's being amazingly supportive about the whole enterprise, helping me figure out ways to make our favorite foods lower in fat and not complaining too badly about the switch away from "all meat, all the time." He's even agreed to my ultimate goal attainment reward: a trip to Warner Brothers Movie World on the Gold Coast!* Only eighteen kilos more to go...

* I totally got that idea from an adolescent fiction book that - strangely enough - I keep thinking about this week. It's about a fat kid who gets to go to Disney World when he loses the weight at the end. He gets stuck with two pounds to go and gets mad but then discovers that he's grown two inches, so he still qualifies to go. I can't remember the title though. Can you? It definitely wasn't Blubber, since the protagonist of that one is a girl. Hmmm...

Sunday, April 10, 2005

Did you know that the formula for calculating Weight Watchers "Points" is actually protected by patent? On one hand that means that WW has a habit of litigating against folks who write Points calculators... but on the other, it means that the formula is publicly available on the patent documents and you can write your own. Which I am doing now.

| | |
| --- | --- |
| | [2] |
Oh my God. And I thought having a leech on my foot was bad!

| | |
| --- | --- |
| | [1] |
How excitement! A customer just called to ask whether it was going to be difficult to get into the shop today, as apparently there's a movie – Superman! – filming down York Street. I had no idea! I'm going to sneak down at lunch and see if I can get a photo.

Update: Here they are! The two crappiest photos ever. (I only had my mobile and I didn't want to risk getting too close for fear that I'd get, like, busted or something. I don't know. I was paranoid.) They'd set up a big crane at Wynyard Station, not far from Krispy Kreme. It was holding a big roof-like structure over the area by the bus stops beside the Menzies Hotel. There were hundreds of people milling around, sitting on the grass and standing at the fences watching. This first shot is from up top in the little park-like area, looking down towards where all the lights were. At one point I heard a voice over a loudspeaker call "Action!" and then I caught a glimpse of a crowd of people start walking around that street. And then "Cut." Hollywood in action is pretty boring, to tell you the truth. The second shot is down on Wynyard Street looking at the big crane thing. I didn't see anybody that looked very important, though there were two swanky big motorhomes parked down one of the side streets.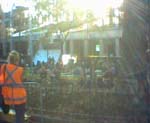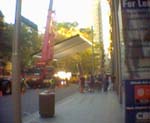 Stupid anecdote: I was sorta disappointed not to see Lois Lane because I read in a magazine yesterday that she was going to be played by Mischa Barton from The O.C., and I had a crazy vision that maybe she'd be wearing yet another big ugly hat and I could yell something amusing at her. But then I got home and looked it up and it turns out that it isn't her, it's Kate Bosworth. Damn. That's what I get for gleaning celebrity information from nine-month-old magazines at the doctor's office.
Saturday, April 9, 2005

Note to self: Next time you go to the States, remember that Hertz gives a car rental discount to ND alumni...

Friday, April 8, 2005
| | |
| --- | --- |
| | [1] |
My sister will love this one: FreeKaraoke.com. They're karaoke MIDI files! How delightfully low-fi. On my machine they play in Quicktime and the words light up as the song plays. How neat (and by neat, I mean sorta lame too) is that? We may need to have a karaoke MIDI party, methinks. The Snook also reports that there are other sites offering these around the internets too.

| | |
| --- | --- |
| | [2] |
The Snook makes a grab for my tummy...
Me: Hey, don't grab my schub! I've got a total muffin top today.
Him: "Muffin top"?
Me: Muffin top.
Him: Well, everybody loves muffins.

(Link courtesy of the non-muffin-top-sporting Andrew.)

Thursday, April 7, 2005
| | |
| --- | --- |
| | [4] |
Since Kevin asked, I just checked out the new Charlie the Chocolate Factory TV spot. Hmm. Okay, first the positives: They put back the squirrels! I'm really, really happy about that. I always thought the "geese-laying-golden-eggs" was stupid. And though the boat looked weird to me at first, the shot of it from above with all the Oompa-Loompas at the oars really reminded me of the original Joseph Schindelman illlustration. The bad: As Kevin said, Johnny Depp really does seem to be trying to channel a 13-year-old boy here. I don't think that's a good thing. We already had Gene Wilder as the literary-quote-spouting Wonka, and now we've got Depp as the let's-boogie Wonka... neither of which seem very faithful to the book. I'm withholding final judgement til I can see the whole film together.


I finally managed to watch Michael Stipe's interview on Enough Rope with Andrew Denton from Monday. He was surprisingly personable! The only bit I didn't like was Denton's introduction, where he went on and on about how REM didn't seem like the stereotypical rock gods, like with the groupies and the doing drugs, and that it was so refreshing that they didn't have any embarrassing scandals... to which everyone watching mentally thought in unison: "Except for that time Peter Buck went psycho on a flight to England." But anyhoo, my personal highlights:
Denton asked about the blue stripe, to which Stipe replied, "I don't think when people go to a concert they want to see the same person they could see walking down the street. It's just theatrics." I was totally expecting him to say something much more vague and cosmic and stupid.
Michael is really sentimental and spends every Christmas with his family. That just seemed like such a nice, normal thing. What a good Southern boy!
When discussing the way the media can totally misrepresent things you do/say, Stipe mentioned that he was reading an Aussie tabloid story on "Celeb Fatties" on the plane. (Must've been NW, as that's currently on the cover.) He said that of all the people shown, only one was actually fat and the rest were just caught at a bad angle. The fat one was Courtney Love, who he says has put on some pounds since she's gotten clean and sober. He said she's doing well and he seemed really happy for her. Denton asked what she'd think about being included in the "Celeb Fatties." Stipe laughed. "Oh, she'd love it!"
Denton mentioned that last year REM did the "Vote for Change" tour with several other bands. "What were you hoping to accomplish?" Stipe hesitated for a second, as if pondering the ridiculousness of such an obvious question. "We wanted George Bush the f**k out of the White House, and to vote John Kerry in." Everyone applauded.
At one point, Denton mentioned that the band's been dedicating "Strange Currencies" to Michael Hutchence in all the Australian shows, and then he brought up River Phoenix and Kurt Cobain. He was trying to ask Michael why they all seemed to burn out under the weight of fame, but why hadn't he? Michael basically said he'd never really thought about that and that it was hard for him to talk about. And then thankfully Denton changed the subject, because it seemed to really depress Michael.
Apparently Stipe collects random crap like matchbooks and sugar packets and he's always threatening to put a big scrapbook together. So at the end of the interview, Denton offered him a choice between a few different "Australian" items to remember us by: a cricketer's cup (as in, the thing that protects his crotch), a crushed VB can, and an actual living funnelweb spider in a plastic terrarium. Michael seemed a bit freaked out by the spider at first, but eventually decided to be brave and pick up the box. "So is this one deadly poisonous?" Yep. "If I opened the lid, it would actually kill me dead?" Yep. "I bet some insurance guy is having a heart attack right about now." He went with a matchbook.
Note: I totally paraphrased Michael's statements because I'm too lazy to transcribe from the video.
Tuesday, April 5, 2005
| | |
| --- | --- |
| | [4] |
I don't want to be all "100% DietBlog!", but this is a useful list of WW points values for generic foods. The author's got a couple other lists for restaurants too.

Monday, April 4, 2005
| | |
| --- | --- |
| | [9] |
DietBlog: So, I went to my first Weight Watchers meeting tonight. Needless to say, I was a little apprehensive. I kept wondering when we were going to drink the Magic Kool-Aid. The room was full of boxes of WW-branded products and books and videos, but thankfully they didn't seem to really "push" any of that too hard. I filled out my forms and paid my joining fee, and then I got to step on the dreaded scales. Ouch. I've officially got - and I'm just gonna say this - twenty kilos to lose. (I'm not gonna do the conversion for you Americans. My embarrassment does have its limits.) What really pisses me off is that a year ago I was within seven kilos of my goal, and now I've got to do it all over again... and this time make it stick. Anyway, back to the meeting. A lot of folks just seemed to check-in, get weighed, and bolt, but a half dozen of us stuck around for the meeting proper. Our leader is an older lady named Emily who was really, really encouraging. She even showed us her "before" photo! And get this - I wasn't even the chubbiest girl there. (I know it's shallow, but that was a total relief.) We talked about what our goals are and what sort of concrete changes we can make to achieve them. A couple of the attendees were "lifetime members," i.e. people who'd achieved their goal weights and were maintaining it. (I felt much more charitable to them after that revelation, as I'd been sitting there wondering why all the skinny beeyotches had come to torment me.) It sounds cheesy, but they really were inspiring and they had some good tips about how to get started. Emily even handed out a couple gold star stickers to people with really good suggestions. I really wanted to think it was lame, but deep, deep down in my heart of hearts, I admit that I desperately want a gold star sticker of my very own. So lame or not, the encouragement is working! Afterwards I headed to the store to stock up on supplies. The hardest part right now is re-hardwiring my brain for shopping. Most of the things we were used to buying on Atkins are now verboten, and lots of stuff that was previously off limits - Potatoes! Honest to Christ, potatoes! - are back on the list. I mostly feel bad because we're going to be cutting out a lot of the things that the Snook really enjoys: fat meat, fat milk, fat cheese. We've arrived at a compromise though, where he can have whatever he wants for lunch as long as he does the low-fat dinner with me. Tonight I made us some pizzas on Lebanese bread (from the Week 1 guidebook). Pretty good! I added up my daily points and I was just under my daily quota. It'll be even better this week once I implement my first concrete lifestyle change: walking to work every day. Wish me luck!

Saturday, April 2, 2005

Restaurant Review: For our big anniversary dinner last night, the Snook and I headed out to Neil Perry's latest venture, XO. It's at the site of the old MG Garage in Surry Hills. We were really looking forward to it as our previous Perry experience (Rockpool in 2002) was just magnificent. Also, my co-worker Leanne's boyfriend Brendan is an apprentice chef there and we heard great things about it from them. Read on for the full review. [more...]

| | |
| --- | --- |
| | [3] |
Knit a representation of two-dimensional space. That's awesome! I love knitting geometry. (Link via Boring Boring.)

Friday, April 1, 2005
| | |
| --- | --- |
| | [11] |
Five years ago today I was sitting at my office in London wondering what the future would hold. My visa was going to run out in two weeks. I had a ticket home and I didn't know if I'd be back. I had a crush on a guy in my office but the whole situation seemed hopeless. My request for a proper work visa had already been knocked back once. And then, suddenly... Lynn from HR came to tell me that the visa was approved. I felt a weight lift from my shoulders. Everything seemed possible. That night the whole company ended up at our local pub, and hours later I found myself with several co-workers (including the crush) at a dodgy club - The Leopard Lounge in Fulham, since demolished - drinking vodka-Red Bulls by the pitcher and dancing on a platform to bad music. I ended up kissing my crush for the first time on the dance floor. It was one of the best nights of my life.

And five years later, here I am. What happened to the crush? Dear Reader, four months ago I married him. Happy anniversary, Snookums.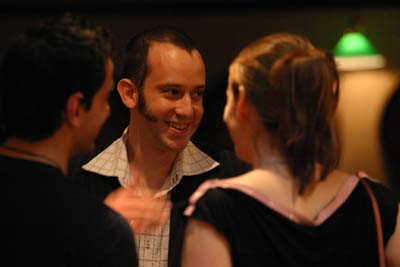 Note: This is another of the fabulous pictures Rob took at the reception. More to come, I promise...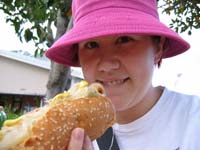 Easter Show 2005
I've finally put up my photos from this year's Easter Show, which I attended with some of the girls from the Knitting Guild. As usual, my favorite thing was the junk food. I also took in some precision ute-driving and competitive wood-chopping. How excitement!

| | |
| --- | --- |
| | [10] |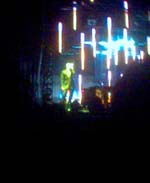 Concert Wrap-Up
I'll try this again. So... the show was pretty damn awesome. Our seats were shockingly good, six rows back and about ten to the left of center. (We gathered from overheard comments that most of the people around us were also from the fanclub.) The first opener was local band Little Birdie, who sounded good but a little repetitious. Their singer is like the second coming of Joan Jett though, I tell ya! Second was Bright Eyes, which - despite having seven musicians onstage - apparently consists of pretty much just the main singer/songwriter guy. When they came out the Snook leaned over to whisper, "Uh oh. I sense some emo coming!" Later we agreed that it was more "emo-billy." Musically they were fantastic; I'm downloading some of their stuff right now. I just found some of the lyrics a little too painfully sincere. Is this really what the kids are listening to? Doesn't anybody do irony or metaphor anymore? Singing earnestly about little black children in crumbling schools - no matter how rockin' the background music - just makes me squirm a little. But maybe that's just me. It could be.

Anyhoo, so then REM appeared and it seemed like the guys were in a really good mood. Michael wore a dark blue suit and tie and had the expected smear of blue goo across his eyes and forehead. (That's him in the exceptionally bad photo I took with the Snook's mobile, which was the only camera we had on us.) Mike wore an orange shirt and jeans; Peter wore the same loud shirt he's been wearing since college. They played a great mix of old and new stuff and everybody seemed to be having fun. Michael engaged in more stage banter than I expected and even pulled a roadie up onstage at the end so we could all sing Happy Birthday to him. The show lasted for two hours and they sang twenty-four songs. Read on to see the playlists and more of my commentary. [more...]

| | |
| --- | --- |
| | [1] |
A comparison of widescreen vs. fullscreen using the Prisoner of Azkaban DVDs. Good grief. This points out exactly why people who object to widescreen are out of their minds. (Link courtesy of Manda.)


Nooooooo! I just lost a massive concert wrap-up post as my tired fingers hit the wrong damn key. Screw it. I'll write it again in the morning. Suffice it to say that our seats were fantastic, the boys were in top form, and altogether the evening kicked major ass.

archives
You can search through the archives by post keyword using the form on the left, or you can browse by month using the links at the bottom.
"Moblog" refers to posts and images posted directly from my mobile phone.

"PW Blog" refers to posts recovered from my very first weblog, which dealt with news related to my college dorm.