Sunday, April 30, 2006

Dr. Amy Jones has posted some more photos...


Thanks to the efforts of Mary-Helen, the Sydney Sity Klickers have a new blog!

| | |
| --- | --- |
| | [4] |
Snookums and I are debating on going to this zombie thing today. No, we're not going to dress up as zombies. We just want to make fun of the emo kids who don't realize that zombie flash mobs are so 2005.

| | |
| --- | --- |
| | [5] |
Son of a...
Can any one of you guess what's wrong with this picture?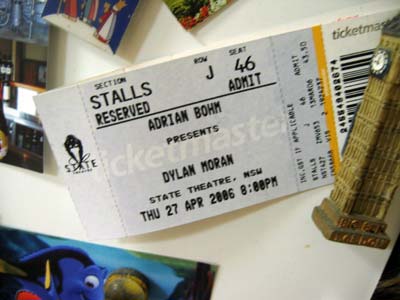 | | |
| --- | --- |
| | [2] |
Rob has posted some lovely black-and-white photos from the Garbericks' last night in Sydney: my beautiful Mom, me wiping grease off my face while chowing down on egg rolls, Joey making his monster face, and Joey taking a picture of Amy.


How to Dry Out a Wet Book. Now that is a useful thing to know.

Saturday, April 29, 2006
| | |
| --- | --- |
| | [4] |
Check out the First and Second Annual Myspace Stupid Haircut Awards. I hate Myspace. Fully 50% of my referrer stats are Myspace users stealing my images.

| | |
| --- | --- |
| | [1] |
Sex Toy or Baby Toy? That link is totally Not Safe For Work, by the way. I scored a deeply disturbing 9 out of 15. I swear I'm not moonlighting at the Tool Shed! (Link courtesy of John.)

Later: I sent the Snook to do the quiz. "Oh no," he said. "I only got 1 out of 15! Don't send me to buy any toys for the baby!"

Friday, April 28, 2006
| | |
| --- | --- |
| | [9] |
Insufferable Know-It-Alls I Have Dealt With Today:
The woman who interrupted me while helping a customer select a pattern size and then blatantly contradicted my advice. The customer then turned to her as the authority, and I'm like, "SHE DOESN'T EVEN WORK HERE." I finally had to actually shoo her away from the counter.
The woman who interrupted while Michelle and I were discussing with another customer about former employee Mel and whether she'd had her baby yet. The Know-It-All was actually claiming that she remembered the baby's due date better than the people who worked with Mel.
The old biddy who actually chastised another woman's children in the shop. I KNOW! Granted, the little brats were running all over the place and it was during the lunchtime rush, so patience was low all around. But she suddenly bursts out in her loud, bossy voice: "Children, I need you to be quiet and stop running around!" I was like, "Oh noooo she DI'INT!" It's pretty much a cardinal rule that you don't chastise somebody else's kids, right? Especially when the mother is there? Because what you're really saying is, "You're a bad mom and you can't control your rugrats." I was so hoping she'd get a punch in the nose.
The woman who interrupted me while telling the Knitting Clinic ladies about the prizes we're going to sponsor at next year's Easter Show, interjecting that she could tell me all the deadlines and who to get in contact with. I'm like, "I'm already in contact with them. From months ago. You know-it-all cow."
The woman who watched me doing an expense on our point-of-sale system and told me I was doing it wrong, that I needed to staple a bunch of receipts to the report slip. I love it when non-employees lecture me on store procedure! "Well, I'm the one that does the banking," I retorted, "and I DON'T CARE if they're on there, SO I'M NOT PUTTING THEM THERE." And then I tore them up and put them in the trash. Yeah, I'd reached the end of my tether at that point.
And you know the best part? IT WAS ALL THE SAME WOMAN. (I'm sure some of you can guess. She's my nemesis. But do not speak her name, for I fear her minions...)

| | |
| --- | --- |
| | [2] |
AskMeFi wants to know: Did you read encyclopedias as a kid? I did. We had an ancient set of World Books and everytime I'd go to look something up, I'd get sucked into reading them for hours. Come to think of it, I do the same thing nowadays with Wikipedia.

| | |
| --- | --- |
| | [1] |
You're joking. The Nintendo Wee?? That's the worst marketing bungle in history.

Thursday, April 27, 2006
| | |
| --- | --- |
| | [11] |
Hmm. I don't get it. Australia will simply hand me a driver's license with basically no questions asked, but now they want me to take a test to prove I'm worthy of being a citizen? What's more dangerous - driving or voting? I guess to a politician, the answer is the latter.


I thought the finale of The Biggest Loser was awesome tonight. Sure, there was a lot of filler but that's what we have a TiFaux for, right? As soon as David came out I felt the tears welling up. It was like the greatest episode of Oprah ever. How could you not just feel so happy for these people and the positive changes they've made?! I was a little disappointed that my weirdy-beardy boyfriend Shane - Back off, Gillian! - failed to topple Big Wal, but it was kind of expected. And then the final four... They all looked so amazing. We were doing the math in our heads and it was agonizing to see how close Kristie had come. And then Adro... He's so cute! I was happy to see his confidence with AJ told him the numbers. I loved the bit at Camp Eden when he jumped off the pole, and it was so completely gratifying to see that pay off tonight. So hooray, for once in the history of reality game shows, the most deserving person won!

Wednesday, April 26, 2006
| | |
| --- | --- |
| | [2] |
Well, that's what you get when you use pre-prepared pancake mix. (I'm smug because the Snook is a full-fledged convert to the glories of big ol' American homemade pancakes.)

Tuesday, April 25, 2006
| | |
| --- | --- |
| | [7] |
RunningBlog: Trail Note
Ow. We have less than three weeks left til the Mother's Day Classic, so the Snook and I headed out today for a much needed jog. (I basically took the whole week of the Garbericks' visit off.) I felt a twinge in my hamstring as we started but disregarded it. Mistake. Half an hour later I was in pain with every step. I tried walking for a while, but it actually felt slightly better to jog (since my leg doesn't straighten as much). So yeah, I've pulled the sucker. It's not so bad that I can't walk, but there's definitely some slight swelling. The Snook gave me a massage and I'm trying to keep it elevated. I may see if I can get a compression bandage tomorrow. Runners, with a (relatively) minor injury like this, how soon can I train again? I don't have to wait til it's completely pain-free, do I? Will stretching and/or heating before exercise help enough to continue?

| | |
| --- | --- |
| | [3] |
Puss Puss 2.0
Ladies and gentlemen, our cat now has a Flickr account. And what would a photoblogging cat post pictures of? Herself, of course.

| | |
| --- | --- |
| | [1] |
Huh. According to Ask MetaFilter, it appears that by living in the middle of a big city we actually consume far fewer environmental resources than suburban or rural dwellers. "The density of human life enables energy efficiency, mass transit, recycling, and other benefits," which means we have a smaller ecological footprint than we might have otherwise. (Mom still wants us to move back to Indiana. I'm grasping at straws here.)

Monday, April 24, 2006
| | |
| --- | --- |
| | [2] |
Rebellin: The Birth Story. Seriously, you guys, I am not havin' kids. (Madelynn is gorgeous though.)

| | |
| --- | --- |
| | [1] |
You know that episode of Friends where Chandler made a resolution not to make fun of people, and then Ross walked in wearing leather pants and all Chandler could do was babble: "Ross is wearing leather pants! Does nobody else see that Ross is wearing leather pants? Someone comment on the pants!"? Well...

Amy is poledancing! Does nobody else see that Amy is poledancing? Someone comment on the G-string!

Thank you.

Later: The phone just rang and I started hooting because I knew it was the hoochie mama herself. Snookums picked it up: "Yeah, I heard about it. It's okay. As Wyclef says, just because you dance go-go, don't mean you're a ho, no." HA! I'm still laughing.

| | |
| --- | --- |
| | [1] |
Back to Work
Mom, Joe, and Joey left Saturday morning. Yeah, that was sad. As much as you try to prepare yourself, the sight of your four-year-old brother saying he wants to stay with you in "Ostraya" is still heartbreaking. The Snook and I cheered ourselves in the only way we could: by sitting on the couch and watching a lot of television. Seriously. We watched, like, four episodes of House, and three episodes of Lost, and eleven (ELEVEN!) episodes of Veronica Mars. I also consumed about a pound of grapes, two apples, five plums, and half a pizza. (There's a reason I haven't done any DietBlog posts in the past two weeks.) But we pick ourselves up and move on...

So yeah, back to work today. The Monday after vacation always sucks; the Monday after vacation when you find out that you've suddenly lost two members of staff that you were counting on for the busy season really sucks. Thank goodness tomorrow is a public holiday... I already need a vacation.

Sunday, April 23, 2006
| | |
| --- | --- |
| | [4] |
Oh hey, I just found the company that makes the Star Wars fabric Mom used in our quilt. Turns out they make quite a few other designs. Ours is called (appropriately enough) "Vader's Revenge".

Incidentally, we had a long chat Friday night about the whole licensing issue thing. Mom was admonishing me for even mentioning selling the quilt because the fabric had apparently come with a big warning that you weren't allowed to use it in products for resale. That sent Rodd off into a tangent about end-user license agreements and whether they're valid if you don't sign anything (which of course Mom hadn't). I said that I thought you were allowed to sell derivative works, like collages that included copyrighted pictures. (Turns out I was wrong.) So it looks like selling it would be out of the question in terms of legality. It just seems really odd to think that I have a personal possession that I wouldn't be allowed to sell in a garage sale (or on eBay). But wait - I didn't make the quilt. It was gifted to me. So I should be able to sell it, right? I didn't "manufacture" any products "for resale." (Just to clarify, I wouldn't dream of selling it. This is just an interesting thought exercise.) I wonder if anybody's contested this one in court yet...

Friday, April 21, 2006

Thanks to Helen for pointing out that this year's list of the world's fifty best restaurants is now available. Apparently the only Melbourne restaurant on the list dropped off this year; therefore I've eaten in all (i.e. "both") Australian honorees! If we want to cross anymore off, we'll have to go to another continent.

| | |
| --- | --- |
| | [24] |
Episode III - Revenge of the Amish
Okay, so my mom's been a quilter for a long time, and now that she's not working full-time she's had time to start cranking out quilts for everyone in the family. She told me a while ago that she was planning to make a wedding quilt for Rodd and me. About six months ago we had the following phone conversation.

Mom: Joe [her husband] and I were having an argument about your quilt the other day.
Me: Really? How weird. [Joe's not a quilter.] What about?
Mom: Well, I had planned on making you a traditional-style quilt. But then we saw some Star Wars fabric in a store and he thinks you guys might like that better.
Me: [I can't figure out what to do! I mean, DUDE, a Star Wars quilt? How cool would that be? But I don't want to disappoint Mom. So instead I just hyperventilate into the phone.]
Mom: So I'm guessing you want the Star Wars thing then.
Me: Welllll... What if you used the Star Wars fabric but still did a traditional design? That would rock!
Mom: Yeah, that's what I was thinkin'.

So she started the quilt. I didn't hear much about it except for the occasional disturbing "I don't know if you guys are gonna like this..." comment. Apparently she spent the past few weeks pulling out all the stops to get it finished in time to personally deliver it on this trip. Last Friday as soon as we got them and their suitcases unloaded into the apartment, out came the quilt. Quite frankly, we were speechless.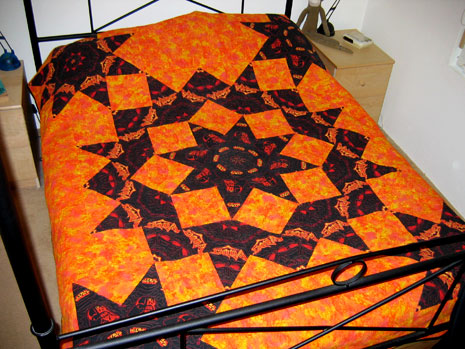 Isn't that the coolest, evillest patchwork quilt you've ever seen? The fabric was apparently printed as a tie-in for Revenge of the Sith, though what they thought people would do with it, I can't imagine. I took more pictures. [more...]

Thursday, April 20, 2006

At the Easter Show today I found a booth exhibiting Nada Chairs and remembered that I'd tried one at the Craft Show a few years earlier and really liked it. So I bought one! I feel a bit silly wearing it - like I'm about to rappel down a cliff at any second - but it definitely makes a difference.

Moblog: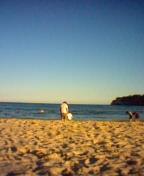 Bondi Beach
Joey and his Dad are dipping their toes in the western half of the Pacific for the first time. The surf isn't big but it's a lovely evening...

| | |
| --- | --- |
| | [1] |
A Knitted Tank Cozy. Sheesh. That's a lot of knitting. I need to get some Finished Objects happening myself!

Wednesday, April 19, 2006
Moblog: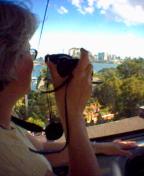 Zoo fun!
Mom snaps pics of Sydney Harbour from the skyway at Taronga Zoo. It was a gorgeous day to visit the animals, and we got to meet Snookums' family too!

Tuesday, April 18, 2006
Moblog: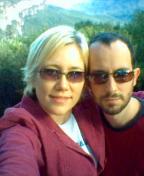 Wentworth Falls
Today's mission was the Blue Mountains. We saw the Three Sisters and rode the world's steepest railway. Now we're off to Featherdale to pet a koala!

Monday, April 17, 2006
| | |
| --- | --- |
| | [2] |
Moblog: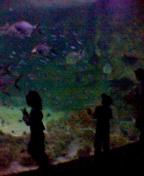 Sydney Aquarium
We spent the morning looking for Nemo and we found him! And Joey petted a baby shark.

| | |
| --- | --- |
| | [8] |
Indiana Court Clears Gay Couple to Adopt. Sometimes my home state makes me proud. Of course, the article does quote some idiot from the "American Family Association of Indiana" as saying: "When same-sex couples adopt, they are making a conscious decision to deny that child a mother or a father. Both play an important role, and kids do best when they have a mom and dad." I take it this jerk also objects to all the hetero single parents in the world.

| | |
| --- | --- |
| | [6] |
"In Indiana, when there are four people, there is euchre." Moire just pointed me to a lovely introduction to the game of euchre. I resisted euchre for a long time, always claiming that it was too confusing or that I was too stupid to learn. Finally in high school I had a boyfriend whose family were euchre-mad, and they insisted that I learn. Within a year I was a euchre-fiend. Oh yes, I know the joy of being "in the barn" on a warm summer evening, sipping bad beer and swearing I'd get up after one more hand. I've been in arguments that were only settled with reference to the high holy book: "Hoyle." In college I even entered a tournament with my friend Kel but we lost when our oh-so-complicated table sign system fell apart. (I shall never forget the horror of triumphantly throwing down my final card of the game expecting Kel to trump it, only to see her throw down an off-suit nine. "I thought you had the bower!!" "I forgot the sign!!" *sigh*) Imagine my surprise on one of my first dates with the Snook when, apropos of nothing, he said, "Do you know how to play euchre?" (My inner monologue: "I will marry this guy.") Years have passed and I now know that Australian euchre is a little different from American Midwestern - their deck runs from sevens to aces; they play to eleven points (using sixes and fives to keep score); a common house rule is that if you order up a suit for your partner, you have to play alone. It's still basically the same. (Though the Snook adamantly refuses to use my favorite house rule: "Partner's Best.") We're getting older now and we don't play very often. I should try to find an online version...

Sunday, April 16, 2006
Moblog: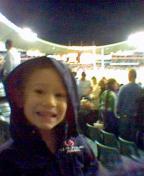 Go the Waratahs!
Teaching my little brother the intricacies of rugby at Aussie Stadium. At least he's awake!


Scenes from the Arrivals Gate

Me: What's taking so long? Their flight landed ages ago.
Snook: You do realize that if a bunch of Amazing Racers come running through, I'm abandoning you.
Me: Dude, if any Racers come through I'm totally abandoning them too. We'll leave a note.

I forgot to mention the other airport excitement: We saw Sir Bob Geldof. He strolled off in the company of two Emirates stewardesses. We couldn't figure out if they were assigned to escort him to his limo or whether he'd just picked them up while disembarking, all rockstar-style. And then I had "I don't like Mondays" stuck in my head the rest of the morning...


Well, it's been 48 hours of living with a jet-lagged four-year-old. I think the cat was the first to crack. At first, Dr. Amy Jones was loving the idea that - finally - here was someone who'd play the "chase the laser pointer" game with her all day long. By the afternoon of the second day, she'd taken to actively hiding from Joey lest he discover her and invent a new game. (We freaked out for ten minutes when we couldn't find her and she wasn't answering, thinking she'd gotten outside, when she was just cowering behind the sofa bed.) The rest of us are holding up fairly well though. Friday we walked around Victoria Park and Sydney University. Saturday we went down into the city to see my shop and then to go up Sydney Tower. After an afternoon nap, we went down to Circular Quay to walk around the Opera House. We took the ferry across to Luna Park where Joey rode a couple kiddie rides. Then we took the ferry and train over to Newtown for dinner at Mama Maria's. The little one was conked out at that point... which meant he was up looking for his Easter basket at 6am. (I totally scored with the Hot Wheels Easter set though.) Today they're heading out to the big Hillsong church service at Darling Harbour while we heathens have a much needed shower and rest. Onwards and upwards...

Saturday, April 15, 2006
| | |
| --- | --- |
| | [1] |
Moblog: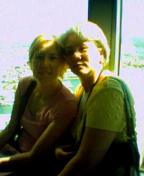 Far above Sydney...
Sitting in the sunshine atop Centrepoint Tower with my Mommy. It's a beautiful day!

Friday, April 14, 2006
Moblog: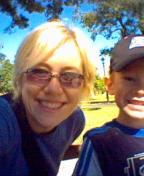 They're here!
Having fun in the sun at Victoria Park.

Thursday, April 13, 2006
| | |
| --- | --- |
| | [2] |
Woohoo! Rent Podcasts. (As in, podcasts about the musical Rent, not podcasts that you rent.) I'm getting the lot. No interview with Adam Pascal yet? I'm waiting...

| | |
| --- | --- |
| | [2] |
Less than 24 hours til the Garbericks arrive... They should be getting ready to take-off! We've done all the major tidying and Annette's taking care of the rest today. I just need to do a few more loads of laundry, go to the grocery store, and clean out the litterbox. I'm excited and stressed beyond belief. This is the first time one of my parents has visited me since I left university six-and-a-half years ago. It's the first time Mom will see my house and get to meet Rodd's family. It's the first time they've been out of the country. It's gonna be huge!

Wednesday, April 12, 2006

My sister just e-mailed me a pic from her first ultrasound. Baby Carbo is doing well, all the right number of parts so far and a good strong heartbeat. Now if you'll excuse me, I have to go cry at the momentousness of it all. My own little Sissy having a baby...!

| | |
| --- | --- |
| | [5] |
Awww, Carissa Gaghan - everyone's favorite moppet Racer - is doing recaps of The Amazing Race this season. The really funny bit is that Eric and Jeremy are her favorite team. I guess when the sexual "innuendo" goes right over your head, they're just cute, doofy guys. (And hey, Tricia, Bill Gaghan will be running the Boston Marathon with you!)

| | |
| --- | --- |
| | [1] |
A mouse with amazing healing abilities. Obviously the next step is to graft adamantium to its skeleton, thus creating the world's first X-Mouse.


Rogue sleeves are off the needles! I repeat, they are off the needles! Now I just need to block the damn things, supposedly.

Tuesday, April 11, 2006
| | |
| --- | --- |
| | [5] |
I feel a surge of creative empowerment. The Pine Street Creative Arts Centre is just around the corner from my house and I've been thinking of doing one of their courses for ages. Anybody else interested in doing the Thursday night pottery wheel class with me?

| | |
| --- | --- |
| | [11] |
DietBlog: It was just a little over a year ago when I asked you guys about Weight Watchers. Less than a week later I joined. Initially progress was rapid but by the end of the year I was really struggling. Fortunately 2006 brought renewed optimism and energy. Soon I accomplished one of my mini-goals: getting into a size fourteen. Then I sailed past twenty kilos lost on my way to officially not being overweight. The only two goals left were to achieve my Weight Watchers goal weight of 78 (thus qualifying me for free meetings) and then to get down to my own personal goal of 75. And tonight...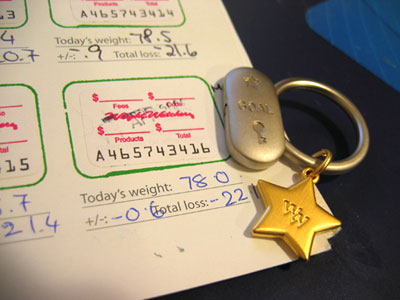 I would like to personally thank all of you guys who answered my original plea: Sara, Niffler, Jenny, Aunt Deb, Brigita, Tricia, Max, Andrew, Oolookitty, and Kristine. You guys have changed my life.


A new Knitty makes everything better...

| | |
| --- | --- |
| | [3] |
For the record, Adidas, I'm offended. That looks like Mickey Rooney in Breakfast at Tiffany's.


The only thing worse than knowing I'm going to be short a member of staff all day is the absolute certainty that just when I think everything is going to be okay, one of the other employees will call in sick. Happens every goddamn time. (And inevitably on the day I've worn my most uncomfortable shoes in the expectation that I'll be working at my desk and not on my feet serving customers.) *sigh* Only three more days til vacation...

Later: I bit the hell out of the inside of my cheek.

Later: The lid came off my lunch and spilled sauce all down my pantleg.

Later: And I swear, it was like it was Facial Deformity Day here in the shop. I had customer after customer sporting unfortunate facial conditions and I COULD NOT LOOK AWAY. I'm going home.

Monday, April 10, 2006
| | |
| --- | --- |
| | [5] |
I am officially horrified. Is this the situation the anti-choice crowd want to have in America? Where a woman suffering an ectopic pregnancy has no choice but to wait until her her fallopian tube ruptures?


The Treesweater. Awww, that really is sorta cute (in a Charlie Brown Christmas Tree kinda way).

| | |
| --- | --- |
| | [3] |
*Gasp!* Amy took a breathtakingly beautiful picture of Dr. Amy Jones yesterday. I have a ridiculous urge to print this on a T-shirt or have it made into a cross stitch. She's so pretty! Too bad her vaccination yesterday is making her feel poopy today. Poor thing just laid on the bed all morning.

| | |
| --- | --- |
| | [4] |
I foresee a lot of whinging about the last episode of The Amazing Race, but I'm at peace with it, really. [more...]

Sunday, April 9, 2006
| | |
| --- | --- |
| | [1] |
RunningBlog: RACE!
All this training finally has a point... I've officially registered to run the Mother's Day Classic in five weeks. I've opted for the 8K run, and what's more - Snookums is going to run it with me! I have no idea what kind of time we'll do together, but I'm just so stoked to be doing something like this with him. I know we can do it. The event is to raise money for breast cancer research, so if you'd like to help out you're more than welcome to sponsor us. (We don't have to raise any set amount so I'm not going to give you the hard sell. Just let me know if you're interested.) The course is actually the same one I ran as a 5K a few years ago, down through the Domain and around Mrs. Macquarie's Chair. Anyone have any preparation tips for us?


We've had a very busy weekend. Saturday...
I went to the Inner City Knitter's Guild meeting.
Snookums got the final component for his kegerator and hooked it all up. He then dumped out about 90% of his bottled homebrew stock, reckoning that quality is better than quantity.
I cleaned out our fridge, pantry, and cupboards, throwing out everything out-of-date and wiping them down.
We did at least half a dozen loads of laundry.
We finally organized our office, unearthing carpet for the first time in a year.
We took two massive suitcases of clothing up to the Salvation Army store. All the fat clothes are gone now!
We made about a dozen trips out to the recycling center, dropping off hundreds of beer bottles, cardboard boxes, and other assorted junk. As the Snook put it, "we could've filled a dumpster."
We went out to dinner at Mylos Greek restaurant in Glebe. Yum!
Sunday...
I went for an hour-long jog. Felt pretty slow though. (Must've been the Greek food.)
Amy and Rob came over to serve as Cat Taxi. Dr. Amy Jones got her annual injection and had her mystery bald spot inspected. Unfortunately the vet was stumped. It doesn't seem serious though.
All four of us went out to Rhodes to the big IKEA. The Snook and I had planned to get a cheap futon... but Amy talked us into this. (We actually got a denim cover. DENIM! It's so wonderfully daggy.) We also got four shelving units and a shoe rack.
While the boys took the furniture home, Amy and I went shopping. She got a new dress and I got two pairs of SIZE FOURTEEN jeans. *dance of joy* I also got some Easter supplies for my little brother's visit.
We came home and assembled all the furniture.
I spent some time trying to finagle the angle of CouchCam so you can see both couches, but it's just not happening with this crappy little camera.
We made a lovely chicken pot pie for dinner.
We registered for a RACE! (More on that in a minute.)
So I think we're pretty much set for the Royal Visit. The Garbericks are getting here in... holy crap... like five days!

| | |
| --- | --- |
| | [5] |
The Great Egg Debate
All right, let's settle this. Poll's down there on the right. You know what to do.

Friday, April 7, 2006
| | |
| --- | --- |
| | [13] |
I know you're all on tenterhooks waiting to hear how our new cleaner is working out (after the whole Nurgul debacle). I'm happy to report that Annette ROCKS. Our kitchen, laundry room, and bathrooms have never been more hygienic. Last night I had the happy experience of repeatedly finding secret, non-obvious places that she's cleaned that I didn't expect (like under the sink, and around the silverware drawer, and on top of the water heater). I feel like Jerry Seinfeld (except that Annette hasn't stolen any tchotchkes). The only slight weirdness is that we get the feeling she's trying to, uh, correct certain things that we do. Like, we normally keep the eggs out on the counter. Yet when Annette first came, she put them in the fridge. Okay, we'll keep the eggs in the fridge. She moved our rubbish bin in the kitchen; I guess she thought the new place was better for it. (We're lazy so we left it there.) Yesterday's discovery was that she'd switched off a bunch of the power outlets in the house. (Australian outlets all have a little switch next to them. I have no idea why; it's probably some safety thing.) The kettle, the toaster, the microwave, my hair dryer... all switched off. I guess she thinks we're a fire risk. And lastly, I went to heat up some chili in the microwave last night, and I suddenly realized that the bread was missing. We usually keep our loaves of homemade bread in the microwave as a soft of poor man's bread box. I searched every cupboard in the kitchen til I found it, carefully wrapped up in clingfilm, sitting in the fridge. She must keep everything in the fridge at her house.

So overall she's working out awesome. (She also says that Dr. Amy is a fine cat, and that Nurgul was talking out her ass.) And I can live with the little idiosyncracies. I like to think that she's giving us subtle life lessons. Sort us out, Annette! We can use all the help we can get.

Thursday, April 6, 2006
| | |
| --- | --- |
| | [2] |
Just what I suspected all along... It was the Snook that made me fat!

| | |
| --- | --- |
| | [2] |
RunningBlog: I headed off to the track again last night despite some misgivings about the warm, humid weather (it was, like, 85 yesterday!) and my level of congestion. I didn't do too badly though. I remembered my pedometer/timer this time so I can state with confidence that I ran eight kilometers (twenty laps) in 53 minutes. That equates to a speed of about 9km/hr, and a 10K time of 66:15. Not bad! My 5K split was 32 minutes, so I did slow down a bit towards the end. (I don't think my speed dropped; it's just that I started taking walk breaks.) I'd say that this was actually a pretty comfortable pace for me. Is that a good thing though? I keep remembering The Biggest Loser a few nights ago when Bob kept telling the contestants that he wanted to push them OUT of their comfort zones. But without the trappings of race day (or a running partner with a faster pace), I find it difficult to push myself to that degree. As it was, I considered continuing on for the 10K, but my legs were dead and my left shin started feeling sore, so I decided not to kill myself racking up the miles. It'll happen.

Wednesday, April 5, 2006

Ooh, Amy is sooo right: I would LOVE one of these Indiana charm necklaces!

| | |
| --- | --- |
| | [2] |
DietBlog: I did have a loss! A teensy one. 100g. Which means I basically stayed the same for the second week in a row. I'm actually really positive about that. I mean, I'm so close to goal anyway, and the ultimate objective is not to lose weight for the rest of my life, right? It's to get to my desired weight and then STOP. So the fact that I'm discovering how to balance my lifestyle can only be a good thing. I would still like to lose another kilo this month (only so I can enter the Slimmer of the Year competition) but I'm trying hard not to get caught up in how long this process takes.


Yay! Remember the cardigan I knit for my friends' daughter Marianne? Well, Staci has posted pictures of her modelling it! This is the best part of knitting something for someone else, seeing them wearing it and liking it.

Tuesday, April 4, 2006
| | |
| --- | --- |
| | [2] |
Me: Noooo! Phil from The Amazing Race was in Sydney today signing books and I missed it!
Snook: He wrote a book?
Me: Yeah. It looks like some kind of self-help thing.
Snook: Skivvies for Fun and Profit?
Me: BWA HA HA!



Note to Americans: Down here "skivvies" refer to turtlenecks, not underpants. That confused me for a long time.



| | |
| --- | --- |
| | [2] |
Breaking Wool News: Because I love my w-g readers more than our normal customers, you guys are the first to know. Our big winter shipment of Noro and Debbie Bliss just arrived! We're now stocked with Kureyon, Silk Garden, Iro, Kochoran, Blossom, and a new one called "Aurora." We've also got Debbie Bliss Cashmerino Chunky (along with the Baby Cashmerino), Louisa Harding Sari Ribbon, more Eki Riva Superbaby Alpaca, Natal, and Casual, and a few other surprises as well. Crap, I should get to work putting these up on the site...

| | |
| --- | --- |
| | [1] |
Congrats to Helen for the capelet pattern she had published in the most recent Creative Knitting! I picked up a copy last Friday. I was most amused to read the article about "creative vandalism," which cited the influence of the American group "Knitta" and interviewed an anonymous artist from a Sydney group. The Sydney artist sounded verrrry familiar as s/he described putting toys in random spots around town. Hmm, I wonder who that could be? *COUGH, COUGH*

| | |
| --- | --- |
| | [1] |
STRESS!
I called Mom this morning to find out that she's in the process of buying their tickets to Sydney. She, Joe, and my little brother Joey get here on Good Friday. That's a week from this Friday! We have to clean the whole house, do the laundry, get groceries, work out where everybody's sleeping, plan activities, ACK! (But I'm excited. This is the first time anyone from my immediate family's visited me Down Under.)
Dr. Amy Jones has developed a bald patch under her right arm. I'm a little freaked out about it. She could have ringworm; she could just be stressed; she could just be stupid and overgrooming. Or maybe Nurgul put a curse on her. At any rate, she's got an appointment at the V-E-T for Sunday.
I've had a crappy couple of weeks now, diet-wise. I do all right through the week but lately I've been falling apart on the weekends. Plus the weather has just started to feel like Fall, and with the end of Daylight Savings I'm finding it (as expected) reeeeally difficult to exercise after work. I don't expect to have a loss tonight.
And yet I'm strangely optimistic about everything. I think it's because it's so sunny outside. Is there anything prettier than a bright Fall morning?

Monday, April 3, 2006
| | |
| --- | --- |
| | [7] |
Check out DeskCam. Rogue's got a hood!


The Final Countdown. I'm almost disappointed I'm missing Indiana's historic Daylight-Savings switch. I wonder if the old people are freaking out? I can just imagine them lining up at the IGA right now for jugs of water and batteries. (I worked at a podunk grocery store for four years. Every time anything remotely problematic was predicted, old people would turn up to stockpile like it was World War III.) Ooh, I hope Moire posts some sort of recap!

| | |
| --- | --- |
| | [1] |
Behold the Abominable Baby! Step back lest it bite off your face! [more...]

| | |
| --- | --- |
| | [1] |
How much do you know about Apple? I am very disappointed that I only got 7 out of 10 correct.

Sunday, April 2, 2006
| | |
| --- | --- |
| | [11] |
Happy anniversary to the cute boy from my office who I'd been crushing on for weeks and who kissed me on the dance floor at the dodgiest club in London... and who six years later kisses me when I wake up in the morning and I'm cross and my hair's all crazy and I have kitten-breath. I never thought I'd find someone who'd accept all my faults, play along with all my hare-brained schemes, and inspire me so much to become a better person. Thank you, Snookums.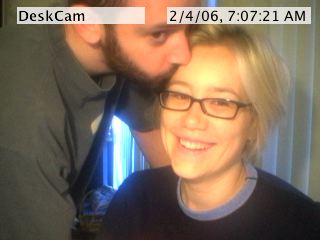 archives
You can search through the archives by post keyword using the form on the left, or you can browse by month using the links at the bottom.
"Moblog" refers to posts and images posted directly from my mobile phone.

"PW Blog" refers to posts recovered from my very first weblog, which dealt with news related to my college dorm.