Thursday, April 30, 2009
| | |
| --- | --- |
| | [1] |
Party Cat. (Link courtesy of Matt.)


Just bookmarking so I don't forget: RoseRed has a useful tip for getting consistent yarnovers in a lace pattern.

| | |
| --- | --- |
| | [2] |
Captain Tripps.
I got an email yesterday letting me know that I was being followed on Twitter by motherabigail. *snort* "Oh neat," I thought. "People are twittering as the characters from The Stand." This morning I got another notification that I was being followed by VegasWalkinDude (presumably because I tweeted that I'd meet everybody in Hemingford Home). There are lots of other characters out there (Nick, Stu, Larry, Nadine, Tom Cullen). They're all pretty well done, sending @ messages back and forth and following the timeline of the story. That said, reading them on the bus in the rain this morning surrounded by sniffling passengers... it started to creep me out a little bit. I have an overactive imagination.

So to assuage my own anxieties, I just did some Googling. The fatality rate in Mexico (according to this article) is 6%. Which sucks, yeah, but we're not at Captain Tripps levels yet. I'll hold off til the weekend on stocking up on guns and batteries. (I suppose at least the fact that Australia is never mentioned in the books should make me feel a bit safer. Evidently Randall Flag only operates in the continental US.)

| | |
| --- | --- |
| | [6] |
12 Major Brands That Will Disappear in 2009. Old Navy? NOOOOOOOO! Crap, where are Snookums and I going to stock up on cheap American clothes when we next go home? And sorry Daniel - Crocs is on the list too! (Link courtesy of Rebecca's Pocket.)

Wednesday, April 29, 2009

There was a beautiful rainbow over the city tonight...


Workshop! I spent the day at AIMIA's Essential Digital Project Management Skills course. No, I'm not going over to the Dark Side. But I work fairly closely with Venks (our PM), and it seemed like a good opportunity to get some useful advice and tips. The class was on Pitt Street in the city, and there were probably 30 of us there. (To my surprise, I recognised one chick from when she was my customer at Tapestry Craft!) The course was really good, focusing much more on practical advice than on any particular methodology. The information on stakeholder management, risk mitigation, and communication were all particularly relevant for me. After lunch, we had a Q&A session with three business owners in various parts of the I.T. industry. (Note to self: Advertising agencies sound like hell.) So it was a good day. I don't know that I need to do the Advanced PM course, but if AIMIA ever put on any BA-specific classes, I'd definitely book it. It was well worth it.

| | |
| --- | --- |
| | [3] |
Holy crap! The confirmed case of swine flu in northern Indiana is actually a Notre Dame student! That's one way to get out of your mid-terms. In all seriousness though, this will probably keep us from visiting home until the whole thing blows over. Not because I fear the swine flu, but just because we'd probably have to deal with all sorts of hassles when we got back here. (Right, Gadgetgirl?)

Tuesday, April 28, 2009
| | |
| --- | --- |
| | [2] |
Vegemite Cheesecake. My first response was "ZOMG ABOMINATION!" But after looking at the photos... I'd hit it.


Another blackout in the CBD. Our building seems to be fine, but the Snook's is out. Twitter is going NUTS.

| | |
| --- | --- |
| | [1] |
Monkey Monday: Last week I received a pretty random-yet-fun email request from Kat Murello, an actress working in New York. Her New Year's Resolution for 2009 is to "hold a higher primate." Yep, she wants to touch a monkey. So she's booked in a trip to do it in a few months, and to build excitement she's featuring monkey-related links on her blog every Monday. She was googling the topic recently and found these photos from our trip to Singapore eight years ago. She emailed to ask if I'd mind writing up my experience holding the chimpanzee. I figured, what the hell. So I went her my reply and she posted it today. Enjoy!


Hm. Amazon has acquired Lexcycle, makers of the iPhone e-book app "Stanza." I've been using Stanza for a few weeks now to read Red Mars, and it's great. I would've downloaded the Kindle app, but it's not available outside the U.S. I hope Amazon doesn't kill off Stanza and screw all the overseas customers.

Monday, April 27, 2009

Another cute square-bottomed tote bag sewing tutorial: The Jordy Bag.

| | |
| --- | --- |
| | [9] |
WAIT JUST A SECOND. You mean that the crazy underwater restaurant where Muriel gets dumped by Sophie Lee and her bitchy friends in Muriel's Wedding actually exists and I can go there? And it's not even that far from my house!


My friend Christian has posted his presentation notes from his talk at Yahoo last week. There's some interesting stuff in there if you build websites!

| | |
| --- | --- |
| | [1] |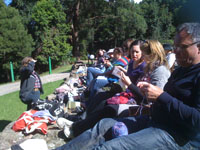 Weekend Update: It was both an incredibly busy and non-busy weekend. I took the day off on Friday to run errands and get ready for the Knitting Retreat. I managed to drive myself out to St. Leonards in the morning for an appointment with my allergist, and then I successfully navigated through the Lane Cove tunnel and out to Homebush to pick up Na Craga from the Show. Then I raced back home to Chippo to tidy up the house before meeting Stef at Spudds for a workout. I had a quick shower afterwards, then hopped a bus to Circular Quay to meet the Snook for a late lunch (and a smooch goodbye!). Then it was back home to frantically pack for the trip.

Lyn was the able chauffeur for myself, Miss Fee, and JP. It took us about 90 minutes to get to Mt. Keira Scout Camp, what with fairly heavy traffic through the Shire. The camp was gorgeous. We shared a cabin with Ness, Gemma, and Kelly. After dinner, everybody retired up to the lodge to sit before a roaring fire and get knitting. I think there were around 30 of us all together. Soon the wine was flowing...

And that was pretty much the pattern for the next 40 hours. On Saturday some folks did a dyeing workshop, but I decided to sit in the sun and work on finishing off Rusted Root. Miss Fee and I went for a run in the middle of the day. I bought the last set of Addi Click needles from the shop. (Interestingly, I paid a lot less than $150US for them!) That night, we all got dressed up for a Hawaiian-themed dinner. Then it was back to the lodge for trivia games, more knitting, and copious amounts of wine.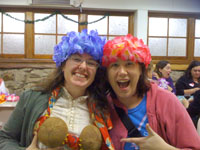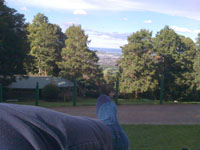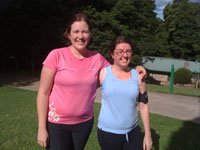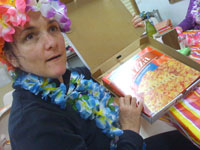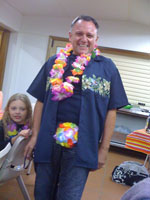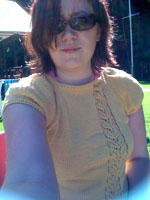 Yeah, we were all a bit hungover the next day. Sunday was quieter, with everyone in recovery mode. We made it back to the city by 4pm, where I was greeted by a very happy husband and pair of silly cats. It's nice to get away every now and then and have them miss you. :)

Update: Donna, Bells, Mary-Helen, and Lyn have all posted photos!

Sunday, April 26, 2009

Home again from the knitting retreat. I'm too tired to do a big round-up now, but suffice it to say I had a great time! Special thanks to Lyn for the ride to Wollongong and back...

Saturday, April 25, 2009
| | |
| --- | --- |
| | [3] |
Knitting retreat! Here I am in Wollongong, waking up to the sound of birds chirping and scouts stirring. (We're at a scout camp.) A whole day of knitting awaits!

Thursday, April 23, 2009

The latest Knitty Surprise is up, and wow, I kinda love these socks.

| | |
| --- | --- |
| | [2] |
RunningBlog: An Accident
No, it wasn't me. I headed out this morning for a short jog around the neighborhood, and I headed up Wilson Street towards Newtown as I usually do. I felt pretty good. The sun was shining and it was cool but not cold. My hamstrings were a little sore from my workout at Spudds yesterday. (He made us do hill sprints.) I felt like I was moving at a faster pace than normal though. I came to the one big hill on Wilson and started powering up it. As I neared the top (and the next cross-street), I looked up to make sure no one was coming around the corner... just in time to see a girl at the corner fall to the ground hard. I tore off my headphones and sprinted up to her. A guy coming down the hill on a bike got there first. "Are you okay?" we asked her. She'd rolled herself against the wall of the house on the corner and was clutching an obviously bloody knee. She was in workout clothes, and she seemed pretty shocked and out of it. The guy said something about running to get a first aid kit, and I said I'd stay with her. He took off. So I stood there with her, dripping with sweat and feeling pretty useless. Other people stopped by to ask if they could do anything. "I think it's cut really deep," she said. "I swear I saw white. It could be bone." I tried to be comforting and point out there's no way she cut herself down to her kneecap on the sidewalk. From what I could gather, she wasn't out for a run like I was; instead she'd been on her way home from the gym. I wondered to myself whether she might have been a bit dehydrated, or even have low blood sugar if she hadn't eaten before her workout. The guy came back with the kit and set about cleaning her up with iodine. As expected, it was just a skinned knee. "I hate to leave you," I eventually said, "but I'm going to be late for work if I don't move!" She thanked me for staying with her, and with a wave I headed off. I finished the run and made it home.

I've read horror stories on running blogs about runners having accidents or getting hit by cars. I'm such a clumsy person in general, I figure it's only a matter of time before it happens to me. Hopefully I got some good karma from the incident today, and if I'm ever in her situation, somebody will stop and help me too.

Wednesday, April 22, 2009
| | |
| --- | --- |
| | [1] |
Christian Heilmann at Yahoo!
Well, that was fun! A few weeks ago I finally signed up for LinkedIn, after realizing that EVERYBODY else in the industry was on there. I found a few former co-workers, including Christian from Netdecisions in London. (I voluntarily took a layoff package in 2001 to save Christian's job, which also allowed me to emigrate to Australia. The rest, as they say, is history.) Anyway, I added him, he added me, and then I visited his blog. To my surprise, I saw that he was now a fancypants "Developer Evangelist" for Yahoo! and that he was coming to Sydney this week! The Snook and I quickly signed up to attend.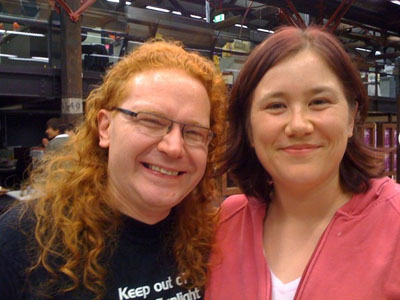 The Sydney Yahoo! offices are stunning. They also won immediate points with me by not requiring me to sign an NDA just to walk in the door (like Google did). They had good beer too. There were maybe 40 or so of us there, and Christian's talk was entertaining and enlightening. You can read my tweets from the event here. He succeeded in getting me to think seriously about using some Yahoo tools and libraries for my next site redesign. Afterwards there was food and everybody mingled, and we got to catch up a bit. Man, was it really that long ago? When Snookums and I lived on Rannoch Road with Alex and Condie, and we spent the cold nights in pubs arguing over the finer points of HTML? Good times, good times.

| | |
| --- | --- |
| | [4] |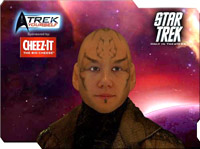 Kris the Romulan
Neat! Kevin pointed me to this fun Star Trek app that turns a photo of you into a 3D character from the Trek universe. I was going to be the sexy Uhura chick, but she ended up looking a little pig-nosed. Romulan Kris turned out much funnier. At least now I have a vague idea what I'd look like bald!

| | |
| --- | --- |
| | [6] |
FatBet: For those of you participating in the contest, I extended it today by another three months. Venks (the current leader) is fine with it, and it puts most of us back under the dreaded blue line. Feel free to adjust your goal weights up or down as necessary. Let's all get re-energized and committed!

Tuesday, April 21, 2009
| | |
| --- | --- |
| | [2] |
$240 worth of puddin'...
Woooo! MTV's The State is FINALLY coming to DVD! Unfortunately it looks like some of the music has been changed, since getting the rights was the big hold-up. Crud. I guess it can't be as bad as the Dawson's Creek debacle though.

| | |
| --- | --- |
| | [1] |
Periodic Table of Knitting. I can't wait to see it when it's finished.


RunningBlog: Best wishes to Steve Runner and anybody else running the Boston Marathon today. You guys are inspirational!

Monday, April 20, 2009

Fat Dog in a Little Coat. CraftFail + Chris Farley reference = laughing and laughing and laughing.


I had no idea the recession was hitting the Amish back in Indiana so hard. Makes sense though; a LOT of them were employed in the RV industry. Church elders are allowing them to collect unemployment now, but some are even leaving the faith so they can drive cars to jobs farther away.

Sunday, April 19, 2009

I am suddenly enamored of the idea of growing potatoes in the spring.

Saturday, April 18, 2009
| | |
| --- | --- |
| | [3] |
Knitters Guild News: We had another very successful meeting at Customs House today. There were 30 knitters in attendance, and 3 of the newbies joined on the spot. Our growth is phenomenal, and I think it's only going to increase over the winter. We'll be getting some promotion in the winter newsletter for the City of Sydney Libraries because we're going to be helping them with some "Learn to Knit" events in July. The only downside to our popularity is that I think we'll be looking for a new venue sooner rather than later!

Our new format for the meetings seems to be working out well. Everybody is very attentive for the business portion, and I've been managing to get through it all in 15-20 minutes. The real test will be next month, when we try our first workshop in the new space. (We're doing "Welcome to the Knitternet" to introduce some of the less computer savvy members to the wealth of online knitting information.) As usual, I spent most of the meeting concentrating on keeping everything running smoothly, so it's not quite as much fun as it used to be. That said, I guess having an organised person running the show means everybody else can relax a bit more. Everybody seems really appreciative of the work me, Rosemary, and Geraldine are putting into it. So the meetings are still rewarding, even if I don't get much knitting done!


Another adorable free sewing pattern for spring: Tie Top Tank. Saved!

| | |
| --- | --- |
| | [2] |
Two surprising bits of news from Indiana this morning:
Lawmakers are proposing redrawing the Indiana-Michigan border. Huh? Apparently the original border was laid out in 1827 with wooden pegs, and that's all people have to know where the line is. I had no idea! I kinda thought that even without GPS, surveyors would be able to always know where the line was based on their, I don't know, magic measurements or whatever. Guess not.
Elkhart County has slipped to #2 on the unemployment list. #1? Lagrange County with 18.9% unemployment. Jeeeez. That's the county where I went to high school. It's the county where several members of my family still live. I just can't even imagine what it's like with 1 out of 5 out of work.
Links courtesy of The Elkhart Project.


Chippendale is on both lists of top suburbs to buy houses and apartments in Sydney. High demand from first-home buyers is pushing prices up. Woohoo!

Friday, April 17, 2009

New Harry Potter trailer. Holy crap. That looks AWESOME. I found Half-Blood Prince a little boring at times, but that trailer makes it look action-packed. And I LOVE the reworking of "Hedwig's Theme" at the end, all bombastic with the horns. (Instantly reminded me of Darth Vader, very sinister and menacing.) At least we get it at the same time as everybody else.

| | |
| --- | --- |
| | [3] |
What a Business Analyst Does
For anybody who is curious or confused about my new business title, you're not alone. Even people who are actually in this industry aren't quite sure what the various titles and job duties actually entail. Today I found a great article that finally explains the names and the overlap. Here's me:
IT Business Analyst – This is the analyst who is generally associated with requirements elicitation/analysis and solving problems using information technology solutions. This role is the bridge between business & IT.
I love that last quote. That's the key, really. The business and marketing guys have a goal they want to achieve. I take these Feature Requests and turn them into functional requirements and specifications that the tech guys can work from. When the tech guys have an issue - like a technology or resource limitation - I can be an advocate and make a case to the business for what they need. It's fun! I get to be a bridge, contact point, and translater between lots of different areas of the business. And since we're so small, I get to have a lot more input in setting up new processes and documenting existing ones that I might have in a big corporate environment.

| | |
| --- | --- |
| | [1] |
Spreadtweet. A Twitter client that looks like an Excel spreadsheet, for people in offices with restrictive managers. (I, on the other hand, trade Twitter client recommendations with my manager. Hi Venks!)


Wow. Somebody's actually created a Mac botnet by infecting users who pirated Photoshop CS4. Yikes. (As Snookums put it: "Good thing I don't know anybody who would do that." Me: "Uh... Yeah.")

| | |
| --- | --- |
| | [2] |
Wow. Just spotted on SMH: "It's off: Carlton brewery site goes flat".
THE developer behind the massive former Carlton and United Brewery project at Broadway has called an indefinite halt to construction and says the project will not start until the global economy recovers.
Very interesting. On one hand that's more time for the project to be scaled back to a level that meets residents' concerns for overpopulation and green space. On the other hand, it's a massive city block that looks like Wonka's chocolate factory was leveled by a wrecking ball. I posted it to the Life in Chippendale blog; I'm interested to hear what other people think about it.

Wednesday, April 15, 2009
| | |
| --- | --- |
| | [3] |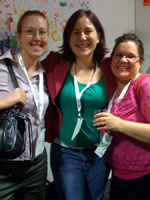 Geek Girl Dinner Sydney
Tonight was our long-awaited Geek Girl Dinner Sydney event. I met up with Issy and Tia at the new Googleplex in Pyrmont. (Not the same one I interviewed at in the CBD. Note: My double Goog-rejection was much on my mind.) The new building is gorgeous, and the emcee mentioned a couple of times how "green" it was supposed to be. We checked in and picked up our swag, then were directed out to the "verandah" for drinks. We had champagne and beer while looking out over the gorgeous Sydney skyline. We made some new friends. There was much mockery of Joomla. Then we were all directed down to the meeting room for the "lightning talks." I got instantly recognized by misswired, who it took me a few minutes to place. (One of the perils of having a blog; being recognised by strangers. Within ten minutes had worked out that we have, like, 20 of the same friends.) Anyway, the talks. Eight different speakers gave five minute speeches about everything from Twitter to Adobe Flex to helpful command line utilities. (I'd offered to give a speech on the Australian online knitting community, but the bill was full. I think my speech would've been better than at least half of them.) Several of the speeches just seemed to be plugs for the chick's business or employer. Also - there were a lot of guys there! I had no idea that it was kosher to bring partners along. I twittered and knitted throughout the speeches. Afterwards we were herded into a (very small) room for more drinks and nibblies. There was much pounding of free Google booze, and much stalking of super-cool Google coder chicks. (I covet those t-shirts with the Google logo with the female symbol as one of the o's.) Thankfully Issy was available to drive me and Tia home. Thanks, ladies! It was a super fun night. I'm definitely up for the next one.


Demystifying double crochet for beginners. Great tutorial with super clear photos. Knowing where to put that last stitch is always the problem I have with crochet. This helps a lot.


The Elkhart Project. MSNBC is "focusing long-term coverage on the city of Elkhart, Ind. to provide perspective on the national recession." Wow. I've already learned stuff I never knew about the area I grew up. The most surprising was that the RV industry is/was pretty much all non-union (which I should've realized given that I never heard anyone in my family other than Grandma Vee mention a union ever). As my cousin Kim said on Facebook, "Here's hoping the press coverage ends up doing some good in the end."

Tuesday, April 14, 2009
| | |
| --- | --- |
| | [1] |
Why do humans enjoy it when cats purr? I love the responses. Both of our cats will purr when they're feeling contented and cozy. I often think about the purported healing effect, especially when I'm feeling sick or lousy. (I think I first learned about it Oryx and Crake, but I didn't realize at the time there was some scientific basis for the idea.)


Free Sundress Pattern to sew. That looks great! Very pretty and simple to make. I'm going to download and save it for spring.

| | |
| --- | --- |
| | [2] |
Woodgrain Socks. I wonder if you could knit those.


Jumping for a good cause
I got an email over the weekend from my 7-year-old brother Joey telling me about that he'll be jump roping at school this week to raise money for The American Heart Association. If you're willing and able, he's got a fundraising page where you can donate. (Unfortunately the credit card form only accepts payment from American addresses so I've just sent my donation to Mom via PayPal. If any other "furriners" want to help, let me know and I can give you her PayPal info.) Good luck, Joey! It's awesome that you're doing such a nice thing.


Dork Yearbook. Oh man. The Snook and I have SO MANY possible contributions for that site.

Monday, April 13, 2009
| | |
| --- | --- |
| | [1] |
Creme That Egg! Awesome Rube Goldberg machine some guy created as part of a contest. My favorite part is how it's basically all made out of cardboard, books, and trash he found lying around his apartment. (Link courtesy of Max.)

Saturday, April 11, 2009
| | |
| --- | --- |
| | [11] |
Not happy, Jan.
I'm supposed to be spending these four days working on porting the Morris & Sons site to the new version of osCommerce. Unfortunately, I'm being hampered by the fact that Quadrahosting's servers have now failed 3 times in the past 24 hours, each for at least an hour. That is really unacceptable. And everybody says, "Switch hosts!" But seriously, name me one that doesn't suck. I'm totally disillusioned at this point. They all suck.

| | |
| --- | --- |
| | [1] |
Stuffed Bunny Pattern. Oh, that is too cute. Another one to make for Indie!

Friday, April 10, 2009
| | |
| --- | --- |
| | [1] |
RunningBlog: You gotta lift...
I've started noticing some real, objective fitness improvements at the gym. Yesterday during our circuit I managed to skip rope for the entire 90-second rotation without stopping or messing up. My calves were aching afterwards. Then Spudds sent me to the rowing machine and told me I was going to break 100m in 20s from a cold start. I'd only managed 100m once before, and that was with a slow 30s rolling start. He stood beside me and shouted "Go!", then barked encouragement as I heaved the handle back and forth like a maniac. Final tally? 101m. I got a mighty high-five for that one. :)

Thursday, April 9, 2009
| | |
| --- | --- |
| | [1] |
Mary-Helen has posted her Easter Show recap, including loads of photos. Here's Na Craga again, and here's my Widdershins-clad leg. And oh look! There's the Snook. She also got a few of the amazing cake decorating, which my sister will like.

| | |
| --- | --- |
| | [2] |
16 Depression Era Money Saving Tips. Growing a garden is on there! The Snook is also interested in getting some power meters so we can see which of our appliances is sucking the most electricity.

| | |
| --- | --- |
| | [1] |
Mimi Kirchner's Hand Sewn Felt Doll. I really want to make one of those for Indie.

| | |
| --- | --- |
| | [1] |
CraftFail - a blog dedicated to sharing our not-so-successful crafting attempts. Brilliant.

| | |
| --- | --- |
| | [1] |
Peter Sagal refutes the arguments against same-sex marriage. Go Peter! And Nate Silver crunches data that shows that voter resistance to same-sex marriage is weakening every single year. According to his numbers, even Indiana wouldn't be able to pass a Constitutional ban on it as early as 2015.

Wednesday, April 8, 2009
| | |
| --- | --- |
| | [1] |
An Evening with the Nephew!
The Snook's sister and brother-in-law were going out for a special dinner tonight so they asked if we'd mind looking after our nephew. We confidently said, "Sure!" while secretly fearing that we'd be lost trying to entertain a nine-year-old for three hours. But then we remembered, hey! We're ALL ABOUT the nine-year-old mentality. So we fed him cookies and hot chocolate, played some Wii, jammed on Guitar Hero, and messed around with Photo Booth.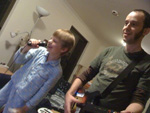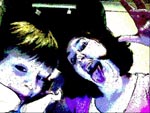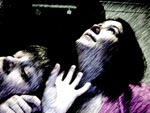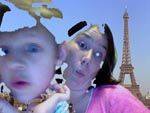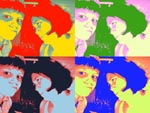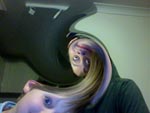 We all had a great time. (I got some video of him dancing while playing Guitar Hero that his father has specifically requested I save for his 21st birthday. That's quality entertainment.) And hooray! We looked after an impressionable youth for several hours and he came out unscathed.

| | |
| --- | --- |
| | [4] |
SMH Star Trek Quiz. I got 64%, which is nerdier than the general population but not a full-on Trekkie.


The Easter Bunny donated his body to science. Bwahahahahaha!

| | |
| --- | --- |
| | [1] |
A 98-year-old woman was pulled from Italy's earthquake rubble after spending 30 hours trapped in her house. What did she do while she was trapped? She crocheted.


Productivity Script. Are you sure this is how you should be spending your time? (Link found in Jann's Twitter feed.)

Tuesday, April 7, 2009
| | |
| --- | --- |
| | [8] |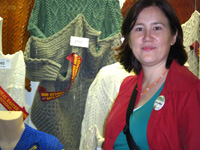 Highly Commended... Again
So I didn't get the friggin' blue ribbon. I told the Snook on the way to the Arts Preview tonight that me knitting Na Craga was pretty much the equivalent of Kate Winslet doing a Holocaust movie. I was pandering, and I knew it. If ever I had a shot, this was the year. We arrived and immediately ran into a couple Ravelers. "We won't spoil it," they said. "Go look for yourself." I dragged Snookums through the throng to the knitting cases. And there was my beautiful jumper, completely bunched up and mangled with fishing line... and with a red "Highly Commended" ribbon on it. Again. I know I am a complete and utter ingrate, but I had to strain to be cheerful. Despite my protestations to the contrary over the past couple of weeks, it appears that I really did have a lot vested into the outcome of the contest. I know it's silly. Still, I couldn't help but look upon the blue ribbon winner - a cream cardigan with BOBBLES, for god's sake - with scorn. Don't they know how hot Snookums looked in it? Grrr. Anyway, I quickly drowned my sorrows at the open bar. (Hey, if they're going to charge me $25 plus transport to get out there, I'm going to make it worth my while.) There were loads of Ravelers present, and we even managed to get together for a group picture. Congrats to Donna and Ailsa and Sally and Emma and Gemma, and everyone else who exhibited and who I missed in my irritated drunkenness. HOWEVER, I was extremely pleased to see that Gary Gentle has continued his wonderful tradition of naked lady marquetry. His 2009 entry was exceptionally exquisite!


The Locavore's Dilemma. One woman's struggle to use up the abundance of vegetables in her CSA that she doesn't particularly like. I'll be interested to see what sort of stuff we get in the winter. So far there have only been a few things that have been problematic for us: curly endive, silverbeet, celery, and oranges. (Yes, oranges. They really pile up if you don't eat them regularly, and juicing by hand is a pain.) Some people get really freaked out when I tell them about our veggie box and that we don't usually get to choose what's in it. I guess we tend to think of it as a fun challenge, and it's a good excuse to try out recipes you might not have otherwise. (Link courtesy of Mary-Helen.)


Fun discovery! One of Michael Stipe's friends is a knitter, and he regularly models her stuff for her Ravelry notebook.


I think I just saw God in a Snuggie.

Monday, April 6, 2009
| | |
| --- | --- |
| | [5] |
Argh! What was I thinking, baking cookies? I should've made Yoko's Cool and Sweet Dessert. There aren't many recipes that include the line: "Make sure to chant an affirmation that this sweet desert will bring peace and love to the lives of all who eat it."

| | |
| --- | --- |
| | [2] |
Autumn Yumminess
Man, there has been a distinct chill in the air these last couple evenings! Tonight as I was heading out of work in the dark - we finally had Daylight Savings - I found myself thinking of warm, sustaining comfort food. We still had loads of veg from the box on the weekend. I got home and set to work making pumpkin, potato, and leek soup. While that was simmering on the stove, I decided that we needed some sort of treat to go along with it. A quick check of the pantry revealed several partial containers of honey that needed to be used up. Honey nut cookies!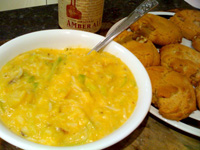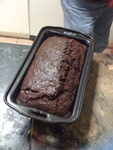 The cookies turned out great. I subbed in walnuts for the cashews since that's what I had to hand. I was worried at the shininess and wetness of the dough, but they didn't spread too much in the oven. The soup was hearty and filling, if not exactly complicated in terms of flavour. (It's basically onion, potato, and pumpkin simmered in milk for 45 minutes, then blended before adding fried leek and boiled white rice.) It's very cheap though, and we've got plenty left over for lunch.

The second photo there is of the Chocolate and Beetroot Cake that the Snook made on Saturday. As Rachel guessed, it was pretty earthy. However, it was still really good. I'm not the hugest fan of beetroot - I tend to think it tastes like dirt - but it was very well masked by the cocoa in the cake. It turned out dense and moist, and if you didn't know that it had beets in it I doubt you'd guess. Parents - this is a good one to trick your kids into eating vegetables!

| | |
| --- | --- |
| | [4] |
Some nice discussion in defense of musicals over at AskMetafilter. I always have to bookmark these things because every few years the Snook declares he hates all musicals, and I have to point out that that's a silly thing to say.


Happy birthday to my gorgeous niece Indie, who turned 1-year-old over the weekend. My sister has just posted photos of the party. She made an amazing three-tiered birthday cake complete with a fondant Indie and a marzipan Buster.

Sunday, April 5, 2009
| | |
| --- | --- |
| | [11] |
Impossible dilemma. Which movie is "most 90's-est": Clerks or Clueless? As the Snook pointed out this morning, Clerks is more representative of MOVIES from the 90's, but Clueless is more representative of the CULTURE. I really can't decide. (It's a shame that this isn't the Final match-up, because both of these films are way more 90's than stupid Wayne's World or Scream.)

Saturday, April 4, 2009

RunningBlog: or TrainingBlog? ...because it's not so much just about running anymore, is it? I had a really interesting week. Monday was the power outage, which kinda killed my plans to go to Spudds. Instead I told myself that I'd go Tuesday. But Tuesday came and I felt crappy, and I whined to the Snook that between the rainy weather and my headache, I just wanted to go home. He wouldn't let me. He told me over and over again that I'd feel better after some exercise. Reluctantly I went. It wasn't a great session; my only goal was just to grit it out. Afterwards I felt emotionally wrung out and exhausted. I think it did do me good though, because the very next day I headed in for our lunchtime session full of excitement and pep. Venks and Omid came along for the first time, and I think having newbies there forced me to realise how far I've come. I'm so much fitter than I was three months ago! I can keep up with the workout without feeling like I'm going to pass out. I actually managed to hold the plank position for a full minute, which is unheard of for me. (My core is obviously getting a lot stronger.) Spudds also challenged me to get 100m in 20s on the rowing machine, which he said was a challenging target for a girl. And I did it! I was really proud of that. And then Friday I went for a short run around the Domain at lunchtime. I'm really starting to notice how much an effect these workouts have on my sleeping patterns and mood. Fit Kris is strong and happy Kris.

| | |
| --- | --- |
| | [2] |
Veggies for Victory
"The Obamas' vegie patch...is alarming conservatives." See? That's why I want to keep my veggie patch, despite the Snook's protests. (To be fair, my total yield this year was next to nothing.) Still, I feel trying to grow my own food is at least a little bit subversive and political. In related news, we've started up the weekly veggie box again after a bit of a break. They've moved pickup to Saturday mornings at the Farmer's Market at the Chippo Peace Park, which works out fantastic for us. It gives us a bit more time to work out what we're doing with it, and a chance to go to the shops to get any necessary ingredients. Plus the new organiser, Daria, lets us pick out just what we want! Today we got LOADS, well worth the $25 we spent! (Pumpkin, zucchini, beetroot, leeks, capsicum, beans, potatoes, onion, and fennel.) We've already had beetroot risotto, and a chocolate and beetroot cake is cooling in the kitchen as we speak...

| | |
| --- | --- |
| | [4] |
The next stage of cat evolution
Dr. Amy has learned to open the kitchen cupboards. If she learns how to open the boxes of Friskies, we're screwed.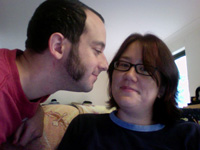 "Recession beards"? Not in this house! The Snook celebrated the start of his new job last week by shaving his beard off and going back to the hipster mutton chops. He also bought a new electric razor so he can keep it maintained. My husband is one well-manscaped geek! (Link courtesy of Max.)

Friday, April 3, 2009
| | |
| --- | --- |
| | [3] |
Adventures in Twitter
Yesterday I idly tweeted a snarky comment wondering if enough time had passed since the mid-90's Swing fad that I could go see Big Bad Voodoo Daddy without feeling like "a total poser."

Little did I anticipate that BBVD is actually on Twitter and would send me a response. Wow. Unfortunately I realised too late that we're baby-sitting that night, so we're going to have to miss it. Sorry, BBVD!

| | |
| --- | --- |
| | [5] |
Happy Friday! I've got a beer in my hand and I'm celebrating the fact that I've just handed my boss a signed employment contract. Yours truly has graduated from a "we'll-give-her-a-shot" contractor to a bonafide permanent employee. Yay!

| | |
| --- | --- |
| | [3] |
I just signed up to attend Social Media Club Sydney's inaugural event in a few weeks: "Authenticity & Transparency in Social Media". Fake Stephen Conroy is going to be there! (Man, between my new job and the Snook's, I'm turning into a total Social Media/Web 2.0 NERD.)

| | |
| --- | --- |
| | [2] |
Wow. This tilt-shift video of Sydney is FANTASTIC. I really like the music too. It's just lovely. I spoke to our company photographer Stu about how it was done. (He knows the guy who did it.) Stu's of the opinion that it's actually "fake" tilt-shift (i.e. done in post-production). Still, it looks GORGEOUS. (Link courtesy of Hank's Twitter feed.)


I wondered last night whether Obama's gift of an iPod loaded with show tunes was actually legal. Turns out it's a very tricky issue. That's the second gift he's given recently that has highlighted a copyright problem. Is someone on his staff doing this deliberately to point out how broken and stupid the system is?


Plush Steve Jobs. Awwww, he's so cute!

Thursday, April 2, 2009

Glebe Point Diner
For our special anniversary dinner last night, we finally got to try out Glebe Point Diner after hearing about it for so long. (It was awarded a hat in this year's Good Food Guide.) I had tried to get a table for our wedding anniversary last November, but I left it too long and they were booked out. This time I wisely called a couple weeks ahead. We got there half an hour early (since it was raining and we took a cab instead of walking) but they were still able to seat us. The place was busy and the service was harried but pleasant. The menu/wine list was just a single photocopied A4 sheet (since evidently it changes often depending on what's in season). I had crab and chestnut soup as a starter, while the Snook had bluefin tartare. Both were excellent. The soup was creamy and moreish and warming, while the tuna had big juicy chunks that zinged with finger lime. There was a bit of a wait for our mains, but they were worth it. I had crispy duck with Brussels sprouts, fig, and barley, while the Snook had Scotch fillet steak with mushrooms and asparagus. We also ordered some veg ("Roman beans") to share between us. (The portions were more generous that I'd expected though, so I think you could easily forgo the sides.) My Brussels sprouts were hiding under the duck, and they were the best sprouts I've ever had in my life. Soooooo good. The only annoyance I had was that we had to wait forever to get our bill (and ask twice!), but I think that was because the host was busy ordering taxis for people going home in the rain. Forgivable. The cost (less than $70 each) was actually pretty good considering we each had two decent sized courses, half a side, a beer, and a glass of wine. I'd definitely recommend it... if you can get a table!



Note: They do have a couple seats at the bar, which I turned down when they were offered last November. I've changed my mind on them though. It looks like a worthwhile option if you're trying to get in on short notice.



| | |
| --- | --- |
| | [4] |
Man, I'm sorry it's just an April Fools joke. I'd LOVE a Tauntaun sleeping bag!

Wednesday, April 1, 2009
Awww, Willow and Wesley had a girl.
| | |
| --- | --- |
| | [3] |
I'm kind of fascinated by this fake Mars mission experiment. Six astronauts are going to be locked up for three months in a space capsule to see how they react to the prolonged isolation of long-distance space travel. They'll have all their supplies with them, and their communications to "Earth" will be delayed by 20 minutes. Won't they all just go nuts? That's what I'm expecting. Other questions that popped into my head: What do astronauts do with their garbage/human waste? Just dump it out into space? (I'm now picturing this space capsule hooked up like a motorhome at a camp ground.) And why aren't there any women included? Surely the dynamics of a mixed group would be more interesting that all men.

| | |
| --- | --- |
| | [3] |
Mathison leaving Idol??? Nooooooooo! TELL ME it's an April Fool's joke.

| | |
| --- | --- |
| | [3] |
Happy anniversary, Snookums
Nine years ago tonight - just about right now, in fact - I was in the Distillers Arms in Hammersmith celebrating being granted a British work visa (which meant I didn't have to go home in a week). Pretty much the whole office had ended up there, and we were partying it up. Half a dozen of us decided to kick on to the "Leopard Lounge" in Fulham to do some dancing. The place was pretty sad, actually, and not very full, but we made the best of it. At one point I was dancing with the cute boy from the office that I had a crush on, and I just decided to go for it. We smooched and held hands. It was an incredible rush, yet at some level even then I knew it also felt completely comfortable and right. We've barely been apart since.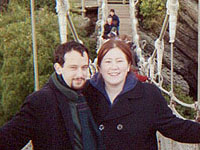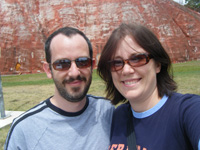 It's been a great nine years. Happy (real) anniversary to my best friend...

| | |
| --- | --- |
| | [8] |
The SMH report on the cake decoration competition at the Easter Show, which they claim is one of the "fiercest contests." See, this is why I'm not a huge fan of transient art forms. If I spent four months knitting Na Craga only to have somebody knock it over and ruin it, I'd never pick up the needles again.

archives
You can search through the archives by post keyword using the form on the left, or you can browse by month using the links at the bottom.
"Moblog" refers to posts and images posted directly from my mobile phone.

"PW Blog" refers to posts recovered from my very first weblog, which dealt with news related to my college dorm.