Thursday, May 31, 2001

AHHH! This is one of the best Flash games I've ever seen. Make Anne Widdecome do "The Sprinkler"! See Tony Blair break it down with "The Cabbage Patch"! See William Hague "vogue". (Link courtesy of Jann.)


"The Wind Done Gone" is supposed to go on sale June 28, but Amazon still doesn't have it available to pre-order. Dammit, Jeff! I want this book!

| | |
| --- | --- |
| | [2] |
Well of course somebody's going to get more excited about a DVD player than chocolates. A DVD player costs, like, five hundred bucks, while chocolates are, like, two-fitty. Now, if the comparison were between a DVD player and $500 worth of chocolate, THAT would be an interesting experiment. (Link courtesy of Sore Eyes.)

| | |
| --- | --- |
| | [6] |
Ow, you guys! My ass! Seriously.
All South Park jokes aside, my bum really does hurt. My legs creak. My lungs burn. Why? Because exercise is the Devil, kids. Just a little tip from your Aunt Kris.
 
So last night I decided to try yet another new class at my gym: spinning. In case you've never heard of it, spinning basically consists of a bunch of people pedalling furiously on stationary bikes while a little blond ponytailed twig-person screams at them over really loud dance music. Or something. I figured it wouldn't be too difficult, seeing as how the only other person there at first was this old guy. Remembering the Aqua-Robics experience (old people = nice and leisurely workout), I figured this would be a cake-walk. Until I saw him lacing up his special Nike pedalling shoes. I must've looked scared, because Little Old Guy (L.O.G.) told me not to worry, that he was just a "poser" and that I wouldn't have any trouble. He was a damn liar.
 
The first thing I realized when I jumped on my bike was that, unlike regular bicycles, you can't stop pedaling while the wheels are turning. The pedals are literally connected to the wheels, so once you start it's really, really hard to stop. Bravely, though, I placed my water bottle in the holder and my towel over the handlebars and started to pedal. I managed to keep up for the first 20 minutes, until "Shannon" (the twig-person) introduced the concept of standing up and pedaling, as if one were riding up a hill. DO YOU KNOW HOW MUCH THAT KILLS? I was dying. Eventually I collapsed onto my seat, having made a bargain with my body that I'd at least continue to pedal as long as I didn't throw up all over my nice new Reeboks. Wearily, I looked over to L.O.G., who's standing up and pedaling away like Lance friggin' Armstrong or something! I think that's when I first got the urge to cry. The end eventually came, but not before a lot of mental cursing of "Shannon" and L.O.G. I've never been so happy to get off a bike in my entire life.
 
The worst part of the whole thing is that I still feel like crap today. It's as if the spinning somehow fundamentally altered my body on a genetic level. Or else my body got pissed off at its perceived punishment and is now paying me back. Regardless, my calves are sore, my ankles are weak, and my bum is still shaped like that damn bicycle seat. Never, ever spin, kids.

| | |
| --- | --- |
| | [2] |
Okay, so not only will we have urinals in Trafalgar Square, but all the lightposts will be covered with urine-scented posters as well? Ahh, London, City of Pee-Pee.

| | |
| --- | --- |
| | [2] |
WOW. Did you see this young guy Andy Roddick defeat Michael Chang yesterday? I was watching it on the television while I warmed up at my gym. It freaked me out at first because he looks quite a bit like my younger brother, Anthony. I had to leave for my spinning class (more on that in a minute) with the score tied 5-5 in the fifth set. The poor kid was cramping so badly he would nearly collapse after every point. "My hand was doing this cool, bendy thing and my leg was cramping," Roddick said. "I'm just glad to get through that." That cracked me up.

| | |
| --- | --- |
| | [17] |
HA! I take it back. The Bush twins are not Elizabeth and Jessica Wakefield. They're more like Paris and Nikki Hilton.

| | |
| --- | --- |
| | [1] |
Hey, John, I saw your girlfriend on the cover of GQ in a newsagent's window today. (It doesn't seem to be on their site though.)

Wednesday, May 30, 2001

I'm not sure about the real Bill Gates, but I can definitely see the Anthony Micheal Hall version frequenting a sleazy nightclub.


Okay, that is the scariest thing I've ever seen. I see now why Labour felt compelled to make fun of ol' Baldy.


On one hand, I feel pretty bad for Jenna Bush. I mean, she's not doing anything that countless other college students haven't done. These people are making her sound like an alcoholic! At the same time, though, she has to be a real idiot to think that she's gonna get away with this stuff. I imagine there are probably reporters following her around 24-7 just waiting to catch her trying a sip of al-key-hol.

Oh, and another thing. How funny is it that Jenna gets in all kinds of trouble, but her twin sister Barbara doesn't? They're like Jessica and Elizabeth Wakefield over there.

| | |
| --- | --- |
| | [1] |
Holy crap. Buffy finale: made me want to cry. Dawson's Creek finale: made me want to barf.


The odd thing is, I think it makes him look much better, don't you?

| | |
| --- | --- |
| | [2] |
I know a ferret that will be very excited about this...

| | |
| --- | --- |
| | [7] |
I think you misread me, Max. I'm not a hardcore supporter of the legalisation of marijuana, but I am a supporter of the basic human right to do whatever you want as long as it doesn't hurt anybody else. And in my own experience I've never seen anybody on pot do anything worse than I've seen people do on alcohol. (Granted, people do terrible things when they're drunk, but in our society we blame that on the individual, not the beer, right?) I'm not a fan of teenagers embracing "pot culture", either, but I think a big part of it is simply that it's forbidden. When I was in high school it was "Coed Naked" T-shirts and L.A. Raiders jackets. Now it's stoner wear. I don't know anybody who would smoke pot but doesn't because it's illegal. They do it anyway. Making it legal isn't necessarily going to increase the demand. It's just going to make it regulate-able and keep young people from going to jail (or being denied college funds) for something that doesn't hurt anybody.

Okay, I now eagerly await your rebuttle. Man, this take me right back to being on the Speech team in high school!

| | |
| --- | --- |
| | [4] |
Yeah, yeah, yeah. Voyeurism is bad. Reality shows are bad. People are all attention-grabbing whores at heart. But I refuse to agree that killing rats and eating them when you're STARVING is bad. (Sorry, Brigita.) I suppose drowning them was a bit much, but I doubt the animal rights people would have been any happier about Simon whacking their heads off with a machete. And what's the point of Uzma's quote? "I saw the vicious side of people, their crass vulgarity." Since when is doing what people have done since they climbed down out of the trees vicious or vulgar? What does she actually thing goes on in a meat-packing plant? I've got no illusions about it, but I don't think I need to make apologies for it either.

Tuesday, May 29, 2001

I was just looking at webcams on Amazon when my attention was caught by the lists they have down the side of the page. Some of them are hilarious! Here're just a couple I saw:
Gifts for Cord-Haters, by Dan Garlington, Cord-Hater
Anger Management 101, by halo1000, angry guy
What I'd buy if I owned a DVD player, by tarunthegreat, Former Amazon intern
Robbed by the Oscars, a list by Gregory Kastigar, disgruntled Oscar viewer
Top Five Space/Time Reality Bending Films, by Christopher Ganir, Futurist extraordinaire
Movies I have written haiku about at www.dimspace.com, by ben@dimspace.com, movie fan
Have you found any funny ones?

| | |
| --- | --- |
| | [3] |
It's very hard to be an American and have the sneaking suspicion that Canada, of all nations, is becoming cooler than you. On a related note, how many people predict a sudden influx of American immigrants to our neighbor up north? Yeah, just about everybody.


If you're a fan of "The Goon Show" like Snookums is, you should know that BBC Radio are doing an evening of tributes tonight.

| | |
| --- | --- |
| | [1] |
Salon as an excellent story on various television season finales and why Buffy rocks so much. It's got HUGE spoilers, though, so don't read it if you haven't seen all of Season 5 yet.


Hey, one of the doggies I liked won runner-up for Best in Show at Crufts. Way to go, "Penliath Shooting Star."


UK Survivor: Man, it's starting to get ugly. Helang, who last episode suffered a team-dividing tie vote at Tribal Council, continued their downward slide. Ular, on the other hand, are bonding as a team and look to be unstoppable. The highlights of the third episode:
The lines are pretty clearly drawn in Helang. It's the three "old" members (Andy, Jayne, and James) versus the three "younger" members (Adrian, Charlotte, and Uzma), with Simon riding the fence and playing up to both groups. They all play nicey-nice when they're together, but as soon as they separate they start slagging each other off. Personally, I'm rooting for the old folks. Charlotte and her beeatches just really get on my nerves.
The reward challenge involved five members of each team balancing on a log and trying to spell out words with letters on the T-shirts they were wearing. Ular was much better at it, and they won four tins of baked beans and equipment to spear fish. As Mick noted afterwards of Helang, "They seem to have lost...their leader. They looked totally shot away."
Back at Helang, I thought I noticed a funny glance between Charlotte and Adrian. And when I checked the BBC site this morning, surprise! They were having an extra-marital affair! And you thought that Colleen and Greg thing was exciting. We actually have people goin' at it in the shelter!
The immunity challenge was even more embarrassing for Helang. The teams had to dive down into the sea and carry a heavy chest all the way up to the beach. Helang was still near the beginning when Ular set their trunk down at the finish line.
On Tribal Council day, Simon horrified some of the squeamish members of Helang (Charlotte and Uzma, again) by drowning some rats he caught. Then he cooked 'em and ate 'em. Hey, go Simon. Do whatcha need to do.
Charlotte revealed that she, Uzma, and Adrian have a voting alliance. They don't say who they're going to vote off, but it's pretty obvious that Jayne's in their sights.
At Tribal Council, the most amazing thing happens. After Charlotte and Adrian have voted for Jayne, Uzma gets up and votes for James. I turned to Snookums: "WHAT? I thought they had an alliance? Is she just so dumb that she messed up the names?" To which he answered, "I think she's been spending too much time sniffing the kerolene." HA!
So anyway, Uzma's gone. She seemed pretty happy about it, though. I thought her post-partum BBC article was pretty hilarious. She predicts that Charlotte is going to win it all. Uh-huh. Uzma, just because Charlotte was the pretty, popular girl who deigned to hang out with you, that doesn't mean everybody else is in love with her too. She wouldn't last one Tribal Council with the members of Ular. Uzma also claims that she was voted out because of her aversion to eating the rats. As opposed to, say, her complete and utter uselessness. Whatever.
Thursday should be pretty interesting. Helang need to get their collective ass in gear or they're going to be in poor shape for the tribal merger. One more defeat and stick a fork in 'em, they're done.

Warning over coloured shades. And here I thought the only problem was that made you look like a wanker.


Open UK Apple Stores now, demand 66% of users. Count me in!


Congratulations to my sister, who got married this weekend... to Pete Sampras.

(Seriously, go to her site. That's the funniest thing I've seen in a long time.)

Monday, May 28, 2001
| | |
| --- | --- |
| | [2] |
I've been playing my new album while blogging. Just now I thought to myself, "I didn't know Pearl Jam had a song on here!" But when I checked the list, it was Creed. *sigh* What clones. Reminds me of when the first Stone Temple Pilots album came out and my ex- called them "Stone Temple Vedder Pellets." On a positive note, though, I've been rocking out to Wheatus's "Teenage Dirtbag". How did I miss this song? It rules.
I've got two tickets to Iron Maiden, baby...
Toploader also had me dancin' (in the moonlight). My image of them as a band straight out of the 70's isn't helped, though, by the fact that everytime I see them on telly I think to myself: "When did Hyde from 'That Seventies Show' get a rock band?"

| | |
| --- | --- |
| | [5] |
New Poll: Ahh, there's nothing better than a good weblog scandal. How were you affected when the truth about Kaycee came out?

Results from the old poll: R.E.M. won by a landslide! It was, like, 100 to 7. What, you don't believe me? Too bad! My site, my call. Live with it.


I totally forgot that Crufts was this weekend! I just caught some of the final rounds while waiting for my stuffed pepper to finish roasting (yum). In case the name escapes you, Crufts is the "World's Greatest Dog Show" (their words). If you've seen "Best in Show", you know what I'm talking about. They take it so seriously! It's awesome to watch, if only for the unintentional hilarity of it all. The best part, of course, are the names of the dogs. I jotted down a few from the "Pastoral Breed Final" I just saw. (Those are the dogs that originally herded animals, so it's like German shepherds and border collies and stuff.) A selection:
"Penliath Shooting Star"
"Otterswish Bernadette"
"Zottel's You Don't Fool Me"
"Freelancer Frosty Moon Over Corydon"
"Tamarch Maggie May of Tolorock"
Seriously! You can't make stuff like that up. Too insane.


Adventures in Shopping
I don't even know where to begin. Okay, yes I do. This morning my plans for the day were: go shopping and buy some more shorts/t-shirts for our trip next week (for some reason I've got, like, NO summer clothes anymore), pick up this album I've been wanting, go to the gym, and pick up some food for dinner. Simple.

So on my way into Hammersmith, walking through the park, I was thinking about the possibility of my sister coming to live in London and all the BUNACers that I knew when I first came over. Most have gone home to the States, but there are a couple that might still be floating around. I suddenly thought of this Canadian guy Adam that I had last seen *literally* over a year ago. "I wonder what he's up to," I thought. "Too bad I don't have his number or even his last name."

So I do my shopping. Some observations:
Apparently nobody's going to be wearing shorts this summer. Seriously, I had to search just to find some to try on, and they were all butt ugly. Apparently the fashion gods have decreed that it's going to be a very sweaty summer.
Okay, men, I know you call them "3/4 length trousers", but really, who are you kidding? They're capri pants. Yeah, I wear 'em, but at least I call 'em by the right name.
I'm getting really, really tired of this Madonna-USA-glittery-acidwash-rodeo girl look that's taken over all the shops.
Okay, ranting aside, I did manage to pick up some cool stuff. So I stopped off at one last shop, Primark, before heading to the gym. Primark is kinda like Filene's Basement or something. Everything's £4 and it looks like it was just taken off the delivery truck. I found this kickass pink T-shirt that says "goddess" on it that I had to have. When I went to pay for it, though, I suddenly realized that all my other shopping bags were gone. I ran all over the store, which was packed, frantically checking everywhere I had been. I finally went to the customer service desk, where (THANK GOD!) somebody had turned them in. I guess I left them in the changing room. Bless the honest English.

So I left Primark thinking that I should get to the gym before anything else weird happened. I started off down King Street, and immediately I noticed that a guy walking in the opposite direction looked an awful lot like my friend Adam I mentioned before. I literally did a bigtime double-take and then flagged him down. It was him! I know it sounds stupid, but the sheer coincidence of it completely blows me away. And not only did I randomly run into him, he lives clear on the other side of London and was only in Hammersmith to visit friends. So, yeah, it's a city of, like, six million people or whatever, and I randomly run into someone I haven't seen in a year five hours after thinking about them. And if I hadn't lost my bags in Primark, I wouldn't have passed him on the sidewalk. PSYCHIC, I TELL YOU! PSYCHIC!

Anyway, that's my adventure. I just had to tell somebody.

| | |
| --- | --- |
| | [7] |
John - it's a hoax. I saw this story when it first appeared... on April 1st. (The date on the left is just the current date.)

Saturday, May 26, 2001
| | |
| --- | --- |
| | [1] |
U.K. Survivor Update: HOORAY! I hereby take back everything bad I said about ITV on Friday. In addition to showing Survivor two nights a week, they're also showing a two-hour recap of the week's episodes every Saturday night! (Well, I don't know about every, but they sure did tonight.) So I got to watch the second episode and boy, was it good.
The bug eating was great. They were all so hungry by that point that a few of them really seemed to savor the big, meaty grubs. Snookums declared that he couldn't eat them if they were wriggling, but I felt that I probably could, as long as I didn't have to go first.
The immunity challenge was much harder than it sounded on paper. The teams had to build stretchers in 15 minutes, and then four from each team had to race through the jungle to find their missing teammate. On the way back, the path was narrow and as one of the Ular carrier's went down, it looked like Helang would overtake. Eve, who was *on* the stretcher, however, threw her body in the path of Helang and managed to slow them down. It all came down to the final sprint, when one of the Helang guys collapsed three times. Weenie. I was especially heartened to see that Ular, the winning team, actually had a girl (Sarah, the model) as a carrier.
Lots more swearing this time. The best was when J.J. got mad that everything had washed away and the whole camp was untidy and they kept losing things. She let lose with a tirade that'd curl your hair. That was the nail in the coffin for her, I think.
When J.J. finally did get voted off, her final moment was pretty venomous. She turned to the group and spat out, "I know exactly who voted for me" before literally running off into the jungle. And during the closing interview, she ranted about Charlotte (even rolling her eyes at the very name, like I do at the fact that Charlotte brought no less than THREE bikinis with her) and called her the most useless person on the team. That woman has issues.
Funniest moment: watching schoolmarm-ish Jayne brutally whack a shark upside the head with a rock so she could eat it for supper.
And "Big Brother" started today too! I'm in a time-sucking vortex of reality television. I'd say I pity you American folks faced with nothing but re-runs... except I'm going to be back in the USA myself this time next week!

Score one for the Yankees! (No, not the baseball team.) A federal appeals court has overturned the injunction against "The Wind Done Gone". I've already checked Amazon and it's not up for pre-order yet. It's supposed to be out by the end of June though. I'm definitely stoked to read it.

| | |
| --- | --- |
| | [1] |
Speaking of bombs... Dirk says: "I was influenced." Whoa! Can I get a reaction, Max?


I know I don't normally blog so much news, but there's just tons of interesting stuff on the wires today. And some of it's a matter of life and death! (Don't hyperventilate, Ma. The Hammersmith Bridge is the only place they'd want put a bomb around here, and I'm far enough away from that.) Summertime excitement!


The old comments have all been added to the system! Yes, your deluded rants and ravings have now been preserved for Internet posterity.

Friday, May 25, 2001

What do you call your significant other? (Hypothetically, then, if you don't have one.) I know Brigita likes "SigOth". I generally just call mine "Snookums." Or when I'm talking to others, he's my "boy" or my "boyfriend" or my "honey bunny poopie pie." (Just kidding about that last one.)


Well, that explains where MetaFilter has gone. And here I figured it probably had something to do with that damn Kaycee story.


Ohmygod. I want a Jedi baby! This is going to be *the* Halloween costume next year, mark my words.


Gael linked to an interesting cultural experiment of sorts: lists written by people of various nationalities detailing the way they live and the things they think. The ones I can vouch for (American, British, and German) are pretty much spot-on. Is your country represented? You should send one in. (I'm trying to get Snookums to do Australia.)


Hey, Jann (and everybody)! I just added a checkbox to make weblog links open in new windows. It's over there in the yellow box at the left. Ask and ye shall receive.


The last five comments box is back! Go me.


UK Survivor: Damn it! You know the fundamental difference between British and American television? In America, when a show is relatively popular you can be assured that it will be on at the same time every week. In England, when a show is relatively popular you can be assured that the producers will schedule lumps of episodes together at random times so as to frustrate their viewing public into submission.

What's the point of this rant? Apparently ITV have decided to show Survivor on TWO nights a week, but not tell anybody about it. Therefore I missed the second episode last night. Double damn. But since everybody's counting on me for their UK Survivor fix, I sucked it up and went to the website for ya. From what I gather:
The big problem for days 5-7 was hunger. Like, STARVATION. Apparently nobody was catching any fish, so the producers grudgingly handed out a couple cans of fruit and meat.
The reward challenge was the bug-eating thing, which Ular won. They were awarded "strawberries and cream", which they ate right in front of the other team.
Helang, the losers, discovered the their entire camp had been washed away while they were at the challenge. And they had no food. But they found a dead rat and barbecued it. GROSS. Sucks to be them.
The immunity challenge had something to do with rescuing a teammate whose parachute had gotten tangled in a tree in the jungle. (Is this a recycled one? It sounds dumb.) Apparently it got interesting though, when the two teams started "felling" each other and got into a big fight. Ular ended up winning, which royally pissed off J.J., the drill queen of Helang.
The vote came down to a tie between Uzma and J.J., and when the revote was done, J.J. got ousted. She pulled a bit of a "Susan" and stated just before she left: "I'd just like to say I know exactly who voted against me." In the post-Tribal Council interview, she ranted about the "fluffiest most useless person" on the team (referring to Charlotte, the tart that brought the Twister game). Unbeknownst to her, though, it was Simon who had changed his vote.
Now if you'll excuse me, I've got some errands to take care of. (First, send a complaint to ITV about their scheduling. Next, go check prices on a Tivo...)

*FRUSTRATION* I've come across tons of things that I wanted to blog but was unable to because of bugs in the system. I know, I know: now when I say that, it's my fault. I think I've got most of the problems worked out though. If you are unable to leave a comment or if things look wonky at all to you, let me know.

Thursday, May 24, 2001

Let me get this straight. The British Medical Association is worried about the effects of text messaging on reproductive organs?? I really don't see how that would work. I mean, for one thing, unless you've got a honkin' big screen on your phone, you've gotta hold it near your face. (I've never seen anyone hold their phone at waist level, as this article suggests.) And secondly... As long as you're not pointin' the thing at yourself, you're okay, right?

| | |
| --- | --- |
| | [1] |
Another thing - the older comments are gone but will be added soon. (I've got to add the bloody things in by hand.)


I forgot to mention that you can now decide how many days worth of posts you'd like to see on the home page. Just visit the preferences page and set your preferred value!

| | |
| --- | --- |
| | [3] |
This is my first official Blogger-less post! The archive listing page and the last five comments functionality are currently disabled, but everything else should be up and running. The comments system now works a bit differently, in that each post has its own page where comments are added and recorded. Try and it and let me know what you think!

Wednesday, May 23, 2001
| | |
| --- | --- |
| | [1] |
I know I've said this a hundred times before, but this is my last post before implementing the new Blogger-less system tonight. I think it's ready, folks! Seriously.

| | |
| --- | --- |
| | [3] |
This Salon article "Old and in the family way" talks about the "quality of life" issues associated with having a baby late in life. It's an interesting read. I know I would definitely want to have my own life and career before settling down to raise kids, but do I really want to be 55 and running after a teenager? Also, the author neglects to talk about a situation I'm currently experiencing: that of the parent who had kids at a young age, and is now adding to the family again 25 years later. How old are your parents/kids? Would you have preferred it differently?


What a gorgeous day in London! Actually this is the third beautiful day we've had in a row. That can mean only one thing: this coming three-day holiday weekend is going to be miserable. But until then I'm just enjoying the sunshine and warm temperatures. Snookums and I had lunch in the park on Monday, slurping on Icee-Pops (actually they were called "Space Alien Sabres") bought from the newsagent and acting like 8-year-olds. *sigh* London summer almost makes up for London winter. Almost.

Check out these webcam views and see for yourself:


| | |
| --- | --- |
| | [2] |
Jann is now updating his site on a more regular type basis, thus my putting him in the "weblogs" list has become a self-fulfilling prophecy. *grin* Although I really wish he'd kill whatever funky javascript he's using that prevents me from linking to him with my Blogger bookmarklet.


Which reminds me, I also updated the code for my comment system. You only need to download the fix if you're using the last five comments functionality.


I got a nice e-mail this morning from Mick, the webmaster of Game-Cheatz.com. He's implementing my poll system and found a bug. I've updated the source code at my site, so if you're trying to use my system, you'll want to make sure you've got the fixed version. Thanks Mick!

Tuesday, May 22, 2001

Apple: the only cult it's cool to join. :)

| | |
| --- | --- |
| | [4] |
So yeah, Snookums and I saw "The Mummy Returns" last Friday. It sucked. I thought that the fighting was good, but the effects were crap and it wasn't funny at all. I wanted to see more stuff like when Brendan Fraser scared off the Mummy with a cat. And where John Hannah joined the zombies and started chanting "Imhotep..." This movie didn't have any of that. Don't even get me started on "The Rock", either. His part was about five minutes long and I certainly wasn't very impressed. And the whole bit with him as the Scorpion King at the end featured the worst CGI work I've seen since "Tron". It looked like a video game! And lastly, I couldn't decide if Brendan Fraser's ass was supposed to be that big (as a kind of a joke, since his character had been married for nine years or whatever), or whether he's just chunked up. I vote for "chunked up."

| | |
| --- | --- |
| | [1] |
Chris Cornell, the former singer from Soundgarden, has officially joined Rage Against the Machine. Very cool. I remember when Cornell finally cut off his long head-banger hair back in the 90's. It was like, "Wow! He's pretty hot. When did that happen?"


UK Survivor: You know, for the past year I've been following Survivor through the sites of rabid American fans without ever experiencing it for myself. Last night all that changed, and all I can say is WOW. I'm hooked!
 
Some thoughts from the first episode:
Much like Big Brother, the UK version seems to be aiming for a slightly more high-brow approach than the US show. They're making it out like more of an anthropological experiment than a reality show cheese fest. Nearly all of the contestants were over 30, and there was only one cutesy twenty-something hoochie-mama ("Charlotte", who took a game of friggin' TWISTER as her luxury item). There were several over 40, and nobody had that "token-old-person" look about them. In fact, the older people looked like the toughest.
They're shooting it on Pulau Tiga, which I believe is the island they used on the first US series. The Tribal Council hut certainly looks like it's been there a while. I have a feeling that they're probably going to recycle a lot of the challenges as well. (They're already advertising the bug-eating one for next week.) In a way it's good though, because at least the producers know what to expect.
I also think that the UK competitors have studied up the American show. One guy on Ular, Nick, was like the spiritual son of Richard Hatch. He took command right away, designing the shelter and teaching people how to make fire. He even admitted that he was basing his strategy on the book "How to Make Friends and Influence People." He broached an alliance on the second day, teaming up with Mick (this crusty old guy), Richard (a young guy), and Zoe (a tough chick). As Zoe put it, "I wasn't going to be the one to instigate an alliance but I sure as hell was going to join it if I felt it was strong enough and I do." As their tribe, Ular (which means "snake"), lost the first Immunity Challenge, they decided to vote off Jackie, who was pulling a Ramona and being sick all the time.
BUT WAIT! In a stunning upset, Zoe double-crossed Nick and voted for him along with the remaining four people. With 5 votes to 3, Nick was out! The favorite is gone. I couldn't believe it. As Snookums pointed out though, "He built the shelter... Now he's outlived his usefulness. He was too dangerous." They showed Zoe's vote at the end of the show, and her only comment was: "Sorry mate, you took a little too much too early. You were weaving quite a tangled web. Don't trust anybody."
Funniest moment: Uzma running around in the dark yelling for people to help her find the "Kerolene" for the fire. What an idiot.
P.S. I completely ripped off Max's idea of posting the crossed-out picture of this week's departing contestant. Visit his site for all your US Survivor needs. :)

Monday, May 21, 2001

U.K. Survivor. It starts tonight. Hooray! Now I'll finally be able to see what all the fuss is about.


Snookums and I were just discussing John's new metric for measuring geekdom (which he found at tajmahal): the number of electrical outlets you'd need if you were living in one room (such as student housing). We decided that a few more rules were needed to get an accurate measurement:
You can count one outlet for each appliance that you currently own that is plugged in all the time.
You can count one outlet for every 2-3 appliances you own that are occasionally plugged in.
Lighting doesn't count at all.
You're allowed to add outlets for a television and a fridge if yours are currently shared, because you'd need your own in your own flat.
Taking those into consideration, I'd need nine: Boudicca (the iMac), scanner, speakers, VCR, microwave, (non-existent) TV and fridge, and a couple extra (for mobile, GameBoy, Nintendo, and stereo). Snookums needs eleven: two computers, monitor, modem, speakers, subwoofer, espresso machine, toaster, (non-existent) TV and fridge, and an extra (for mobile and electric razor). We are serious geeks.

| | |
| --- | --- |
| | [1] |
Steve has written an excellent post/essay/whatever entitled "Killing Killers". I suddenly found myself arguing against the death penalty with an American friend who was visiting the week before McVeigh's scheduled execution. Unfortunately my arguments tend to be more emotional than rational, so I'm glad I'll have Steve's words to back me up in the future. If you are in any way interested in this issue (for or against), check out his site for relevant links and information.


"Some Straights Can Go Gay, Study Says." A fantastic parody of those news stories reporting "research" about homosexual conversion therapy.


More British election fun: Am I Electable Or Not? I'd vote for Ant & Dec before William Hague any day.


It's a videogame kinda day. Slashdot is running a story on the upcoming Star Wars Galaxies multiplayer online game. My favorite comment from the discussion:
"I'm actually looking forward to be a Jawa. Killing rednecks in Tatoonie with my ion-gun, stealing their droids and bringing them to my massive Sandcrawler for trade. Utinni!"
Personally, I'd be a lot more excited about this if I could play it on my iMac. :-(

| | |
| --- | --- |
| | [2] |
Well... it's technically Monday, although I'd call it very, very late Sunday. The damn thing isn't quite ready yet, so I'm rescinding my vow of not-blogging. I won't be able to work on it again til tomorrow night. But it's almost done. I swear.

(Lest you think I've been slacking all weekend, I'll have you know I went to the gym twice! Saturday I did Aqua-robics with old people, and today I pumped iron in the Ladies' gym. Go me.)


It sounds like the Harry Potter videogame is going to be good. I'm crossing my fingers that the Mac and Game Boy Color ports don't both suck.

Friday, May 18, 2001

Slight blogging hiatus while I get the new system up and running. You'll hear back from me by Monday, I promise.

| | |
| --- | --- |
| | [2] |
British men's magazine FHM have released their "World's Sexiest Women" rankings again. J.Lo wins the top spot again, but I was more interested in the rest of the list. Let's see... Rachel from S Club 7, Britney, Christina, Carmen Electra, Salma Hayak, Cat Deely, Charlize Theron. Sure. Okay. But there's one more: Alyson Hannigan. As in, Willow from "Buffy the Vampire Slayer"?? Not that she's not sexy; I mean, I like her best out of all the ones on there. But she just doesn't fit with the pop stars/actresses/big bum crowd, you know? Unfortunately I don't think it was her intellect and personality that entranced the men of FHM; I rather think it had something to do with her character's lesbian witchery. But maybe that's just me being cynical.

| | |
| --- | --- |
| | [1] |
Apparently girls are the root of all evil. As a feminist, even I am powerless in the face of such inexorable logic. :)


Ooh, more details about the Britney Spears video game: It's going to be called "Experience Britney" (*snicker*) and it's going to be an enhanced DVD type thing that uses "immersive technology", which involves "her being recorded at a concert from all angles on a 360 degree plain. Using controls, the viewer could go behind Spears to watch the audience reaction, or watch the singer from the side." Uh-huh. People are going to use the "behind Britney" viewpoint to see the audience. Riiiiight.

Thursday, May 17, 2001
| | |
| --- | --- |
| | [2] |
It's all about cultural differences. Clinton gets egged and laughs it off. John Prescott gets egged and punches the thrower in the face. Never say Englishmen aren't "hard".

| | |
| --- | --- |
| | [1] |
Remember that former aide of Fergie's who's been on trial for murder? Well, they found her guilty. What have we learned from this trial? 1) If you're going to claim sexual assault, make sure you don't make any potentially embarrassing clothing purchases while on the lam. 2) The "Hormone Defense" never works.


Hey, Max, I did my best!
On n'a pas gardé les vaches ensemble.
According to this site, it's the "ultraviolet rays of the sun."
I tend to send my dad gift certificates. He likes them, and that way he gets what he likes. Sometimes I just go for the obvious, but every now and then I get one tailored to one of his hobbies (like Cabela's, the outdoor shop).
Anybody else have any problems I can solve? It's like "Ask Marilyn Kris" over here today.

| | |
| --- | --- |
| | [8] |
Time for me to jump in Max's and Bill's discussion of "radio (summer) songs". A few that immediately sprang to my mind:
"Summertime" by DJ Jazzy Jeff and the Fresh Prince (aka Will Smith)
"How Bizarre" by OMC
"Sex and Candy" by Marcy's Playground
Yeah, any list I come up with is going to be limited by the playlist of the only Top 40 station we get in Northeastern Indiana, but still, those are pretty damn anthemic. Everytime I hear one of those songs I remember driving in my car during that specific summer. *sigh*

| | |
| --- | --- |
| | [4] |
Belinda Carlisle of The Go-Go's, who I used to idolize in elementary school because she was a pop star and she wore glasses, will be appearing in Playboy. I hereby rescind my respect.

Wednesday, May 16, 2001
| | |
| --- | --- |
| | [2] |

Badge of Failure
I went. I really did. They denied me. Apparently little "Reena" failed to mention during my tour that when they say they close at 11:00, really that means they close down the facilities at 10:30, and they pretty much stop letting people in at 9:45. So I got the shaft.

In addition to said shaft, I also got my wonderful new picture ID. Isn't it the worst photo ever? She was holding the camera, like, at my waist. And I'm wondering, "Isn't that an odd angle to be taking--?" *click* "Okay, nevermind." So look at me. I look like André the Giant. I look like Mount Kristuvius. I look like a giant redwood. Curse you Holmes Place.

| | |
| --- | --- |
| | [3] |
I'm going to the health club tonight. Oh yes, as God is my witness, I'm going to the health club tonight.

| | |
| --- | --- |
| | [2] |
Britney backs Labour. I guess this settles the question of who Snookums is going to vote for. *grin* (Yeah, he gets to vote since he's a "colonial", as Nick puts it. I'm reduced to being a spectator thanks to that pesky Declaration of Independence.)


A divorce lawyer in London is advertising his services with posters that read "Ditch the bitch". His wife said the posters, including one of a woman sobbing on a bed under the headline "all men are bastards", were funny "in a Bridget Jones sort of way". The managing director of the advertising agency that devised the campaign said it was unlikely women would be offended "because they don't go into men's toilets".

I'm only going to remark that that's a really crap defense of something offensive and derogatory. Our (women-only) dorm at college decided to stop putting the "Hottie of the Week" in our dorm newsletter (which was only hung in the women's restroom) because we felt that we wouldn't want our fellow male students objectifying women in their dorms, whether we saw it or not. I guess our faith in some segments of the male gender was unfounded. I hope both he and the lawyer get a zillion complaints.

| | |
| --- | --- |
| | [2] |
Hahaha... I can really, really picture this being my sister and I in five years.

Tuesday, May 15, 2001

Ahh, trust CNN to really tabloidize something very personal: "REM's Stipe: I'm a 'queer artist'". What sensationalist jerks.

| | |
| --- | --- |
| | [5] |
Feeling it was time for a little ego-boost, I just took this Typing Speed Test. I did it three times and got 86, 94, and 93 wpm. Didn't have any errors, mostly because as soon as I make them I back up and correct them. It's an ingrained habit. I suck at sports, but I rule at typing. Yeah, baby! (Link courtesy of Fresh-Hell.)

| | |
| --- | --- |
| | [9] |
New Poll: In honor of the argument I've been having with my friend Kelly for the past half hour, the new poll asks which band is better, R.E.M. or U2? (I think you know which I voted for.) I look at this sorta like the Beatles/Elvis theory that got cut from "Pulp Fiction." It's impossible to like them both the same amount, so you gotta pick one that you like more. Which is it gonna be? And be sure to leave your comments so the argument can continue.

Results from the old poll: Oddly enough, it spread out in a reverse bell curve, meaning that most people either read no weblogs each day or else tons of blogs. At least I'm not alone in my obsession.


Hey, Steve - great idea! Now why don't you open one in London? Pretty please? I'm tired of going to the Virgin Megastore and finding a measly eight Mac games crammed in the corner next to five hundred PC titles.


Oh. My God. Okay, so for a while now I've been trying to discover the name of a TV show I used to watch back in the 80's. It was about a kid and somebody else that travelled through time fixing things (sorta like "Quantam Leap", but with famous historical incidents). In particular, I remember an episode where Thomas Edison was having trouble inventing the lightbulb because all the different materials he tried for filaments kept burning through. In the end they discovered that a thread from the kid's shirt did the trick (which is of course completely wrong, given that the kid probably wasn't wearing a shirt of tungsten, but I wasn't the type of viewer to question). Anyway, what's the point of this?

So Bill from Mermaniac left me a comment today and I went to check out his site (which, by the way, is very cool). I started digging in his archives, and lo and behold I found a post about that very show! It was called "Voyagers!" and it only ran for a season. This site and this site have information for other nostalgic viewers.

And by the way, thanks Bill. I feel like a splinter has been removed from my brain.


Still listening to "Reveal." I think now that I like "I've Been High" best of all. When I first heard it, it just sorta went on in the background and I didn't feel strongly about it either way. The more I hear it though, the happier it makes me. It's a quiet song, but I think it should be played loudly. It just gets better and better as it goes on... and by the time you reach the ending, you feel physically uplifted. What a great feeling.

| | |
| --- | --- |
| | [6] |
Britney is going to star in a video game. Which is cool and all, but the press release goes on to mention that she'll be joining "the ranks of Michael Jackson, the Spice Girls, Kiss and Aerosmith, each of whom have featured in computer games". Can anyone name any of the games these people were "featured" in? I thought not.

| | |
| --- | --- |
| | [3] |
The Art of the Mix is a site that immediately made me think of Max. It's devoted to the art of making mix tapes and hosts an archive of over 9,000 mixes made by music lovers around the world. I haven't made a mix tape in ages. I could never get the technical aspects of it right. My tapes would always be punctuated by loud "KER-CHUNK KER-CHUNK" noises between songs.

| | |
| --- | --- |
| | [2] |
Roger Ebert weighs in on the first half of Cannes. Hey, brigita, he kinda rips on Ethan Hawke's "Chelsea Walls." Heh.


A recent discussion on the Mac couch:
Snookums: haha. It would be a bit hard on your arse
Me: Somebody commented that it would look sweet with Happy/Sad pillows like the Mac startup screen.
Snookums: now, if they were all up and running it might be better -- then it would be warm and have a pleasant vibrating effect
Looks like this idea occurred to John too. Great minds think alike.

| | |
| --- | --- |
| | [4] |
I found it! TIME Magazine was the culprit. In the very last paragraph of this story, he mentions that he's been living with a man for three years and that he now describes himself as a "queer artist."

I'm not as upset as I was. TIME's story isn't called "Michael Stipe is GAY!", and the admission doesn't seem to have been dropped as a bombshell. So it's not as exploitative and promotional as I thought. I guess he just wanted to try and slip it in there under the radar. Good for him. I'm gonna stop talking about it now, because it isn't anybody's business but his.

(Although I will snarkily remark that this makes yet another similarity between Stipey and my ex.)


R.E.M. Wierdness: This is so odd. Last night Nick tried to tell me that Michael Stipe came out and announced he was gay. He claims he heard it on the radio. I scoffed and told him that he shouldn't believe it, because people have been questioning Stipe's sexuality for years and he's always said that he felt it was his own private business. And besides, I said, everybody knows that radio stations get all their news from the Internet anyway, so who are ya gonna believe?
 
The weirdness, though, is that this morning Snookums reported hearing this rumor on "This Morning with Richard and Judy", the UK's most popular breakfast show. So what's going on? He didn't, did he? I mean, timing it to the release of his new album ("Reveal") is just a tad too promotional for my tastes. I've been trying to find confirmation on any news sites (I know, I know - a bit hypocritical given my statement to Nick) and I can't find it anywhere. Rolling Stone's got nothin', and R.E.M.'s site is mum as well. Have you heard? Can you point me to a concrete source?


R.E.M. News: (I actually wrote this Monday afternoon, but Blogger problems... yada yada yada. When I say "tomorrow", I actually mean "Tuesday.") So everybody knows that the new R.E.M. album is supposed to come out tomorrow, right? I decided to look online this morning to see if any of the record stores near me would be open at midnight to sell it. When I went to TowerRecords.co.uk, though, they claimed it was already for sale. So at lunch I headed up to the nearest record store but didn't see it. When I asked the lady, she said that it was on sale but had already sold out that morning. Poodoo. So I dragged Snookums up the street to the nearest Virgin V.shop where I hit the jackpot. Hooray! I got my beloved R.E.M. plus Burt Bacharach's Greatest Hits for good measure. We made a quick pit stop at Pret a Manger for lunch, and then it was back to the office to give my new treasure a listen.

So far, I like "Reveal" a lot. I'd already managed to collect about half the songs off Napster, but they sound even better within the context of the rest of the album. I like the first single "Imitation of Life" (that's the one they performed all over British TV last week), but I think that my personal favorite right now is "I'll Take the Rain." It's nice to hear Mike singing again. I'm not quite used to the new Brian-Wilson-type sound, but it's growing on me. "Beat a Drum" is nice too. Heck, it's all good, but those are the ones that I immediately reacted to. Have you gotten it yet? What do you think? (Damn, I wish I had a comment box for this!)

And before I forget, check out R.E.M. A to Z at Rolling Stone's site. I couldn't get the video clips to work, but it was very cool to read reviews from the entire back catalog.


"You can get a condom over your head if you want to." Uh, I'll take her word for it.


How do you write a "news" article about a rumor nobody wants to utter? You write about the denial.


I'm a sucker for headlines like this: "Smugglers recipe for smoked monkey meat".

Monday, May 14, 2001
| | |
| --- | --- |
| | [1] |
Who in the world is going to go to a Dracula theme park? I can see the marketing slogan now: "The Goth-est Place on Earth!"


I love the French. They've gotten themselves so worked up over a new "Big Brother"-type show that 80 protestors stormed the site and tried to "liberate" the contestants. They were pushed back by security guards with tear gas. See? In America we just bitch about crap television, but Europeans actually stage revolutions.


Ashley Wilkes and Rhett Butler gettin' it on? Now that's a book I'd like to read. (Link courtesy of NowThis.com.)


WHOA! They're gonna make red Mountain Dew? I gotta try me some of this when I go home in a few weeks...

Saturday, May 12, 2001
| | |
| --- | --- |
| | [10] |
Douglas Adams is dead. *stunned*

Friday, May 11, 2001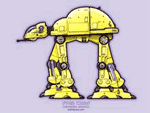 Star Wars: Designer Edition. I love this! I've got the AT-AT as my desktop wallpaper. I'm also a fan of the new Millennium Falcon. (Link courtesy of usr/bin/girl.)

| | |
| --- | --- |
| | [1] |
The gold industry is reportedly "fighting back against a consumer preference for other precious metals." Personally, I just think that gold is a bit... old, you know? It reminds me of old ladies. Platinum and silver just seem a bit younger and more modern. (The only thing gold I wear is my class ring, and that's just because it was the tradition at my school.) Didn't Audrey Hepburn say that she couldn't wear gold until she was forty or something in "Breakfast at Tiffany's"?


My favorite was the Scottish tartan.

| | |
| --- | --- |
| | [5] |
This Blogger situation is a bit ridiculous. It's just gone down for the second time today. That settles it. Come Monday, I will be free. Oh yes, I will be free.


"Is that your phone? No? Well it isn't mine. Who the heck...? Oh, sod it, it's a bird!"


With everything, there are trade-offs. Sure, they're putting open-air urinals in Trafalgar Square. But they're also licensing classical musicians as buskers to play in Tube Stations. Maybe civilisation isn't quite in the toilet just yet.


Eeb's definitely got me excited to see "Moulin Rouge". (Well, I was already pretty excited, given that Ewan McGregor plays a lovestruck poet who sings Madonna songs, but at least now I can back up my enthusiasm with a critical review.) He also liked "A Knight's Tale", which every other critic has been crapping on left and right. If Eeb says it's okay, I'll give it a look.


Gael found a great link today: the Douglas Coupland Dictionary. I've read all of his books, and I have to say Microserfs is the best. Girlfriend in a Coma is interesting too, if only for the constant references to nearly every song the Smiths ever wrote. (Oddly, none of the reviewers on Amazon seemed to catch this.)


Bloody Blogger is down again. Now I'm stuck between coding my new weblogging software this weekend OR enjoying this. I guess I could always lug the iMac down to the backyard... :)

Thursday, May 10, 2001

Open-air urinals in Trafalgar Square. I repeat, OPEN-AIR URINALS IN TRAFALGAR BLOODY SQUARE. Animals in this city, I tell you. Animals.


I gotta say, the new Webmonkey design is the ugliest thing I've ever seen. Thank God it doesn't extend any further than the front page, or I'd have to stop using it. *shudder*


Why is everyone suddenly interested in hacking my boxen? These stories sound like the deluded ravings of the Windoze Borg, trying to instill fear and paranoia in the ranks of happy Mac users.


My friend Pat McDonald just IMed me to let me know that he's finished his last final and his college career is finally over. An excerpt from our hilarious conversation:
PatMcd01: done with college
KrisinLondon: SWEET!
PatMcd01: i'm as smart as i'll ever be right now
KrisinLondon: hahahahaha... That's an interesting way to look at it.
PatMcd01: i'll be getting dumber very soon
Given that George W. Bush will be presenting his commencement address next weekend, I told him I'd have to agree. To which he responded:
PatMcd01: haha... i should ask gw about my job strategery
Indeed.


New Poll: I suddenly realized today that I read a lot of weblogs. I seriously check all of them in that box at the left every day. How about you? Do you think I'm insane? Are you even more of an addict than I am?

Results from the old poll: Well, only 13 of you bothered to vote, and as expected, most of you really don't care about customized themes. I told my sister that weeks ago, but she's a picky artist type. And actually, I kinda like the green myself. I guess it's good to have options.

| | |
| --- | --- |
| | [8] |
Wow! "The Real World" is finally going to shoot a season in Chicago. They wanted to do it before but claimed that the weather was too crappy. Evidently they've now realized that Chicago has summer too.

Wednesday, May 9, 2001
| | |
| --- | --- |
| | [5] |
This stupid article makes it sound like that alleged murderer was on her period and that's why it's understandable that she went on a homicidal rampage. Yeah, I realize that it goes on to explain she had an "associated polycystic ovary syndrome", but they still make it sound like it was just "Aunt Flo."


Roger Ebert susses out the answer to one of cinema's greatest riddles: "Are Jay and Silent Bob inspired by C3PO and R2D2?"


If you contacted me about the source files for my comment system, you'll be pleased to know that they're now hosted here at web-goddess. Just download and enjoy!

| | |
| --- | --- |
| | [5] |
I was just debunking an e-mail forward from my mom about roach eggs in envelope glue when I noticed that the Snopes site has redesigned. Very nice.


This is without a doubt the most annoying Michael Stipe interview I've ever read in my life. The author decided that Stipe was too boring and generic so he literally made half of the article up. Parts of it are interesting, but I got quickly tired of reading a section only to find out that the whole thing was fictional. And it goes on for nine pages! But thanks to Max for the e-mail tip. REM news, even when irritating, is always welcome. (Less than week til the new album comes out!)

Which reminds me, I saw them on this British variety show last Friday night called "Later with Jools Holland." They played a couple of their new songs, and then Michael started talking about that Nelson Mandela concert I wanted to go to the previous weekend. Apparently all the artists were sitting around in the green room or something and suddenly Mr. Mandela came in and asked who'd sing him a song. Michael said, "And so we were, like, 'Uhh..' and the Corrs were, like, 'Uhh...' and Mel, er, Melanie, uh, C? was like, 'Uhh...'" I found it really funny that he couldn't remember which Spice Girl he met. (It was B.)

| | |
| --- | --- |
| | [2] |
A Statistical look at the likelihood of an individual being able to go out with Britney Spears. Thanks, John. I needed a good laugh.


Apparently we had a rather disturbing incident in the night... Alex's cute little red car got broken into! It was right there in front of the house, and somebody completely bent back part of the door to get in! They didn't take anything though. Bunch o' animals in this city, I tell you.


In college we always swore by the toothpaste method.


I don't know about "inhuman punishment", but I think it's ridiculous that a convicted train robber can escape from prison, flee the country, live high on the hog in Brazil for almost forty years, and then return to England penniless on his deathbed to reap the benefits of better health care. It seems pointless to put a 70-year-old man in jail again, but it also seems pretty fair.


It looks like I'm actually going to be in Britain for a national election. I can't vote of course, but I do enjoy making fun of William Hague. I'm looking forward to it.


Well, Blogger seems to be down yet again (for routine maintenance). I'll take this opportunity to note that I myself am currently working on a PHP/MySQL solution to rid myself of the Blogger shackles forever. We're getting there folks, but I probably won't be able to do the bulk of the coding til this weekend. Once it's up, I'll share my discoveries with the rest of you...


I am the worst, most horrible sister in the world for not mentioning this sooner, but my little sis Amy graduated from college Sunday. Congratulations, Amer! It's all downhill from here, kiddo. Love you...

(And YES, I did call her and tell her that in person on Sunday. I was not deluded enough to think she'd just read it on my blog. What kind of a crass, attention-seeking exhibitionist do you think I am? I only mentioned it so you could send her your own salutations. *grin*)

| | |
| --- | --- |
| | [1] |
Mucho apologies for the lack of posts lately. I've been feeling pretty crummy all weekend and I stayed home from work today. I'll be back in the blogging swing of things tomorrow...

Saturday, May 5, 2001

In case you're interested, I finally wrote up an explanation of my custom 404 pages. You might want to think about implementing it of you've used any of my other systems.

Friday, May 4, 2001

Meg pointed out that you can now print out your own Anne Robinson mask. Very scary indeed. This reminded me that I saw a promo for the U.S. "Weakest Link" on BBC last night. They're actually going to show the American version over here so all the Brits can laugh at how stupid we are. I'm telling you, this show has a very dodgy agenda and it has everything to do with enforcing cultural stereotypes.


My sister was just telling me about a court case in our home town involving a man who molested Amish children. Northeastern Indiana does have a pretty sizable Amish population, in case you didn't know. Apparently this guy targeted them because "they're very compliant." What a sick individual. He was sentenced to 66 years in prison.


Roger Ebert's review of "The Mummy Returns" is hilarious. I quote:
"At one point the action returns to London, and we see Tower Bridge, the dome of St. Paul's and Big Ben clustered closely together in one shot. This is no doubt to make it easy for the geographically challenged. Perhaps adding a few snapshots from Madonna's wedding would not have been too much."
Unfortunately for Eeb, Madge's wedding took place in Scotland... but I still laughed.


"Crime family." This is actually a really sweet and funny article about how growing up with nine siblings teaches you foraging and opportunism. I especially liked the bit about the younger brother who wanted to write on the wall with shoe polish but knew he'd be caught if he used his own initials... so he used his brother's. My sister and brother and I used to do that all the time! (Not with shoe polish - our preferred medium was steamy car windows.)


I was all set to think R.E.M. were being jerks by cancelling this documentary, but then I changed my mind. What does Peter's recent arrest have to do with the history of a band that goes back 20 years? Why should the other guys have to comment on it? If one of my good friends and co-workers did something stupid and the media wanted an official statement on it, I'd tell them to piss off. If the reporters wouldn't respect that decision, I'm glad the band cancelled the project. (Thanks to Max for the link.)

Thursday, May 3, 2001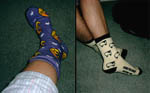 Thanks to Mama Snook, who sent us these groovy Australian wool socks. As Snookums felt that the purple ones (with stars and moons) were a bit girly, I got those. He's got the ones with the little sheep on them.

| | |
| --- | --- |
| | [1] |
Snookums figures that Mayor Ken's plan to stop feeding the "winged rats" of Trafalger Square could have a detrimental effect on tourism, because every time we go there the place is filled with idiotic Americans in fanny packs feeding the pigeons and happily getting crapped all over. So our plan is to replace the bird food seller with a BB-gun leasing office and let the tourists take potshots at the remaining flocks. Just as fun and good for the city, too!

(Note to my tree-hugging hippie friends: We're just joshin'! We wouldn't really shoot any little creatures. Although they really are a pestilence...)


I can't believe it. A man who loves "Days of Our Lives." Hey, Aim, you should look this guy up! :)


Somebody's invented a tractor beam. Seriously. That is so cool.


London provides so much ample fodder for the tabloids. In addition to the protests, the Tube strikes, the foot-and-mouth outbreak, and the general election, we now have the murder trial of one of Fergie's former aides. The woman beat her lover to death with a cricket bat and left him lying with a knife in his chest. Then she fled and spent several days sending her friends text messages to make it look like she was innocent. The police finally found her - overdosed on pain killers - in her car in Cornwall. So after she was formally charged and the trial was about to begin, she dramatically announced that it was self-defense and that he had raped her on the night of the attack. Today she was cross-examined by the prosecution about clothing she bought while she was on the run from police: "Why a thong if you had been anally raped? Is that the most comfortable garment to wear?" *shudder*

| | |
| --- | --- |
| | [2] |
Weirdness. A girl at Saint Mary's, my university's sister school, claims she was sexually assaulted... by another girl. The accused was cleared by a special advisory board, but the alleged victim still claims she's going to leave school. I don't know enough of the facts to state any sort of real opinion on the case, except to note that I knew a lot of Catholic girls on campus who were pretty freaked out by lesbianism. It's not hard for me to imagine that these girls were at a party drinking all night (which they admit), and that later one of them made a pass at the other. I just think it's sad that what was probably just a misunderstanding has to result in one student leaving the school and another branded as some sort of deviant sexual predator.


Thank God. We're finally going to get some decent weather in this blasted country. We haven't had a day where the weather stayed constant yet this Spring. I learned my lesson after the first sunny morning in April, when I left the house in capri pants and sandals and then ended up freezing my bum off when the sky turned dark and the rain came four hours later. "Earlier this week, psychologists warned that the unremitting gloom is affecting the national psyche, dampening our spirits." That is the understatement of the year.


It appears that the BBC's website got hacked and a fake news story was inserted about the death of one of the Hear'Say singers. The story itself was entirely made up (she's not dead; she's on holiday), but I think the part about the "sex video" is actually true. (True in the sense that all the tabloids reported it a few weeks ago, anyway.) The part that cracked me up, though, is: "The sex video referred to consists of Suzanne stripping off in a Bolton hotel room for a man connected with pop group Right Said Fred." Weren't Right Said Fred, uh, gay? My gaydar is notoriously bad, so I might be wrong on this, but I feel like the consensus was that they were. Or maybe I'm just confused because they were camp. Anybody wanna help me out here? (Huh? The official RSF site is hosted at geocities???)


Dan pointed to an interesting bit of software called Janebuilder, which apparently is a "visual editor for PHP". I like the idea, but the implementation looks rather... cutesy. You drag and drop the little "Auto-Janes" and it generates all the SQL and PHP and HTML for you, so you don't have to worry your pretty little head about such boring things. I showed it to Snookums and he asked, "Is that 'programming for girls'?" I sighed and replied, "I think it's supposed to be." It's not that I think it's a bad idea for an application, but I resent the way they're marketing it. That's the sort of thing that makes me want to go back to coding all my stuff in pico just to prove a point.

Wednesday, May 2, 2001
| | |
| --- | --- |
| | [3] |
I haven't mentioned them yet... but I do want one, of course.


Ever wonder what eToy (that European Internet artists group) thought of the demise of eToys (the online toy shop)? Well, they've finally put a statement up on their site. It's pretty sarcastic. They even offer the eToys founder a place on their board. Heh.

| | |
| --- | --- |
| | [3] |
So I get this e-mail, right, from some woman saying that she visited web-goddess and "noticed" that I wasn't registered on very many search engines. And if I wanted, I could pay her company to list me on 300,000 directories. Uh-huh. So I sent her a snooty e-mail back, saying that if she had, in fact, visited my site, she would've seen that it's a personal site and I could care less about advertising myself. I also sarcastically thanked her for the spam. I BCCed Snookums on the message to get his response. He said:
snookums: Your e-mail is very polite. I'd probably put something like: "I'd love to buy your product. In fact I have a purchase order, if I can just remember where it is. Spammer's purchase order.... Spammer's purchase order.... Oh! I remember. I shoved it up my ass. I wrote it out and shoved it right up my ass, therefore ruining any chance you had of selling me your lame services."
I'm still laughing. If you don't immediately get the reference, it's from the "Jesus vs. Satan" episode of "South Park" where Cartman is explaining why he didn't invite Pip to his birthday party.

| | |
| --- | --- |
| | [1] |
Whoa! According to my server logs, I had a visitor from the Naturist UK FactFile website. Hello, nude people! (For the record I'm not a nudist, but I do like their jaunty slogan: "Take off your clothes and live!")


Thanks to Jann for alerting me that my "last five comments" script was barfing all over the page. The bug has been fixed!


This article about Niki Taylor's accident is confusing. It says she's in critical condition, then flashbacks to the accident and reports that she wasn't thrown from the car and everybody thought she was unhurt. But it never mentions how she went from "stomach pains" to "critical condition." There's just this odd hole in the story where you feel like it should go.



You're probably wondering why I even care about some injured supermodel. It's quite simple, really. Niki Taylor reminds me of the Golden Age of "Sassy." Yes, "Sassy" Magazine. I seem to remember them doing a story about the death of her sister and that's when I became aware of her. I was a devoted reader for many years, back when it was cool and intelligent and every article wasn't about boys or clothes. Unfortunately as we faithful subscribers know, in 1994 "Sassy" was taken over by the pod people of Petersen Publications, who turned it into yet another YM/Seventeen/Tiger Beat clone. If you too mourn the old "Sassy", you're in luck. I managed to find a wonderful memorial page with links about the takeover and why the old version was so cool, an exhaustive "Sassy" archive with loads of old stories, and snarly.com, the personal site of old-school "Sassy" writer Marjorie Ingall.

(Could I have used "sassy" one more time? It reminds me of that old skit on "Saturday Night Live" where Phil Hartman played the magazine's senior editor and would say everything was "sassy-licious". You can hear some of these sound clips here. Remember when he interviewed Christian Slater as the "Sassiest Guy in America"?)

Boy, I'm really going off on some tangents today.

| | |
| --- | --- |
| | [2] |
John, I can't thank you enough for "10 Reasons Why Jamie Oliver Is So My Bitch". My three (male) housemates are going to be hearing this stuff for a while now. (I know before I said he was starting to annoy me, but that's before I realized the brilliance of Reason #8: "Men hate him. It is fun to fancy someone the opposite sex hate." Ha!)

Tuesday, May 1, 2001
| | |
| --- | --- |
| | [2] |
RunningBlog: Did I mention I joined a health club? I know, that sounds so ridiculous and posh coming from me, but I'm tired of sitting on my ass (literally) all day long and not feeling well. I'm hoping a little yoga and spinning and stair-climbing will shake me out of my stupor. Why don't I just run in the park, you ask? Easy, because I loathe running with an all-consuming passion. The only time I could ever bring myself to do it was in tennis practice in high school, when our coach basically forced us to. Of course, that was the fittest I've ever been in my life. Could there be a connection? Nahhhh.

| | |
| --- | --- |
| | [4] |
*Kris jumps on yet another meme bandwagon*

So everybody's lookin' up their Oz Prison Bitch Name, right? Go on, try it out. Mine's the worst. I don't even wanna reprint it here, for fear my mom'll see it and freak. Okay, okay... I'll censor it a bit: "Keller's F**k Boy". I ask you, what the heck does that mean? Who is Keller, and why does he refer to me (obviously a girl) as a boy?


You might notice that I've created a new section of the site: php help. This is where I'm going to keep all the instructions and source files for the various web doohickeys I use here. So far there are just two (the comment system and the poll system), but hopefully I'll add more soon.


Hey, Max, remember that guy, the one who swallowed the "juice" from a dead cow? Well, it turns out he doesn't have foot-and-mouth after all! See? Nothing to worry about.


Well, so far it looks like the riots aren't nearly as bad as last year. The police managed to just outnumber the protesters and most of them are penned in at Oxford Circus, I guess. (Holy cow! Check out the picture the BBC's got!) Of course, as soon as everything gets back to normal tomorrow, the Tube workers are striking again. This week will probably set a record in terms of absentee workers in London...


Hmmm... The cookie for my preferences setting has been acting wonky. Has anybody else had any problems? I changed the way it works, so hopefully your settings will stay even if you open new windows.


"Dingo eats baby!" Well, actually it was two dingos. And it wasn't a baby, it was a nine-year-old. But still...


Happy Riot Day! Well, actually it's May Day, but I guess for a lot of people the two are equivalent. Violence has already erupted in Australia and Europe, and England will be no exception. This year the police say they're ready, but for lots of morning commuters, the problems have already started. The BBC has a photo gallery that should fill up as the day progresses. The thing that amuses me most about all this is the "May Day Monopoly" plan that the media keep mentioning. The protestors are supposed to be targeting streets and locations on the British Monopoly board, which basically means that everybody (including the police) knows exactly where they're going to strike. If they know where the violence is going to be, why can't they stop it?


All my regular weblogs have great links today. John pointed me to an article about fan fiction on the Internet. I was especially amused to see that a former "Buffy" fanfic author is actually now working as an official script writer for "Angel." Why then, oh why, can't we get some of the PaceyPorn authors working on "Dawson's Creek"???


It's sad how out of touch with American culture I'm becoming. When I first saw the phrase "disrespecting the Bing", I thought it had something to do with Chandler from "Friends."


Gael linked to a fascinating Antiques Roadshow article about Atari games. The last time I played an Atari was New Year's Eve 1997. I was at my aunt's house and all the grown-ups were having a jolly time. I wasn't feeling well though, so I holed up in her guest bedroom and discovered my uncle's Atari. He seriously had about 30 games, ranging from "Combat" and "Pac-Man" to more obscure titles like "Stampede" and "Kaboom!". Needless to say, I spent all night in there. Fast-forward about two summers, when my dad calls me to let me know that my aunt is selling the Atari in her annual garage sale. "WHAT?" I scream. I haul ass to her place, only to find that she's just sold it to some random guy... for ten dollars. She didn't even realize that it was worth more! I'm still bitter about the whole thing.


Kim pointed to an interesting article on Generation X. Despite the author's "whining," I really really liked what he had to say, and I agree with pretty much all of it. The Internet did feel like our thing and the bitterness a lot of us feel isn't just for our own lost jobs and stock options. We're depressed because we blew our chance.

archives
You can search through the archives by post keyword using the form on the left, or you can browse by month using the links at the bottom.
"Moblog" refers to posts and images posted directly from my mobile phone.

"PW Blog" refers to posts recovered from my very first weblog, which dealt with news related to my college dorm.