Friday, May 31, 2002
| | |
| --- | --- |
| | [9] |
I'm Korean. My family does not eat dogs. I don't mind discussing the issue rationally, but I'm really getting tired of all the jokes. (They've been coming fast and furious thanks to the World Cup.) It's time to set the record straight.

I've been doing a little research. An editorial from the Korea Herald points out that "Many Koreans, in fact, do not eat dog meat and are repulsed by the thought of doing so." It also notes that dog meat supposedly promotes virility, so it "is expensive and is consumed almost exclusively by men." In other words, this is not a widespread practice. Columnist Tom Purcell points out that "while we think it is terrible South Koreans eat dog, folks in India think it's ten times more repulsive that we eat cow." He also adds that the argument that dogs have personality and intelligence is irrelevent, because pigs are way smarter than dogs and we have no misgivings about roasting them on a spit. And the Asian Nation website has my favorite summation so far: "It's true that some South Koreans eat dog meat just like it's true that some African Americans eat watermelons and fried chicken. But [Jay] Leno wouldn't dare make a joke about the latter but thinks it's fine to offend Asian Americans."

Anyway, that's my rant for the day.

| | |
| --- | --- |
| | [1] |
Happy birthday to you,
Happy birthday to you,
Happy birthday dear quiz whore,
Happy birthday to you!

Well, it's still her birthday in Canada, anyway. :)

Thursday, May 30, 2002

Hmmmph. *scowl* The Snook is getting ready to go see his Super-Special Spider-Man Preview for Really Cool People To Which I Am Not Invited. I'm just gonna sit here in my pajamas and watch Days and eat leftover tuna-noodle casserole. :(


I like ice cream a lot. Unfortunately I don't seem to know anything about it. I scored a paltry 40% on this ice cream quiz. How well do you to? (Link courtesy of Kristen.)

| | |
| --- | --- |
| | [2] |
This is the Ass-O-Tron. It made me giggle. It doesn't work so well on this site, but Google looks pretty funny. (Link courtesy of Fredo.)

Wednesday, May 29, 2002
| | |
| --- | --- |
| | [6] |
When I was getting on the train for my interview this morning, I noticed a peculiar piece of graffiti on the station wall. It said "NIGHT TIME CRIMINALS @ groups.yahoo.com". So I looked it up when I got home. Check it out. It's an actual group for the "urban artists" that display their "work" (i.e. graffiti) throughout Sydney. Personally, I'm of a mixed mind on the whole graffiti issue. I've seen some beautiful murals that I really do think qualify as art. But for every one of those, I've seen a hundred instances of brainless "tagging" that do nothing but make the community look shabby. What do you think?

| | |
| --- | --- |
| | [4] |
Very little posting today, as I'm off to a job interview! Play nice, kids.

Update: That went really well! Fingers crossed...

Tuesday, May 28, 2002

The Snook's friend Steve came over for dinner last night. I was surprised to see him, since he works nights at a job calling the States in the morning. I asked him if he was playing hooky. "Nope!" he happily exclaimed. "Memorial Day, baby!" Crap. I'd completely forgotten about it. No, we don't have it here (obviously). And even if we did, it would mark the start of winter, not summer. Now all I can think about are summers on the lake with my family. Man, is this a depressing start to the day or what?


Remember that job opportunity I was real excited about? I didn't get it. It was a trainee position at a television production company. I did make it to the short-list of 20 out of 300 applicants, though, so I suppose that's something. Thanks for the support, guys!

Monday, May 27, 2002

Time to update your bookmarks! Claire's site has a new home.


Blast. The Snook just happily crowed that his company is getting to see a sneak preview of Spider-Man this Thursday afternoon (a week ahead of the rest of Australia). I wonder if I can scalp the ticket I bought him for the first midnight showing?

| | |
| --- | --- |
| | [5] |
The "right-to-die" movement has just been set back five years by the case of Australian Nancy Crick. This older women had been suffering from bowel cancer for several years and wanted to end her life. Last week she did just that, surrounded by friends and family. Supporters (like me) were happy that she was able to go the way she wanted. Unfortunately it was revealed a few days later that she didn't have cancer anymore (if at all). What a mess. Now the euthanasia activists are backpedaling, saying that her diagnosis doesn't change the fact that she was in a lot of pain. Dr. Philip Nitschke, the Australia "Kevorkian", is denying that his credibility has been damaged. His opponents are pointing out (quite rightly, I think) that this women received some bad counseling. I'm all for people with terminal illnesses having the right to terminate their lives, but Crick's case pretty much demonstrates one of the worst case scenarios - that of a healthy person needlessly dying. It's such a complicated situation...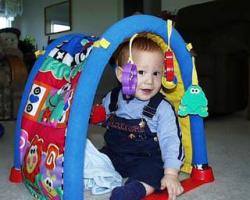 My little brother Joey is the cutest thing in the world, isn't he? (Hey, if other bloggers can post pictures of their cats, I can post pictures of babies.) Apparently he just got his first tooth, and he can now pull himself up to his feet! He'll probably be walking and talking before I see him again. :(

| | |
| --- | --- |
| | [11] |
New Poll: In honor of the fine Mexican dinner the Snook and I shared last night, please give me your opinion on the gift from the gods known as fajitas. Are you a fan?

| | |
| --- | --- |
| | [2] |
What a way to start the morning. I read this article on the WTC collapse and the associated MeFi comments. Then I cried. Warning, folks. Don't read this one at work unless you want everyone to see you get all sniffly.


Well I'll be blowed. The White Stripes really aren't brother and sister. They're actually a divorced couple posing as siblings!

Sunday, May 26, 2002
| | |
| --- | --- |
| | [5] |
Since I've got two new quilting projects in the pipeline (one for my sister's birthday in July, and one for our friend Kenya's wedding in January), Snookums bought me a present today... my very own sewing machine! And what's more, he even waited for an hour with me inside the very busy sewing store. (They were having a big sale, and every grandma in Sydney was in there buying yarn to knit winter sweaters.) But eventually we got my toy! Too bad I don't have anything I can actually sew on it yet. The bandannas for my sister's project (don't ask) are on order, and I need to cut out about 500 more triangles before I can start work on Kenya's. *sigh* I've got a very full winter ahead of me!

Saturday, May 25, 2002
| | |
| --- | --- |
| | [1] |
Rodd's nephew is such a sweetie. He just turned two. When we visited on Thursday, I read him some stories and he just sat in my lap and sucked his thumb and watched quietly. And when we said goodbye he gave us lovely messy little boy kisses. I enjoyed it way too much, which is why I found Wing Chun's essay "112 Reasons to Lead a Barren, Childless Existence That Ends in Your Death" very helpful. Whew. I feel much better now. :)

| | |
| --- | --- |
| | [2] |
Hee. So Bono's doing his third-world-crusader bit down in Africa, right? Turns out nobody down there's ever heard of him. Oops. I guess they don't really watch major sporting event half-time shows down there, do they? Don't worry, Bono. I'm sure this won't hurt your chances for sainthood.

| | |
| --- | --- |
| | [6] |
Friday Five:

1. What's the last vivid dream that you remember having?
I was having one half an hour ago before I woke up. (It's Saturday morning here.) I dreamed that my friend Little Julie and I were going to be bridesmaids for this skanky girl from my high school. The wedding was actually at the school, and we were getting dressed in the drama classroom. We had to wear these hideous navy blue flapper-type dresses. We made the wedding late because Little had to straighten my hair. (In reality my hair is straight as straw.) When we finally got to the cafeteria, my mom was yelling at me because I'd breached some silly bridesmaid rule of etiquette I didn't know about. That's when I woke up.

2. Do you have any recurring dreams?
Three. In one, I'm being chased. I just breathlessly run the entire time trying to avoid the pursuer right behind me. This is my persecution dream. I hate it. In another, I'm about to go on-stage for a play and I don't know any of the lines. In an unusual twist, it's sometimes a play that I've actually been in before. I've even had a variation where I'm up in the booth as stage manager and I don't know any of the cues. This is my insecurity dream. Lastly, I sometimes have a really good one where I can fly. It's never, like, up in the clouds; it's more like I just fly a few feet off the ground while going through my daily life. It's not effortless, though. I have to mentally strain to take off. Nevertheless, it's a good one. (Didn't I read somewhere that all flying dreams are really about sex?)

3. What's the scariest nightmare you've ever had?
I tend to not remember my nightmares, so I can't say definitively what the scariest was. I did have a really bad one recently where my sister killed this guy and I had to help her hide the body. It was really upsetting.

4. Have you ever written your dreams down or considered it? Why or why not?
Nah. Most of mine aren't good, and I don't like to dwell on them longer than I have to.

5. Have you ever had a lucid dream? What did you do in it?
Nope. I tried to once though. I got this book out of the college library on astral projection and lucid dreaming. I tried some of the techniques it gave, but I never really got any results.

Friday, May 24, 2002
| | |
| --- | --- |
| | [27] |
Did I mention that the navel piercing (redux) didn't work out? Well, it didn't. See, the first time I had it done in 2000, it never healed properly and eventually got infected. I took it out and it left a little funny scar. A few months ago I had it pierced again, in the hopes that it would cover up the former damage. This one didn't get infected, and in fact, I thought it was healing quite well. A few weeks ago I was drying off from a shower and noticed something odd: the little bit of flesh that the ring goes through was getting thinner. I could actually see the ring through it. It's like my body was rejecting the metal and just pushing it right out. Eventually it got so thin I just pulled out the ring. I don't get it. I suppose I might have rolled on my stomach in my sleep and somehow pulled on it, thus causing it to stretch out, but nobody ever warned me about that. I guess my body just doesn't want to be pierced.

| | |
| --- | --- |
| | [3] |
Eek! Jakob is coming to Sydney! Damn, I'd like to go. Of course, $700 is a bit pricey for a single day of Jakob-stalking... I wonder if I could just hang out outside the hotel. :)


It's that time of year again... Eurovision! Lucky for you, Claire's already sized up the competition and made her predictions. Always bet on the blind chick, folks.

Thursday, May 23, 2002

Gael found a cool article about inconsistent women's clothing sizes. USA Today sent a size 6-8 woman to four different stores to try on jeans. In one place, the smallest size she found she could wear was a 12! See, this is why I buy men's jeans. It's harder to misrepresent inches and centimeters. This is a little weird, though, since I thought that clothing manufacturers tended to err on the side of making clothes bigger, so that women would think they were a smaller size. I can't imagine a customer would be very happy to buy your product if it made her feel six sizes larger than she actually is.

| | |
| --- | --- |
| | [3] |
Mike Piazza is not gay. I'm just gonna ignore the inevitable bitchy "Methinks he doth protest too much" comments and focus on the facts that A) Mike likes chicks, and B) I'm a chick. Kickass. (Link courtesy of Michele.)

Wednesday, May 22, 2002
| | |
| --- | --- |
| | [13] |
I had a job interview of sorts today. It's a great opportunity at a great company (doing web development work), but there's one great big problem: a two-hour bus commute. The office is in Avalon Beach, which is miles and miles from here. I knew as soon as I looked at the map that I couldn't do it, but I went to the meeting anyway to check it out. I almost wish I hadn't, because now it's just going to torture me. Do you commute? How long is too long?

| | |
| --- | --- |
| | [10] |
Just saw Attack of the Clones again. It wasn't as good the second time. Now I'm wondering if sitting in the very front row had something to do with my initial enthusiasm. It just seemed like stuff was happening on-screen constantly. This time (from the back row) I found myself getting bored quite a bit. Yoda and Obi-Wan still rock my world, though.

Tuesday, May 21, 2002

It was such a beautiful day. I headed into the city to meet up with Snookums and some of his work mates for lunch. That was fun. (I got to meet "Toast"!) Afterwards I took a stroll through Hyde Park and snapped some pictures. Why in the world have I been missing London? Even when it's cold here, it's still beautiful.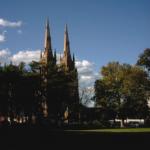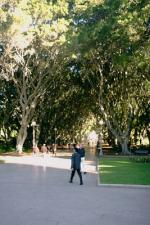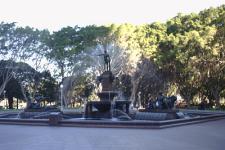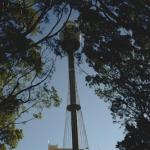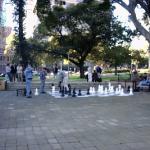 | | |
| --- | --- |
| | [1] |
We're discussing cockney rhyming slang over at Tara D's site. I love some of the new ones that people come up with. Like, "He's such a Shania." (Shania = Shania Twain = "pain") Hee!

| | |
| --- | --- |
| | [2] |
Claire found an interesting article about Australian regional dialect differences. There aren't many different accents here, which is weird in a country so big. (Think about America or the UK for comparison.) I'll have to try out that "celery" test on Snookums tonight. Most of the time I forget that he has an accent at all. It's only when I introduce him to American friends or family that I remember what a novelty he is to them. Which is funny, because he's got the softest, least "strine" accent I've ever heard. He sounds way more English than Steve Irwin, that's for sure.


Which Greek Goddess Are You?
I'm Hestia, the goddess of the hearth. She sucks. She's, like, the one that nobody can remember. She tended the hearth. I think being unemployed has a lot to do with this result, since I answered "just chillin' at home!" for most of the questions. (Link courtesy of Quiz Whore #1.)

Monday, May 20, 2002
| | |
| --- | --- |
| | [5] |
RunningBlog: I'm happy. I did five kilometers (just over three miles) on the treadmill today, and I actually ran about 90% of it. I'm doing the Nike Women's Classic 5K Run next month and my goal is to run the whole thing without stopping. Do any of you runners have training tips for me? What's the best way to build up your endurance for distance running? (Not that three miles is much for you folks, but it's a hella long way for me.) Should I concentrate on running the distance faster, or is it better to work on running even farther and just expect the speed to come along with it?

Sunday, May 19, 2002
| | |
| --- | --- |
| | [16] |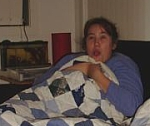 The quilt is done!
I finished the quilting yesterday and spent all day today finishing the edges. (It took me about ten hours of sewing. Yeah, I now have arthritis.) But it's done! I even embroidered my initials and the date down in the corner. Snookums is sitting under it on the couch right now. It's so damn warm! We are gonna put this sucker to good use. It's suddenly gotten real cold at night. :)

| | |
| --- | --- |
| | [3] |
I've been unable to connect to MetaFilter for two days. Has anyone else noticed this?

Saturday, May 18, 2002

Are you an R.E.M. fan? They've released a new "album" called r.e.m.IX on their official site. It's all the songs off Reveal, each one remixed by somebody different. You can download the whole thing as mp3s and even get the artwork too! I'm grabbing it right now.

| | |
| --- | --- |
| | [2] |
Friday Five:

1. What shampoo do you use?
Pantene. When my hair was red I used the "color-treated" kind, but since I've gone back to normal I just use whatever.

2. Do you use conditioner? What kind?
Yep. I have very long, very thick hair. If I don't condition it, I can't comb it. Again, I go with the Pantene. I was also a big fan of Herbal Essences in college, but I can't bring myself to buy it nowadays. (I hate those damn commercials.)

3. When was the last time you got your hair cut?
Probably back when I got the last, "normal-restoring" dye job. That was back in January. I think I've trimmed my own bangs once since then as well.

4. What styling products do you use?
Nada. Man, are you getting the impression that I don't do a lot with my hair? Because I don't. It's always been vaguely longish and straight as a stick, so there's not much you can do with that anyway. I like to braid it and stuff, but I never, like, put mousse on it or anything.

5. What's your worst hair-related experience?
Fifth grade. Blonde. Mullet. *passes out from stress of repressed memories*

| | |
| --- | --- |
| | [2] |
We need a backyard... so we can grow a penis tree. Not.

Friday, May 17, 2002
| | |
| --- | --- |
| | [8] |
MY VISA CAME THROUGH!


This has been the greatest week ever. The Department of Immigration just called to let me know that my FBI clearance came through, which means that my application for Permanent Residency has been approved! I'm now a totally 100% legal Australian resident. HOW GREAT IS THAT?

Oh, and hey! Since we applied under the "defacto spouse" category, I guess that kinda means that today is kinda like our wedding day! (Well, in the eyes of the Australian government, anyway.) And I didn't even get to have a bachelorette party!

| | |
| --- | --- |
| | [3] |
HA! I found a transcript of the argument Ebert & Roeper (his new TV partner) had about Attack of the Clones on their last show. It's hilarious! Roeper loved it; Ebert hated it. The bit about Yoda at the end is the best part:

Ebert: Listen, if you're Yoda and you have the Force. ...
Roeper: He's a Jedi master.
Ebert: ...If you encompass the Force, you don't need no lightsaber!
Roeper: You do when you're going up against another Jedi dude who's also got super-duper mind powers!
Ebert: You've just got to go like this [makes a mind-reading gesture]. You're Yoda, nobody can stop you.

I love that they completely drop into fanboy-speak. And how bitchy is that "He's a Jedi master" interjection? I can just picture it. And Ebert making a "mind-reading gesture". Hee! Man, I wish I'd seen this show!

| | |
| --- | --- |
| | [2] |
Sometimes my home state makes me proud. See, this is why I'm an optimist. Things can get better. People can change.

| | |
| --- | --- |
| | [3] |
Did you know that twenty dollar bills can be made to depict the burning Pentagon and World Trade Center towers? Some people have way too much time on their hands. (And coming from me, that's even more of an insult.)

| | |
| --- | --- |
| | [4] |
Which movie heroine are you?
I think my answers were sorta 70% Trinity, 30% Torrance from Bring it On. I'm pretty happy with that. :) (Link via the quiz whores.)

Thursday, May 16, 2002
| | |
| --- | --- |
| | [24] |
Hey, Hoosiers, I need some help. My brain is imploding. What's the name of that oh-so-yummy-yet-kinda-disgusting-too canned chocolate drink that you buy at gas stations? It's made by one of the soda companies. It's not Yoohoo. What the hell is it called? I'm going insane.


Thousands of Sydneysiders freaked out today when they saw what appeared to be a passenger plane flanked by an fighter plane cruising over the city. Turns out it was just a photo opportunity. *whew*

| | |
| --- | --- |
| | [33] |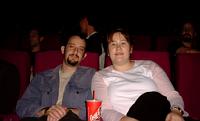 IT DIDN'T SUCK!


As God is my witness, Star Wars Episode 2: Attack of the Clones didn't suck. That doesn't sound like a very positive review, but it is. In fact, I will go on the record as saying it rocked. I love me some Ebert, but he dropped the ball on this one. Maybe it's because my expectations were so low, but I really, really enjoyed myself. And it seemed like everybody else in our screening did too! Some (spoiler-free) thoughts:
The plot, which many TV critics have called "complicated", wasn't hard for me to follow. In fact, it actually made me think that Episode 1 was a better movie. You realize that more was set in motion in that film than you thought.
Very little Jar-Jar! And in what can only be a nod to disgruntled fans, his one major action in the movie is to make a colossal mistake (and not a funny slapsticky one, either).
The action scenes were awesome! The last half hour alone is worth the price of admission. The beginning was really exciting too.
The dialogue and characterizations, which sound really stilted and bad in the trailers, actually aren't so bad. The new Anakin really impressed me. And Natalie Portman did a good job of playing a more womanly character. She kicked some ass too!
It was funny! I don't remember laughing at anything in Episode 1, and we laughed a lot in this one! Apparently George Lucas needs a co-writer to give him a sense of humor. And I'm happy to report there wasn't a fart or poo gag in the whole thing.
The romance is cheesy. Resign yourself to it. Anakin is a stalker with "date rapist" written all over his forehead. The audience was laughing out loud during the love scenes. Thankfully these constitute only about 10% of the picture, so don't worry about it.
Obi-Wan is the man. Y'all can have that Tobey Maguire fellow. I'll take Ewan McGregor any day.
I love finally getting some continuity with the "latter" three films. The scenes at the Lars farm, the secret weapon plans... All great.
Americans probably won't get it, but all the Australians thought it was insanely funny that the storm troopers all turn out to be Kiwis (New Zealanders).
Yes, Yoda fights. No, it doesn't look silly. Our audience was cheering at how much ass that little dude kicks.
The Snook's and my favorite line? "Jedi poodoo!"
I could go on and on, but it'll be more fun to wait til y'all see it and we can have a real discussion. If you're in doubt at all, listen to me: go see it NOW with an audience full of fans. It'll make all the difference in the world. Seriously, you guys, the Snook and I ranked this one second only to Empire Strikes Back. We're definitely going back to see it again (hopefully in digital). May the Force be with you!

(And yeah, that's us in the very front row of the theater. Hey, if you can't get in the dead center middle, might as well be dead center front!)

Wednesday, May 15, 2002
| | |
| --- | --- |
| | [3] |
ONE HOUR TO GO! I've finally woken the Snook from his nap and we're ready to leave. Destination: a galaxy far, far away!

| | |
| --- | --- |
| | [1] |
Snopes tackles one of mankind's biggest mysteries: "Was Kristen from Days of Our Lives a transexual?" The truth is out there.


Greetings to Snookums's work buddies, who (I'm told) are giggling at the fact that I'm now the #1 Google search result for "Katrina Big Brother nude". What a lovely first impression... :)


"I'm sick to death of being held responsible for the cultural and aesthetic life of a city. I'm tired of having to pioneer things such as the three-quarter-leg pant; of having to go the hard yards in Birkenstock clogs so that Despina and friends at Rockdale shopping centre can wear them without embarrassment. I'm tired of having to find good restaurants and brunch places just so that a month later I won't be able to get a table because the cafe is packed with Bill and Mary, with Jordan in a stroller."

A gay Sydneysider complains (albeit humorously) about a recent article arguing that a city's livability relates directly to its population of gay men. I don't think I've been living here long enough to have an informed opinion on this. Is your city particularly vibrant and fun? Are gay men the cause of it?


Ebert's written a longer essay about Attack of the Clones and George Lucas's vision of an all-digital movie experience. It sounds like those of you lucky enough to see it in a digitally-equipped theater will have a very different experience from the rest of us.

And speaking of Episode 2... only seven hours to go! Be sure and check back tomorrow morning for my first impressions. :)

| | |
| --- | --- |
| | [2] |
I upgraded my web browser to the OmniWeb 4.1 Public Beta yesterday. I just used it for my morning blog read and it worked really well. My thoughts:
Tables do seem to load faster. This was a big beef I had from the old version.
CSS support is much better. I think I finally saw Beau's site as intended!
I love the little drop downs on the forward and back buttons that give you an abbreviated history. Absolutely necessary for the way I surf.
Okay, this is the one negative. When I hit certain sites (like Chris's and Max's), the Download Manager would get tripped and download some bogus "index.html" document to my desktop, and the original page would never appear in my browser. At first I thought it was happening on sites where the default document isn't "index.html", but Max's site disproved that. I have a similar problem using IE 5.1 too, where certain sites (like web-goddess) cause the browser to think it's downloading a gzipped file. Has anyone else had a problem like this? What the heck is going on?
Anyway, the positives greatly outweigh the negatives. If you use OmniWeb, I suggest upgrading.

| | |
| --- | --- |
| | [9] |
Okay, there's this job that I really, really want, and I've made it through the first round. I don't wanna tell you guys what it is yet for fear I'll jinx it. But I've got to answer some questions for them and I've hit a wall. Can you help? I need to know how "my friends would describe me". You guys are my friends, right? What would you say? Answers quickly, please; I'm sending this off in twelve hours.

Tuesday, May 14, 2002

It is Christmas? Because I feel like Santa Claus! GoddessBlog is now ready for the general public. I've still got a few modules to write, but the basic stuff is all there. Have fun, kids!


Matt has provided the perfect link for those rainy afternoons when you can't be bothered to work: Cartoon Over-Analyzations. I've spent half an hour flipping through it and I haven't even scratched the surface. Be sure and hit the discussions on The Brave Little Toaster's gender and Walt Disney's "ass fetish". Fascinating stuff.

| | |
| --- | --- |
| | [1] |
Just when I think that Jann has left the Internet and is never going to update his blog again, I catch him leaving comments at Meg's site! He's holding out on us!


Shocking! Moire pointed me to an article about some Melbourne shop selling handbags depicting the World Trade Center attacks. I'm not upset so much about their insensitivity, but rather their horrible ugliness. Honestly, who would carry such a thing? It looks like someone Bedazzled a briefcase.

(Incidentally, Moire's new and improved GoddessBlog-powered weblog is up and running! She's changed her DNS information, so you should be able to see the new version sometime in the next day or two!)

Monday, May 13, 2002

Today's Act of Domestic Goddesshood was the creation of crock pot beef stew. I'd never actually made it before, and to be honest, my favorite kind is good ol' Dinty Moore. I had real difficulty finding a recipe that looked like it would emulate Dinty's chunkified, canned goodness. I finally settled on this one, since I had most of the ingredients. It was good, but the tomato soup base was still unsettling to me. I want nummy beef gravy! Anybody have a good stew recipe? Of course, I won't be able to use it til next winter, seeing as how I made so much of this batch we'll be eating it for the next ten months...

Incidentally, I had no idea that Dinty Moore beef stew was such an icon for the survivalist set. Check out this Google search. Half the results are for Y2K nutcases discussing supplies for their fallout shelters!

| | |
| --- | --- |
| | [4] |
Hee! The sex shop around the corner has a new holiday message on their chalkboard: "BUY MOM SOMETHING SHE REALLY NEEDS!"

Sunday, May 12, 2002
| | |
| --- | --- |
| | [4] |
I told you about the missing wealthy Melbourne couple, right? Well, they found them dead and buried in a shallow grave, and now it looks like the youngest son did it. This could be a great true crime novel. Watching it unfold in the media has just been fascinating.

Saturday, May 11, 2002
| | |
| --- | --- |
| | [10] |
Roger Ebert has pre-emptively ruined my entire week. *sulk*

| | |
| --- | --- |
| | [3] |
New Poll: I've been flipping through this course catalog and I think I've narrowed it down to a few different choices. Which class would you take?

Friday, May 10, 2002
| | |
| --- | --- |
| | [2] |
Since I seem to have become a housewife overnight (by virtue of the fact that Snookums has a job and I don't), I decided that I would make the most of circumstance and be the best darn housewife I can. Thus I give you my day:
Work on my quilt while watching Days of Our Lives
Head to the gym for forty-five minutes on the stairmaster
Pick up a course catalog for Sydney Uni's "Continuing Education" department
Clean the house from top to bottom (even the toilet!)
Shower, so as to be fresh and pretty for the breadwinner
Make peanut-butter-and-oatmeal cookies (his favorite)
Damn, am I a domestic goddess or what? (Bite me, Nigella.) I might as well be Charlotte from Sex and the City. Of course, now that he's home I've gone back to normal, drinkin' a beer and surfin' the web. Ahhh, it feels good to be myself again. :)


Praise Baby Jesus! Guess what restaurant just opened in Sydney? My all-time favorite London eatery - Wagamama! We are so there.

| | |
| --- | --- |
| | [5] |
Dan Devine, one of Notre Dame's great football coaches, has died. Unless I'm mistaken, he was the coach for Rudy's famous game.

| | |
| --- | --- |
| | [11] |
I do not eat nor drink blue things. And I can't imagine many of you would either. *shudder*


The next Harry Potter has again been delayed. Ugh, this is turning into a Dark Tower situation. Stephen King should call up J.K. Rowling and tell her that getting harrassed by your fans is no fun. Perhaps that'd be the kick in the ass she needs.

(Sidenote: That Dark Tower link was meant as a throwaway, but it's actually really informative about the books if you're into them. Recommended.)

| | |
| --- | --- |
| | [1] |
Two occurrences of note today:
Café Moda has finally opened! That's the place directly below us. We went there for breakfast, and George the owner gave us free coffee as thanks for putting up with all the noise over the past two months.
Snookums has a job! Granted, it's sort of "trial" right now, but if he does well with this first project they've given him, it might be more permanent! And guess what he'll be working on? Oh yeah - one of the Australian Spider-Man promotions! How cool is that??
And in other exciting news, my tester (Moire) and I are making real headway on GoddessBlog. It's almost ready for the public!

Thursday, May 9, 2002

Star Wars.com has redesigned! Keep hitting refresh to see all of the different Attack of the Clones promo shots. Snookums and I were amazed to see free postcards with these images at our corner coffee shop the other day. (As you might guess, they now adorn our refrigerator.) And finally, woohoo! Exactly one week til the premiere!

| | |
| --- | --- |
| | [8] |
RunningBlog: Remember how some of you sponsored me in the Walk Against Want in March? My walk was peanuts. My good friend Tara D is doing a massive three-day, sixty-mile walk for breast cancer research next month. That's almost a marathon a day! It's called the Breast Cancer 3-Day, and she's almost halfway to her funding goal. Did I mention that this is a good cause and that Tara D is a really amazing person for doing this? You should go sponsor her right now. I did!


Kevyn Aucoin died. That sucks. I don't have any of his books, but I have spent quite a bit of time flipping through them in bookstores. He had to be the only "name" makeup artist in the world. He was even on an episode of Sex and the City!

| | |
| --- | --- |
| | [3] |

Another important piece of my childhood has fallen by the wayside. The WWF is now the WWE. That story makes it sound like the World Wildlife Fund was being all unreasonable and litigious, though, when I thought that the wrestlers were the first ones to sue over copyright. *shrug* Oh well. Excuse me while I put on my Cyndi Lauper and reminisce about the Junk Yard Dog, Hulk Hogan, Andre the Giant, and of course, George the Animal Steele.

Wednesday, May 8, 2002
| | |
| --- | --- |
| | [3] |
No more Celebrity Jeopardy. It is a sad, sad day.

| | |
| --- | --- |
| | [4] |
Sorry to be so absent. I'm working on releasing GoddessBlog to the world. Still have lots to do...

Sunday, May 5, 2002
| | |
| --- | --- |
| | [18] |
Since you guys did so well with the whole Thrustmaster/Stickmaster quiz, here's another creative consumer challenge for you. There's a commercial currently running on Australian TV that infuriates me. It's shot like a 1940's crime movie. With tense music pumping in the background, a well-dressed woman is cleaning up after a murder she has just performed. She drags the dead businessman on the floor out the door. She sweeps up broken glass. The music gets louder as police begin to close in on the house. She sweeps a pile of money off the desk into a bag. Just before the coppers burst in, she notices a small puddle of blood the corpse has left on the floor. So she...

What? Your challenge, should you choose to accept it, is to guess what the murderess does to avoid arrest, and to determine what product this stupid melodrama is selling. Any ideas?

| | |
| --- | --- |
| | [2] |
Holy crap! Gretel was just getting ready to announce this week's Big Brother evictee when the whole Channel 10 feed went black. No sound, no picture. It came back ten seconds later just in time for us to catch Aaron picking up his bags. (Good riddance, asshole.) But man! Somebody's going to lose their job over that one. Or maybe it was industrial sabotage? The timing of it couldn't have been worse. I love this show.

Saturday, May 4, 2002

If you're into comics, May 4 is Free Comic Book Day in the U.S. Apparently you can go into any comic book store and get one free!

| | |
| --- | --- |
| | [4] |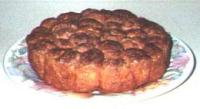 As the weather gets colder here, my urge to bake kicks in. Yesterday I got a hankering for monkey bread. (Hey, even Cindy Crawford likes it!) Unfortunately they don't seem to sell any kind of pre-prepared bread dough at my grocery store, so I decided to make it from scratch. I'd never even done a yeast bread before! My only previous yeast experiment was pizza dough (and I think we all remember how that went). But I persevered. I kneaded and I mixed ("Thanks, Stickmaster!") and I pushed and I pulled. Eventually I got the damn thing in the oven. It actually turned out quite tasty, but there was one crucial flaw: it fell apart! The little balls didn't stick together! I don't know if my dough was too floury or what. Snookums thought it was great, but he'd never had it before. He didn't realize that it's not supposed to be a mound of individual cinnamon balls, but rather a cohesive loaf. It's good to feel appreciated, though.

Sidenote: Bread is so damn labor-intensive! I don't think I'll be doing this very often. I'd rather pay a dollar for a loaf than spend three hours tending a big pile of goo.


I just received this from a friend. You've probably seen it already, but it gave me a chuckle.

When Mark Shuttleworth (that very rich space tourist) returns from space, everybody dress in ape suits. Pass it on.

| | |
| --- | --- |
| | [11] |
My newest web project, Purple Weasels.org, has finally launched! It's so fun to see people using this thing that I have created. I think it's a pretty good "community" site overall. I had originally planned on using phpWebSite for it, but I found myself spending most of my time turning off parts of the thing that we didn't need. It was too huge and unwieldy for our purposes. Then one day, while doing my workout at the gym, I had a total epiphany and decided to rewrite the entire thing myself. It turned out even better than I expected. Now I'm wondering if maybe other people would be interested in it. I could write some documentation and package it up... Of course, I haven't even gotten around to posting GoddessBlog yet, so don't hold your breath. :)

| | |
| --- | --- |
| | [1] |
Following his report on usability for kids, Jakob's now come out with one on usability for senior citizens. Very interesting stuff. And as he notes, it's the one user category we're all likely to join someday. As you might expect, bigger text is the number one priority for older surfers. Hmmm, in OmniWeb my text sizes nicely up and down. Can you test it out in your browsers? Does anybody have any problems?

| | |
| --- | --- |
| | [2] |
Hey, Mac fans: Slashdot now has a dedicated Apple sub-site. You can get all your Apple news in one place! It's even got a so-shiny-you-want-to-lick-it Aqua theme. Nice.

Friday, May 3, 2002
| | |
| --- | --- |
| | [5] |
Ebert only gave Spider-Man two-and-a-half stars. Oh, and he insinuates that Peter Parker is impotent. Great. This movie is going to be completely ruined for me by the time it actually comes out here.

| | |
| --- | --- |
| | [2] |
I just realized that Spider-Man isn't coming out here til June 6th. I guess this is the karmic payback for seeing Attack of the Clones so early.


Ooh, just in time for Mother's Day! Get Mom a haunted paintbrush!

That's insane. Props to Tara D for finding it.

Thursday, May 2, 2002
| | |
| --- | --- |
| | [8] |
Pop Quiz: In the past week, the Snook and I have bought two new devices for our apartment. These devices were named "Stickmaster" and "Thrustmaster" respectively. Can you guess what they actually were? (Get your mind out of the gutter. They're not dirty!)


Sophie Dahl is trying to follow in her grandfather's footsteps by penning a children's book. Hmmm, I wonder how they'll work "nude Yvs St. Laurent model" and "Mick Jagger's crumpet-o-the-month" into the jacket blurb.

Wednesday, May 1, 2002

We tried trivia at a different pub tonight. Despite a valiant effort (and my successfully remembering the names of all five actors who played hobbits in Fellowship of the Ring, thank you very much), we lost.


"He bit my balls!" Duuuude. An Aussie Rules Football player was suspended for ten games after pleading guilty to biting another player's testicles during a match. That article is hilarious.

| | |
| --- | --- |
| | [2] |
Tales From the Gym
I headed back to the gym today after about a week off. I know, I know. I'm a slacker. I've been blaming it on my allergies, which (in my defense) have been really bad. Anyway, Snookums finally kicked my ass out the door today for another round of physical misery.
My nemesis was on the treadmill when I entered. She's this tiny tiny girl with seventh-grade hair. I mean, she has hair that I would've killed for in seventh grade: long red spiral hair pulled back in a barrette, complete with pouffy bangs. I hate her. And get this - she doesn't put it up in a ponytail or anything! She just leaves it down. What's worse, she does nothing but run. She runs for, like, hours, in this ridiculously flouncy fashion, as if she weighed nothing at all but just liked to see her masses of hair bounce. Can you tell I'm gritting my teeth just thinking about her?
Another big irrition: inappropriate male fashion choices. Today's victim apparently thought he was Craig David or something. He was wearing orange 3/4-length pants, a tight black shirt, and an orange knit cap. Like, the kind you wear skiing. At the friggin' gym. Whatever.
The new attendant is really friendly. Too friendly. He started talking to me while I was working on the inner thigh machine. *shudder*
I'm slowly realizing that the money I spent on the gym membership might have been put to better use towards a treadmill for home. Other people annoy me too much.

If you fly frequently (or you have to take really long flights, like me), you might want to print out this page. It lists all the particular rows and seats on various airplanes that have more leg room than the other coach seats. Very helpful for tall girls like me.

archives
You can search through the archives by post keyword using the form on the left, or you can browse by month using the links at the bottom.
"Moblog" refers to posts and images posted directly from my mobile phone.

"PW Blog" refers to posts recovered from my very first weblog, which dealt with news related to my college dorm.